Hedgehogs are some of the cutest little critters in the animal kingdom. They may seem prickly at first with their unusual, sharply pointed backs, but once you get closer you can see what adorable little creatures they are.
Hedgehogs come in more muted colors in the wild, typically in shades of browns and whites. But despite this more muted color scheme, they can be found in a multitude of varied environments and terrain that have plenty of color to offer.
These free hedgehog coloring pages for kids are perfect for hours of coloring fun with some cute hedgehogs!
You could keep their colors more realistic or go a more stylized route with your favorite bright and striking colors. It's up to you and we can't wait to see what you choose!
Once you've finished coloring in these cute critters, be sure to share your creations on our Facebook page for us to see! We always love to see the creative coloring skills you all have.
REMEMBER: You can get the COMPLETE set of these coloring pages >> HERE
15 Brand New Hedgehog Coloring Pages – Free to Print and Color
Our first free hedgehog coloring page shows a cute little hedgehog having a fun day outside. It looks to be a beautiful Spring day, with flowers and plenty of clouds in the sky.
For this bright and happy image, I think some equally bright colors would be perfect, and you should try to make this hedgehog printable as bright and visually striking as you can.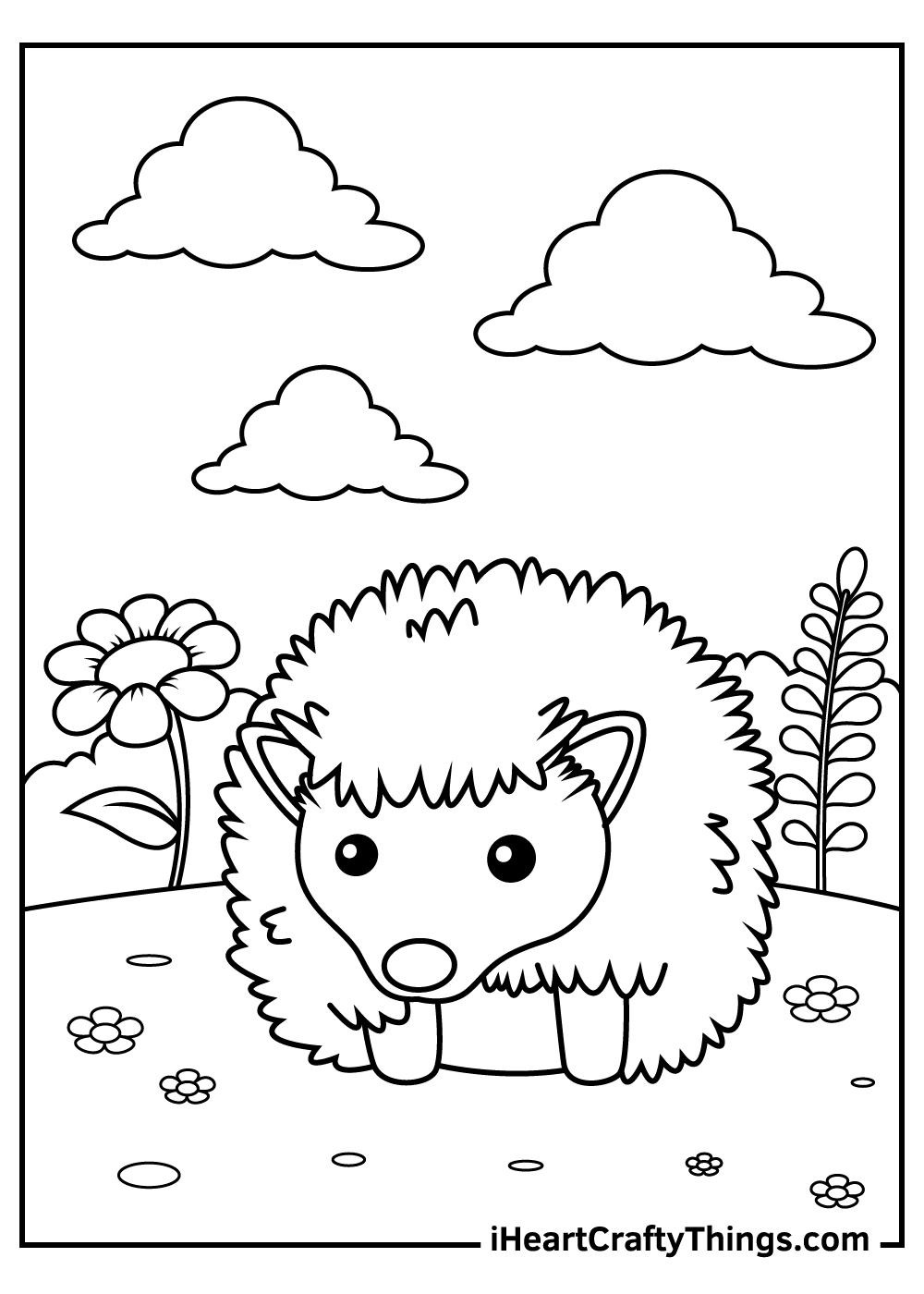 This hedgehog is having a great day. He is standing on his four little feet and looking at you with a friendly grin.
Use your brightest crayons or markers to color in his round body and pointy spines.
Give him fun rainbow quills or polka-dotted prickles. His tiny feet and black nose are adorable just begging to be colored in.
You can also draw a sunny meadow or flower garden in the background to match his cheerful mood.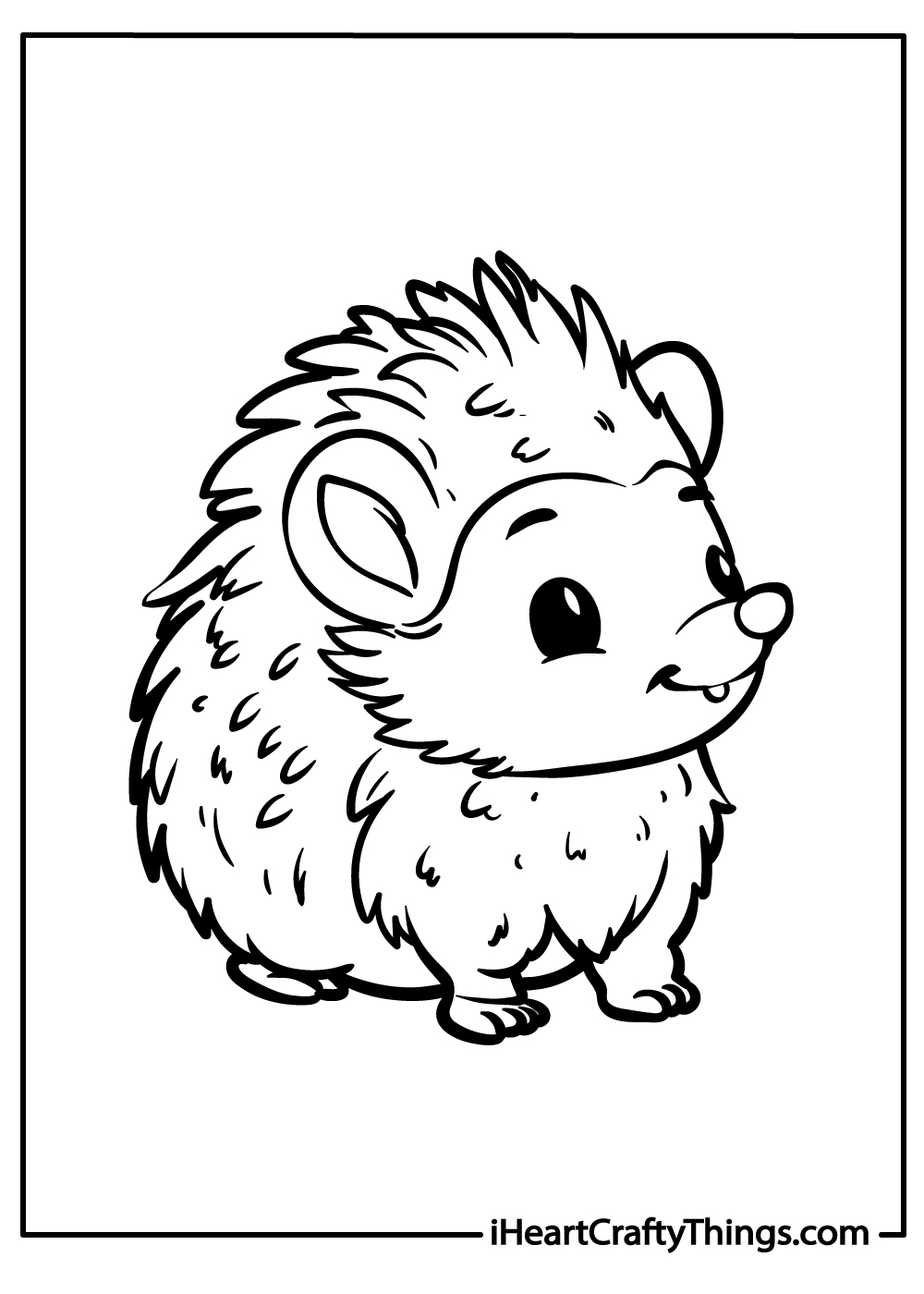 This second hedgehog coloring sheet shows another hedgehog on an adventure! He's on top of a tree stump to get a better view of his surroundings, and he looks very happy to be on this adventure.
Just like the first hedgehog coloring page, I would suggest some more bright Springtime colors to make this image pop with color!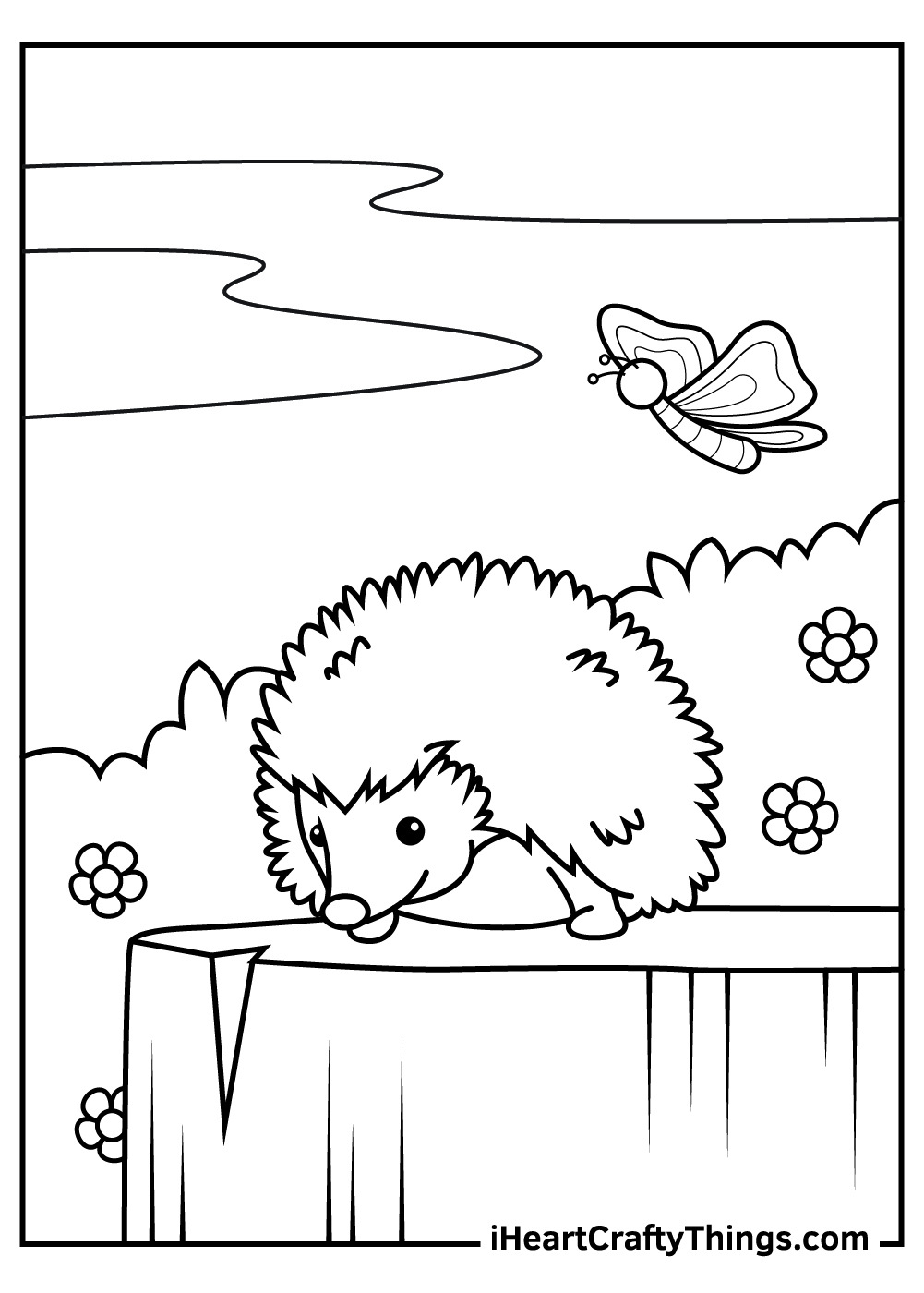 We're getting fancy with this next hedgehog coloring page for kids!
This little hedgehog is surrounded by stars, and while the previous hedgehog printables had more natural color elements, with this image I think it would look great to use any of your favorite bright colors in your collection.
REMEMBER: You can get the COMPLETE set of these coloring pages >> HERE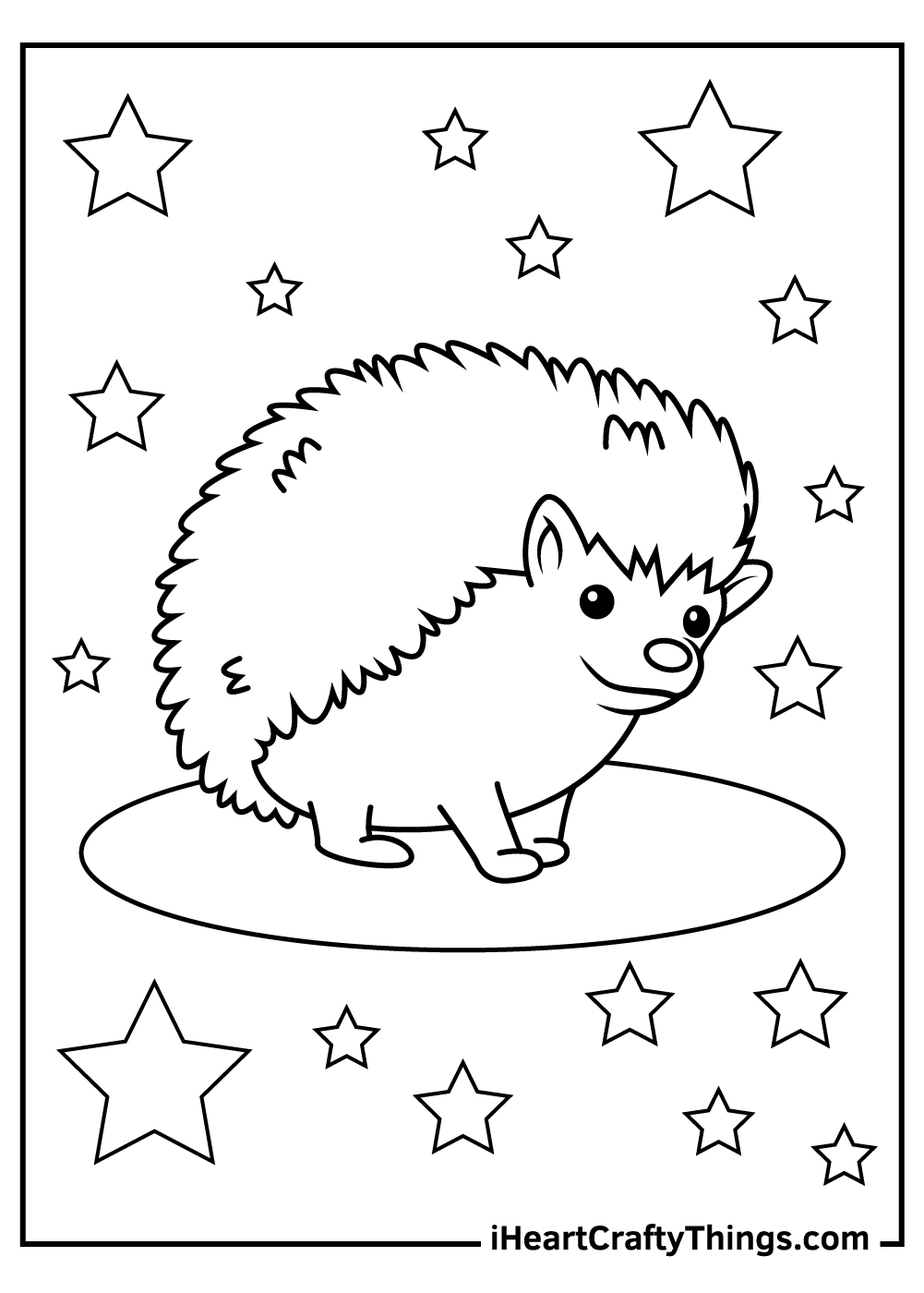 This hedgehog coloring page features a cute little hedgehog standing on his little spiky legs, eager to explore the world.
He's got big round eyes filled with wonder and a smile ready for new discoveries. The flower on his head makes him look even more adorable.
As you color in his prickly quills, give him fun colors to match his adventurous spirit. Maybe you can give him some accessories like a backpack or hat.
You can also add some background details, like trees or rocks.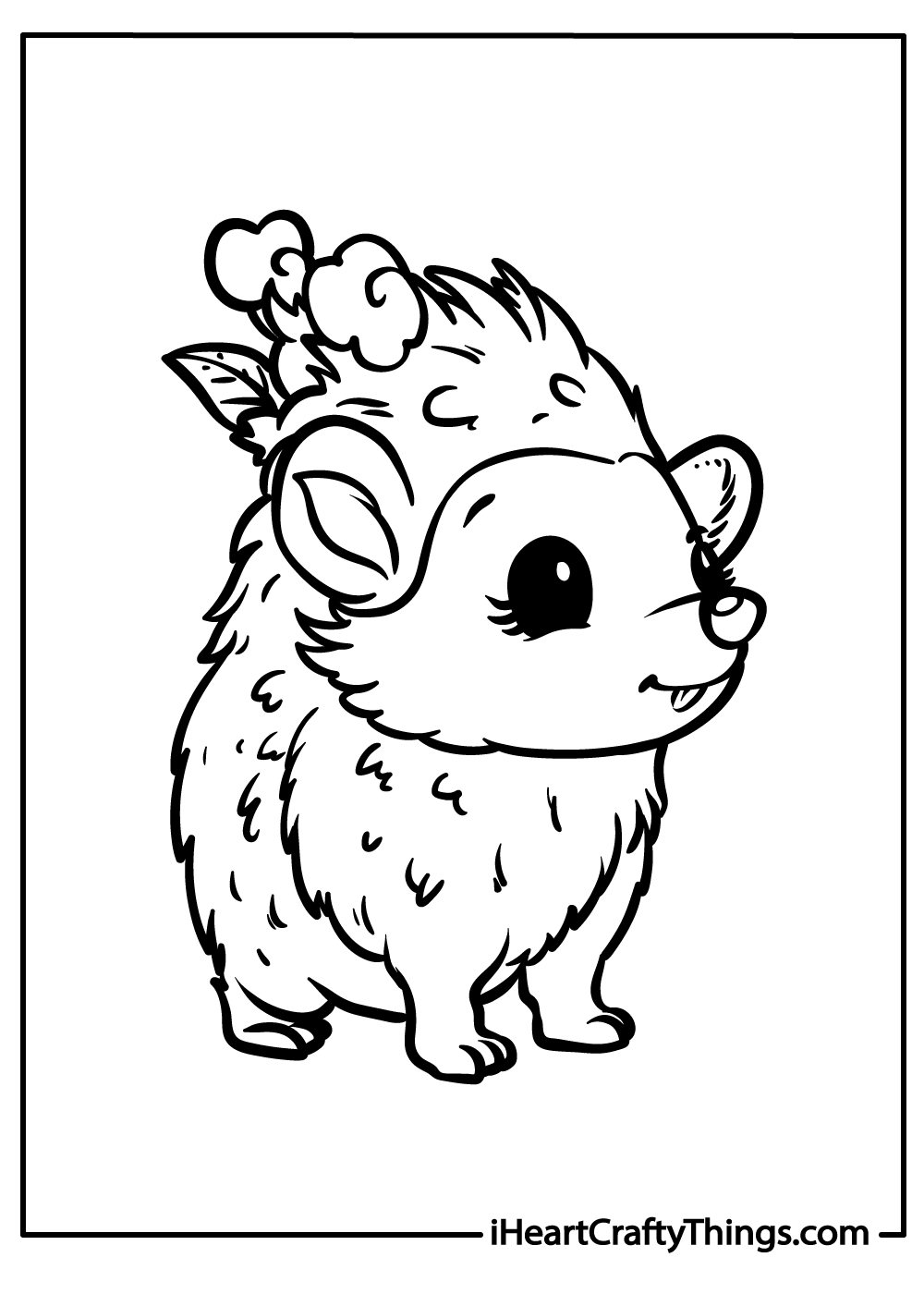 It's snack time in this cute hedgehog printable. This one is munching on a delicious watermelon, and that means there's room for some beautiful reds and pinks to make the watermelon look as juicy as possible.
Maybe you could use some watercolor paints to give the watermelon a unique look.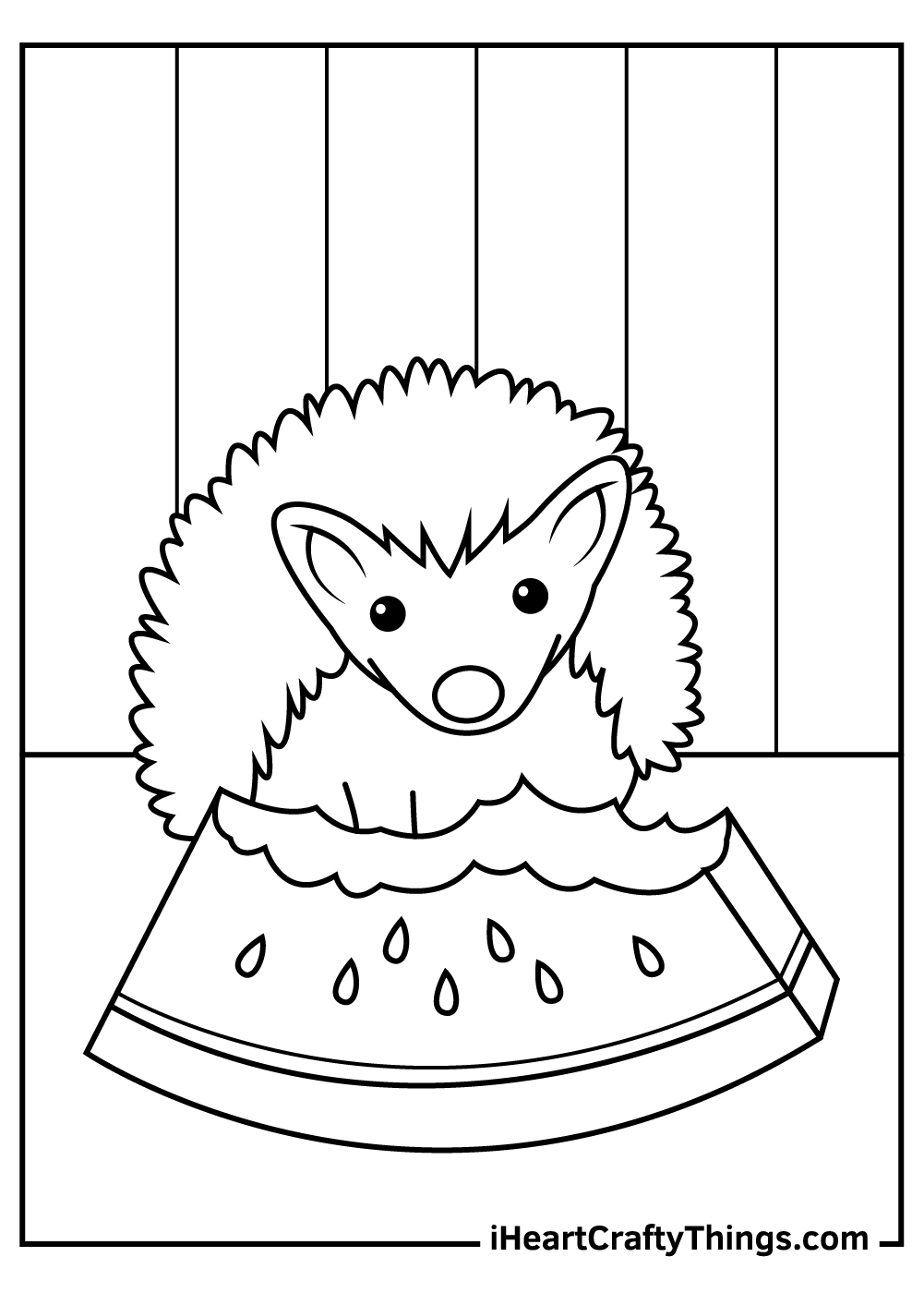 We have a very cute hedgehog coloring page coming up here as a hedgehog is sitting in a teacup and feeling the love!
For this cute and cozy hedgehog printable, maybe you could draw in and color a pattern or picture for the mug he's sitting in to add some more detail to this sweet image.
REMEMBER: You can get the COMPLETE set of these coloring pages >> HERE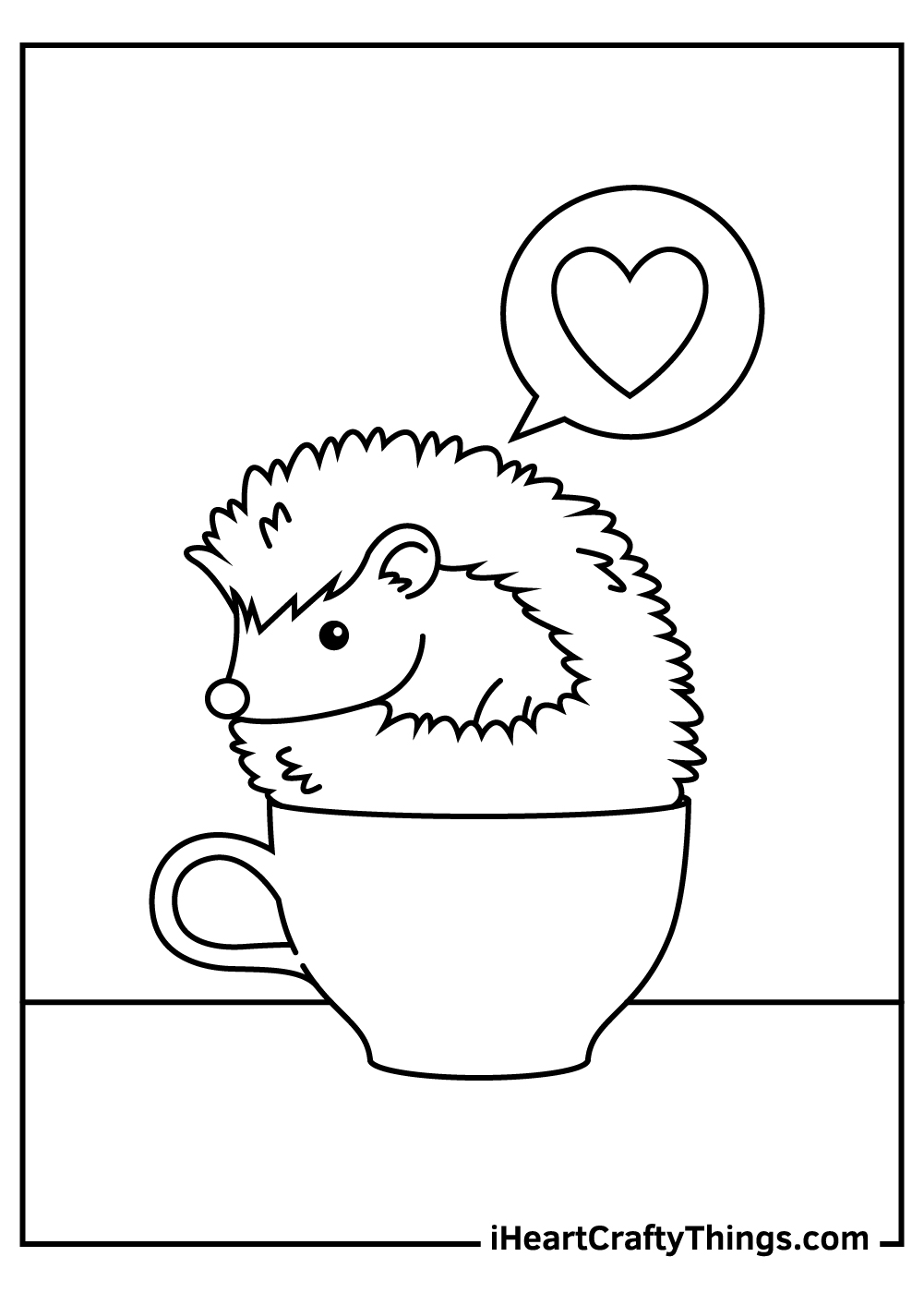 Add some elegance with this hedgehog coloring page. This hedgehog is posed with quiet poise, a cute and pointy nose, and tiny feet planted firmly. His textured spines await the touch of your coloring creativity.
Use pencils to shade his back with swirls and patterns, making his quills gleam with each stroke. Or opt for colors like royal purple or midnight blue to give him an air of nobility.
For the background, consider a starry night sky to match his mysterious nature.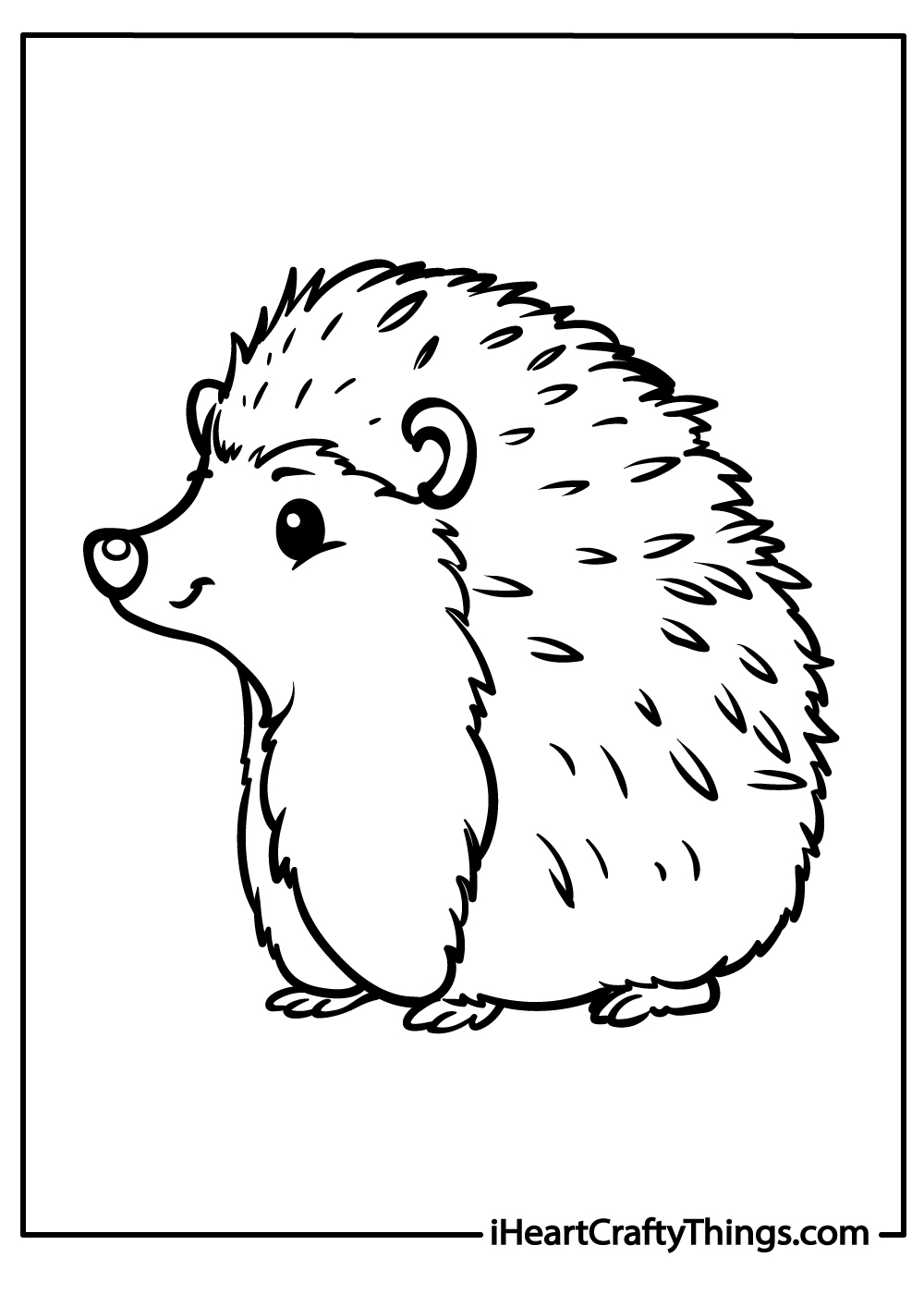 A happy hedgehog is out enjoying nature in this hedgehog coloring sheet for kids! This is another chance to go bright and bold with more Spring and Summer nature colors.
For this hedgehog coloring page, maybe you could experiment with different pens and paints to give it a more vibrant look.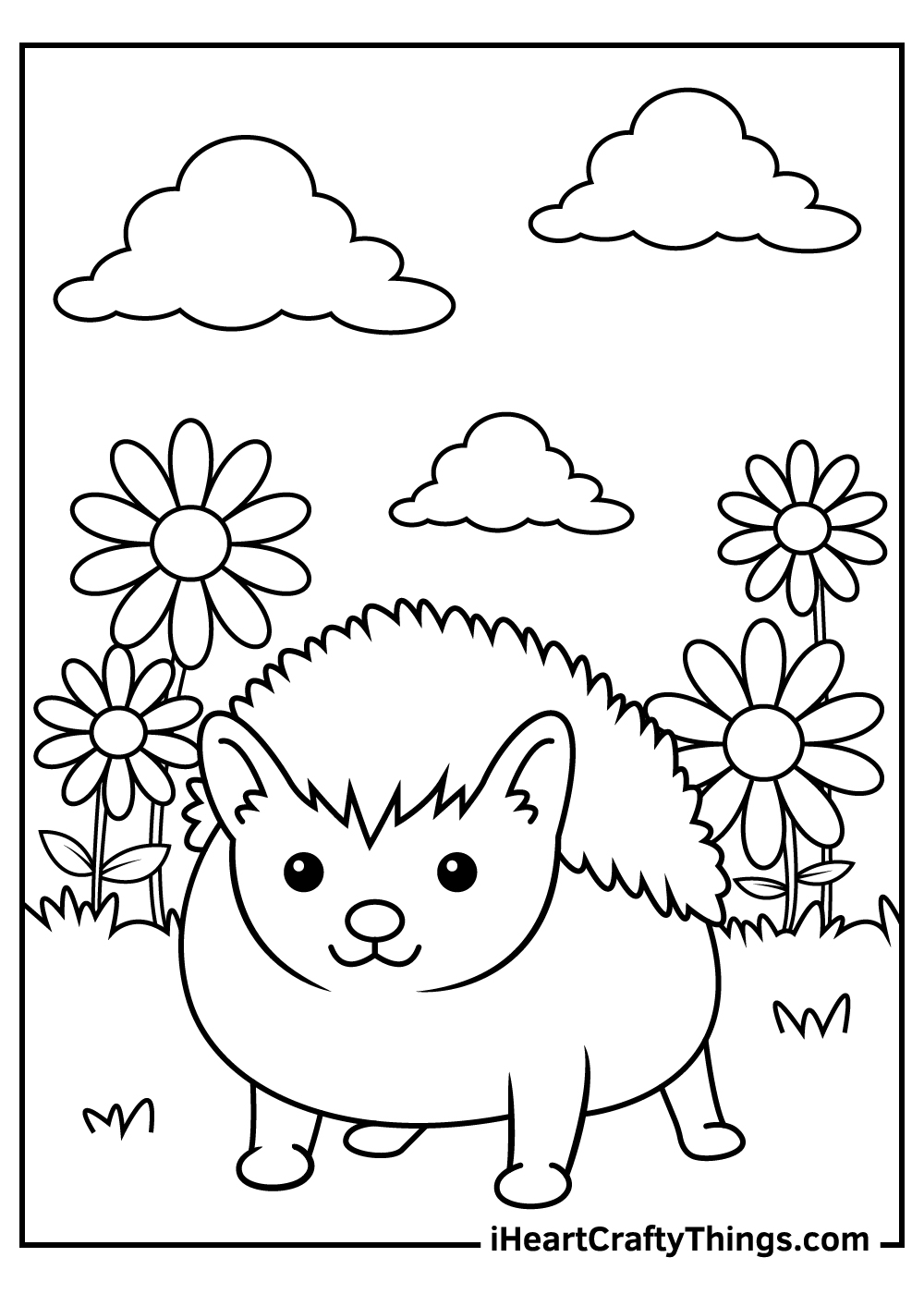 You're invited to a birthday party in this free hedgehog printable! He looks about ready to blow out his candles in this image, and it's up to you to decide what his cake looks like using your colors.
There are also plenty of shapes in the background for plenty of fun colors, so which ones will you use to finish off this hedgehog coloring page?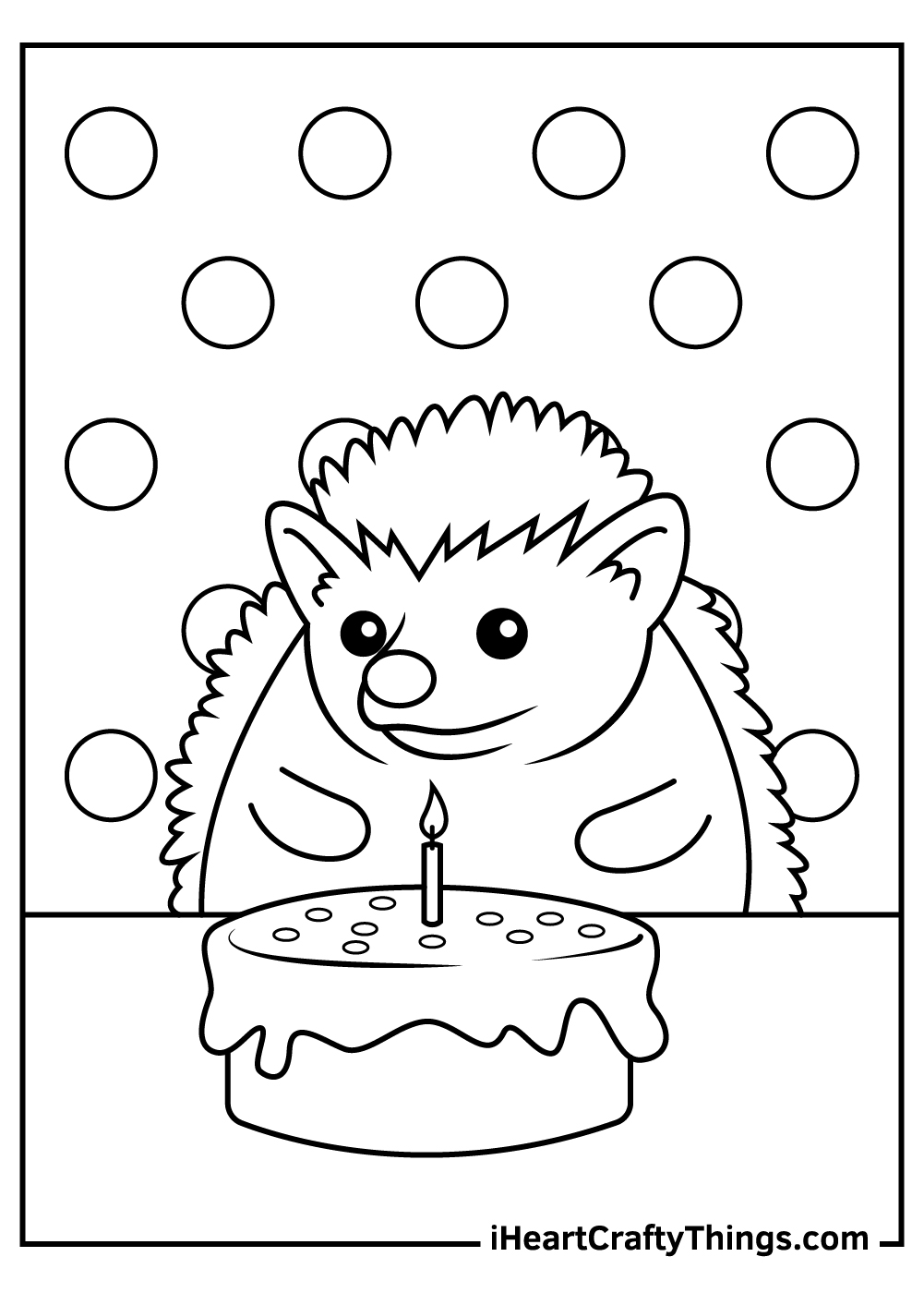 This hedgehog looks playful and ready for some fun. Look at his eyes wide open as if he just saw his best friend in the distance.
What do you think those bright eyes are saying? Maybe they're shouting "color me!"
We think any color or pattern would fit this hedgehog. Feel free to accessorize him with a colored-in party hat, ball, or scarf.
You can also add some background details, such as grass, flowers, or insects. The options are endless for this little adventurer.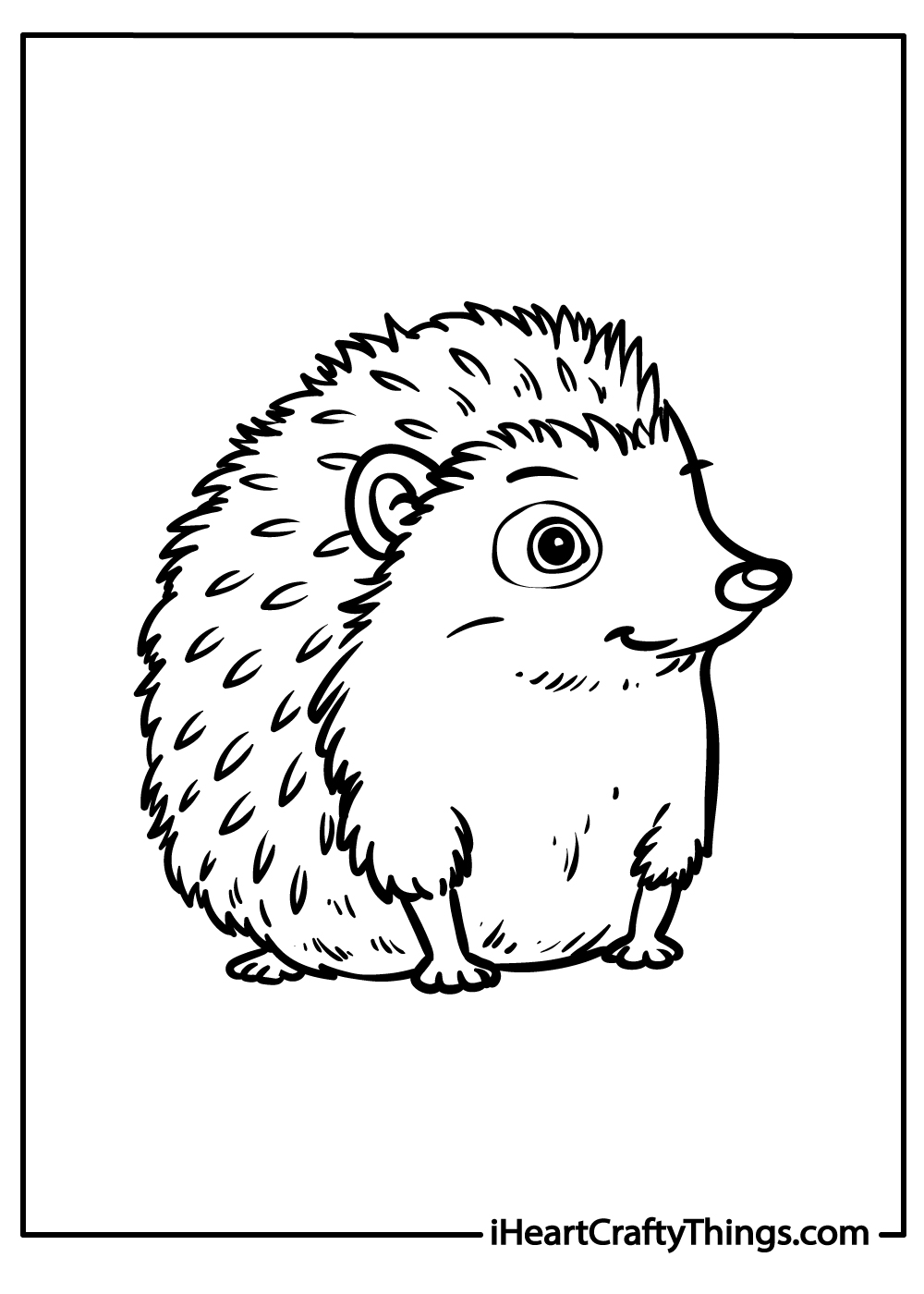 We have another very loving hedgehog coloring sheet up next, with plenty of hearts for you to color in!
If you used some lovely bright reds for the hearts and maybe a nice blue or green for the background, this hedgehog printable could be a nice card to give to someone you care about.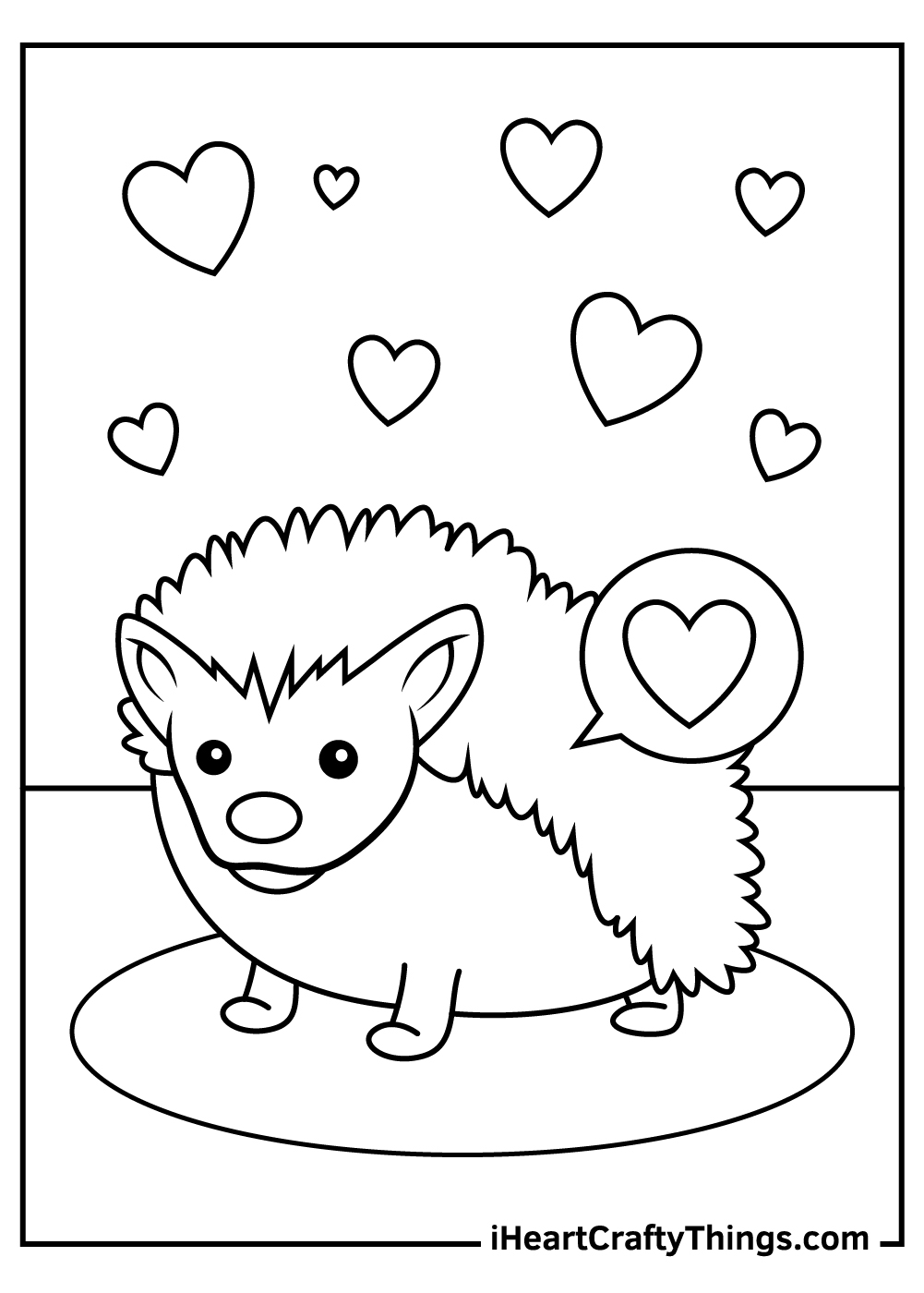 It's another hedgehog adventure in this next hedgehog printable. He's out in nature, and this image would be perfect to get out your favorite shades of green as there's plenty of plant and grass space for you to color in.
Finishing it off with a bright blue for the sky would really make this into a wonderful day outside with this cute exploring hedgehog.
REMEMBER: You can get the COMPLETE set of these coloring pages >> HERE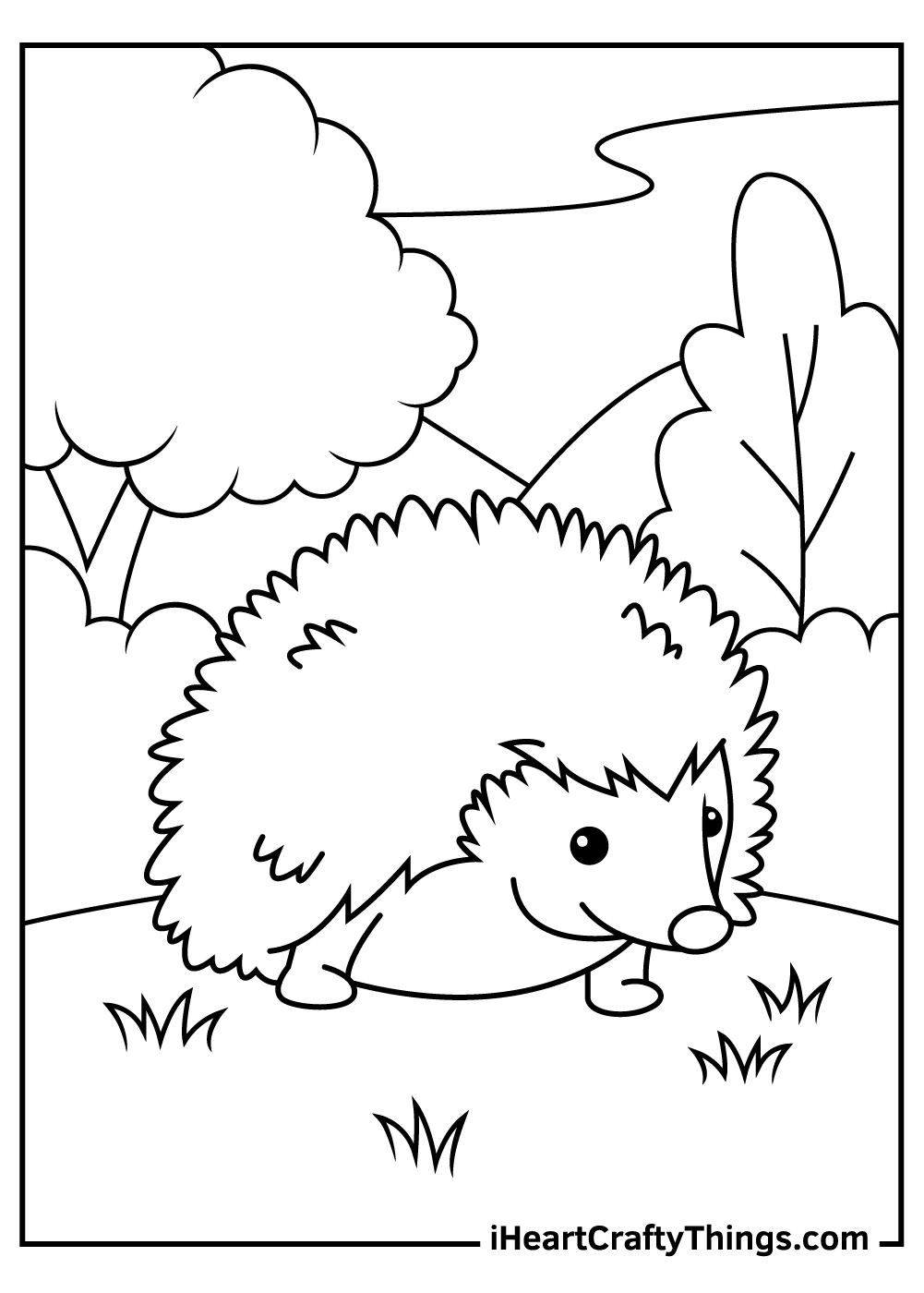 We have what could be a cute poster for your wall with this last free hedgehog coloring page for kids!
This one is sitting above letters spelling 'hedgehog,' and I think it would look great if you tried to use a different color for each letter of the word.
You could also alternate between two colors for the letters or use one of your favorites for all the letters.
Once you've chosen your approach, you can use another of your favorite colors for the rest of the background to make this an image that will catch people's eye!
How will you finish off this last hedgehog printable?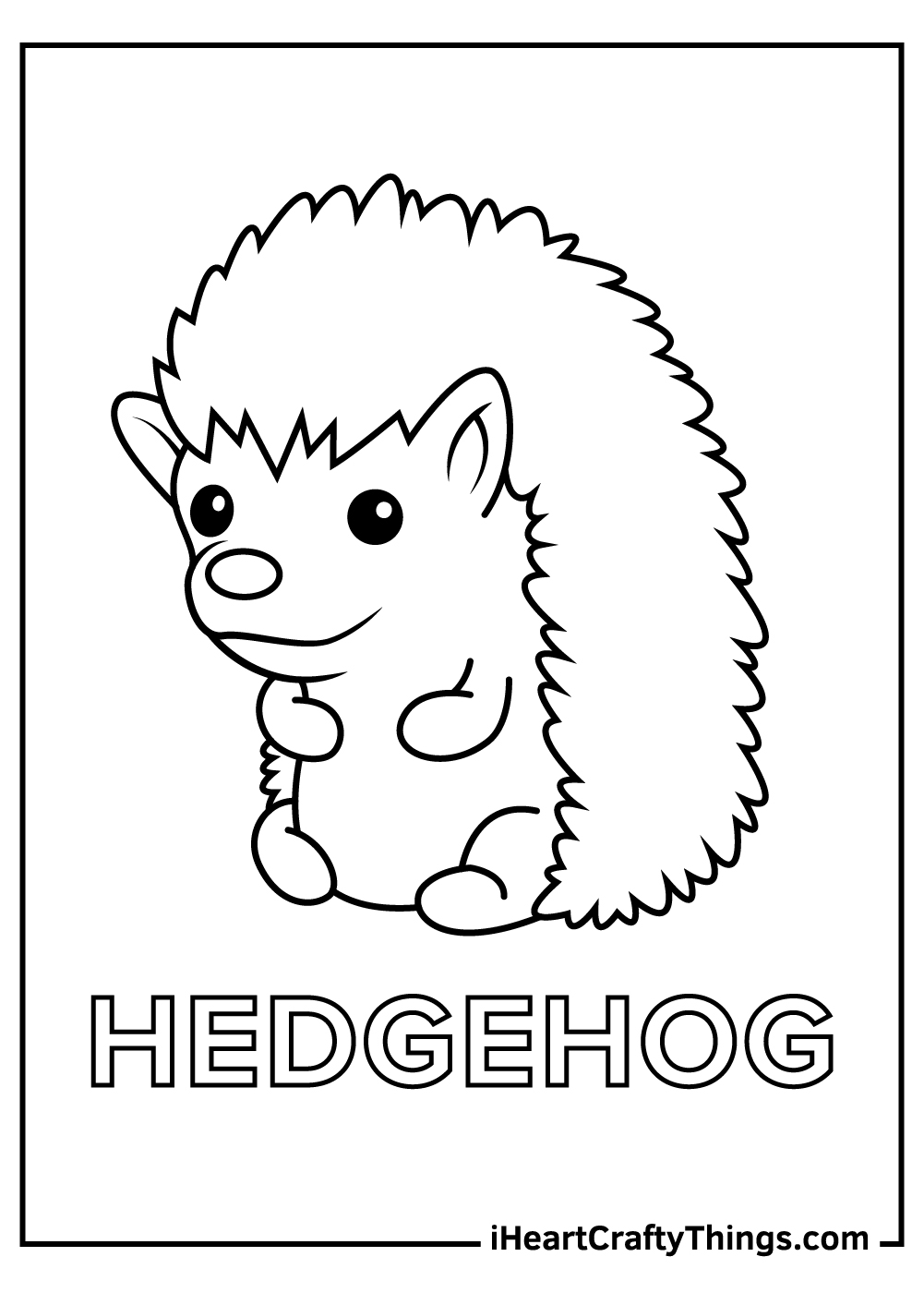 The next hedgehog in our hedgehog coming pages collection looks like he's up to some mischief. He's tiptoeing and looking to sneak up on his friend. Or maybe he's trying to grab an insect.
There's so much to color here. You can give the hedgehog camouflage quills or forest-shaded fur to help him sneak through the trees undetected.
You can even disguise this hedgie with a ninja mask and outfit.
When you're done, this sneaky hedgehog will be ready for secret missions beyond the page.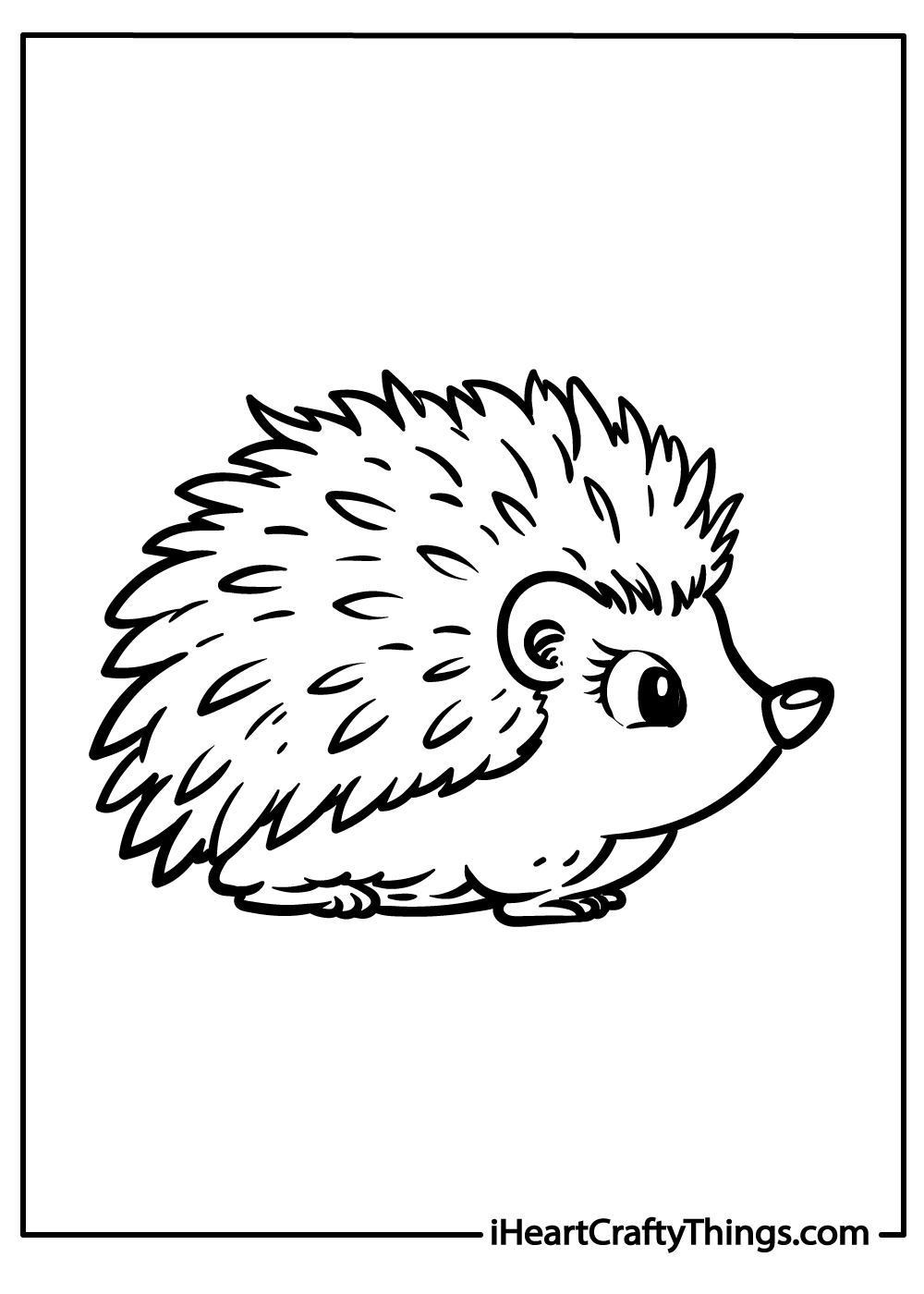 Hedgehog Coloring Pages – Which will you choose?
We hope these free hedgehog coloring pages for kids provided you hours of coloring fun with some adorable little hedgehogs!
Remember that all of our coloring pages and printables are completely free for you to print and have fun with. That means you can print as many copies of your favorite hedgehog printables if you'd like to experiment with different colors.
You could also try using mediums like acrylic and watercolor paints along with colored pens and pencils to shake things up even more and create some beautiful images!
Don't forget to like and share our Facebook page to make sure you never miss out on any of our free coloring pages and printable goodies. Also, please share your completed hedgehog coloring sheets to our page as well for us to see.
We can't wait to see your bright and colorful little hedgehogs, and it's always great to see your colorful creativity on display!
REMEMBER: You can get the COMPLETE set of these coloring pages >> HERE