On this page, you will find 15 all new Mandala coloring pages that are completely free to print and download.
Mandala is an extraordinary work of art with intricate geometric designs that hold spiritual and symbolic meaning. It's famous globally because of its powerful significance to various religions and traditions as well as its distinct and vibrant appearance.
In their most basic form, mandalas are usually shaped circles with various shapes or designs arranged in a very organized way around a central focal point.
The circular design of a mandala represents the idea of life never-ending and that everything in this world is connected. More than its appearance, a mandala holds much meaning to different people.
Because of its detailed look and design and the deep meaning behind it, we created mandala coloring pages that you can download and print for free.
Get your coloring tools out as it is time to enjoy these 10 free mandala printables.
15 Brand New Mandala Coloring Pages – Free to Print and Color
This first mandala printable is a geometric lotus flower design arranged inside a circle. The layers of this flower are arranged in a balanced way that is pleasing to the eyes. When you have put all the colors in this image, it will surely give a sense of peace and harmony.
The lotus flower design in mandalas usually depicts balance and is a sacred symbol in Buddhism. When a lotus flower reaches up from underwater and into the light, it is the same as spiritual awakening and enlightenment for humans.
How do you want the colors to come out of this mandala page? Are you sticking with one color, using just different hues? Or are you using various colors to create a dynamic look?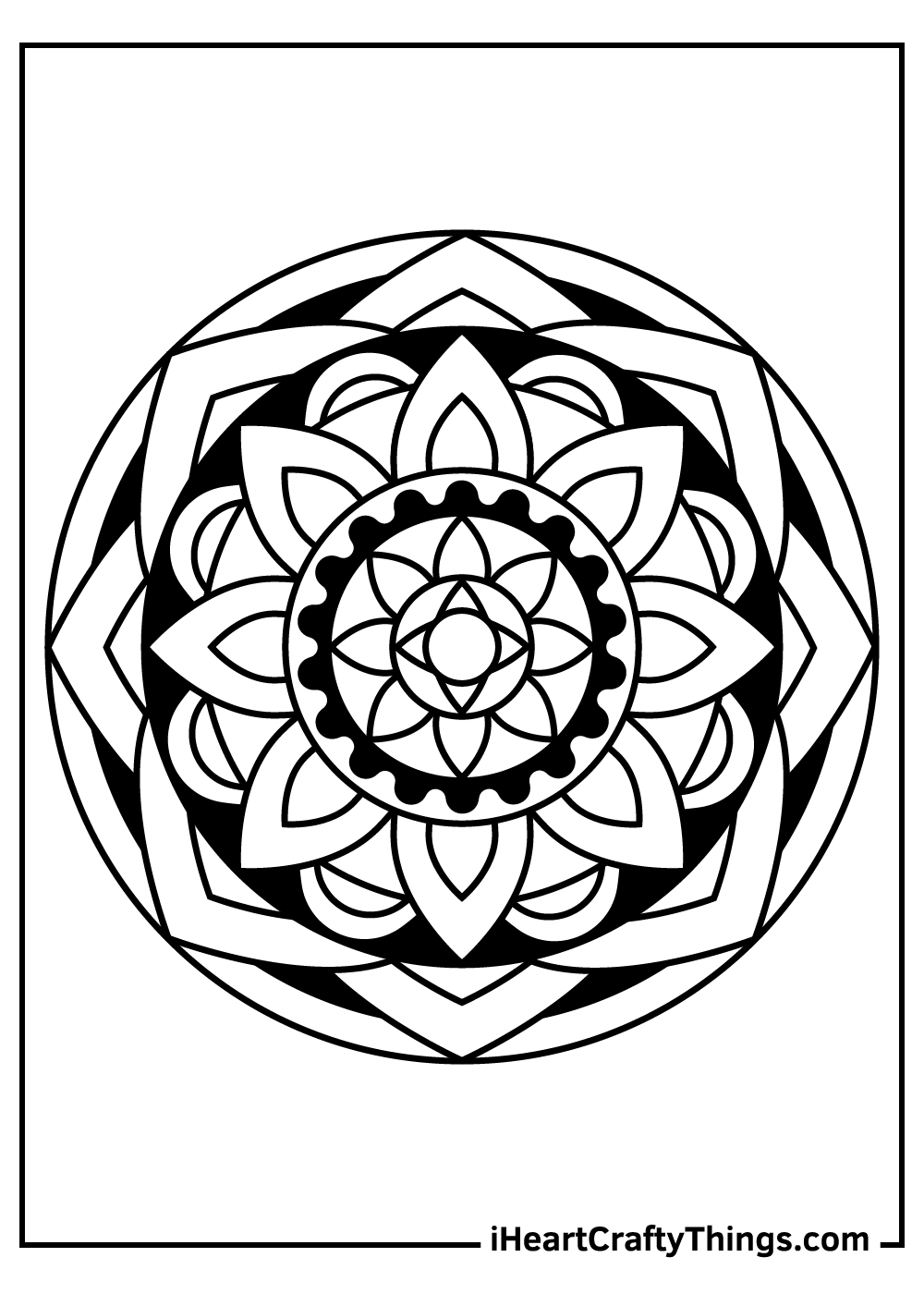 This is a mandala that has a flower shape in the center, with eight pointed petals and a smaller flower inside. The flower is detailed with lines and dots, creating a contrast with the background.
Around the flower are more flowers of different sizes and shapes, some with leaves and stems. This mandala printable can symbolize your beauty and grace, as well as your creativity and expression.
I would color it with warm colors, such as red, orange, yellow, and pink. I think these colors would make the mandala look more vibrant and energetic.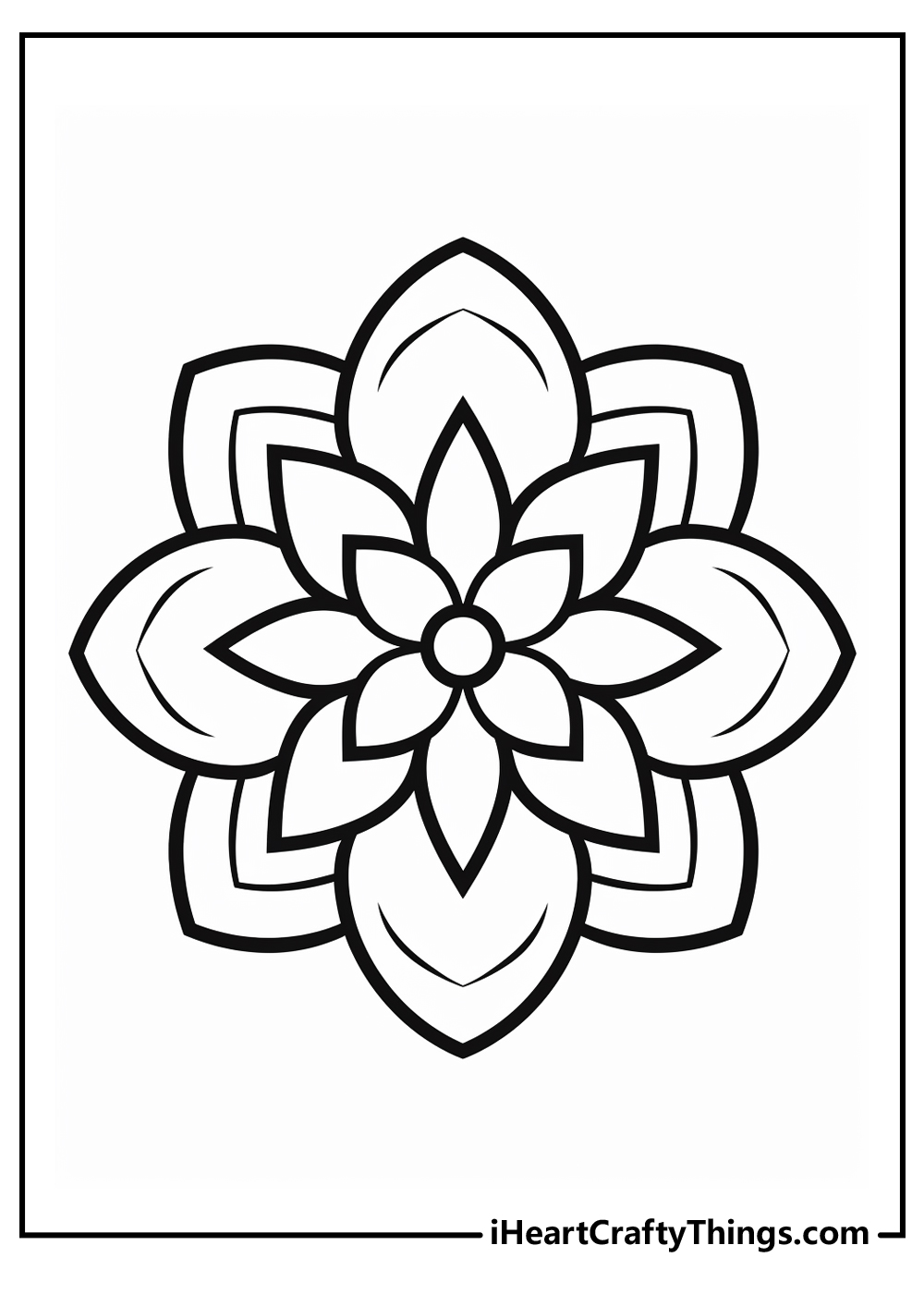 Our second free mandala coloring page is designed with a star sparkle as its central point.
Geometric shapes such as squares and oblongs are arranged around the sparkle to create a cohesive design.
Dominating the outer layer are the elongated circles. Circles, being the most common shape of mandalas, hold deep meaning – sometimes representing the cyclical nature of life.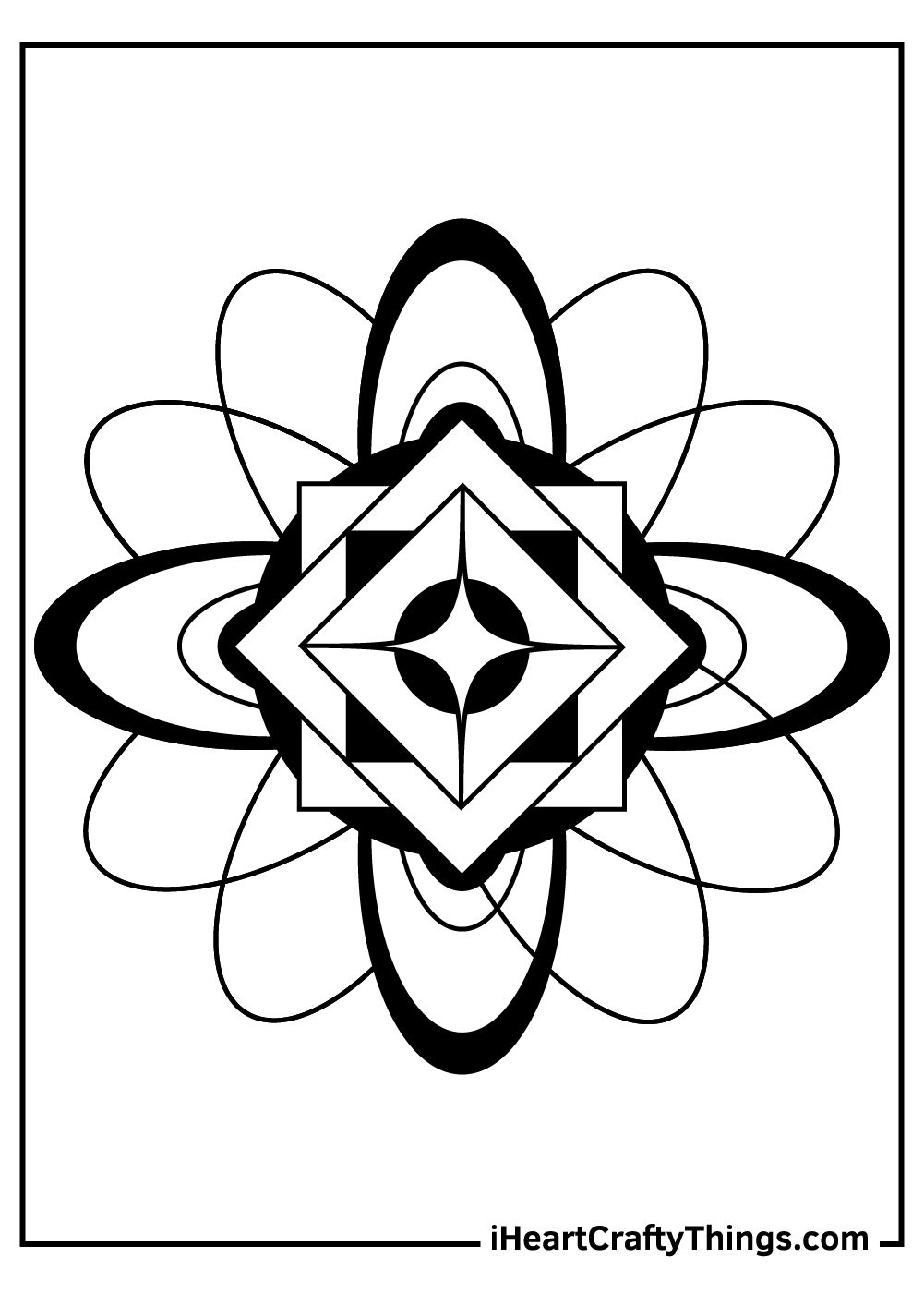 This next Mandala coloring page has a geometric design in the center, with eight petals that form a star shape.
The petals are filled with various shapes and patterns, such as triangles, circles, diamonds, and lines.
The center of the mandala is a small flower with eight petals that match the outer ones. The background is white, making the black lines stand out.
This mandala printable can symbolize your harmony and balance, as well as your logic and order.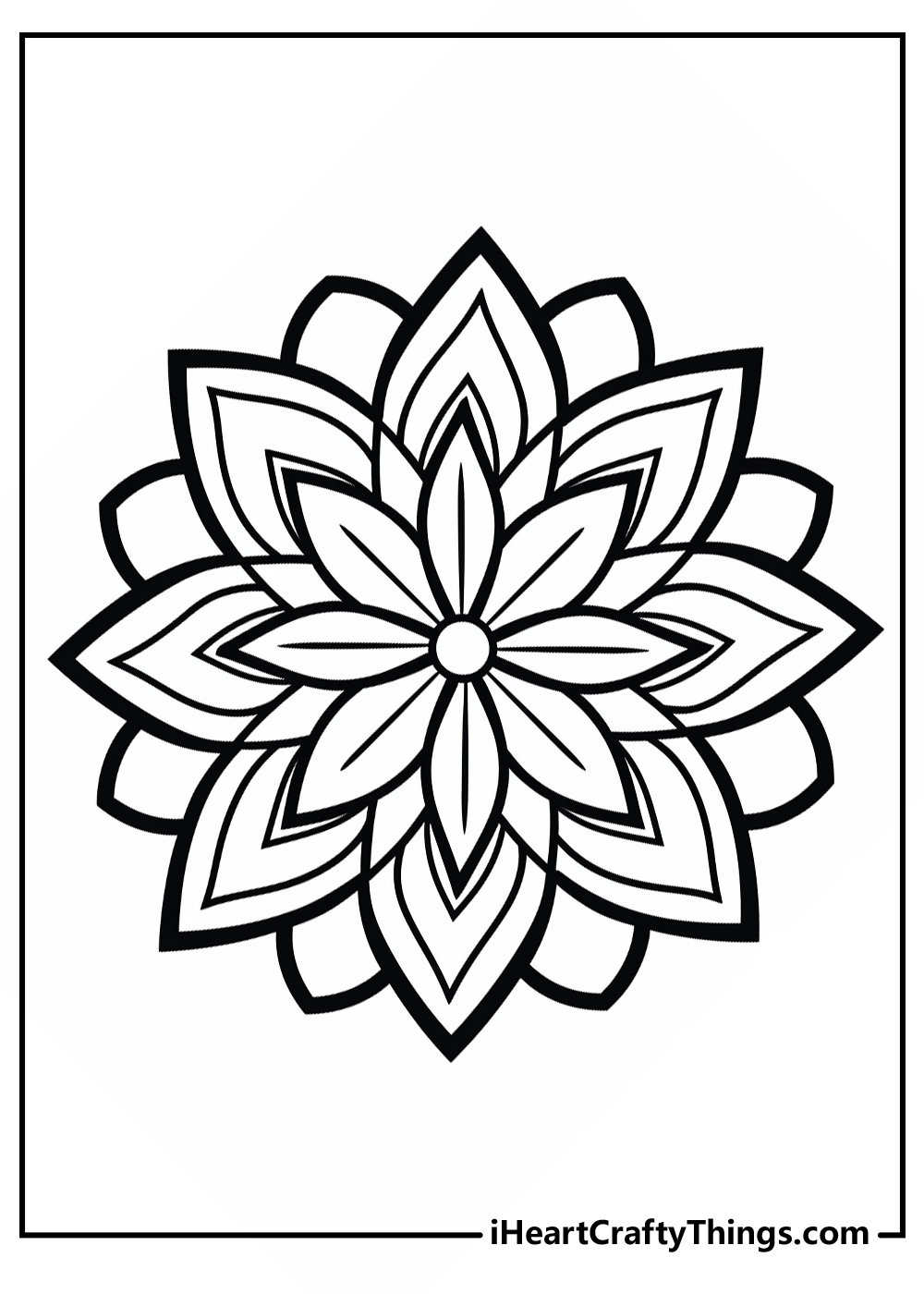 This circle mandala has four needle points coming out from its sides with a circle as its center.
Intricate lines forming diamond-shaped designs are also inside the circle, with all sides reflecting the same layout from its opposite side.
This mandala printable shows a balanced layout, which is a common trait among mandalas. But how does this image make you feel?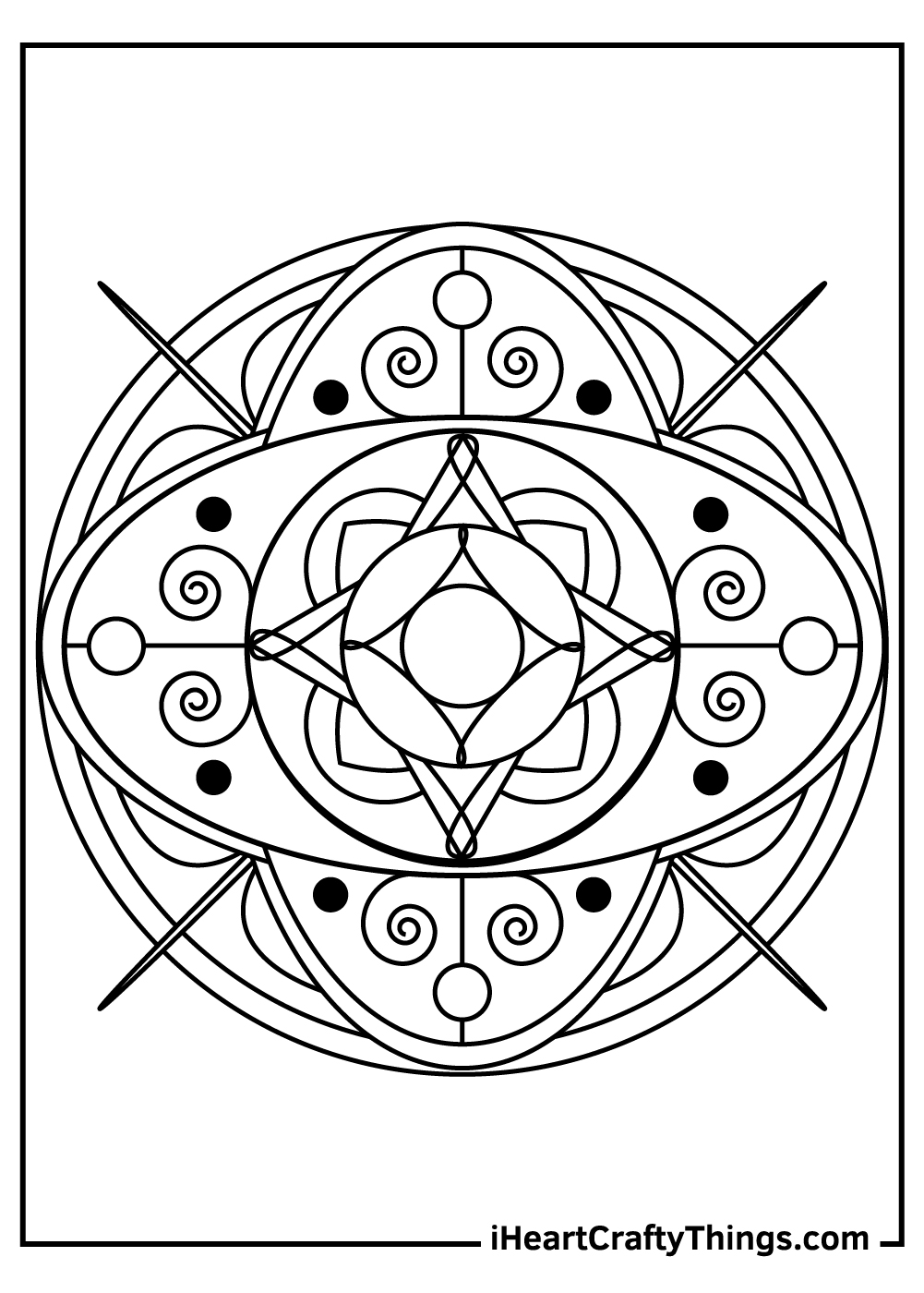 Our mandala coloring pages feature different layouts and designs that would bring out the artist in you.
The mandala design on this page features a six-point star with a circular motion layout making it very irresistible to the eyes. Inside the star is a circle with waves with every line and shape match its corresponding slice.
In Hebrew, this six-point star is called the "Star of David". It appears mostly on synagogues and Jewish tombstones, and also present on the flag of Israel.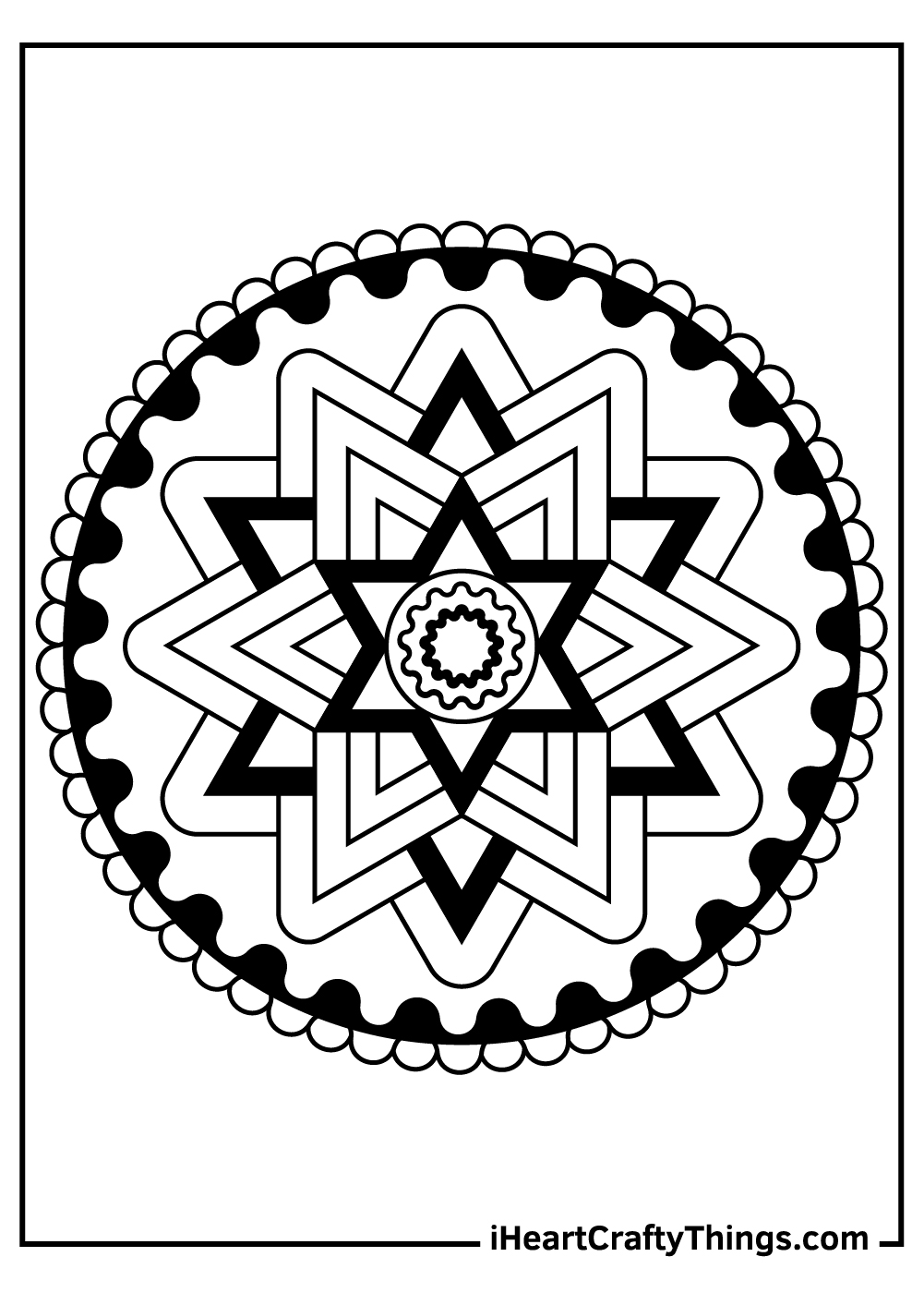 The Mandala coloring printable has a circular design in the center, with eight petals that form a flower-like shape.
The petals are decorated with various patterns and shapes, such as circles, triangles, stars, and lines.
The background is white, making the black lines stand out. This printable can symbolize your unity and wholeness, as well as your spirituality and connection.
You can Use colors inspired by things in nature like the blue sky, green grass, brown tree trunks, and yellow sun.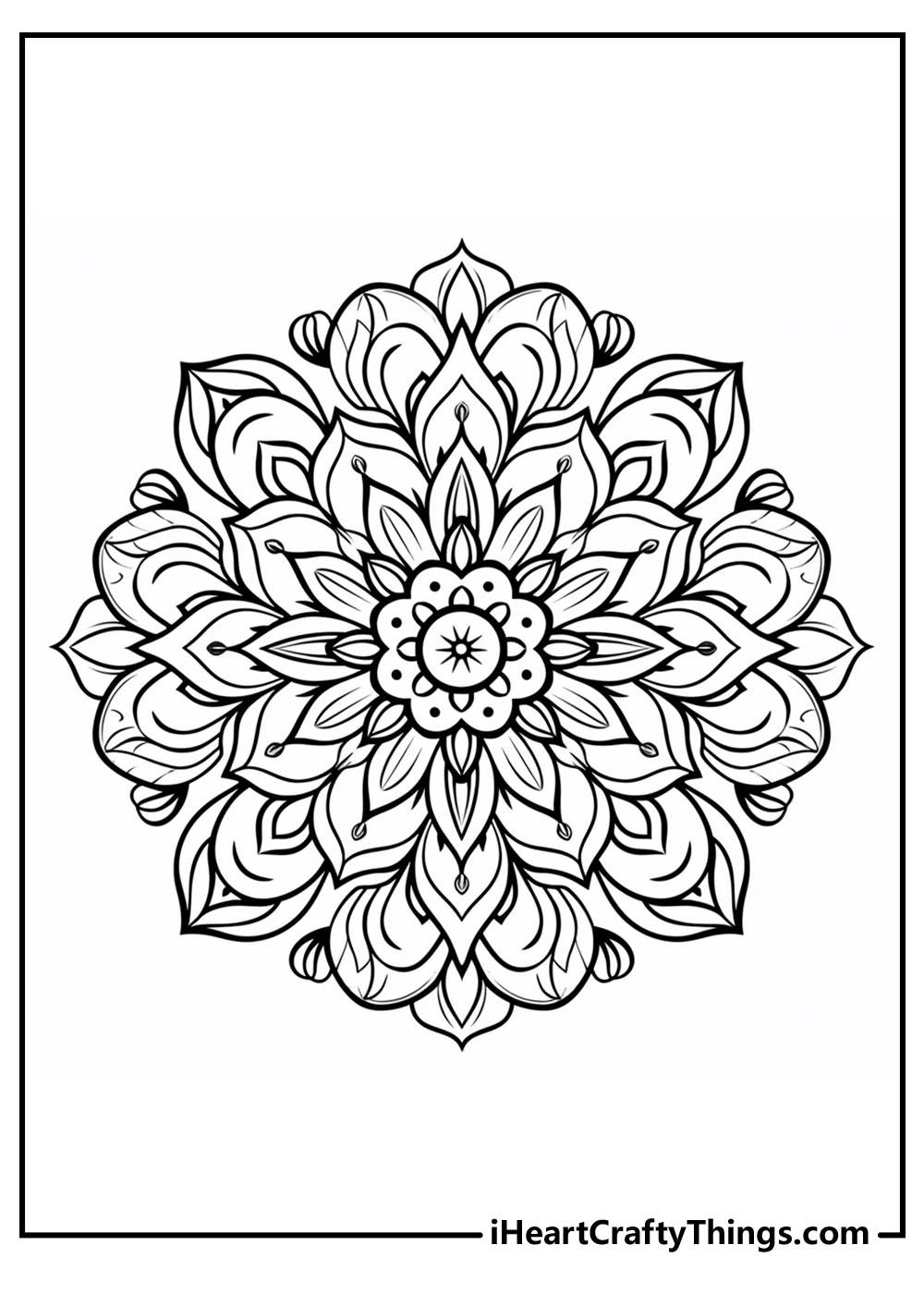 This circular mandala plays around the design of circles and flowers. Flower designs, as well as circles, are very much famous in mandalas.
Flowers in the mandala usually depict meanings of love, empathy, passion, charm, and hope.
A flower is positioned in the circle of this free mandala printable enclosed in a circle, with overlapping petals extending outside of the first two circles with flower designs at the end of each petal.
The symbol on the center of mandalas is considered the starting point or the beginning of contemplation or devotion. It's usually a dot, like the one on this free printable.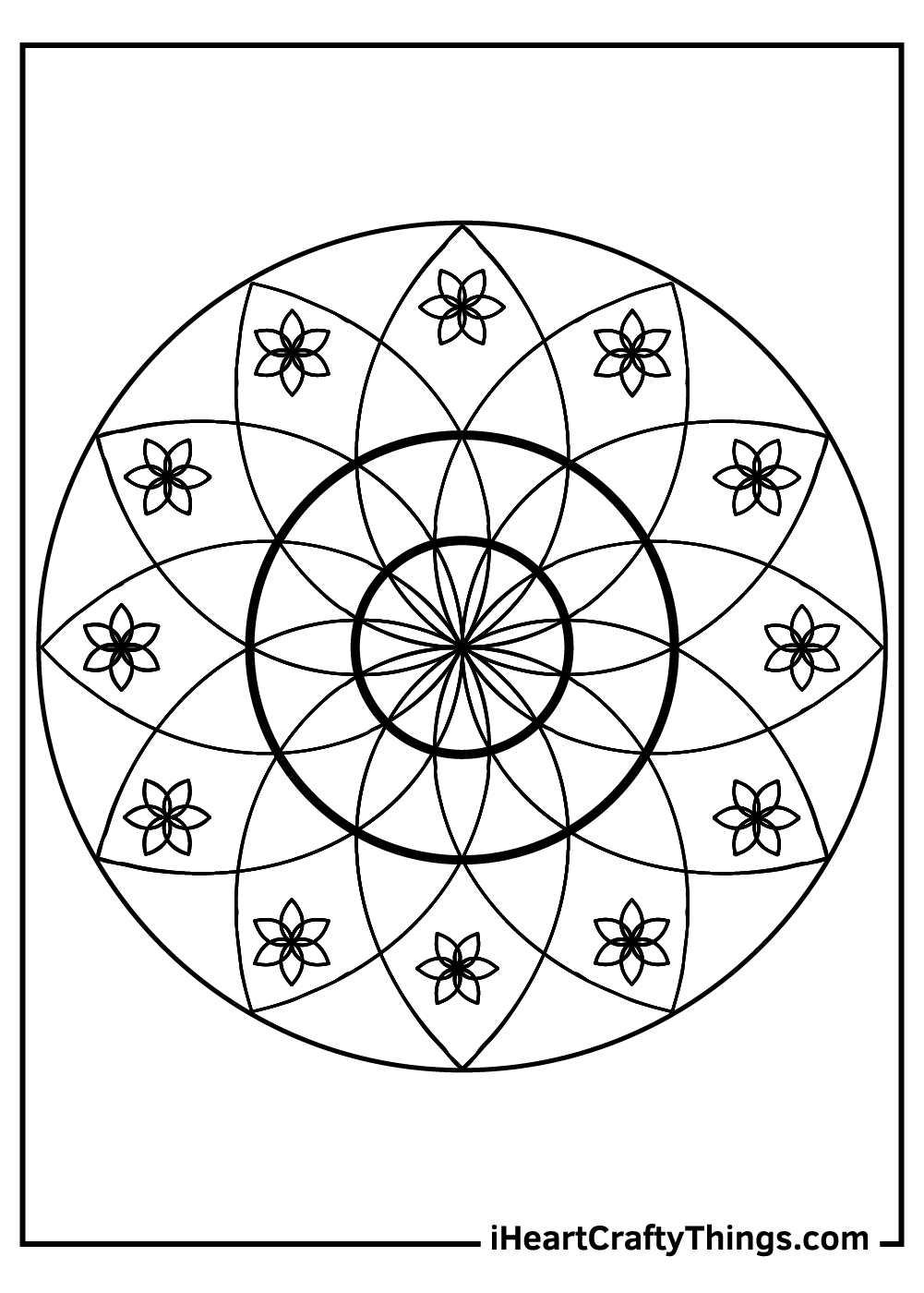 Here is a mandala with a thick border and a scalloped edge. The border is decorated with various patterns and shapes, such as circles, triangles, stars, and lines.
The center of the mandala is a small circle with a flower-like motif inside.
The background is white, making the black lines stand out. This mandala printable can symbolize your protection and security, as well as your elegance and refinement.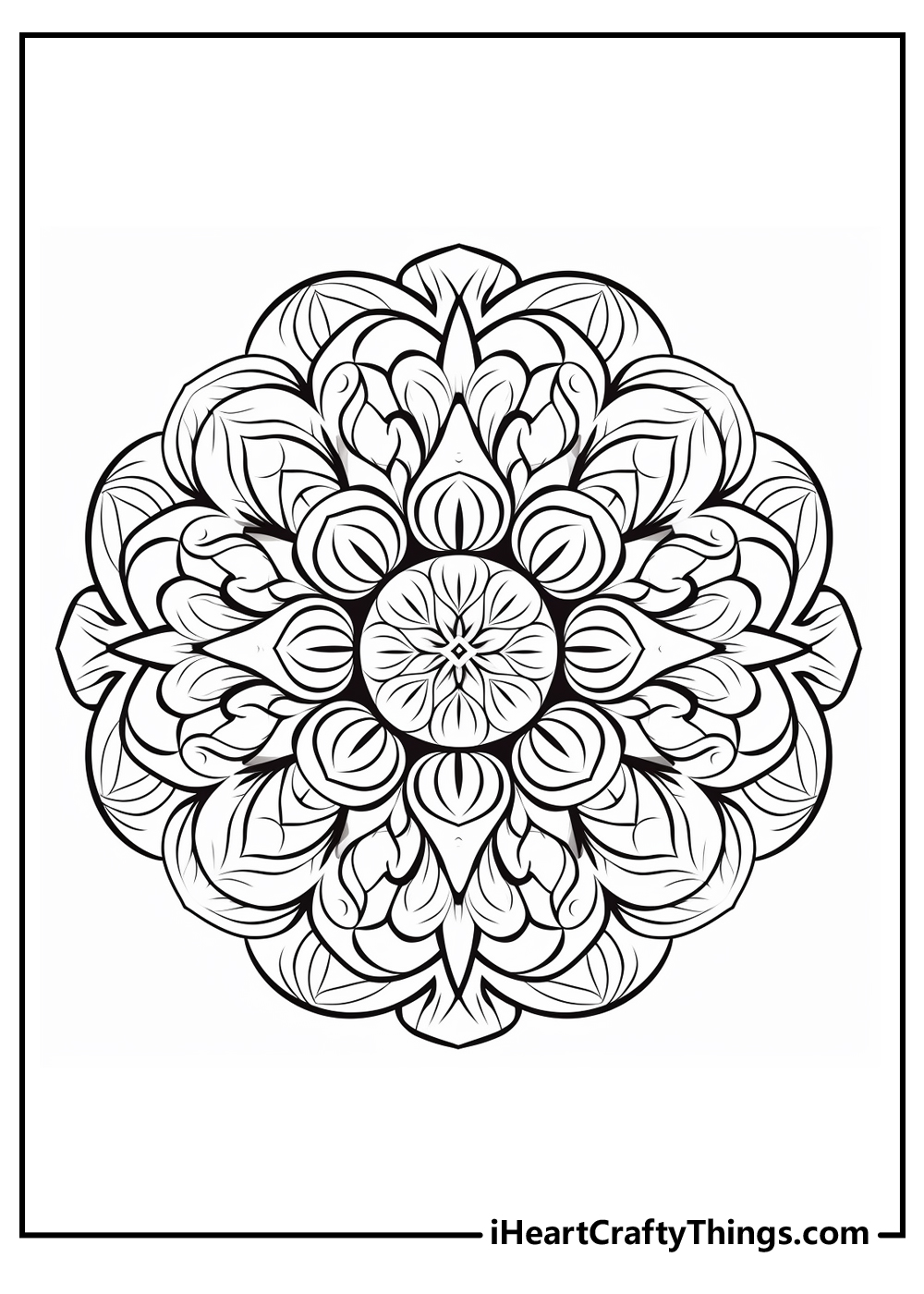 A common design in our mandala coloring pages is geometrically-designed flowers.
This circular mandala features a small flower on the center inside a circle with sparkle-shaped designs containing flowers.
It's a pretty combination of flowers, sparkles, and circle patterns. What colors do you think would best fit this mandala?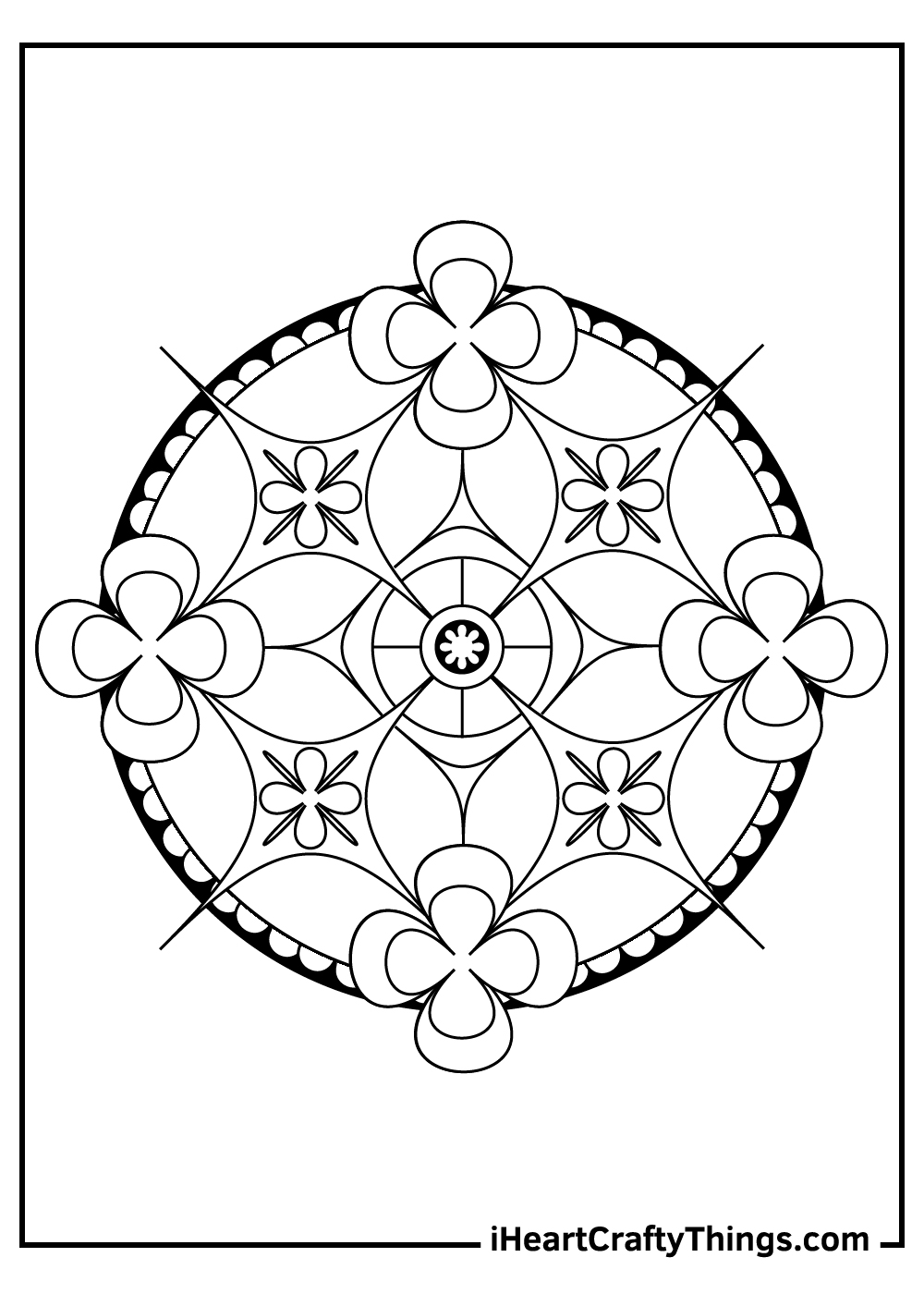 This free mandala coloring page highlights another lotus design pattern.
There are overlapping petals outward with intricate lines and shapes matching the lotus design. It is a balanced layout yet with complex flower patterns. This symbol of the lotus flower is said to promote focus, concentration, and spiritual growth.
As this is a lotus flower, playing around with bright colors on this free mandala coloring page doesn't sound like a bad idea.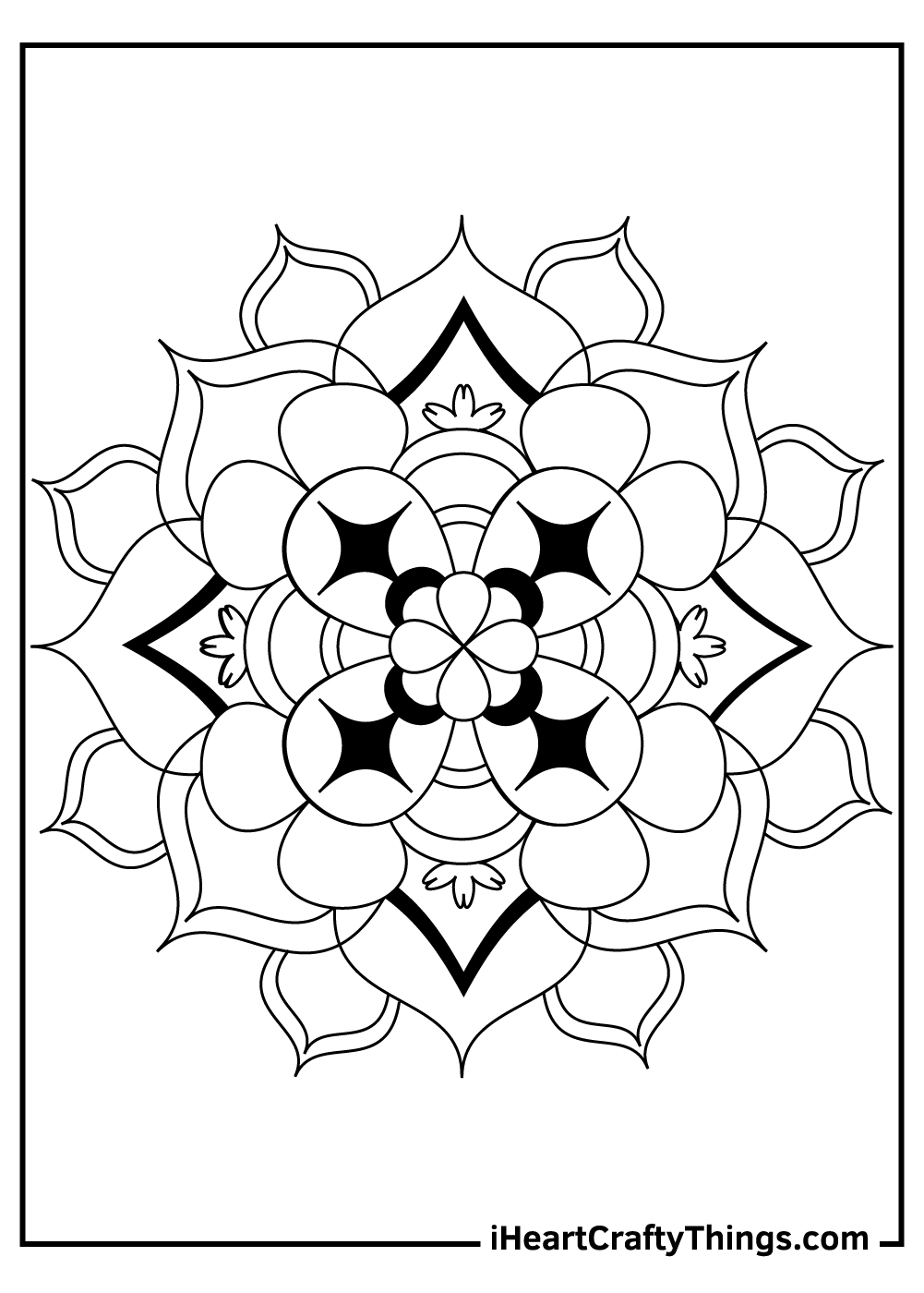 The sun takes the center on this mandala page. As a famous design symbol for mandala patterns, the sun represents the universe and is often related to life and energy.
In this image, the sun is accompanied by flower petal patterns and circles. You can play with colors on this free mandala printable. You can use vibrant colors on the sun pattern and use soft colors on its many circular patterns.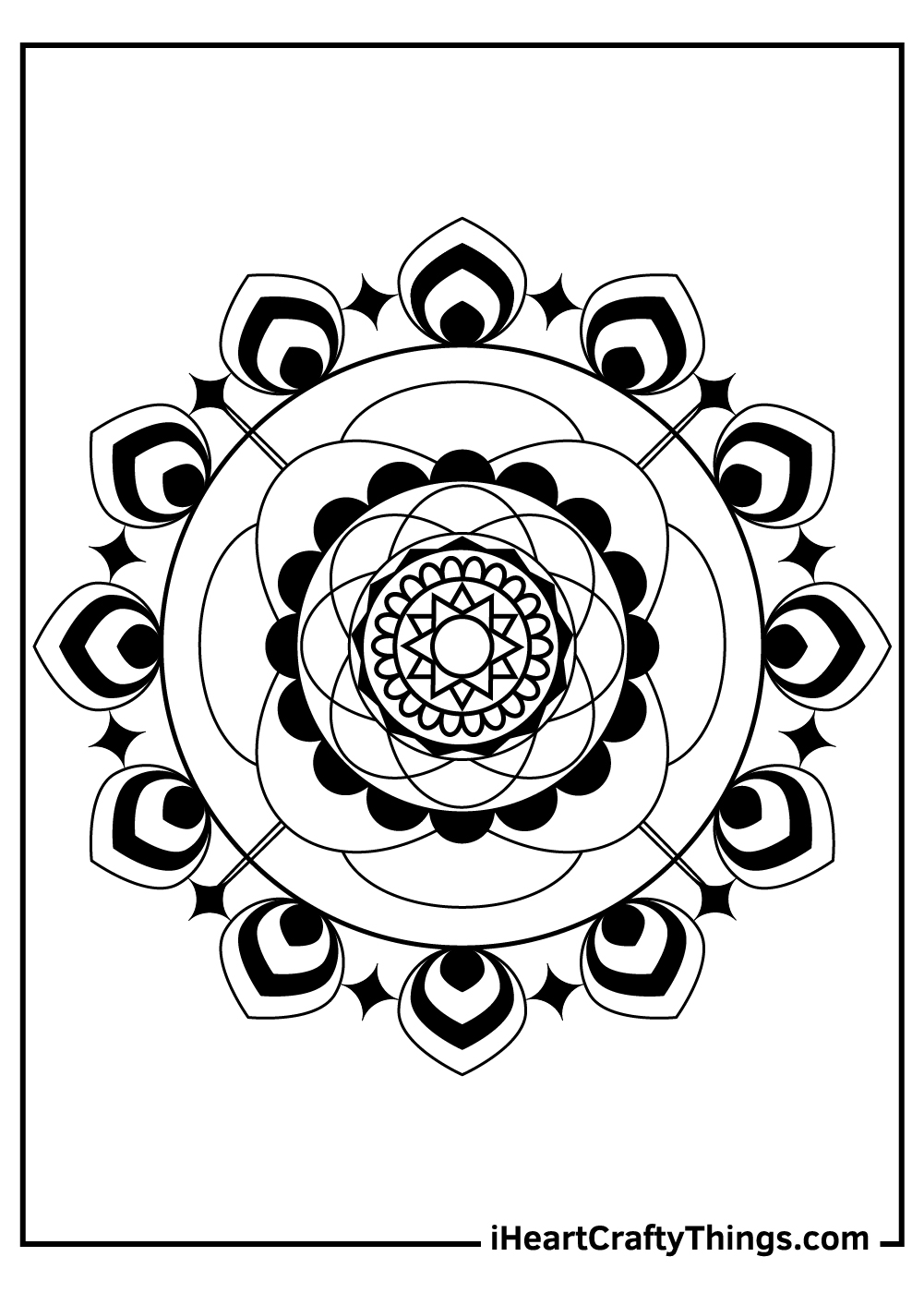 Our next mandala coloring page design is another combination of flower and circular patterns.
Eight-pointed triangles are poking out of the big circle in the middle. The usual representation of the eight spokes in mandalas is the Eightfold Path of Buddhism, a practice that leads to rebirth and liberation.
Bold and thick lines are present on this mandala design paired with many soft and circular patterns.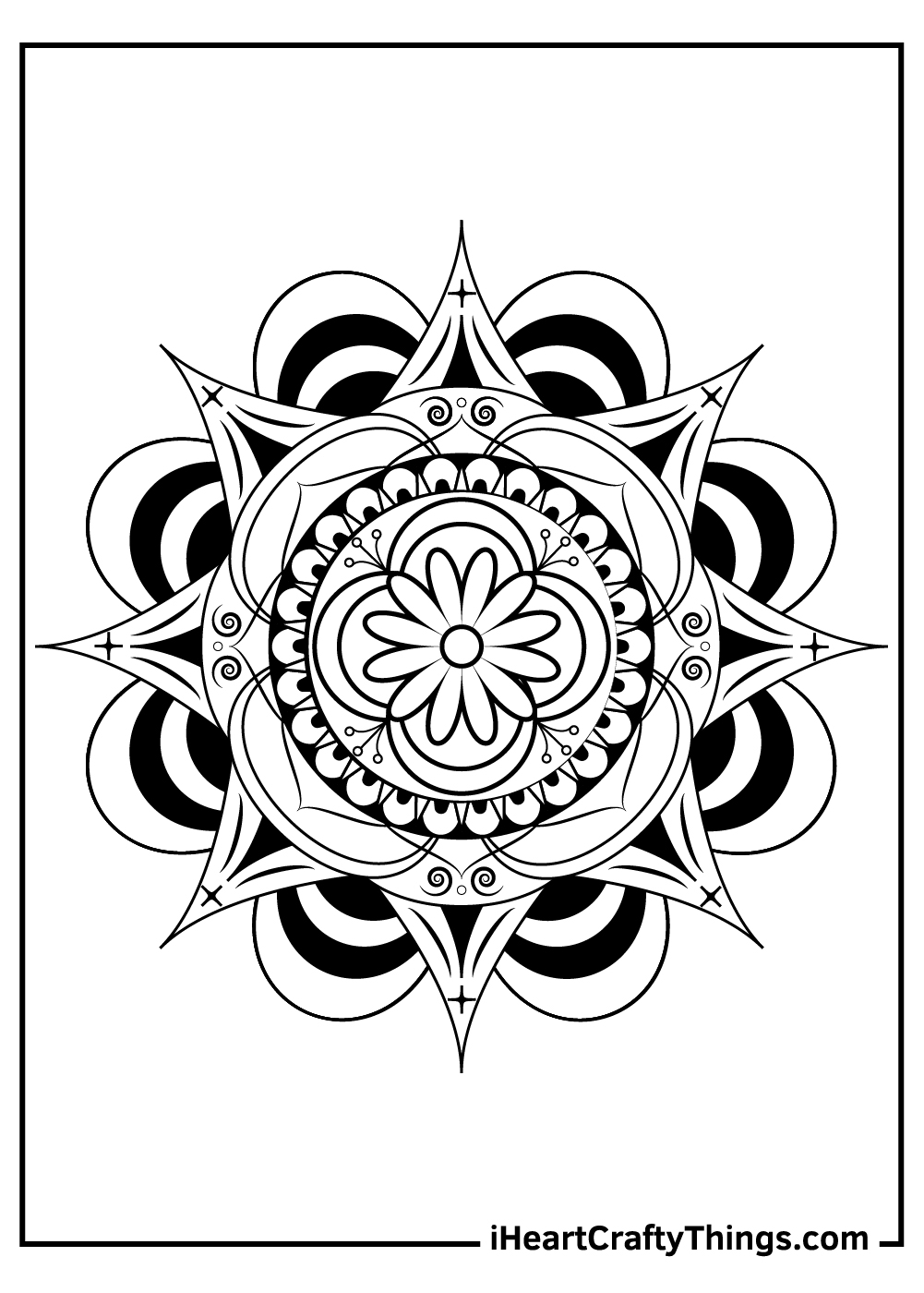 This mystical mandala blooms with beauty and elegance. At the heart is an ornate flower with eight graceful petals radiating outward.
Each petal is adorned with intricate patterns of circles, triangles, stars, and curving lines that add fluid movement. The result is a mesmerizing floral kaleidoscope.
The central flower is encircled by a border of dainty scallops, like the edges of a flower's petals. This frame amplifies the beauty within.
As you bring this mandala to life with vivid hues, contemplate your own inner and outer beauty.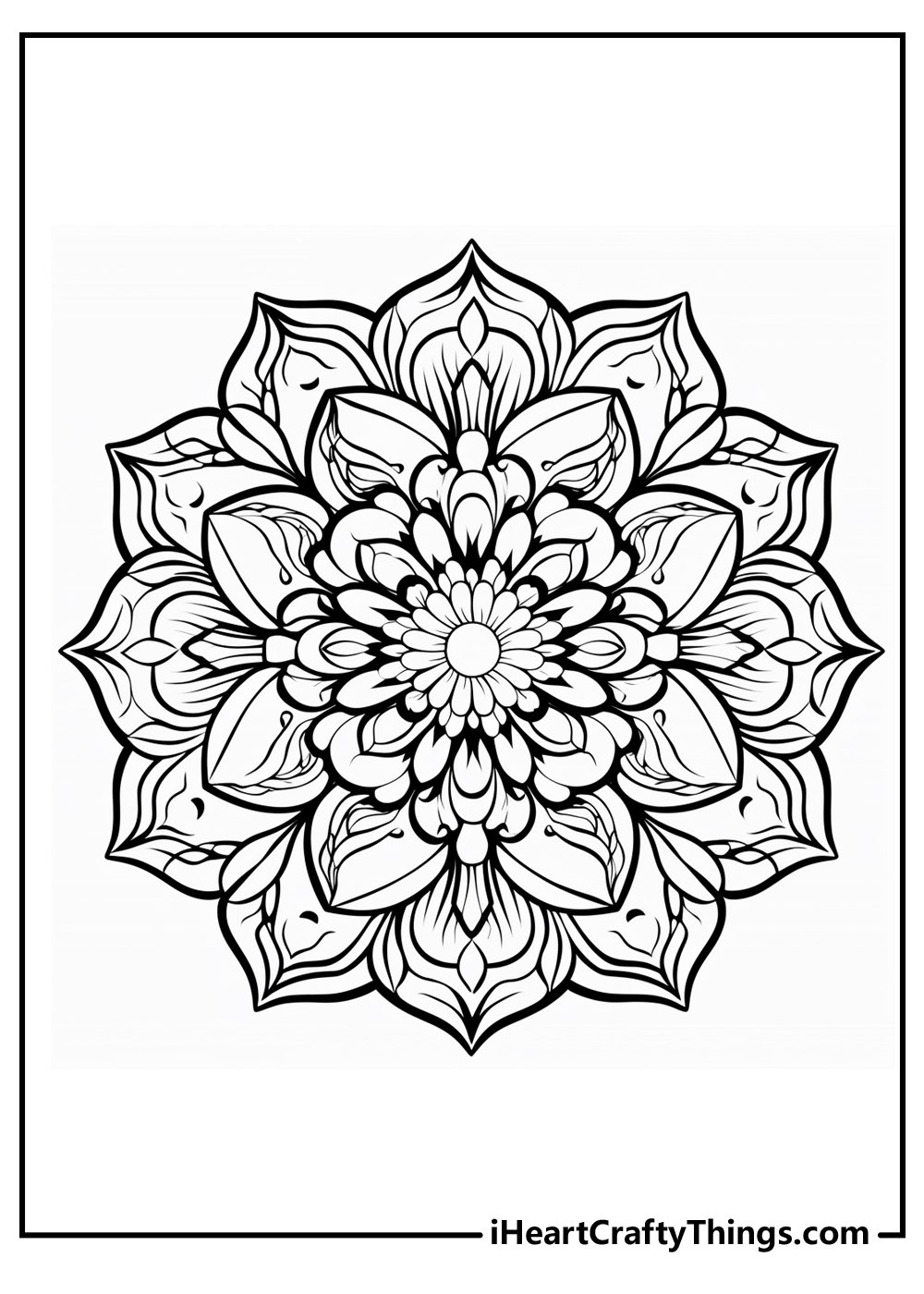 The last and 10th design on our mandala coloring pages shows lotus patterns, circles, and squares.
This last page resembles power as thick lines and shapes dominate it. What colors would you use on this final coloring page?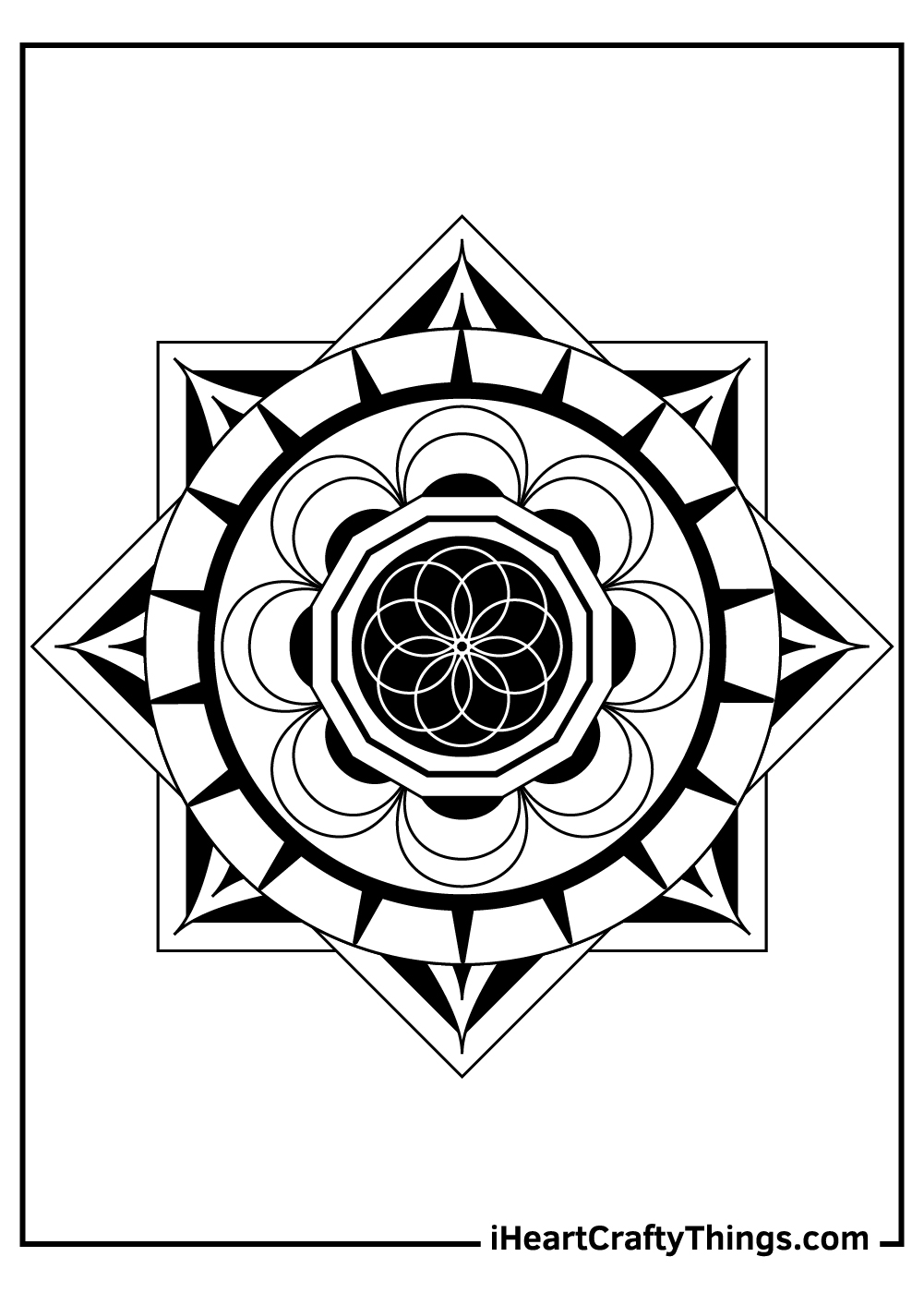 Mandala Coloring Pages – Bright Colors for Intricate Patterns
Mandalas have risen to popularity across the world because of their intricate patterns paired with symbols and meanings. They are used for a variety of reasons, some for religious traditions, meditations, and sometimes for modern uses.
There are different patterns and symbols inside our new mandala coloring pages and each page offers something new and exciting.
Mandalas are beautiful and symbolic. They are fun to color around with and we hope these free printable coloring pages will bring out your best artistic side.