There's a reason why apples are one of the most popular fruits in the world. Apart from being absolutely delicious, they're packed with essential nutrients, making them a perfect pick-me-up snack.
But did you know that apples are also a favorite coloring subject for children?
If you want to teach your child about healthy eating in a fun and creative way, our free and printable apple coloring pages are exactly what you need.
Grab your crayons and let's start coloring some apples!
15 Brand New Apple Coloring Pages – Free to Print and Color
Who doesn't love apples? They're sweet, juicy, crisp, and let's not forget they're also great for your health.
They don't say that an apple a day keeps the doctor away for no reason. Apples are nature's healthiest candy.
We can see on this cute apple coloring page that humans are not the only ones who enjoy eating apples.
This tiny worm seems to love apples so much that he decided to build his home inside one. We can't blame him for wanting to live in such a delicious house.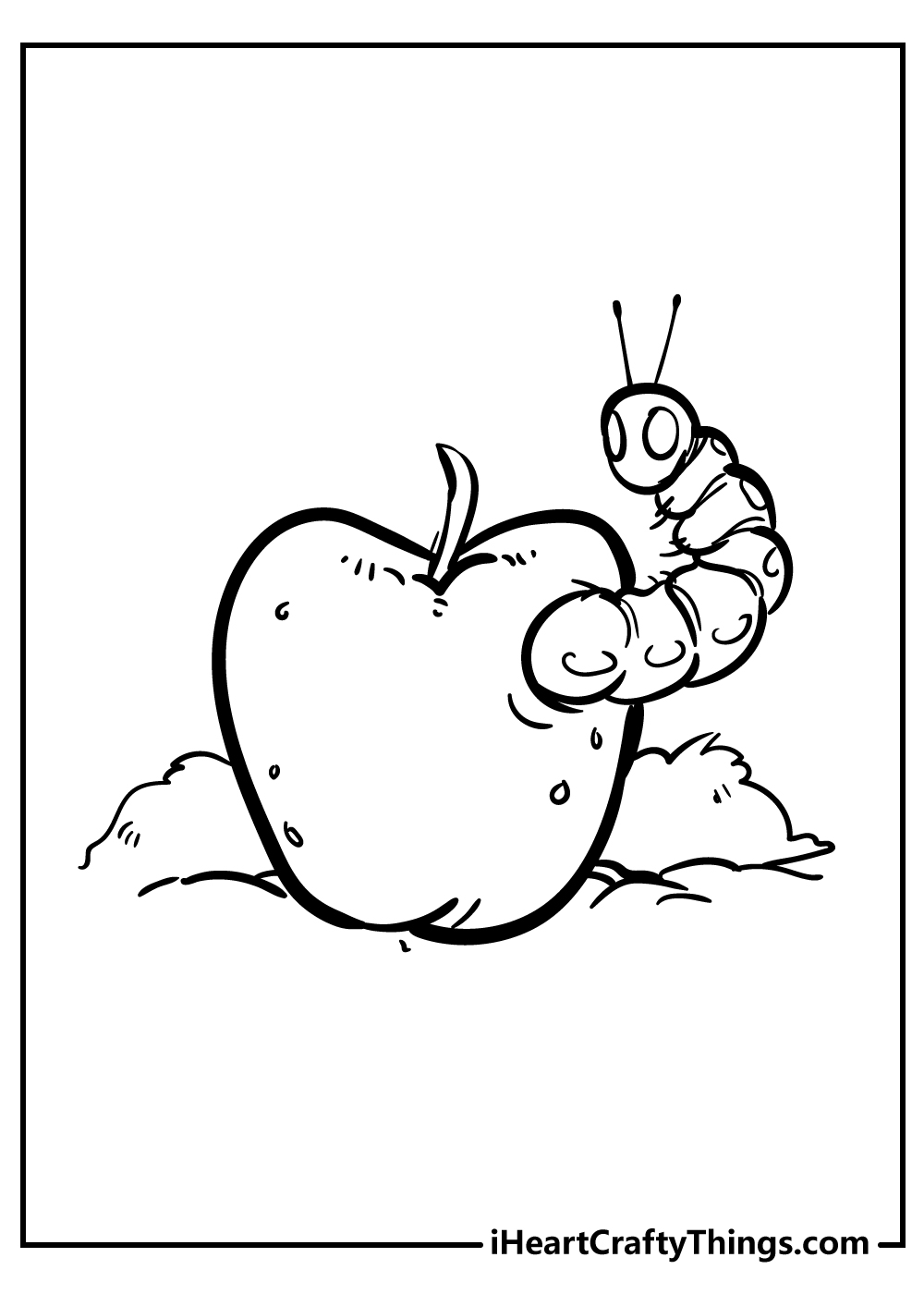 Are you ready for another yummy apple coloring sheet. This coloring page shows two delicious apples with leaves and stems.
Did you know that there are over 7,500 varieties of apples in the world? That means you can color these apples in any way you like.
You can use red, green, yellow, or even pink to color the apples. You can also mix different colors to create your own unique shades.
Don't forget to color the leaves and stems too. You can add some details like dots, stripes, or patterns to make your apples more interesting.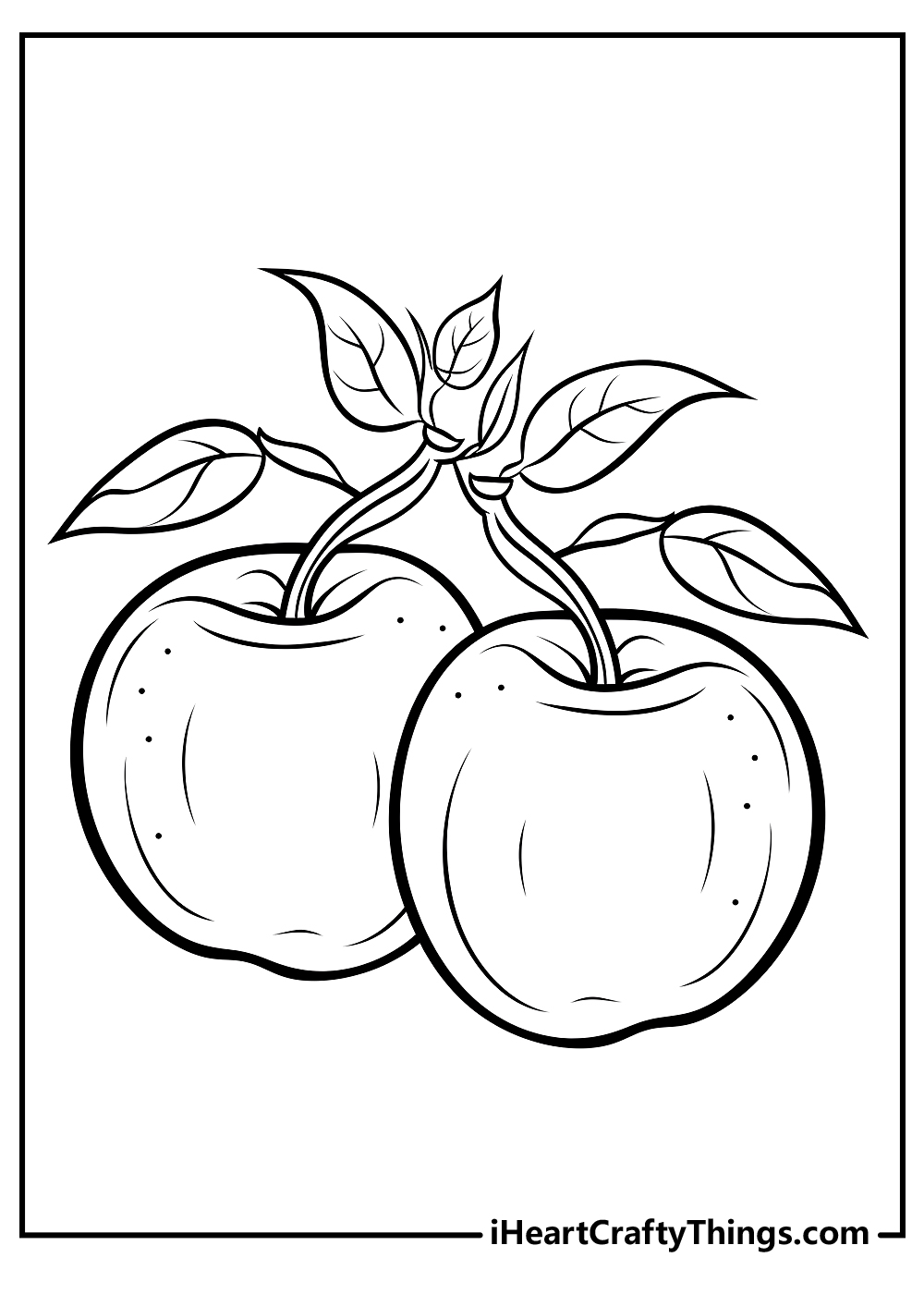 Apples come in a variety of shapes and colors. They can be small or big, roundish, oblate or conical, colored in shades of green, yellow, or red.
Did you know there are approximately 7,500 varieties of apples grown throughout the world? That's quite an impressive number if you ask us.
So, what kind of apples do you prefer? We know it's difficult to pick just one, but let's give it a try.
On this printable, we have an apple surrounded by four leaves that you can color in the shades of your favorite apple variety.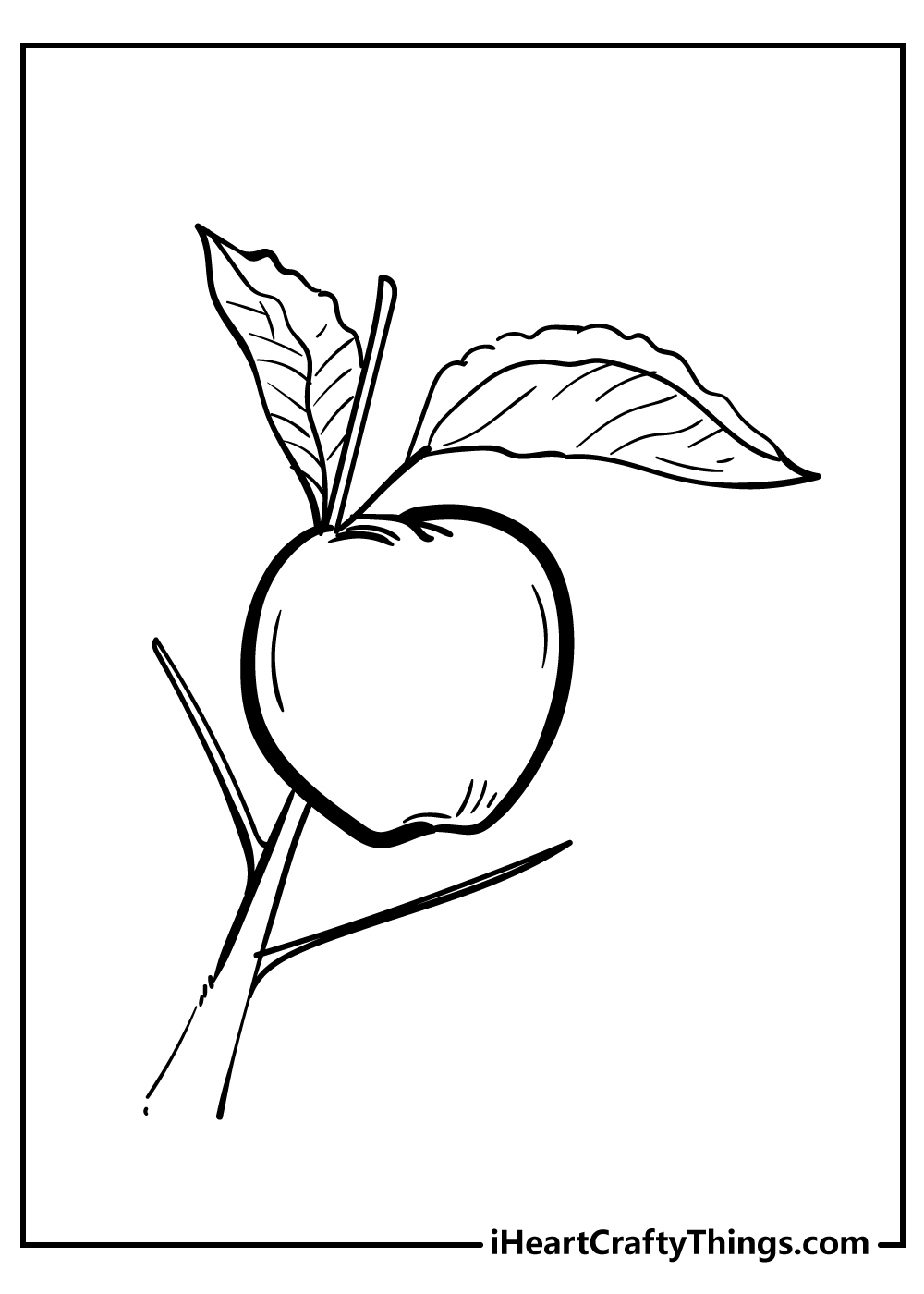 Buying fresh apples from the market can be such a fun thing to do. But you know what's even better?
Picking apples directly from the tree. It's a unique experience that is both fun and rewarding. So, if you've never done this before, we highly recommend trying it.
Until then, you can color this printable featuring a single apple hanging on a branch, ready to be picked by a lucky apple lover.
It looks absolutely delicious as it is, but it will look even better with some color on it.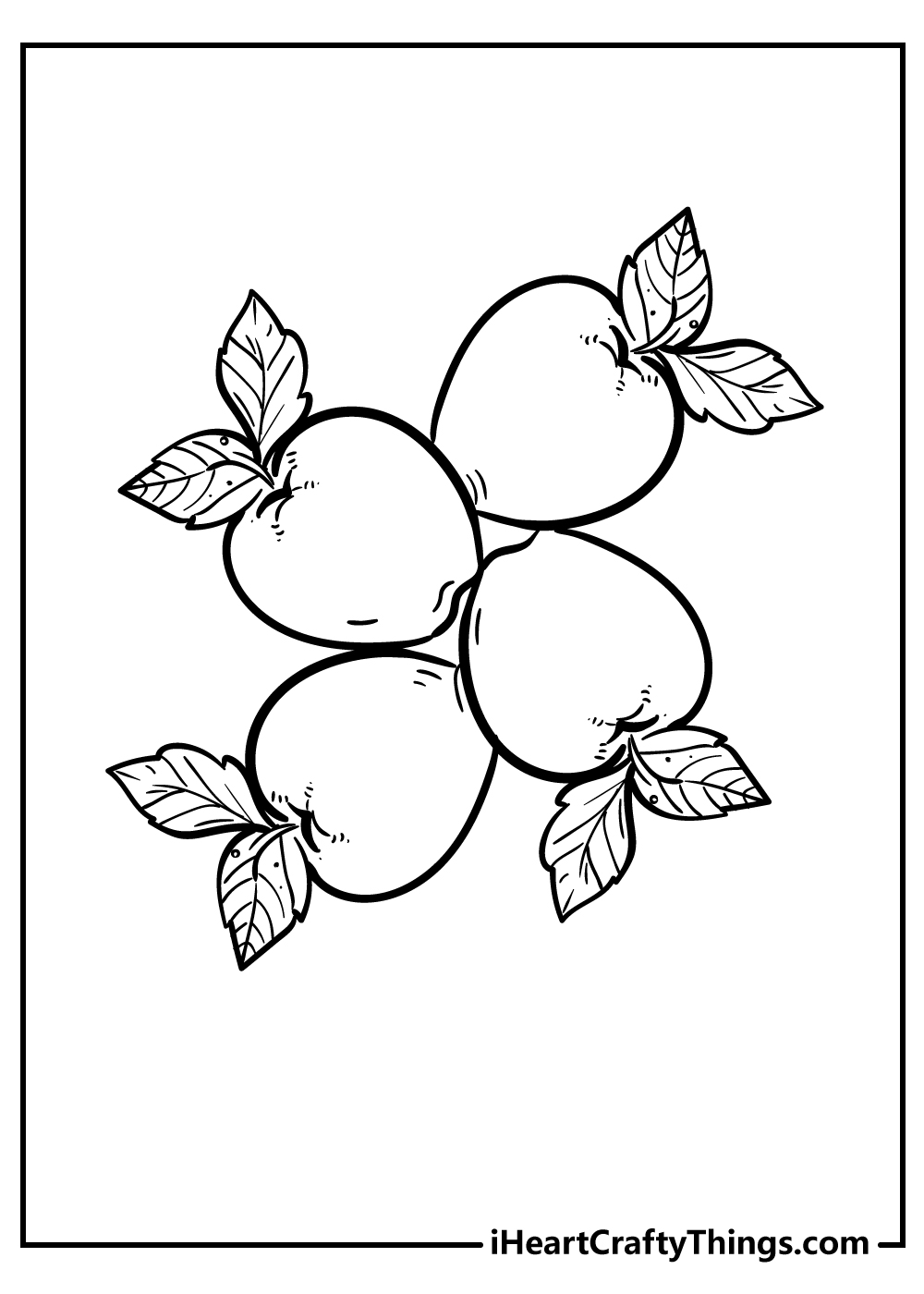 Fall is definitely the season of apples. It's the time of the year when most apple varieties are ready to be harvested.
Visiting an apple orchard in the fall is a great outdoor activity that the entire family can enjoy.
But if you haven't had the chance to go apple picking yet, this cute coloring sheet offers you a sample of autumn's colorful bounty.
Here we've got four apples, each with two leaves attached to it. They look quite similar, but you can color them in different shades.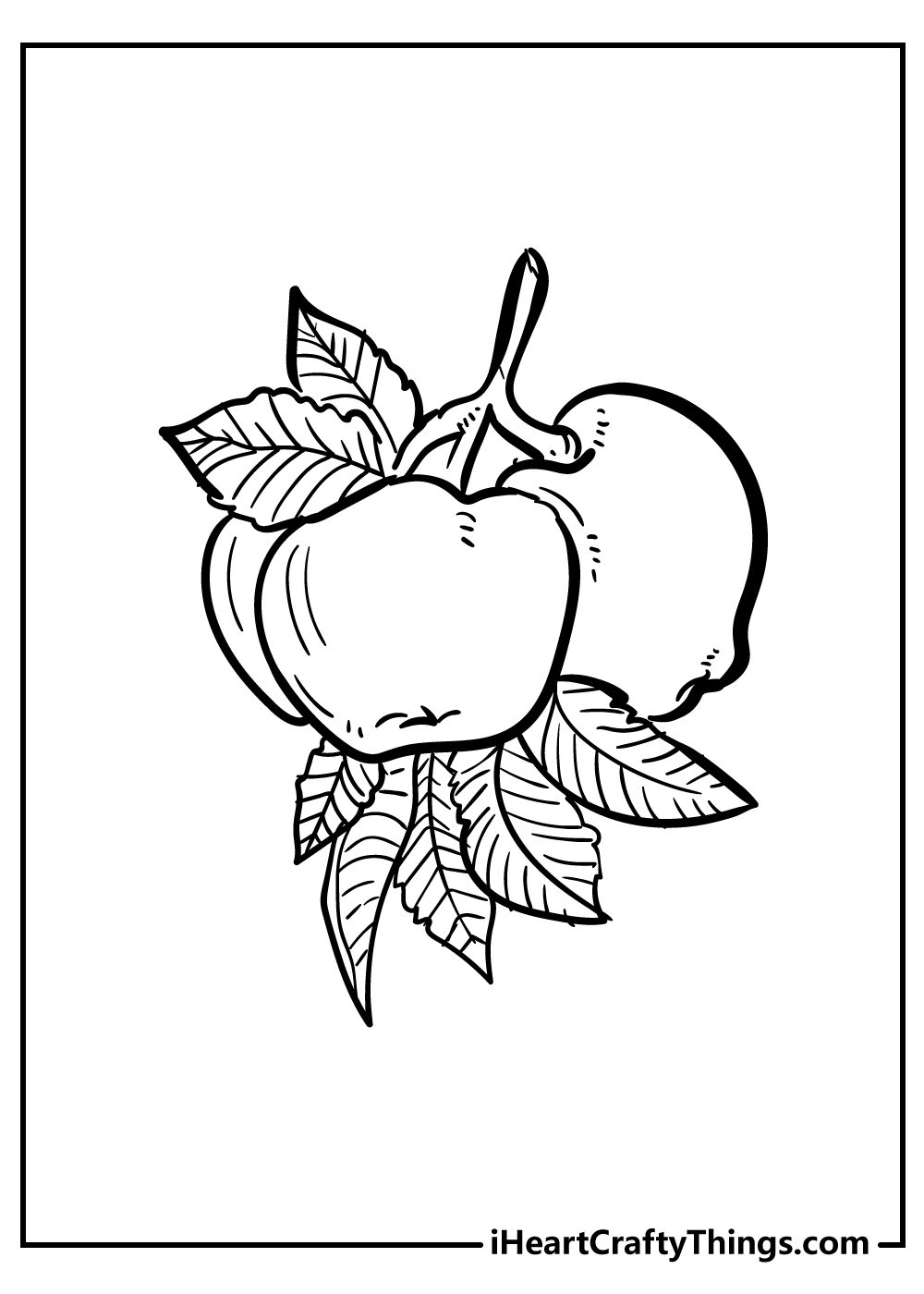 Wow, look at this awesome apple coloring sheet. It has four juicy apples with leaves and stems. Do you know how apples grow?
They grow on trees that can live for more than100 years.These apples look so fresh and shiny.
You can color them with bright colors like red, green, or yellow. You can also use different shades of the same color to make them look more realistic.
How about adding some details like spots, stars, or hearts to make them more fun?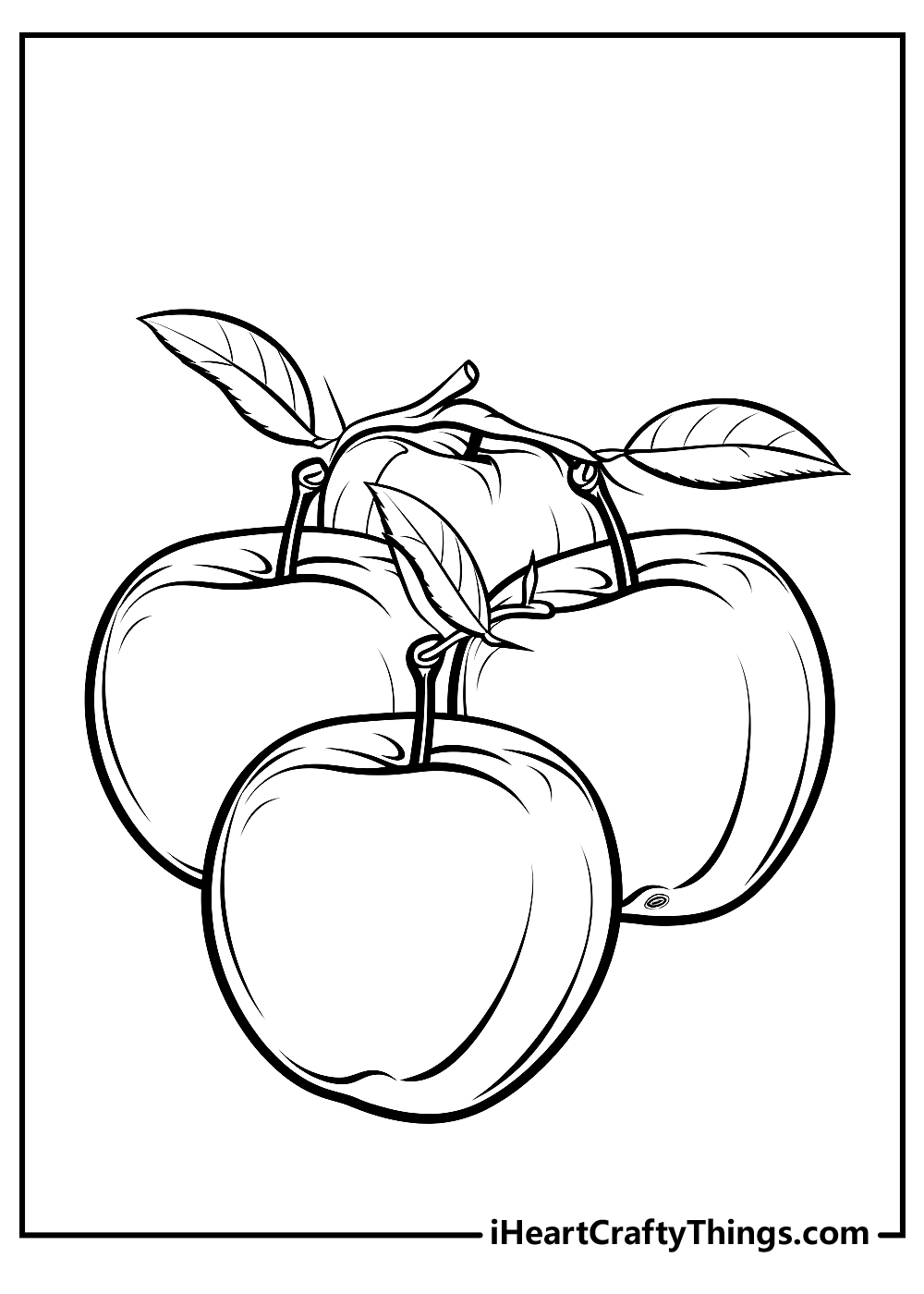 One great thing about apples is that they can be consumed in so many different ways. You can eat them raw, make applesauce, juice them, use them in salads, bake them, and so on.
You can get really creative in the kitchen if you have a few apples.
On this coloring page, we have three freshly picked apples, with the leaves still attached to them. What would you do with them? Do you have a favorite apple recipe or do you like to eat them raw?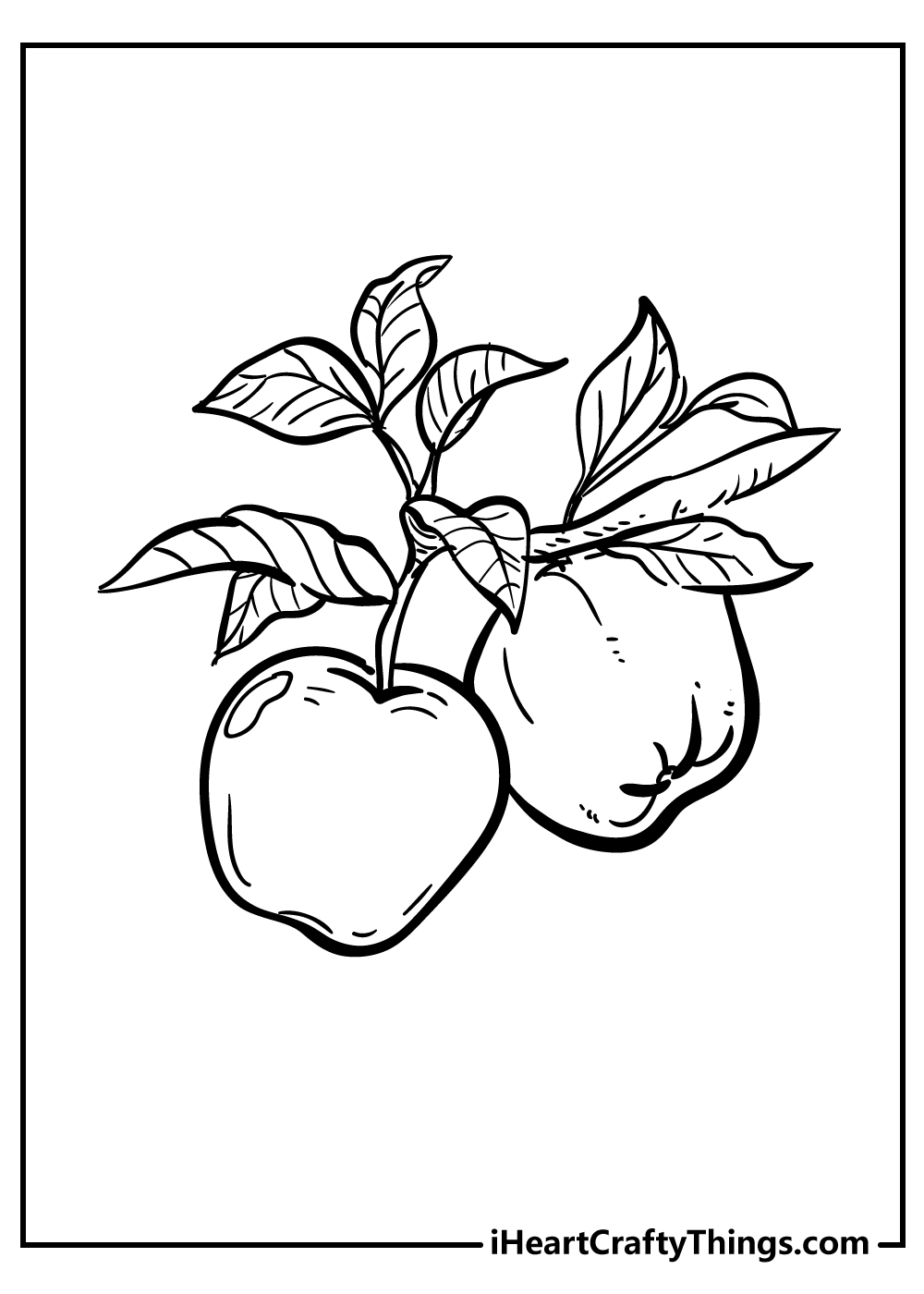 Apples are great for your health. They're a good source of vitamin C, fiber, potassium, and other vitamins and nutrients that help children grow healthy and strong.
So, eating two yummy apples a day can really keep the doctor away.
The apples depicted in this coloring printable look like the perfect on-the-go snack. But they do need a bit of color to look more realistic.
Use your imagination and choose some colors that would make them pop.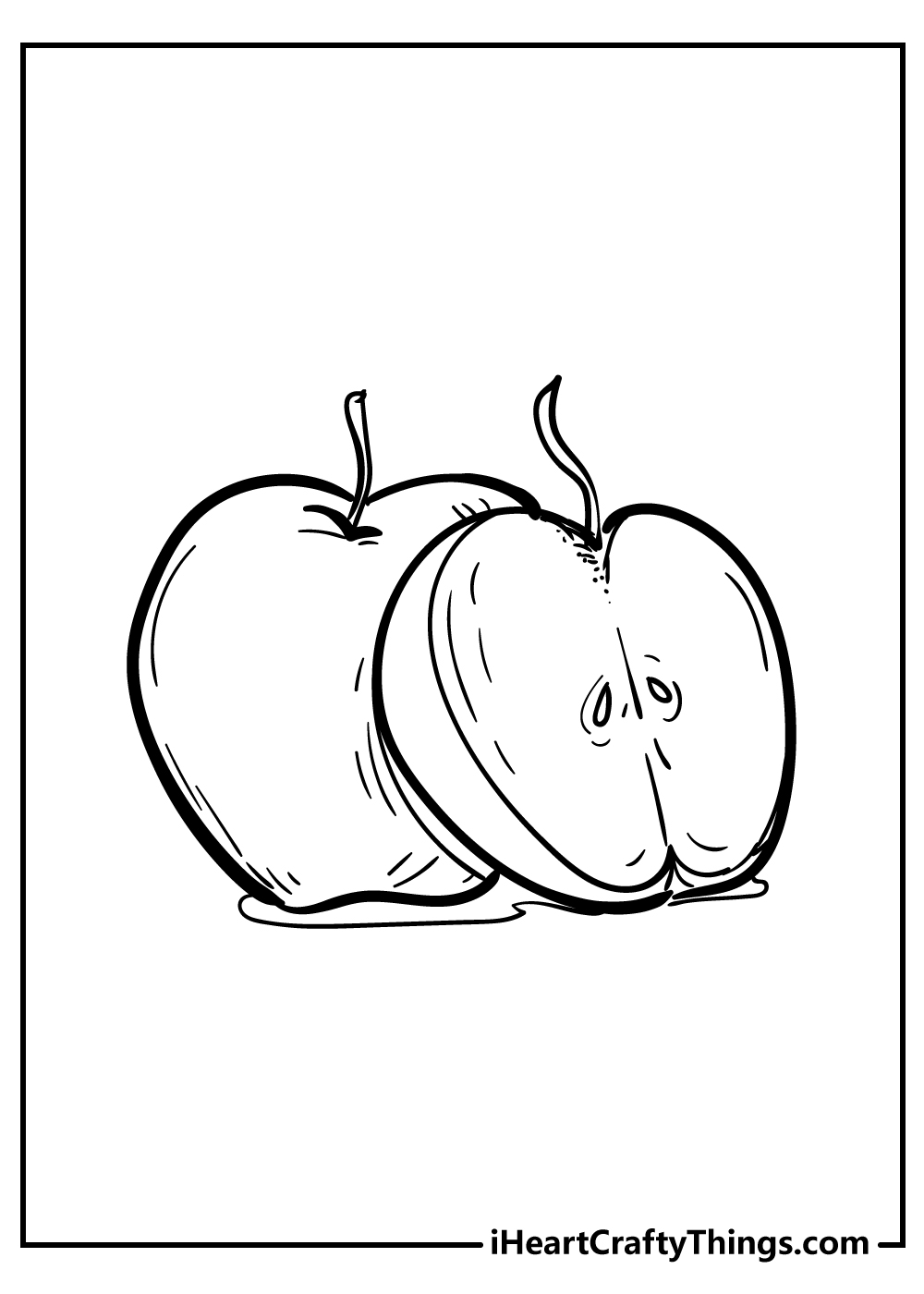 This apple printable shows a yummy apple. It has four tasty apples with leaves and stems. Apples are rich in fiber, vitamins, and minerals, all of which benefit human health.
What secret surprise could be inside that vanishing apple?
Color it with a magic marker to reveal its hidden pattern. You can add some details like dots, stripes, or patterns to make your apples more fun.
You can also draw something else on the white background, like a tree, a basket, or a worm.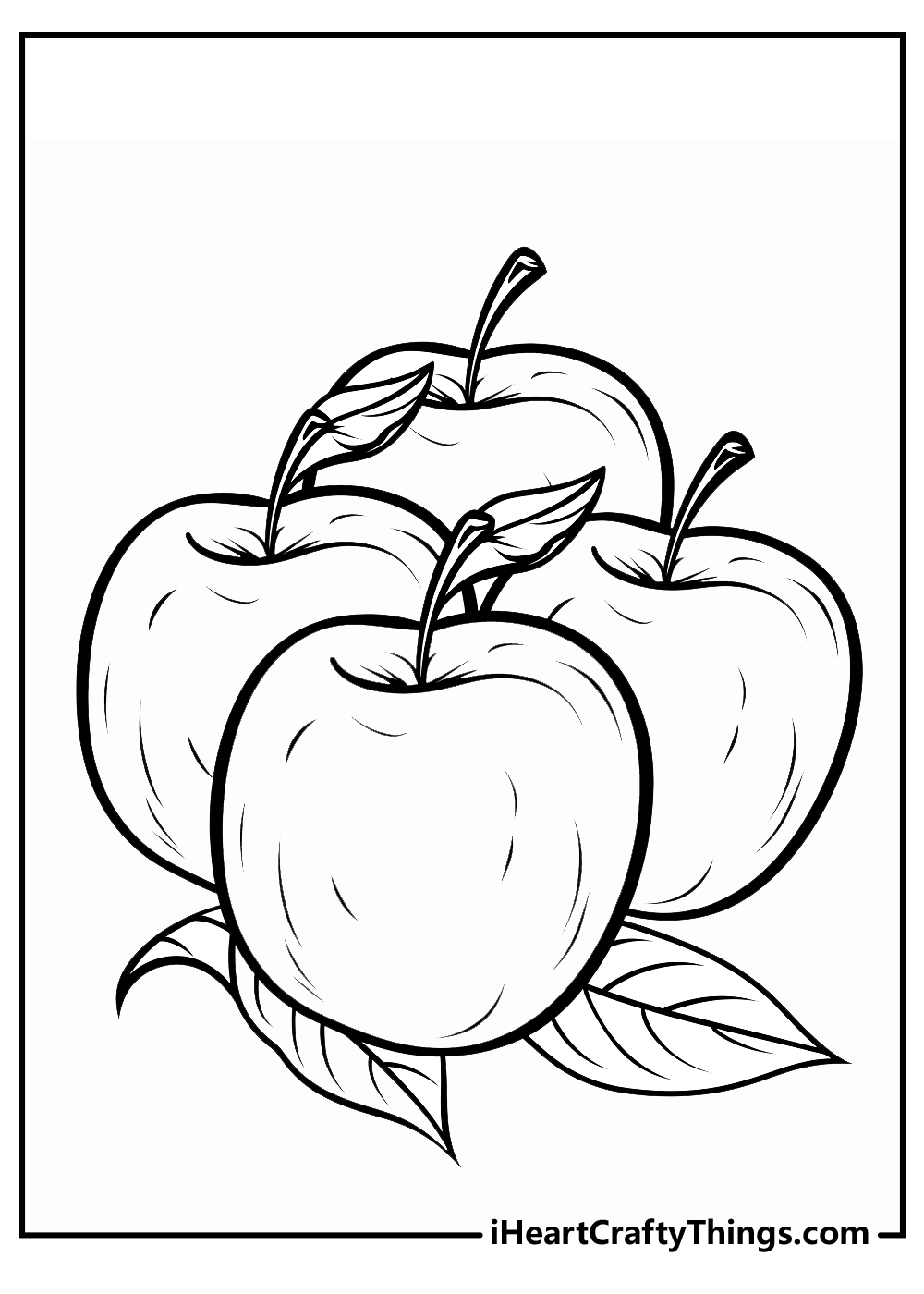 Whether you eat them raw, or you bake a pie with them, apples are absolutely delicious. But apples taste even better when you have someone to share them with.
In this apple coloring printable we have an apple and a half. What do you think happened with the other half?
Probably someone decided to share his apple with a friend. Who would you share a juicy apple with?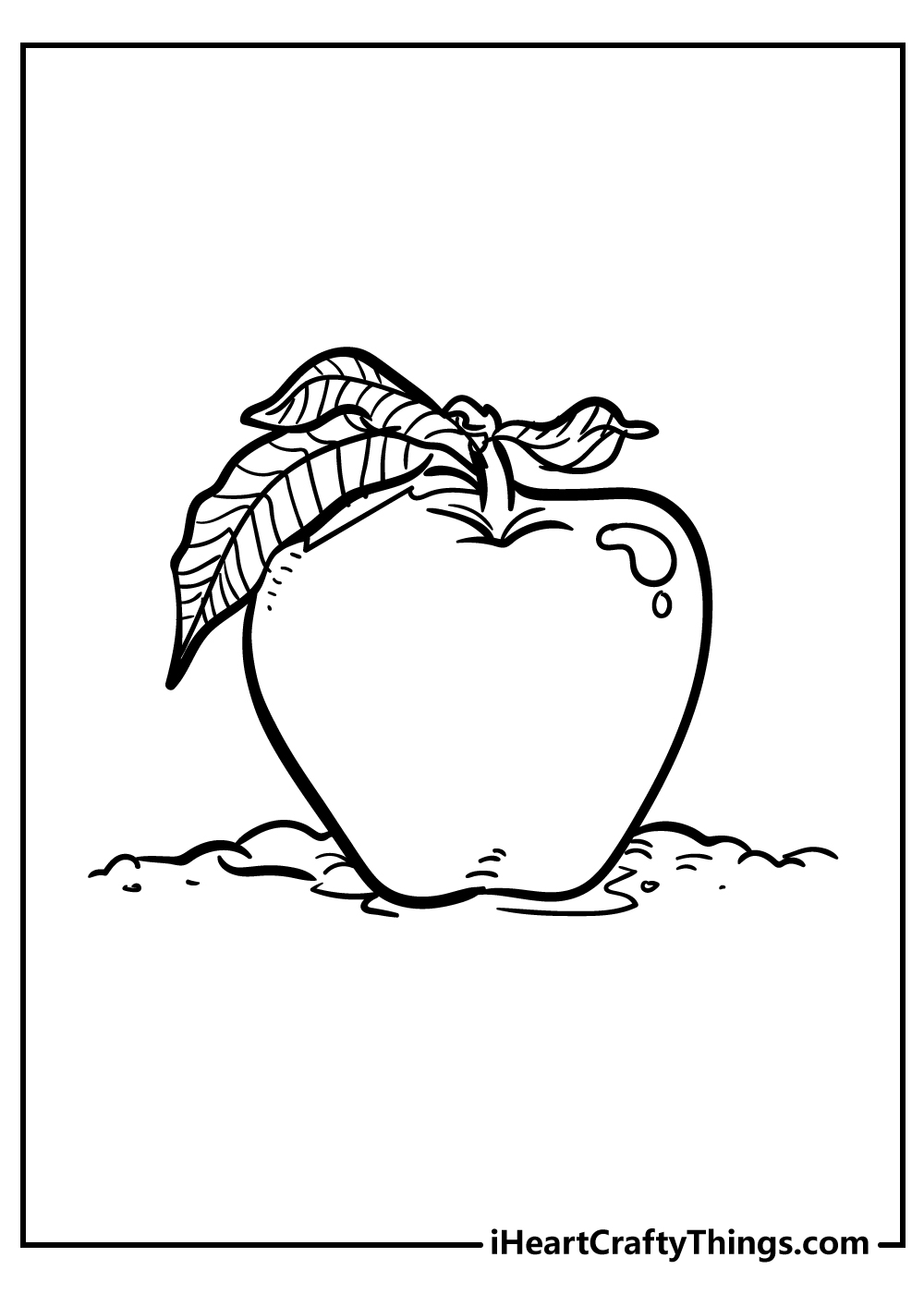 Here's a fun fact about apples: the largest apple ever picked weighed 3 pounds.
Can you imagine the size of that apple if an average apple usually weighs less than half a pound? It's definitely not something you get to see every day.
The apple featured in our next coloring page might not make it into the Guinness Book of World Records, but it sure looks big. What colors would you use to give this lovely apple some character?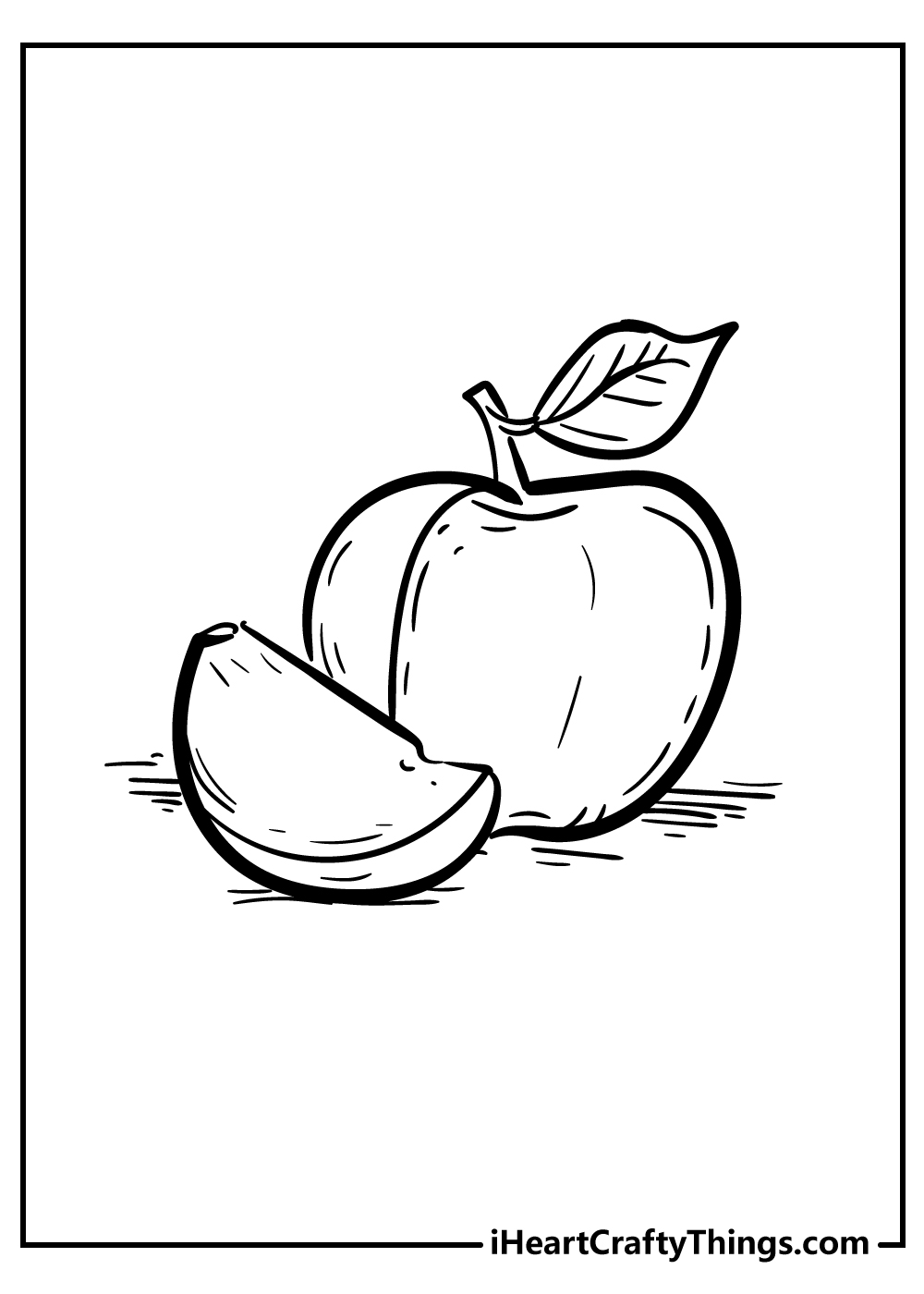 A perfectly round apple is ready to be colored on this simple coloring sheet. Plump and smooth, the apple has a classic shape with just a hint of a dent on top.
Its short stem leads up to two thin, pointed leaves that frame the fruit. The background is ideal for drawing your own creative scene around the apple.
Will your apple rest in a bowl, hang from a tree, or travel home in a backpack? Bring this classic apple to life with color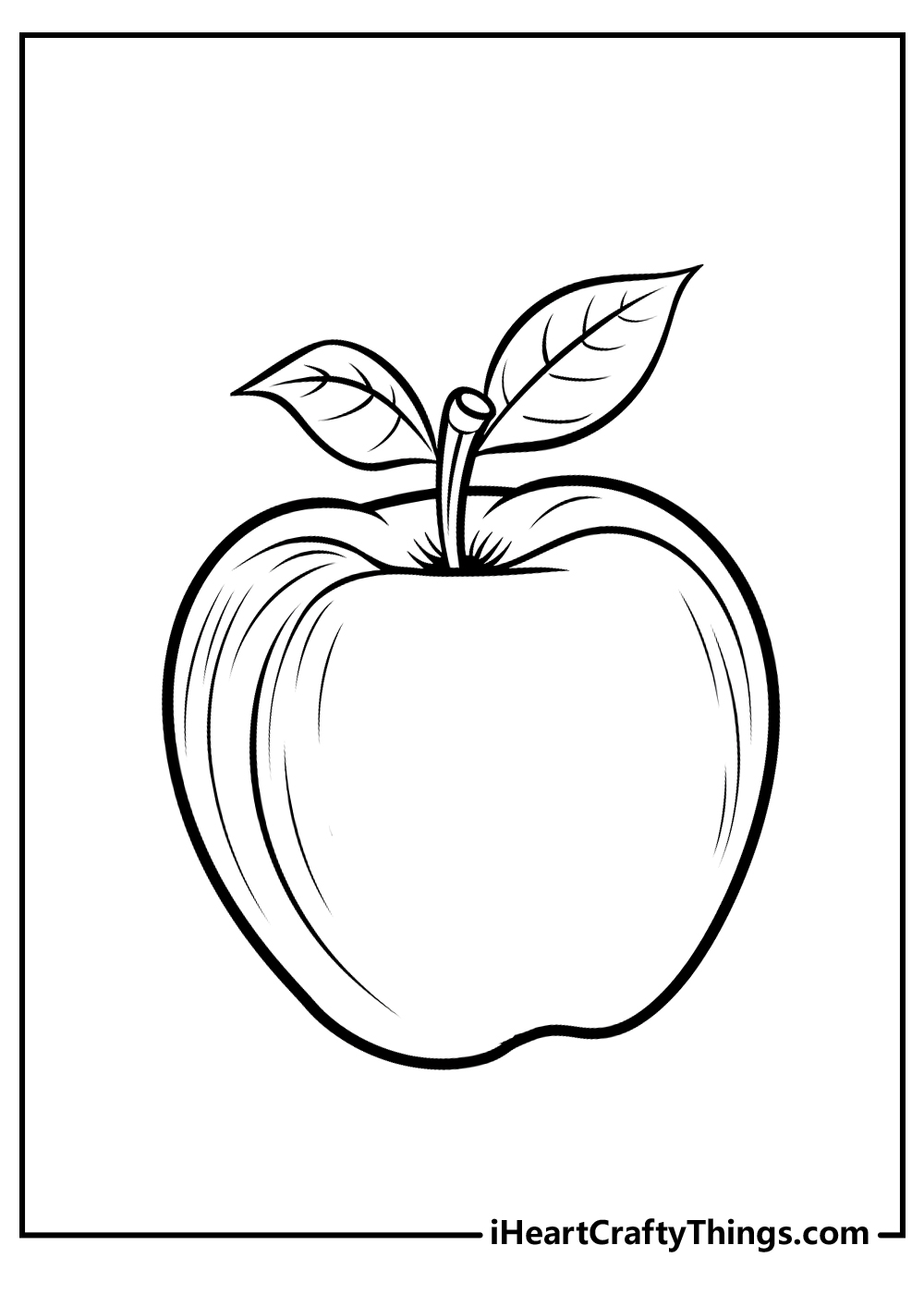 Apart from being very nutritious, apples are also great for quenching your thirst. That's because they are composed of up to 85% water.
So, when you're feeling a bit dehydrated, you can eat a juicy apple.
From what we can see in this coloring sheet, it seems like someone already found out that apples are ideal thirst quenchers and decided to eat an apple slice.
Cutting an apple into slices to enjoy as a snack is always a good idea.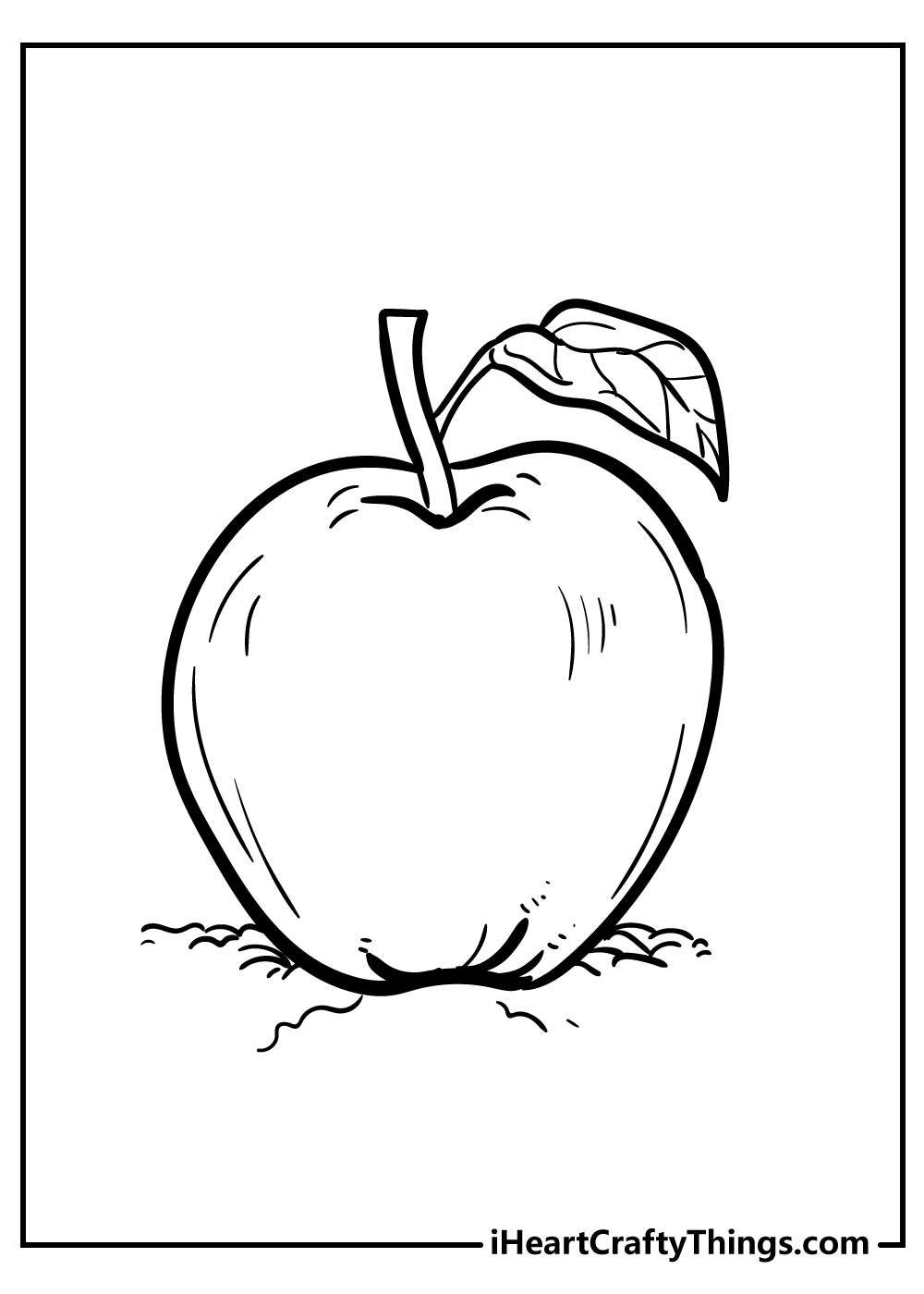 Apples are a healthy alternative for candies that all children enjoy. If you want to start your day on the right foot, eat an apple in the morning.
It's always best to eat apples early in the day or as a snack between meals for a little energy boost.
The last printable in our apple coloring collection shows a single apple with a little leaf on its stalk, ready to be colored.
Will you choose red, yellow, or green hues for it? We're sure it will look delicious, no matter how you decide to color it.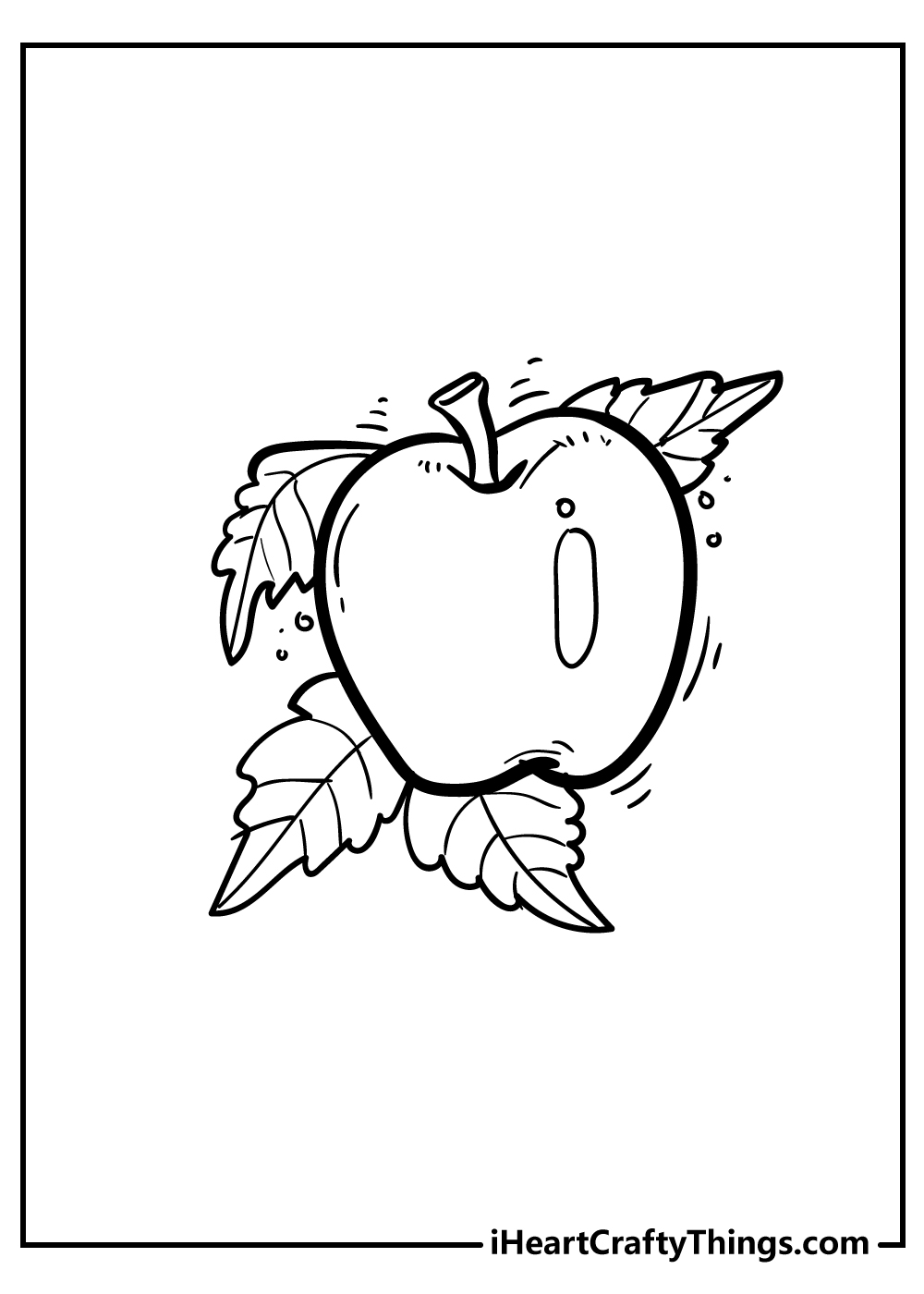 This apple coloring sheet is very cute. It has one big apple with a stem and two leaves. It is round and plump with a small dent at the top. The stem is short and curved with a little bump at the end.
You can color this apple with any color you like. Maybe you want to make it a red apple or a green apple.
You can also use different shades of the same color to make it look more realistic.