Is your kid passionate about astronomy? Help them reach for the stars with our newest star coloring pages collection.
Stars are the cutest of all celestial bodies. They light up the sky every night, and myths say that they make our wishes come true.
These free printable star-inspired coloring sheets are suitable for kids of all ages.
20 Brand New Star Coloring Pages – Free to Print and Color
The star character that we have on this star coloring sheet is looking very happy! There is a good reason for that, as it is surrounded by lots of smaller stars to keep it company.
We hope that the sight of these stars makes you feel happy as well, as you get to color them in any way that you like.
You could choose to keep the colors looking nice and bright or make them blend into the background a bit more for a few ideas.
We're sure you will have tons of fun figuring out how you want them to look, no matter what you choose!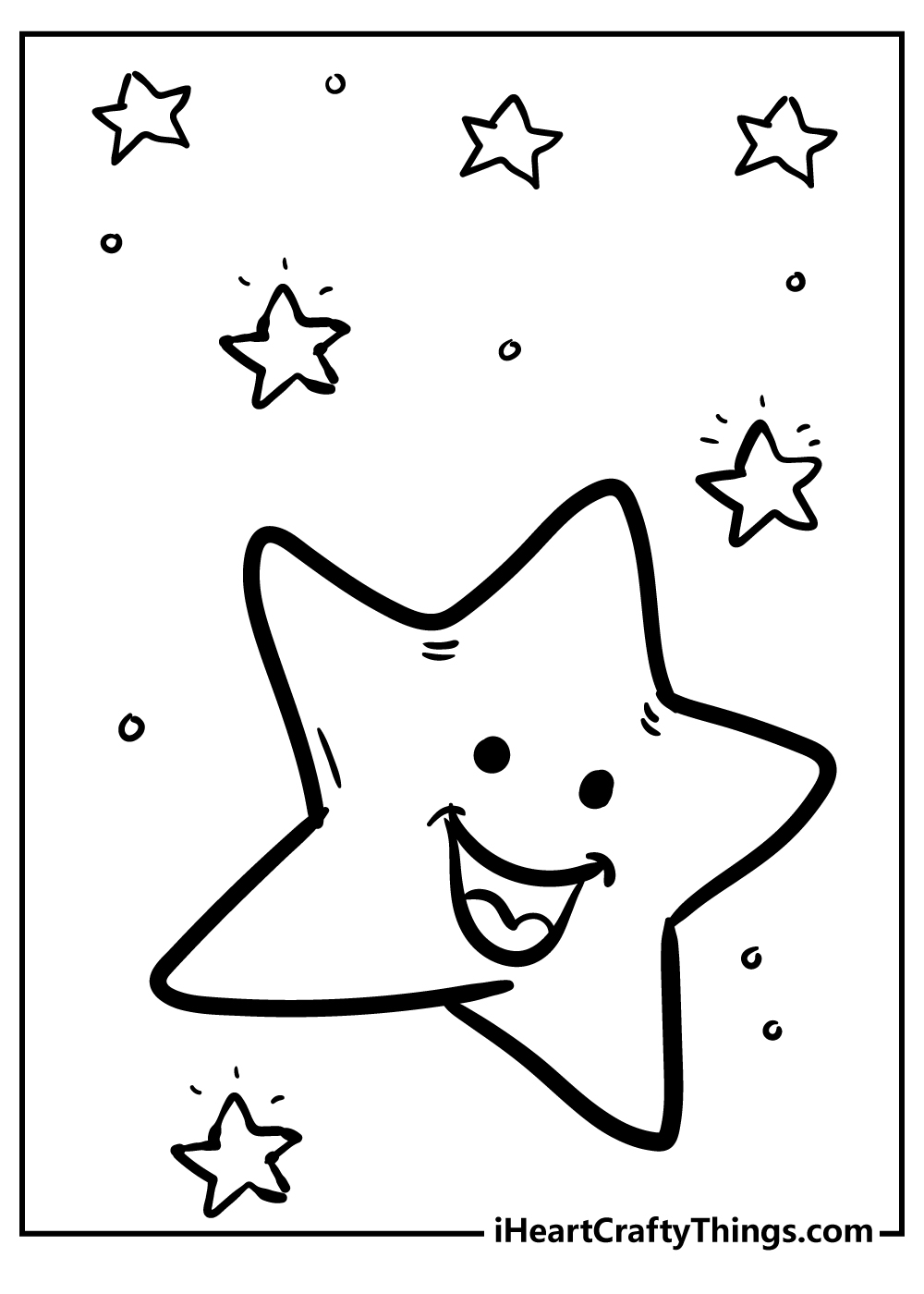 Another happy star is here for you to color, and it is also surrounded by some star friends.
When you are coloring these stars, you could simply color them with flat colors, but you could also add some extra details and effects.
If you're feeling particularly creative, you could try to draw a different facial expression on each of the stars!
That is one idea for a way to take this picture to the next level, but what other ideas can you think of for this happy page? We would love to see what you come up with!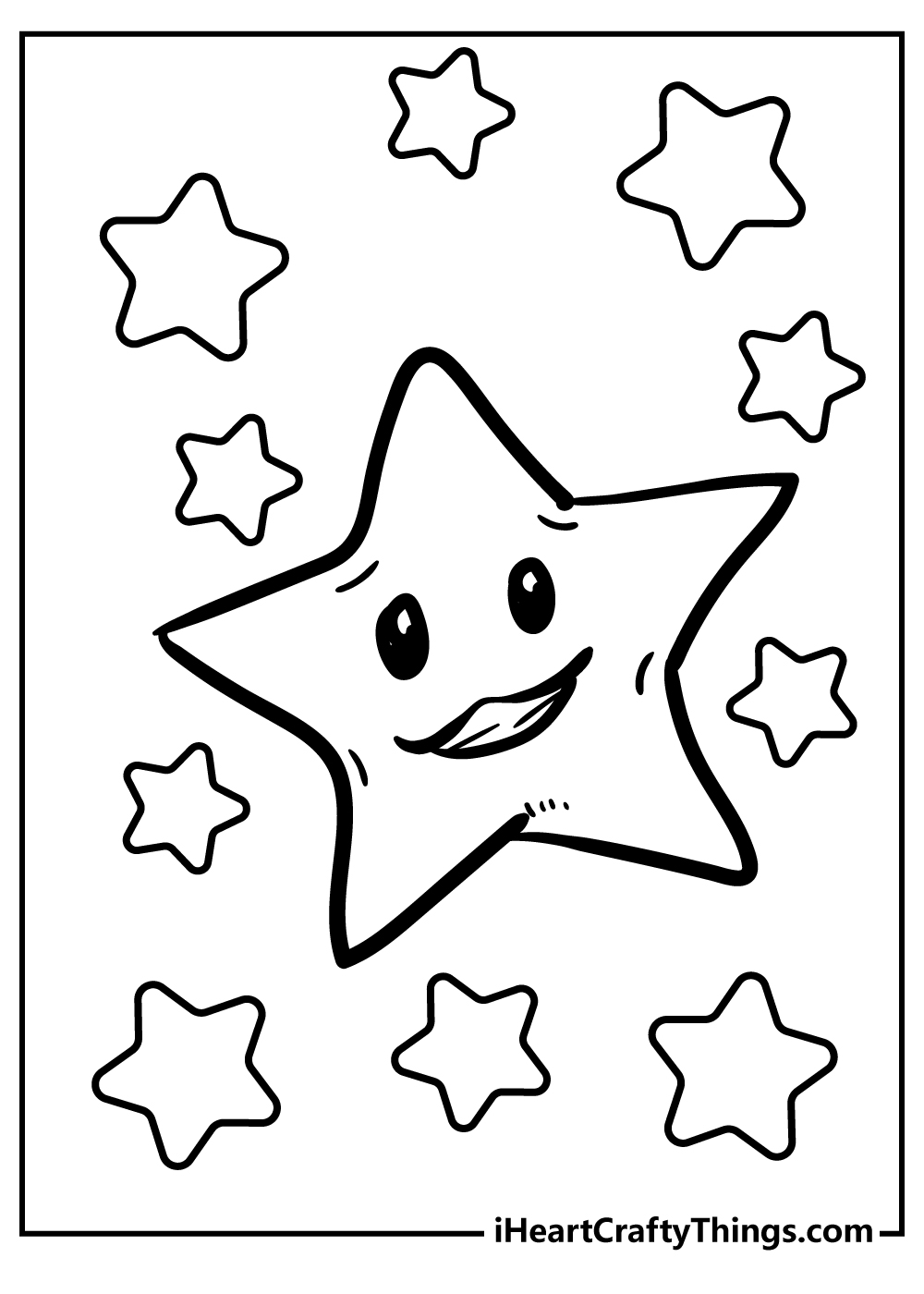 Who doesn't love stargazing during the night? This coloring page shows a cute falling star that can make your kid's wish to be an artist true.
This coloring sheet perfectly represents the night sky as we see it from the earth. The falling star is surrounded by many other smaller stars, all making lovely design details that your little one can color.
Whether your child chooses to stick to the yellow color commonly used for coloring stars or let their inspiration go wild with other colors, they will surely have a lot of fun coloring this page.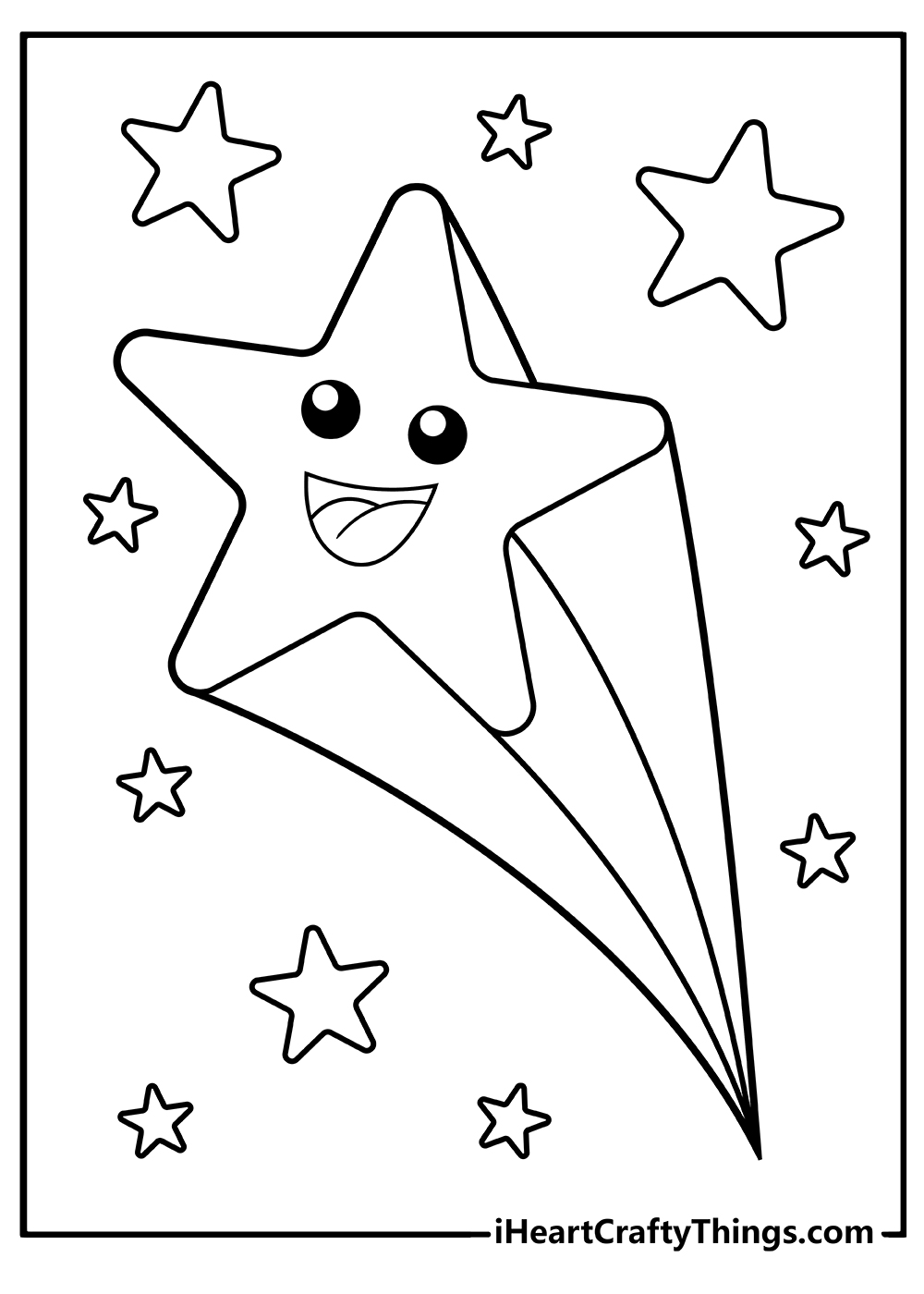 Stars coloring pages are fun for kids of all ages to develop their creativity and nurture their passion for astronomy.
Our next star-inspired coloring sheet captures a cute, smiling, blushing star surrounded by many other tiny stars.
This free printable coloring page looks exactly like the night sky, filled with bright stars. Your little one will have a lot of fun coloring each of these stars yellow or whatever color they like the most.
Print this page and help your kids train their creativity and explore with colors!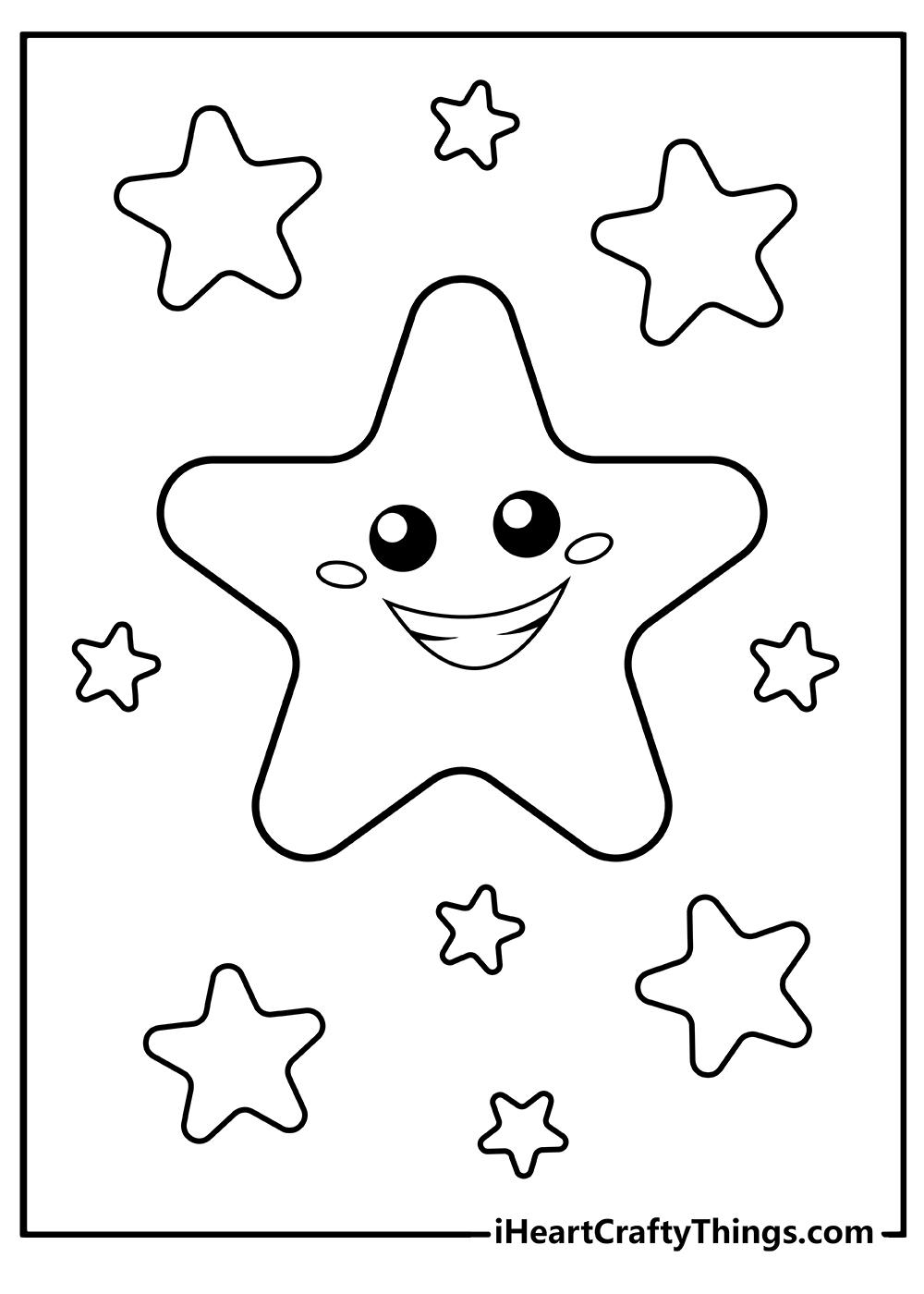 After lighting up the sky all night long, even stars need a good rest, just like the sleepy star in our next coloring sheet.
This coloring page features a star wearing pajamas and ready to take a nap, surrounded by many other smaller stars.
Coloring this page is the perfect activity for your little one before bedtime. It will boost their creativity and help them use all the energy they have before bedtime to have a good rest.
Print this star-inspired coloring sheet and allow your little one to play with unique color combinations for the stars and other design details.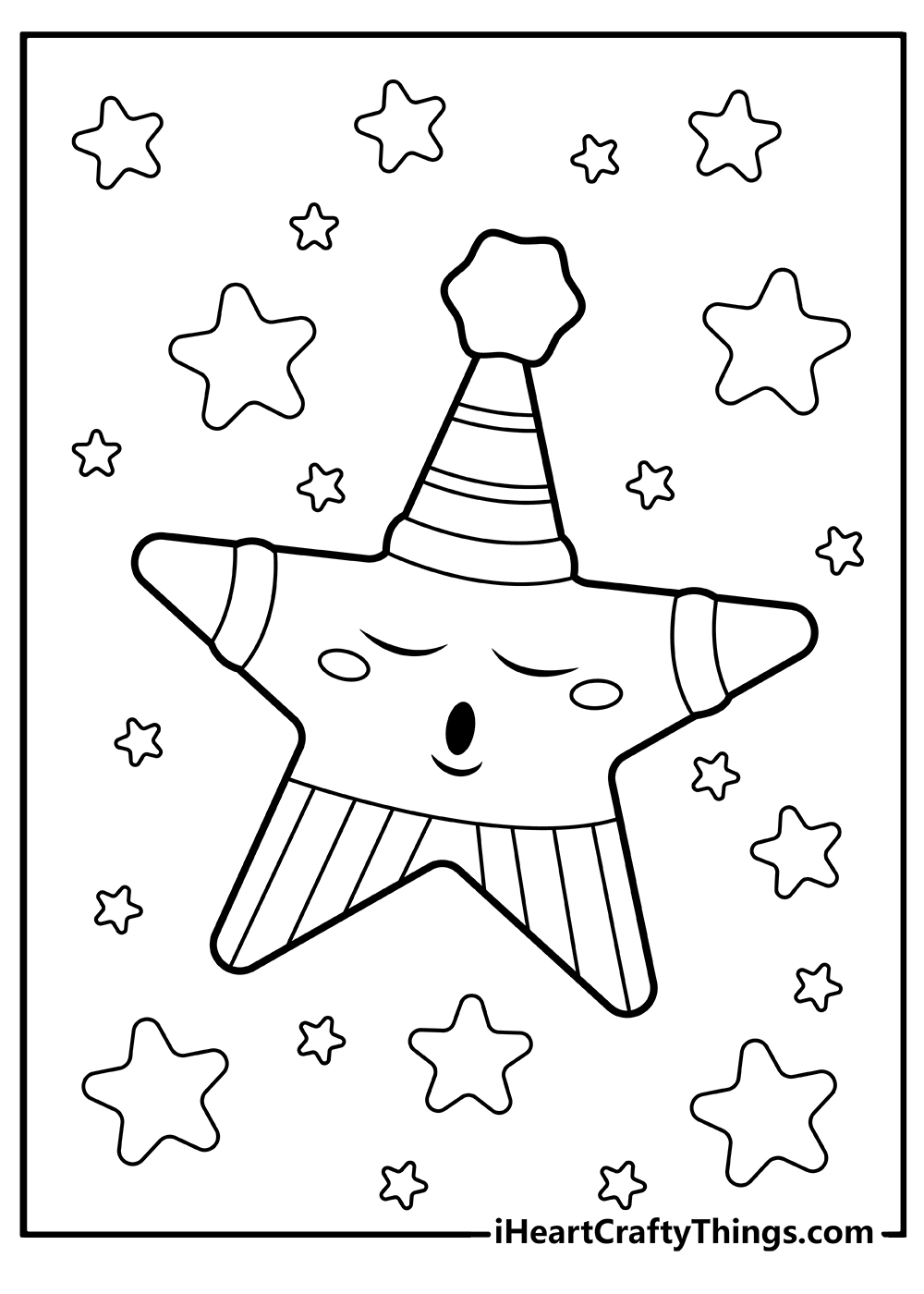 It's time to make a colorful wish, as a shooting star is featured on this next page.
It's always an amazing and lucky sight to see a shooting star in real life, and you can make this interpretation an equally special sight by adding amazing color.
When coloring stars, the first color that will come to most people is yellow. Even if you stick with this color, you can change it up by using different shades and mediums.
You could also take it in a completely unique direction by using some unique colors to create a truly colorfully striking page!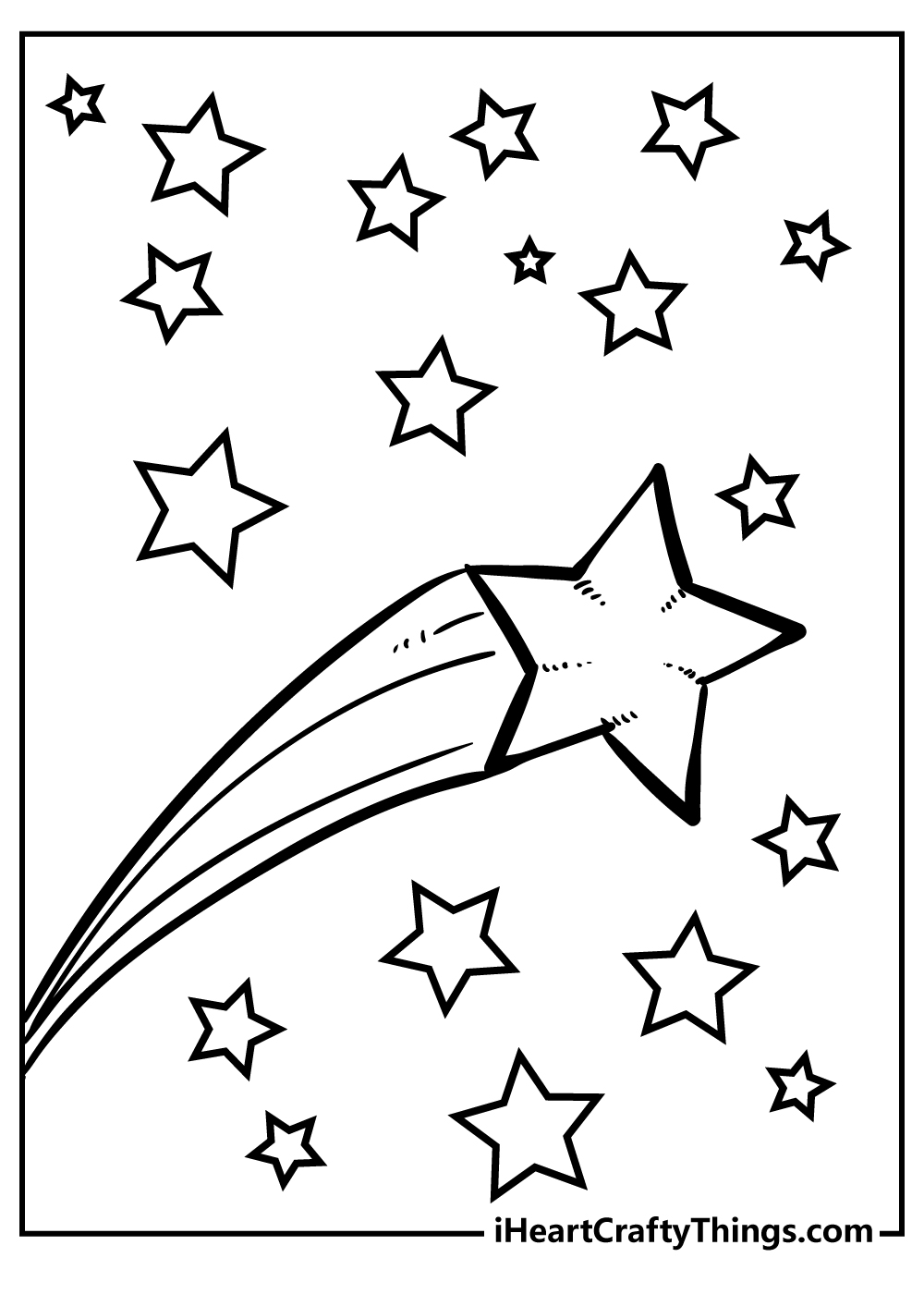 This next page in our collection of free star coloring pages for kids features an adorable trio of stars for you to color.
They all look really happy in this one, and now you can decide on how you think they should be colored.
You could go for the same color scheme for all three of them, but you could also go for a unique color scheme for each individual one.
Then, you can decide on how you will color the multitude of stars behind them! This should turn out to be a beautiful page when you're finished with it.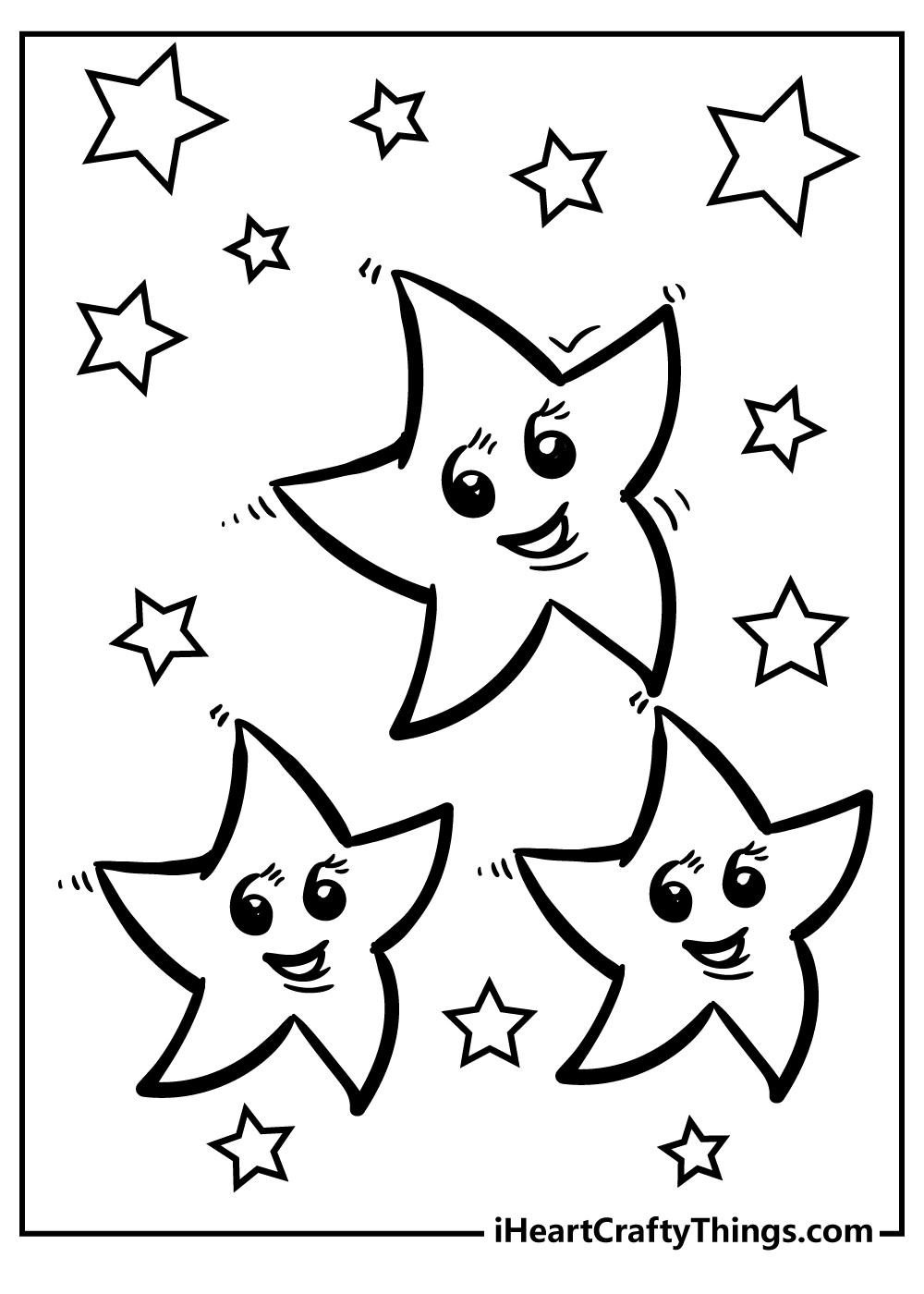 Stars shine so brightly that even this one needs to wear sunglasses when surrounded by so many lights.
This coloring sheet captures a cute falling star with a pair of cool sunglasses and many other smaller stars in different shapes.
Your little one can get creative with coloring each star and the background of this printable sheet.
For the big star, creative kids can even play with unique color schemes to create interesting shades.
Print this coloring page for your child to make their wish of being an artist become true.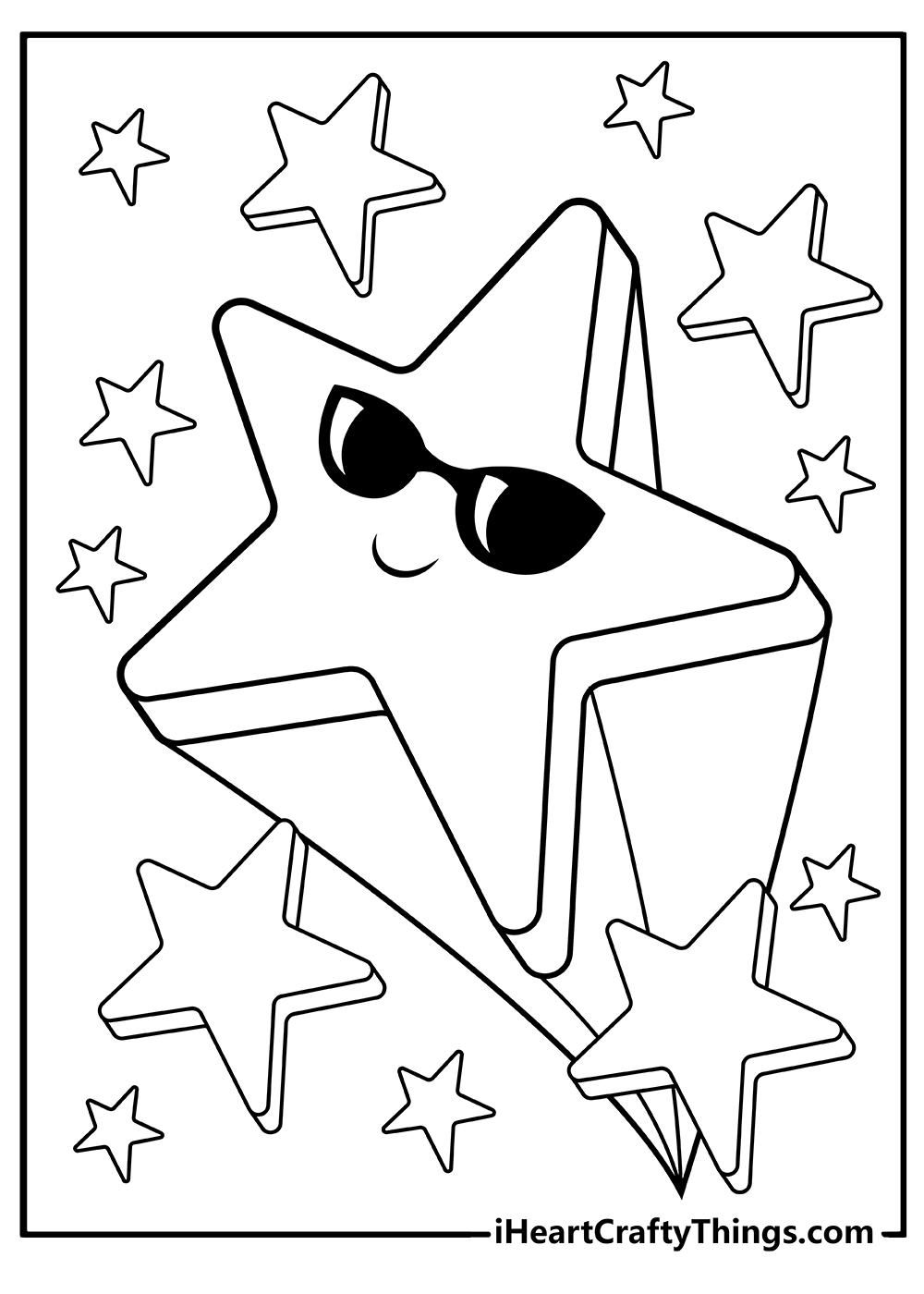 Our next coloring sheet features a big smiling star in the center of the page and many others in the background.
The three falling stars in this coloring page will make your kid's biggest coloring wishes come true.
Even this cute smiling star is excited by the beauty of the night sky filled with bright shining stars.
Print this free coloring page for your little ones and encourage them to let their creativity run wild.
Your little one can color this page as they imagine the stars looking up-close, or they can use shades like yellow, white, or blue to reinterpret a starry night sky.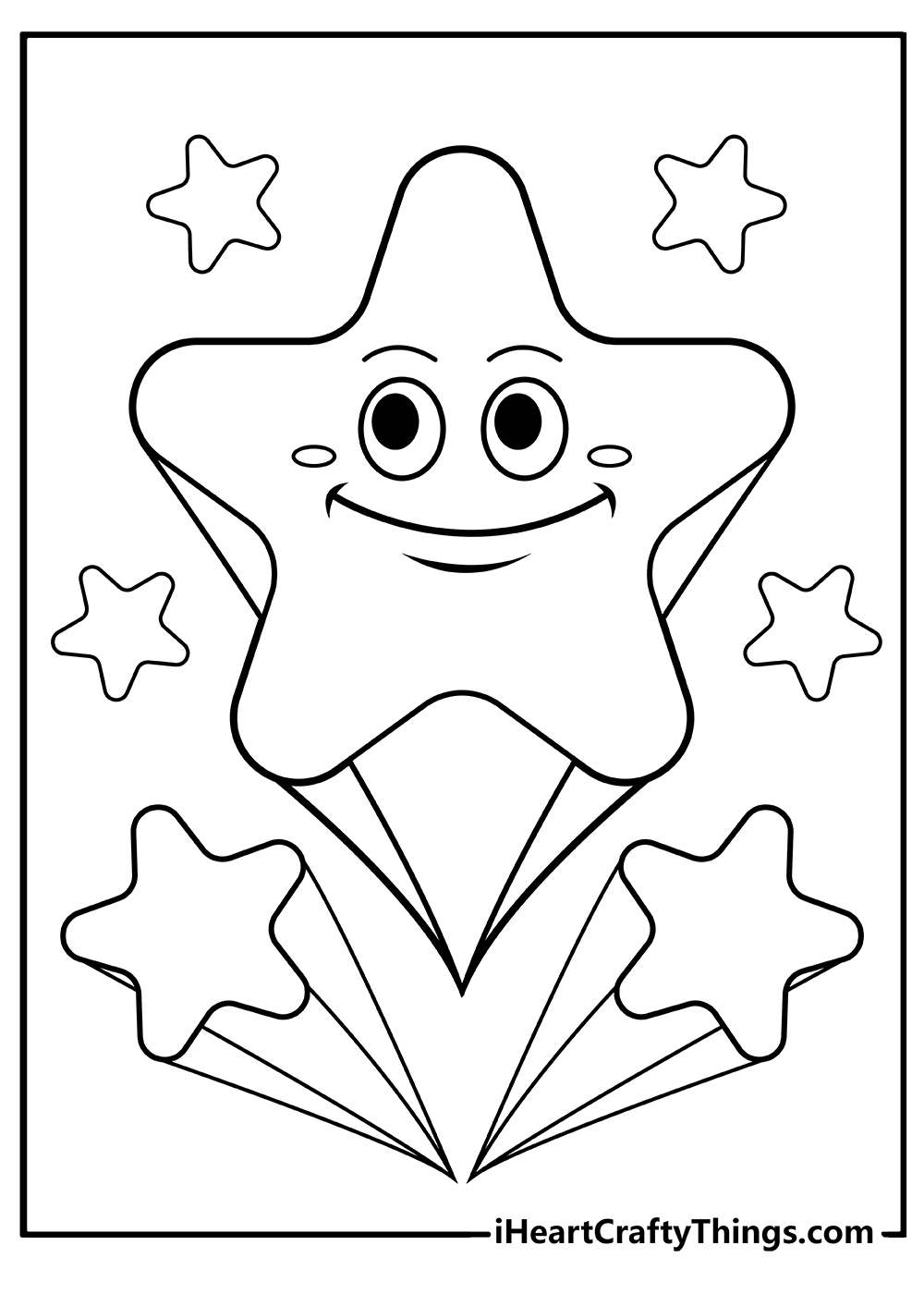 Stars are celestial bodies up in the sky. They are often featured next to other sky-related design details like the rainbow or clouds, just like it is on this coloring page.
Our designers have mixed various sky elements to create a fascinating coloring page design that will take your little one on a trip in the blue.
This coloring sheet captures many design details, including a smiling star and a cute background featuring a rainbow, clouds, and a few smaller stars.
This coloring sheet is a perfect exercise for your little one to train their creativity and learn colors in a playful way.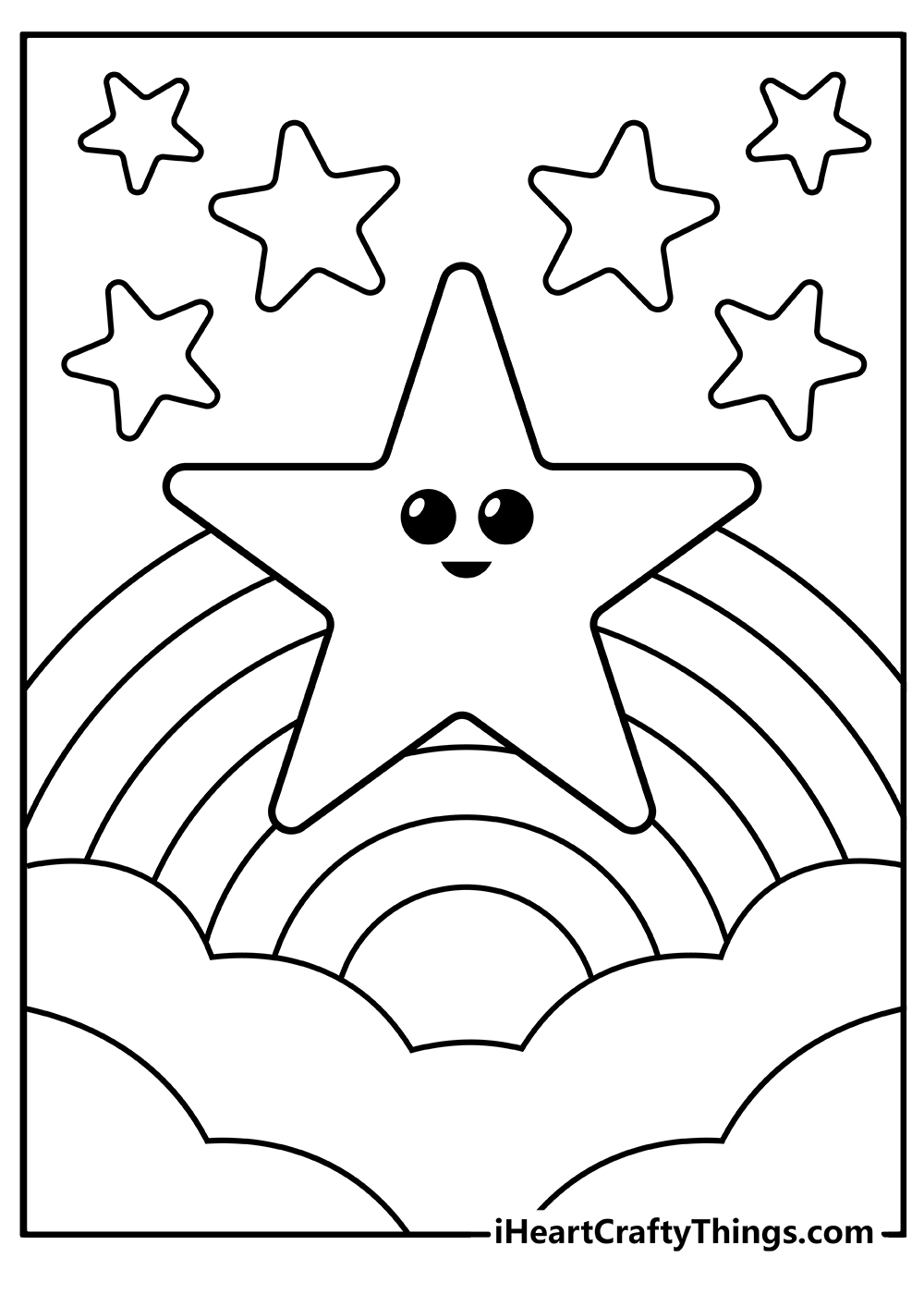 Have you ever seen a star with a ribbon bow? You can see how it would look in this star-inspired coloring sheet.
Our next coloring sheet captures the cutest star you've ever seen. It features a cute tiny bow and a belt with a small circular detail.
Besides the main design details, this page also features an intricate and fascinating background that can genuinely trigger your kid's imagination.
This printable sheet is filled with various design details that will encourage your kid to bring their ideas to life through coloring.
Coloring this cute star can teach your little one more about colors and how certain shades look together.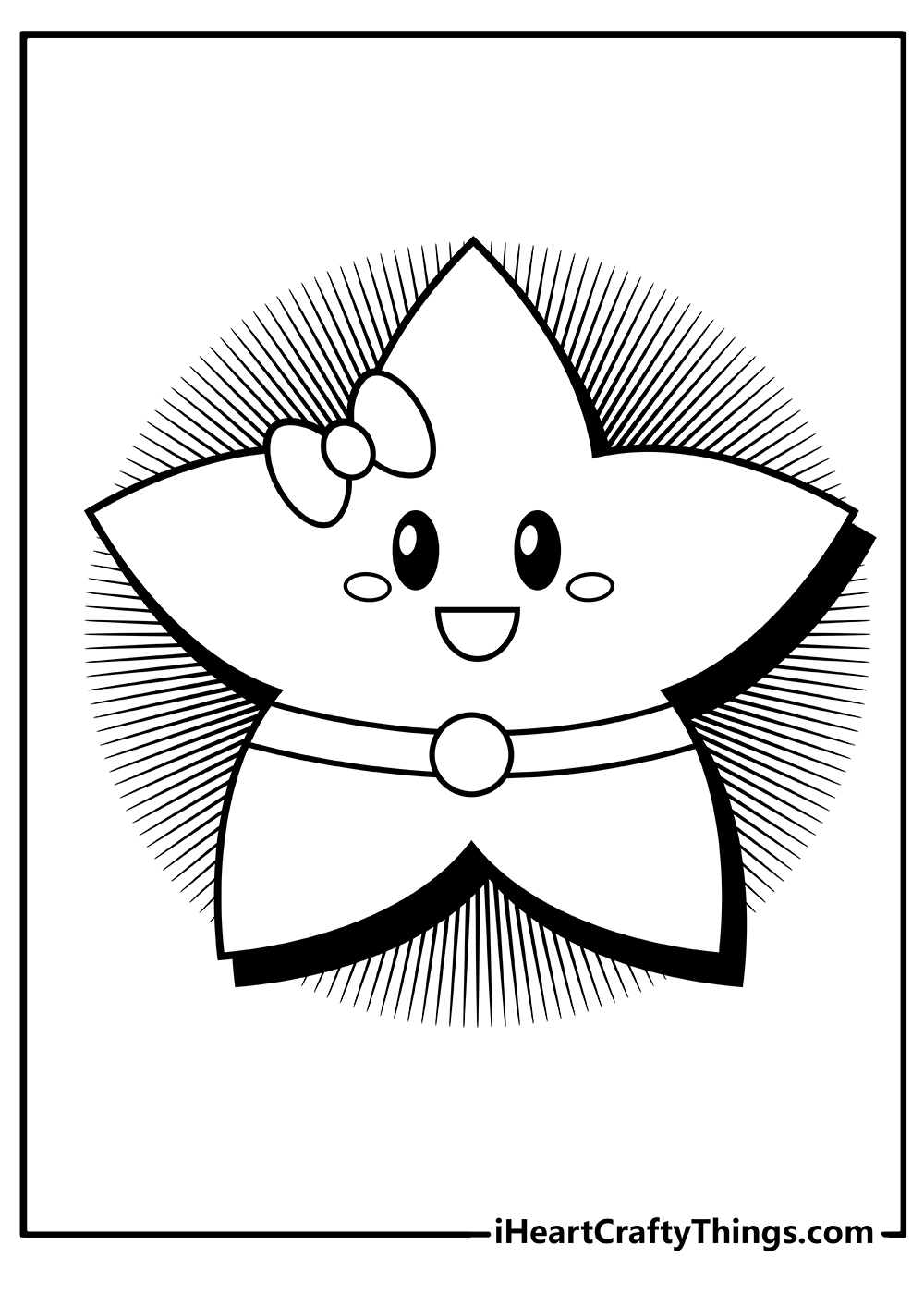 It looks like a fantastic night sky on this star-inspired coloring page. A large star wearing the chicest sunglasses stands in the center of the page, surrounded by many other smaller stars.
This coloring sheet also has fascinating background design details that resemble the Sun.
Our free printable sheet is funky and funny and will give your child an instant good mood and an excellent opportunity to play with colors.
Your little one can use their creativity to imagine the color of a pair of sunglasses worn by a star. Cool, right?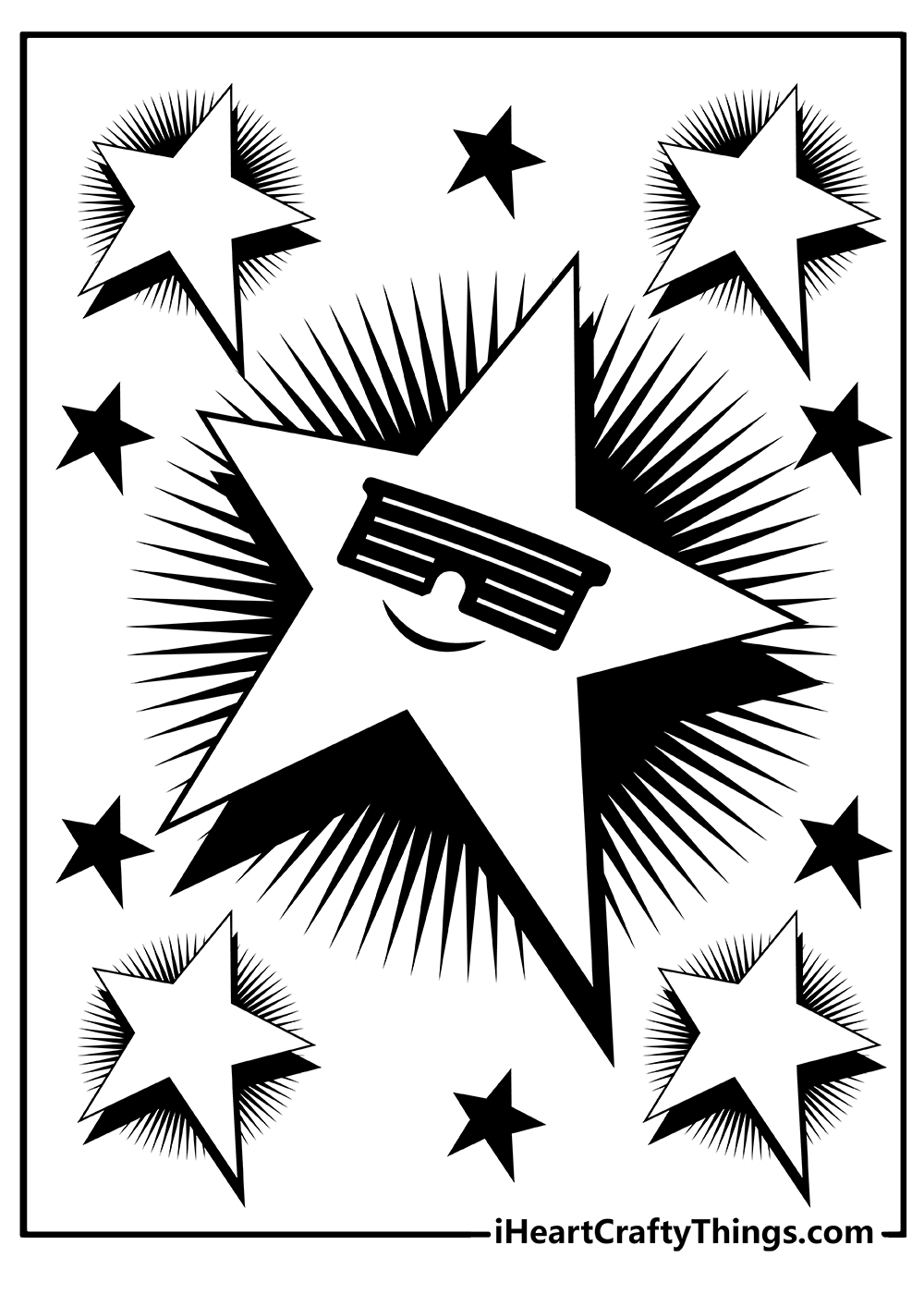 Smiling stars are an instant mood-booster. You simply can't be upset when a cute star smiles back at you, just like the one in our next coloring sheet.
This printable page features a large friendly star surrounded by a multitude of tiny stars, offering sufficient design details for your kid's creativity to run wild.
The stars are different sizes, and your little one can color them using one shade or more.
If your child loves stargazing, they'll enjoy coloring this sheet as they imagine the night sky looks up-close.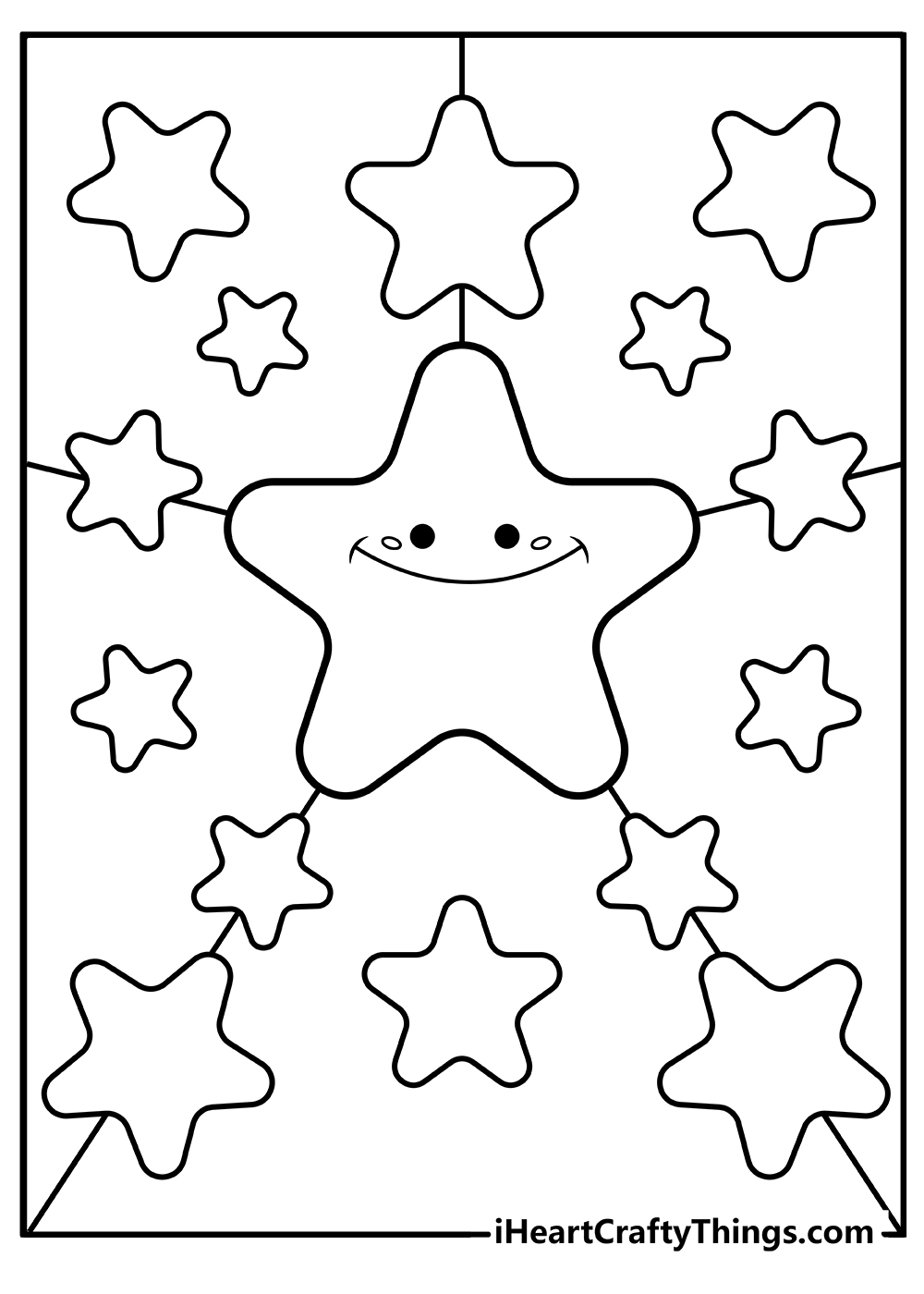 The star on this next page is really cute and simple, and it is in front of an interesting background design.
Here, the background is separated into various sections, and that presents many options for how you could color it in.
One way would be to color the sections in two alternating colors, but you could also try to make every single section its own color.
There are no wrong ways to color a background such as this, and it's completely up to you!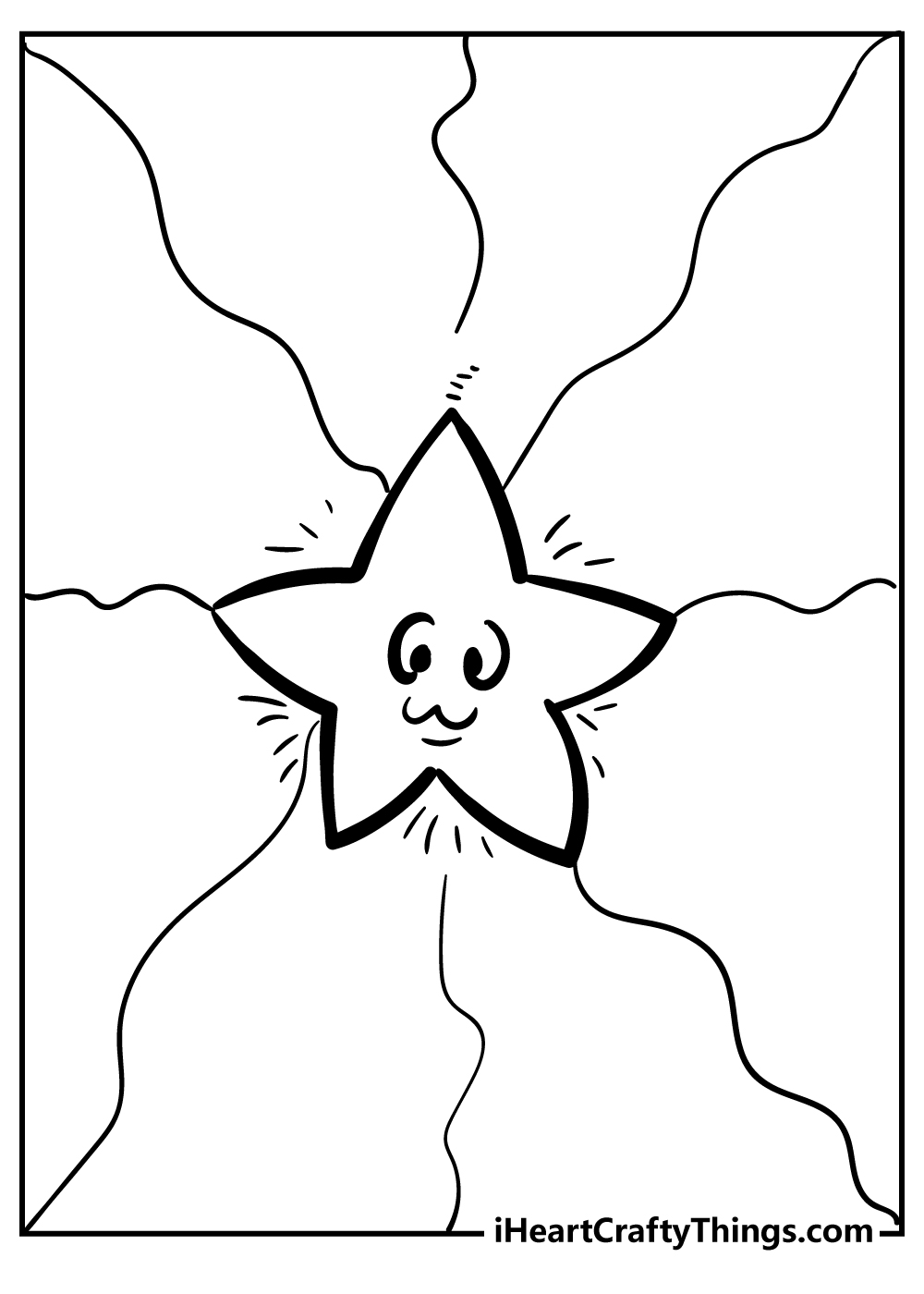 There is a stunning array of different stars for you to color on this page! The big one in the center is the main feature, but there are many more for you to use for some amazing color choices.
While there are tons of stars in this image, there is still a fair amount of space left over on the sides.
You could draw even more stars in these empty spaces, but you could also draw other shapes that you think would look nice!
What are some other shapes or background details that you think would suit this particular image?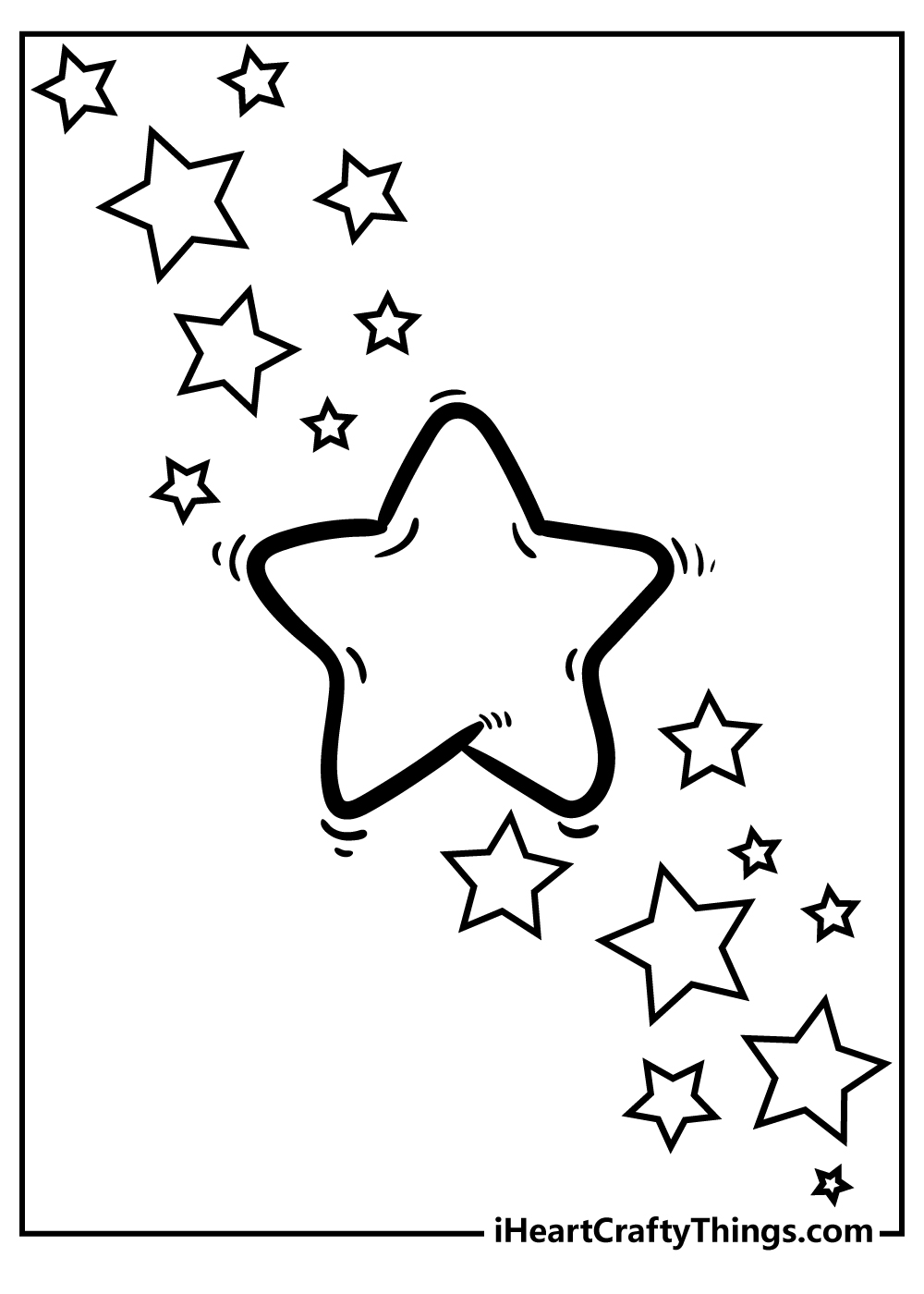 We love the two-dimensional design used by our designers to create this coloring sheet.
Our last star-inspired coloring page is the perfect exercise for your little one to set their creativity free.
This free printable coloring page captures a large happy star that looks ready for a workout, surrounded by other stars of different sizes.
If your little one loves star shapes, this sheet will definitely be fun to color and allow them to experiment with various colors.
Your kid can color all these stars in one shade or more. Remind your kid imagination has no limit!
We are constantly updating our collection of coloring pages and printable sheets, so check back soon to see our newest uploaded pages!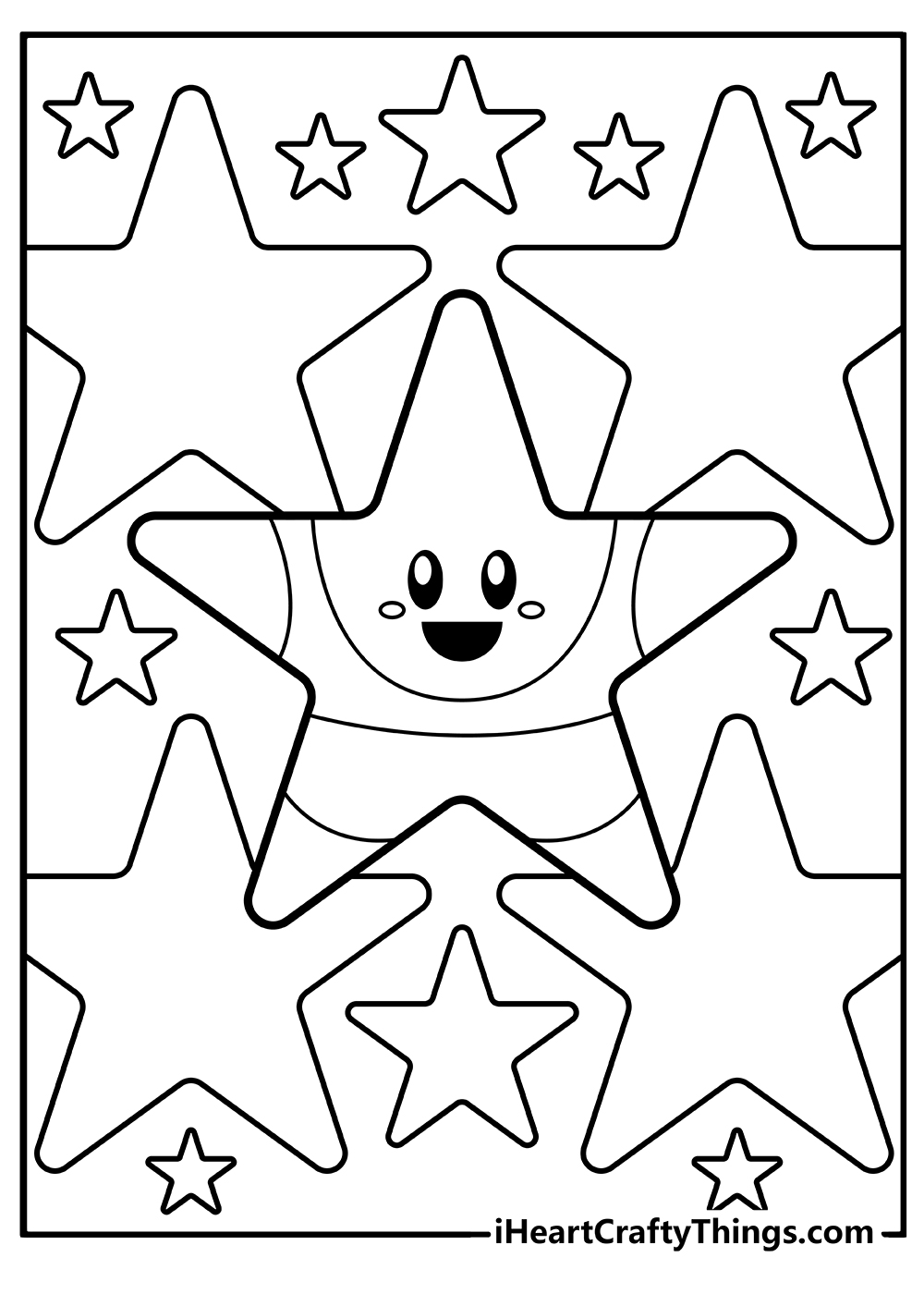 We have a really cool and unusual design on this next star coloring printable. There is definitely a lot to admire on this one.
The three central stars all have a smaller one inside the outline, and then there are the smaller stars on the sides.
This is all finished off with some wavy sections behind the stars that you can add even more colors to!
It's a great design, because it would look great no matter which colors or techniques you use to color it in. remember to print out a few copies if you would like to try out different ideas.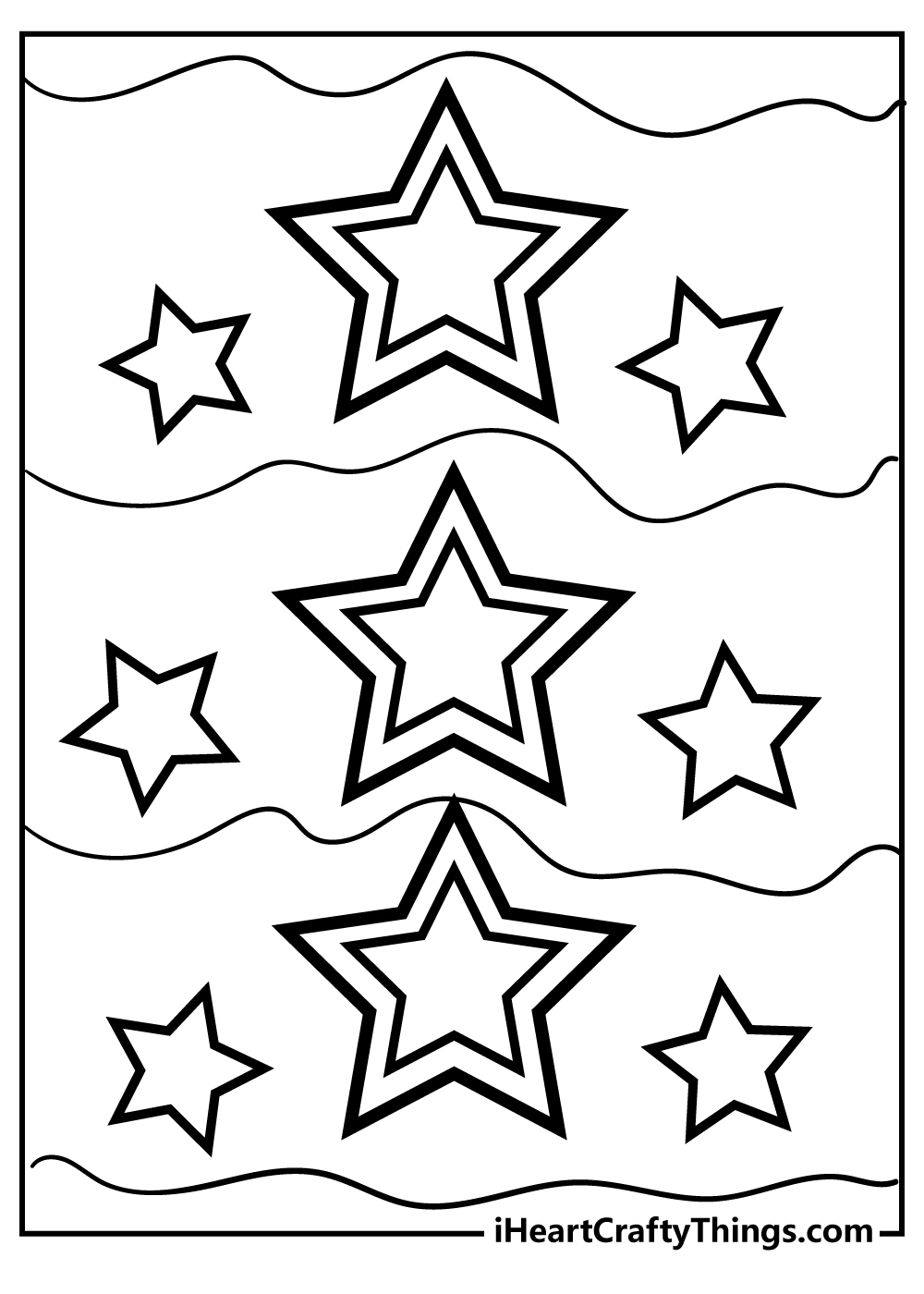 There is a quadruple dose of smiling stars for you to enjoy on this next page! These happy stars create such a bright and inviting picture, and you have lots of smaller ones to color as well.
Some of these stars are really small, so they could prove to be a bit tricky to color.
For smaller details such as these, you could use a medium such as colored pens, pencils or small paintbrushes in order to make coloring them easier.
These mediums would also just look amazing for these smaller stars! What other art tools could you use?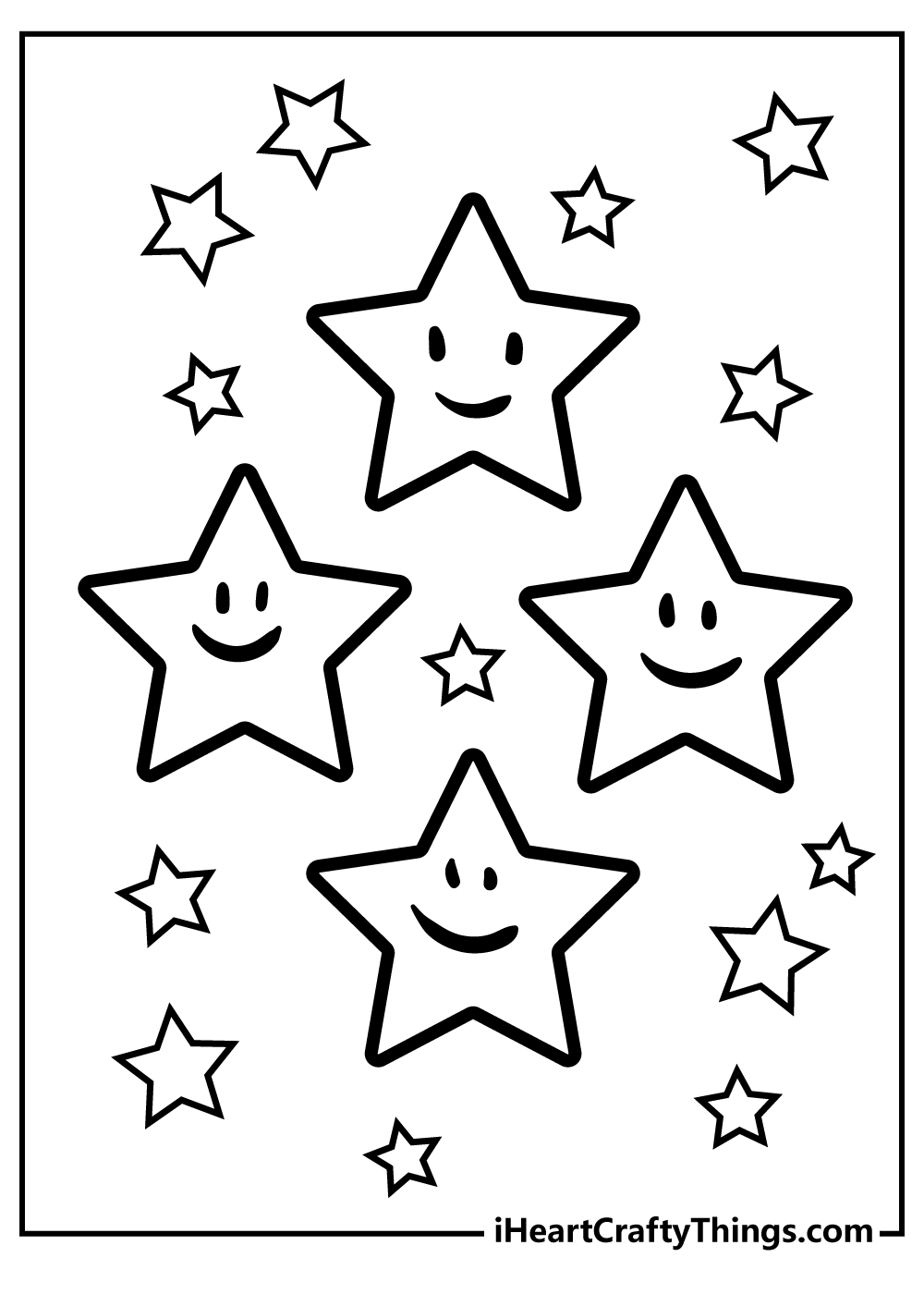 Here's a wonderfully vibrant design for you to color. There are three stars that have a 3D effect on them with how they're drawn, and that just gives you more sections to color in.
Then there are of course lots of smaller stars surrounding them for you to add even more colors to.
We then have some wavy sections behind them that would look amazing with any color schemes you can dream up for the background. We would love to see how this one turns out!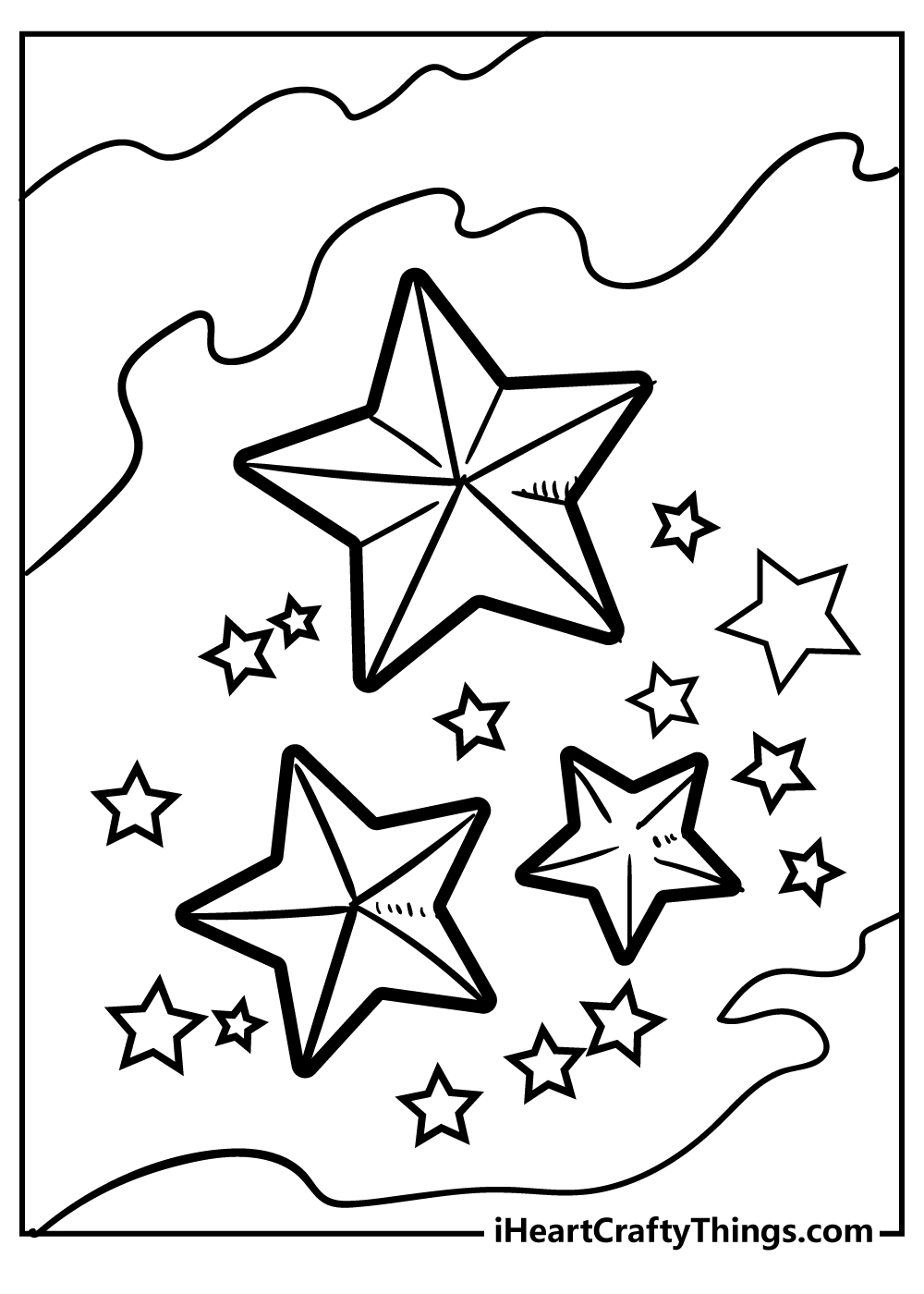 This next star coloring page is a really vibrant and wacky design that we're sure you will have a ton of fun working on!
The star has a really funny and exaggerated facial expression that makes is look really excited.
If we were coloring this page, we would use lots of bright and zany colors, as we feel that would suit the feeling this design gives off perfectly.
What kind of mood would you like to create with your colors on this page? Do you think you will try our approach or will you try something else out?