Pirates are basically robbers that travel by water. They usually target ships that they come across with, but some groups of pirates also attack coastal towns. There are both male and female pirates. They usually wear long coats paired with loose trousers. They also often wear scarves or hats to protect their head from sunlight.
The extreme popularity of pirates has created a huge demand for free pirates coloring pages. You asked for it, and we delivered. Finally, we have created and compiled 10 Pirates coloring pages for you to enjoy. Feel free to mix and match various colors to customize your pirates coloring sheets!
With these pirates coloring printables, coloring activities with friends and family are made more fun and easy. Simply choose the image you like, download it, print it out, and finally—the most fun part—color it!
Use your imagination and creativity to bring these pirates to life!
Pirates Coloring Pages — 10 Free Printable Sheets
In this pirates coloring page, there's a pirate holding a razor-sharp sword in one hand. He is wearing the typical pirate outfit: top paired with loose trousers with a long coat worn over his clothes.
There is also a wooden prosthetic attached to his one leg. This courageous pirate has probably survived multiple battles and sword fights!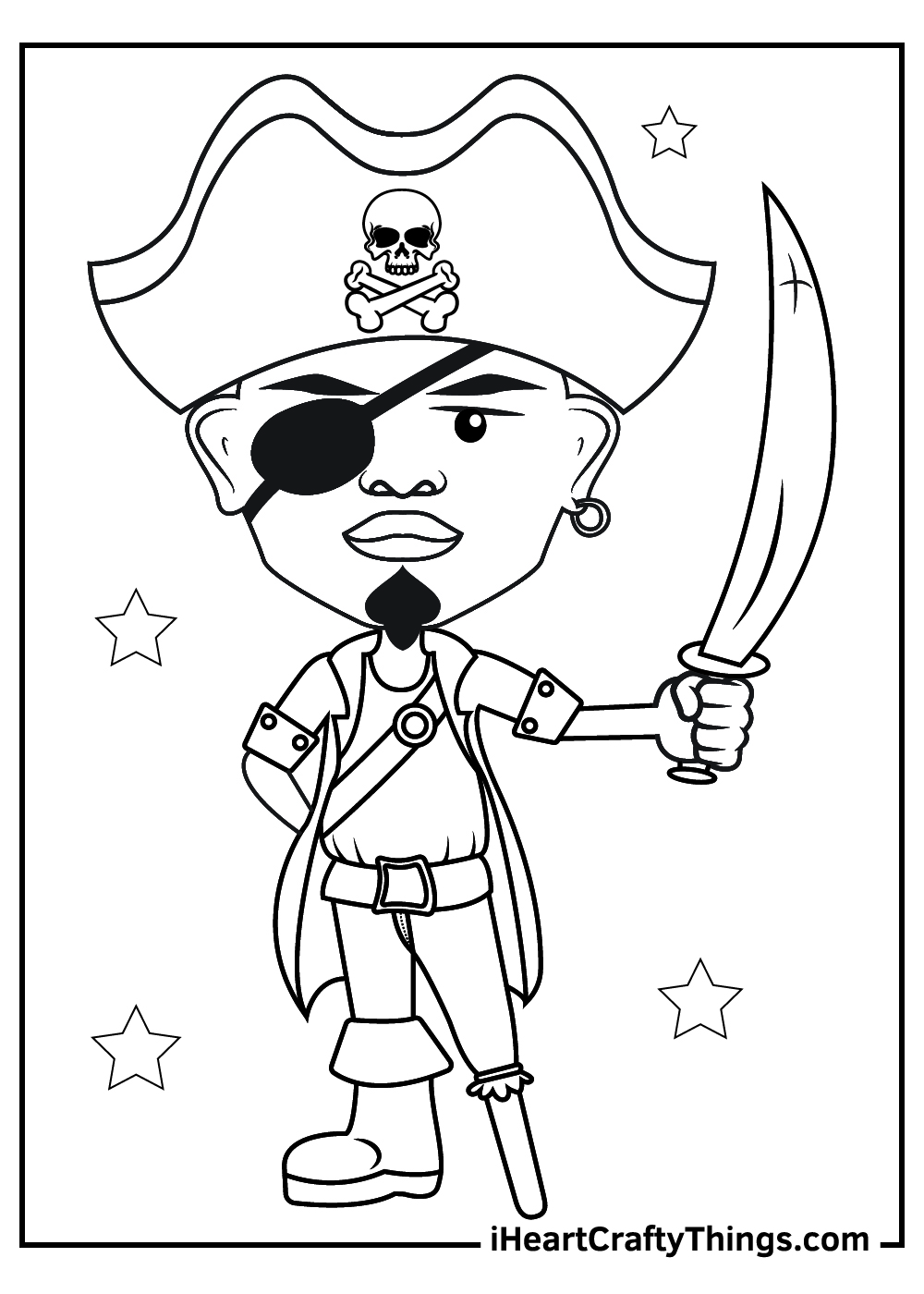 A pirate typically wears a large hat and an eye patch, as shown in this pirates coloring page. A thick beard and mustache covers nearly the lower part of his face. He looks furious with his sharp eyes and furrowed brows.
Did you know that pirates wear eye patches to adjust their one eye to low-light conditions? This allows pirates to see in the dark by simply swapping the eye patch to their other eye.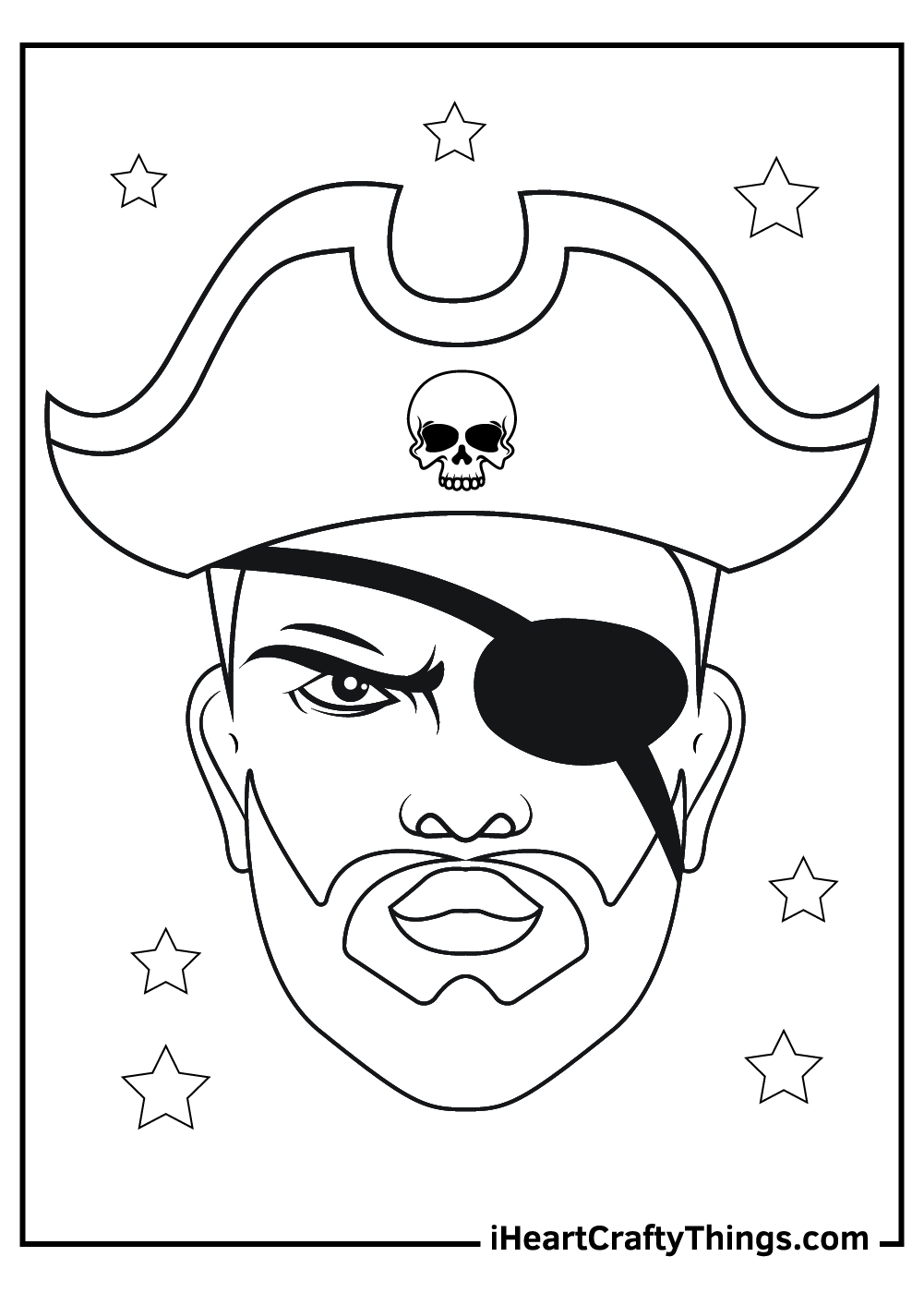 This pirates coloring page shows an old pirate wearing an eye patch and a massive hat. With that long beard and wrinkled skin, he's probably considered the grandfather of the pirate crew.
Pirate hats are usually black in color. But don't hesitate to use your creativity and customize the colors to your liking. What colors will you add to this printable?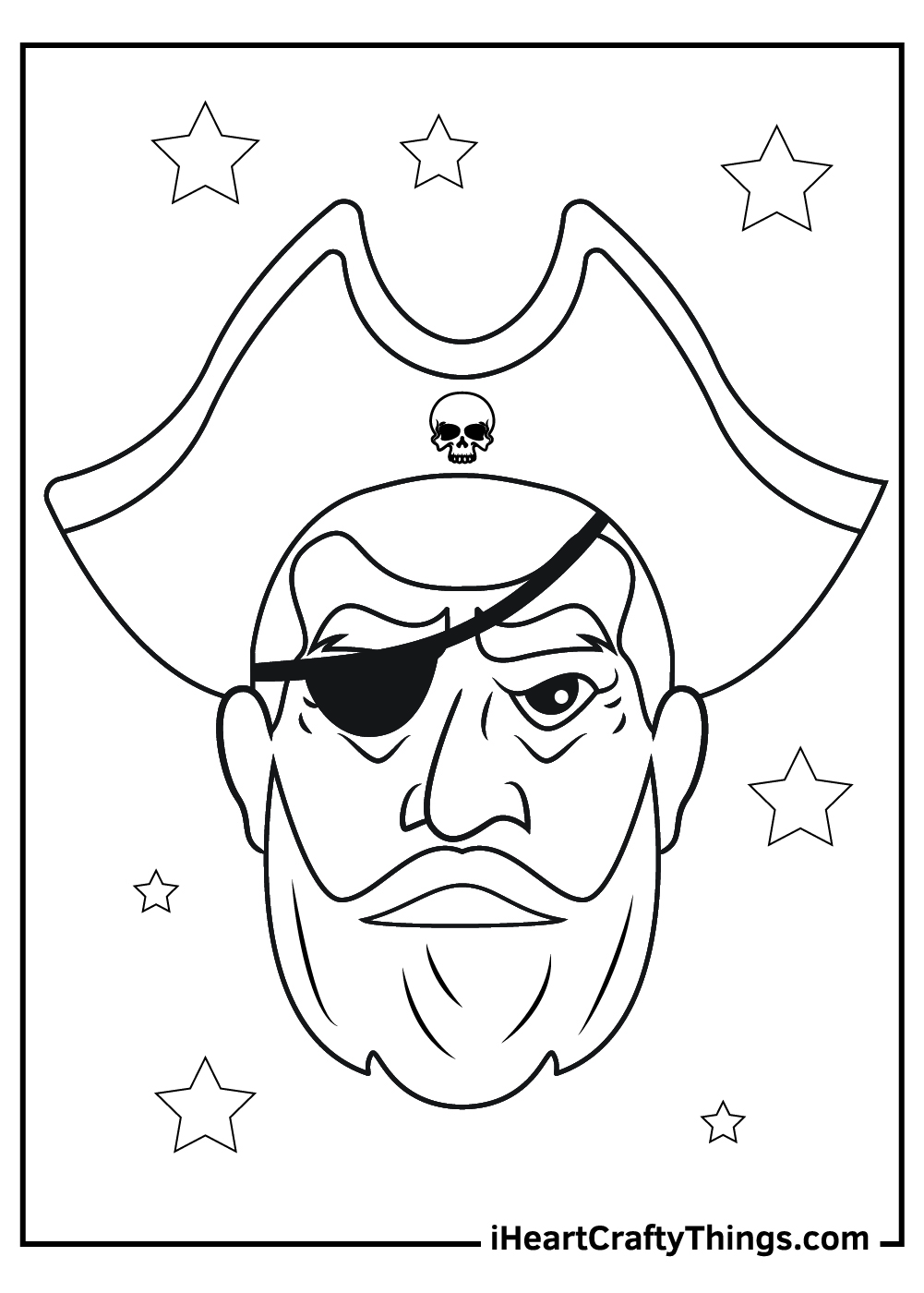 This pirates coloring page shows an enthusiastic young little pirate holding a flag with the skull and crossbones symbol. He is wearing a complete pirate outfit: coat paired with trousers and a huge hat. There is also a prosthetic hook attached to his one hand—so cool!
Is this young boy a real pirate or is he just role-playing? Either way, it looks like he's having a good time, and that's all that matters!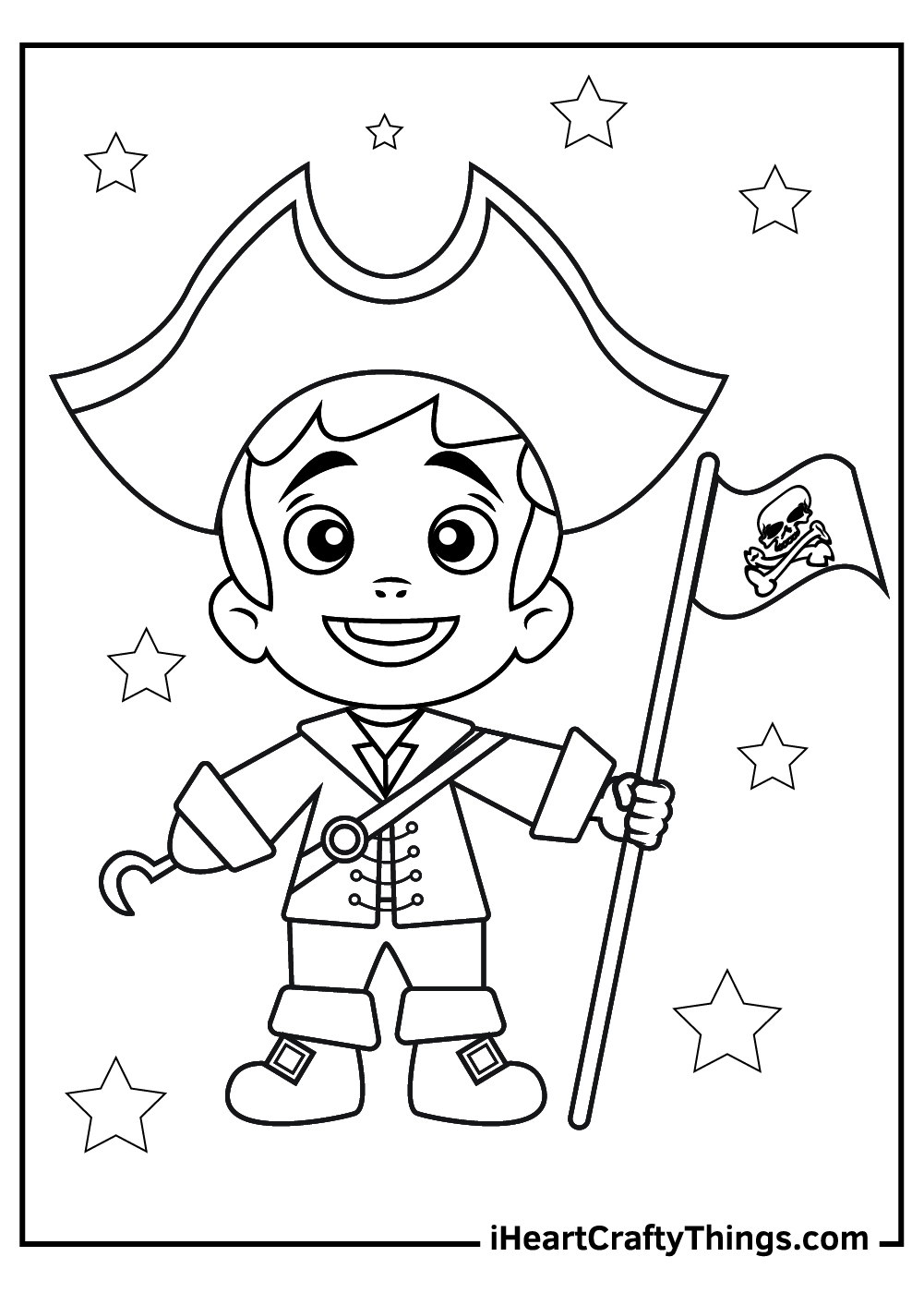 Pirates look terrifying, like the one shown in this pirates coloring page. The pirate in the image is wearing a loose coat and a large hat.
He looks like he's up to no good with his mischievous smile and deadly stare. He's probably looking at a ship in a distance, strategizing their attack.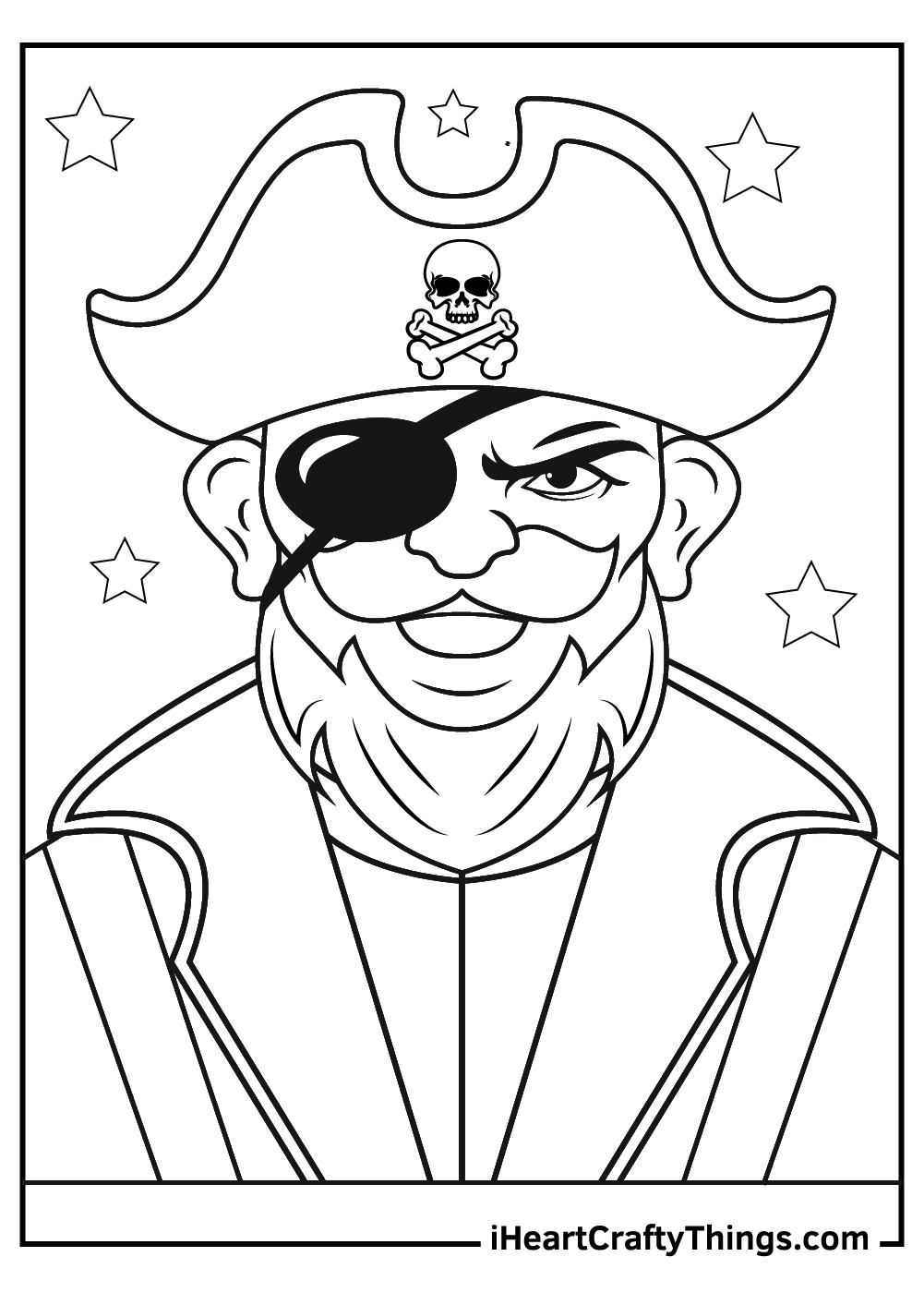 Many kids are fascinated by pirates mainly because of their exciting adventures and sword fights across the ocean. Some children even dress as pirates, like the little boy in this pirates coloring page.
This young little boy is wearing a bandana designed with the pirates' symbol. He is also wearing a tank top paired with a vest. What colors will you use to make this little boy's costume colorful?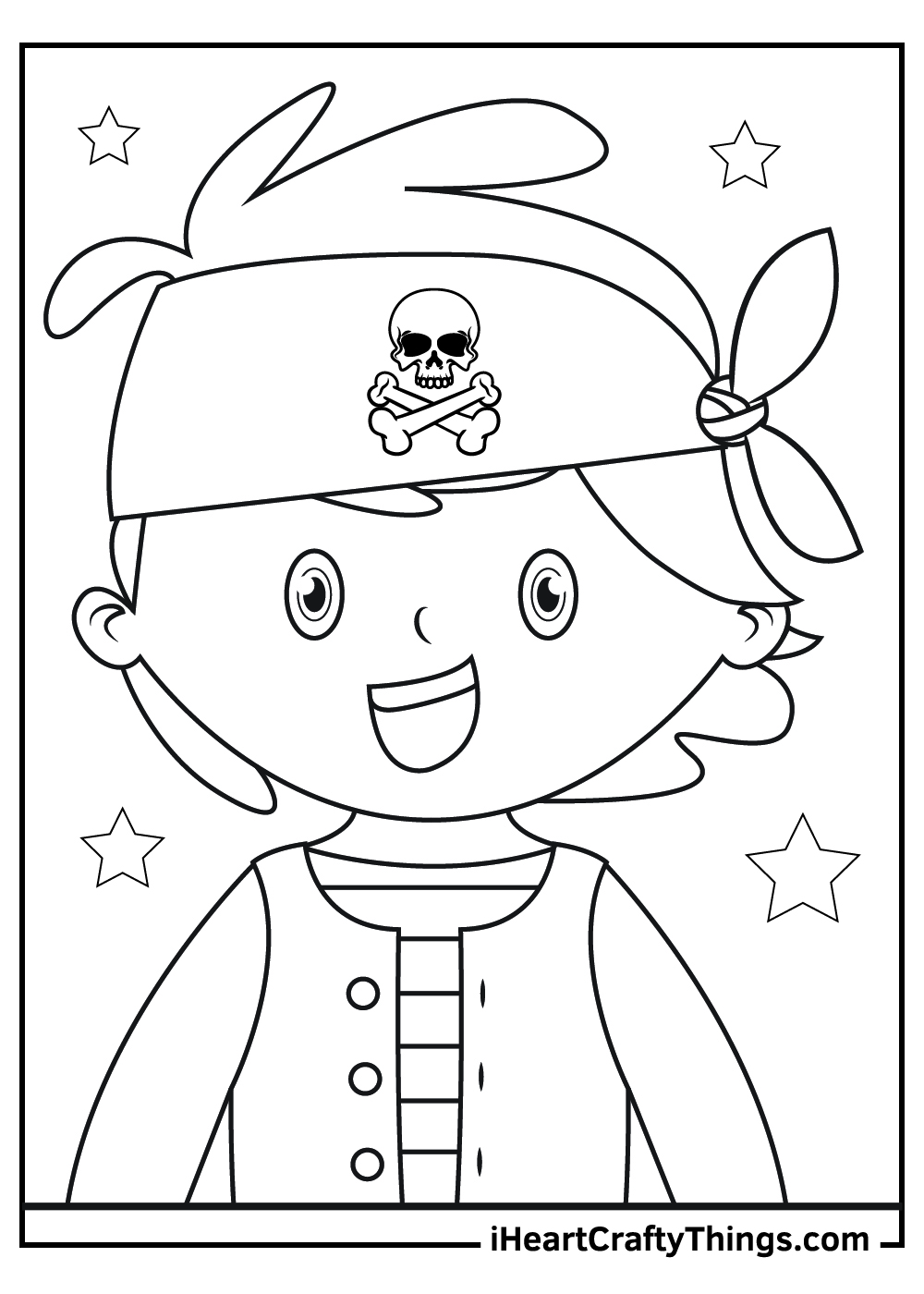 The pirate in this pirates coloring page looks like a captain of a pirate ship. He has a long, thick beard and mustache, nearly covering the bottom part of his face.
He looks focused and determined with his puckered brows and sharp eyes. He's probably planning on how to attack the neighboring ship and acquire all their treasures.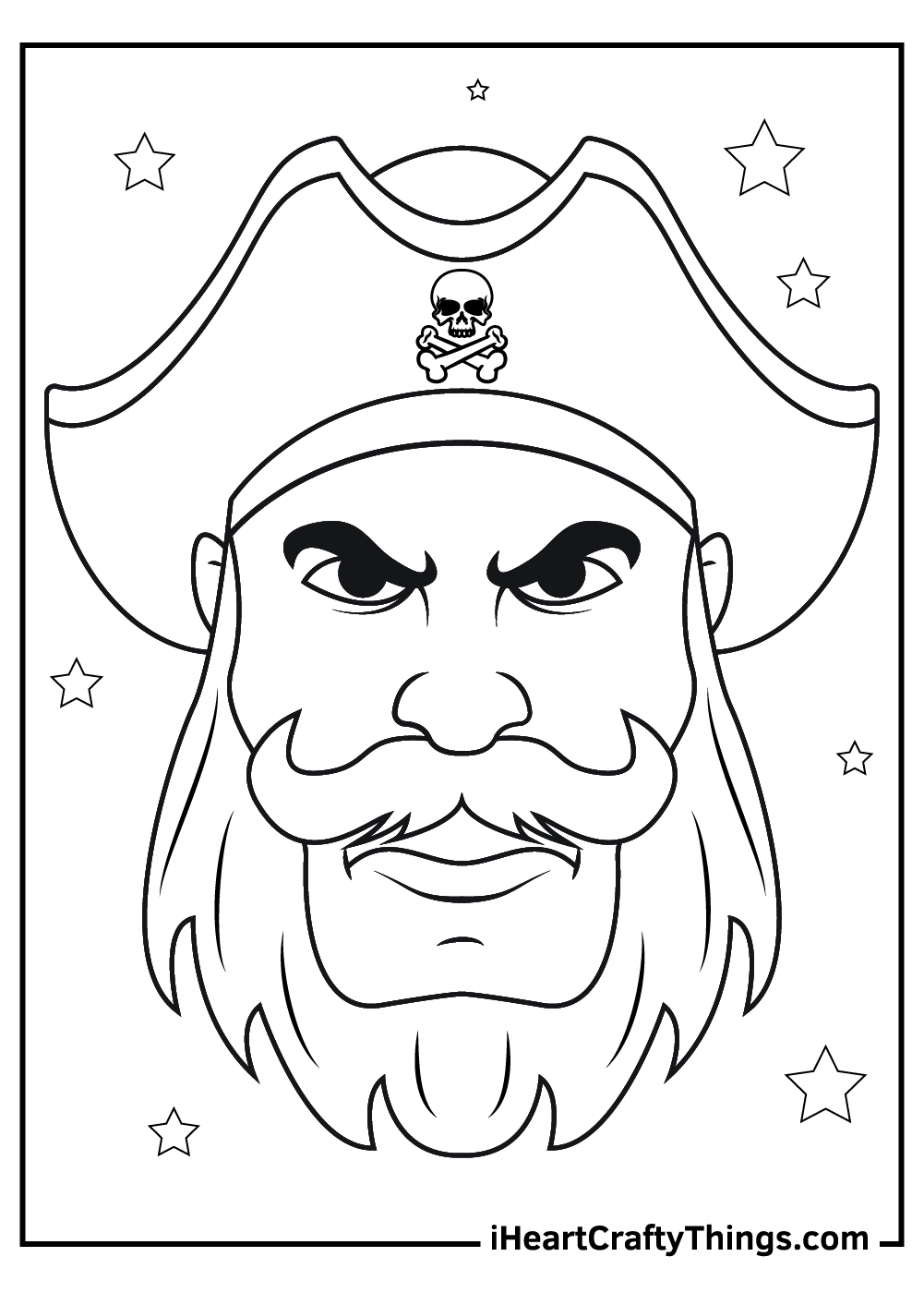 Pirates typically look scary with their bold features, just like the bald pirate shown in this pirates coloring page. The pirate has a thick beard and mustache.
He's wearing an eye patch and a hoop earring on his one ear. He looks frightening as he fearlessly bites down onto a sharp knife, isn't he?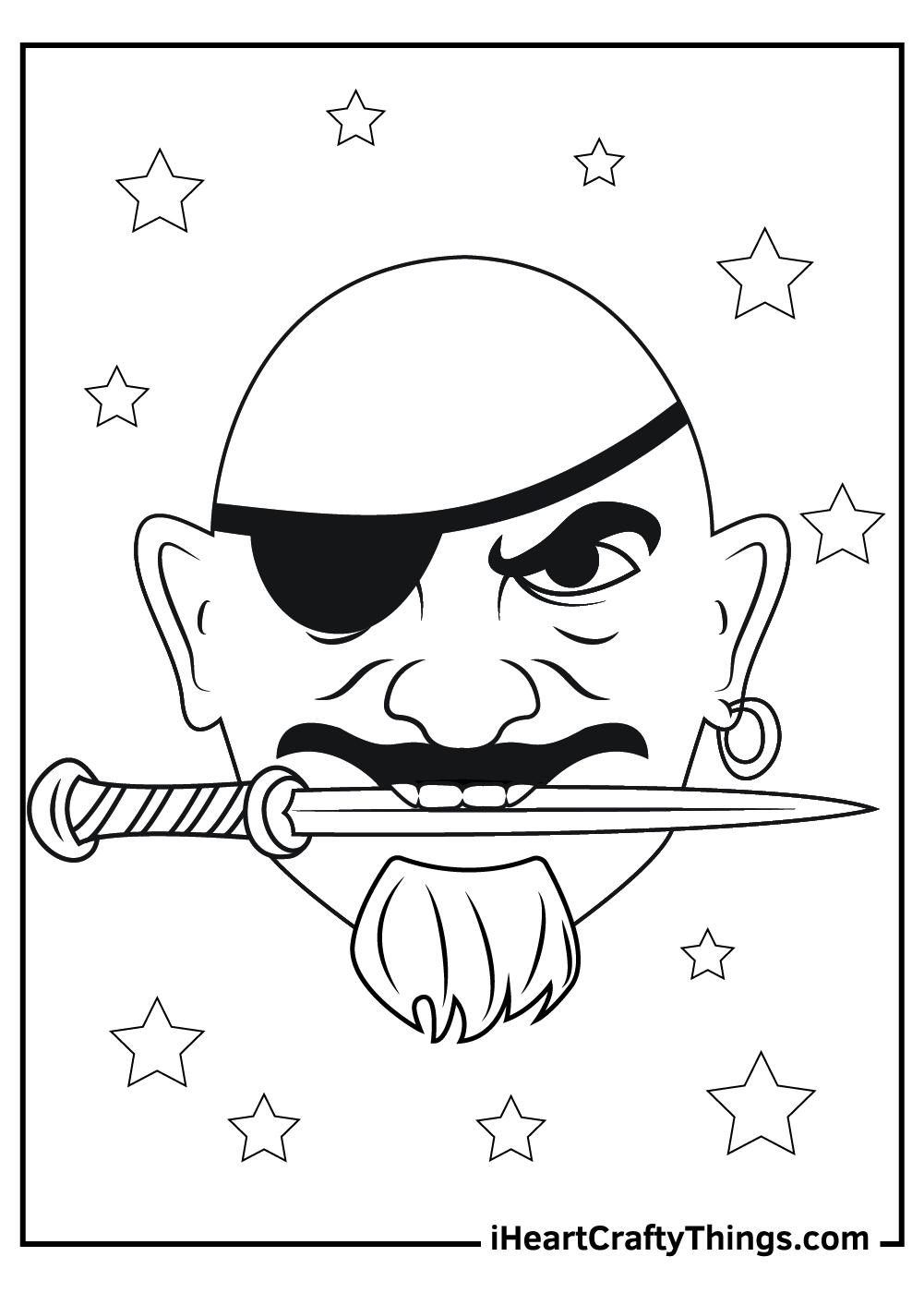 In every pirate ship, the crew elects a captain who will be in charge. Often, the elected captain isn't the one who is feared by many, but the one who is most respected.
In this pirates coloring page, there's an old pirate who looks like a captain based on his brave facial expression. He looks fearless and can command and navigate the entire ship. Imagine being the captain of a pirate ship. That would be exhilarating!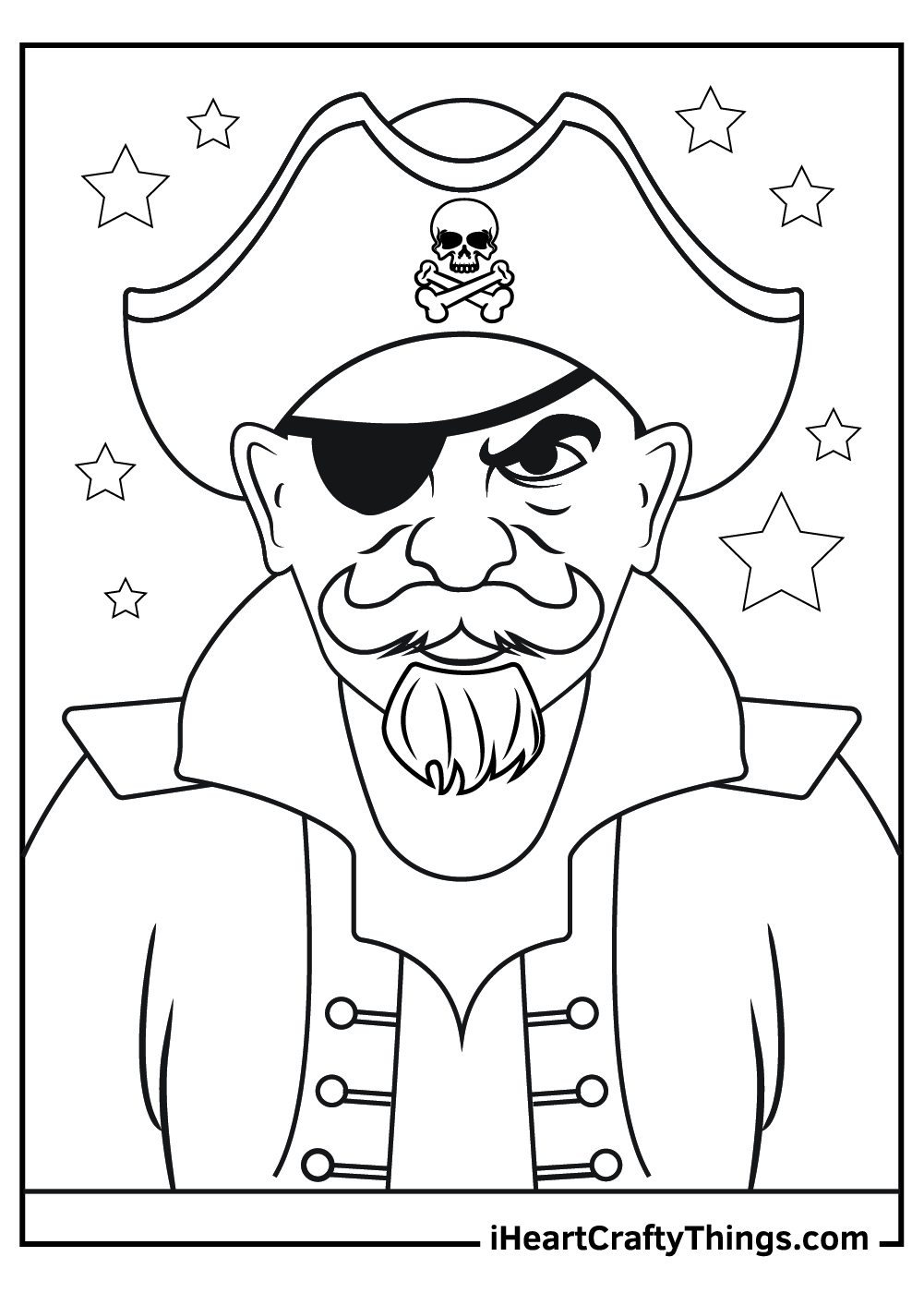 This pirates coloring page shows a skull and a crossbone. While this illustration is most commonly known as the hazard or poison symbol, it is also often associated with pirates.
Underneath the skull and crossbone is a banner with the word "Pirates" written on it. What colors will you add to this printable?
Pirates Coloring Pages — Which image will you color?
We hope you enjoy these pirates coloring pages. It consists of simple and intricate illustrations of pirates. Coloring these pirates coloring sheets is the perfect activity for kids of all ages who are interested in pirates.
Remember, all of our crafts and coloring printables are 100% free for you to download, print, and color. We are always updating our catalog and uploading new content to our catalog. So, don't forget to keep re-visiting our website to continuously enjoy all-new coloring pages.
Once you've finished coloring your pirates coloring printables, you must be very proud of yourself for completing a masterpiece—as you should be! Make sure to show off your work of art and share it on our Facebook page. We're sure it looks amazing!
We can't wait to see all of your colorful creations!