On this page, you will find 15 all new Dracula coloring pages that are completely free to print and download.
There are certain characters that are so famous and ingrained in our culture that it would be hard to find someone who hasn't at least heard of them.
Count Dracula is definitely an example of one of these characters. This famous vampire has been scaring people worldwide since his debut in the book by Bram Stoker in 1897.
Since then, he has appeared in countless movies and adaptations, and he has become a household name.
This collection you have in front of you is a celebration of this famous character! There are so many cool portrayals of this vampire that you can work your color magic on in this selection of images.
Every single one of these pages is free for you to pick, print, color and have fun with! You can also share all of the pages with friends and family so that they can enjoy them as well.
Sharing these images and comparing how others colored compared to you can really increase the fun!
Now, you are ready to dive into this collection of free Count Dracula coloring pages for kids!
We would love to see how you portray the Count, so please share some of your finished pages on our Facebook and Pinterest pages!
15 Brand New Count Dracula Coloring Pages – Free to Print and Color
We are going to begin this collection with a more subdued portrayal of this famous character. Count Dracula is looking rather calm and collected in this particular image!
This picture is also drawn in a more realistic style, so we would recommend some milder colors to suit the portrayal of the character.
What colors came to mind when you first saw this picture of Count Dracula? It will be interesting to see what you go for!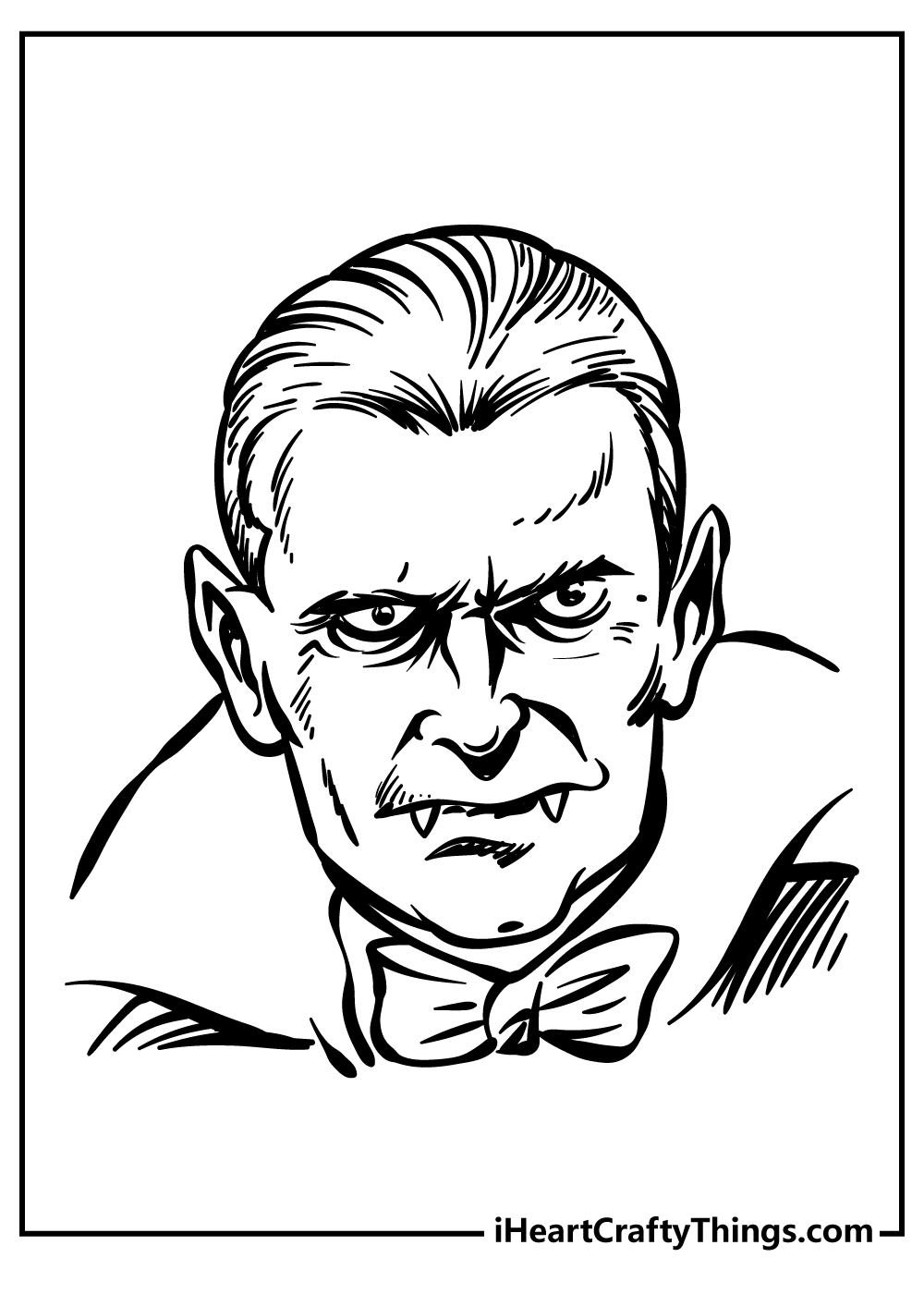 Count Dracula is dressed to impress in this coloring sheet. He's wearing his fanciest cape and medallion and it looks like he's on an important mission.
Color his clothes black and red for a fun costume look. Give him a green, warty monster friend to travel with, and color the background with purple night skies and a big yellow moon.
Add your own doodles too – bats, spiders, ghosts and other not-too-spooky creatures. As you color, imagine what important job Count Dracula is trying to get done.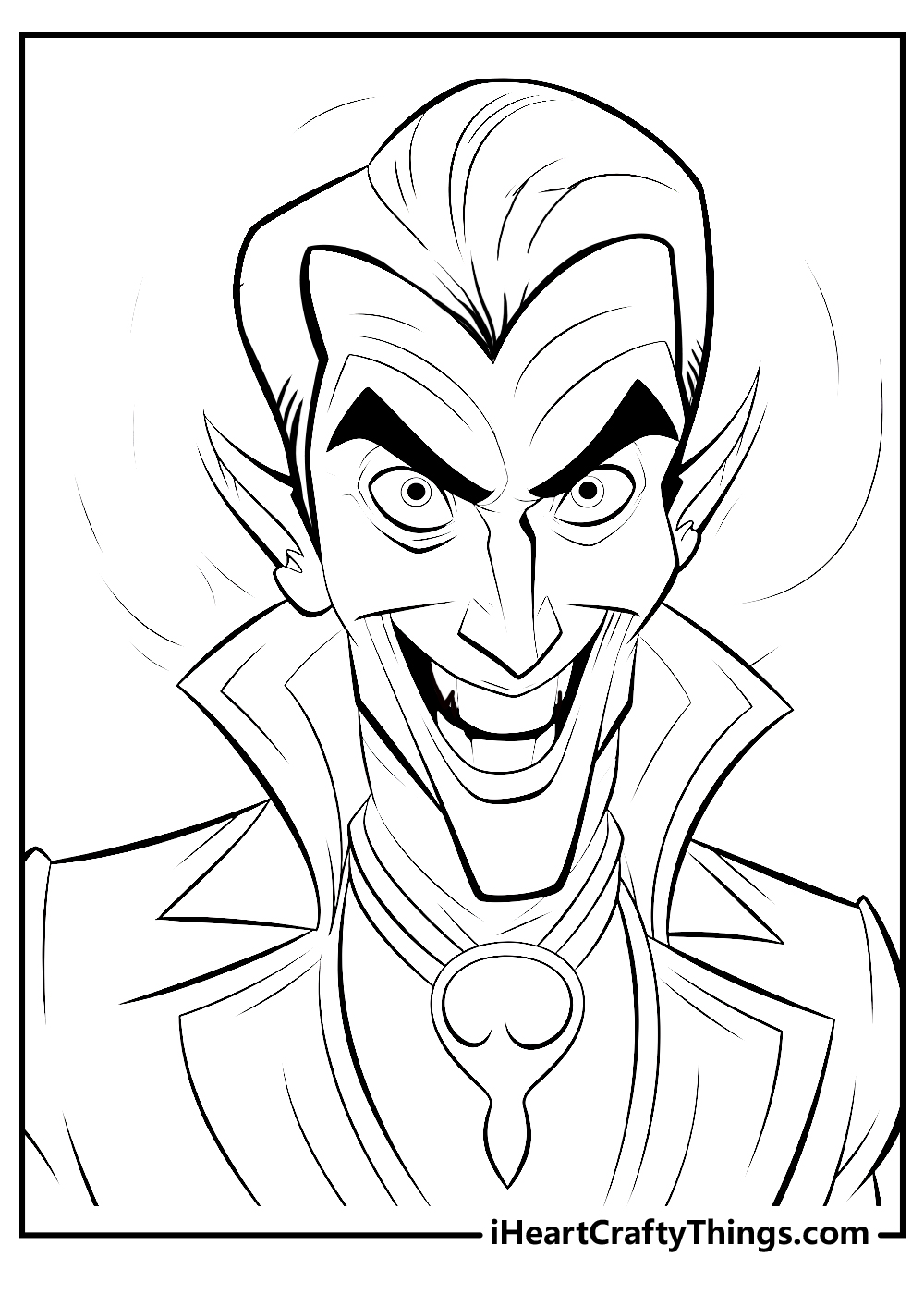 This character has come in many forms and appearances throughout the years, and this second picture in our collection of free Count Dracula coloring pages for kids is truly terrifying!
He is looking rather insane and ferocious in this one, and this looks like a version of the character that you would not want to mess with.
Unlike the previous picture, we think that for this one you could use some bright, abrasive colors to suit the intensity.
You could also use some bright colors and shapes in the background to make the image pop even more!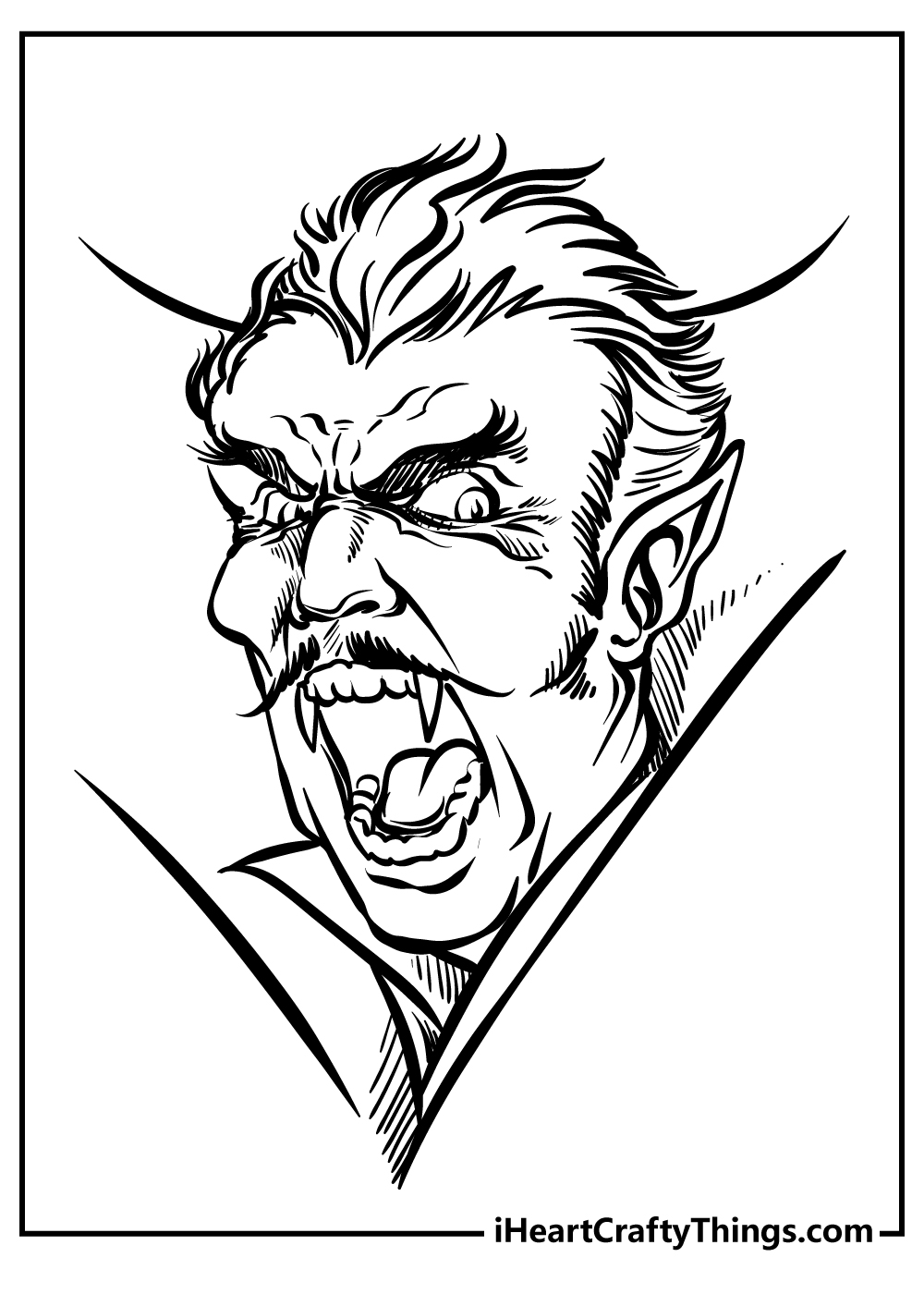 Count Dracula is looking as crazy here as he did in the previous image! This portrayal is drawn in a bit more of a cartoony style, however.
Because of this, we think that a less realistic approach to colors would be in order for this one. That is just our suggestion, however, and it is up to you to decide how you will color this one in!
Whatever approach you take, it will be very interesting to see.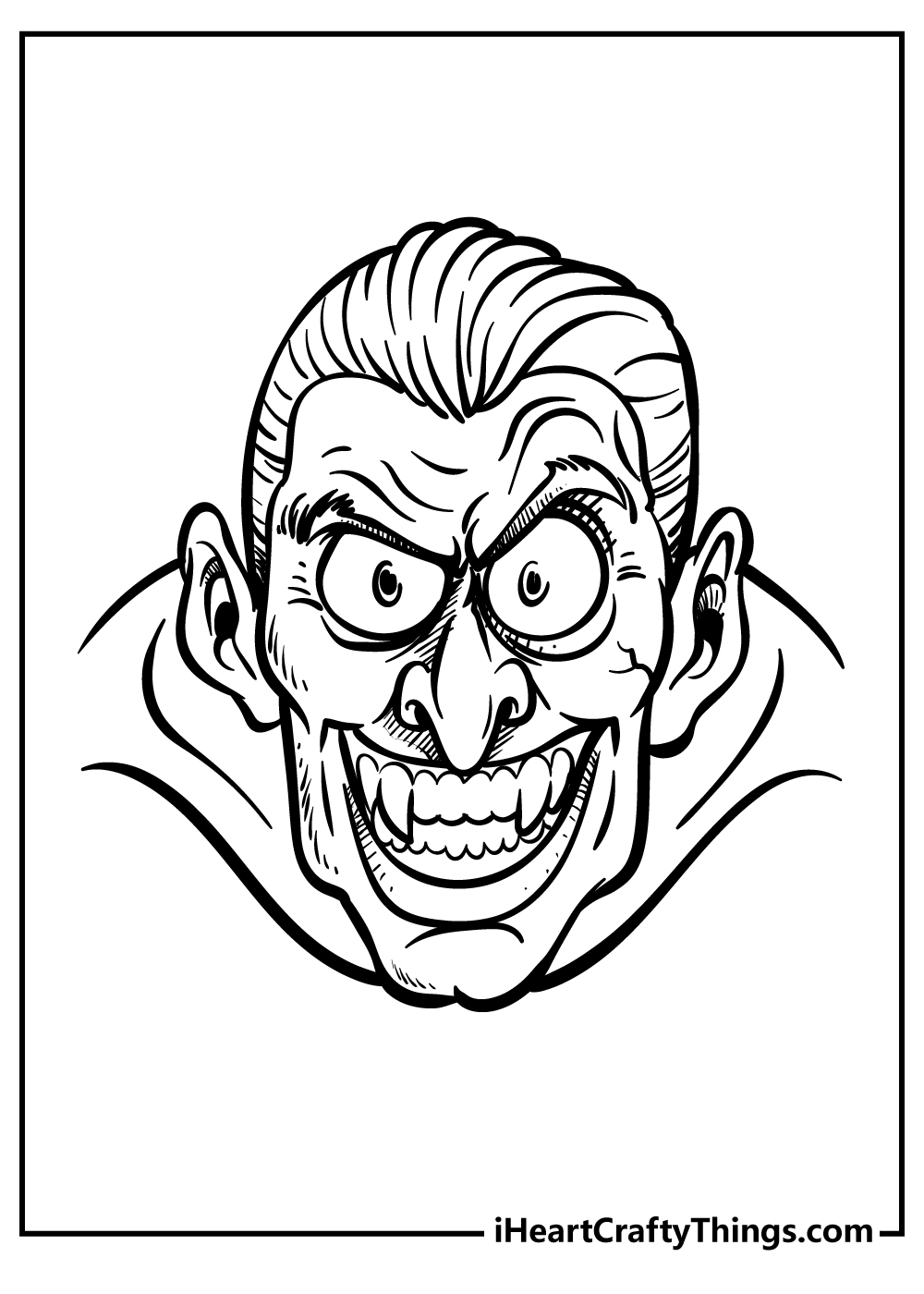 This image shows Count Dracula in a thrilling action scene. He is wearing a suit with a high collar and a tie.
His face is clear and you can see his features and his expression. He has dark hair, pale skin, and sharp fangs. He looks fierce and fearless, as if he is enjoying the challenge.
I would use red, blue, orange, or peach to color his face and clothes. You can also share this page with your friends and family who love vampires and action.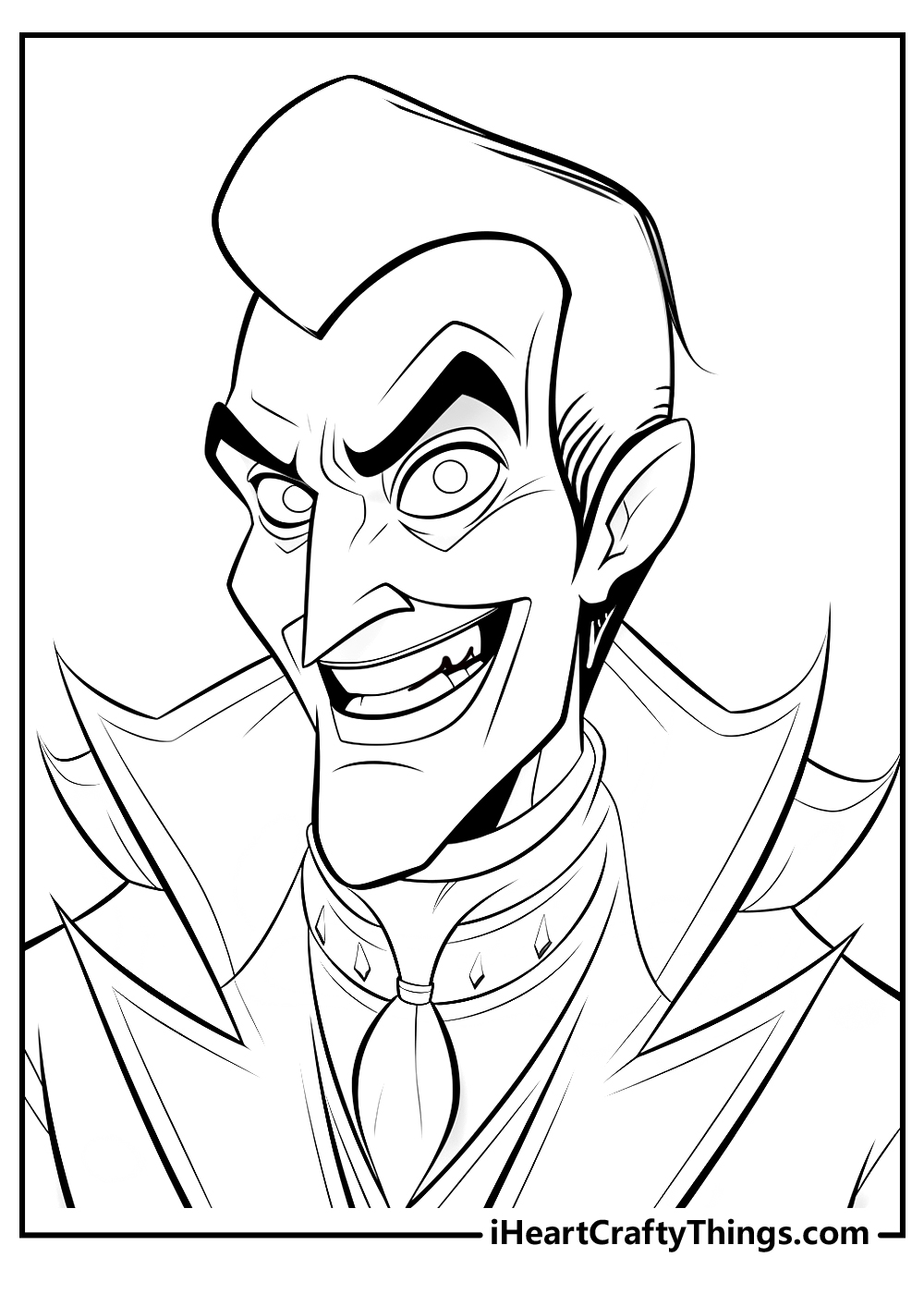 There's a look of intensity on the face of this fourth Count Dracula coloring sheet! He looks like he has completely lost control in this one, and we don't think we would want to get on his bad side.
Now, the only question is what colors you will choose to color this interesting portrayal. Will you go for muted colors, intense ones or maybe a combination of both?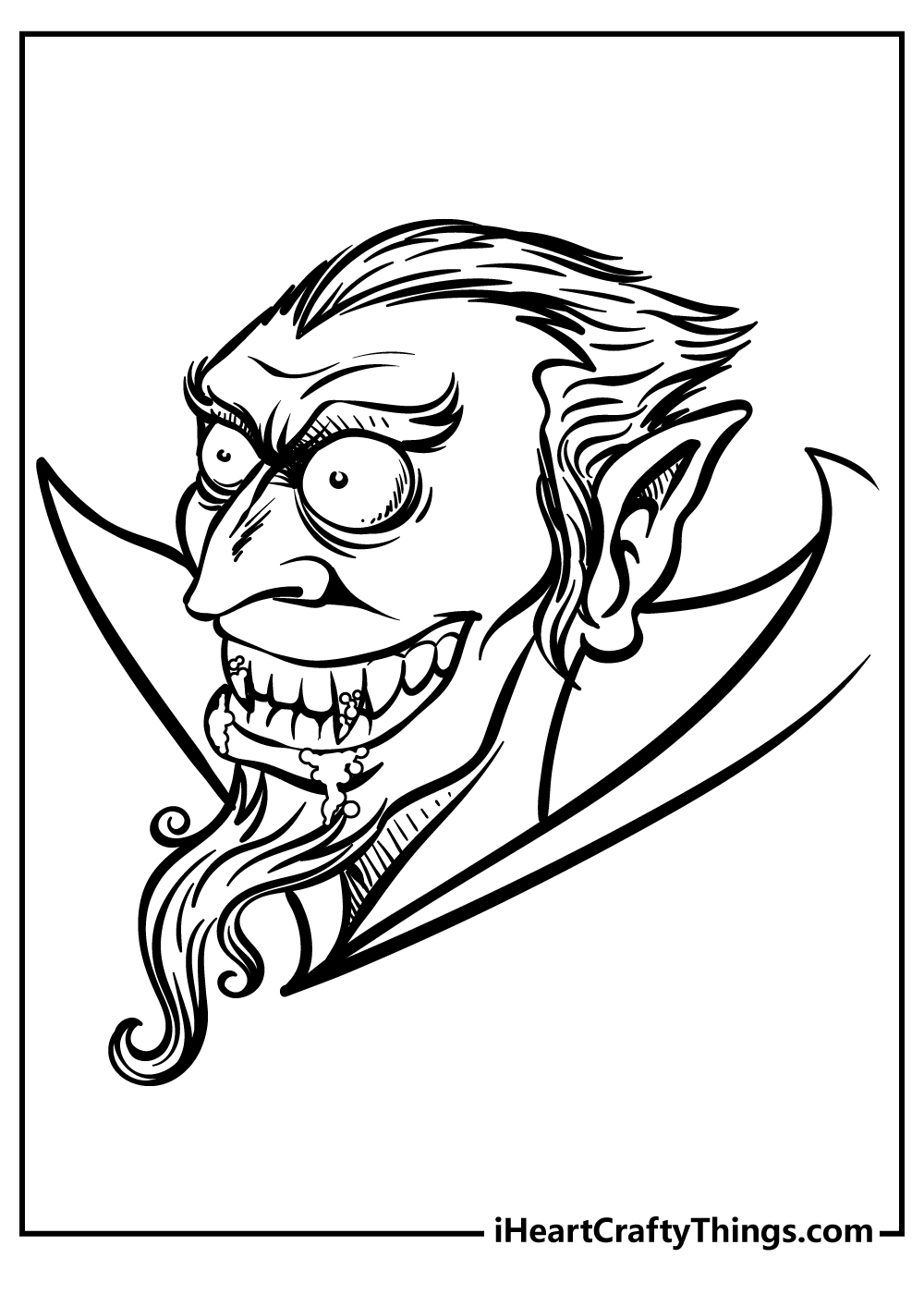 We have another ferocious and crazy Count Dracula for you to color! This one is also highly detailed, and there are some great details in the eyes.
We think that using a bright yellow for the eye details would really help to show off how rabid and crazy this version of Count Dracula is!
You could also use a bright medium such as a colored pen or marker to really make the colors pop.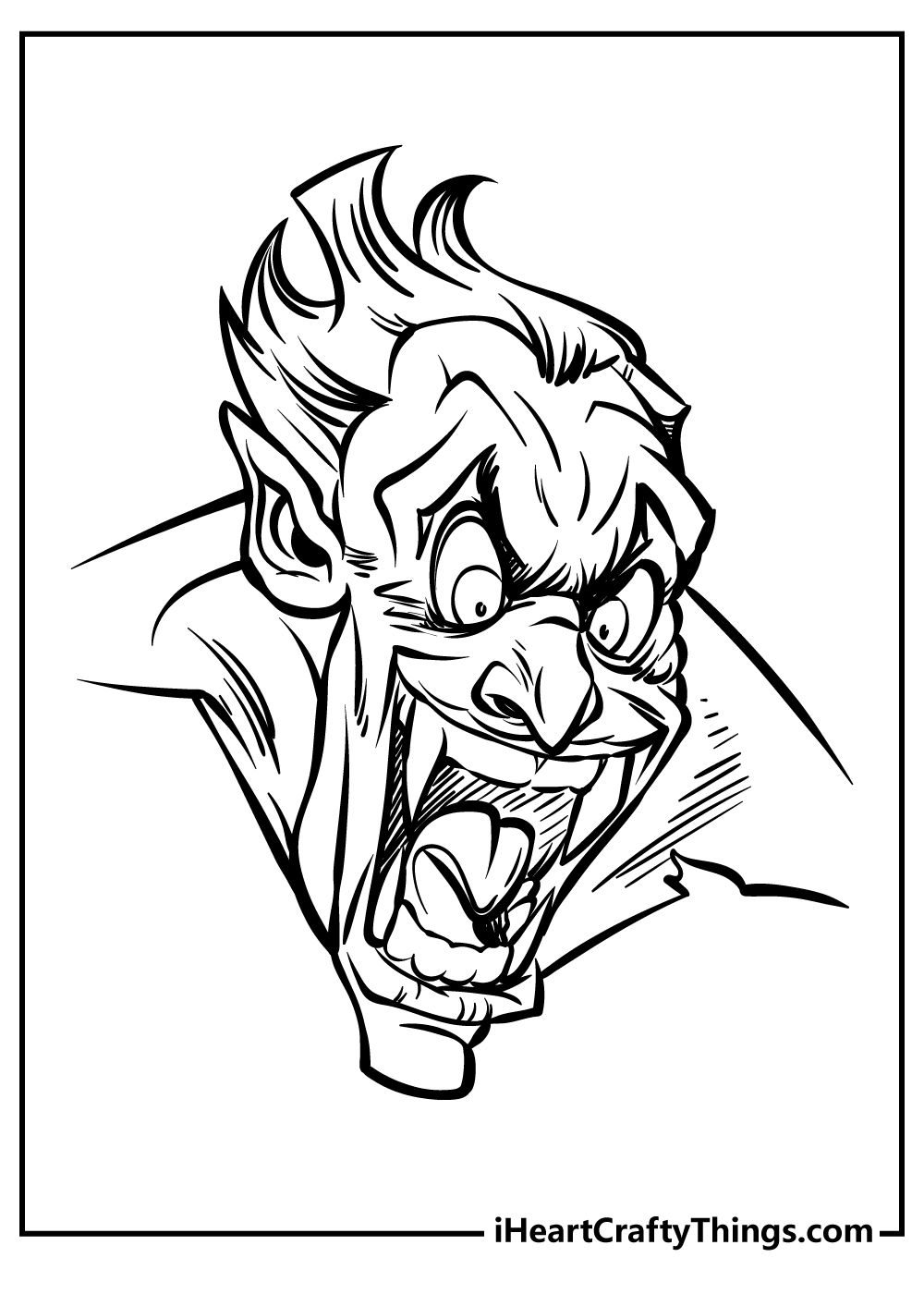 Here's another scary version of the Count, and this one is a little different from many of the others. This one is a bit more understated, but there is something really creepy about it!
We love the ways the eyes have been left blank, as it makes him look scarier.
We would recommend some darker, more muted colors for this subdued portrayal, but what colors came to mind when you saw it?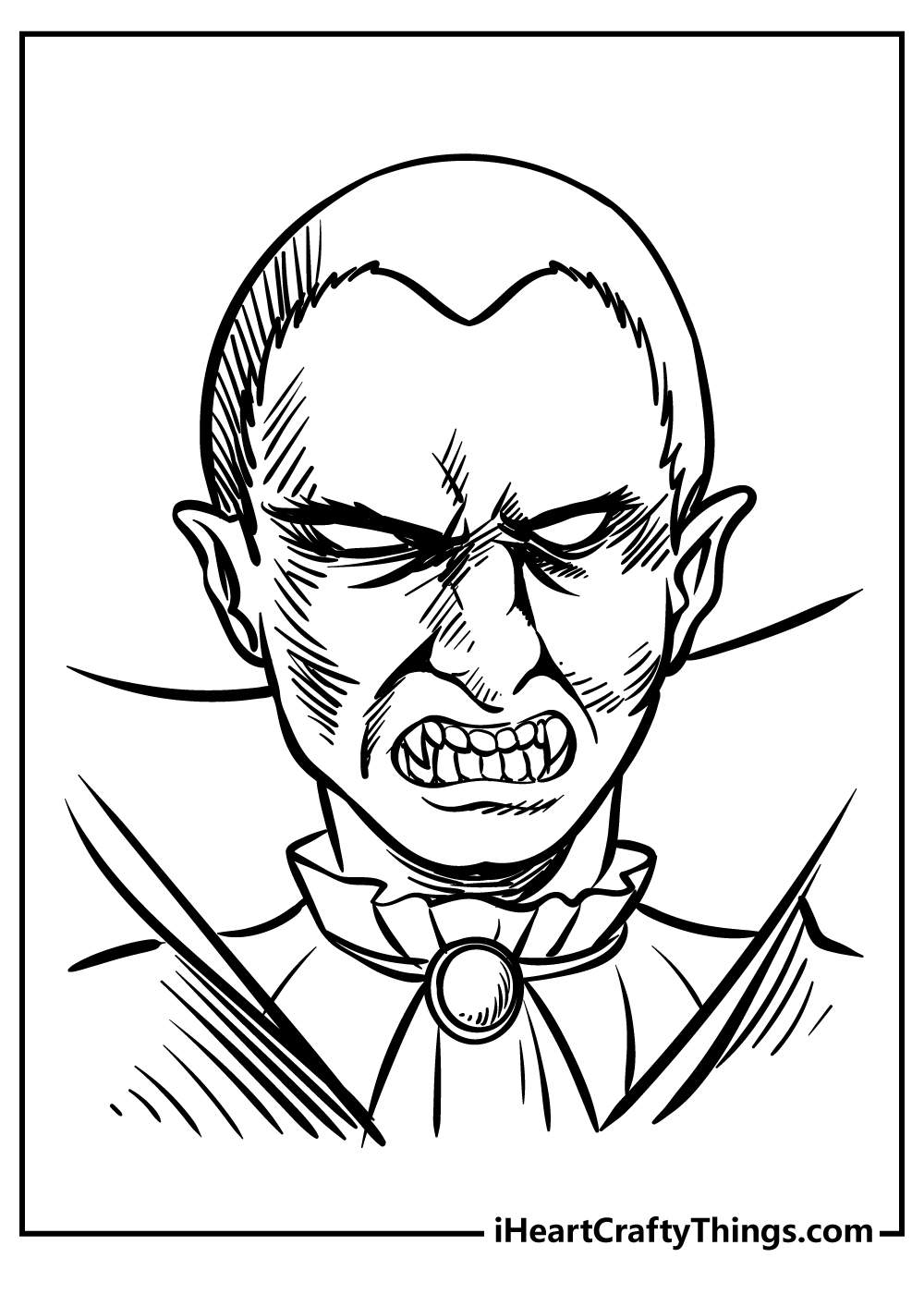 This Count Dracula coloring page features the most famous vampire of all time. He is dressed in his signature suit and cape, with a large medallion around his neck.
He has a pointed nose, sharp eyebrows, and a widow's peak hairstyle. He is smiling and looking directly at you in a mischievous way.
Use moody shades like black, gray and deep red to capture Dracula's brooding charm. In the background, draw a big yellow moon, flapping bats and other playful vampire friends.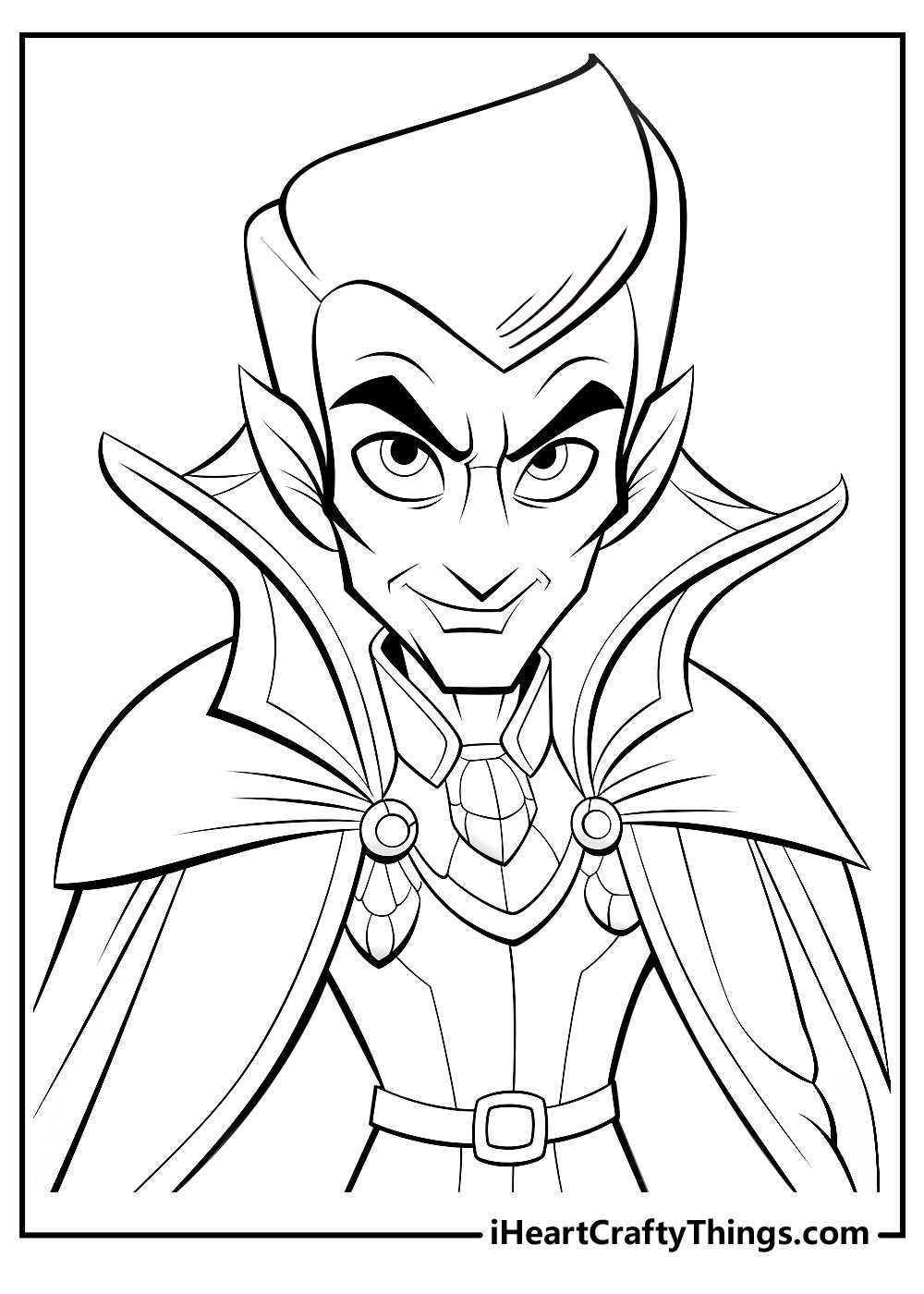 We're dialing things up again for this seventh picture we have for you!
This is another one where Dracula is looking absolutely insane, and this makes it seem like he would be a lot more unpredictable to deal with.
We really think that this one would be especially well suited to some bright, vibrant colors. Those kinds of colors would match the intensity that this particular image gives off.
This might be a good opportunity to try out some new art tools and mediums as well!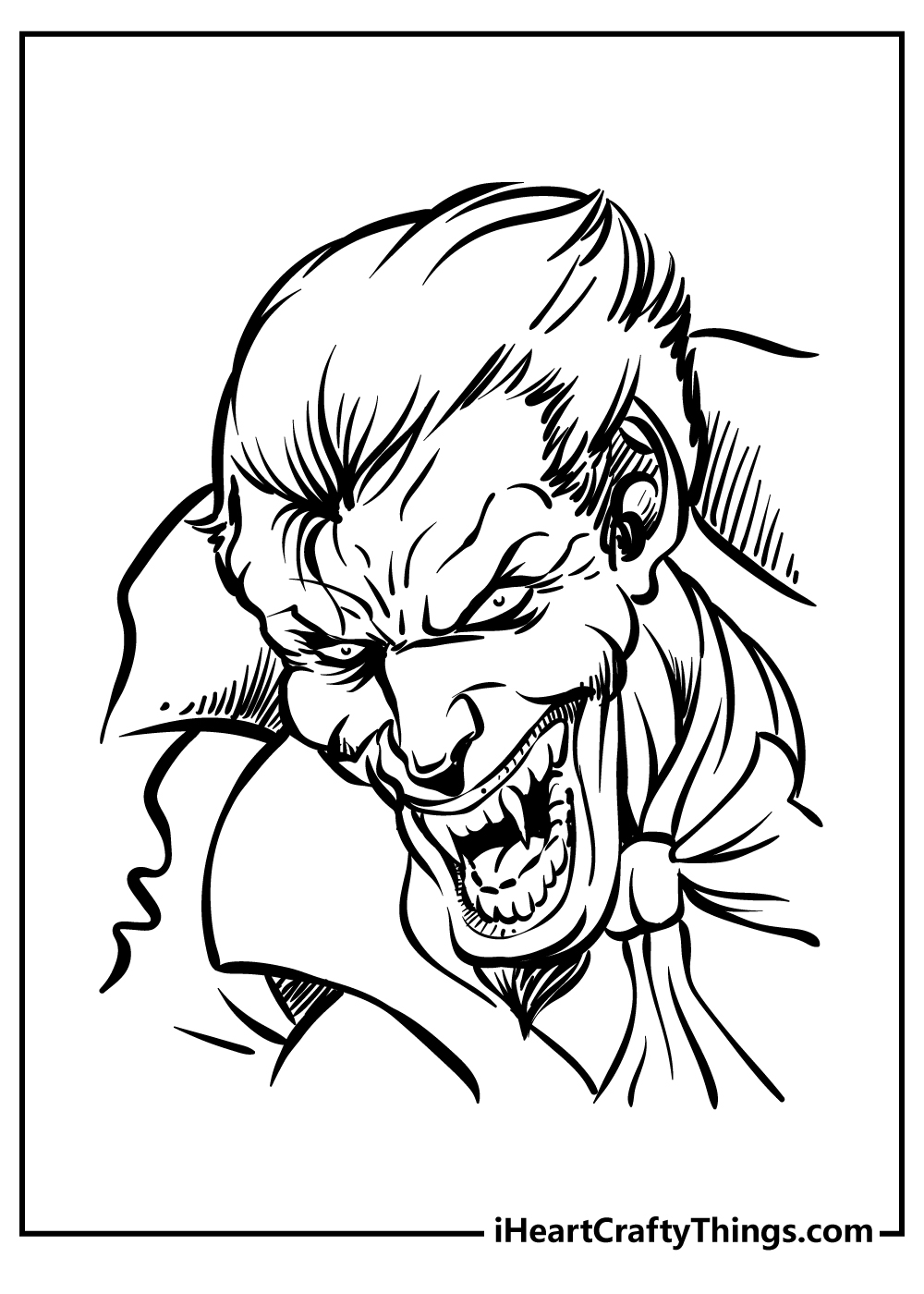 This next free Count Dracula coloring printable features another portrayal that is a bit more subdued than many of the others we've seen so far.
Just because it is a bit subtler doesn't mean that it is any less scary to behold, however! We think that this one could look great with lighter colors for his face contrasted against a really dark background.
This is one approach we think could look great, but there are many other awesome ways that you could color this one!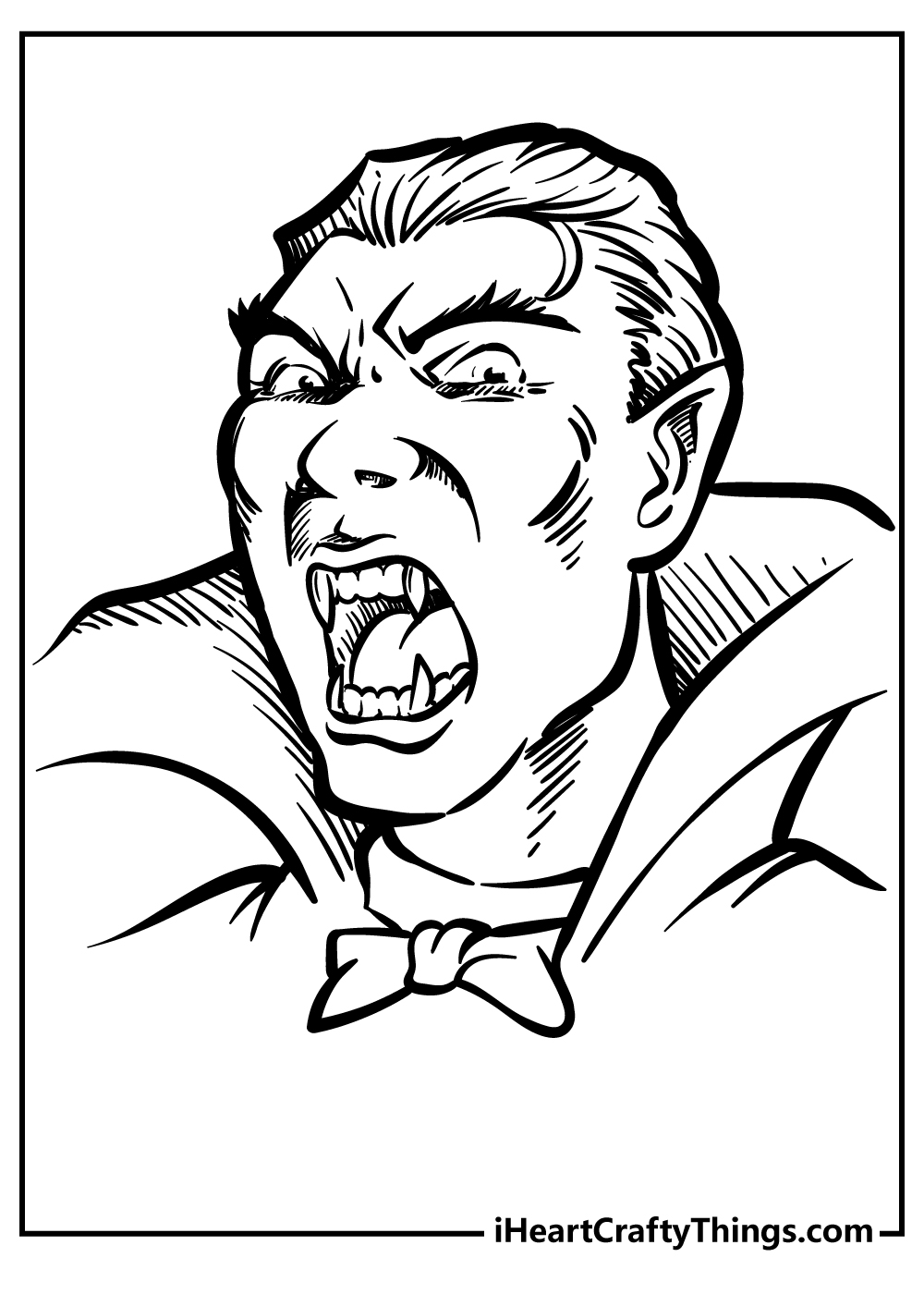 There have been some scary pictures of Count Dracula so far in this collection, but this one may take the cake! He looks really ferocious and feral in this one, and it seems he's on the rampage.
There are also tons of awesome small details to see in this picture, and you can really get in there with some great colors and small details. We can't wait to see how this one turns out!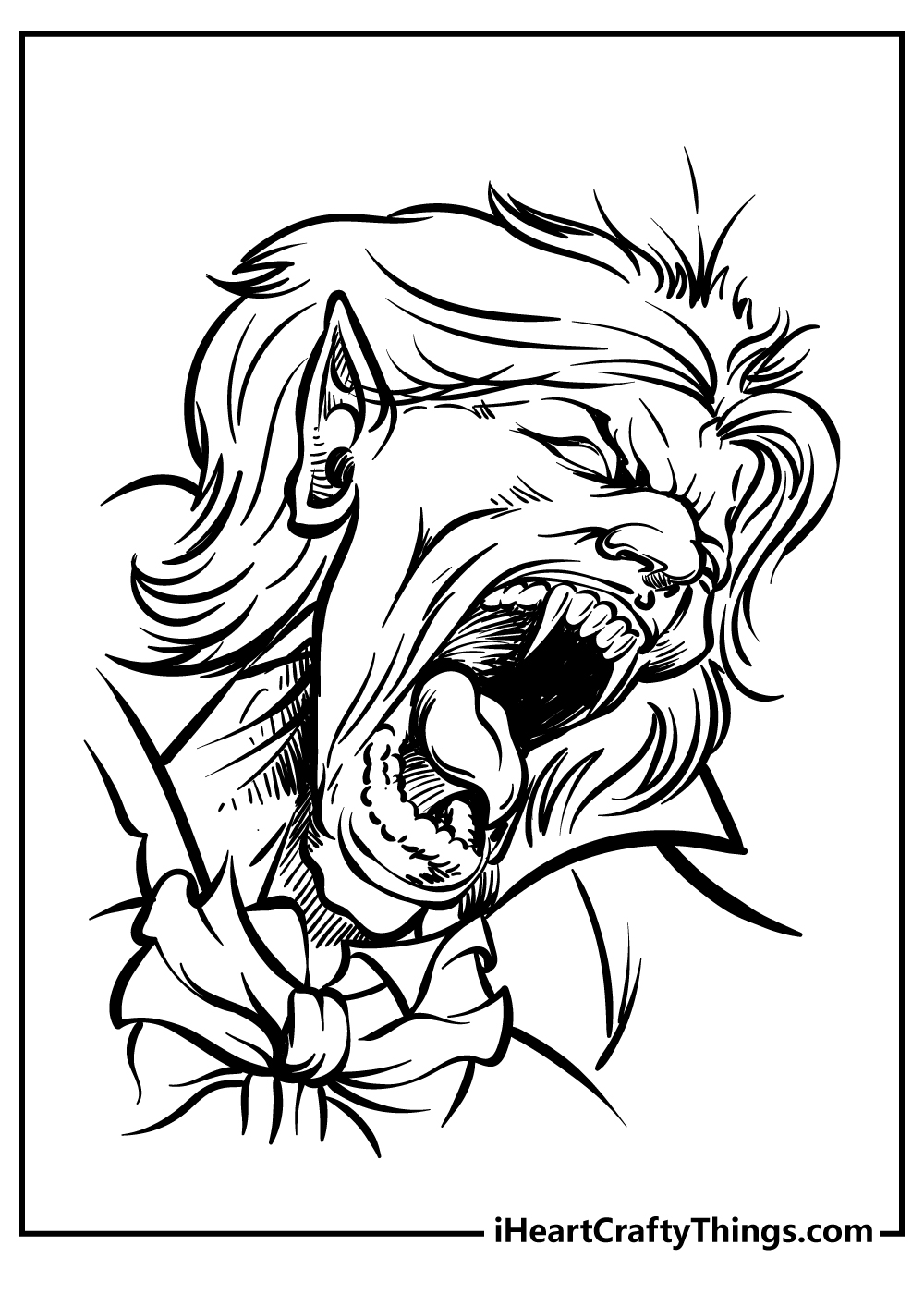 In this Count Dracula, our main character isn't a scary or evil vampire, but a friendly and cheerful one.
He is wearing a suit with a bow tie and a belt, and his cape has a large collar that covers his neck.
He has a cool hairstyle and his eyes are round and expressive. Give Dracula trendy sunglasses and wild hair to show off his playful personality.
Make his skin a silly hue like pink or orange to prove he's more cute than creepy.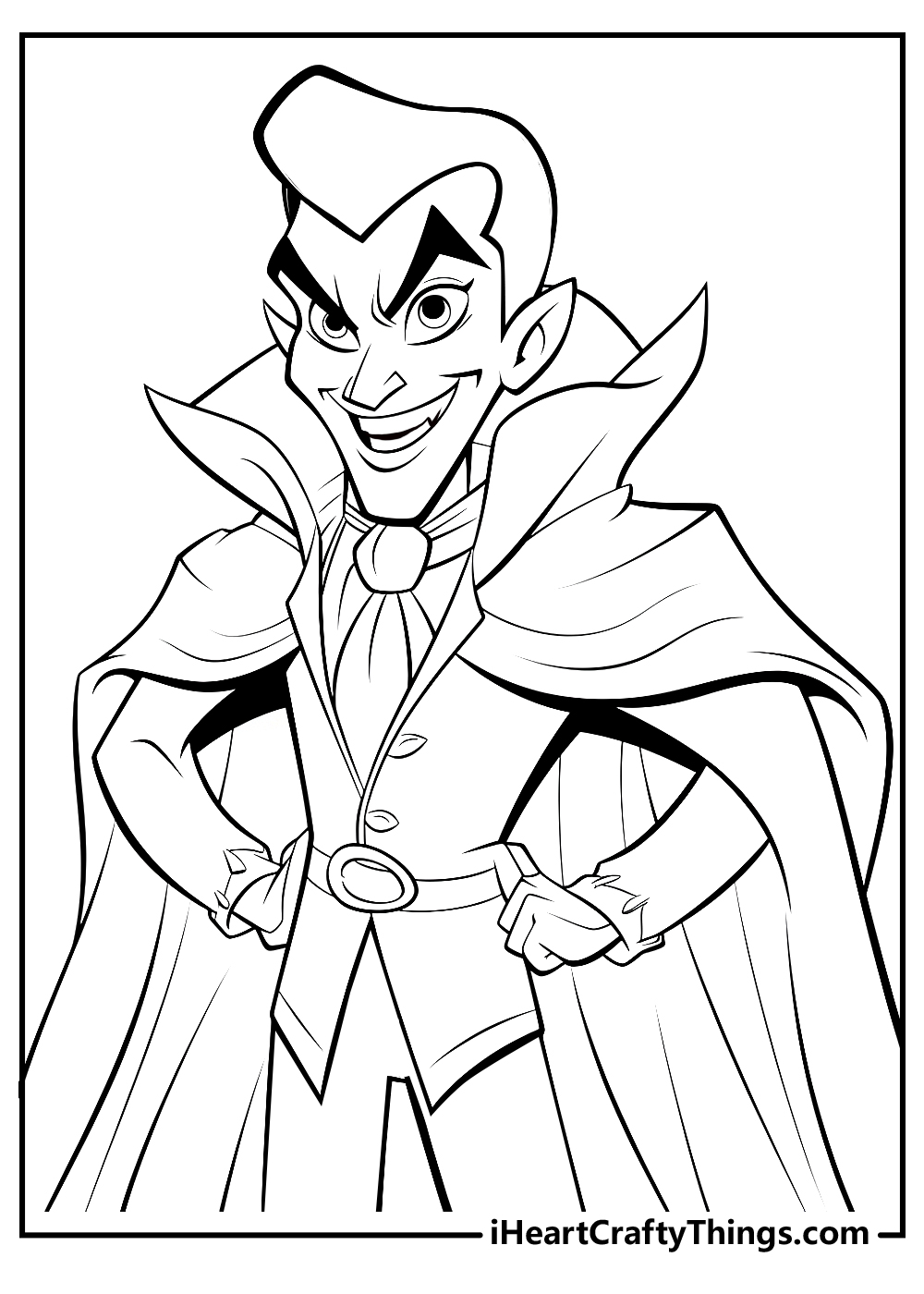 This next coloring page shows a Count Dracula who is smiling at you with his cape open. He is wearing a suit with a bow tie and a belt, and his cape has a large collar that covers his neck.
Let's start by coloring his fancy suit and ruffled shirt in bold blacks and purples. Now for his skin, go with shades of green, orange or blue.
Give Count Dracula a great big smile filled with harmless little fangs to prove he's a vampire who just wants to be friends.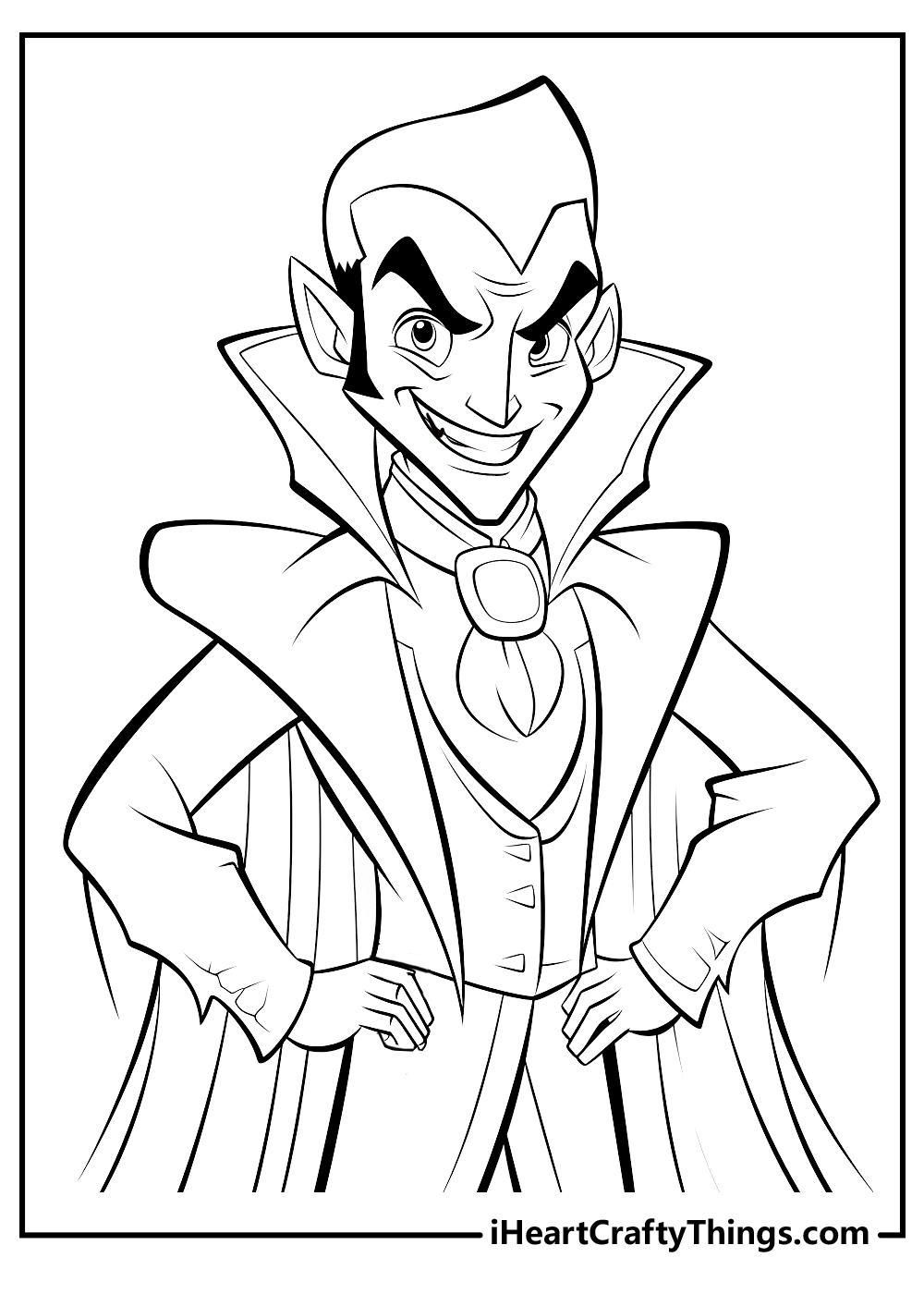 This is the final image in this collection of free Count Dracula coloring pages, and we're ending things on a strong note!
The final image is also a bit more cartoony in nature, and that opens it up to some fun color choices. How do you think you will go about coloring this final picture?
Any approach you take will look great, so let your creativity flow and see what happens!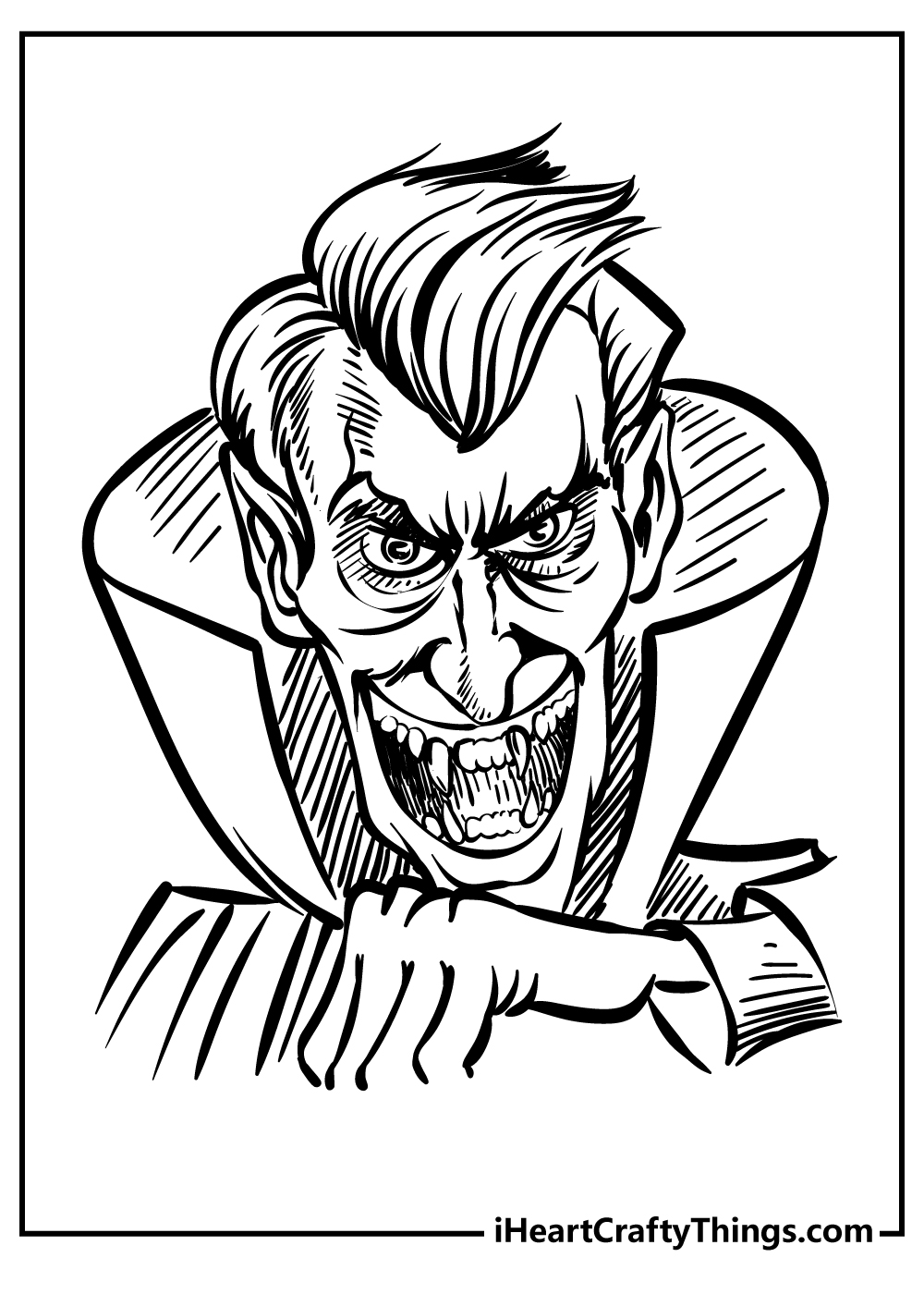 Count Dracula Coloring Pages – Which will you choose?
We hope you had a terrifyingly great time working on this collection of free Count Dracula coloring pages for kids!
There were some awesome portrayals of this classic vampire to color, and we're sure you used some really creative methods and colors.
Remember to print out as many copies as you like, and be sure to share the collection with friends and family as well!
If you enjoyed this spooky collection, be sure to check out our website for many amazing free coloring pages and other goodies to enjoy.
You'll want to check in often, as we have many more coming soon!
Lastly, it would be great to see your finished pages! Please share some of your favorite completed Count Dracula coloring sheets on our Facebook and Pinterest pages for us to see.