The concept behind vampires is certainly rather creepy! These famous monsters can turn into bats and love to use their fangs to enjoy the blood of their victims.
They also have weaknesses such as sunlight and wooden stakes, so people facing them in stories aren't totally helpless!
Perhaps the most famous vampire is Dracula, but there have been tons of scary vampires in countless forms of media.
In this collection of free vampire coloring pages, we have a wide selection of cool images featuring these creatures of the night.
All of these pages are waiting for you to finish them off with some color! You can pick your favorites or color in every single one if you prefer.
If this image variety weren't enough, then what if we told you that every image in the collection is free for you to color and enjoy?
You can also share the collection with others to share in the spooky fun!
We hope you're ready for some spooky coloring fun, as this collection is about to begin! Be sure to share your favorite finished pictures on our Facebook and Pinterest pages for us to see as well.
10 Brand New Vampire Coloring Pages – Free to Print and Color
There are many famous tropes and images that come to mind when one thinks of classic vampires.
One of these images is seeing a vampire emerging from a coffin, and that is what we are depicting in this first free vampire coloring page for kids!
This vampire has a really fun facial expression as he opens the coffin, and he looks about ready for a night out in the darkness. What colors do you think you will use for this cool first vampire?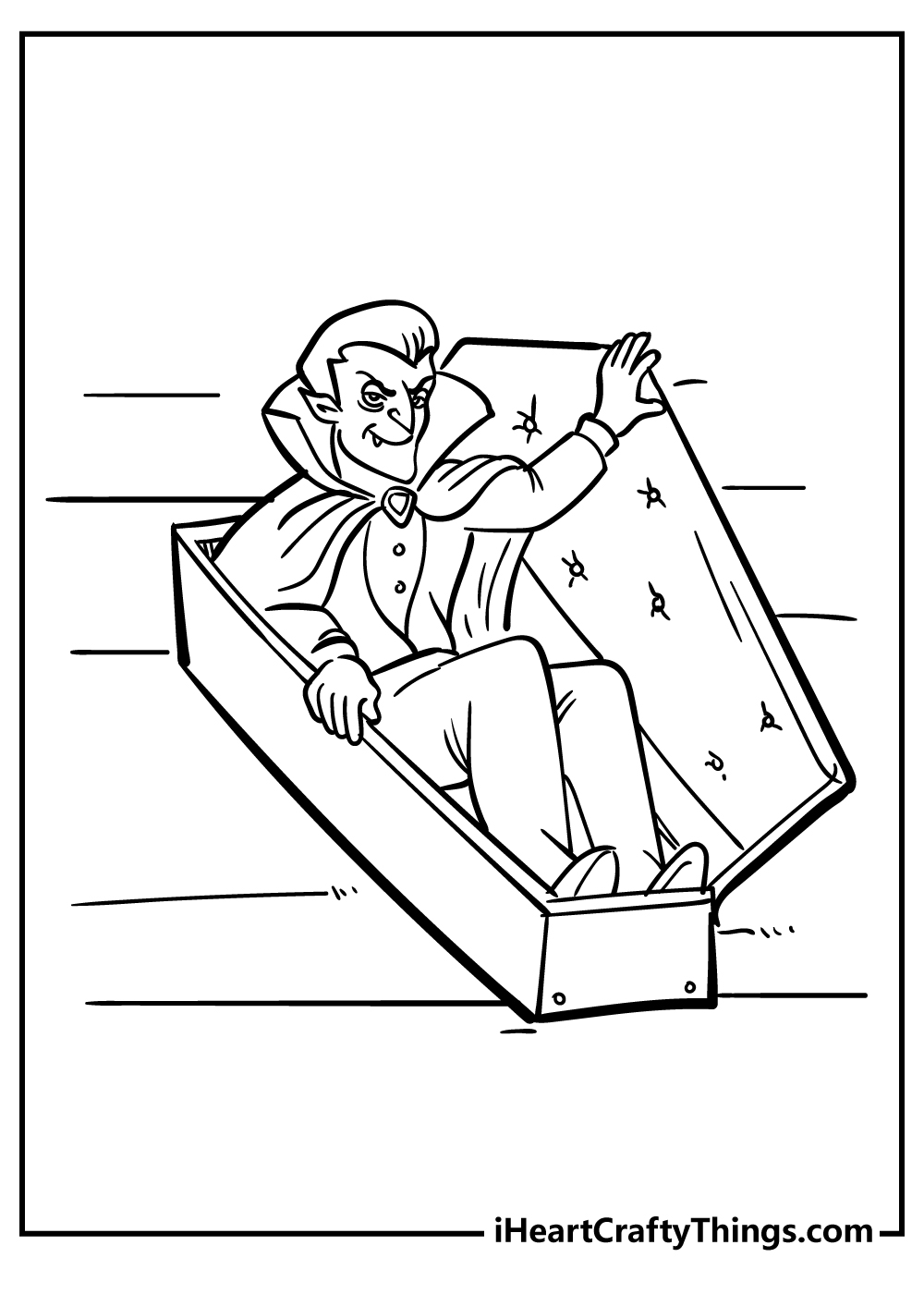 The next vampire we have for you to color is out and about. Vampires are often associated with bats, and that's why plenty of them are present in this scene!
This guy is clutching his cape as he wanders through the night, and we don't want to know what he's up to.
Even though there are some background elements to color, you could draw in even more for a more dynamic background! Will you add to the background or keep it as is?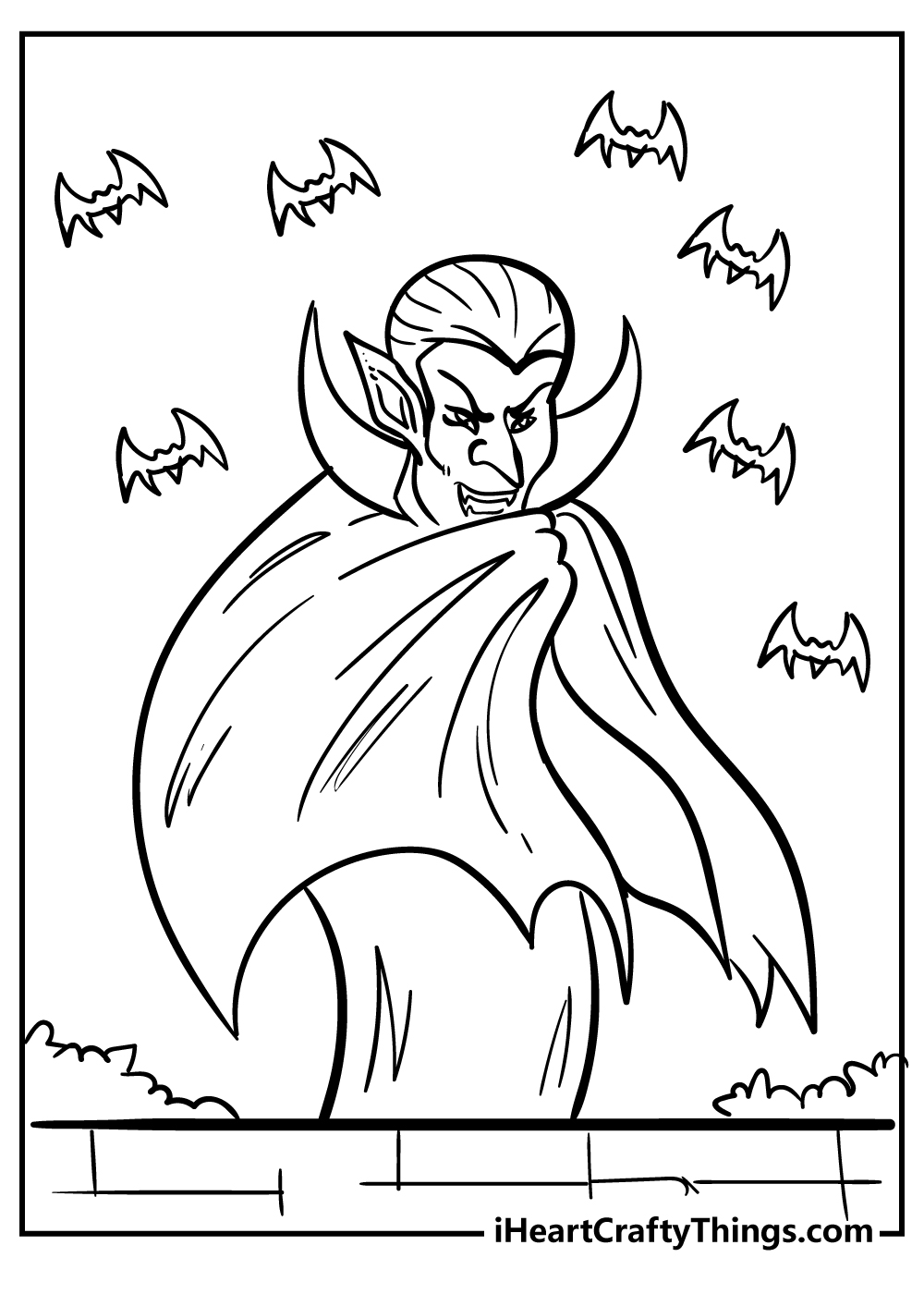 We have a really fun design in this next image. This vampire is drawn in a cartoony style, and he is also wrapped up in his cape, looking rather sinister at that.
Because of the style this one is drawn in, we think that some brighter colors would suit it nicely.
Art mediums such as acrylic paints or colored makers would look great for this one, but what else could you use to color it in?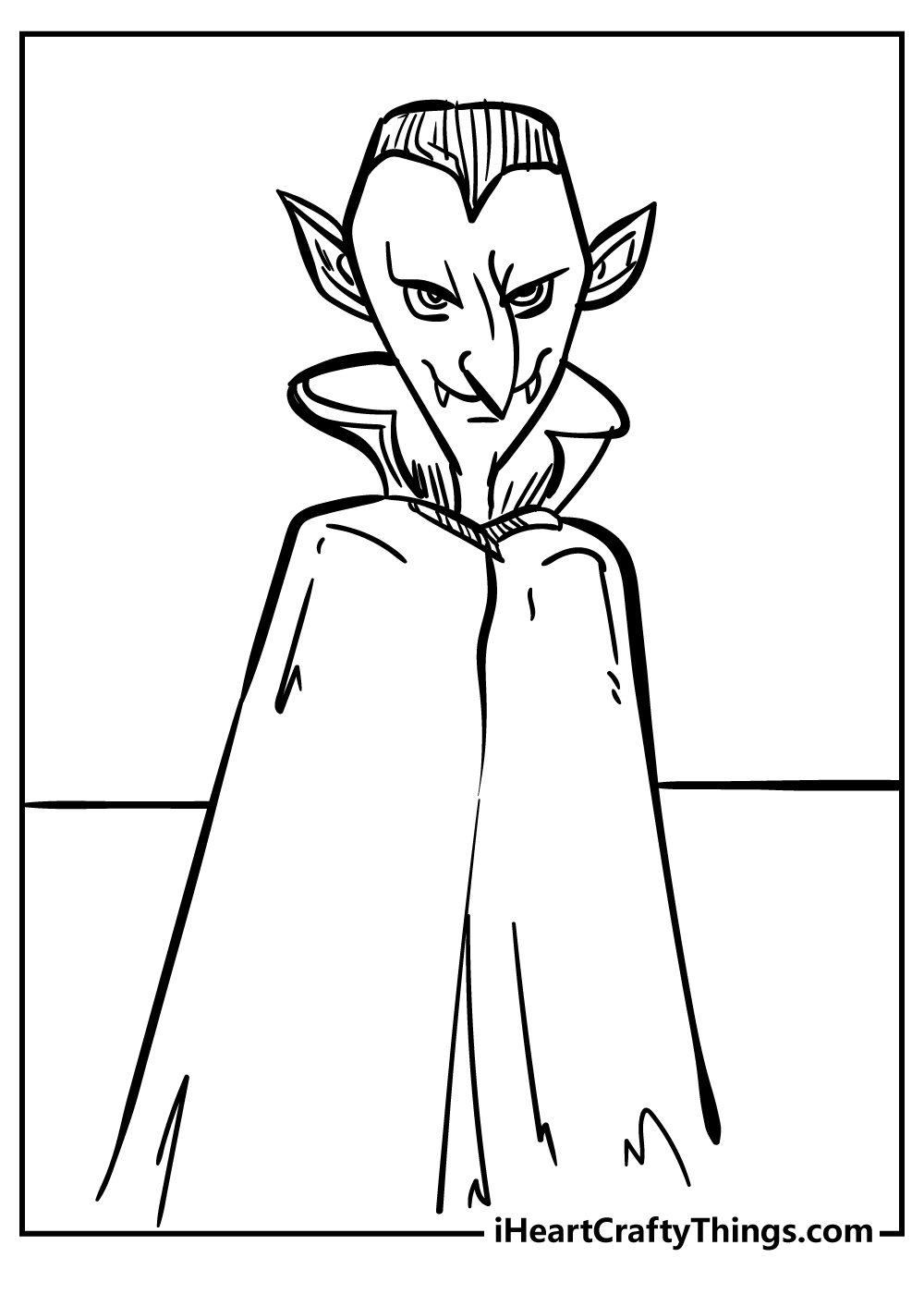 This fourth vampire coloring page shows a vampire showing off one of their signature powers.
We mentioned that these monsters can transform into bats, and that is what this one is in the middle of doing.
Even though it's a scary power, it also looks a bit funny seeing a vampire's face on a bat body! What colors will you use to finish this one?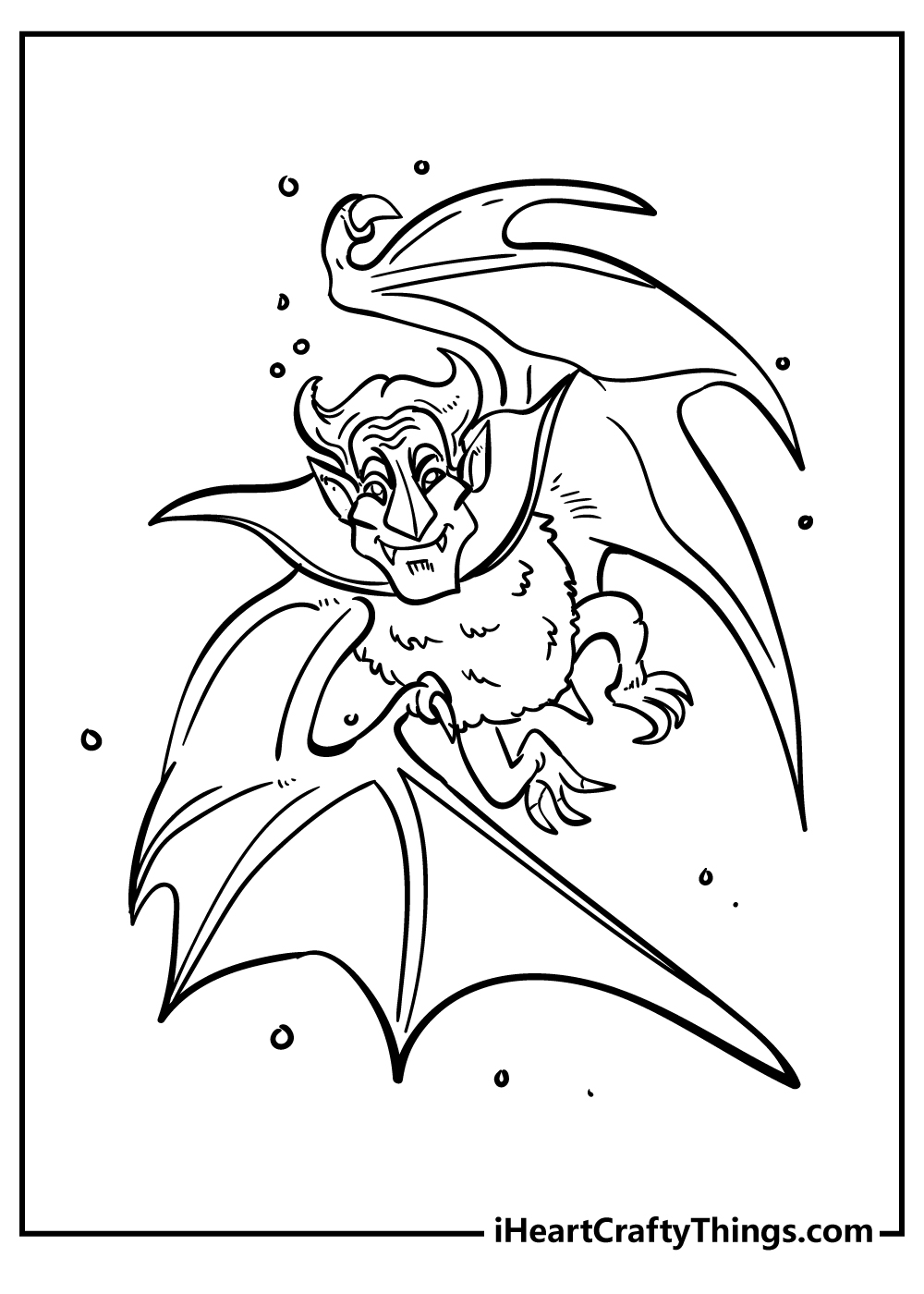 Our next coloring page features a great dramatic composition! This vampire is standing in front of a bright moon while huddling up in his cloak.
There are several bats to finish off the scene, and this one looks really cool. We think that using a bright yellow for the moon with darker colors for the rest of the image would look amazing!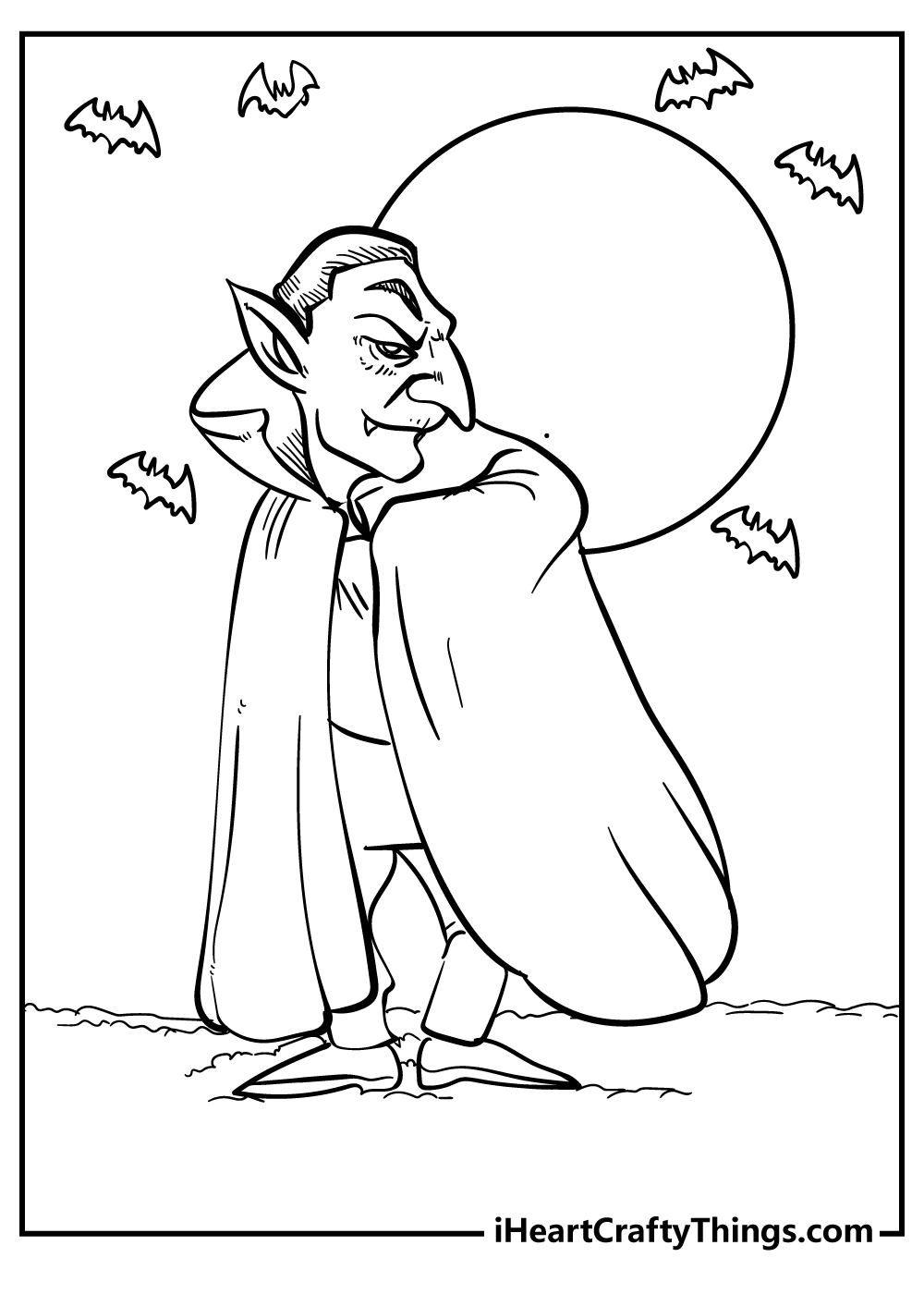 Vampires are often portrayed as being rather theatrical, and that is certainly true of this next vampire coloring sheet.
This guy is extending his arms out, presumably to scare some unfortunate people that have crossed his path.
It looks like he could be saying something in this image as well. It could be fun to draw a speech bubble above his head to show what he could be saying.
What message would you have this scary fellow exclaiming?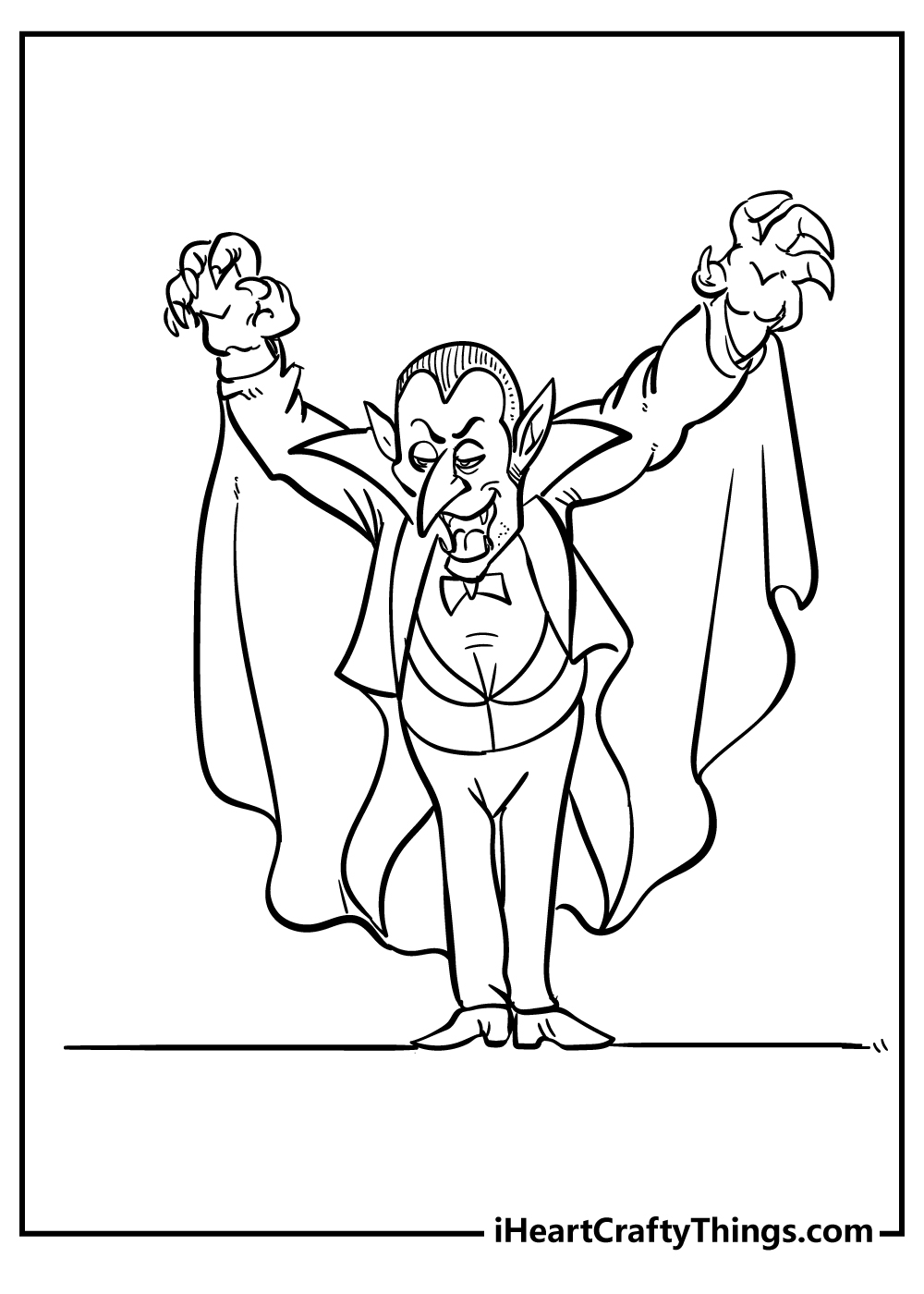 Who says you can't have style just because you're an immortal monster?
Vampires are often portrayed as being stylish and sophisticated in films and other media, and this one seems to fit into that tradition.
He is proudly showing off his style in this fun image.
There is a light-hearted feel to this particular image, so we think that it would be well suited to some more bright and fun colors.
It would also look great if you went for darker colors, so what approach will you take?
You probably wouldn't want to encounter a vampire that is as happy to see you as this next one seems to be! This one is looking very happy, which is bad news for whoever he is looking at.
The background has been left blank with this one, and that allows you to add some details of your own.
We've seen some fun and creative backgrounds so far in this collection, but what else can you think of to add to this one?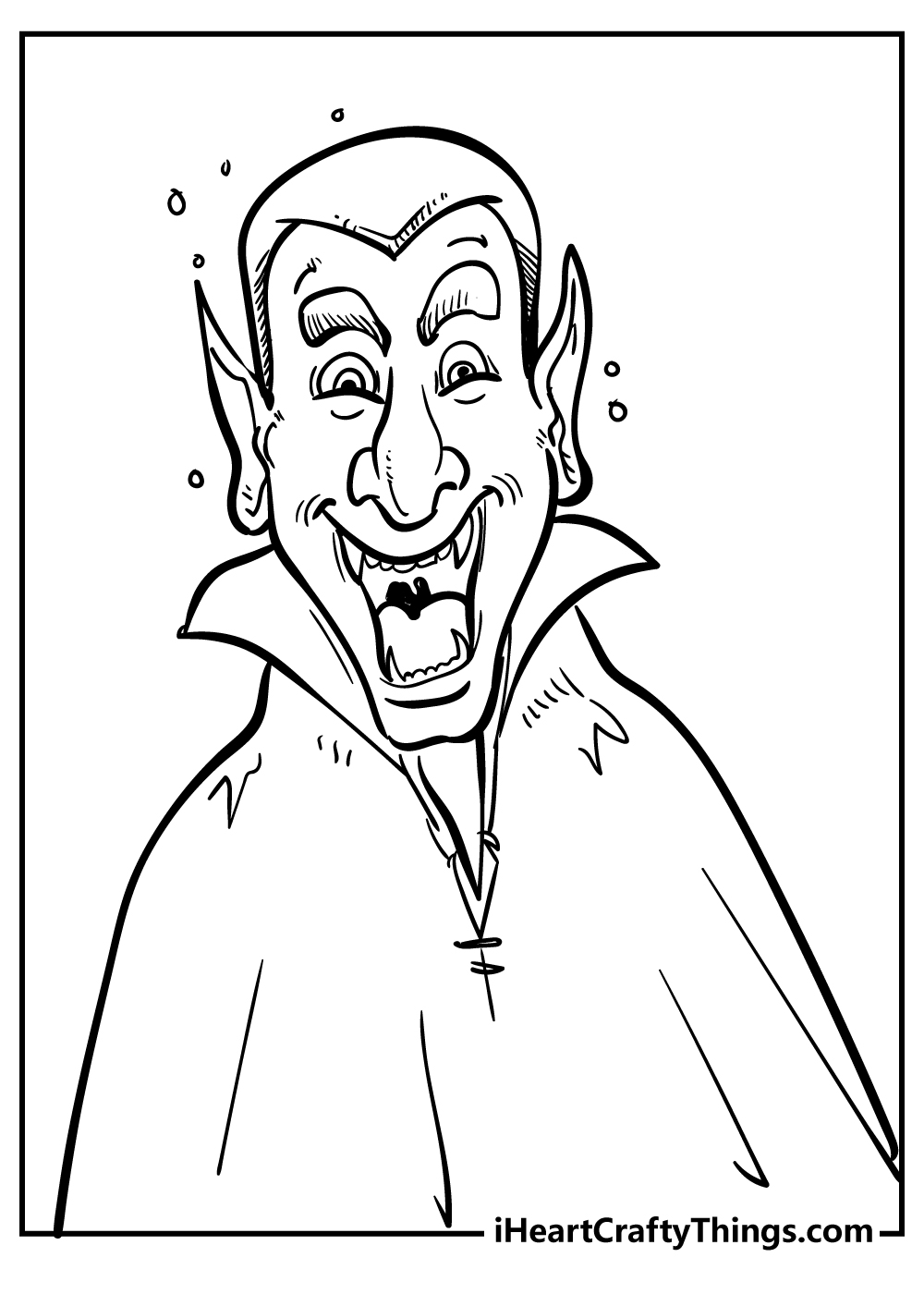 We love the design featured in this next vampire coloring sheet. This one is drawn in a fun cartoon style, and he is pulling a classic vampire pose with his cape.
When coloring in images like these, it can be extra fun to draw some background patterns.
There are plenty of shapes and images associated with vampires that you could incorporate into the background.
There are bats, vampire teeth and coffins for a few, but what other objects would you associate with vampires?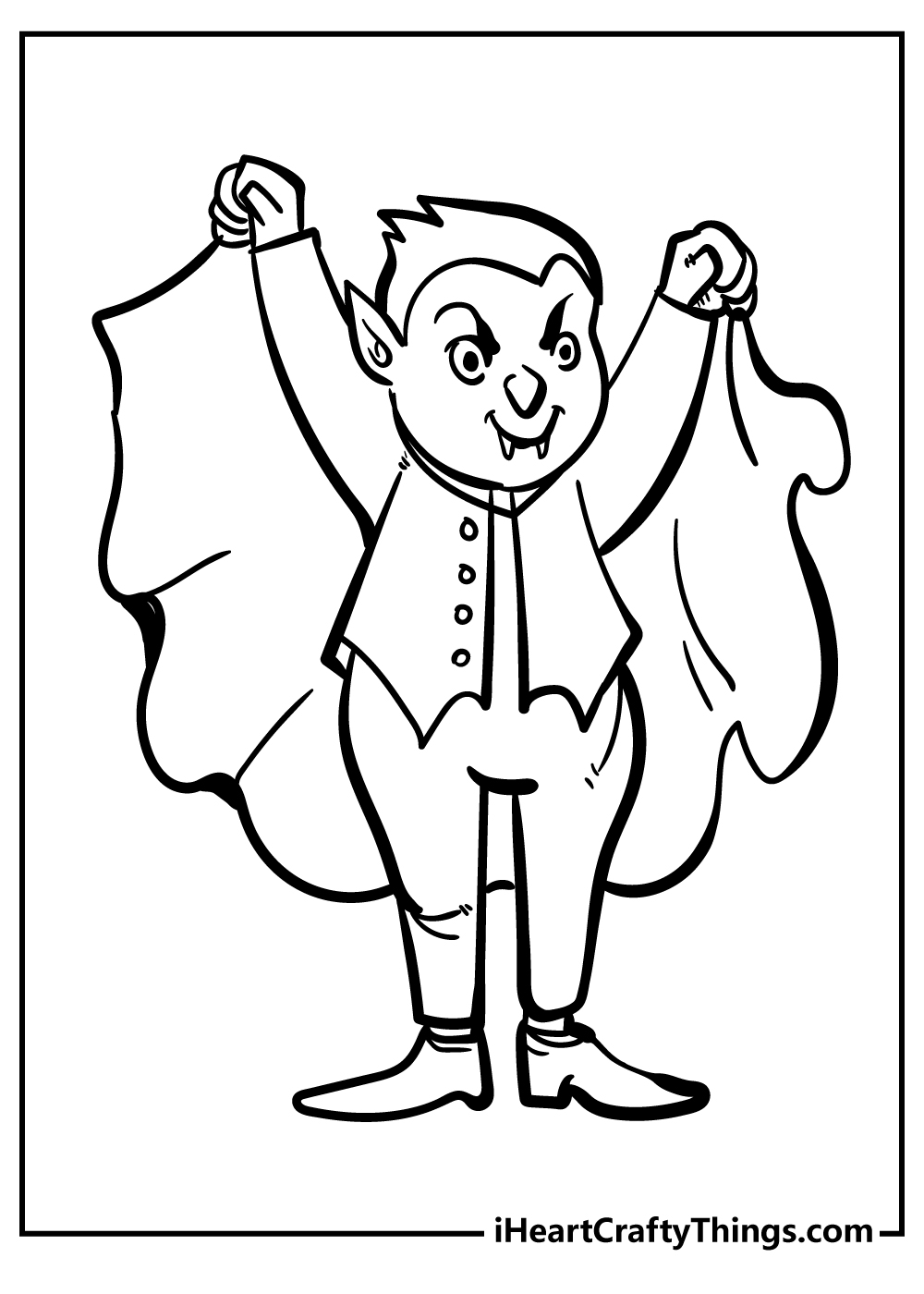 The final vampire we have for you to color is also pulling a classic pose! This one is also drawn in a fun cartoon style that is different to any of the others we've seen so far in this collection.
If you have been sticking to one or two art tools and mediums for this collection so far, why not branch out with something different for this one?
For example, if you have some acrylic or watercolor paints lying around but haven't used them, you could use them for this final vampire!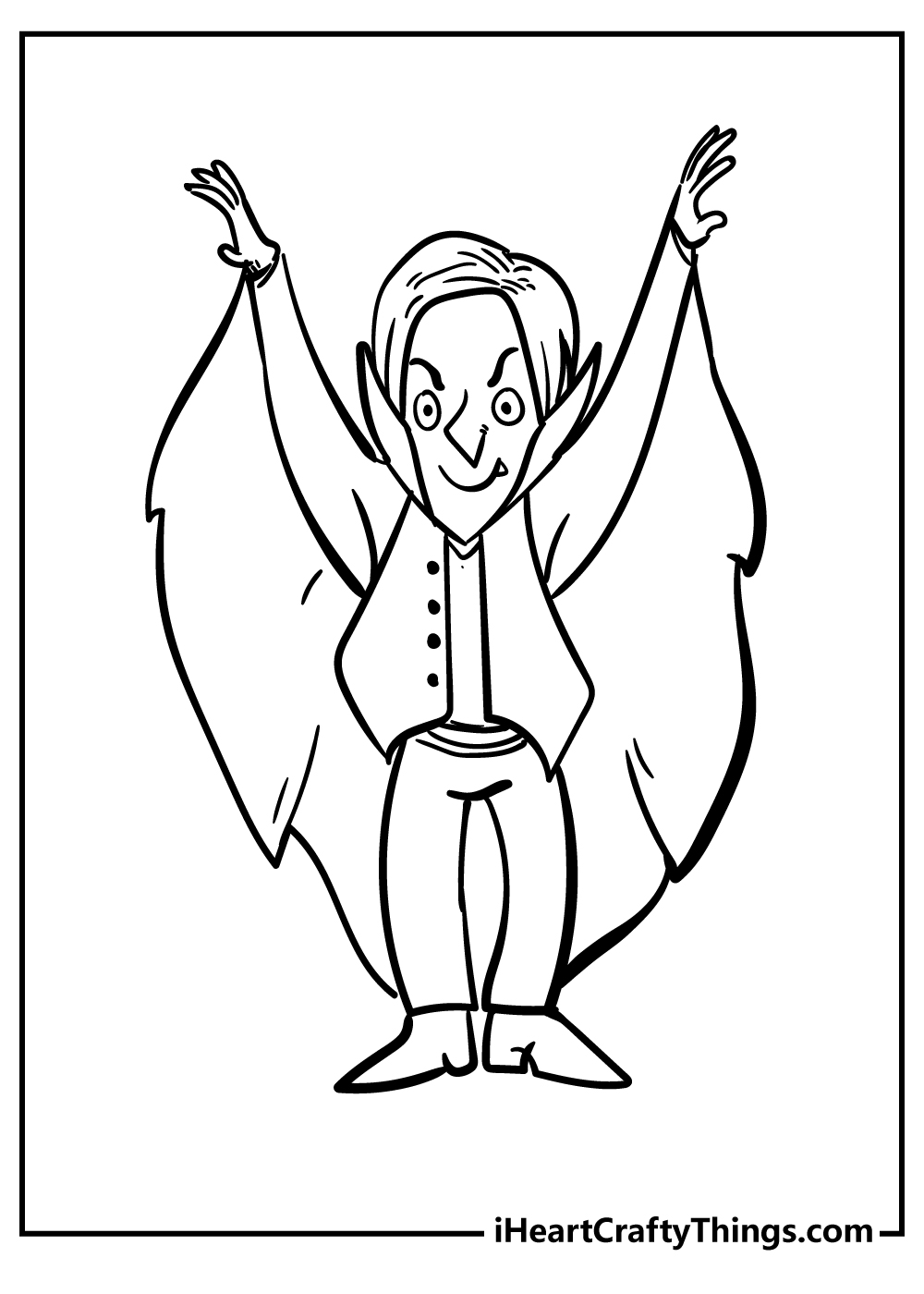 Vampire Coloring Pages – Which will you choose?
We hope you had a fang-tastic time with this collection of free vampire coloring pages for kids!
There were some awesome vampire portrayals included here, and we know they will look even cooler once you have worked your creative magic on them.
Don't forget to share the collection with friends and family to enjoy as well!
There are also many more awesome free coloring page collections for you to enjoy on our website. Keep checking in to stay up to date with all our new collections!
With this collection, you can color your favorites or go for every single page.
Whichever approach you take, we hope you will share some of your favorite finished pages on our Facebook and Pinterest pages! We can't wait to share in the spooky vampire fun with you!