Winged, fuzzy, winged, and fanged – bats are fantastic creatures, and you should encourage your children to learn more about them because they have a vital role on the planet.
They are more than creatures of legends; they are essential seed dispensers, pollinators and help us keep the number of insects in control.
Teach your children to love bats by downloading the following printable bat sheets. They resemble popular cartoon characters like Stellaluna or Mavis from Hotel Transylvania and are easy to color.
15 Brand New Bat Coloring Pages – Free to Print and Color
One of the coolest features of bats is that they can see and fly around at night. They make sounds that bounce off objects to help them navigate when it's dark outside.
If you want your children not to be afraid of bats, teach them why they are essential for our planet.
This bat printable features a friendly bat taking a stroll under the full moon, a perfect time for creatures from bedtime stories to come to life. We find its big ears quite cute. What about you?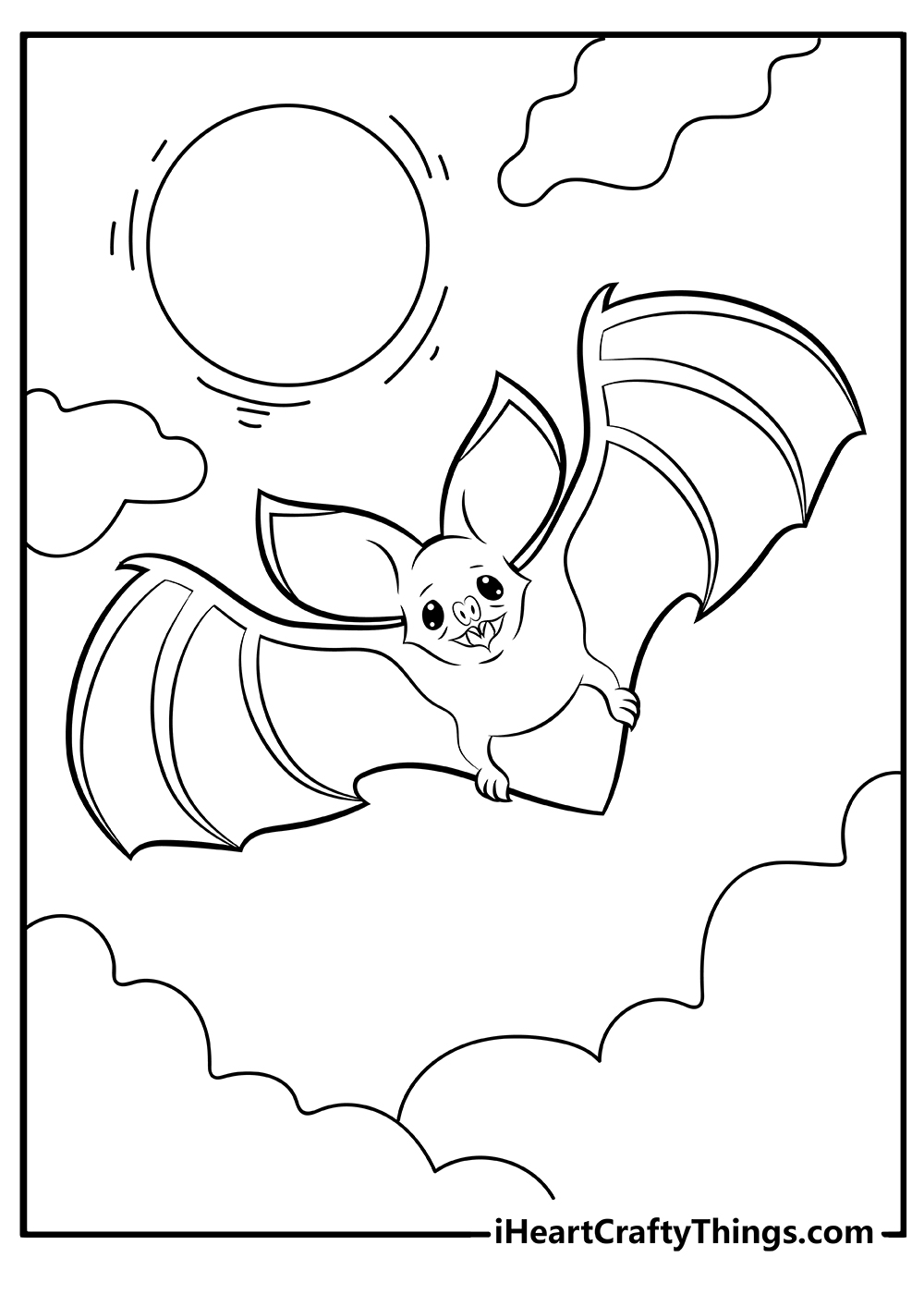 It's double trouble on this bat coloring page! You have two bats to color here, and it's up to you to decide whether they match or whether they each have a unique color scheme.
It will look great no matter what you choose! Which of these approaches do you think you will take when coloring in these batty buddies?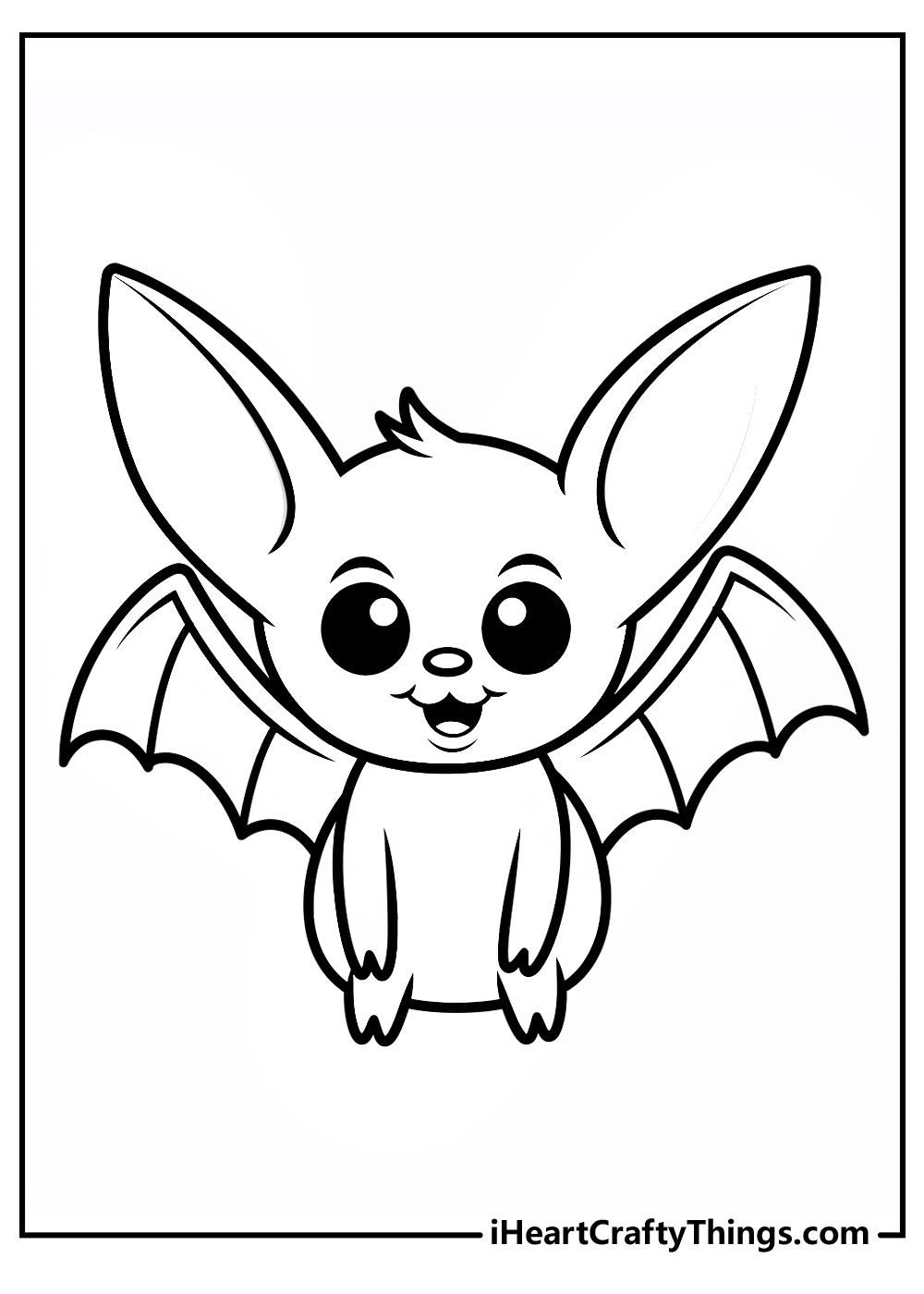 If your children love Halloween, they'll really enjoy coloring this bat sheet because it features all the elements of a Halloween painting.
Our big-eared bat is flying around during a full moon night through the spread branches of trees.
The moon just peeked from behind the clouds making it easy to spot the tiny winged creature.
Teach your children not to be scared of bats because even if they look like little flying mice, they're no danger to people.
In fact, they survey the night to make sure there are no bad insects to bite them.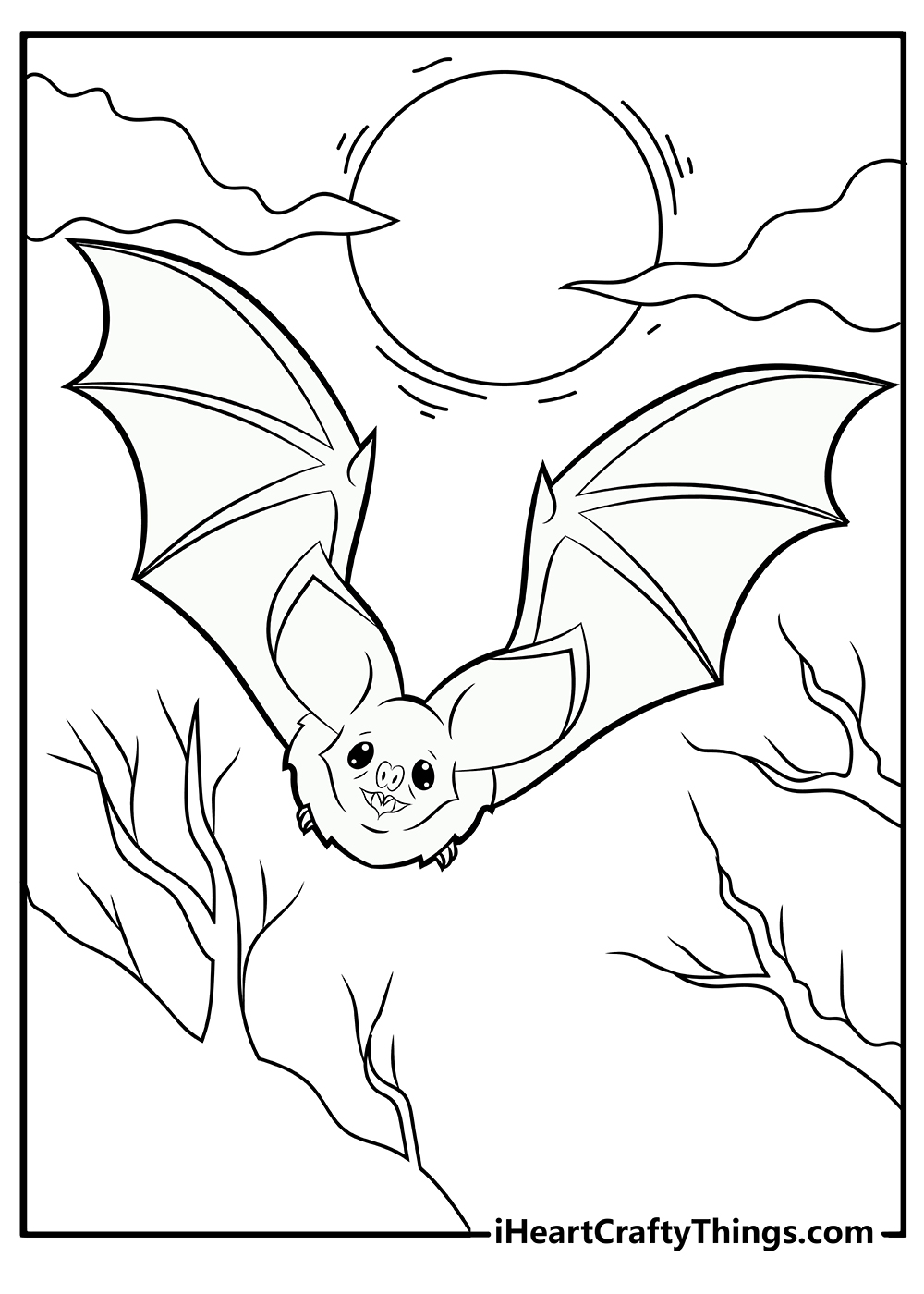 The best strategy to teach children about bats and make them love them is to introduce them to the fuzzy creatures with the help of a Disney cartoon TV show like Hotel Transylvania that features the cutest bat, Mavis, who is Dracula's daughter.
Disney teaches children that bats are cute mammals that enjoy flying during the night, like this perky guy that takes a night stroll under the full moon.
This bat printable offers a glimpse of its large wings that keep it afloat high in the clouds. And look how pretty its pointed ears are!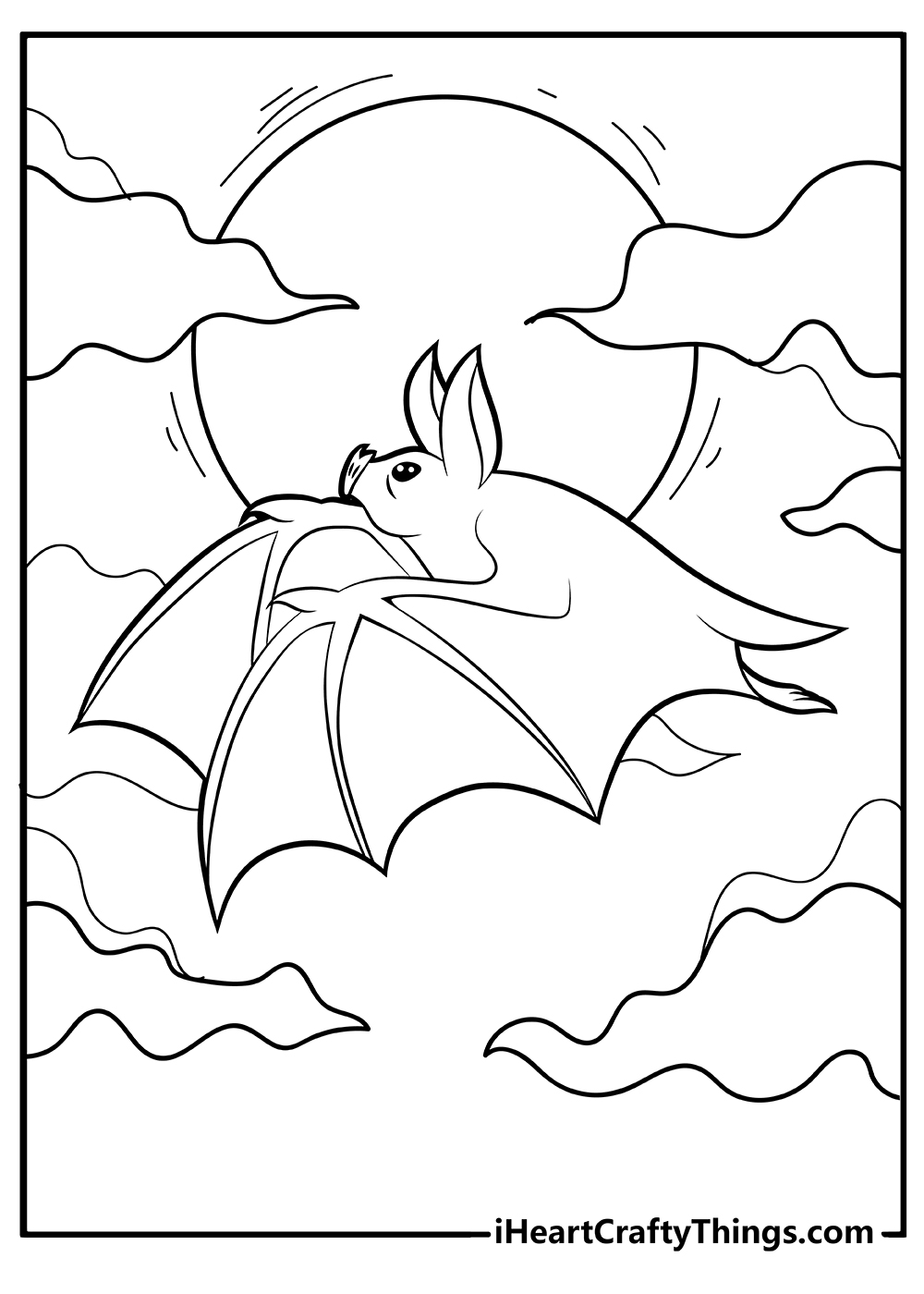 This little bat is just too cute! Real bats usually have pretty simple, dark color schemes for their fur.
You could go for a realistic color scheme for this bat, or you could use some of your favorite bright colors instead. Who's to say this bat couldn't be pink with yellow dots?
Let your imagination run wild and have fun!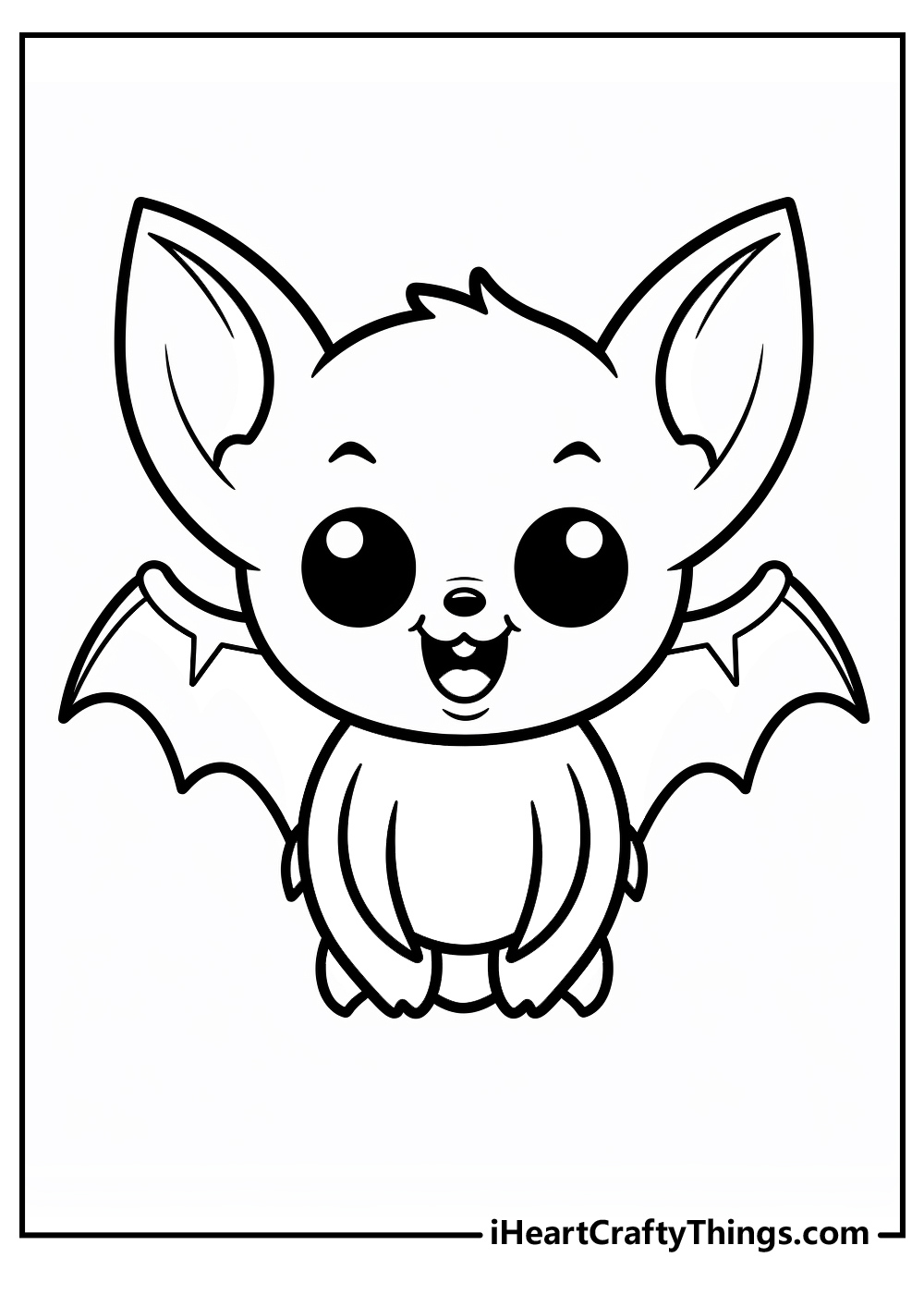 If your children love watching Disney cartoons with bat characters, they'll adore the fuzzy little guy from this sheet. With its huge wings, pointed ears, and heart-shaped nose, it resembles Stellaluna.
Have your kids seen the TV show?
It's a good idea to watch a Disney TV series with bats before downloading this bat coloring page to help your children figure out what colors they should use to paint it.
This bat coloring printable is great for introducing them to coloring because it also features natural elements like tree branches and the full moon.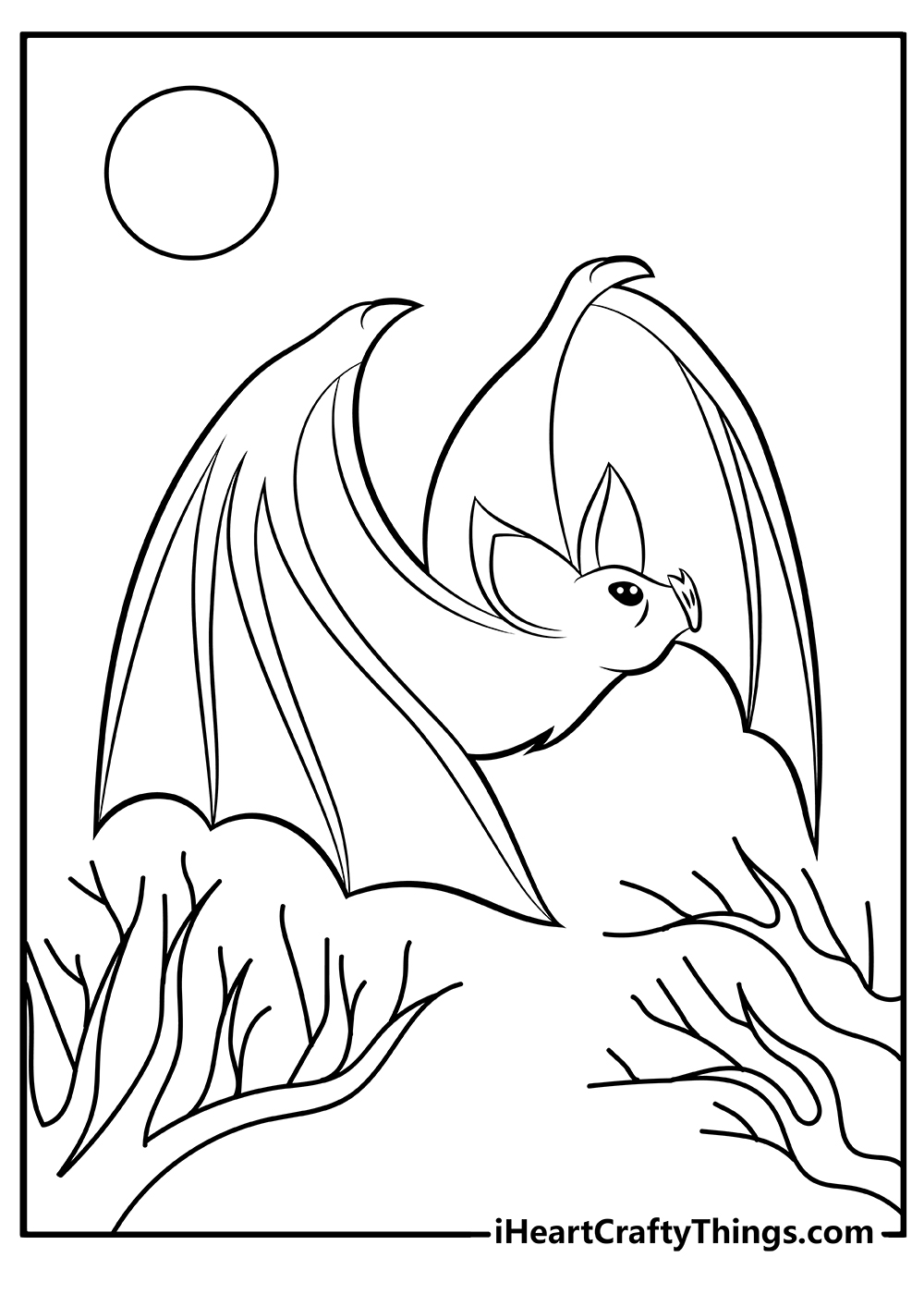 But when do bats sleep if they fly during the night? Your children probably asked you this question when you first mentioned that bats prefer to fly when the sun sets.
Our bat coloring pages depict these fuzzy creatures during different activities, and here is one that just tucked his wings close to its body to get ready for a well-deserved nap.
Use this bat printable to show your children that bats sleep with their heads hanging, suspended from tree branches or cave ceilings. They'll have a lot of fun painting its enormous ears.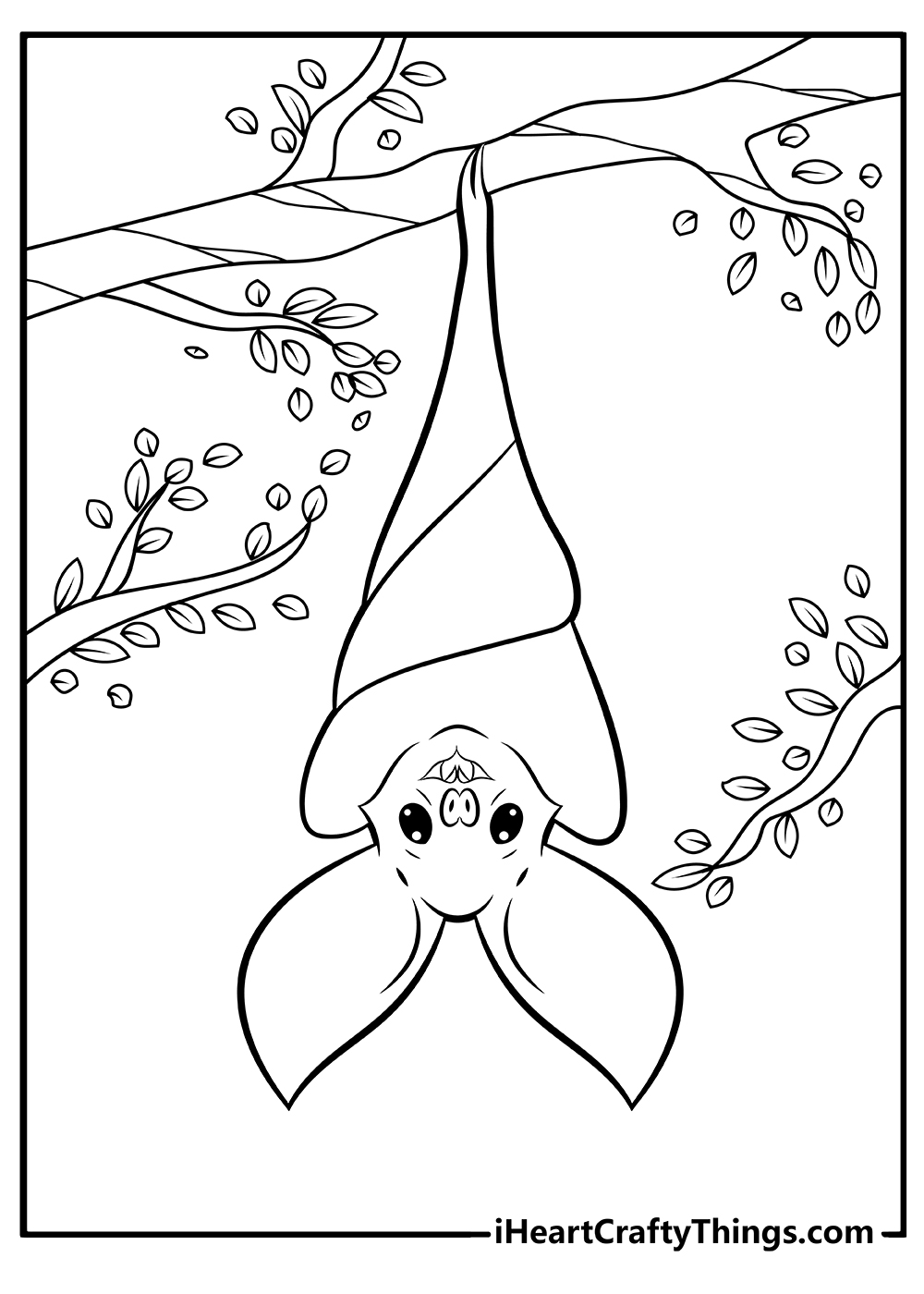 When coloring in this cute bat coloring sheet, remember that you could also draw extra details. These could be extra details on the bat like fur textures.
Or you could draw some fun clothing like a hat or a bowtie for the bat to wear. What are some fun accessories you would like to add?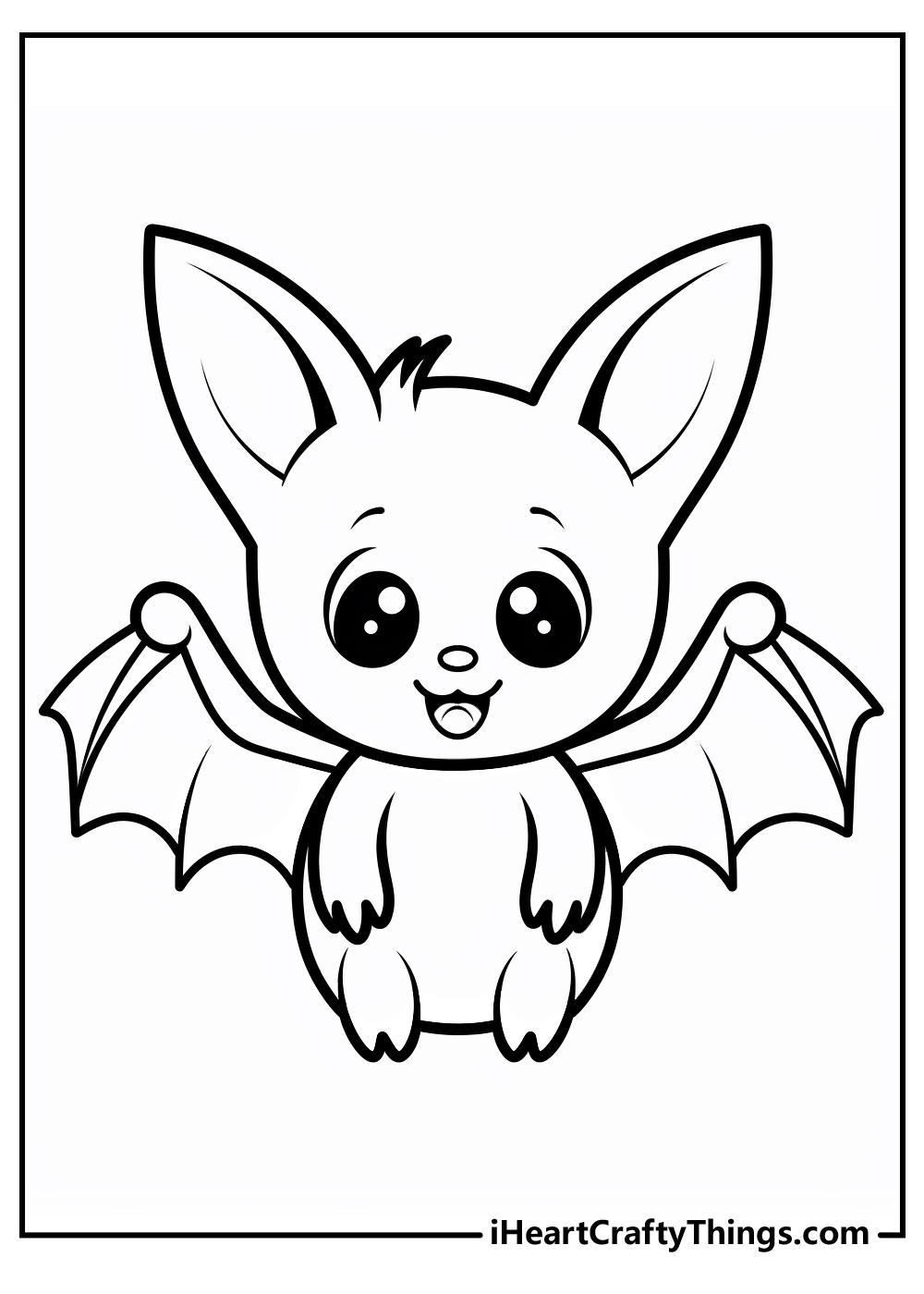 Bats are happy when the night comes because it's time for them to wake up, spread their wings, and go on a journey.
Every twilight marks the beginning of a new adventure for these little guys that love exploring the world when everyone is deep asleep.
This bat coloring sheet shows a bat with intricate wings hanging from a branch in its favorite tree.
Use it to teach your children that bats are mammals that hunt insects during the night and use tree branches to take cover from the light when the sun is up.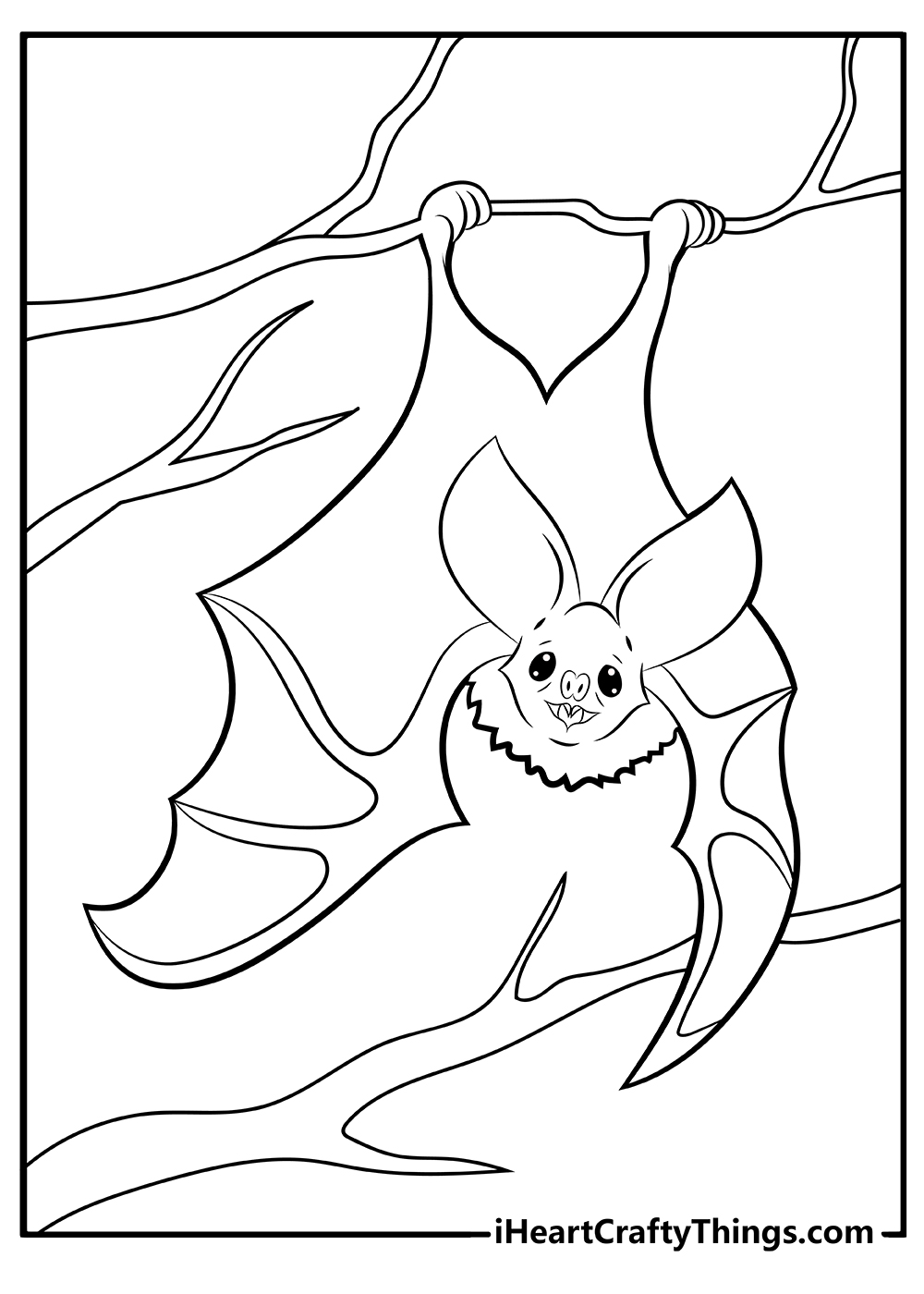 Once your kids get to love bats, all they'll want to do is watch Disney cartoons like The Great Mouse Detective that feature characters like Fidget and paint bat coloring pages.
Luckily, we have many printables you can download.
This bat print sheet depicts a bat with enormous spread wings hanging from a tree branch under the full moon.
We love this kind of coloring page because it contains diverse details like clouds, celestial elements, trees, and leaves.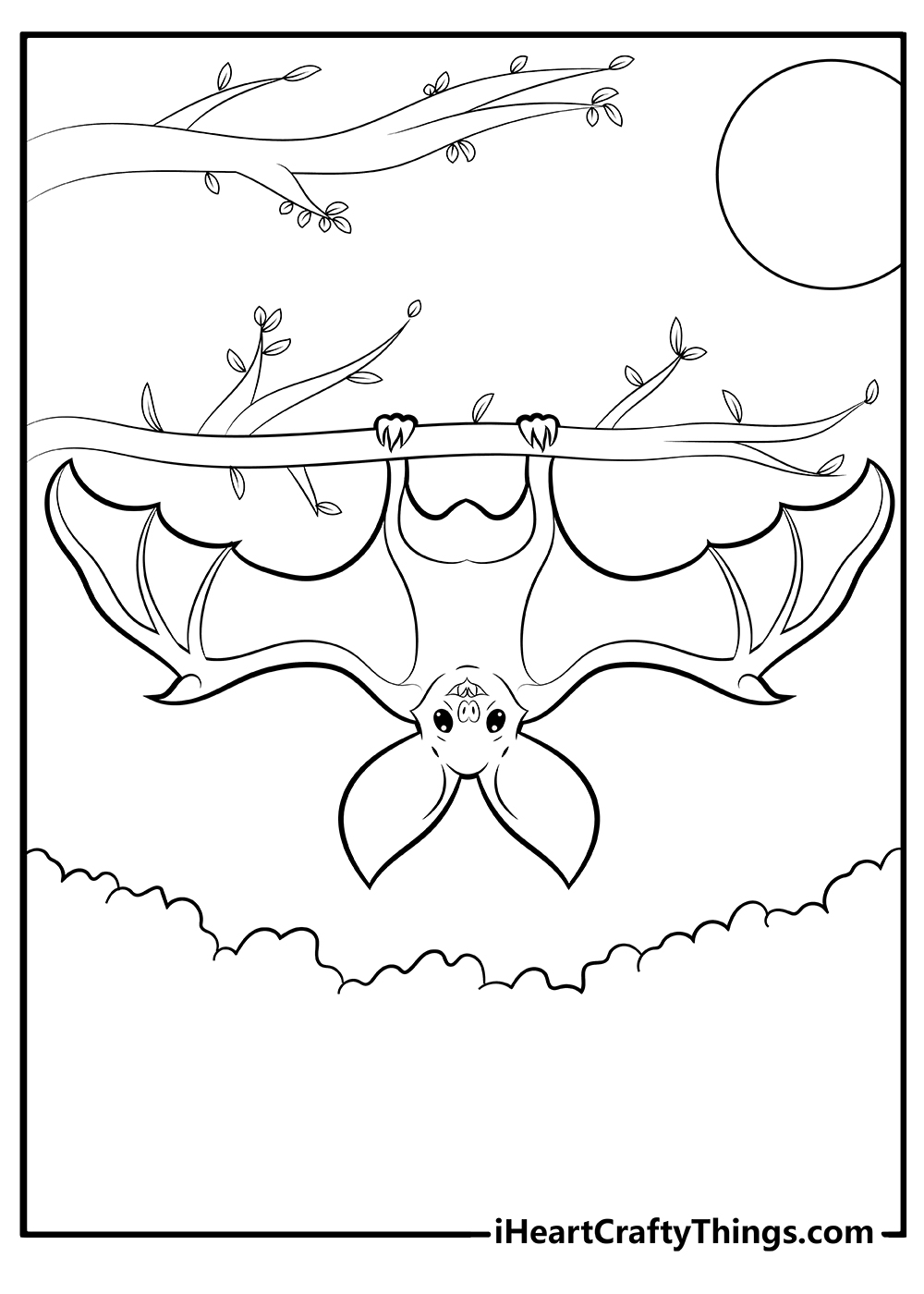 This next bat looks super happy, and that joy is infectious! If we were coloring this bat, we would use some bright colors to match the happy mood it gives off.
Of course, you should go ahead and use any colors you would like to create your own bat friend to hang out with!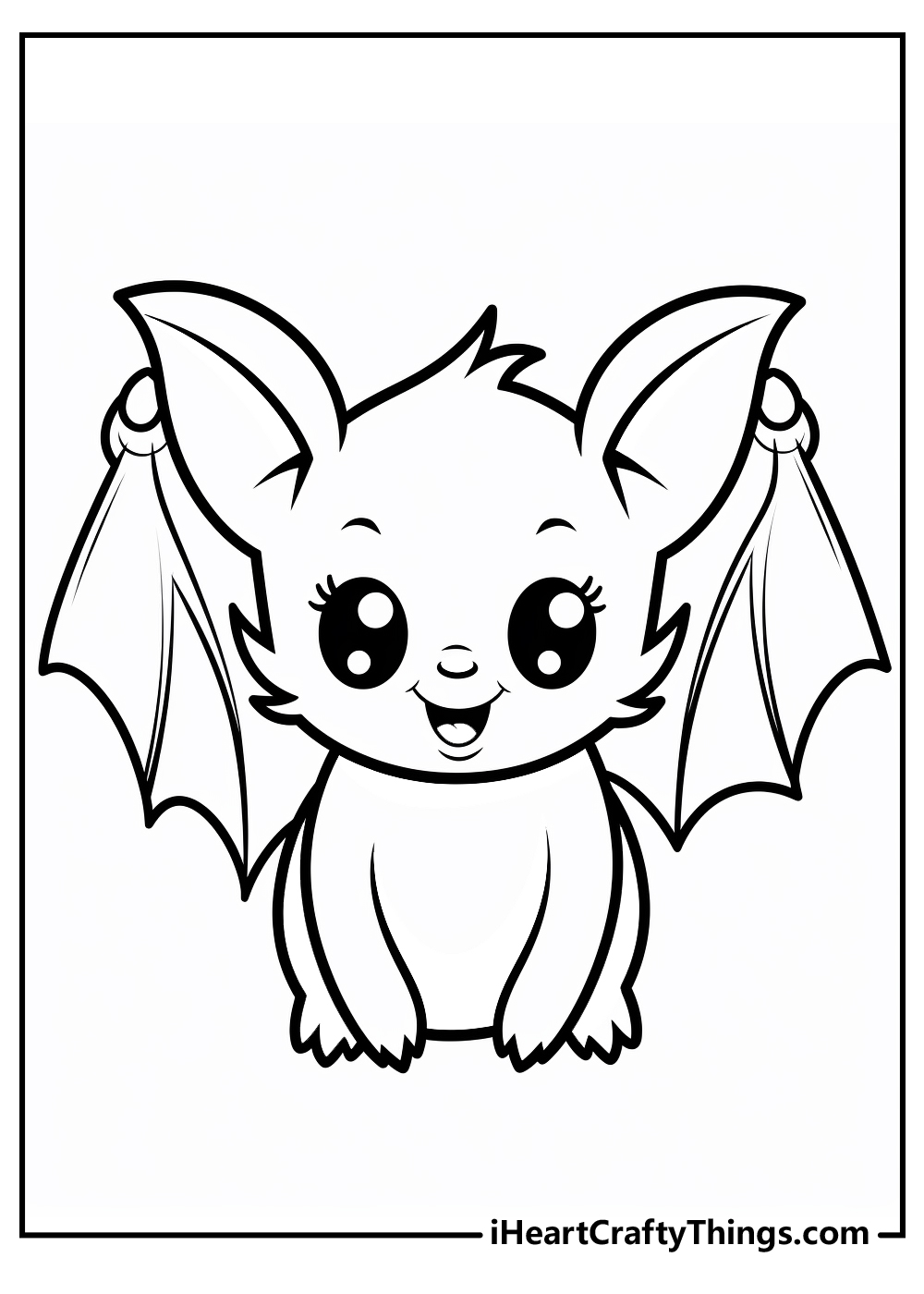 If your children love complex coloring pages, they'll definitely find this one interesting because it features a bat flying above a field of scented flowers on a cloudy night.
Please encourage them to use their imagination and paint the plants in different hues.
Kids can also play with the colors they pick for the clouds because they can look different depending on the time of the day.
Suppose they don't know how to paint the bat printable sheet, show them an encyclopedia page of different bats and encourage them to paint it to resemble their favorite one.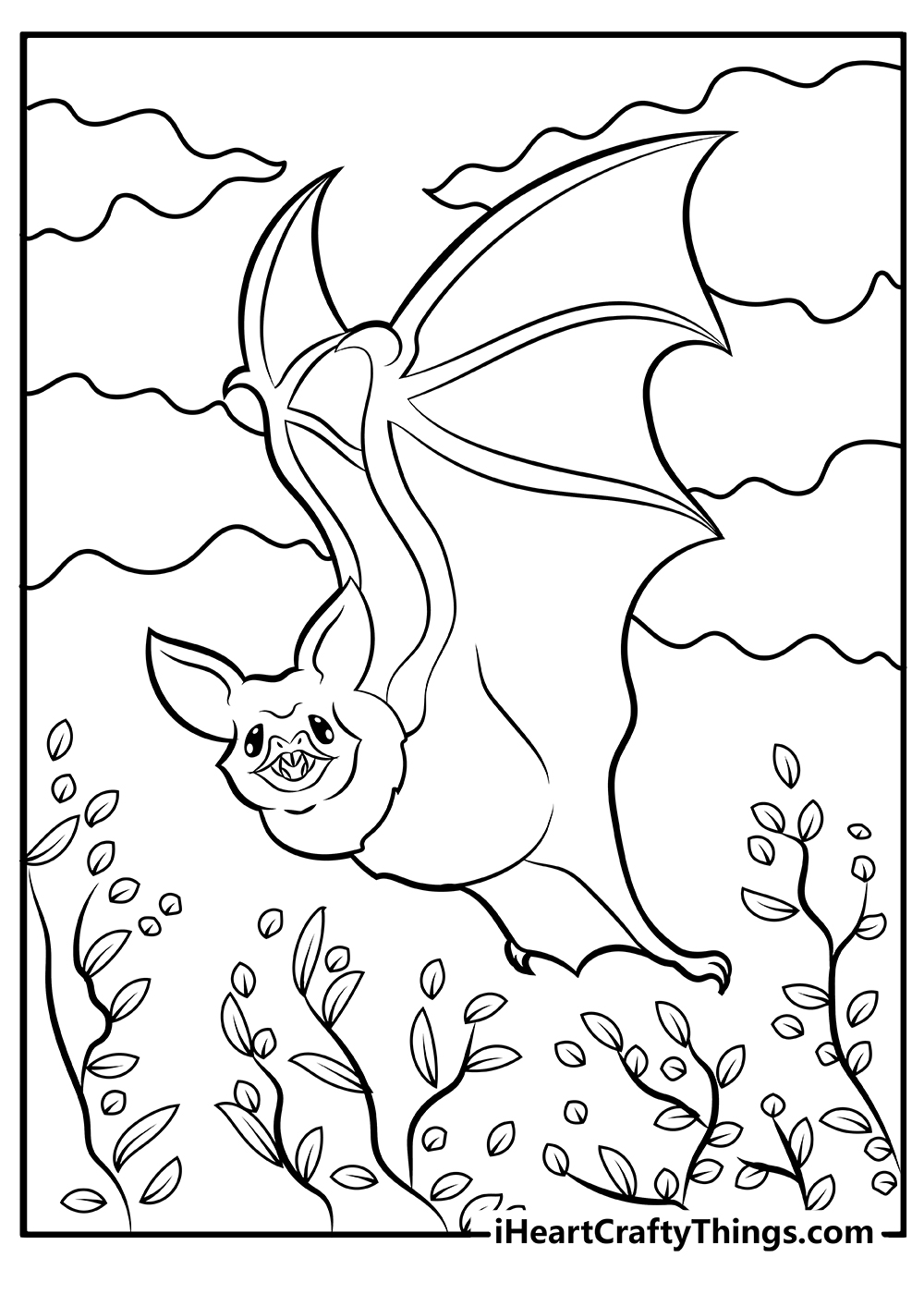 If you want to convince your kids that bats are as worthy of their love as any other animal, tell them bats have superhero hearing.
Children are known for their adoration for superheroes, so you can show them that bats have plenty in common with these special characters.
Batman is a superhero who used bats as inspiration to create his suit and shaped his weapons in the form of flying bats. The bat from this printable sheet looks like those from Batman's army.
If your child costumes as Batman this Halloween, print multiple bat coloring pages and cut the shapes to hang them around the house and create the impression they fly around.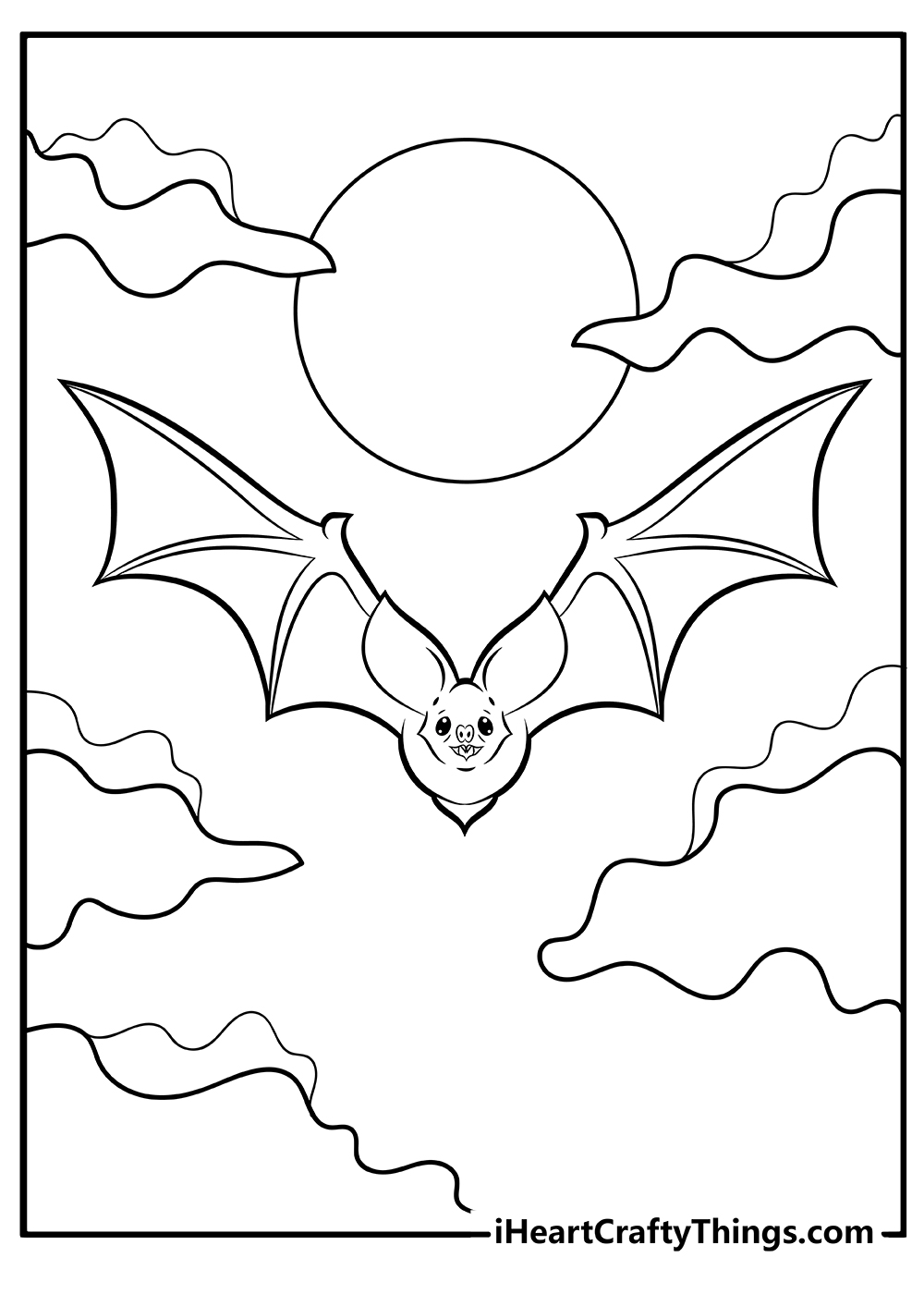 Bats use a series of trills, clicks, and buzzes to communicate with their friends. This bat coloring printable shows a bat clicking while flying a field of flowers, trying to communicate with its buddies.
Use the bat coloring page to show your children how bats look and while they color it tell them how they make the planet a friendly place to help them understand why they should love and protect them.
Just because they rarely see bats up close, it doesn't mean they should be afraid of them because they're adorable little creatures that take care of humans by eating insects.
Keep an eye on our website for more bat coloring pages because we update our collection regularly.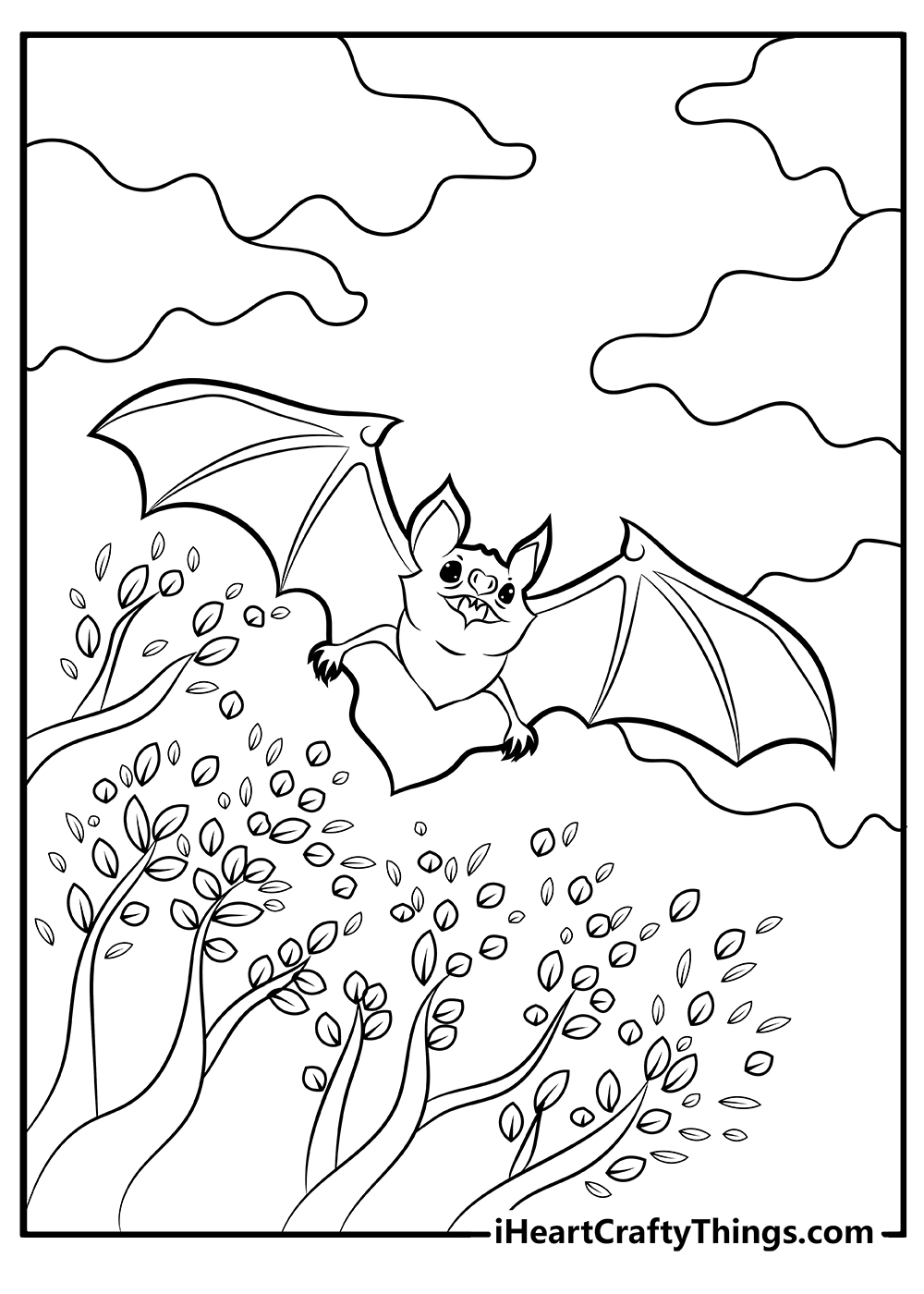 For this next bat printable, we have another super cute little bat, and it could be fun to draw a background.
Bats are often associated with creepy movies and Halloween, so that could give you some fun themes!
Perhaps you could draw a haunted house behind this bat to make this an extra spooky artwork. What other backgrounds could you use?