There are many different kinds of birds in the animal kingdom, and many of them are known for their bright and beautiful colors.
Some of these birds are more muted and dark, and that is certainly true of the raven. This darkly colored bird is often associated with dark or scary subject matter.
It is even the focus of the famous poem by Edgar Allen Poe! However, these birds are also beautiful and are known for their intelligence and quirkiness.
That's why they are the focus of this collection of free raven coloring pages for kids!
In this collection, we will be featuring 10 wonderful portrayals of this famous bird, and you ill have a chance to use some great colors, art mediums and extra details to finish them.
These printables are all completely free for you to print as many times as you please, so be sure to print and enjoy them as many times as you want!
You can also share them all with your friends and family to enjoy.
With all that said, let's begin this amazing collection that celebrates this intriguing bird species.
When you're ready to show off your finished raven coloring sheets, you can share them on our Facebook and Pinterest pages for us to enjoy!
10 Brand New Raven Coloring Pages – Free to Print and Color
We have a great image to start off this collection of free raven coloring pages for kids! This raven is looking very serious, and it makes for a really engaging picture.
Ravens are known for their dark colors, but you can still keep things interesting when coloring. Even if you keep the colors darker, you can add some lighter highlights to create a more dynamic scene.
You can also contrast the darker colors with lighter, brighter colors for the background.
Of course, an all dark color scheme can also look stunning, so it's all up to you to portray what you prefer for this picture!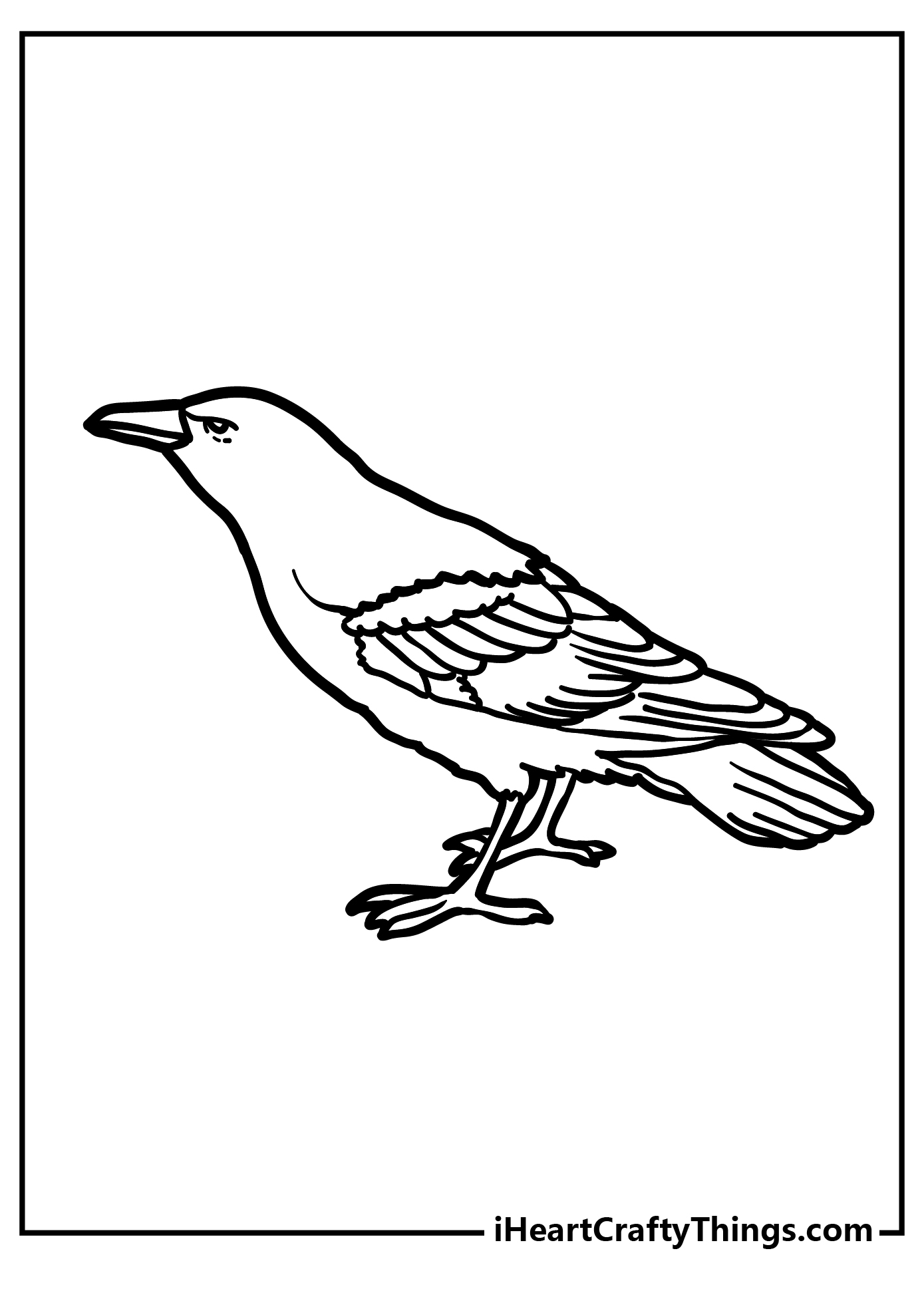 This second raven that we have for you to color looks a little more light-hearted than the previous one!
This one looks a bit fluffier, and this makes for a slightly cuter version of this dark bird. We think that this one would look great with some lighter colors, but that's just one way of going about it!
What approach do you think you will take for this beautiful raven?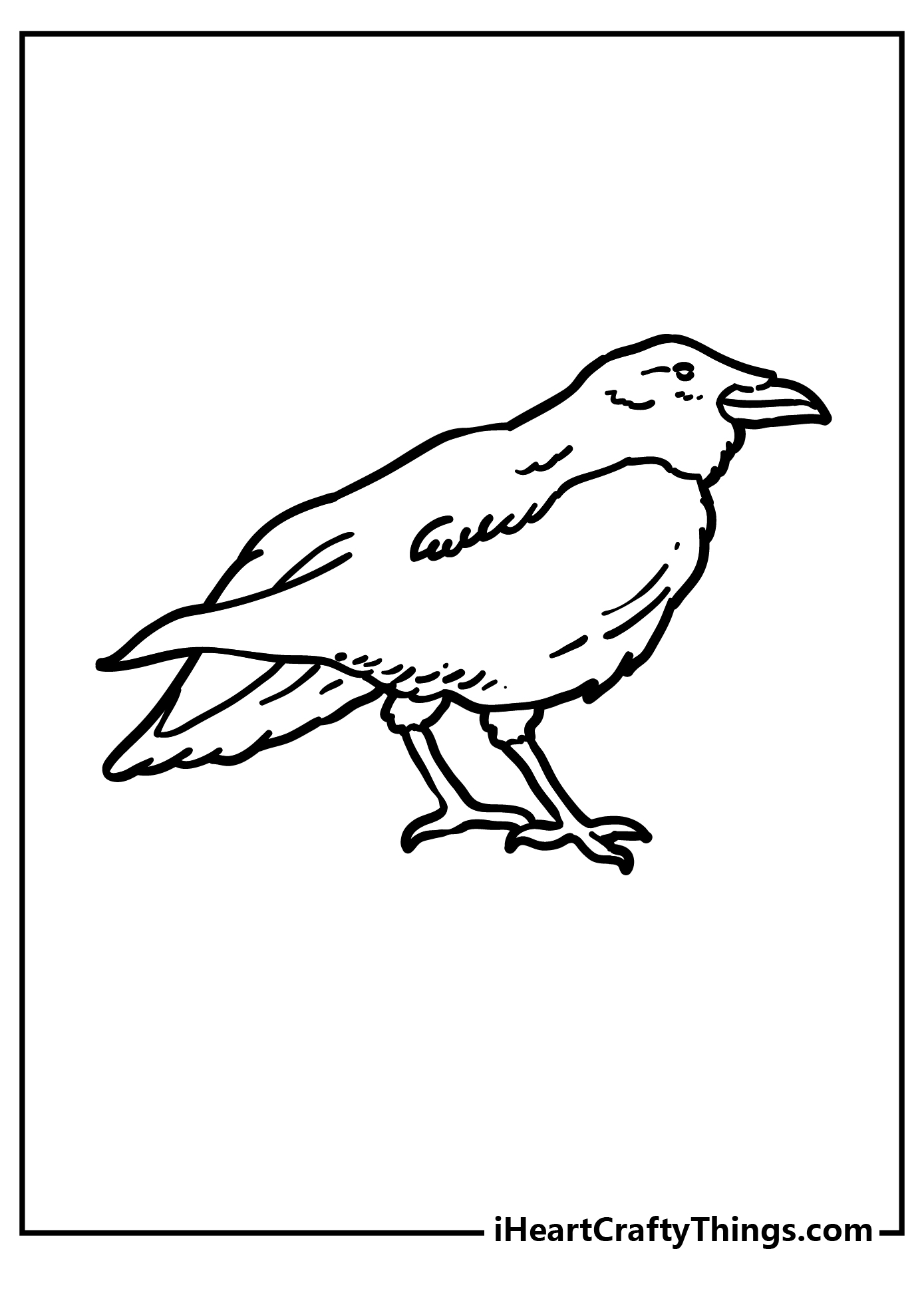 In this third raven coloring sheet, we have a happy-looking bird looking over its shoulder.
This raven seems to be having a nice day outside, and we think you could show this with a beautiful background.
Maybe you could draw some nice trees and other plants behind this raven to make it look like it is in a pretty forest. What kind of setting do you think would suit this particular image?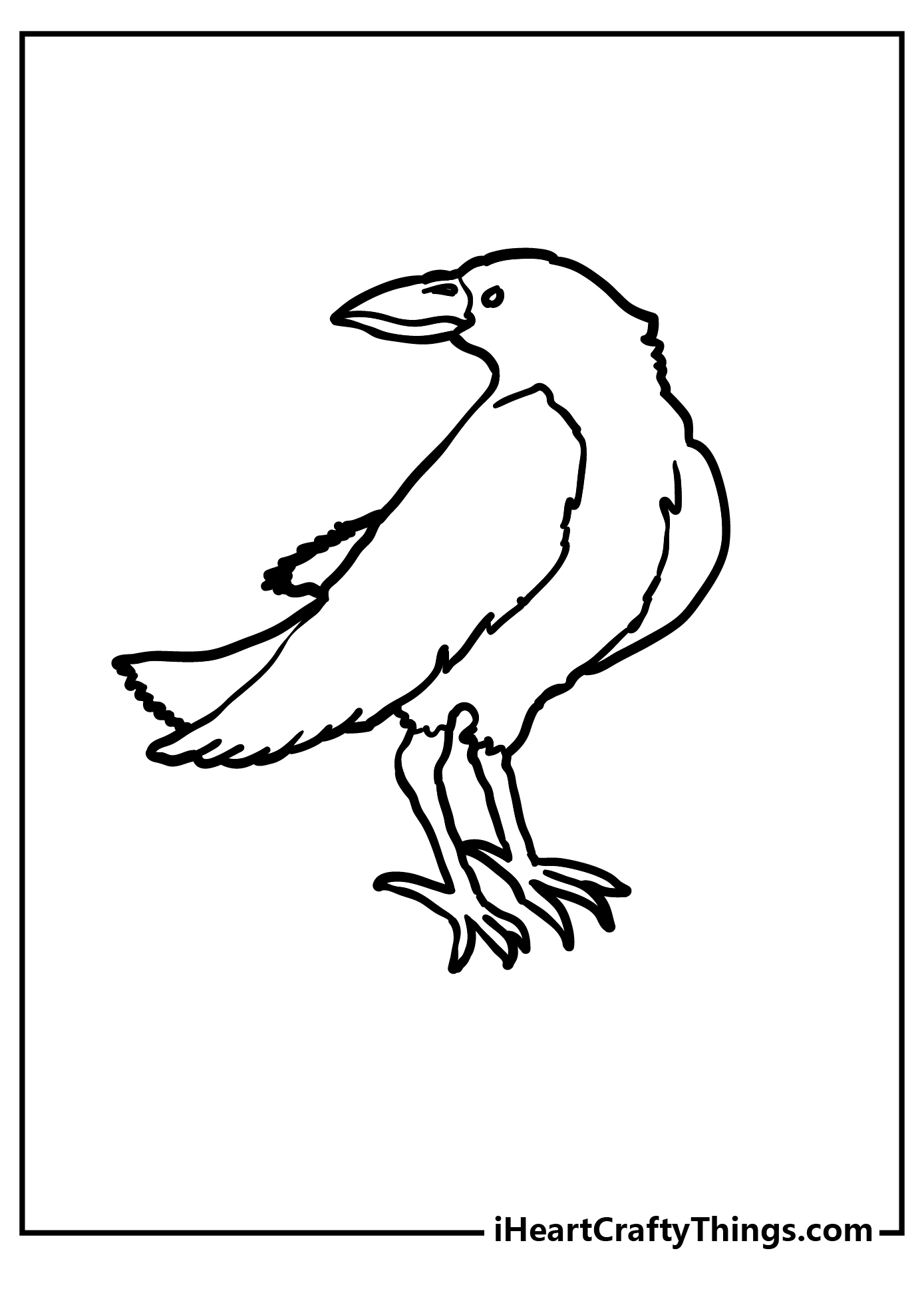 We love the look of this next raven! It is also looking over its shoulder and looks to also be a bit of a fluffier example of a raven.
This is the kind of image that could look great with a softer or more intense set of colors. If you can't decide, you could print out a few different copies so that you can try out different approaches!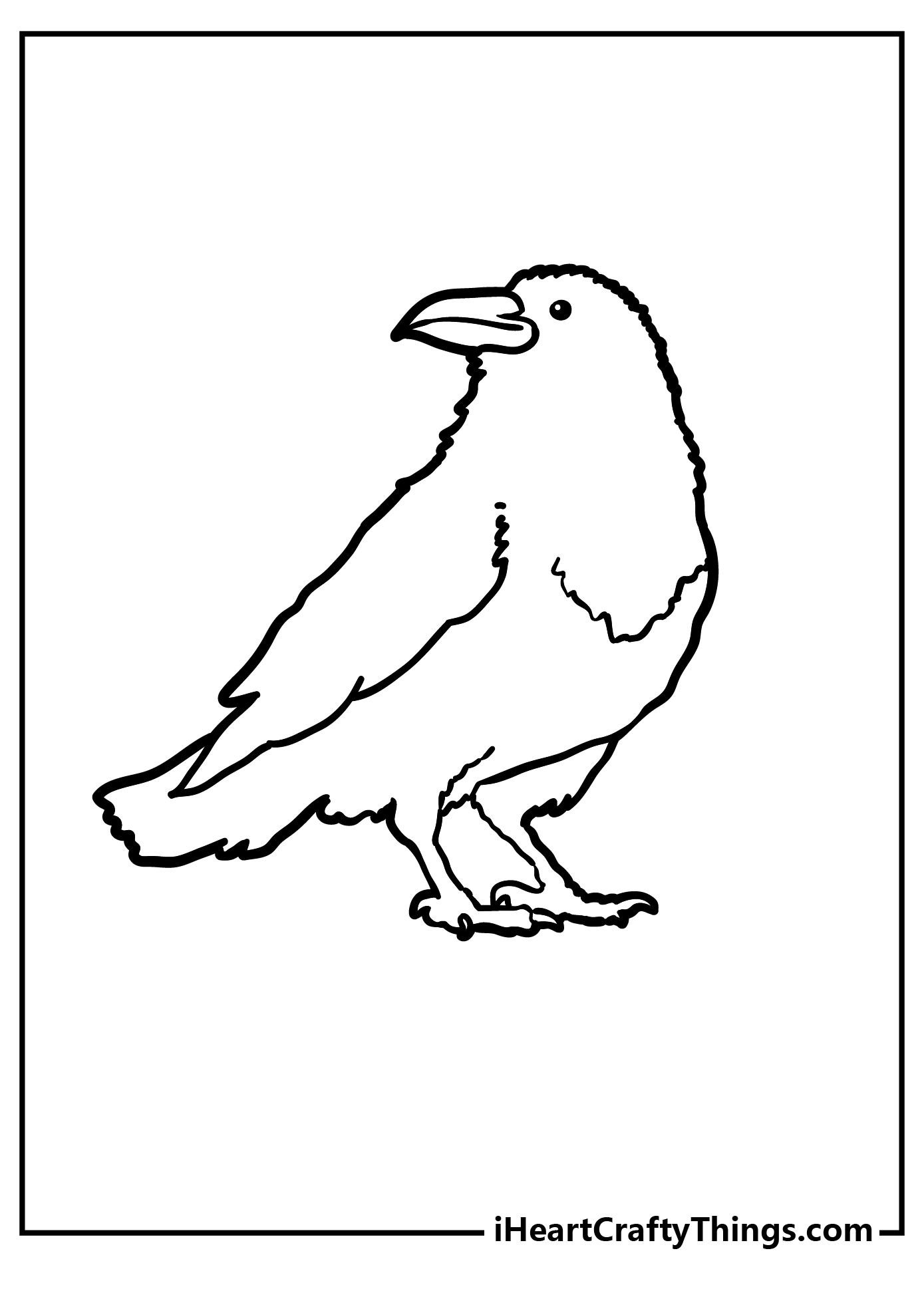 The design of the bird in this next raven coloring printable features a bit of a stylistic approach to the portrayal.
Because it is a more stylized design, we think that this one would look really nice if you used some equally stylized, creative colors for this one.
Just because real ravens are darkly colored, doesn't mean that your picture has to be! As always, it's completely up to you to decide how you will go about it!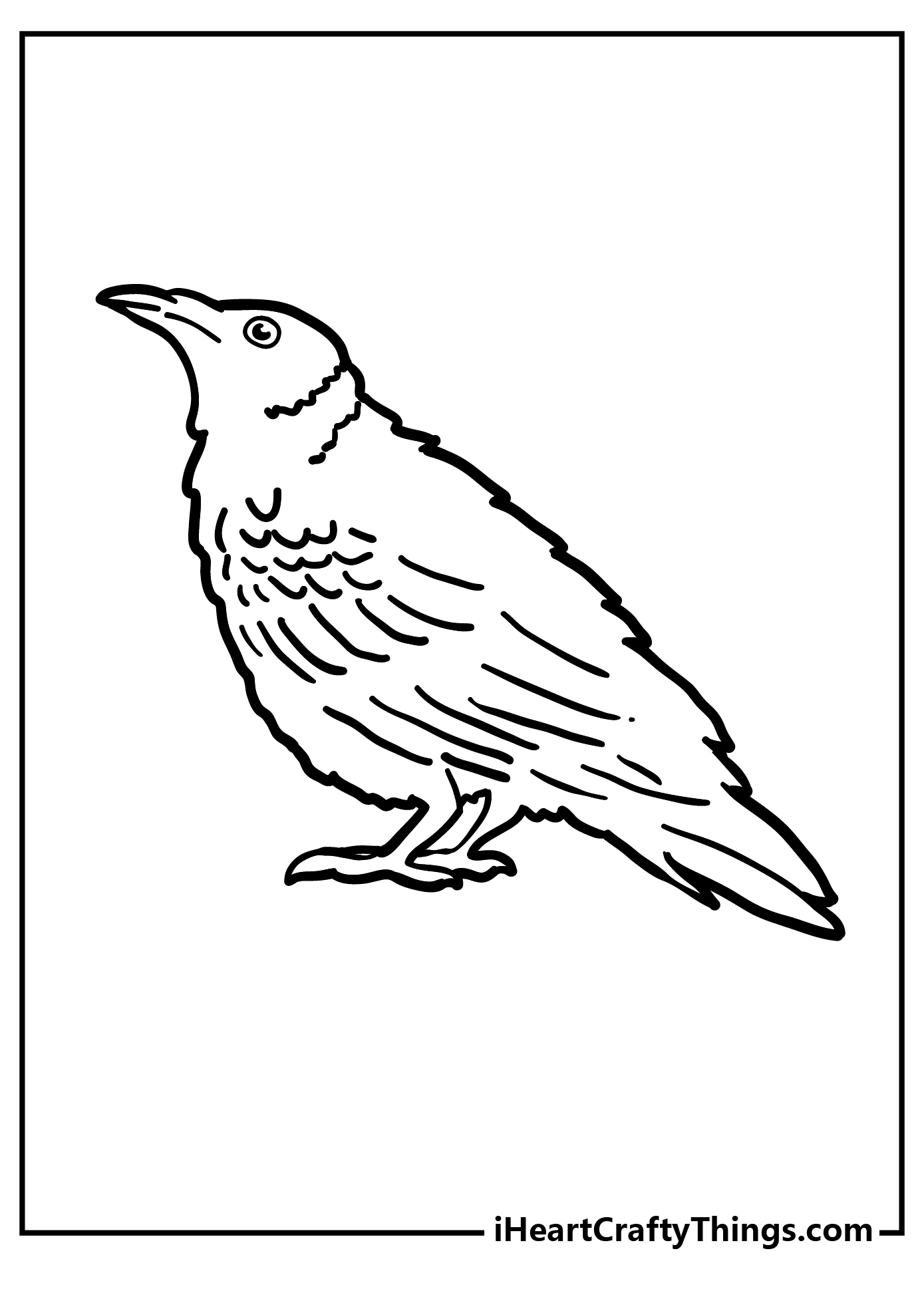 It's time to take flight as you color in this majestic raven! This one sets itself apart from the previous ones so far as it spreads its wings to soar through the sky.
This seems like a great opportunity to color and draw some awesome sky details. If you want a nice clear day, then you could color a beautiful blue sky with some fluffy clouds.
Ravens are often shown in spooky movies and settings, so you could also do a gray, cloudy sky for a gloomier setting. What setting do you think would go well with this raven?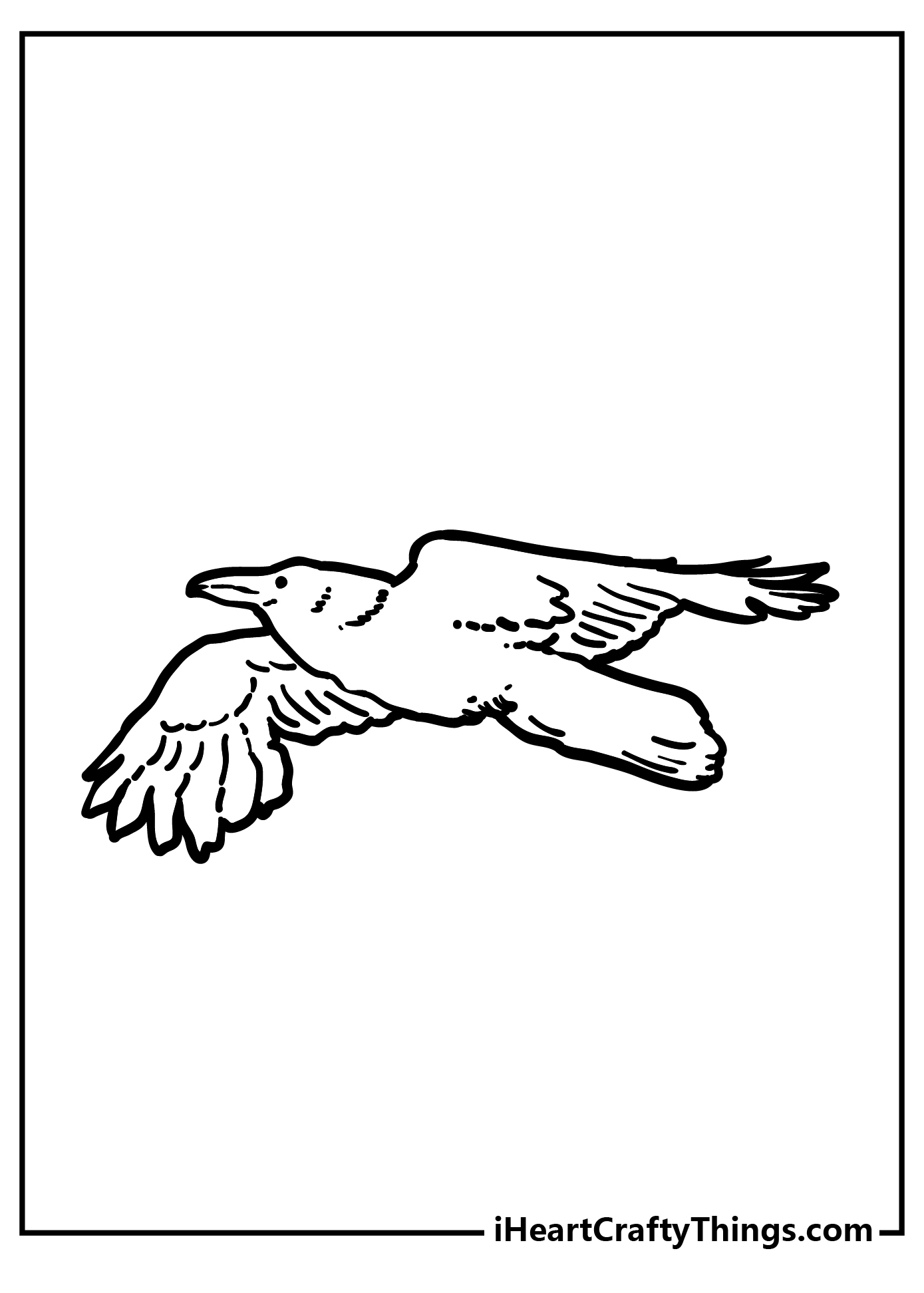 The raven in this next picture is looking a bit nervous! What could be scaring a raven? Maybe you could draw a spooky setting for this raven to be in to show what may have it spooked.
What ideas do you have for a scary setting that a raven may find itself in? If you decide to go for this kind of setting, we hope you will show us what you choose!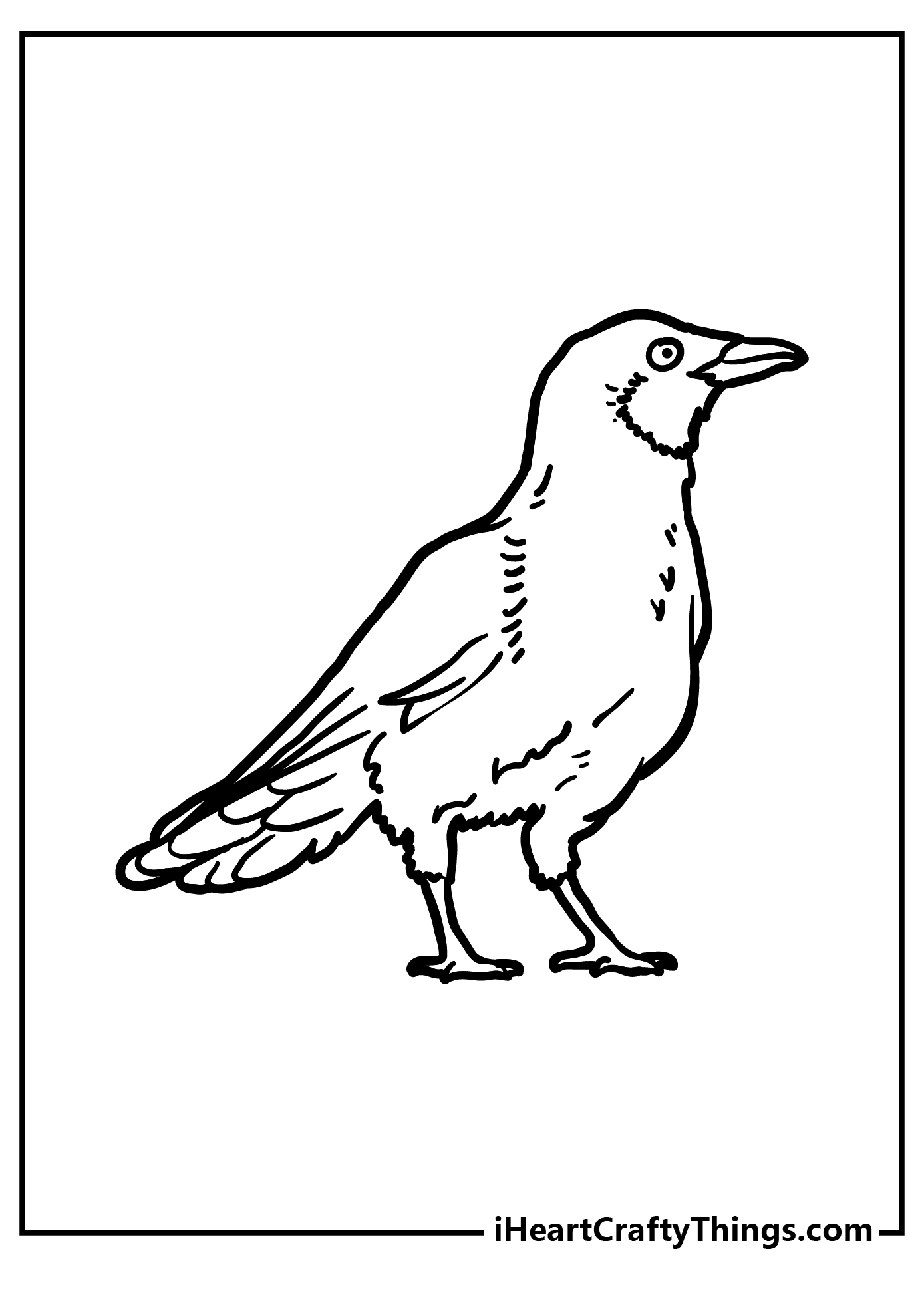 Our eighth raven coloring printable shows one that is posed on a bit of a base. This looks like it could be perched on a rock, but you could also turn the base into other objects!
You could incorporate it into the design for a tree branch or maybe even the top of a skull for an extra spooky picture.
These are just two of many ideas, so what else can you think to incorporate the base into?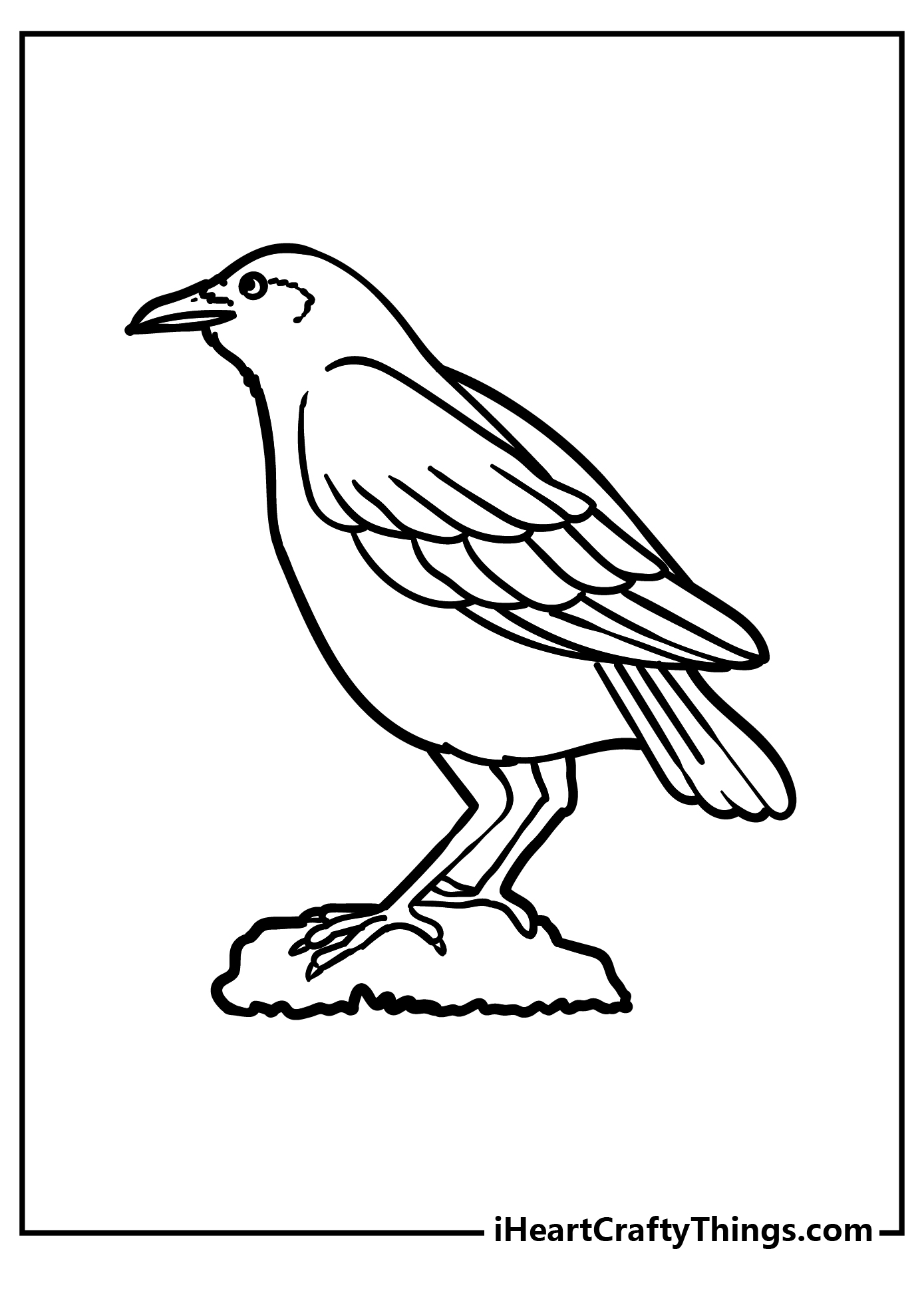 This next raven is mid squawk! This guy looks like it is giving someone an earful.
For a fun extra touch, maybe you could draw a speech bubble above the head of the raven and show what it might be yelling at someone.
This would also be a way to indicate what may have ticked off this bird.
Then you will be ready for the final image of the collection!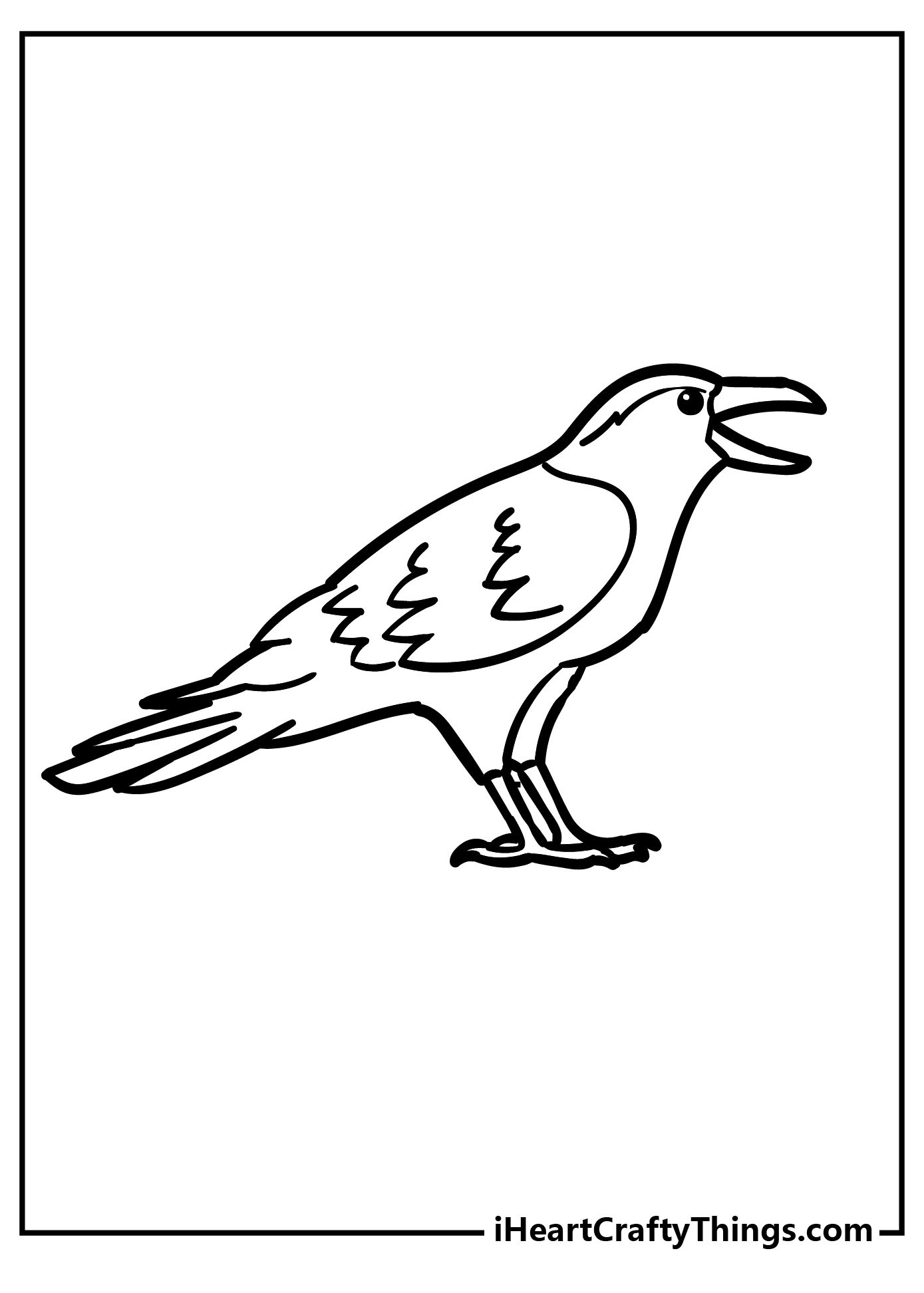 The base of this final raven has been left blank, and that leaves things open for you to get imaginative!
The feet are posed in such a way that it looks like it could be perched on something, and the only question is what could it be on?
We spoke about a few fun base options in a previous raven coloring sheet, but what are some other ideas that you could use? Remember to share some of your favorite colored pages for us to see!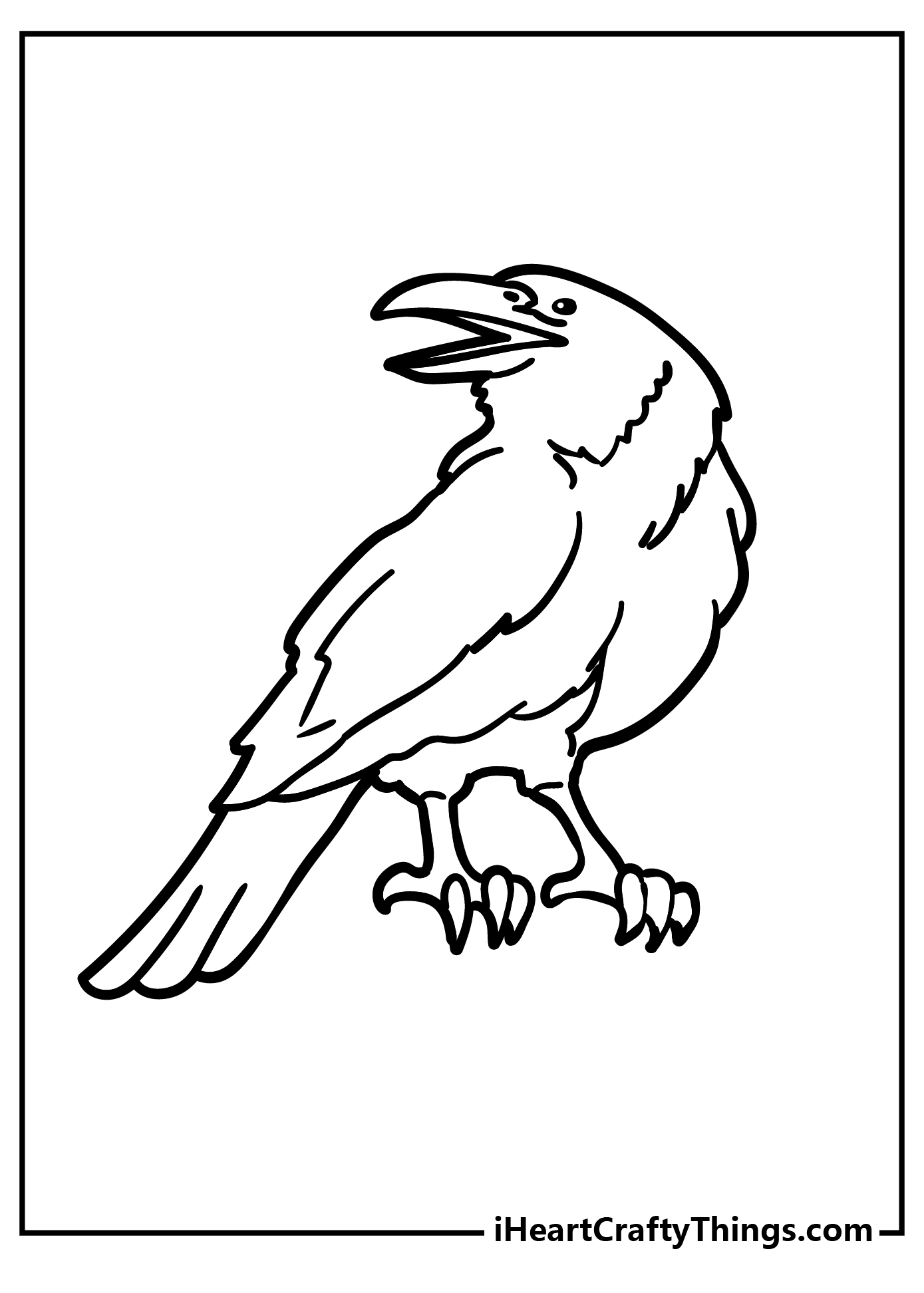 Raven Coloring Pages – Which will you choose?
That brings you to the end of this awesome collection of free raven coloring pages for kids!
We hope that you had a great time bringing some color to these dark birds and creating some interesting artworks.
If you had a great time working on this collection, then we have good news for you! We have tons of free coloring collections on our website for you to enjoy.
These cover everything from other animals to famous characters, so there's something for everyone to love
It would be great to see how you finished up these raven coloring pages, so please remember to share some of your favorite finished pages on our Facebook and Pinterest pages.
We can't wait to see how they turned out!