Hummingbirds are not only one of the prettiest species of birds with their bright and vibrant colors and dainty bodies, but they also have some unique features that set them apart.
They are one of the few bird species that can hover by beating their wings incredibly fast, and they have really long tongues to suck nectar from flowers.
Hummingbirds do have a wide variety of bright and vibrant colors that they come in, though, and with these free hummingbird coloring pages for kids you have a chance to make some bright and beautiful hummingbirds of your own!
This would be a great opportunity to get out your colored pens, pencils and paints to make some striking images.
Once you've colored in your favorite hummingbird coloring sheets, please share your artworks on our Facebook page for us to see and enjoy. We always love to see your colorful creativity on display!
10 Brand New Hummingbird Coloring Pages – Free to Print and Color
It's a bright and beautiful day in this first hummingbird coloring page. The little bird is framed by the sun, so this should be a beautiful, striking image. Hummingbirds can come in pretty much any color you can think of, so you can really get creative with these hummingbird printables.
The sun will have a lot of yellow, so maybe you could use a complimentary color like purple and pink for the hummingbird to create a beautiful contrast.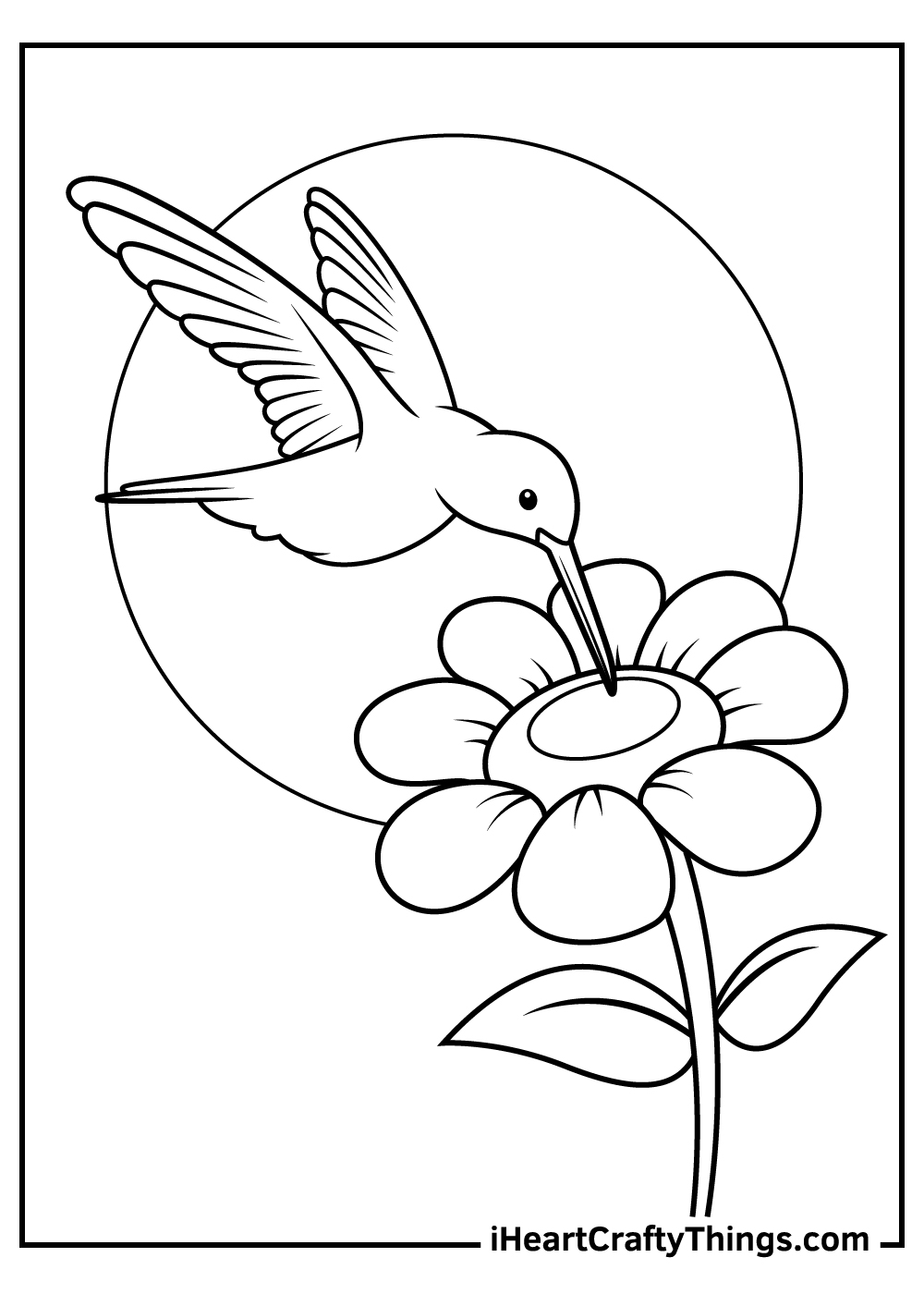 This cute hummingbird is taking a breather on a branch in this hummingbird coloring sheet. Hummingbirds beat their wings up to 80 times per second, so they definitely need to take a break every now and then!
Maybe for this more relaxed image you could use more muted blues and greens to finish off the restful nature of this hummingbird printable.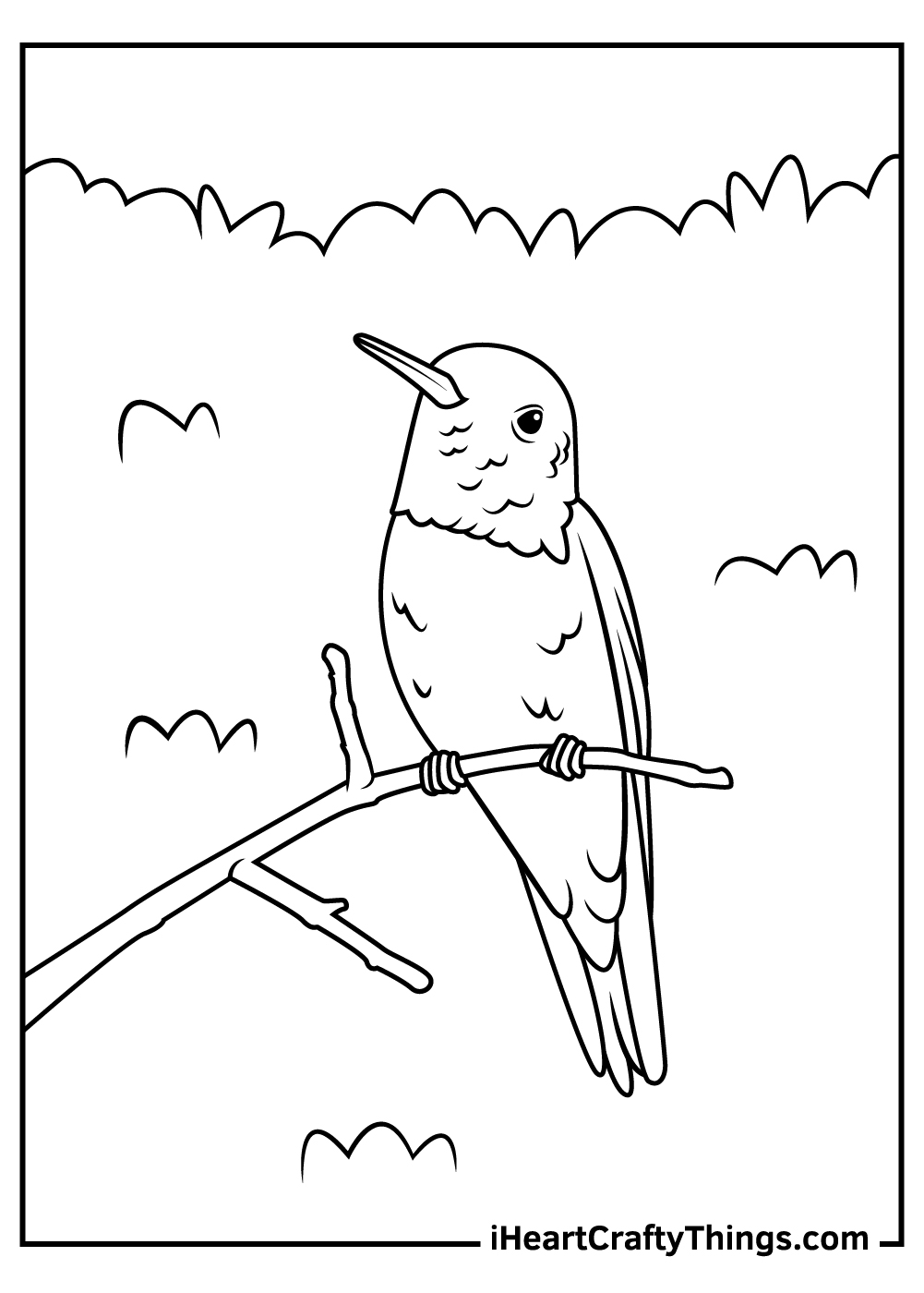 The sun is prominent again in this free hummingbird coloring page for kids. It's again behind a hummingbird who's also relaxing on a branch.
Maybe you could make the sun a darker orange in this hummingbird printable to make it look like dusk. I bet that would make for a beautiful image!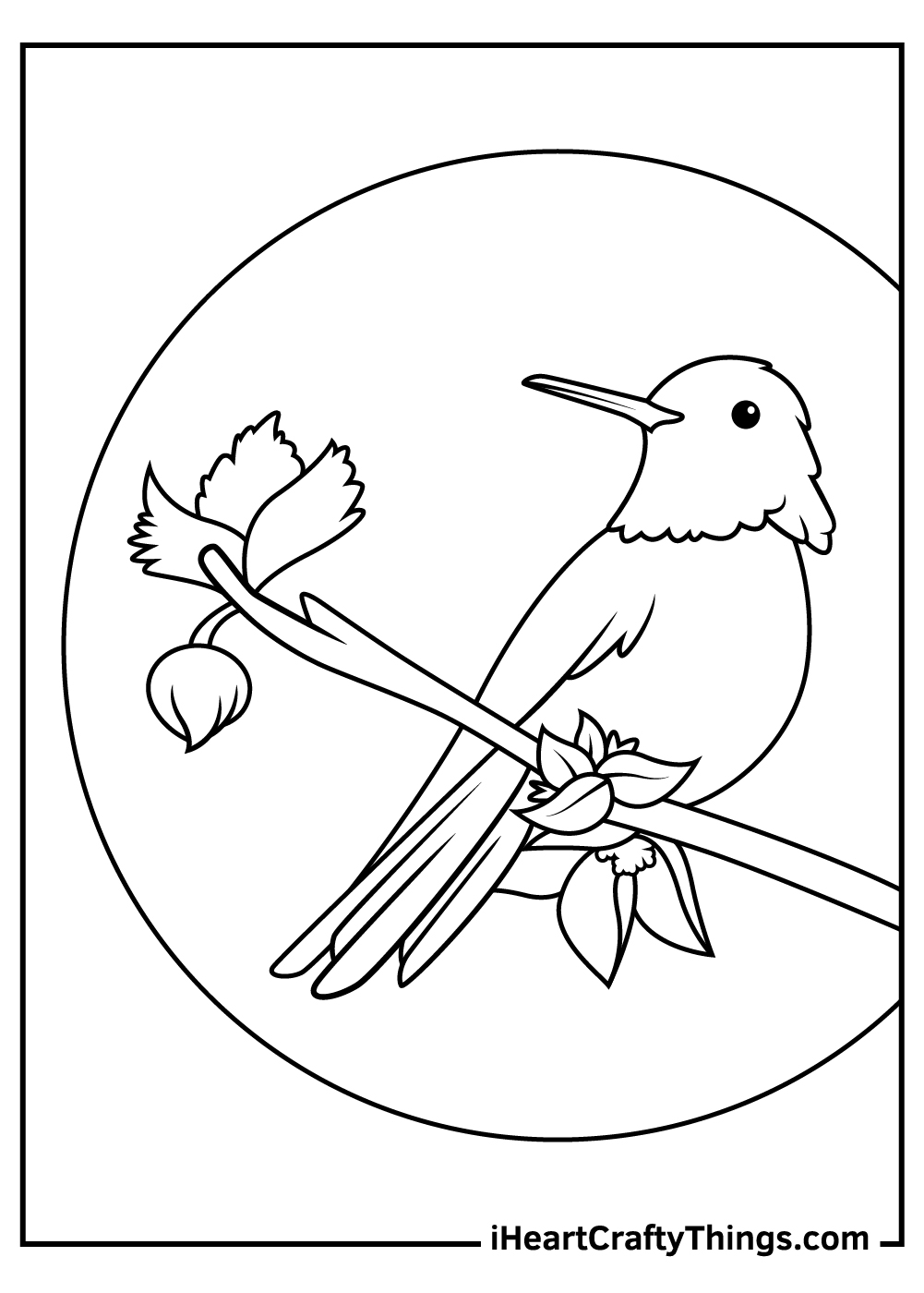 It's lunch time for the little guy in this hummingbird coloring sheet. Hummingbirds use their incredibly long tongues to drink a flower's nectar and that's what's going on in this hummingbird printable.
There's a lot of sky space in the background, so you could make the hummingbird some bright colors to contrast the large amount of blue sky space.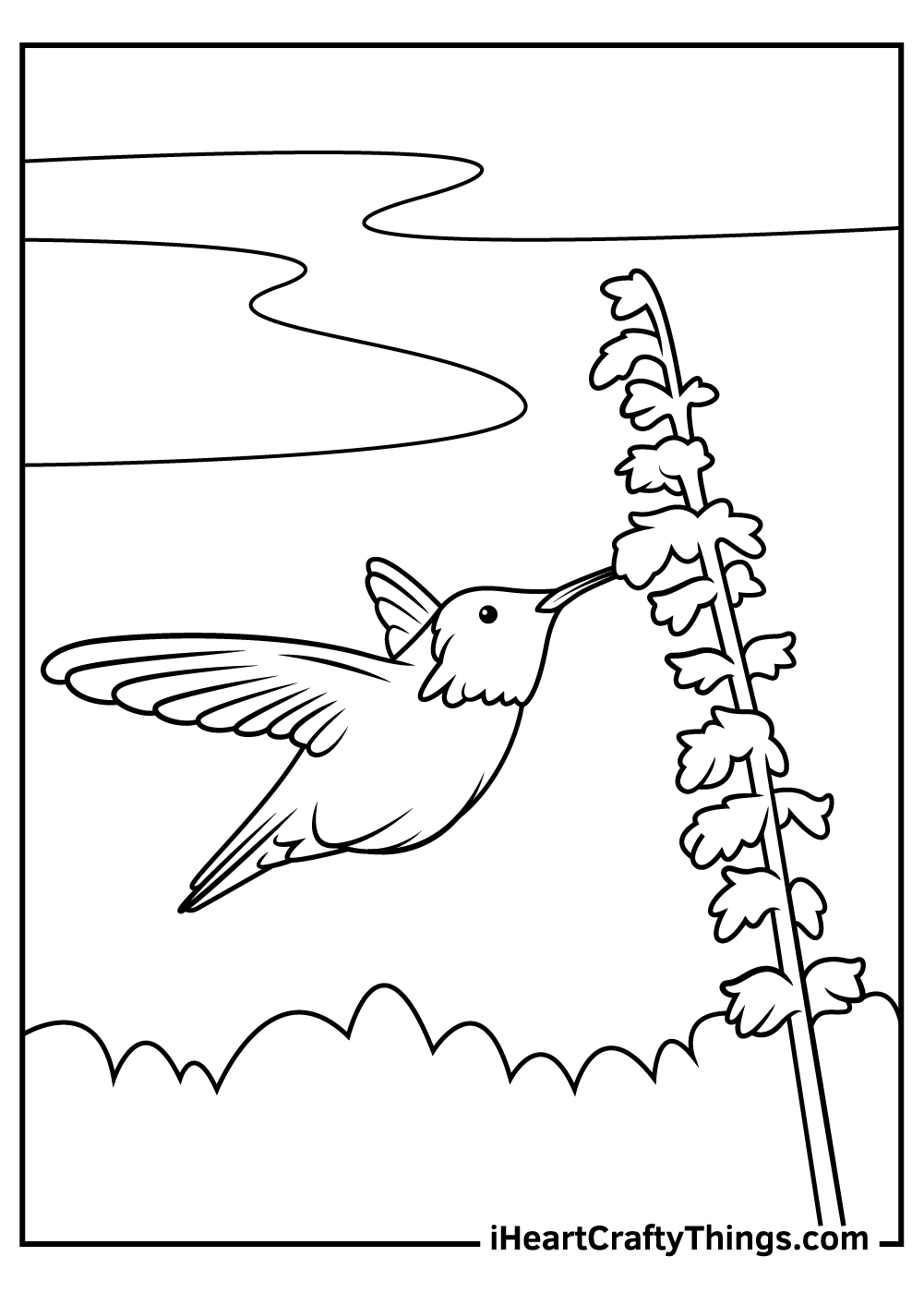 A very cute little hummingbird is featured in this next hummingbird coloring page.
Hummingbirds have bright, reflective colors so maybe you could use some nice coloring pens to give them a vibrant, shinier look to reflect how these beautiful little birds look in real life.
That would really make this hummingbird printable pop with color!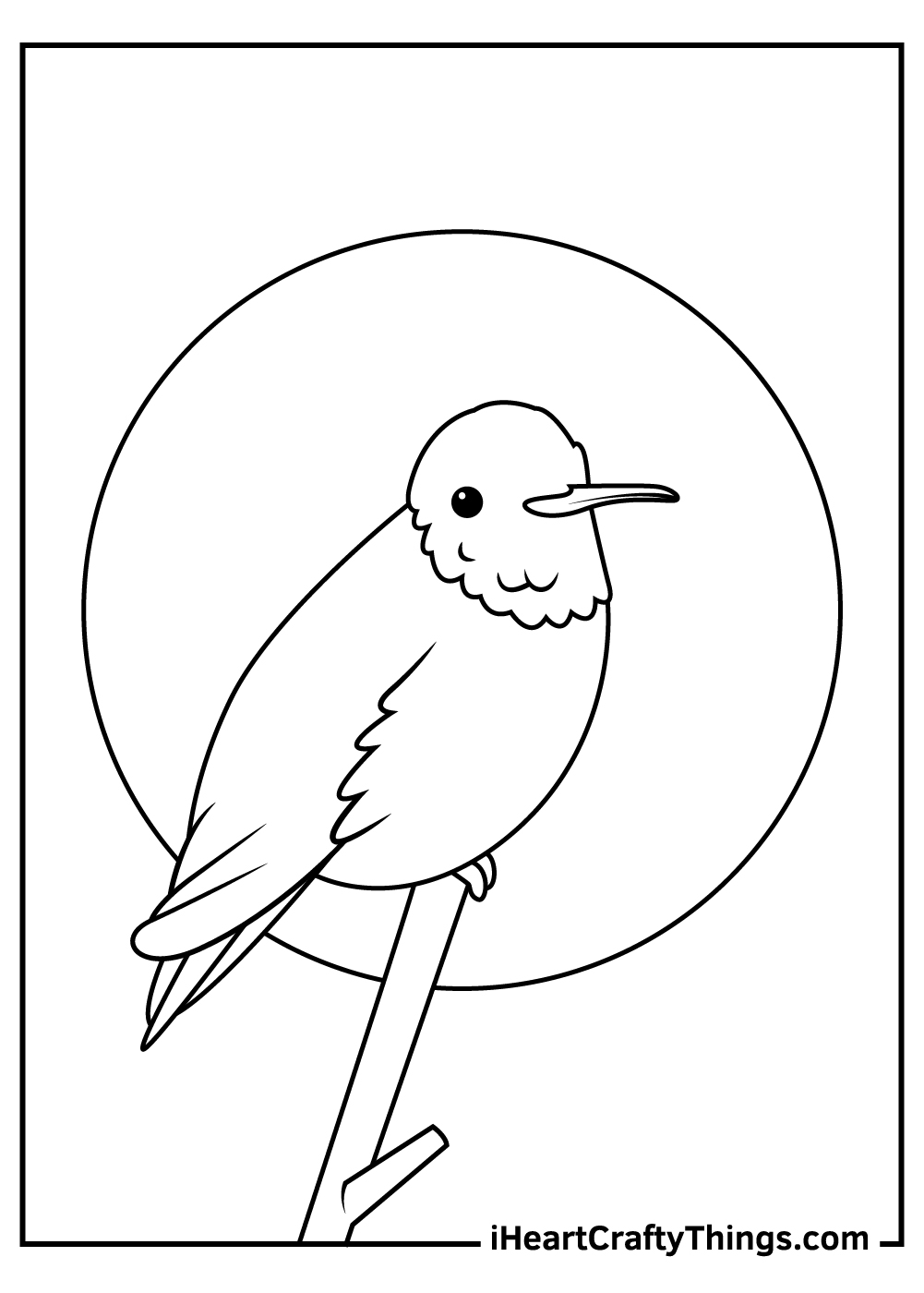 I get a feeling of speed from this next hummingbird coloring sheet. The background is in sections, which makes me think this little guy is darting all over the place.
Hummingbirds move around very quickly so it makes sense! I think some bright colors for the background like yellows and reds would help to show off the speediness suggested in this image.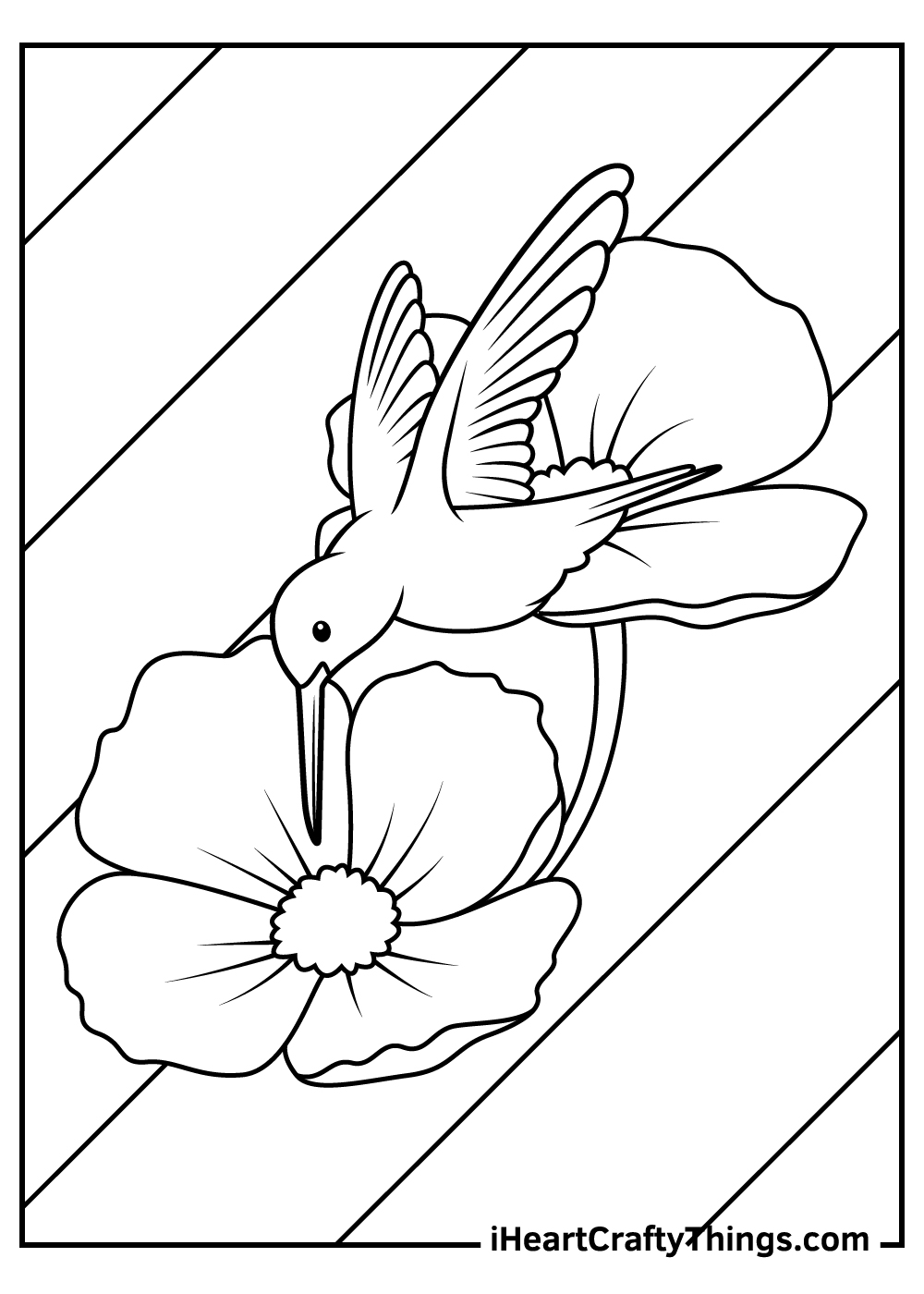 This next hummingbird coloring page for kids has a unique image! The hummingbird looks like it's from a colorful stained glass window from a cathedral.
To go with this look, some vibrant yellows, oranges, blues and reds would look really amazing for this hummingbird printable.
If you have some bright paints or pens I think they would work especially well for this image.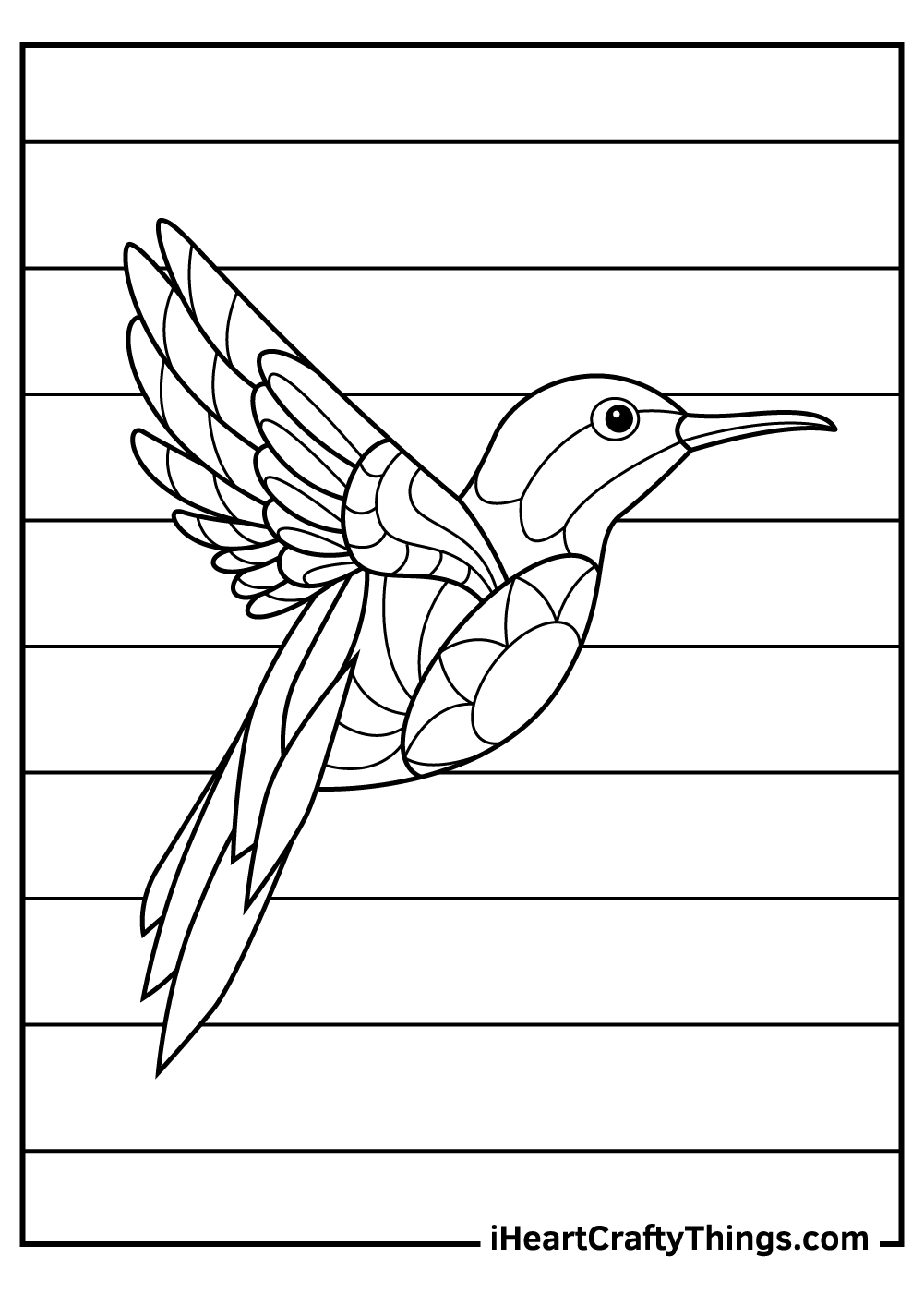 A hummingbird is sipping from a big, beautiful flower in this hummingbird coloring sheet. If I were coloring this, I would make the flower a bright yellow with purples, greens and reds for the hummingbird to create a lovely contrast.
What colors will you pick for this hummingbird printable?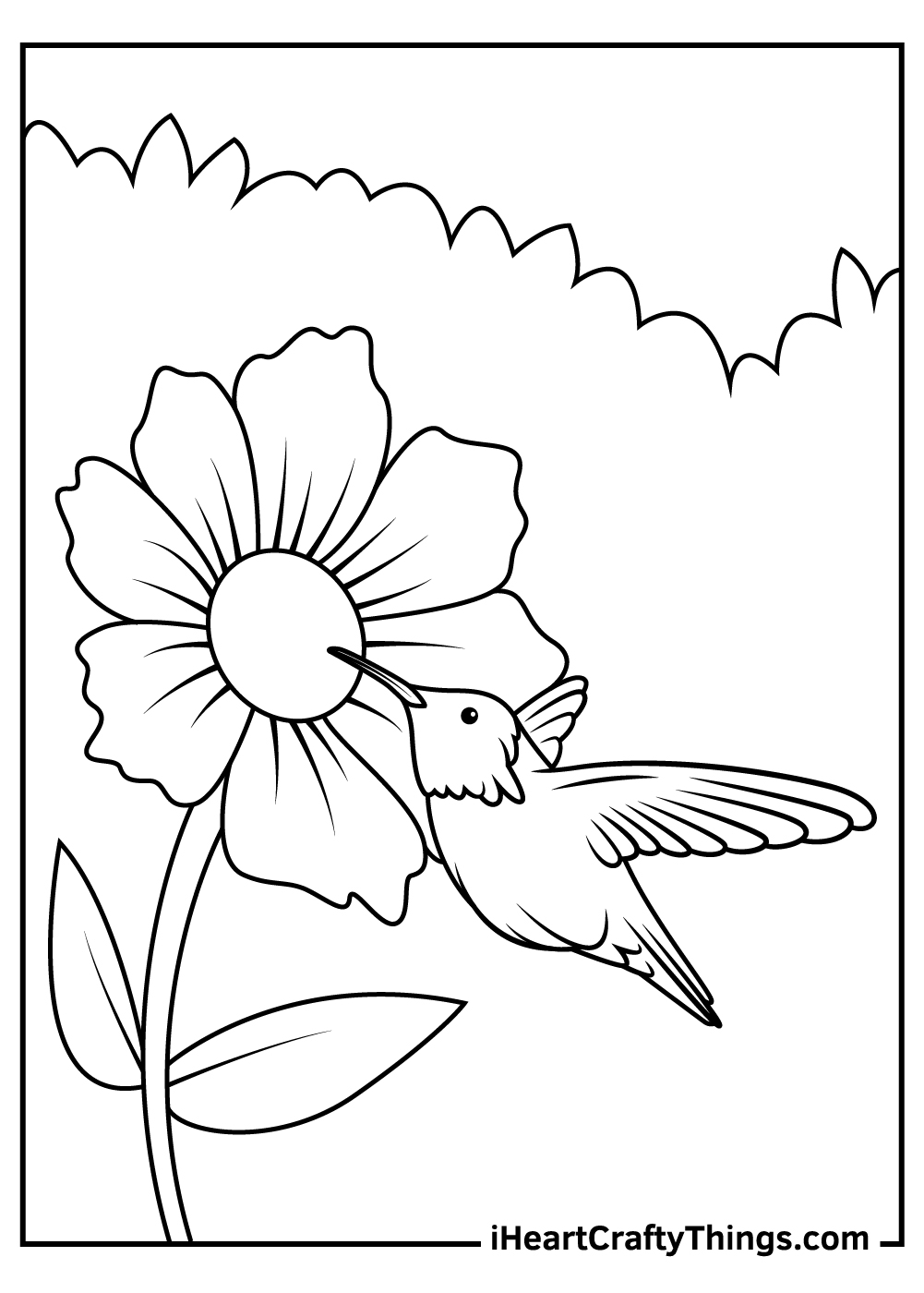 We have another beautiful day outside in this hummingbird coloring page. This hummingbird is drinking nectar from another flower, so for this hummingbird printable I'd think that some lovely bright colors would help to represent the beautiful day portrayed in this image.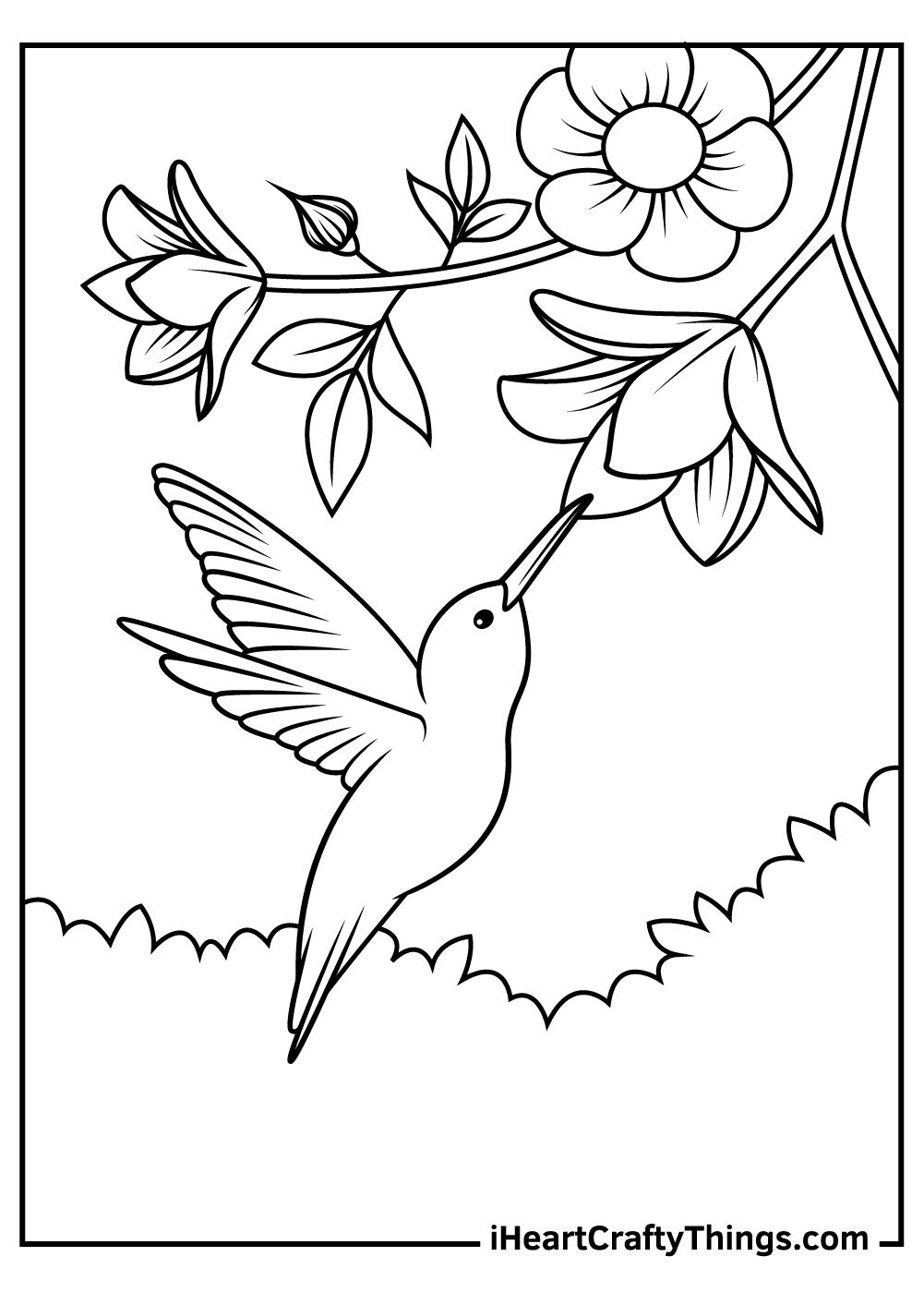 The last hummingbird coloring sheet we have provides an opportunity for a colorful explosion! The background is made up of many sections, and I think it would look incredible if you used as many bright colors as you can to try and color in each bar a new color.
Once you've colored in the background, what color will you choose for the hummingbird? Maybe you could try to make him a color scheme you haven't used yet in the other hummingbird coloring sheets.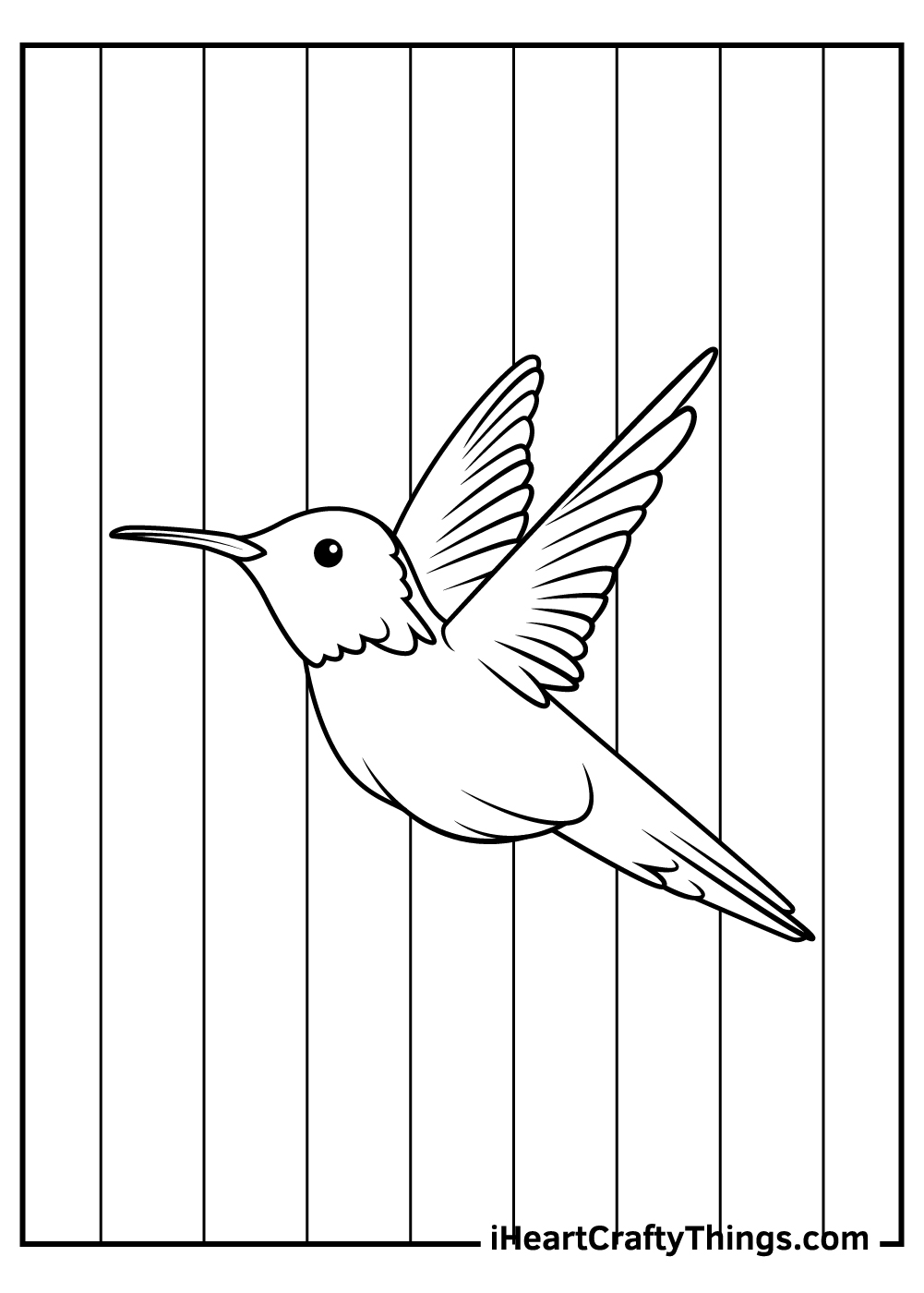 Hummingbird Coloring Pages – Which will you choose?
Hopefully you were able to have hours of colorful fun spending time with the cute hummingbirds in these free hummingbird coloring pages for kids!
Remember, all of our coloring pages and printable goodies are totally free for you to print out and enjoy as many times as you like.
This means if you want to try out different colors or mediums such as paints or pens, you can print out multiple copies of your favorite hummingbird printables to really experiment!
Hummingbirds glow in the sun thanks to their reflective feathers, so maybe you could use some glitter or glitter pens to help these hummingbird coloring sheets really shine with color!
Please be sure to like and share our Facebook page so you'll never miss out on any of our great coloring pages and printables! Also, once you've completed these hummingbird coloring pages please share your creations on our Facebook page for us to see!
We always love to see the amazing colorful creativity on display and we're sure to see some incredible colorful hummingbirds from you!