There are so many beautiful kinds of birds and animals in the world, but of all of them the peacock with his beautiful and stunning feathers may be one of the most beautiful of them all!
Their feathers contain a kaleidoscope of beautiful blues, greens and yellows to create an artwork of beautiful and majestic plumage for us to behold.
These free peacock coloring page printables are the perfect outlet to unleash an explosion of colors and really show off your creative side!
They would be perfect for multiple mediums, color palettes and styles, so make sure to print a few copies of each and experiment!
Once you've finished coloring in your favorite peacock coloring pages, please be sure to share your amazing creations on our Facebook page.
We can't wait to see what beautiful patterns and colors you all have in store for us!
REMEMBER: You can get the COMPLETE set of these coloring pages >> HERE
15 Brand New Peacocks Coloring Pages – Free to Print and Color
Our first peacock coloring page is a majestic start to this collection! He's framed by the sun and looking very proud and regal.
With the sun in the background, I think it would look so striking to have the bright yellow sun in the background with the peacock in cooler colors of greens and blues to contrast.
How are you going to choose to color this printable?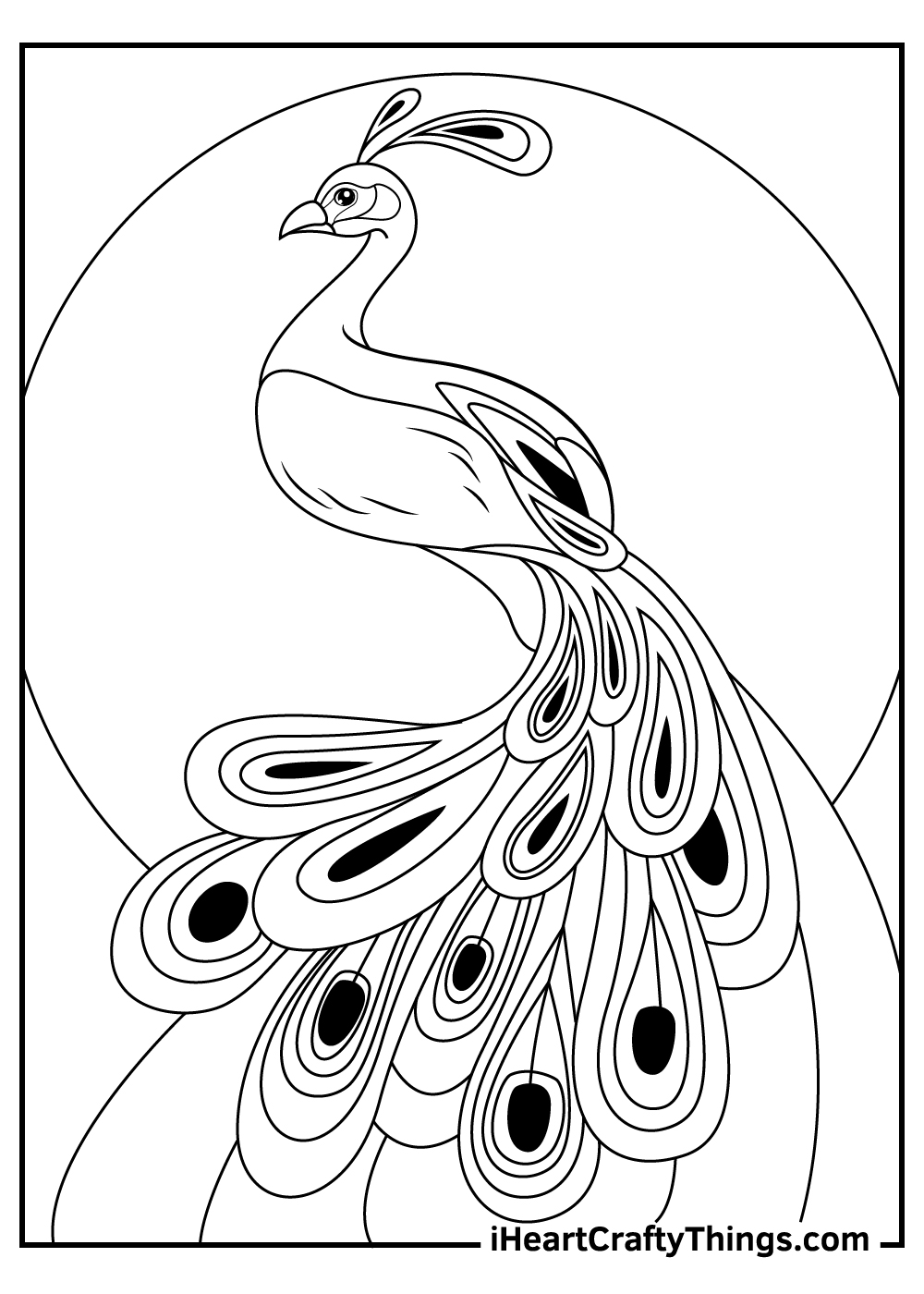 This fun peacock coloring page is perfect for little kids. This proud peacock stands tall on a branch, spreading her flashy tail feathers wide.
Her tail is decorated with large, eye-shaped patterns that seem to stare right at you.
Peacocks use their splendid tails to attract peahens during mating season. You can use a variety of colors to make the peacock look vibrant and regal.
How about using some metallic or glitter pens to make the tail feathers shine?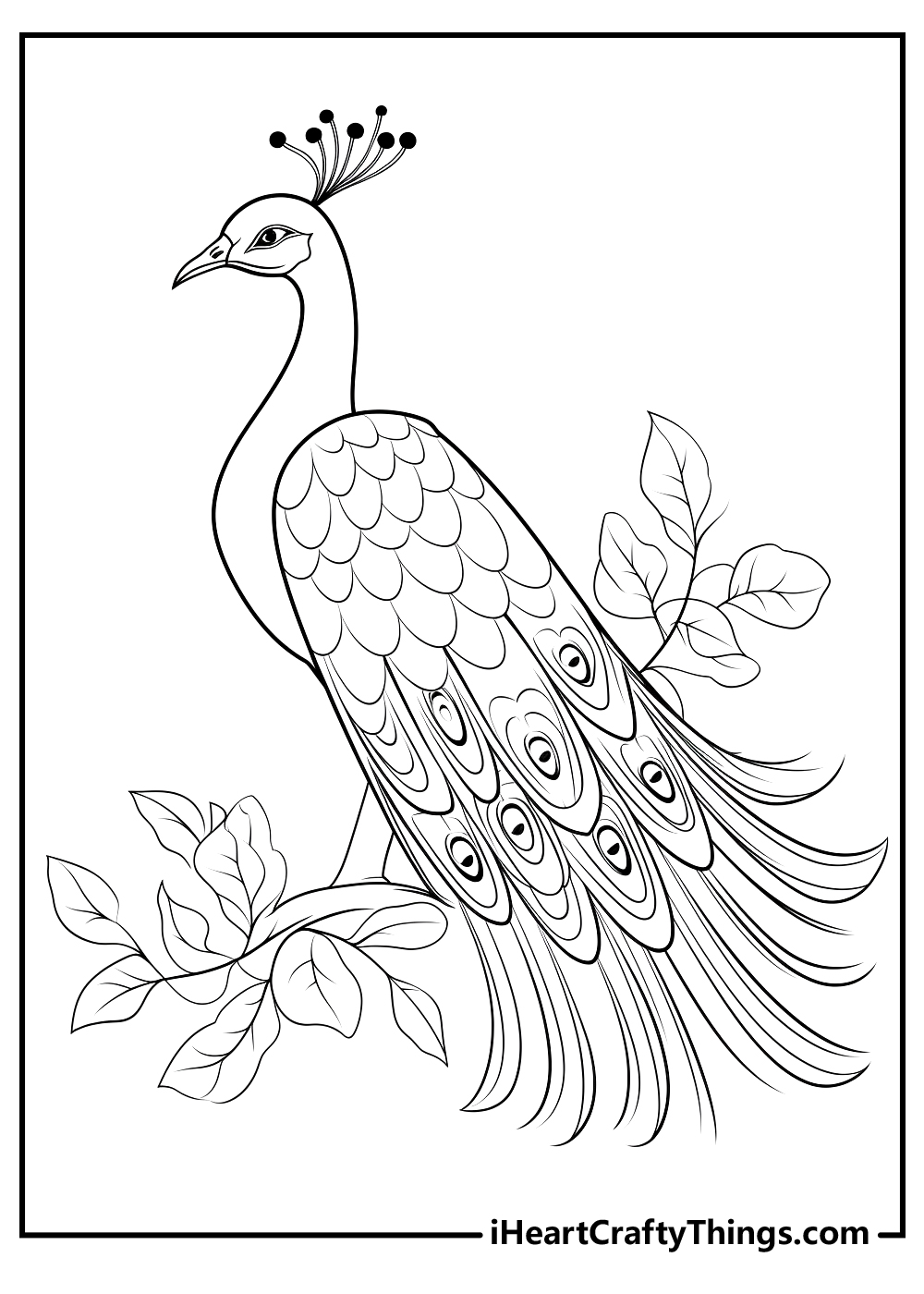 This next coloring page shows a close up on a handsome peacock looking pretty happy and peaceful.
His feathers are really prominent in this page, so I think it would look really nice to have his head and body in a darker color and keep the colors of his tail a little more muted, but what do you think?
I can't wait to see what color scheme you choose for this coloring sheet!
REMEMBER: You can get the COMPLETE set of these coloring pages >> HERE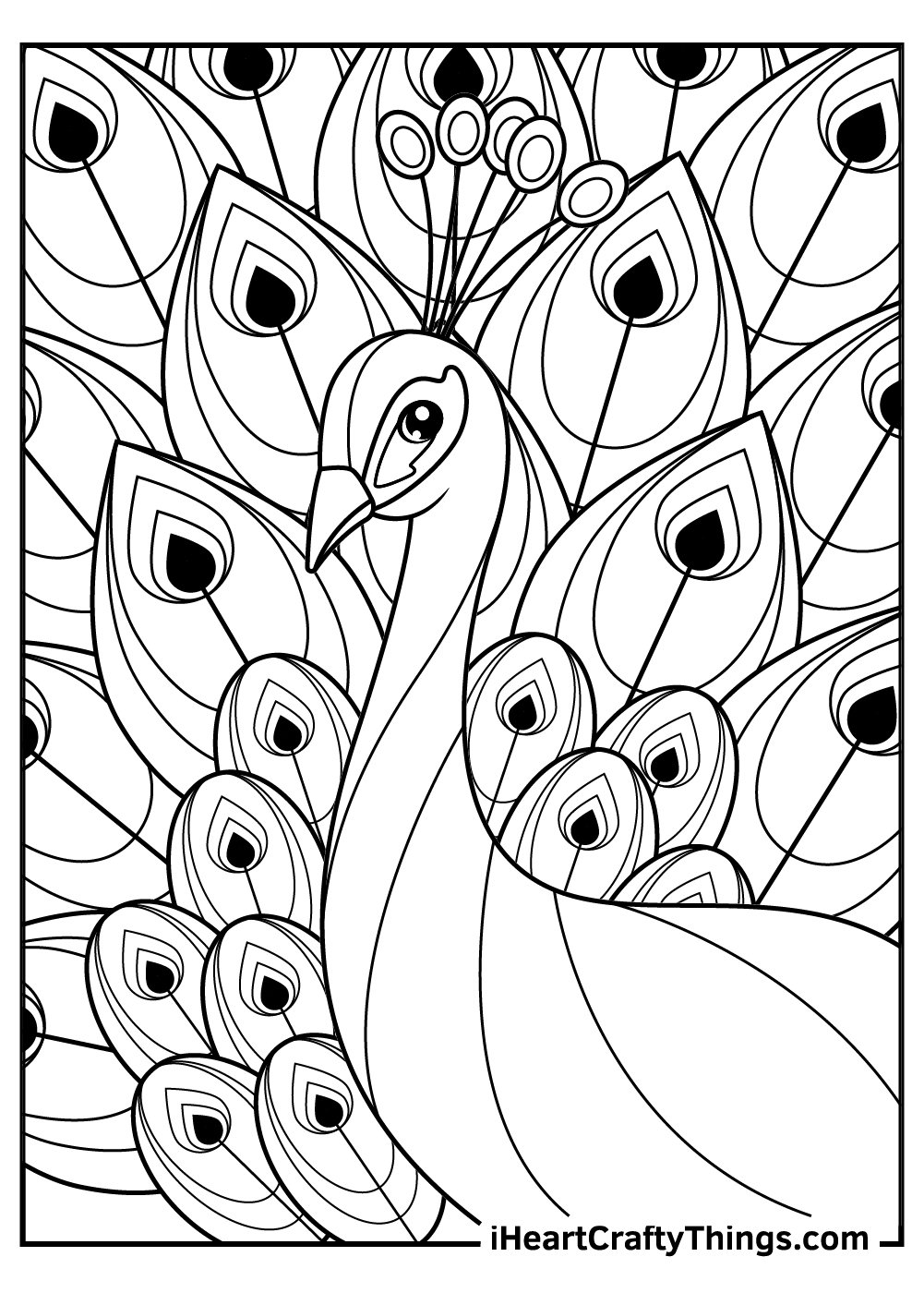 Have you ever seen a peacock take a bubble bath? I hadn't until I saw this fun coloring page of a peacock surrounded by bubbles!
He looks like he's really enjoying it, and it would look incredible if the bubbles were shaded to reflect the colors of the peacock.
Don't forget to show off your color skills for us to see on our Facebook page!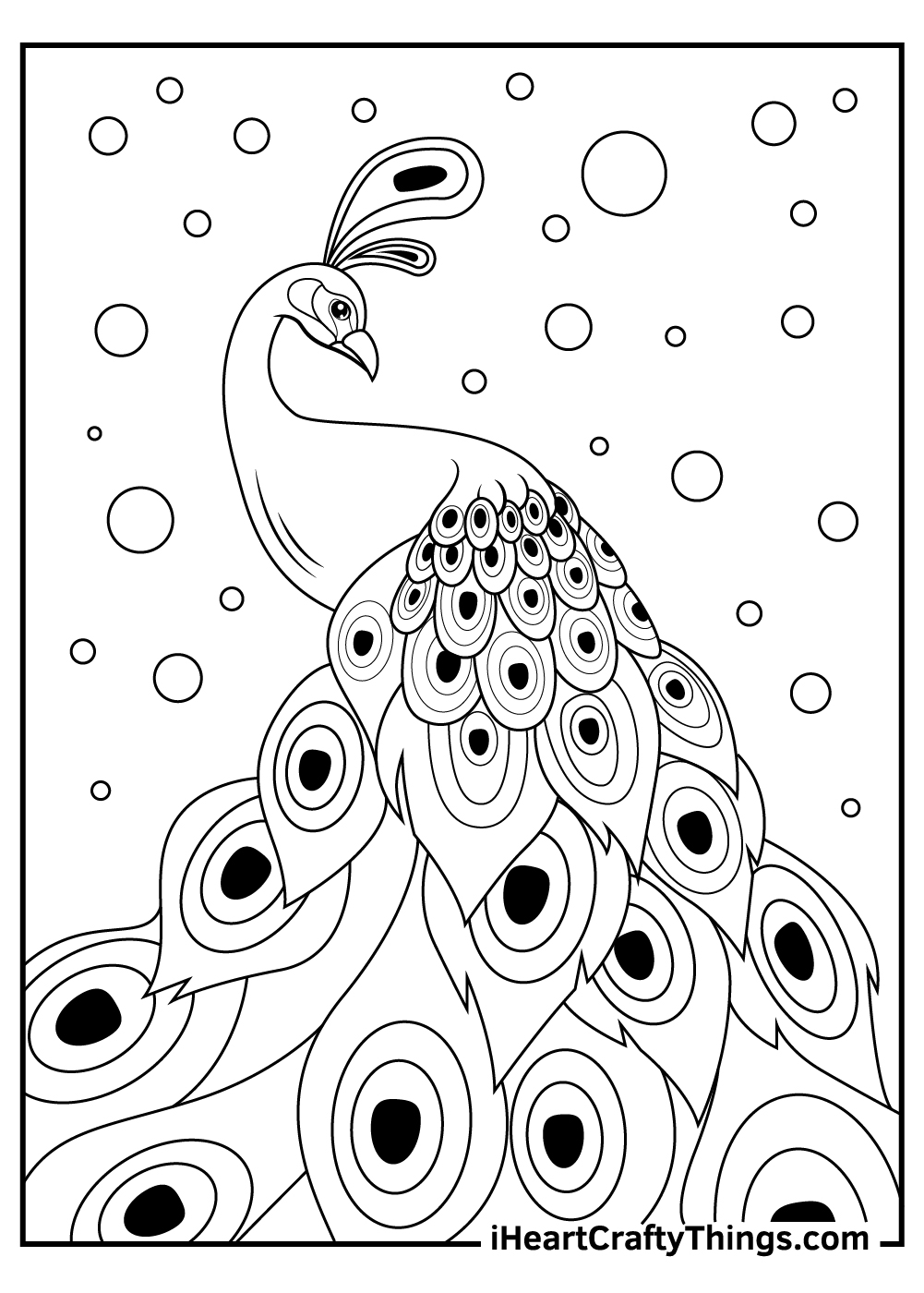 This elegant peacock coloring page is ideal for kids and adults who love detailed art. This regal peacock stands tall, fanning out his stunning tail feathers in a dazzling display.
His tail is adorned with intricate eye-shaped designs surrounded by curved and swirling patterns. A pointed crest made of five long feathers tops his head.
Add luxurious golds, coppers and turquoises as you meticulously color this ornamental peacock. When you're done, frame your artistic creation for all to admire.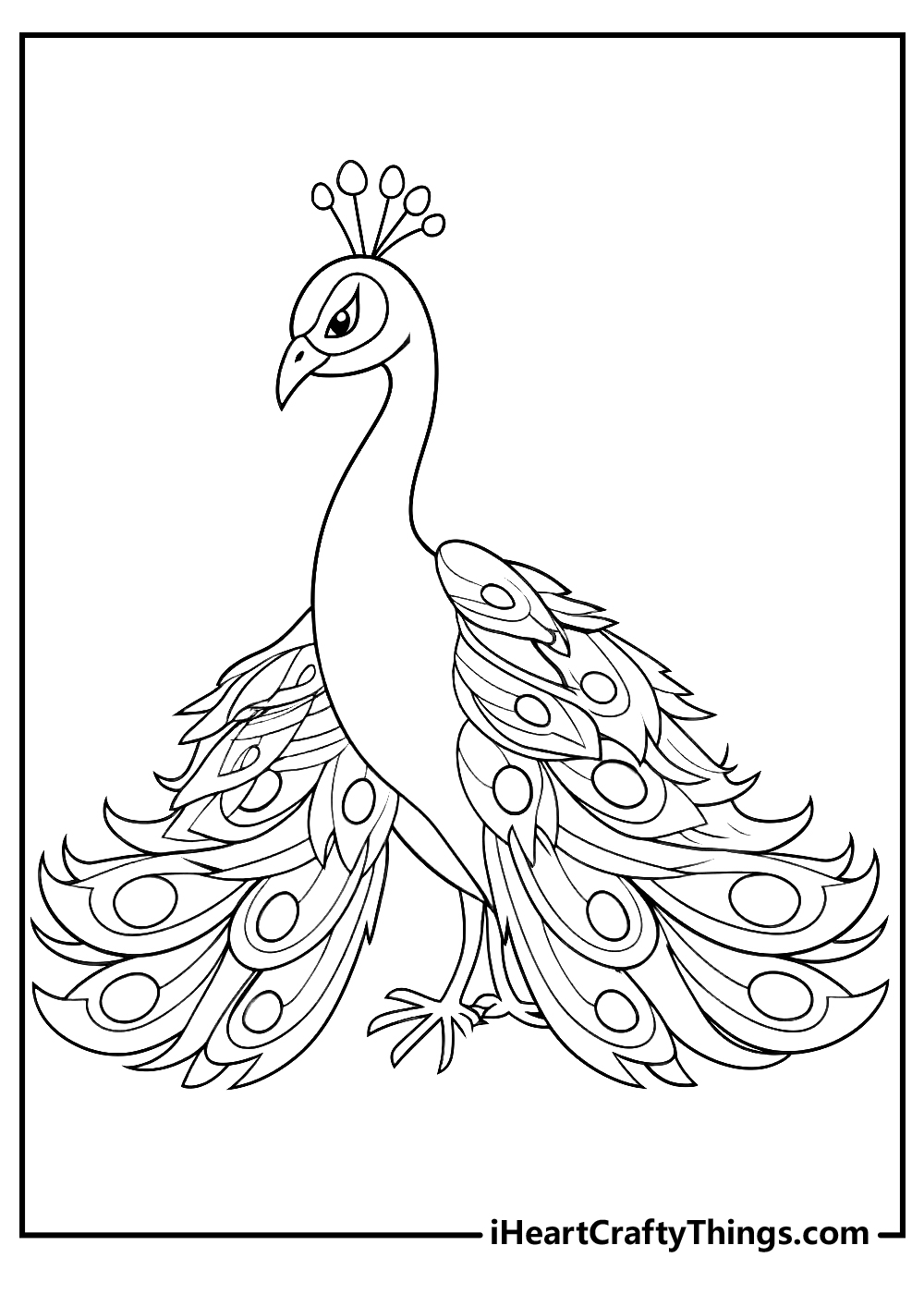 We have another close up on a peacock for our next fun printable. He looks very calm and content, wouldn't you say?
If I were coloring in this one, I'd keep the colors warm, intimate and cozy as that's the feeling I get from this one.
Do you think you'll go with warmer colors or a cooler palette? We can't wait to see what you choose!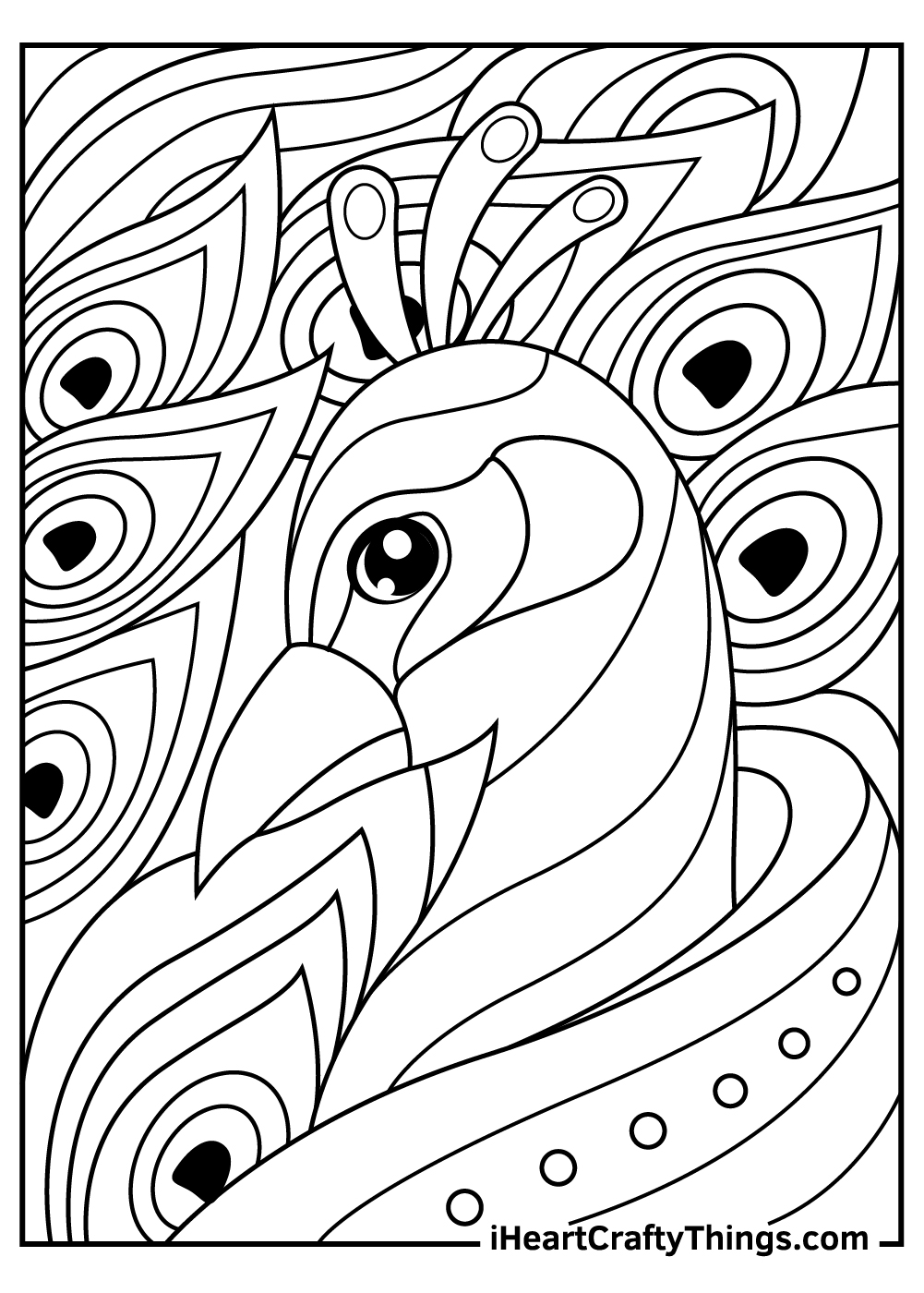 In this peacock coloring page, we see another pretty peacock surrounded by pretty bubbles.
Don't you think it would be great to color in this printable with an opposite color scheme to the previous peacock with bubbles? I bet they'd make a stunning pair!
This could be a good chance to try out different mediums and techniques to help the colors stand out.
REMEMBER: You can get the COMPLETE set of these coloring pages >> HERE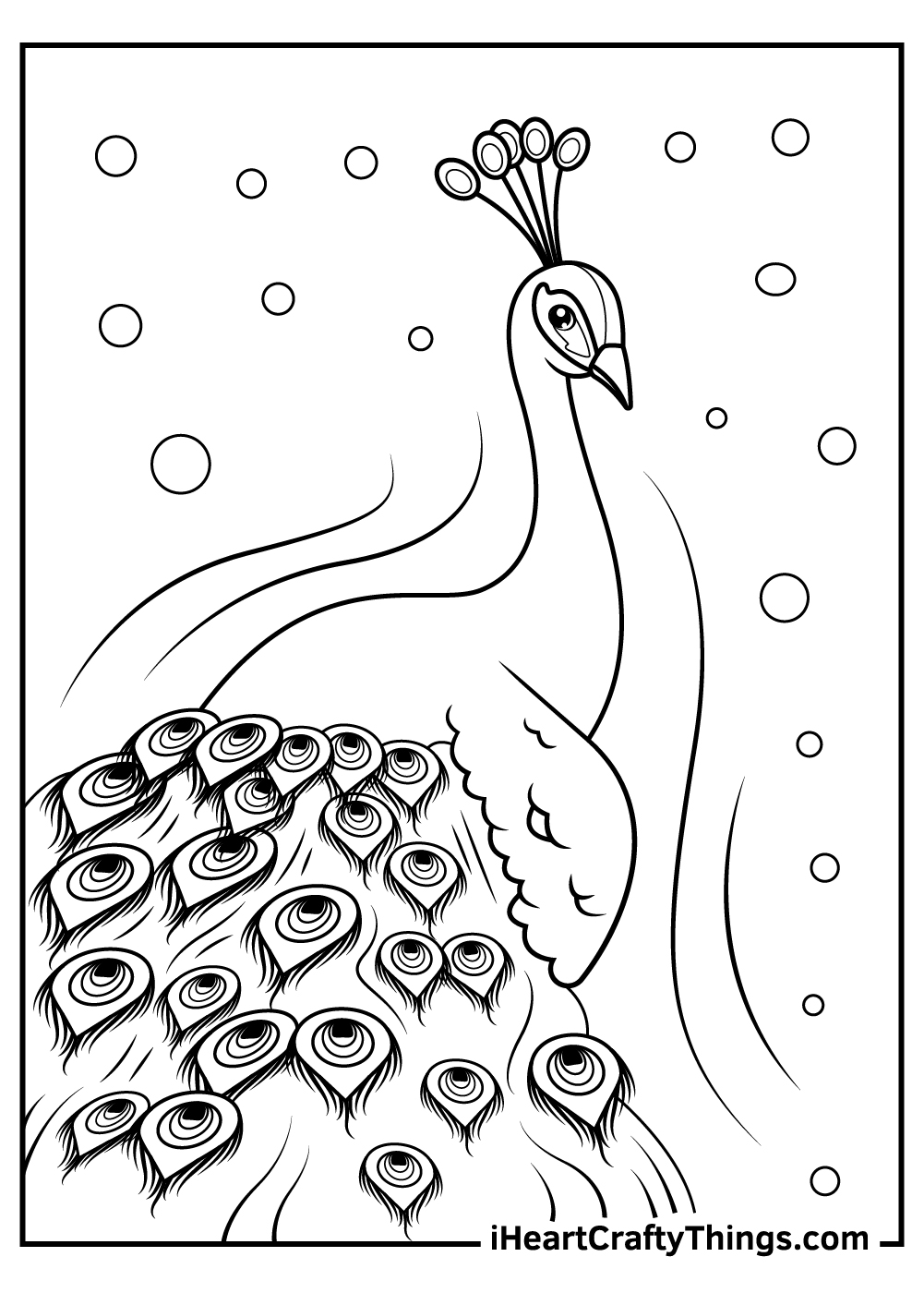 In this fun, nature-themed peacock coloring page, we have a peacock, walking with so much beauty and elegance, and showing off her extravagant tail feathers. Her tail features lovely feathers decorated with large, circular eye-like designs.
Atop her head sits a short crest of feathers. Peacocks are flashy birds native to parts of Asia that live in forests and grasslands. They use their splendid tails to attract mates.
After coloring this peacock with realistic greens, blues and browns, add details like flowers, butterflies and leaves to the forest background.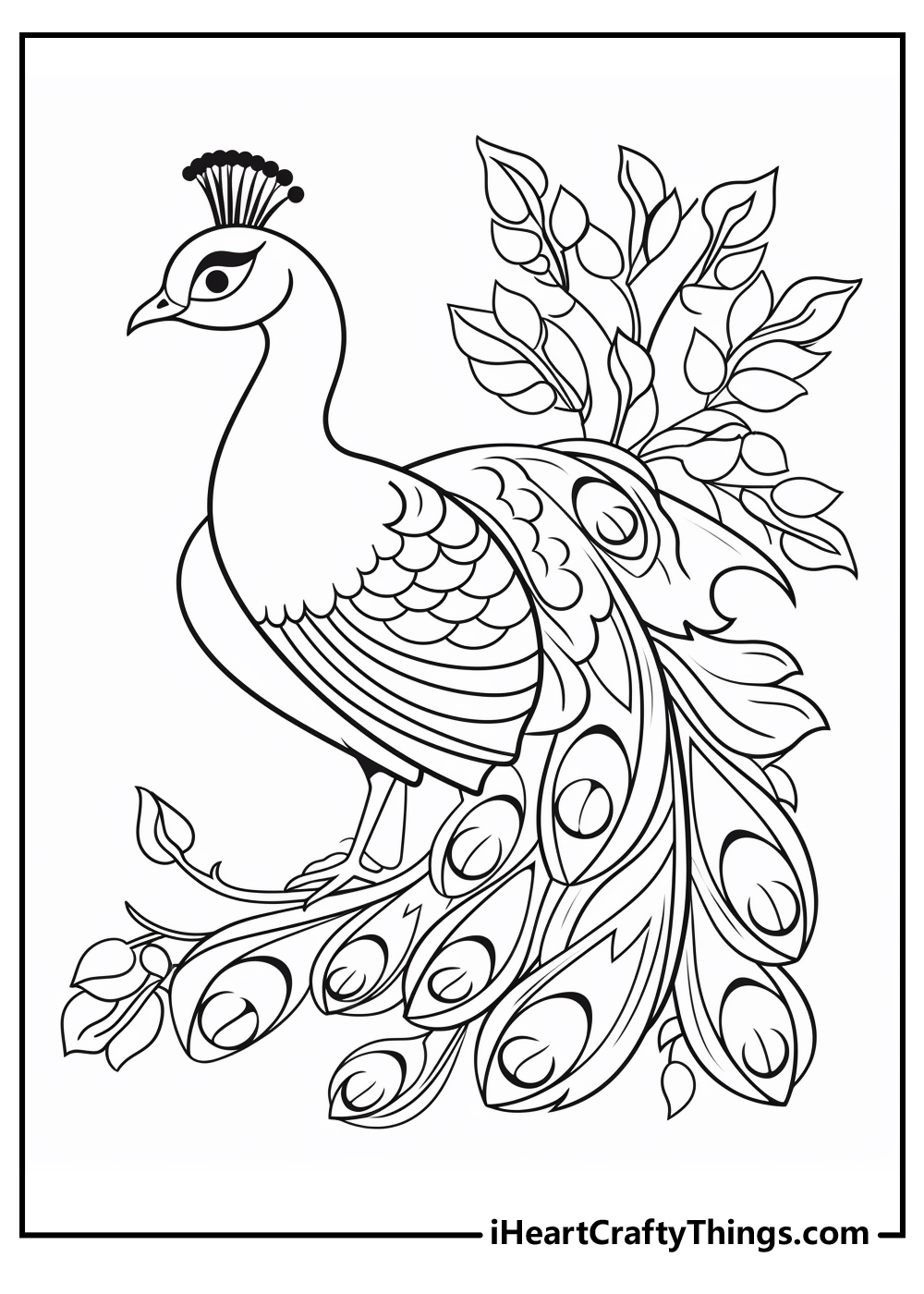 There's a calm aspect to this peacock coloring page, and we have another close up on one of these beautiful birds.
I think this printable in particular would look amazing with some pretty deep blues, greens and purples to really highlight the calming regality of this handsome peacock.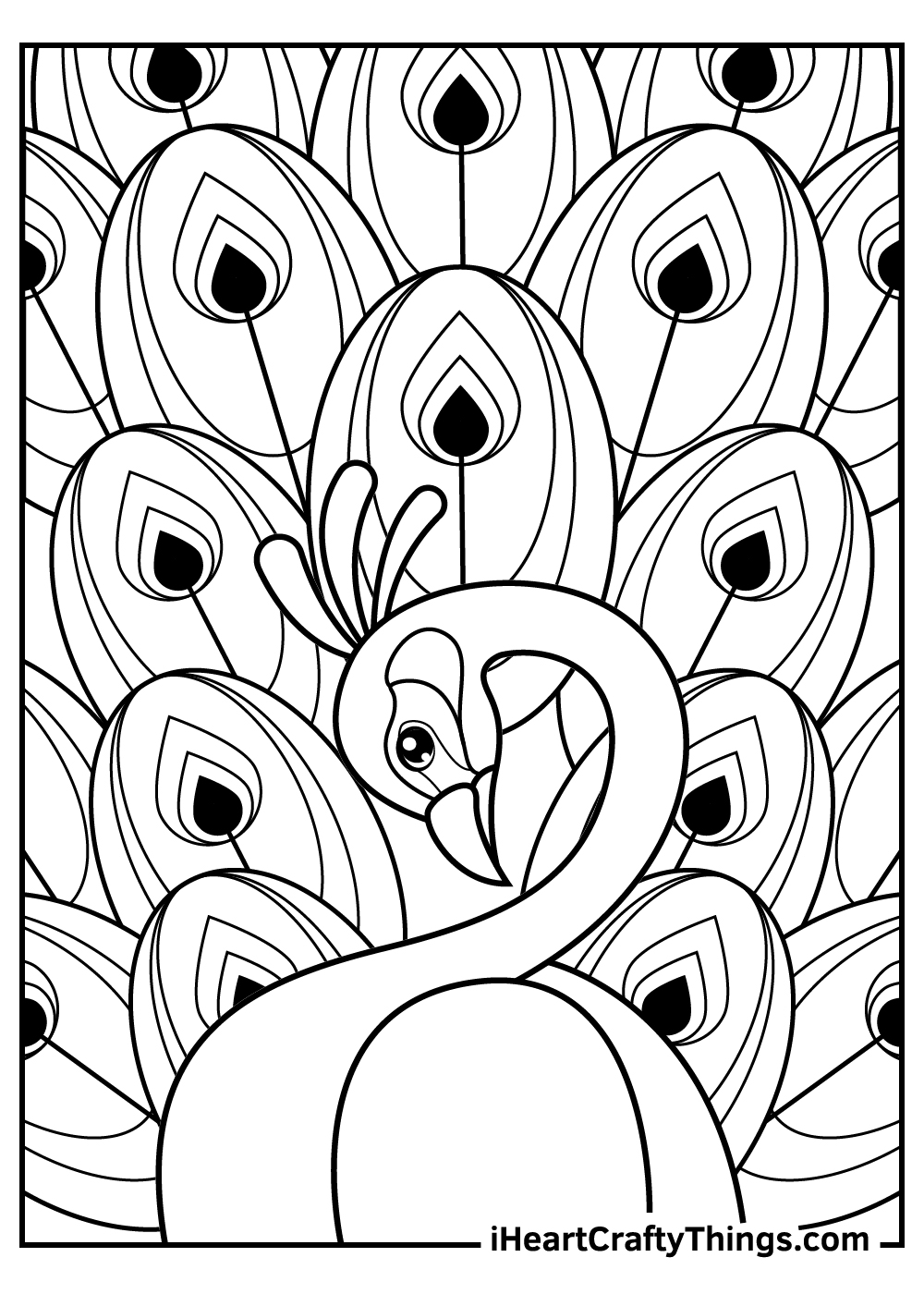 I love the creative design of this peacock coloring page! Making the background in the pattern of a peacock's tail feathers was a great idea, and really opens the door to some amazing creativity from you!
The great part about this image is I think it would look beautiful with any combination of colors.
I hope you really enjoy going wild with your colors on this one, and we can't wait to see what you come up with!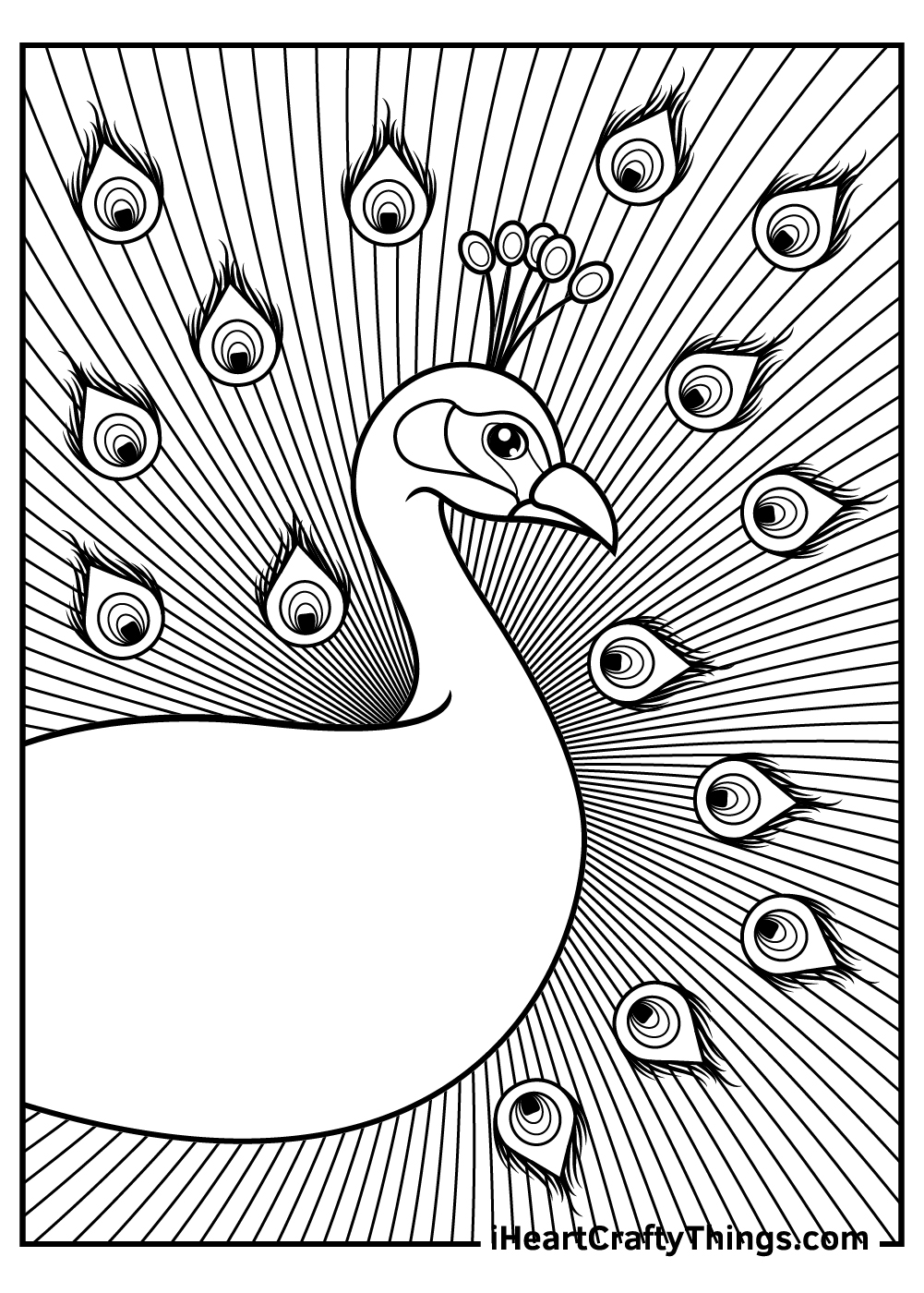 This peacock coloring page is a stunning and intricate one for teens and adults who love detailed patterns. She is brimming with confidence and has its tail feathers fanned out.
The tail feathers are intricately detailed with swirls and teardrop shapes that look gorgeous.
Use your finest coloring tools to add dramatic jewel tones, metallic sheens, vivid contrasts and subtle shading to this beautiful peacock.
Blend colors smoothly to mimic the iridescent sheen of real peacock feathers. When complete, your sophisticated artwork will dazzle any observer.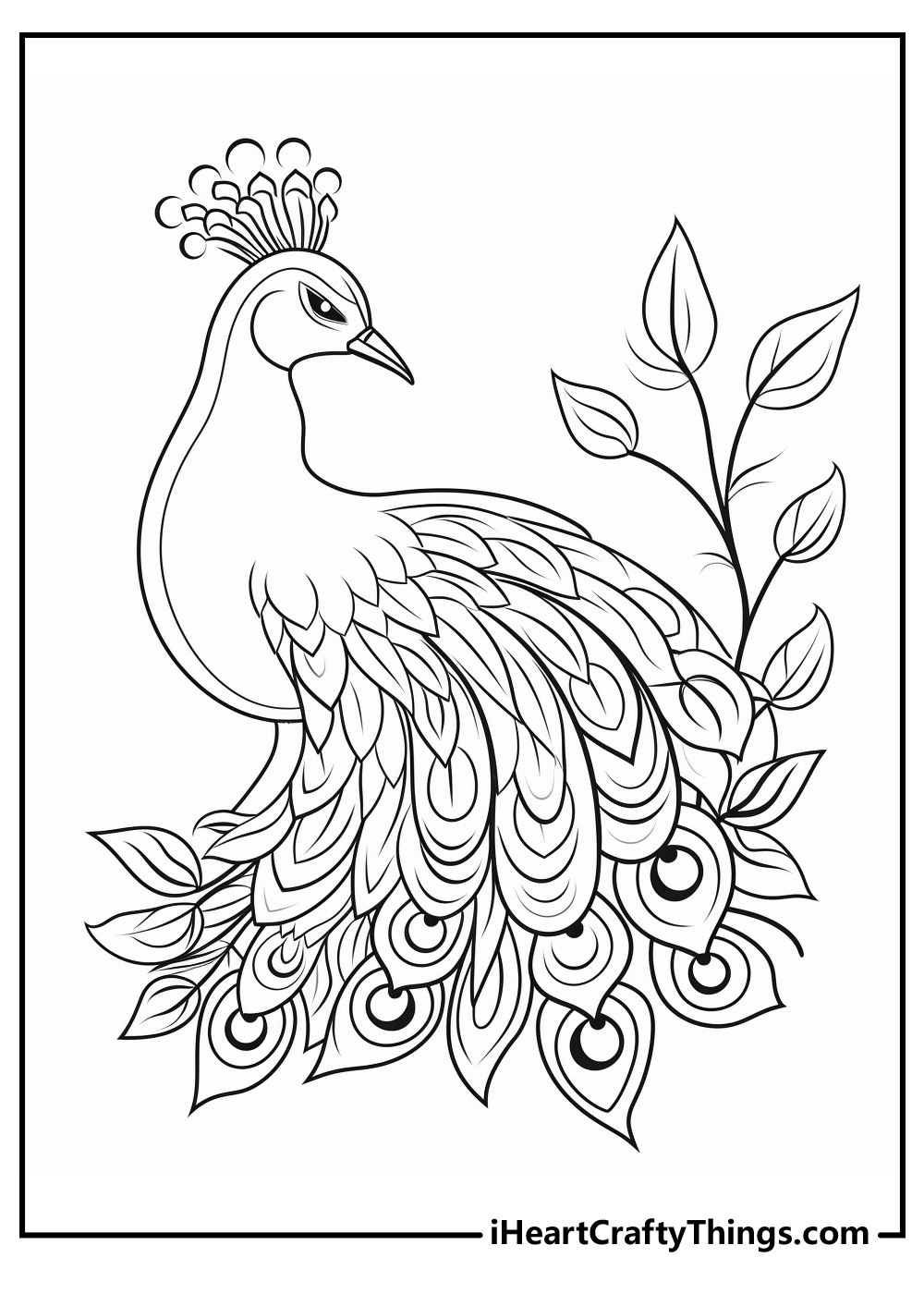 There's something a bit different in the next printable coloring page. The focus is fully on a single peacock feather glistening in the sunlight.
I think this feather would look great with a combination of warm and cool colors with the diamond shapes around it reflecting the colors of the feather.
With a nice bright background I'm sure this page will look amazing after you've colored it!
REMEMBER: You can get the COMPLETE set of these coloring pages >> HERE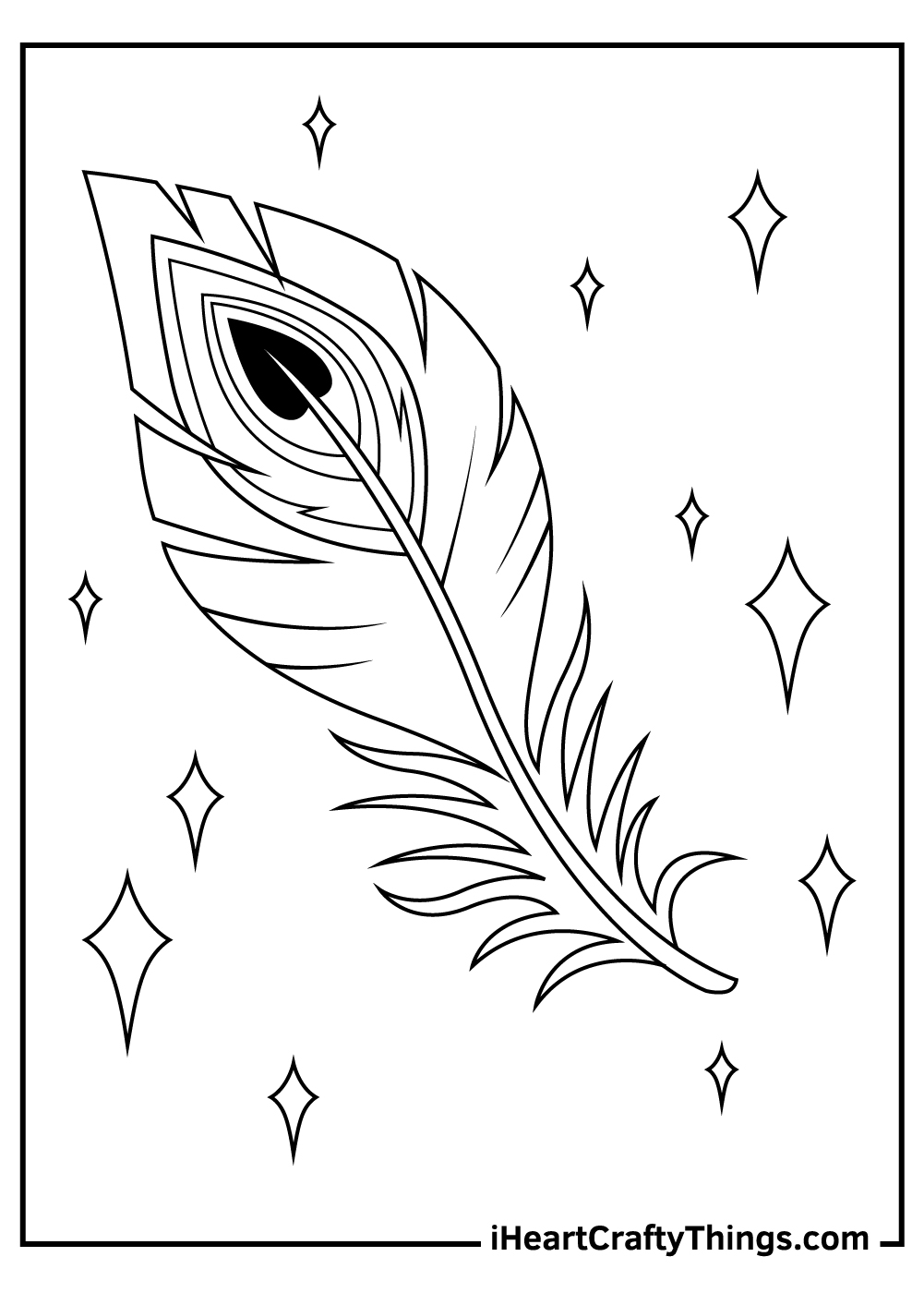 Here's something you don't see every day: a peacock looking a bit shy and humble!
I love the calm feeling radiating from this coloring page, and the stars around him show that he's beautiful and showing off that beauty despite being humble looking.
I think it would be fun to have this peacock be one of the most brightly colored of any in this collection to contrast the humility he's displaying.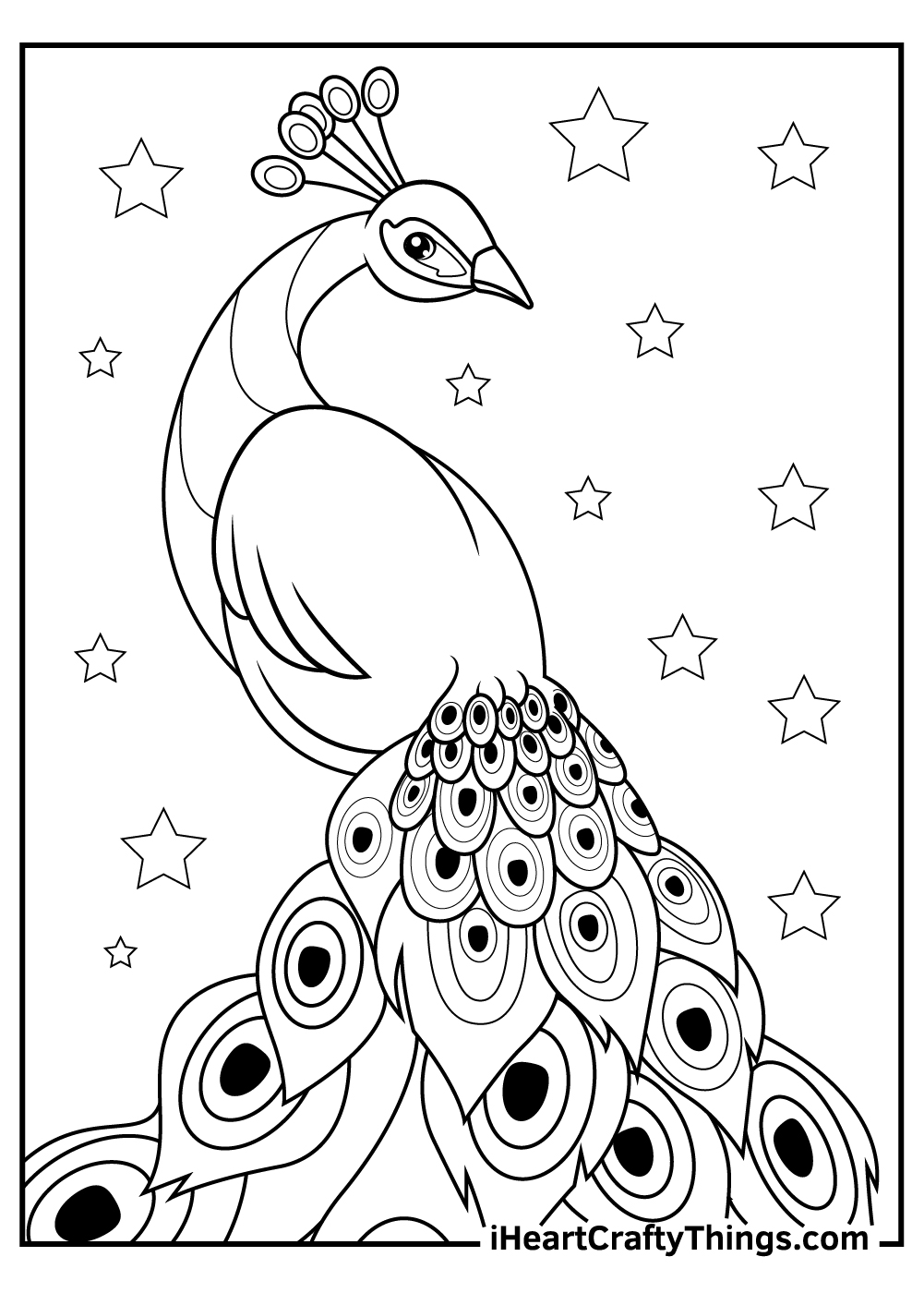 This romantic peacock coloring page is perfect for crafters of all ages. The graceful peacock stands amidst roses and leaves, spreading his splendid tail feathers.
Intricate feathers cover her body as she shows off his grand tail adorned with circular eye designs.
Beautiful roses in full bloom surround him, their petals sweeping downward.
Use pinks, reds, and corals to color the elegant roses. Add shimmery blues, greens and purples to the peacock's feathers. Employ blending, shading and contrast to make your artwork pop.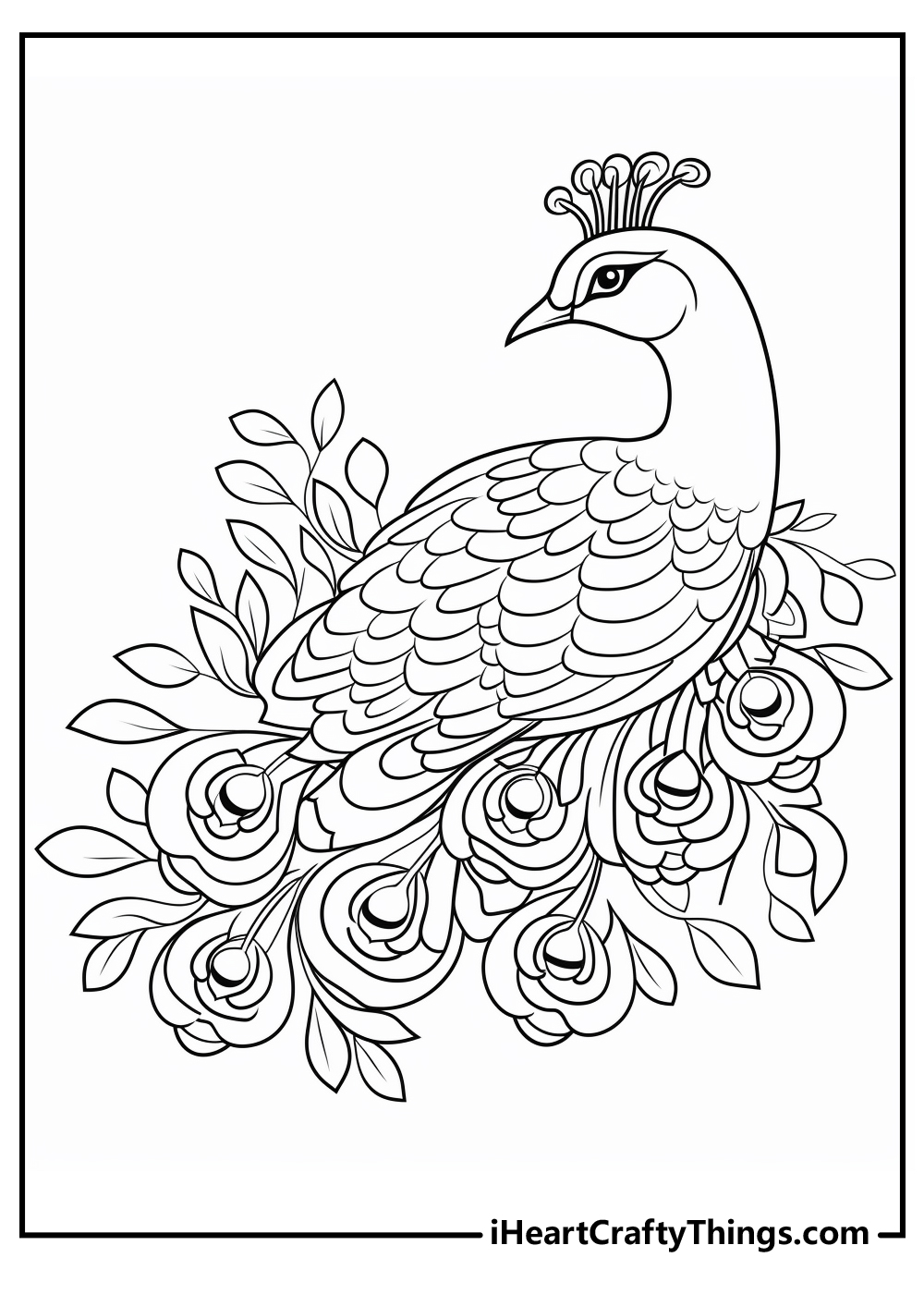 The last free printable of this collection has another creative design for you to experiment with.
This peacock has feathers and shapes floating behind him, and my thought for this coloring page is to go bold with lots of different color variations and bright tones to really make this page pop!
This could end up having the most colors out of any of these coloring pages.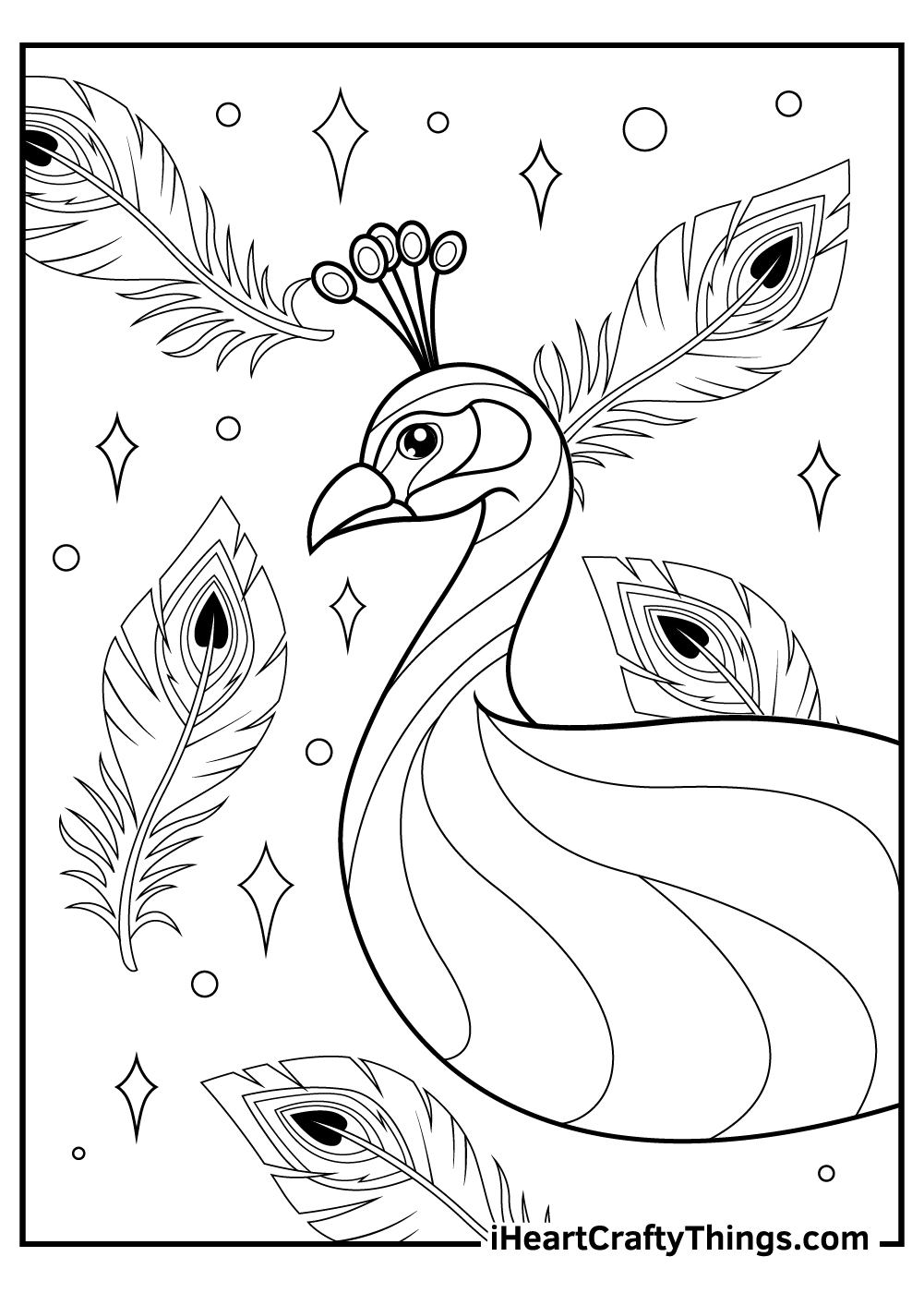 Peacock Coloring Pages – Which will you choose?
We hope this collection of peacock coloring pages brought a bit of joy and vibrancy into your life!
Don't forget that all of our coloring book page printables are completely free for you to print out as many times as you like.
That means you can really try out different colors and patterns for these peacocks and experiment with different variations of the same images.
We hope you'll share some of your gorgeous and colorful creations with us on our Facebook page, it really brightens our day to see your creativity!
Also, don't forget to like and share our page with your friends for plenty more amazing coloring page printables to enjoy!
REMEMBER: You can get the COMPLETE set of these coloring pages >> HERE