On this page, you will find 30 all new Harry Potter coloring pages that are completely free to print and download.
We can all use a little magic in our lives, and that is exactly what the Harry Potter series has done for many people!
This is a series that began with 7 books and has since been adapted to films, video games and any other media you can think of.
We're here to celebrate the series with these free Harry Potter coloring pages for kids!
This is a collection of 30 awesome pages for you to pick, print, color and have a great time with. You can also share them with other muggles in your life!
Your favorite pages can also be shared on our Facebook and Pinterest pages when they're done!
30 Brand New Harry Potter Coloring Pages – Free to Print and Color
This portrayal of the boy who lived that we are showing on this Harry Potter coloring sheet is a really cute design!
Even though it is done in a cartoony, stylistic way, it manages to capture his character brilliantly.
There are even details such as his school scarf that you could color with the Gryffindor colors of red and gold.
There are also smaller details such as his lightning bolt scar, so you have plenty to keep you busy despite the simpler style.
We can't wait to see how you color this portrayal of Harry!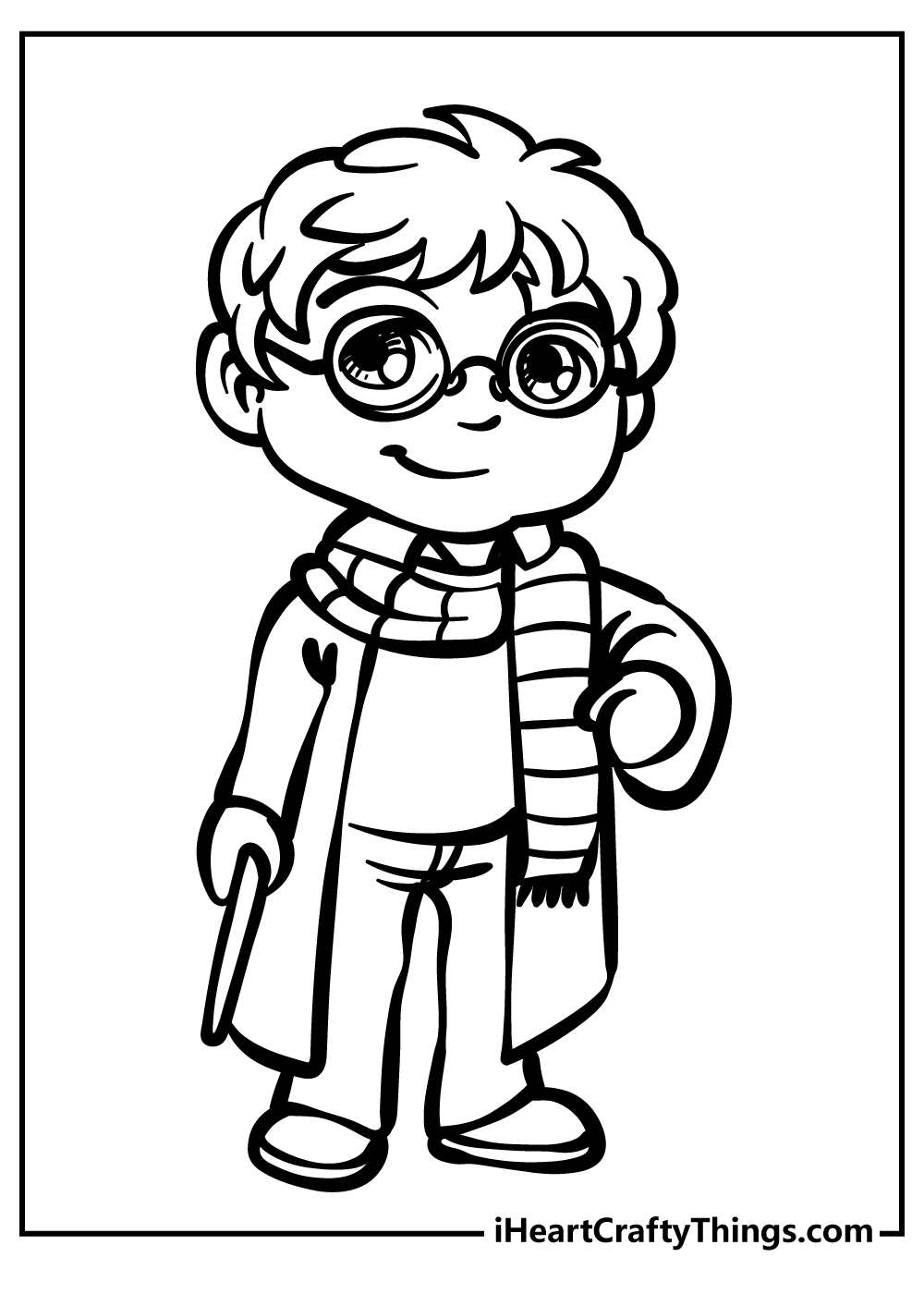 The Harry Potter series is full of many weird and wonderful characters, and the next one we are featuring is one of the most beloved!
Luna Lovegood is a character introduced a bit later in the series, and she is a really quirky and fun character.
She believes in many things that others think is silly, but she never lets people discourage her.
As for her look, she has light blonde hair and is a member of Ravenclaw. This school house has primarily blues as its color scheme, and you could incorporate some lovely blues into this image.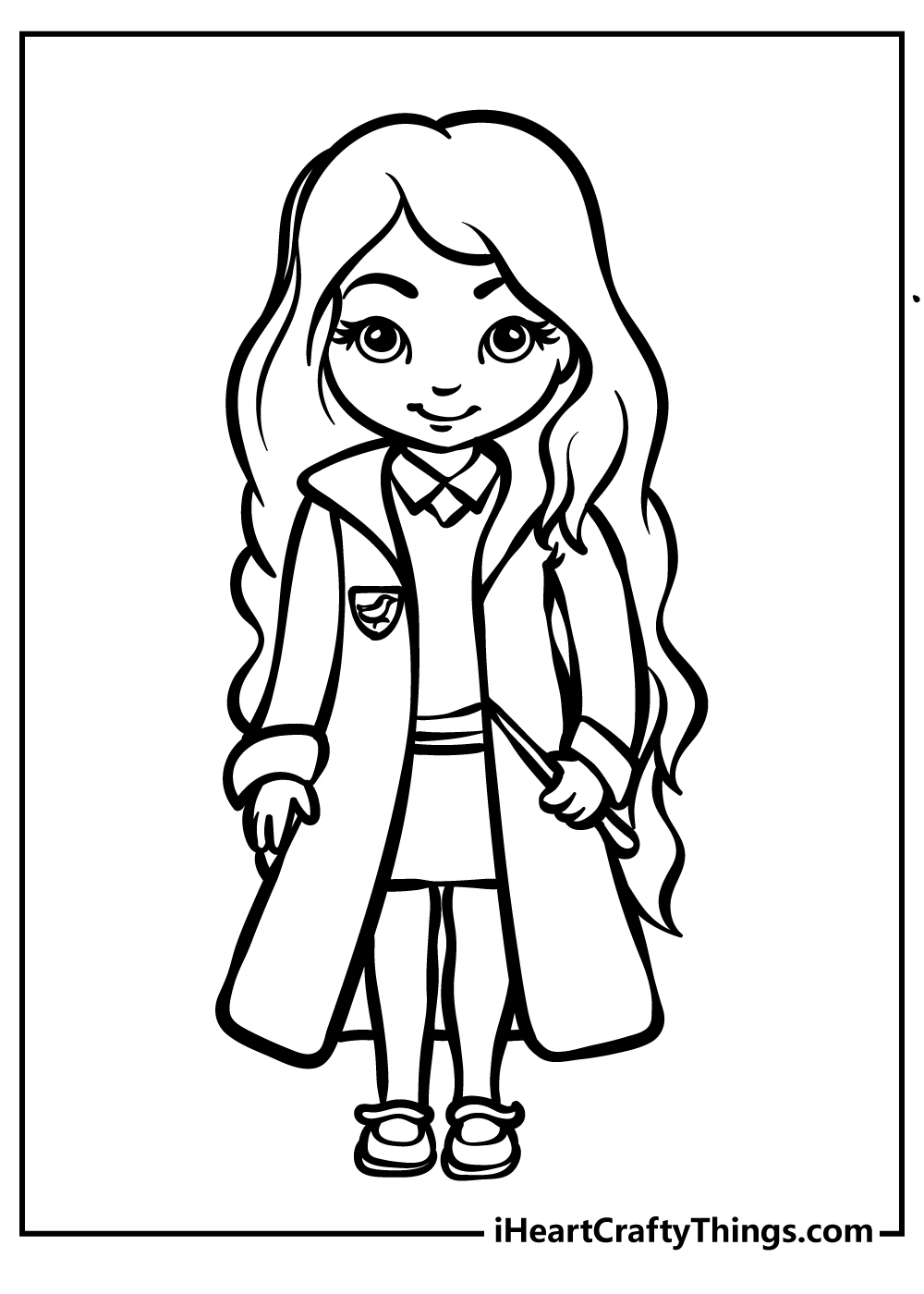 Young wizard Harry Potter is ready for adventure with his wand in hand! His round glasses, messy hair, and Gryffindor scarf make him look just like the Harry Potter we know from the books and movies.
He's smiling as he thinks about going to Hogwarts School of Witchcraft and Wizardry for the first time. Add bright, fun colors that match Harry's happy personality.
Red and gold would be great for his scarf to represent Gryffindor house.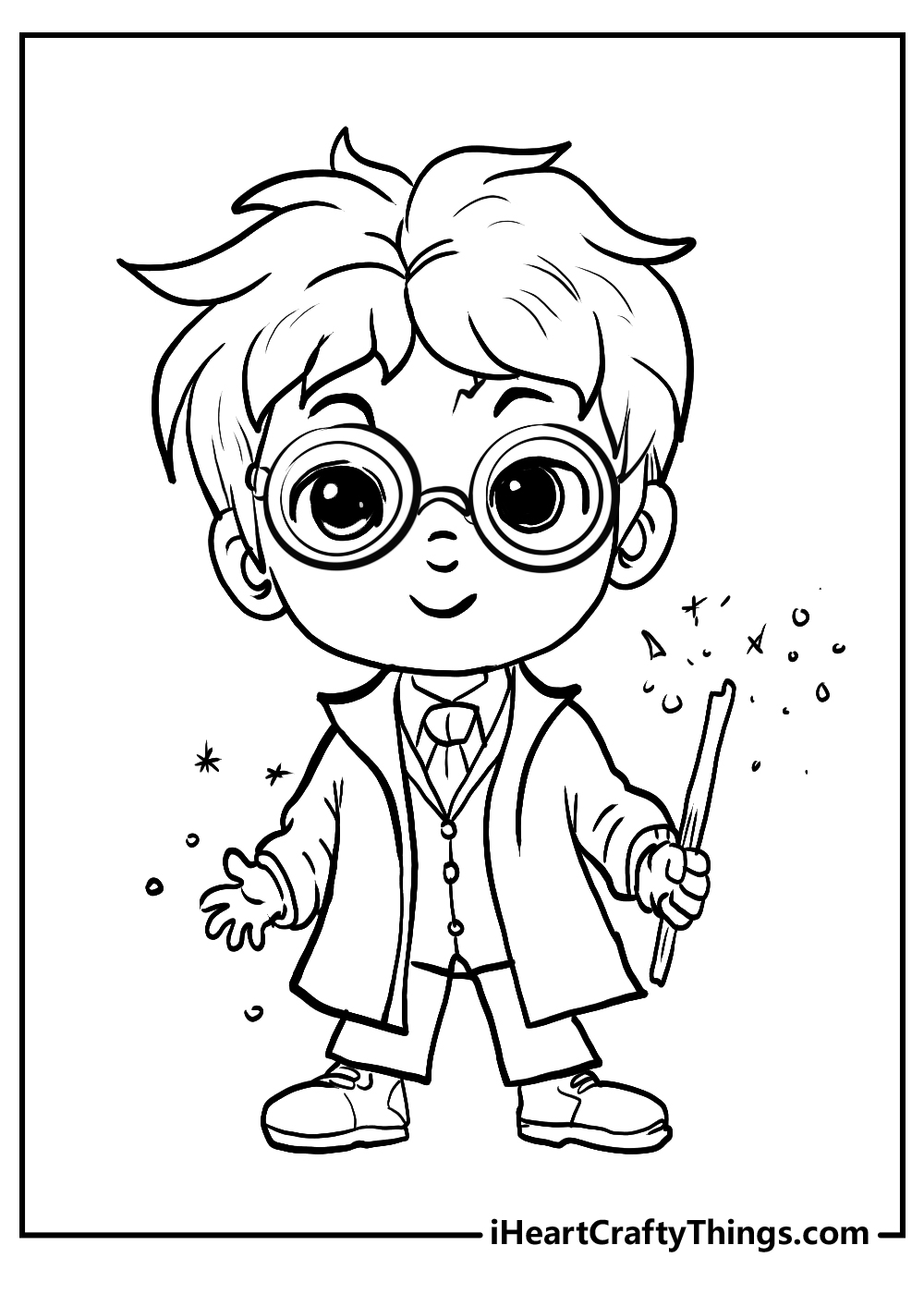 Harry is joined on almost all of his adventures by his two best friends, and one of those friends is the focus of our first Harry Potter coloring sheet!
Hermione Granger is known for her intelligence and resourcefulness, and she is drawn in an adorable cartoon style on this page. How will you start this collection with your colors?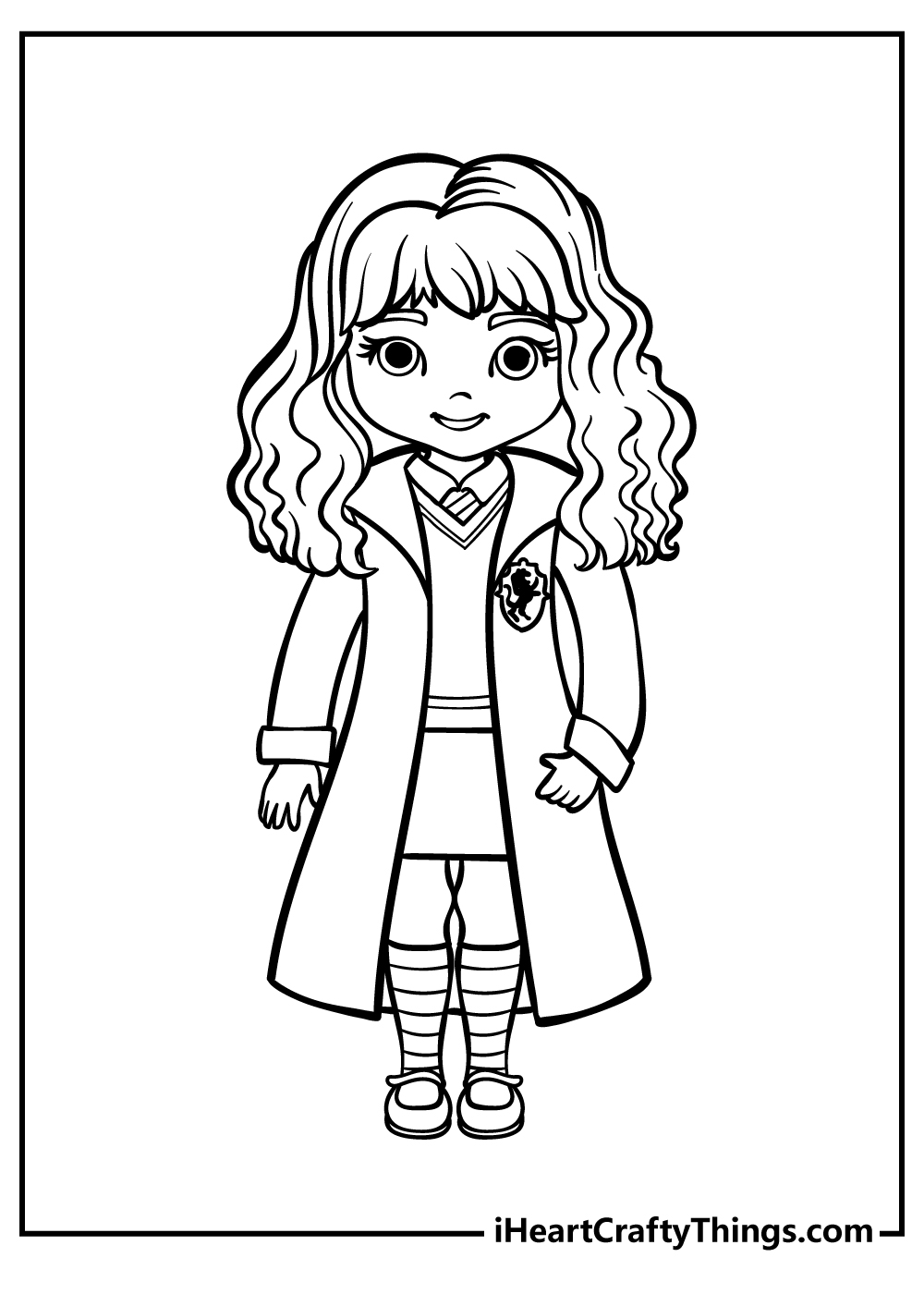 Here we see the famous Harry Potter with his hand casually in his pocket, looking as relaxed as can be. Those familiar round glasses and perpetually untidy dark hair are classic trademarks of the Boy Who Lived.
His cozy winter coat and Gryffindor scarf keep him warm on chilly days at Hogwarts. Use your favorite muted earthy tones for a calm vibe or go with vivid shades if Harry is feeling particularly cheerful today!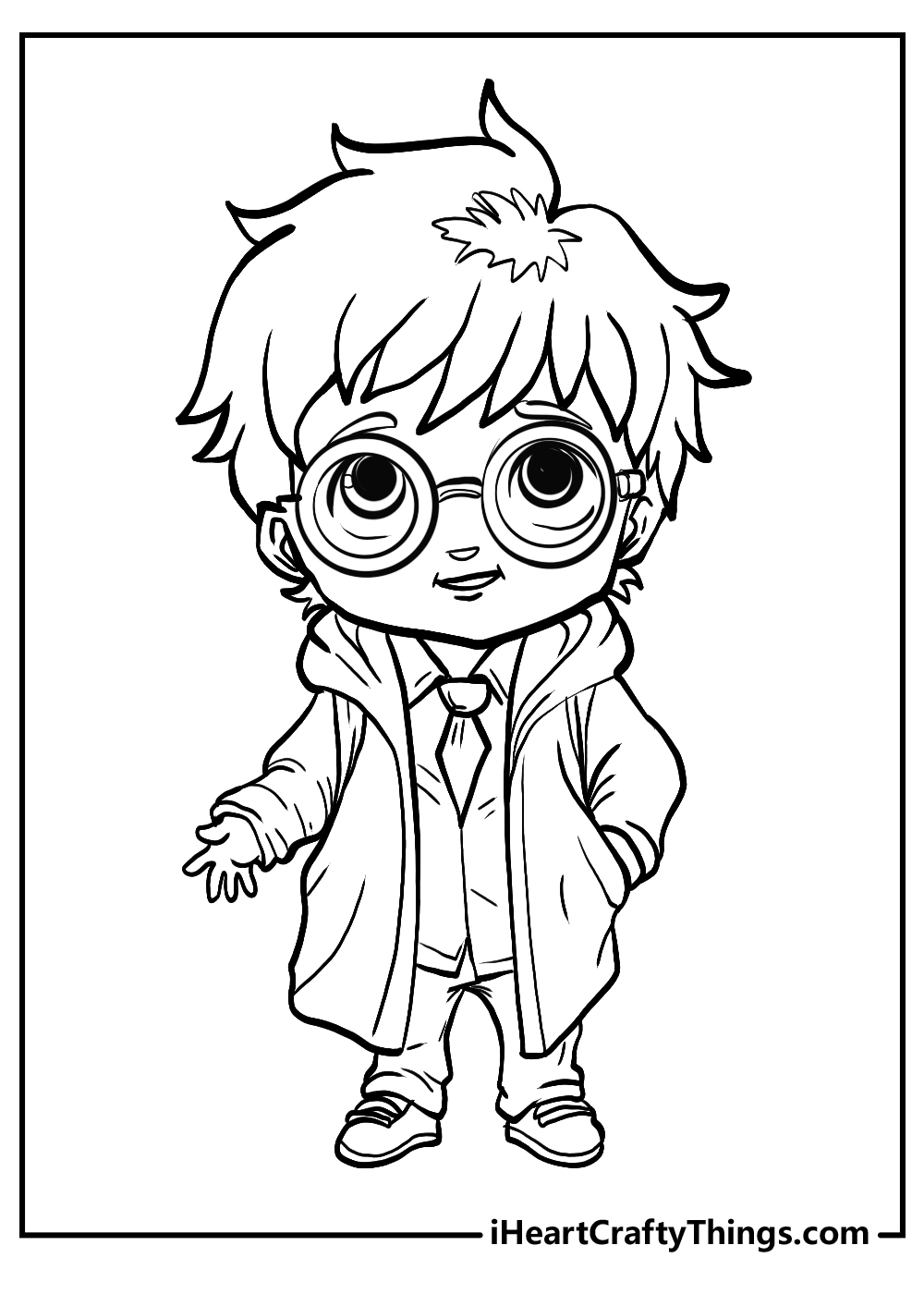 We have another awesome depiction of Hermione in this second page. Here she is in her school robes, and she looks to be in the middle of casting a spell.
Her school house is Gryffindor, and that means you can incorporate small details of red and gold to represent her house colors into her uniform!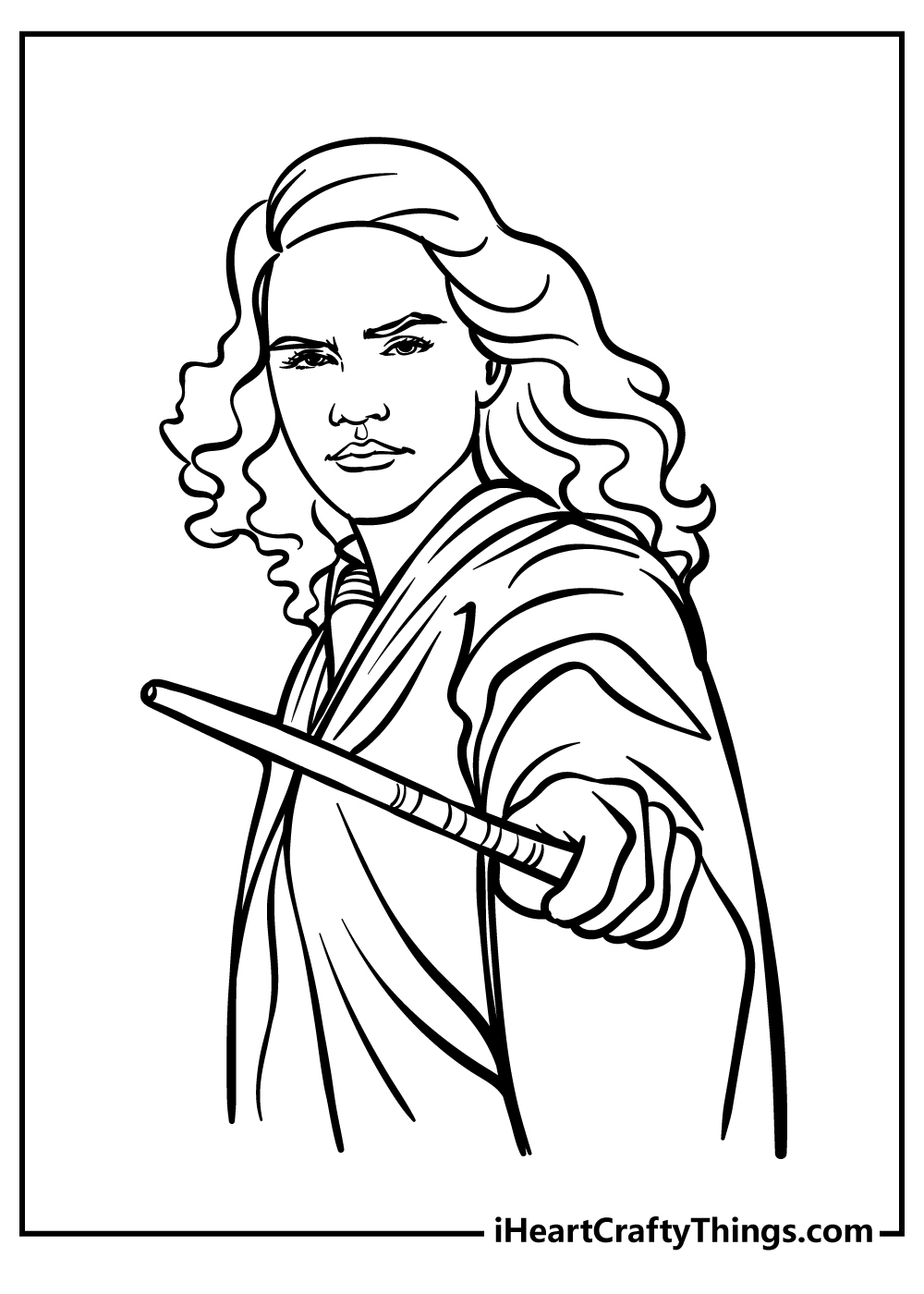 Harry is back for more coloring fun, and this time he is not alone! In this fun scene, he is joined by his beloved owl Hedwig.
Owls in the Harry Potter universe are used mostly as mail deliverers, but Hedwig has proven time and again to be a loyal friend and companion to Harry.
Hedwig is a snowy white owl, but even if you stick to these colors, you have plenty of details on Harry and his outfit that you can color in.
You could also add some fun background details to really finish off the scene!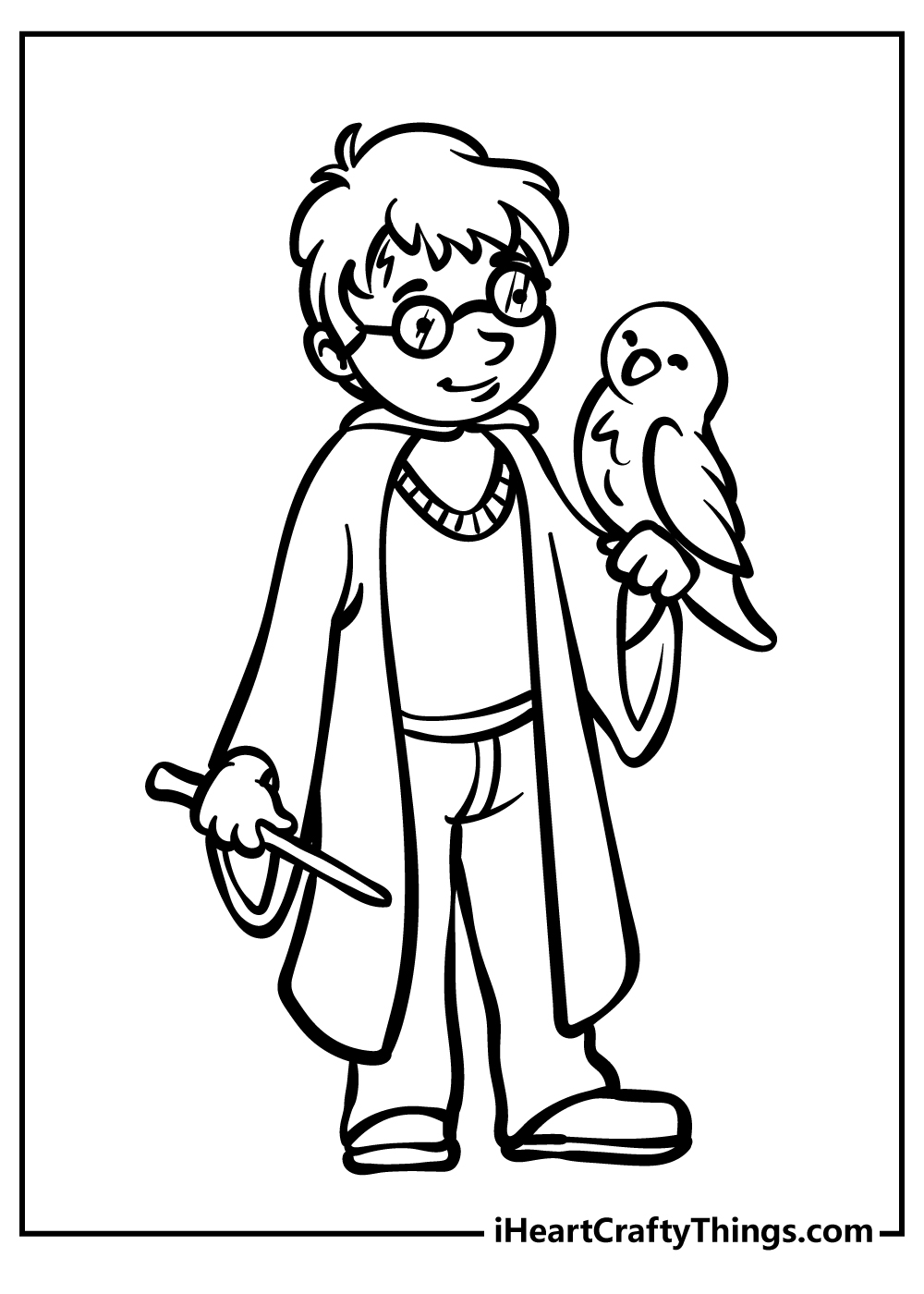 Abracadabra! Young Harry Potter raises his phoenix feather wand high, all set to practice some magical spells and charms.
His dark-rimmed glasses and disheveled hair are his trademarks, and his winter coat means he's ready for anything, even the cold Scottish winters at Hogwarts.
Make colors zoom and sparkle around him with vivid reds, greens, purples, and more as you bring his magic to life on the page.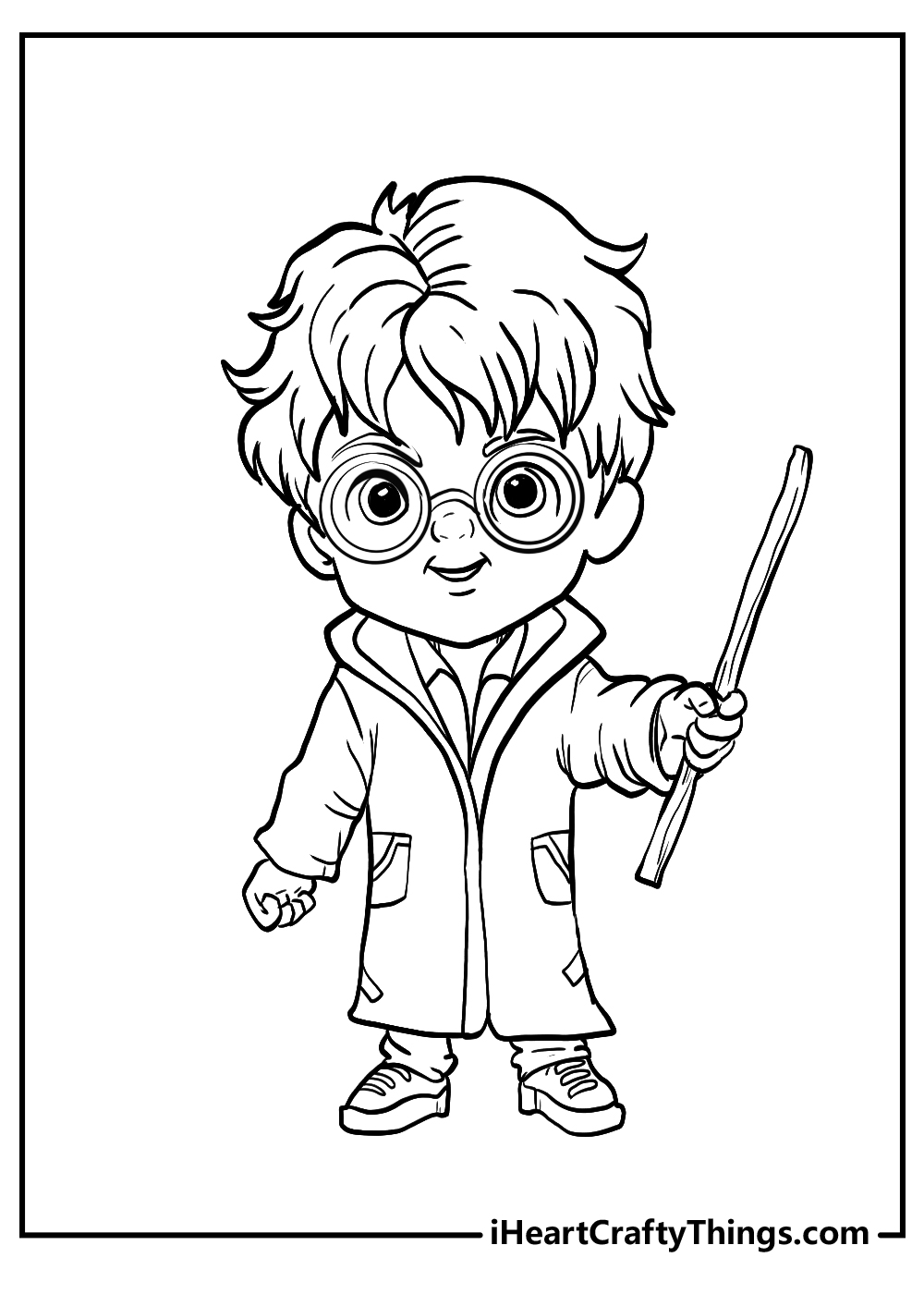 For the next page we are featuring in this collection of free Harry Potter coloring pages for kids, we have one of Harry's best friends.
Hermione Granger is one of the first friends that Harry makes at Hogwarts, and she is one of the most beloved characters in the series.
She is known for being incredibly intelligent and capable, and she is also fiercely loyal to her friends. She is also joined by her grumpy cat, Crookshanks, and this cat is described as being bright orange.
What colors will you use for this portrayal of Hermione?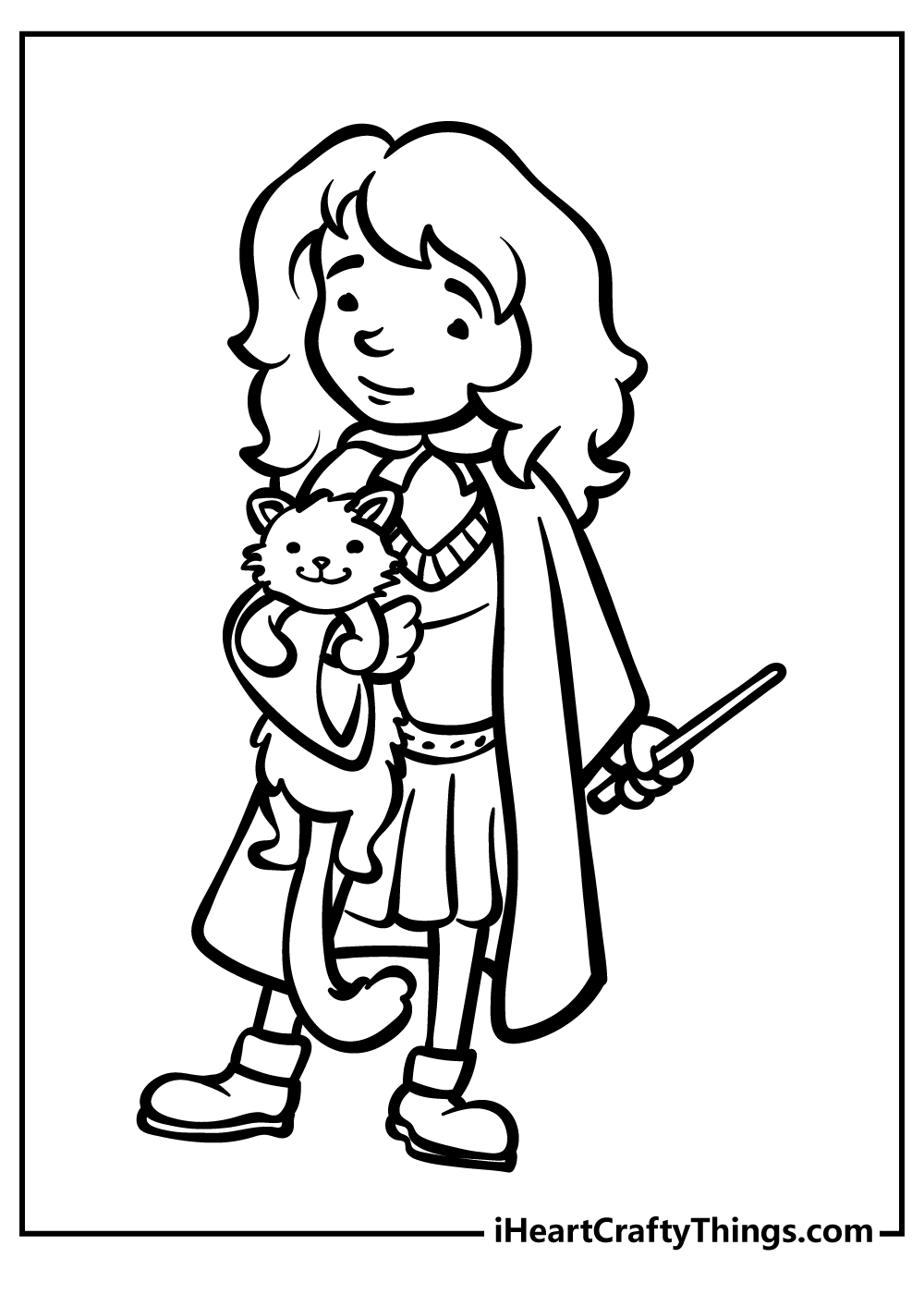 This third page features Hermione in more casual attire, but she is still looking pretty serious! Her wand is at the ready, so she is probably on a thrilling adventure with her friends!
Perhaps you could draw a background to represent a scene from the films where she may have been dressed like this.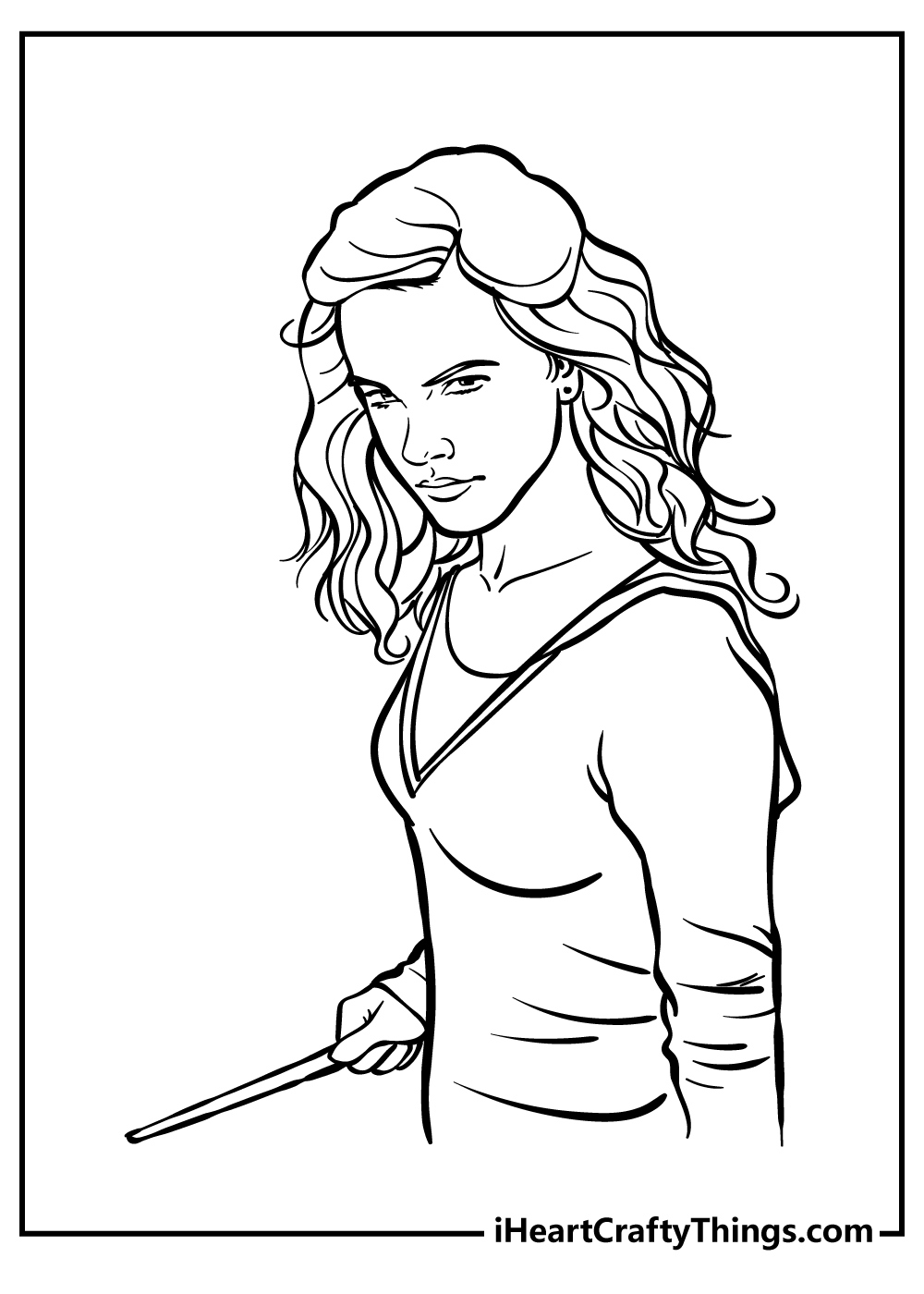 Harry Potter has his wand pointed high, ready to conjure up some incredible magic! His delighted grin shows how excited he is to try out his latest wizarding tricks and techniques.
As the famous Boy Who Lived, Harry loves every chance to practice his skills from Charms class. Give him a colorful, vibrant background with every color of the rainbow to match his enthusiasm.
Add in his round glasses, perpetually messy dark hair, and lightning bolt scar that are his trademarks.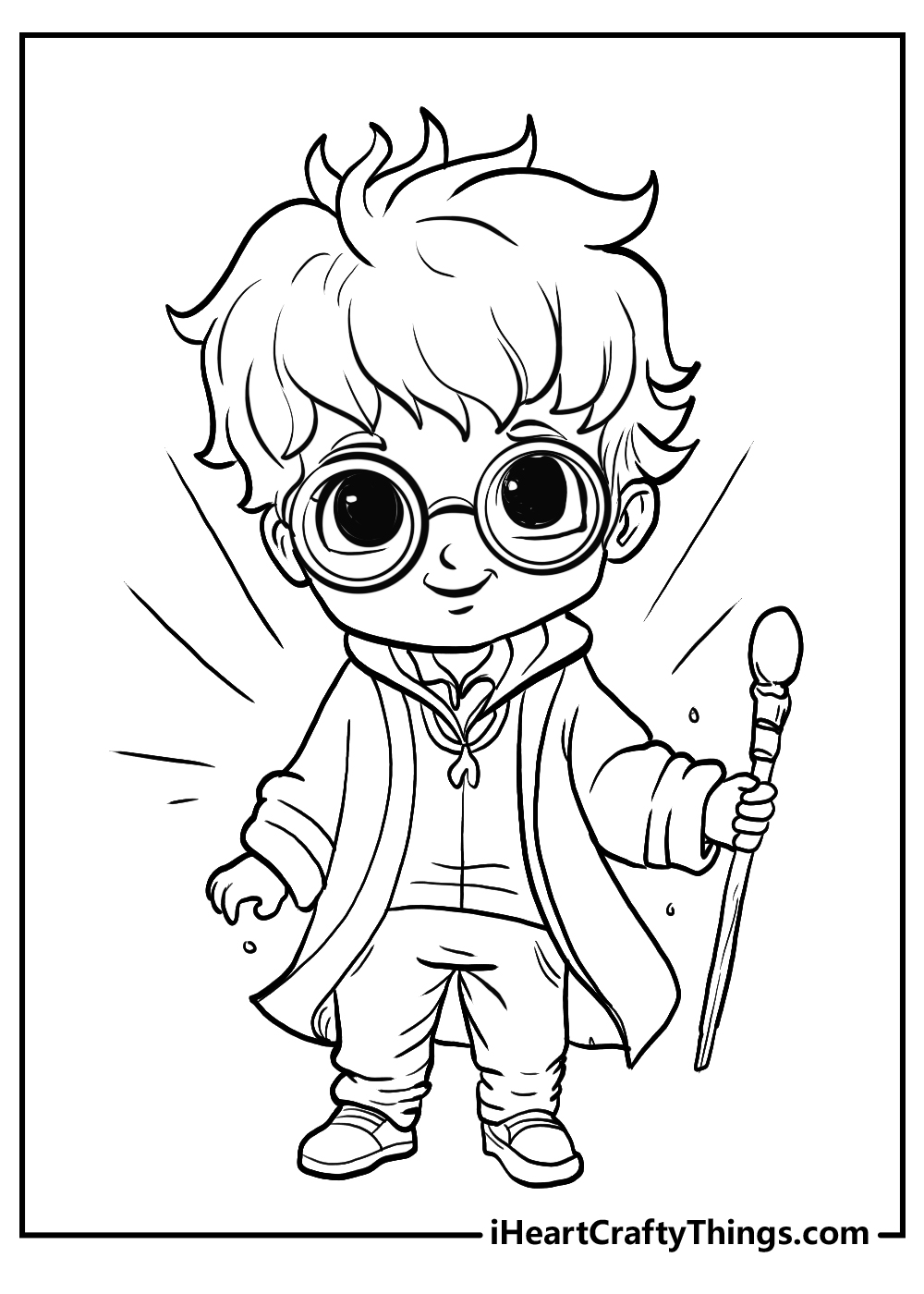 It's time to color the man himself, as Harry is featured on this next page! He is also dressed in his school robes, and we get a better look at elements such as his tie and badge.
This means you can incorporate even more of those reds and golds to these details to add some smaller details that really pop!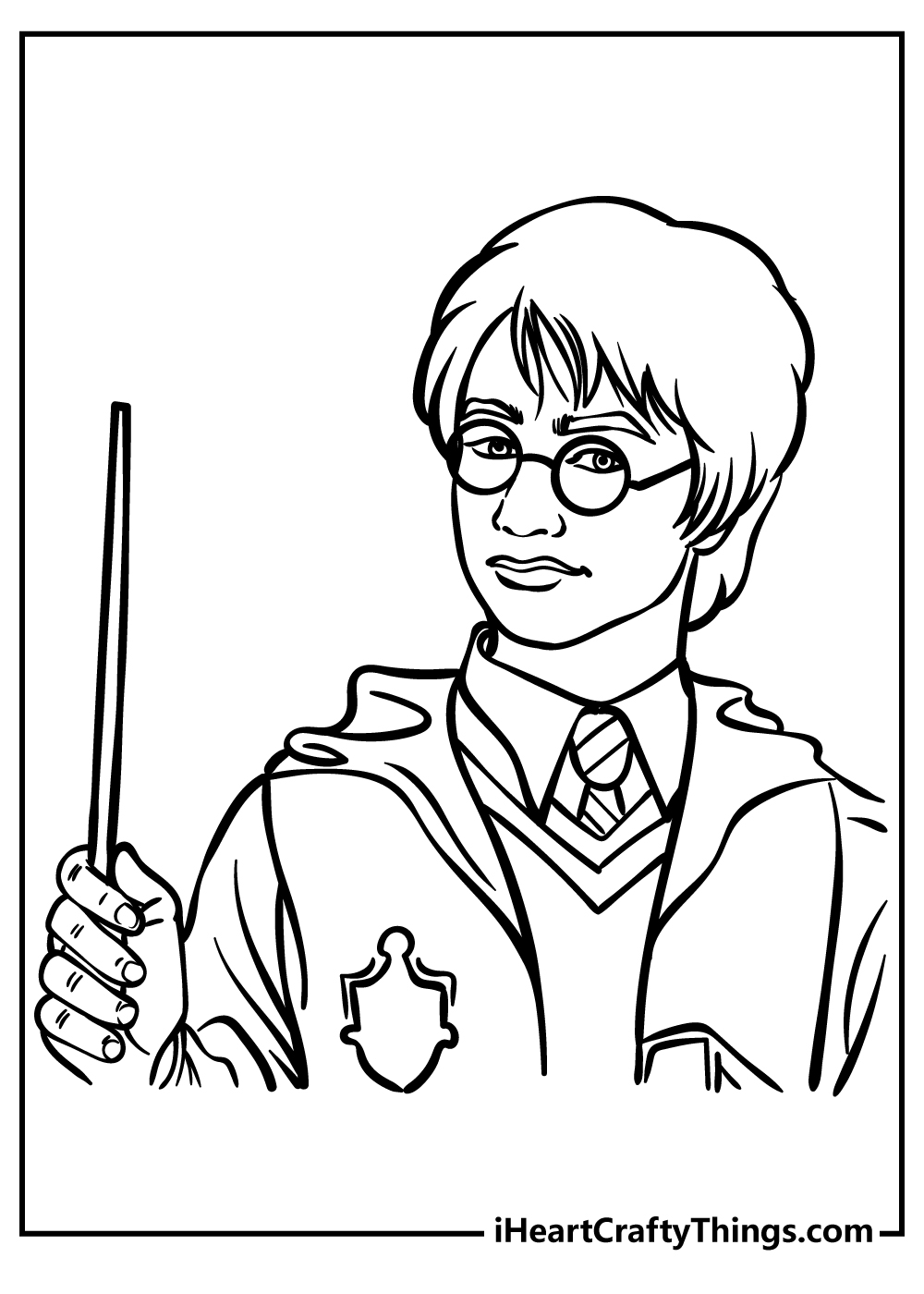 Our next page in this collection of free Harry Potter coloring pages for kids features Harry in the middle of casting a spell.
He has a serious look on his face, so this is probably a tricky spell to pull off!
You could add some bright colors around his wand to represent the look of a spell coming from it. What spell do you think he could be casting?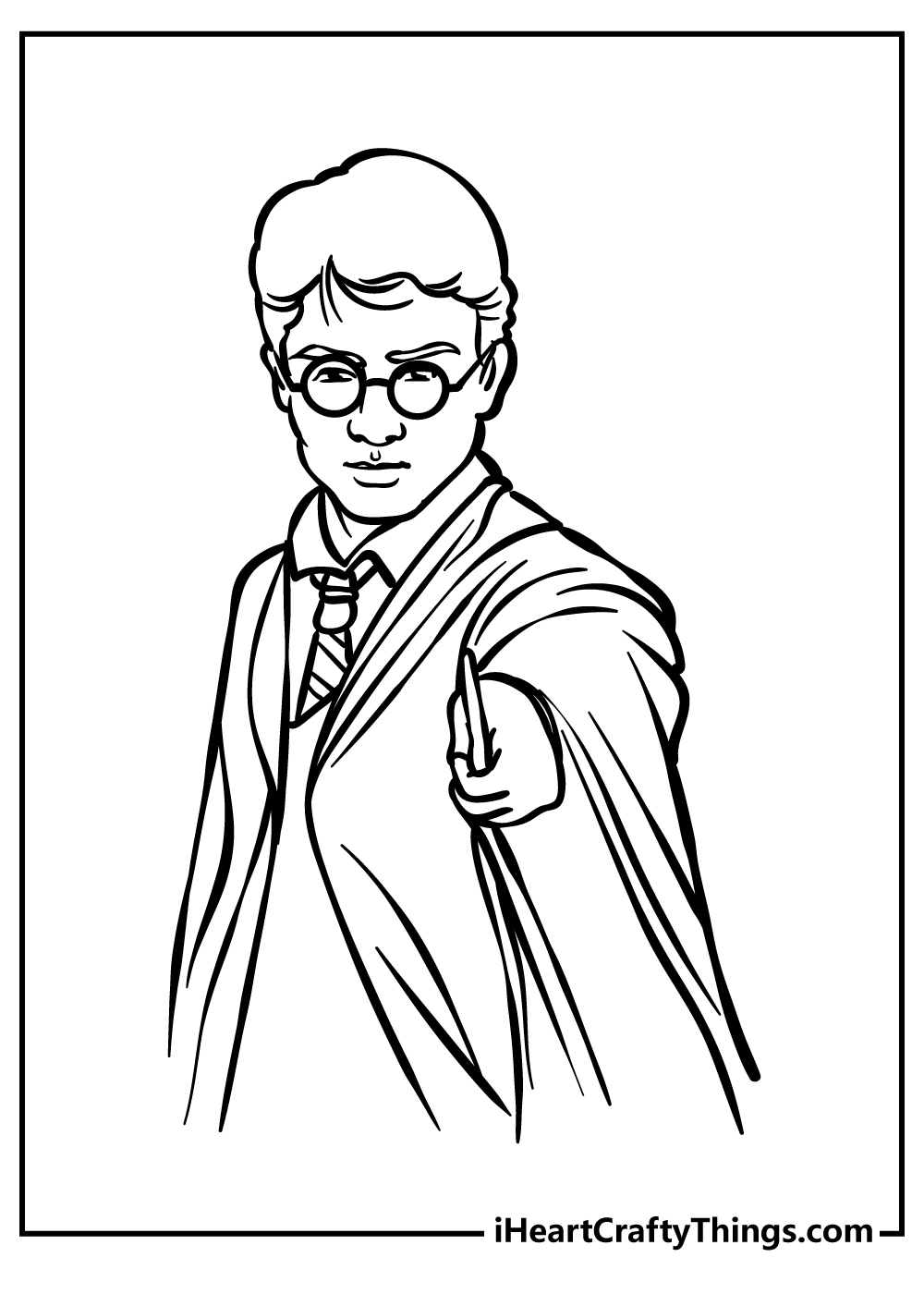 Next, we have another of Harry's best friends, Ron Weasley. Ron may not be as capable as his two friends, but he makes up for it with determination, bravery and loyalty.
Like many members of the Weasley family, Ron has bright red hair, so you can add that detail with your colors if you wish for him to look accurate.
He is also joined by his rat, Scabbers. People who have read the books or watched the movies will know that there is more than meets the eye when it comes to Scabbers!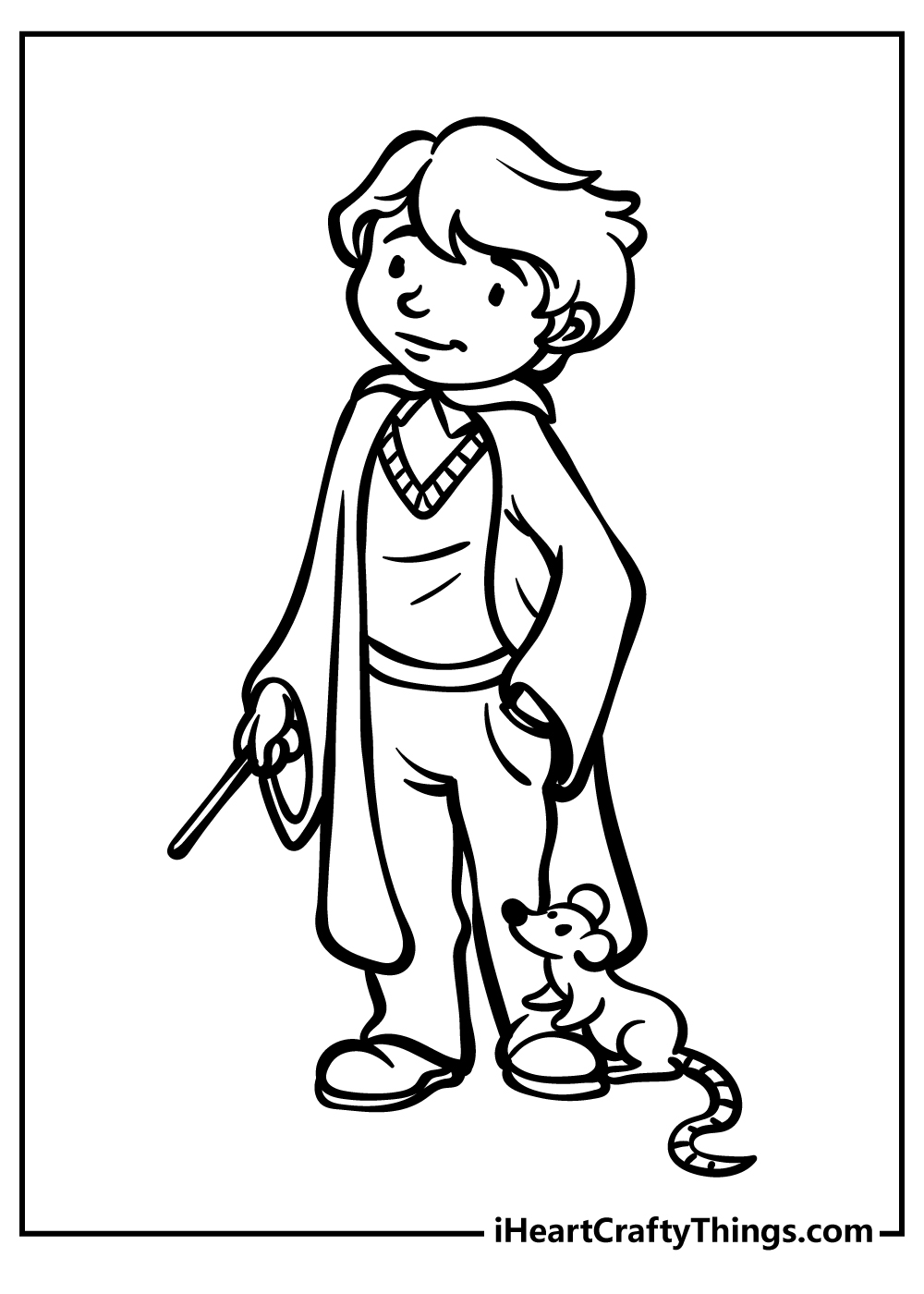 We have seen many heroes from the series so far in this collection, but now we are looking at one of the many villains.
This time, it is Bellatrix Lestrange, and anyone familiar with the stories knows that she is a rather diabolical villain.
In the books and movies, she often wears dark clothing, so this would be a good page to use some darker colors on.
We would also probably go for some watercolors or colored pencils for this one, as it would give the page a drearier look. What colors and mediums are you thinking of using for this page?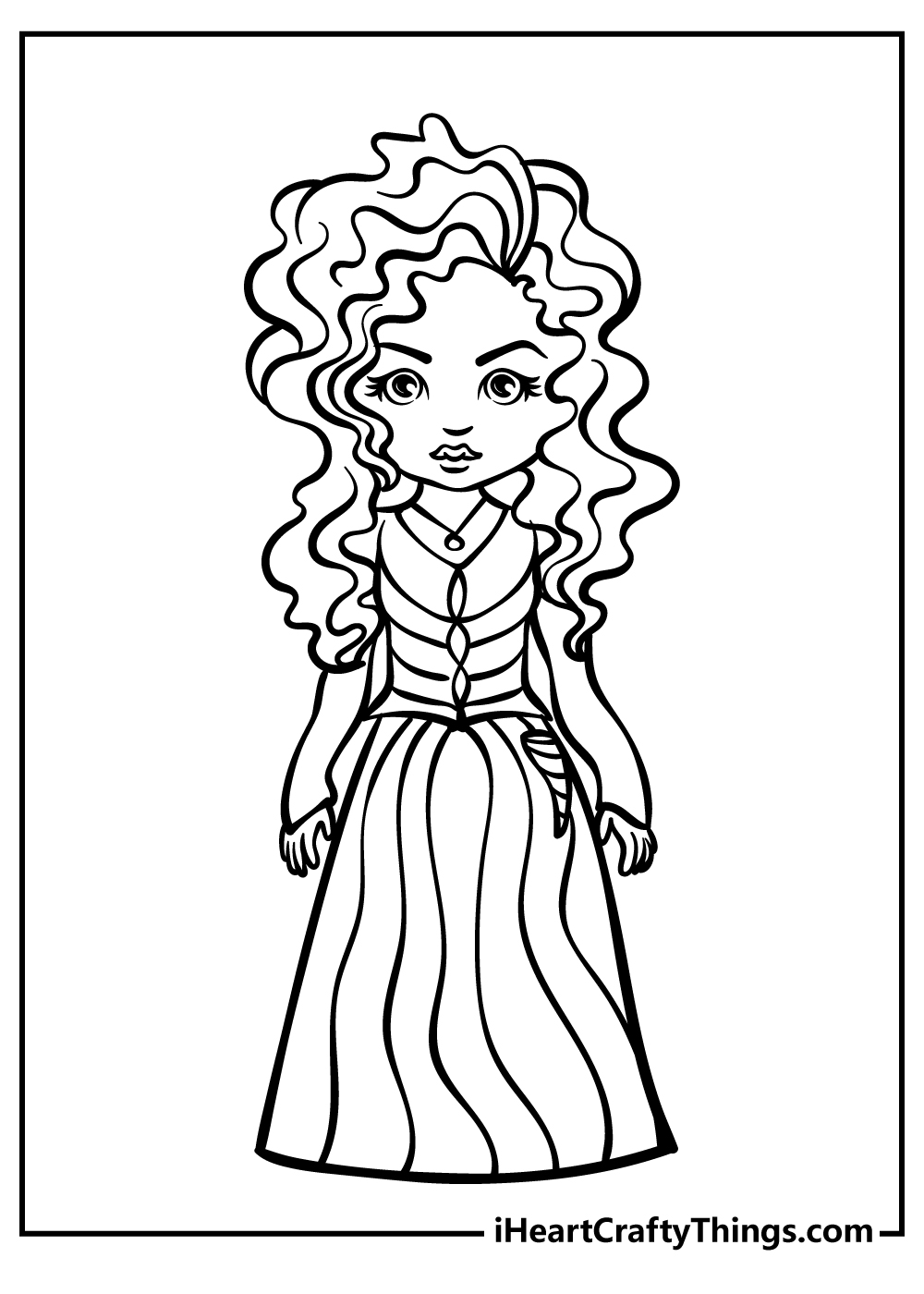 What new and amazing things will the famous Harry Potter learn from his Standard Book of Spells today? Harry has his phoenix feather wand poised in one hand, eager to test his magical skills and try new charms.
His other hand holds a spellbook full of wizarding knowledge. The excited smile on his bespectacled face with its trademark untidy dark hair says it all. Make colors shimmer and shine with each flick of his wand across the page.
Give him a backdrop bursting with every color to reflect his curiosity and thirst for magical learning at Hogwarts School of Witchcraft and Wizardry.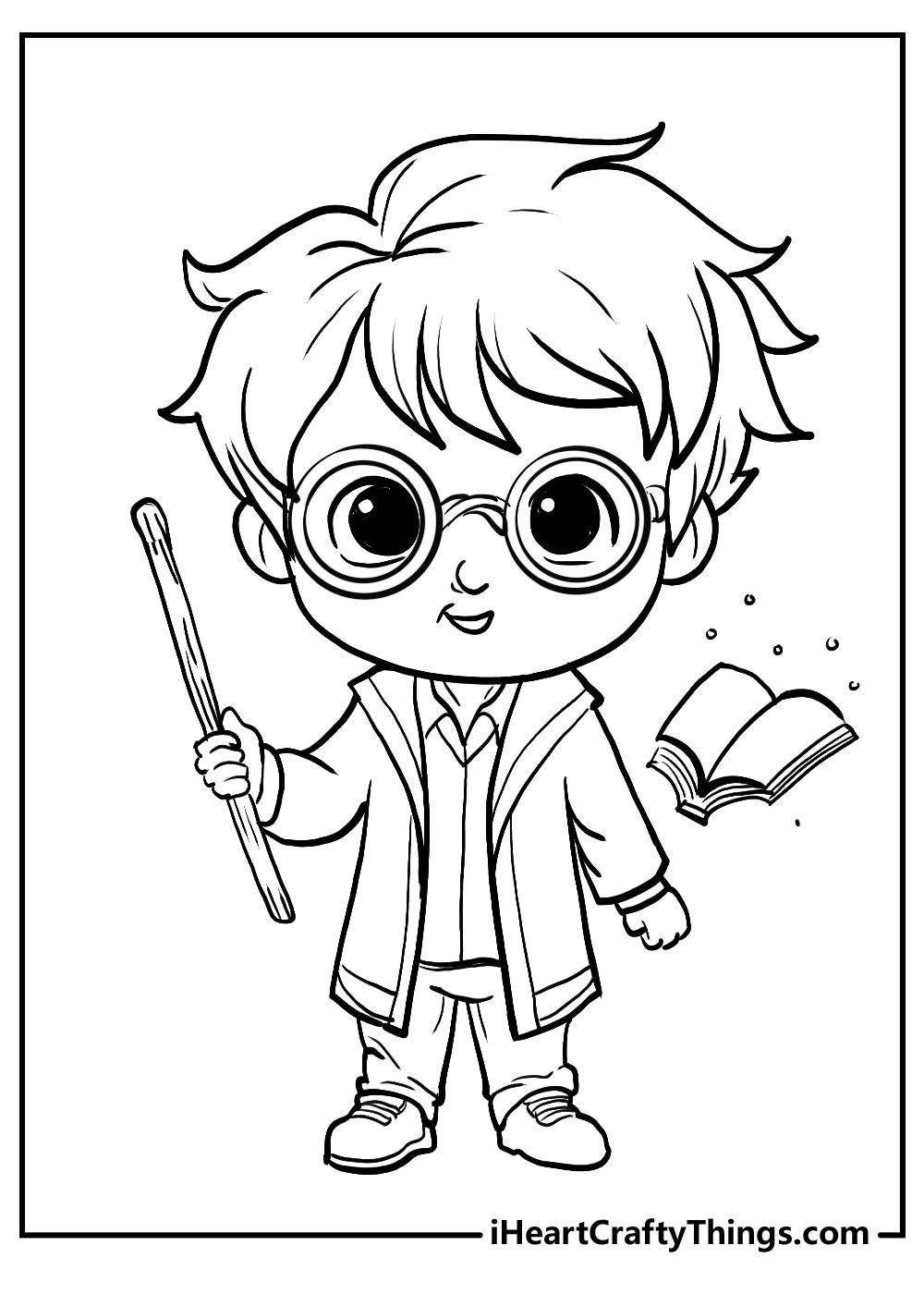 Casting spells is an important part of being a wizard in the Harry Potter universe, but there are also other important tasks such as preparing potions.
That is what seems to be happening on this next page, as Harry is holding a bottle.
We think it would look great to color the bottle with bright and vibrant colors to create a striking look for the potion!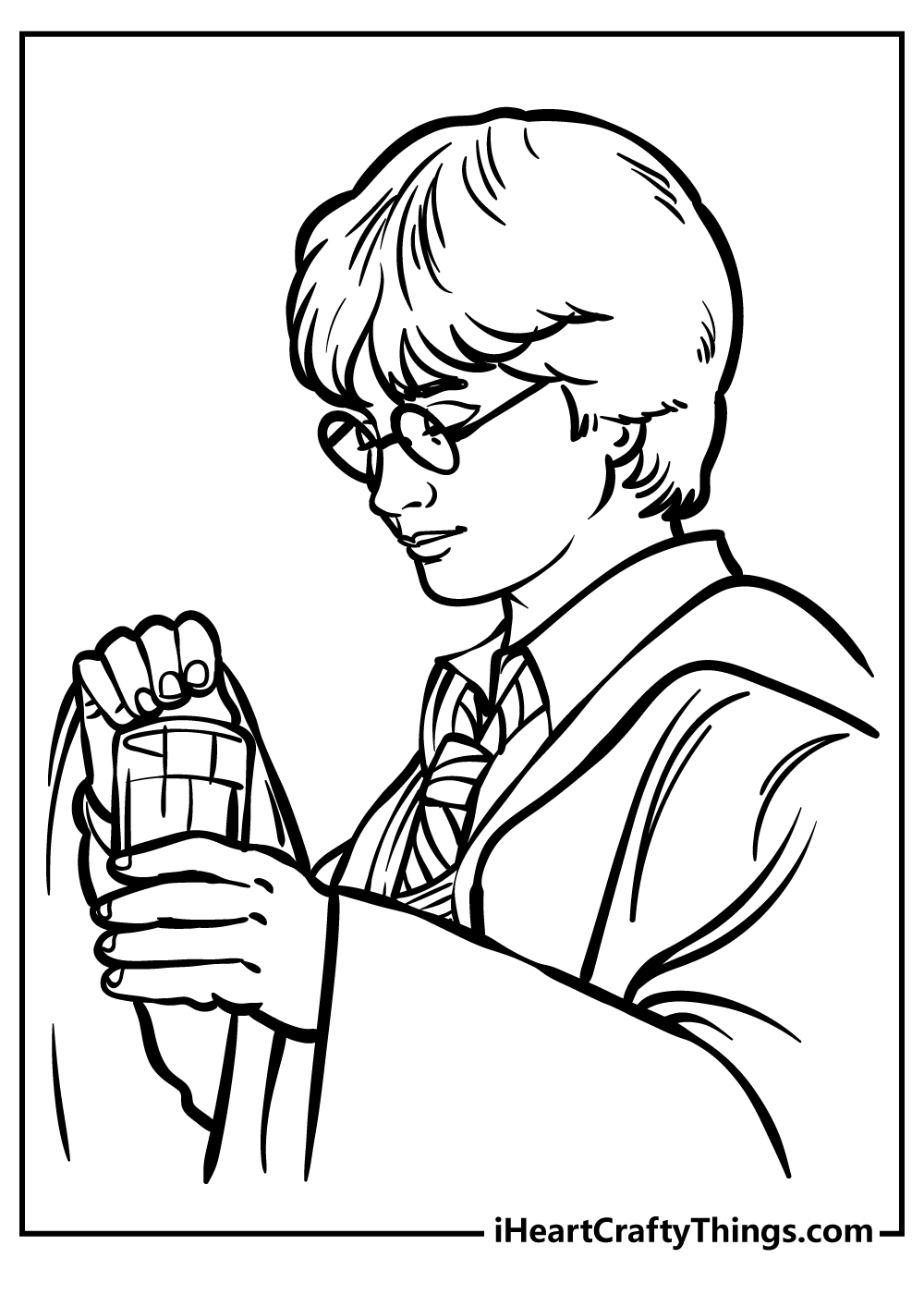 Dobby the elf is a beloved character from the series, and he is the star of this seventh page! He had a really unique and memorable design in the films, and his colors are quite muted.
If you go for this muted look, you could color the background with brighter colors to make the image have a bit of contrast!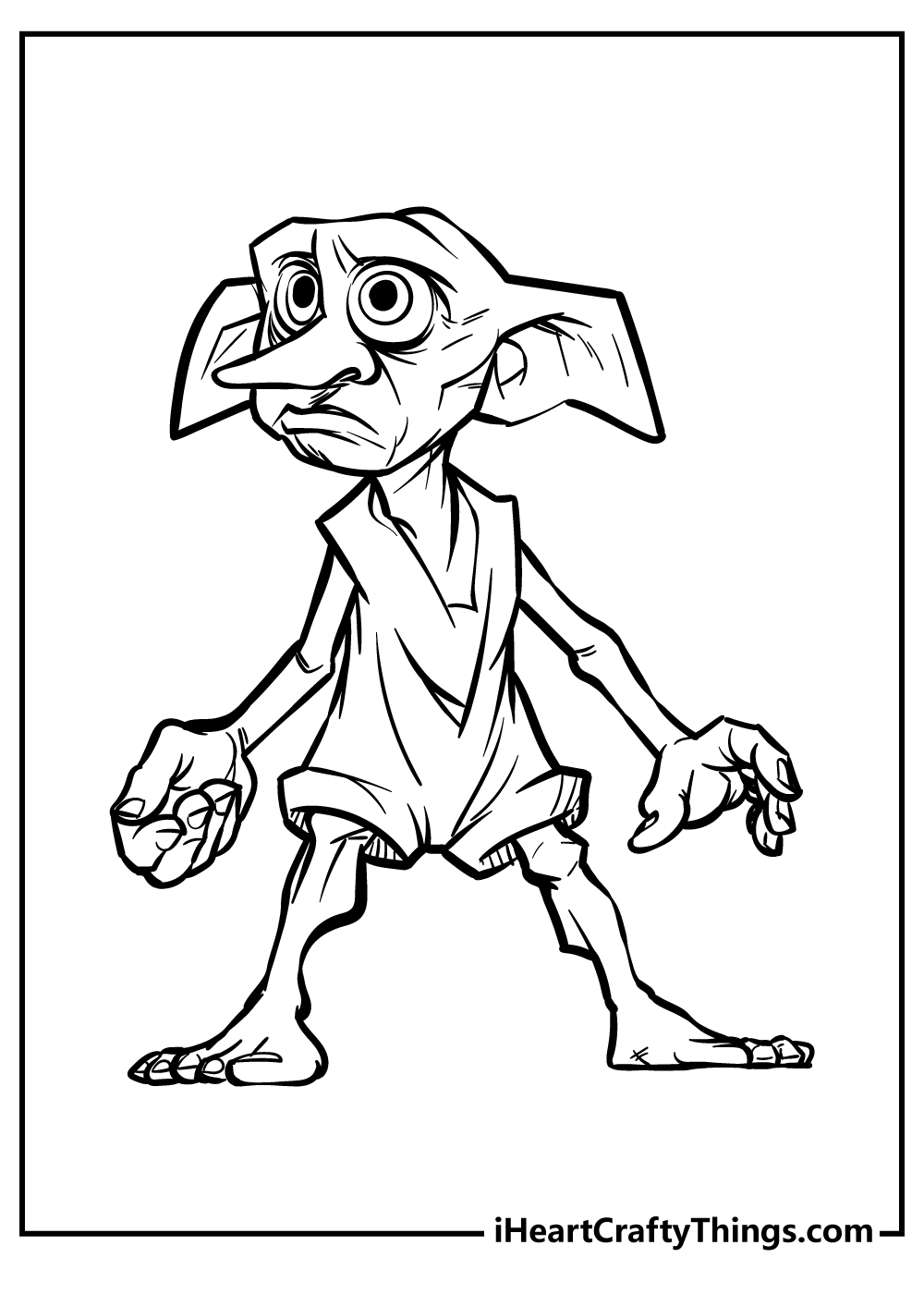 This Harry Potter coloring printable shows our hero drawn in another really fun and cute cartoon style!
It's another one where his character is captured so well despite the fact that it is less detailed and is quite cartoony.
When you have colored this picture of Harry, you could also add some of your own details to it!
There are a few that come to mind, as you could draw objects such as his broomstick or maybe a bubbling cauldron.
These are a few ideas you could try, but what other fun objects, details or characters can you think of?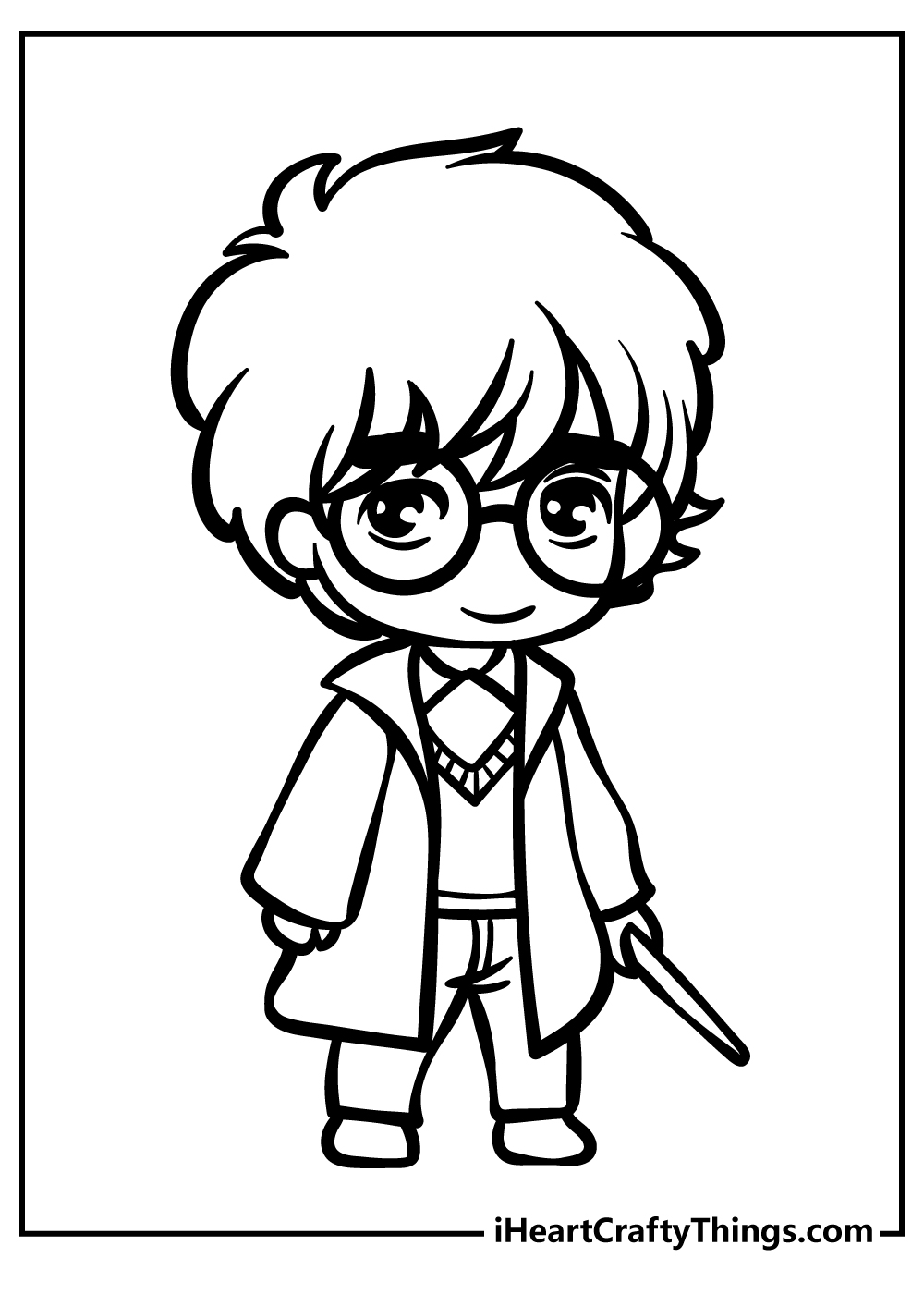 Another member of the Weasley family is here for you to color, and this time it is Ginny Weasley. She is the sister of Ron, and she also has a similar head of bright red hair.
She is also an accomplished Quidditch player, and she shows that by being dressed in her full gear while holding her broomstick.
Because she is dressed in her Quidditch gear, there are also loads of details that you can have some fun coloring!
For these smaller details, we think some colored pens or markers would be perfect, but what else could you use?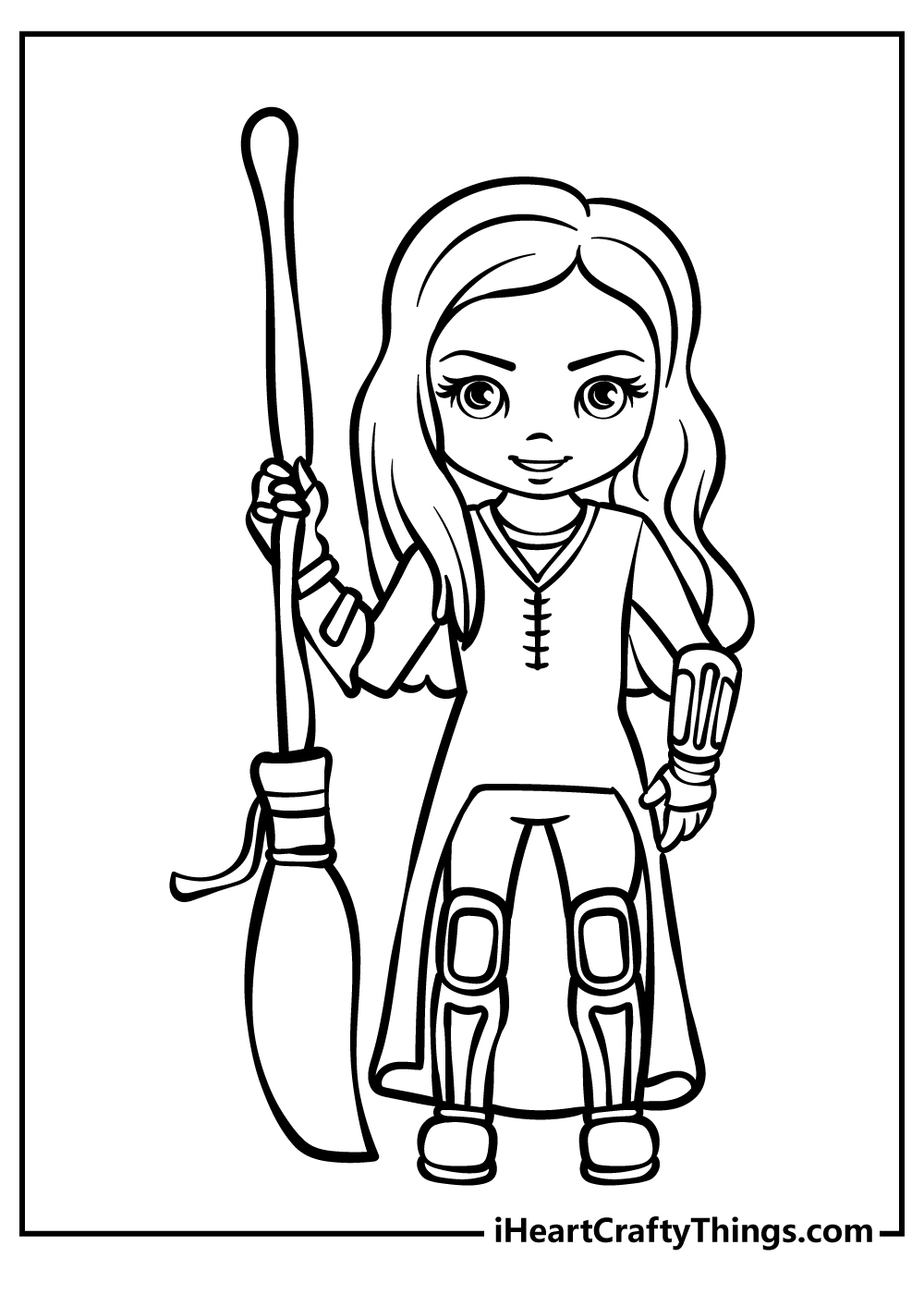 In this next picture, we have a cartoon version of Harry that is really fun!
He is posed with his beloved broomstick, and even though the style is cartoony there are still some fun details to color in here.
Will you draw some cartoony background elements to go with him in this one?
We can't wait to see how you color this page!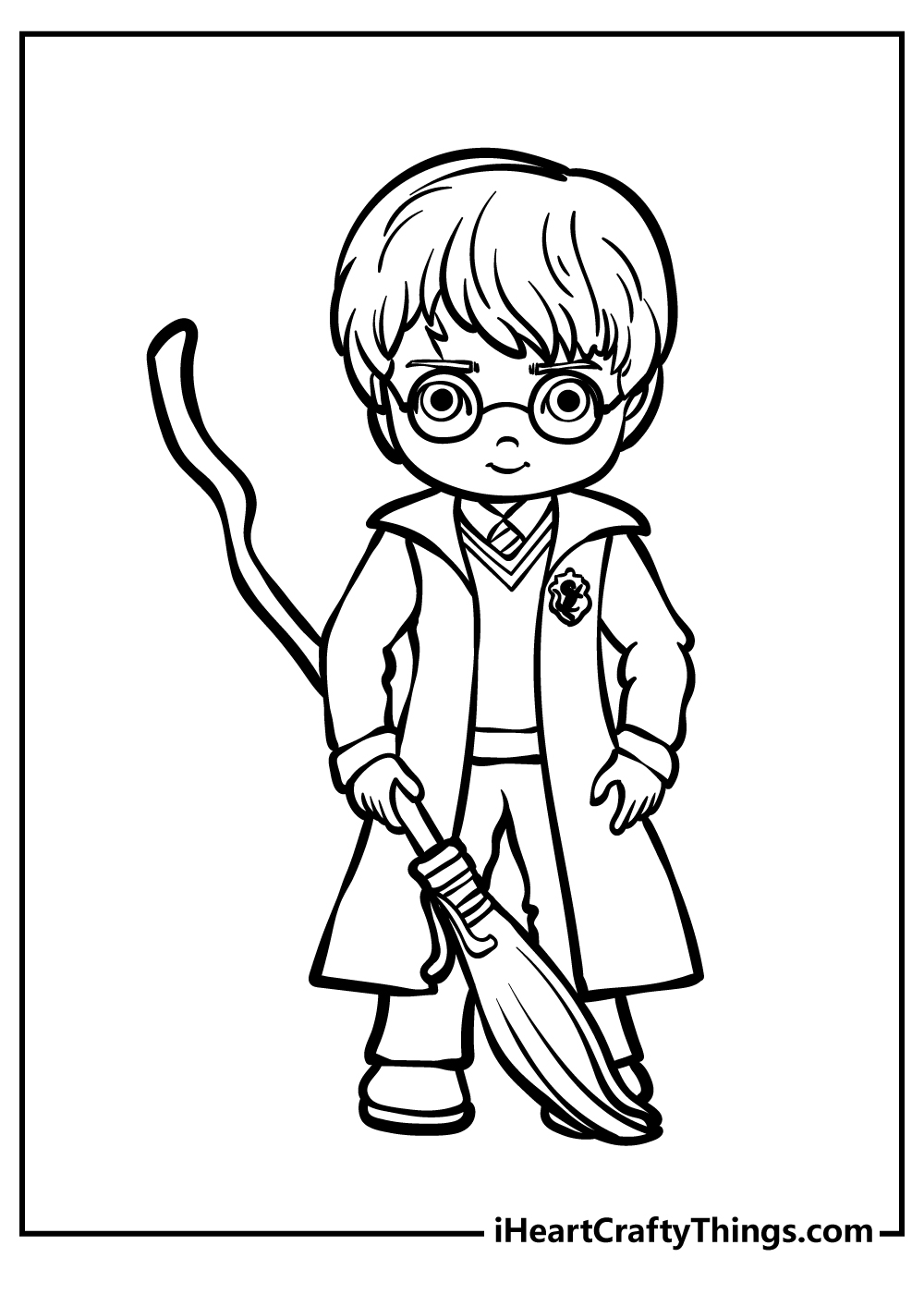 It's time for some more magic casting in this next image! Harry is casting another spell, and this time there is some empty space around the tip of the wand.
This means that you could draw and colors some fun magical effects around it to show what kind of spell he is casting!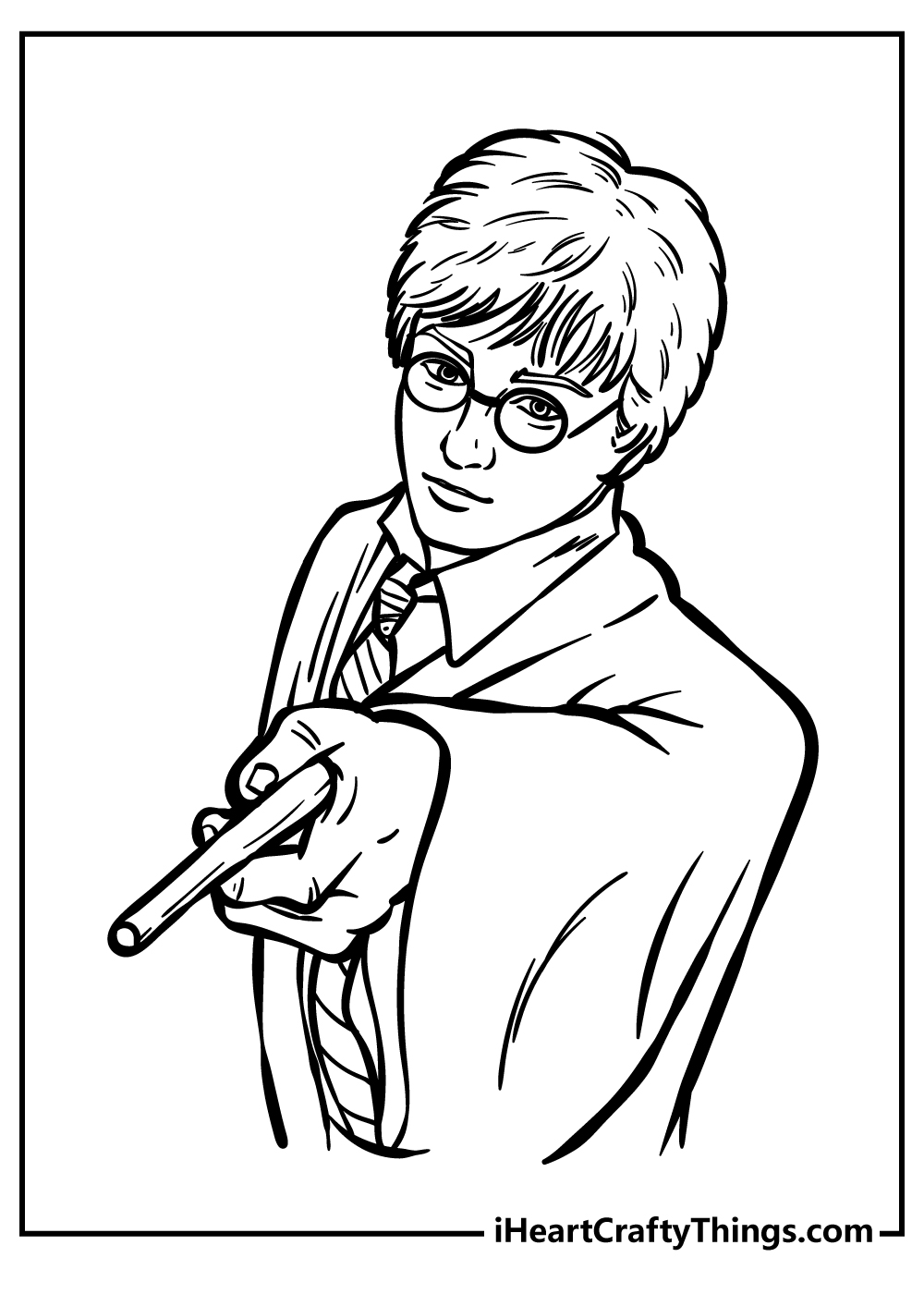 It's time to say hello to our friend Ron Weasley again, as he is back for some more fun on this next page!
As we mentioned in previous pages featuring Ron, he has bright red hair, and you could also incorporate the red and gold colors associated with Gryffindor.
There is also a lot of empty space left around him, so you can also draw some more objects around him.
Some examples would be some school books or maybe the many imaginative wizard candy that he loves so much!
We know however you finish this page that it will look amazing!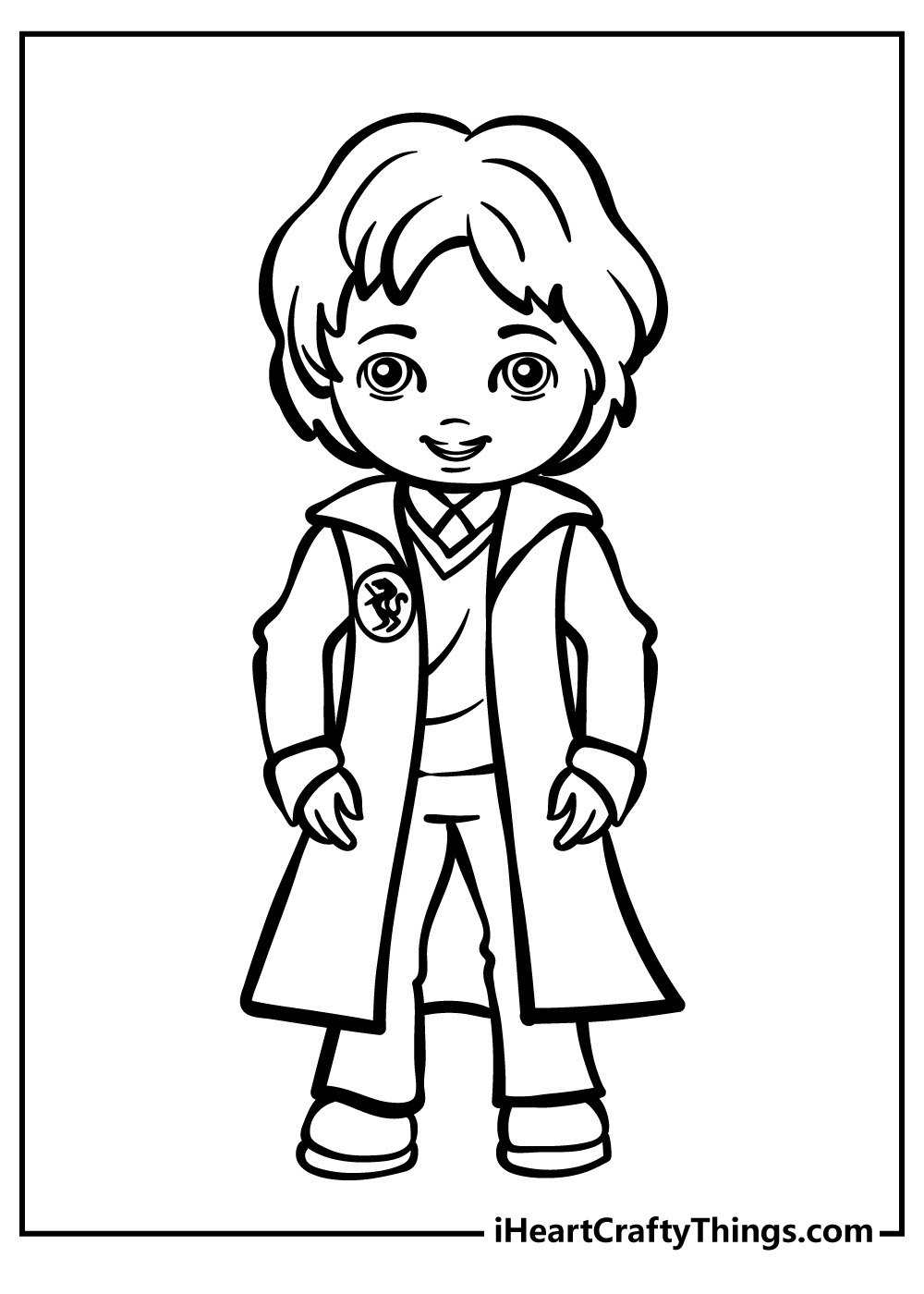 Mad-Eye Moody is one of the most interesting characters in the series, and he is also the star of this Harry Potter coloring page.
He is known for being a rather grumpy yet brave and capable wizard, and he is also recognizable thanks to his mechanical eye.
There are so many cool details to color in here, and you could either make him look like his movie counterpart or give him a completely unique look!
It's up to you to decide, so how will you color this complex character?
This next Harry Potter coloring printable features Harry in a more casual, relaxed setting.
He seems to be enjoying a quieter moment between adventures, and for that reason we would use some milder colors for this one to suit the mood.
Will you go for a similar approach or do you have something else in mind?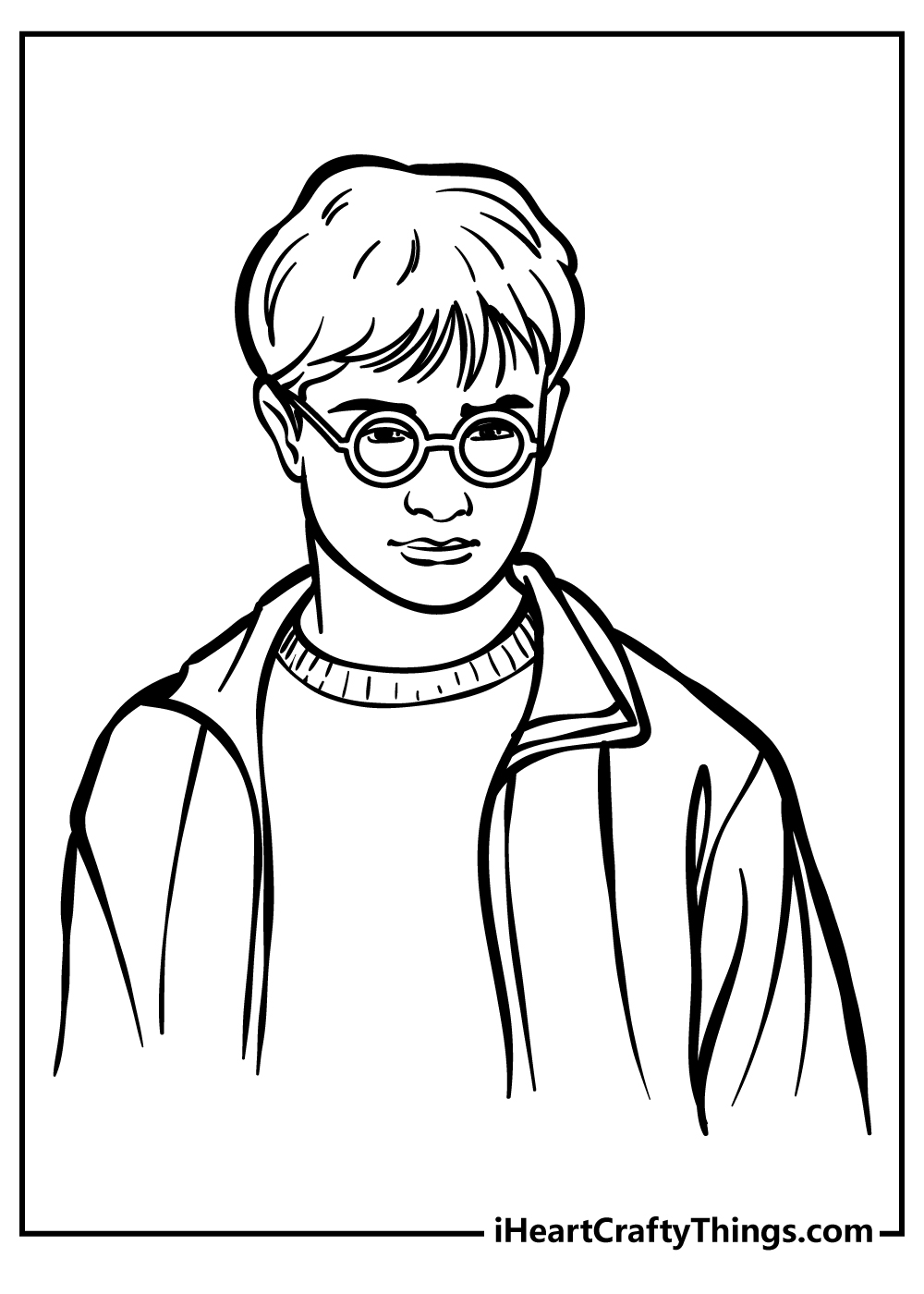 Hagrid is a half-giant who is a faithful friend to Harry and a beloved character from the series. He's also the star of this page, and there are some great details to color here.
Hagrid is typically dressed in earthy tones, so this would be a good one to use mediums such as paints on. How will you color Hagrid?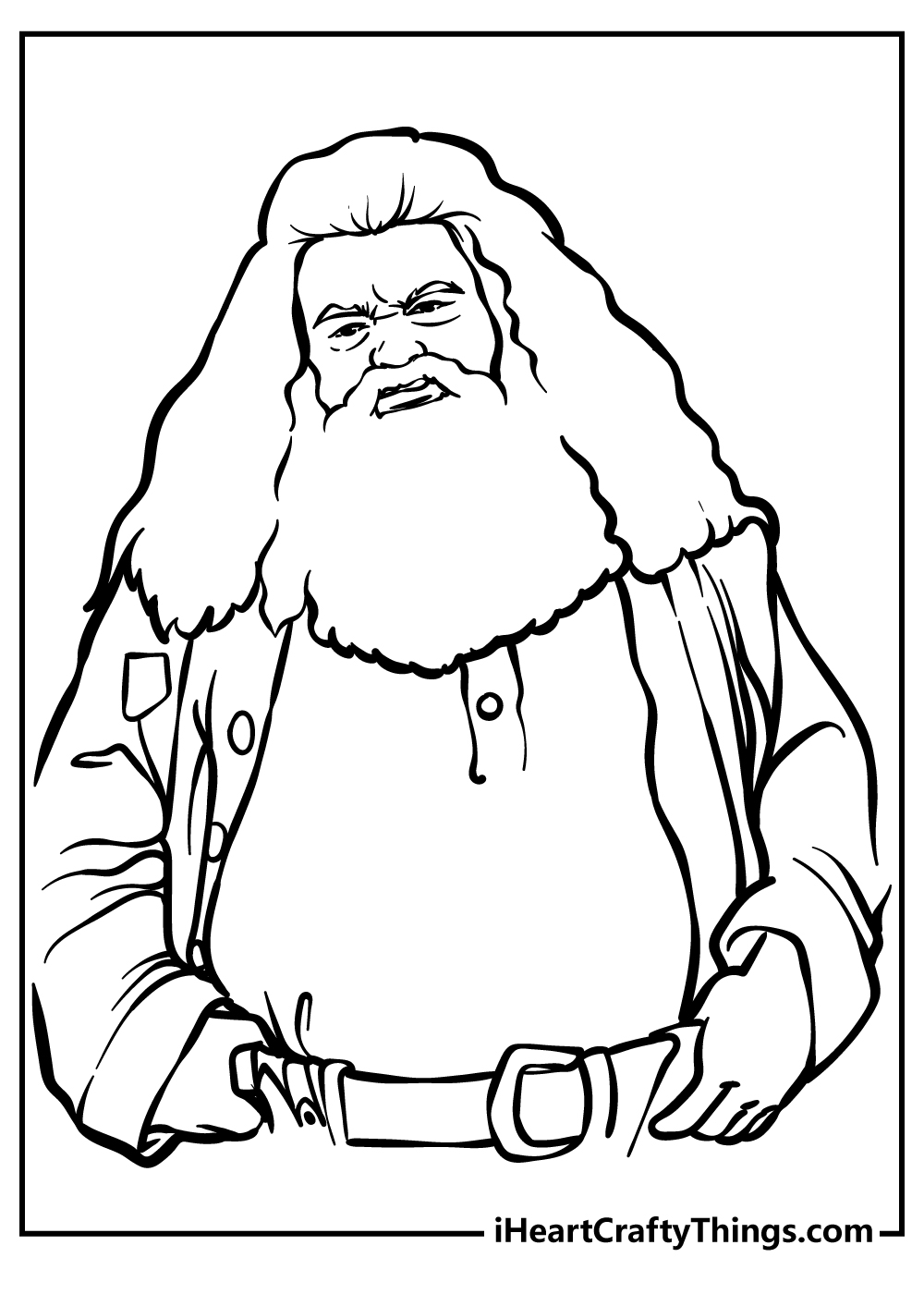 Professor McGonagall is one of the professors of Hogwarts, and she is known for being quite strict and stern.
Despite this, she has a heart of gold and truly cares for her students, and we have a great representation of her on this page.
For some of the smaller details, you may want to use some colored pens or pencils, as they allow for more precision.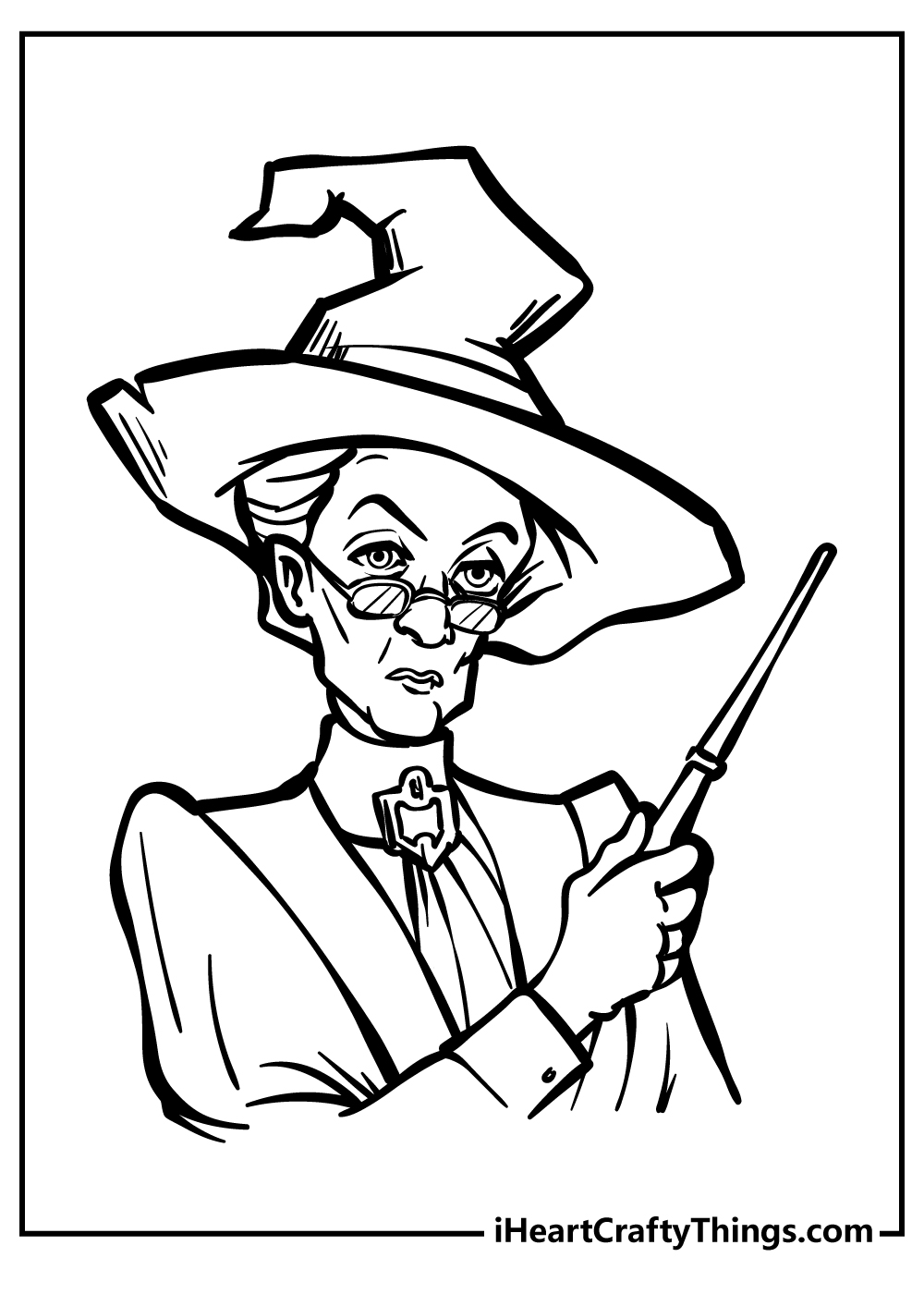 Professor Snape is another Hogwarts professor, and he is one of the most popular characters despite being portrayed as mean and villainous at times.
He is remembered for his tragic backstory and complex character, so it should be fun to bring this character to life with your colors as you work on this page!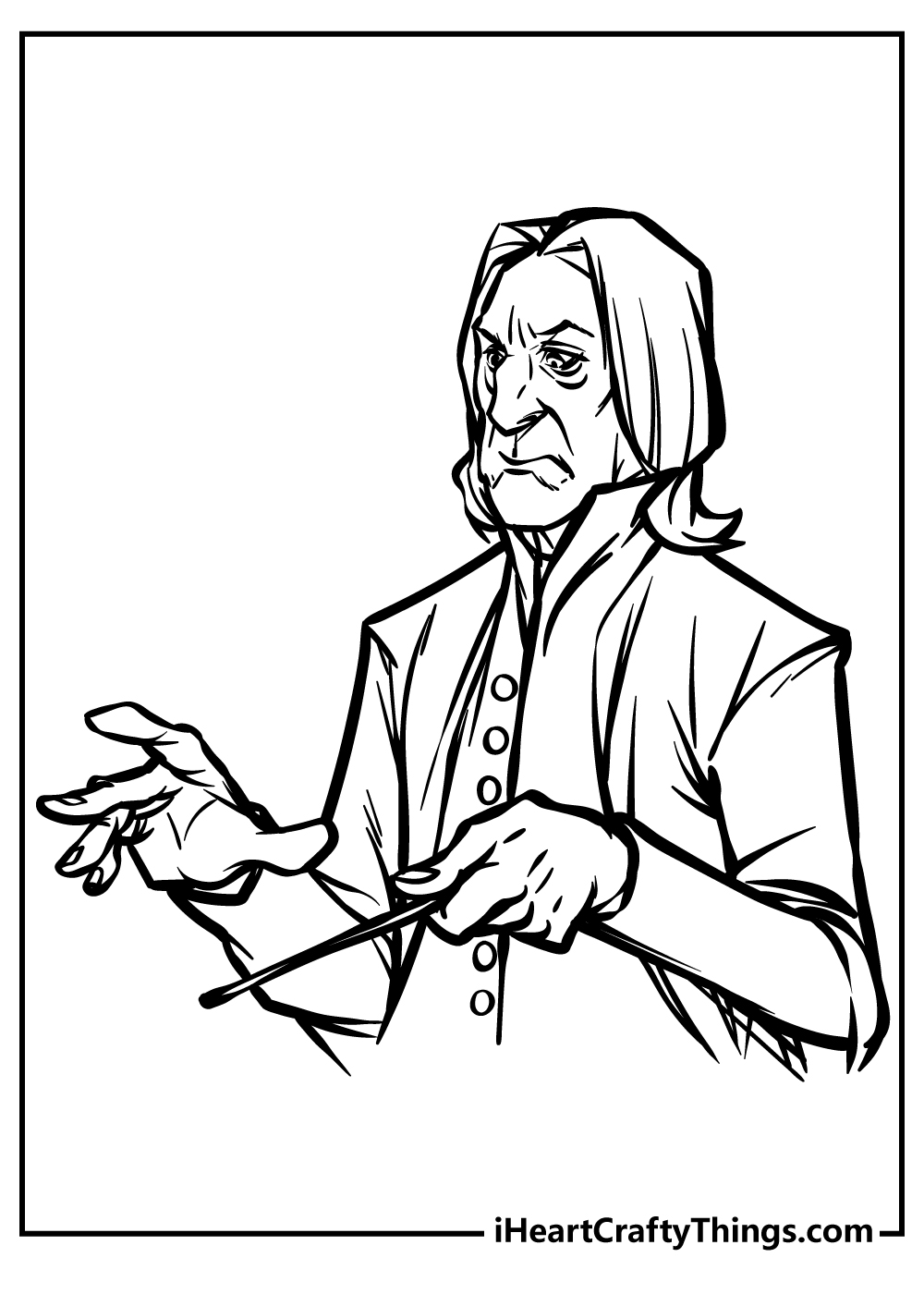 You can't have a collection of Harry Potter coloring pages without his other best friend, Ron Weasley! He is featured here, and this image really captures his kind and playful nature.
Ron is famous for his red hair, and that would help to make this picture really catch the eye.
Which mediums will you use to color this lovable character?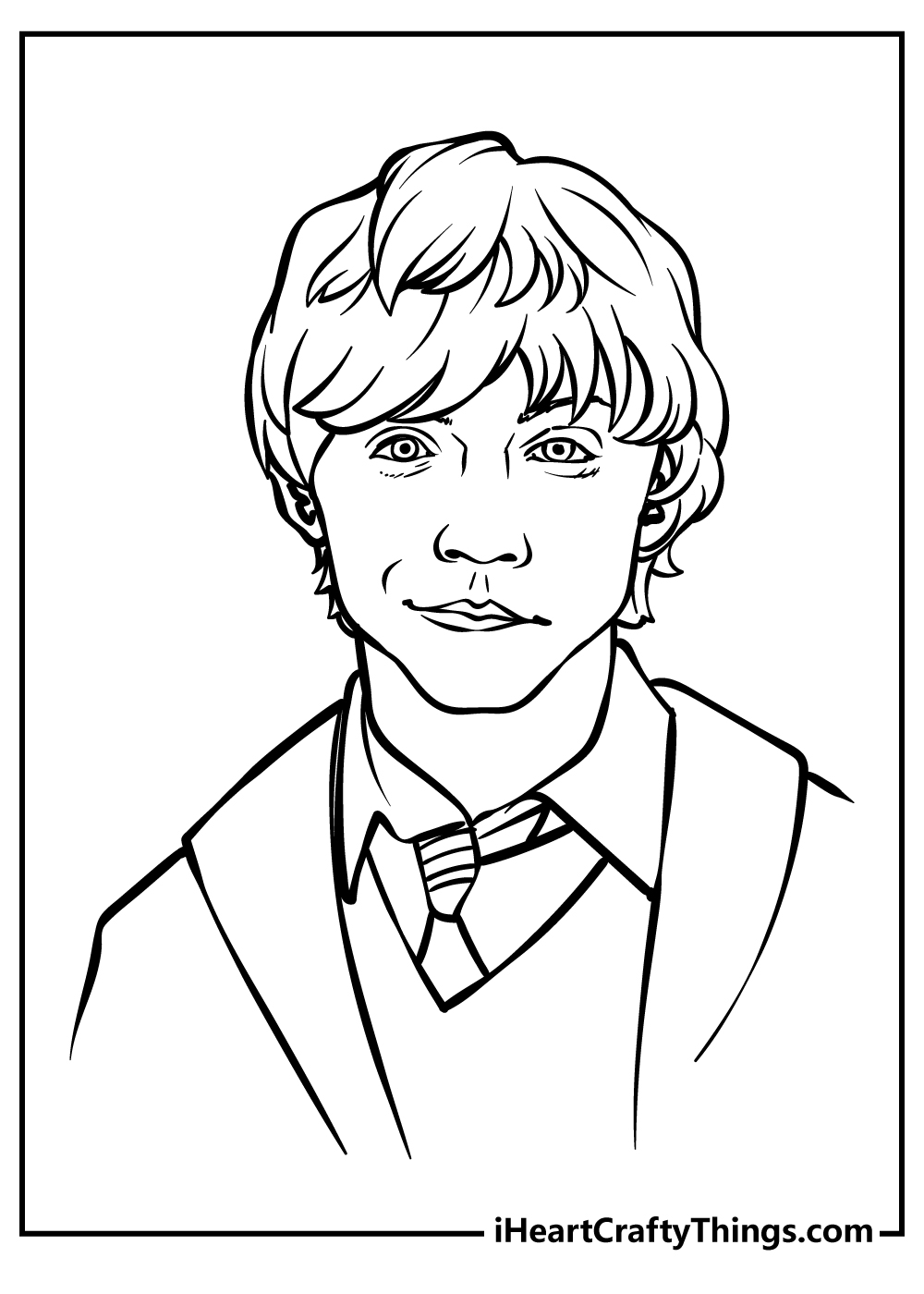 We have another adorable depiction of Hermione in this final page of the collection! She is again drawn in a lovely cartoon style, and she is dressed in her scarf while posing with a broomstick.
We would use some bright colors and mediums to suit the cartoon style of this image, but anything you use will look amazing!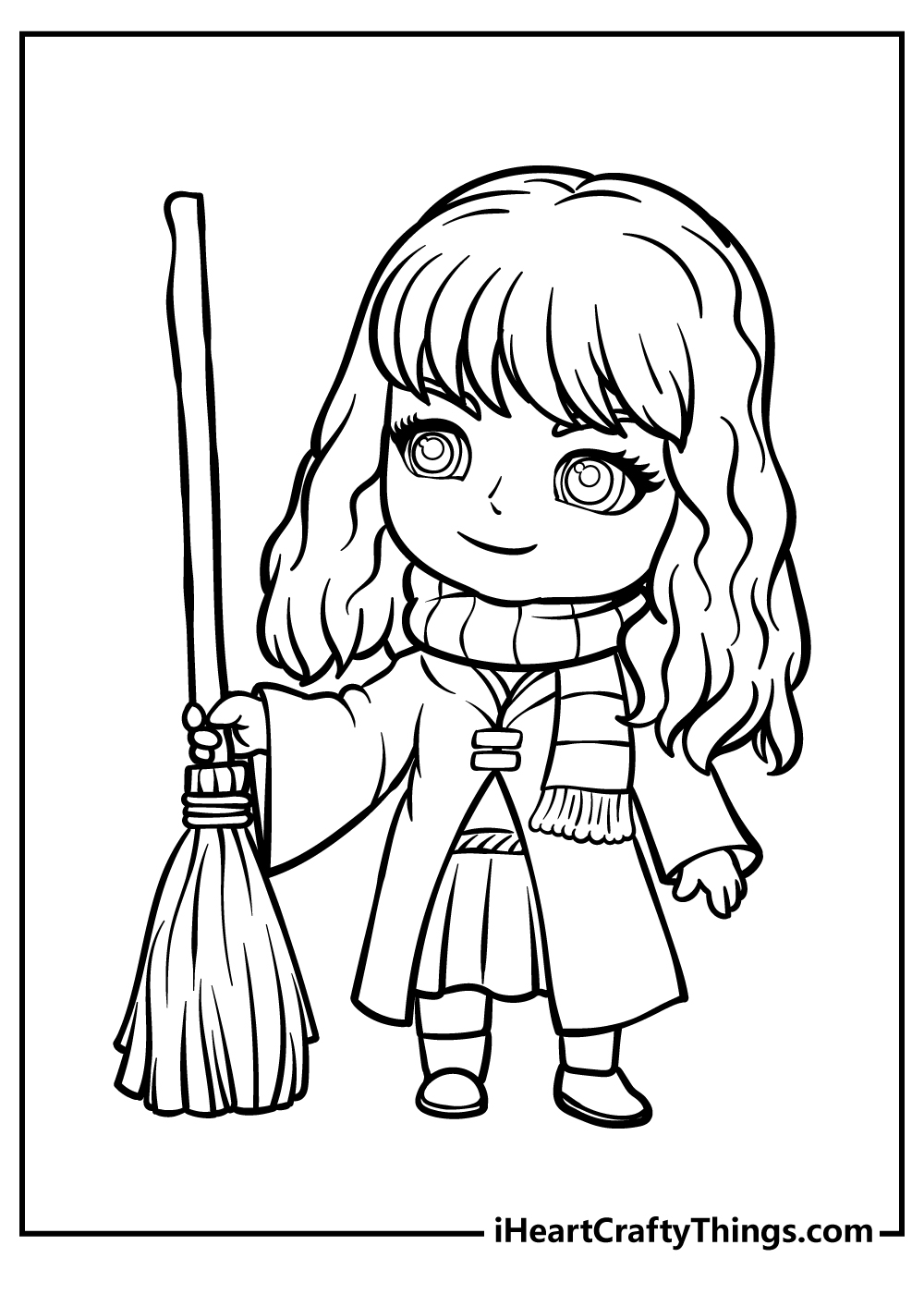 Harry Potter Coloring Pages – Which will you choose?
That does it for this magical collection of free Harry Potter coloring pages for kids! We hope you had a great time bringing some color to these famous characters.
If you enjoyed the collection, remember to share these pages with other Harry fans in your life to enjoy!
There are so many great colors and art mediums you can use for these images, so let your creativity flow!
We would be very interested to see how you colored these pages, so please share some of your favorite finished pages on our Facebook and Pinterest pages for us to see!