On this page, you will find 15 all new December coloring pages that are completely free to print and download.
For many people, December is their favorite time of the year! This is the time of year where Christmas is just around the corner and snow is falling.
Colorful decorations are up in this month, and people start wearing warm clothing and building snowmen. It's the perfect season to snuggle up for some coloring fun as well!
We have a collection of 15 images that are based around aspects of this season that we all love.
There is a great deal of variety to these images that are sure to bring some great December memories to mind.
You will also get to be really creative with the colors that you use throughout these pages!
You can choose, print and enjoy these pages as many times as you like, so don't be afraid to get really creative! You can also share them with your friends and family to enjoy too.
We hope you have some warm Winter fun in this collection of free December coloring pages for kids!
When you have finished your favorite pages from the collection, remember to share them on our social media pages for us to see and enjoy!
15 Brand New December Coloring Pages – Free to Print and Color
We have a fun snowman design that's up first for you to color.
This snowman is wonderfully detailed and it has elements such as a hat and a scarf to give you even more choices for colors that you can use!
There's even a little bird in the composition for you to color, and you could use lots of different bright color choices for this aspect.
What colors and mediums will you choose for this first page?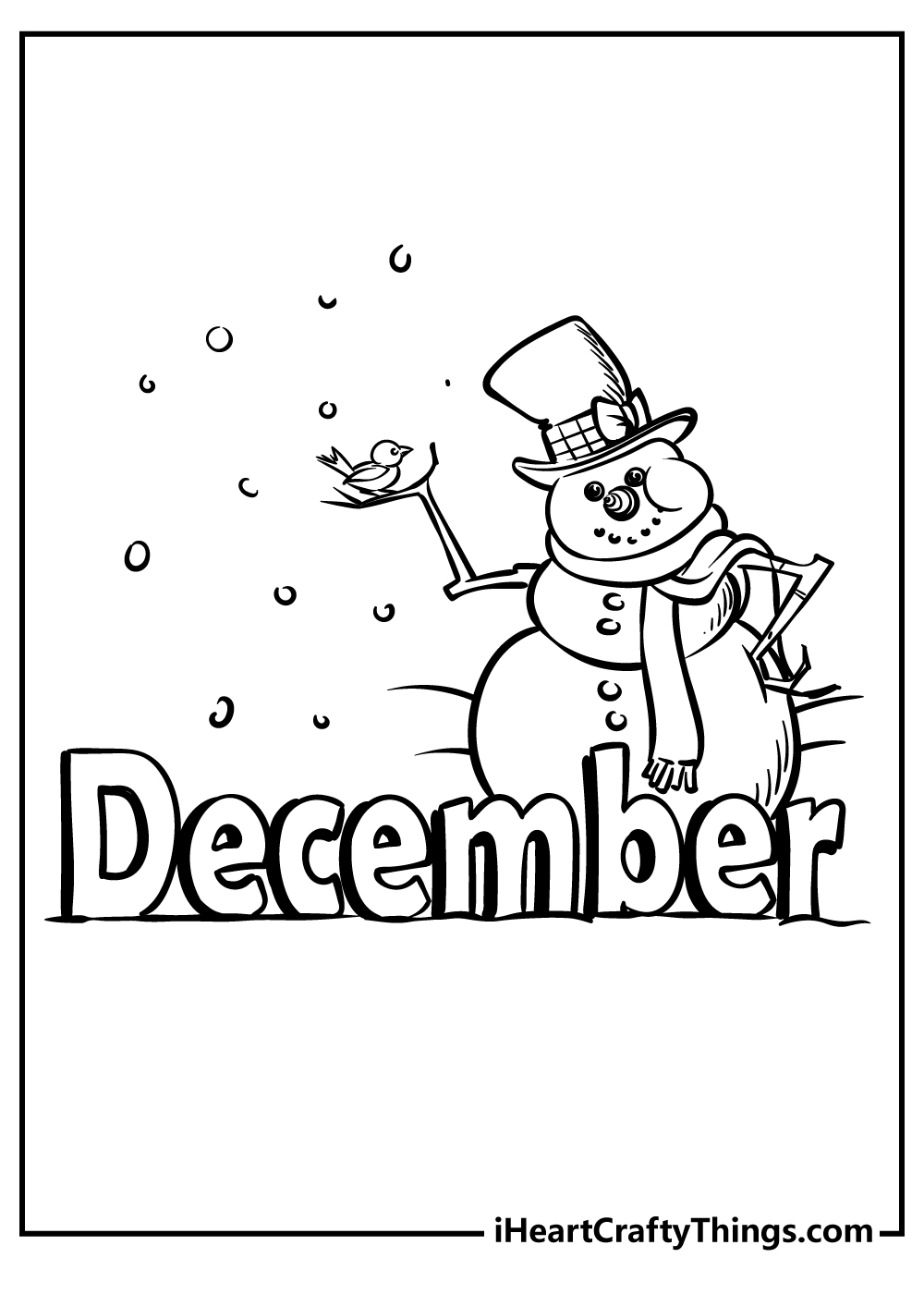 This second free December coloring page for kids features a really cute Christmas-themed scene!
There's another cute little bird featured on this design, and it is joined by a Christmas hat on the other side of the word December.
There are so many ways that you could go about coloring this image, and you could try to use as many bright and cheerful colors as possible for the letters and other elements!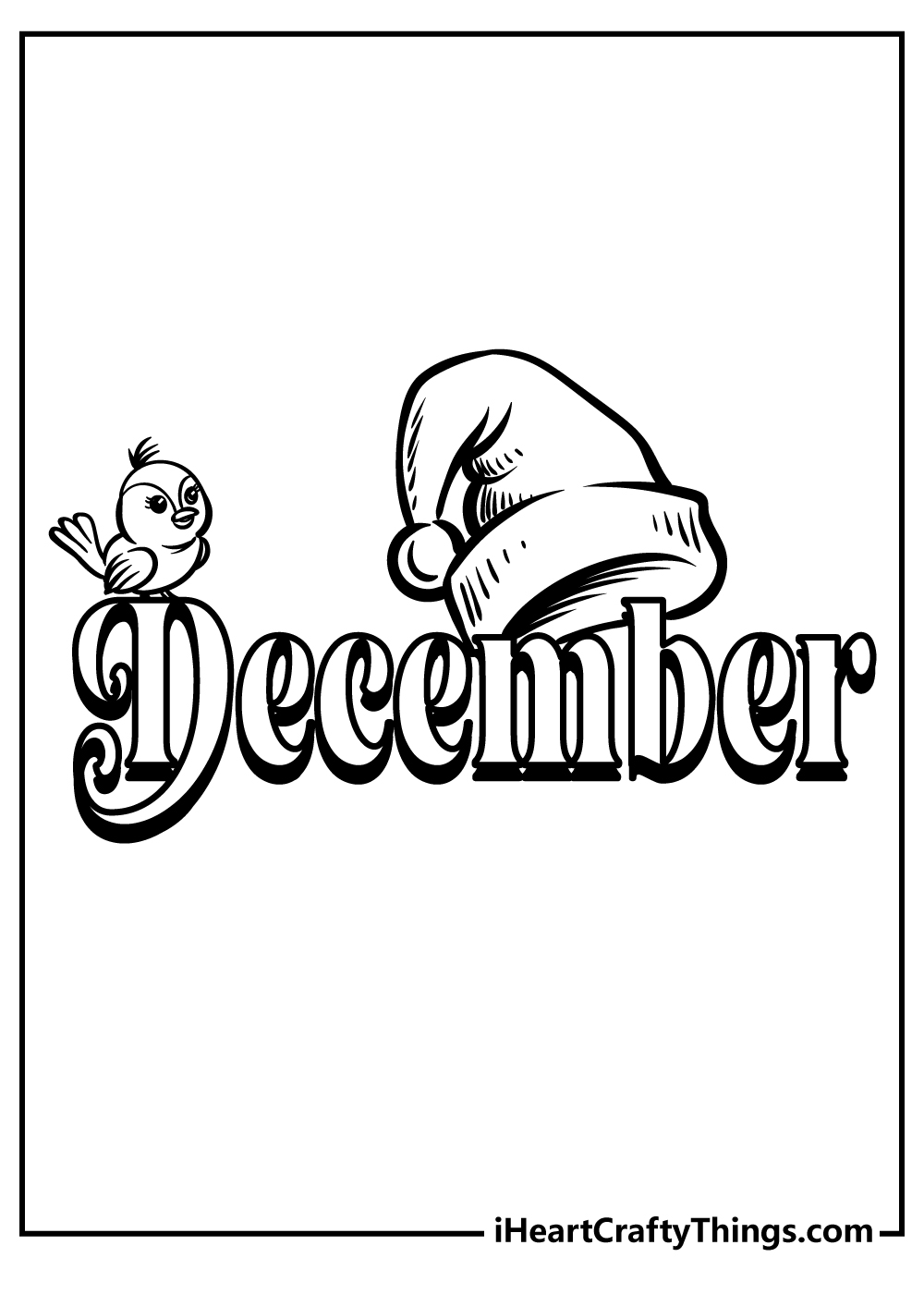 This December coloring page for kids shows a jolly Santa Claus in a winter wonderland. Santa is smiling brightly as he stands in his cozy black and white suit.
He has a big white beard and a fluffy hat. Behind him, you can see some snow-covered trees and mountains.
This page has a simple and playful style that is perfect for coloring with crayons, markers, or pencils.
How will you color this festive Santa? We can't wait to see your creative choices for this fun December coloring page.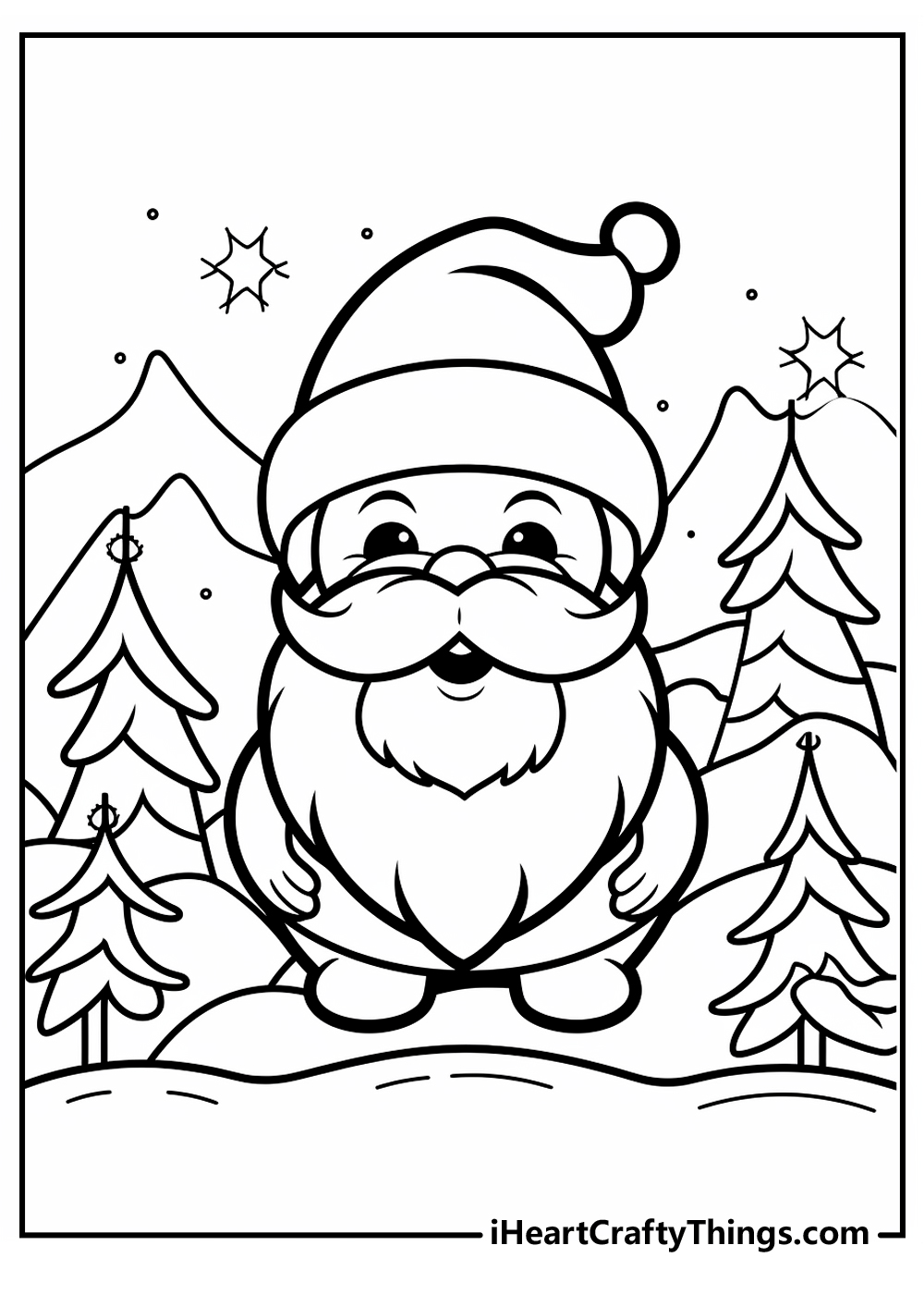 Next, we have a beautiful Christmas tree for you to color. It's always a lovely sight to see a Christmas tree up in the house, as they help to get that festive feeling started.
Christmas trees are usually brightly decorated with tinsel, baubles, ornaments and other decorations, and this one is no exception.
With so many great details to color, we're sure this one will really catch the eye when it's done!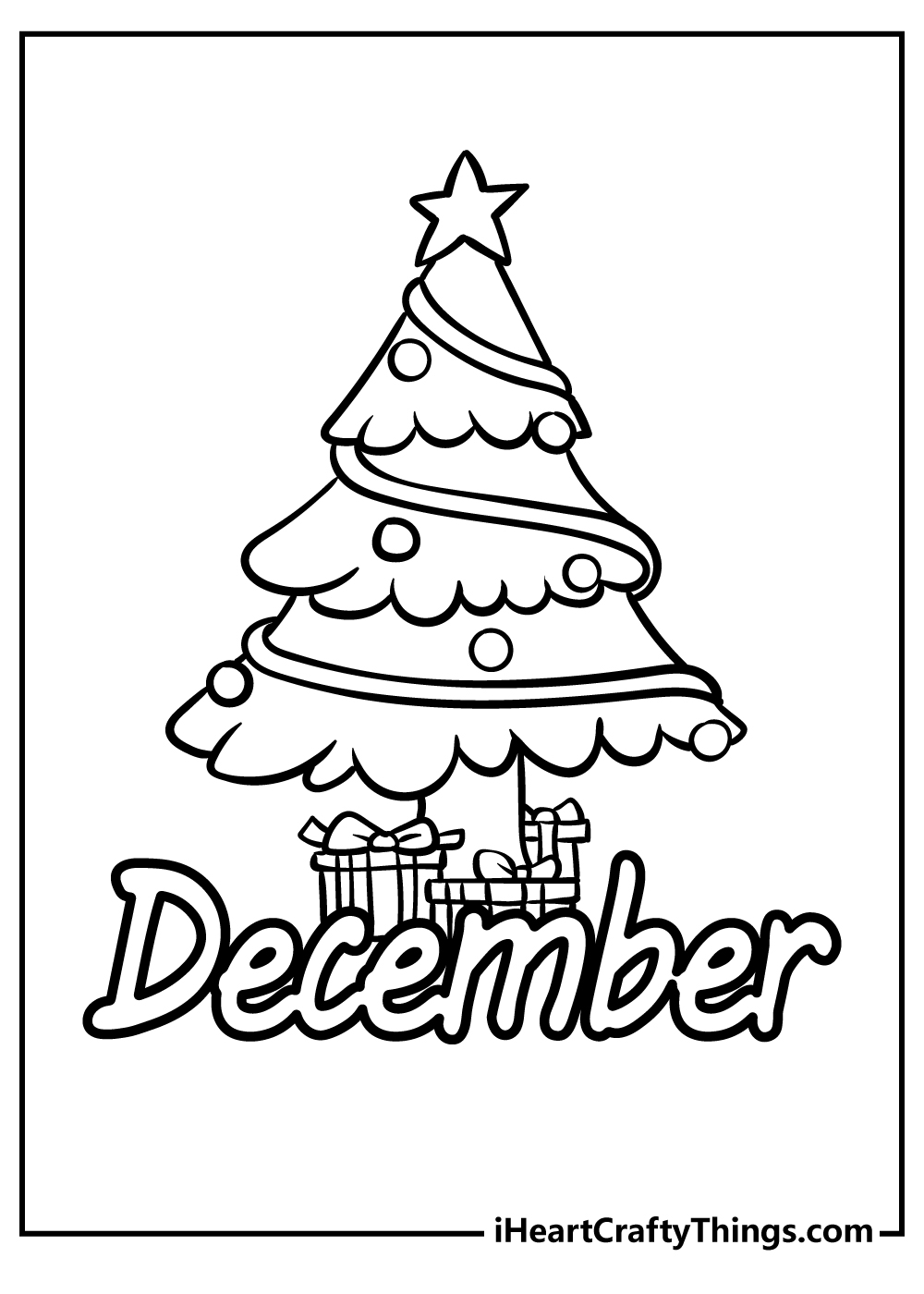 Here's another fun, Christmas-themed scene for you to color in! Reindeer are commonly associated with the Christmas season as they are said to help fly Santa's sleigh around the world.
We have one of those reindeer in this image, and it's an adorable one with a lot of personality!
It also has a big nose, and we think that it would be a fun extra touch for you to color the nose red to turn this into Rudolph the red-nosed reindeer!
Do you think you will go for this extra touch when coloring this page?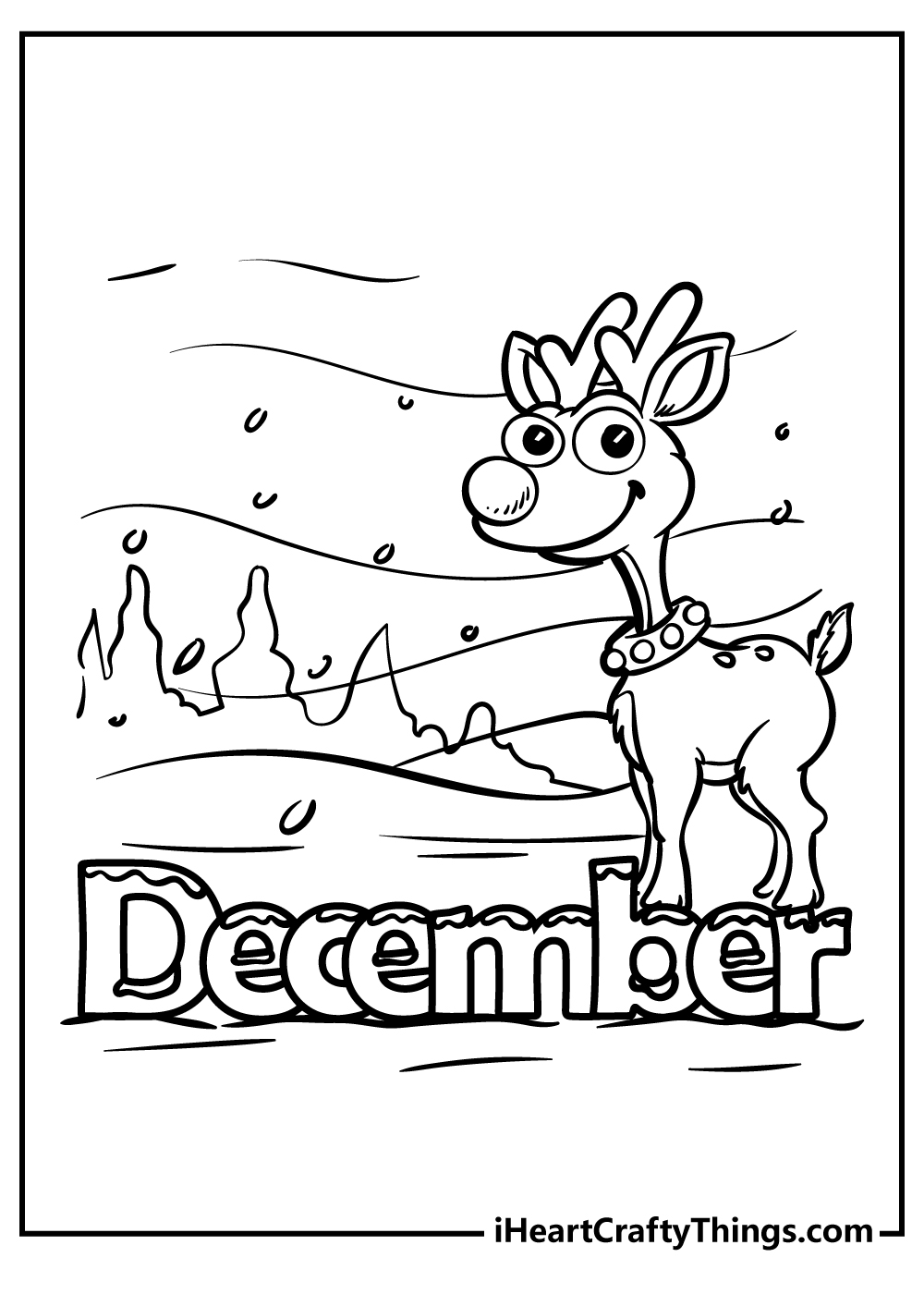 You can see Santa Claus smiling in this December coloring page. He has a white hat with a white pom pom and a black coat.
It's a lovely winter scene with snowflakes, mountains, and pine trees perfect for coloring.
What colors will you use on this page? How will you make the snowflakes sparkle? Will you add some glitter or stickers to make it more festive?
We would love to see your creative ideas for this beautiful December coloring page.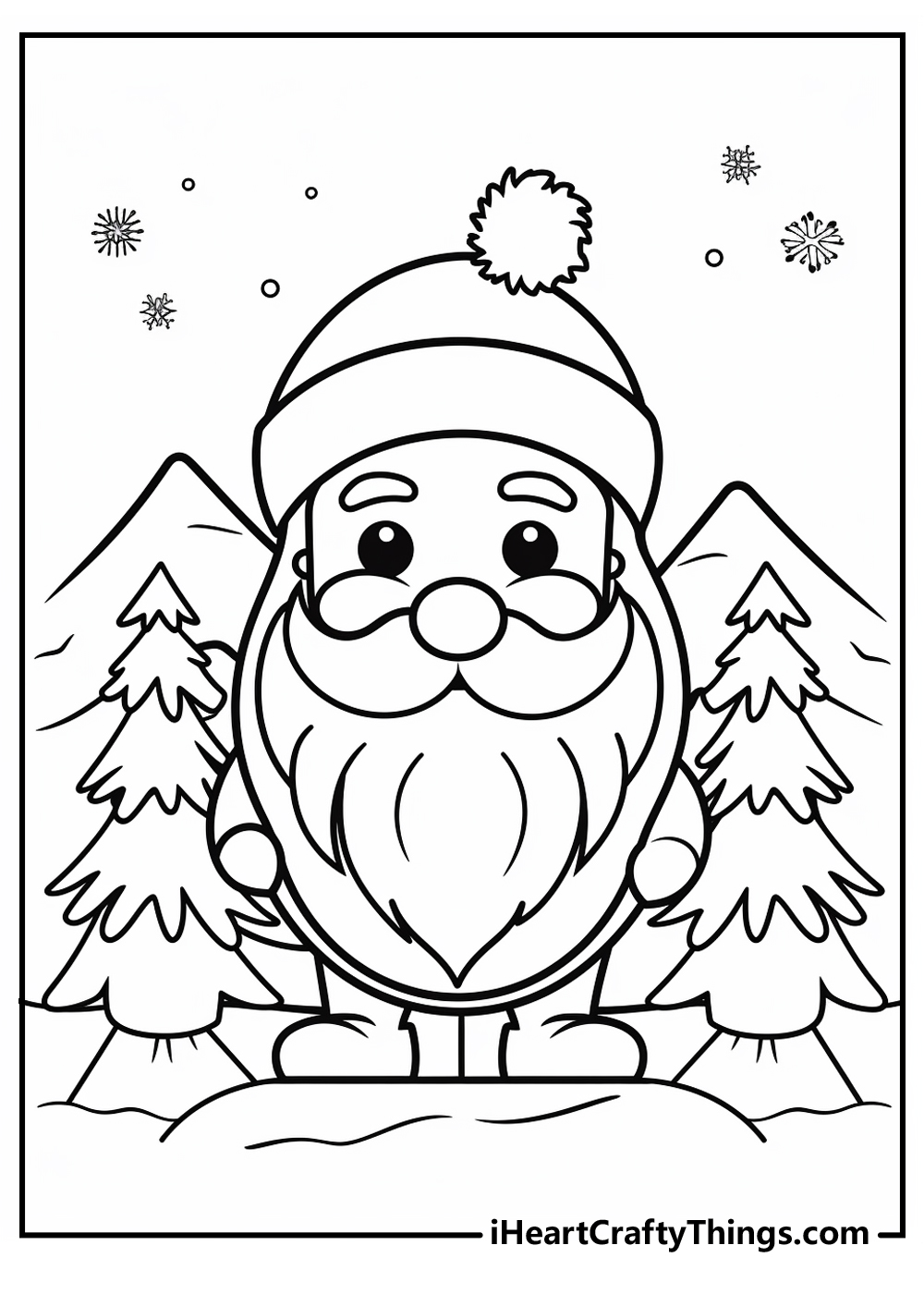 This next December coloring sheet features a warm Christmas image. Bells are another common Christmas symbol, and they are featured in this composition.
The word December is written in a beautiful font over the ringing bells, and it really helps to give off a warm festive feeling.
If we were coloring this one, we would use bright, warm yellows and reds as the main colors to help suit the mood of the arrangement.
Do you think you will go for a similar color scheme or do you have something else in mind?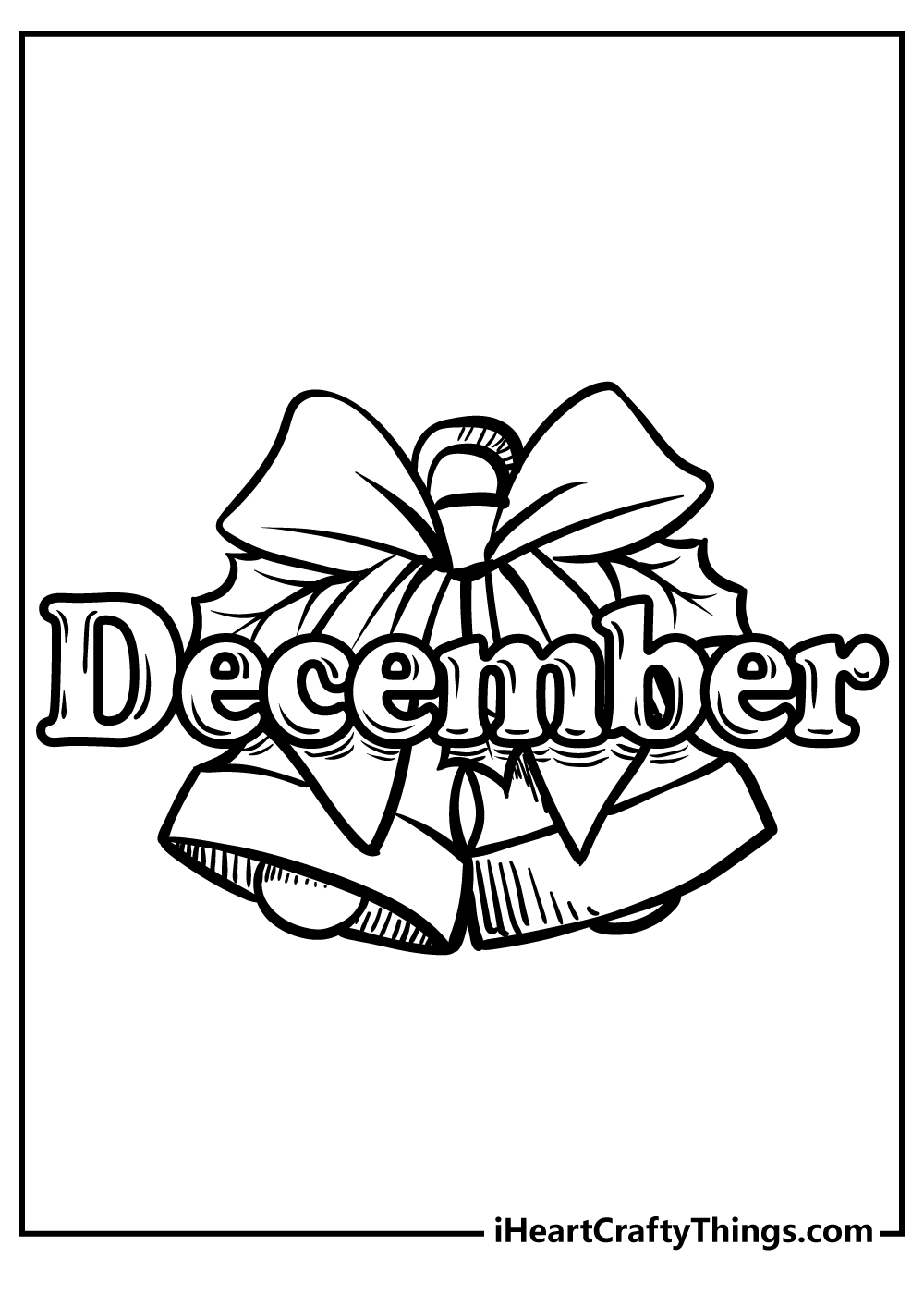 There's another classic Christmas symbol for you to color on this next page. At Christmas, you'll often see colorful, vibrant round wreaths hung over doorways and in the house.
We have one of these wreaths for you to color in this image.
It's beautifully decorated and has baubles and ribbons all throughout it. It even has a large ribbon trailing from it, and the pattern on this ribbon gives you a lot of opportunities for some great colors!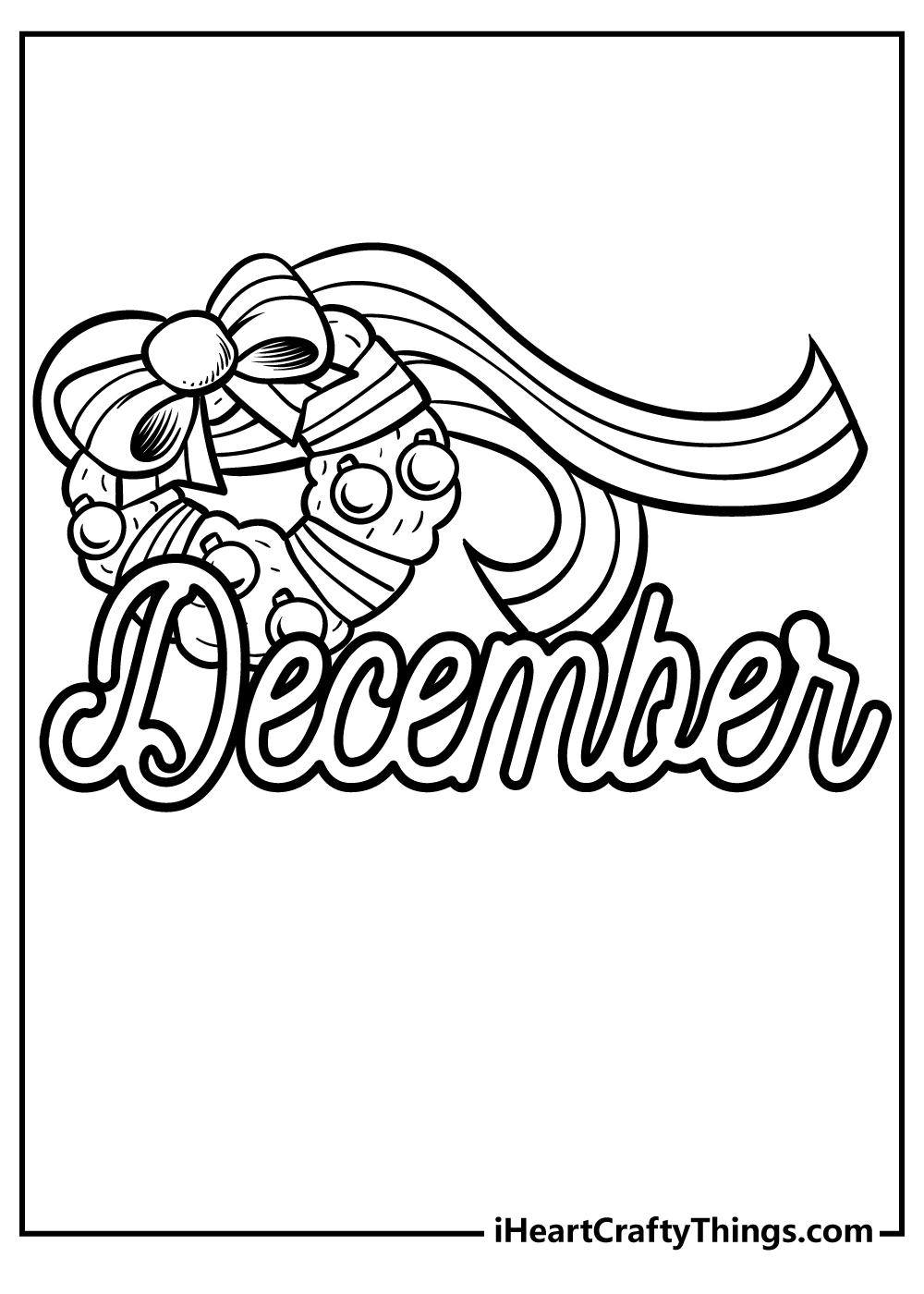 It's always great to enjoy some Christmas treats around the festive season, and we have a classic Christmas treat featured here.
Gingerbread men are common to enjoy around this season, and this one is really nicely decorated and designed!
There are tons of great little details incorporated on this gingerbread man for you to color.
A lot of these details are rather small, so for more intricate color details you can use colored pens, pencils or brushes with thin tips.
Mediums such as these allow you to get in there with the smaller details, so will you use these kinds of mediums?
There's even a beautiful holly plant in this image to give you even more bright colors to finish it off!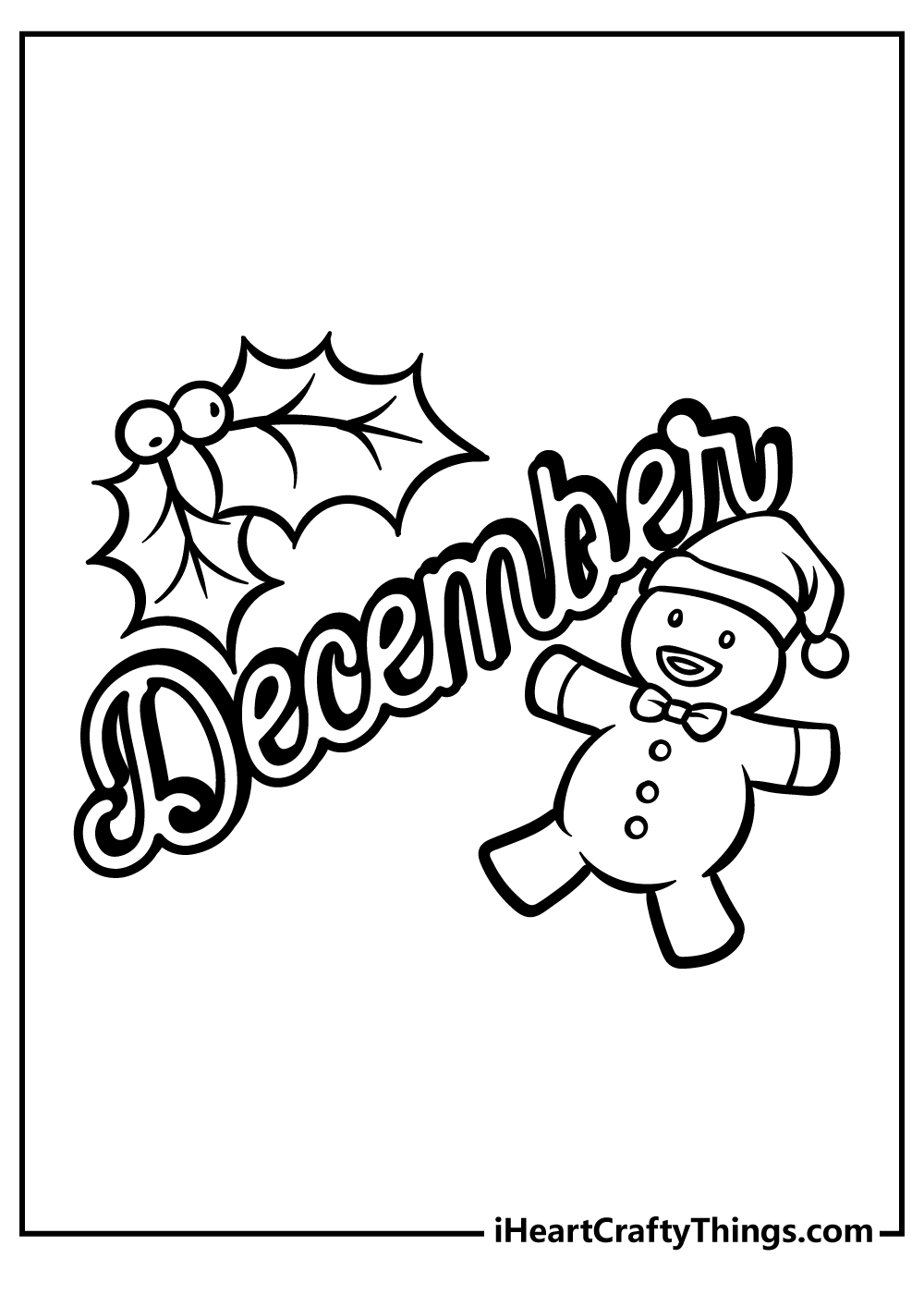 This young girl looks ready for December. She looks happy and cozy in her beanie, coat, boots, and purse.
The background has some snowflakes that you can color with different shades of blue or white.
You can use your favorite colors to make this scene come alive with winter magic. Have fun coloring this adorable girl and her snowy surroundings.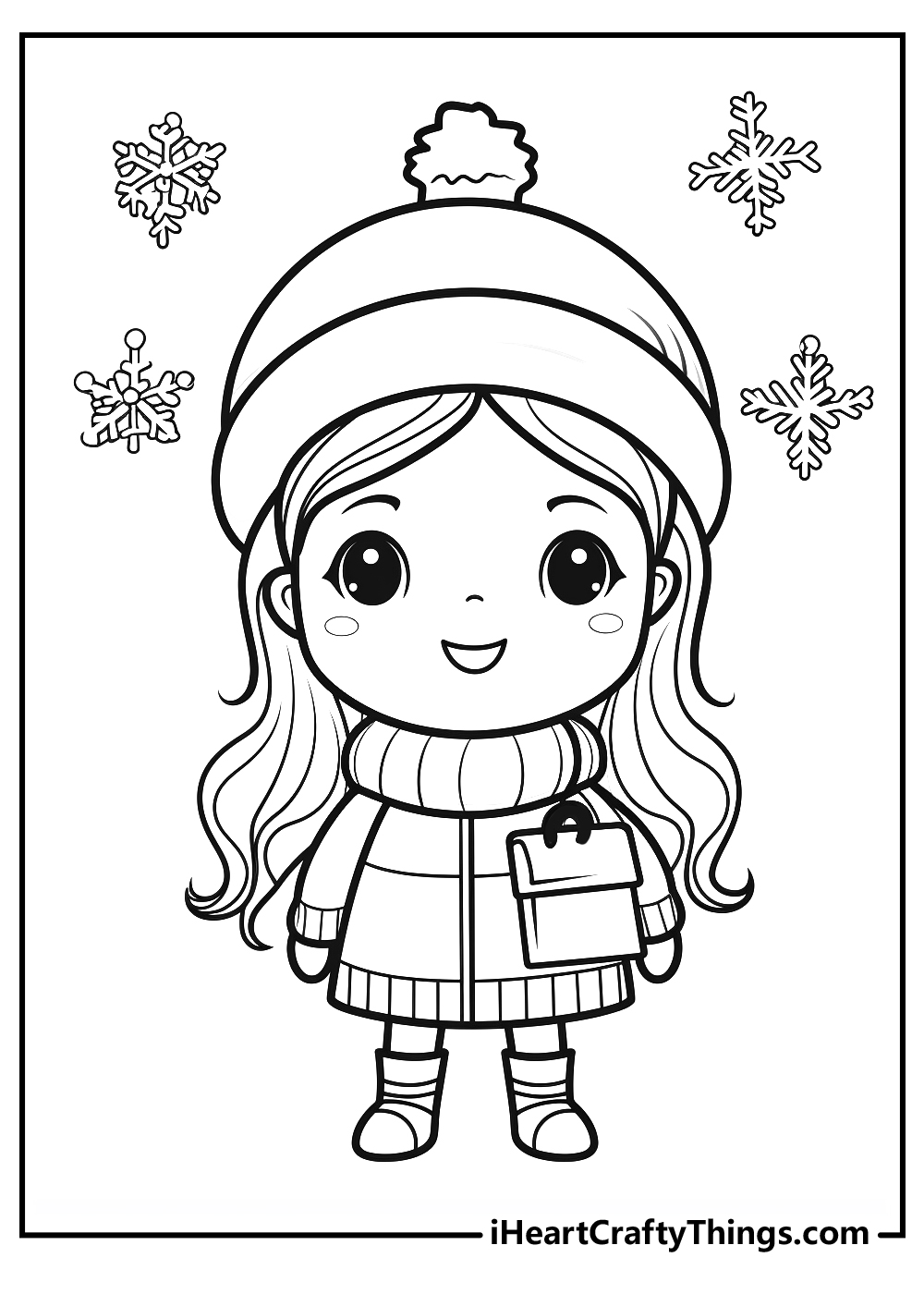 The snowman is featured on this calm December coloring printable. This snowman is in a peaceful field of snow, and there's a wonderful feeling given off from this composition.
If we were coloring this one, we would use some colored pencils or watercolor paints to create a softer look to the colors.
What colors and art tools are you thinking of using for this one?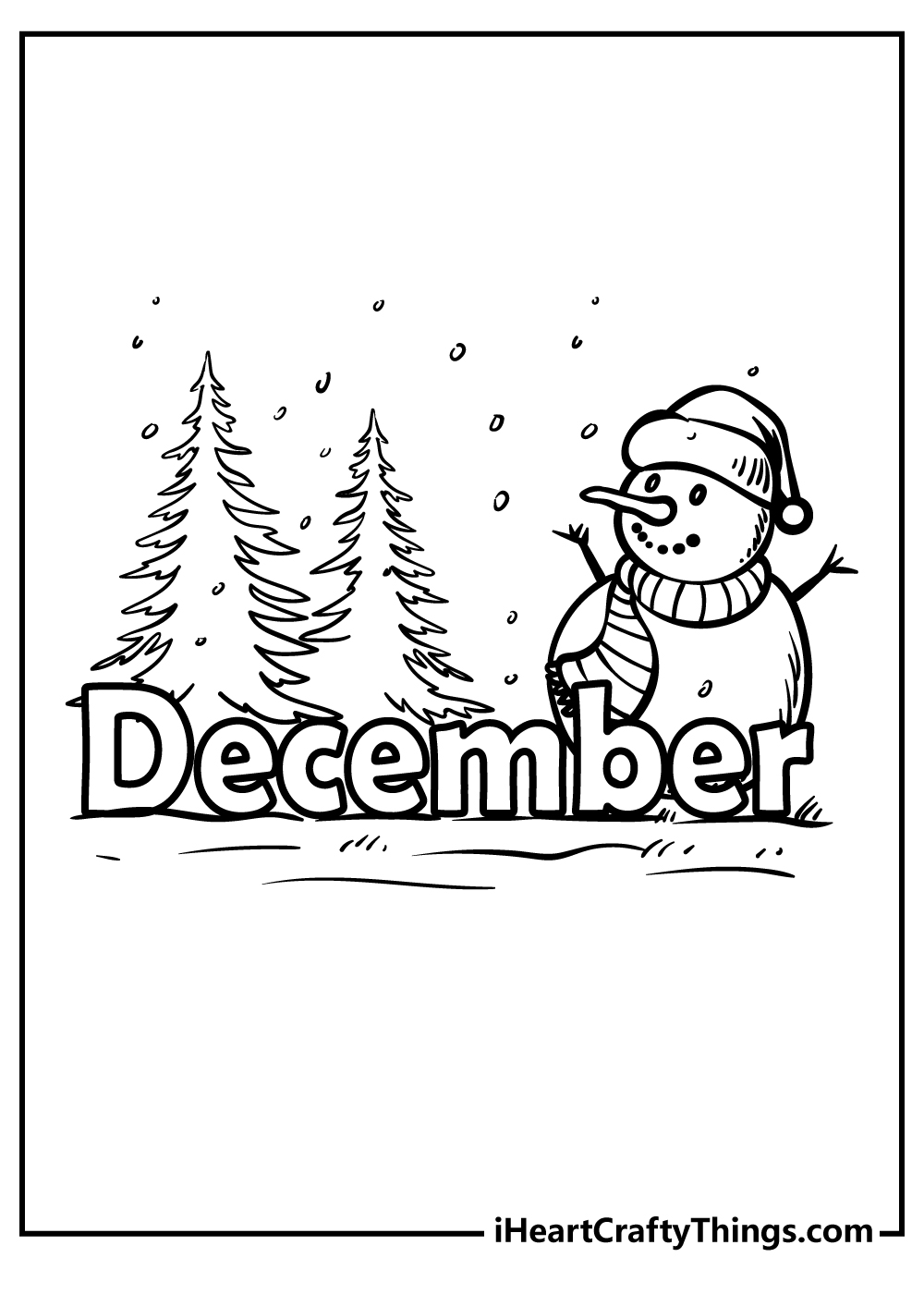 It's time to unwrap some coloring fun with this image! On Christmas, there will often be lots of wonderful presents to open, and we have a huge selection of presents featured here.
The wrapping used for these presents can come in all manner of different colors and decoration styles, so we know that this one will look incredibly vibrant once you're finished with it!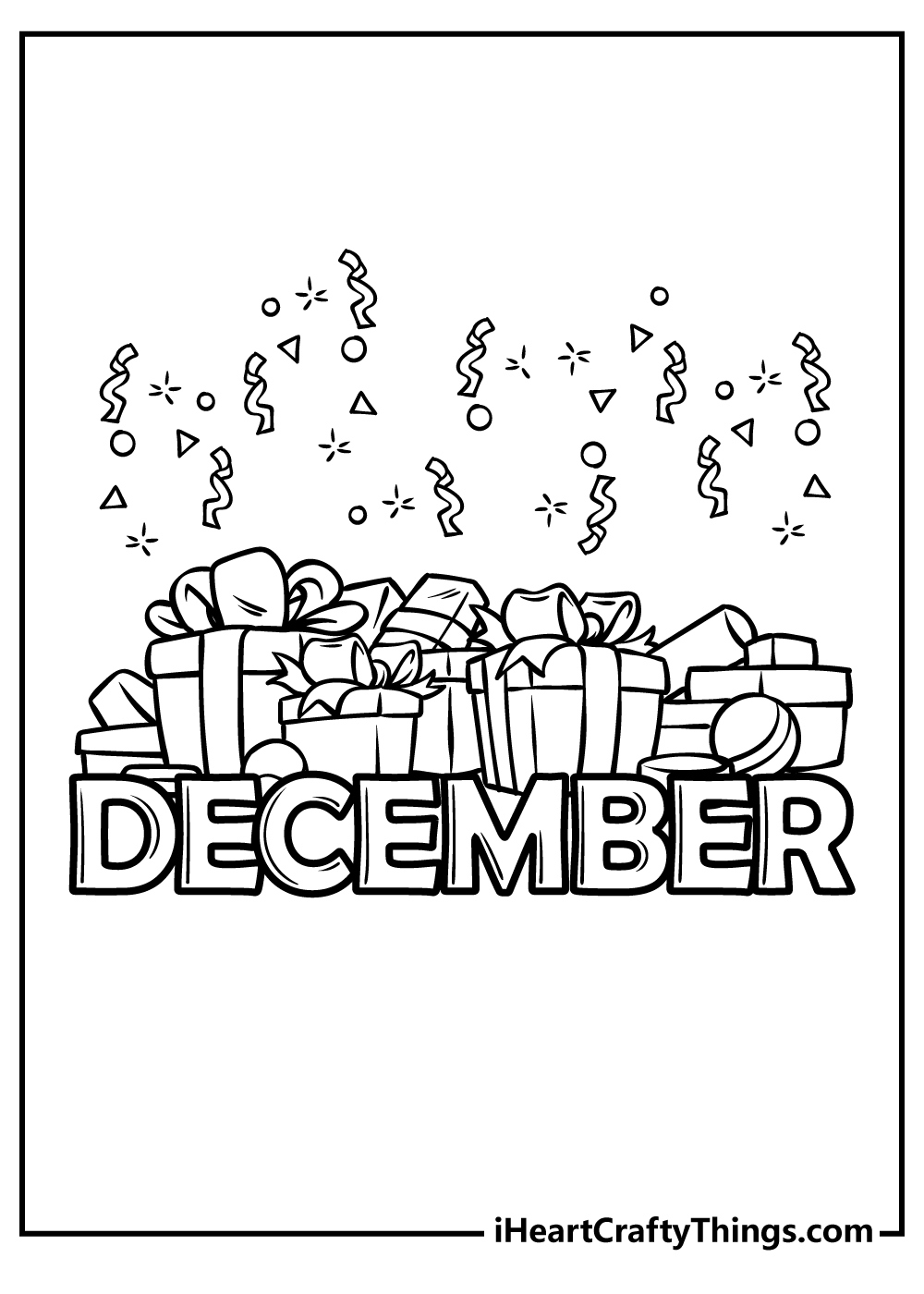 It's Christmas time! Color this beautiful evergreen tree that will add festive cheer to any home during the holidays. Start by coloring the tree a deep green.
Add pretty ornaments in a rainbow of colors like reds, blues, silvers, and golds. Use yellows, oranges, and whites for glowing string lights that decorate the branches from top to bottom.
Don't forget the magical golden star at the very tip top of the tree! Finish up by adding wrapped presents piled up underneath the tree.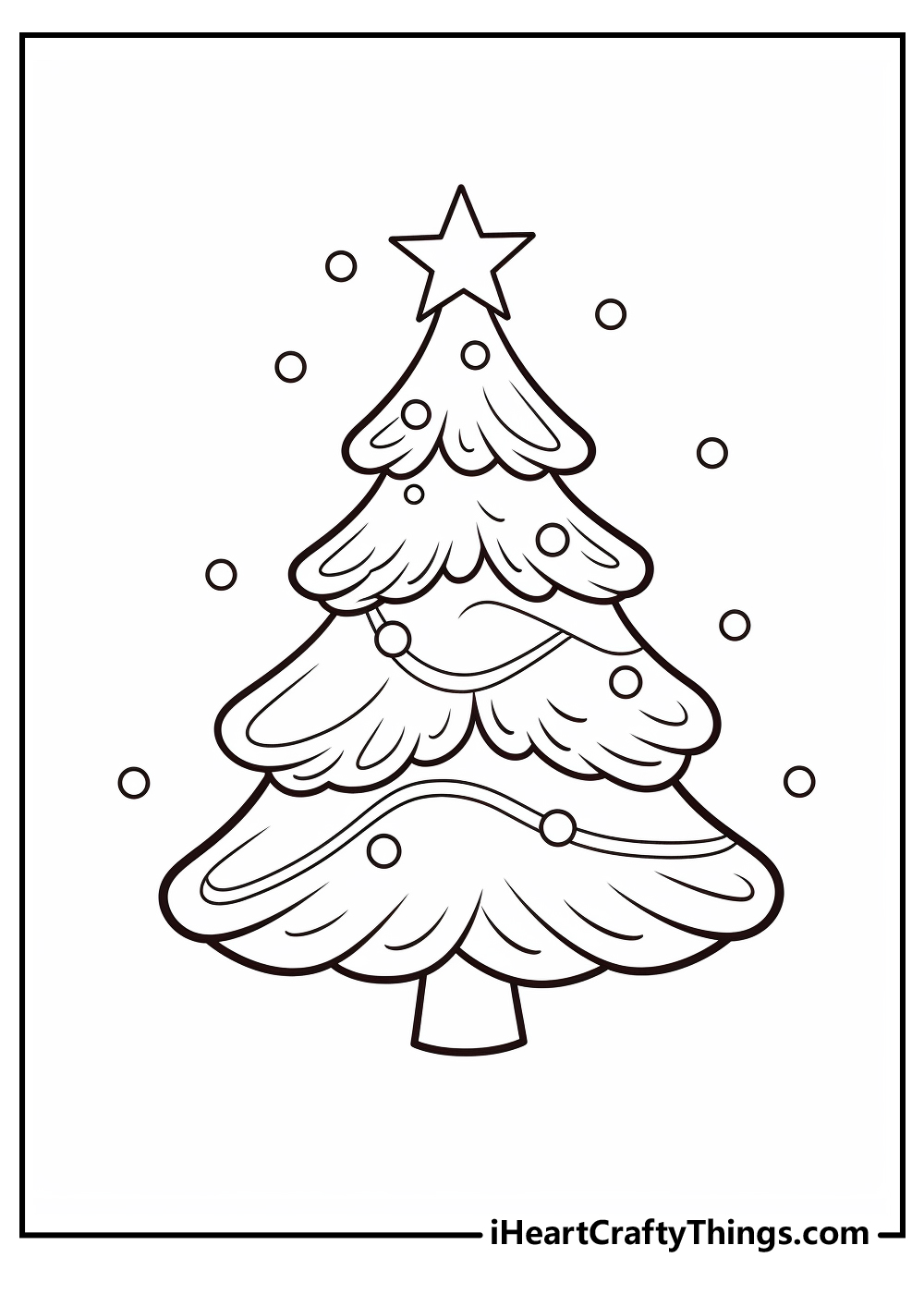 This is a wonderful coloring page that features a snow globe with a Christmas scene inside. The snow globe has a round base and a dome on top.
Inside the dome, there are three Christmas trees with stars on top.
The trees are decorated with round ornaments and lights that you can color how you want.
You can also use your creativity to color the snow globe, the base, and add other elements to the background.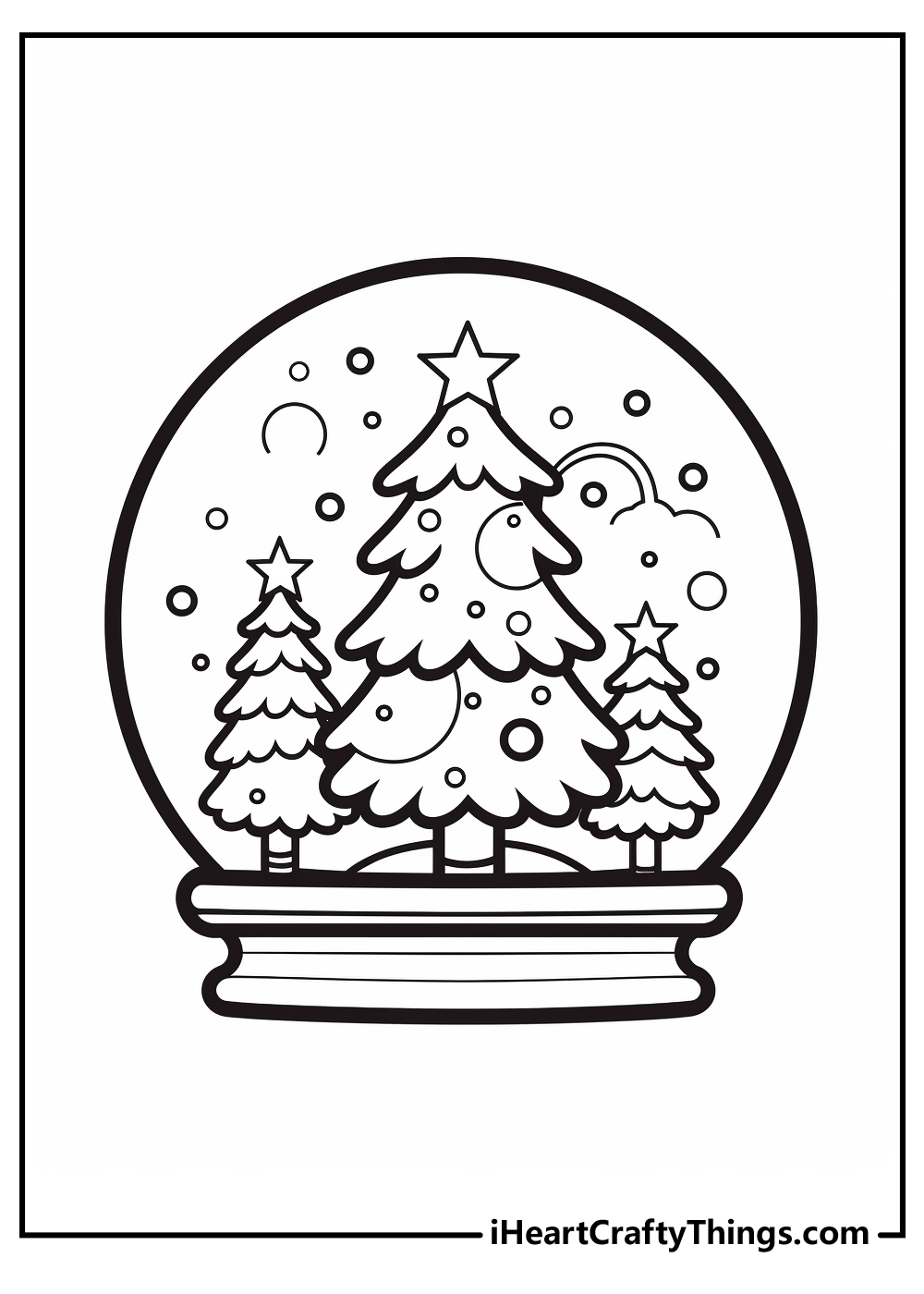 This collection of December coloring pages ends with a really fun scene! We have December written out in more beautiful writing, and standing behind it is Santa himself.
To finish it off properly, we added his big bag of presents beside him. The design of this page is really creative and fun, and it will look even better once you have had a go at it.
This will be a great chance to use all of your favorite colors, art tools and mediums to create the ultimate Christmas picture!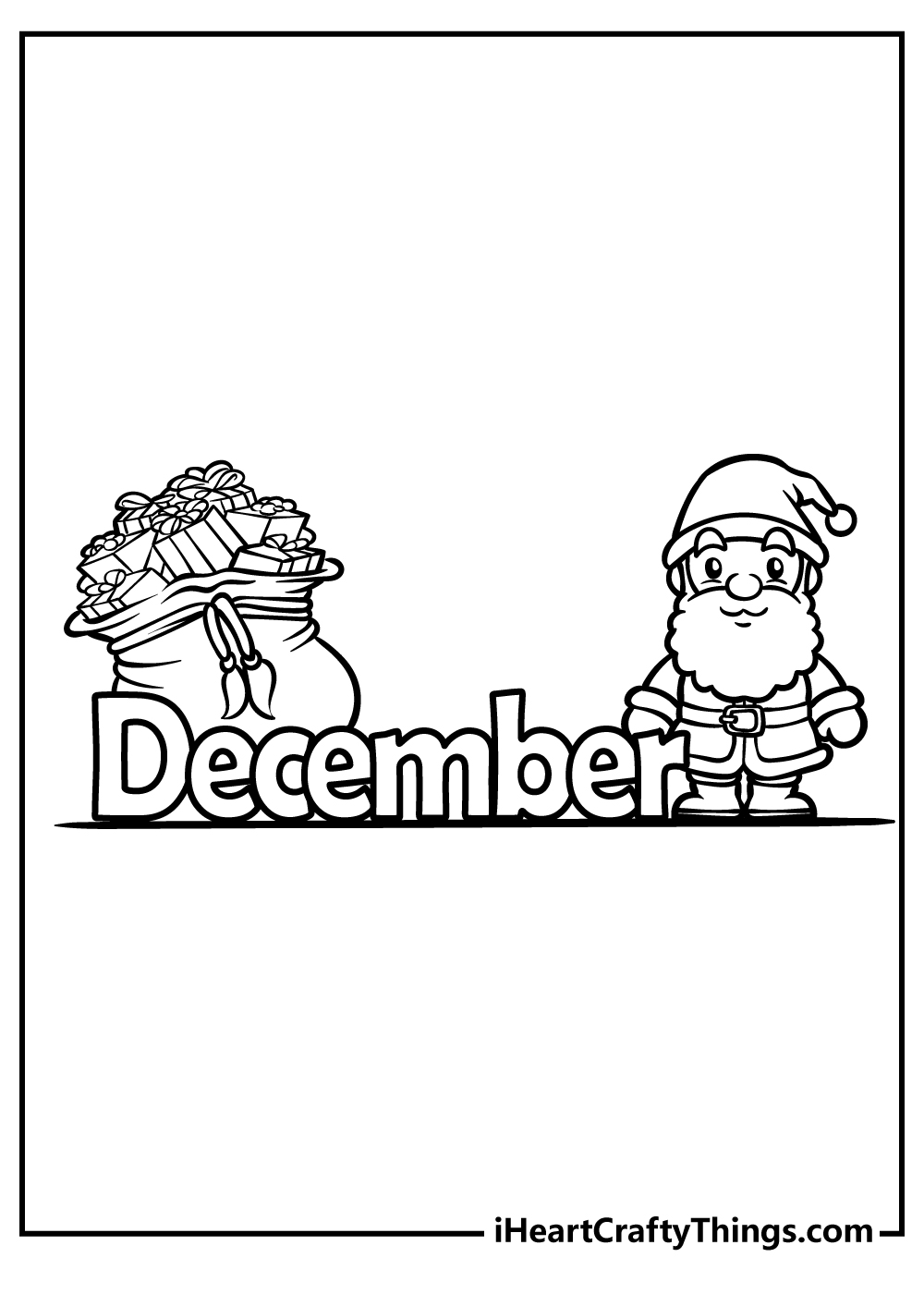 December Coloring Pages – Which will you choose?
We hope you had an amazing time creating some amazing Winter memories with this collection of free December coloring pages for kids!
There were so many incredible pages in this collection that it would be hard to pick just a few favorites. Luckily, you could print and color every single one if you want!
Then, you can find even more coloring fun to enjoy on our website. We can't wait to see you there so that you can enjoy more free coloring page collections and other goodies!
We would also once again ask that you share some of your finished December coloring pages on our Facebook and Pinterest pages! We would love to see how they look when they're done!