There are many different fields and mediums of art that artists use to express themselves, but when many people think of art they think of painting.
Painting is one of the most widely practiced fields of art, and professionals and amateurs alike love to pick up their brushes and express themselves.
With this collection of free painting coloring pages for kids, you can contribute to this artistic tradition yourself!
With this collection, we will be covering a wide array of different painting styles, scenarios and scenes.
These pictures will allow you to get out all of your favorite art mediums and colors as you bring them to life! You can also add your own fun details and elements to personalize them further.
You are able to print these free pages as many times as you like, and that means that you can experiment with colors and mediums without fear!
You can also share the coloring fun with others by sharing these pages with your fellow art lovers.
We hope that you enjoy creating some colorful art with these pages!
When you have chosen and colored your favorite images, be sure to share them on our Facebook and Pinterest pages for us to see and enjoy.
15 Brand New Painting Coloring Pages – Free to Print and Color
There are infinite possibilities when you dip your brush into some paint, and that is the moment we are capturing in this first free painting coloring page for kids.
This paintbrush is swirling around in the paint, and you have many options for how you could add to and color this image. First, there's the matter of choosing what color you will make the paint.
There are so many amazing colors you could use, as any color you can imagine could work for this!
You could also draw extra details such as a hand holding the brush or some more art tools sitting on the table.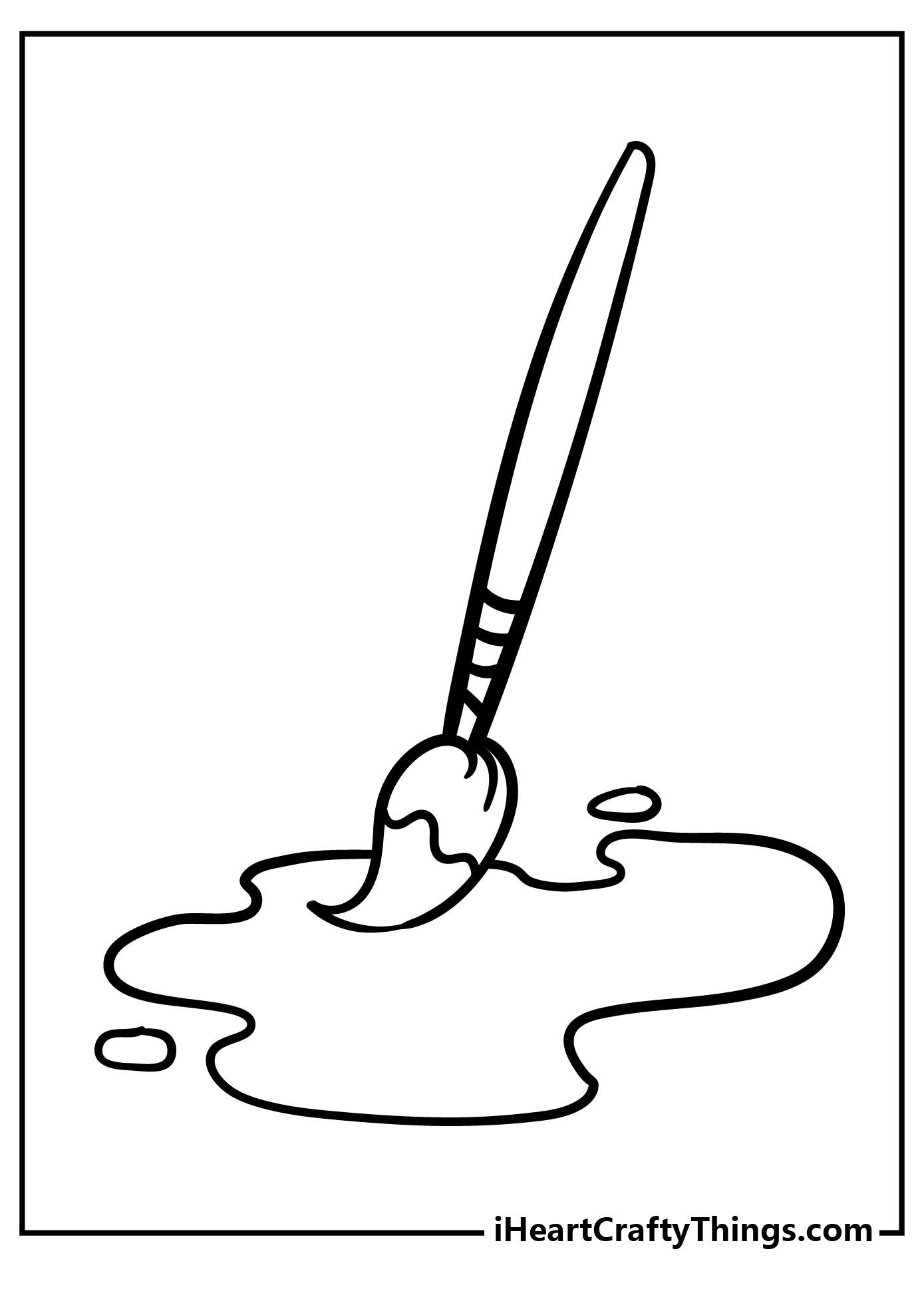 This painting coloring page shows an artist's studio with a painting of a pot of paint brushes on an easel.
The painting is very colorful and realistic, and you can see the details of the bristles and the wood.
The easel is in front of a window with white curtains that let some light in. There is a wooden stool in front of the easel where the artist can sit and work.
On the right side of the image, there is a lamp that provides more illumination for the painting.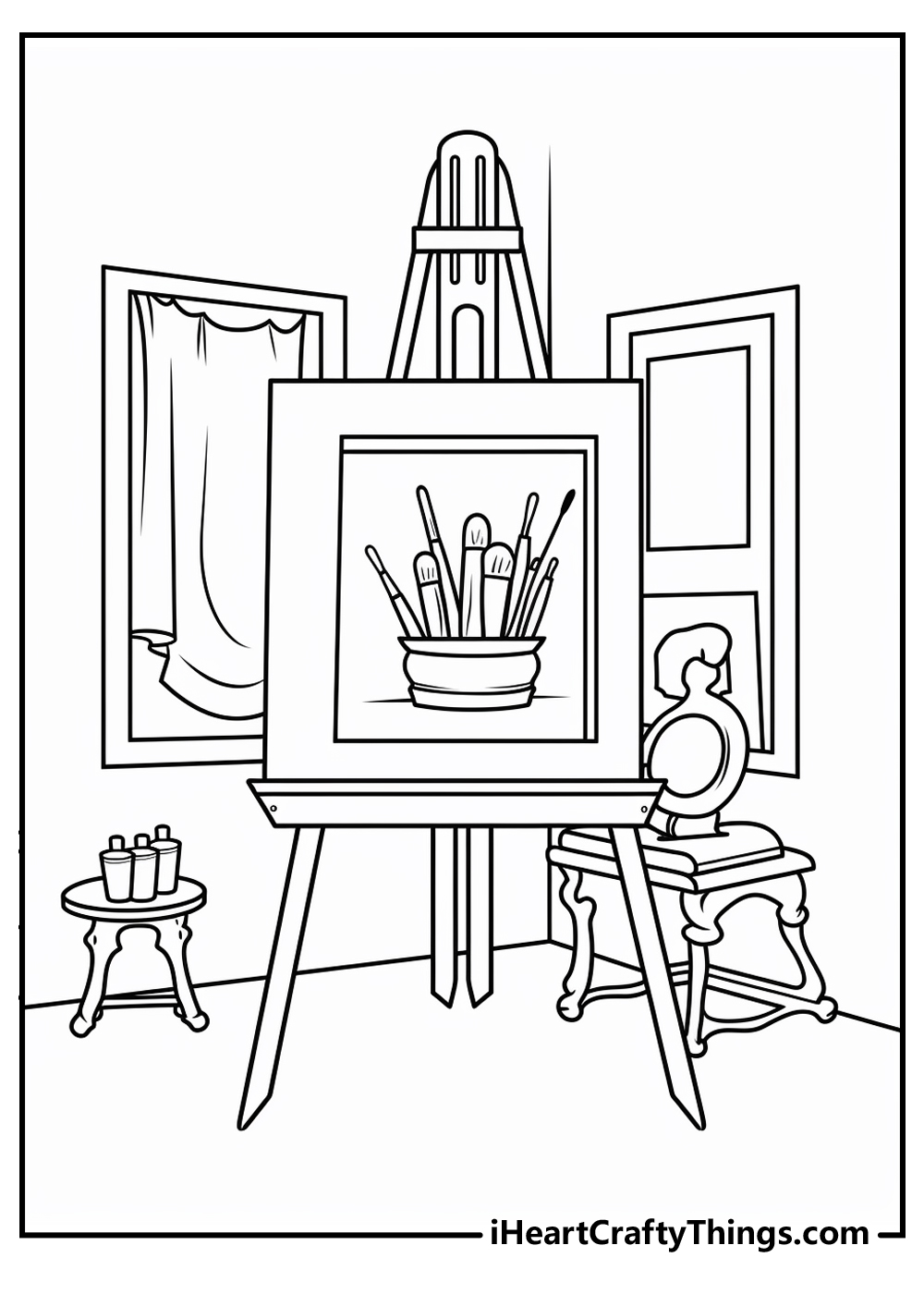 Painters will often use a tool called a palette, and this is a flat piece of wood that they can use to keep blobs of paint on so that they can be used for the painting.
This is the tool we are focusing on for this second page, and a brush is being dipped into one of the blobs.
This is another one where you could add all sorts of great extra background details and additions!
What kind of scene will you create using your colors and other details?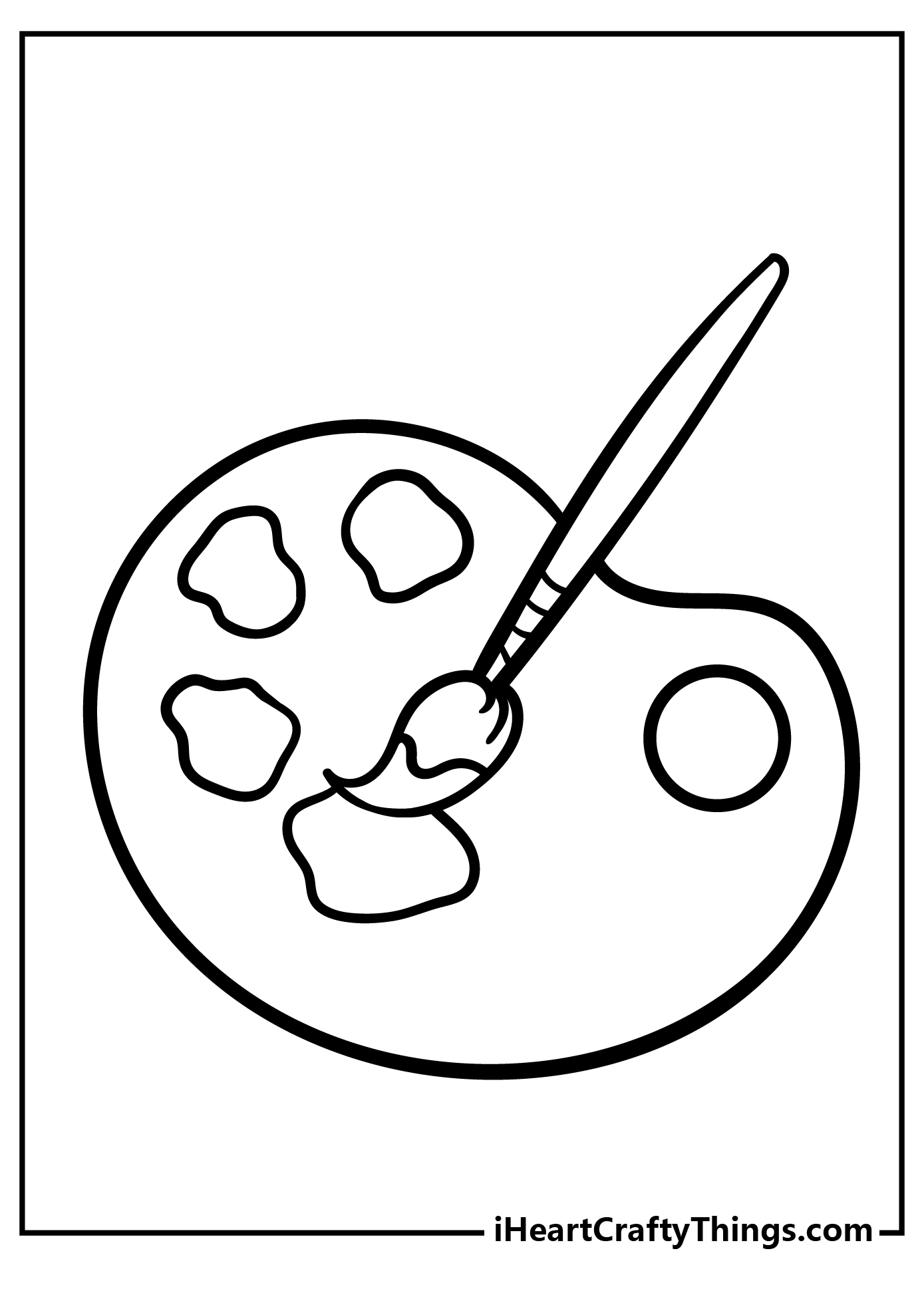 We have another scene involving a painter's palette in this next image. This one has several brushes being held inside the hole, ready to be used.
When coloring this one, you could use real blobs of acrylic paint on the blobs in the picture. If you keep the paint application thick, it will give the image a bit of a 3D look.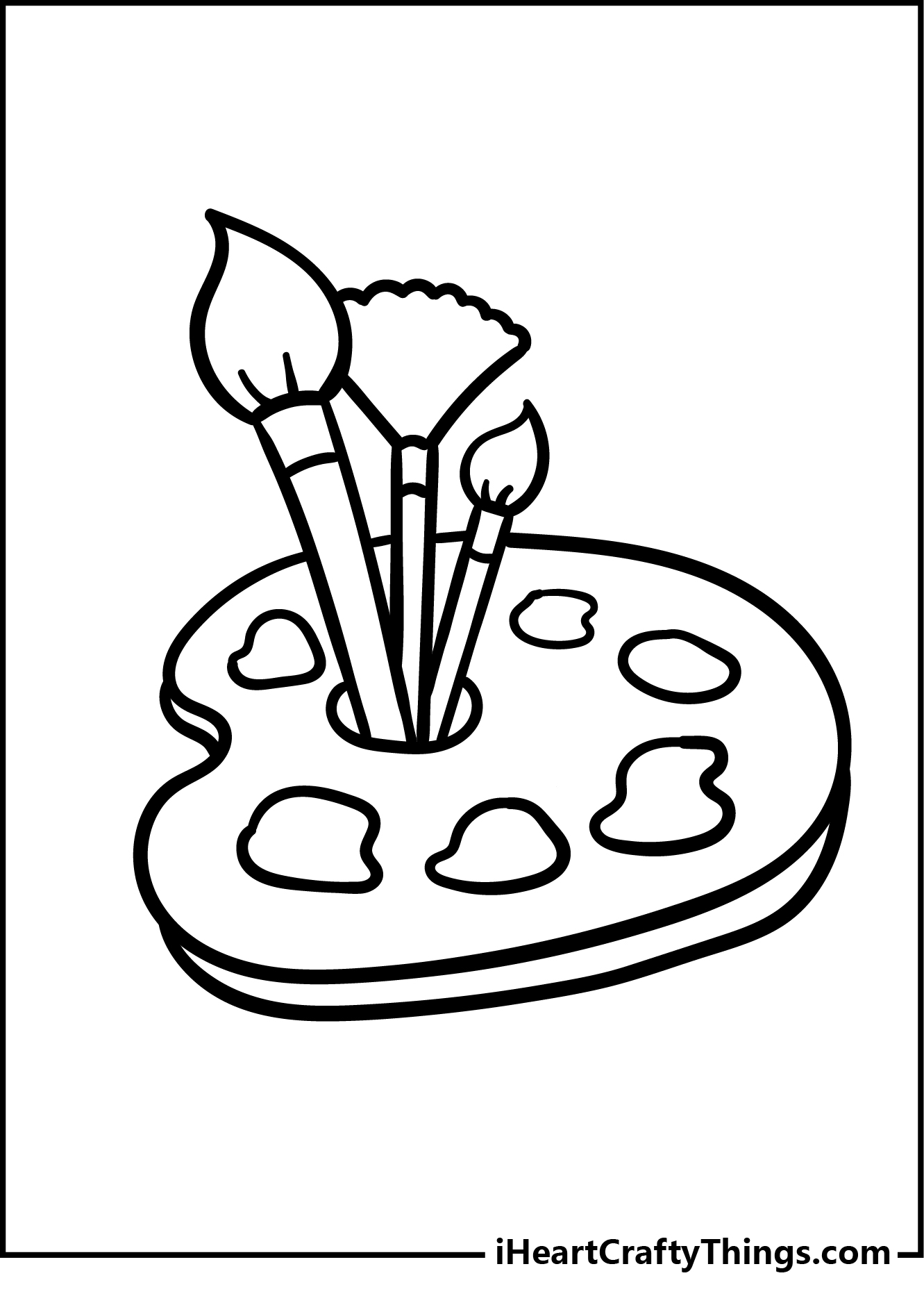 Let's get creative with this painting coloring page. The blank canvas shows an outlined sketch of a paint jar and brush, just waiting to become a colorful masterpiece.
Use bold reds, blues, greens or other fun shades to color in the jar. Try mixing paint on the brush tip to match.
Add your own art supplies and decorations to the wooden easel too! For the cozy background, practice varying pressure to shade the window, walls and picture frame details.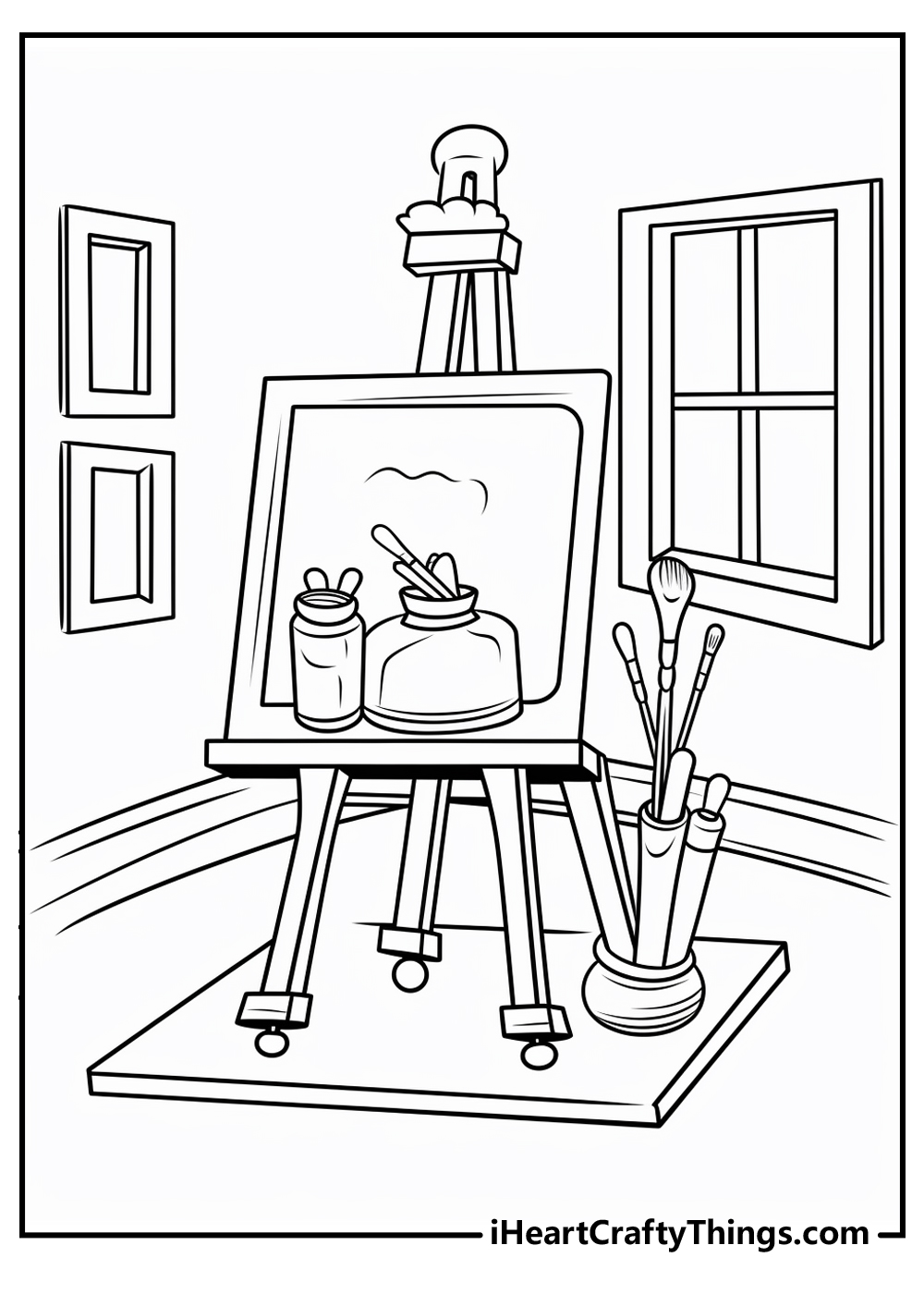 The artist in this next painting coloring sheet has a blank canvas in front of him, and that's something every artist likes to have in front of them!
With this picture, there are many ways that you could go about finishing it off. It could be fun to draw what kind of artwork you think he could be working on onto the canvas!
What kind of picture do you think he may be working on?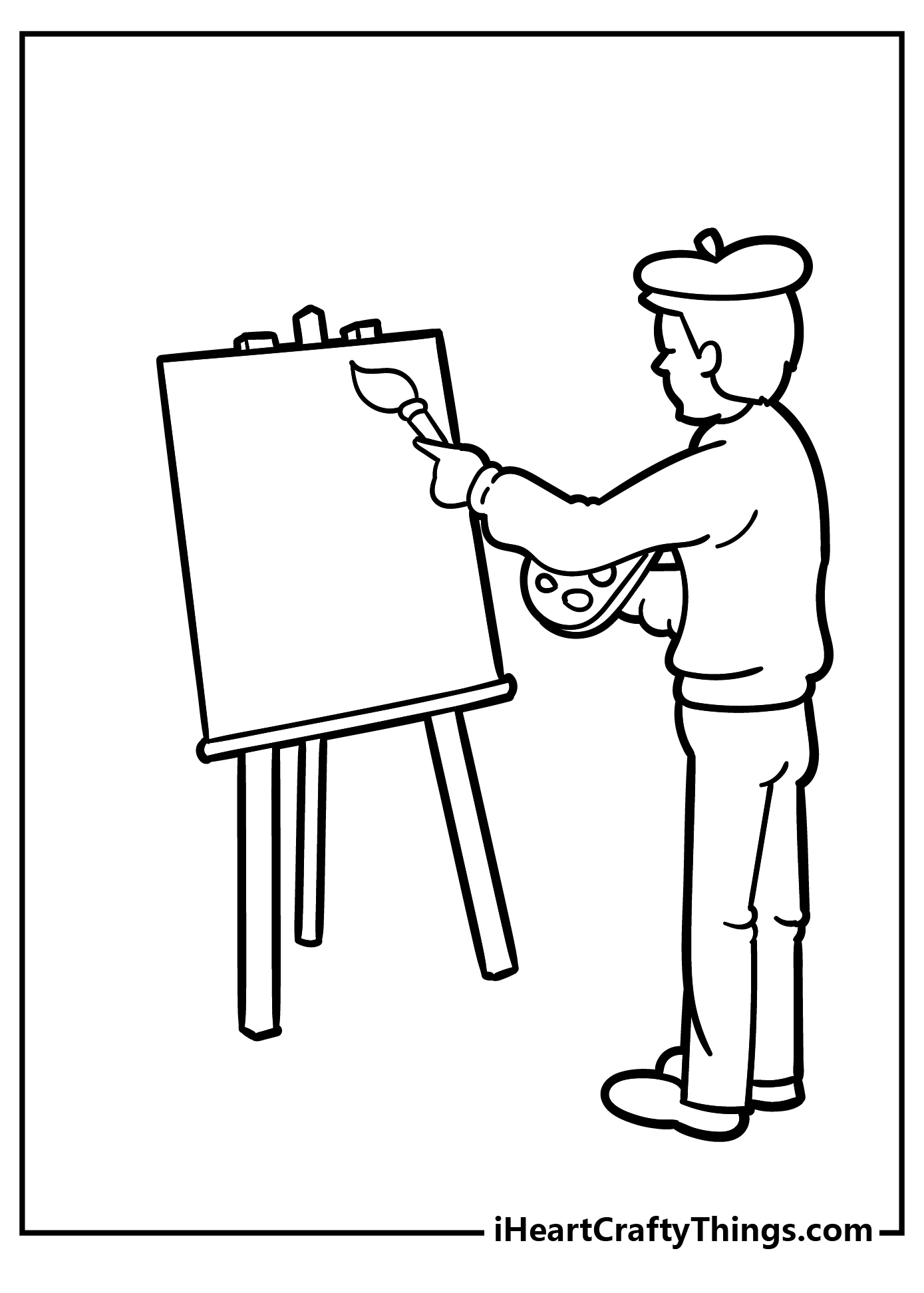 This happy little artist is painting a lovely tree, and it looks like he's having a great time doing so!
The tree would allow for a lovely spot of green to create a bright focal point for the image, and there are plenty of great colors you could use for his outfit and surroundings as well.
Which art mediums will you pick to color this happy little artist?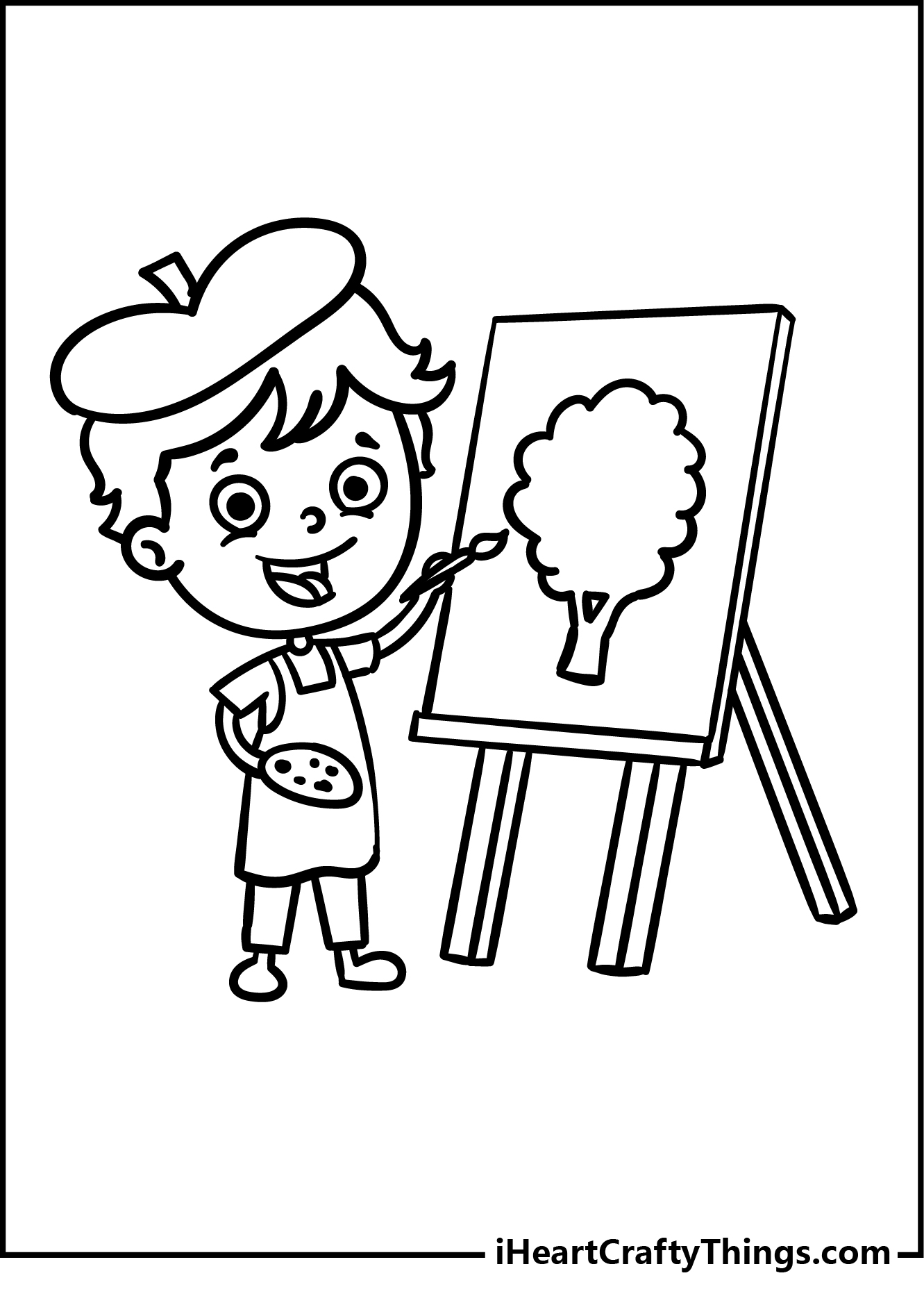 Let your inner artist shine by coloring this page featuring an easel with a floral still life painting. The wooden easel holds a canvas showing an outlined vase with flowers and an open book.
Use your most creative colors to paint the flowers. Try different shades of red, orange, pink or purple!
You can also mix custom colors for the vase and book covers. Add extra details like patterns on the vase or titles on the book spines.
For the easel, experiment with wood grain textures using browns.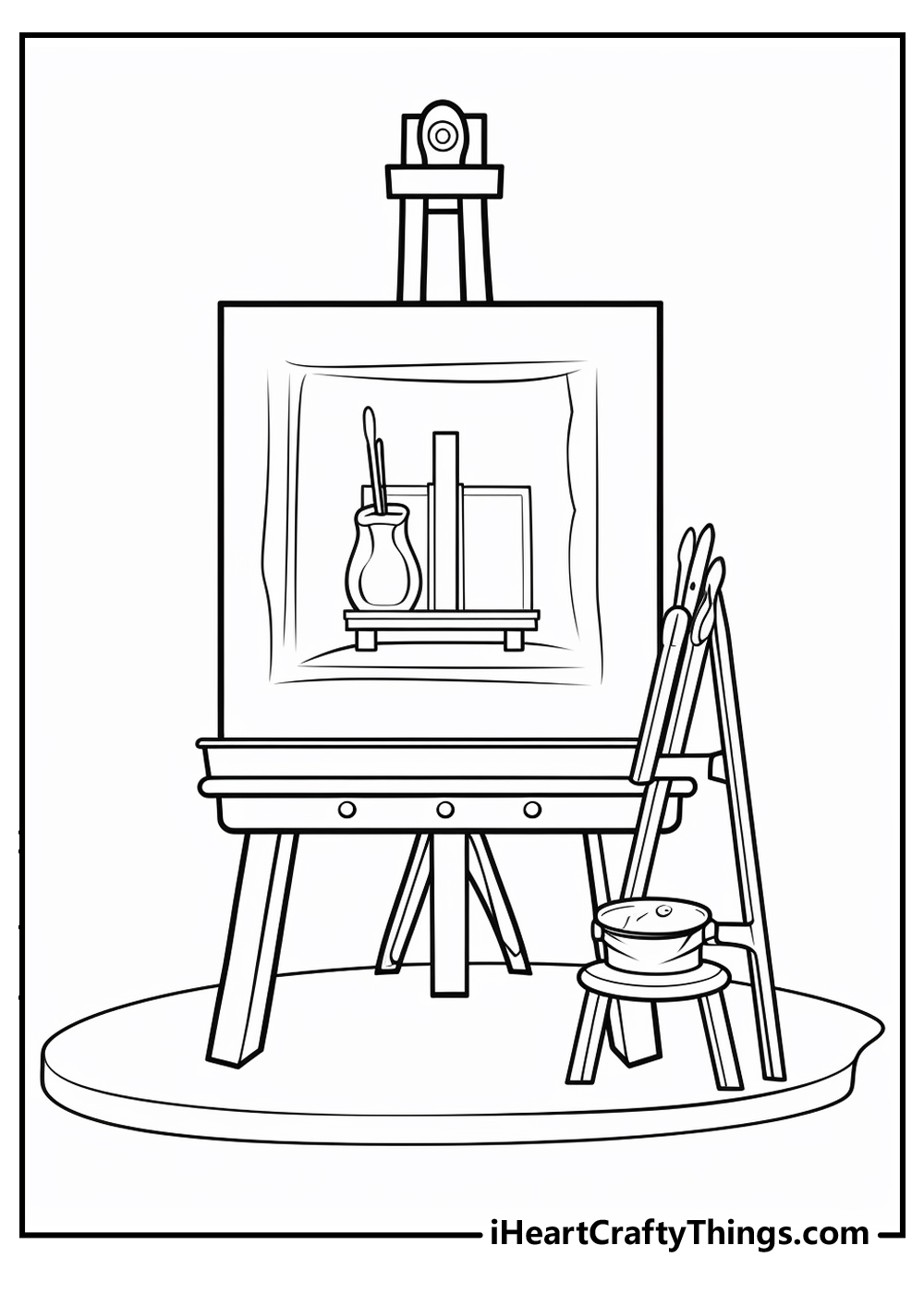 For this sixth painting coloring printable, we have a young lady having a lovely peaceful time working on her painting.
There is a really calm feeling given off by this image, and we think it would be well suited to some beautifully mild colors and tones.
Do you think you will go for that approach, or do you think you will go for some brighter colors and tones?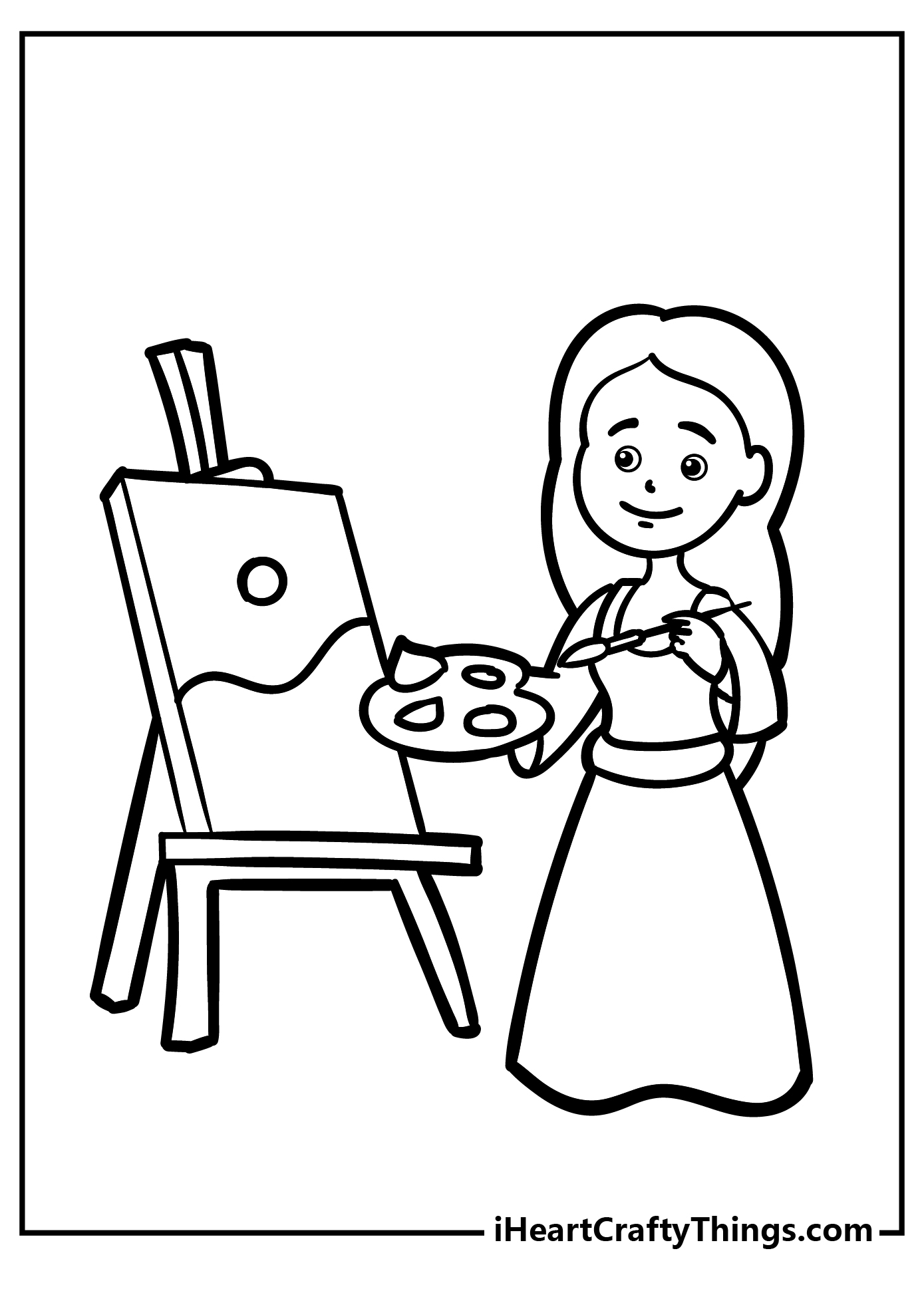 When painting, you can sometimes be struck by moments of indecision. It's a moment every artist has faced, and this man seems to be having one of those moments in this picture!
The canvas is looming empty in front of him, and his eyes are open wide.
When coloring this picture, maybe you could try to match the indecision he's feeling by keeping the colors a bit sparser and more muted.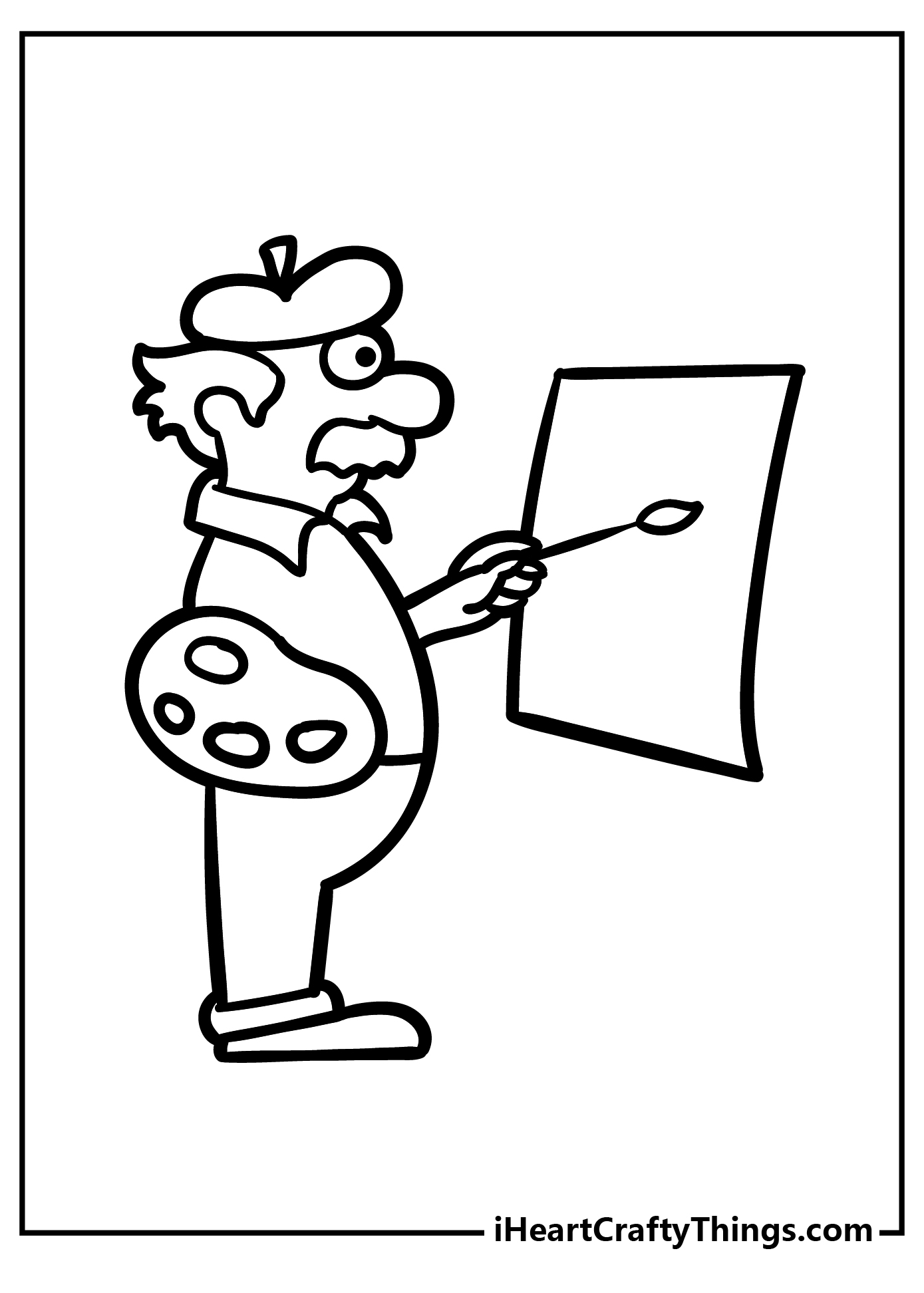 Look at this enchanting coloring page. The wooden easel with three legs provides a sturdy base for creating artwork.
Next to it sits a quaint table holding painting supplies – a jar of multicolored paint brushes, a cup of water for cleaning, and a tube of vivid blue paint.
As you add color to this page, consider what inspired the artist who painted the landscape on the easel. Do the colors reflect a specific time of day or season?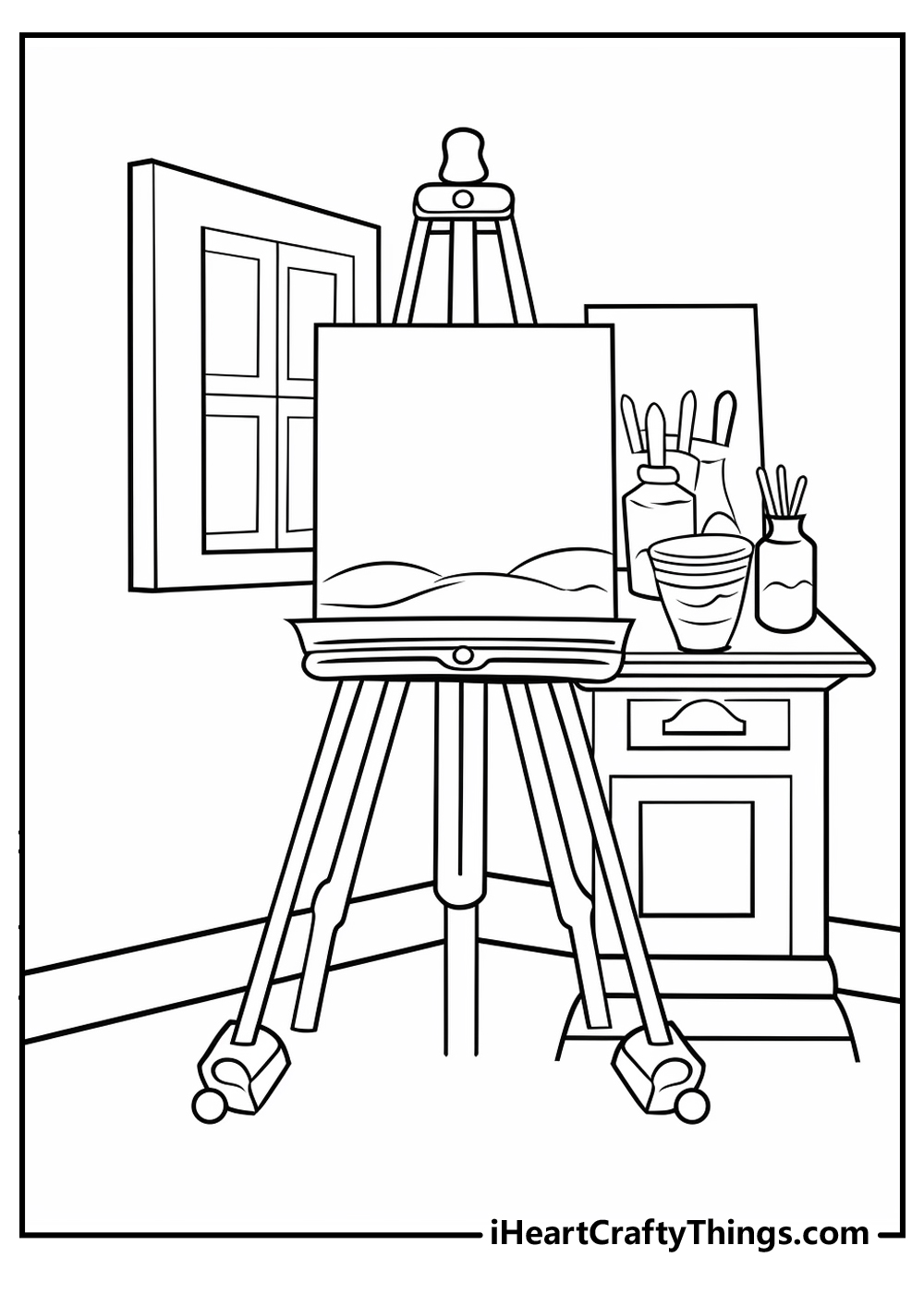 The artist in this painting coloring page seems a lot more inspired than the last man! This one is painting happily, and it seems that he may be working on some kind of landscape picture.
For this one, maybe you could draw a mountainous background to show what he is using as inspiration for his picture. Or maybe he could be in a studio working from a reference image!
How will you portray this artist working on his masterpiece?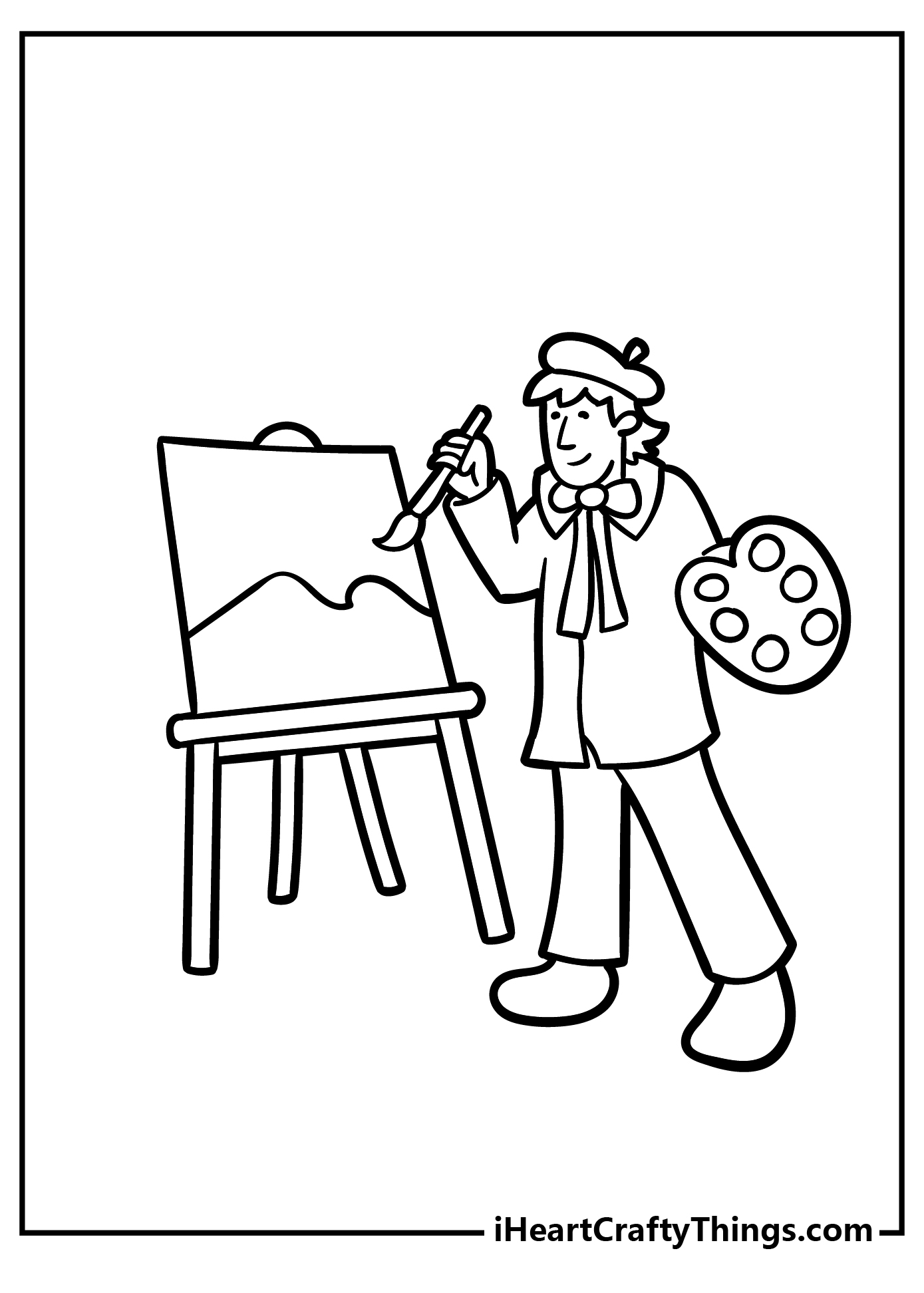 We have another fun picture for this next picture! This calm artist is sitting with his eyes closed, and that may mean he is letting his imagination run around for a bit before beginning the painting.
The canvas is left blank again, and that also lets you add some fun details.
Painters will often draw a rough outline with a pencil before painting, so maybe you could use a pencil to draw the outline of the image he will start soon!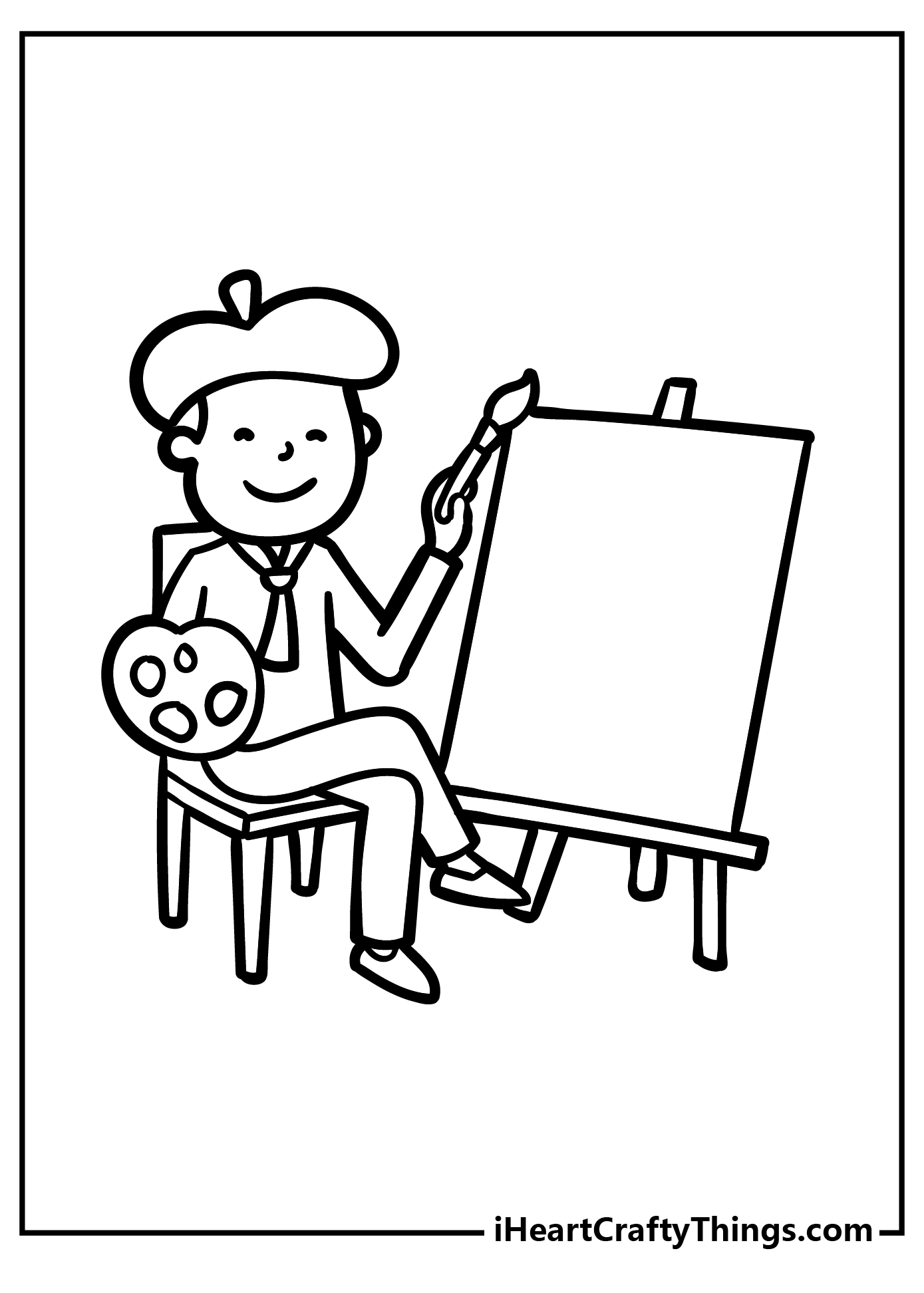 Grab your crayons and explore your artistic side with this cozy artist's studio scene! The main focus is an easel holding a canvas sketch of a white pitcher.
Make the pitcher pop by coloring it with bright, bold shades – try different hues like red, blue or yellow!
Add patterns or designs to make the pitcher fun and unique. Practice shading by coloring the easel, wooden table and furniture with different wood grain textures and tones.
Bring the scene to life by coloring the art supplies, vase of flowers and artwork on the walls too!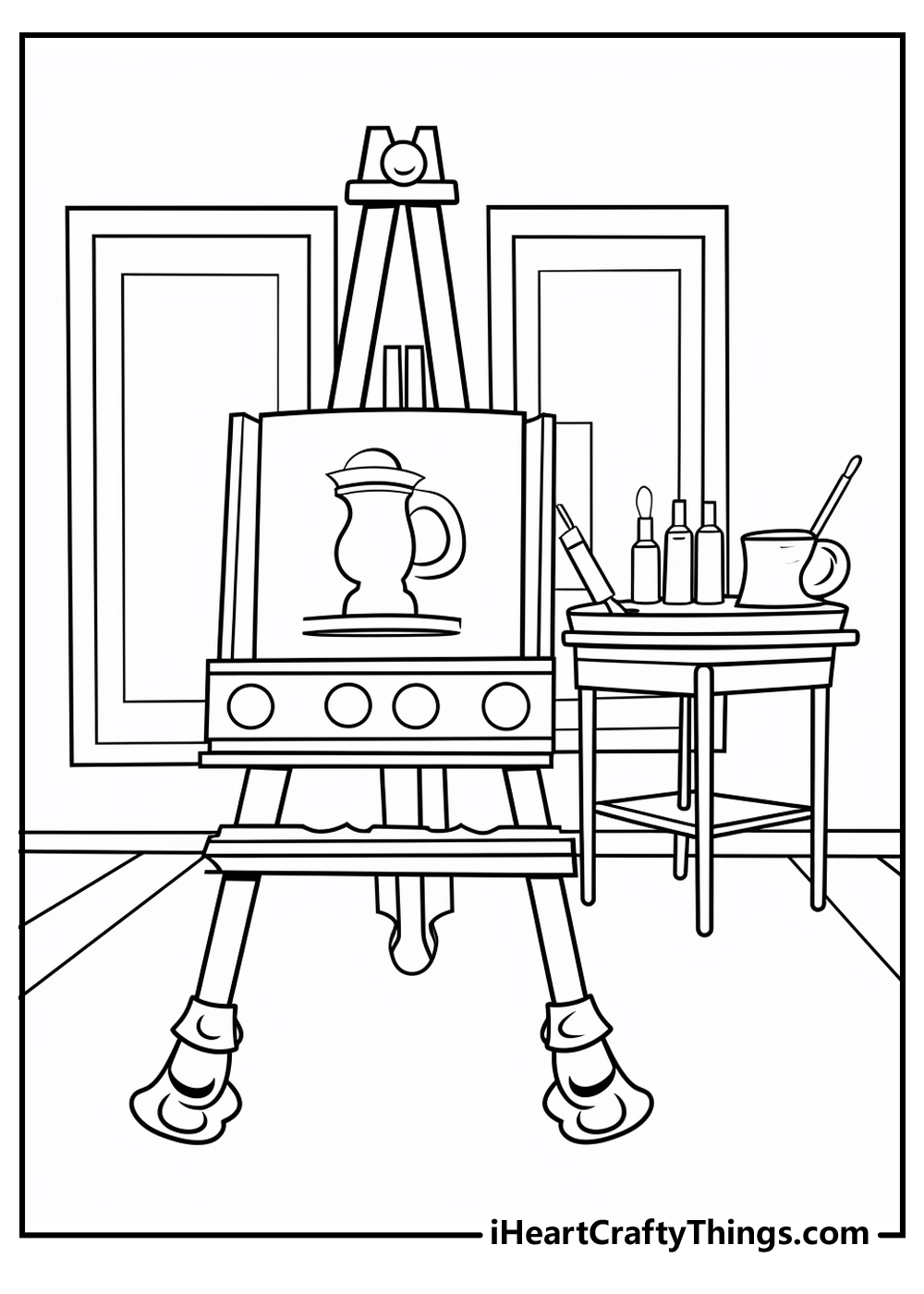 You have reached the final image of this collection, and it's another fun picture! We have a view over the shoulder of the artist as we take a glimpse at what he is working on.
It's an interesting perspective, and you can have some fun getting creative with your colors on this one. Once again, you could show what you think he's working on by drawing onto the canvas.
You could also add fun details such as art tools and splotches of paint all around him to show how hard at work he is on this painting!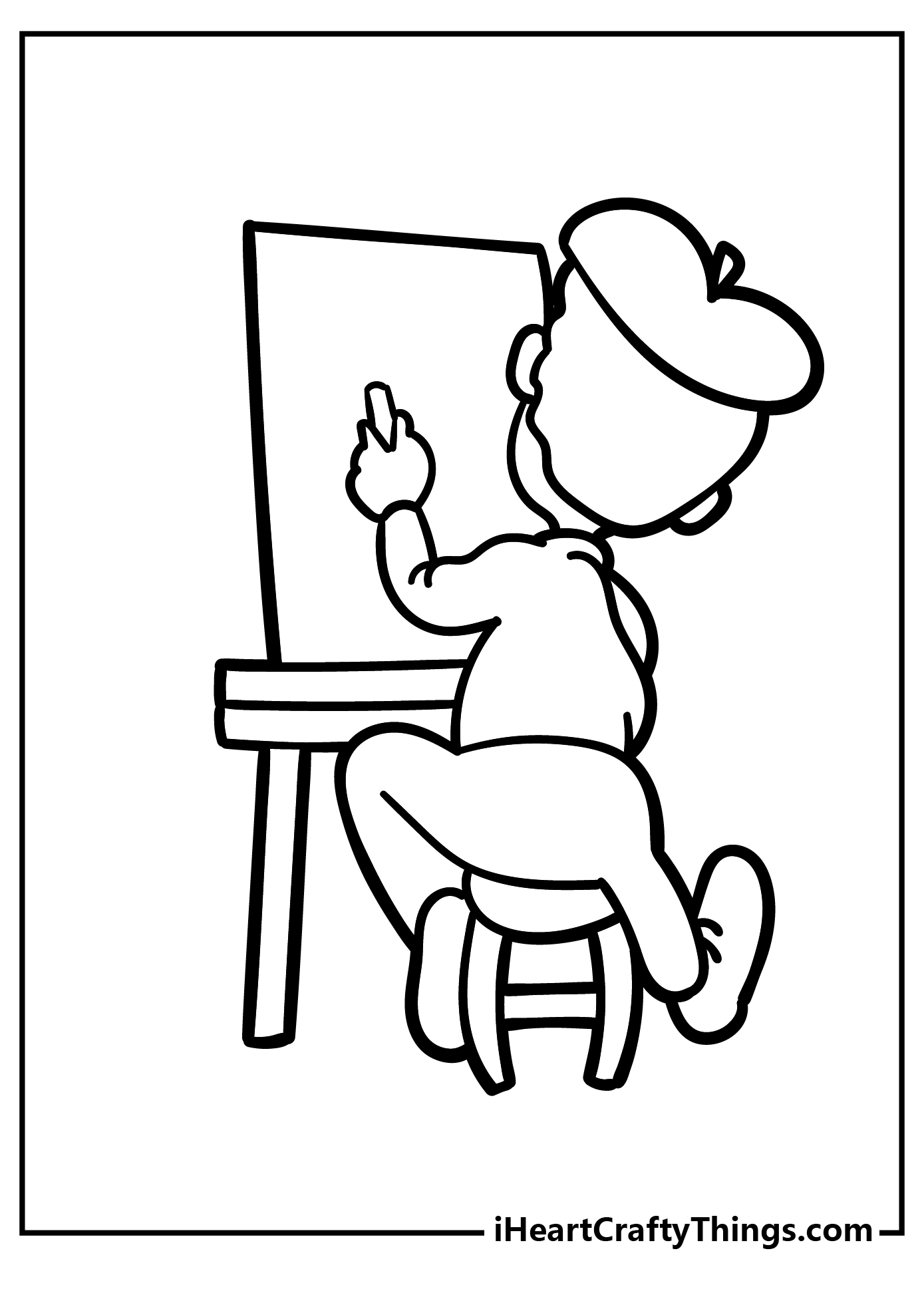 Painting Coloring Pages – Which will you choose?
We hope you had a wonderfully creative time working on this collection of free painting coloring pages for kids!
We featured many scenes of artists doing their thing, and by working on these you have created some art of your own.
The creative fun doesn't have to end here! You can find many more free coloring page collections covering a huge array of different subjects and styles on our website.
Be sure to visit often to never miss out!
We would love to see your amazing colorful artworks, so please remember to share a selection of your favorite finished images on our Facebook and Pinterest pages.
We know you will have created some brilliant color masterpieces, and we can't wait to see how they look!