Glass is used for many practical purposes, and these range from glasses to drink from or the lenses of spectacles that help us to see better.
It can also be used for artistic purposes, and few are as stunning as stained glass windows.
These brilliant artworks are often found in old churches and cathedrals, and we're here to color them in for this collection of free stained glass coloring pages for kids.
This incredible collection of free stained glass coloring sheets provides some wonderful examples of this intricate artform for you to color.
These pages feature many different images captured in the stained glass style for you to enjoy!
These stained glass printables are free for you to print, color and enjoy as many times as you like!
You can also share these pages with your friends and loved ones to make sure that everyone can have some coloring fun.
Then, you can have fun comparing the different ways that each person colored in the same page.
You're ready to begin this collection of free stained glass coloring pages, and we hope you enjoy them!
Don't forget to share the resulting artworks on our Facebook and Pinterest pages. We can't wait to see your amazing pictures!
15 Brand New Stained Glass Coloring Pages – Free to Print and Color
This first free stained glass coloring page for kids features a design that incorporates another transparent wonder!
A beautiful diamond design is the focus of this stained glass creation, and it's a design that gives you a lot of freedom when working on it.
You could use any of your favorite bright and beautiful colors to create an even more stunning arrangement for this image.
What colors and art mediums will you choose to get this collection of stained glass printables started?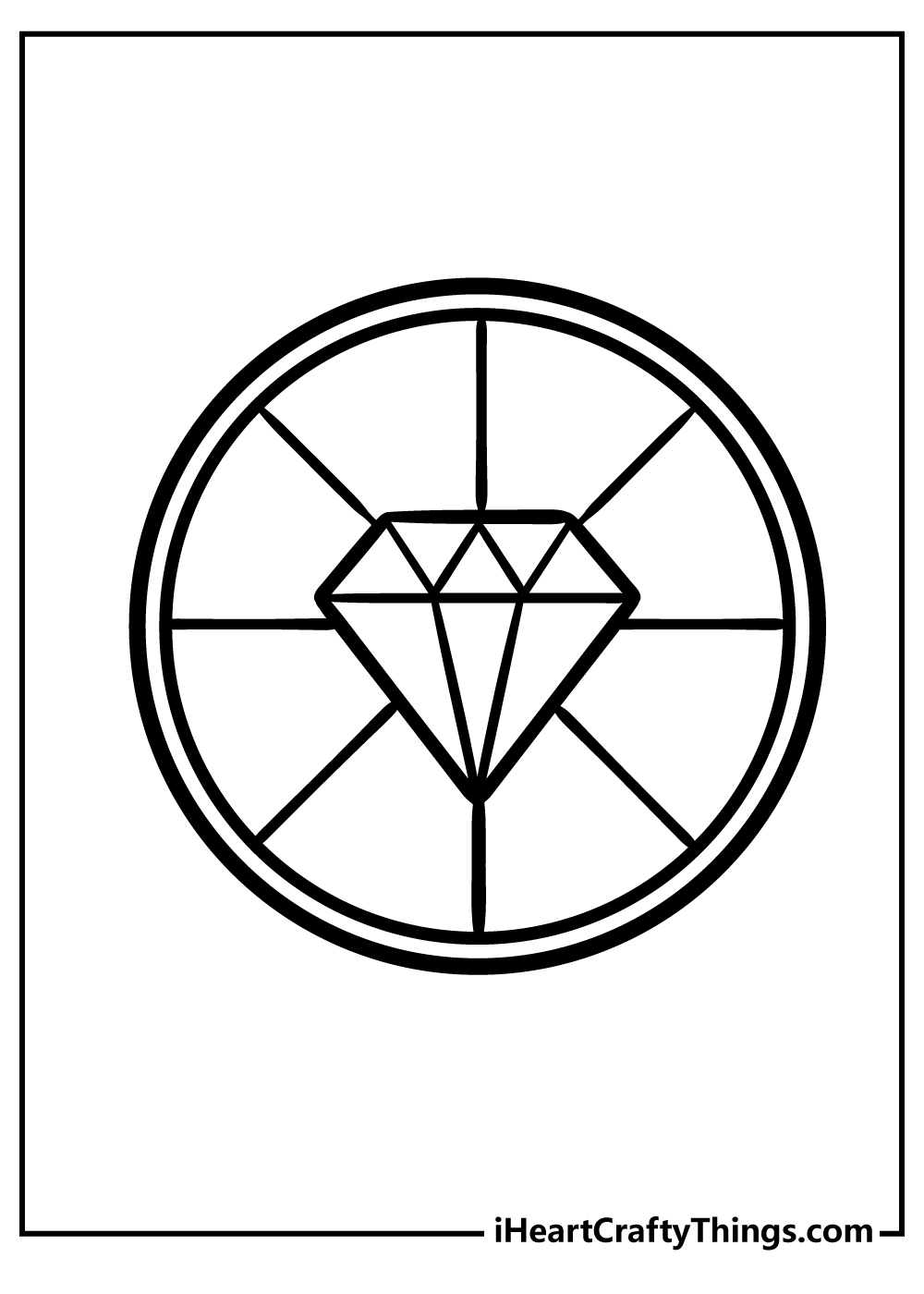 In this stained glass coloring sheet, we have a window in the shape of a pointed arch. The window is divided into several sections by black lines.
The central section of the window also features a cross with a circle around it.
The background is made up of geometric patterns and you can color it in any way. You could use warm and bright colors to symbolize the joy and hope of Easter, or you could use cool and dark colors to reflect the solemnity and sacrifice of the cross.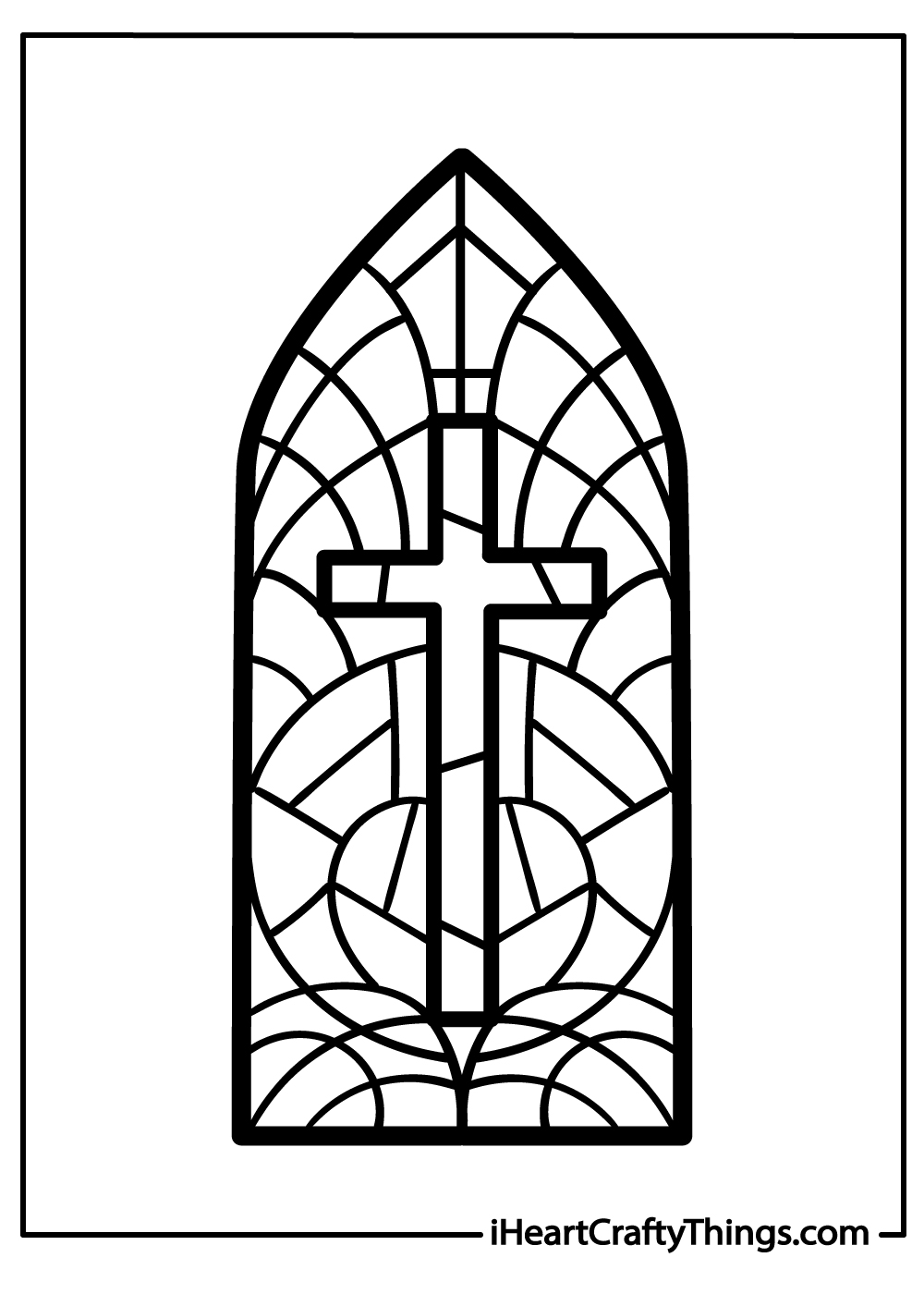 In the second stained glass coloring sheet, we have a gorgeous image for you to enjoy! This one features an elegant flower design incorporated into the stained glass style.
As you know, flowers are known to be beautifully bright and colorful, so that gives you the chance to really go crazy with your favorite colors!
Then, you can decide whether to go for a more unified theme or maybe use a unique color for each separate section of the design. What approach will you take for this beautiful coloring sheet?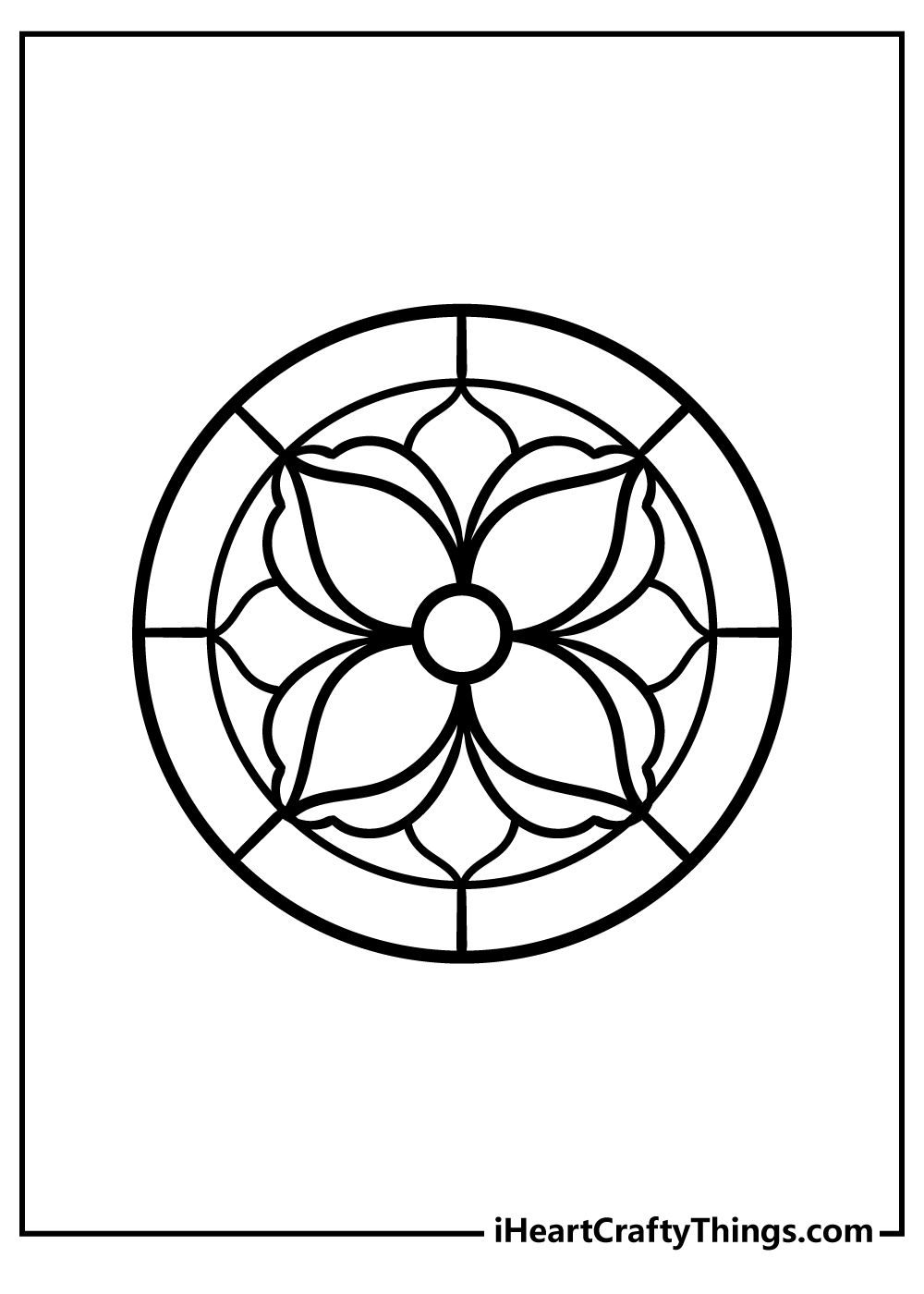 This stained glass coloring page features a gothic window with intricate and detailed designs.
Gothic windows are a type of architectural feature that originated in medieval Europe and are characterized by pointed arches, circular windows, and geometric patterns.
They are often found in churches and cathedrals, where they create a stunning effect of light and color.
Here, the window is divided into three sections by two vertical bars and has a circular window at the top.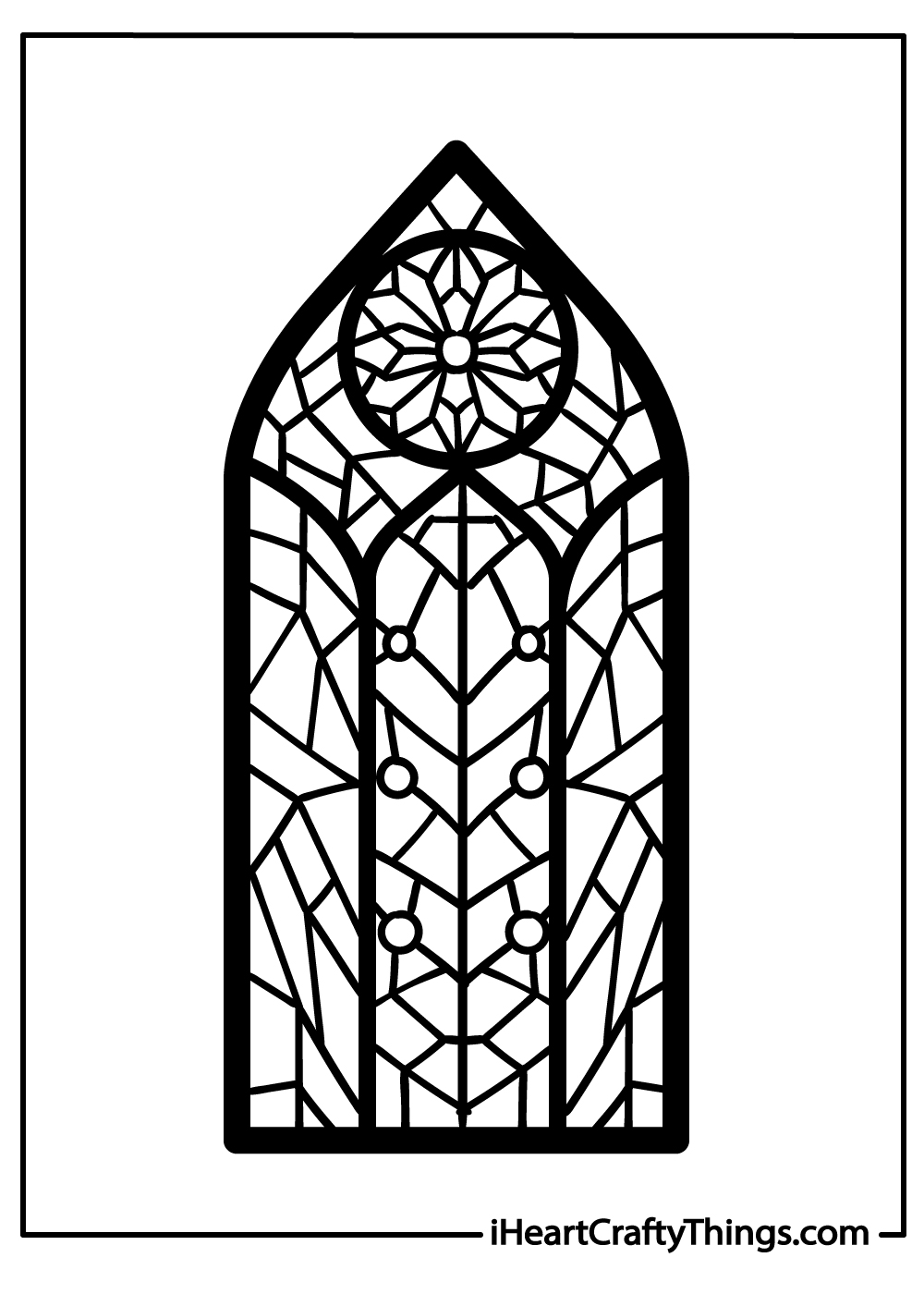 Here's a beautiful rose design for you to enjoy in this third free stained glass coloring printable.
Roses are known as some of the most elegant flowers in the world, and you can translate that into this image.
For a few ideas, maybe you could color a beautifully rich red for the petals, or you could go lighter with some white or yellows.
Did any colors come to mind when you first saw this particular printable? It will be interesting to see how you color this one in!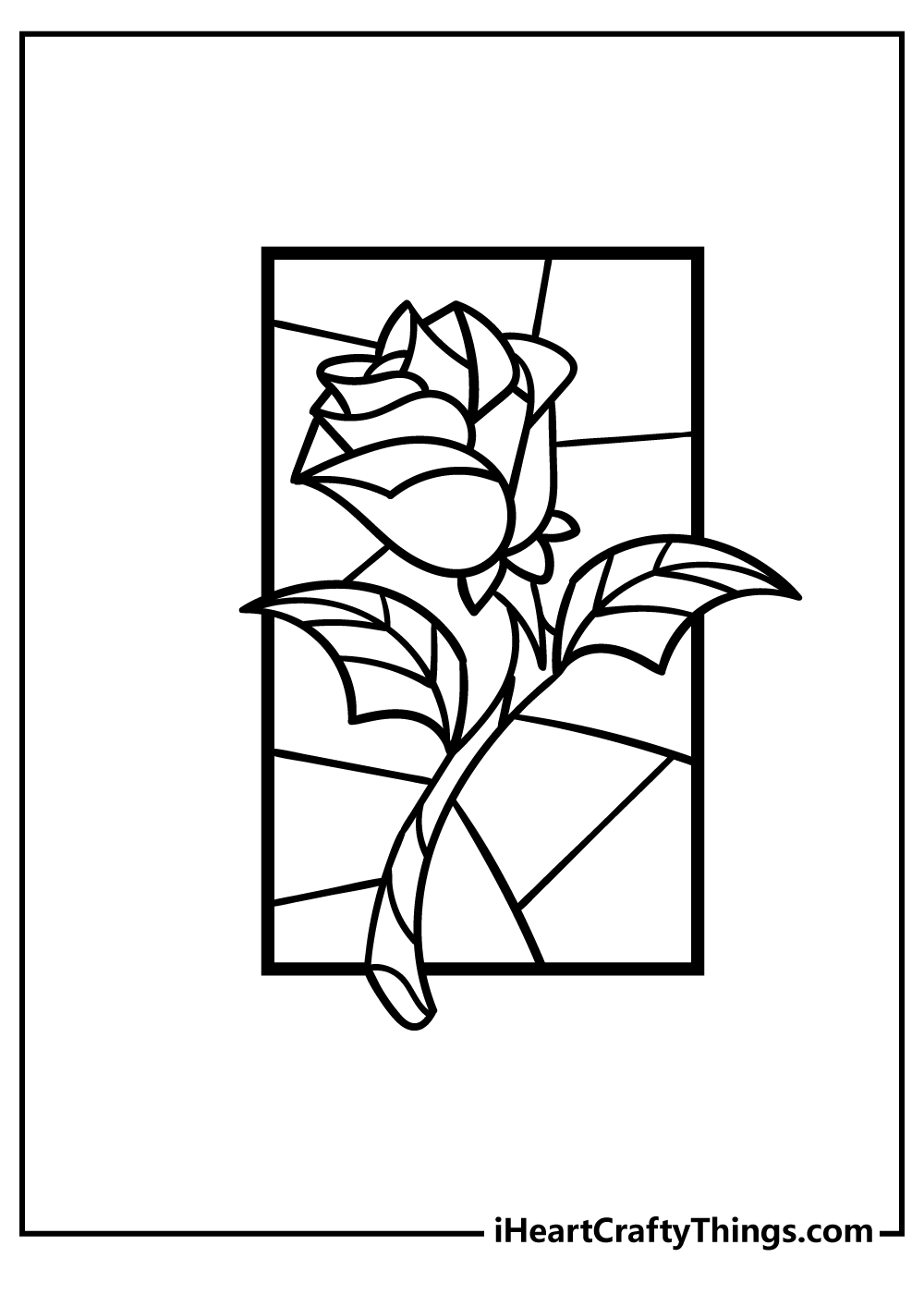 Now here's an interesting design in this next stained glass coloring page! There is another floral design for this page, but this one is a lot more stylistic than some of the previous ones.
Even so, it makes for a wonderfully unique picture to add some color to.
We would go for some milder colors such as light yellows and blues for this one, but these are just a suggestion. Let your creativity take over and see what happens!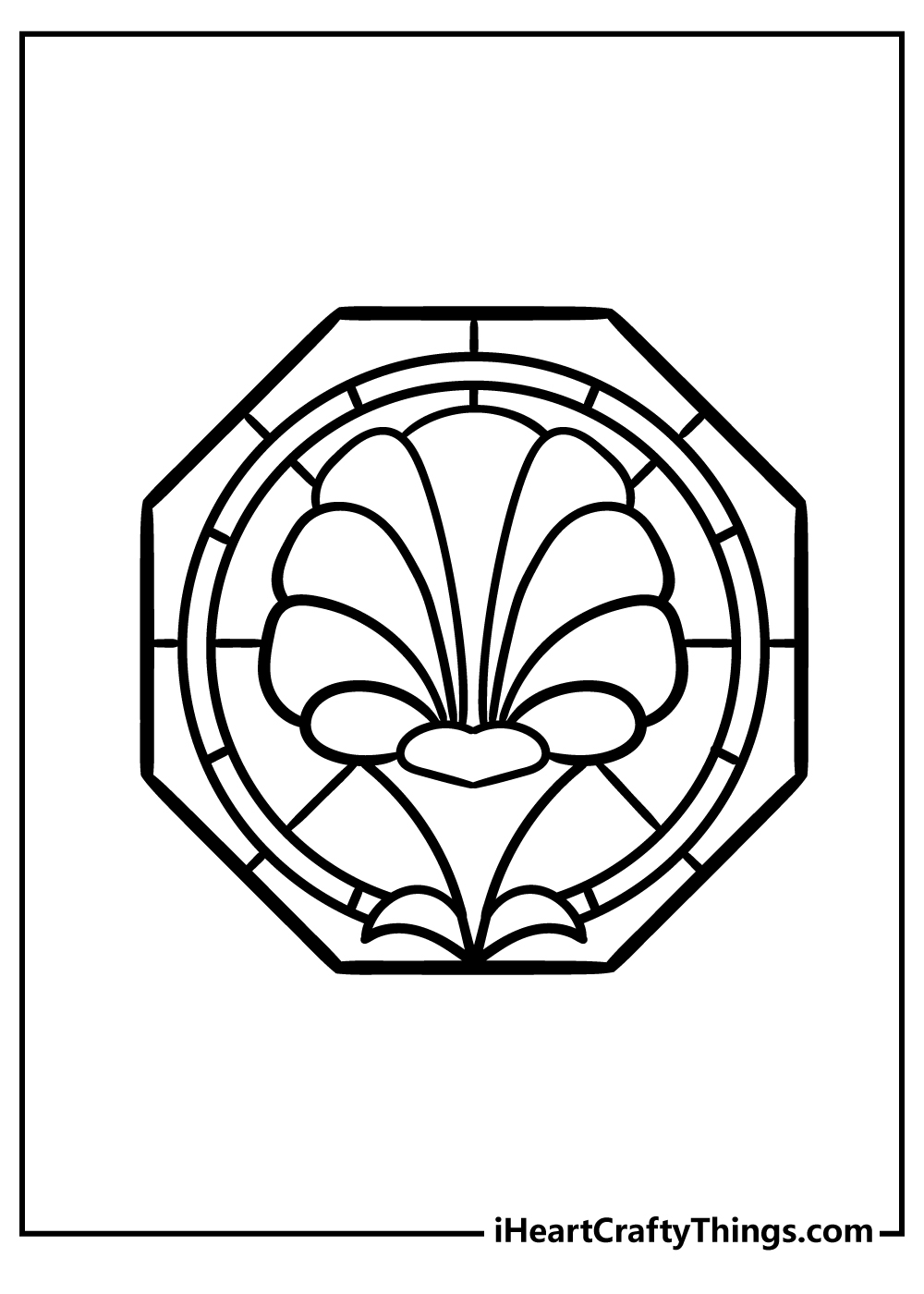 Express your love with this stained glass coloring page. This coloring sheet features a symmetrical design with a large flower at the top.
The center of the window has a heart shape with two lines crossing over it.
Add life and meaning to this design by thoughtfully coloring it in. Consider opting for passionate shades of crimson and fuchsia to convey romance.
Or maybe soft tones of blush pink and ivory represent purity and light. Bold primary colors could also express joy and energy.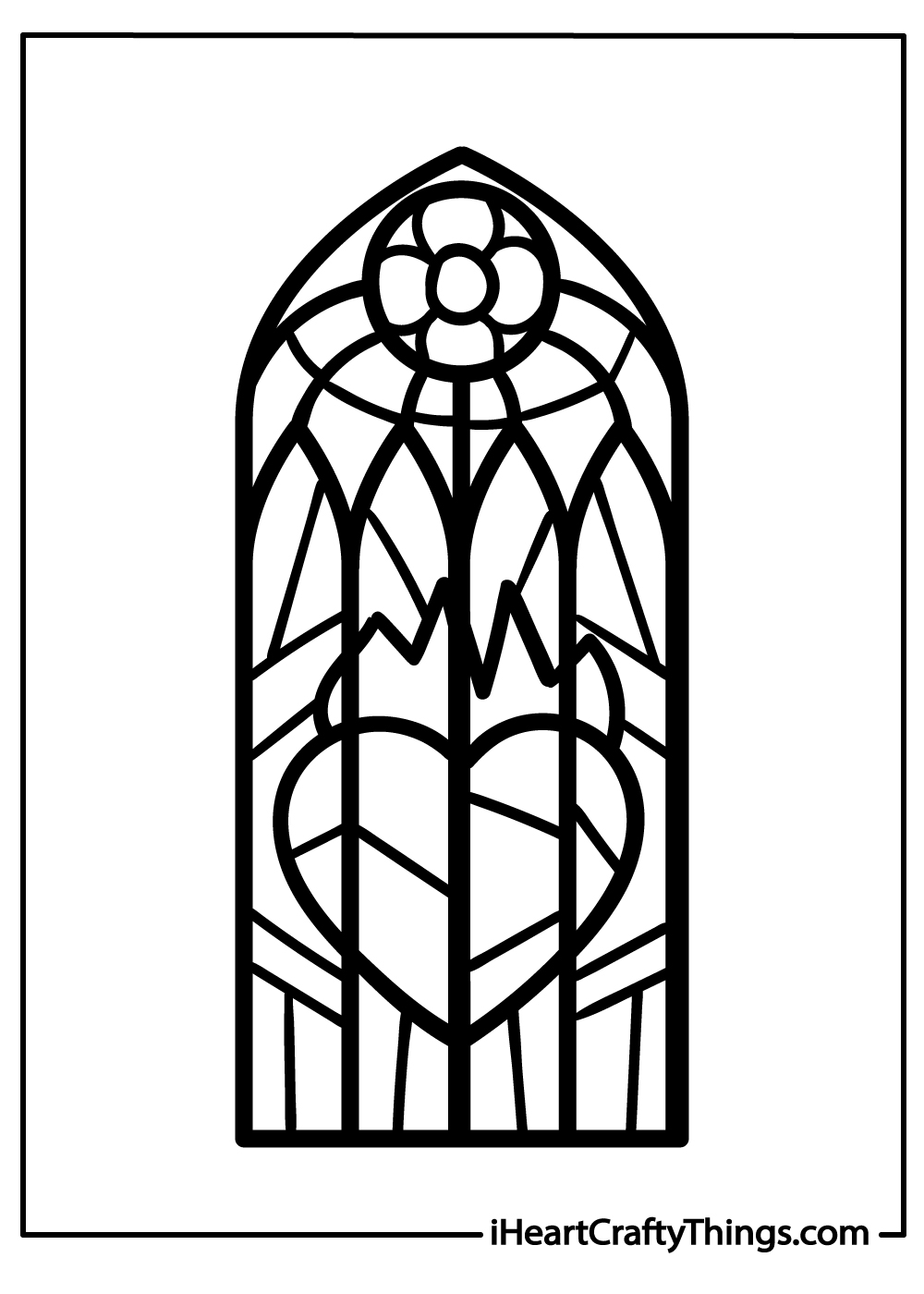 This next stained glass coloring sheet features another really unique floral design to color in. the design for this one is fairly simple, but that manages to work in its favor!
Sometimes it is the simplest designs that are the most effective. You can also bring some color complexity to the image with the colors you choose, so let's see how you tackle this one!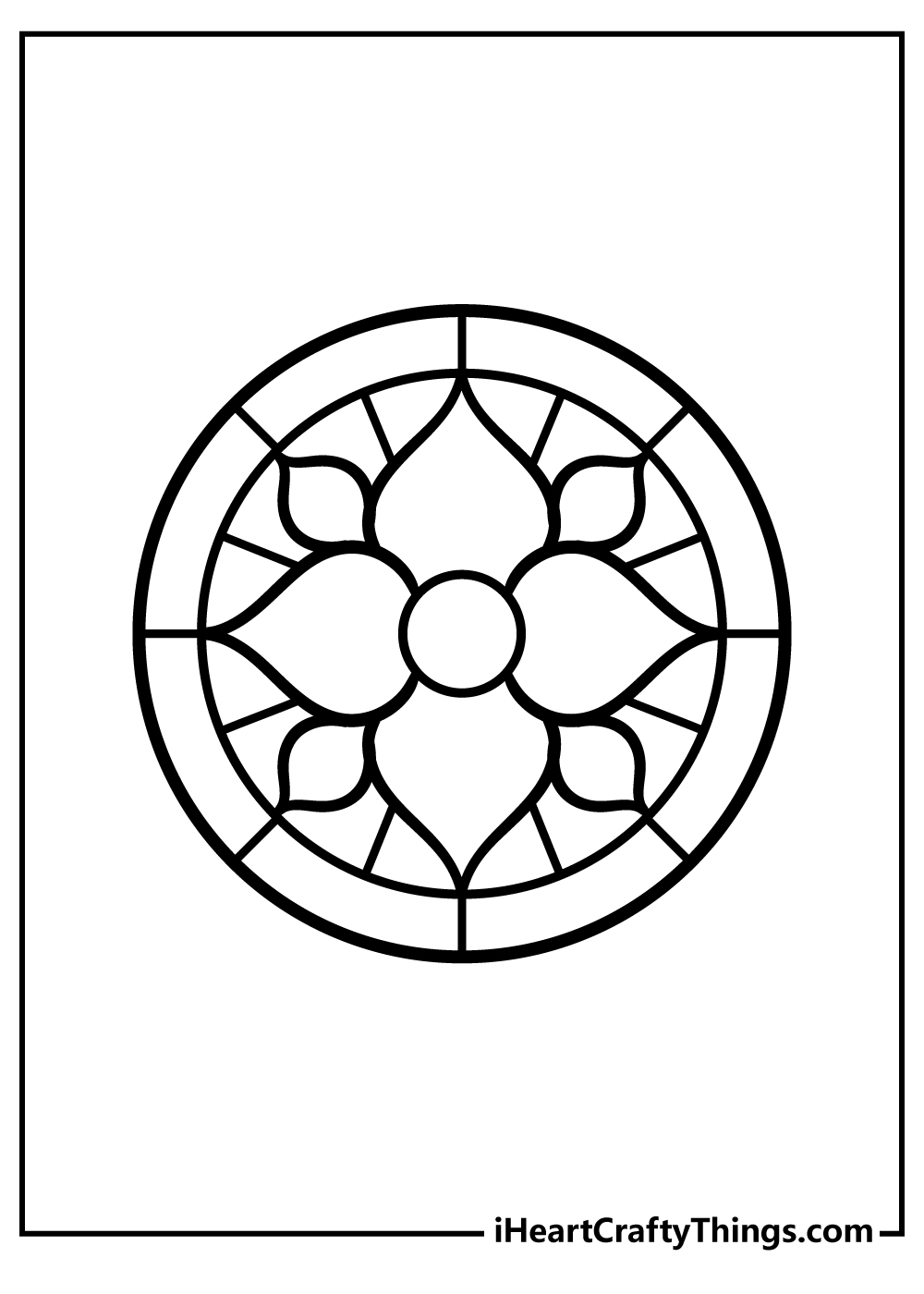 There's another rose-inspired design for you to color in this following stained glass printable. This one is also a more stylistic interpretation, and it makes for a really intriguing image!
We think using bright mediums such as colored markers or acrylic paints would look stunning on this particular page.
What mediums and colors do you think you will use?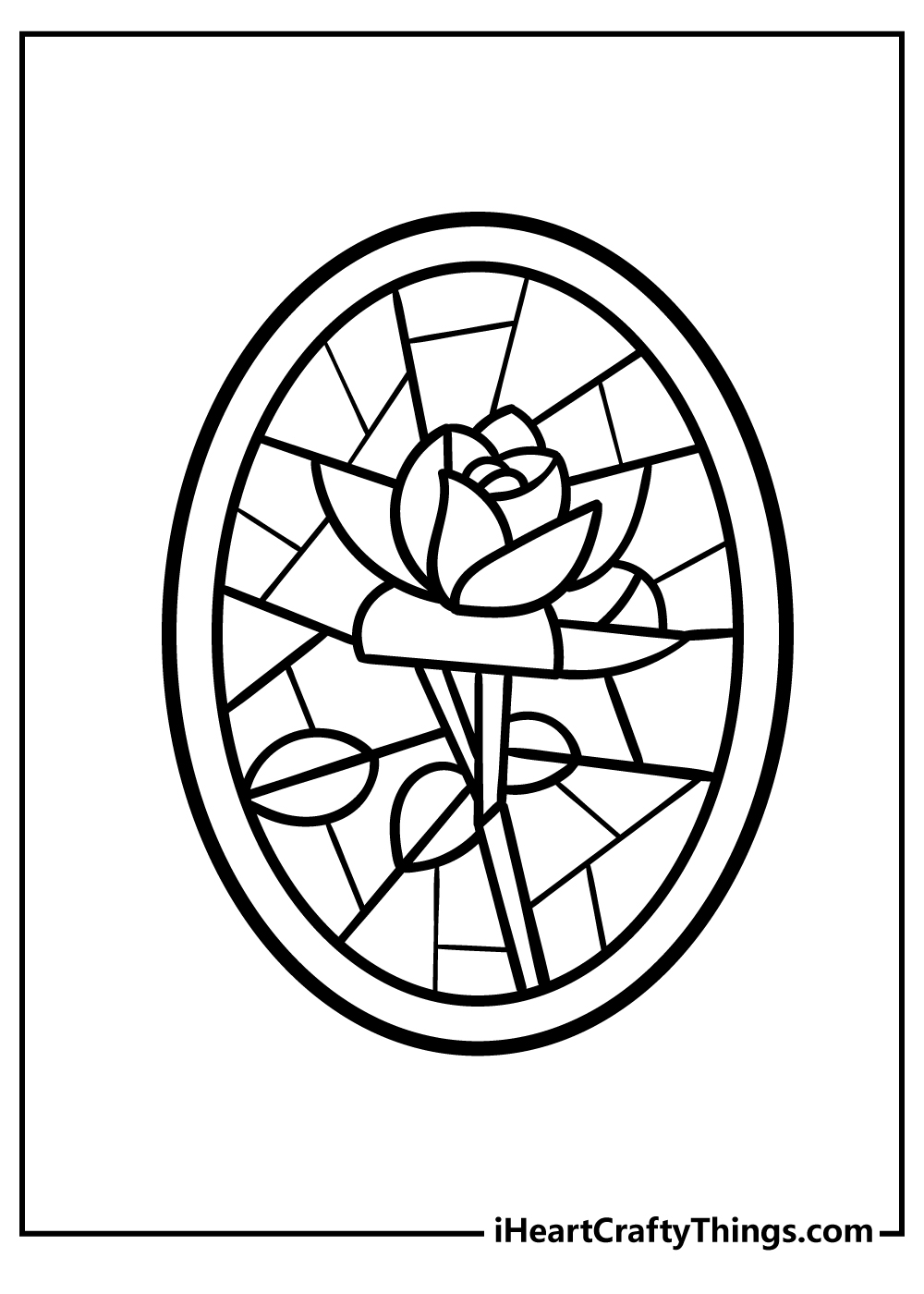 Let your creativity take flight with this stunning stained glass bird coloring sheet. The crisp black lines depict an elegant bird mid-flight with its wings spread gracefully wide.
Encircled by a bold circular frame, this coloring printable invites you to add color and bring its beauty to life.
Will you opt for soft, muted tones like pale blue, dove gray, and white to capture the serenity of this creature in motion?
Or perhaps bold, beautiful hues like crimson, sunshine yellow, and emerald green to showcase its vibrant energy?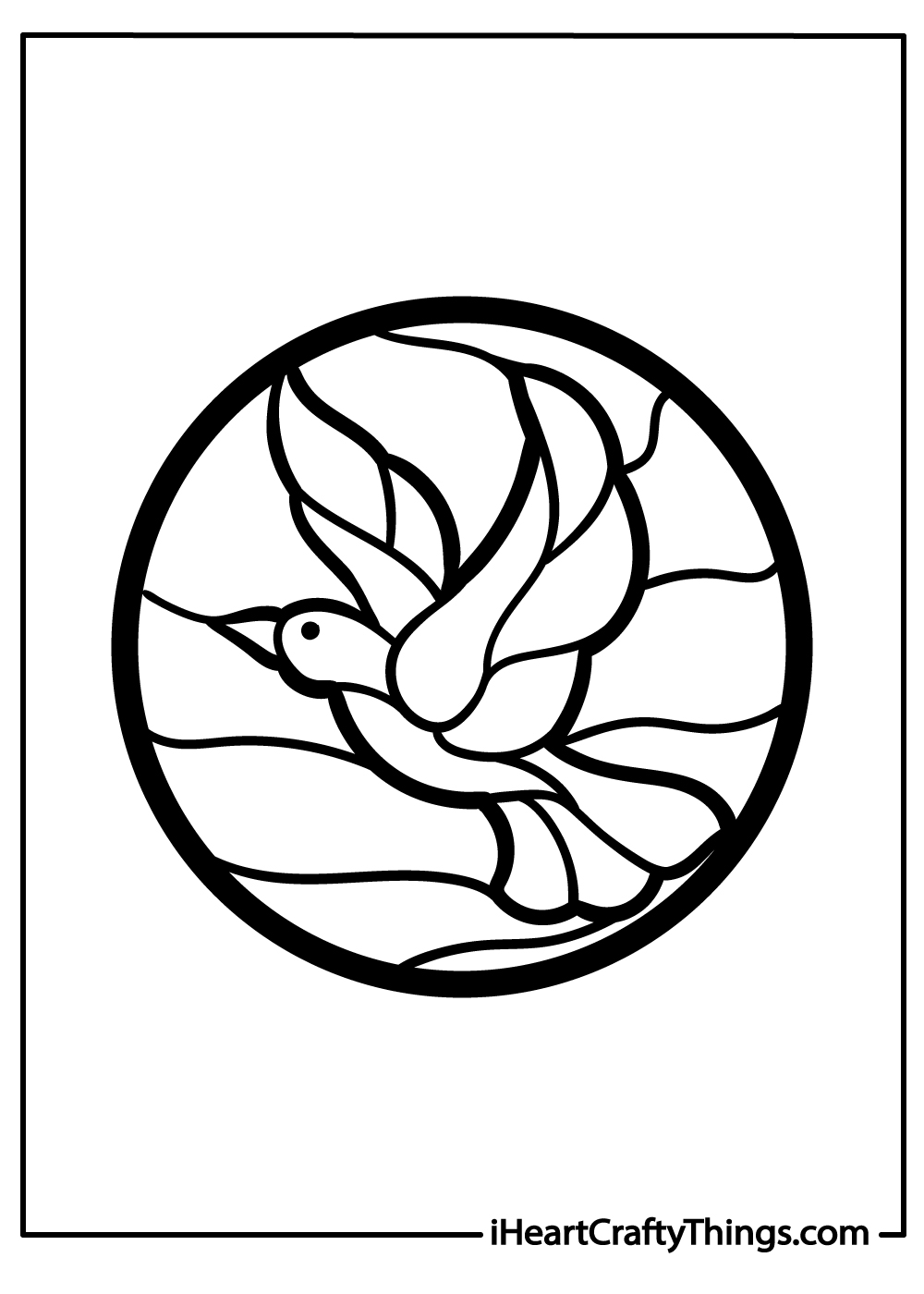 We have a peaceful bird as the start of this seventh free stained glass coloring page. Birds are a common feature in many artworks, and it's not hard to see why this is the case.
This is a gorgeous image, and there are so many ways you could color it! We would keep the bird mostly white and then surround it with brighter colors for some contrast.
Any approach you take will look beautiful, so let your inspiration take over and see what happens!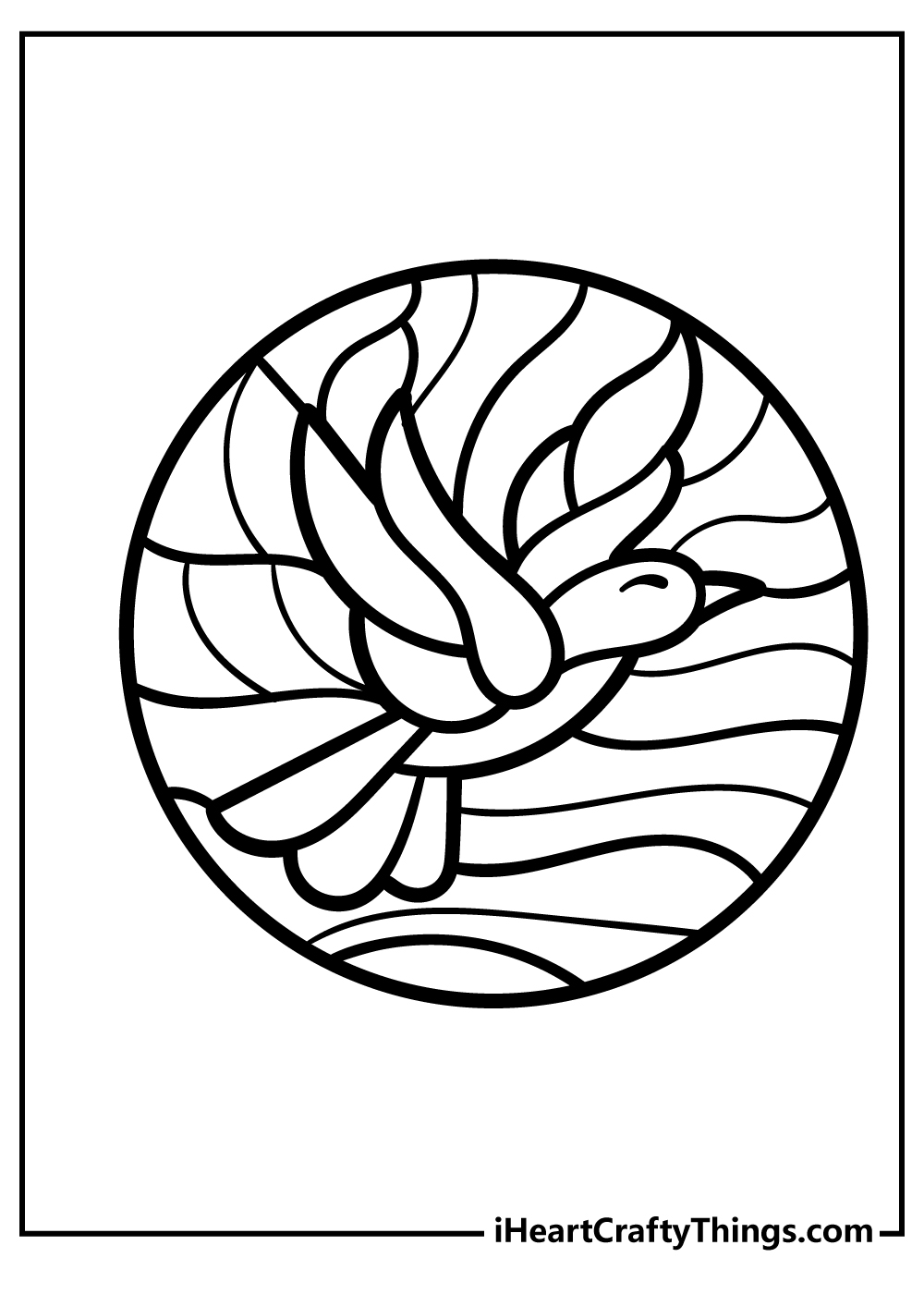 The composition in this stained glass coloring sheet is one of the most interesting in the entire collection!
We have an image of the sun over the ocean, but it's drawn in such an imaginative way.
This one will look amazing when it's colored! When coloring in anything, contrast can really bring an extra edge to an image.
Imagine if you used bright yellows for the sun and then had some darker blues for the water! That would look so great, but there are other approaches you can take.
We hope you will share this one on our Facebook and Pinterest pages if you decide to color it!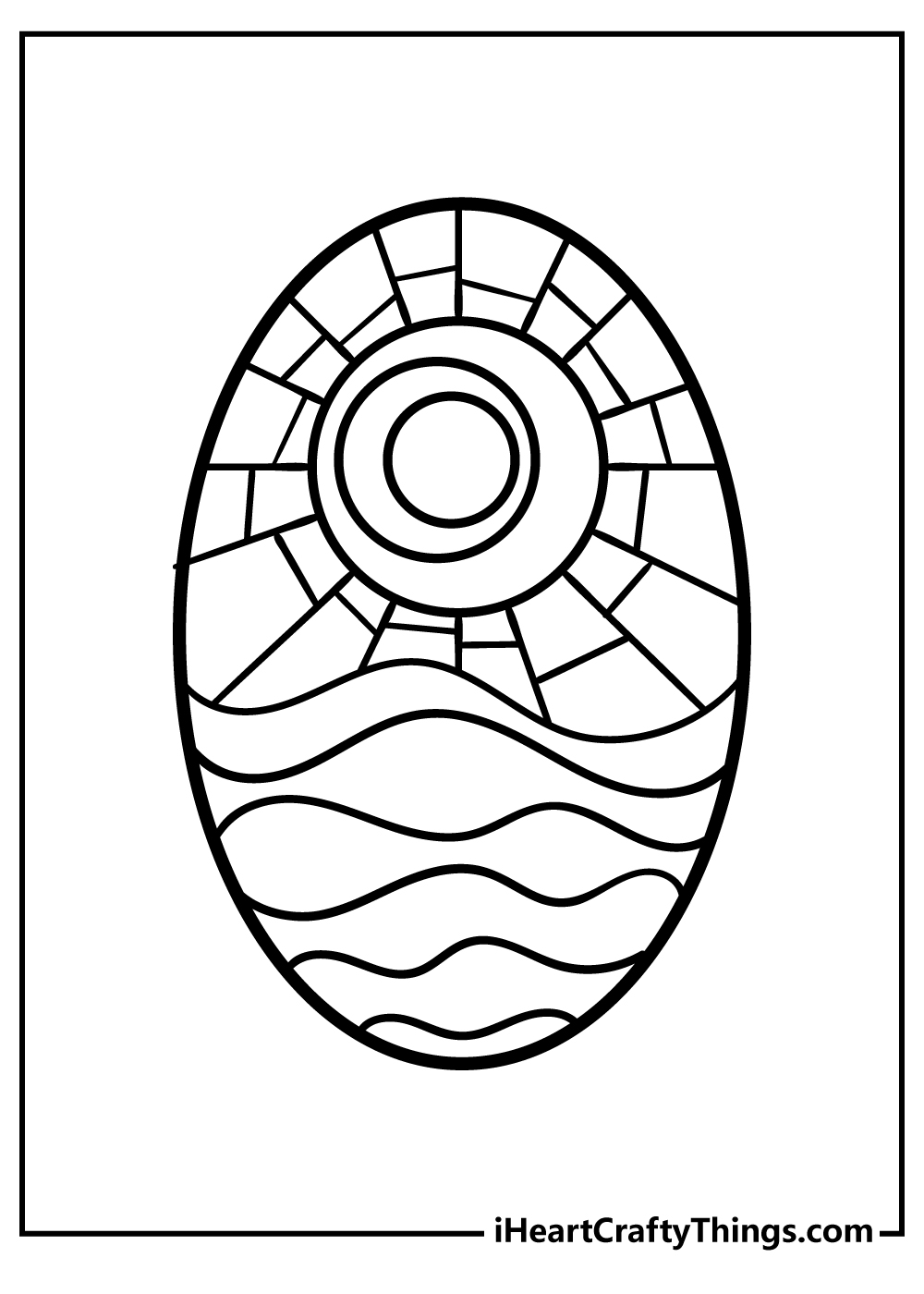 This stained glass coloring page features a symmetrical design with a dove and some flowers around it.
The petals of the flower are long and curved. The dove looks like it's in flight with its wings spread out.
To color this, use pink, yellow, and green to color the leaves blooming on each side. In the middle, make the dove soar by filling in its wings with gray, brown, or blue.
Hang up your artwork for all to see when you're done coloring this stained glass bird that's flying free.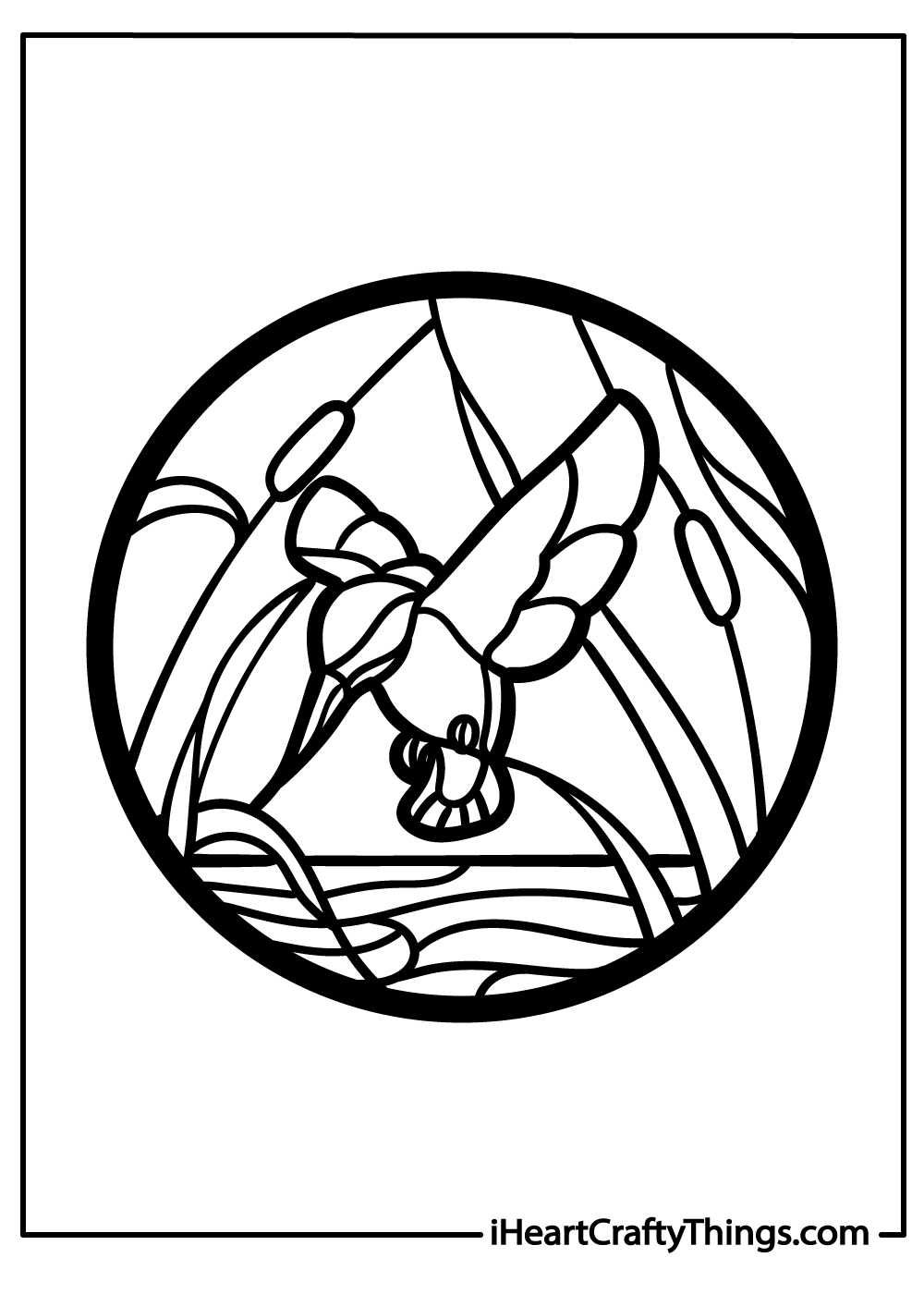 There's a simple beauty to this next stained glass coloring page. There are two roses in this one, and something about how they're arranged gives off a calming feeling.
We would use colors that help to emphasize this calm mood if we were coloring this in.
That means we would use lovely dark blues, greens or purples as the primary colors for this one, but you should definitely use whatever colors came to mind for you!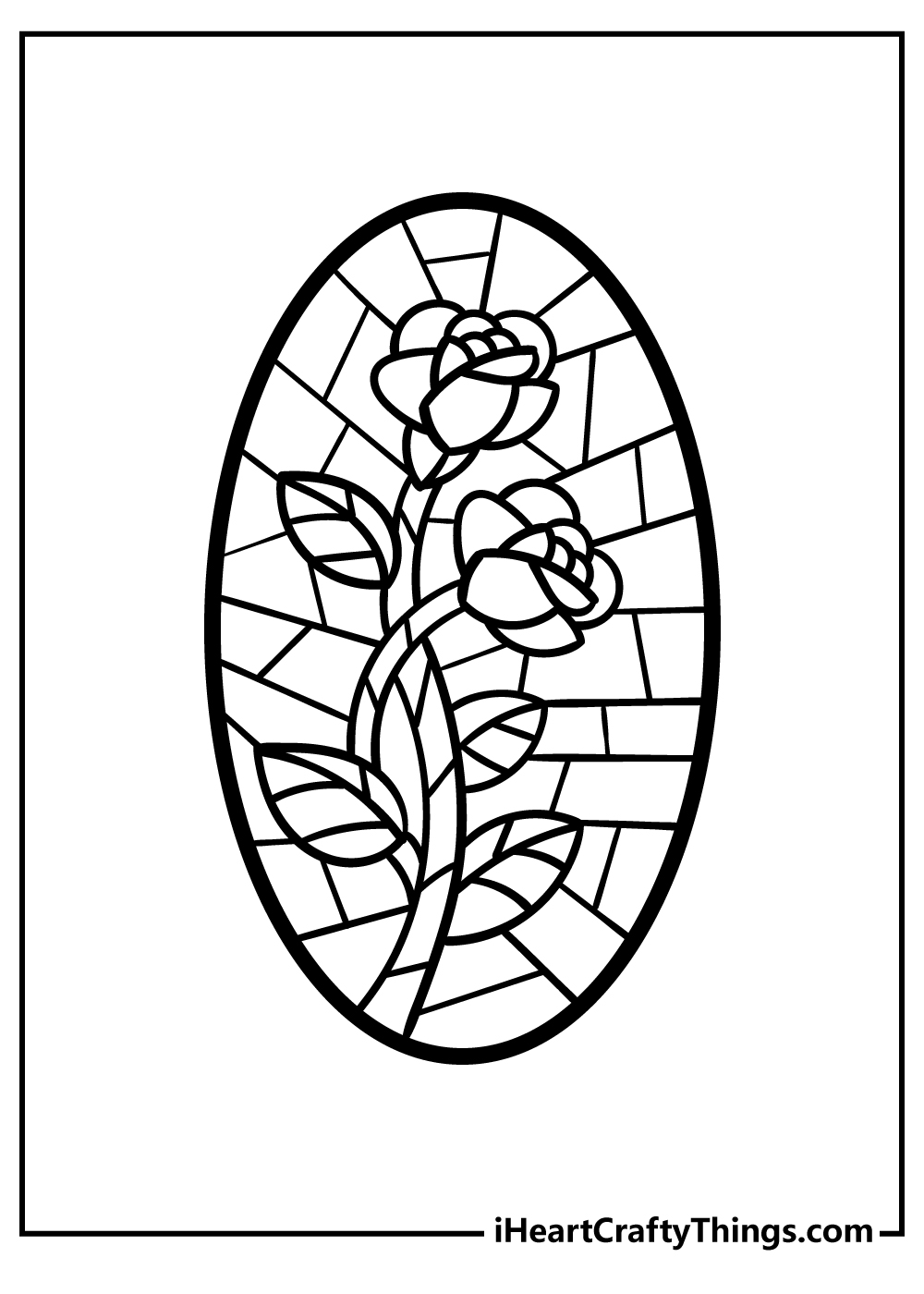 This collection of free stained glass coloring printables will be closed off in style as we have a design incorporating a beautiful orchid design!
This has been a stunning collection, and now you can pull out all the stops as you fill in this final printable.
Remember to print out multiple copies so you can experiment with different colors and art mediums as well!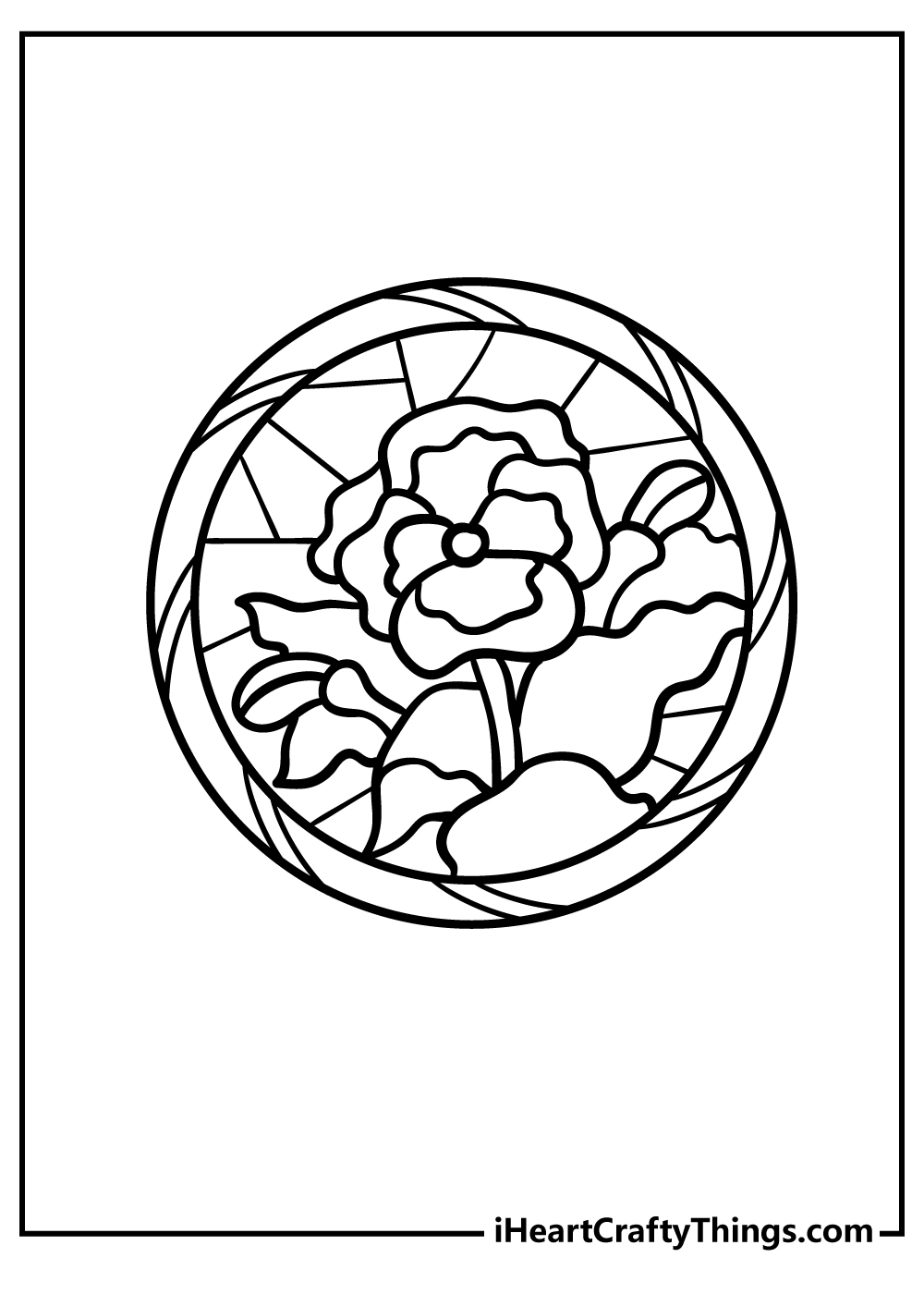 Stained Glass Coloring Pages – Which will you choose?
There were many incredible pictures to color in this collection of free stained glass coloring pages for kids!
We hope you had a great time working on each picture that was included. Remember to share your favorite images with your friends and family to let everyone share in the fun!
If you had fun with this collection, you can check out our website for many more coloring page collections to enjoy.
There are so many there already, and we plan to release many more in the future, so keep checking in to catch those!
We always love to see how you interpret these coloring pages, so when you have colored your favorites, we hope you will show us!
You can let us see your amazing artworks by sharing the finished pages on our Facebook and Pinterest pages, and we really hope you will do that.