Art can take on many different forms, from beautiful landscapes to still lives of various objects and anything else you can imagine.
Abstract art has had a massive impact on the art world, and it's all about using shapes, colors and mediums to express something you might be feeling inside.
These free abstract coloring pages for kids are the perfect way to express your feelings, emotions and creativity through the use of color.
They're also great for some relaxing coloring and trying out different art mediums.
These would be perfect for using different things like watercolors, acrylic paints, colored pens and colored pencils. We're sure to see some really varied and creative interpretations out of these images!
Once you've colored in your favorite abstract coloring printables, please share your colorful artworks to our Facebook page!
We would love to see the incredible colors you use to express yourself and create some breathtaking artworks!
15 Brand New Abstract Coloring Pages – Free to Print and Color
The first page in this collection of free abstract coloring sheets for kids has some circular shapes with a variety of different smaller shapes within them.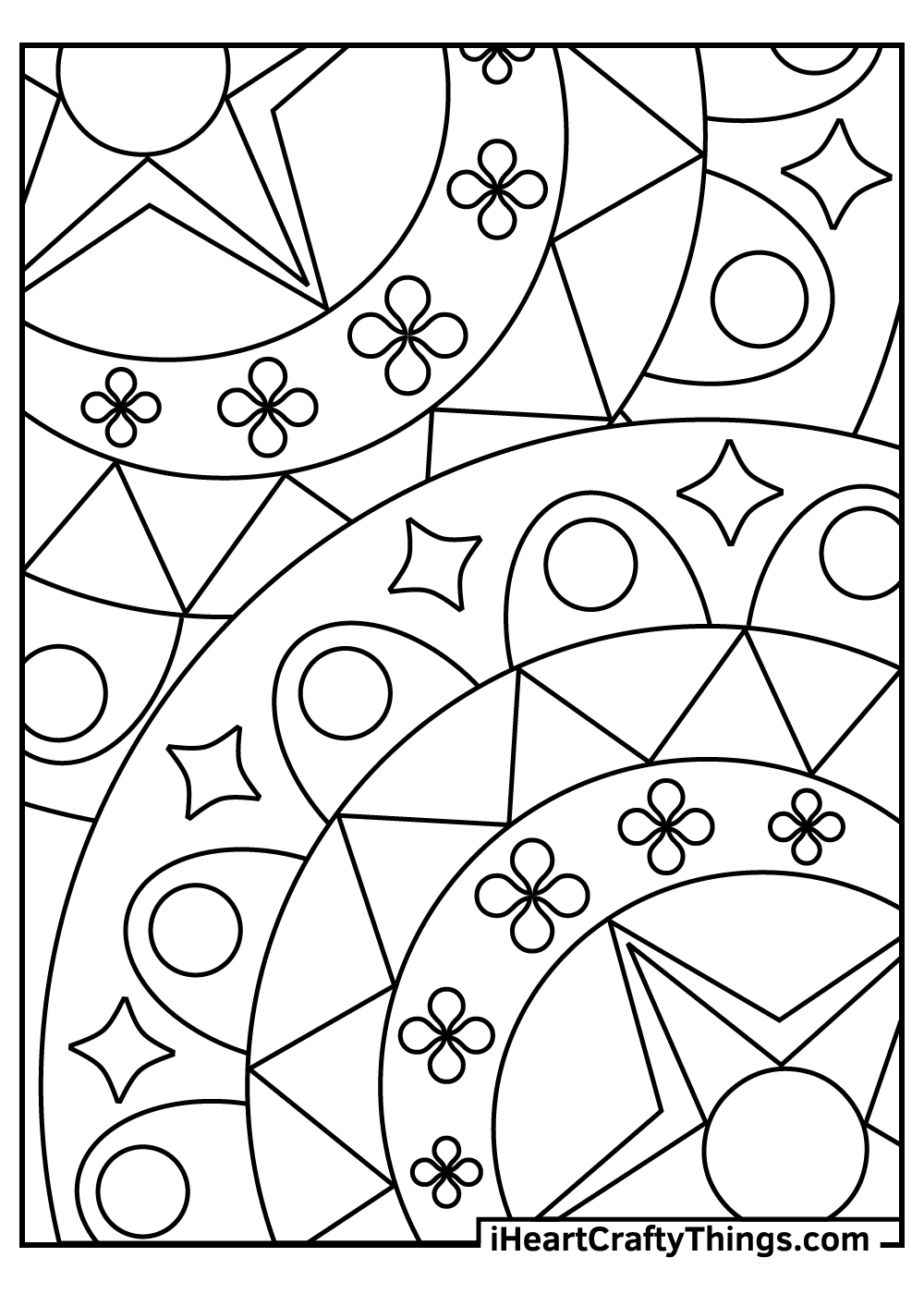 Will you pick a unified color scheme for this image or use a variety of different clashing colors? There are no wrong answers for any of these abstract printables!
This intricate spiral design is a feast for the eyes, with its swirling lines and curves. The spiral is made up of a series of concentric circles, with each circle getting smaller as it goes inward.
It also has 18 teardrop-shaped rays outside the spiral.
The lines and curves of the spiral can be colored in any way you choose. You can use cool colors like blue, green, and purple to create a contrast.
You can also use bright colors like yellow, orange, and red to make the spiral shine.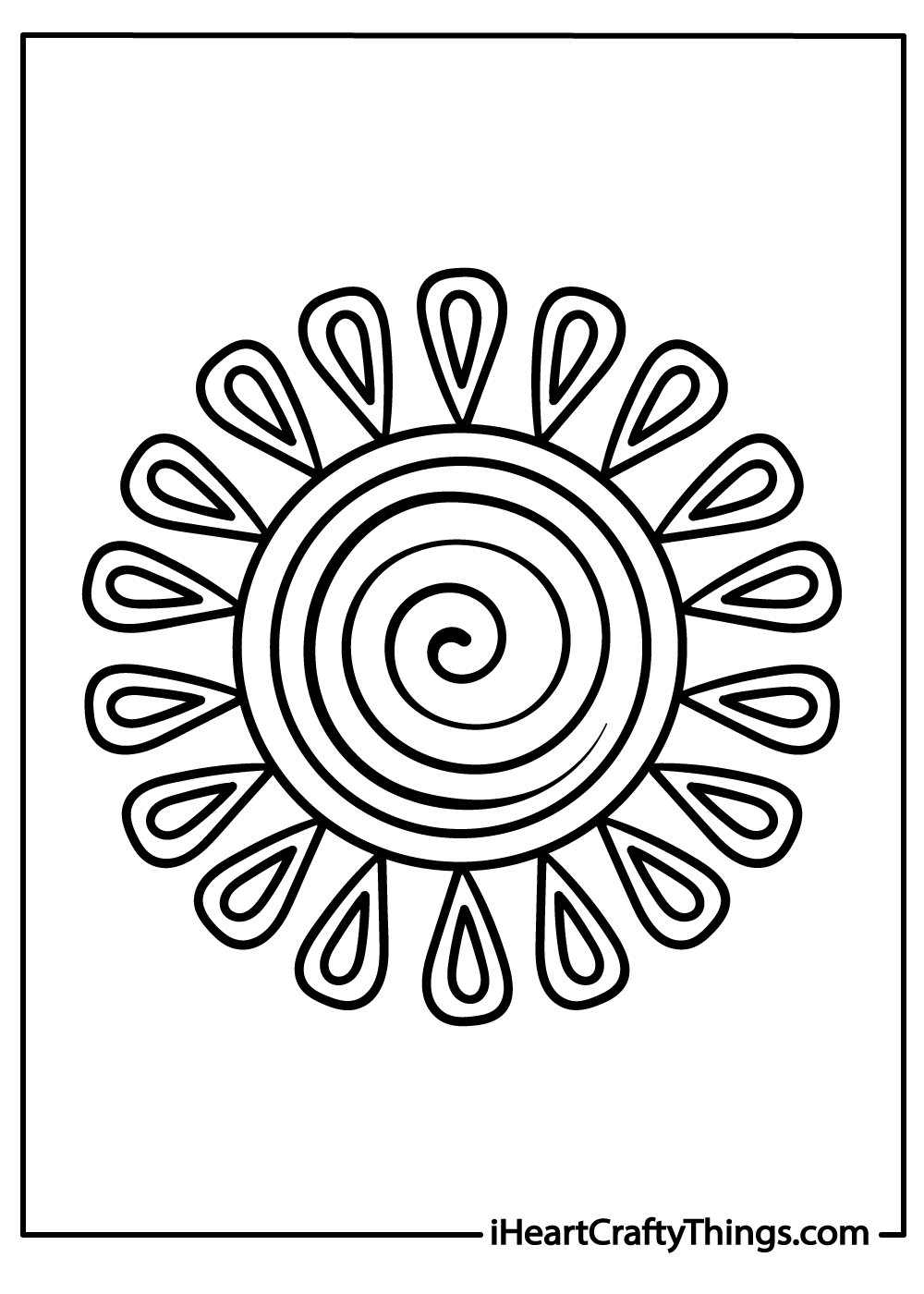 I'm getting a feeling of warmer colors for this second abstract coloring page. The stars in this image make me think of bright, happy yellows, but you could use all manner of colors to fill them in.
What colors come to mind for you in this abstract coloring sheet?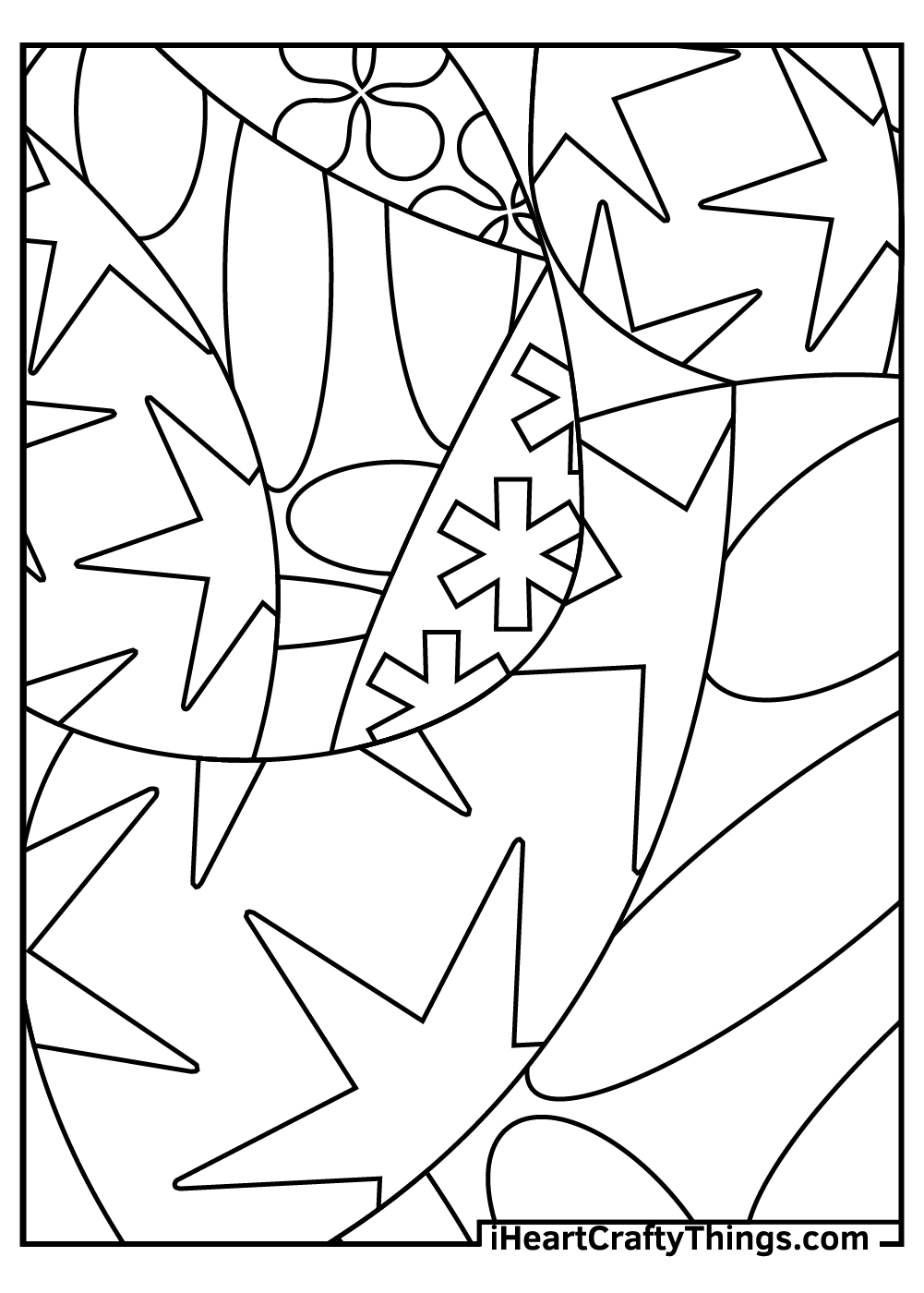 There are lots of great shape variations in this abstract coloring printable.
Remember that you could try to use some different mediums for these images, and it could be a great opportunity to try out a medium you're not as familiar with to get some practice with it and find a new way to express yourself!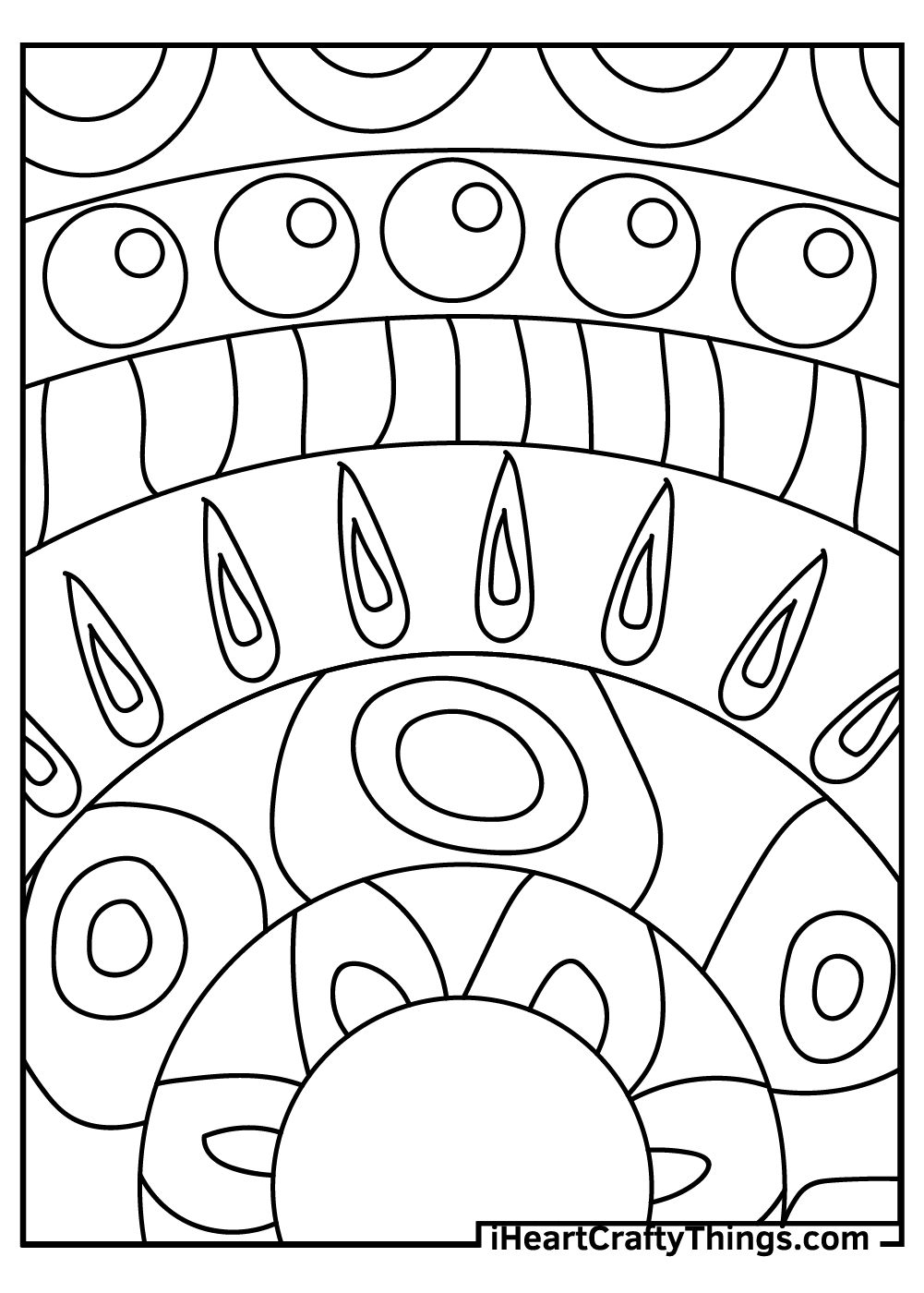 This beautiful abstract crescent moon is a great way to relax and de-stress. It is a symbol of mystery, magic, and new beginnings. It is also associated with the feminine energy of the divine.
The crescent moon in our abstract coloring pages is made up of several geometric shapes, lines, and floral motifs. For me, I would color each pattern differently or create a gradient effect.
You can color it with your friends or family and share your creations. Don't be afraid to experiment and try new things.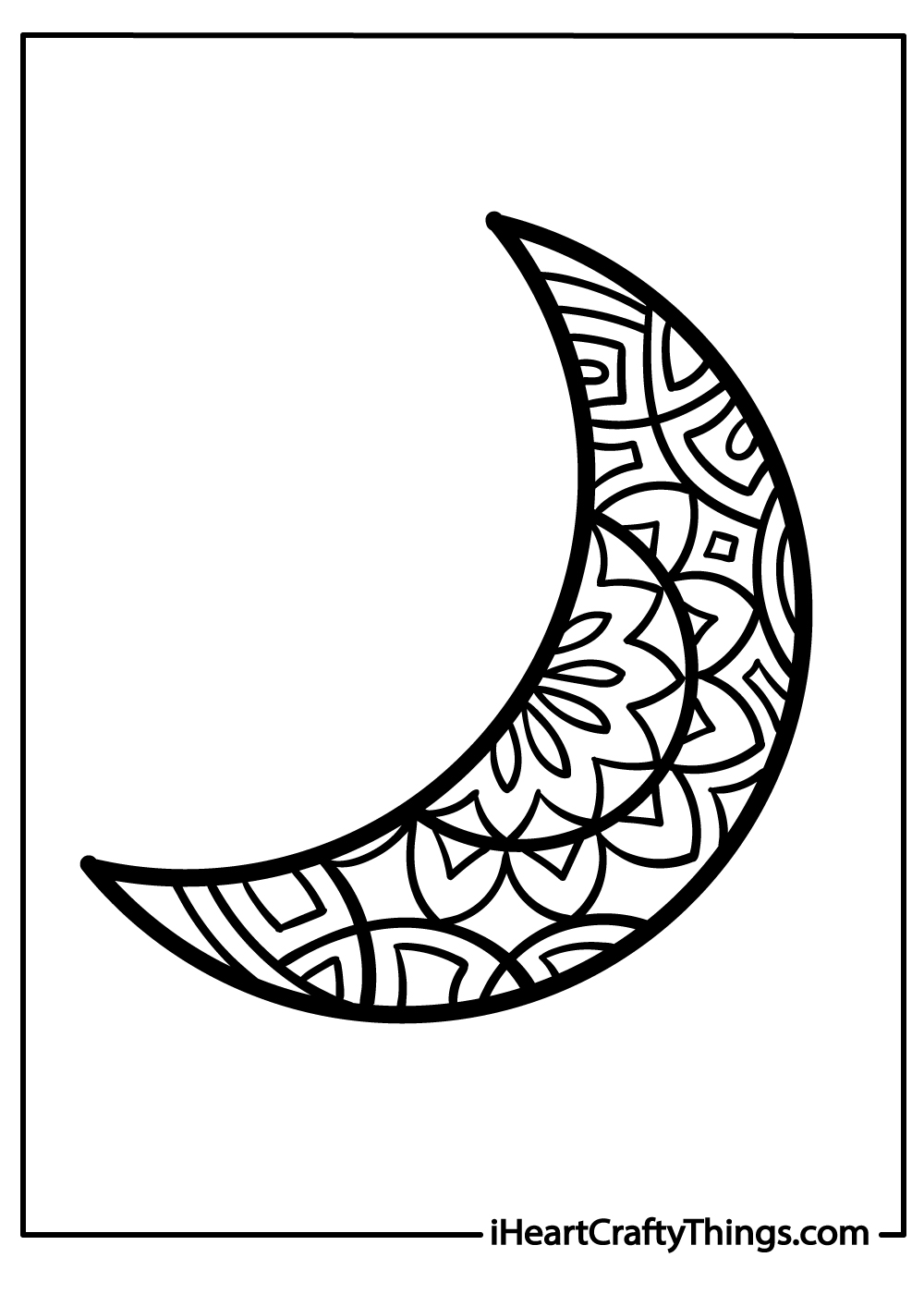 There's a busy feel to this abstract coloring page. Because of this, if I were to color this in I would use some bright colors like warm reds, yellows and greens to finish it off.
I'm sure it would look great no matter what colors you choose, and you should definitely go with the first colors that come to mind!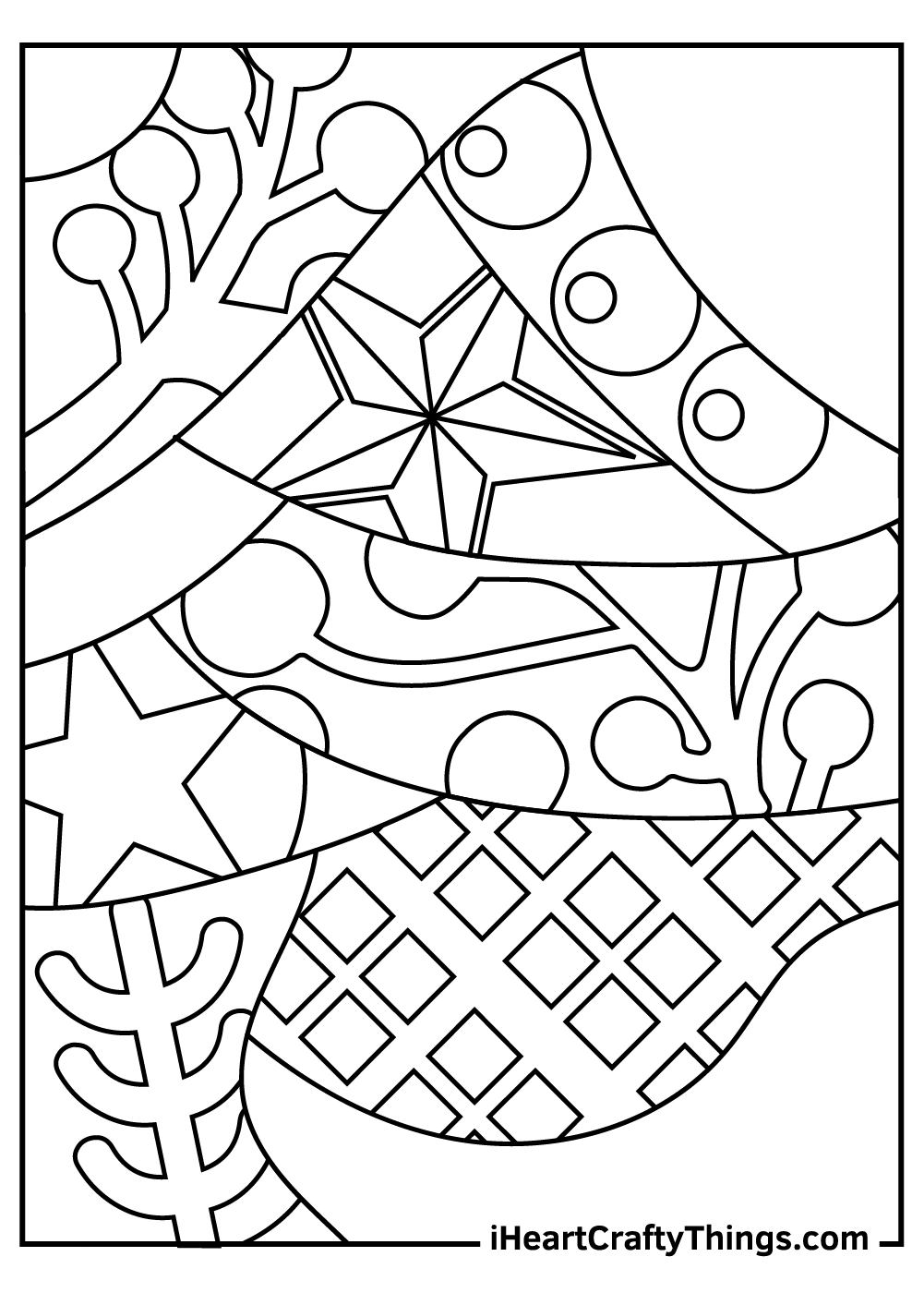 Are you ready to color this majestic bird? This abstract coloring page features a falcon perched on a branch, looking proud and fierce. It is drawn with curved lines that you can color to make this bird come alive.
You can follow the natural colors of a falcon and use shades of brown, black, white, and gray. You also could use bright, bold colors to create a vibrant and eye-catching image.
Slightly muted colors can also help you create a more calming and meditative effect.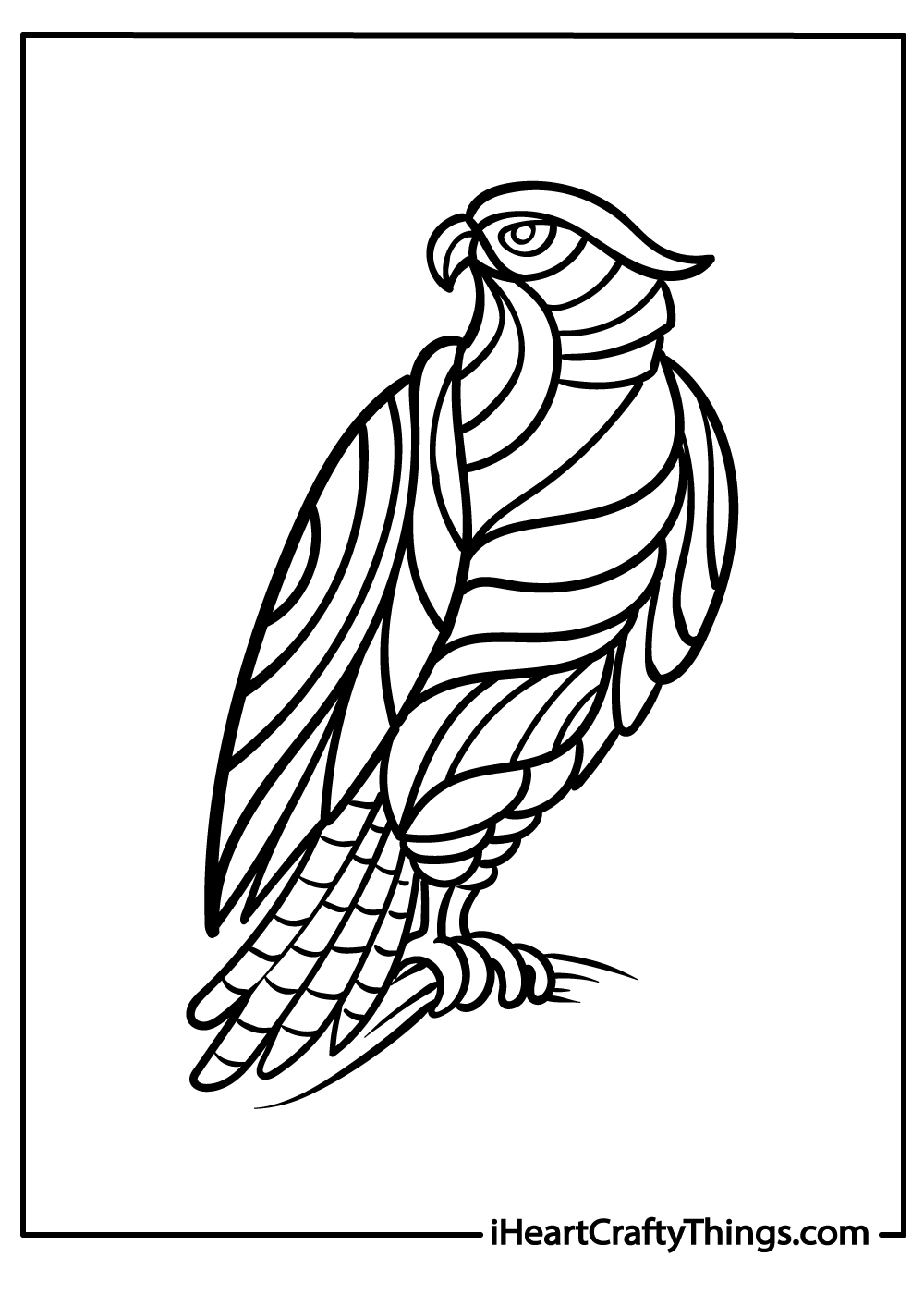 Our fifth free abstract coloring sheet has another more chaotic shape layout.
For this busy image, you could try to use some crafts like beads and stickers on top of the colors you chose to give this abstract printable a dynamic, multimedia feel to it.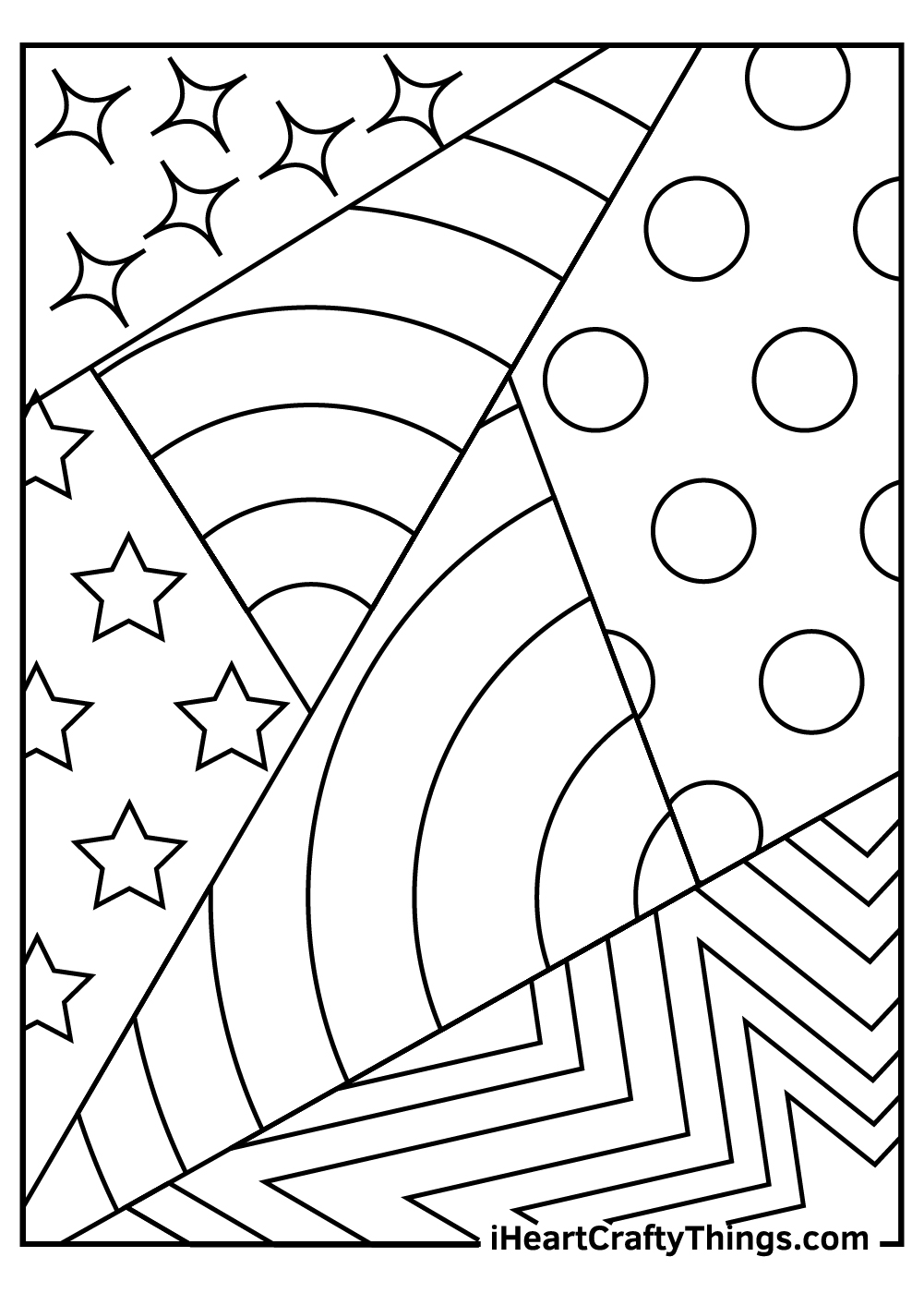 There's a really wavy look to the design of this abstract coloring page, and as for me that makes me think of running water.
For this design, I would use a combination of blues, greens and darker purples for a softer look that would reflect the aquatic feeling this image gives me.
Do you also get a water themed feeling from this printable or does it make you think of other color schemes? We can't wait to see how this image inspired you!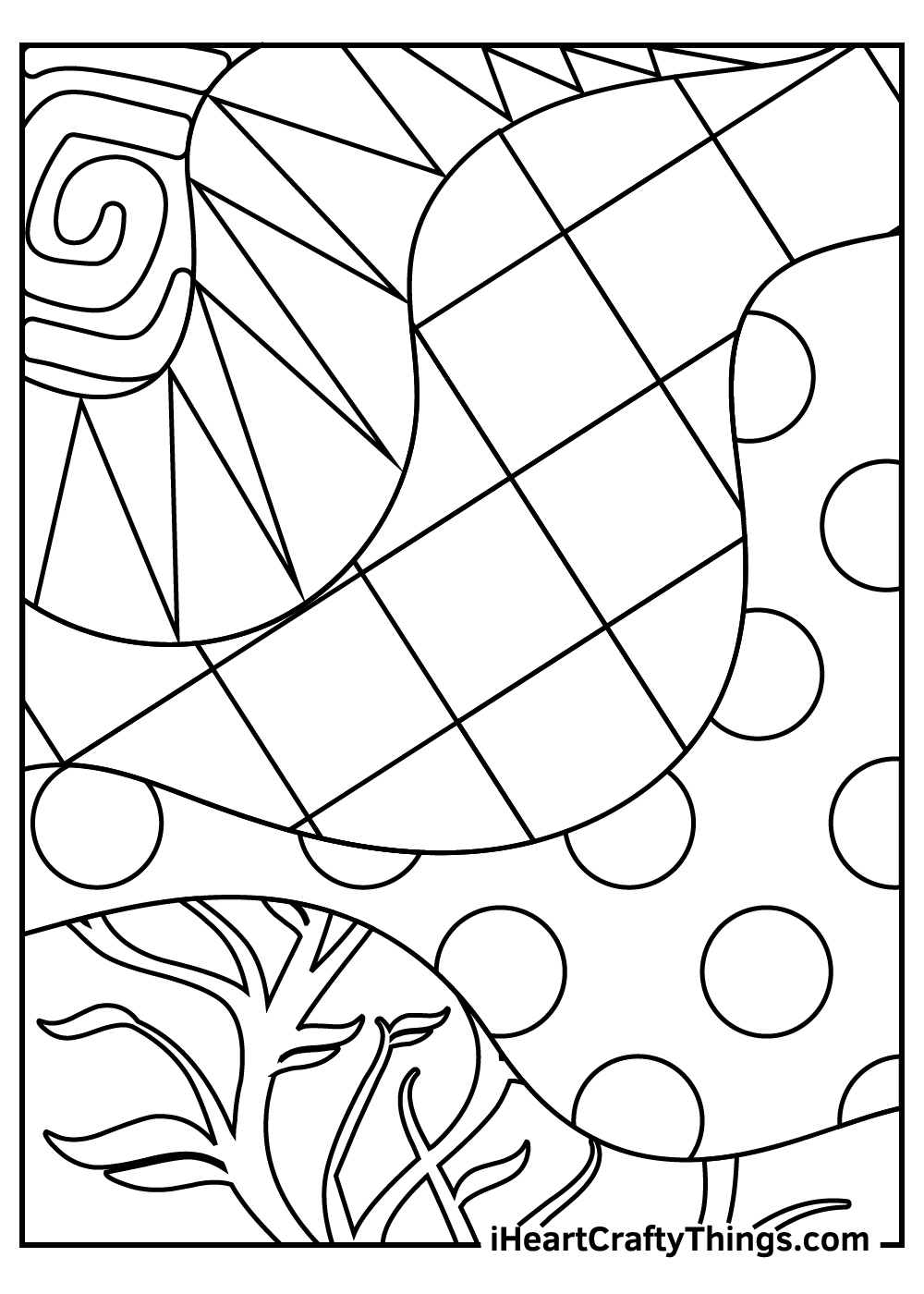 If you love abstract art, you will love this fun and easy heart made of pearly swirls and curves. It is perfect for Valentine's Day, Mother's Day, or any day you want to express your love and gratitude. You can also use it as a meditation tool to relax and calm your mind.
You can use any colors you like to make this heart your own. Just focus on the swirls and curves and let your creativity flow. Remember, every heart is different, just like yours!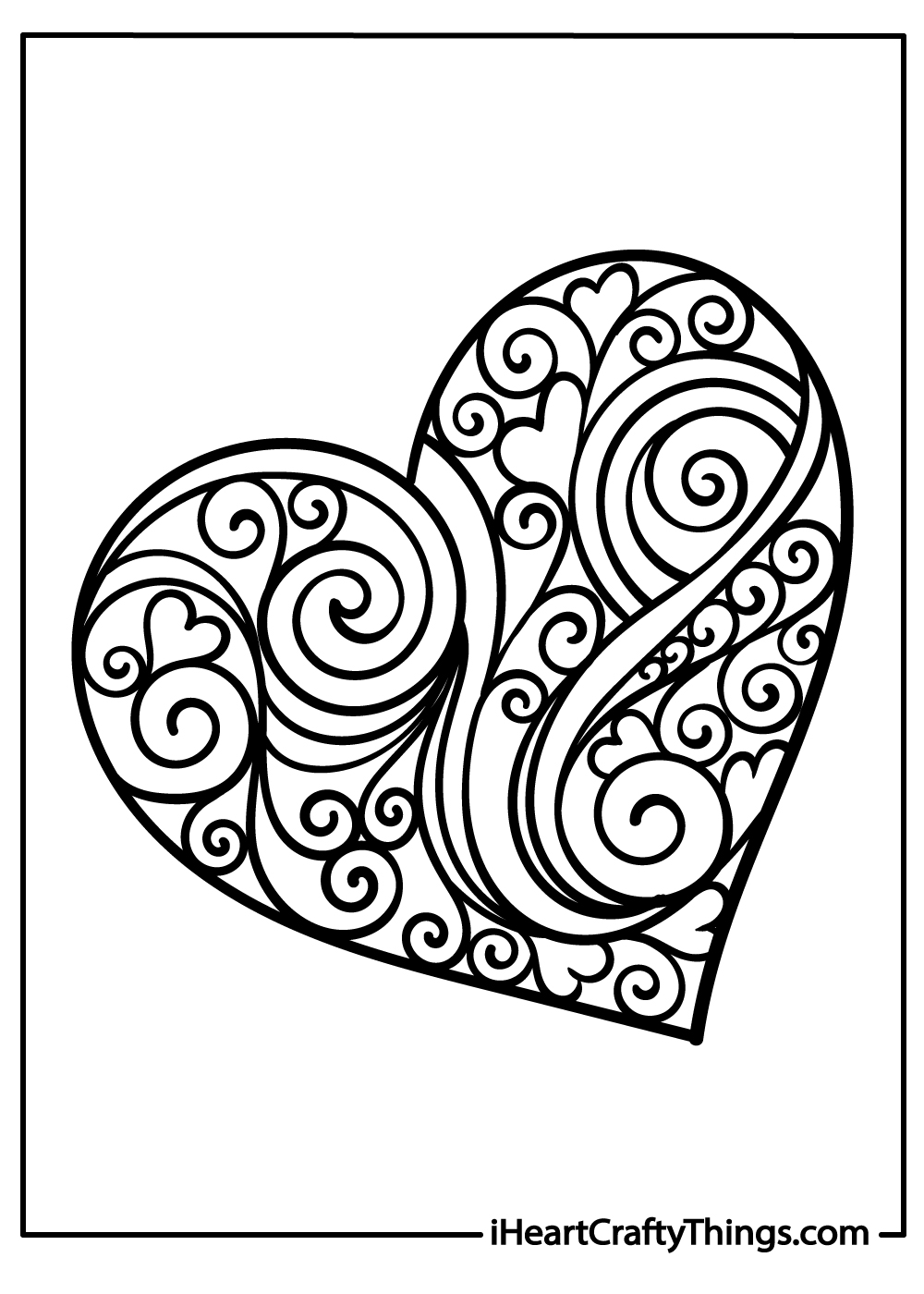 I'm definitely getting a bright and breezy feeling from this abstract coloring sheet. The flower shapes make me think of lovely Spring colors like beautiful yellows, greens, reds and pinks for this picture.
This could be an image that would look really stunning with some watercolor or acrylic paints to give it a really pretty and vibrant look.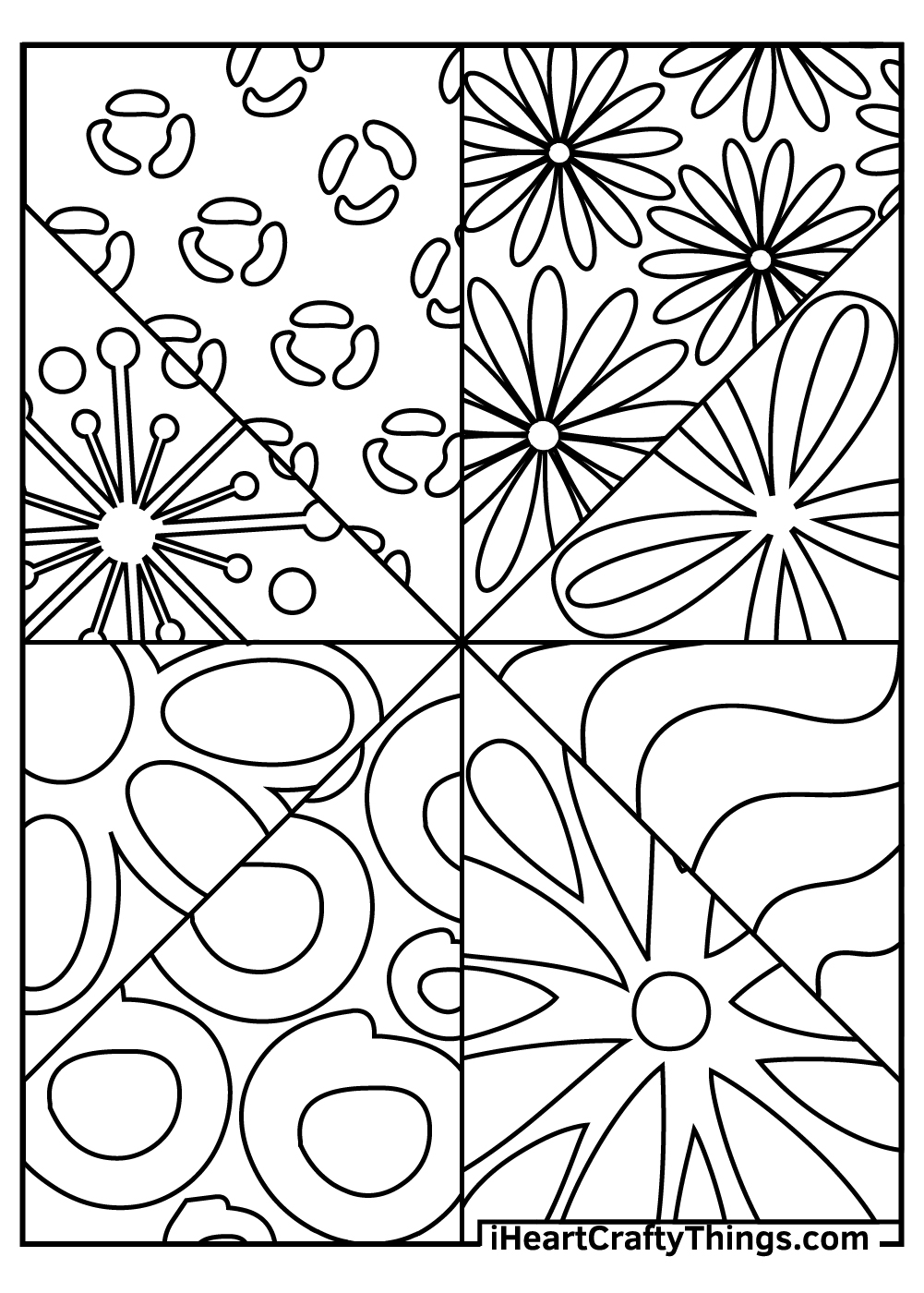 The first thing this image makes me think of is fireworks, and for that reason I would color in this abstract coloring page with vibrant and bombastic colors.
I would use my brightest reds, oranges and yellows for this image, but I'm sure every person will get a different feeling from looking at this abstract printable, so be sure to show us what you felt by sharing your completed image to our Facebook page!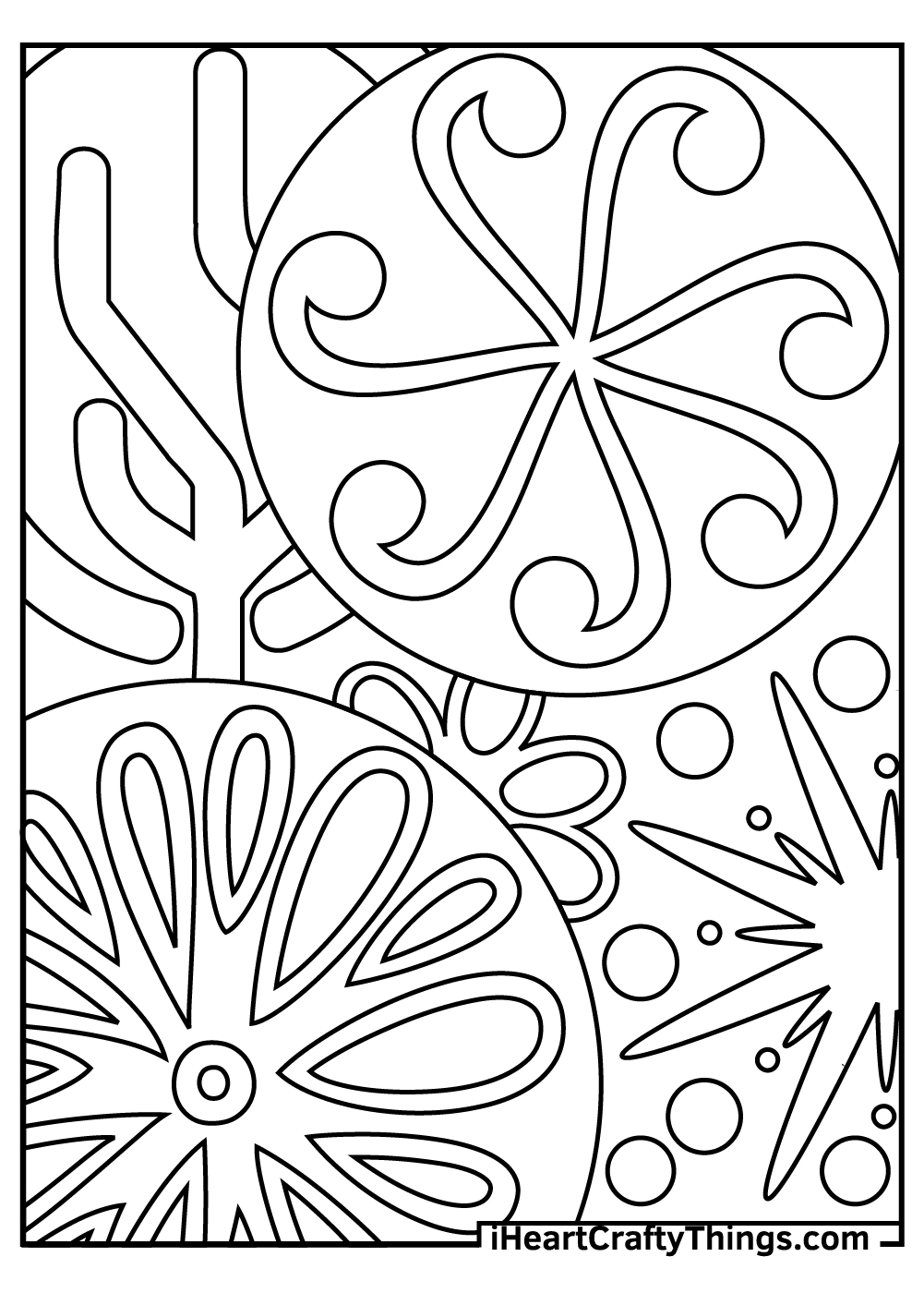 There are some really interesting shape variations for this abstract coloring sheet. This is an image that I think would look great whether you use warmer or cooler colors.
You could even combine both warm and cool colors for a really interesting look to this coloring page.
What color scheme came to mind for you when looking at this abstract printable?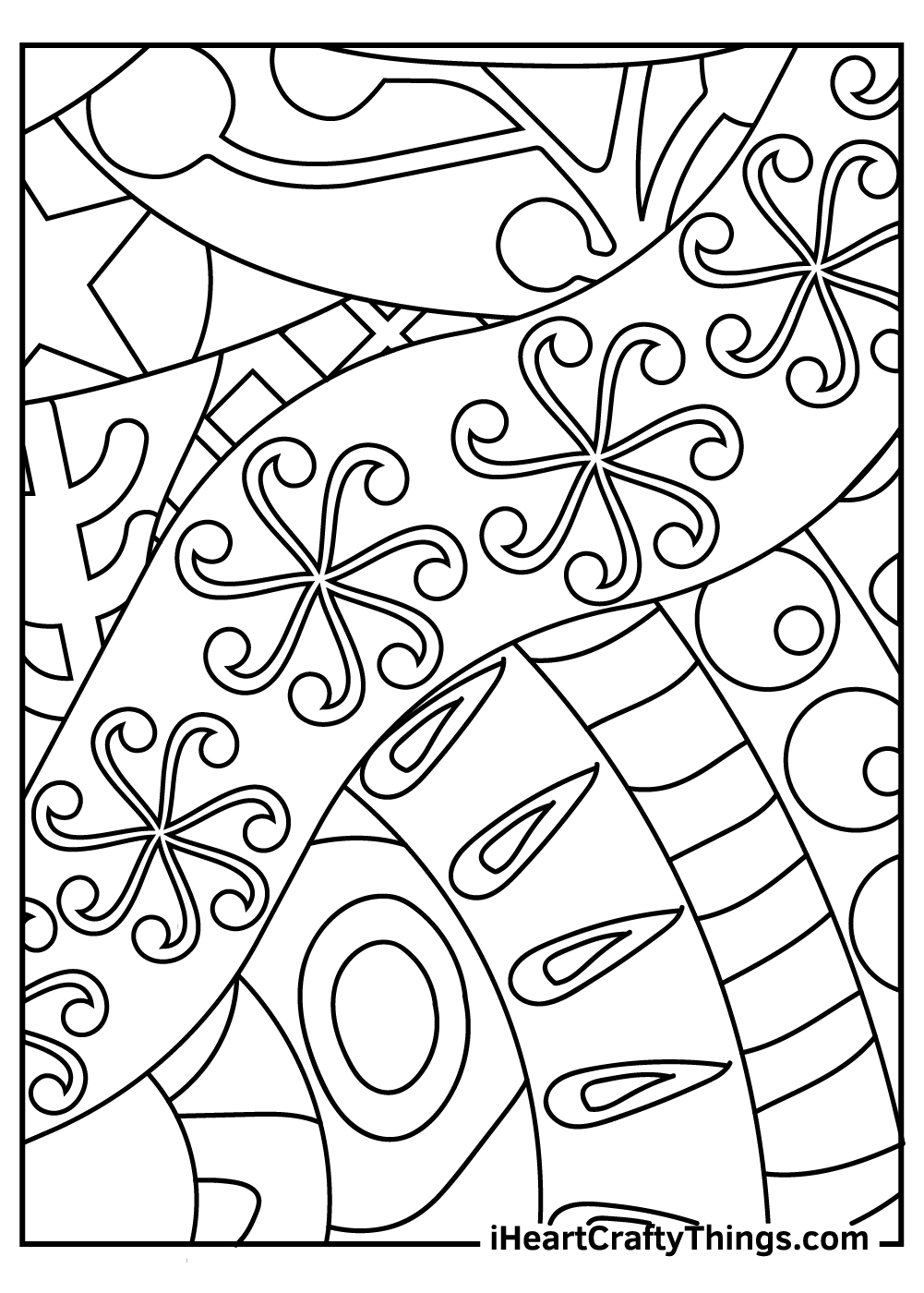 This image displays the beauty of abstract art. It reminds us of the pop art movement.
Here we have a stylized portrait of a woman with big hair and big eyes. She has a playful expression on her face and a ruffled collar around her neck.
There are lots of lines and patterns in this image, so you can color it your own way. Will you use bright and vibrant colors to match her personality, or will you go for a more subdued and elegant palette?
For me, I would add some glitter to her hair and collar to make her sparkle.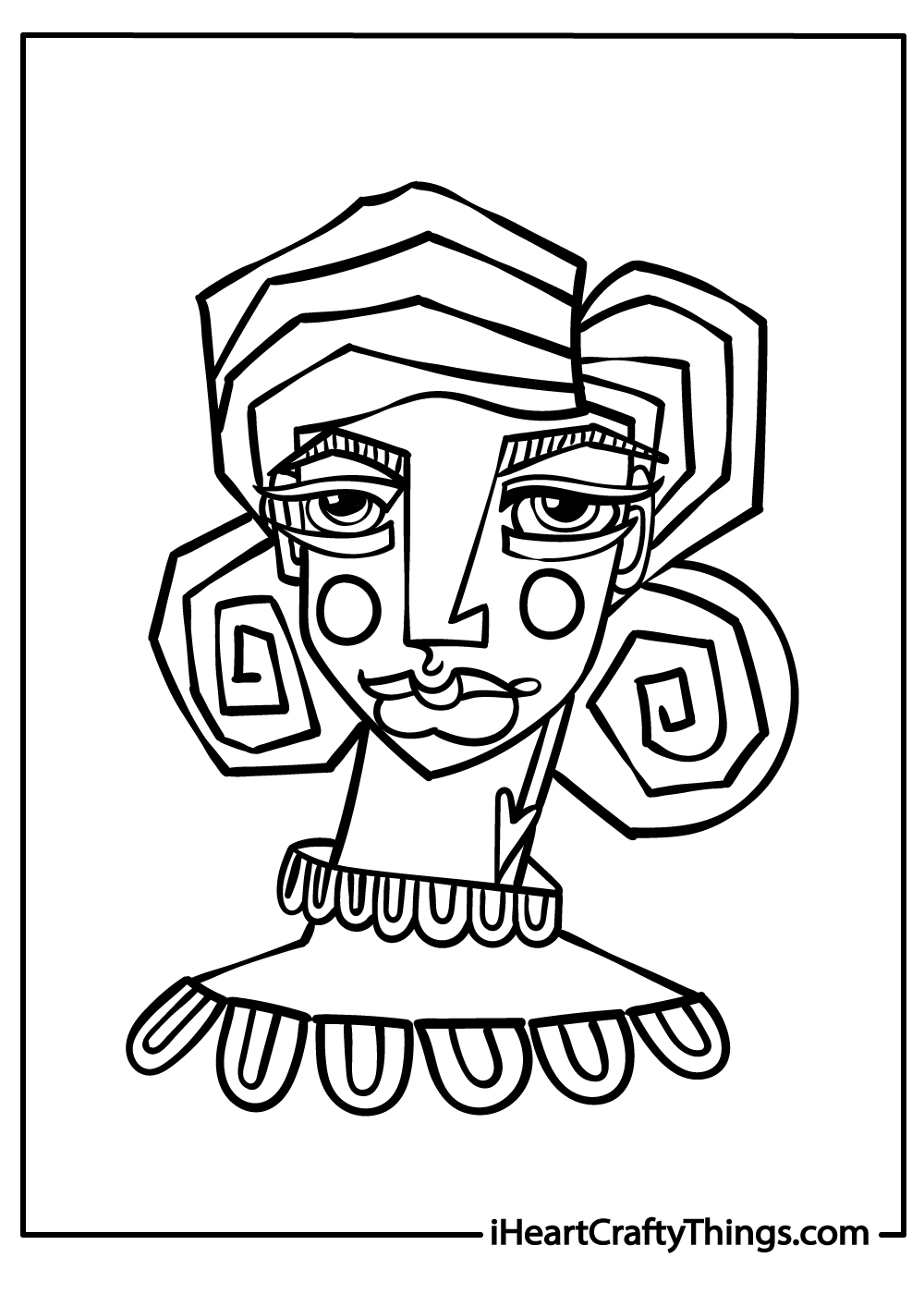 We're going out with a bang for this final free abstract coloring page for kids! This might be the busiest image yet with all manner of different shapes, patterns and styles for you to really go crazy with.
For this image, I think it would be great to use as many colors as you can for an incredible explosion of colors, and I bet it would be a great image to mix mediums all in one image for a fantastic finale to these abstract printables!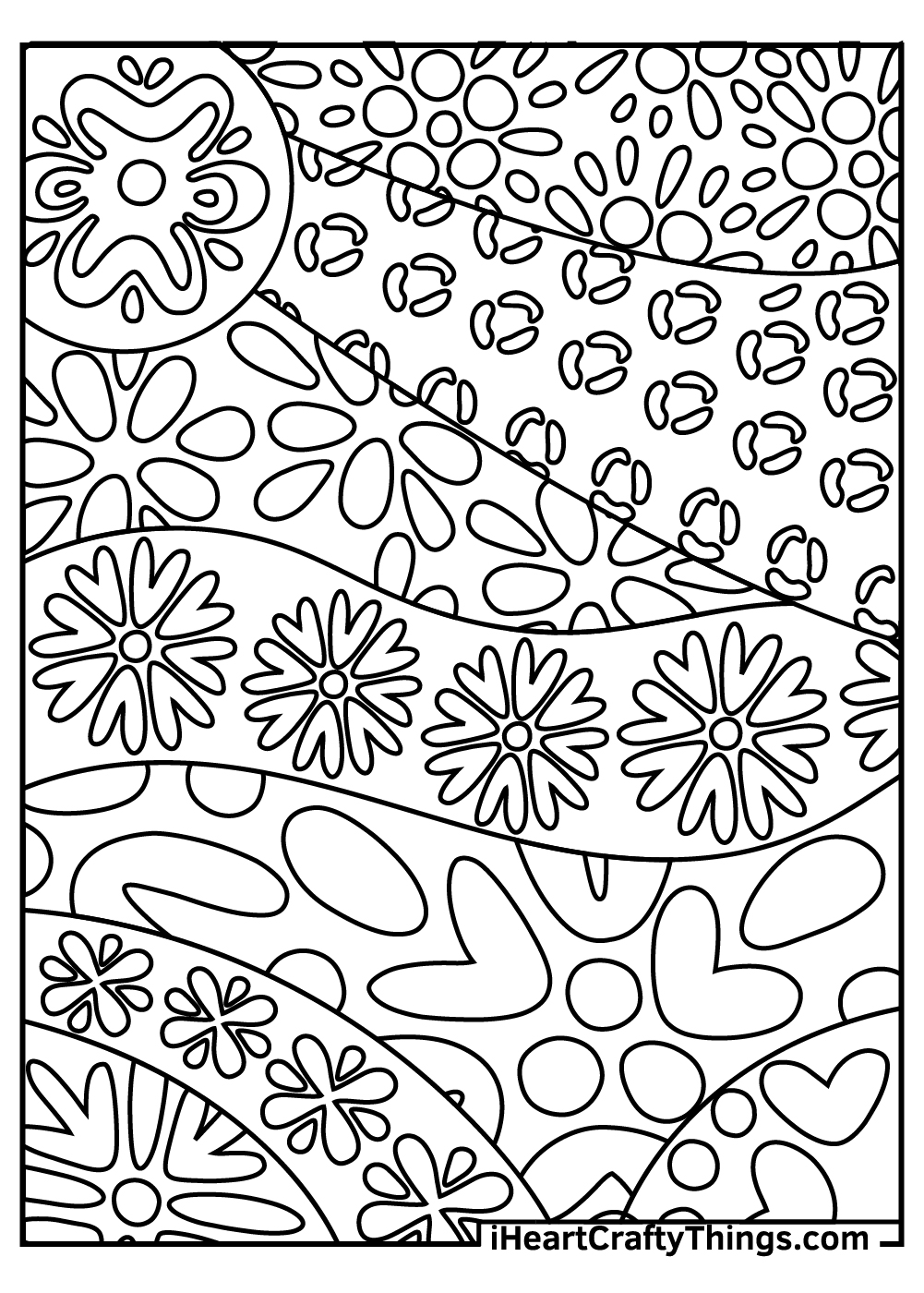 Abstract Coloring Pages – Which will you choose?
We hope you had a fantastically colorful time experimenting and expressing yourself with these free abstract coloring sheets for kids!
These coloring pages are 100% free for you to print out and have a great time with, and the same is true for all of our coloring pages and art printables.
These abstract coloring printables are perfect for color experimentation, so why not print out multiple copies of your favorites to try out even more beautiful colors, styles and mediums?
Please don't forget to like and share our Facebook page to make sure that you never miss out on any of our awesome free coloring pages and printable goodies!
Also remember to share your favorite abstract coloring pages once you've finished them for us to see!
We're sure that there will be some incredible colorful artworks to marvel at once you've finished them and we can't wait to see how you expressed yourself using these abstract coloring sheets!