When it comes to printable coloring pages, there are plenty of options to choose from here on our website.
While some of them are rather straightforward, such as our cupcakes, airplanes, and sea animals,others are meant to challenge the imagination of both children and adults.
These free trippy coloring pages are so surreal that they will broaden your imagination and encourage you to think outside the realm of reality.
These intricate designs are perfect for keeping kids occupied for a while or teaching them about the colorful 60s and 70s, but adults are also welcome to enjoy them!
So, whether you want to travel back in time or just give your kids something to do in their free time, these imaginative coloring sheets will surely help.
10 Brand New Trippy Coloring Pages – Free to Print and Color
This trippy coloring sheet has curvy and spiral designs in black and white.
For a peaceful look, fill in the white areas with one color throughout the page, or make each white circle a different neon color to stick to the trippy concept of these pages.
To give dimension to a picture, kids can use several shades of the same hue inside the small circles that make up the central, main one.
The only thing putting a barrier to you or your kid's imagination now is not having these trippy coloring pages downloaded and printed as soon as possible.
The best part is, they are all free to use as you please.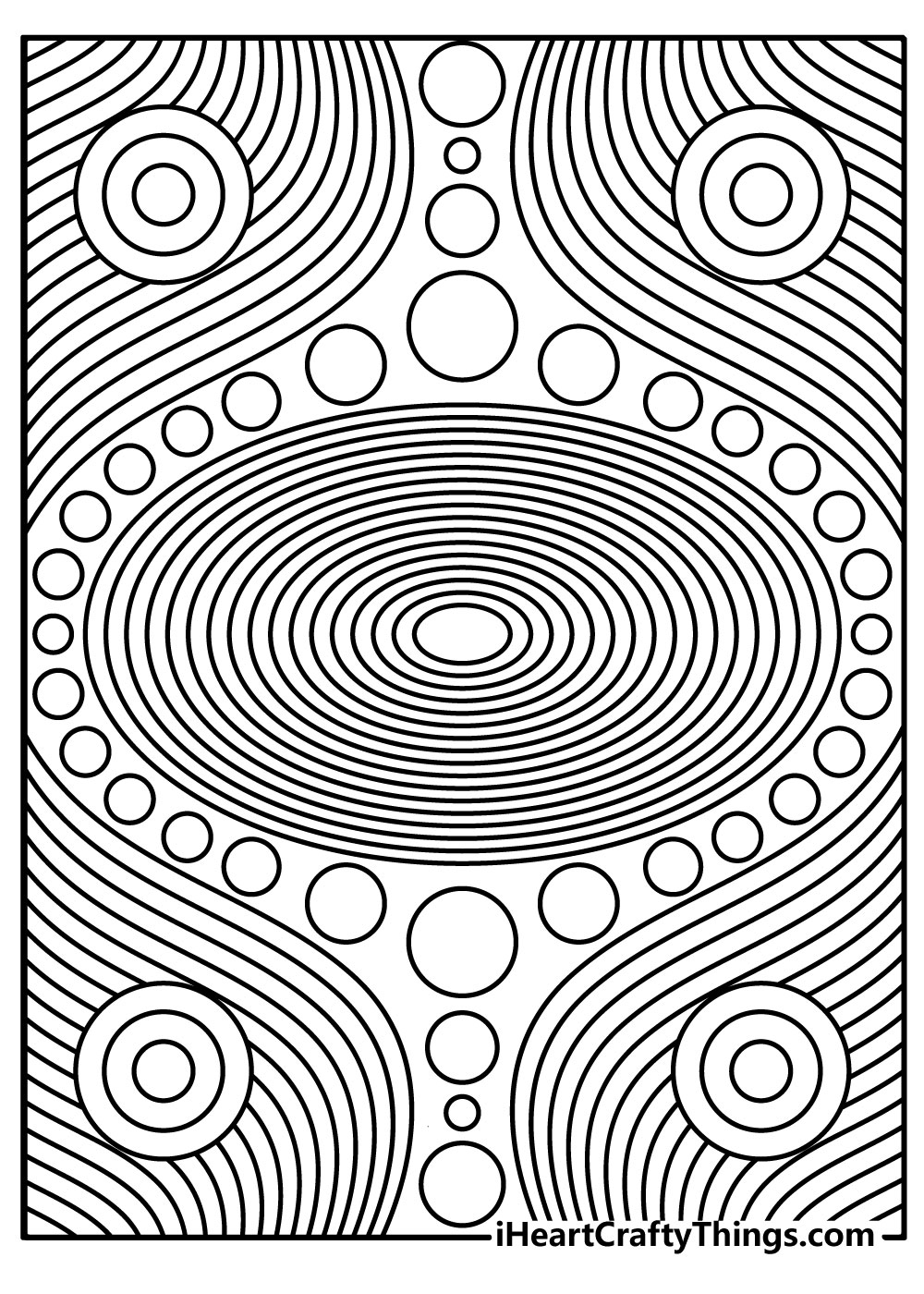 The best thing about these trippy coloring sheets is that they don't need to follow any rules.
You can let your imagination run wild and create interesting pieces of art by coloring these wavy patterns. You and your kids are free to imagine the story and colors of this printable sheet however you want to!
You can color each white space with a different color, use various shades of the same color, or even combine multiple colors to create a gradient effect.
For kids, these abstract trippy coloring sheets can be a great way to learn about colors and color combinations in a free, enjoyable way.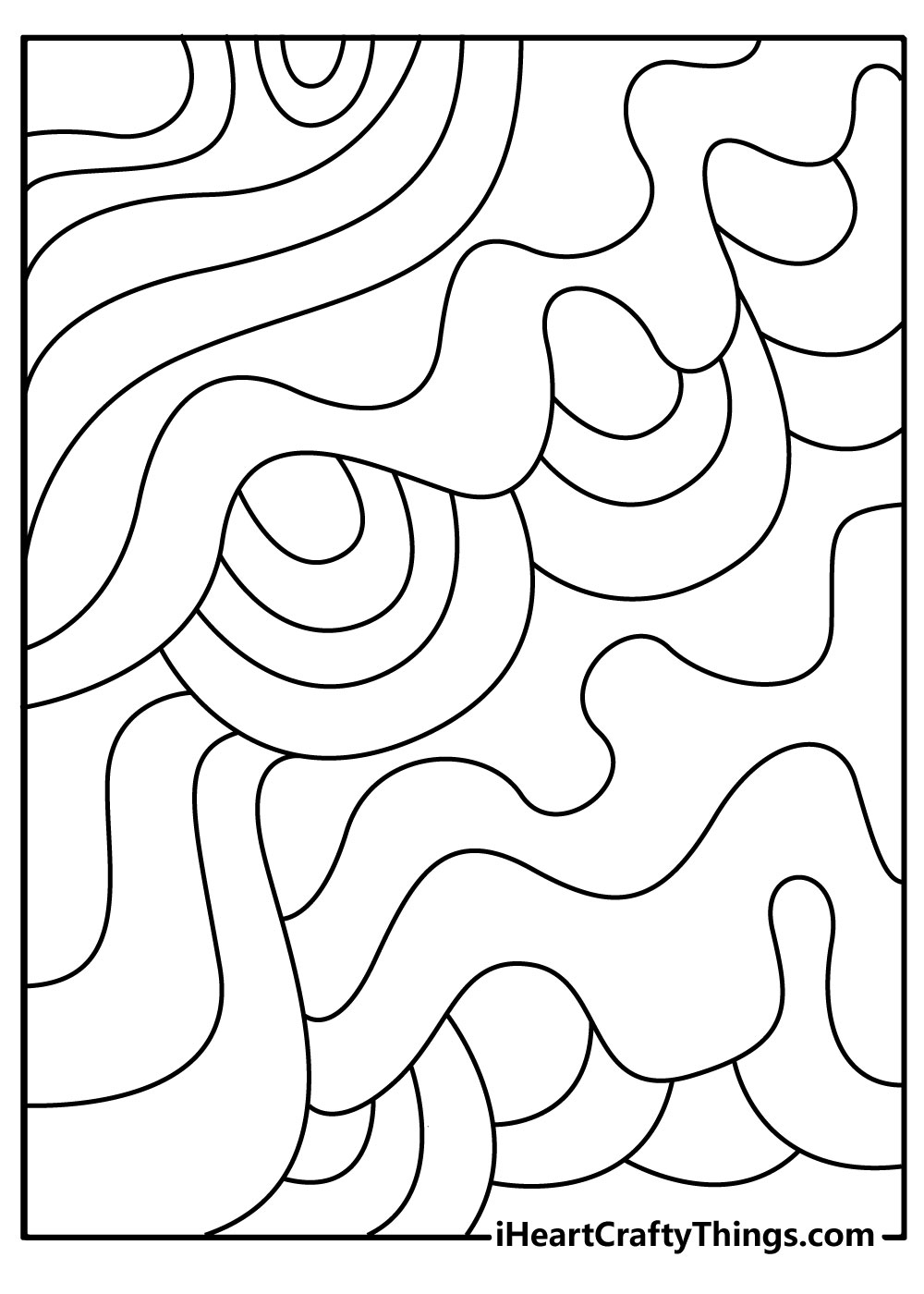 This bizarre coloring page depicts 7 mandalas. Have you ever wondered where this style of spiritual Asian art came from?
In Hindu and Buddhist traditions, the mandala — which means "circle" or "discoid object" in Sanskrit — embodies many parts of the cosmos.
This page is a great way to teach children about spiritual arts in general and how cultures practice them to find joy and relaxation.
You can also enjoy this trippy coloring sheet by yourself if you want to, because coloring has no age limit!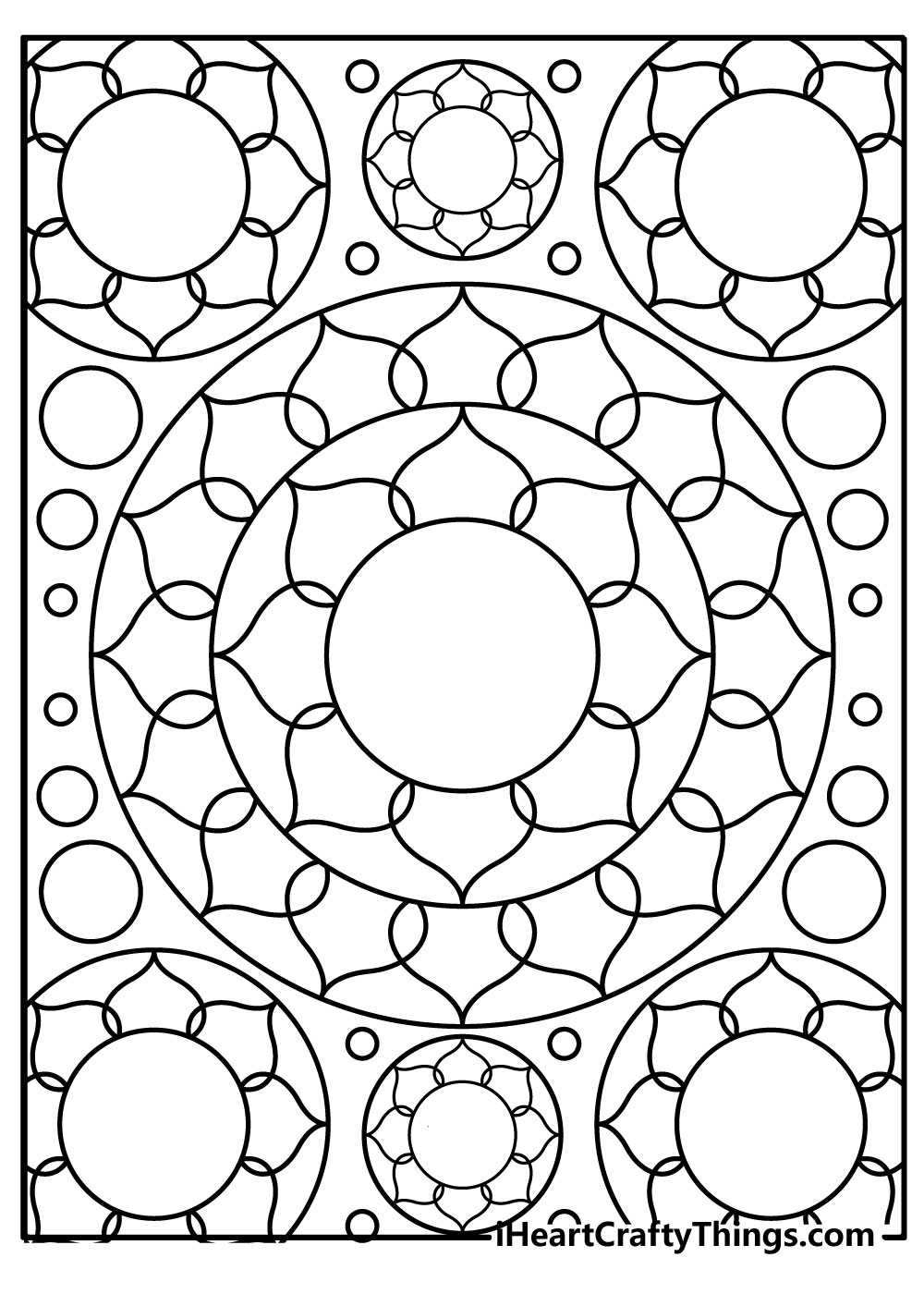 Finally, this coloring sheet depicts both the sun and the moon.
While it is still a bit complex, it may be a good coloring page for beginners because the details are not as small and intricate as on other trippy coloring pages.
To give it the luminous quality of a true celestial object, gold and silver colors are a great option.
However, nothing is stopping you or your children from letting your imagination roam free and coming up with amazing color combinations.
Remember that fun is the keyword when it comes to coloring, and there is no limit when it comes to imagination.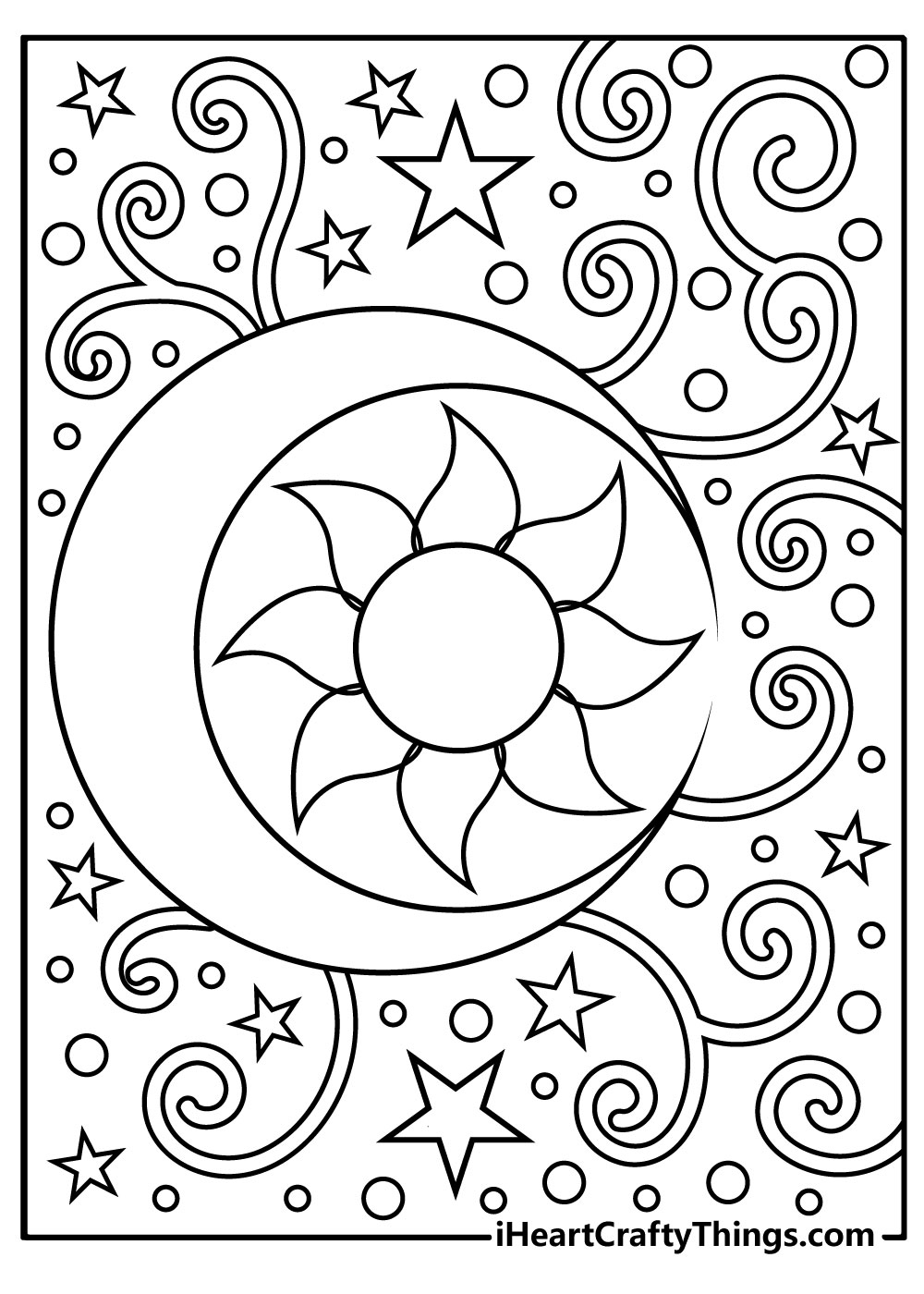 Eyes are a constant motif in trippy coloring pages, so we couldn't not add one to our list.
Because of the intricate background design, this page can take quite some time to finish coloring, but the results are surely going to be amazing.
You can even organize a coloring contest for your kids and see who is able to finish coloring this page first.
This is a great way to keep the little ones entertained and challenged for a few hours while you can relax coloring a page of your own.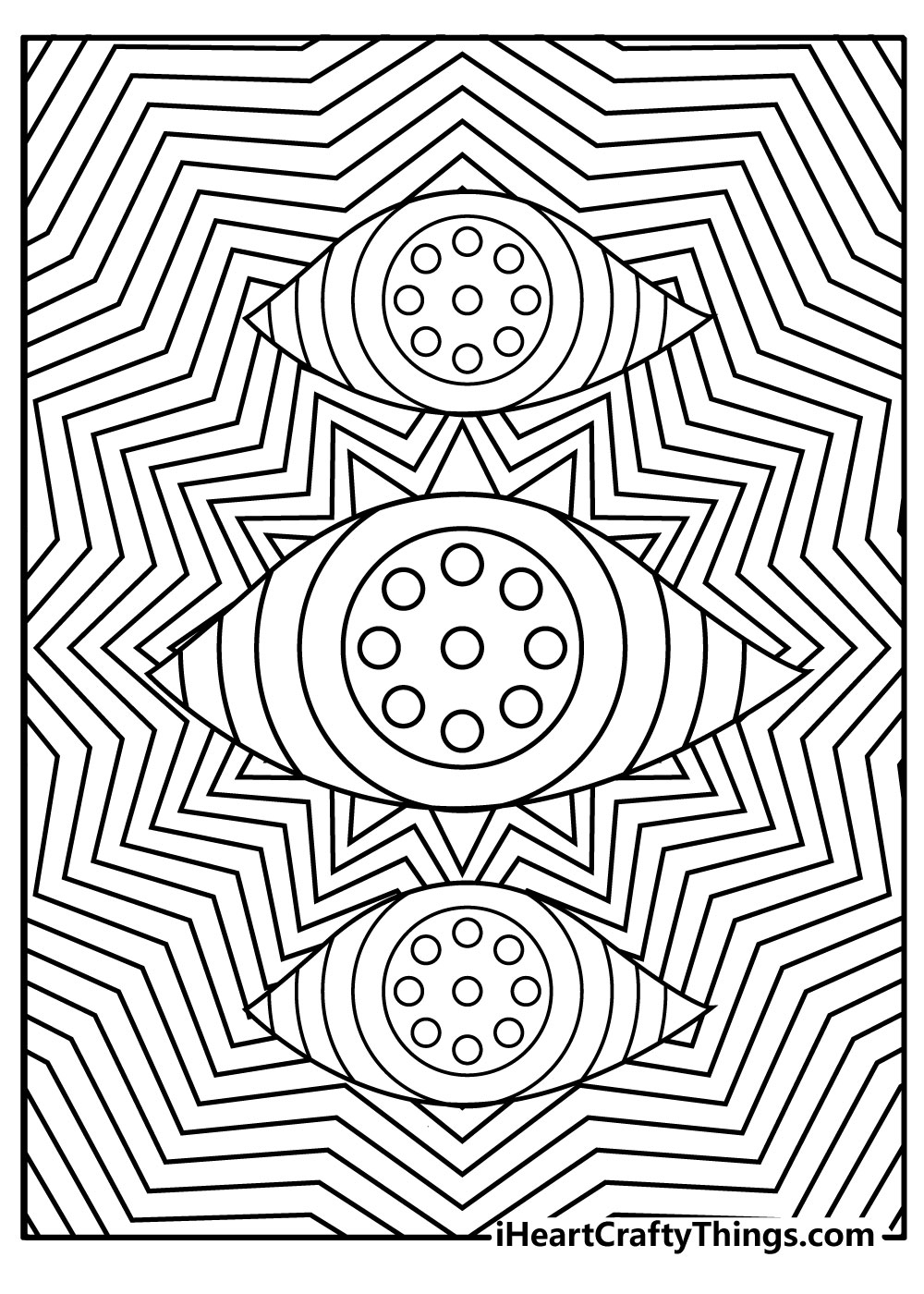 These starry shapes resemble mandalas, but they are much easy to color than other complex patterns you will see on this list.
Kids can color this page however they want to, and you can even turn it into an arts and crafts project.
Simply ask the kids to color every star and leave the background white. Then, you can cut out each star and use some glue to paste it onto the walls of their room, the ceiling, or even a canvas.
You can even create a DIY birthday card using these trippy coloring pages!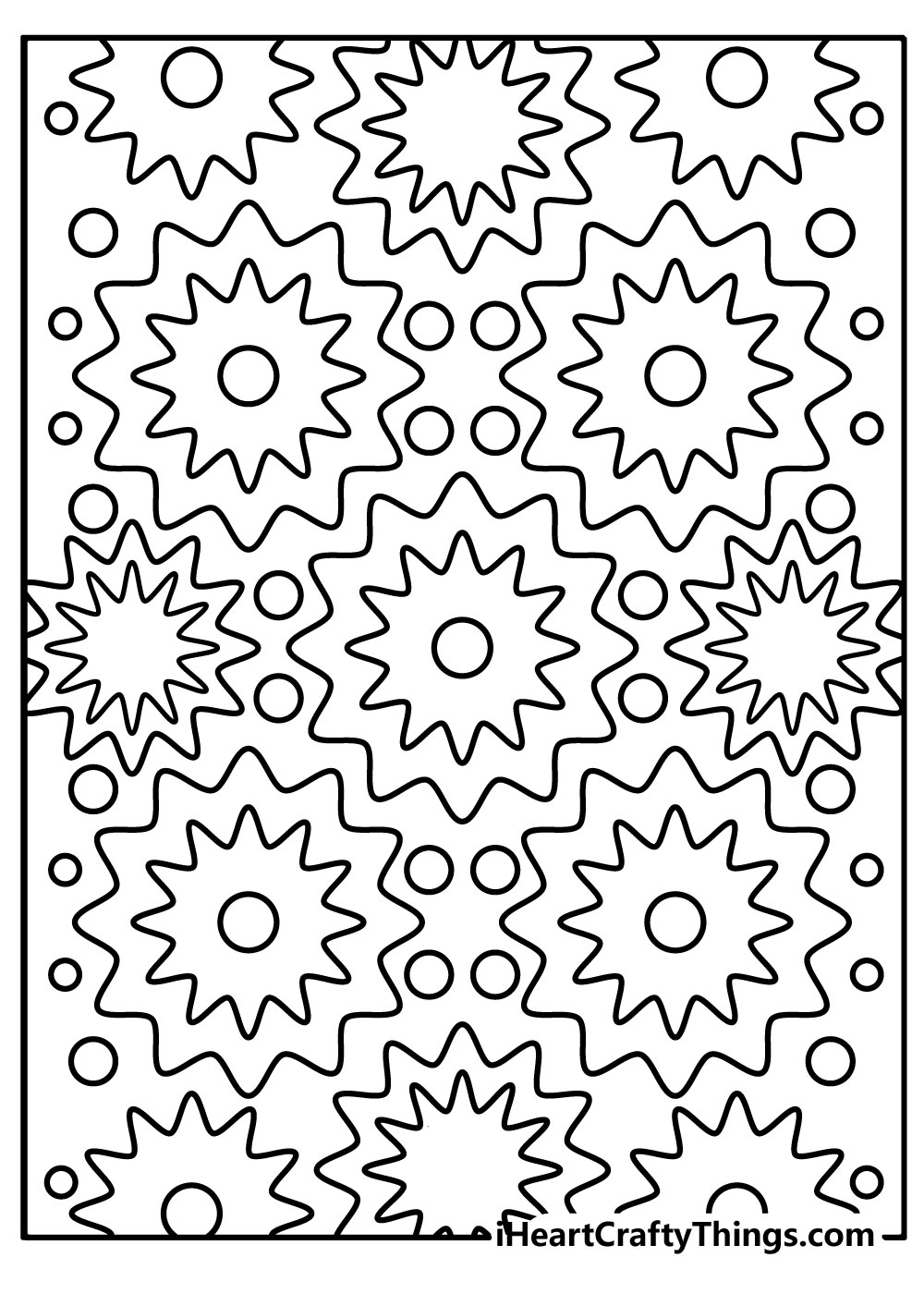 This coloring sheet is a bit more complex than other trippy printables you will find here.
Make some time for yourself by sitting down with some colored pencils, or organize a coloring session where everyone in the house can participate.
A page like this may take a few days to finish, but the results are going to be worth the work. When finished, you or your kidswill have something to frame and hang on the wall.
Or, better yet, put it on the classic wall of fame – the fridge.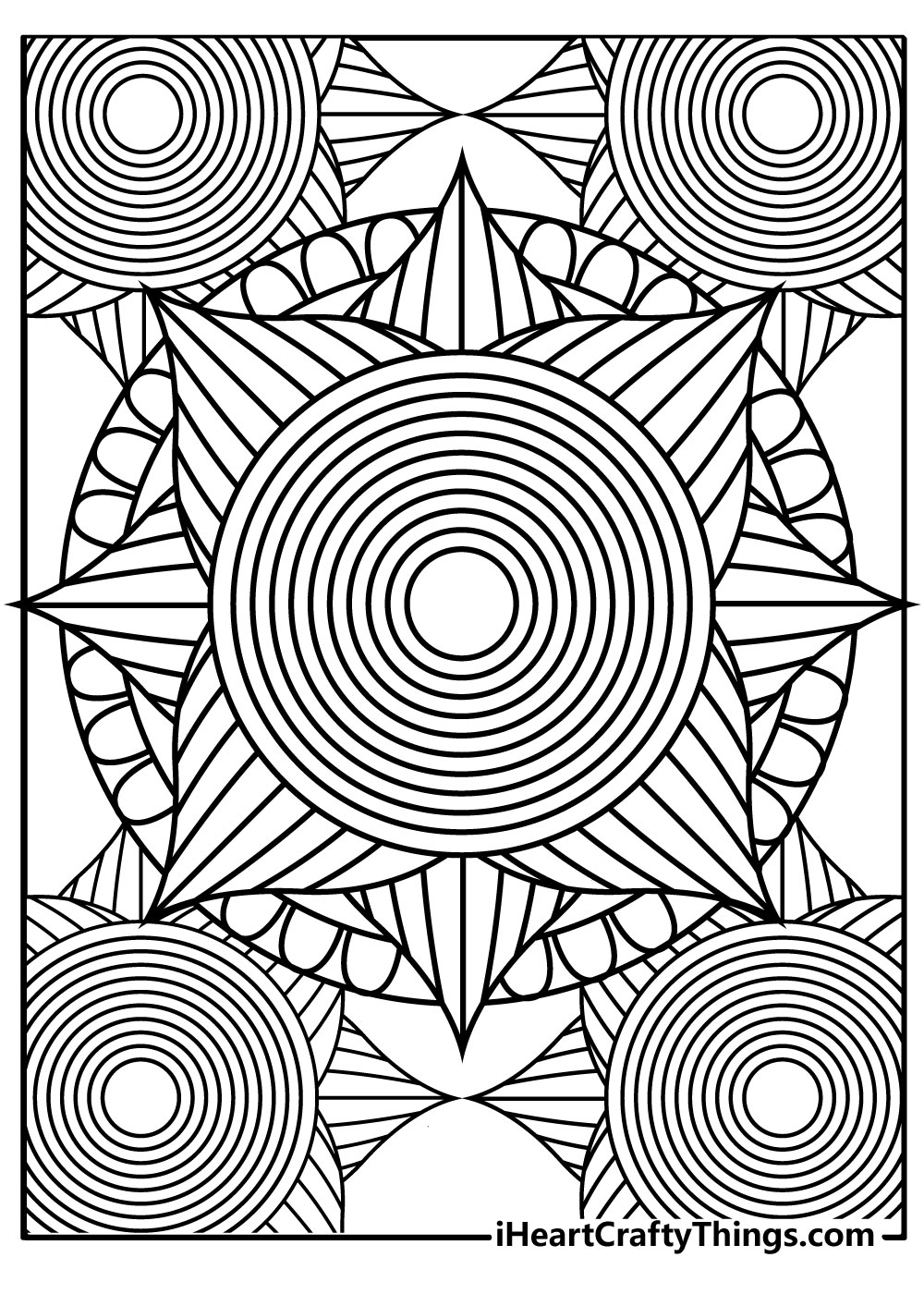 Flowers are always fun to color, but they can be even more fun when you add all those background elements that allow you to explore more colors and combine them to create real works of art.
Kids are surely going to love this trippy coloring sheet as they can combine multiple colors to come up with some amazing results.
Teach them about the colors of the '70s and get them curious to learn about decades past and how trends come back after a while.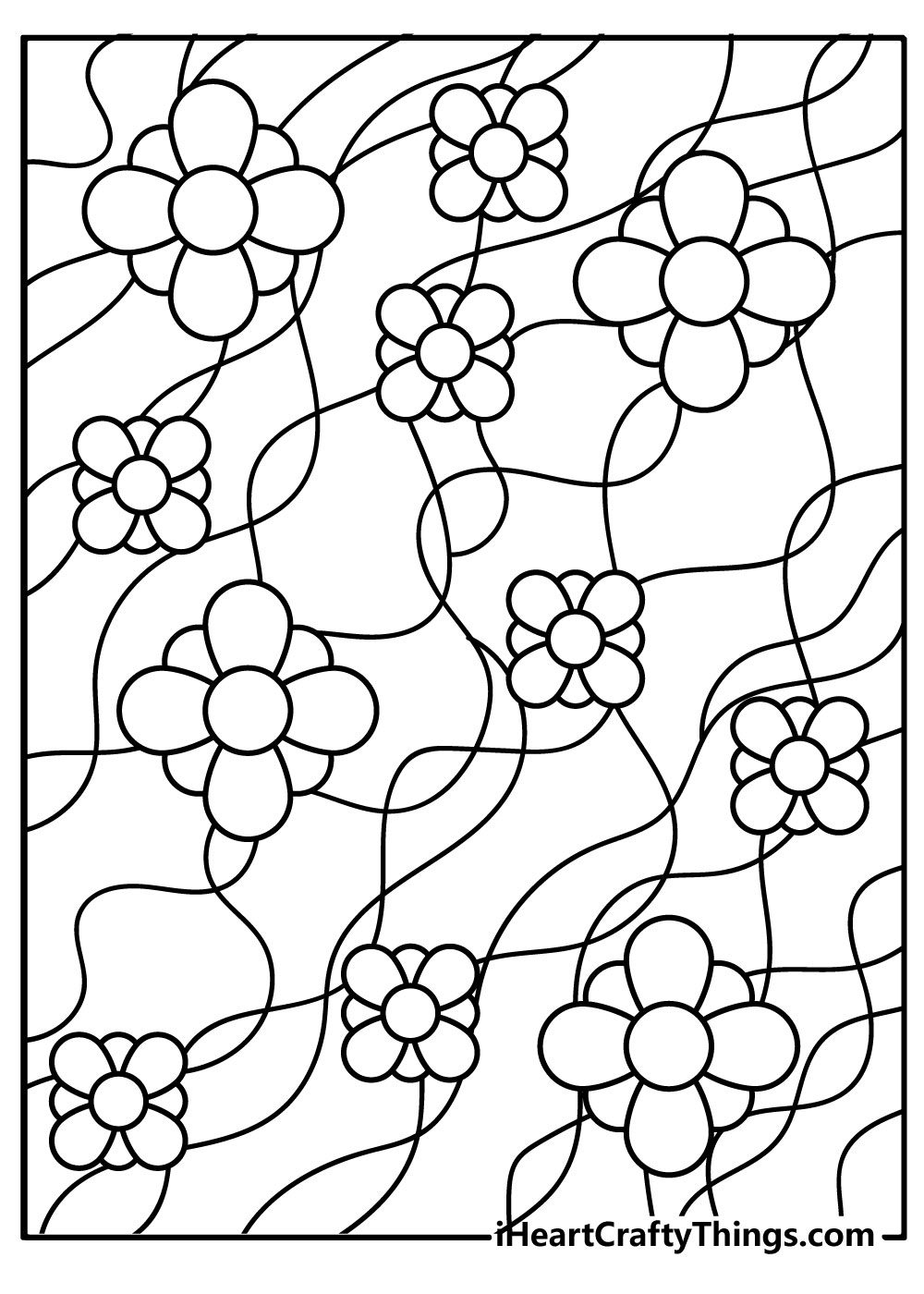 These wavey patterns are very fun to color, as they let you explore various colors and don't have any rules to follow.
The kids can get creative and use their imagination to come up with interesting works of art and share them with their friends.
Because these trippy printable images are more complex, you can use them as group projects and ask two or more children to collaborate on coloring one sheet.
To make it even more fun, assign each team a color and ask them to color these sheets using various shades of the same color.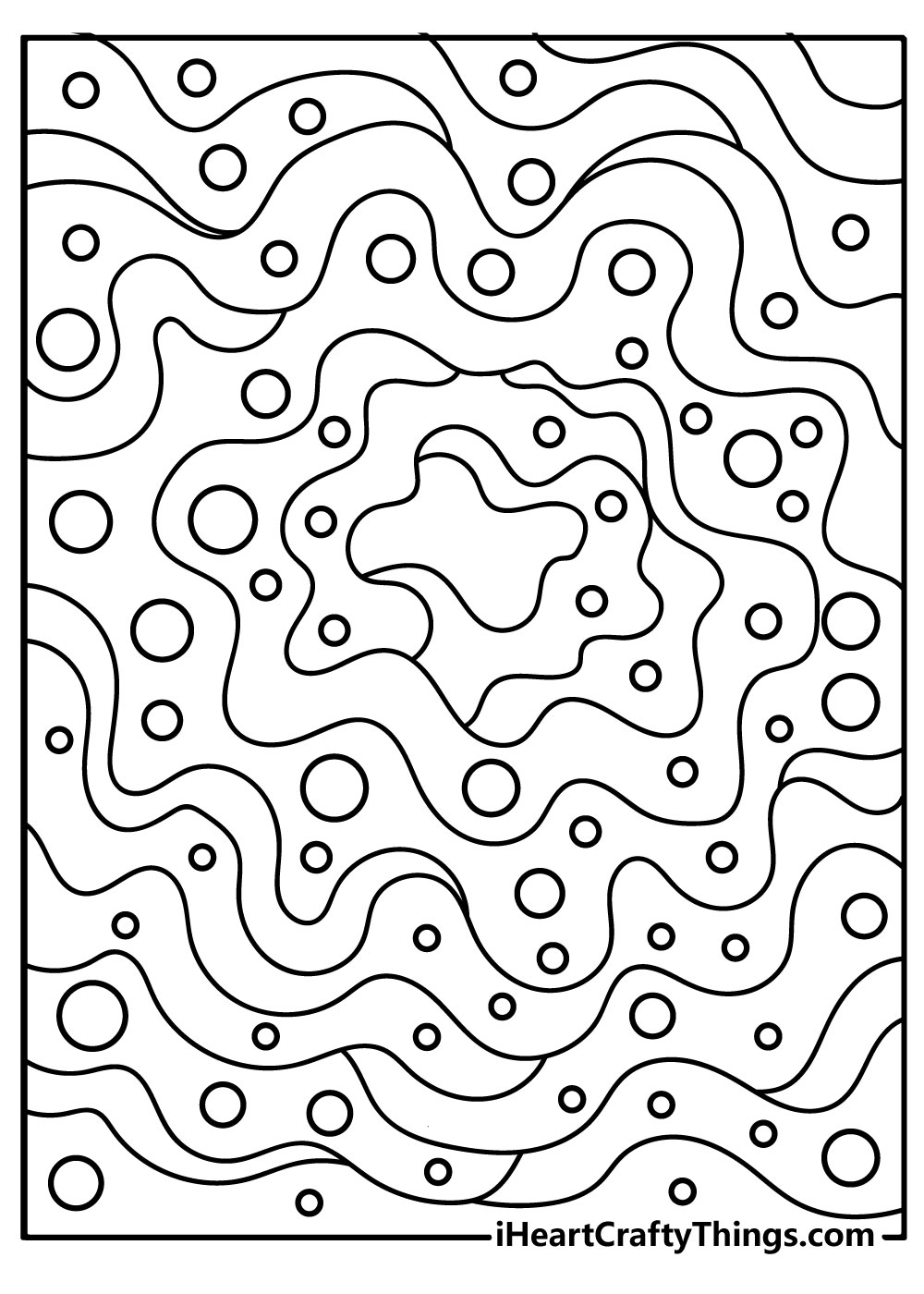 The last image on our list is pretty simple to color, but nothing stops you from making it more challenging for your children's imagination.
Although your kid might scoff at the concept, why not have them use this page as a vision board? There's plenty of room for them to write down their future aspirations, dreams, and wishes.
You might also ask them to fill in the blanks with words that represent the most essential aspects of their lives at this time.
It would be interesting to revisit this page in five years and see how things have evolved.
If your little one is too young to know how to write, you can help them out, but let them choose the words and colors alone.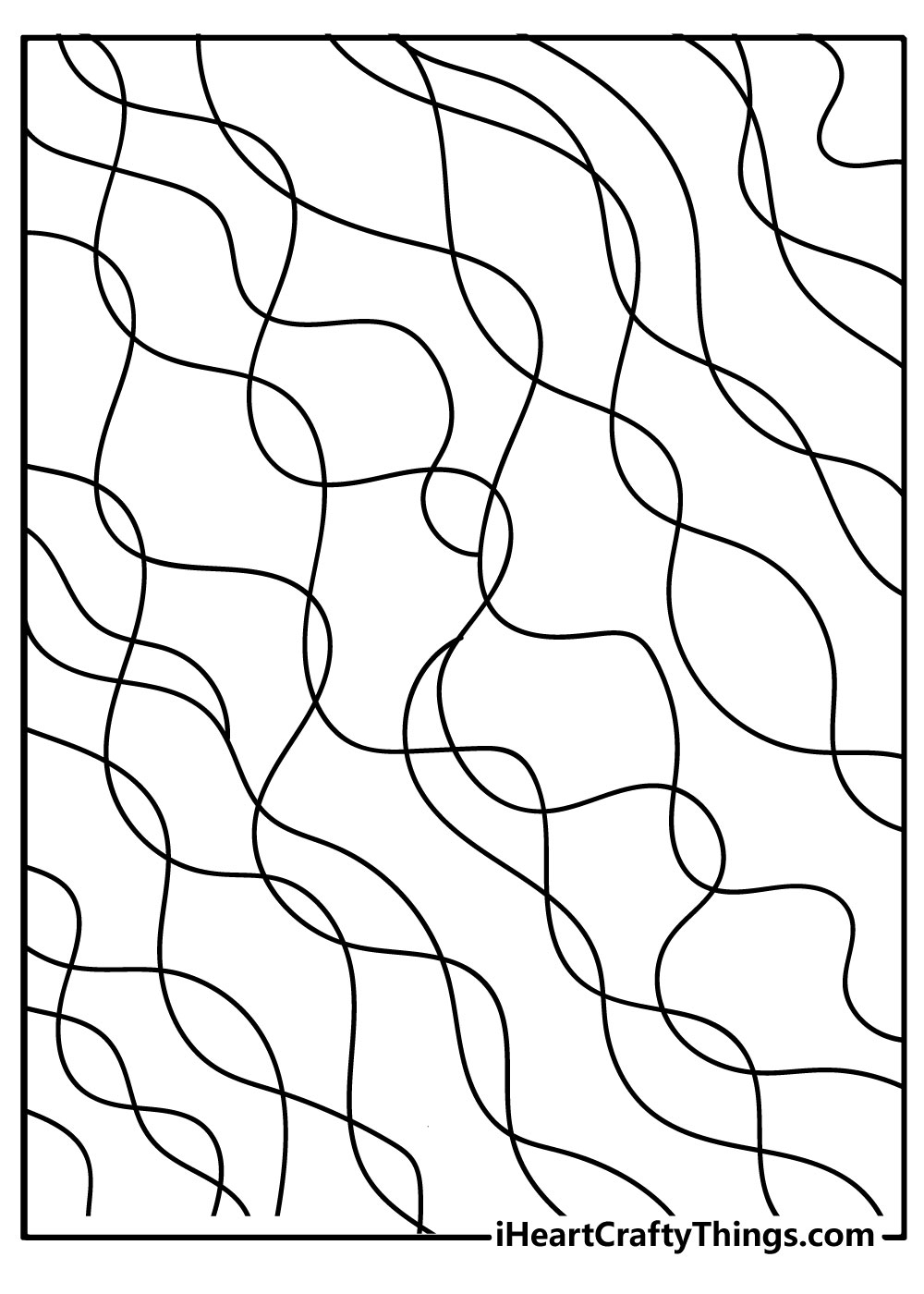 Use Your Favorite Art Tools To Make These Trippy Coloring Sheets Even Better!
This was a really mind-bending collection of trippy coloring pages! We saw all sorts of designs in this collection, and there are so many ways to color them.
When you add color to these pages, we would recommend not overthinking it. Try to let your inspiration take over and see what happens!
The colors should come naturally to you, and because these designs are so expressive there are no wrong ways to color them in. However, you can also think about the art tools and mediums you use.
If you enjoy coloring, you probably have a few go to art mediums. Maybe you favor colored pencils, for instance. If you do tend to go for one medium, we would encourage you to try something new.
Most of these designs are rather thin and fiddly, so you should probably stick to mediums that allow for precision if you want to stay in the lines. Colored pencils would be great for that, incidentally.
Colored pens and small paintbrushes would also allow you to stay within the lines. Whatever it may be, we challenge you to use an art medium you have never used before.
This would be a fun way to express yourself and try out something new. You may surprise yourself with how the colors look, and it could open all kinds of artistic doors.
Mixing different mediums in one image can also bring out the colors in some unique ways. Basically, choosing the color schemes is just one part of the fun!
By choosing and experimenting with different art tools and mediums, you can add an extra layer of creativity. What are some interesting and unusual art tools you could use to bring the colors to life?