The world of fashion and style is an exciting one, and it's great to get to be a part of it!
The OMG dolls help to do exactly that, as they feature fun doll designs that feature some fashionable outfits and accessories to collect.
There are so many fun styles and colors to enjoy, and now you get to personalize some of your own in this collection of free OMG coloring pages for kids!
This fun collection features many amazing and fashionable designs for you to bring some color to.
We think that this would be the perfect collection to use all of your favorite art tools and craft supplies on!
Every coloring page in this set is free for you to print and enjoy, so you can create multiple interpretations of the same images.
To share the joy of creativity, you can also share the collection with friends and family to enjoy as well!
So get ready for some fashionable fun as we start this fantastic collection of coloring printables!
When you have chosen and colored your favorite pages, we hope you will show us how they turned out by sharing them on our Facebook and Pinterest pages for us to see.
10 Brand New OMG Coloring Pages – Free to Print and Color
The first OMG coloring page that we have for you features a very stylish doll to kick things off! The outfit that this first doll is wearing is rather understated, but it creates a really elegant look for her.
This looks like it could be the outfit of a successful businesswoman! For that reason, we think it would look great to use some more muted colors for the outfit.
You could also incorporate some brighter colors for the smaller details.
We would suggest dark blue for most of the outfit with some bright pink for her bow tie. What colors will you choose?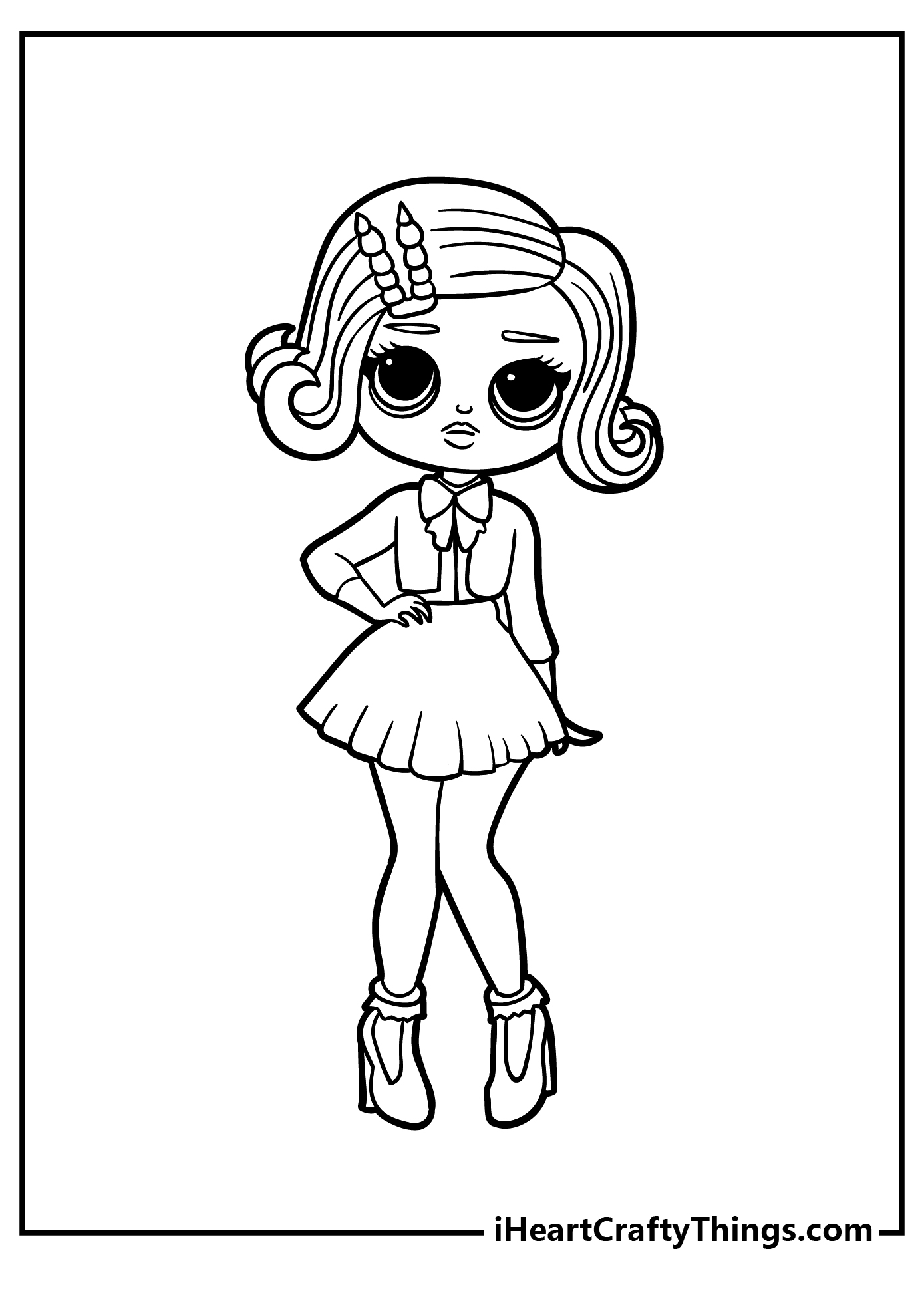 Our next OMG doll has a lot of attitude! This one is also looking super stylish, and she is wearing some really cool sunglasses.
The sunglasses make us think that she could be a famous movie star or some other kind of celebrity.
What do you think this doll could be famous for? You could show us by drawing a background to suggest what she could be known for!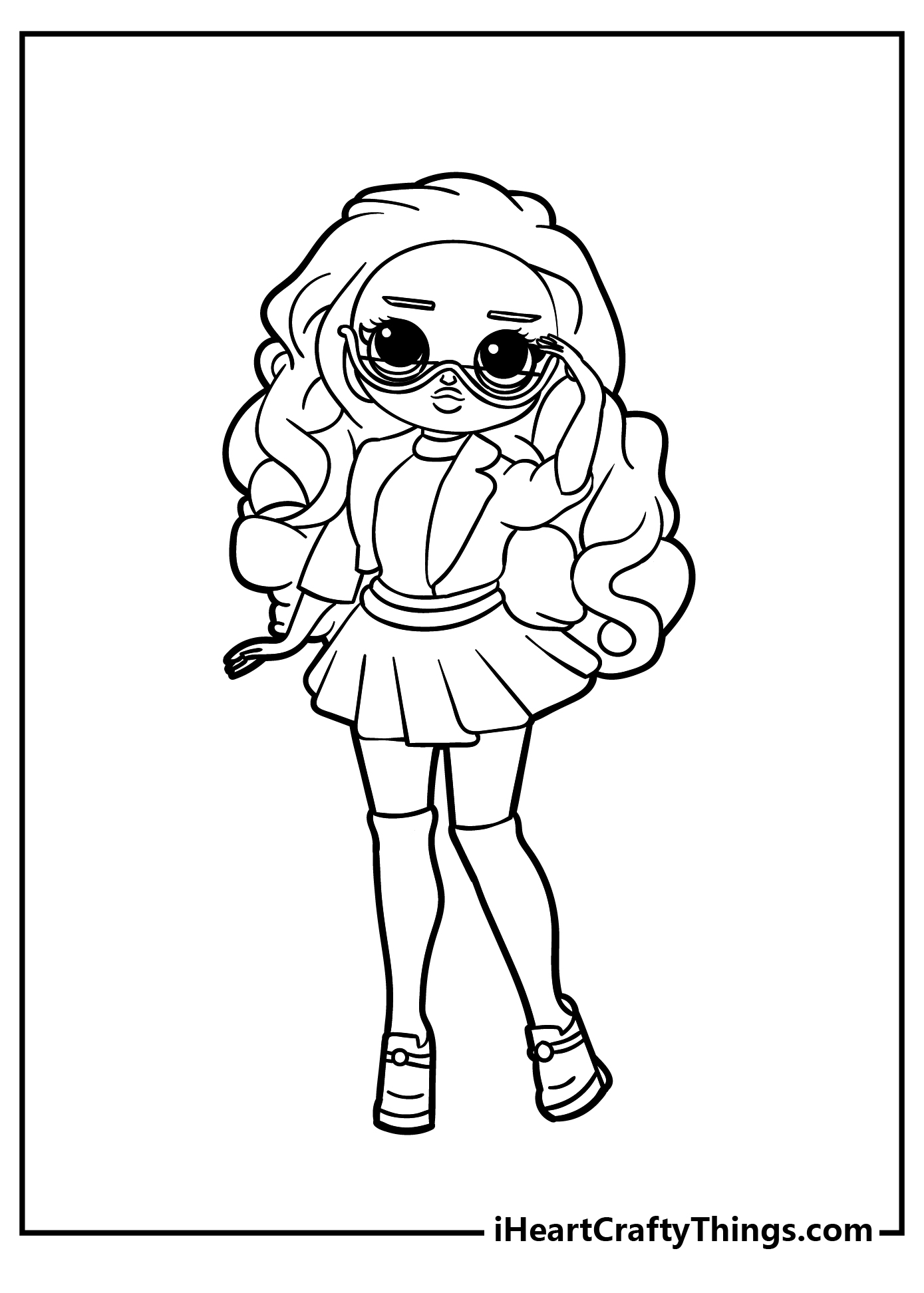 We love the outfit featured in this next page. This doll is pulling a dramatic pose, and she is looking really fancy!
The style of this outfit makes us think of Winter fashion, so maybe you could use some cooler blues, pinks, purples and other such colors for this one.
These are the colors that came to mind for us, but what colors will you use to finish off this awesome OMG doll?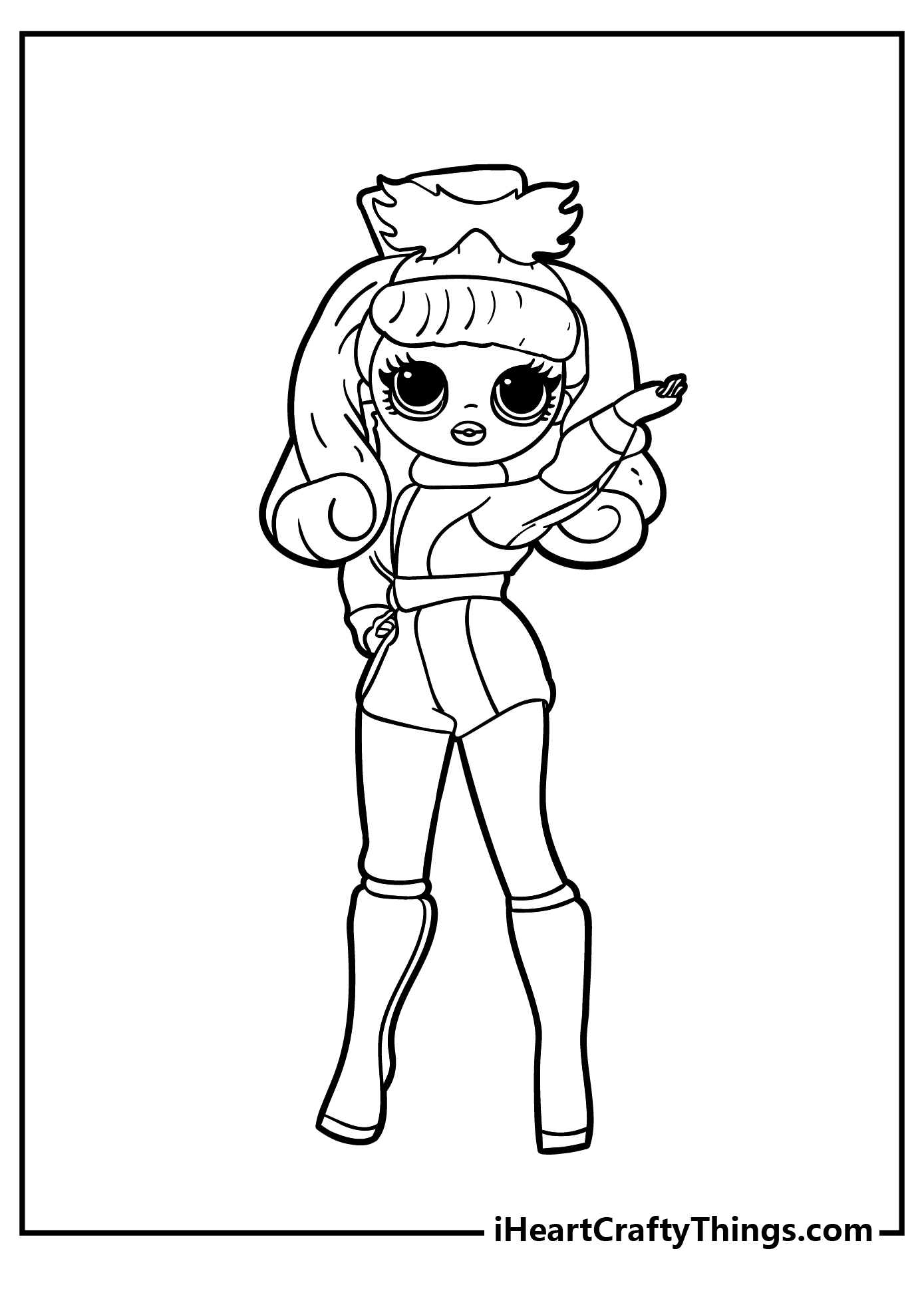 Our fourth OMG coloring sheet features a doll that has quite an awesome hairstyle! Her hair is tied up into two ponytails that sit large and proud on top of her head and dropping down.
She is also accessorizing, as she has a cute teddy bear-themed purse on her arm.
What colors do you think you will choose for this wonderful OMG doll?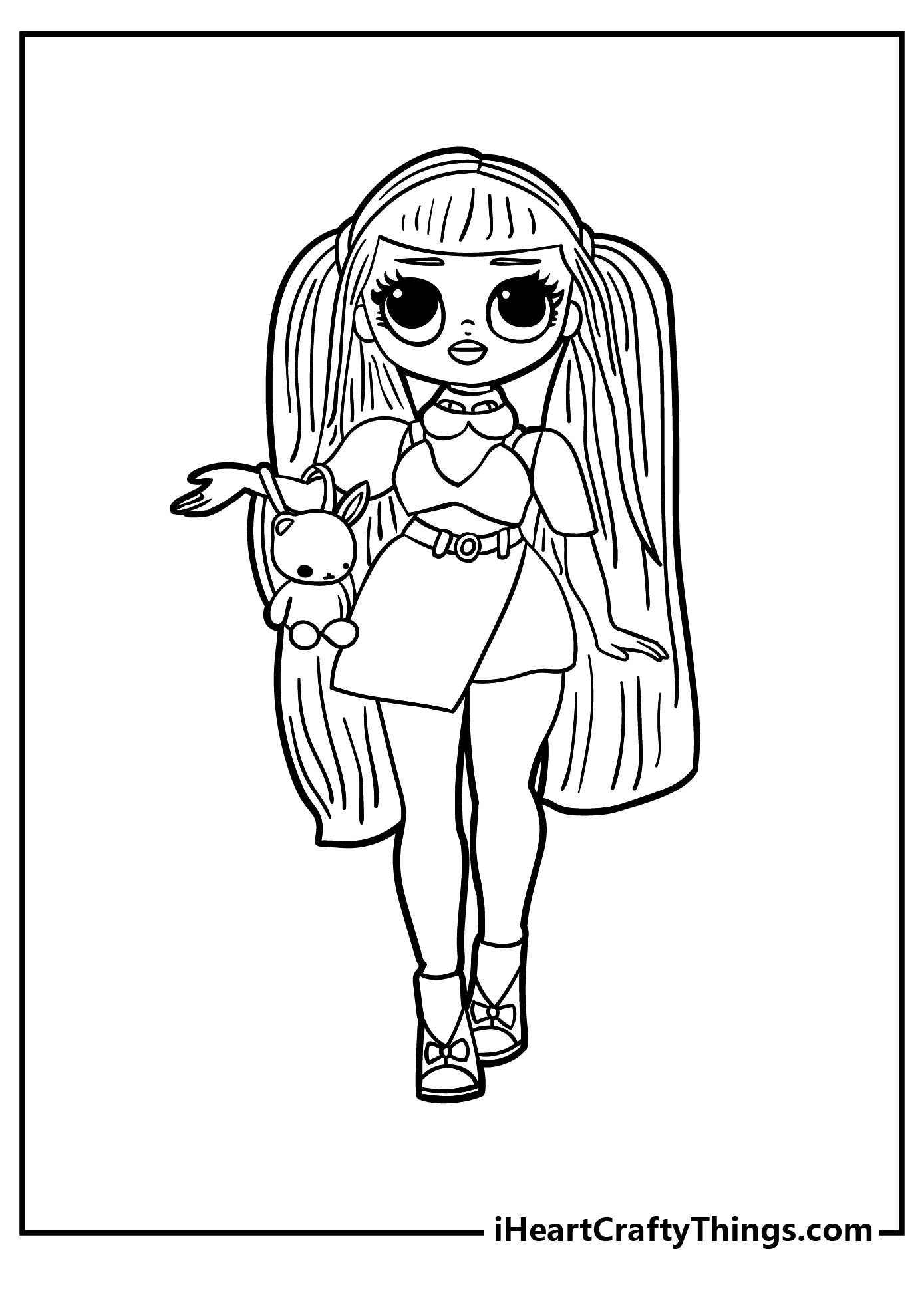 There's another dramatic pose being pulled in this next page! Once again, we are featuring an outfit that is a little more subtle and pared-down, but that just makes for an elegant look for this doll.
She looks like she could be pulling a pose on a runway, so you could draw a runway setting behind her and maybe add the flashes of cameras!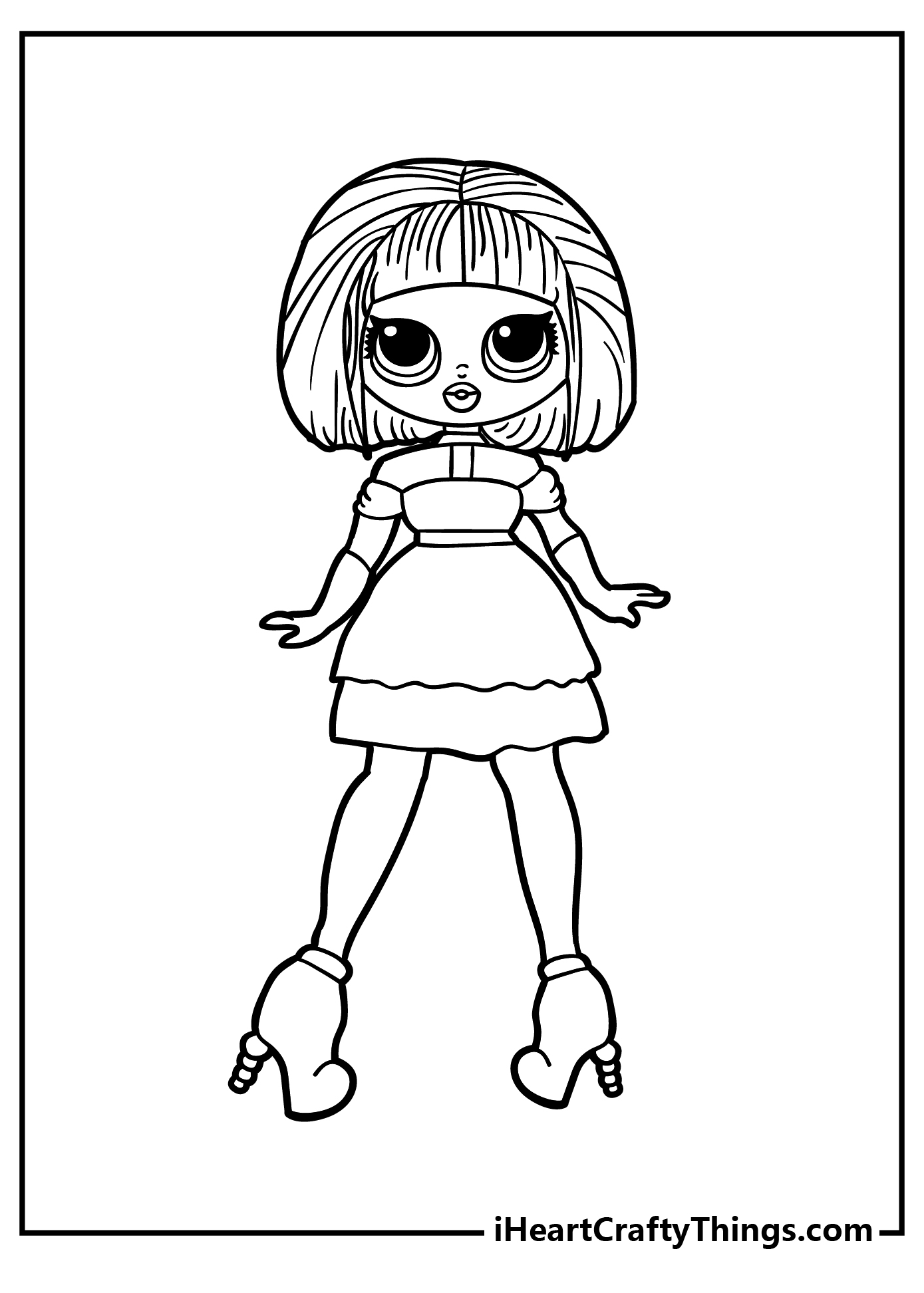 In this next OMG coloring sheet, we're dealing with a doll that has the look of a famous pop star! She is sporting a really trendy hairstyle that perfectly goes with her stylish outfit.
She has a lot of charisma, and we think that she could use some wonderfully bright and vibrant colors to suit her big personality!
We would go with bright pinks and greens for this one, but this is all about expressing your own creativity! How will you color this one?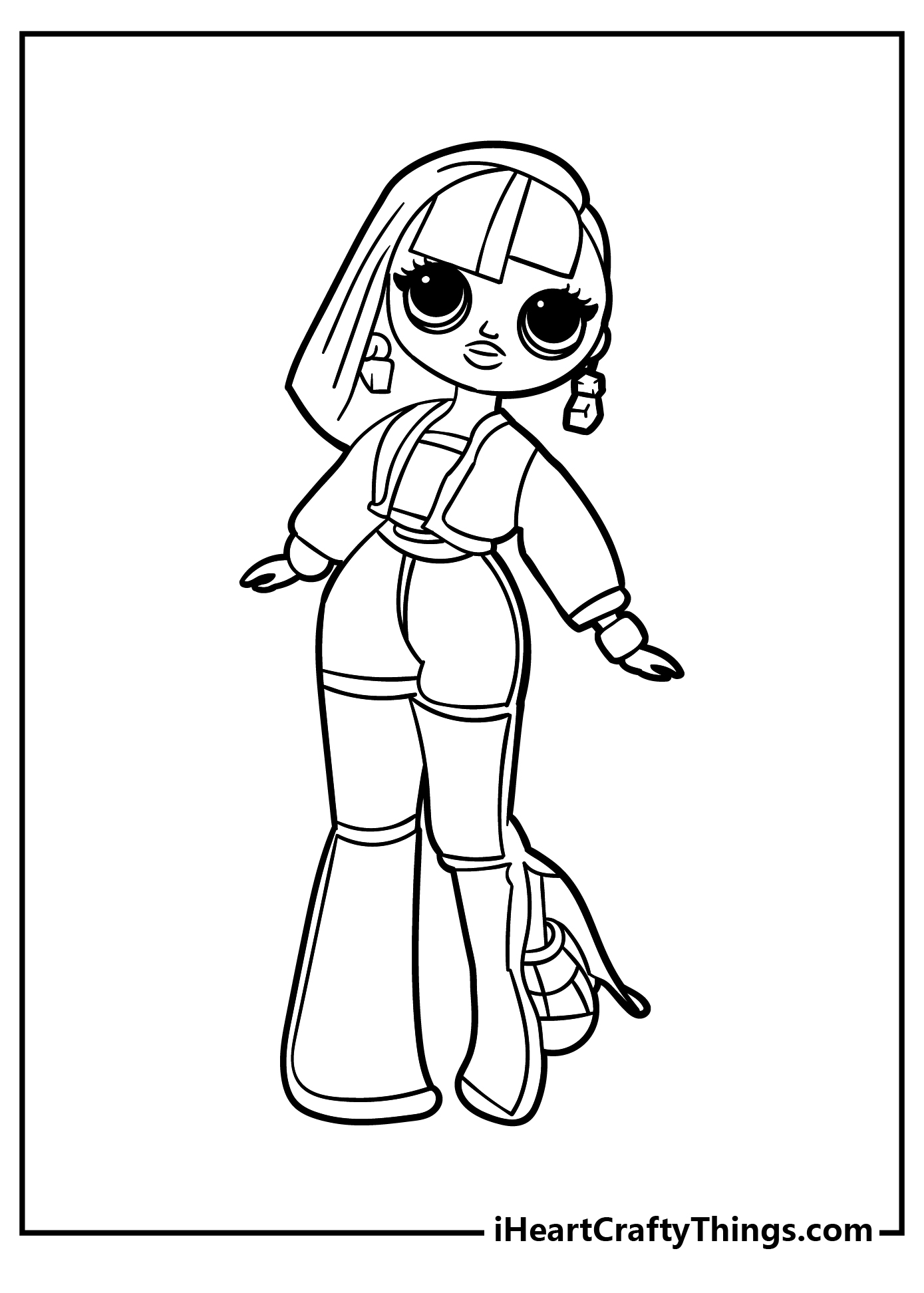 How pretty is the hairstyle featured in this next page? This doll is wearing a lovely pretty outfit that has fluffy sleeves on the arms, but the real showstopper is her hairstyle.
This is another doll that looks like she could be walking on a fancy fashion runway!
For some extra fun details, maybe you could draw accessories such as a purse hanging from her hands to make her look even more stylish!
What other accessories or extra details can you think to add?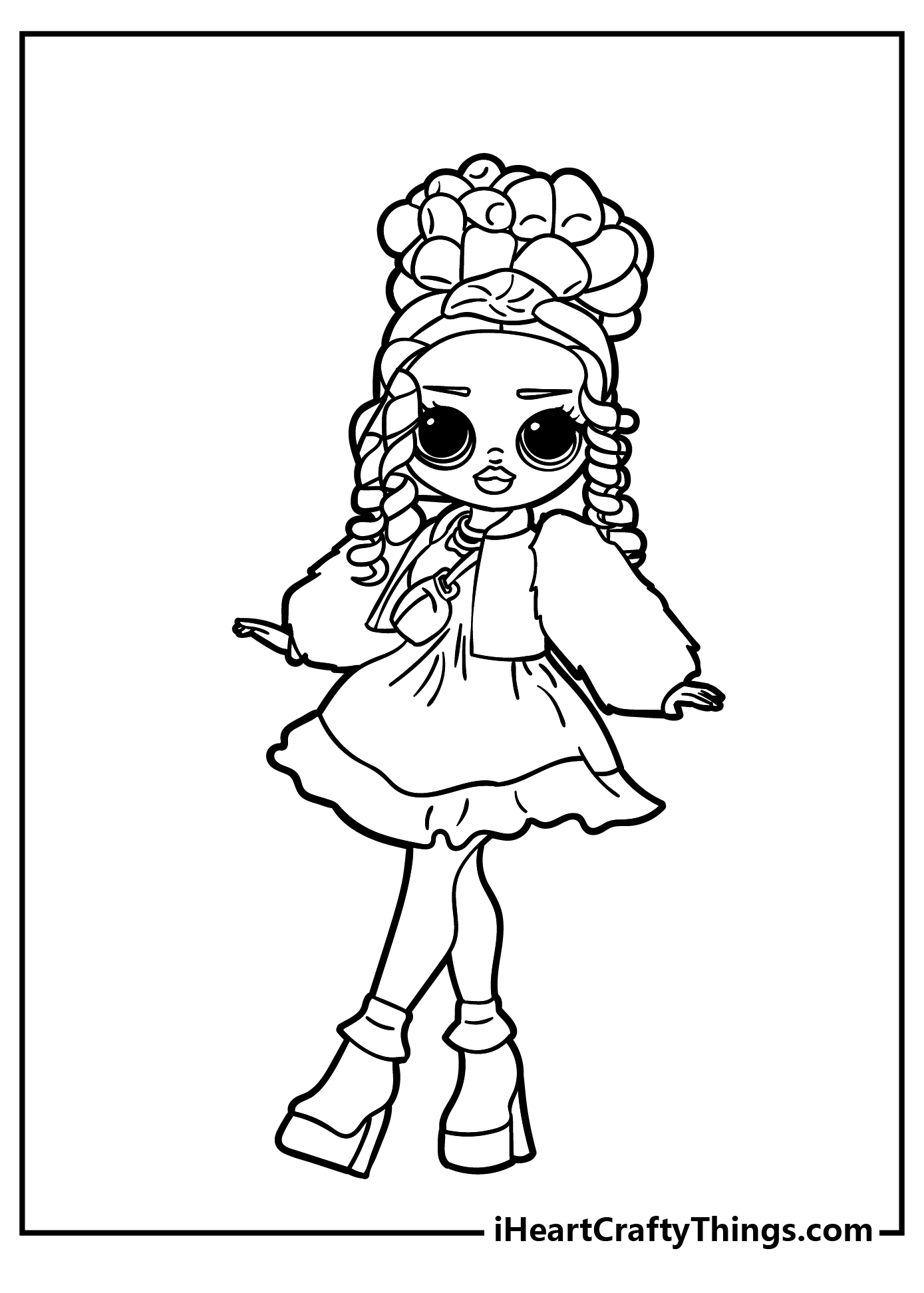 We have another doll that looks like a pop star featured on this next page! She is also wearing a simple yet elegant outfit, but it is finished off nicely with her stylish shades and huge hairstyle.
This is the kind of outfit where any colors you love would look really great!
If you find it hard to pick just one set of colors to go for, remember that you can print out as many copies as you like, and that allows you to try out different approaches to color.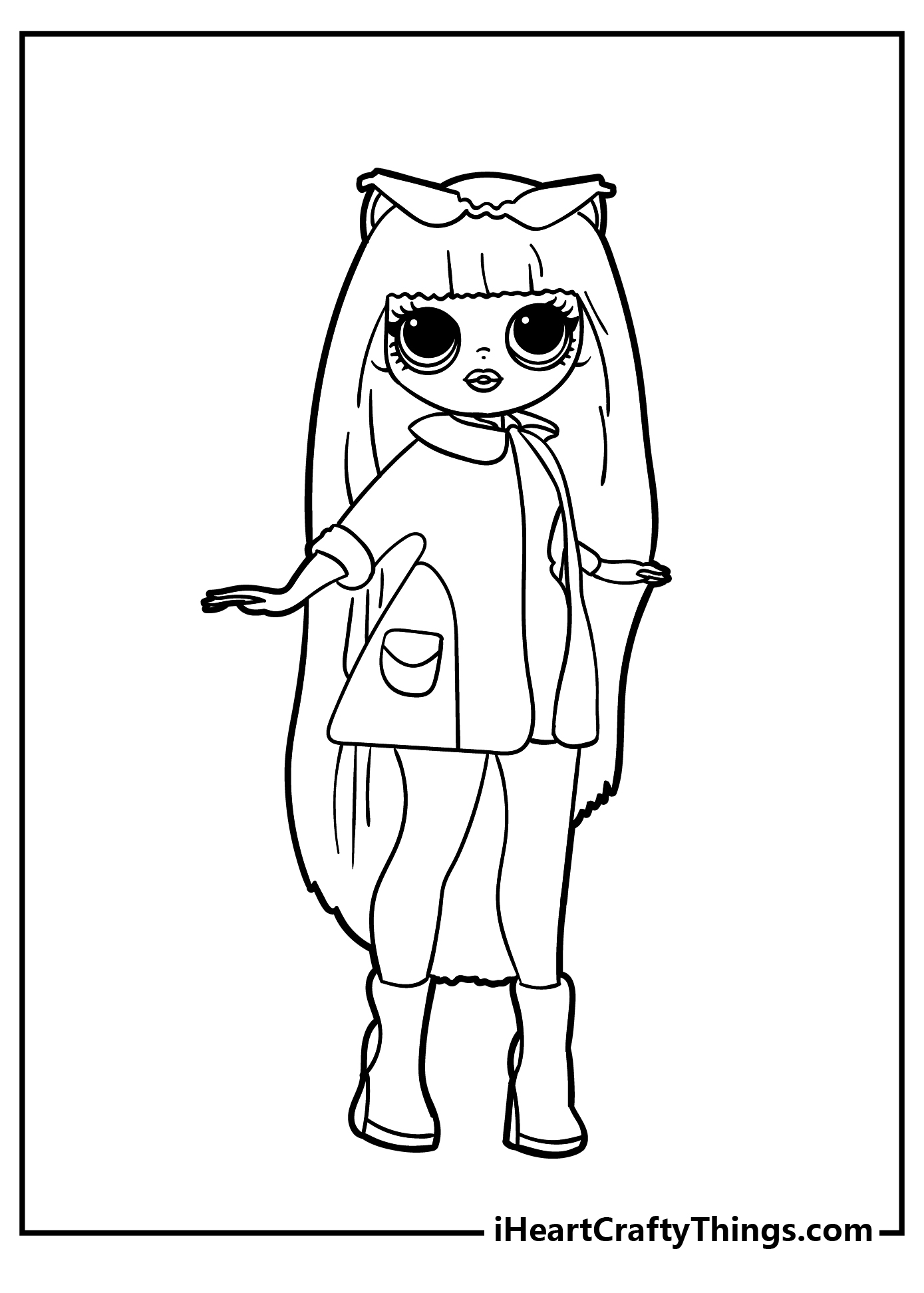 This next free OMG coloring printable features one of the coolest hairstyles we've seen yet in this collection, and that's saying something!
There are tons of great little details to her hairstyle, and her outfit is really pretty as well.
Because there are so many small details, you can work in lots of great little color choices throughout the image.
Will you go for a few colors that complement each other, or do you think you'll go all out and use as many colors as you can?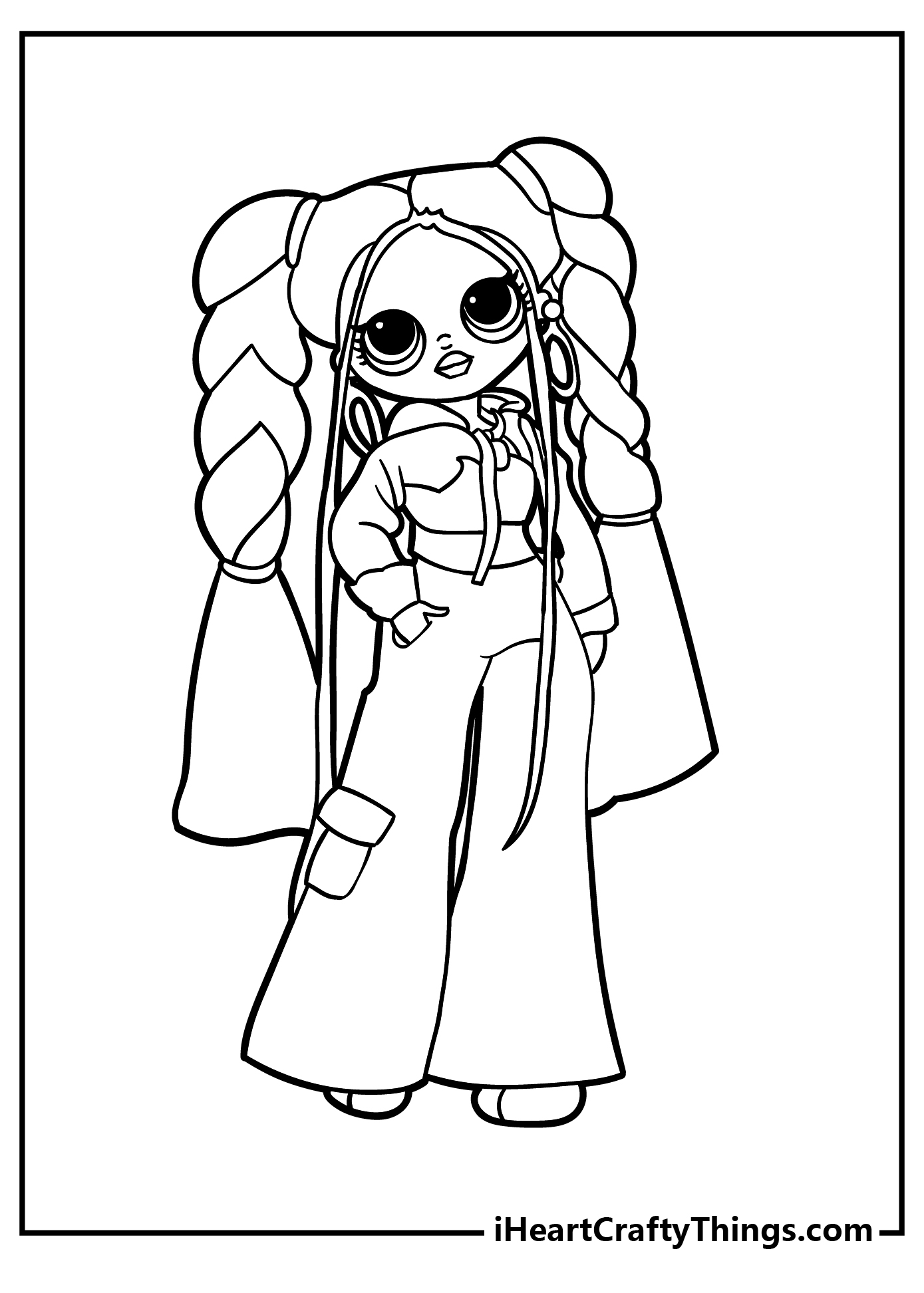 We have one more fashionable OMG doll for you to color, and she is really looking fabulous! She has also got a very unique, modern hairstyle, and it contrasts nicely with her outfit.
This doll certainly seems to know how great she looks, as she is striking a confident pose.
All that remains for this picture is to finish her off with some color! As with all the other images in this collection, we think you should let your creativity take over and see what happens!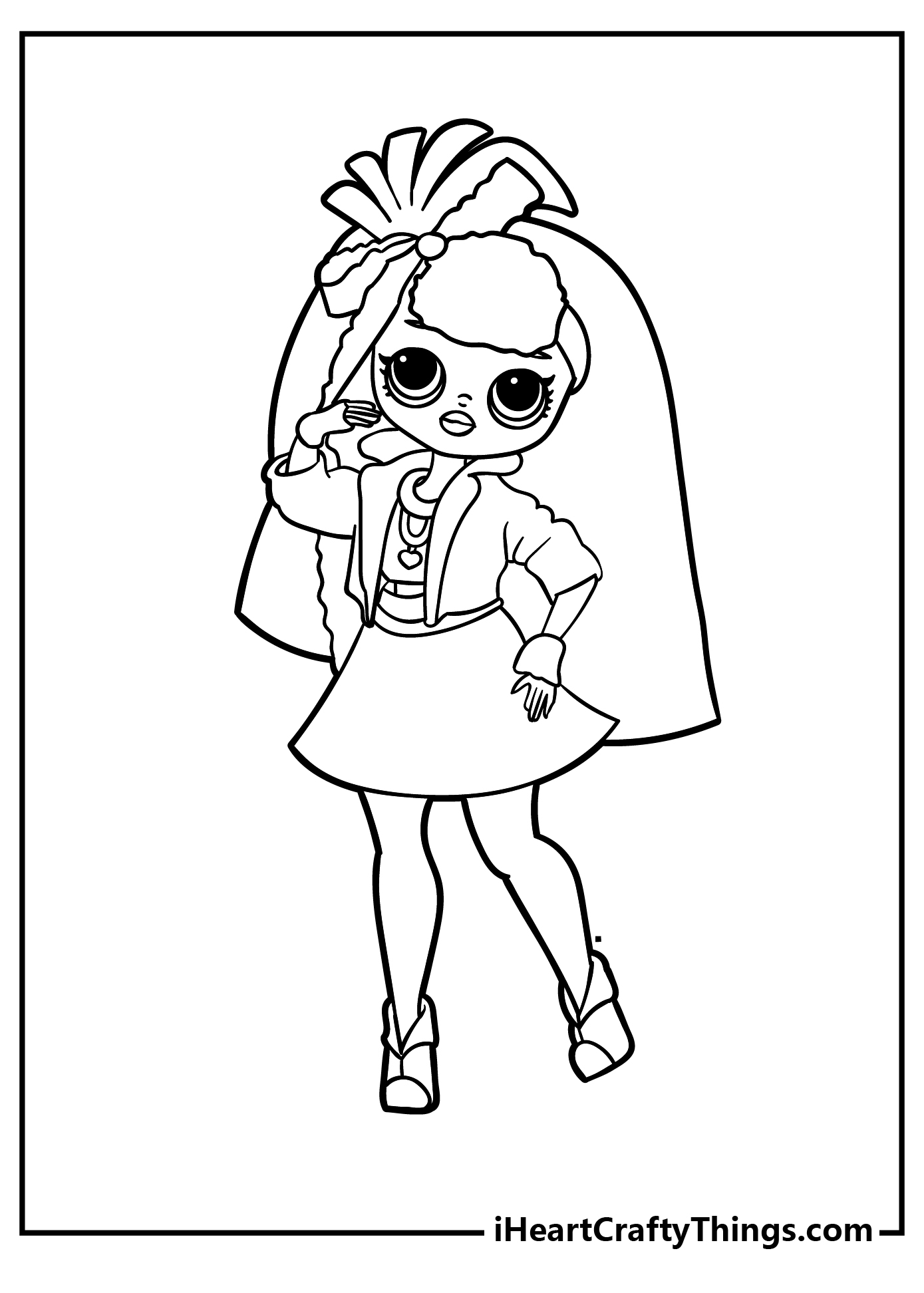 OMG Coloring Pages – Which will you choose?
That will conclude this stylish collection of free OMG coloring pages for kids! We hope you had a ton of fun working on all the amazing outfits, hairstyles and accessories featured in this collection.
Don't forget to spread the artistic joy by sharing the collection with friends and family!
If you loved this collection, you will be glad to see that we have many more free coloring page collections on our website for you. This huge selection is added to often, so keep checking in!
It's always a treat to see how you color these pages, so once you have finished some of your favorites we hope you will share them on our Facebook and Pinterest pages! We know they will look incredible, and we can't wait to see them.