New toy crazes seem to sweep the world every week! Popular toy brands come and go, but some manage to stick around for a long time with millions of fans.
LOL Dolls are definitely one of those that have stayed super popular with new fans joining every day!
These free LOL Doll coloring pages for kids are the perfect way to have hours of coloring fun with your favorite fashionable friends.
This awesome coloring page collection features dolls in many different styles and outfits for you to use your coloring talents on!
You could even incorporate different mediums like paints and pens along with other crafts to really put your own spin on these cute dolls.
Once you've colored in your favorite LOL Doll coloring sheets, please share them to our Facebook page for us to see!
We always love to see your colorful and artistic creations, and we can't wait to see how you color in these LOL Doll printables.
30 Brand New LOL Doll Coloring Pages – Free to Print and Color
This first image in this set of free LOL Doll coloring pages for kids has a fancy diva who looks like she's singing her heart out!
For this funky singer, I would definitely think that bright, bold colors are the way to go.
I would use some colored pens for some of the details in this image to really make her a fashionable star!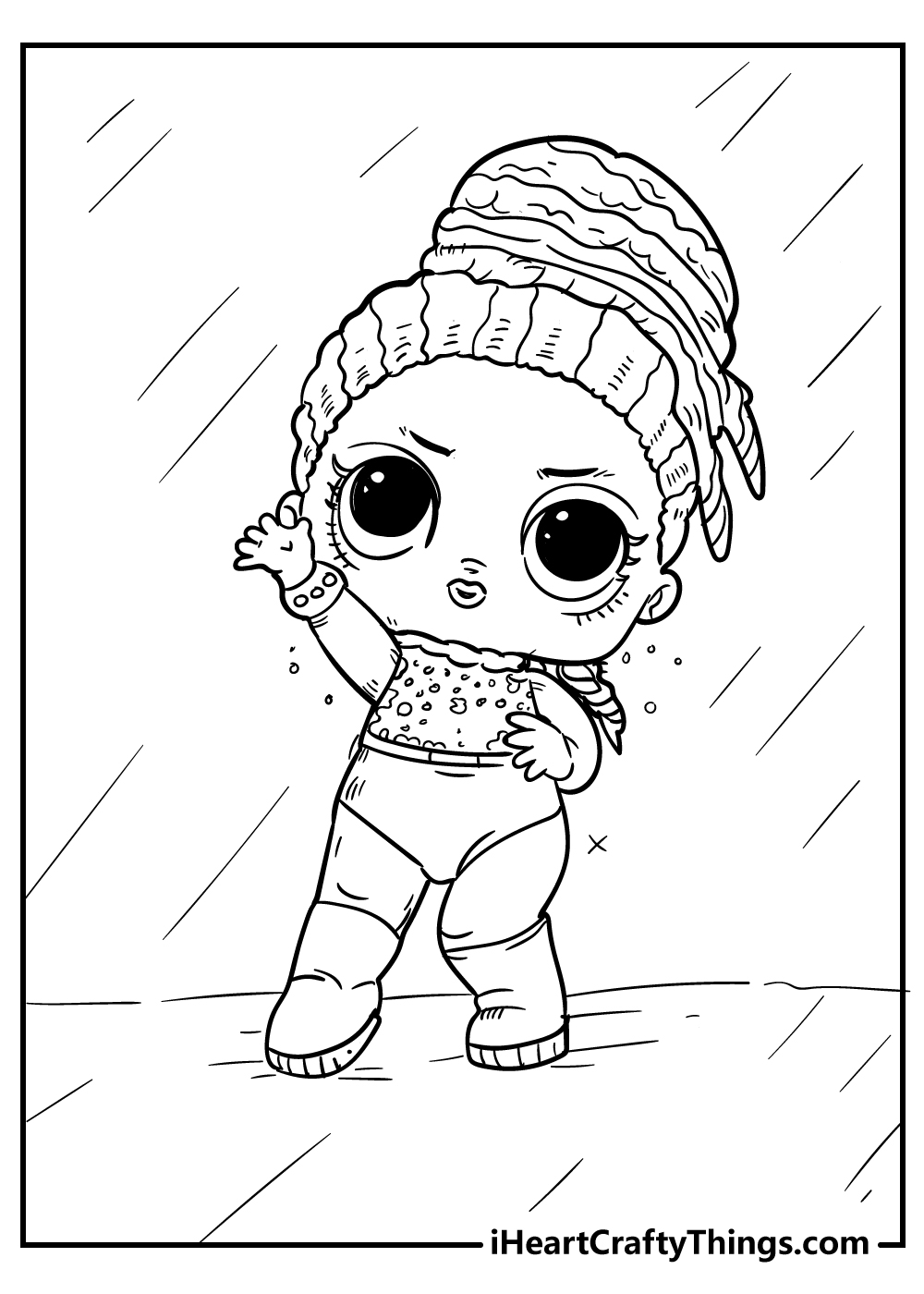 We're ready for some fashion fun in this stylish LOL Doll coloring sheet! This doll definitely looks ready for the runway.
For this picture, I think any kind of color style would suit it perfectly. Because of this, you could use your favorite colors on it and I know it will look so great!
We can't wait to see what colors you use for this LOL Doll.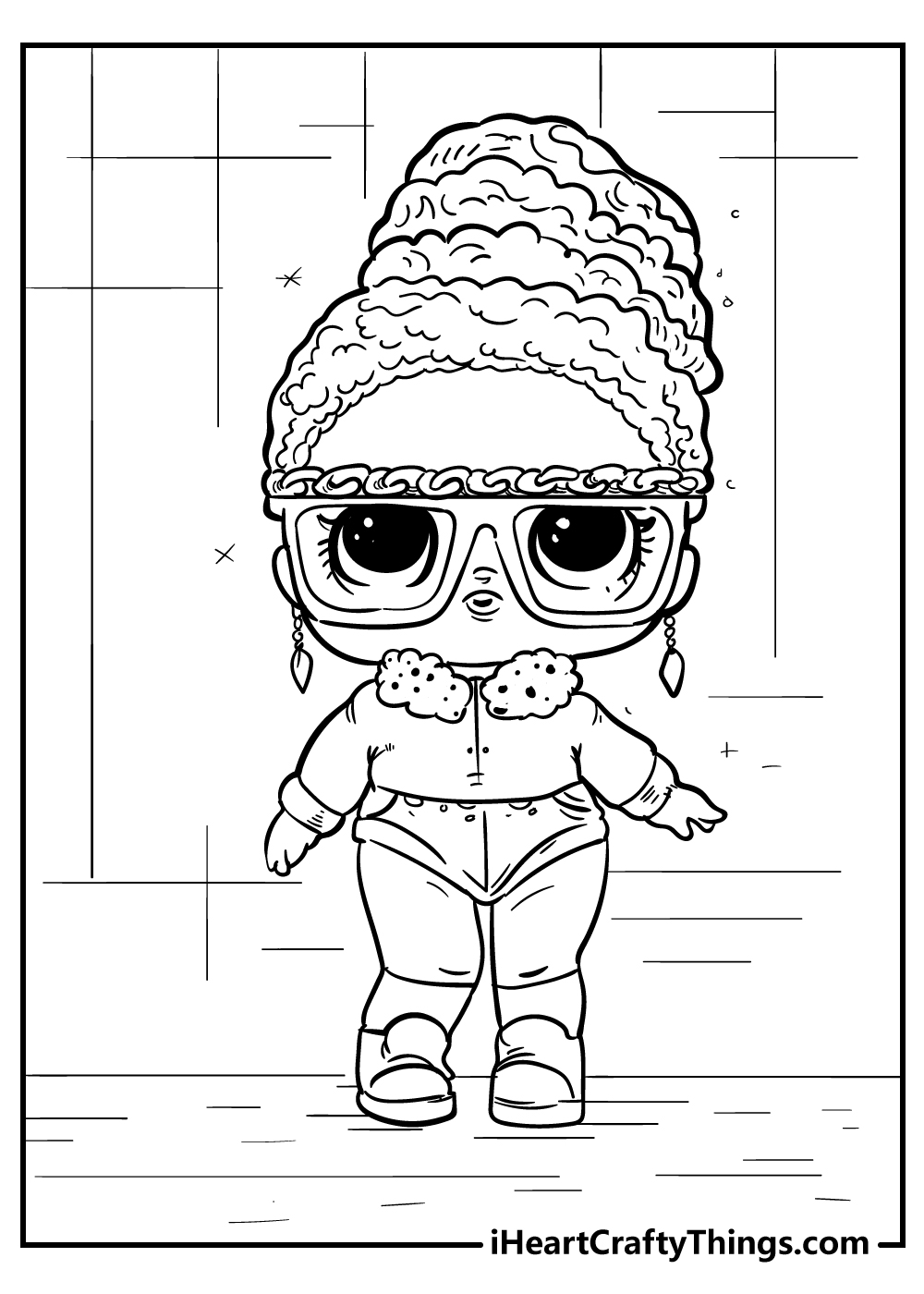 I think we can all agree that the doll in this LOL Doll coloring printable has some big hair and an even bigger personality! She must have a strong neck to carry around that majestic hairdo all day.
There are a lot of great small details in her hair, so I think using some colored pens and pencils would really help to add some great color details.
For this fun doll, I think the more color you can add the better!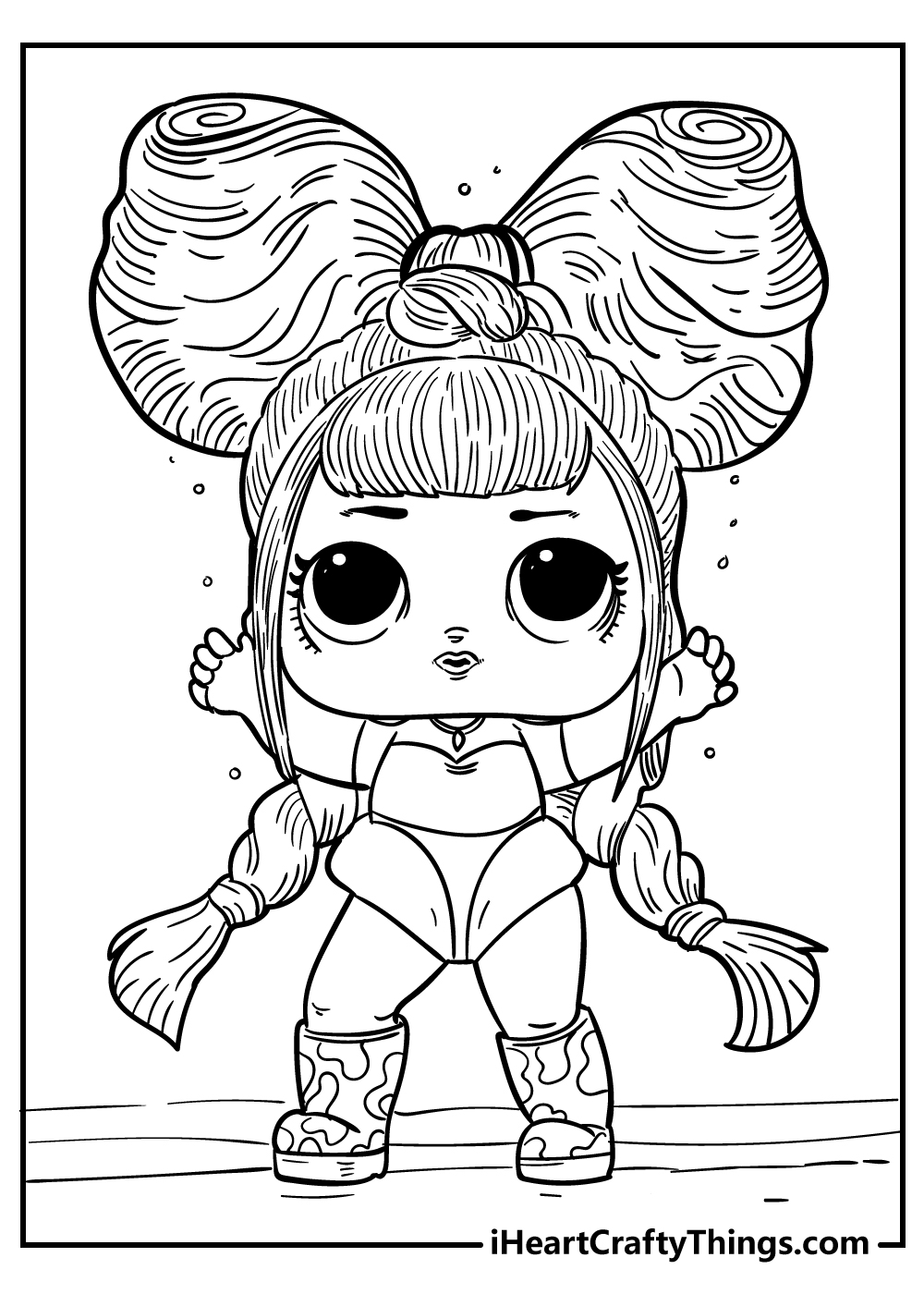 Get ready to rock and roll with this awesome LOL Doll coloring page! This little rockstar is looking really cool, and she needs some great colors to finish off her look.
For this rocker, I would use some bright pinks and purples to really finish off her punk, rockstar style that she has going on.
What bright colors will you use for this rocking LOL Doll prountable?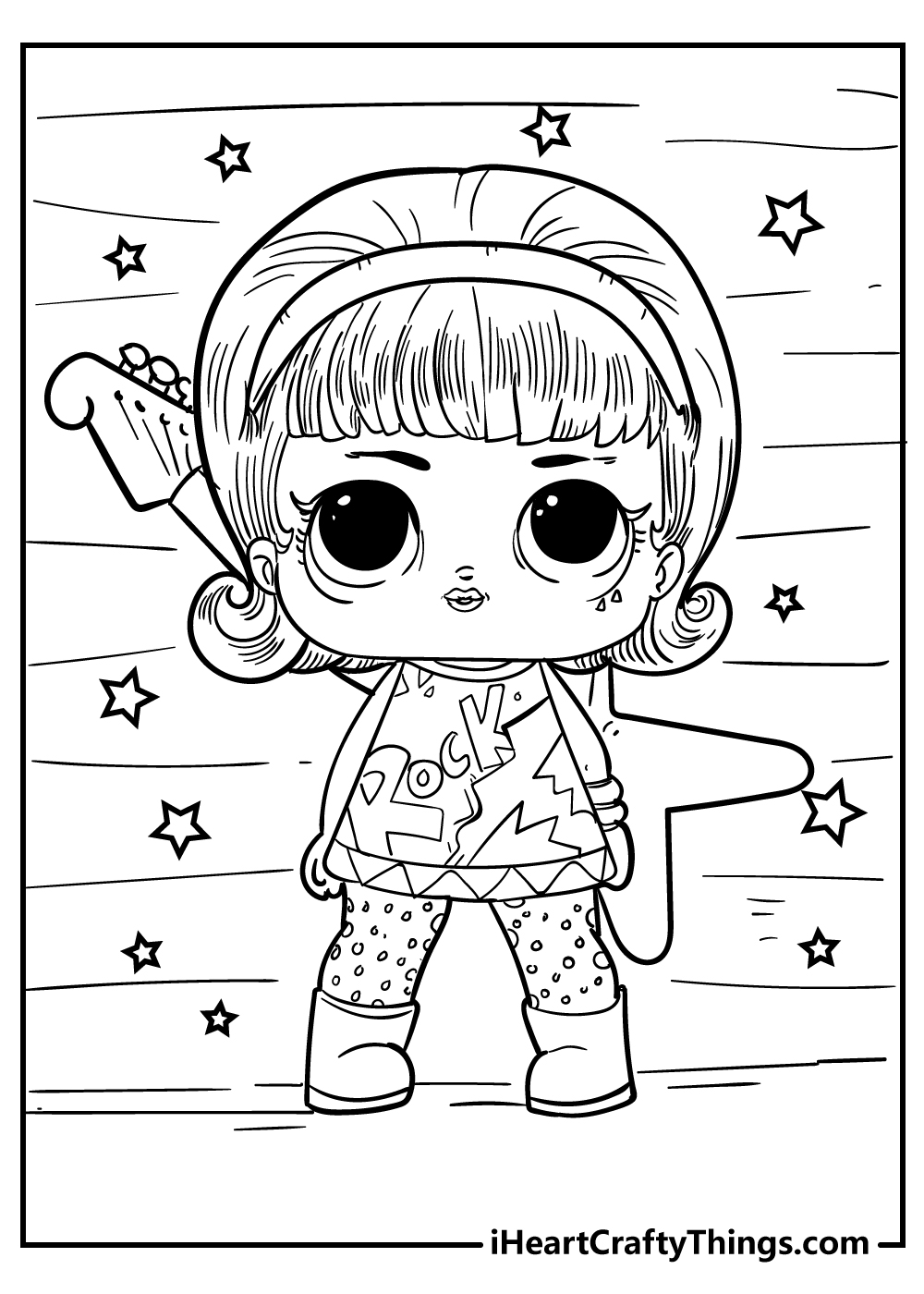 This LOL Doll coloring sheet features a doll in an outfit that has a bit of a vintage style. There are some cool triangular shapes on this dress, and they allow for all sorts of great color choices.
If we were to color this one in, we would use some bright neon colors done with mediums such as colored pens or markers.
This would further fit the style of this dress, but it is just one of the ways you could color her outfit. What are some other ways you can think of that would suit this look?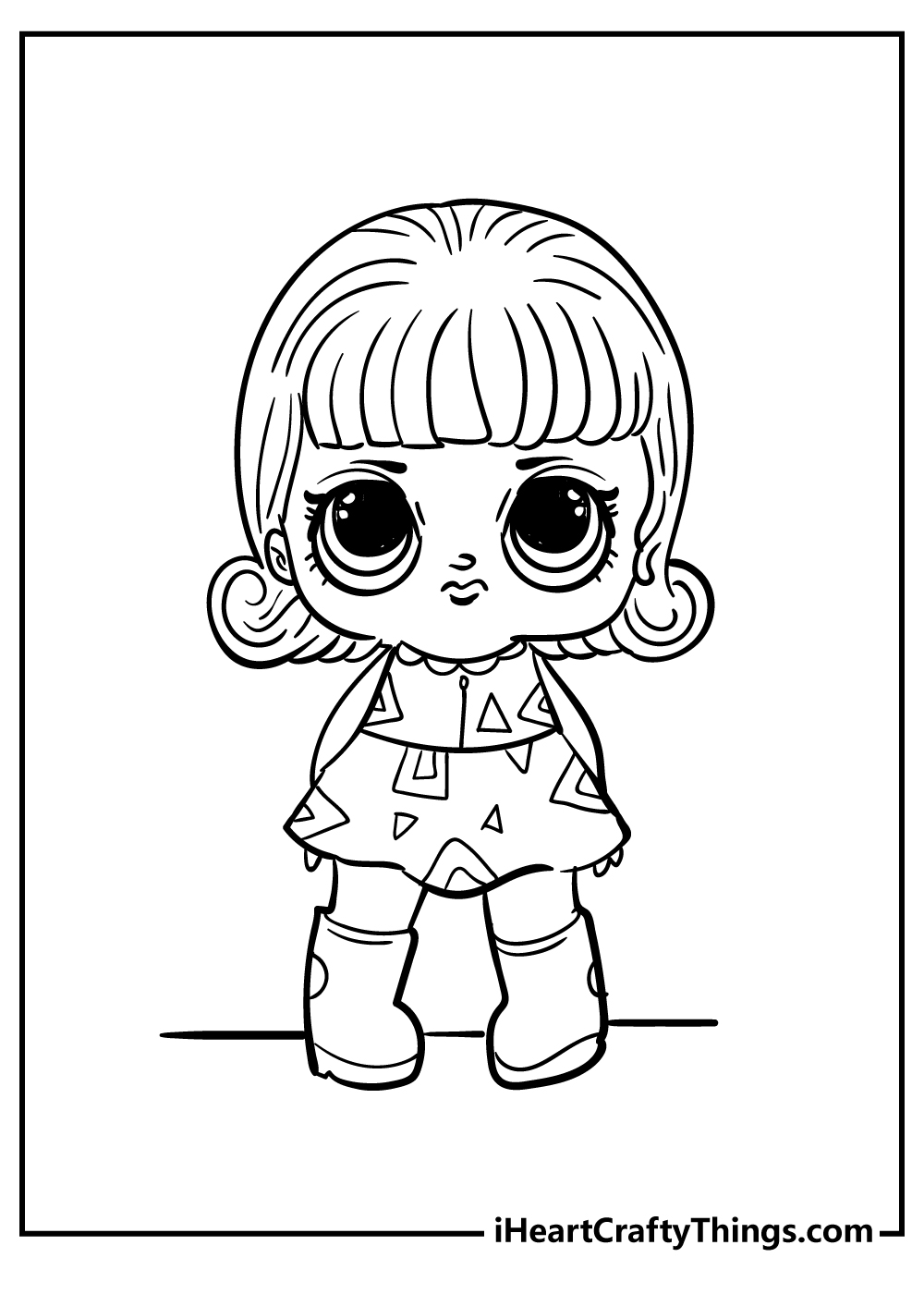 This next LOL Doll coloring sheet has a doll with a lot of attitude! She's wearing an outfit that's a little more pared back than the previous ones, so maybe you could use some milder colors for her.
I would use some lighter blues, greens and yellows for her outfit, and then I would finish it off with a darker background.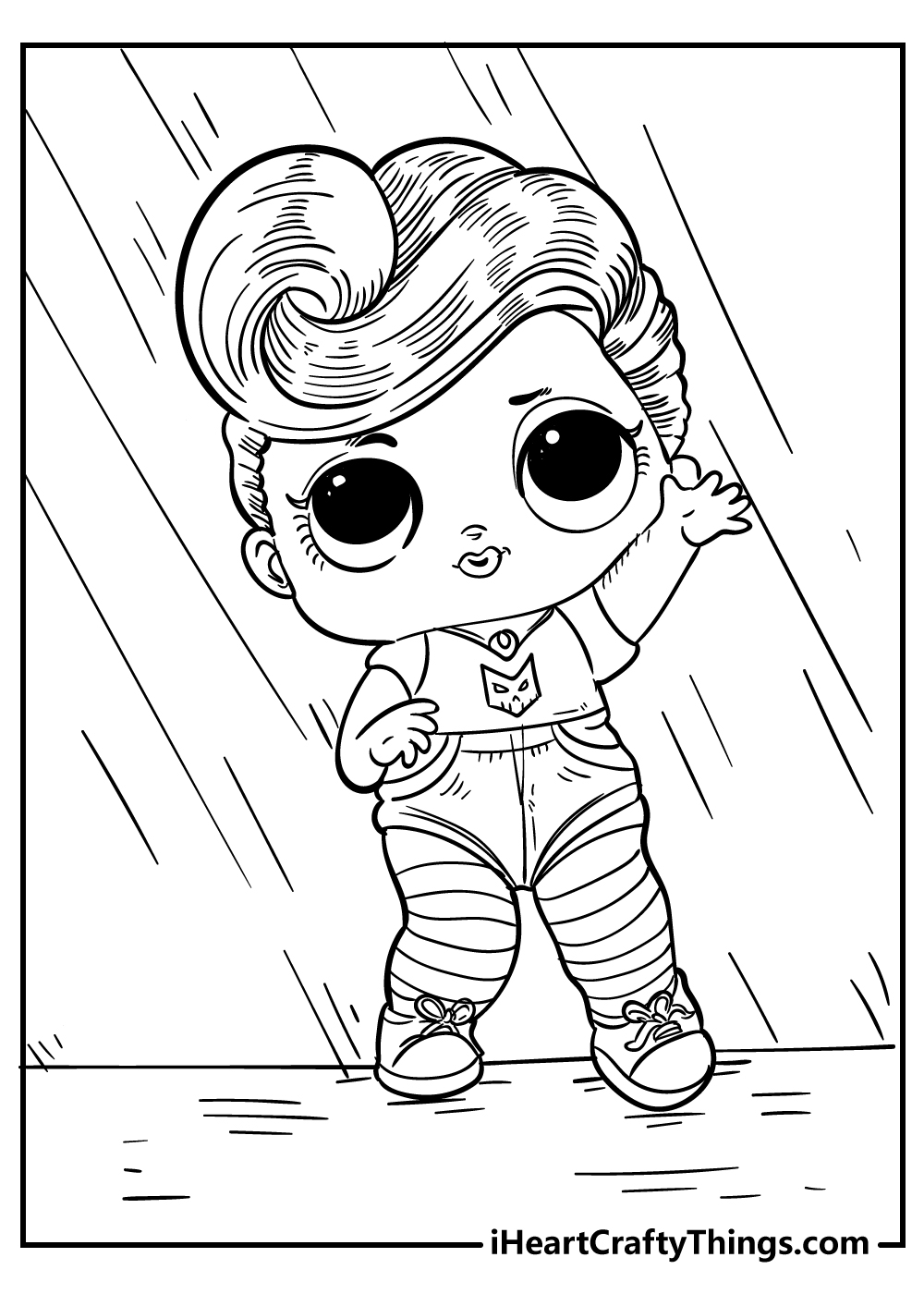 The simple yet fun style shown off on this page is the kind of look that would work with all kinds of different color schemes.
There are stripes on the top she is wearing, so we think would probably alternate two colors for these stripes.
Alternatively, if you have a few different colors you love, you could color every single stripe differently!
Then, it comes down to picking some colors for her hairband, shoes and scarf that she is wearing. There are no wrong ways to color these elements, so have fun with it and see what you can do!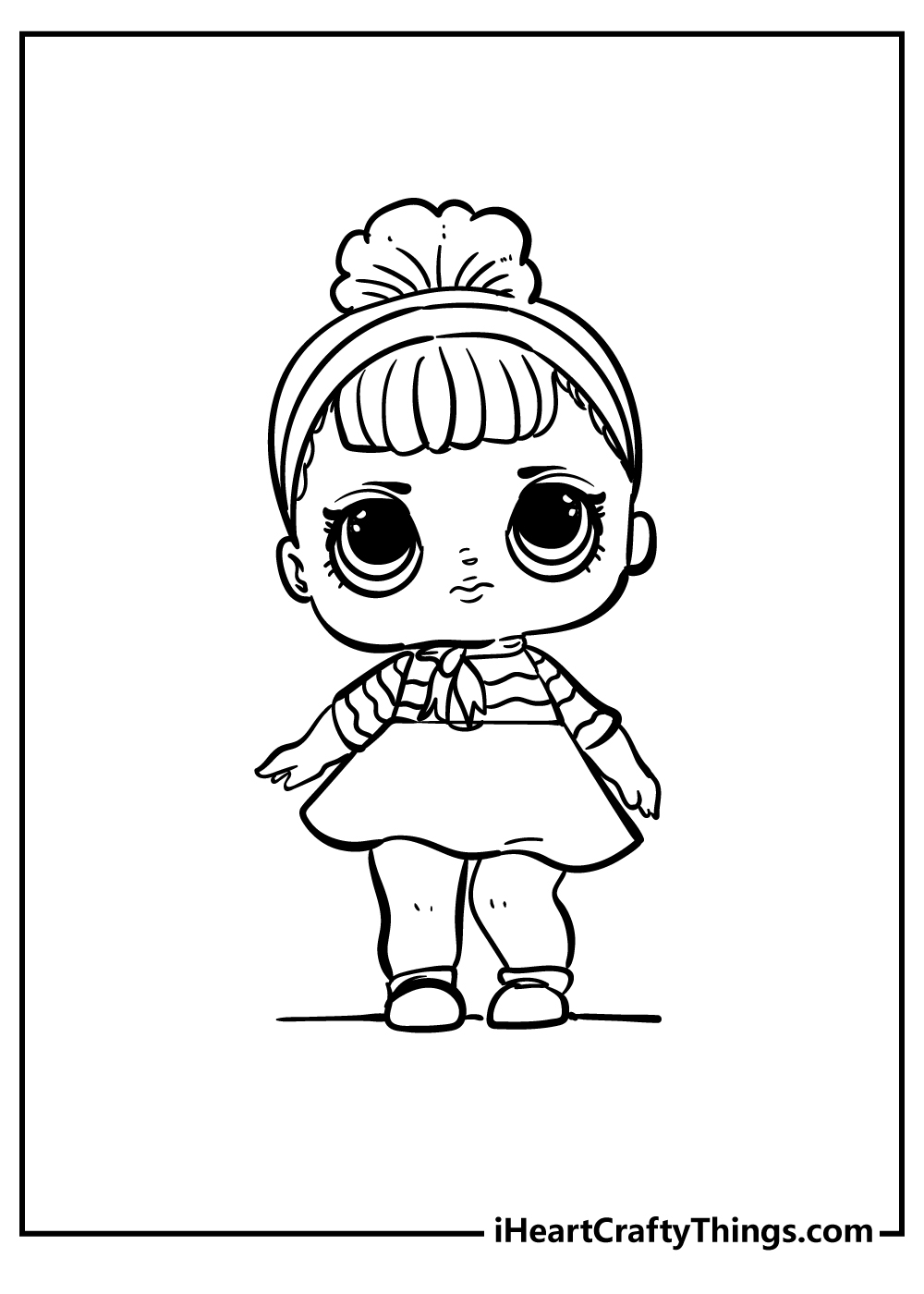 We have a super fancy little star for this LOL Doll printable. There's nothing subtle about this little fashionista! I would again use some really bright colors for her outfit to fit her vibrant style.
To finish it off, maybe you could use some acrylic paints for the background details to make her surroundings as fabulous as she is!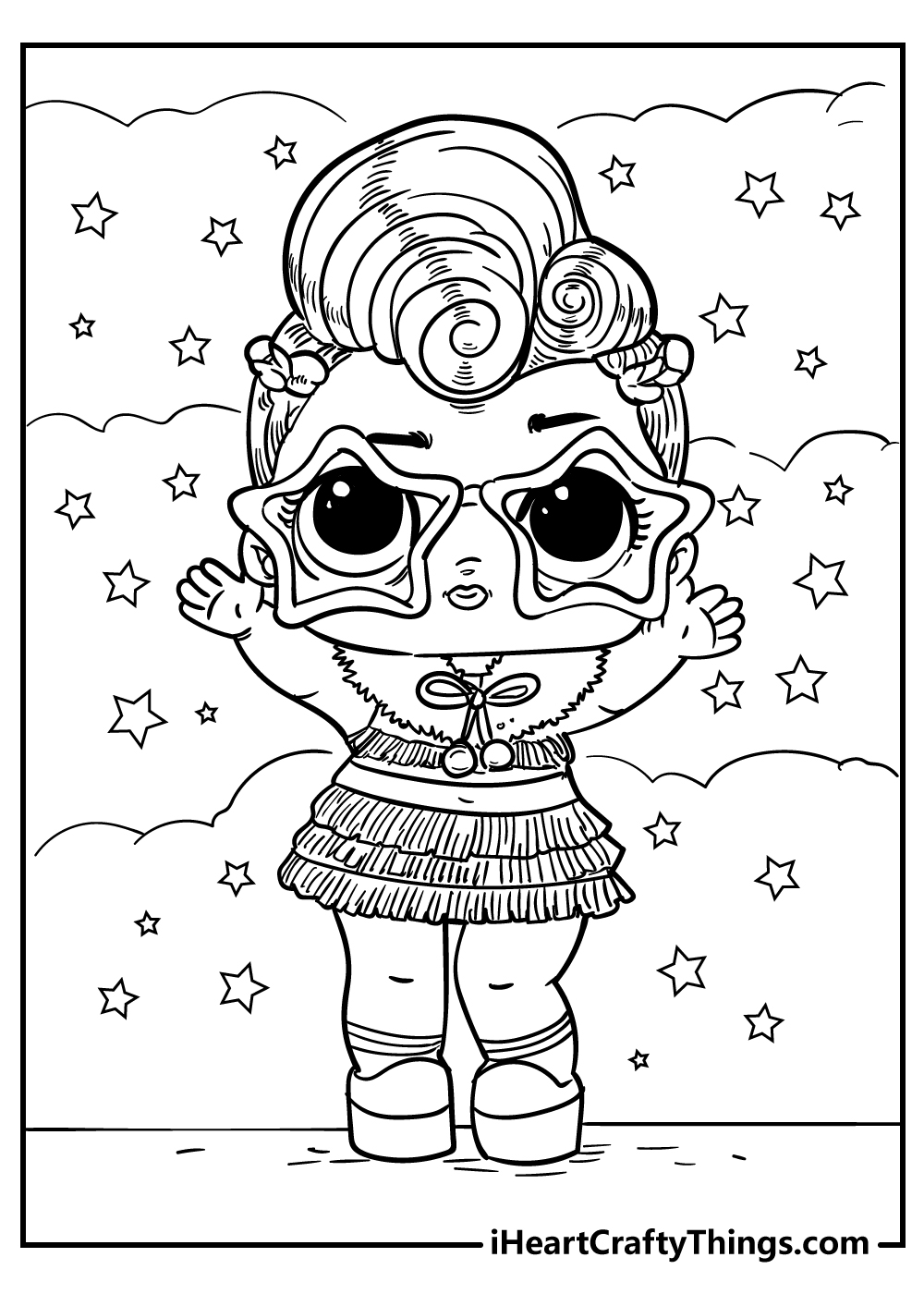 This LOL Doll coloring page features another fashionable and fancy doll! There are many different smaller segments and details to her hairdo to color in.
To really give her a colorful, fancy look, I would try to use a wide range of bright and striking colors for the segments in her hair.
Maybe you could use some watercolor paints if you have some for the background. That would give it a nice soft look that will make this fancy doll stick out even more!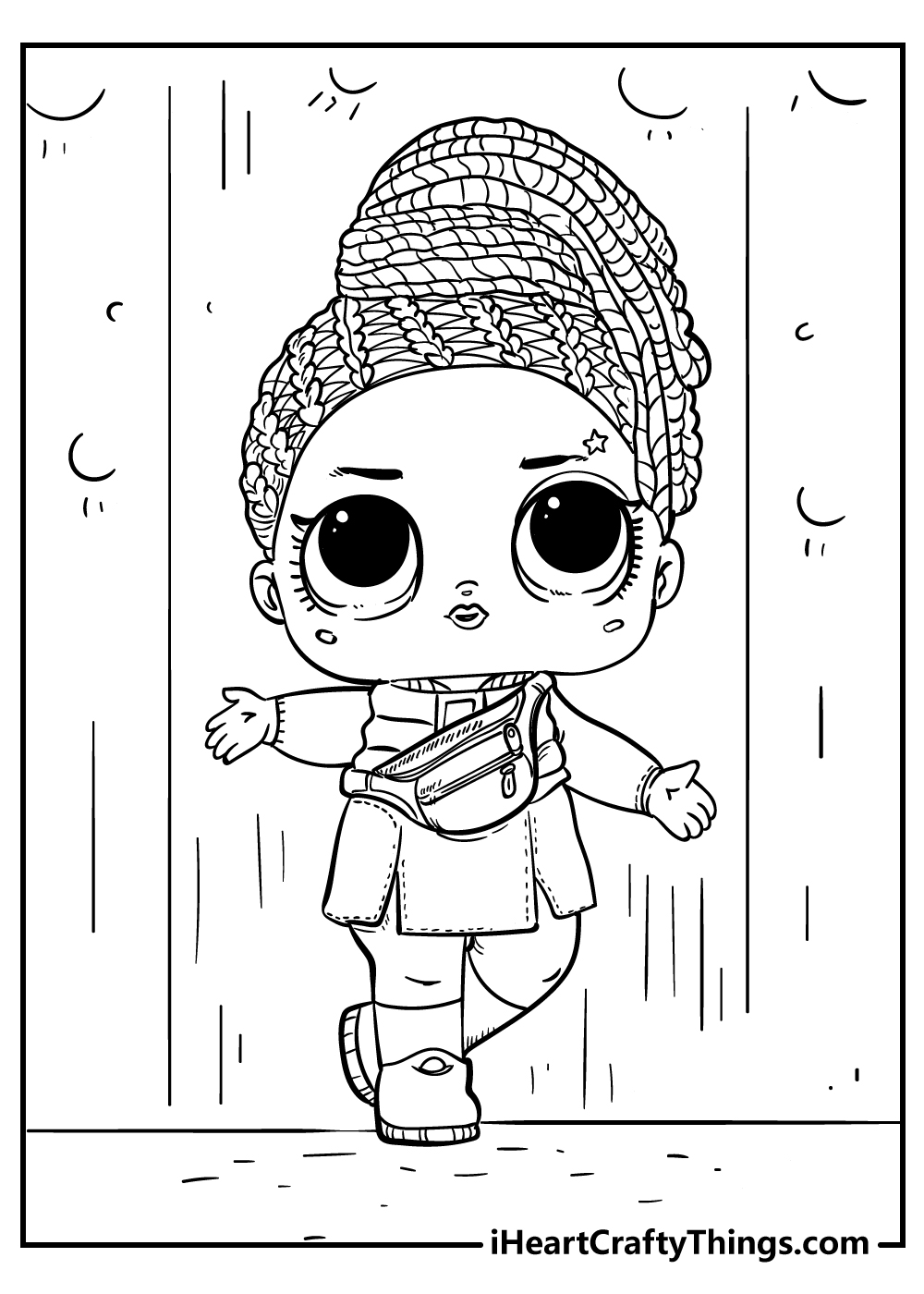 The doll in this LOL Doll coloring sheet is ready for the world with plenty of stylish accessories! Something about the style of this doll is making me think of a pink and purple color scheme.
Her style just seems to suggest those colors to me, so that's what I would go for, but are you feeling different colors for her?
We hope you'll share this finished page to our Facebook page so we can enjoy the colors you choose for this cute doll!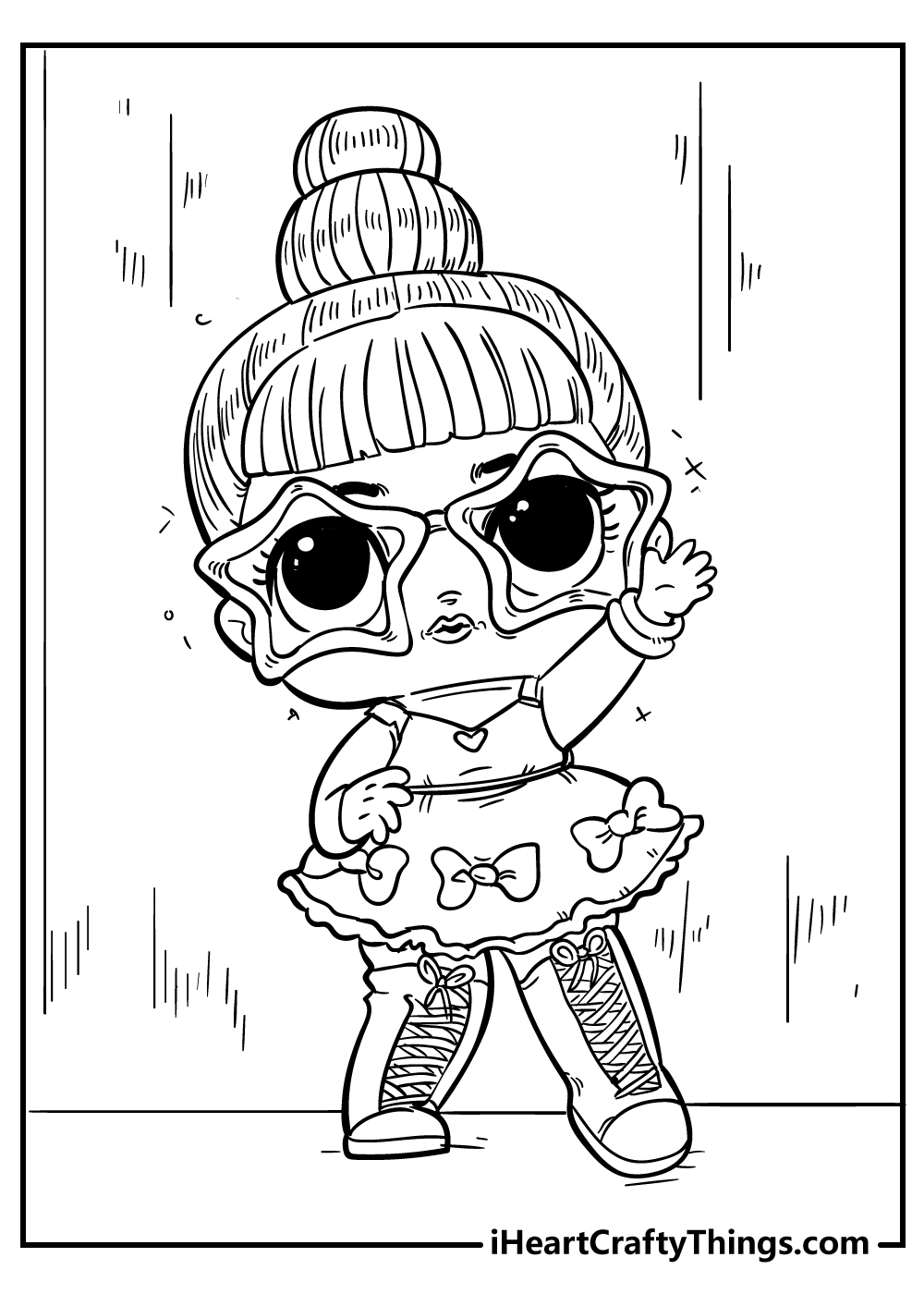 We really enjoy the details that have been added to this next outfit! While her top is fairly simple, the skirt she is wearing has some spots on it, and that gives you a lot of freedom with how you color it.
The spots are quite small, and the smaller a detail is the trickier it can be to color it.
Luckily, there are certain art tools you can use such as colored pens or markers that make coloring these small details much easier.
If you want lighter colors, you could use colored pencils or a paintbrush with a very thin tip instead.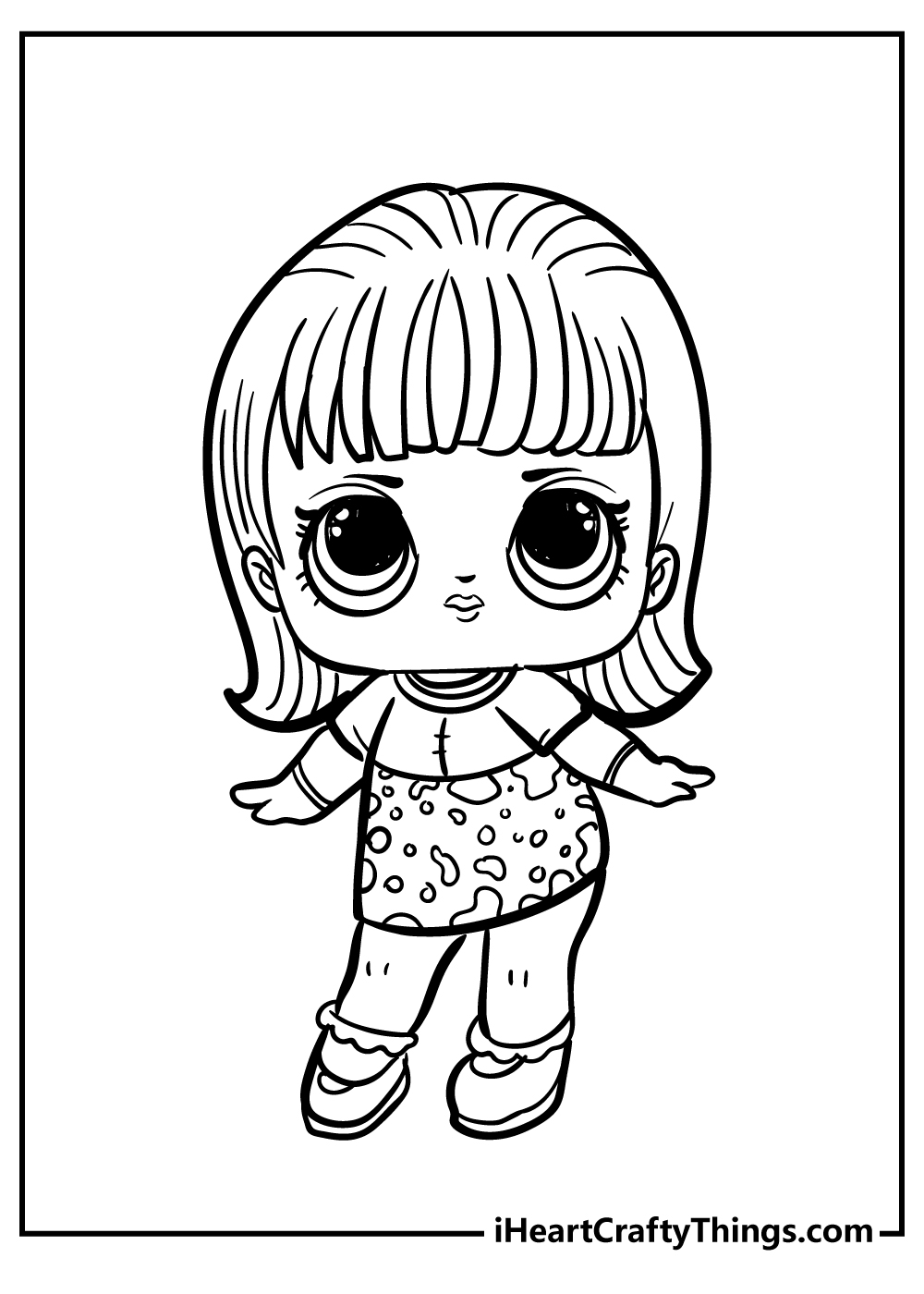 It's time to step out into the sunshine for fashionable fun with this stylish little guy!
This LOL Doll coloring sheet has a doll in an outfit that has a pattern that reminds me of an army camouflage design.
How will you get creative with this design? I think you could use some greens and browns to really make it look like a camouflage pattern.
If that's not fun enough though, who's to say you couldn't use some blues and purples for the pattern?
How will you finish off this cute doll's look?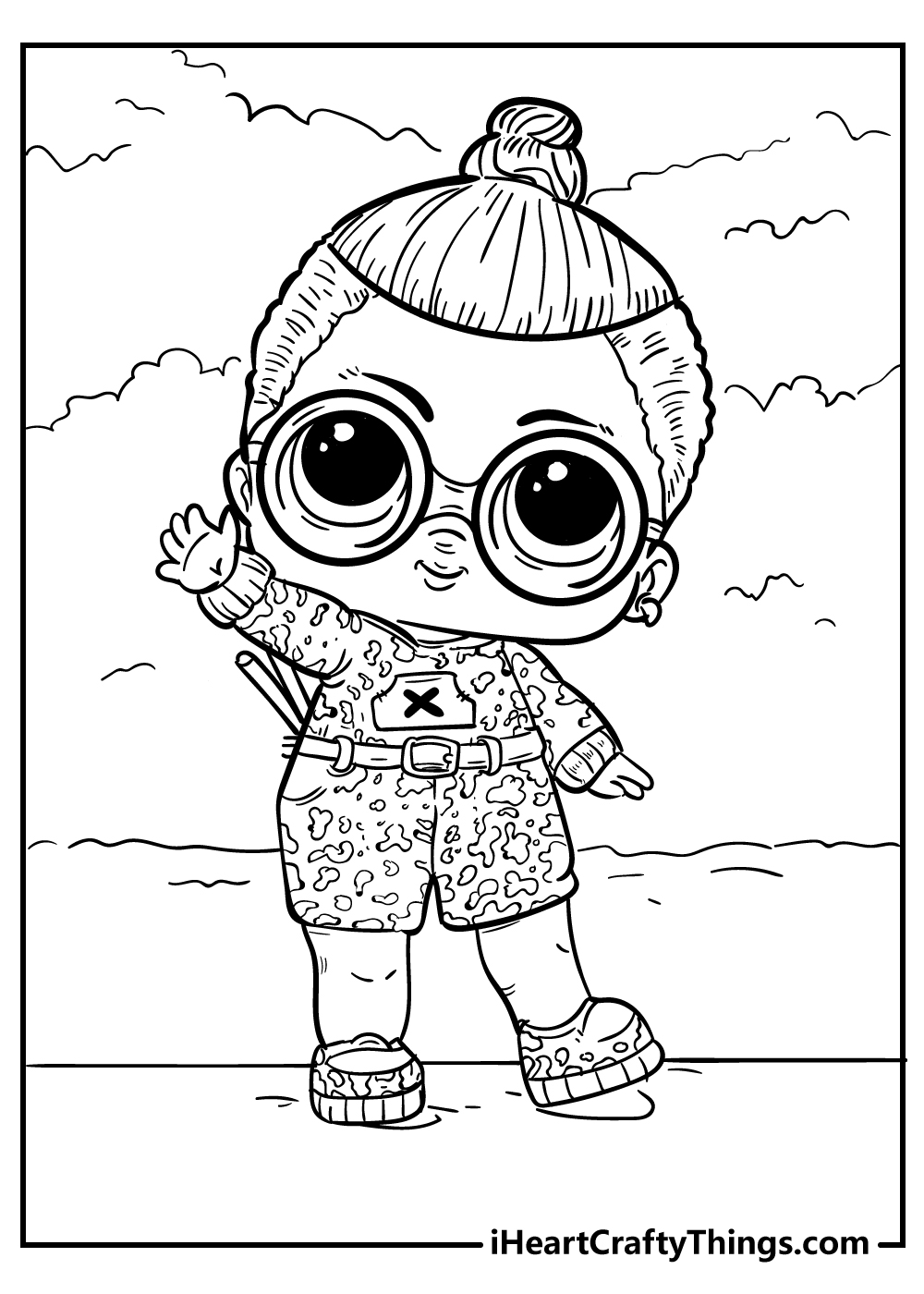 This little fashion angel is ready to meet you for this LOL Doll coloring printable. There's a gentler look to this image, so I would keep colors more muted for this one if I were coloring it.
I would either use some lighter blues or pinks for this one, personally.
Lastly, to give this cute doll a softer, angelic look I would use some pretty watercolors to give her a pretty look.
We can't wait to see how you color in this heavenly cutie!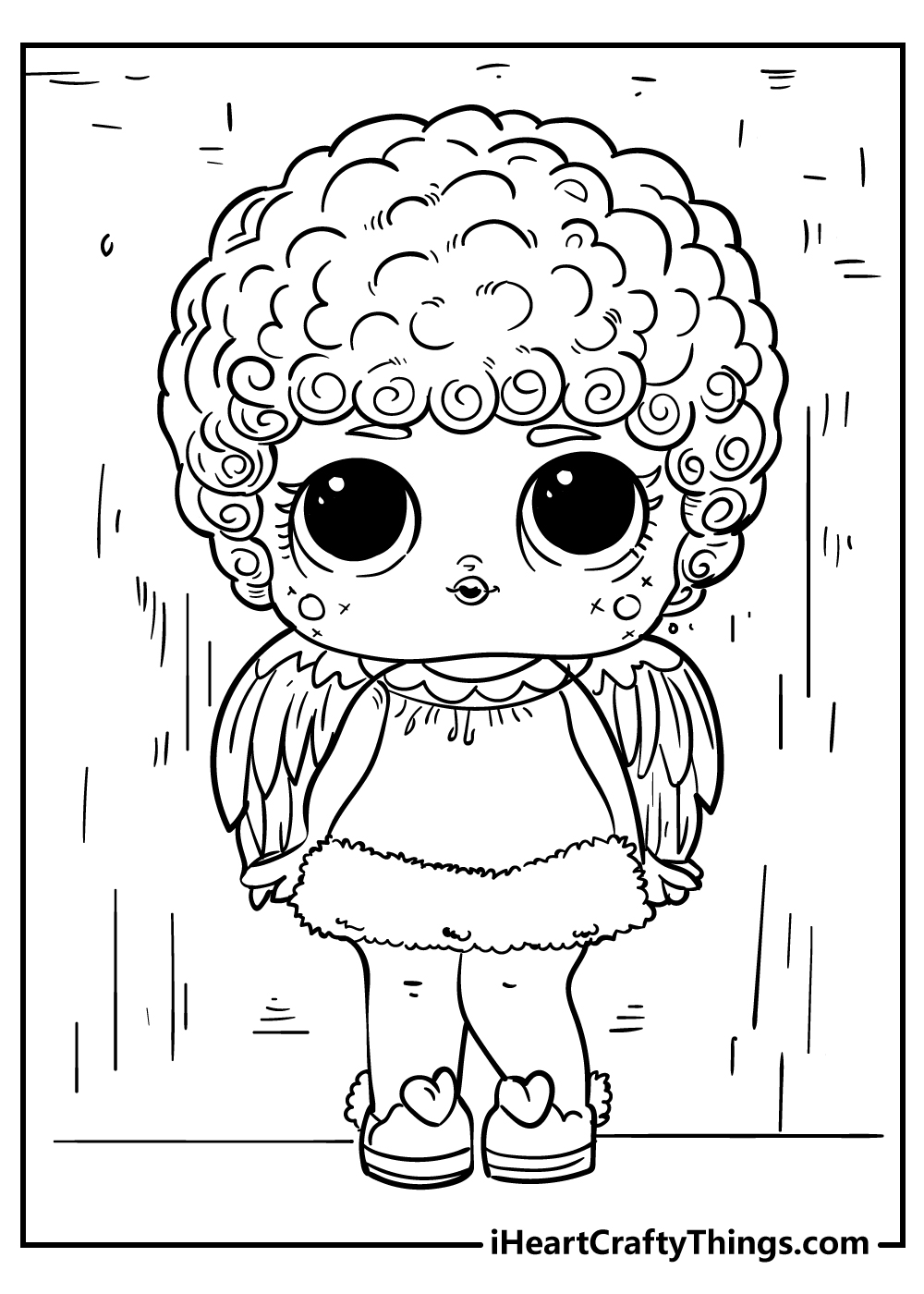 Get ready to dive under the sea for some fun coloring in this cool LOL Doll coloring page! This doll has a bit of a mermaid theme with her outfit, and she'd be right at home on the beach and in the water.
For this aquatic cutie, I would definitely use a lot of blues and greens for an ocean feel.
For the background, I would use some pretty blue watercolor paints for a watery background look. If I did that. I would use brighter mediums like crayons, colored pens or pencils for the doll herself.
That would really help her stand out from the ocean background!
What colors and mediums will you choose for this beach doll?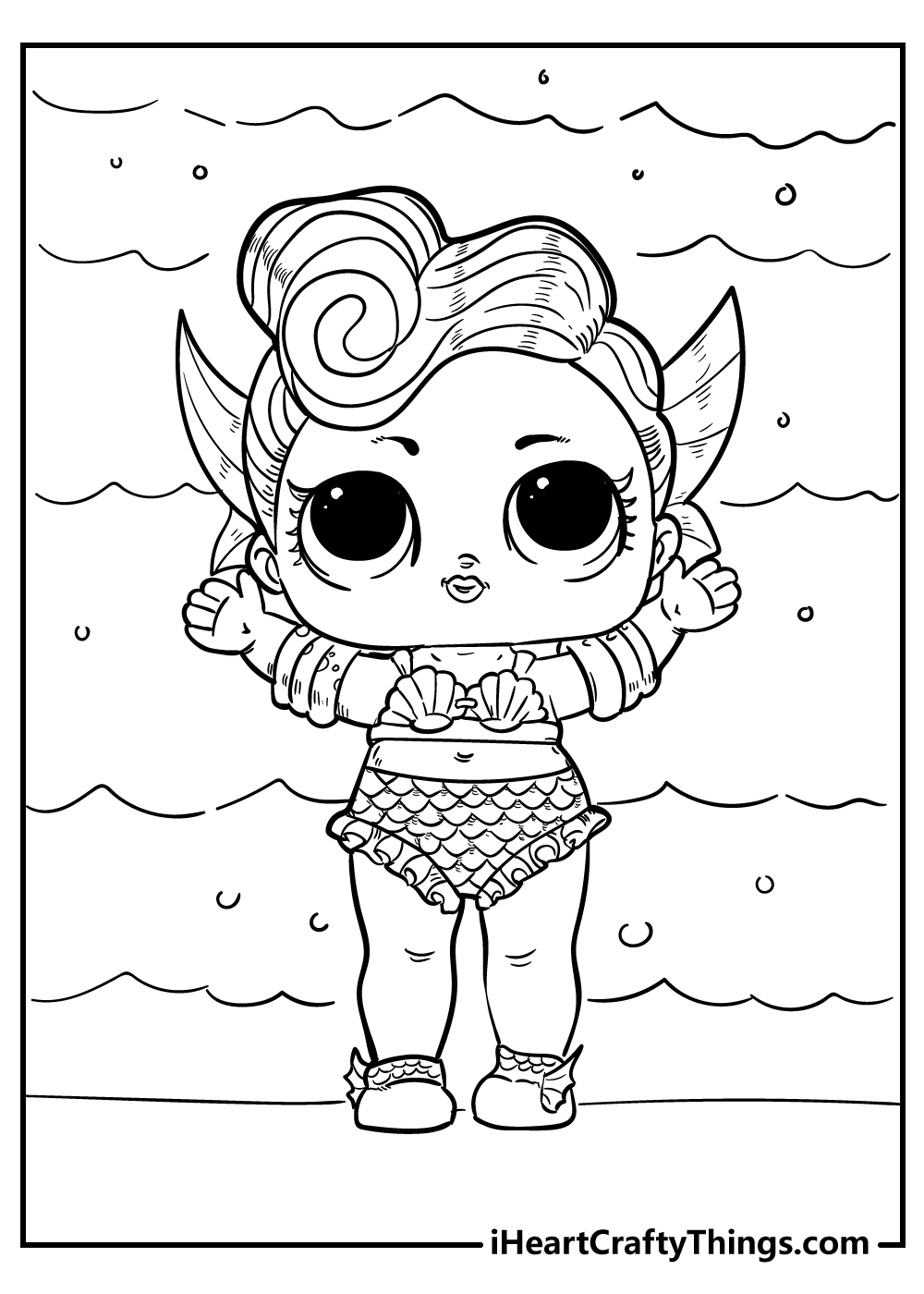 The next page in our collection of free LOL Doll coloring pages for kids features a simple yet cool outfit. The whole look for this doll gives this character some real attitude and personality!
Now it's up to you how you color this particular doll. When you have chosen your colors and mediums for this doll, you could also add some extra elements of your own design.
These could range from adding a background to giving her some accessories or other details to her outfit.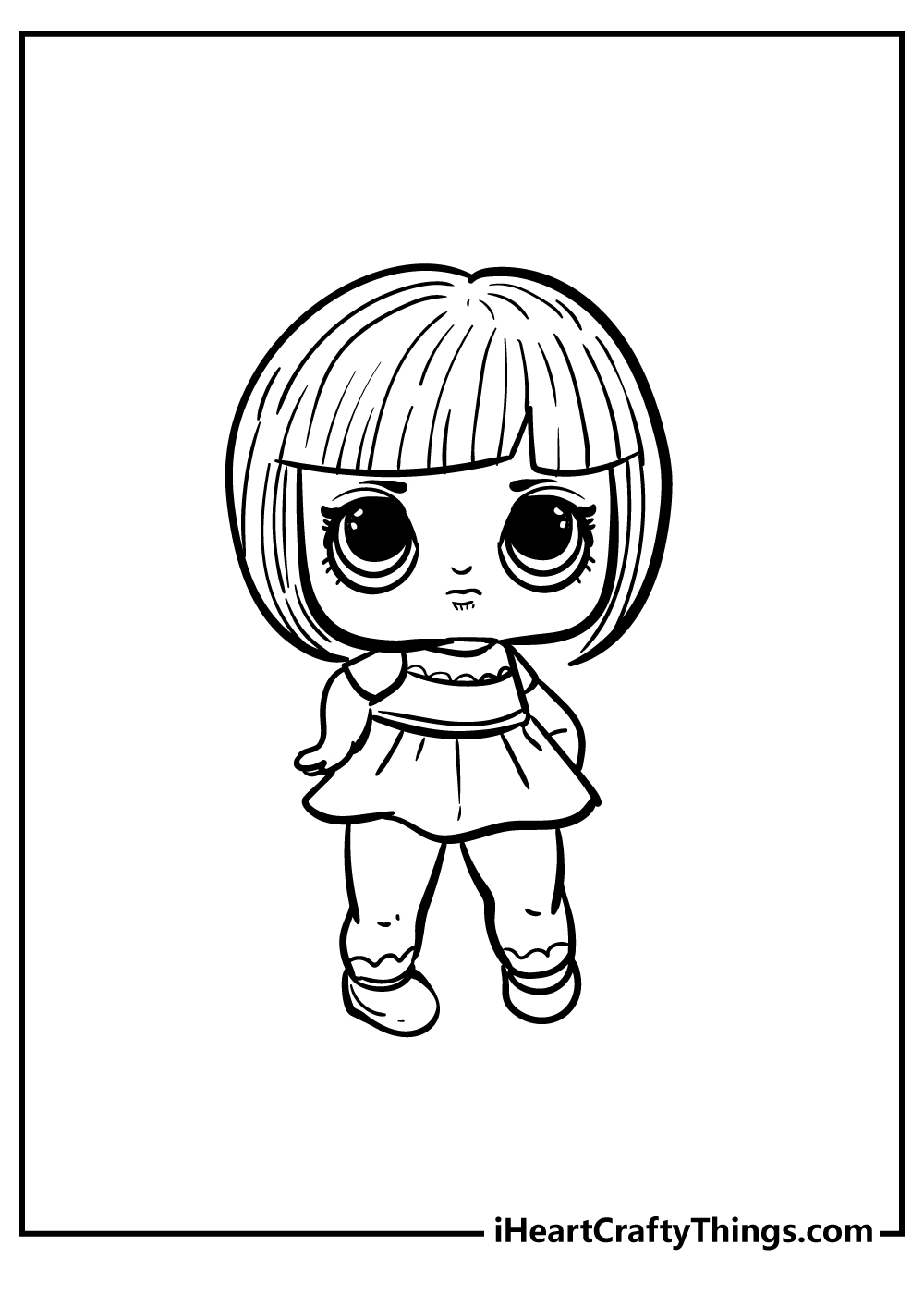 This cool little guy is here to be the star of this LOL Doll coloring sheet. He's got a cool hat with some neat jewelry accessories, so for this one I'm thinking I would use a lot of red and yellow.
I think that would really compliment the look of this cute doll, but there are lots of other color schemes you could use as well!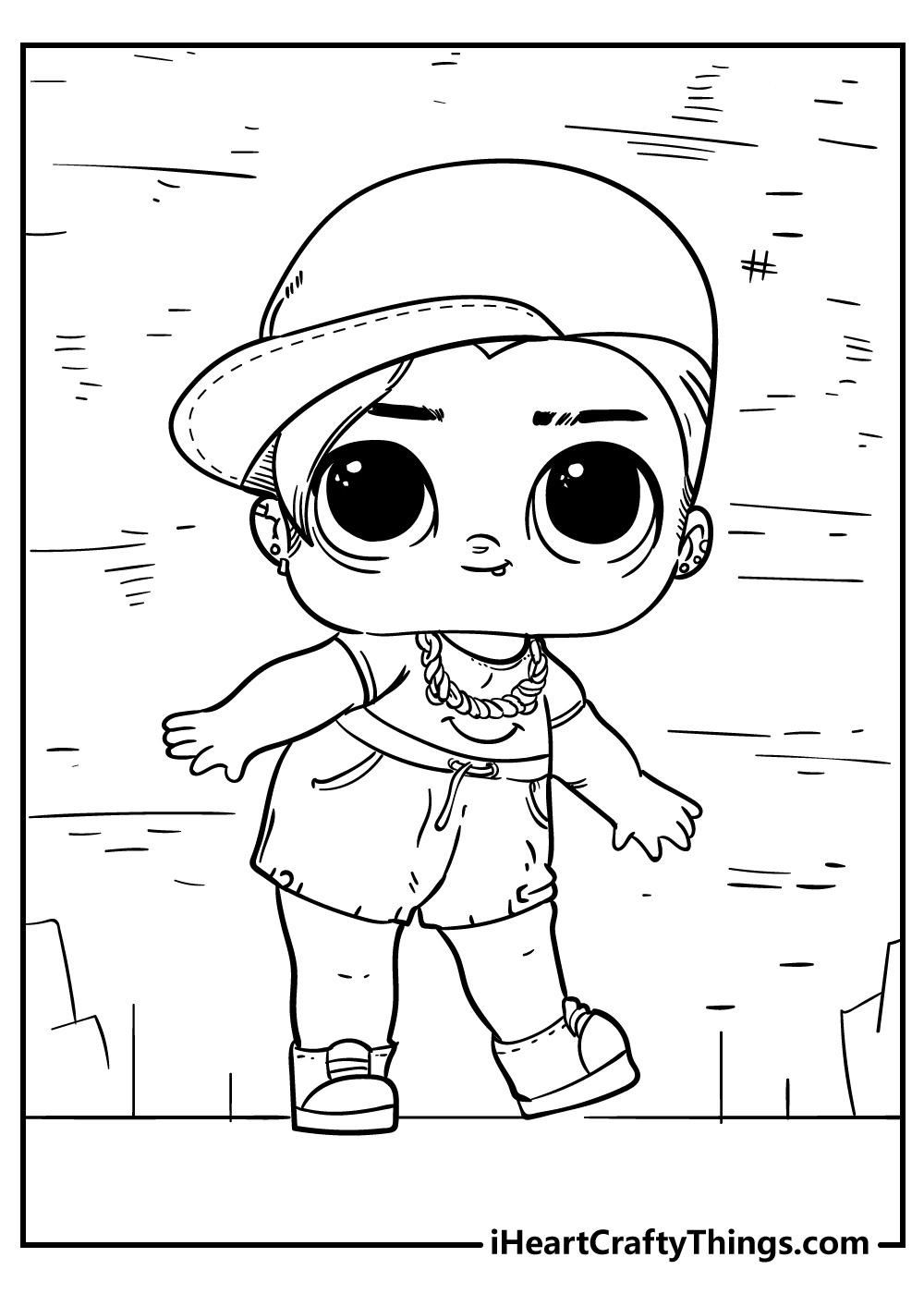 There's a punk inspired look for this next LOL Doll printable. For that reason, I would use some darker colors for this one's color scheme.
I definitely think some dark purples, reds and blacks would look awesome for this cool doll.
For her hair, maybe you could make it dark black with some dark purple highlights. Colored pens would be especially good for this look as you could really get in there with color details.
How will you color in this punk princess?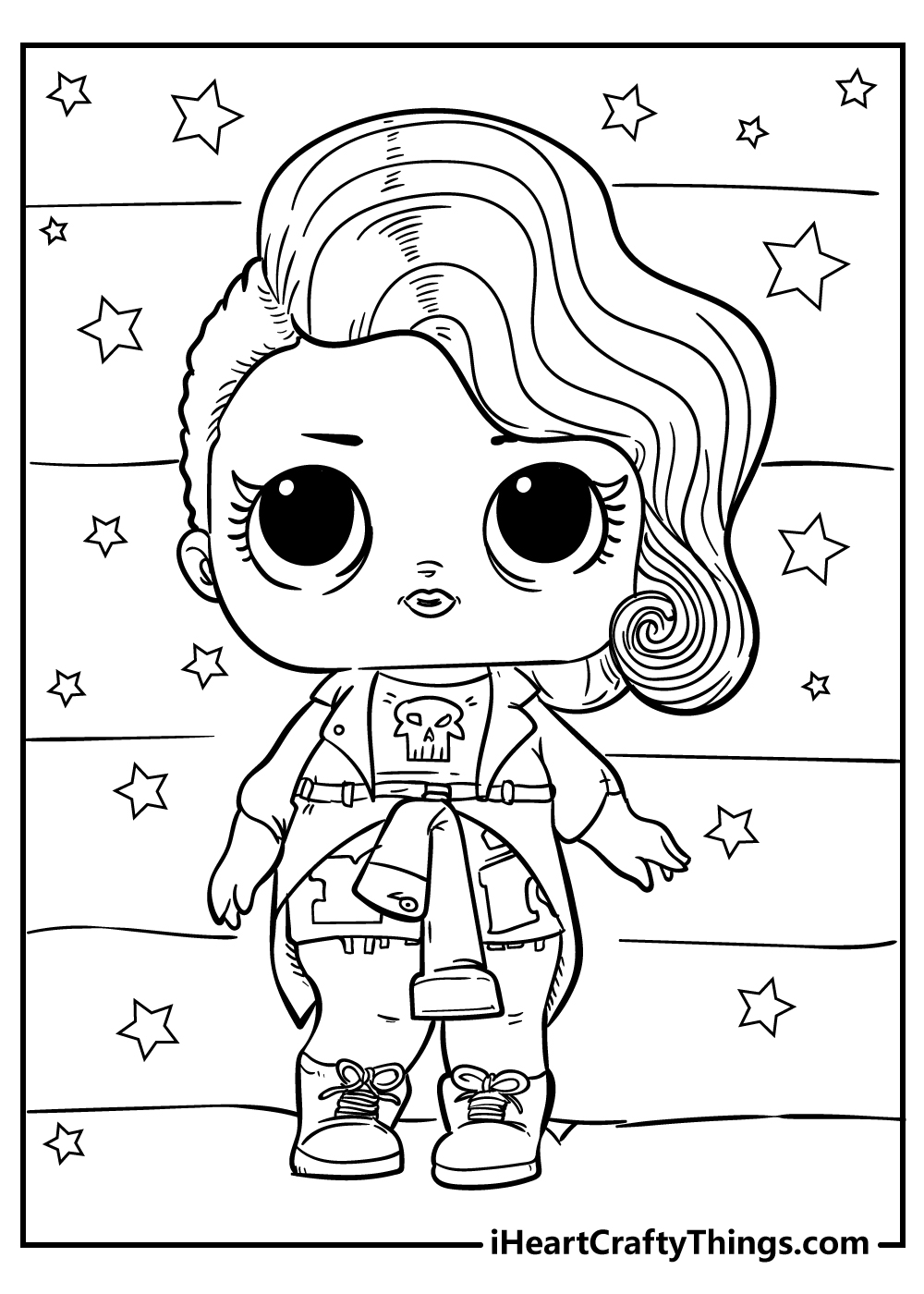 Here's another fun look for you to color in! This is another one that has a really trendy look to it, and her hairstyle suits her outfit perfectly.
There are not a lot of details on this outfit, so you could add some pattern details onto her clothing if you want a more detailed look.
Alternatively, you could keep it as is and use some more solid colors for the outfit. It could also be a fun one to add a background to! What kind of background setting would you choose?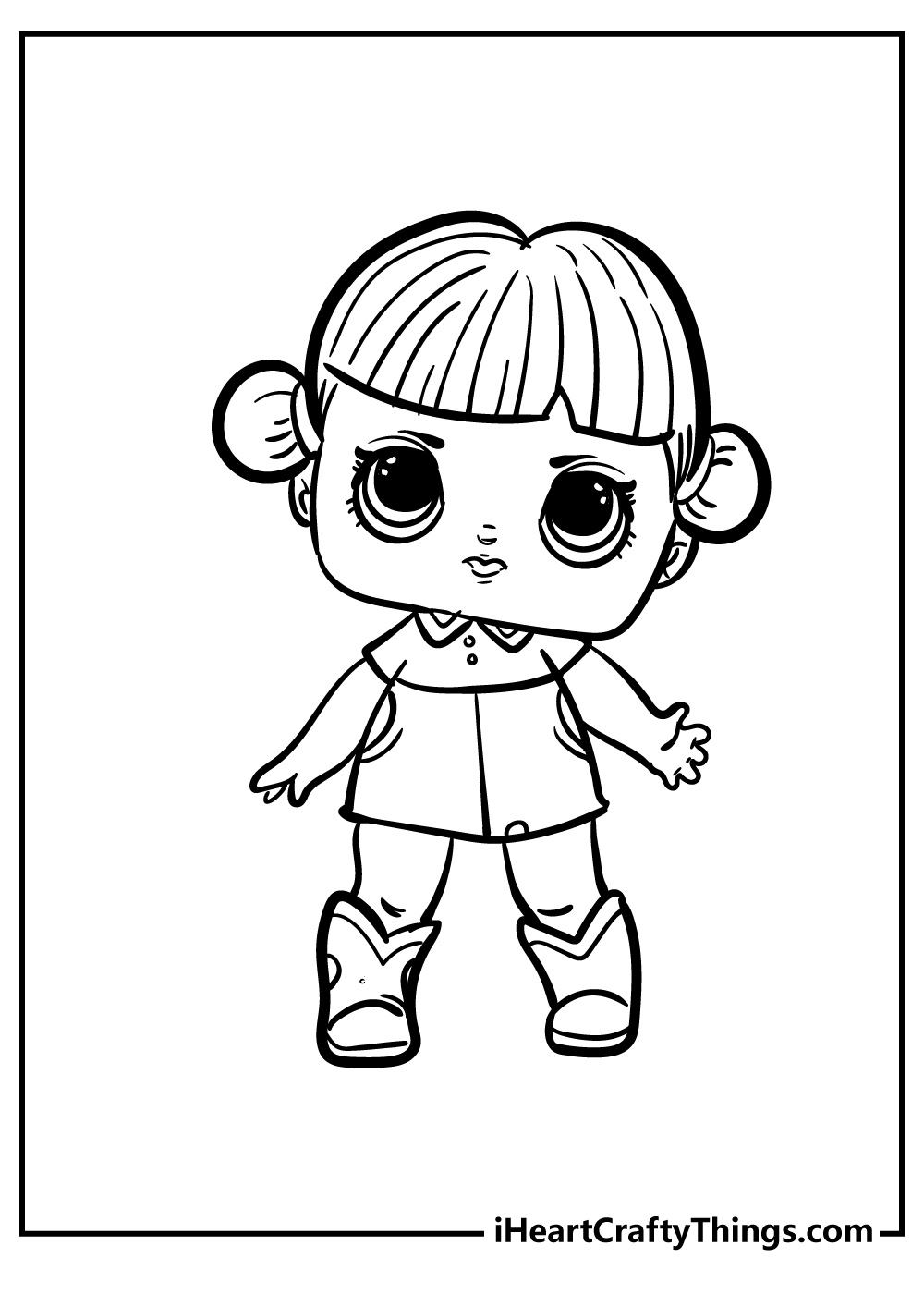 This pretty LOL Doll has another more restrained fashion style. I think that this smart casual look would go nicely with some lighter, more faded pinks and blues.
You could again work in some watercolors for this LOL Doll coloring page to fit the more laid back style of this doll.
I hope you'll share how you color in this printable to our Facebook page!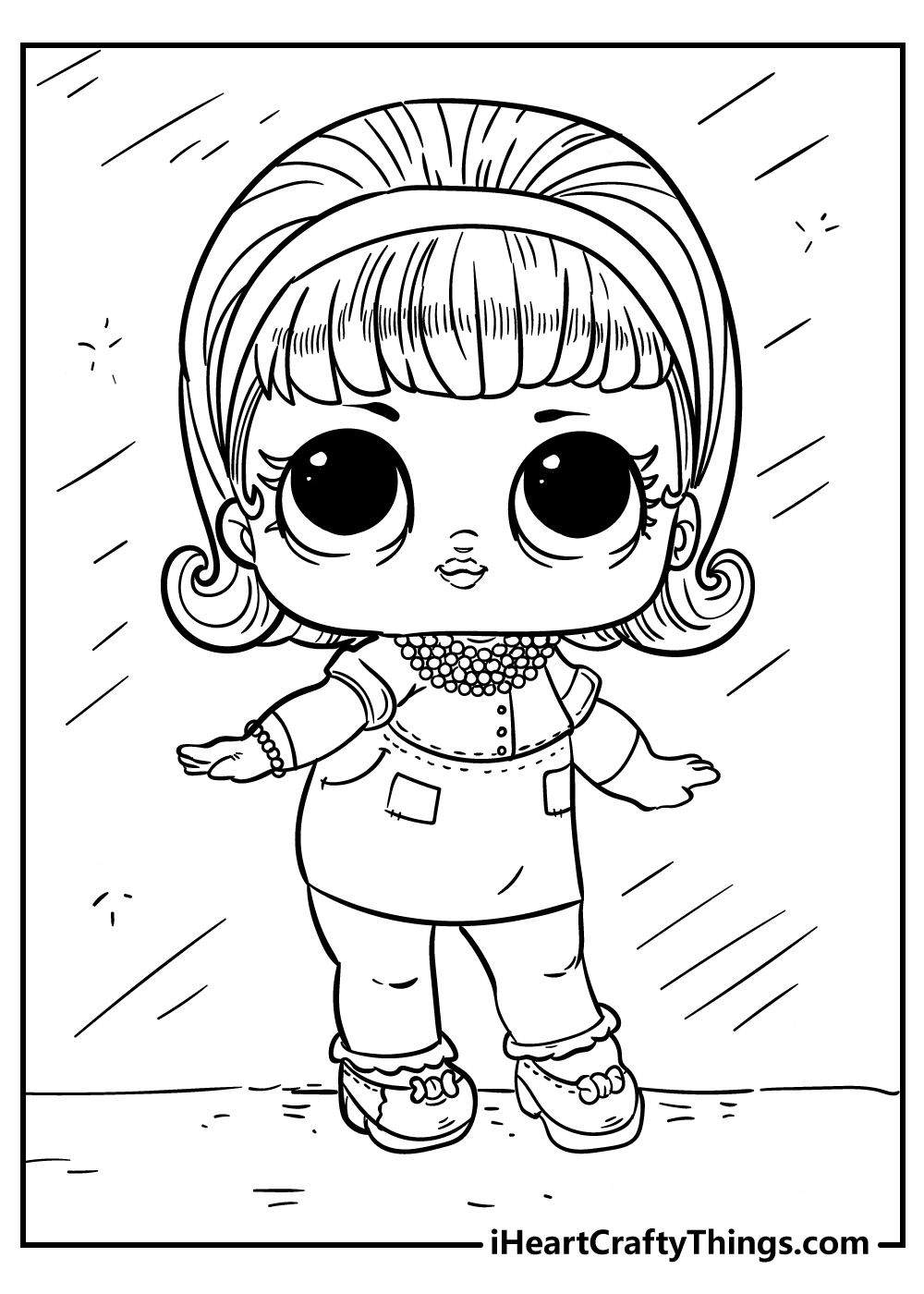 Now this is a really cool-looking LOL Doll! This doll is dressed in a work-out inspired outfit that has a lot of aspects to color.
It's another one that would look great whether you keep the details as is or add some of your own to really finish it off.
Her hand on the left is extended a bit, so that would be a perfect place to add an accessory to!
We think it would be fun to give her a handbag or purse, but what other accessories can you think of?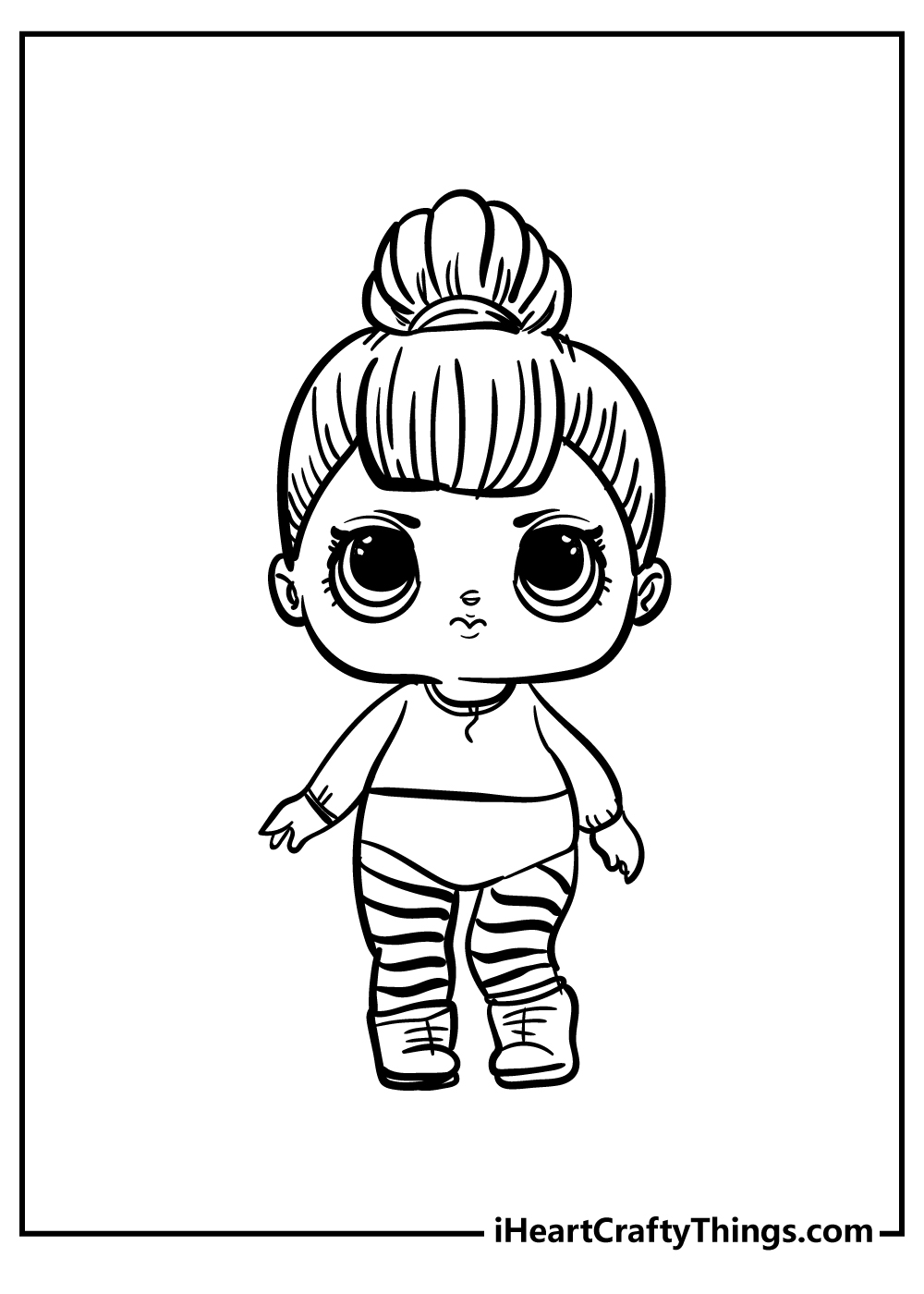 We have a pretty and dainty little doll for you to color in this LOL Doll coloring sheet! I don't know about you, but I immediately think of some pretty pinks for this very stylish little doll.
Maybe you could draw in a fun accessory for her to be showing off! What handbag or jewelry accessories do you think would suit her?
This is your chance to show us with your colors and drawing creativity!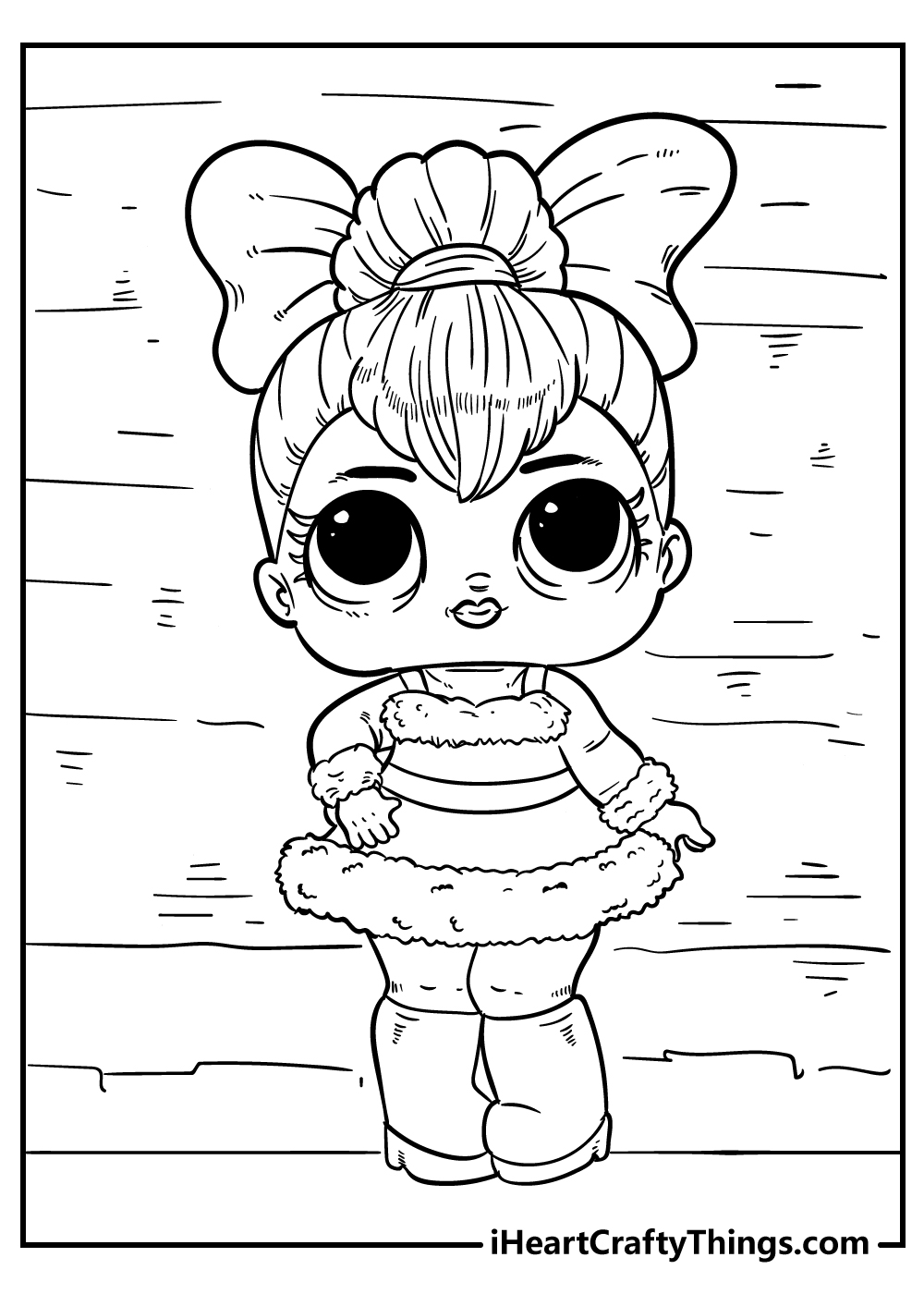 This next fashionable doll would look right at home roaming the streets of Paris! The style in this LOL Doll printable also makes me think of a mime outfit.
These are usually black and white, but maybe you could pick two favorite colors to alternate as the color scheme for this fancy doll.
What colors would you alternate to finish off this outfit?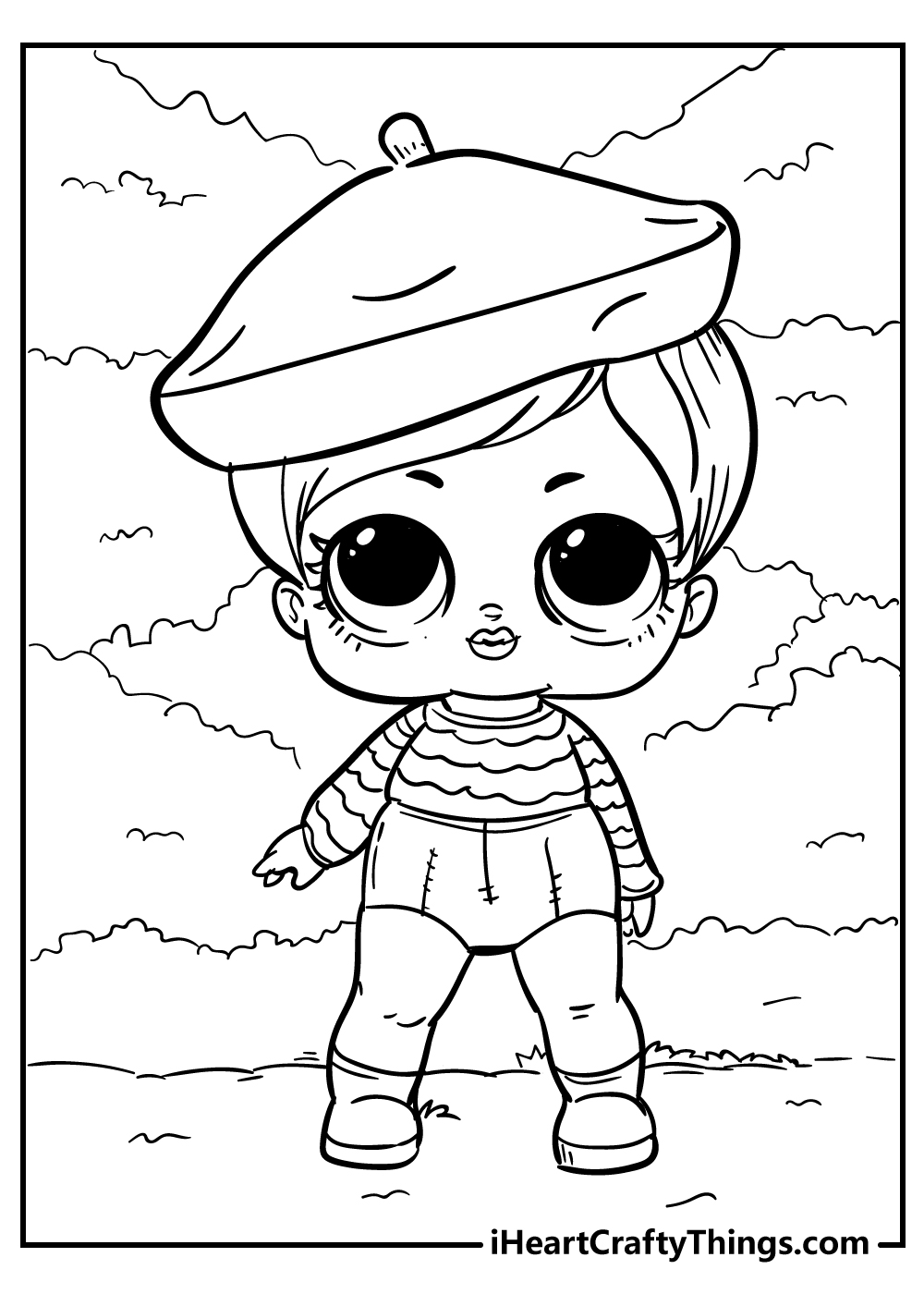 Next, we have another LOL Doll coloring printable that features a more pared-back design. Despite this simplicity, there are still some fun details that you can color.
For example, we would use some bright colors for the three buttons on her shirt to make it a bit more vibrant.
Where do you think that this doll could be wearing this outfit to? If you have some ideas for places that she could be, then you could add a background to create a fun scene around her.
We will be looking forward to seeing what kinds of ideas you have for this one!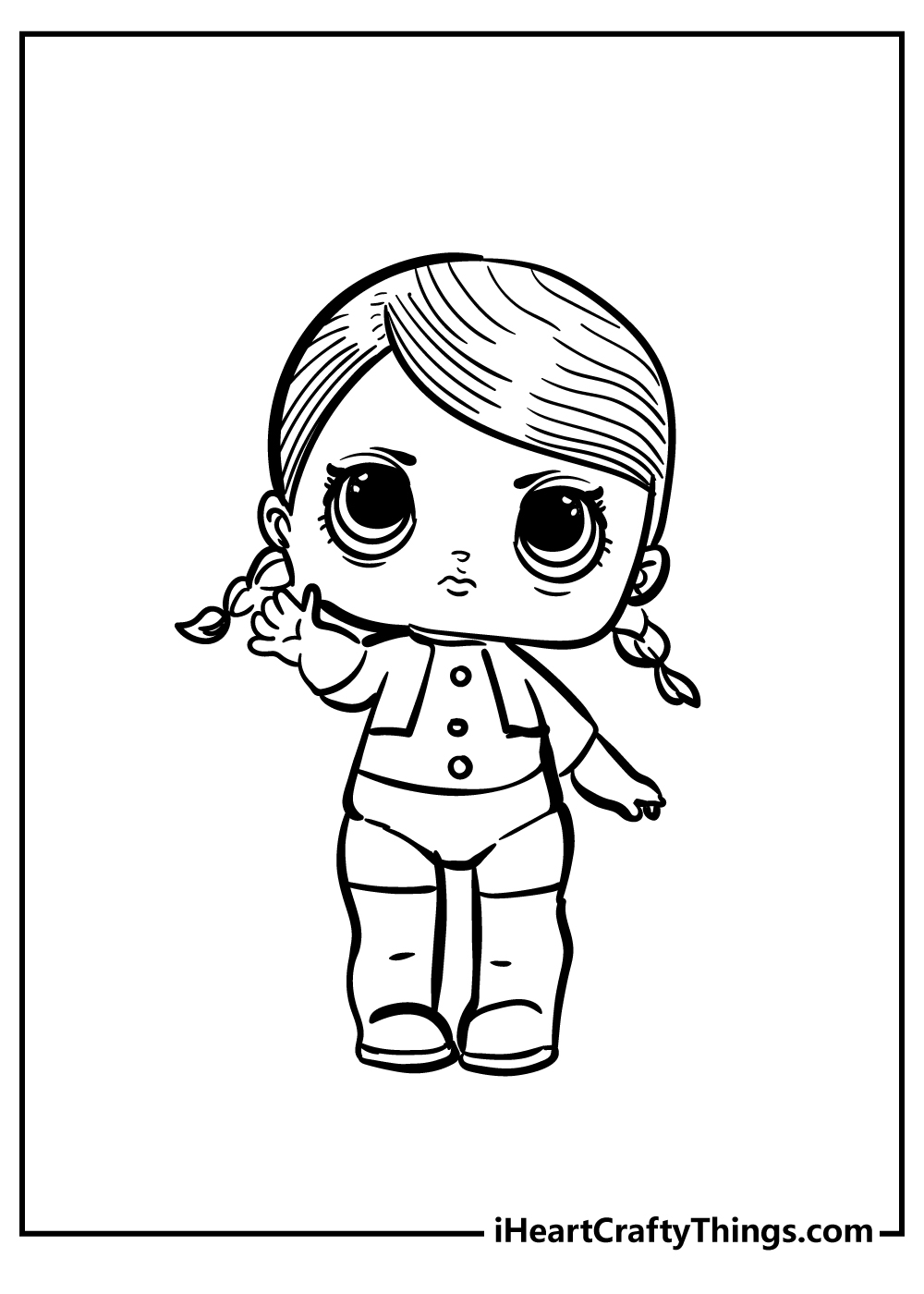 We have what looks like a baby doll in this next LOL Doll coloring page. For this especially cute doll, I would use some more milder, light colors.
I think that for this one, I would use very light blues and yellows for the color scheme of this one.
It would also look really cute if you preferred to use brighter, more vibrant colors instead. We can't wait to see what you decide to go with!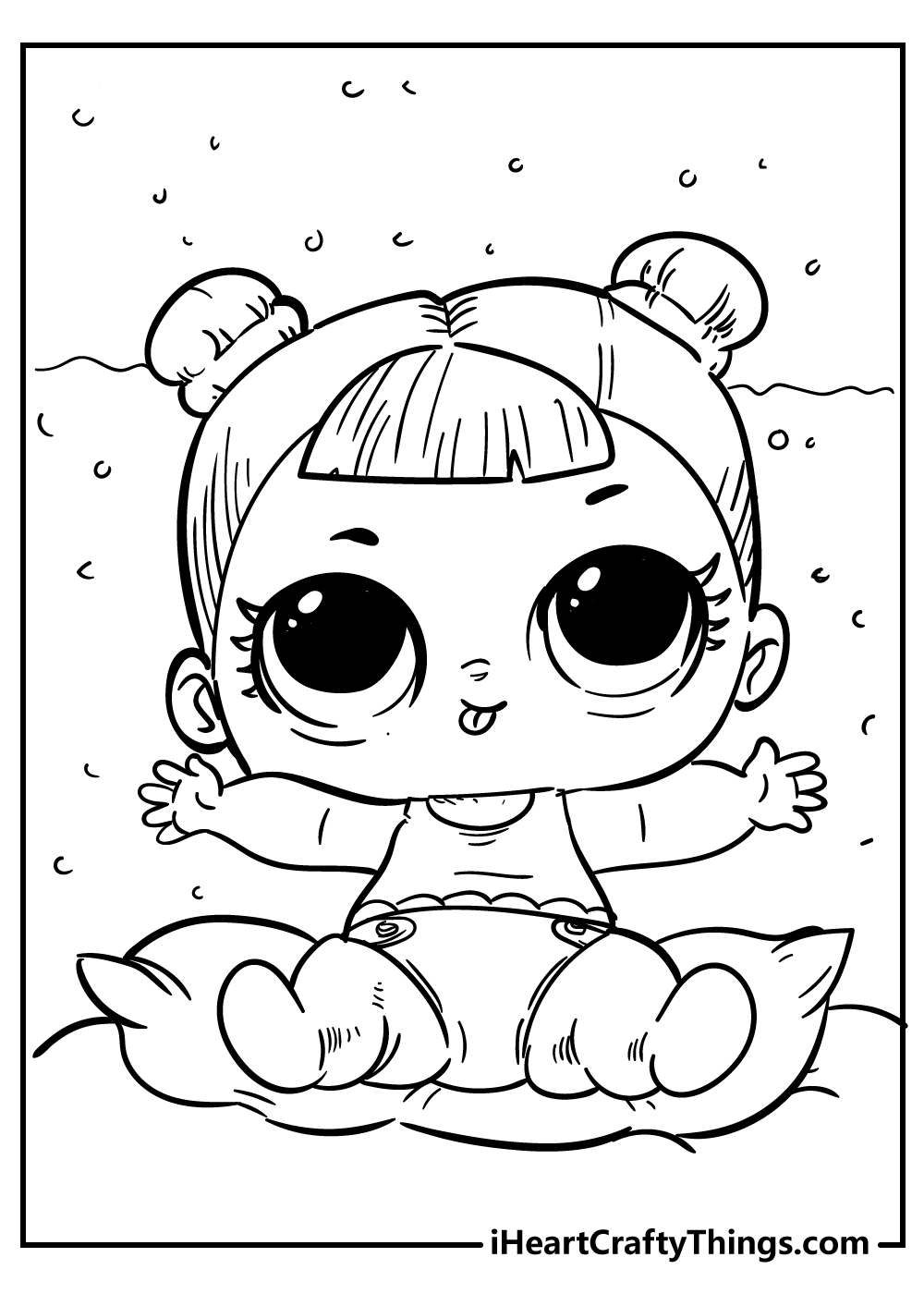 This adorable LOL Doll coloring sheet has a doll with a bit of a cowgirl theme going on! For this one, I would keep colors more earthy and muted. I think that darker yellows and lighter browns.
You could balance that off with a bright red bandana and mix in some pretty pinks so that the color scheme isn't too muted and has some variation.
The background would also help offset a more muted color scheme if you used a lovely bright green for most of it.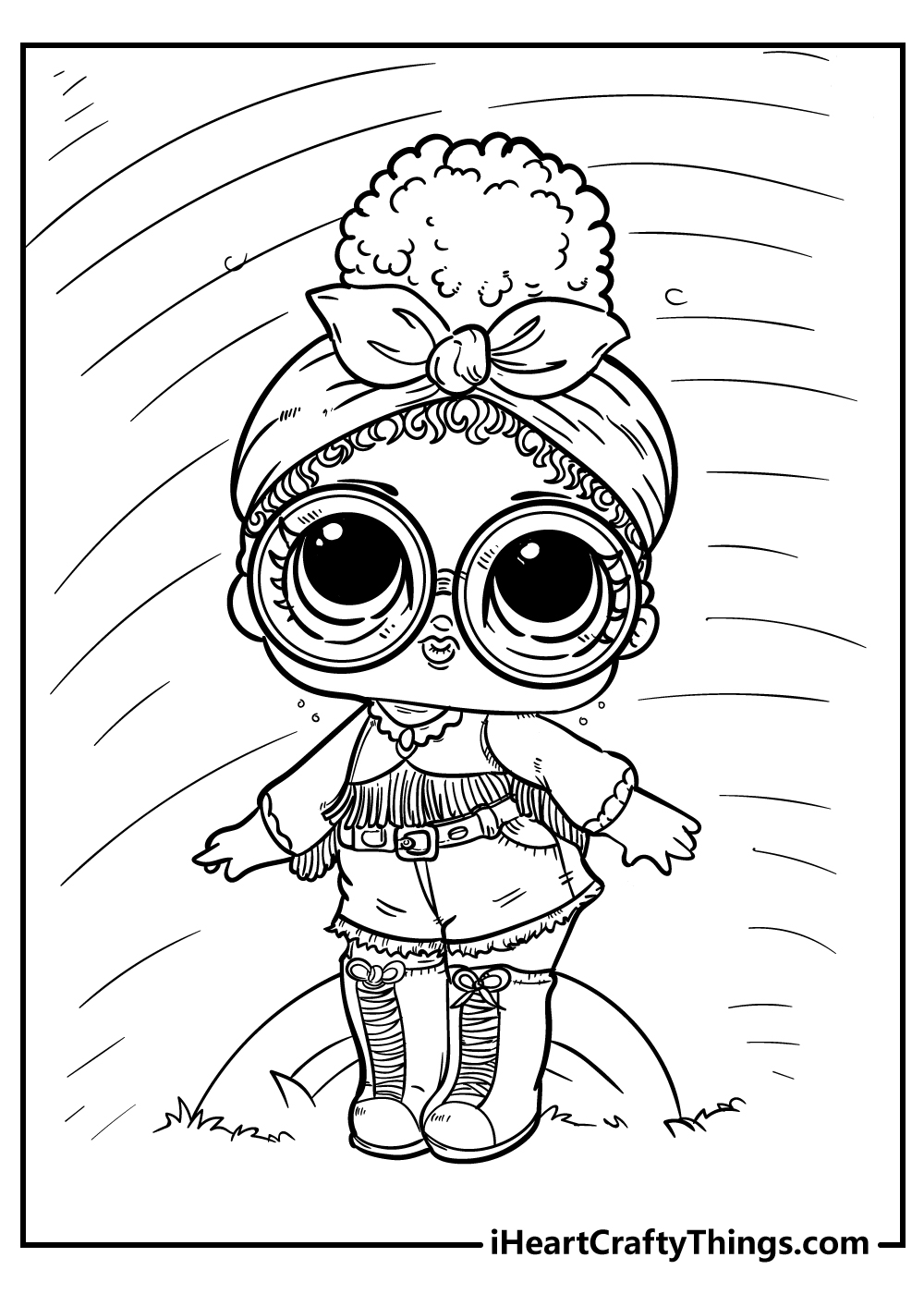 The next doll for this LOL Doll printable is wearing a very pretty and dainty outfit! Her outfit has a very old fashioned look to me, so I would use more subdued colors again for this one.
I'd use some variations of different blues for her outfit and make her hair a nice yellow blonde color.
There's a flower beside her, so maybe you could make that a bright color to create a splash of color contrast.
You could even draw in some more flowers around her for more colors and to make it look like she's in a beautiful field!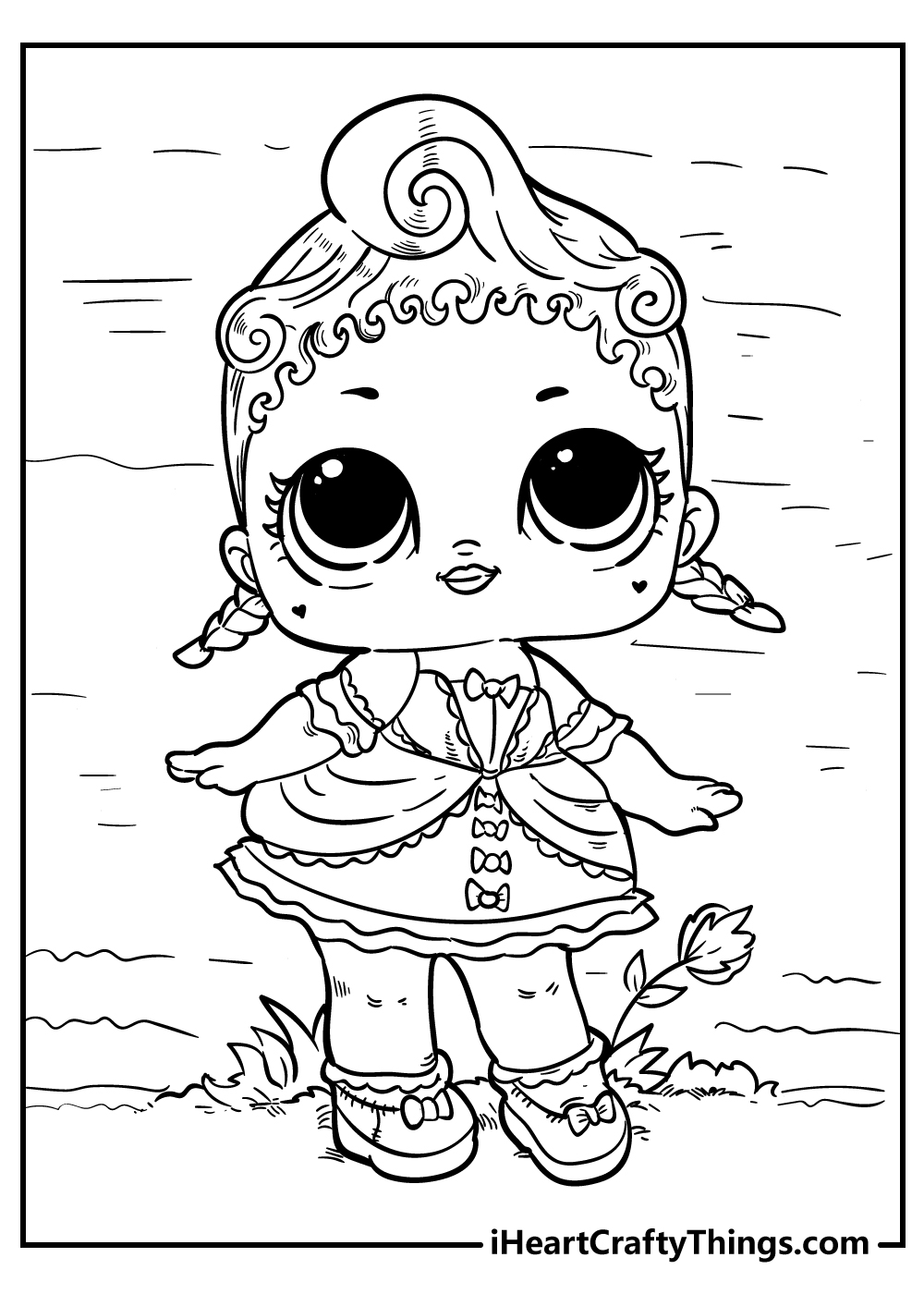 We have another image that goes for a more old-fashioned, vintage-inspired style. If you wanted to go with that kind of look, we think that some lighter, more muted colors would be perfect.
We also would probably go for some more watercolors or colored pencils, as these mediums would help to give the picture a more classic look.
Also, don't be afraid to add any new details or accessories that you think would suit her! You can keep the look more pared-back, but you could also make it as detailed as you like.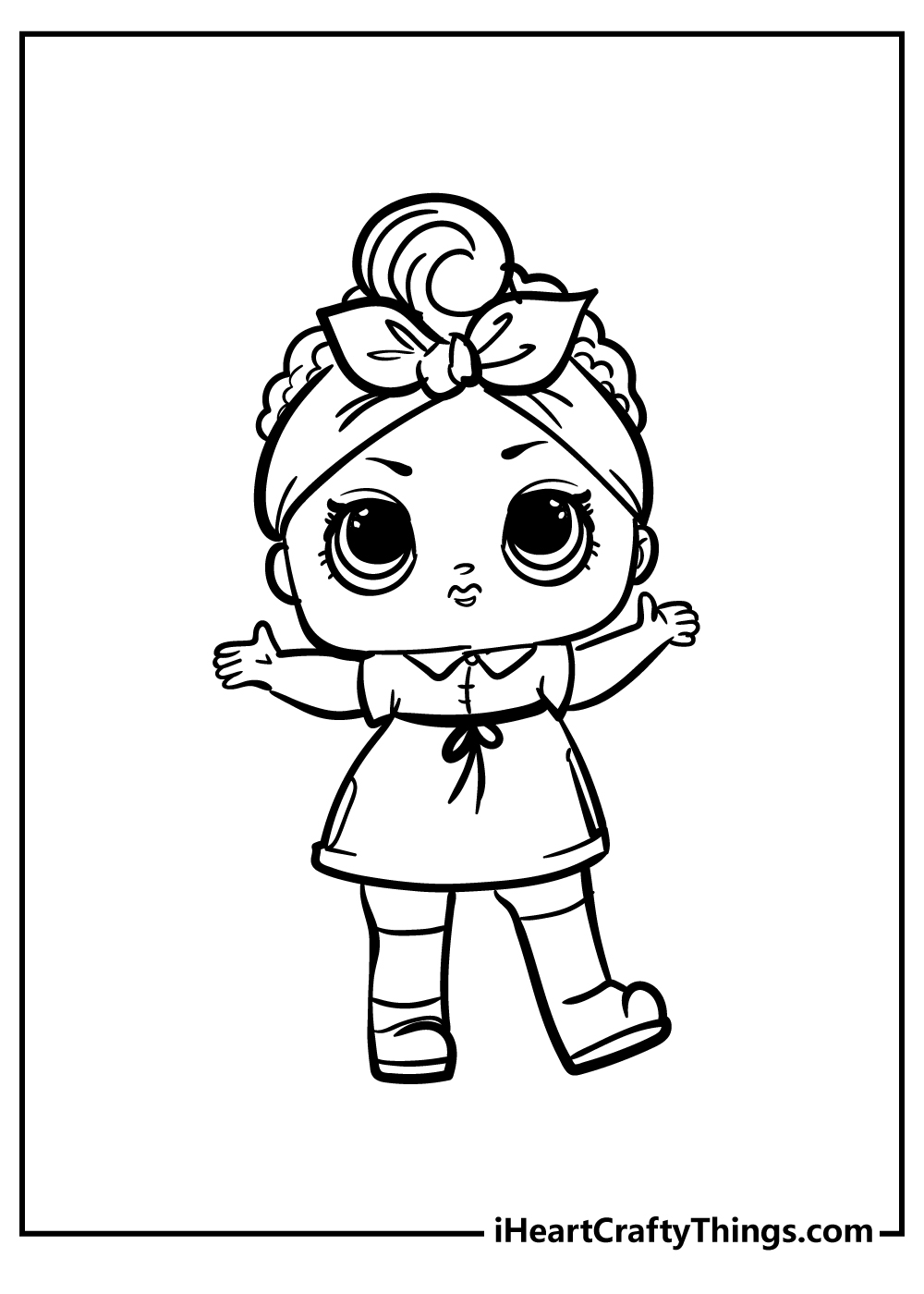 This final image in our collection of free LOL Doll coloring pages for kids has a fancy looking little guy to say hello! He's very formally dressed, and it seems a fitting finale to this collection.
His outfit reminds me a bit of an old naval uniform, so if I were coloring this in I would use some dark blues with accents of lighter blues for that kid of theme.
What colors will you pick for this stylish and fancy LOL Doll printable?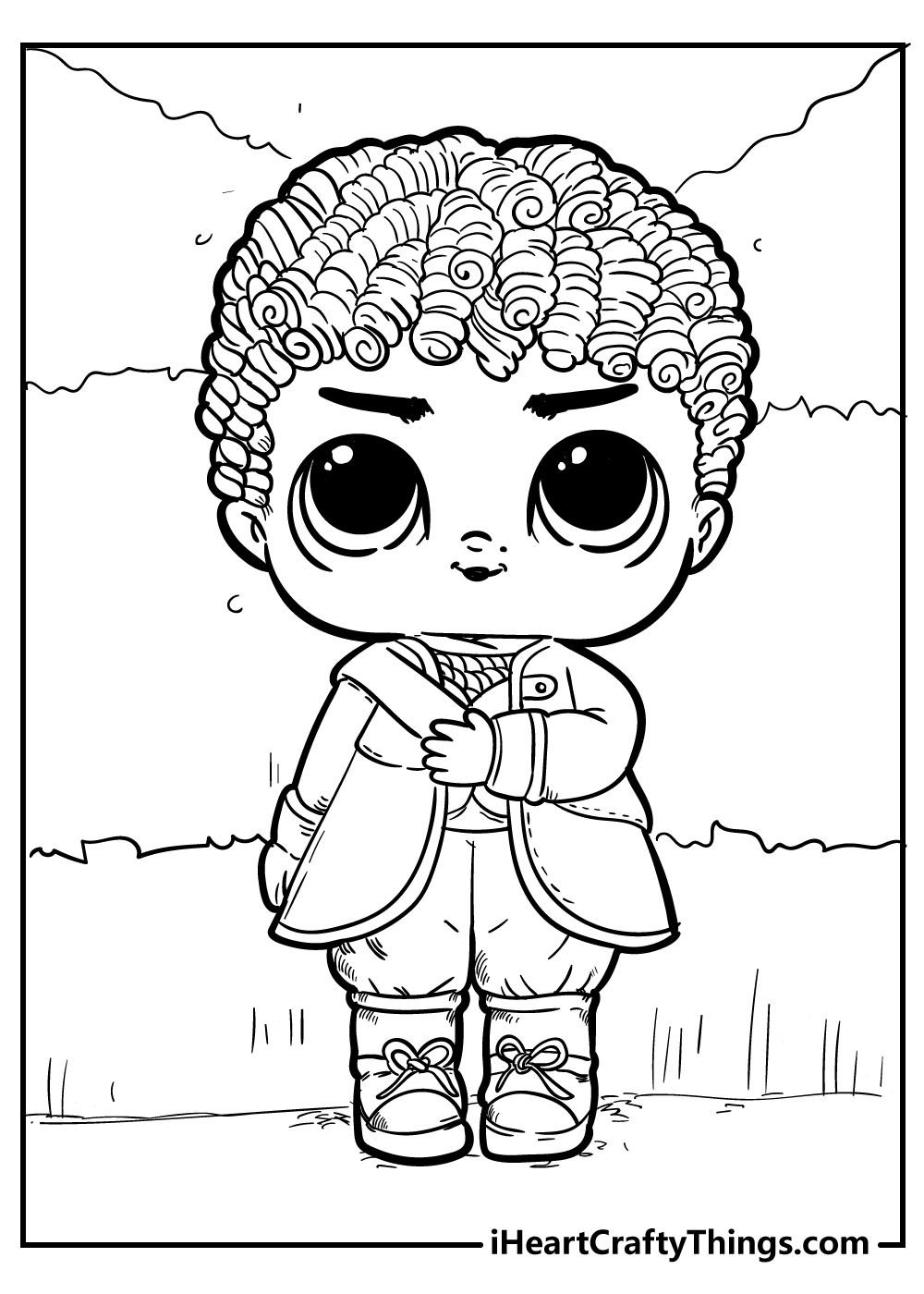 This next LOL Doll has a super funky style going on! The way she is posed also gives her a lot of character, and it seems as if she could be dancing and having a good time.
If we were coloring this one, we would also consider creating a background, and one idea would be to add a party scene behind her.
Creating a scene like that would also give you the chance to use all kinds of amazing colors in the background!
That is one idea, but what settings come to mind for you when you look at this particular page?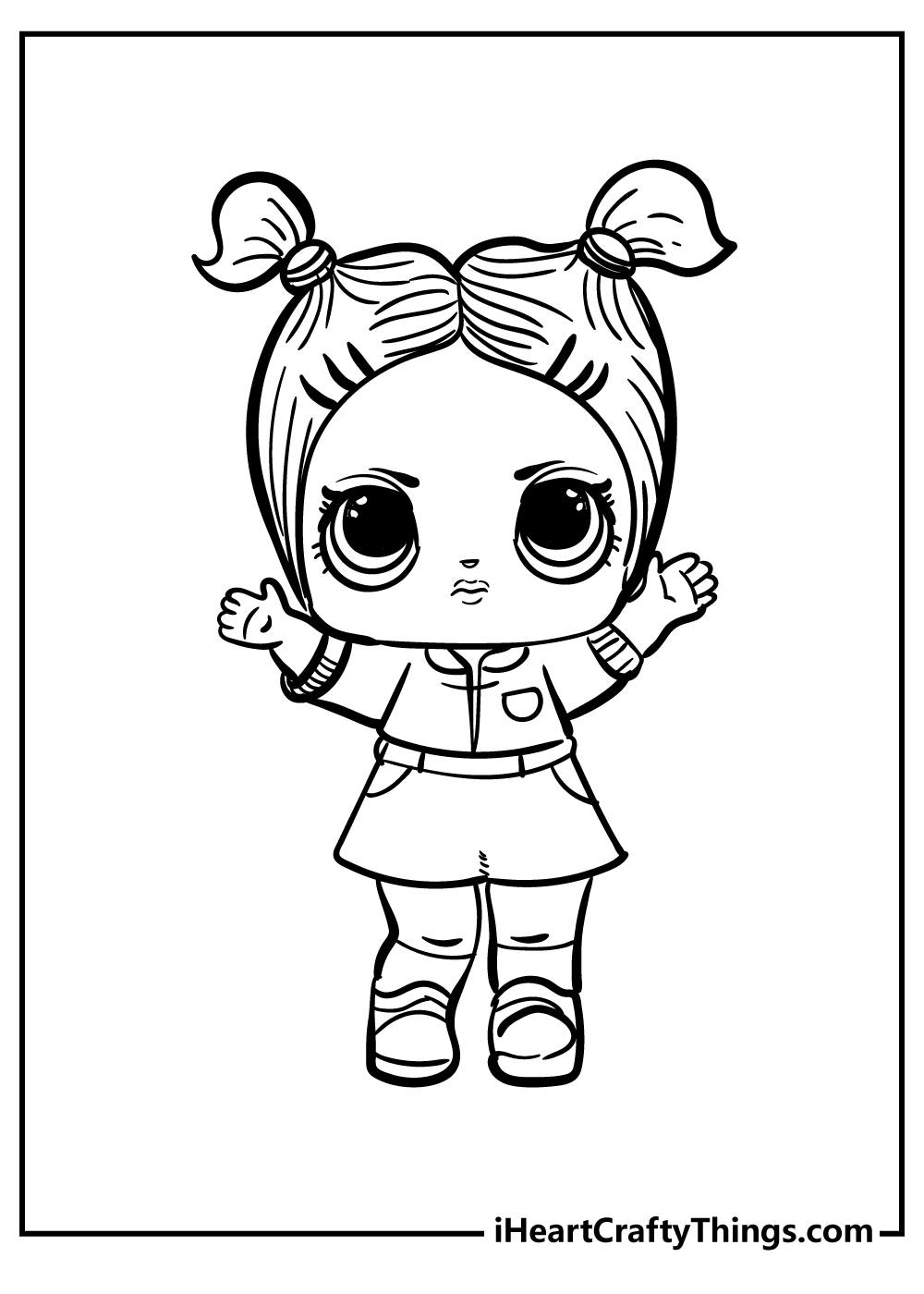 A really fancy, formal style is featured on this LOL Doll coloring page.
The way she is dressed makes it seem like she could be on the way to a fancy occasion, and that's where you can really use your imagination. Maybe she is going to a royal wedding or a celebrity party for a few ideas!
If you're feeling extra creative, then you could add not only a background but also some characters of your own design to the background.
We know that whatever you choose will look amazing! Remember that you can also share your finished page on our social media pages.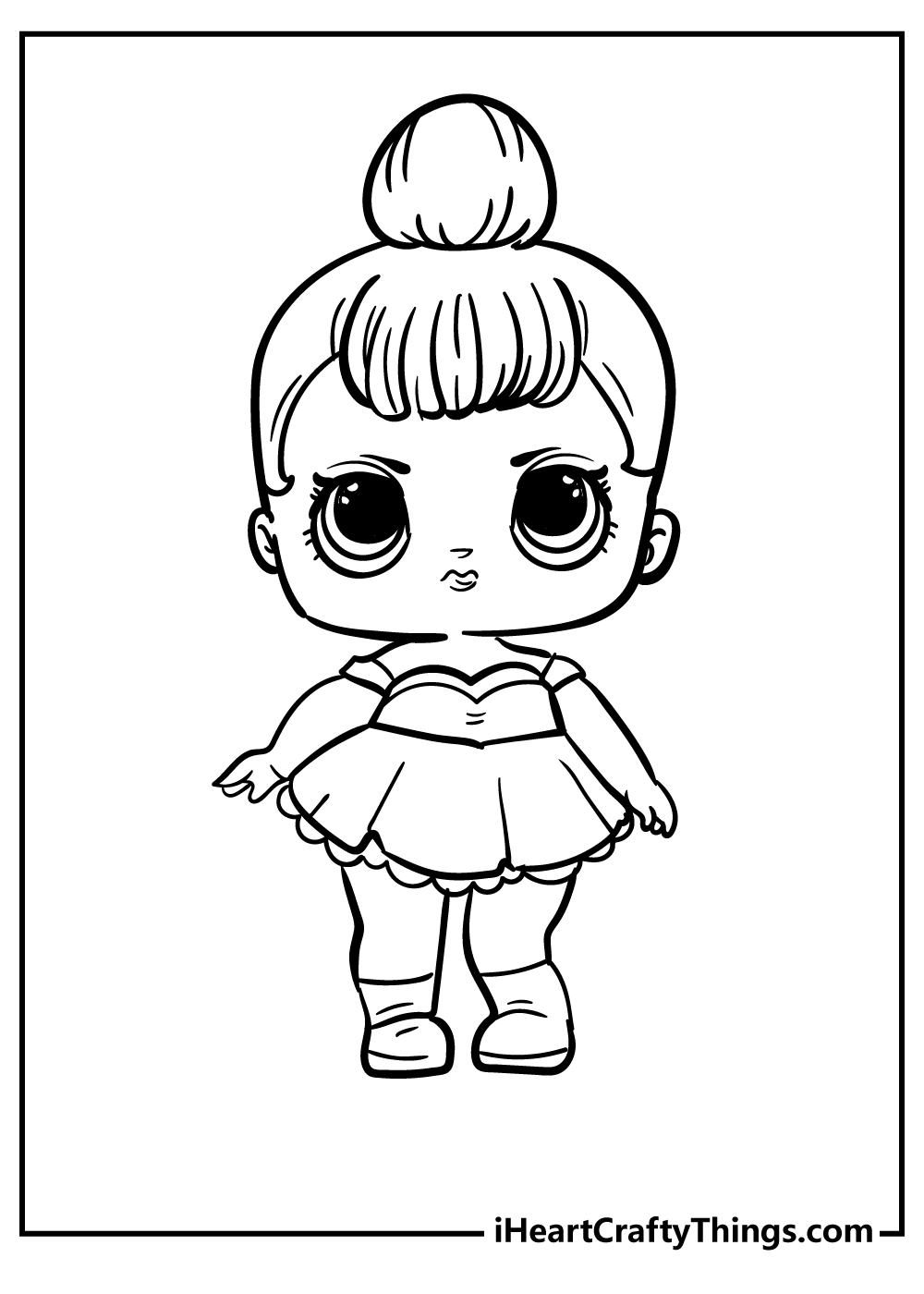 Take These Coloring Pages To The Next Level With These Ideas!
We reached the end of this collection of LOL Dolls coloring pages, but we wanted to give you a few more ideas to consider. If you have chosen your favorite images from the collection, remember that it's free to print them multiple times.
This means that you can experiment and play around with the designs without worrying about messing up! If you try some weird color combination and it doesn't work out, then take another sheet and try again.
You may surprise even yourself when you play around and just let your creativity take over. This can include not only the colors you choose but also how you apply them.
There are so many art tools and mediums that it can get overwhelming! As we said before, there is no need to get it perfect the first time.
So, you can gather all of the art tools and mediums you can think of and then play around with them. Some mediums will be better than others when it comes to portraying certain colors.
You can also use glue and craft supplies in order to make the colors and textures stand out even more. For instance, sequins, beads and even fur can be used to make colors look really cool.
If stuck onto the image, they can even provide a texture that you will be able to feel. There are so many ways that you can express your color creativity!
You can also draw additional details and elements that can give you even more to color in. we have given you some ideas to consider, but now you can take over and see what you can come up with!
What are some mediums and tools you can use for this picture?
LOL Doll Coloring Pages – Which will you choose?
We hope that this series of free LOL Doll coloring sheets for kids provided hours of cute and fashionable coloring fun for you to enjoy!
With all the different styles and fashions in these printables we're sure to see an amazing array of color variations!
Remember that all of our coloring pages and art printables are totally free for you to print, color and enjoy!
That means that you could print out a few copies of your favorites to experiment with different colors and mediums for some beautiful variants!
Hopefully you had a chance to try out some mediums such as watercolors, paints, colored pens and pencils within these fun printables.
We hope that you'll like and share our Facebook page with your friends! We upload new coloring pages and printables frequently, so liking the page is the best way to never miss out on the fun.
Lastly, we hope that you'll share your completed LOL Doll coloring pages to our Facebook page! We always love to see your colorful creativity and look forward to seeing some amazing looking dolls.