If you are looking for an exciting pastime activity for your child, look no further! These ten crab coloring pages are fun as well as educational.
Your little one can learn interesting facts about these sea creatures and explore their creative mind when choosing different colors and even coming up with stories about all these adorable-looking crabs.
Next time you go to the beach, your child will be excited to share what they have learned about these underwater friendly creatures.
10 Brand New Crab Coloring Pages – Free to Print and Color
Don't you think this crab looks rather upset about something? Who knows what happened to put it in such a mood!
But we're hoping that your creativity might help the creature on this crab coloring page improve their spirit.
And even if not, it is still so much fun to pick different shades with your child and bring this cute crab to life.
You could go for a light orange for the crab. Surrounded by a deep blue, the typical color for the ocean, the contrast will certainly look beautiful.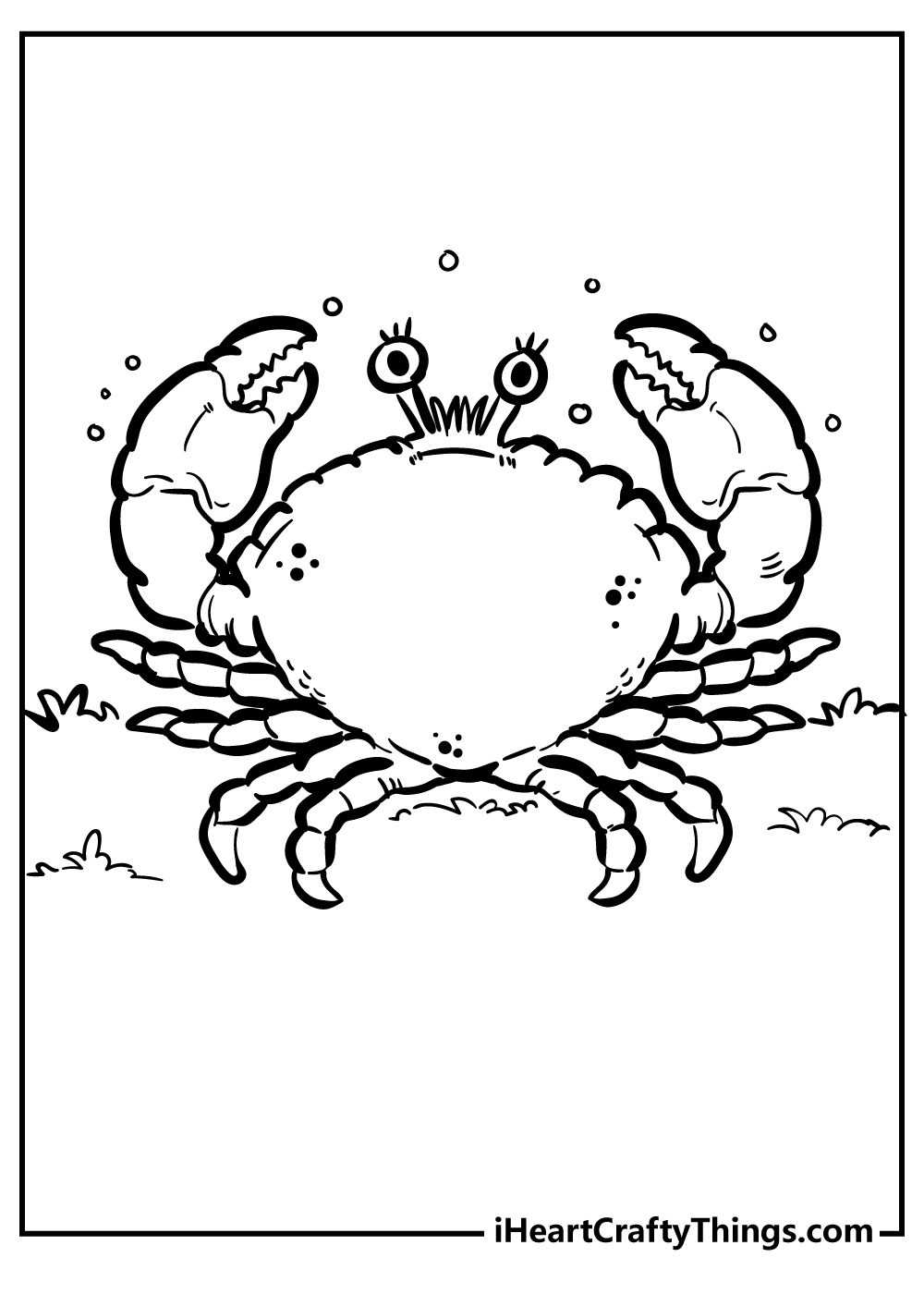 Did you know that crabs can walk in all directions? Because crabs are from the decapod species, meaning they have ten feet, they can easily use them to walk in more than one direction.
But mostly, these underwater creatures walk – quite fast too – sideways.
This second sheet out of ten crab coloring pages features an eager little crab that appears to be on a beach, surrounded by seashells.
There are numerous shades you can use for this printable sheet, from really light yellow for the sand to pastel colors for the seashells.
As for our friendly-looking crab, why not choose a purple tone? It will sure look fancy.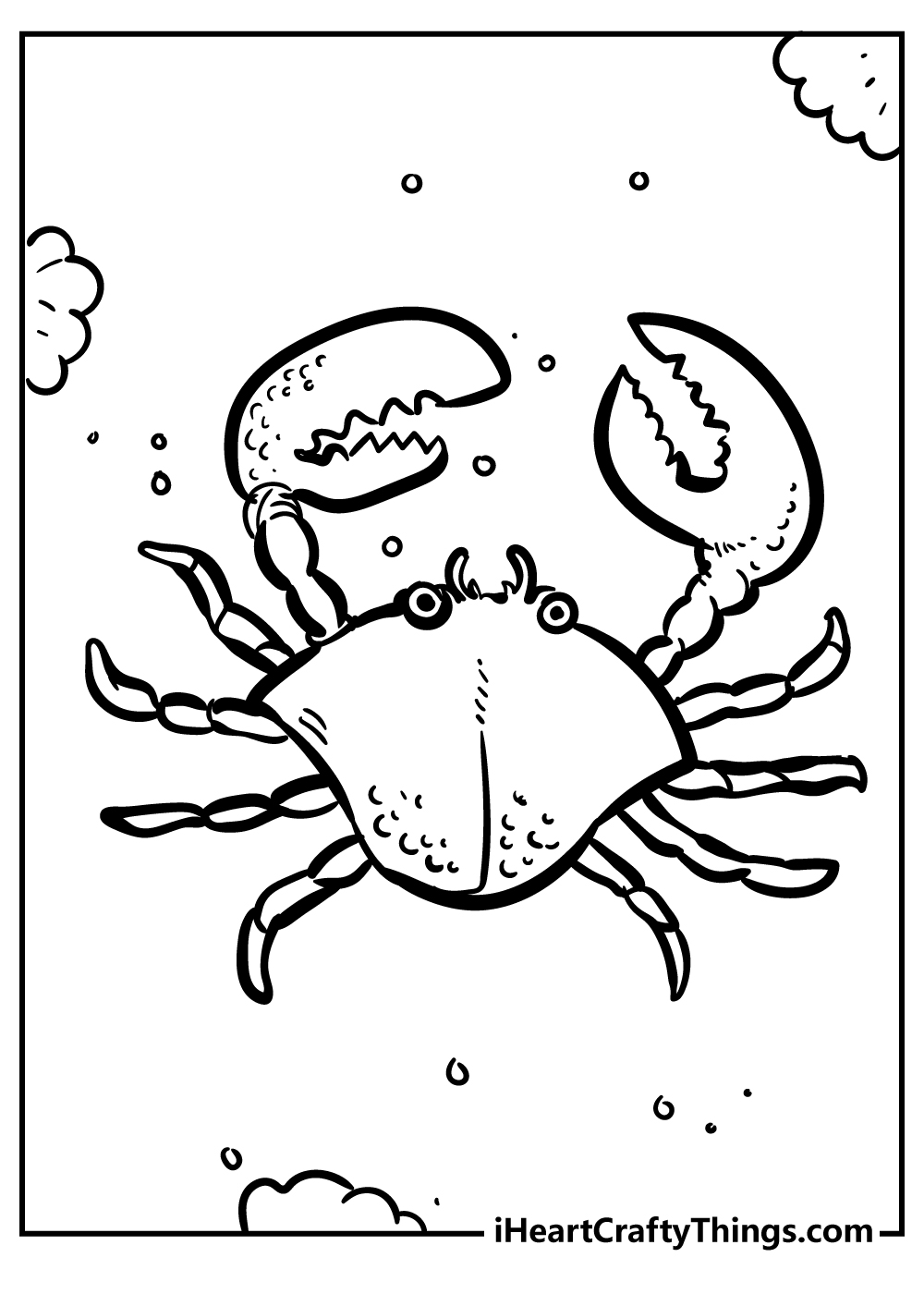 Now, this is a cheerful crab! By the looks of it, with curly eyelashes, we could assume it is a girl!
As we always say, it is essential to challenge your creativity, and there are no rules when you start coloring these crab printable pages.
The crab's pincers, or claws, are up in the air, which might appear as if this adorable sea creature is cheering on something.
With such a big smile and wide eyes, no one can deny this crab is feeling utterly joyful.
To properly showcase the crab's uplifted mood, you could pick a bright color palette on this crab printable sheet. If you have glitter, don't hesitate to add some to truly make it sparkle!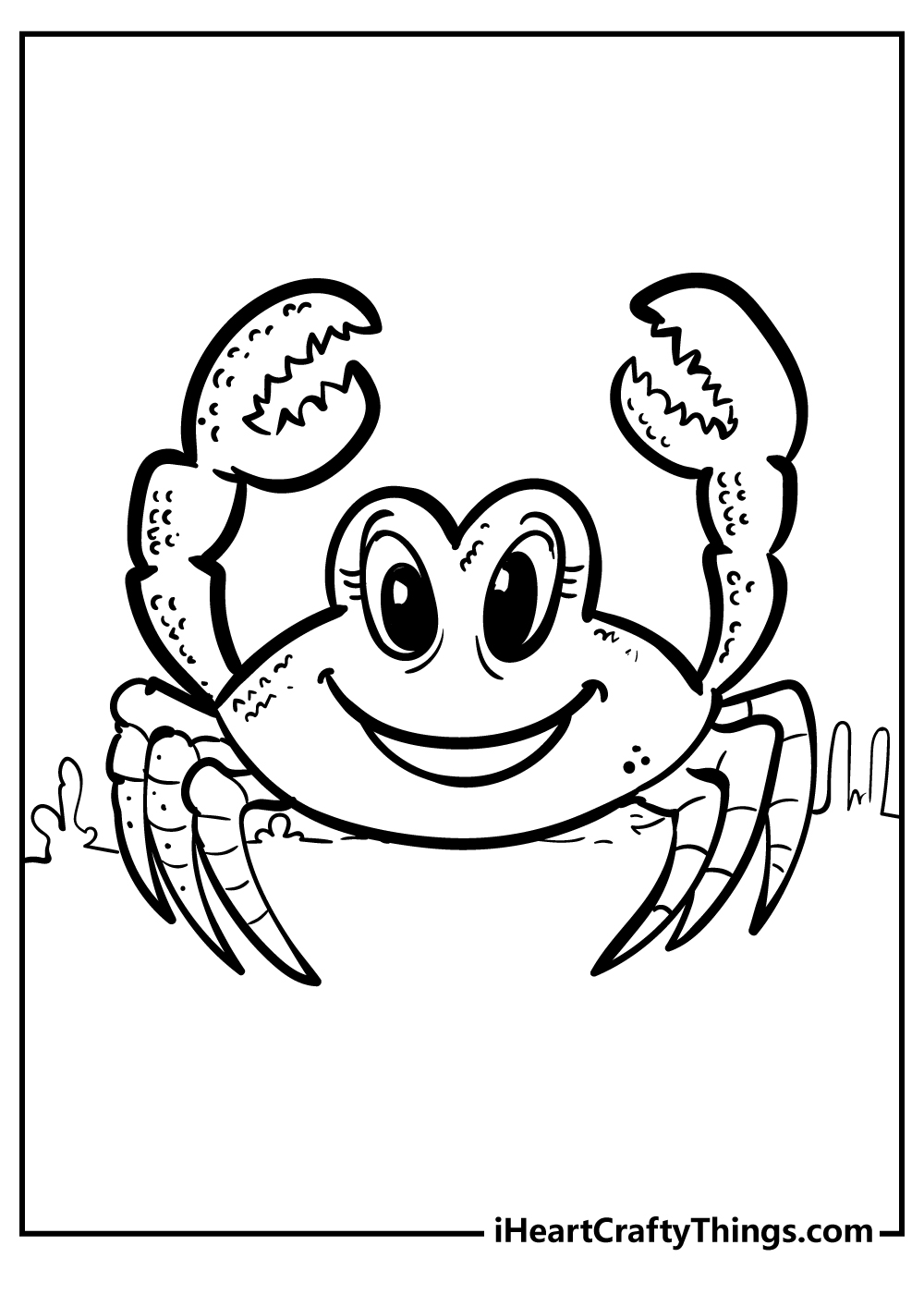 This next crab looks like it is swimming peacefully in the deep blue ocean. These crab coloring pages are an excellent way for your child to learn more about these fascinating creatures.
For example, you might not know that crabs can also be found in freshwaters, not just in oceans.
With bubbles around, this delightful crab is either swimming calmly or floating around in the sea. So, you have plenty of blue tones to choose from for the background on this crab printable page.
Imagine how nice this page would look if you pick a bright red for the crab, surrounded by dark and light blue.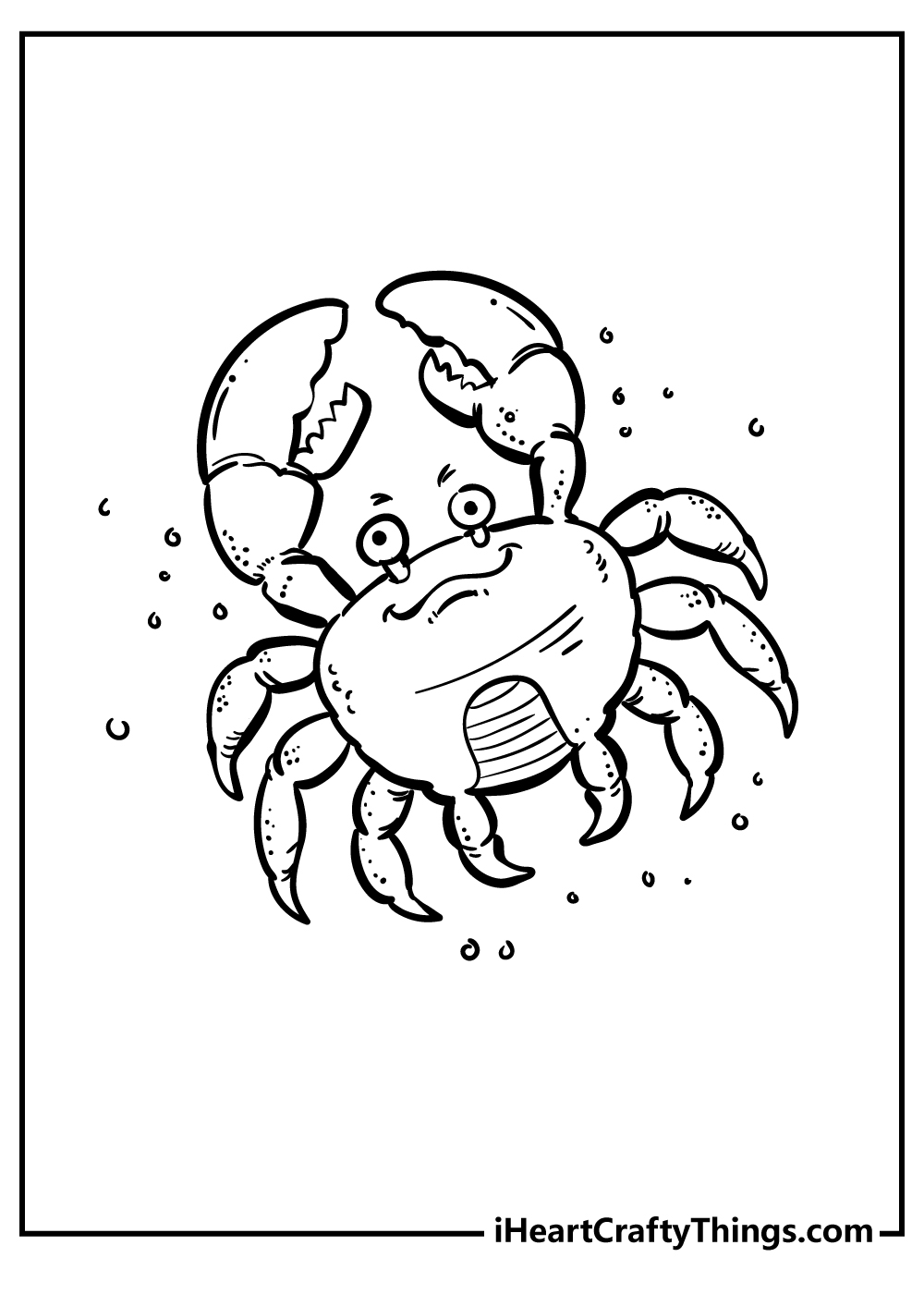 Taking a first look at this pretty little crab, you know instantly it is a baby crab.
With such a cute and curious expression, characteristic of a tiny sea creature that is at the beginning of its life, there is no denying it is eager to explore the underwater world.
But, before going on its journey to discover the ocean, our little crab appears to be walking on sand. Truthfully, it is your choice if you want it to be on land or deep in the ocean.
Depending on what you want to imagine, you can color this crab printable page any way you want. As for the adorable baby crab, how about choosing a pink shade?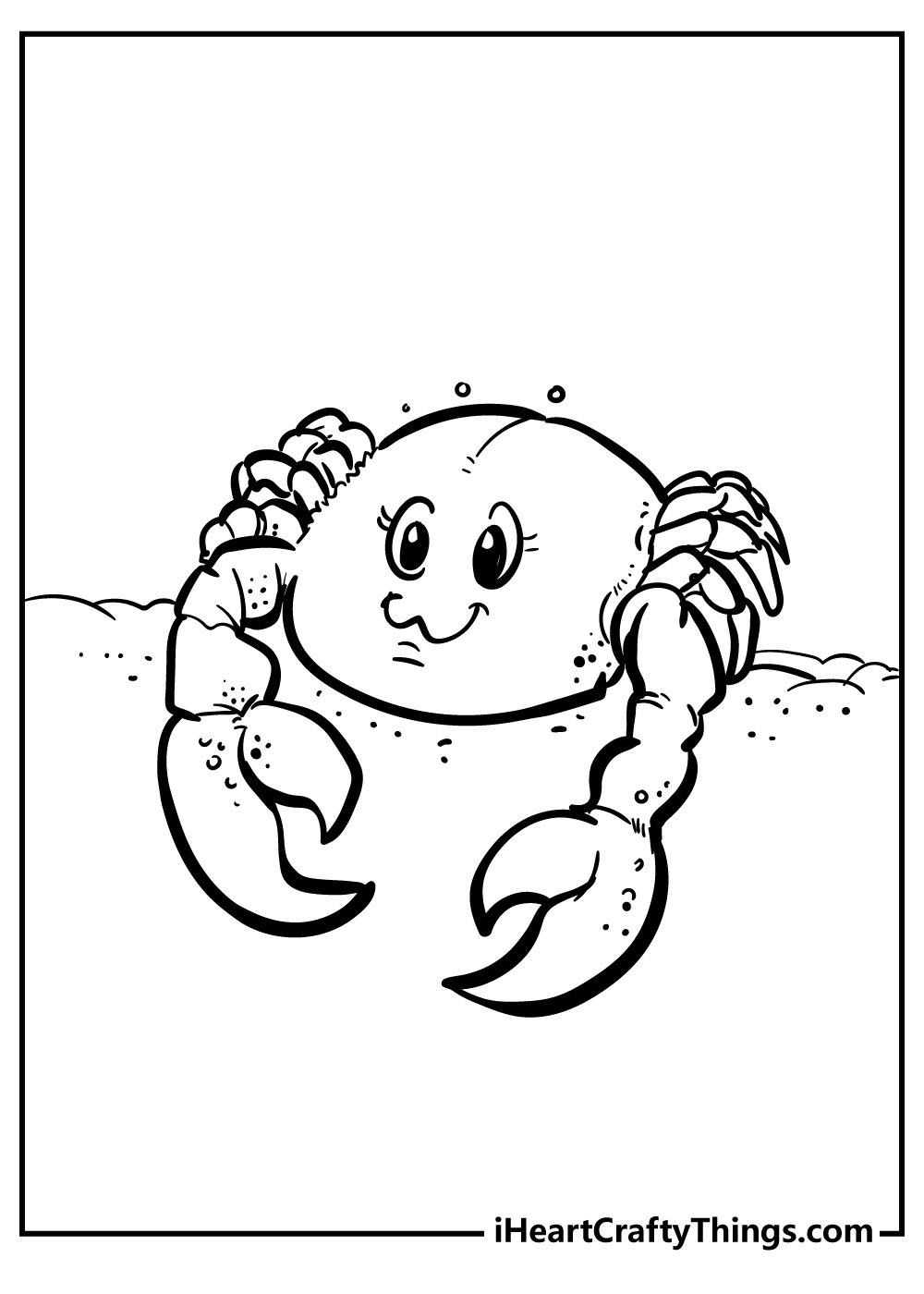 Indeed, this crab looks a bit angry. However, it might just be preoccupied with eating seaweed or a small fish.
While the action might not be too precise, it isn't challenging to notice that, whatever this fascinating crab is doing, it sure is quite vigilant.
It appears that we can catch a glimpse of a coral reef behind our wary-looking crab.
In this case, our advice is to use all your bright colors and even some glitter for the coral reef and dark red for the crab.
Remember – there are no rules on how you choose to bring these crab coloring pages to life.
The world is your oyster!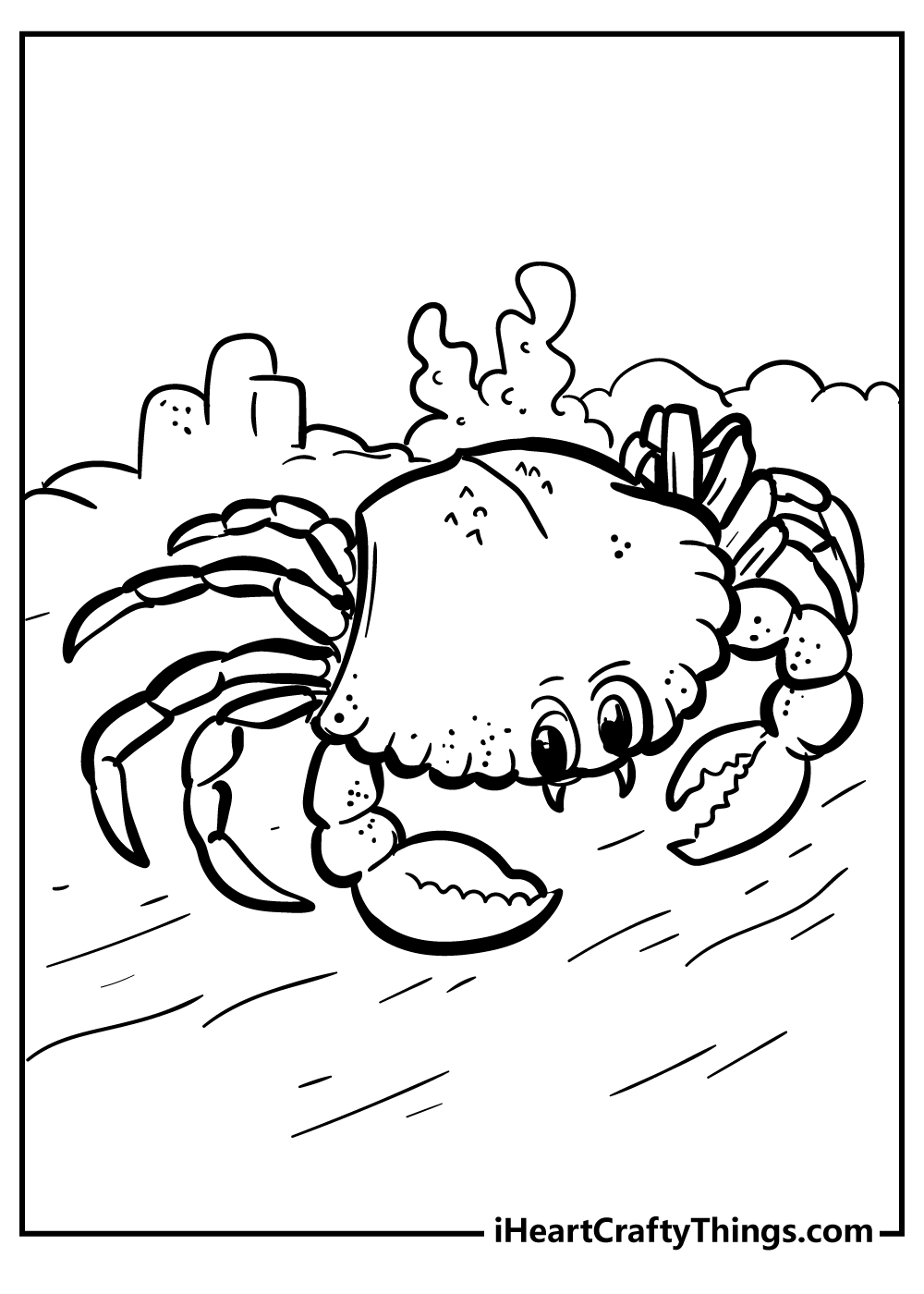 Doesn't it seem this crab feels like being on top of the world, wise beyond its antennae?
With such a proud expression on its face and how it holds its pincers, we cannot help but see the resemblance with the widely known character from Disney's Little Mermaid, Sebastian.
Like this cartoon character, the king's advisor and court composer, our little crab looks quite an important creature of the underwater world.
If you wish, you could color it with the same red tones to make it look like Sebastian even more. But this is a matter of personal choice. So, let your imagination run wild!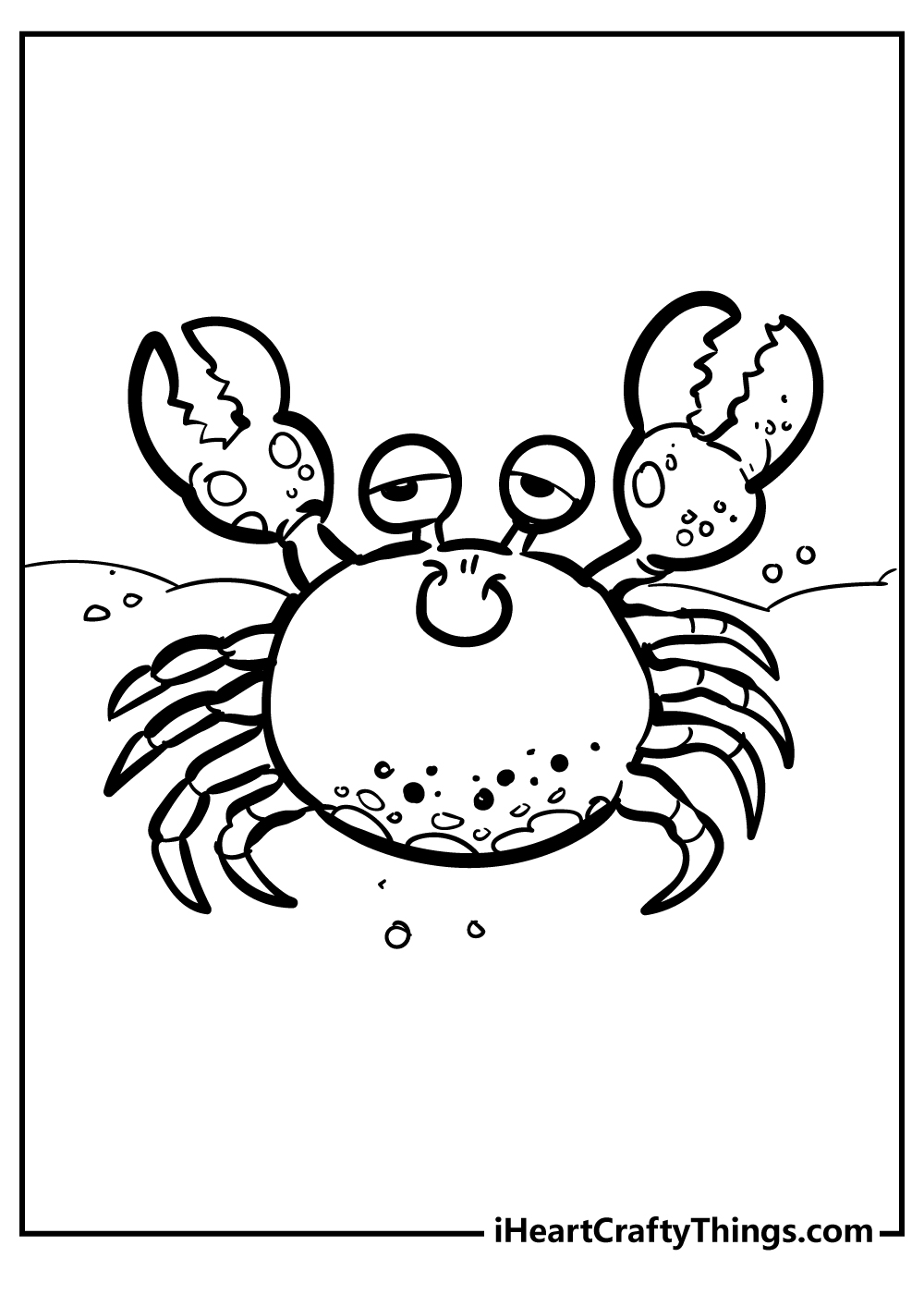 On this next crab coloring sheet, you could say that this little crab's face looks similar to that of a turtle. We know that there is no such thing as a turtle-looking crab in real life.
But when it comes to exploring your imagination with these crab coloring pages, there are no rules.
Choose a vibrant yellow for our unique crab, green to showcase the ocean vegetation, and various shades of blue for the fantastic sea.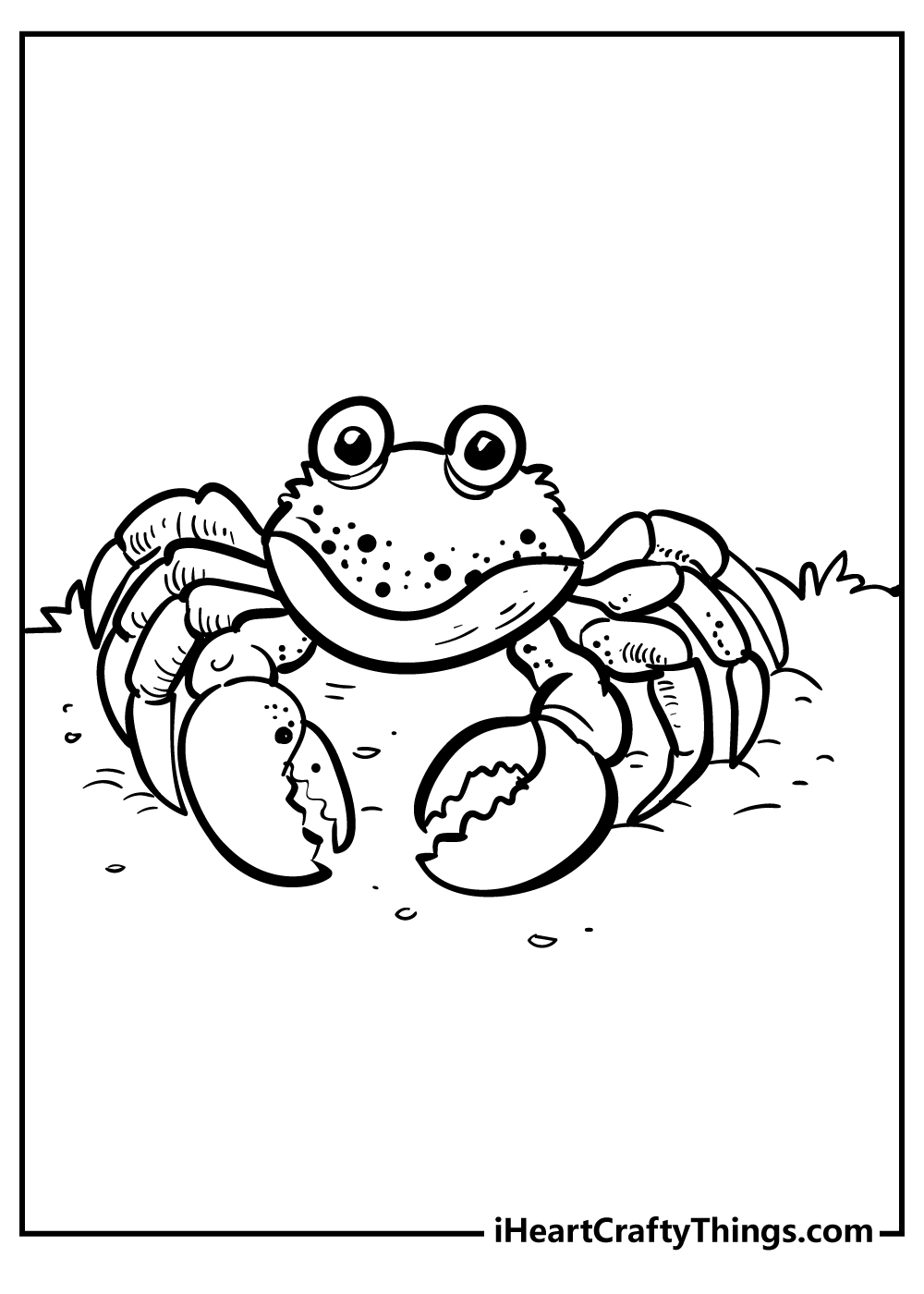 Truth be told, when you see how happy and full of life some of these beautiful sea creatures are depicted on these crab coloring pages, it instantly puts a smile on your face as well.
The same goes for this little fellow, showing such a contagious smile!
Imagine coloring all these printable sheets with your child! It sure is a memory you will cherish forever.
Plus, you can have as many variations of these crab coloring pages as your little one wants.
After a few years, you can go back to this portfolio and remember how fun it was to color these joyful and adorable crabs.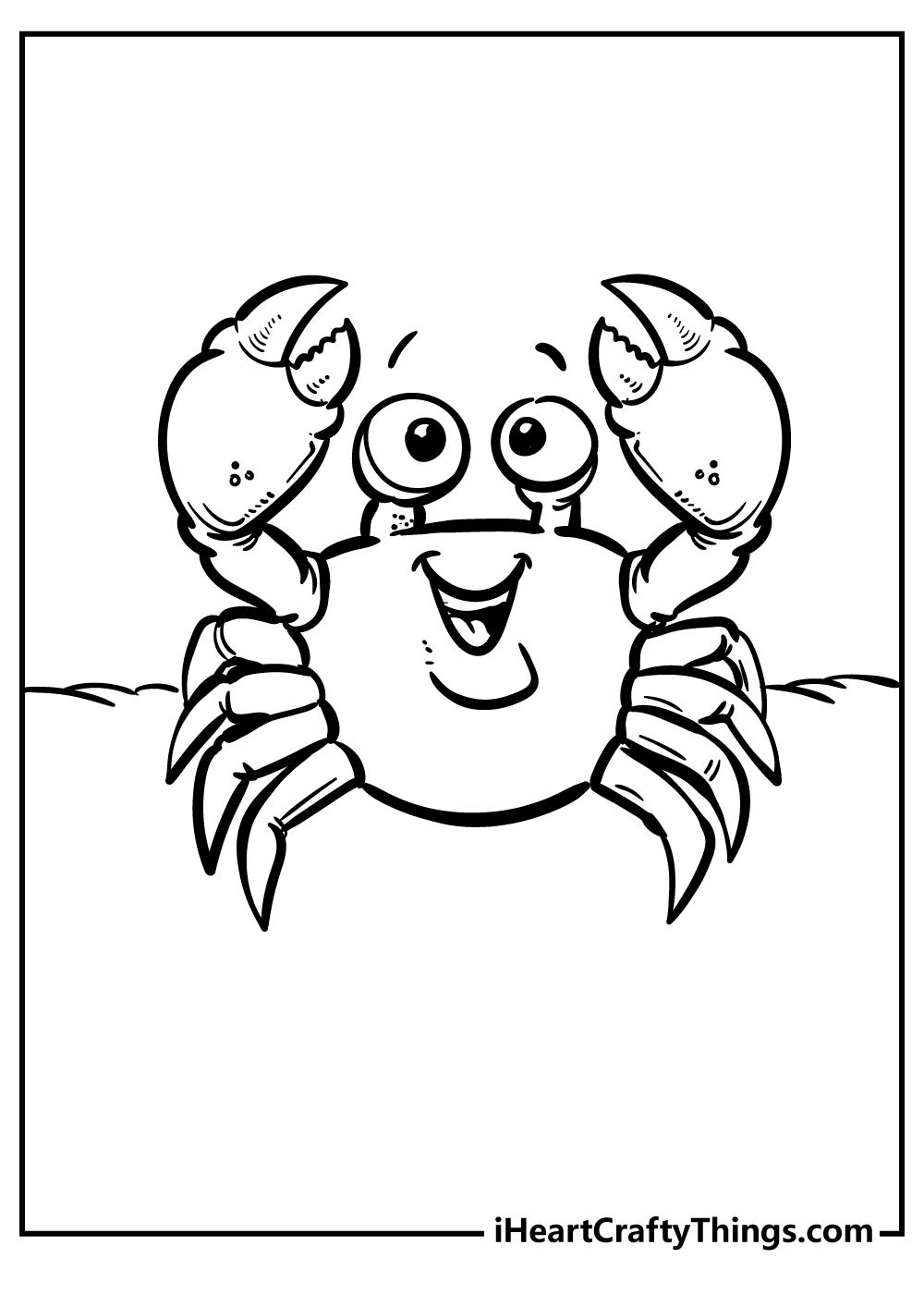 We can safely say that the comical crab on this crab coloring sheet is the comedian of the underwater world.
It is entertaining just looking for a second at its funny-looking expression, and you can easily imagine how enjoyable it must be to be around it. We are sure this adorable crab has many friends!
It might be the last of these wonderful crab coloring pages, but that doesn't mean you cannot enjoy coloring it like all the others. And remember, you can print these sheets as many times as you want!
So, choose a vibrant yellow or purple for our adorable comedian crab. If you can, add some glitter too.