On this page, you will find 20 all new Dolphin coloring pages that are completely free to print and download.
Dolphins are without a doubt one of the most beloved aquatic creatures and for good reason.
They're extremely smart, friendly, playful, and brave, just to name a few of their qualities.
Your kids will surely want to learn more about these graceful and beautiful marine mammals once they see our cute dolphin coloring pages.
Help them express their creativity and expand their knowledge with our free dolphin printables.
20 Brand New Dolphin Coloring Pages – Free to Print and Color
We have a simple but adorable picture for you to color on this dolphin coloring sheet! The dolphin on this page is really friendly-looking, and it gives off a nice happy feeling.
While the design of this page may be a bit simpler than some of the others, there is still a lot you could do to make it even better!
One thing to try would be to draw a background, and you could either have it jumping out the water or swimming underneath. Those are two possibilities, but can you think of other settings?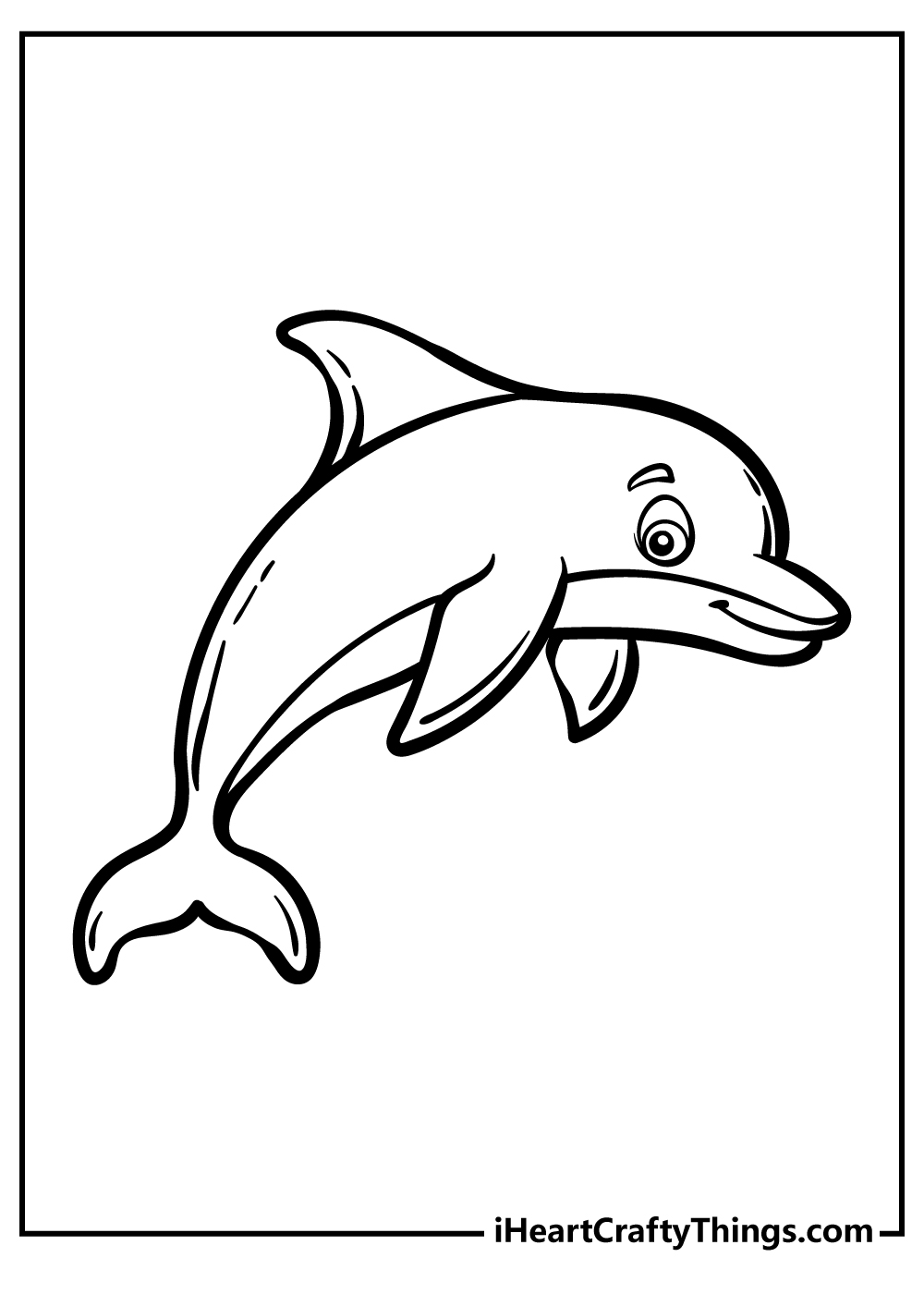 It's time to play with colors as you take on this next page of the collection! This dolphin is looking super cute as it plays with a big beach ball, and now you get to bring this scene to life.
The picture is not only adorable, but it also has lots of details for you to color.
Just the ball has several sections, and you could use all sorts of bright and vibrant colors for these sections.
What colors will you choose for the beach ball and the dolphin? Don't forget to add some colors for the background as well!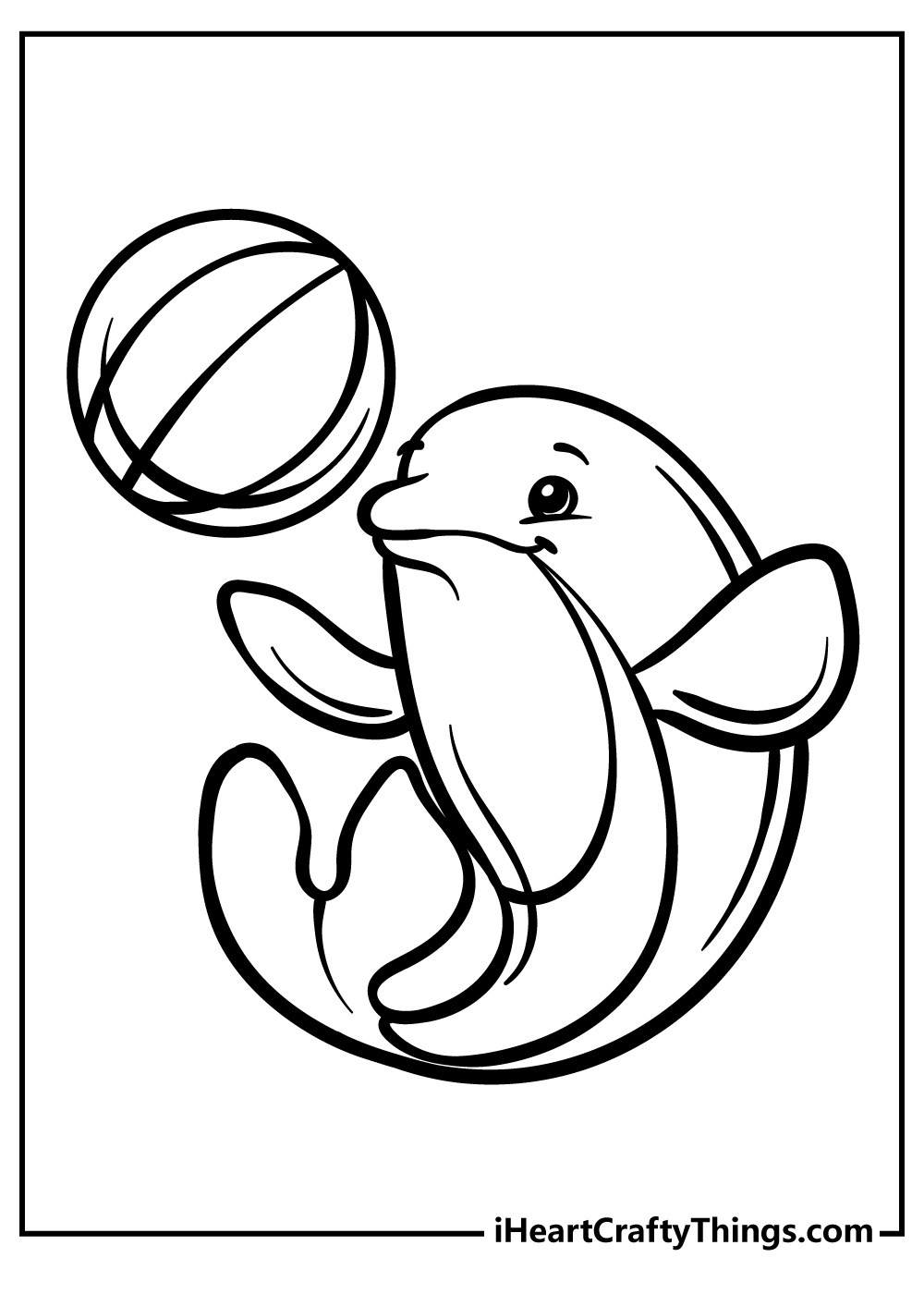 Meet one of the most interesting and enchanting creatures that populate the world's seas, oceans, and rivers: the dolphin!
They're known for being quite frisky and they love impressing viewers with their acrobatic skills, just like in this picture.
This cute dolphin sheet depicts one of these lovely mammals flipping through the air, like they often do, showing its playful side.
Get your colors ready because you never know when it's going to disappear in a spectacular splash of water.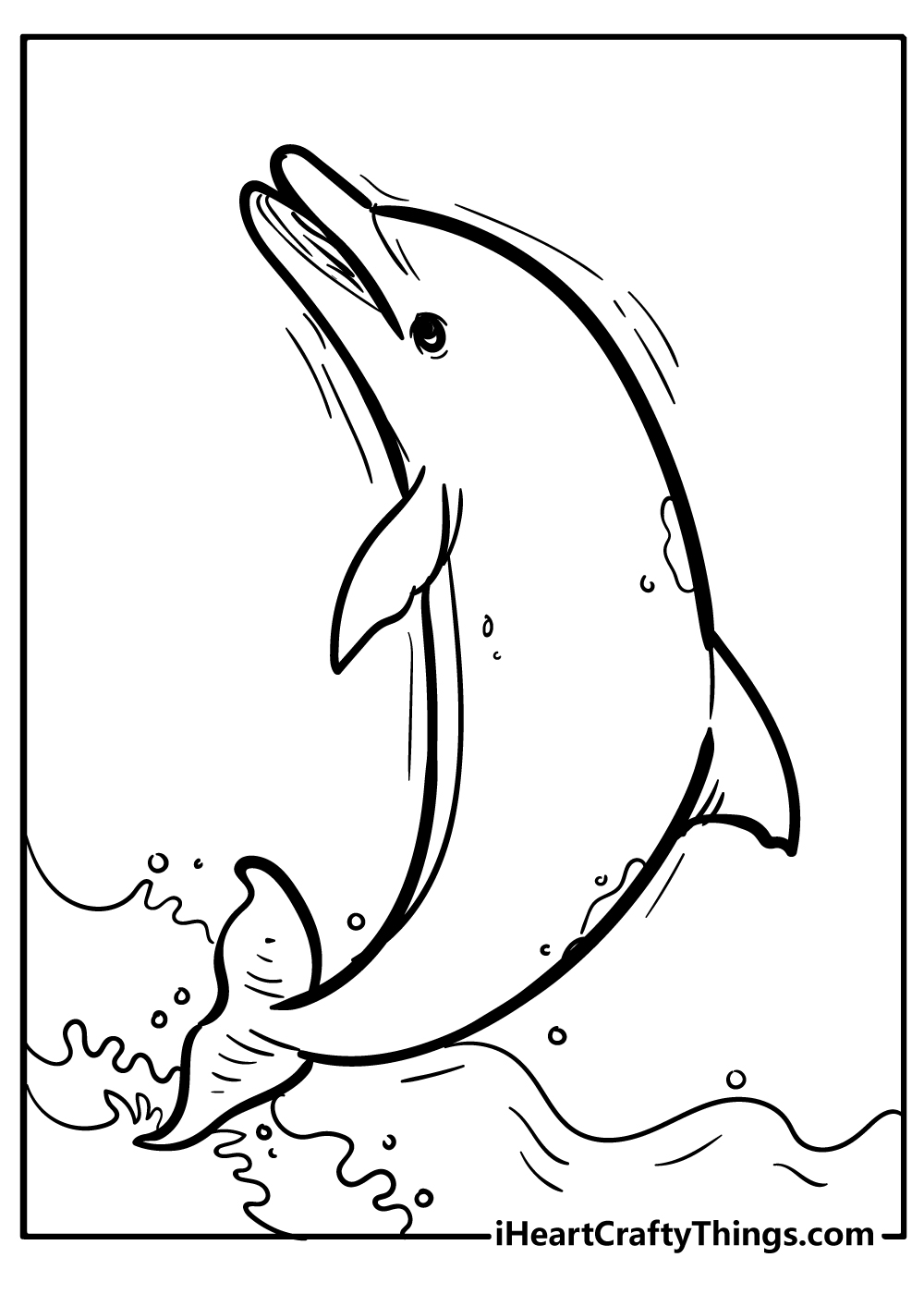 There are many different species of dolphins living both in saltwater and freshwater, but they all have one thing in common: they're always ready to play and they're famous for the shows they put on.
If you don't believe us, take a look at this adorable dolphin coloring sheet and you'll see what we're talking about.
Here we have a cute dolphin that decided to make an appearance by springing out of the water like an arrow. You can be just as playful as he is when coloring it.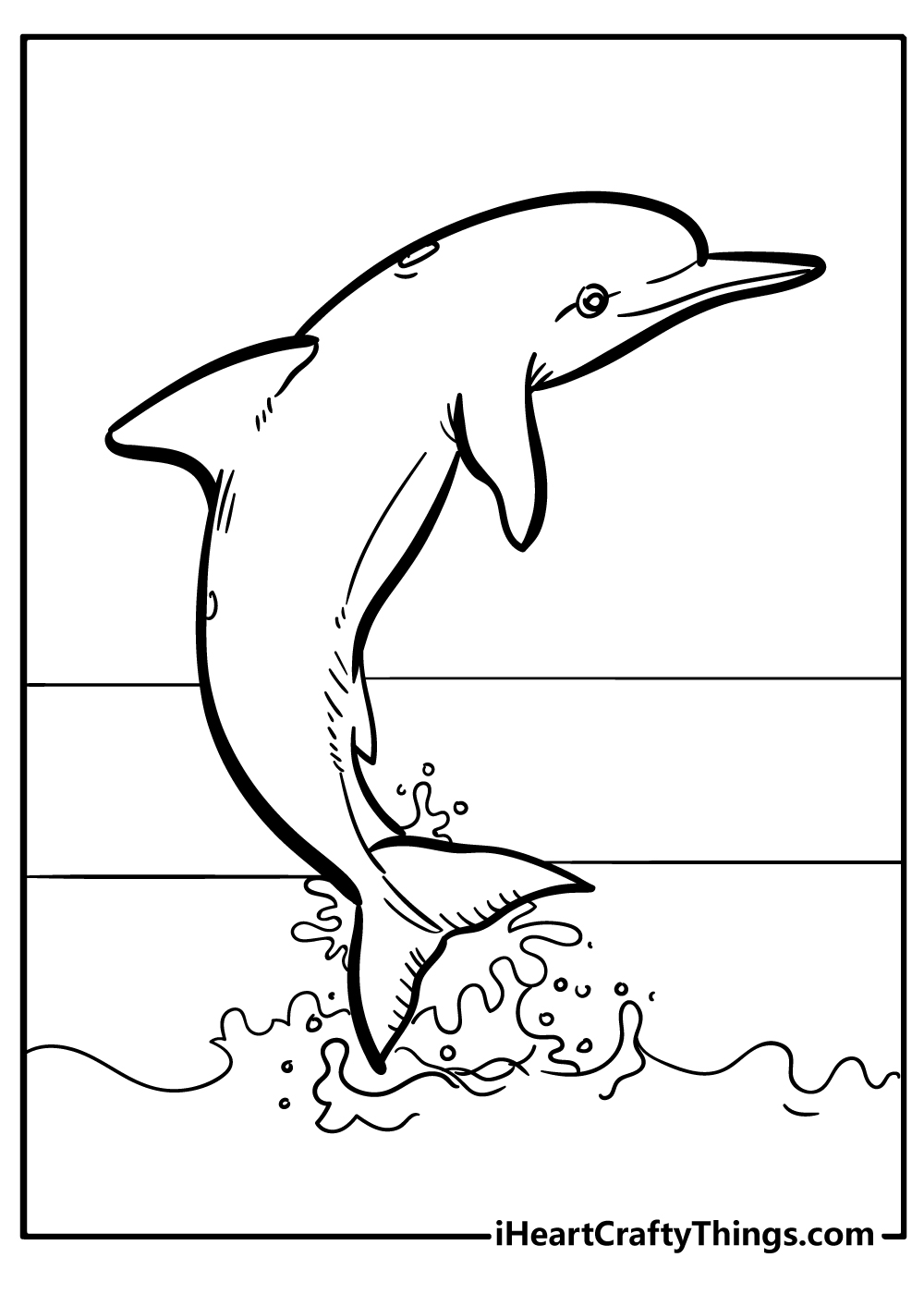 One thing you have to know about dolphins is that they are just as strong as they are spirited.
It's their strength that allows them to perform all those tricks and acrobatics that they're already famous for.
This beautiful dolphin coloring page shows us just how majestic and powerful dolphins really are.
They're able to push through the waves and swirling waters with incredible ease. You can bring your contribution to this cute scene by using your brightest pencils to color our mighty dolphin.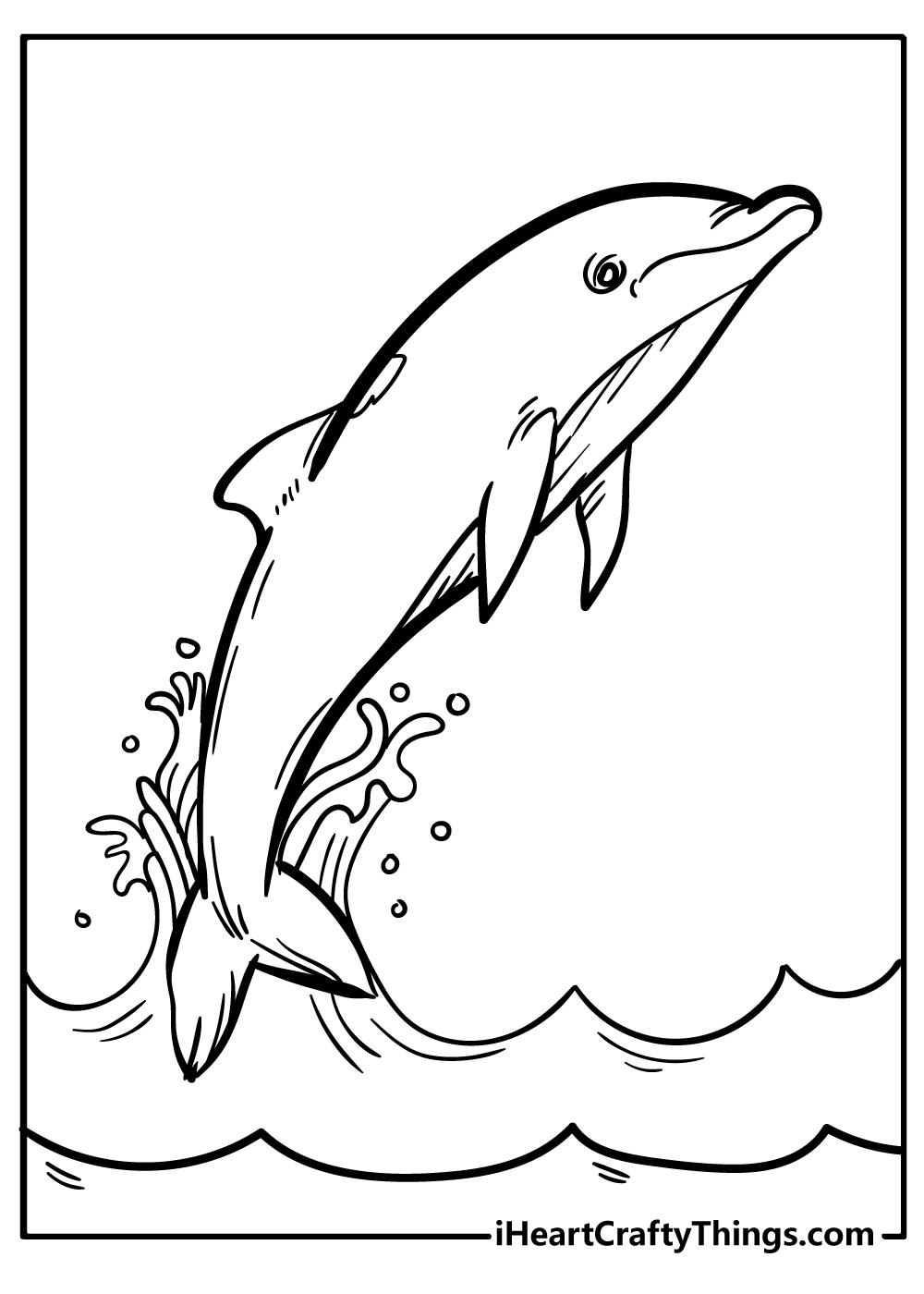 This next page features a charming underwater scene with one of these gentle creatures.
While dolphins have to come to the surface to breathe, they still spend most of their time beneath the water.
For this page, you could draw a background that has all sorts of fish and other sea creatures for this dolphin to interact with.
Even if you don't draw any other creatures, you could use some beautiful blues and greens for the water.
As for the dolphin, do you think you will stick to more realistic colors or give it a brighter, more stylistic look? We can't wait to see what you choose for this page!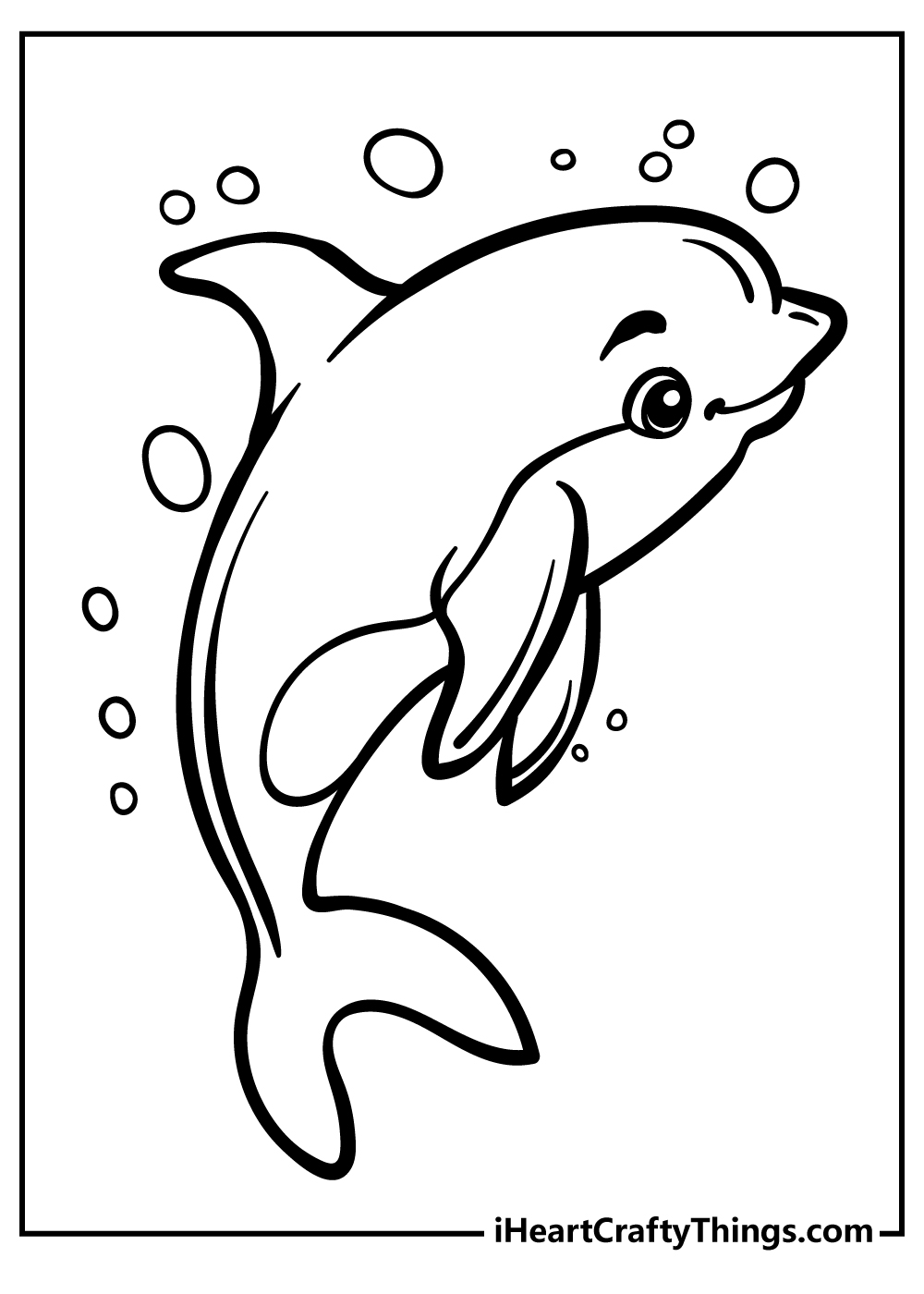 For the next page in our collection of free dolphin coloring pages for kids, we have another design that has been left open for you to color and decorate as you wish!
It is another page where the dolphin could be leaping from the water or swimming underneath, and the choice is yours.
If you were to create a background, you could use all sorts of fun details depending on whether you choose to set it above or below water.
For instance, maybe you could add a small island with a  palm tree if you go for an above the water approach!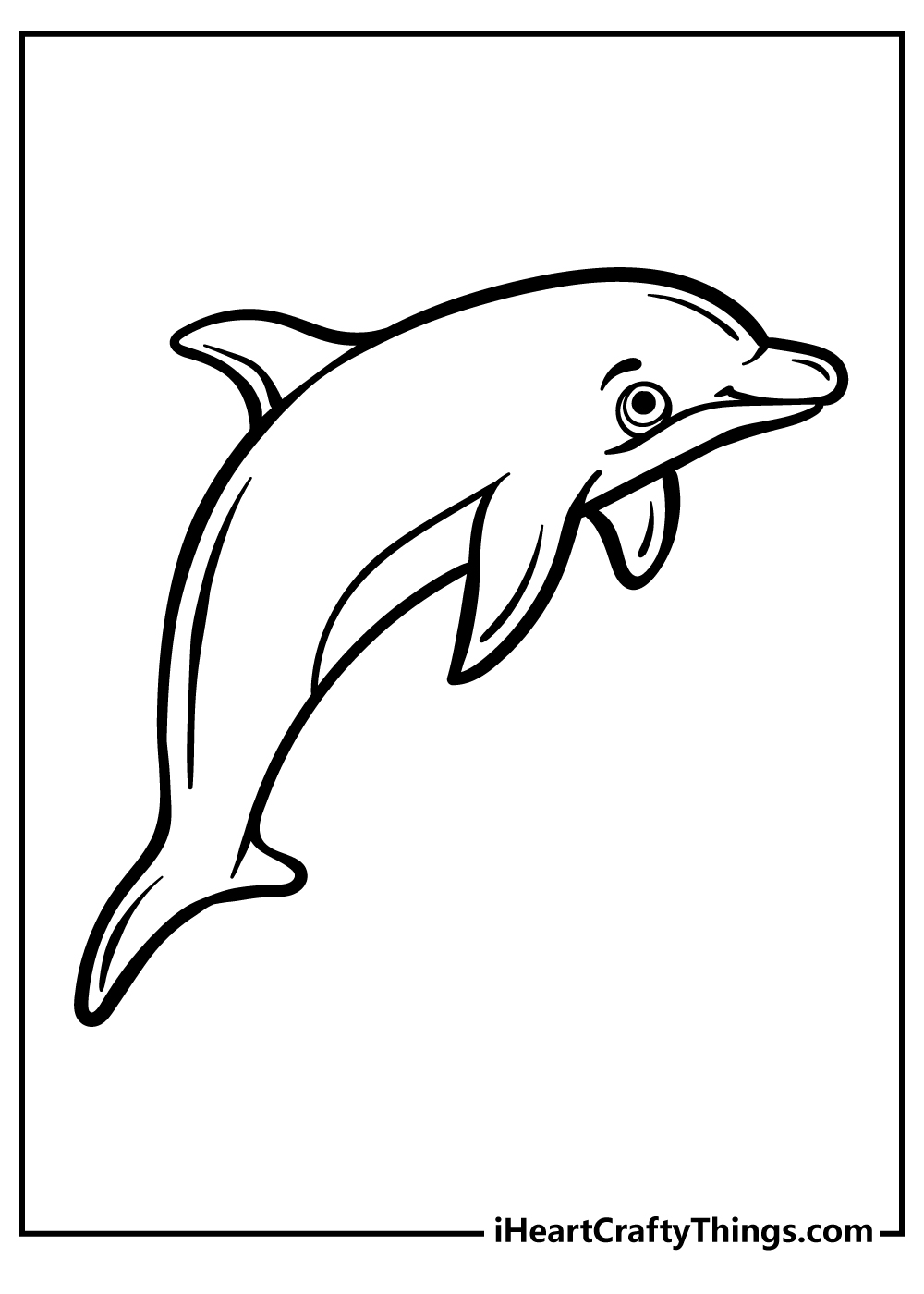 When we say that dolphins are extremely friendly, we mean they get along wonderfully with both humans and other marine species.
In fact, many dolphins team up with fish so they can play along, just like our friend here does.
You can learn a thing or two about friendship by watching dolphins play with their fellow aquatic creatures.
And if you want to have a bit of fun yourself, we invite you to use your imagination and color this heartwarming dolphin coloring page. We bet you're going to have a great time as well.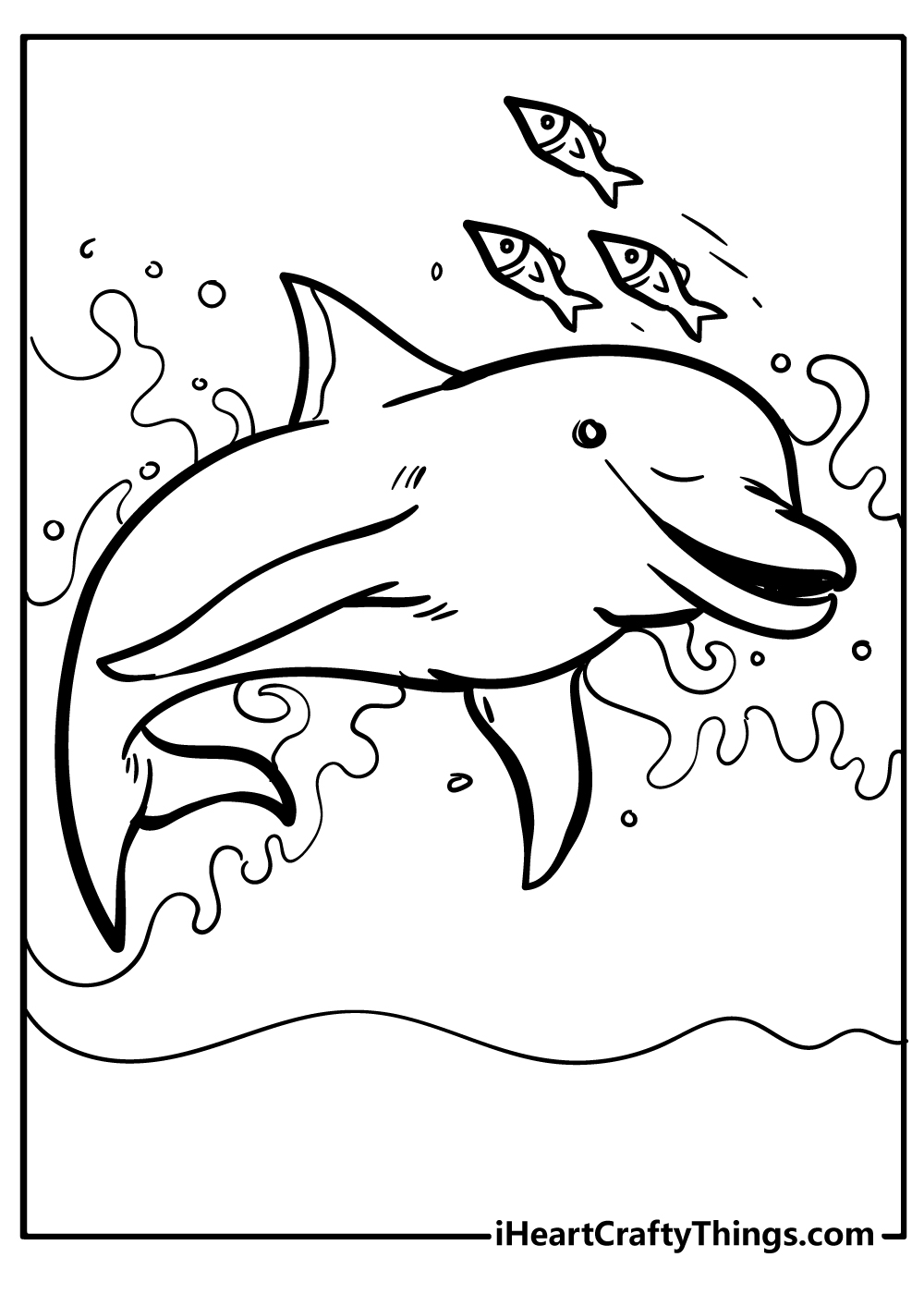 Because dolphins have a habit of playing tricks and making all sorts of funny acrobatics, people tend to forget they can be graceful as well.
With their sleek bodies and fast swimming speed, dolphins can be as graceful as a gazelle.
It's enough to watch them swim in their natural habitat to realize how agile and elegant they can be.
If you haven't had the chance to see dolphins in real life yet, this cute dolphin printable will help you get an idea of their qualities while you're coloring.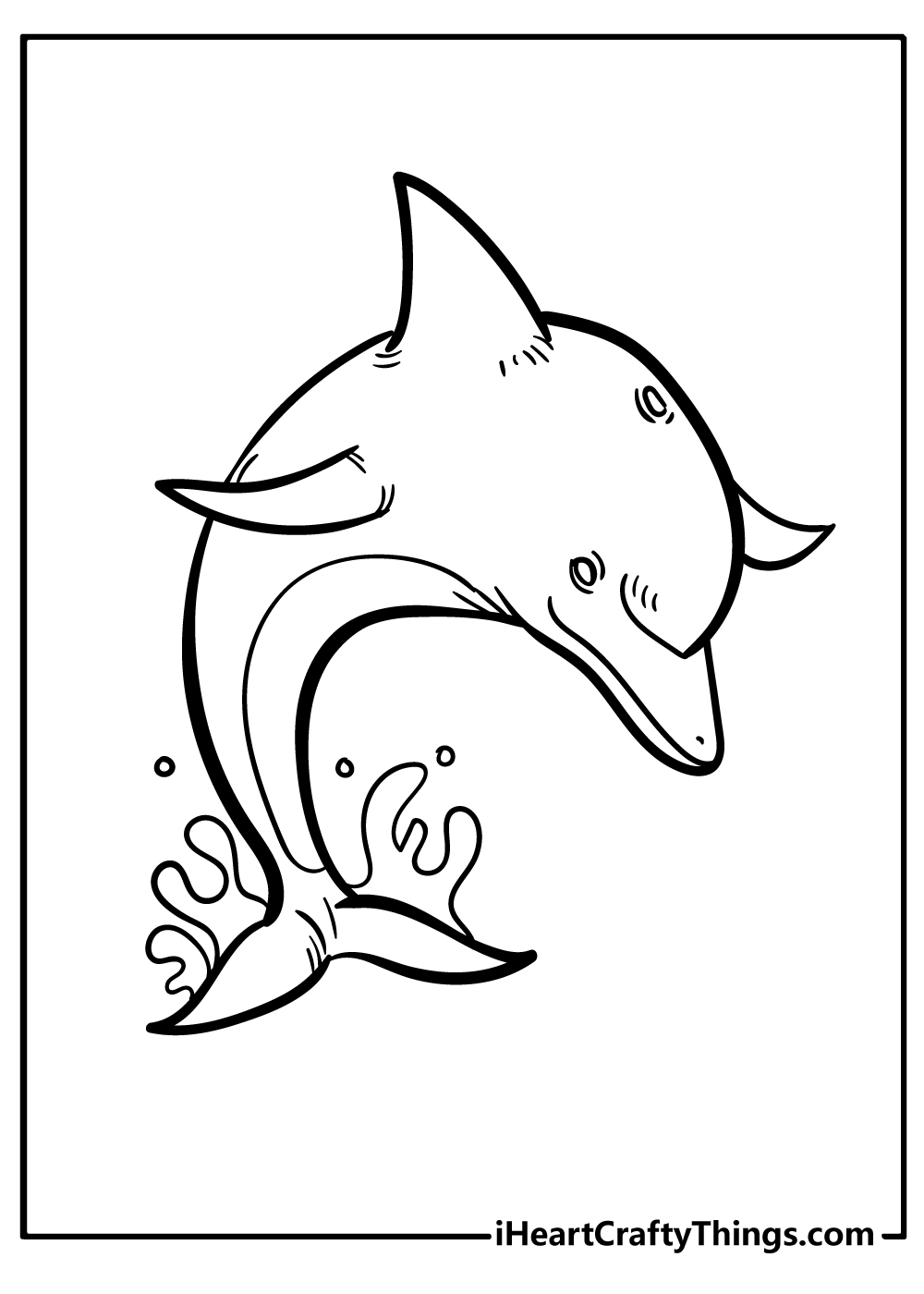 How cute is this next dolphin that we have for you? It is looking so happy as it has a lot of fun in this scene.
There are two circles above it, and there are a few ways you could choose to interpret these shapes.
One could be that they are large bubbles that the dolphin is blowing. Another one would be to color them to look like beach balls that the dolphin is having fun headbutting.
What will you choose for the circles in this image?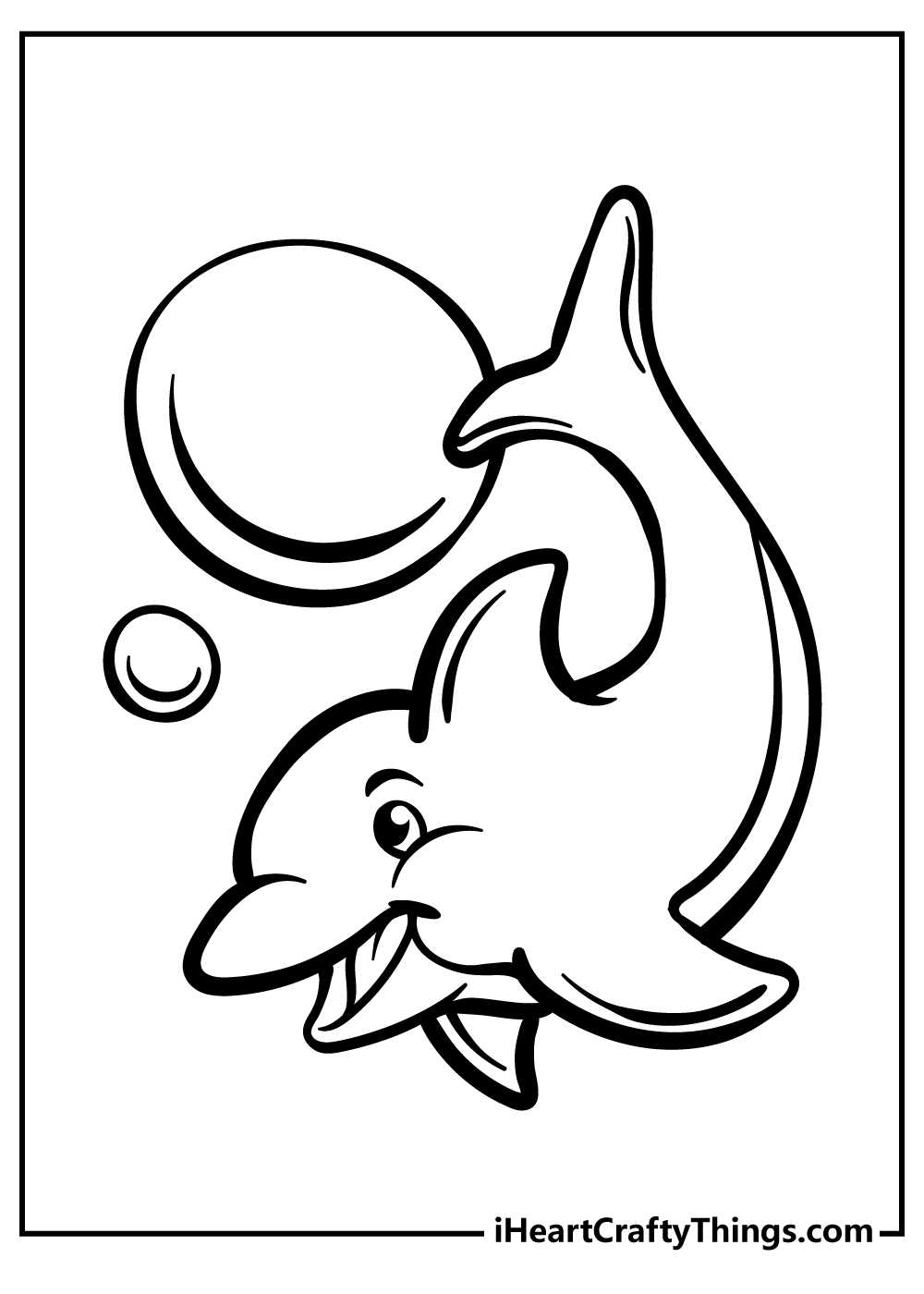 This next image that we have is sure to melt your heart! We have an adorable scene of a mother dolphin with her baby, and they are sharing a loving embrace.
Dolphins are very intelligent beings that share many of the emotions that we humans have, and they have strong bonds amongst themselves.
For this page, we would use some warmer colors to create a more stylistic look that also illustrates the love that is being shown in this picture. Do you think you will also go for something like that?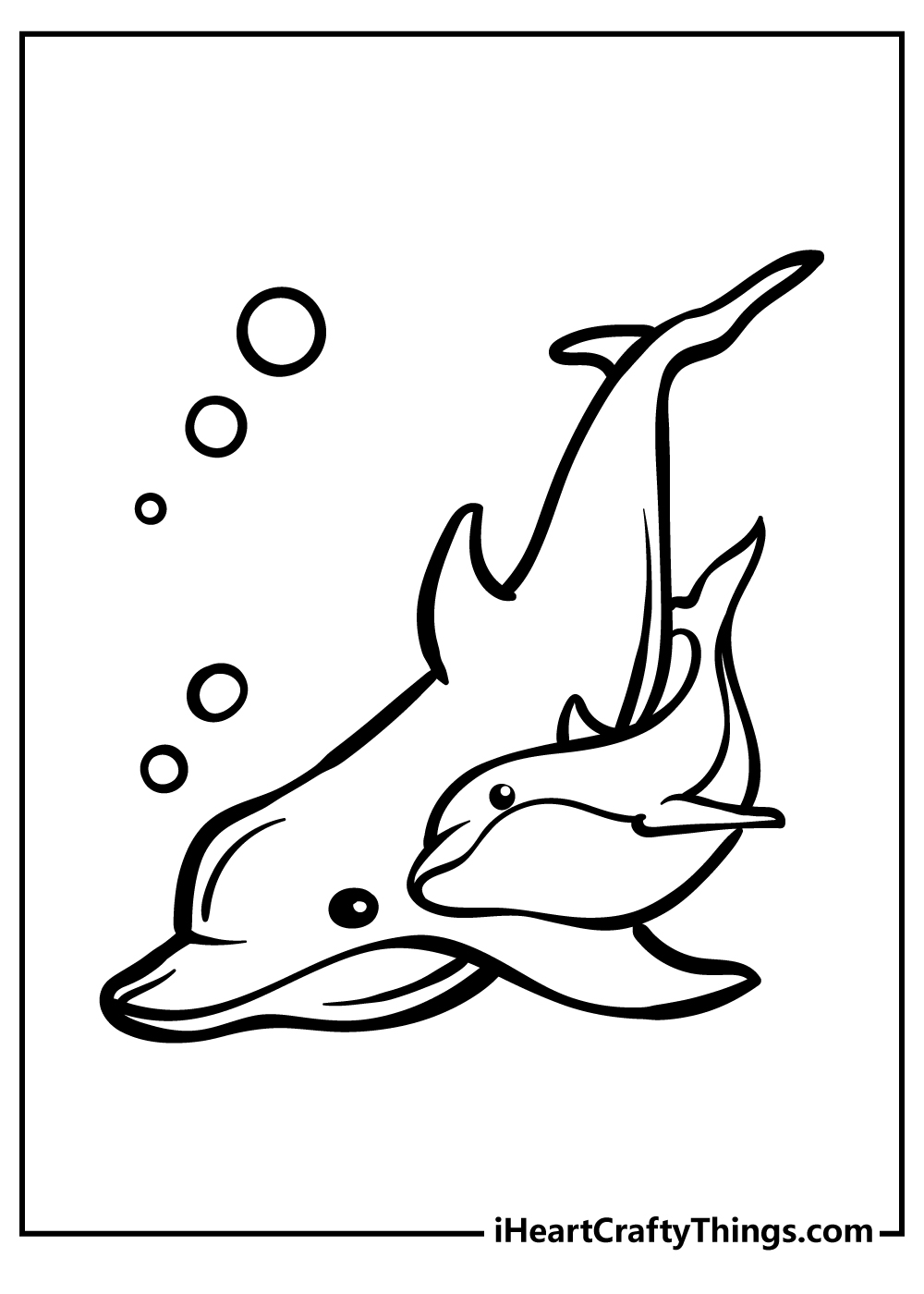 Dolphins are the happiest when they're in their natural habitat, free to swim in seas, oceans, and rivers.
It's true it can be difficult to spot them outside of an aquarium, but you never know when they're going to make an appearance.
This dolphin here decided to put on a little spontaneous show for you, so you don't have to chase around looking for him.
Flips, twirls, and jumps are a dolphin's specialty, and they always perform them with a smile on their face. We hope this whimsical dolphin coloring page can put a smile on your face too.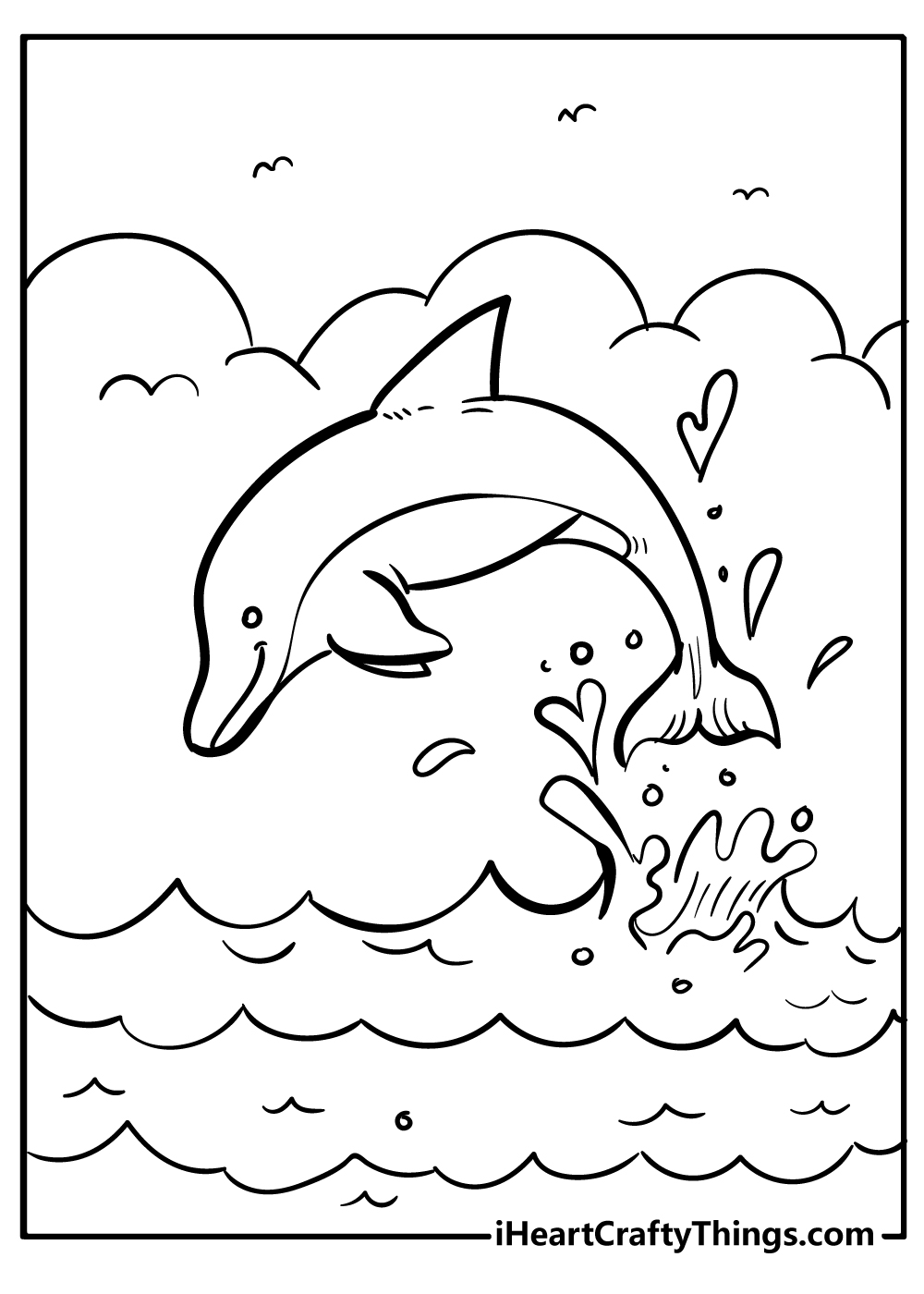 Do you know what else dolphins are great at? Playing with all sorts of toys, and they're especially fond of balls.
All dolphins, even the ones that live in the wild, have natural skills when it comes to playing with balls.
So don't be surprised if you see a dolphin balancing a ball on its nose like in this picture here. They really don't care what size or color the ball is.
But you can make things a bit more interesting by coloring the toy and the surroundings on this beautiful dolphin sheet.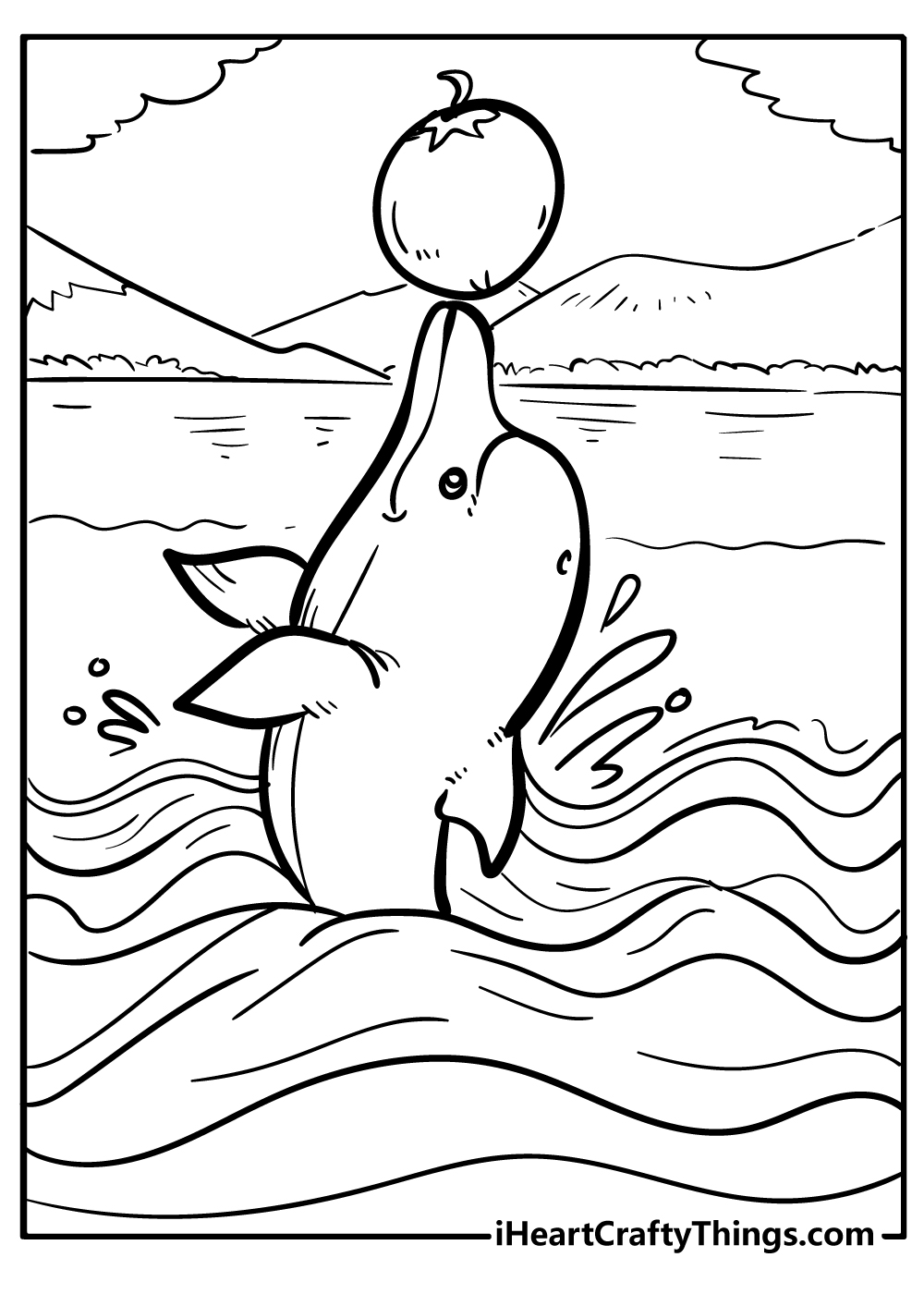 We have another cute dolphin coloring printable for you to enjoy here, and it has another happy dolphin leaping across!
We've mentioned a few times that you can draw a background setting for images like this, but there are other ways to fill the background.
You could just color some solid color for the background, and that would look really great!
Or, you could draw some shapes, patterns or even words that you can then color with a wide range of colors to create a really vibrant picture.
There are many options, so let your creativity take over and see where it leads you!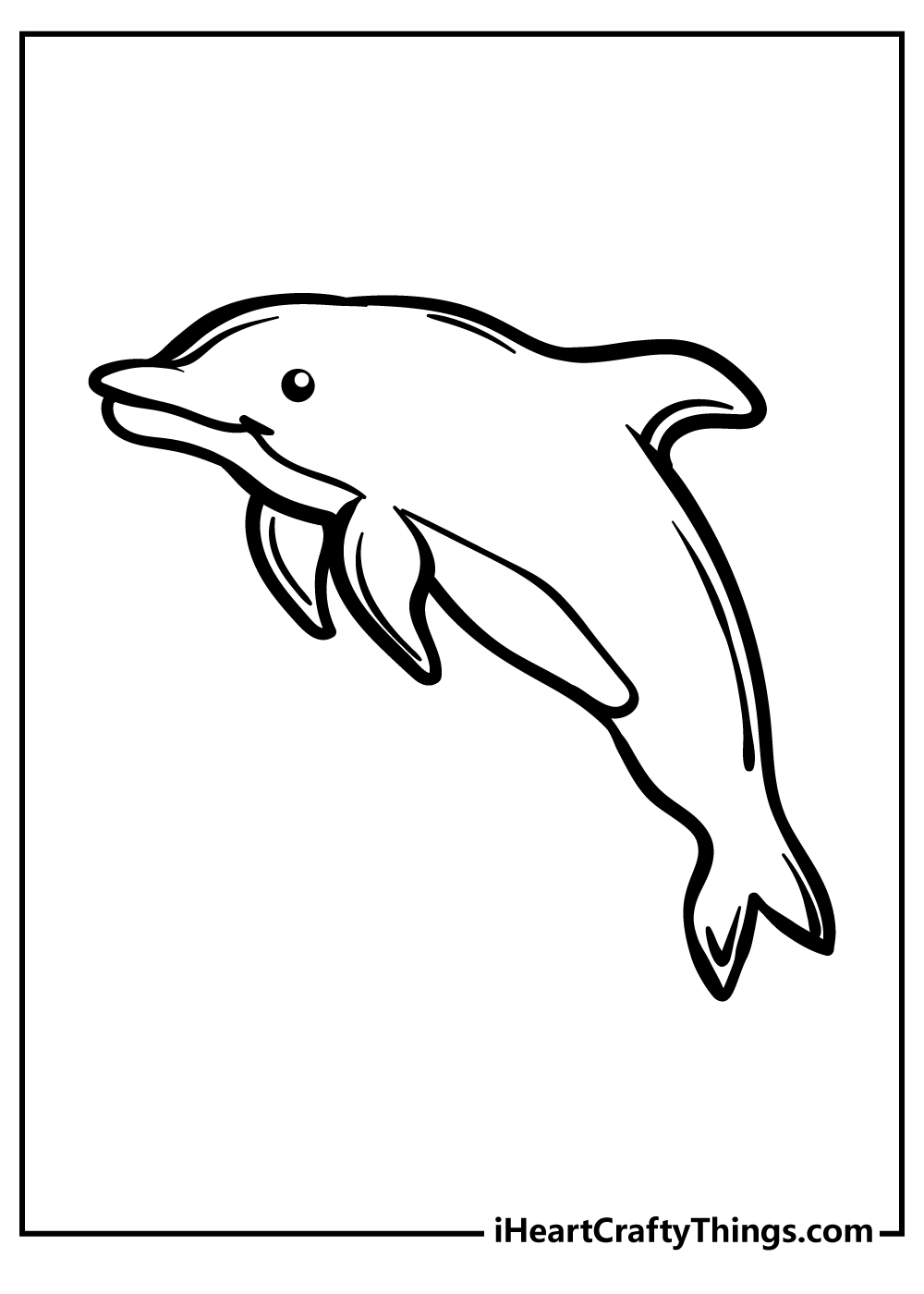 Everyone can look good with a fashion accessory every now and then, and this cute dolphin is showing that it can be true for sea creatures as well!
This dolphin is wearing a starfish as if it were a hat or a hairband, and it makes the already cute animal look even more adorable!
Starfish can also come in pretty much any colors you can think of, so it provides an opportunity for you to add some of your favorite colors to the image.
How will you color this dolphin's starfish accessory?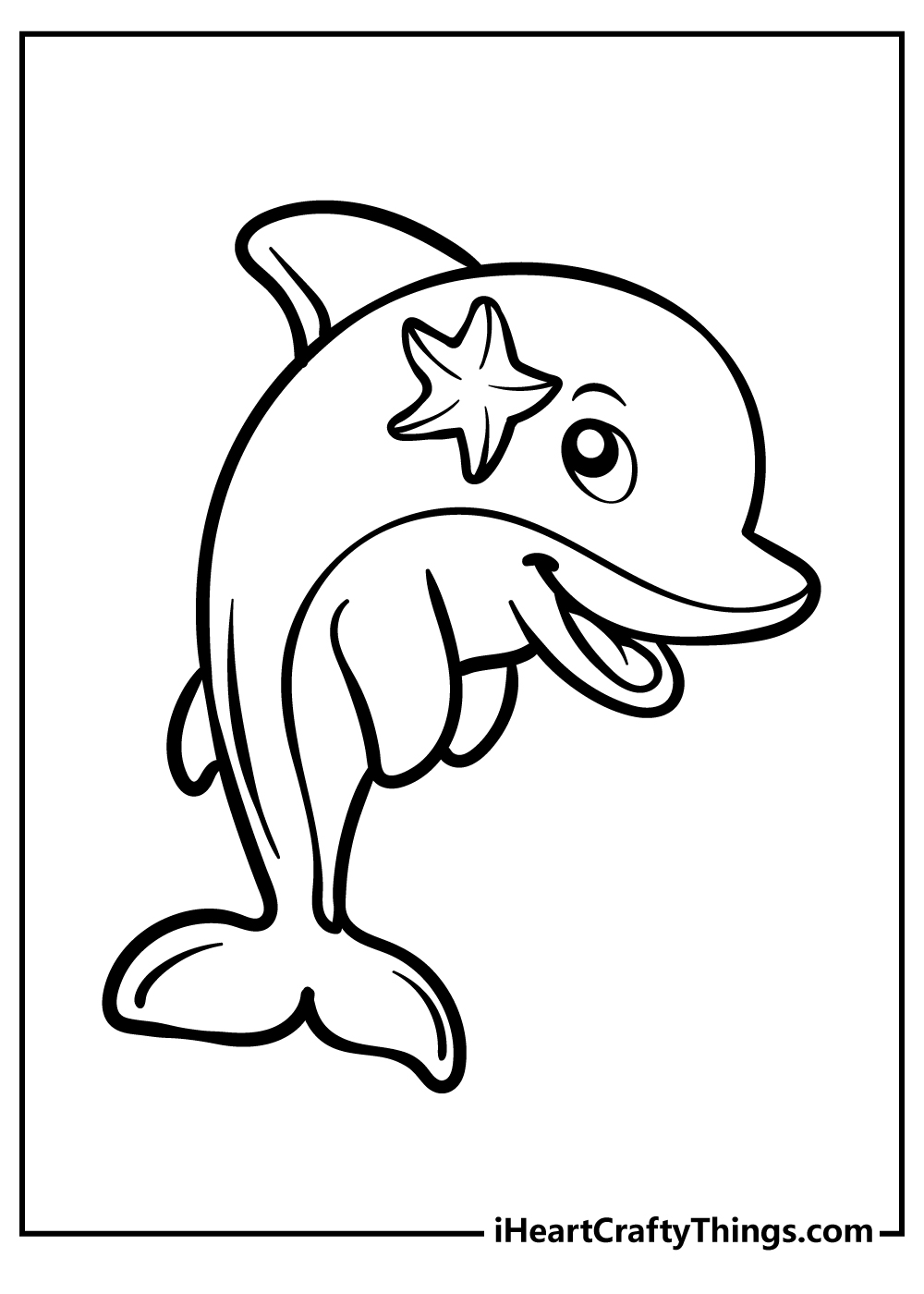 Wondering what dolphins do when they're not performing tricks for curious viewers?
Well, they love to spend time with each other, search for food and explore the waters together, constantly looking for new adventures.
Here we have two cute dolphins that seem to be on their way to fulfill a very important mission. What can that mission be?
We think you might find out once you start coloring this intriguing sheet and unravel the mystery one color at a time.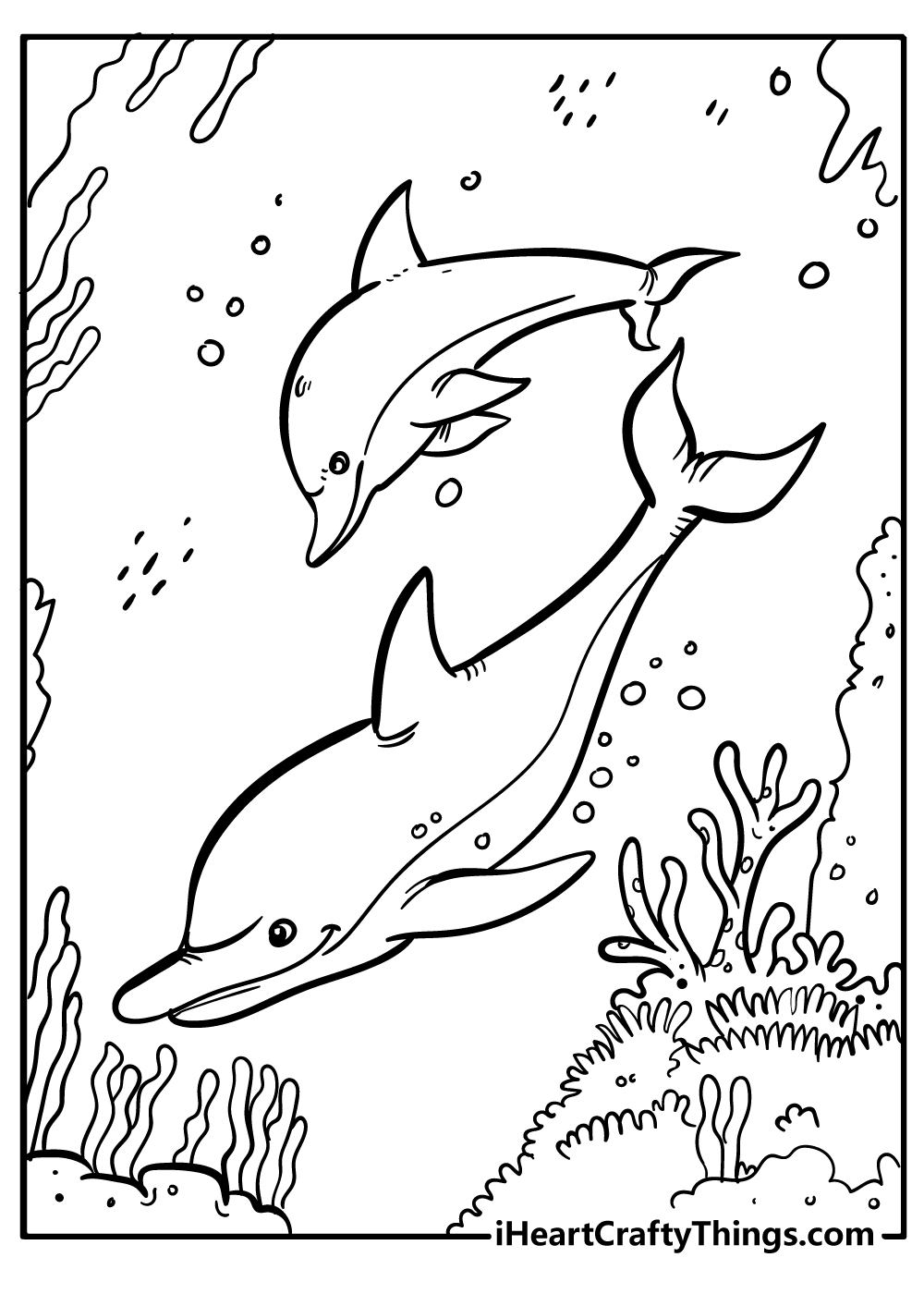 There are many wonderful treasures waiting for you at the bottom of the sea and oceans.
If you need some partners to help you with your explorations, dolphins are always ready to accompany you, no matter where your quest leads.
These two brave dolphins seem to be quite curious, so they're perfect for helping you out.
You can help them yourself by coloring their wonderful underwater world and all the amazing creatures that live down there.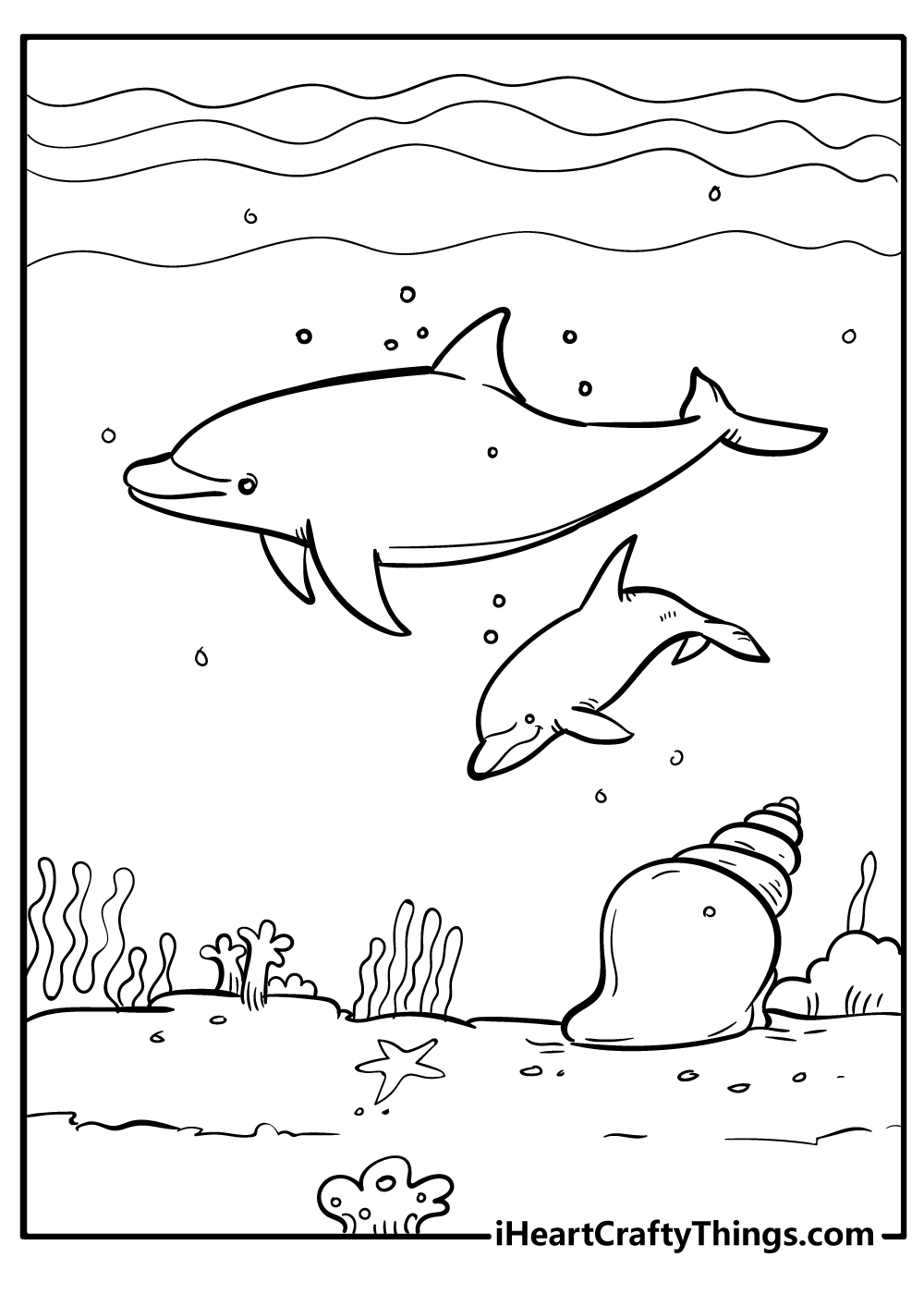 One dolphin having fun is a great sight to see, but seeing two having fun is even better! This wonderful page shows two dolphins playing and looking very happy.
It's an image that gives off a happy feeling already, but you could also add some more details to make it even more fun.
Maybe you could draw a beachball or some hoops for the dolphins to be interacting with.
If you're feeling very creative, then maybe you could make it a real dolphin party by drawing some more friends for them!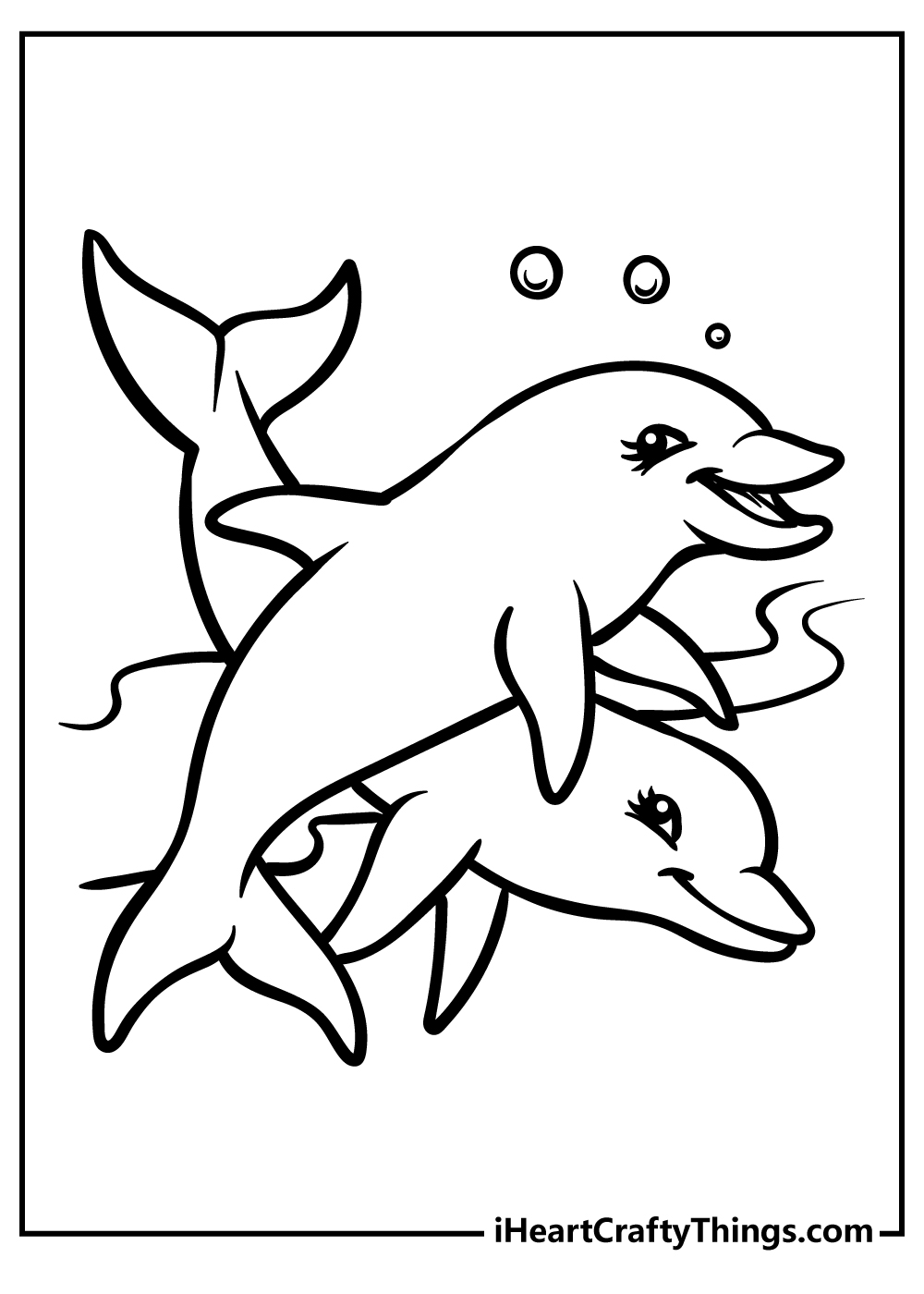 This dolphin coloring page has a really interesting design for the background. There are some wavy lines, and these make it look like this dolphin is swimming through some currents.
We think that if we were to color this page, we would try to use a unique color for every layer created by the wavy lines.
That may result in a less realistic look, but that is not necessarily a bad thing to aim for! Do you think you will also go for an idea like that, or will you try to make this image look more realistic?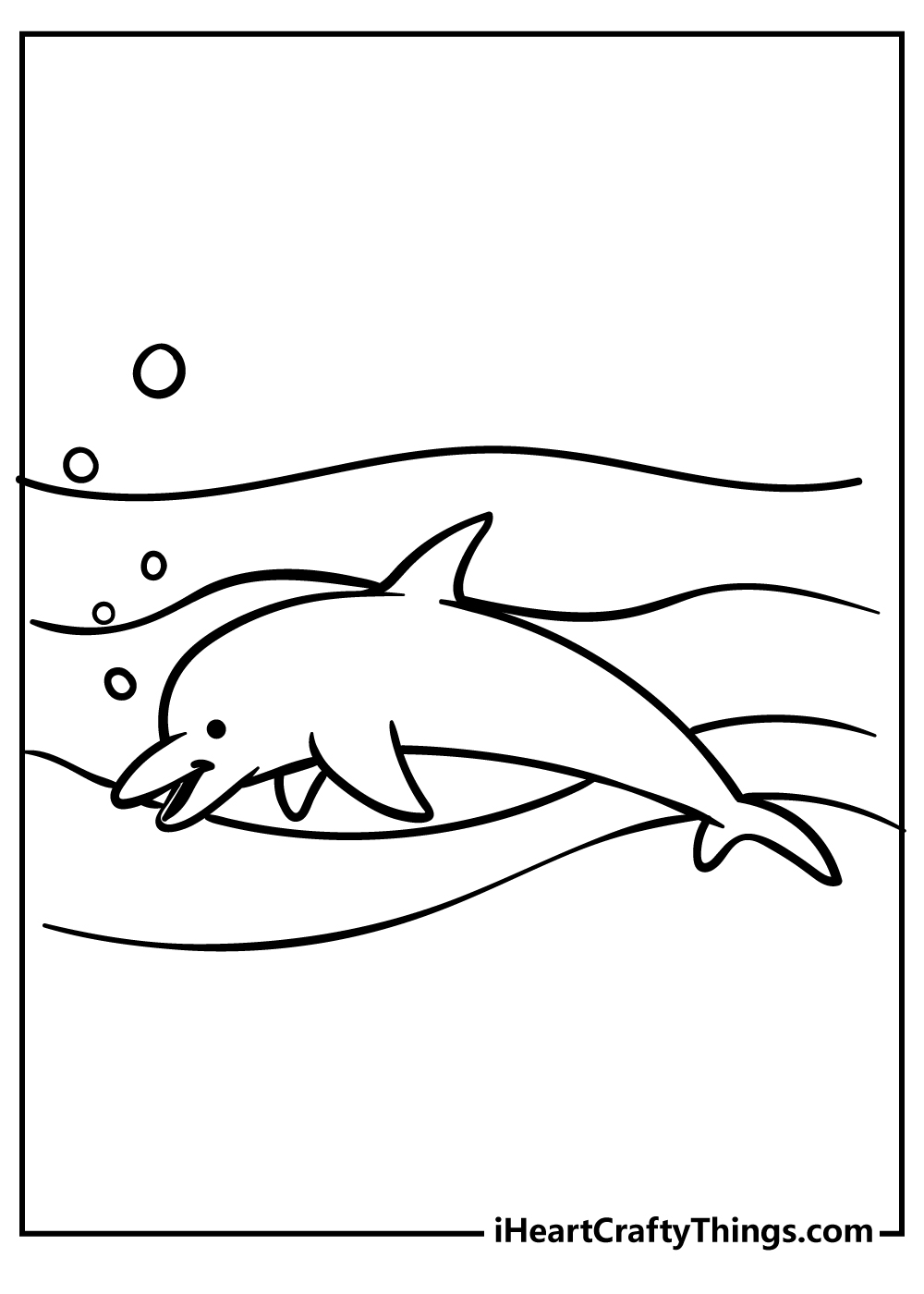 Dolphins are sociable, caring, and very loyal. When it comes to making new friends, they can be just as skilled as humans.
They are very sensitive and compassionate, so they can make really great friends.
This picture of two dolphins forming a heart shape shows their deeply emotional and sensitive nature.
If you love dolphins just as much as we do, you'll surely have lots of fun coloring this wonderful dolphin printable.