The sea world is a fascinating thing for little kids with the presence of many fishes and other life forms. It's a colorful world filled with interesting creatures that tickle the interest of children.
Among the many sea animals famous among kids is the octopus. Octopuses are known for their round bodies and eight long arms. They are often regarded as "Monsters of the Deep" as they live in deep, dark waters. Octopuses are also known to be the most intelligent in the invertebrate's family, to which it belongs.
It's time to take out the colors as we take on this interesting underwater creature for another set of our free coloring pages.
Our Octopus Coloring Pages will highlight the kids' fascination with octopuses. This coloring activity will also a great avenue to teach kids about many interesting facts about this animal.
REMEMBER: You can get the COMPLETE set of these coloring pages >> HERE
10 Brand New Octopus Coloring Pages – Free to Print and Color
This smiling octopus is the ideal Octopus coloring page for kids, especially those who are just beginning to color.
It's an underwater octopus showing off its tentacles in the water. It's a simple illustration with basic outlines, making it easy for kids to color.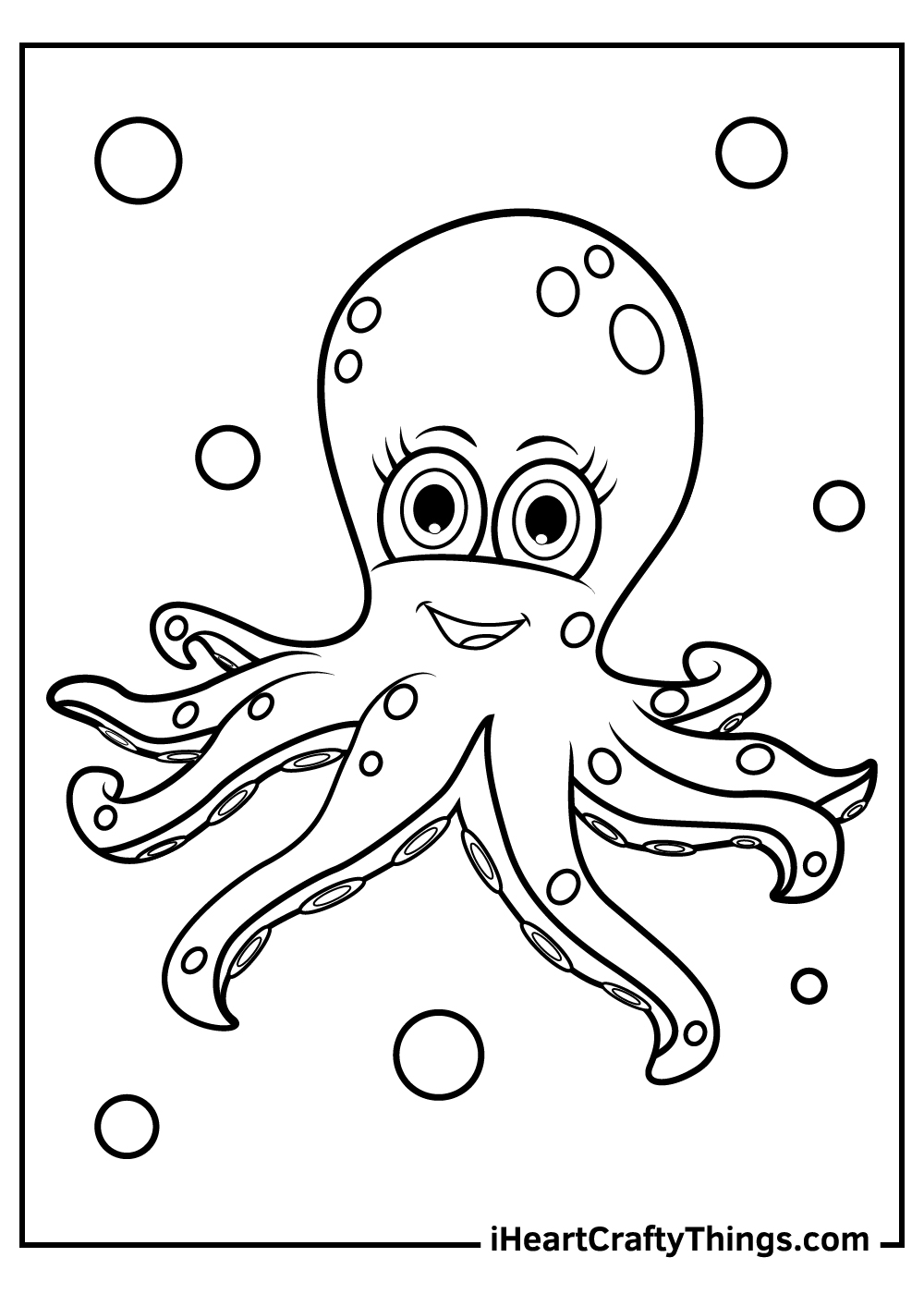 An octopus can change its color to blend in the environment wherever they go. It's a trait that they use to hunt for food or to stay hidden when an enemy is nearby.
The baby octopus on this free octopus printable has a cute bulbous head with its small tentacles swaying in the water. It is calmly sitting on the ocean floor with many seaweeds behind.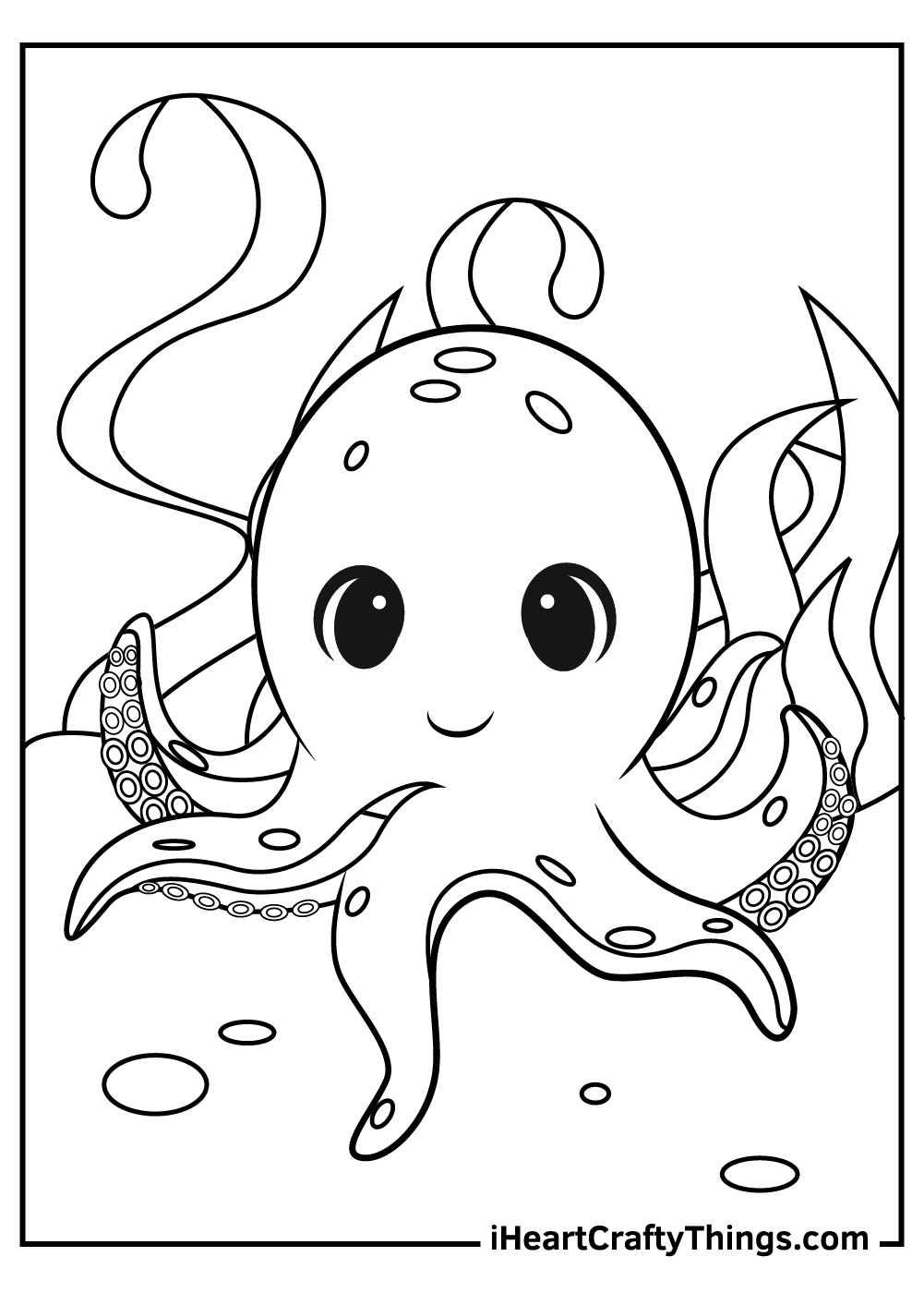 What looks like an old Octopus is staring with its big, black eyes. Its tentacles, or arms, are waving with the many coral reefs at the back.
The suctions on its tentacles are powerful that when they search for food (their favorites are shrimps, crabs, and lobsters), they drop down from above using the tentacles and pull it into their mouth.
This octopus coloring page will help kids focus on the many details when they color.
REMEMBER: You can get the COMPLETE set of these coloring pages >> HERE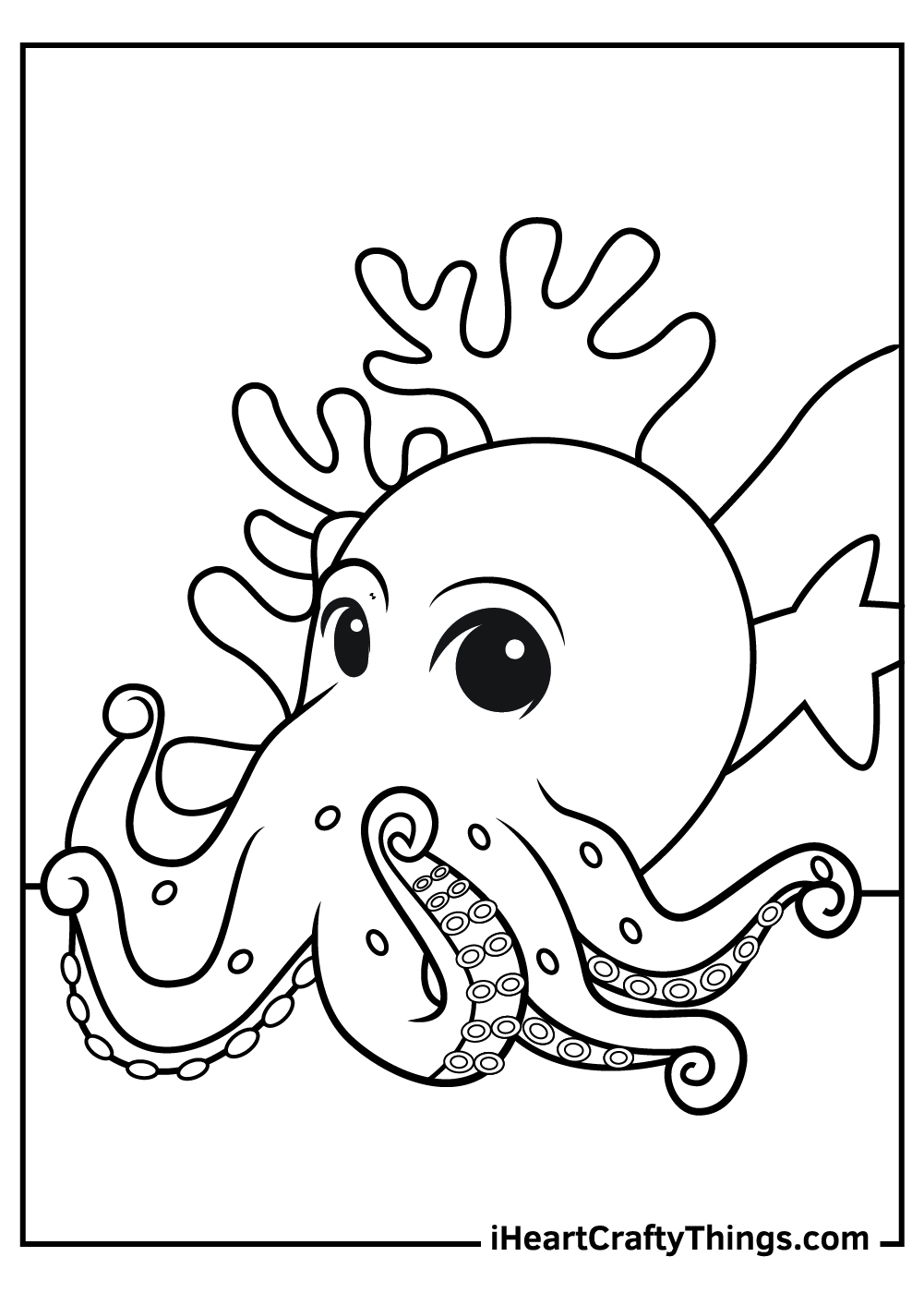 A female octopus can lay up to 400,000 eggs, waiting for about a month for the eggs to hatch.
During this time, female octopuses fiercely guard their eggs.
It's a pretty, smiling Octopus girl on this printable. Kids can use their imagination to determine colors they'd want for this image or to create other color combination patterns.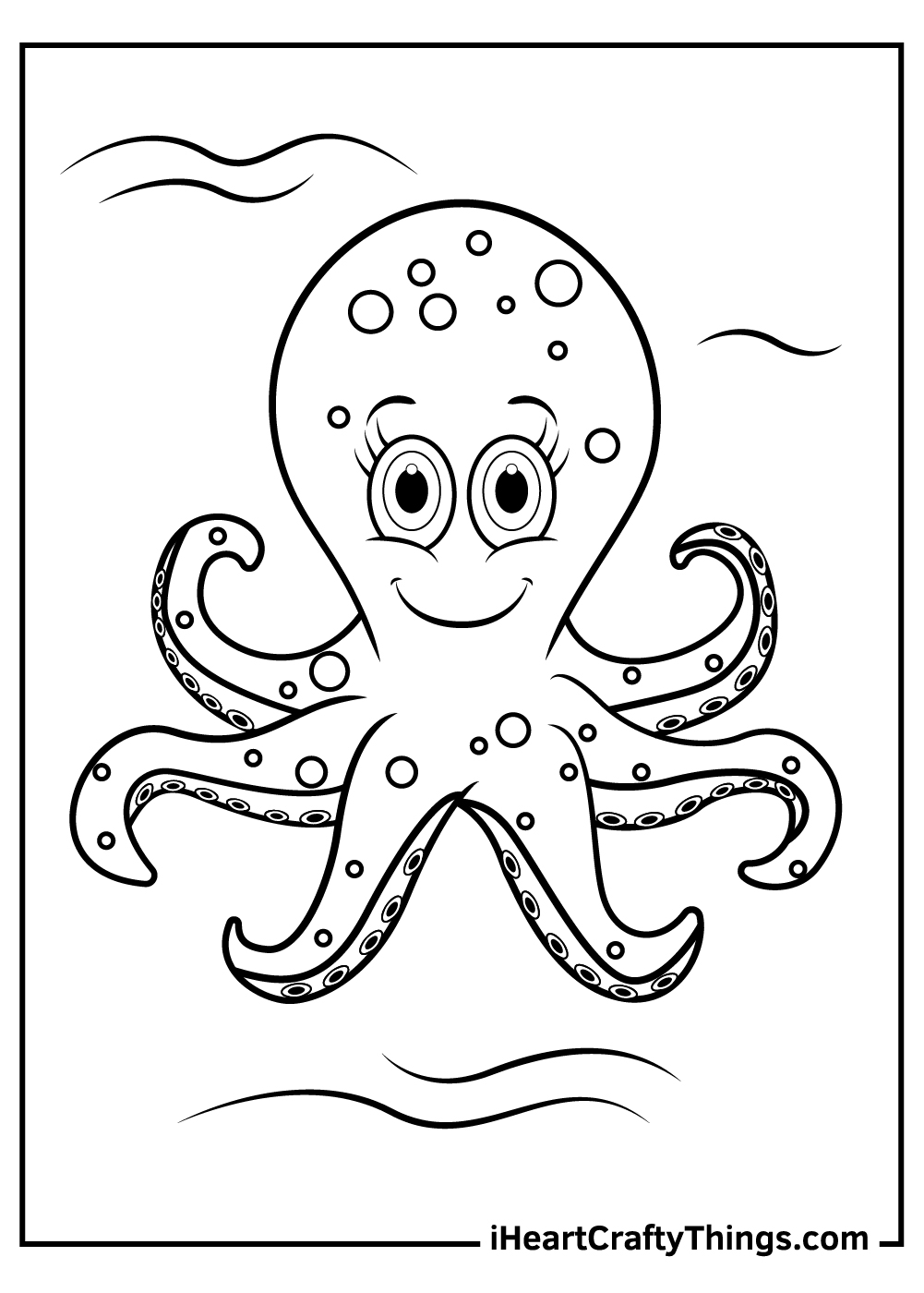 This smiling octopus is proudly showing off its tentacles. An interesting fact about their bodies is when they do their famous backward swim, they blast water through the muscular tube in their bodies called a siphon.
Aside from that, an octopus has three hearts and blue blood.
With the many details incorporated in our octopus coloring pages, kids will be kept occupied.
REMEMBER: You can get the COMPLETE set of these coloring pages >> HERE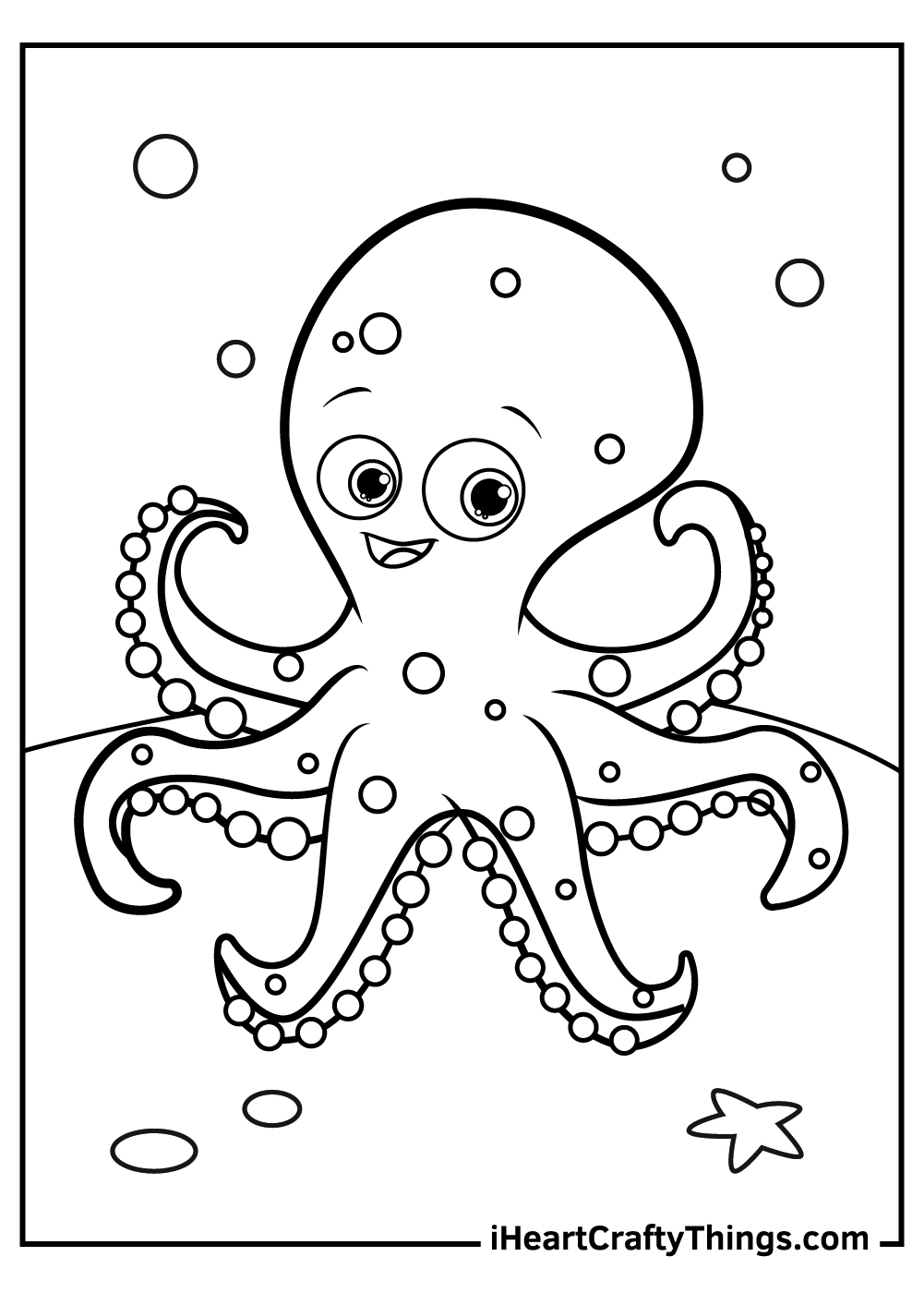 A pirate octopus? Yes, please!
Another fun and cool image is this octopus with a pirate hat looking not so pleased. Octopuses, if threatened, shoot an inky fluid that darkens the water. This allows them to confuse the aggressor, temporarily blinding it. The ink also masks the smell of the octopus, allowing them to escape. It's one way for them to survive.
This pirate octopus printable is ideal for kids who are just starting on coloring with its simple outlines.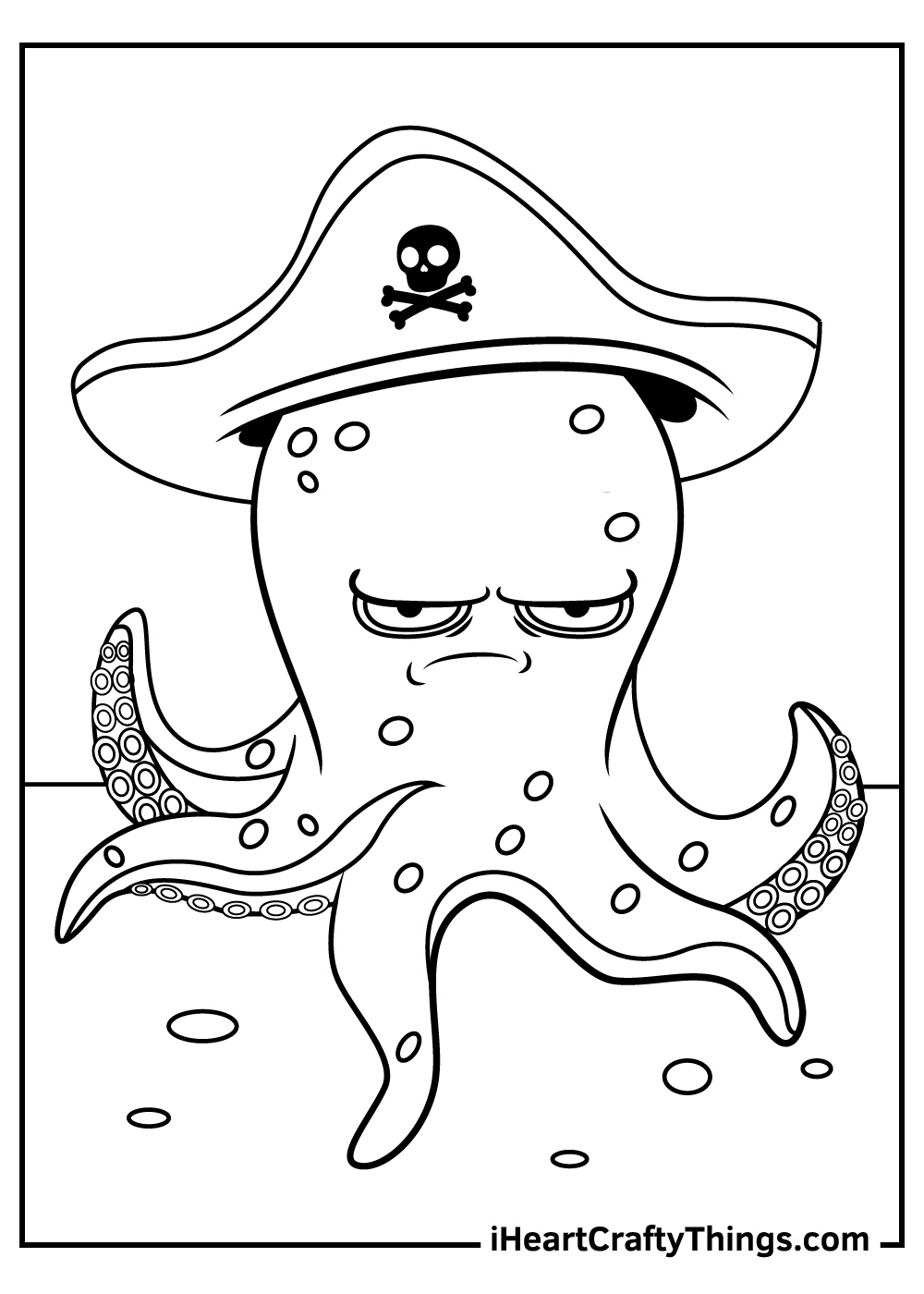 Another easy and fun octopus coloring page for kids is this cute grinning baby octopus.
Octopuses can grow up to 4.3 ft and can weigh up to 22 pounds. Although they live very shortly, about 1 to 2 years, there are known to be 300 species of them.
This baby octopus is moving across the ocean floor.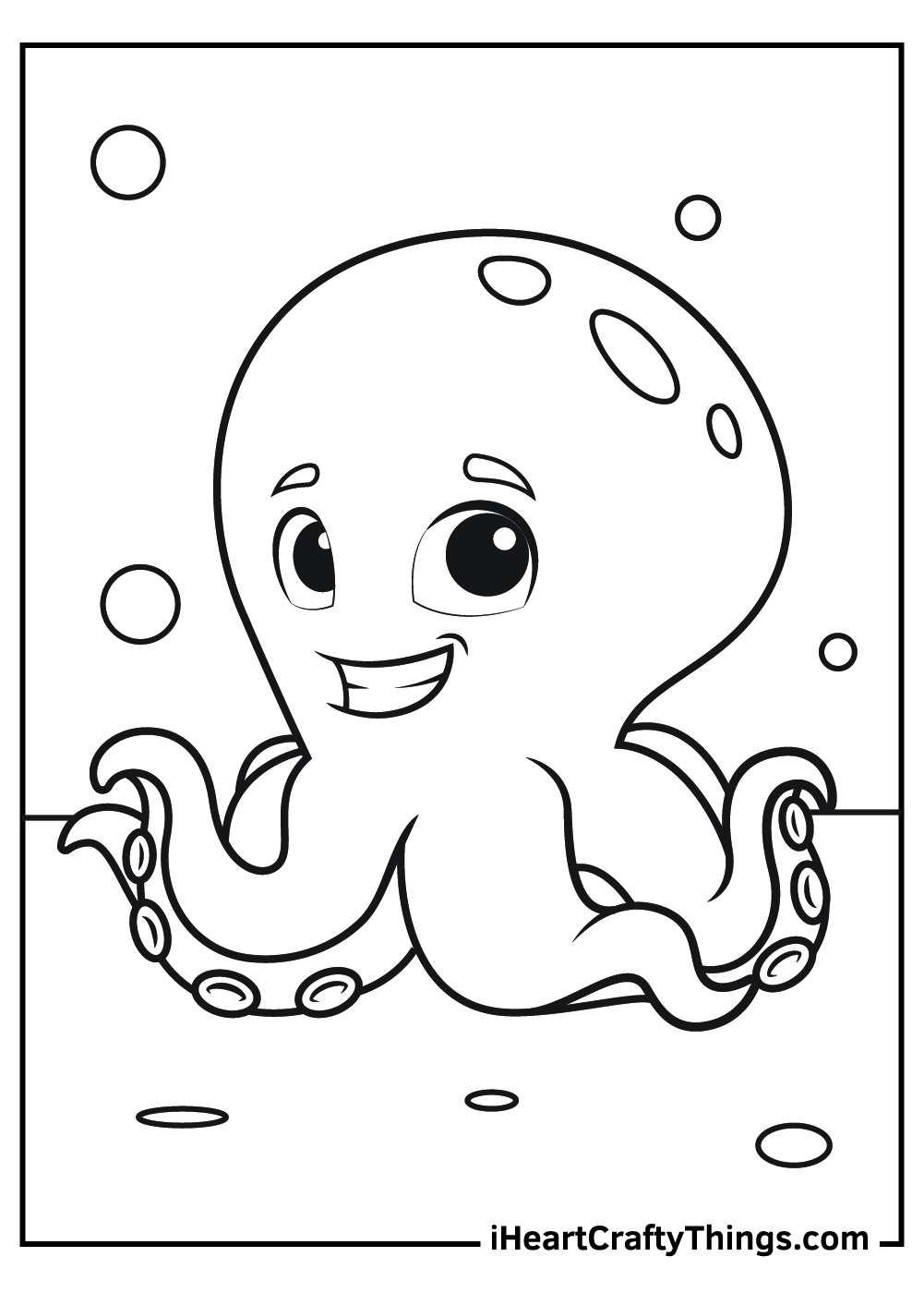 Even though octopuses are solitary creatures that live alone in dens made from rocks, who says they can't have fun?
This groovy octopus from our octopus coloring pages collection is having the time of its life! It's probably summer underwater. It is holding a cocktail drink with its groovy shades on and is having a good time.
If you want to challenge a kid's ability to mix and match colors, use download and print this octopus coloring page. It's an easy image to color but the groovy, party vibes make it a little bit more challenging.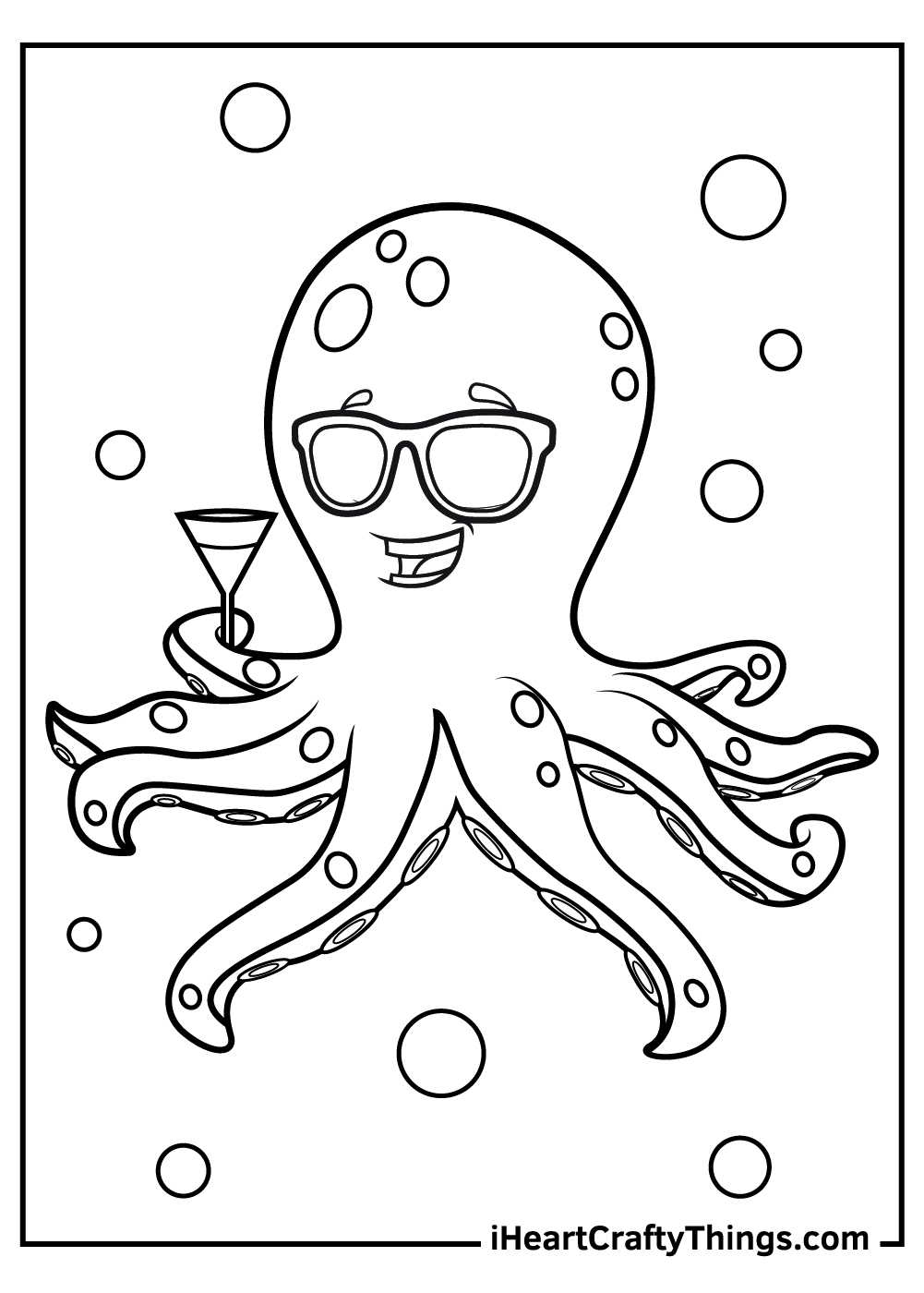 Another easy illustration from the octopus coloring pages is this mischievous octopus.
The naughty smile and eyes of this octopus depict the octopus' characteristic of being great problem-solvers as they can often figure out a way to always escape when caught.
The octopus is moving its arms in a very proud way. Probably due to the reason that its arms have a mind on their own – having two-thirds of its neurons in its arms, making its arms solve things on its own, like opening a shellfish while his other arms are searching for food elsewhere.
REMEMBER: You can get the COMPLETE set of these coloring pages >> HERE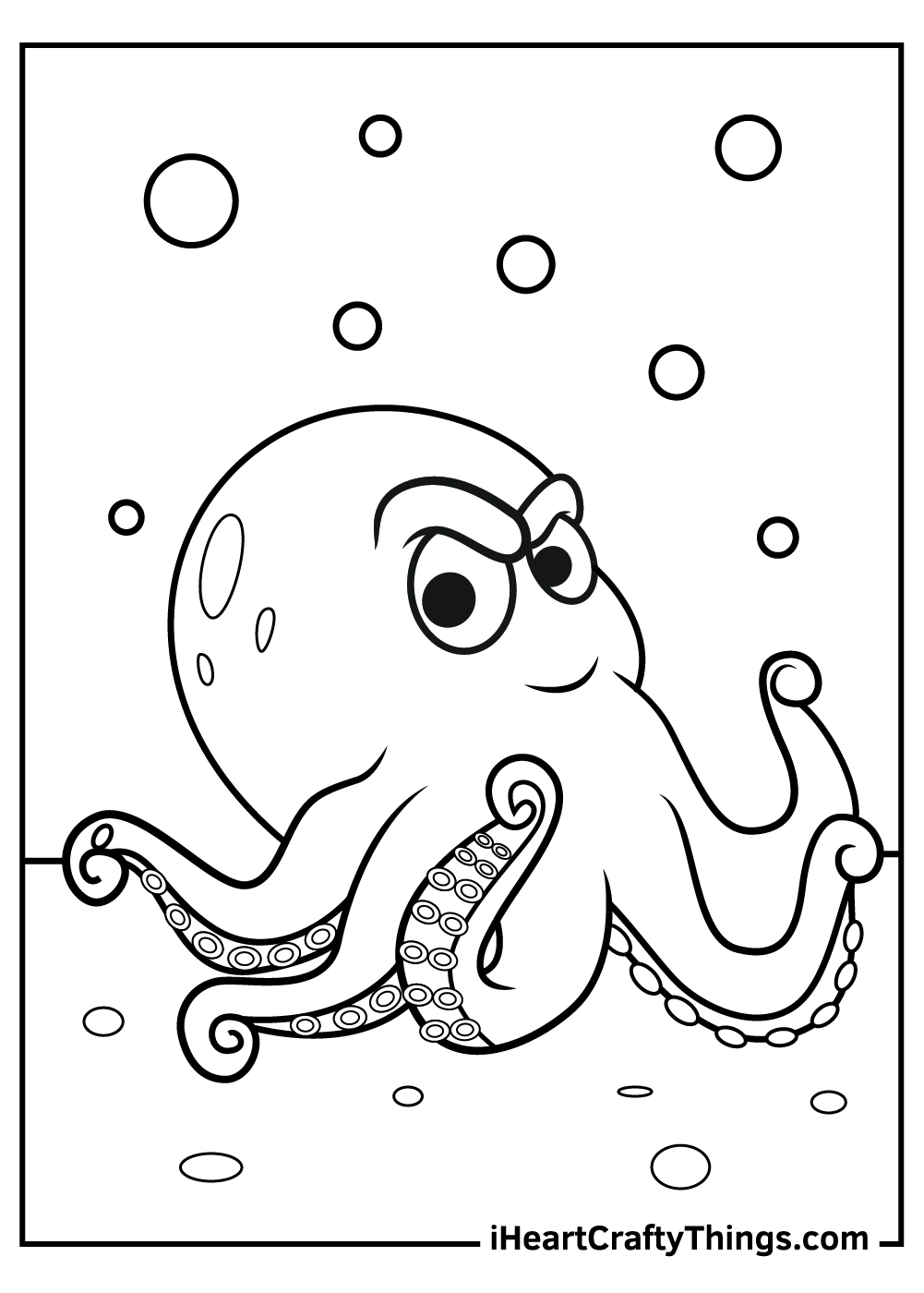 The last page of our octopus coloring page for kids will leave a lasting impression on any kid.
This pirate octopus is cute and easy to color with its simple outlines. The pirate hat and hook make it very appealing to kids. It's fun, cute, and truly memorable!
What colors do you think will work on this cute printable?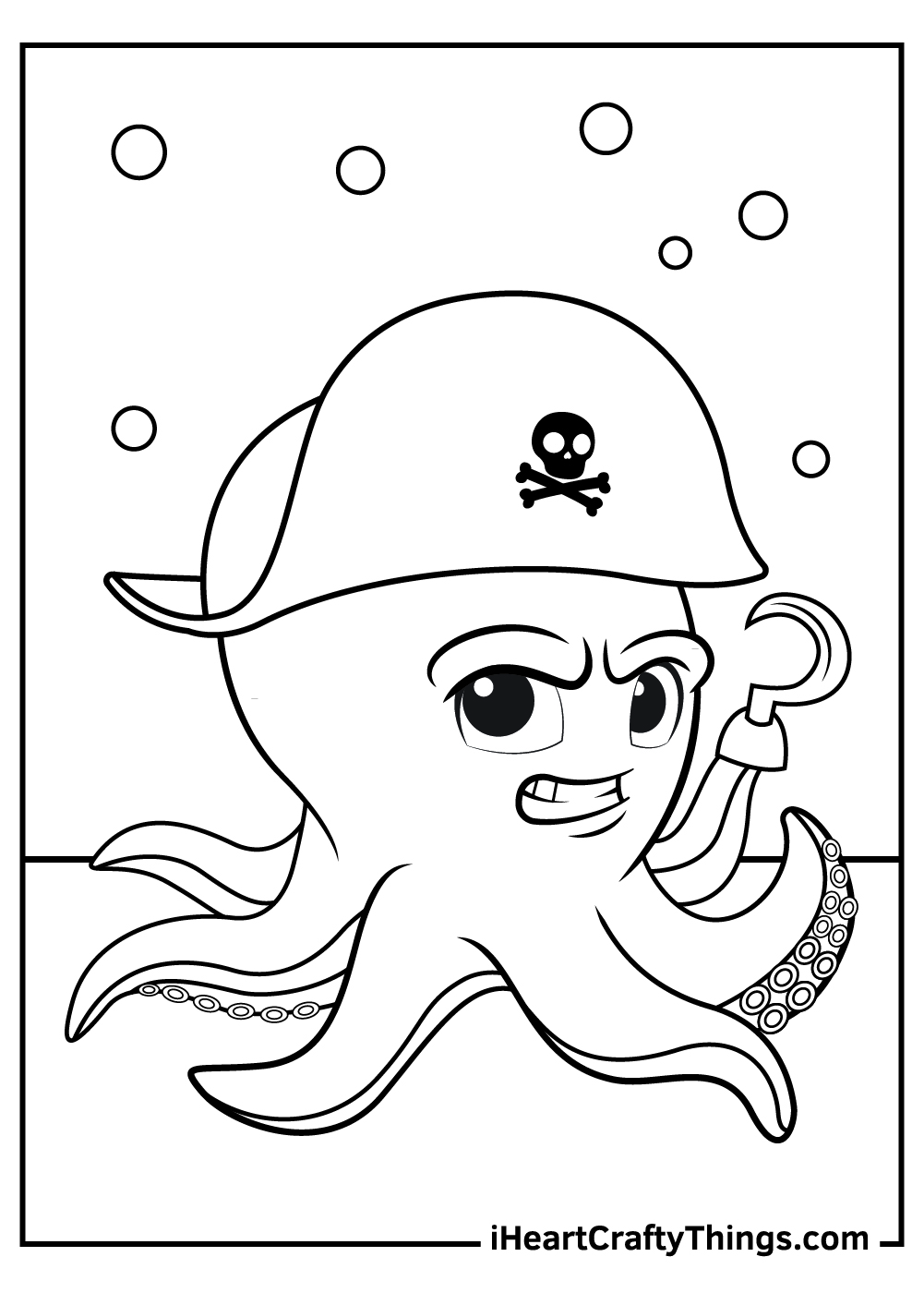 Octopus Coloring Pages – Simple and Easy Free Printables
Octopuses are indeed very interesting sea creatures, and they are enjoyable to look at especially to kids. Their signature looks of the soft rounded body with eight long flexible arms make it easy for little kids to remember them.
Our Octopus coloring pages are something that will pique the interest and attention of any child. It's simple, fun to look at, and easy to color! It also contains different shapes and details that kids who are starting to color can easily distinguish and color.
This ocean-themed craft can be a good learning activity for kids and adults alike.
Feel free to download these free octopus printables to help kids develop their creativity and color recognition skills.
Share them with friends and family looking for a fun activity to do.
REMEMBER: You can get the COMPLETE set of these coloring pages >> HERE