Jellyfish are some of the most relaxing creatures to behold in the animal kingdom as they're always gently floating around slowly and generally taking it easy.
They also come in a wide variety of colors and types, with some even glowing in the dark and changing colors!
That means that you can use all manner of your favorite colors on these free jellyfish coloring pages for kids. These jellyfish printables would also be great to try out some water color paints on for a softer look.
These jellyfish coloring sheets are perfect for some underwater fun and a chance to use lots of cooler colors on these peaceful creatures. Or you could keep it bright, bold and luminescent for these jellyfish.
The only limit is your imagination! Once you've completed your favorite jellyfish coloring pages, please share them on our Facebook page for us to see and enjoy. We'd love to see you colorful jellyfish artworks!
REMEMBER: You can get the COMPLETE set of these coloring pages >> HERE
10 Brand New Jellyfish Coloring Pages – Free to Print and Color
Our first jellyfish coloring page shows a cute jellyfish having a great time under the sea. As well as the jellyfish itself, there are also some great background details for you to get creative with.
It would look really great to use distinct, vibrant colors for each individual background detail to compliment the colors of the jellyfish.
It's another bubbly underwater scene in this second jellyfish coloring sheet. If I were to color this in, I would use a combination of bright and more muted pinks for the jellyfish, and then have the colors reflect on the edges of the bubbles surrounding it.
What colors will you pick for this jellyfish printable?
REMEMBER: You can get the COMPLETE set of these coloring pages >> HERE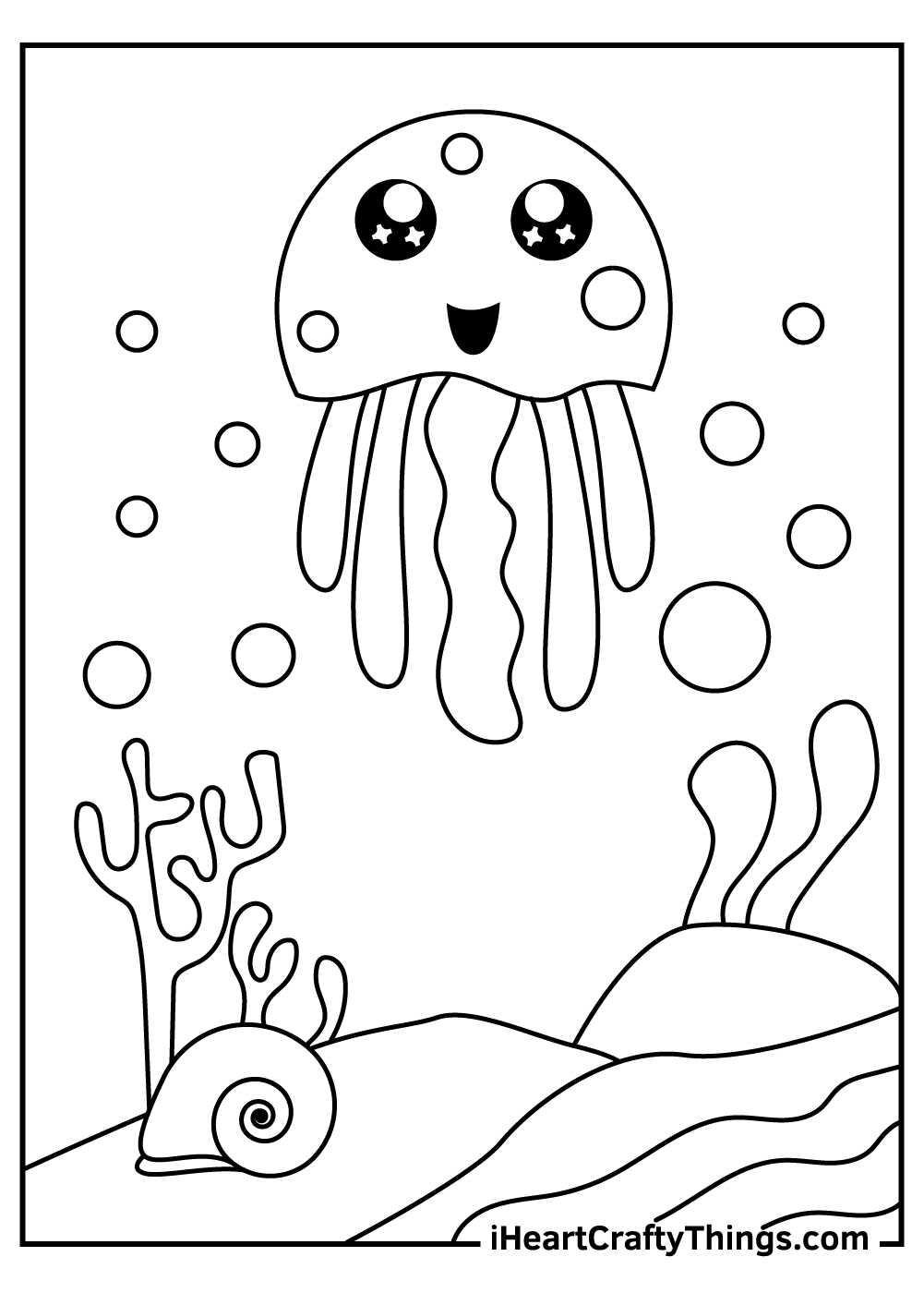 After some really cute little jellyfish in the previous jellyfish printables, we have a more realistic one for our third image. This jellyfish is also hanging out having a relaxing day under the sea.
The more realistic style gives you a chance to use more subtle colors for this jellyfish coloring page, but you also could use some colored pens to add some luminous details, as many jellyfish do have bright glow in the dark patterns on them and that would be a great way to show off that cool feature with color.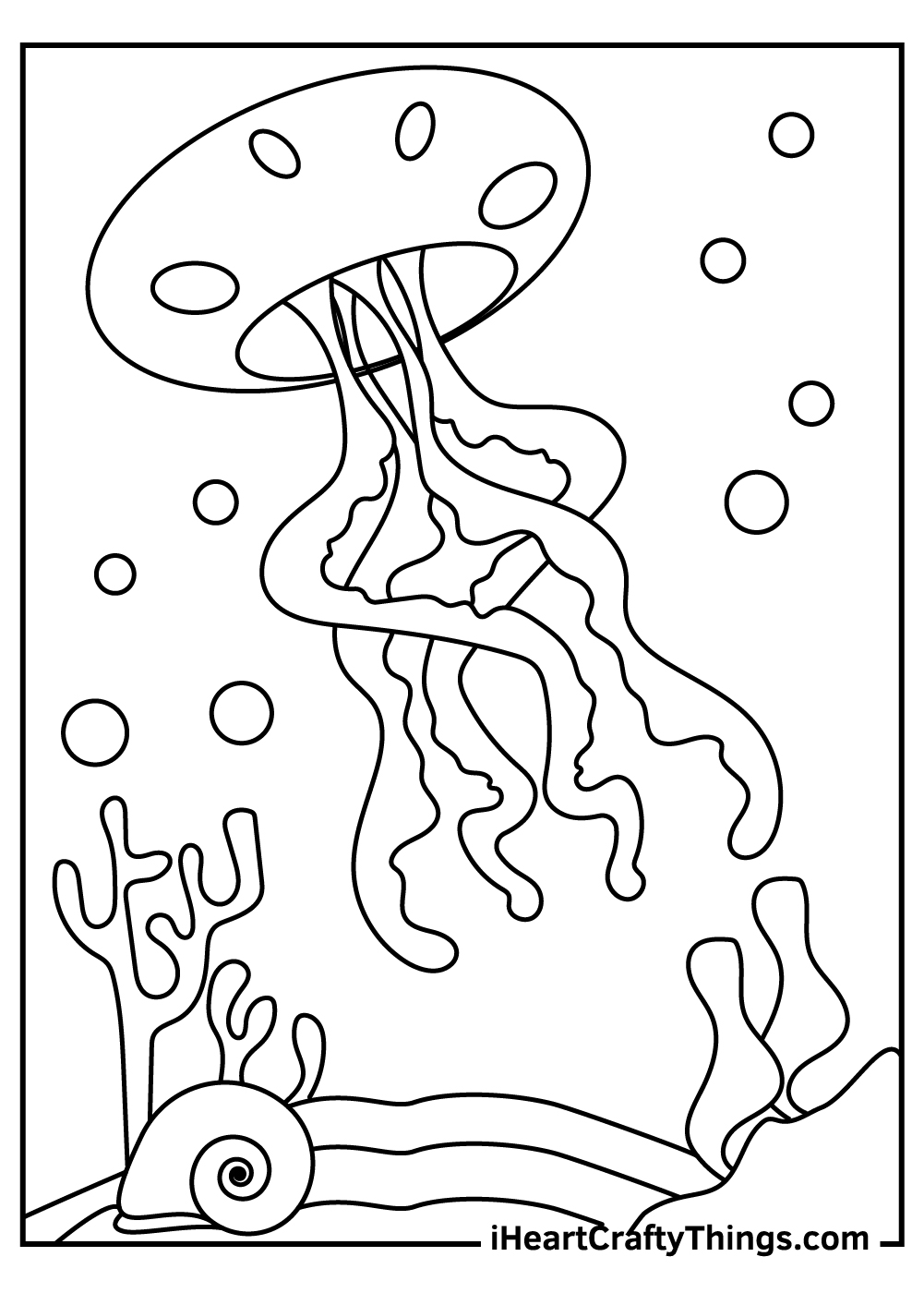 There's more bubbly fun to be had with another cute jellyfish under the sea.
If you have some acrylic or watercolor paints why not try to use those on this jellyfish coloring page to give a different look to the colors from crayons or pencils?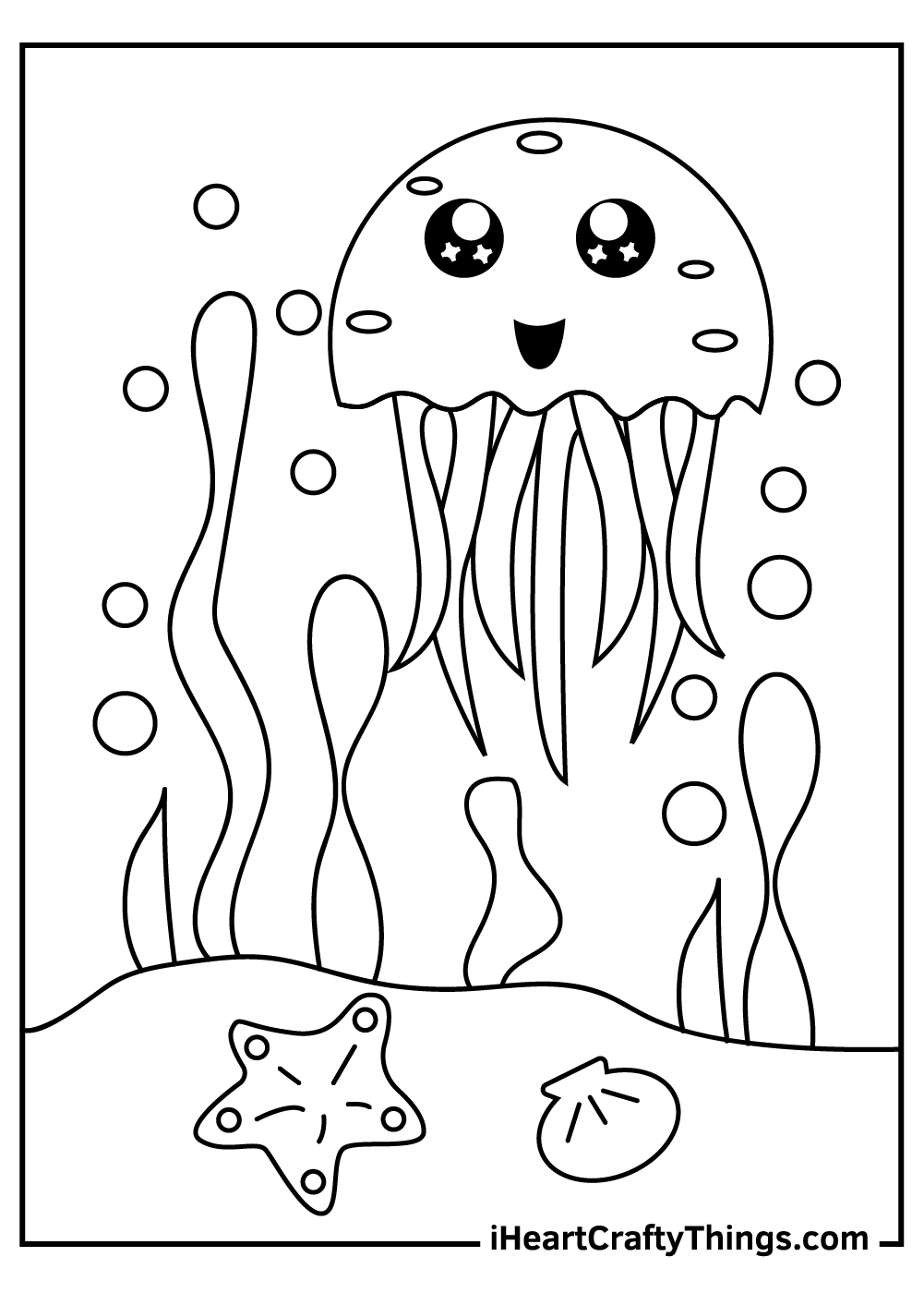 Did you know that a group of jellyfish can be called a "smack" of jellyfish? Well, that's just what we have for our next jellyfish coloring sheet for kids!
This group of jellyfish would be great to get bold with colors. Maybe you could try to have each jellyfish be a unique color scheme to really make this image pop!
REMEMBER: You can get the COMPLETE set of these coloring pages >> HERE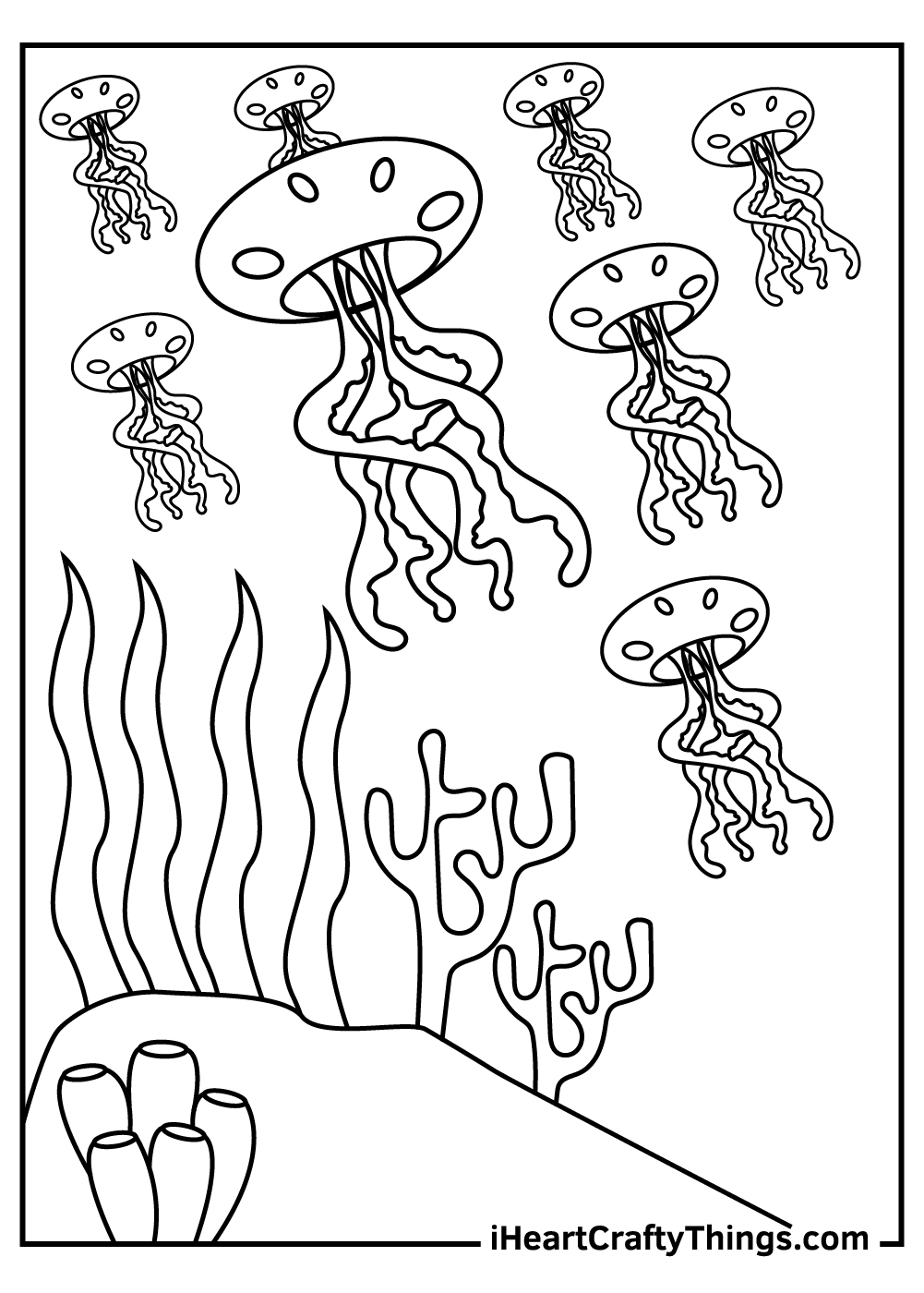 In our sixth jellyfish coloring page we have more jellyfish hanging out and having a good time. I wonder what they would have to talk about if they could?
Will you make these three jellyfish have a similar color scheme, maybe suggesting they're a family, or will you give each on it's own unique color?
We can't wait to see what you decide!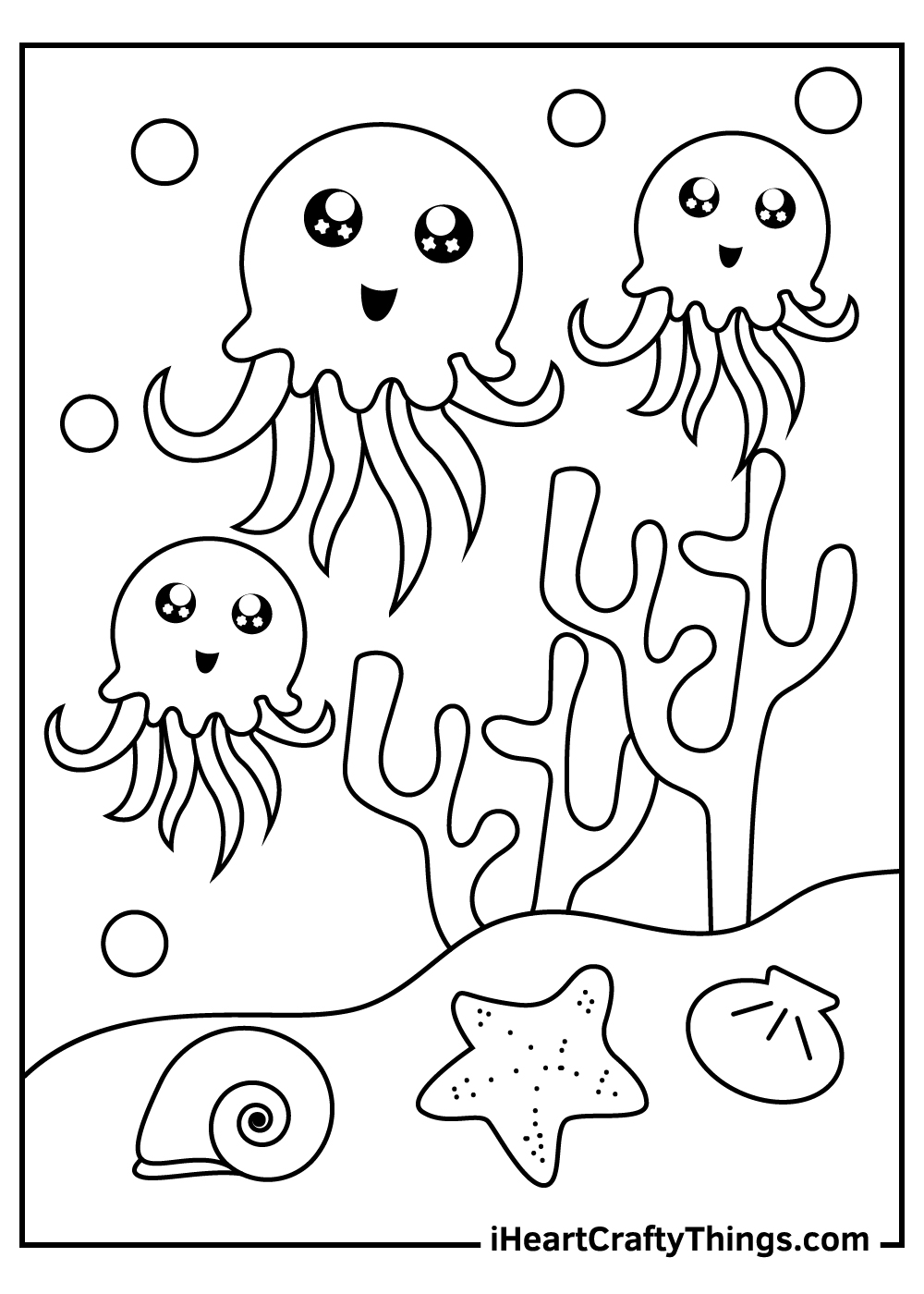 There's a slightly busier background to this jellyfish coloring sheet. Looking at this image, my thought is to have the jellyfish be a lighter color, maybe a nice pink, and then have the colors of the background be dark and vibrant to create a strong color contrast.
I bet that this jellyfish printable would look great with so much color variety!
REMEMBER: You can get the COMPLETE set of these coloring pages >> HERE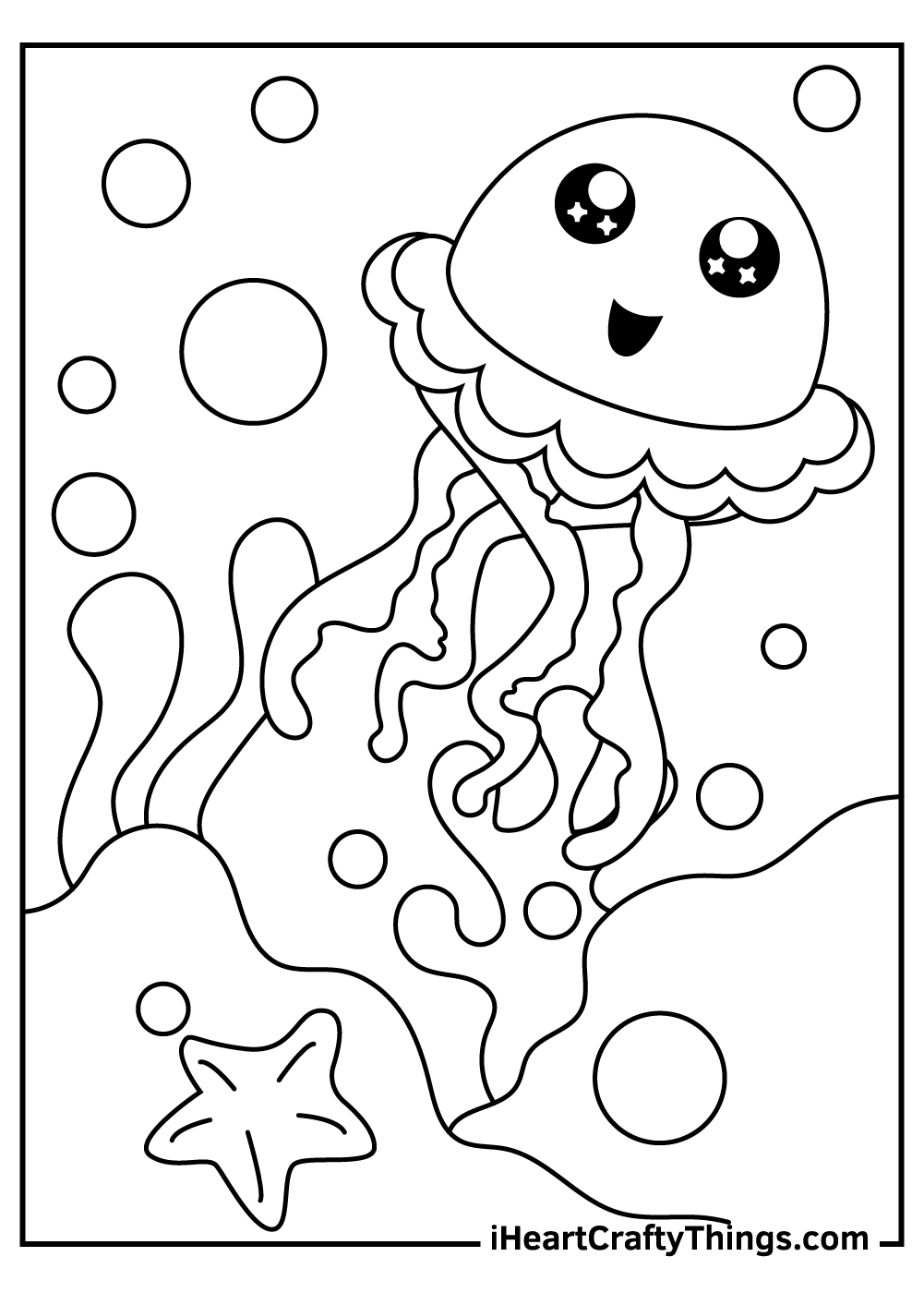 The water in the background of this free jellyfish coloring page is segmented for different colors.
You could use different shades of blues and greens, or you could mix in some oranges and yellows with your blues to suggest the sunlight of dawn or dusk filtering down beneath the water's surface.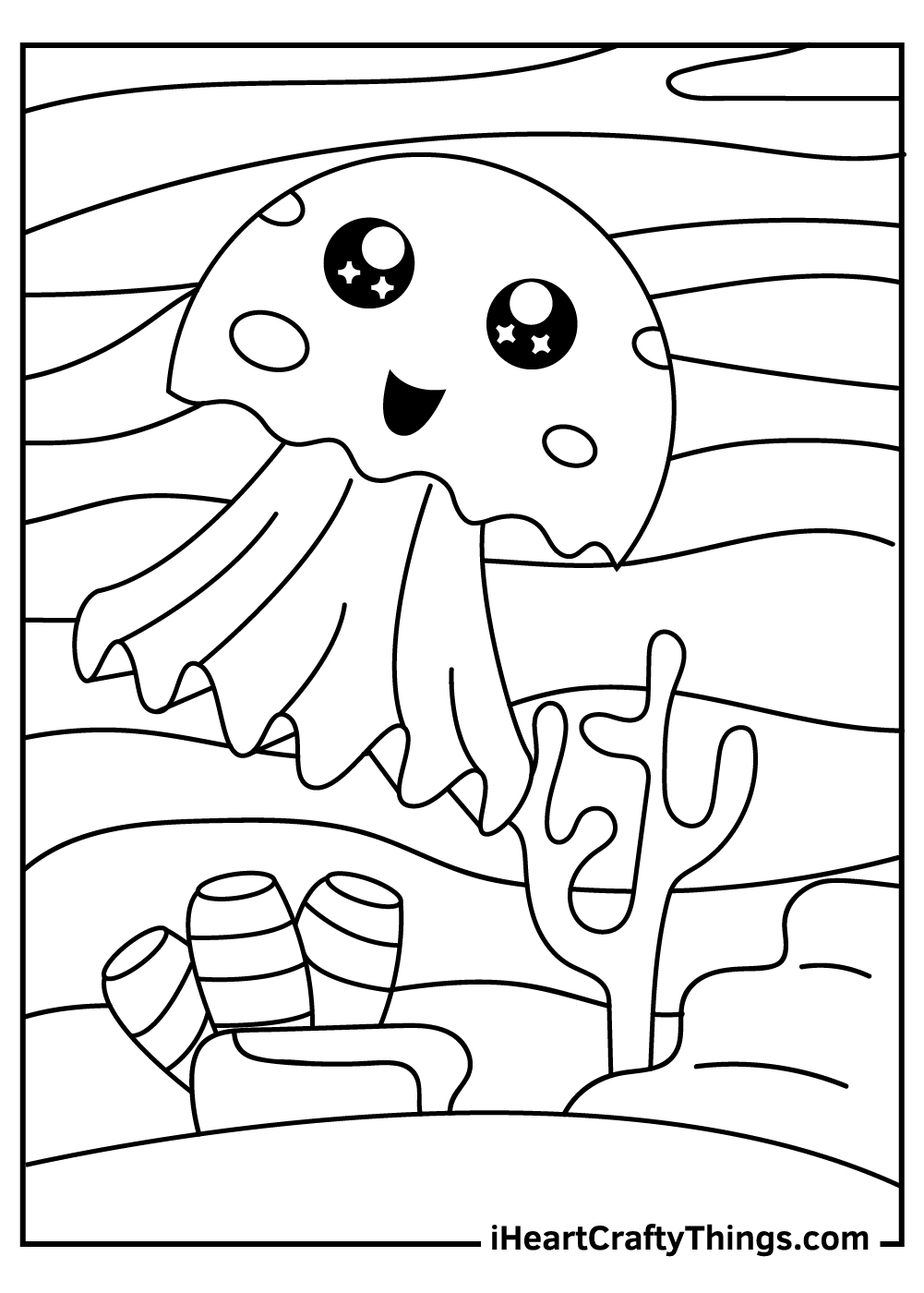 We have another adorable jellyfish entourage for this jellyfish printable. Instead of keeping the background to a water blue, maybe you could make it something unexpected like a nice bright red to make the jellyfish really stand out.
With the solid background and some bright colors for the jellyfish, I bet this will be a jellyfish coloring sheet that will really catch people's attention when they see it!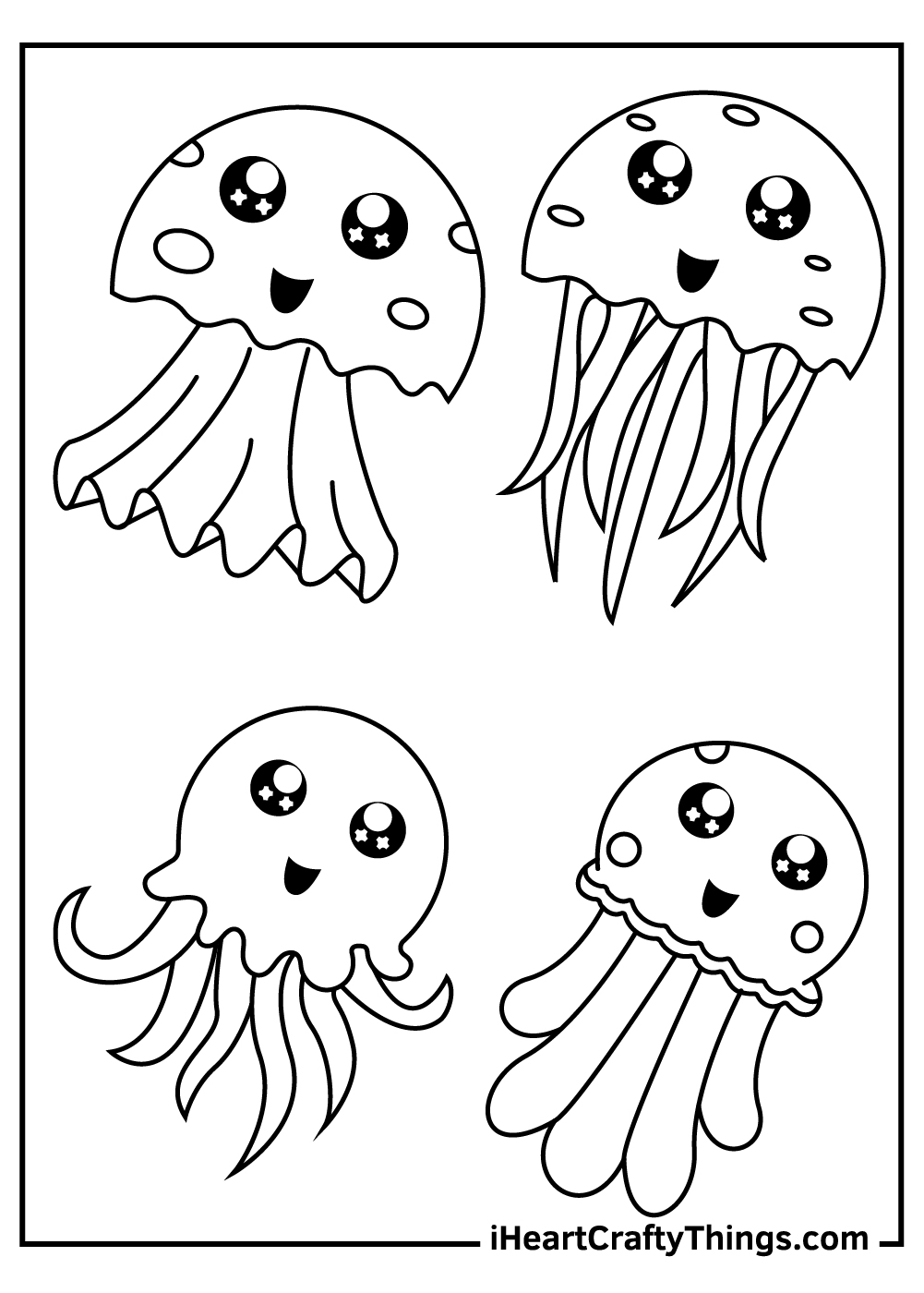 The last in our series of free jellyfish coloring pages for kids has one more cute jellyfish under the sea. There's some coral and seaweed beneath him, and in real life both coral and seaweed can come in some of the brightest and most vibrant colors you'll see in nature.
Maybe you could color them in with some bright colored pens and add dots and other little shapes to give them a more textured look to finish off this jellyfish coloring sheet.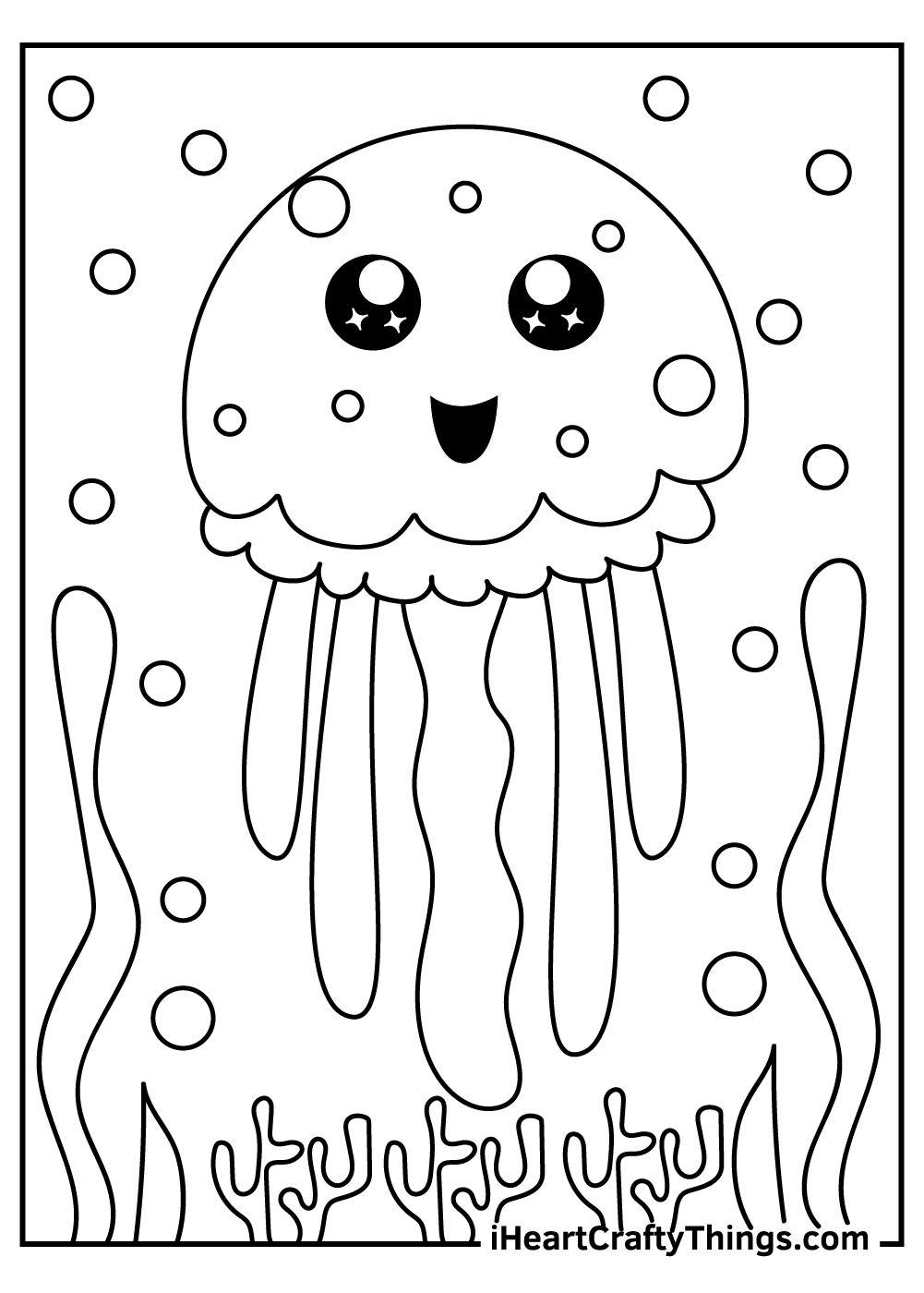 Jellyfish Coloring Pages – Which will you choose?
We really hope you had a great time diving underwater and coloring in these free jellyfish coloring pages! Remember, all of our coloring pages and goodies are always completely free for you to print out, enjoy and share with your friends.
That means you can print out a few of your favorite jellyfish printables to try out colors and mediums you didn't get to use the first time around. It's always fun to experiment and try out new things with coloring!
Be sure to like and share our Facebook page; we have tons of great free art, coloring pages and printables for you to enjoy, so liking our page is the best way to never miss out!
Also, we'd love to see your colorful artworks once you've finished these jellyfish coloring pages, so be sure to share your creations on our Facebook page so we can see what awesome colors and designs you chose for these images!
REMEMBER: You can get the COMPLETE set of these coloring pages >> HERE