On this page, you will find 10 all new Religious Easter coloring pages that are completely free to print and download.
More than the Easter Bunny, painted eggs, and Easter egg hunts, this famous religious holiday is celebrated as the day of Christ's Resurrection. With all the fun and activities that happen on Easter, the true meaning and reason for celebrating this day can sometimes get lost in the way.
Easter is a holiday of high religious significance and celebrated on the third day after His Crucifixion.
If you want to reintroduce this holiday to kids or if you want to have an activity that both kids and adults can enjoy while remembering the reason behind this tradition, we got you covered.
We created 10 new and free religious easter coloring pages that both kids and adults can enjoy and learn from.
10 Brand New Religious Easter Coloring Pages – Free to Print and Color
Religious Easter is about the Resurrection of Christ.
This first religious Easter coloring page for kids shows the Crucifixion of Christ.
The cross where Jesus died is placed in the middle with the other two crosses behind it, on both sides. It is in a valley of hills and huge flowers with the bright yellow sun shining and the clouds as background.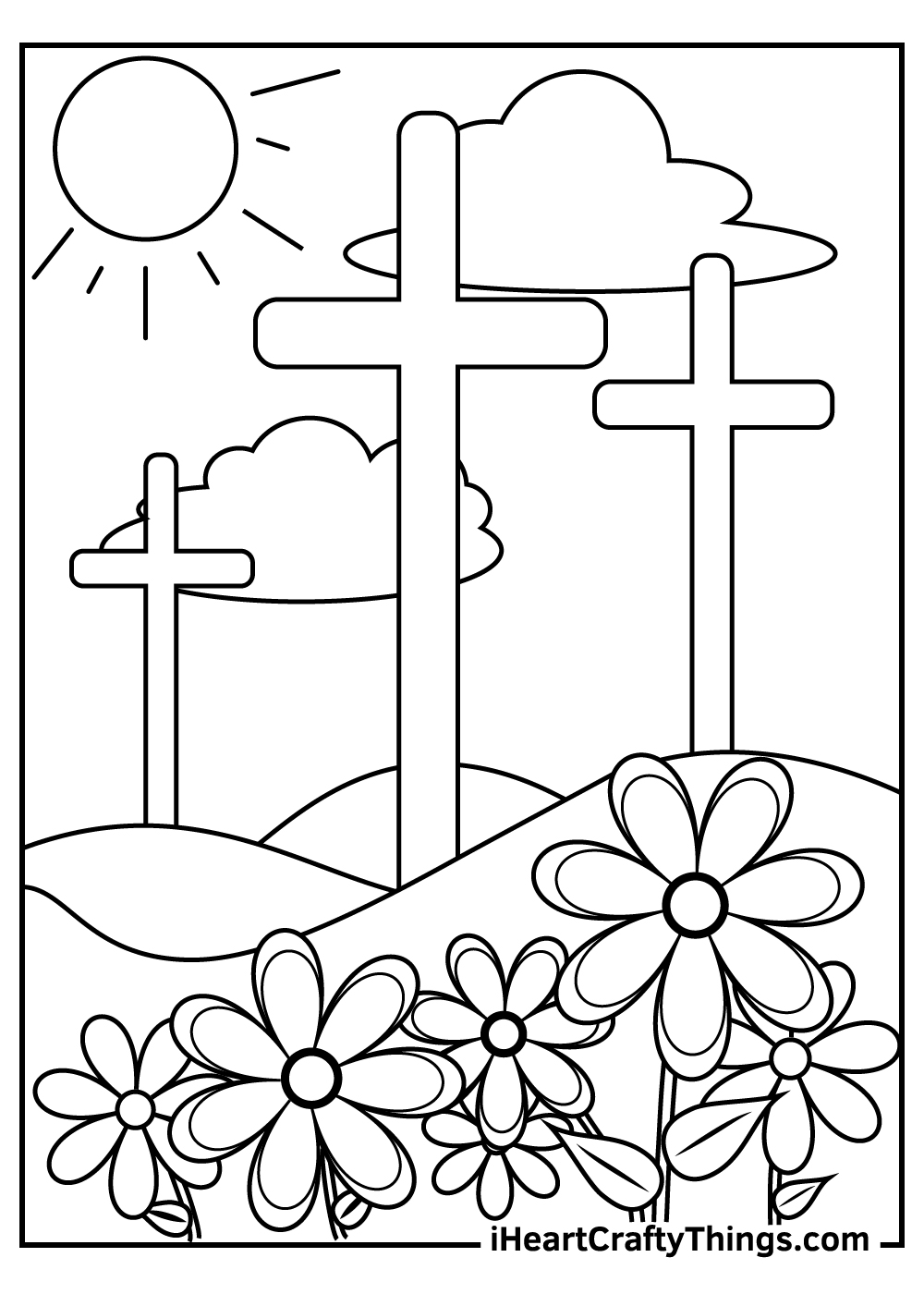 On this free printable, a stained-glass cross is at the center of this Easter egg-shaped object with flowers blooming below the cross – signifying life. This coloring page depicts the Resurrection of Christ.
You can try to mix and match the colors of the stained-glass cross. Flowers can also follow the color palette of the cross or you can choose another.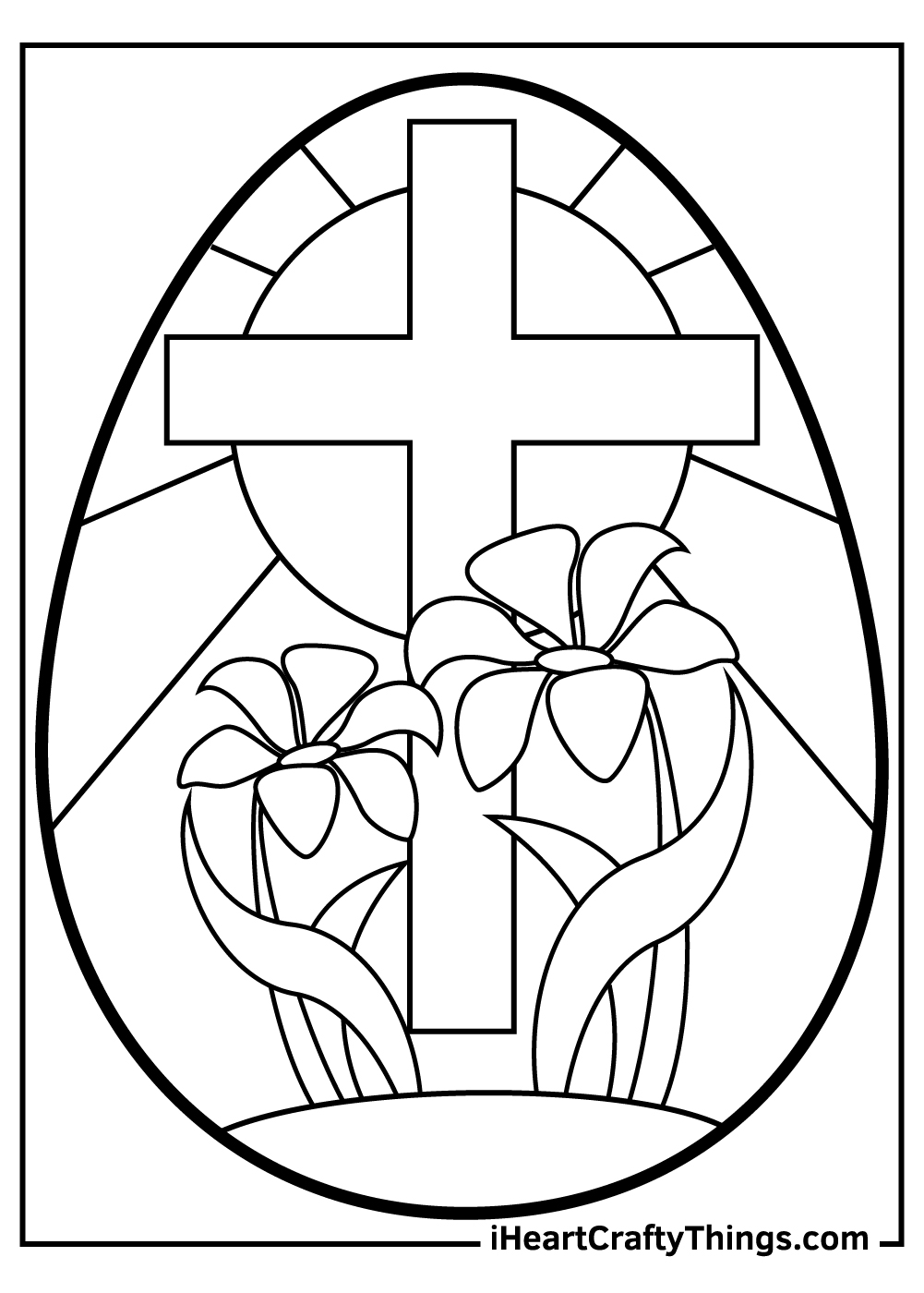 These brand-new Religious Easter coloring pages are here to help you remember why this religious tradition is celebrated. And on this page, we get back to where the story of life, death, and resurrection of Christ is told.
The story of Christ's death and resurrection is narrated in the Bible.
On this page is the Holy Scripture with a cross as its cover. Two crosses are placed on top and below the Bible, signifying the two others that were crucified with Christ. Beautiful lily flowers are also adjacent to the Bible.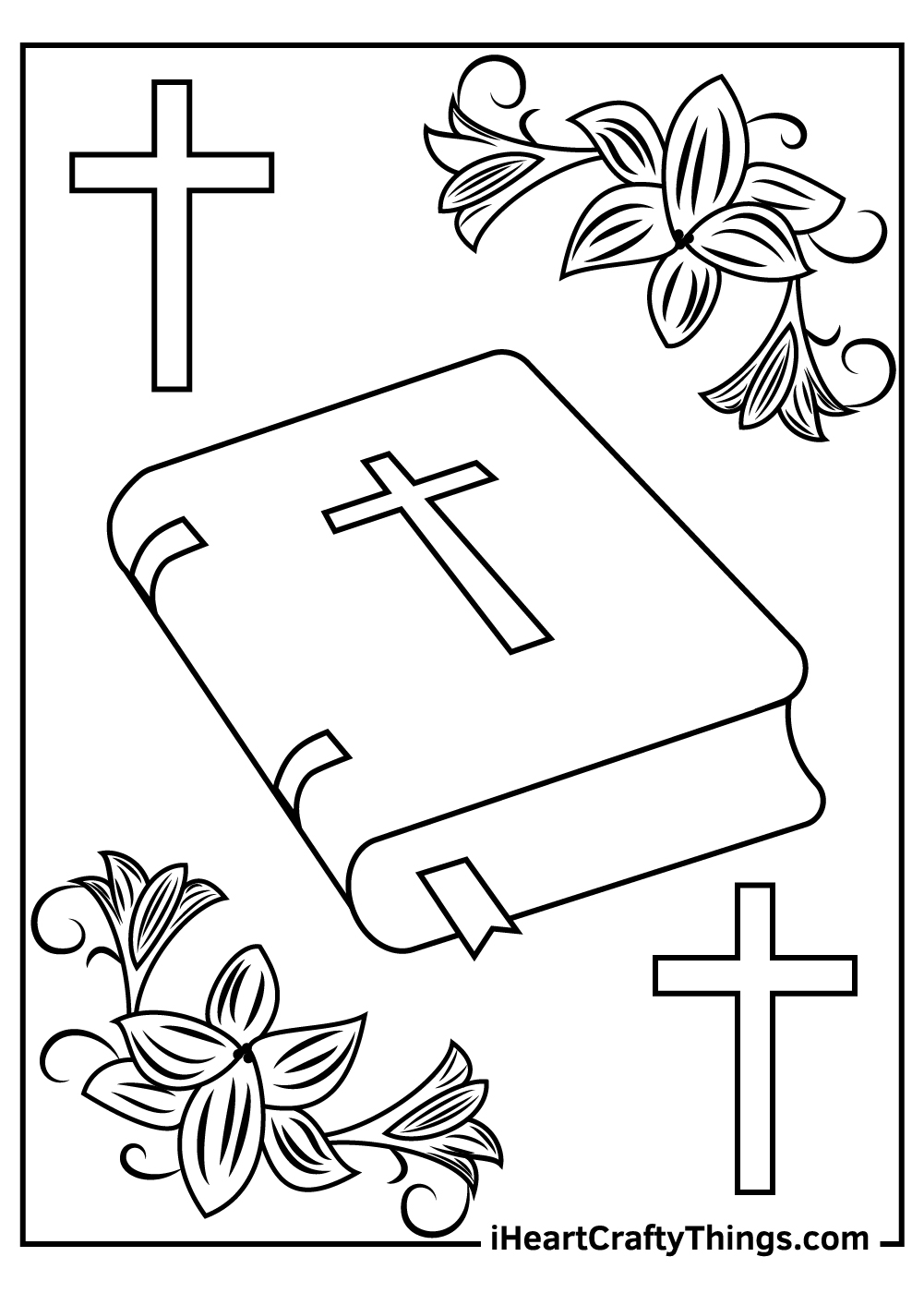 This free religious Easter printable can also be a poster! You can color this one and use this as a giveaway card to friends and family – a personalized memento that they can keep.
In bold letters are the words Happy Easter scrambled on top of the image. The cross where Jesus died is in the middle of the valley with large flowers situated at the bottom. Clouds are floating in the sky.
It's the crucifixion but denotes a happy and joyful message.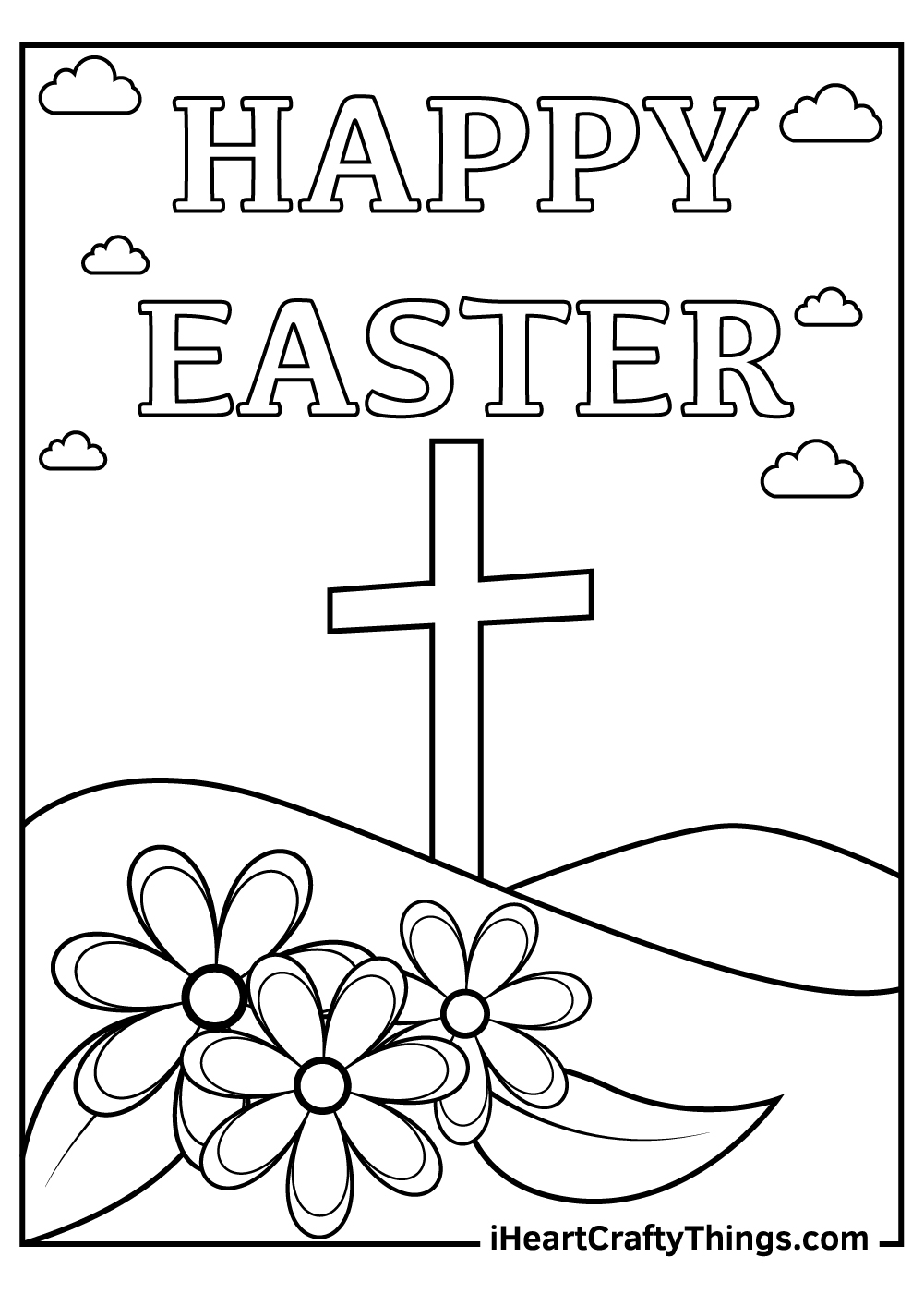 In this religious easter coloring page is another angle of the cross where Christ died.
The huge cross is at the center of this image with drapes hanging on it. This signifies the celebration of life over death.
The beautiful sun and big large clouds serve as background while large lilies are at the foot of the cross. Lilies have been used on Easter often as they symbolize purity and innocence, traits that are associated with Christ.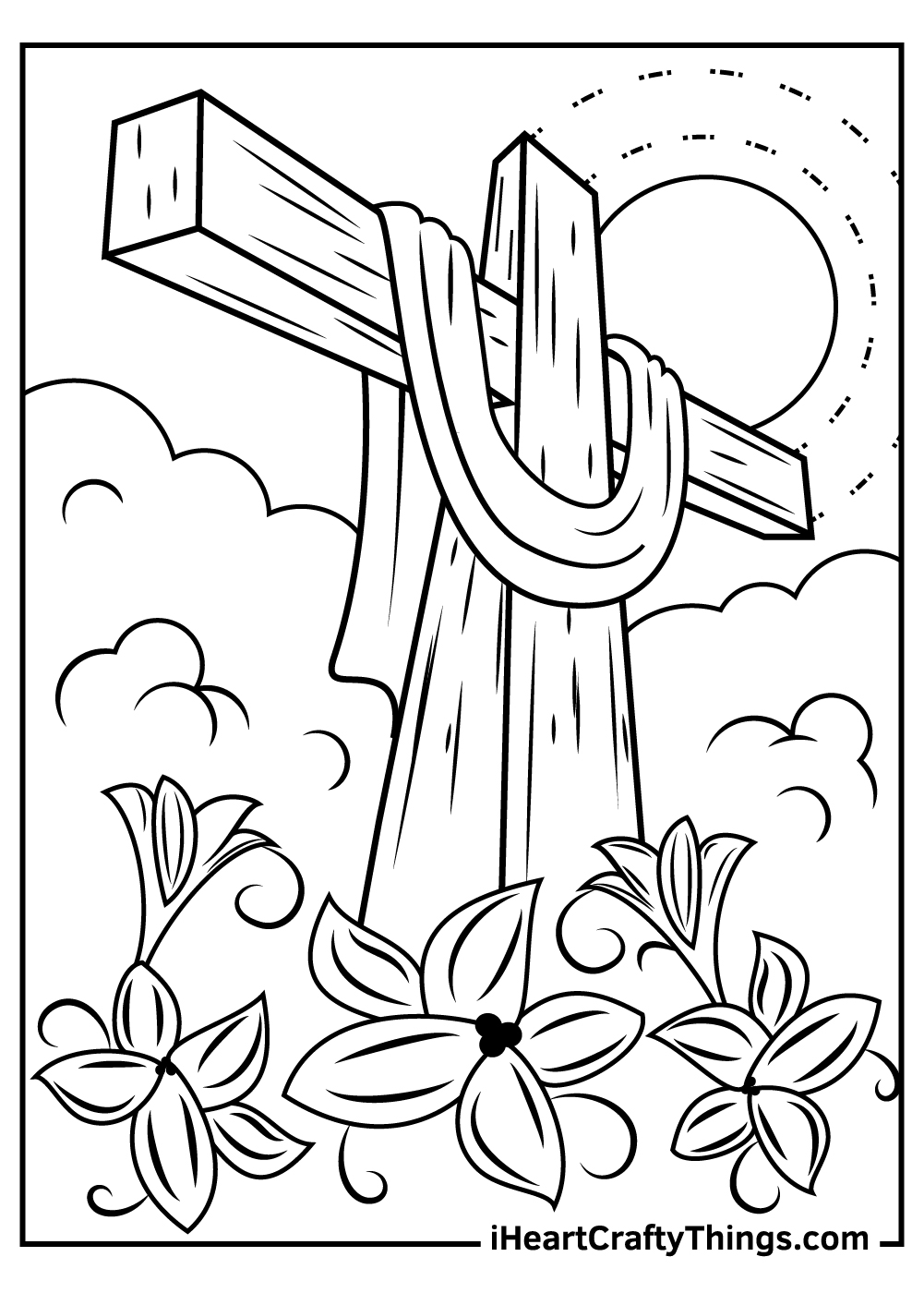 A good way to remind the kids of why this religious tradition is celebrated and also include modern practices is on this coloring page.
An image with an Easter egg and a cross in the middle placed with geometric designs around it can be a good reminder. The lines coming out on the sides can be regarded as light or colors coming from the cross.
Play with different colors on this religious easter coloring page for kids.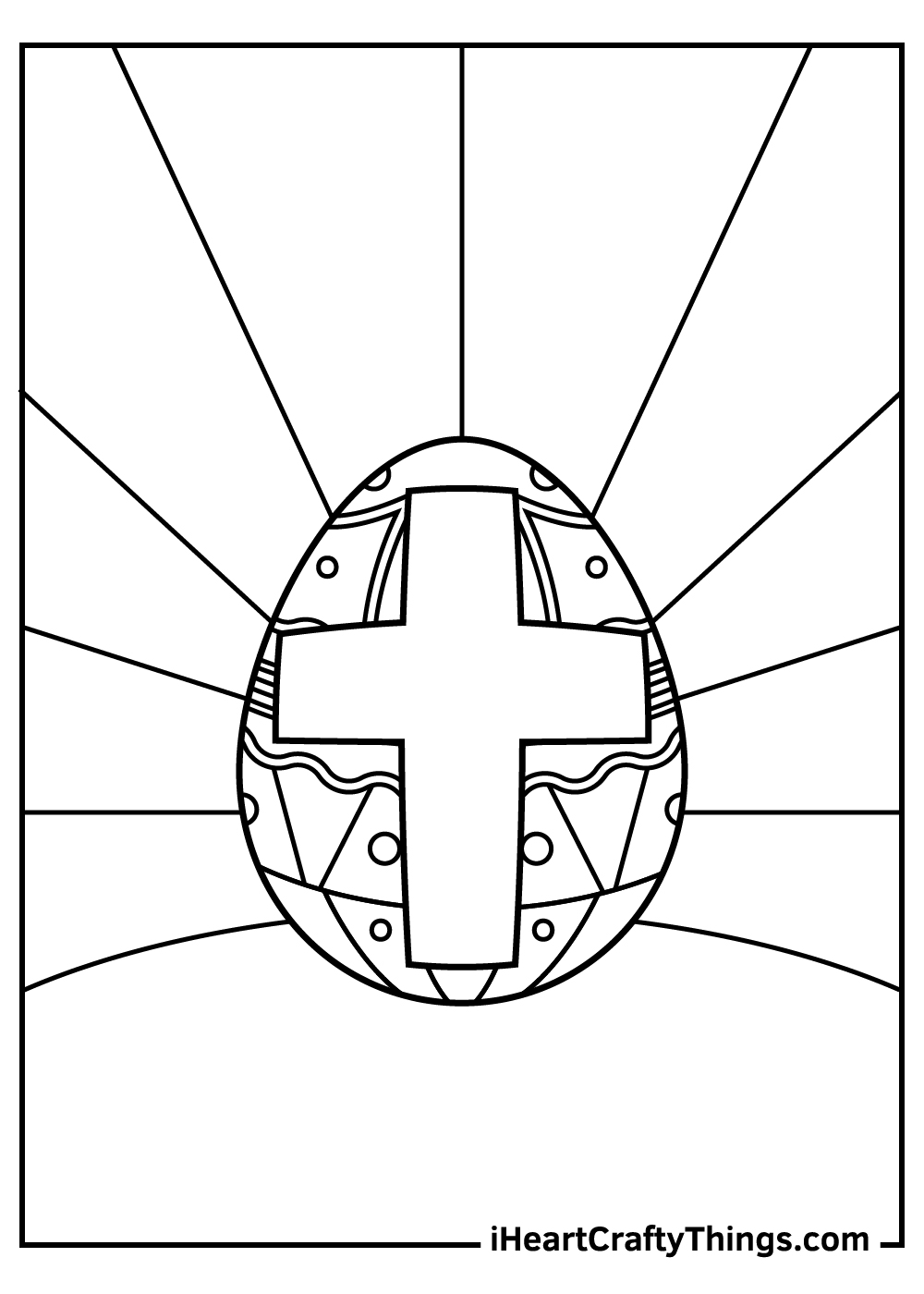 And while we're at Easter, it would also be nice and important to look back at the birth of Christ.
This free printable shows Joseph, Mary, and a sleeping baby Jesus. Joseph and Mary are both looking at Jesus lovingly.
Geometric shapes and lines are in the background, allowing for freedom to play around with the colors. It's a solemn image but bright and vibrant colors can give it life.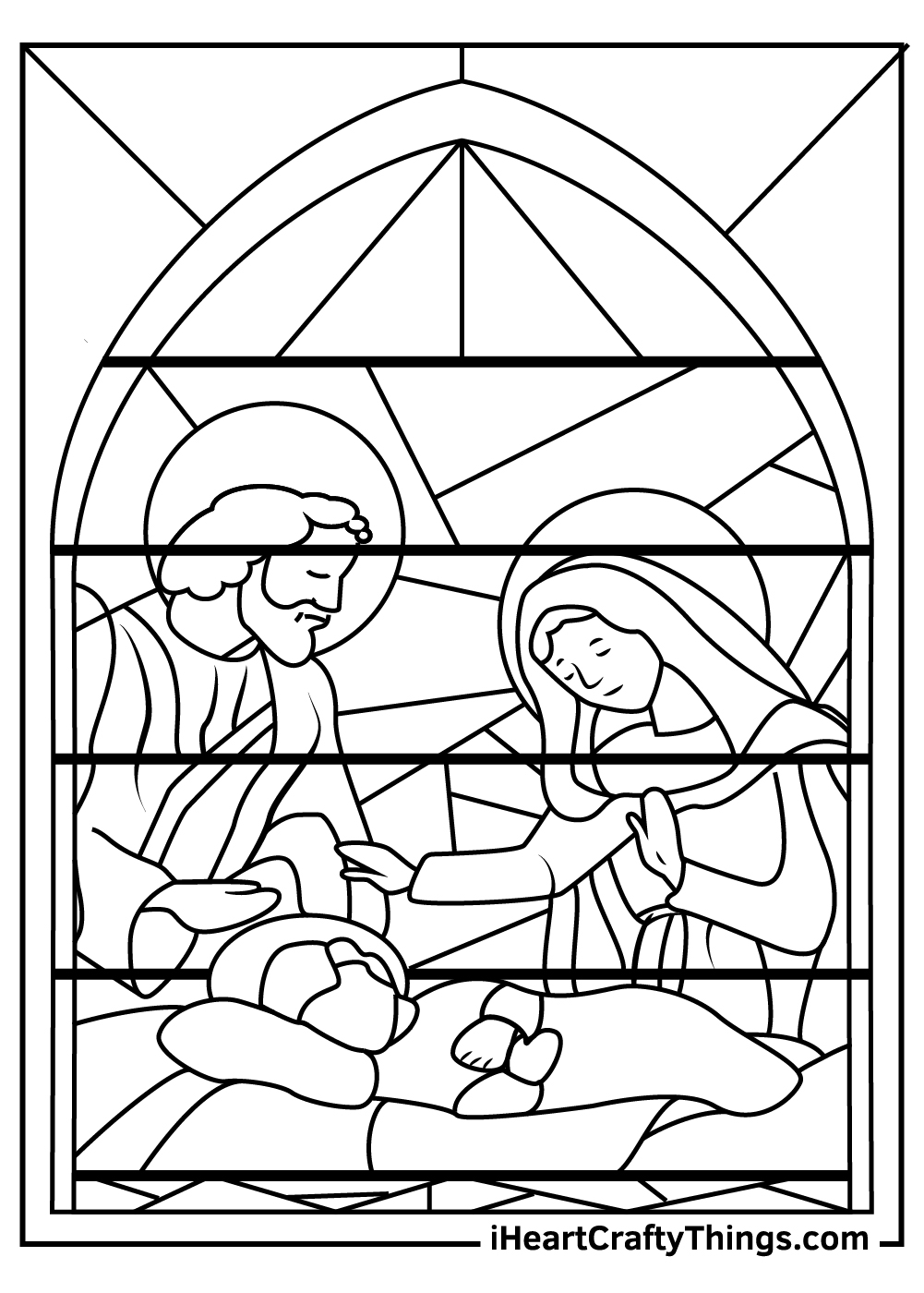 Designed using lines and geometric patterns, this coloring page depicts a famous image of Mary and Jesus Christ.
Mary is holding sleeping Jesus in her arms with the "Christmas Star" or "The Star of Bethlehem" shining brightly over them. The Christmas Star is a miraculous sign that signifies the birth of Christ.
This image brings warmth to the heart. And while it's all bright and light as Jesus was born, how would you color this free religious easter printable?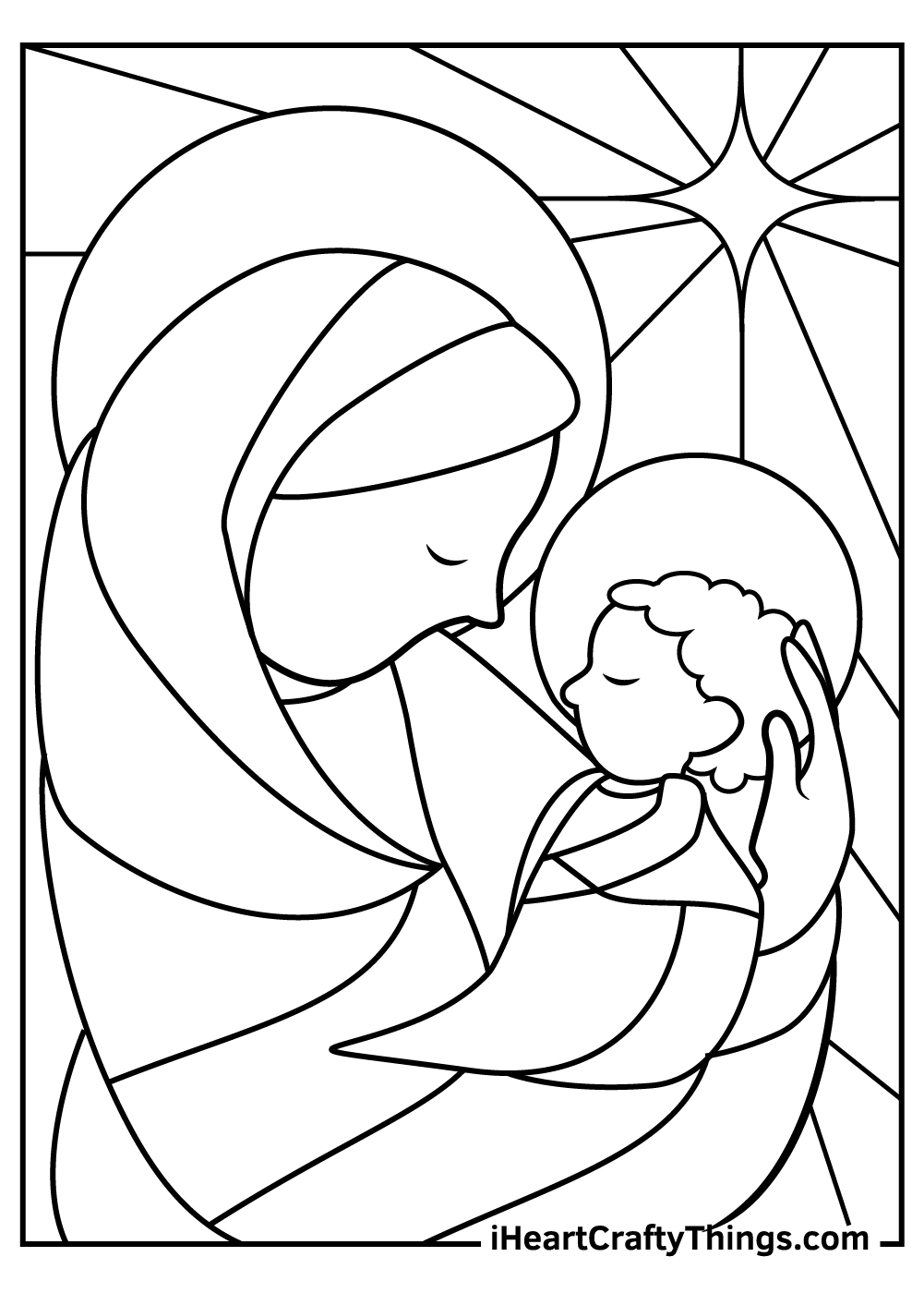 Another depiction of the Resurrection of Christ is the white dove. White doves in Christianity symbolizes the Holy Spirit.
In this free religious easter coloring page, a dove is flying while holding an olive branch on its beak. A cross is placed just above the bird and rays of light are coming from it.
This image shows peace, grace, and mercy. What colors do you think would work on this coloring page?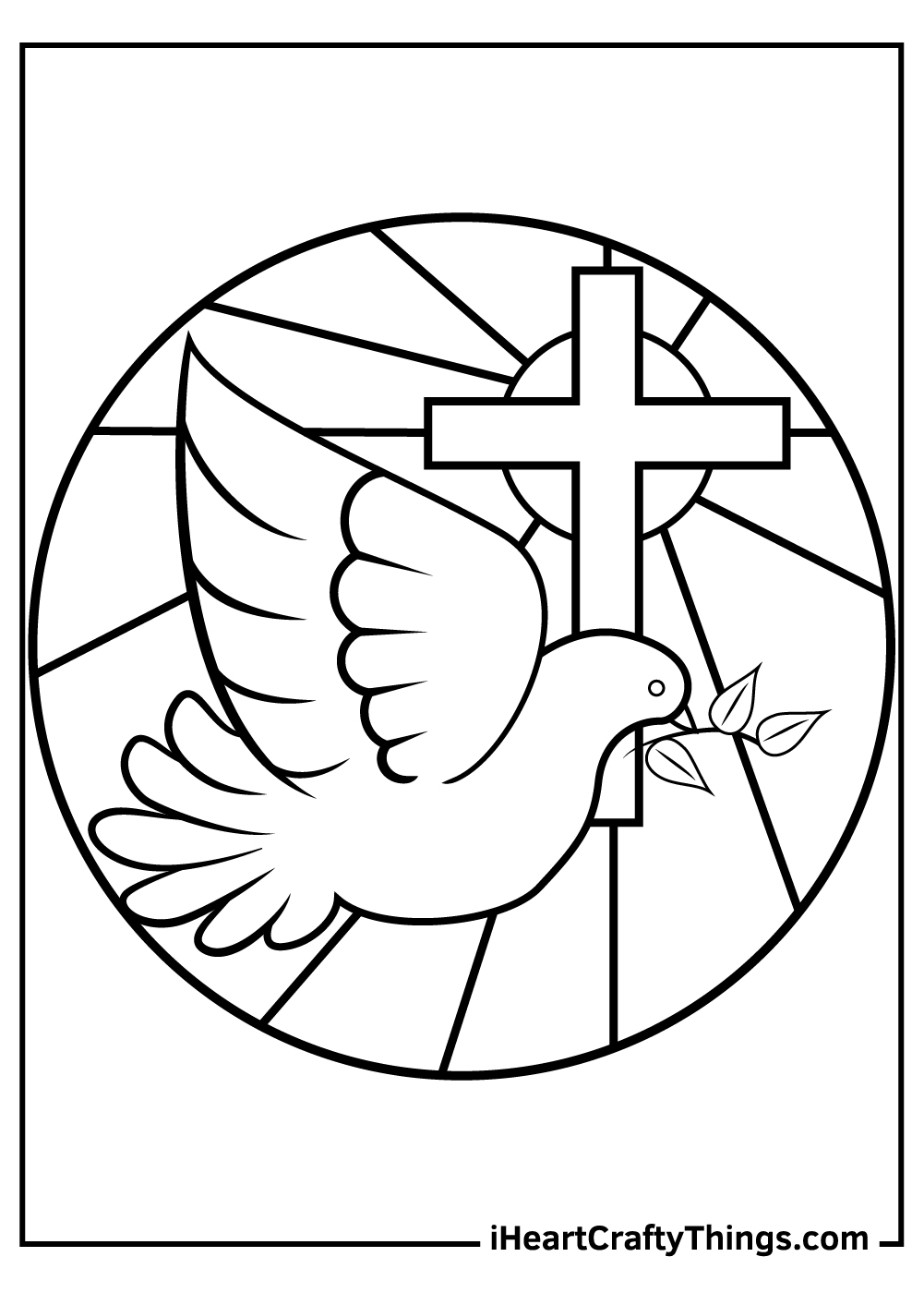 The last image of our Religious Easter Coloring Pages is another Crucifixion of Christ.
It's the cross where Jesus died. The sun is brightly shining above it with its rays reaching down to the valleys. Plants are thick below and even though it's where Jesus died, this image shows an abundance of life.
It's the simplest yet symbolic religious Easter coloring page to tie up this series.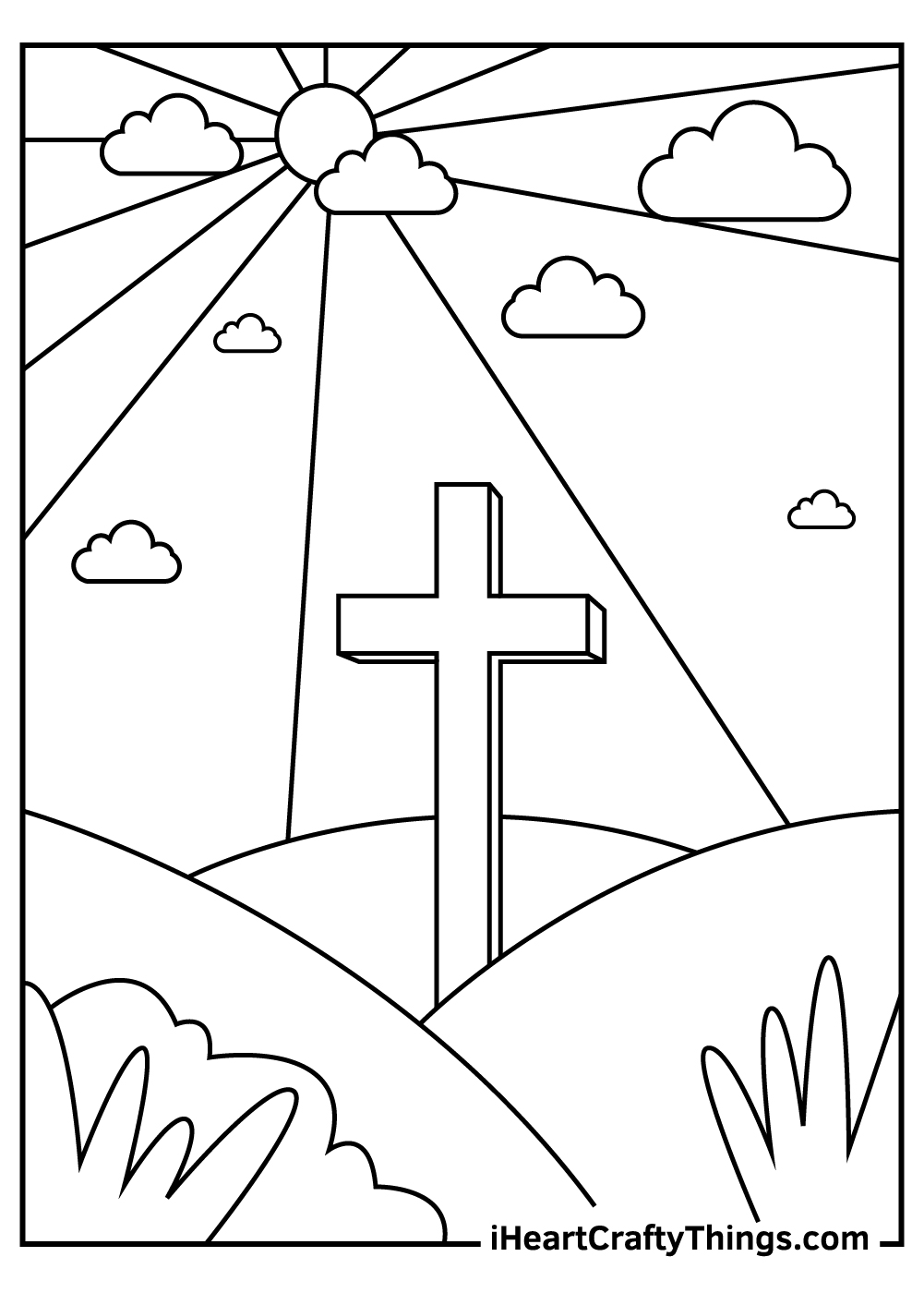 Religious Easter Coloring Pages – Fun and Enjoyable Free Printables
Easter is meant to be celebrated and enjoyed by everyone. With all the fun activities that go with the celebration, the ultimate religious reason should never be forgotten.
We hope you had fun with the religious easter coloring pages we made for you! And more than the fun, we hope it made you remember the Resurrection of Christ.
Download all these free religious easter printables and use them as Easter activities that all ages can enjoy!