Everyone has a favorite season of the year, and each season has its charms. Many love the cold coziness of Winter, but it's hard not to love the colorful vibrancy of Spring!
This is when flowers bloom and the world is full of color and beautiful sights, and this collection of free Spring coloring pages for kids is here to celebrate the season.
Feel free to go through all 15 pages and pick your favorites to print and color!
You can also share these pages with friends and family, and you can then finish off by sharing some of your completed pages on our Facebook and Pinterest pages.
15 Brand New Spring Coloring Pages – Free to Print and Color
This first page in our collection of free Spring coloring pages for kids features a lovely Springtime scene!
The word Spring is written in a big bold font, and below we have a scene featuring some flowers and a butterfly.
There are so many small details to color in here, and you have lots of room for some wonderful creativity! How will you color this first page of the collection?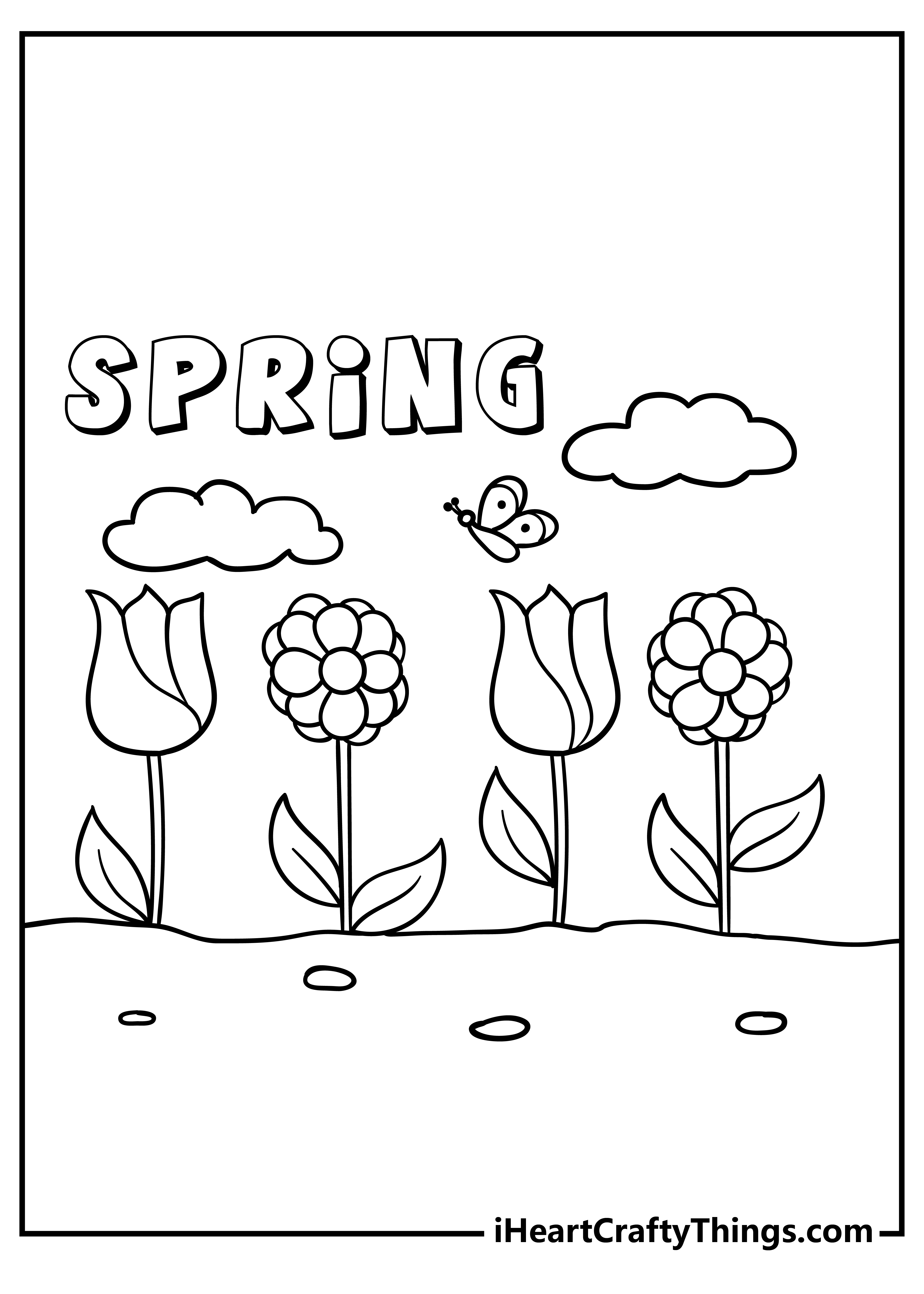 It's always lovely to see beautiful butterflies flying around on a warm Spring day, and one of them is the focus of this second page.
Butterflies are famous for their bright, beautiful colors, so you could use all of your favorite vibrant colors for the wings of this cute butterfly.
What colors come to mind for you when it comes to bringing this butterfly to life?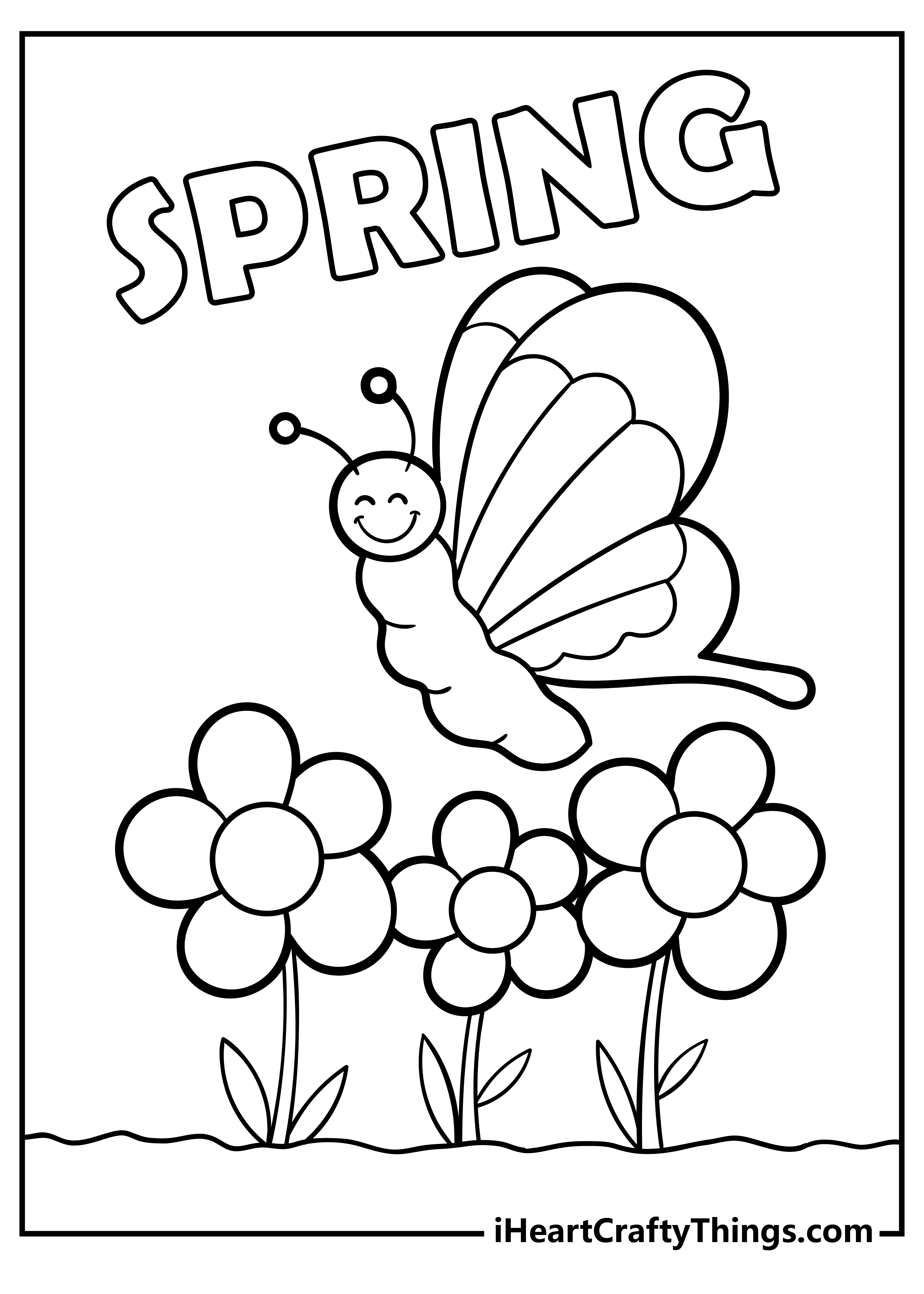 We have a warm greeting for Spring in this page! The phrase 'hello Spring' is written in a fun font, and there is a pretty bird perched on it.
Additionally, we have some flowers, clouds and a brilliant sky to color as well.
You could even draw some extra details into the background to show what Spring means to you in order to make this image even more personalized!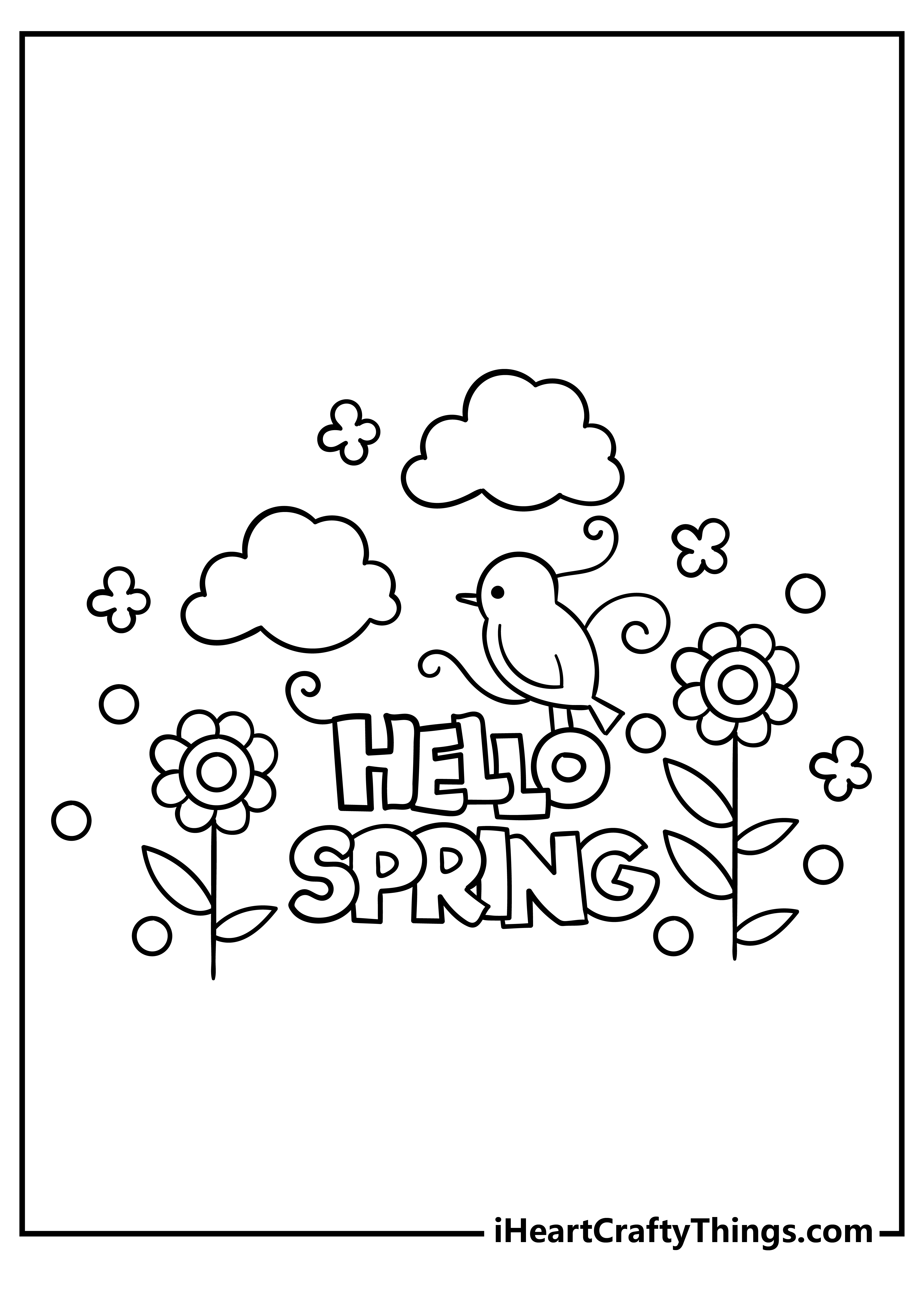 Another beautiful butterfly is here for you to color in this simple yet elegant image. This butterfly has some wonderful details on its wings, and these allow for some interesting color combinations.
We would use different colors for the circles on the wings, but you could keep things more uniform and symmetrical if you prefer!
How will you color the wings of this butterfly?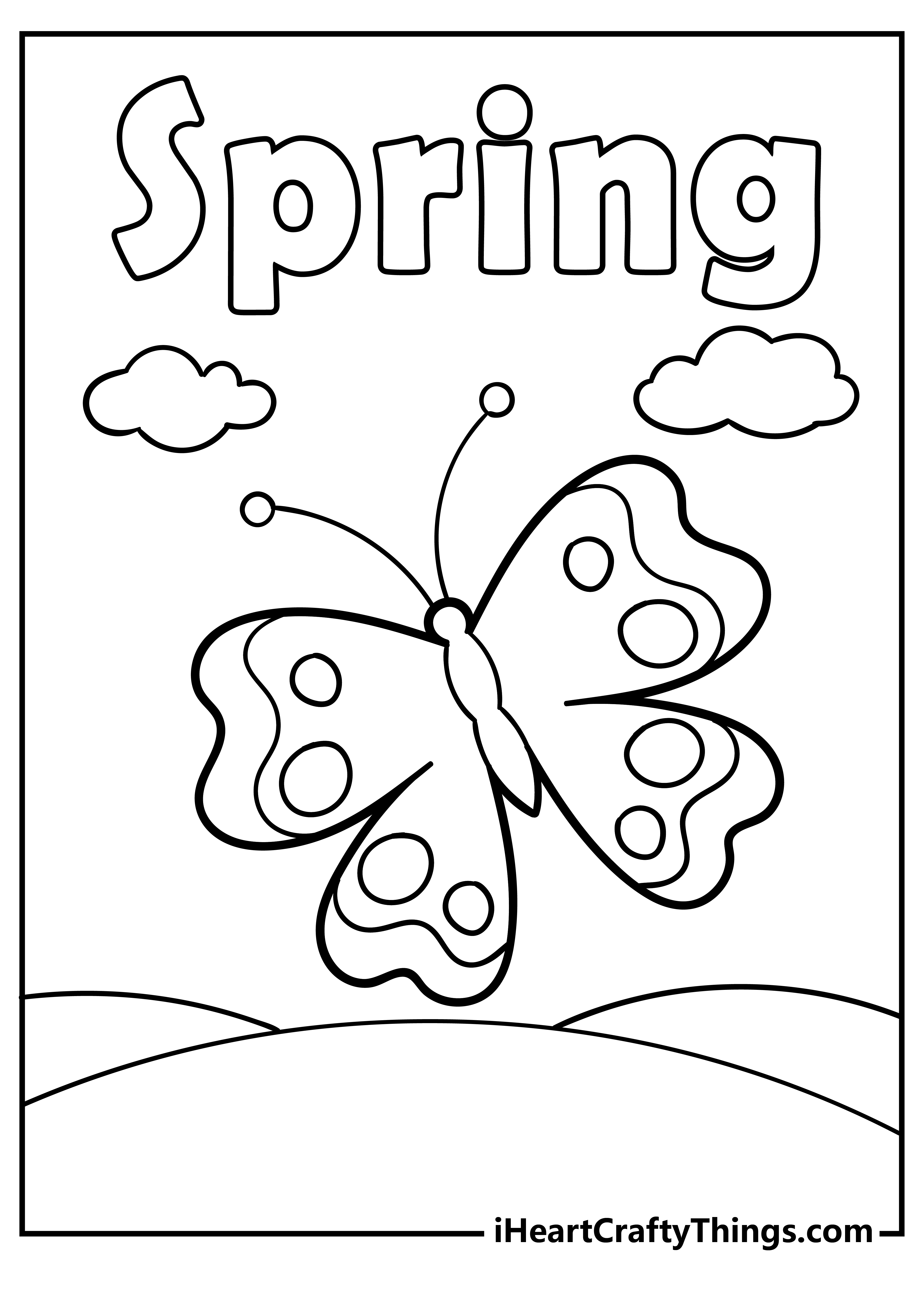 We love the font that Spring is written in for this Spring coloring sheet! It's written in a handwritten style, and it gives this page a lovely handmade look.
We also have some cute smiling bees above some tulips, so there should be some great opportunities for bright colors here.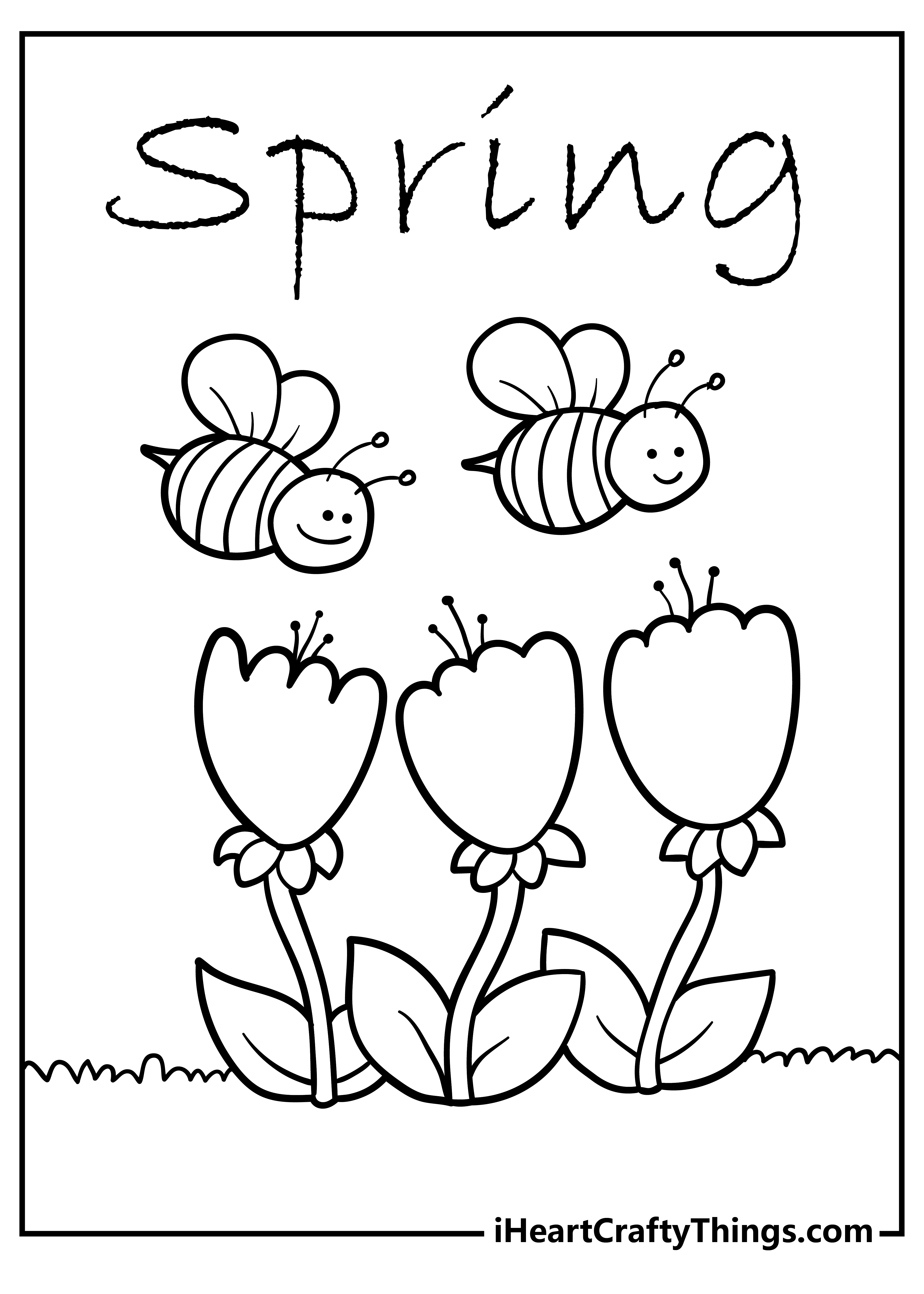 It's time to welcome this lovely season with this page! This is literal, as we have 'welcome Spring' written in a bold font at the center of this page.
There are so many pretty flowers around the phrase, and we think it would look great to use a large variety of bright colors for the flowers and letters.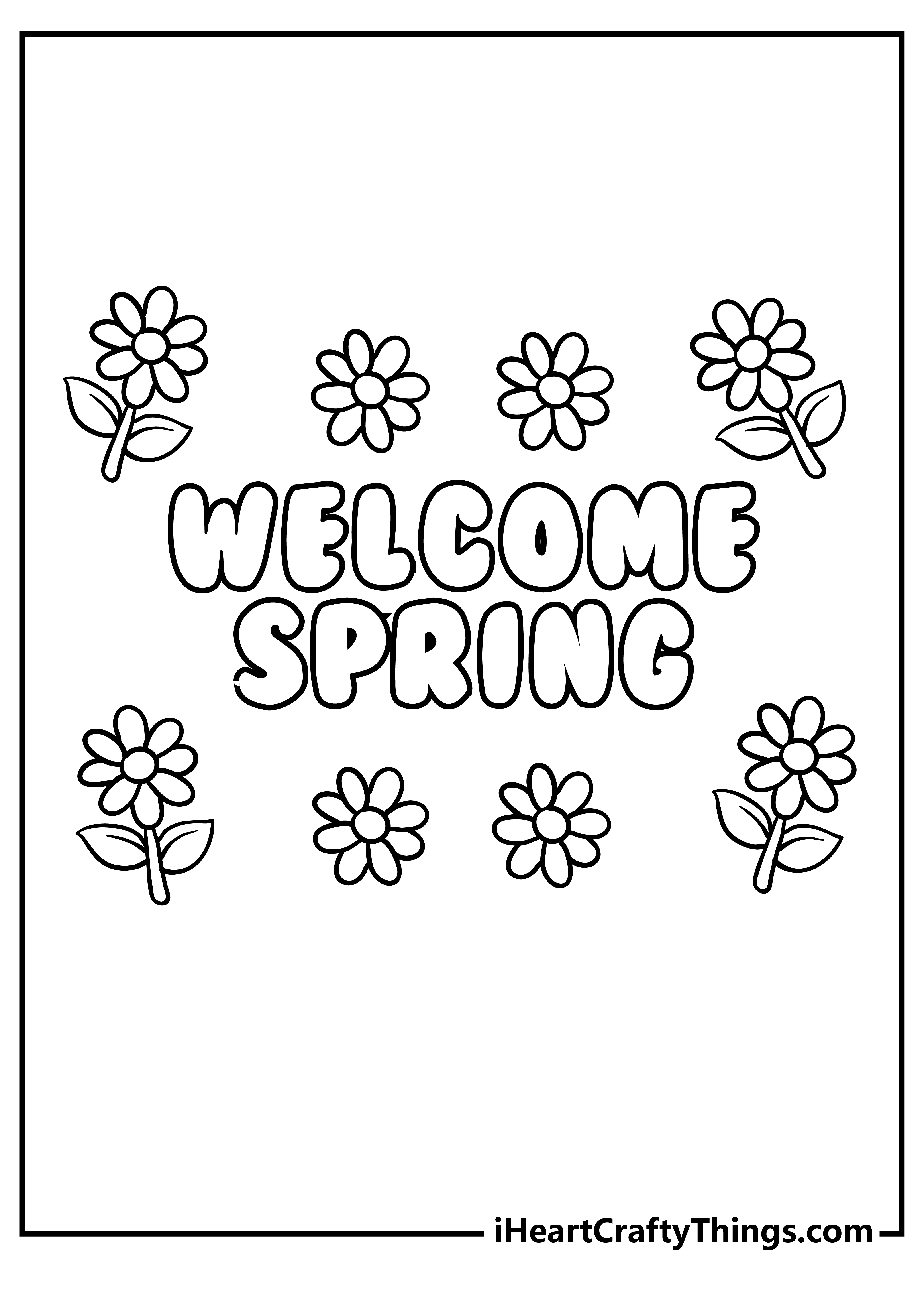 When Spring rolls around, it's hard to not feel at least a little bit happy! This page radiates a happy feeling, and these smiling flowers are gently swaying in the breeze.
When coloring these flowers, you could keep them in the same colors or use a different color for each one!
Which of these approaches do you think you will choose?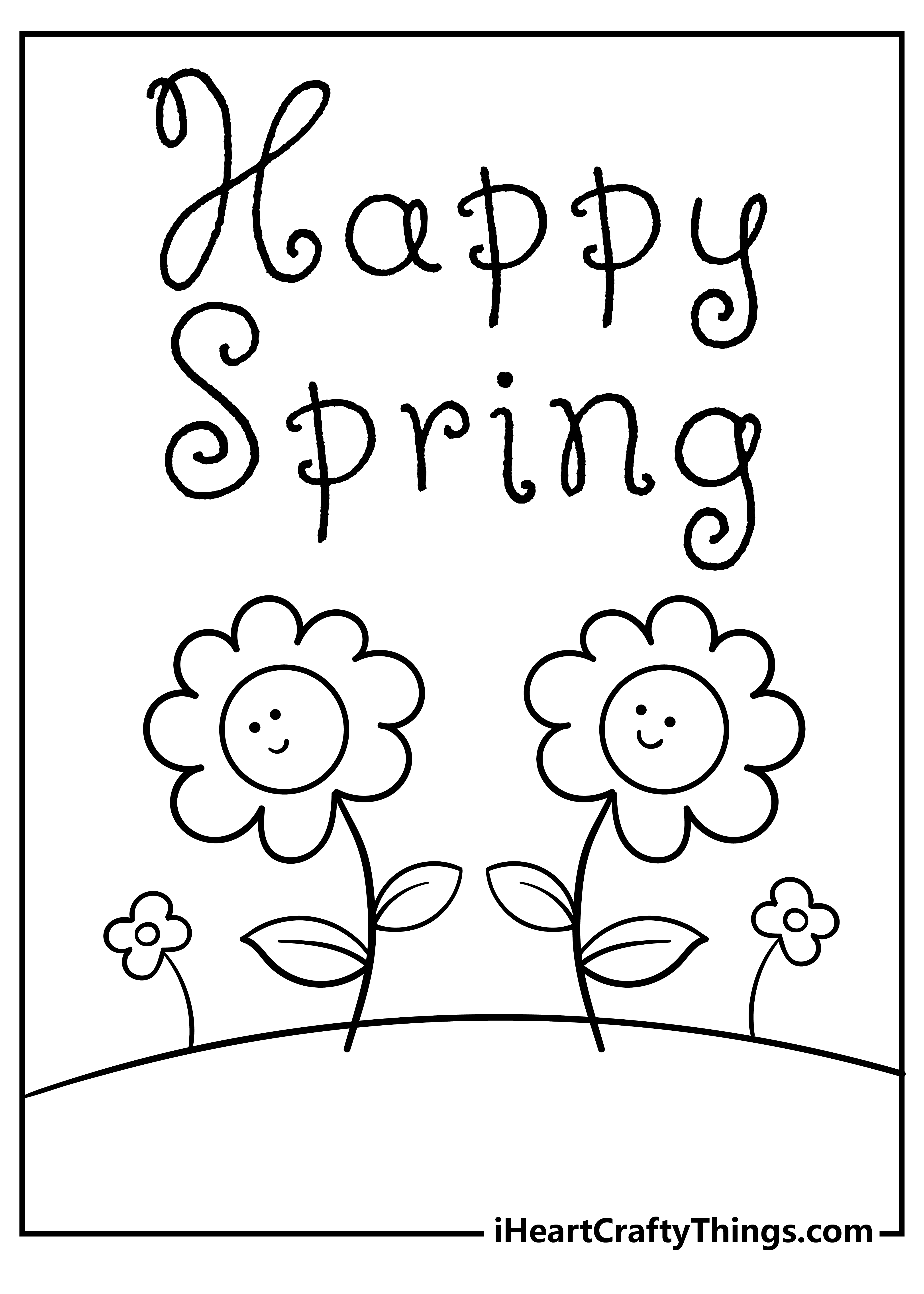 The design of the flowers in this next image is sure to bring a smile to your face! These flowers are drawn in a lovely style, and there are lots of little details to get creative with.
We think it would be great to use a different color for each petal, but that's just one approach of many that you could go for!
Which approach will you take?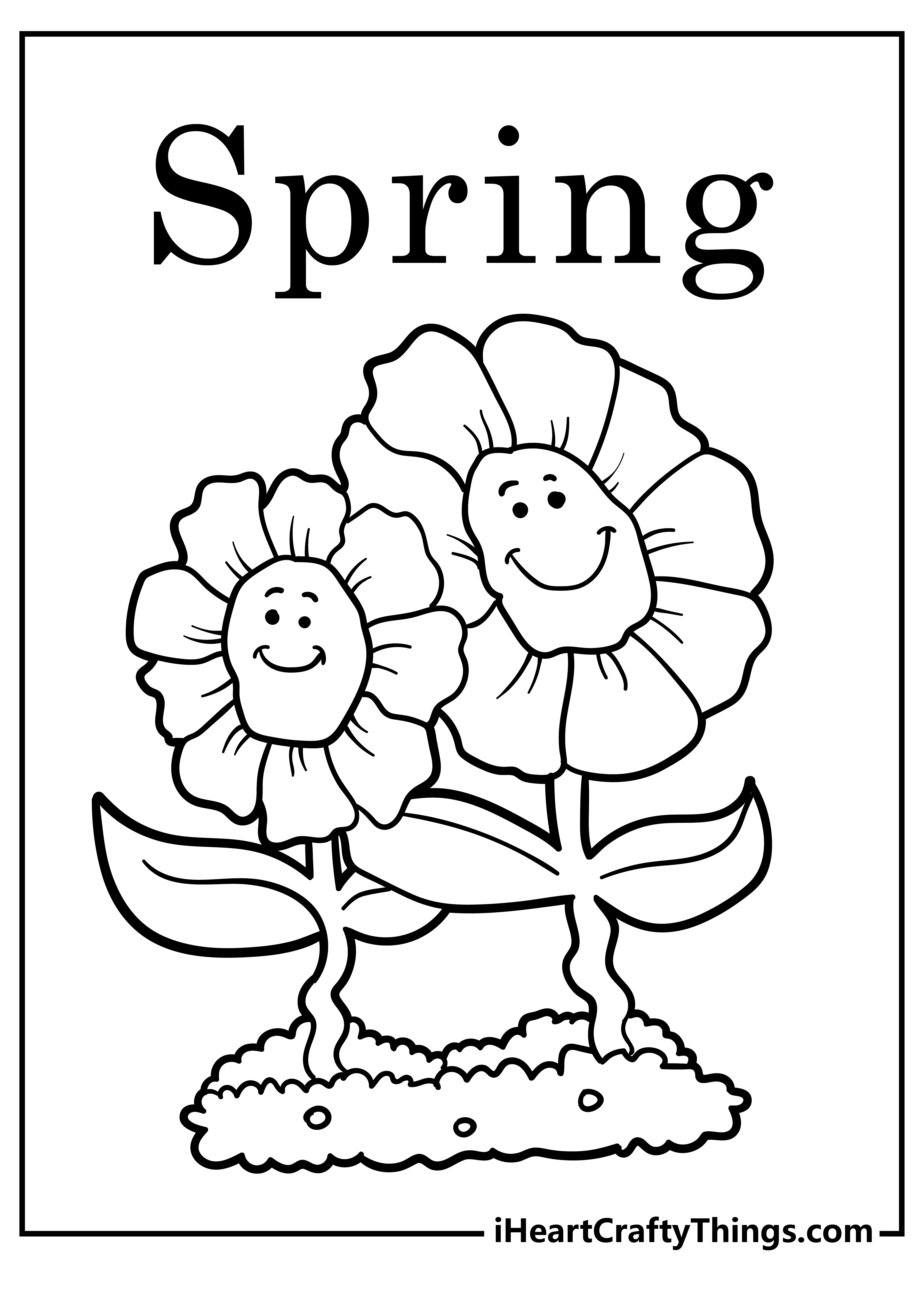 There is a lovely selection of flowers featured on this next Spring coloring printable.
Additionally, the word Spring is written in a lovely bold font above, and these letters can be colored in to match the colors you choose for the flowers.
When coloring the letters and small details, mediums like colored pens or markers would make things much easier, as they allow for more precision.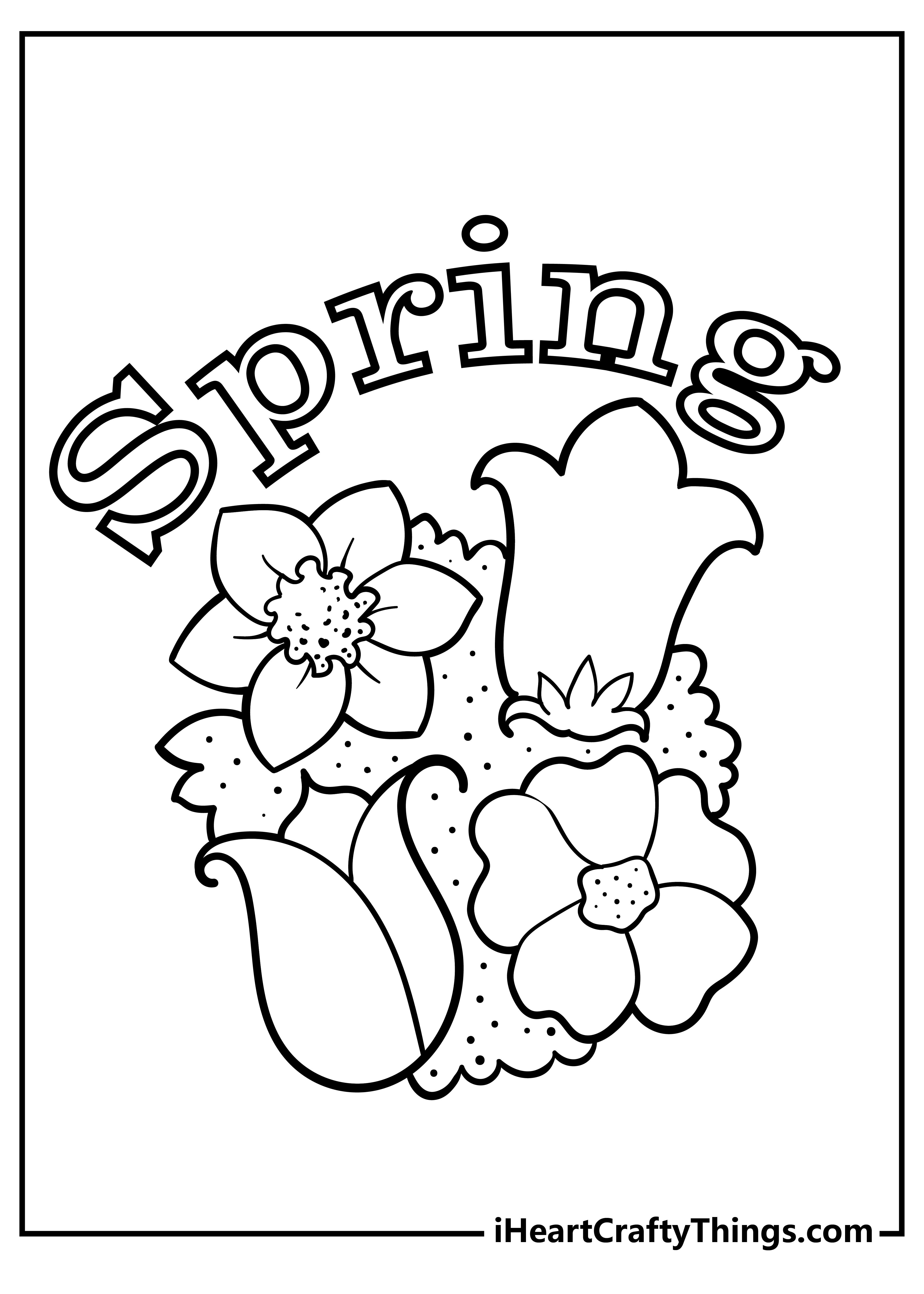 In this tenth image, we have a lovely symmetrical design for you to color. There are flowers on long stalks with lots of leaves and there are many ways you could tackle this image.
We would keep the colors a bit more symmetrical to compliment the design, but it will be great to see how you will choose to color it!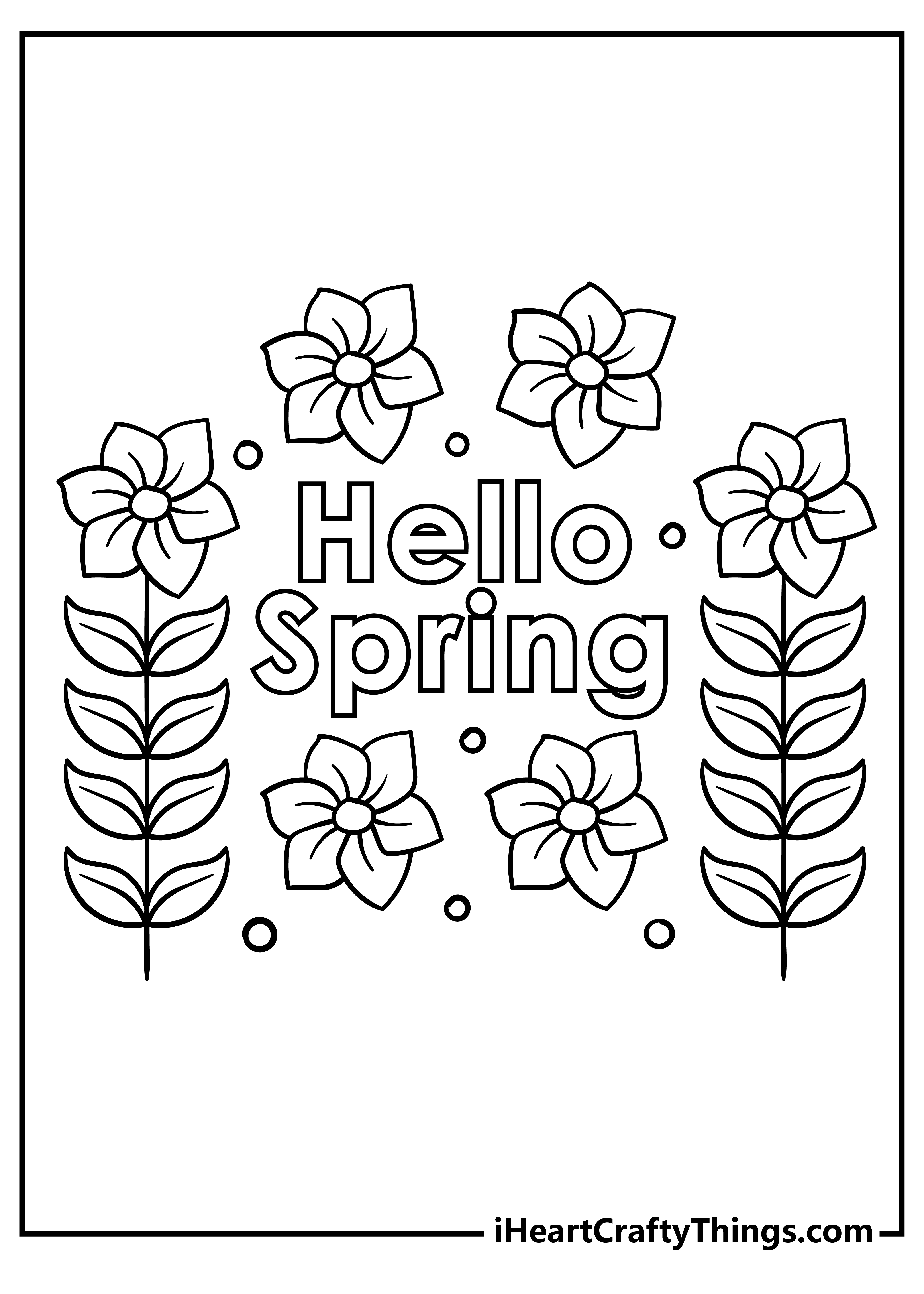 The flowers arranged on this page are big and bold, and that calls for equally bold colors!
Spring usually features an explosion of bright, striking colors, so the more bright colors you can use for this image the better.
You can complement bright colors with certain art mediums, so which ones will you choose for this image?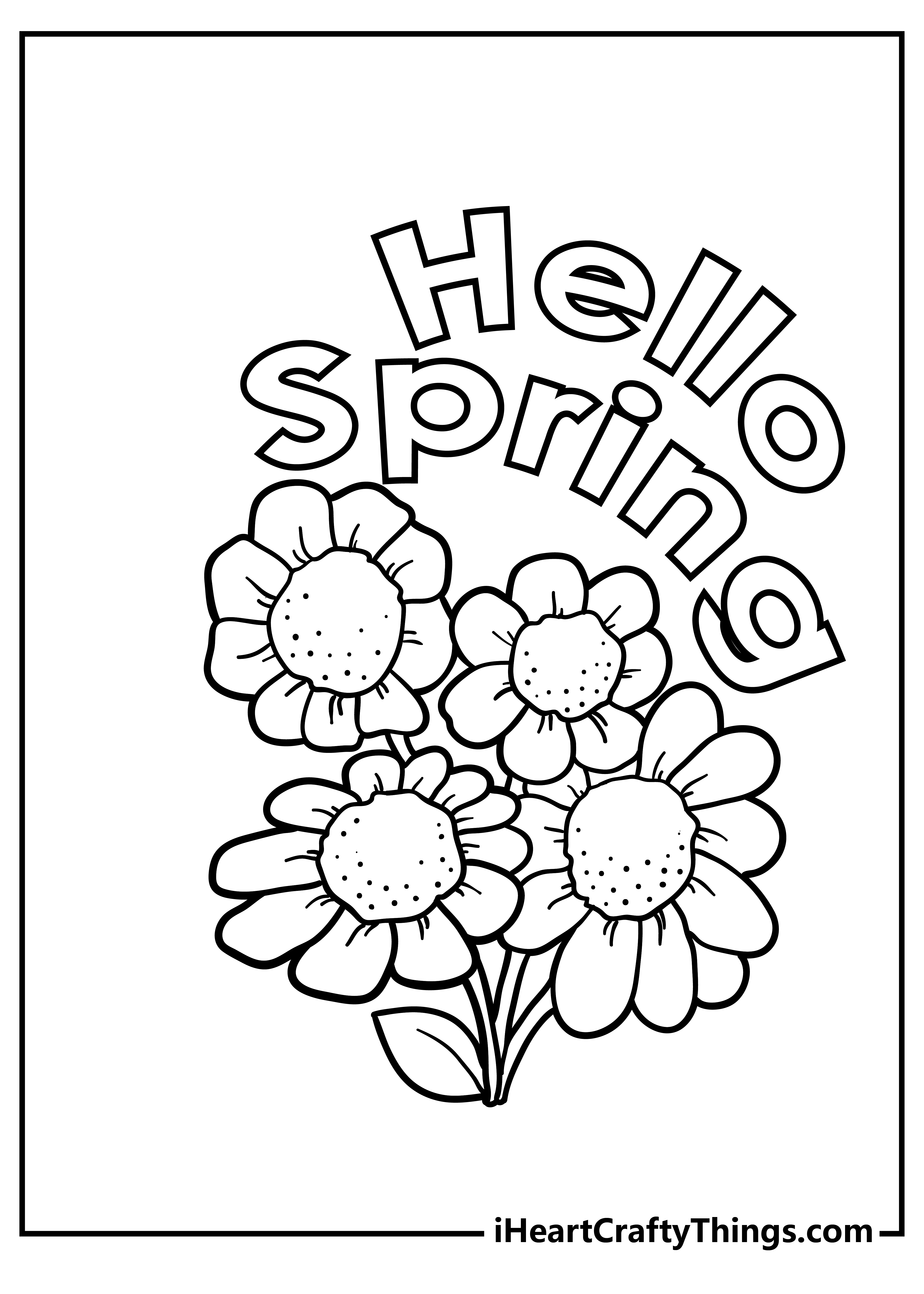 There are more smiles to share in this next page we have for you!
Smiling flowers and more cute bees create a charming feeling for this picture, and they will be even more fun and cheerful when you have worked your creative magic on them.
Which colors came to mind when you saw this image?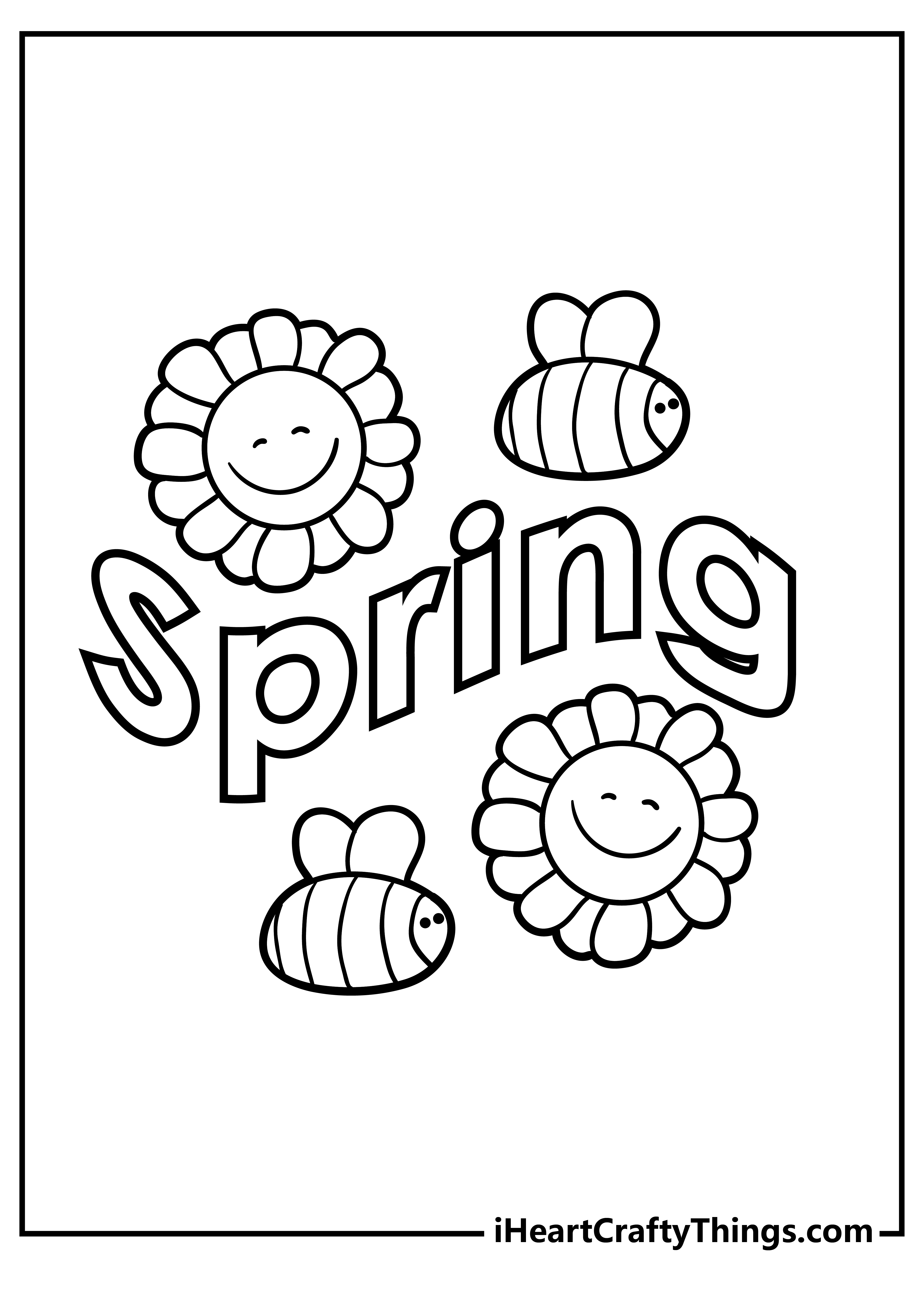 Flowers are blooming in this next one! This time, we have a pot with some pretty flowers sprouting from it, and the flowers have big petals to color in.
You could draw some extra details into the background to show what kind of setting you think this potplant could be in!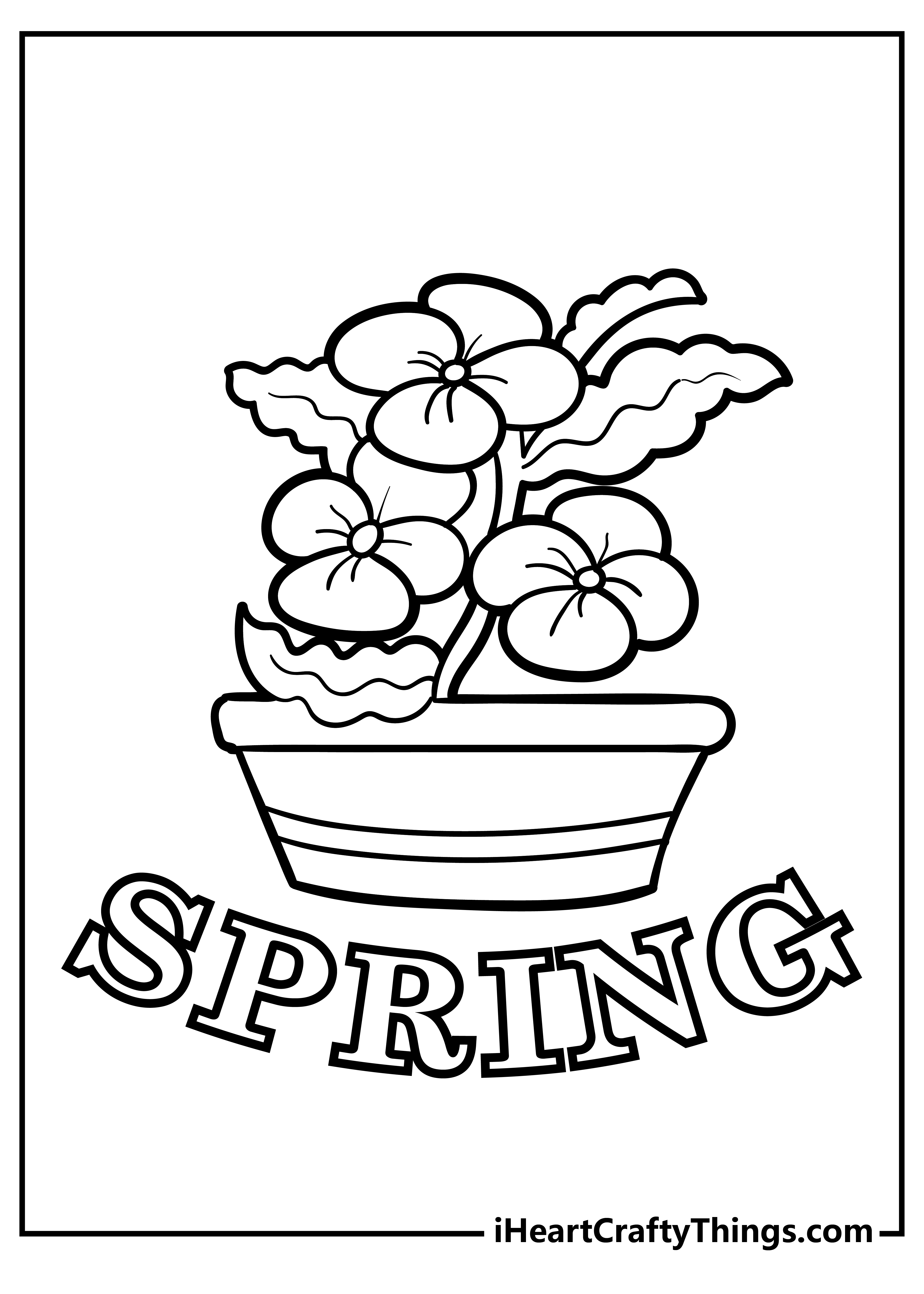 Tulips are some simple yet beautiful flowers, and they come in many different colors.
They are also featured on this page, and there are so many great colors you could choose when coloring this trio of flowers.
Will you make them all the same colors or pick a unique one for each flower? It's up to you now!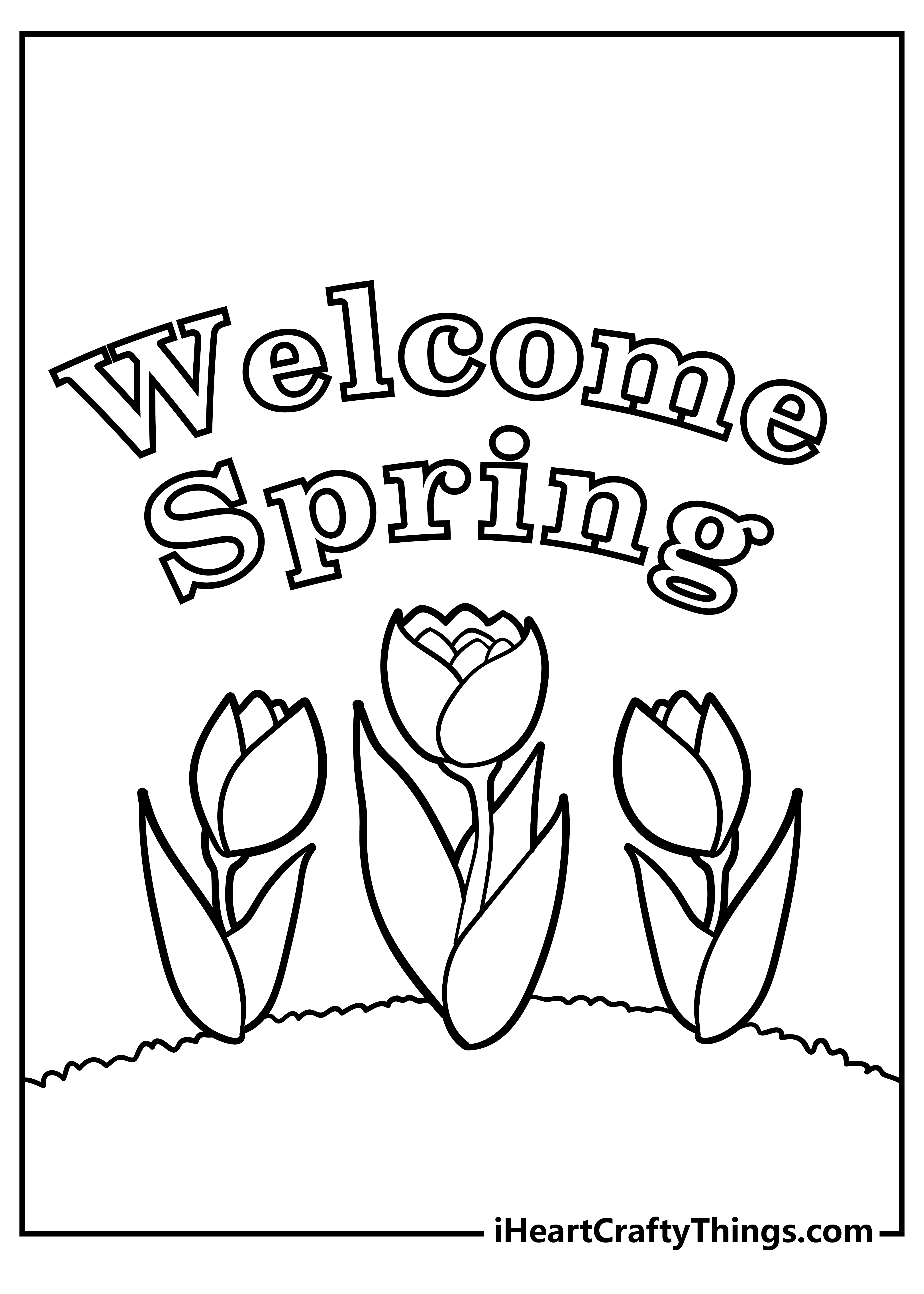 We have one more big and happy Spring coloring sheet for you! This time it's a large smiling flower, and it's another one that gives off such a happy feeling.
We would use bright yellow for the center of the flower, and then we would use a different color for each petal.
This is what we would do, but what will you do to color this one?
Spring Coloring Pages – Which will you choose?
We hope you had an amazing time celebrating this incredible season as you worked through this collection of free Spring coloring pages for kids!
There were so many different pretty scenes to color, and we're sure you will get to show off how creative you can be.
When you have colored your favorite pages and shared the collection with others, you can share your finished pages on our Facebook and Pinterest pages for us to see.
We can't wait to see how they turned out!