On this page, you will find 30 all new Easter Egg coloring pages that are completely free to print and download.
Most people are familiar with the festive holiday tradition of dying eggs for Easter.
Adults and children alike get a kick out of mixing the dyes and creating all kinds of fun patterns and colors on their eggs.
Hiding and searching for eggs on Easter morning is also a tradition in many homes and families. And families have all different kinds of strategies for coloring the perfect egg.
Whatever your egg-dying technique of choice may be, these beautiful brightly colored eggs have become a symbol of the holiday.
Even Easter-themed chocolates and candies are made in the shape of eggs in celebration of this holiday. Easter eggs can have so many beautiful colors, patterns, and designs.
The creativity involved in dyeing Easter eggs has made them one of our readers' favorite things to color. This has created a demand for free Easter egg coloring pages for you to enjoy.
So without further ado, here are all new Easter egg coloring pages that you can download and print for free. Enjoy the intricacies of these coloring sheets and have fun making your masterpiece.
REMEMBER: You can get the COMPLETE set of these coloring pages >> HERE
Easter Egg Coloring Pages – 30 All-New Printables
The Easter egg coloring sheet that we have for you on this page has a simple yet classic design.
It can be nice to have a themed pattern on an Easter egg, but sometimes a simpler design can be great as well because it lets you create your own design.
There are some nice patterns and shapes on this egg, and while it's a simpler design that only means that there are an infinite amount of possibilities you could go for.
Do you think you will stick to a smaller sampling of colors or go for a colorful explosion?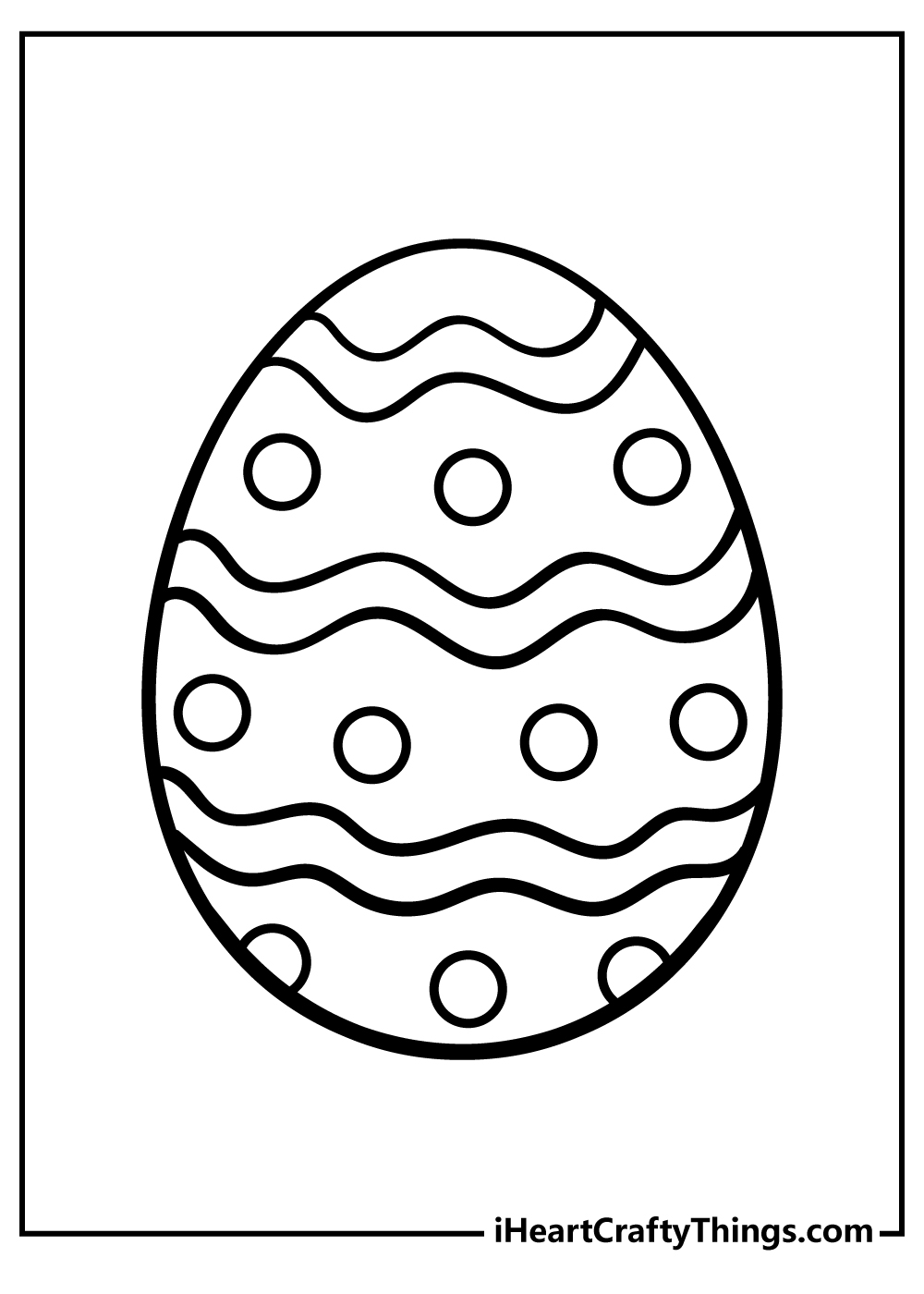 For the next Easter egg design, you have a simple yet vibrant design made up of star shapes. When it comes to a star shape, the first color that tends to come to mind would be yellow.
Even if you go for that color you can contrast it with the colors you use for the rest of the egg.
While yellow may be the most common color used for stars, you could use any other colors you love instead if you prefer! Maybe you could really go for it and make each star a unique color.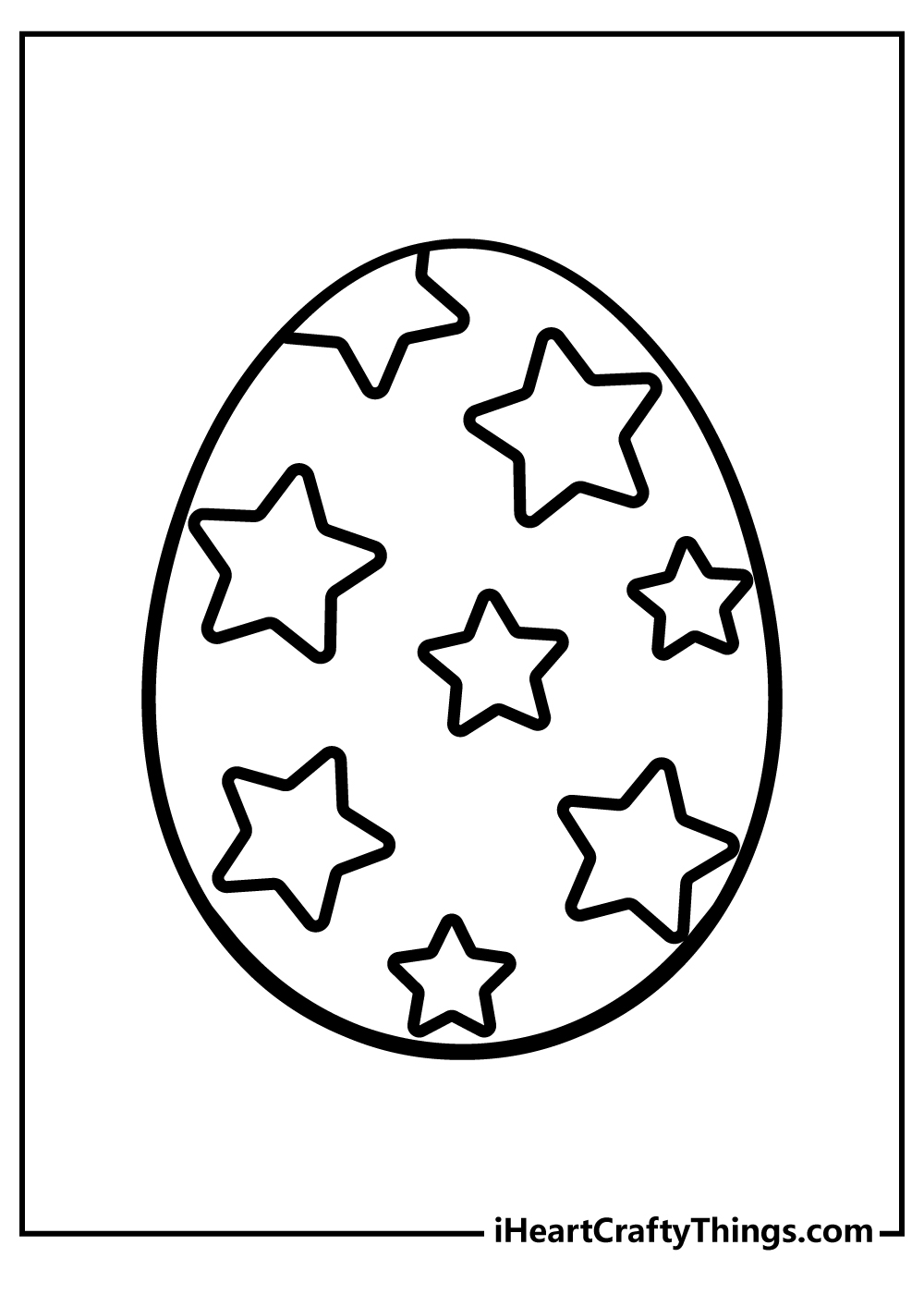 Easter eggs have all kinds of intricate patterns and designs, like the one in this coloring page.
It has little images that look like crashing waves at the top and everything seems to swirl around a blank spot in the middle.
Believe it or not, the practice of decorating eggs is not new. Eggs have been decorated for various reasons for thousands of years!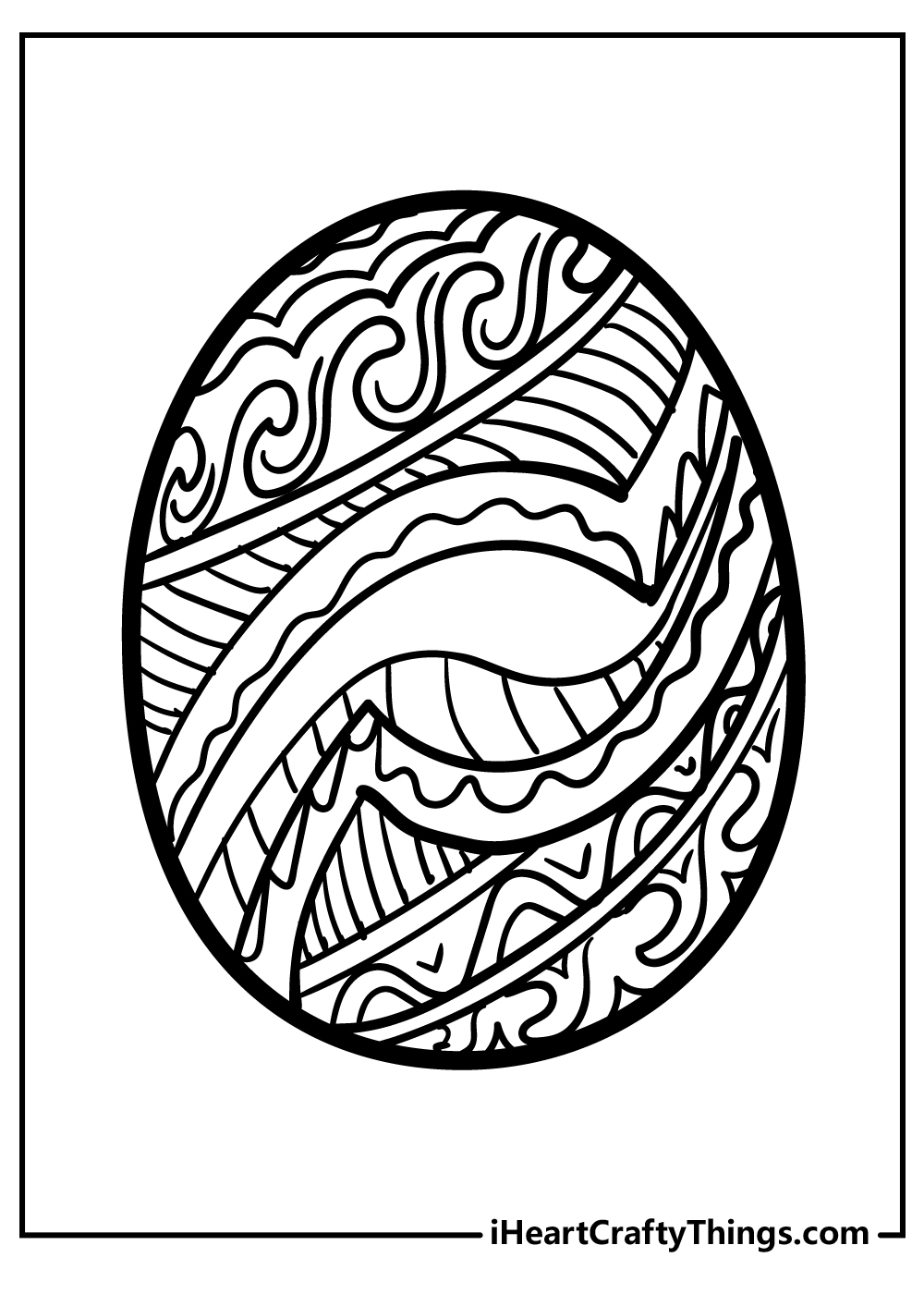 The theme of this next page would be love and romance, as this egg has some hearts worked into the design.
For the hearts, we think that using some classic colors like red and purple would be perfect for these details.
There are also some twisty shapes between the hearts, and these could prove a bit of a challenge to color.
Whenever coloring a page, you should never look at it as a race, and you can really take your time carefully coloring these shapes.
We've discussed the colors we would use, but what do you think you will use?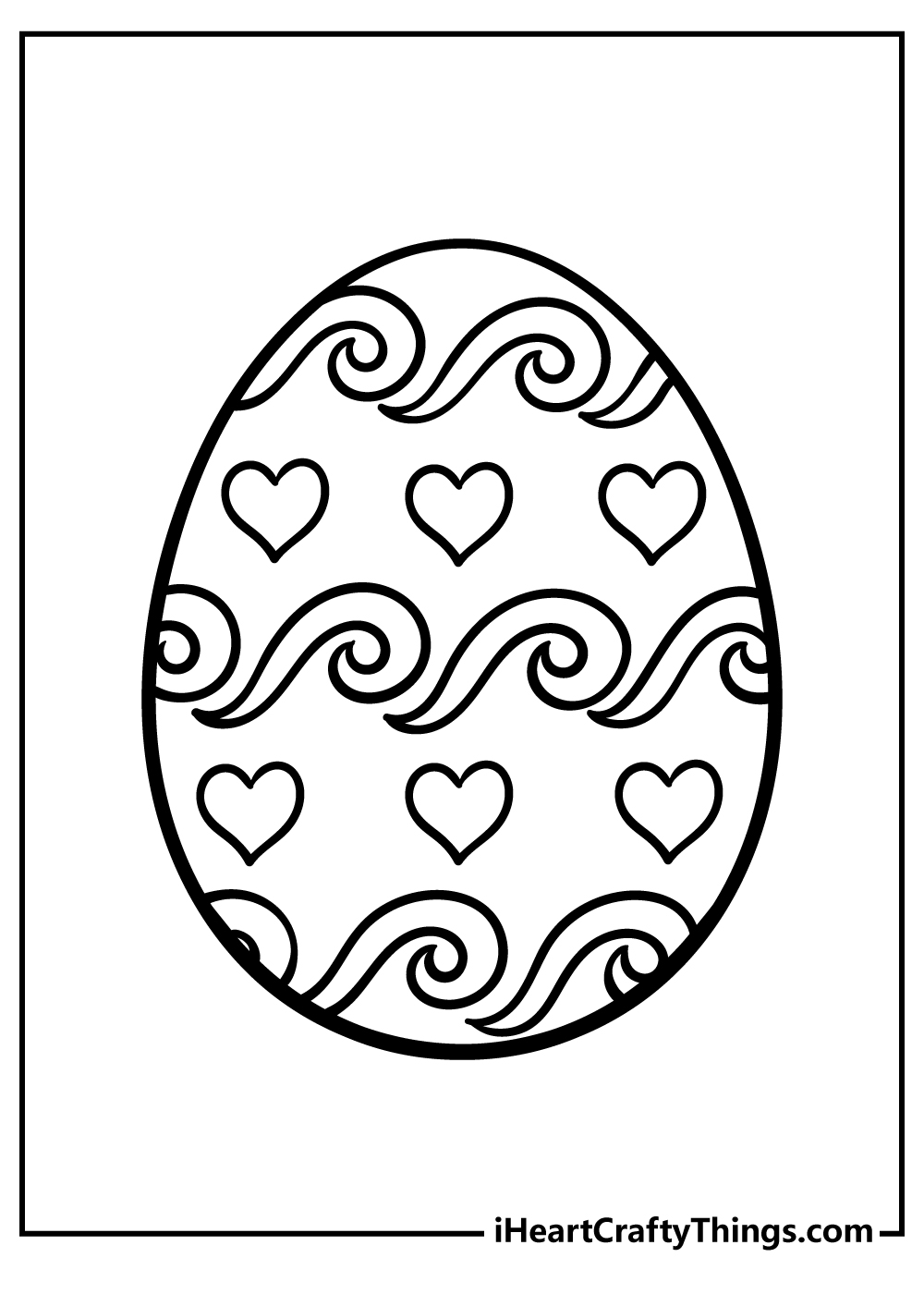 Easter eggs are usually only associated with Easter, and it's easy to see why as it's in the name!
The next page in our collection of free Easter egg coloring pages for kids shows that they can be themed to other holidays, as this one gives off a Christmas feeling.
That could give this page a nice twist, and you could take it even further by using colors traditionally associated with Christmas.
Do you agree with the festive theme, or does this design make you think of something else? We would love to see how you interpret this design!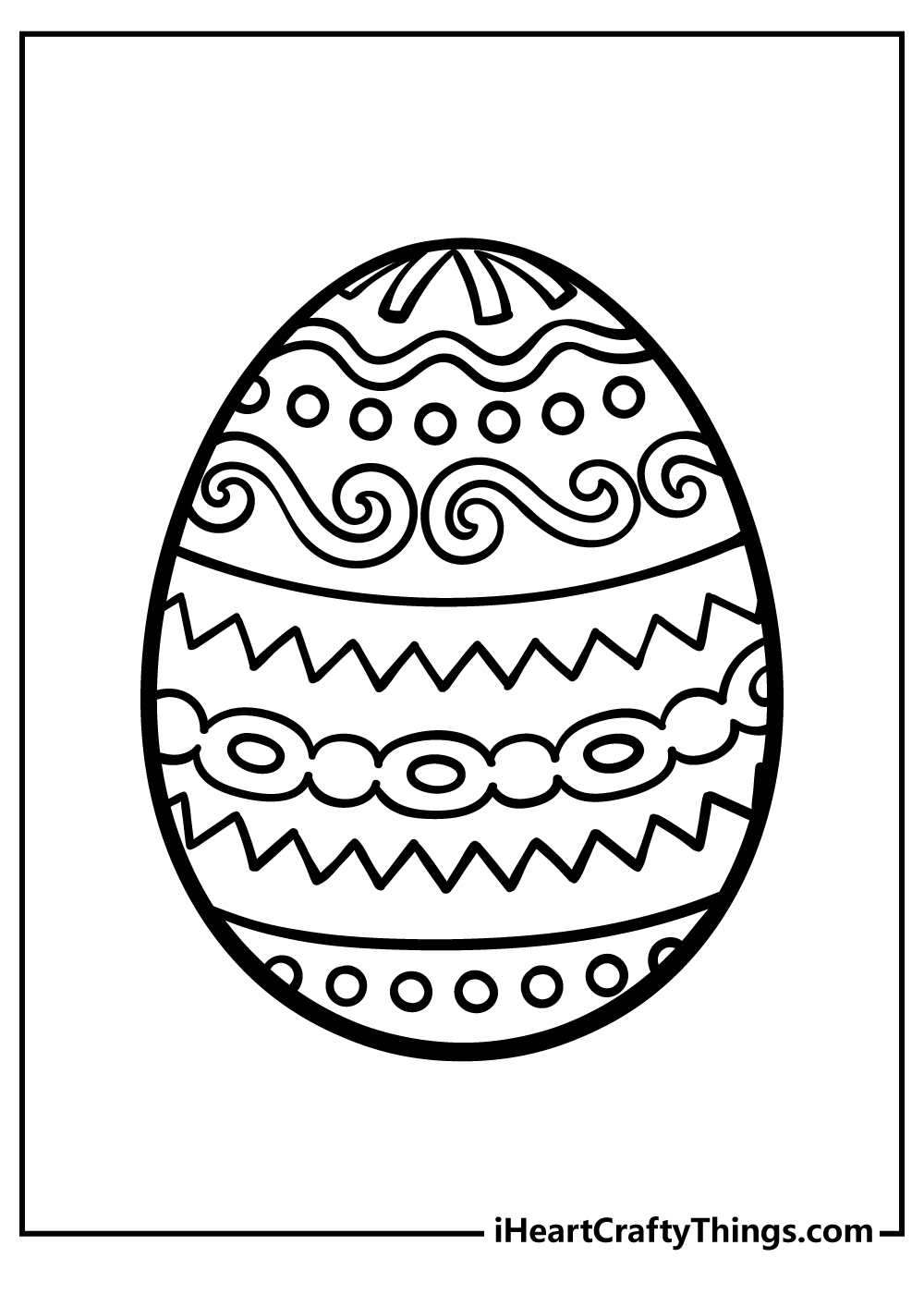 Even though we are used to using chicken eggs to decorate and hide, in the past all kinds of eggs were decorated.
Ancient cultures created ornate designs on enormous ostrich eggs to place in graves at funerals. This Easter egg looks like it could be fit for royalty with its beautiful round and triangular shapes.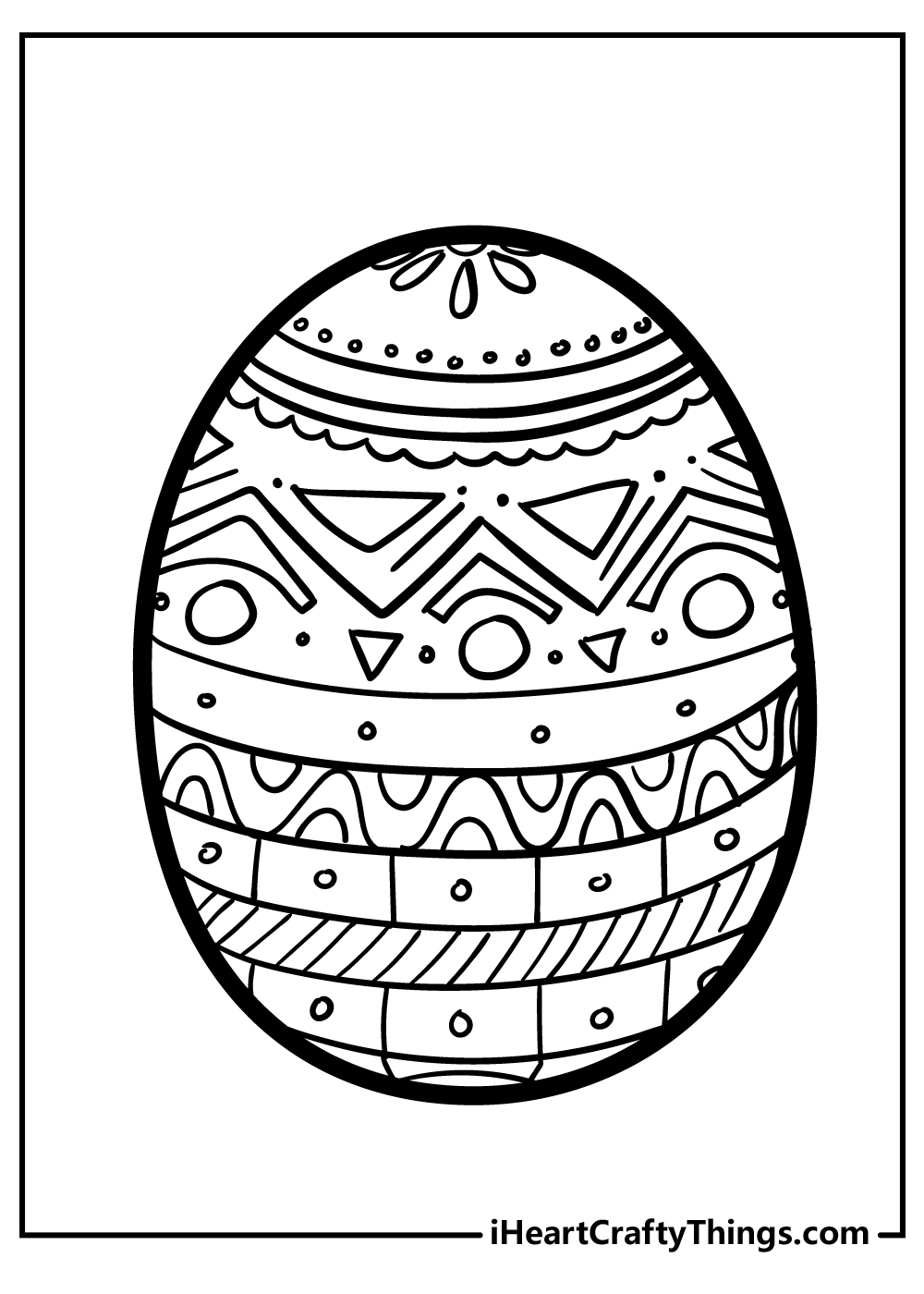 The Easter bunny has arrived in this Easter egg coloring sheet! He wears a pair of overalls and brings two enormous decorated eggs that almost look too big for him to carry.
He will probably hide these eggs overnight, and in the morning the search for them will begin.
Sometimes instead of hiding real eggs, the Easter bunny hides plastic eggs with chocolate and other treats inside.
REMEMBER: You can get the COMPLETE set of these coloring pages >> HERE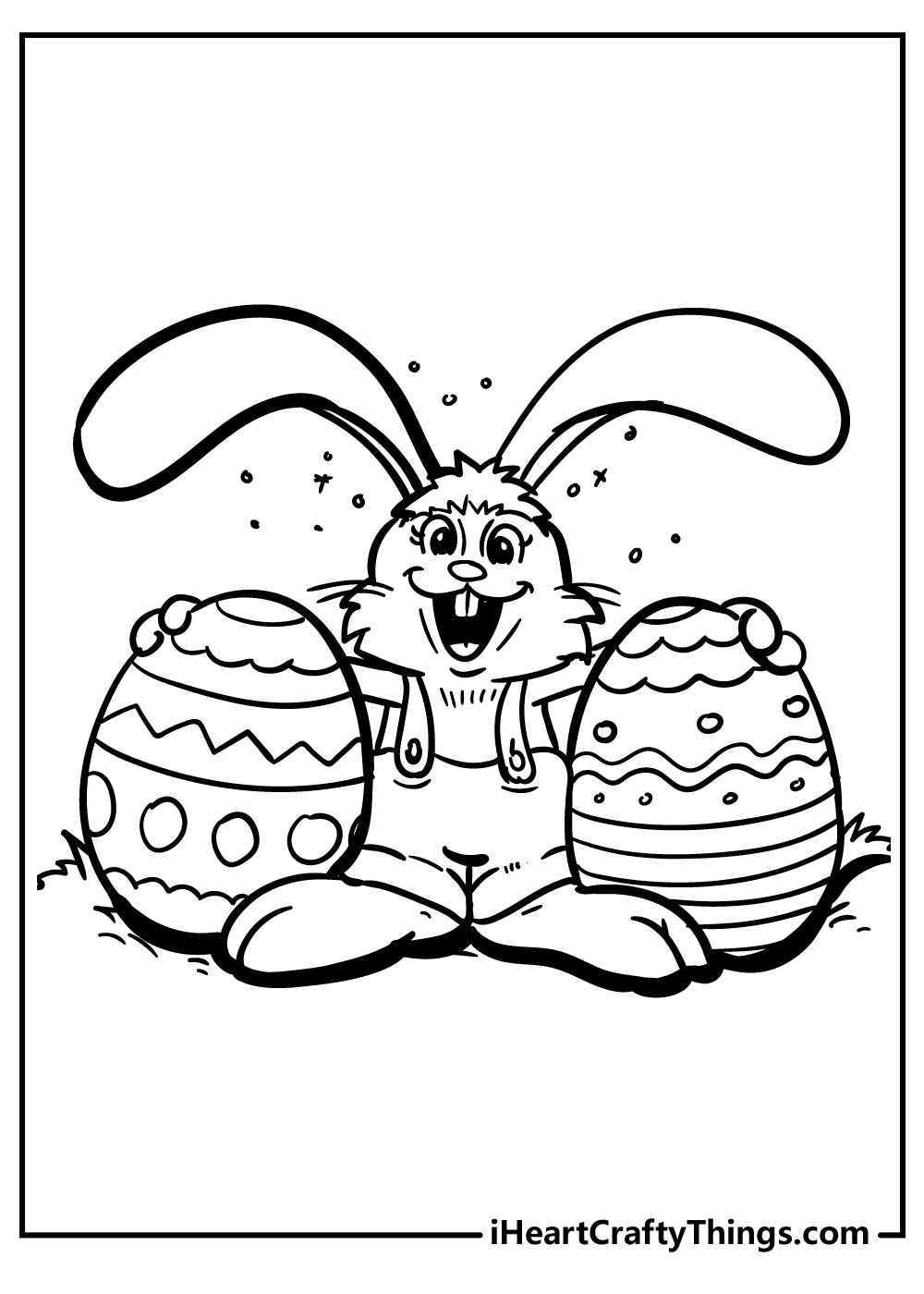 The three eggs in this Easter egg printable all have different designs. One has vertical stripes, while the other has a swirl pattern and the third has O-shapes at the top.
They sit in a patch of grass outside. Perhaps they have been hidden by the Easter bunny and are waiting to be found during an Easter egg hunt.
REMEMBER: You can get the COMPLETE set of these coloring pages >> HERE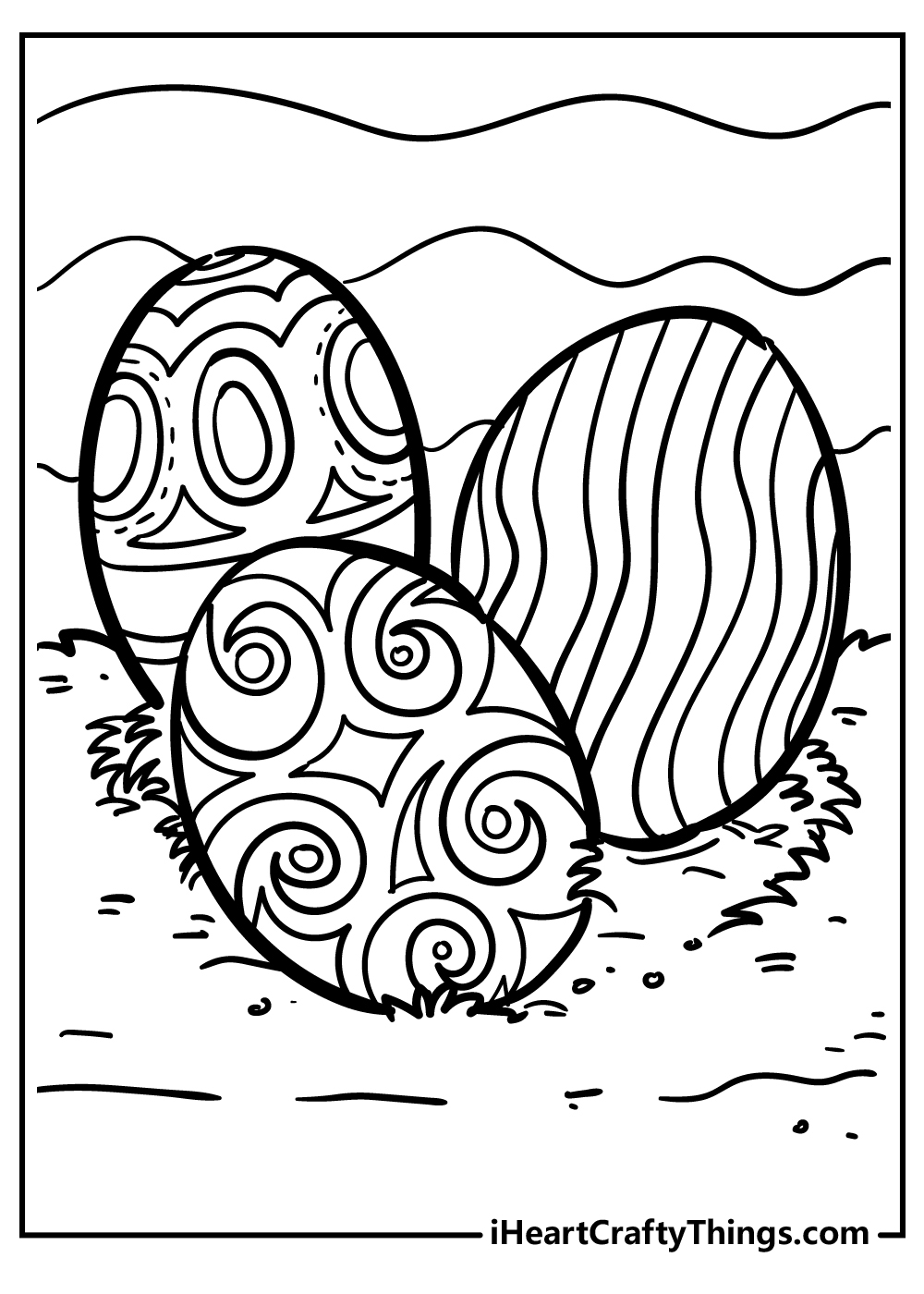 Some people might even decorate their eggs to look like characters from movies and television shows.
There are some very impressive eggs themed around Sesame Street, Super Mario Bros, and more.
We love this Easter egg printable sheet of an Easter egg with an excited, smiling face at the bottom. It has big eyes and a wide-open mouth.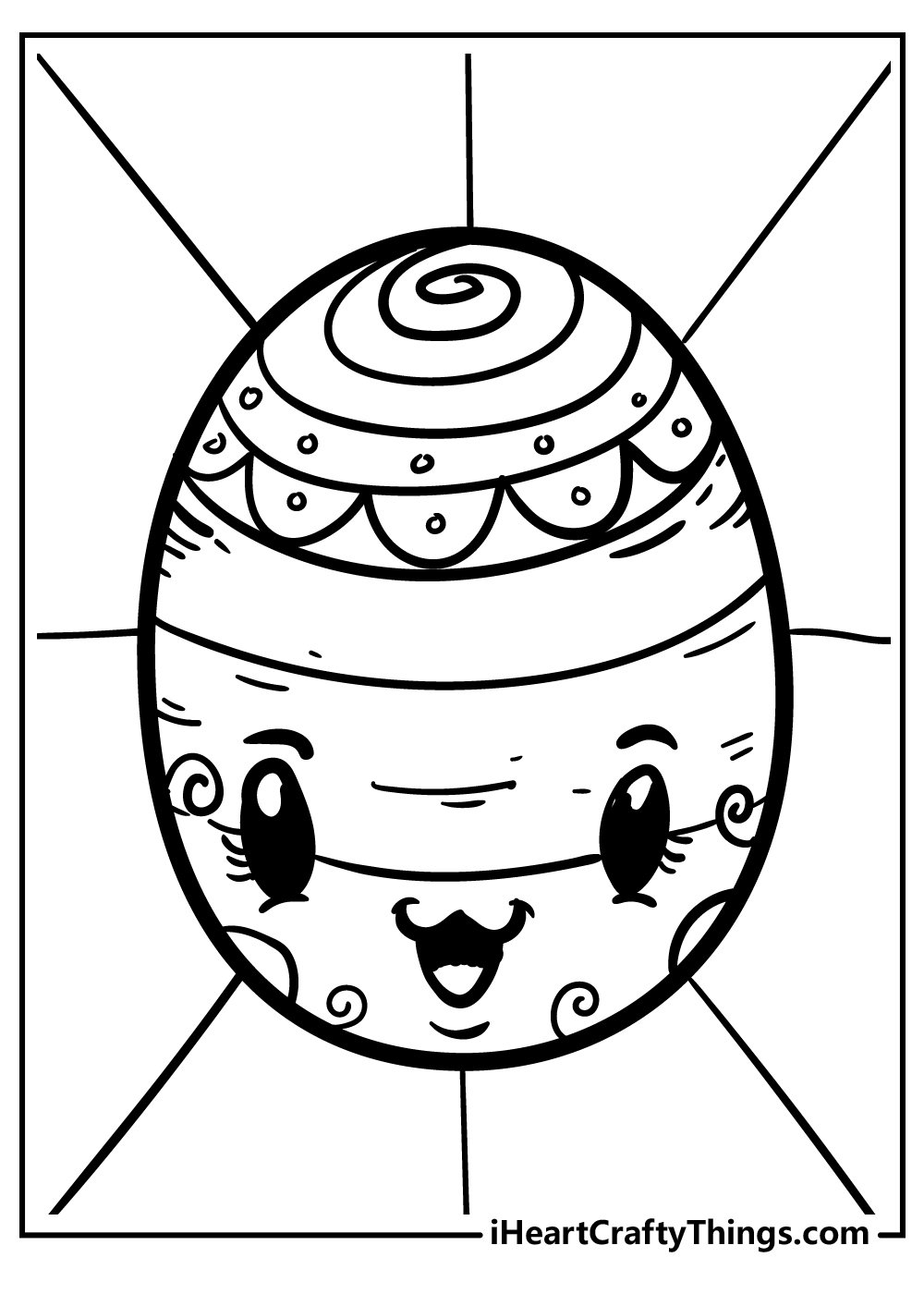 We're back with another romance-themed design, as this pretty Easter egg has plenty of hearts on it for you to color.
The design is simple yet elegant, as it shows the hearts arranged between some wavy, thin shapes.
When it comes to a design like this, you could either stick with just a couple of colors, or you could color each element in its own color.
There are so many possibilities, and they will all look great in their own way! How do you think you will color this egg?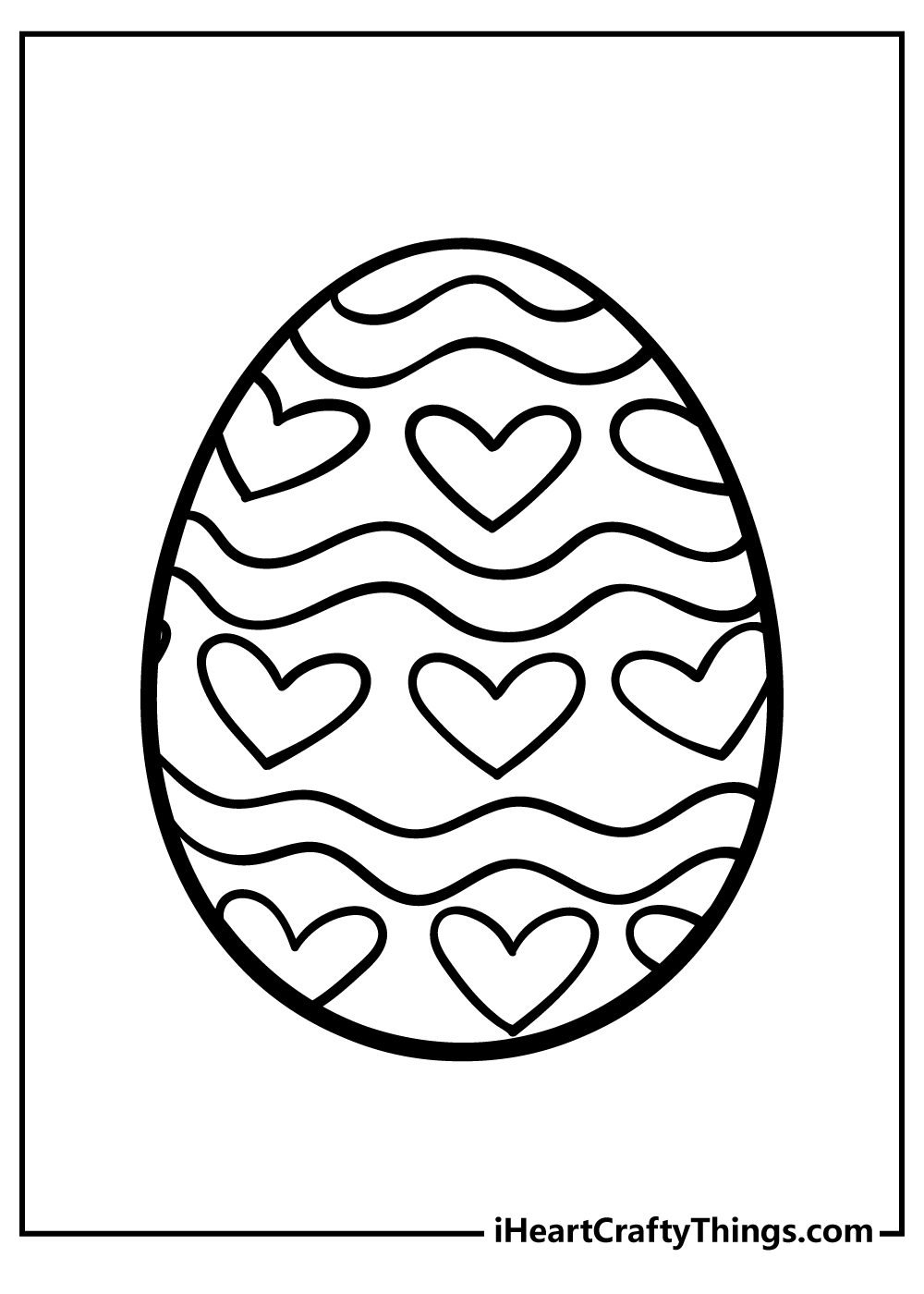 Another simpler design is gracing this Easter egg we have up next. The jagged shapes on this egg may be simple, but they manage to make the egg look quite striking.
This effect will only be increased once you have added some colors! For this design, we would probably go for some bright and vibrant neon colors done with some colored pens or markers.
Once you have colored the patterns, you could also draw some additional patterns and details between them, and that would allow you to use even more colors!
We're sure you will be able to make this one look incredible.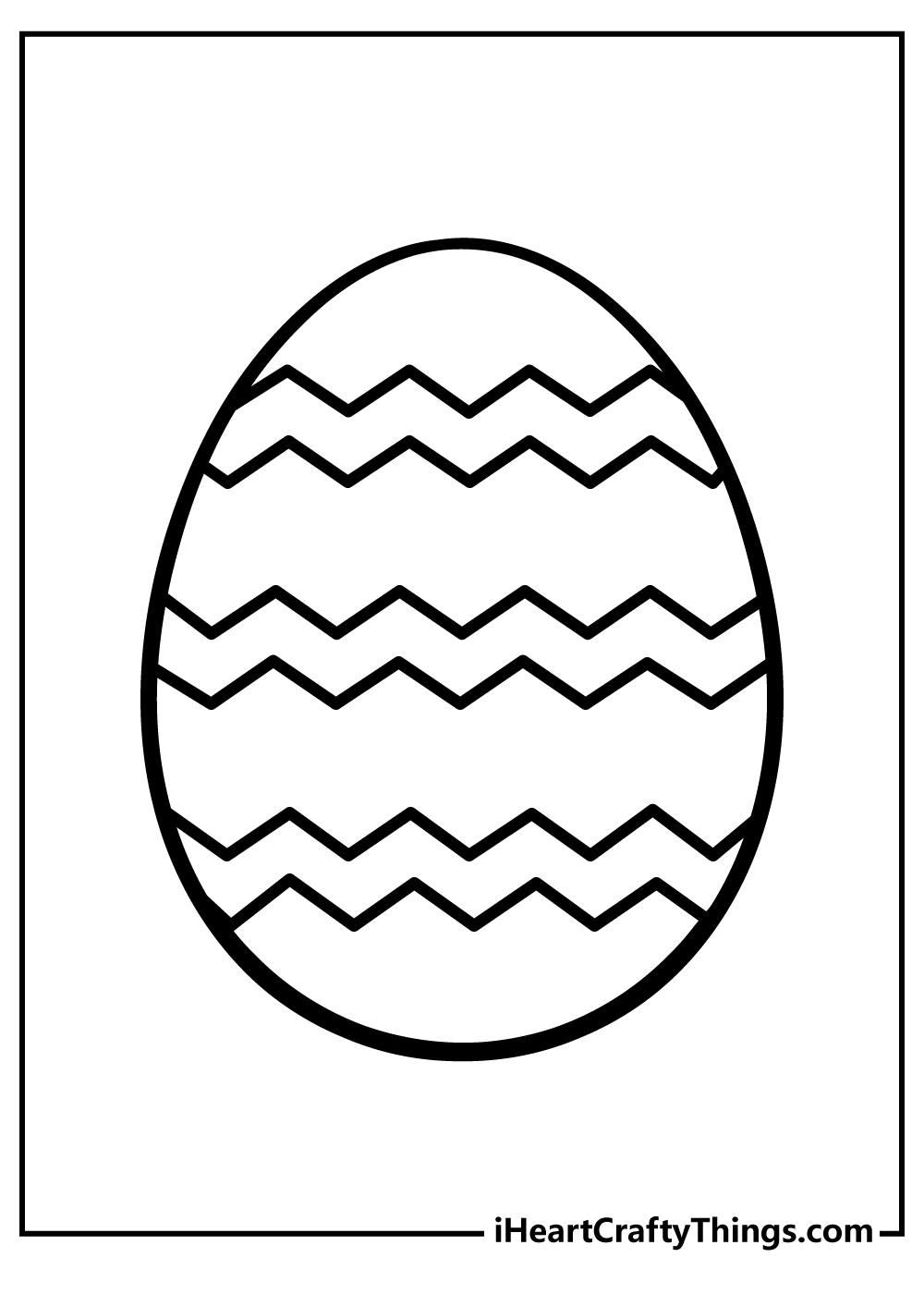 This Easter egg coloring page for kids combines two of the best things about spring – flowers and Easter eggs! The egg is decorated with images of daisies all over it.
This egg is perfect for spring. The longer, sunnier days and warm weather make it the perfect season for flowers to bloom and show their beauty.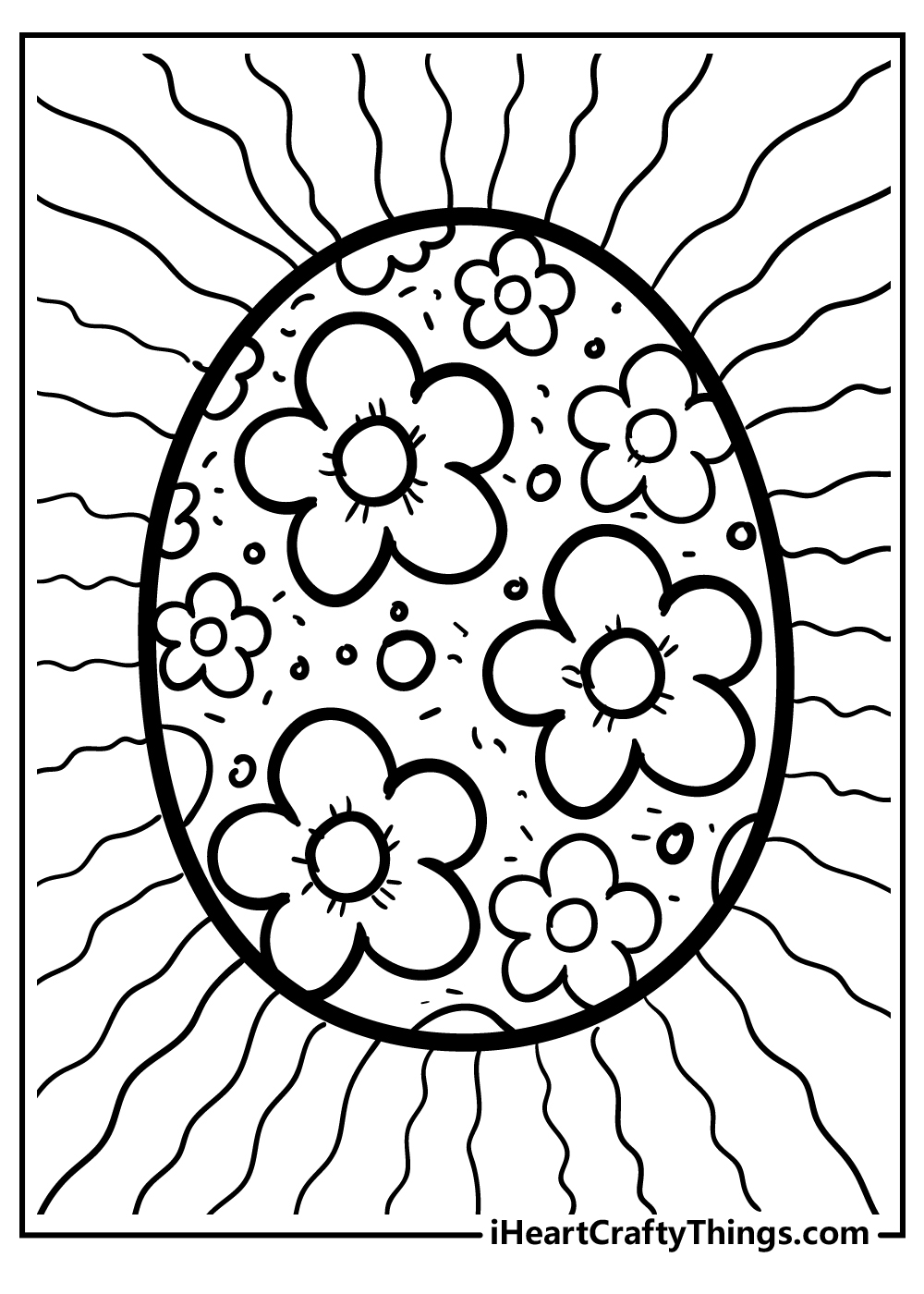 Most people dye Easter eggs using a similar method. They boil the eggs until they are hard and then mix cups of vinegar with food coloring to create the dye.
Some people have come up with even crazier methods where they use things like Cool Whip or shaving cream to dye their eggs.
We wonder what method was used to create the patterns and star shapes on this Easter egg printable.
REMEMBER: You can get the COMPLETE set of these coloring pages >> HERE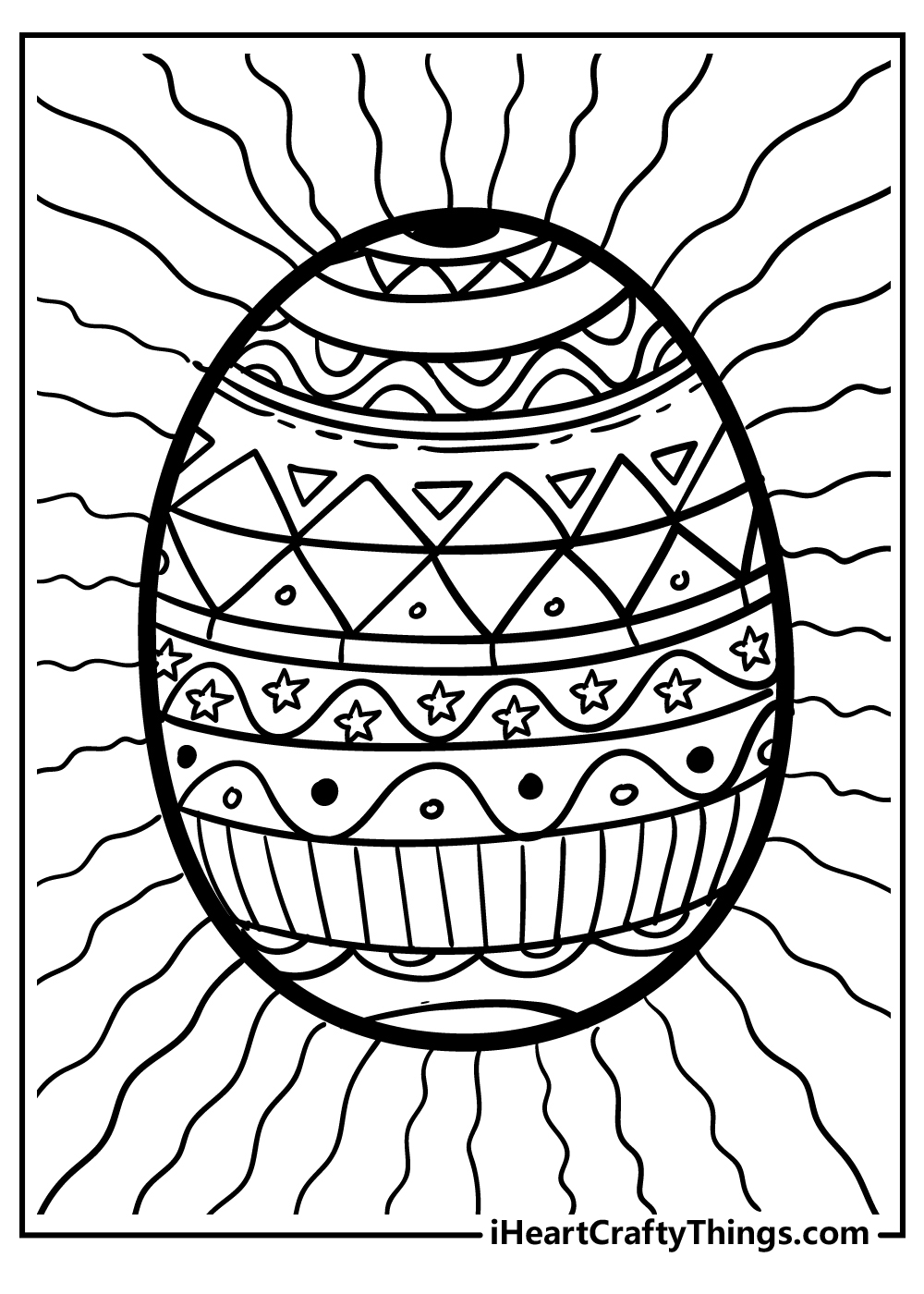 The wavy design featured on this next Easter egg coloring printable looks very simple at first glance, but you may find it to be trickier to color than expected.
Even with a simple pattern like this, it can require quite a steady hand if you want to stay between the lines.
If we were coloring this one, we would probably stick to just two or three colors alternating, as we think that would make for a simple yet effective design.
As always, it's up to you! You could use an approach like the one we suggested, but you could also use lots of amazing colors.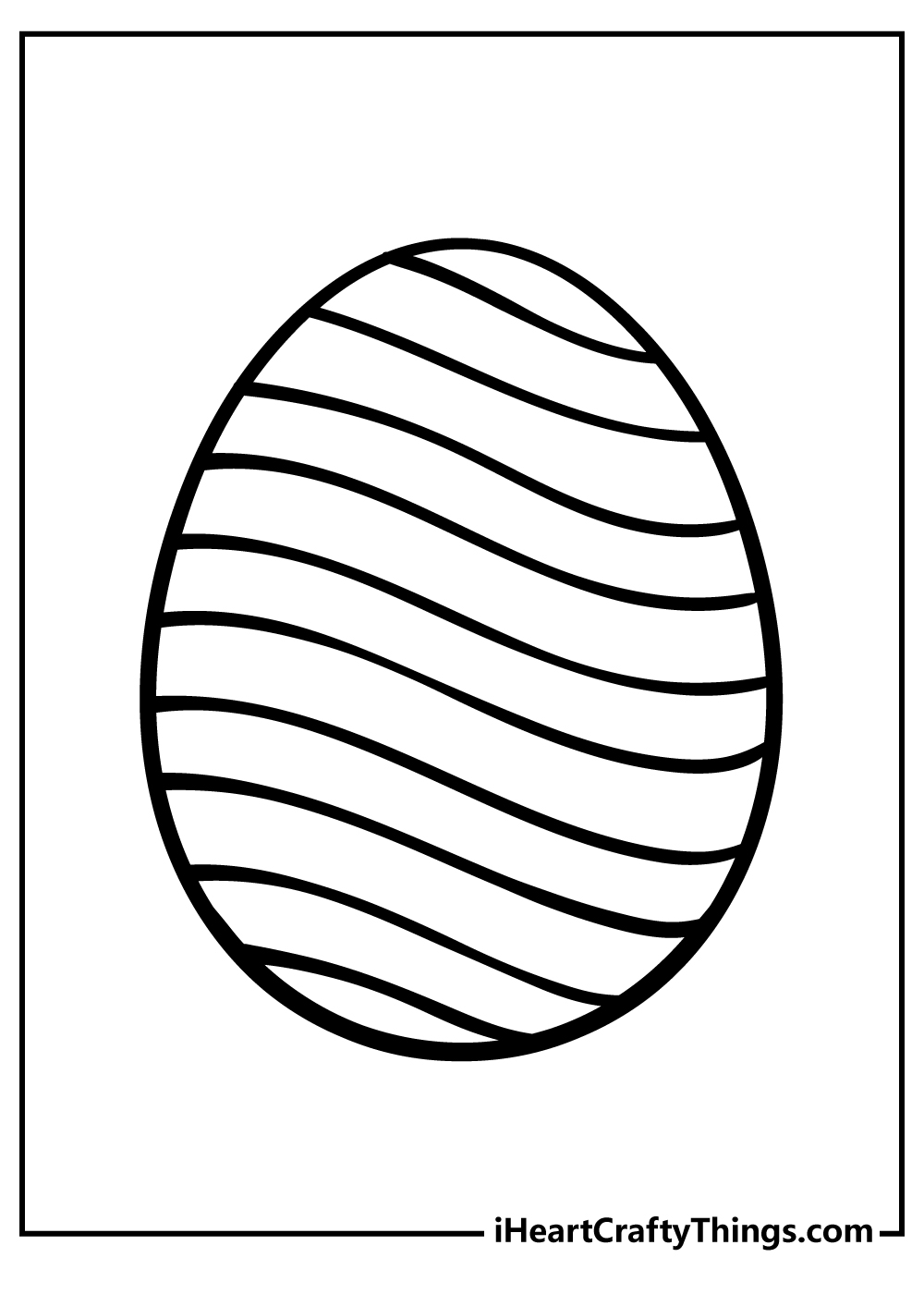 We love the simple and funky design featured on this next Easter egg!
The egg has been covered in various circular shapes, and it's another example of a simple design that leaves a lot of room for you to get creative.
When a design is simpler like this, you can also make it more complex by adding some additional details of your own!
You could even draw a background setting for this egg to be a part of, and that could be a fun challenge to make this even better!
This coloring page could not be any cuter. It shows a little rabbit with one ear flopped forward holding a decorated Easter egg in his paws.
Perhaps this rabbit found an egg that was hidden outside before the humans could. He has certainly claimed this egg as his own prize and he looks very happy to have it.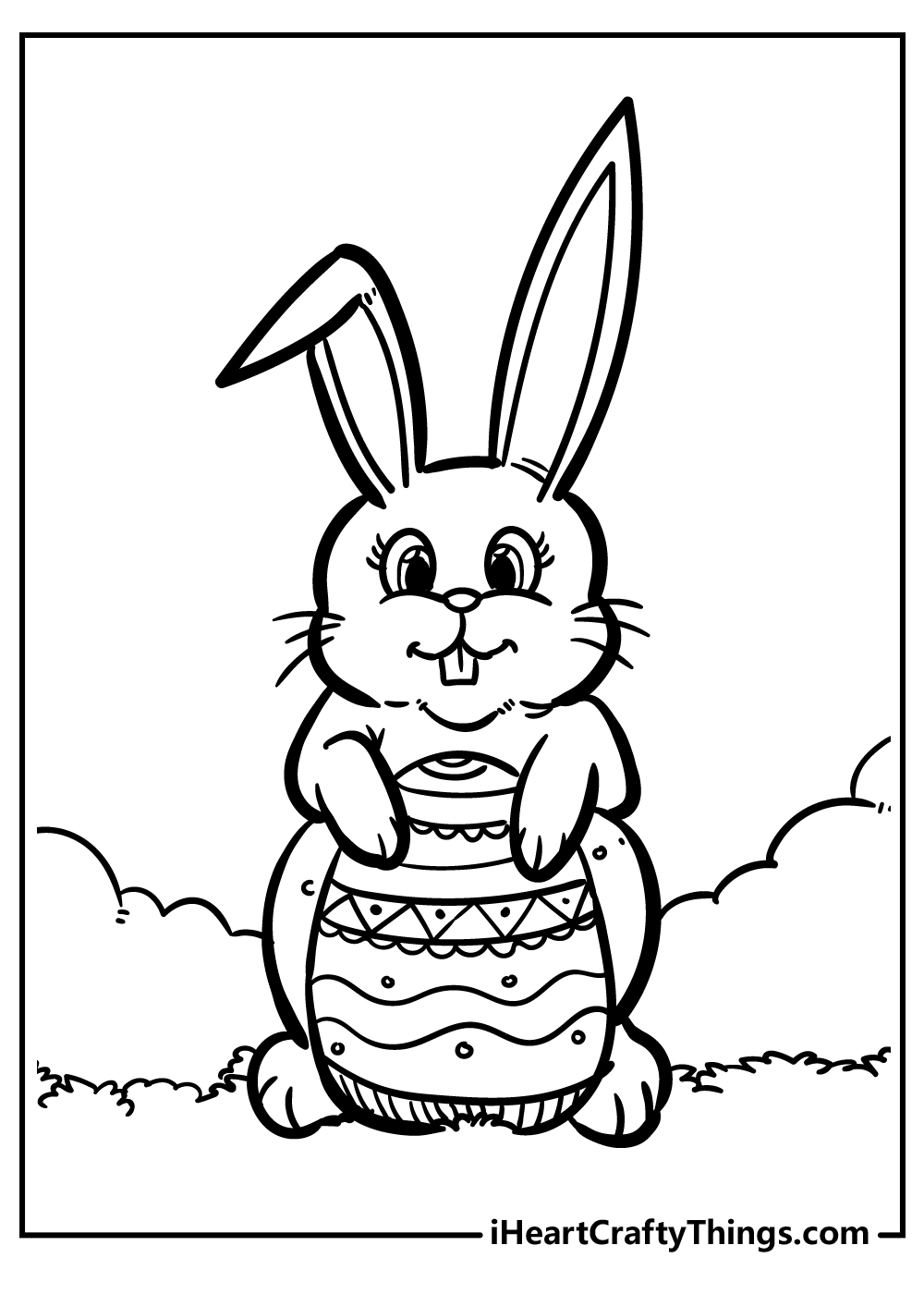 This Easter egg is especially creative. It appears to have been painted to resemble the Easter bunny himself.
It has little ears sticking out of the top of the egg and it has a smiling face and a little outfit with a heart on the front.
Remember that all of these Easter egg coloring pages are completely free to print, so feel free to print and color as many as you want.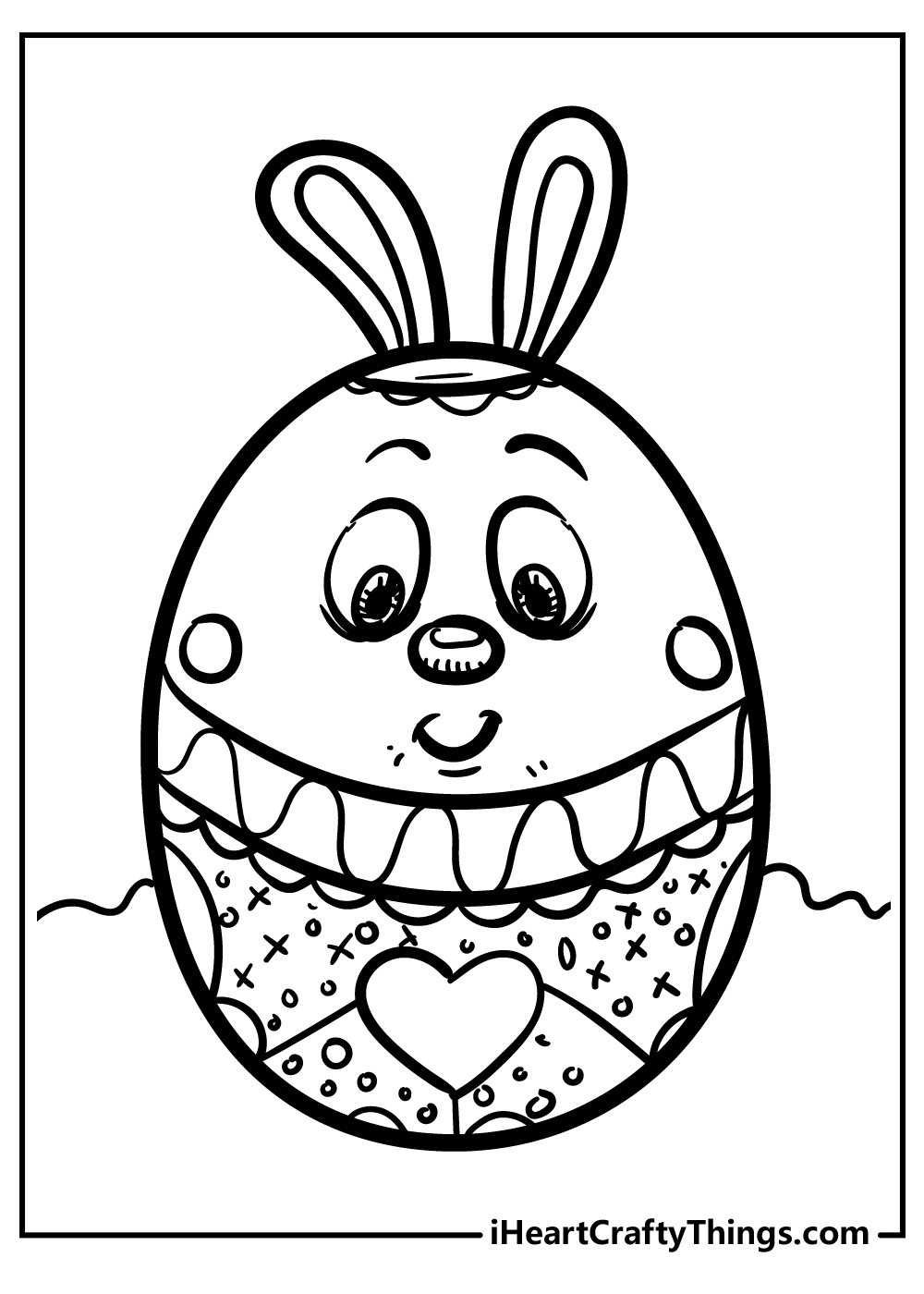 The intricate patterns on these eggs have been created in people's Easter traditions for centuries. They had all kinds of interesting methods for creating beautiful and colorful eggs.
Some cultures colored their eggs by boiling them in water with things like onion peels or beet juice. Others use beeswax to write on the designs for their eggs.
REMEMBER: You can get the COMPLETE set of these coloring pages >> HERE
The egg in this free Easter egg printable has a face! It has wide-open eyes with eyelashes and a little smile below.
The top of the egg is decorated with stripes and a zig-zag pattern and the bottom has half-circle shapes and dots.
Every Easter egg design is unique and fun, but we can't help the feeling that this egg is watching us.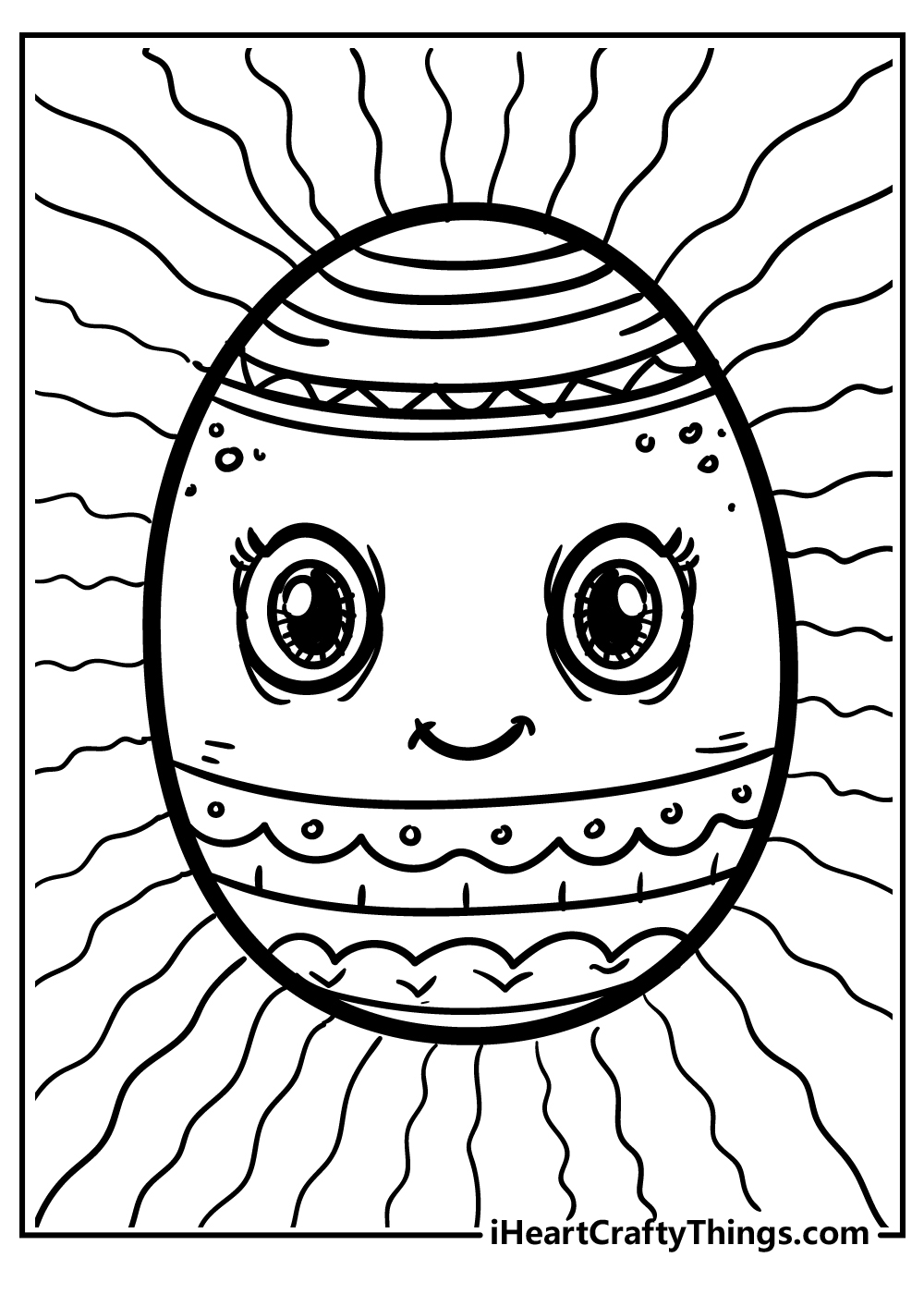 This beautiful Easter egg has a triangle pattern in the middle. It will probably be hidden for an Easter egg hunt with all the other eggs.
You've probably had an Easter egg hunt in your backyard, but did you know that some parks and gardens have gigantic Easter egg hunts with tons of people.
The largest ever Easter egg hunt consisted of 501,000 hidden eggs!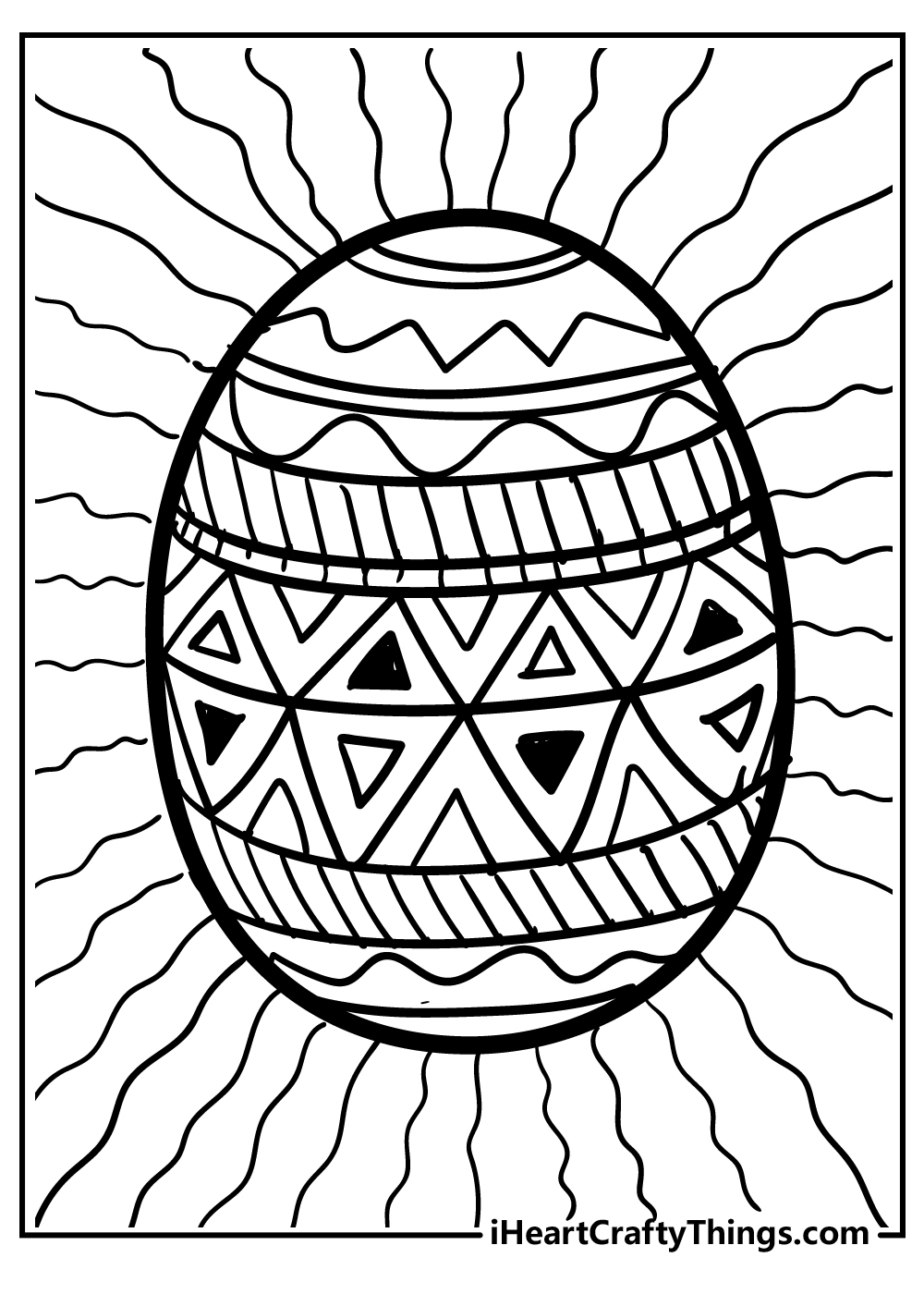 Easter is celebrated all over the world with many different games circling around eggs!
Some countries play egg tapping, where people tap their Easter eggs against each other to see which will be the last intact egg.
Others roll Easter eggs down the hill. But of course, the most common game is the Easter egg hunt.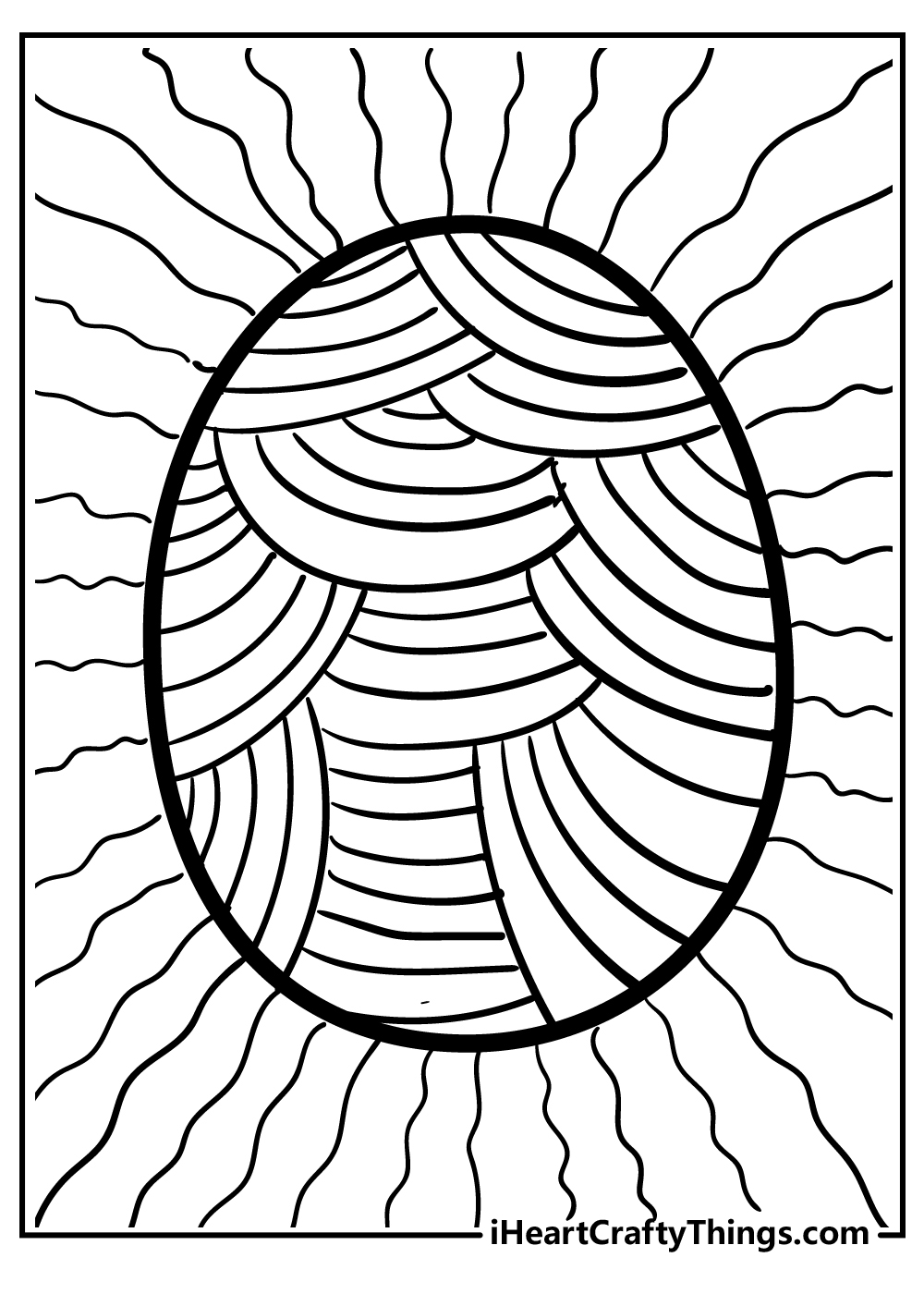 A pretty floral design is gracing the next Easter egg we have. Because of this flower theme, we think that some softer colors would look amazing for the picture.
We would also probably go for some softer mediums like colored pencils or watercolors to create a subtle look for the Easter egg.
We do think a softer look would be great, but you could also make it super bright and vibrant and it would look amazing in a whole new way!
It's up to you to decide, so how will you color this page?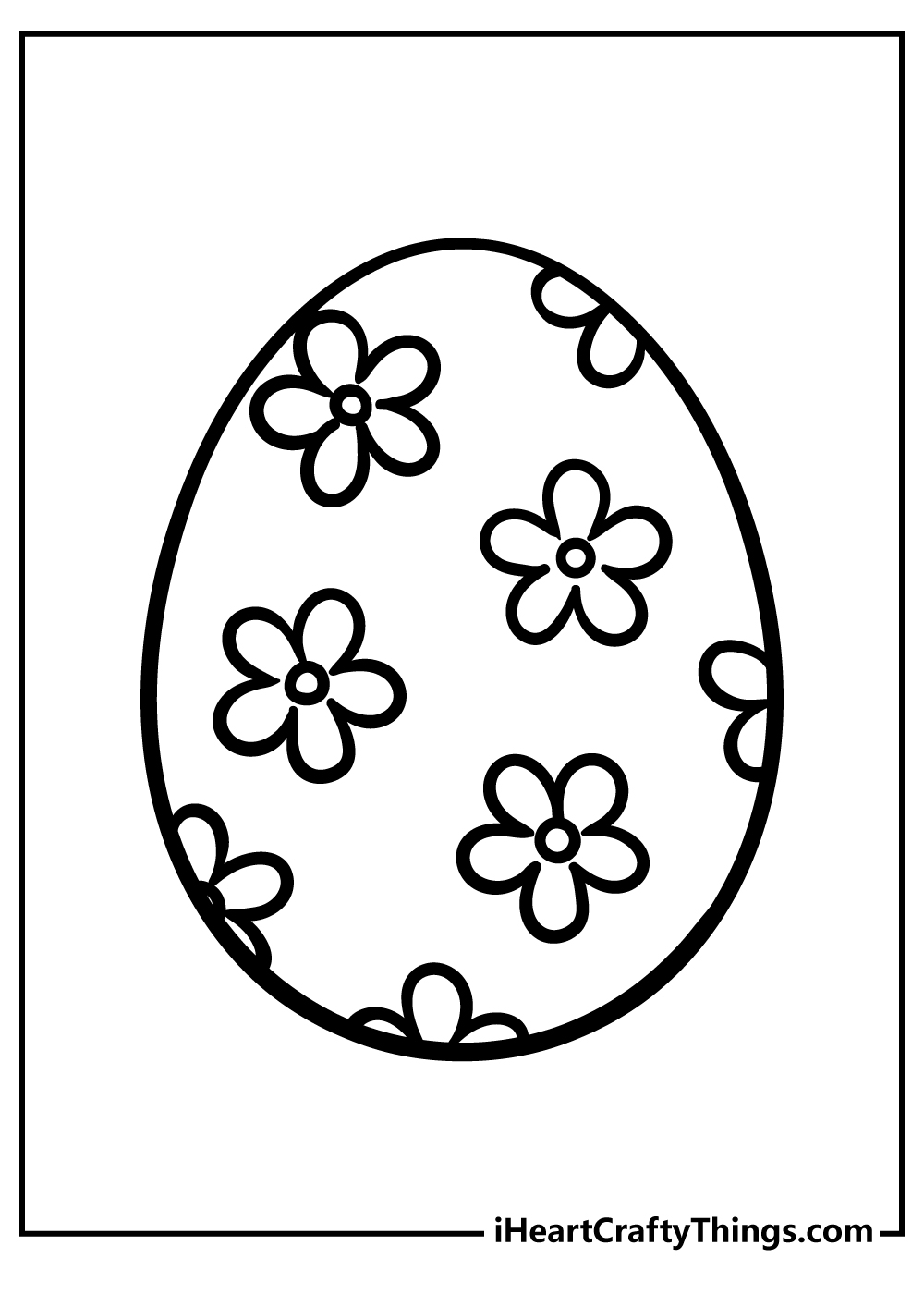 We have a wonderfully detailed Easter egg coloring page for you to enjoy. This egg is one of the most complex we have seen so far.
It not only has a little bow on it but also has a variety of different shapes and patterns on it that you can really do some interesting things with.
We think it would be great to use a variety of different mediums and art techniques for this one, as that would help to create a really interesting image.
We hope you will show us how this one turns out!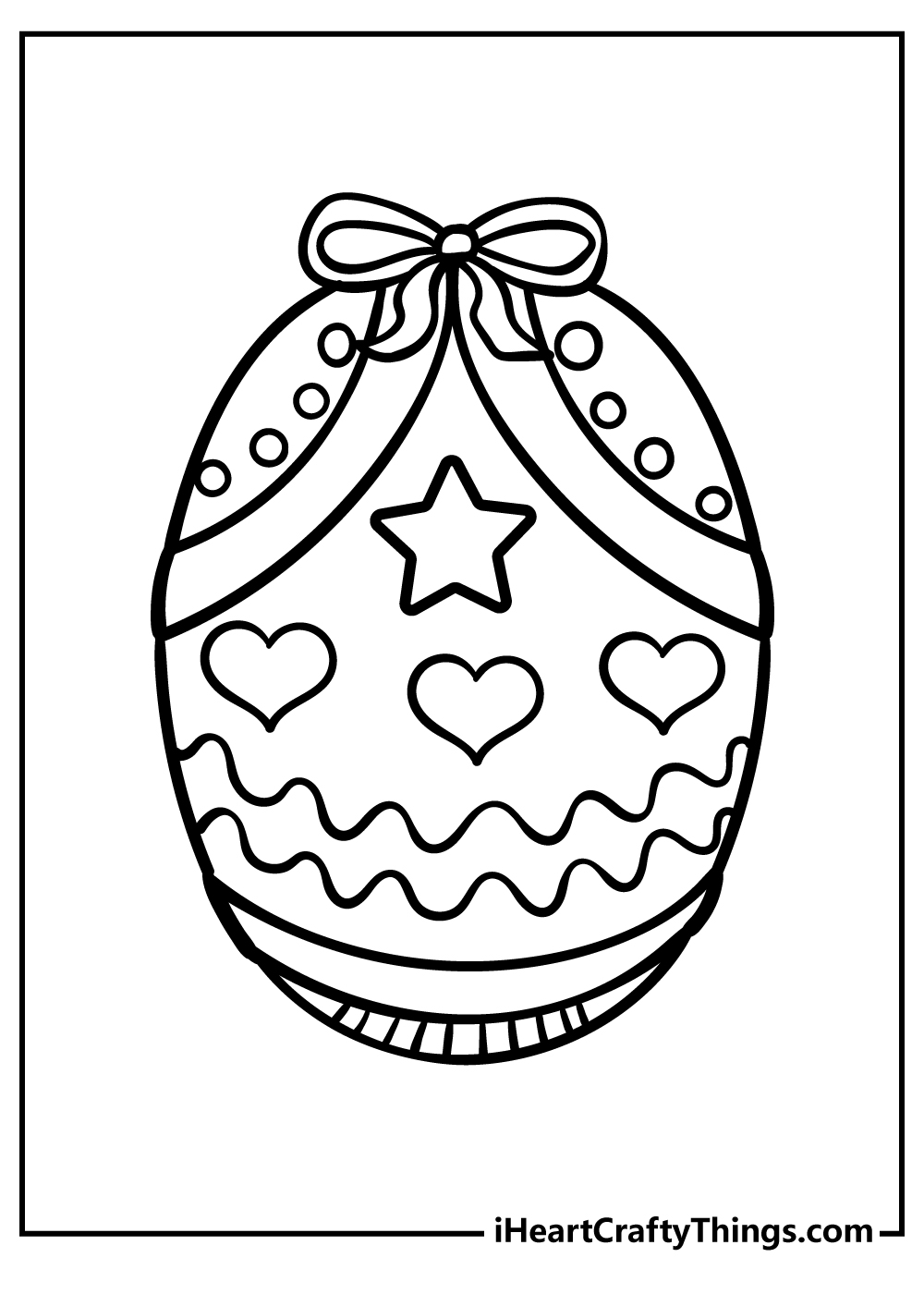 There is certainly a theme of beautifully patterned eggs with these Easter egg coloring pages. This egg almost looks like it has sparkling gemstones set in the middle.
The world's most expensive Easter "egg" is studded with diamonds and worth millions of dollars! We bet it wouldn't taste very good though, and half the fun is eating the eggs.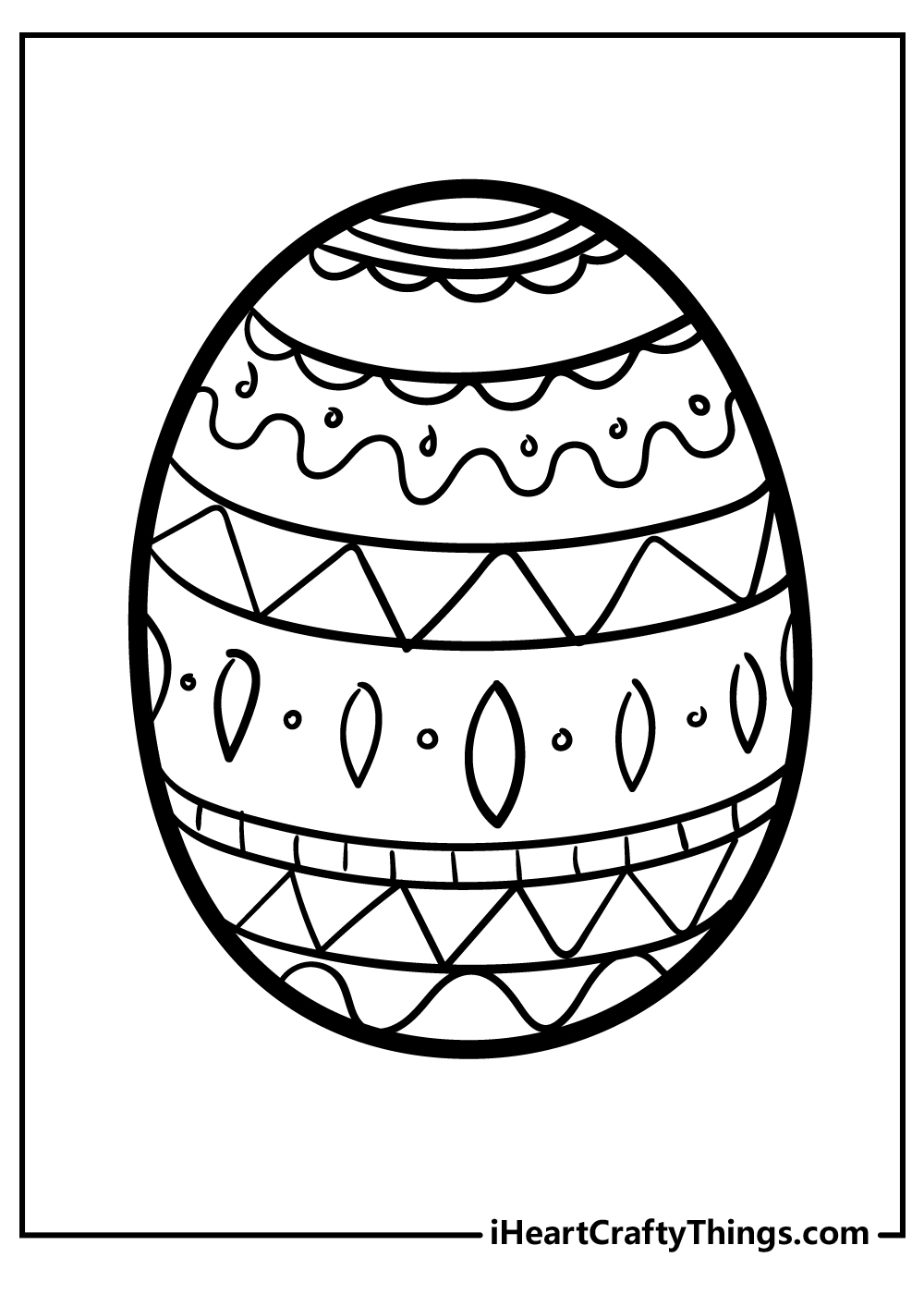 This Easter egg has been designed with large tropical-looking flowers all over it. The petals have large pointy leaves with dots all over.
It reminds us that warmer weather is coming and soon all the flowers will be in bloom. What colors will you use to bring to life this floral Easter egg?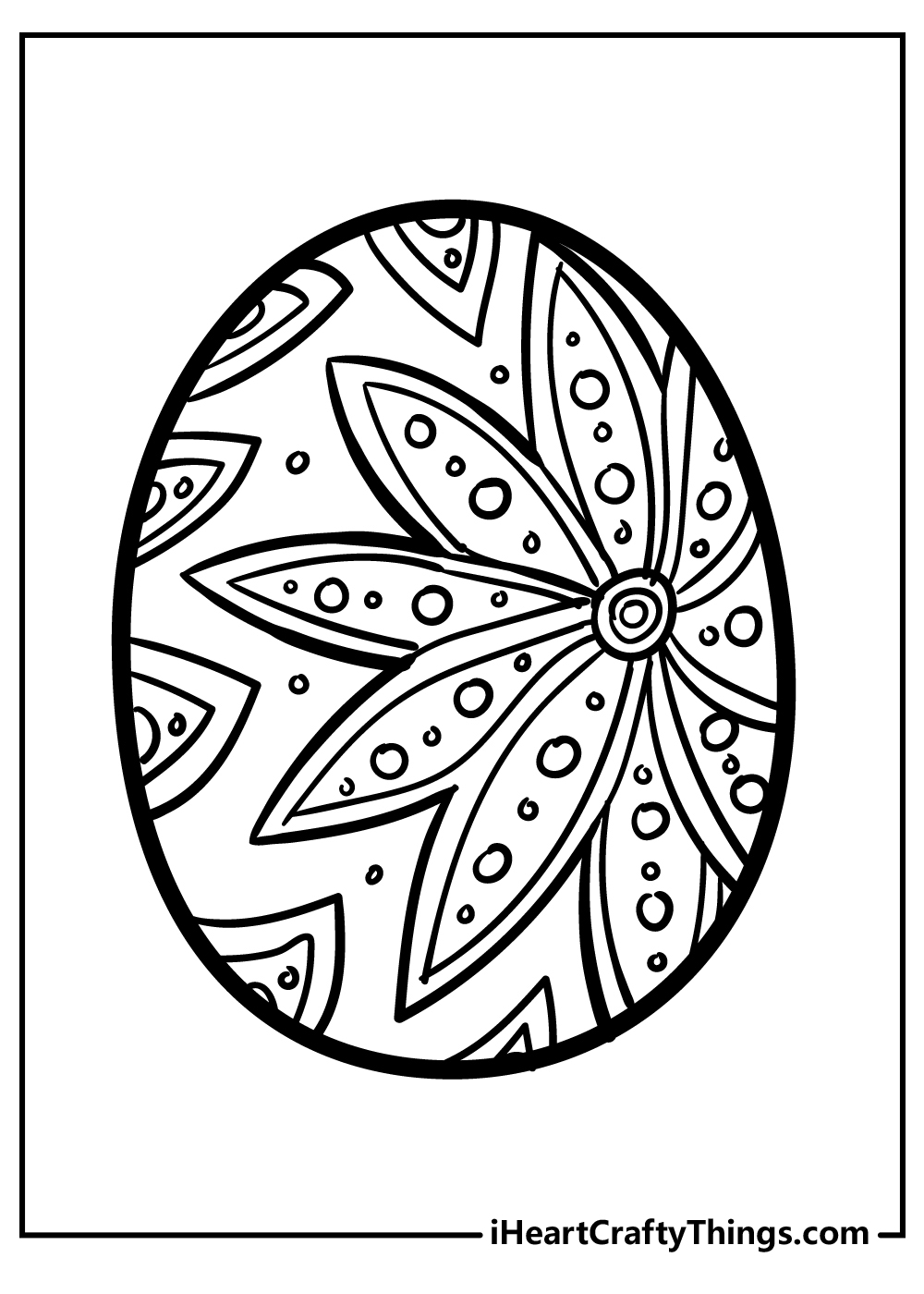 Our coloring page designers really seem to love seeing Easter eggs decorated with images of flowers.
We can't blame them! Fresh flowers and Easter eggs are the perfect combinations to remind us of spring.
This Easter egg is especially beautiful with its large flowers and leave. The outer edges of the egg even appear to have mandala flower designs. We can't wait to see how you'll color this intricate egg.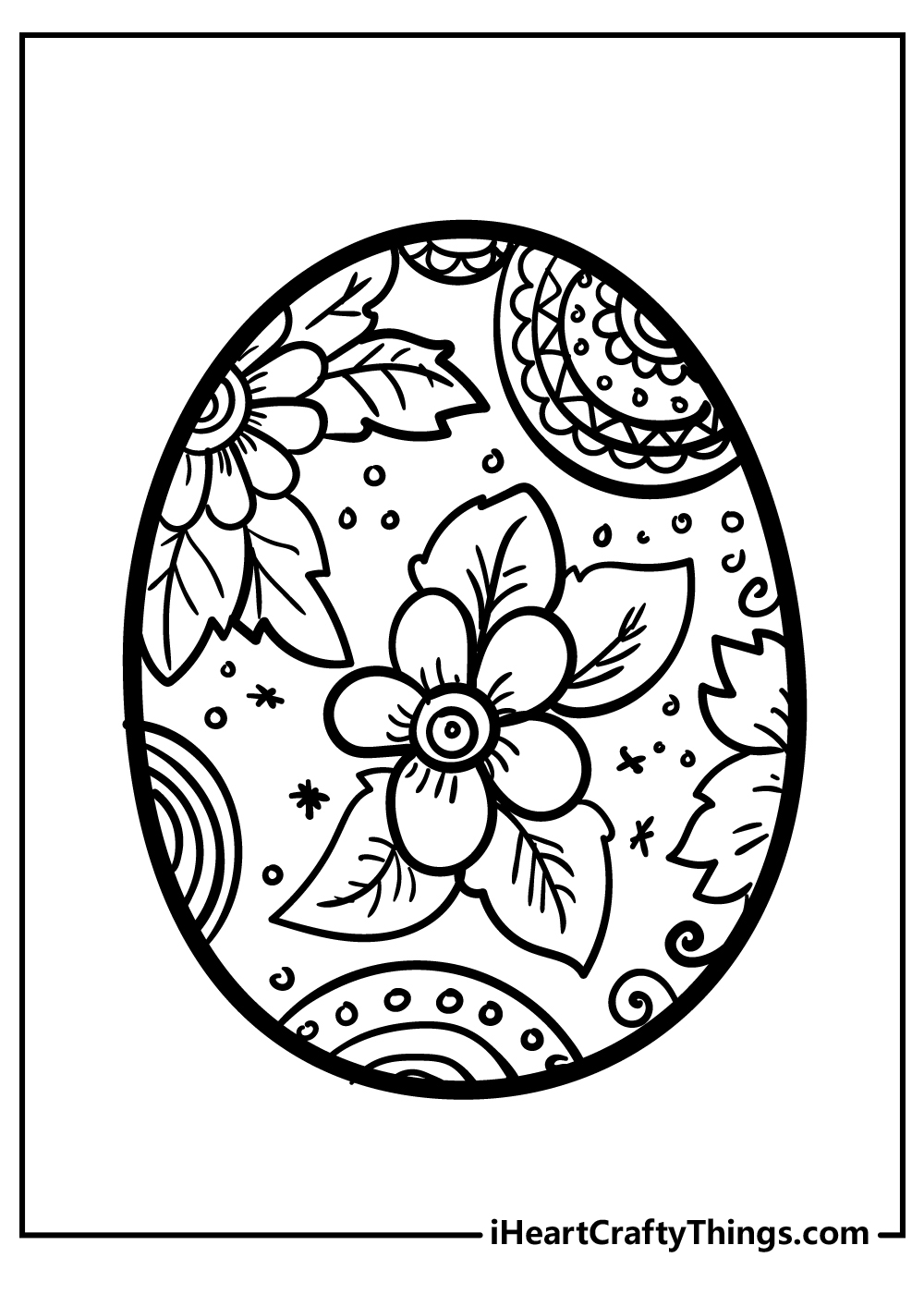 This funny Easter egg printable sheet also has a face on it. The face looks like that of a baby, with blushing cheeks, long eyelashes, and a little swoop of hair poking out on top.
Babies are also a sign of new life in spring, so they go perfectly well with Easter. The egg is also covered in polka dots of all different sizes.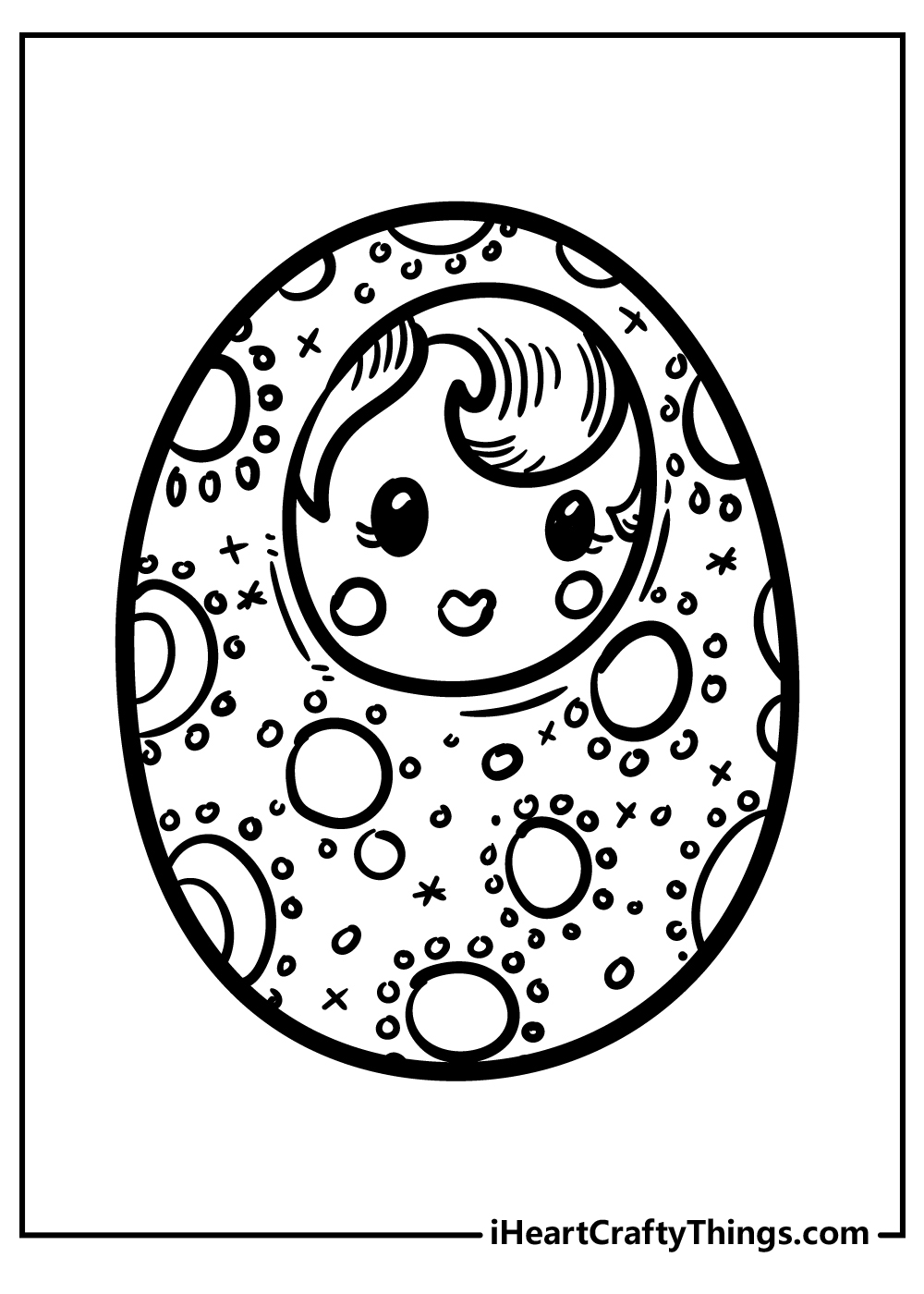 This egg looks like it has been designed extra special. We love the line of stars that run across the top and bottom of the egg.
Remember – when you finish your Easter egg coloring pages, post your finished pictures onto our Facebook page. Every month we pick the best uploads and the winner gets a special prize!
REMEMBER: You can get the COMPLETE set of these coloring pages >> HERE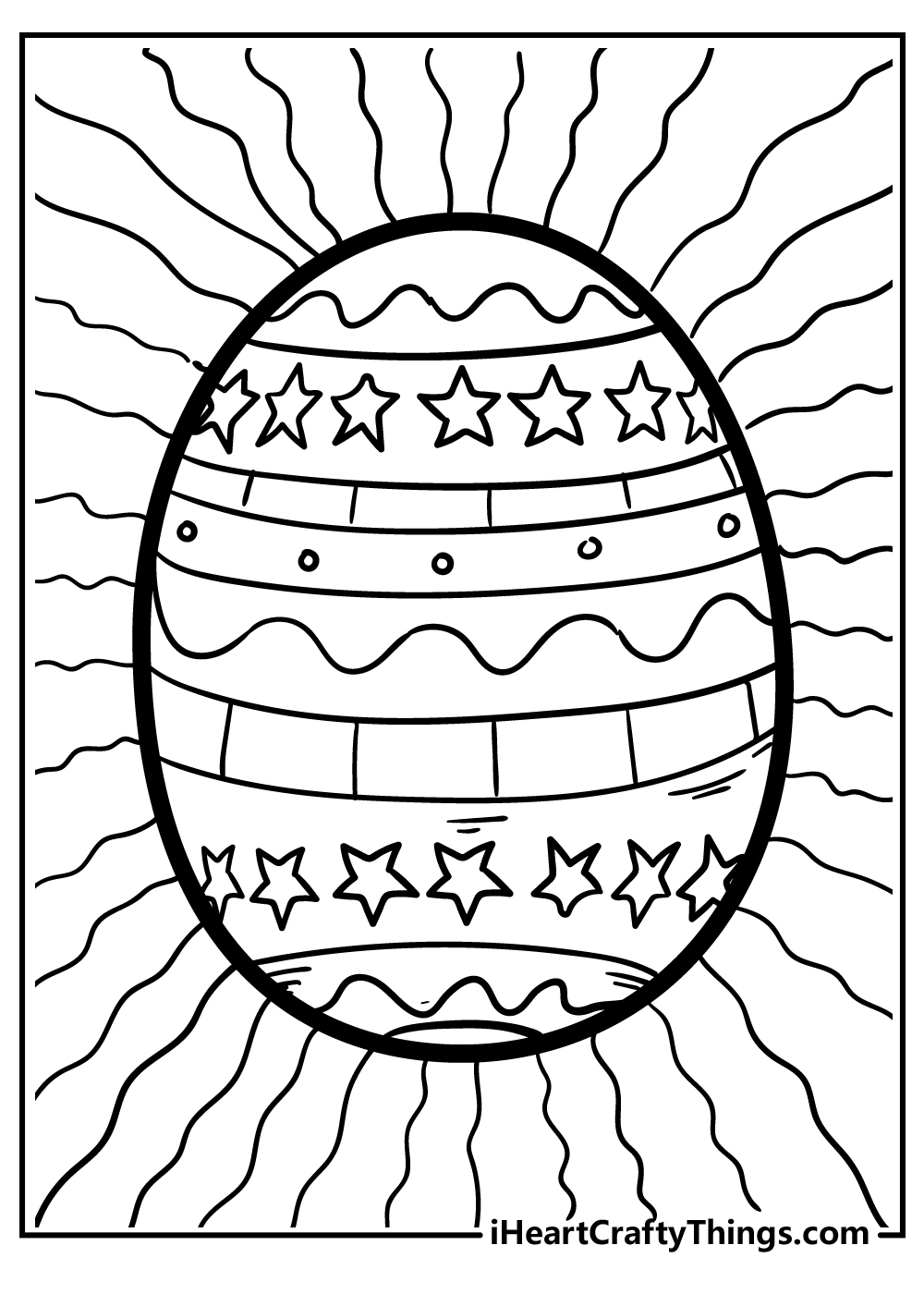 Easter egg hunts are so much fun. Whether you hunt for real eggs that have been died the night before or eggs filled with jelly beans, chocolate, or toys, Easter egg hunts have something fun for everyone.
Even adults enjoy a good Easter egg hunt. What kind of treat do you think is hidden in the Easter egg in this coloring sheet?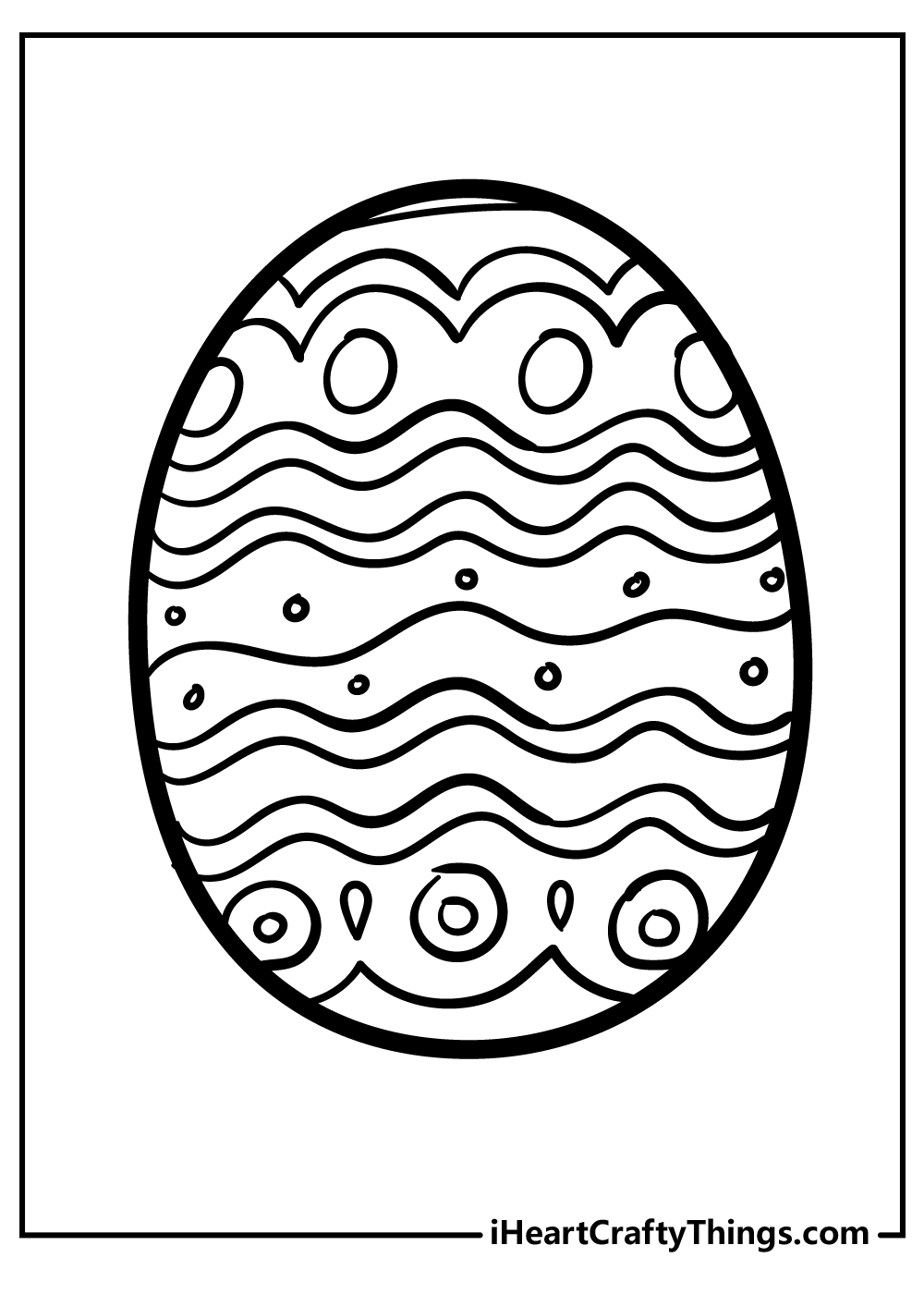 This unique Easter egg printable sheet has two heart-shaped designs in the middle. On the outer edges you can see images that look a lot like birds.
Did you know that the term "Easter egg" is also used to describe a secret feature or hidden reference in movies, tv shows, and video games?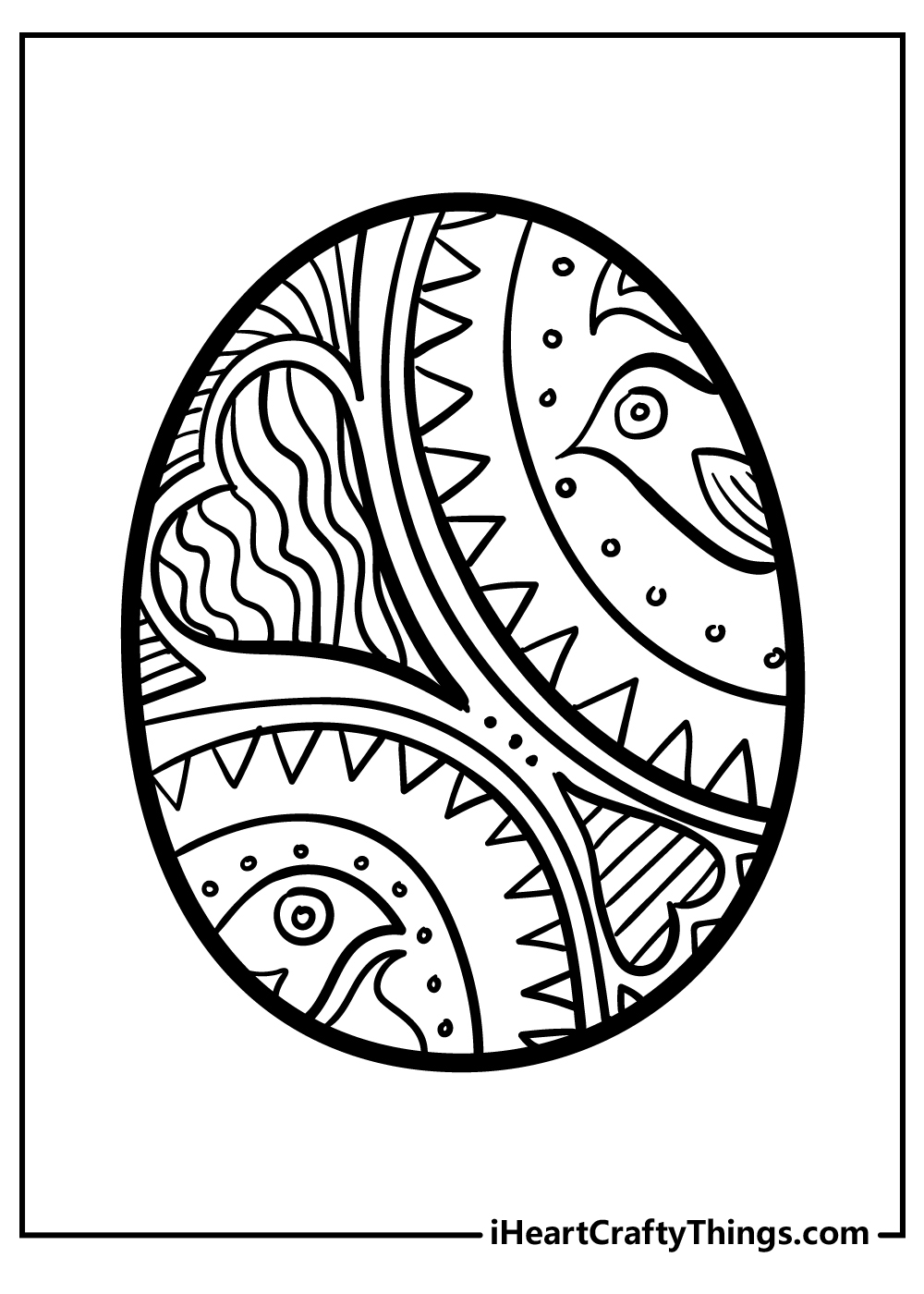 Remember – we are constantly updating our catalog of coloring pages and printable sheets.
Don't forget to keep checking back to see which new pages have been uploaded and which fun new images are ready for you to print and color. There is so much more to come.
We hope that these festive Easter eggs have put you in the holiday spirit and made you excited for spring.
Once you have chosen your Easter egg coloring pages, remember to post your finished masterpiece to our Facebook page.
We can't wait to see all the creative ways you'll color these super fun images.