April is a month full of the joys of Spring! Flowers are blooming, plants are growing and animals are running and buzzing about.
This collection of free April coloring pages for kids is here to help you celebrate this amazing time of year. Even if April is far off, these pages will allow you to capture all the joys this month brings!
This is a great time for you to break out all of your favorite bright and cheery colors, and we know it will look amazing!
You'll have plenty of chances to use all of your favorite art tools and mediums here.
Without further ado, let us begin and see what this cheery collection has to offer you.
15 Brand New April Coloring Pages – Free to Print and Color
Did you know that April 4th is International Carrot Day? If you didn't, then you do now thanks to this April coloring sheet for kids!
Carrots are the main focus here, and this means you have the opportunity to use some amazing orange colors.
There are many different shades of orange you could use, and you can alternate between bright and subdued colors.
While you're working on this page, you could take it even further by snacking on a real carrot while you do! What are some fun colors and mediums you could use for this carrot celebration?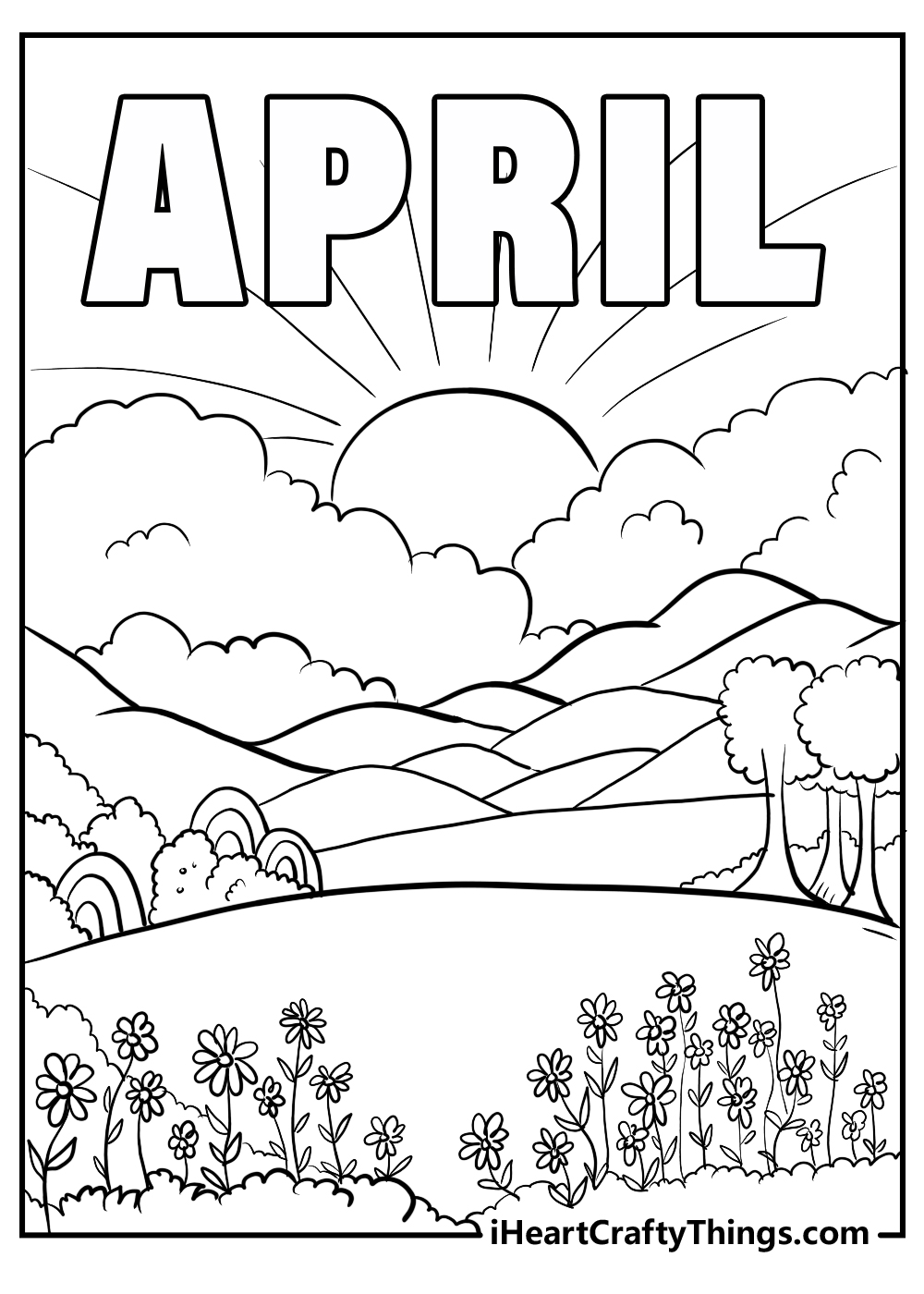 This next page is full of happiness and laughter. April is a time when happiness abounds, and laughter fills the air as people have fun in the great outdoors.
When it comes to pages like this, using the brightest, happiest colors you have is a great idea. By doing so, you can replicate the feeling of happiness get from the April month.
This is a great opportunity for you to show off all of the amazing colors that make you the happiest. Have tons of fun with it and find some happiness in the process as you express yourself.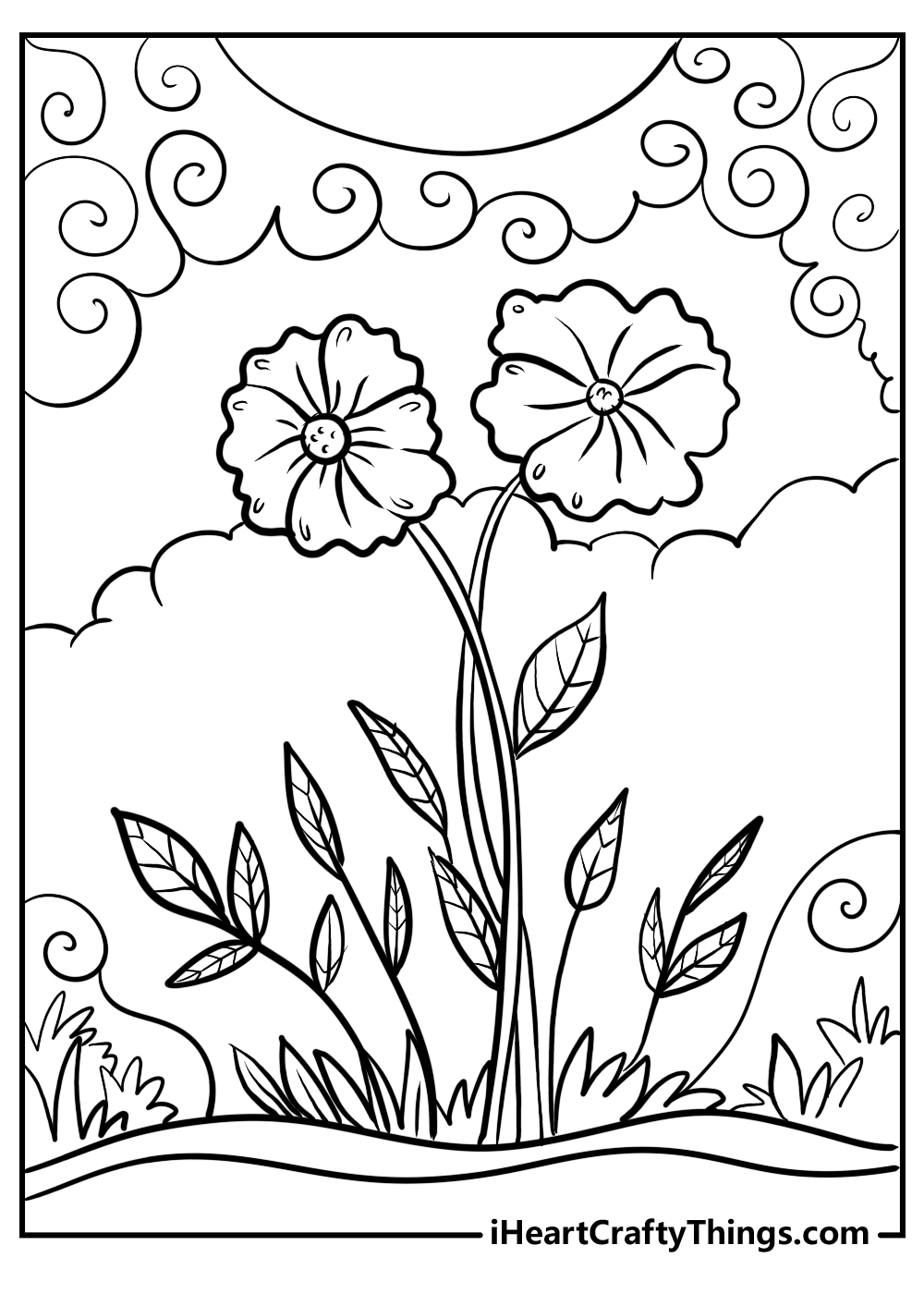 Spring is here on this next page, and there are so many amazing details for you to color!
There are butterflies, flowers and plenty of details for you to bring color to, and so this should be an explosion of amazing colors.
When I first saw this picture, I immediately thought of using some colored pens and markers. These would help to make coloring the small spaces easier and the colors would be bright and vibrant.
You should use anything you feel would best suit this Springtime scene, so what will you choose for this page?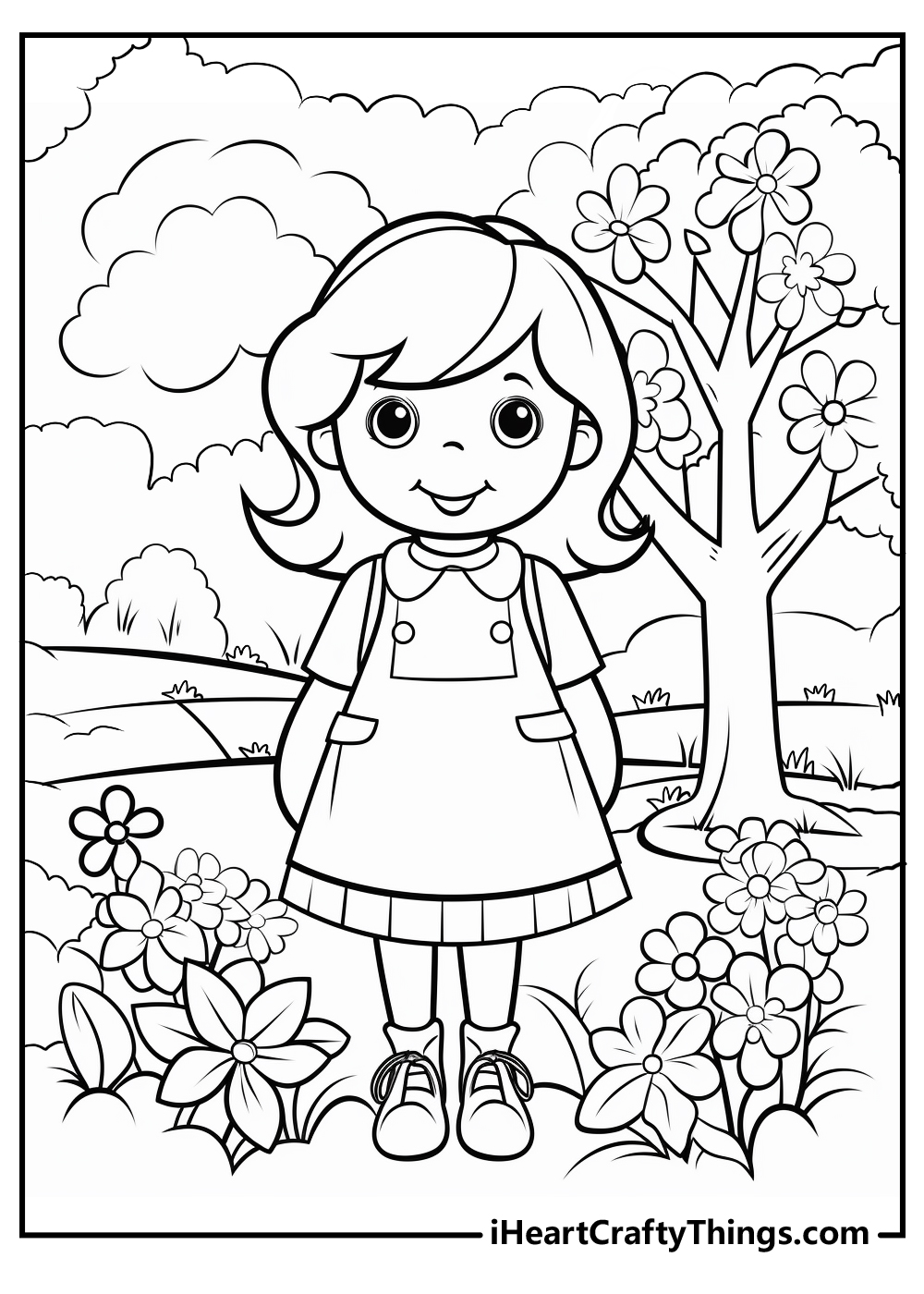 What a wonderful bouquet of flowers we have for you to color on this next April printable! There are so many amazing details for you to color here, it can be hard to know where to begin.
You can really take your time with a picture like this, and it's great because you can use so many amazing colors and techniques.
This would be a great chance to take advantage of the fact that you can print these pictures out as many times as you please.
That way, you can try out different color schemes, techniques and art mediums.
Do you have some ideas for how you could color this charming bouquet?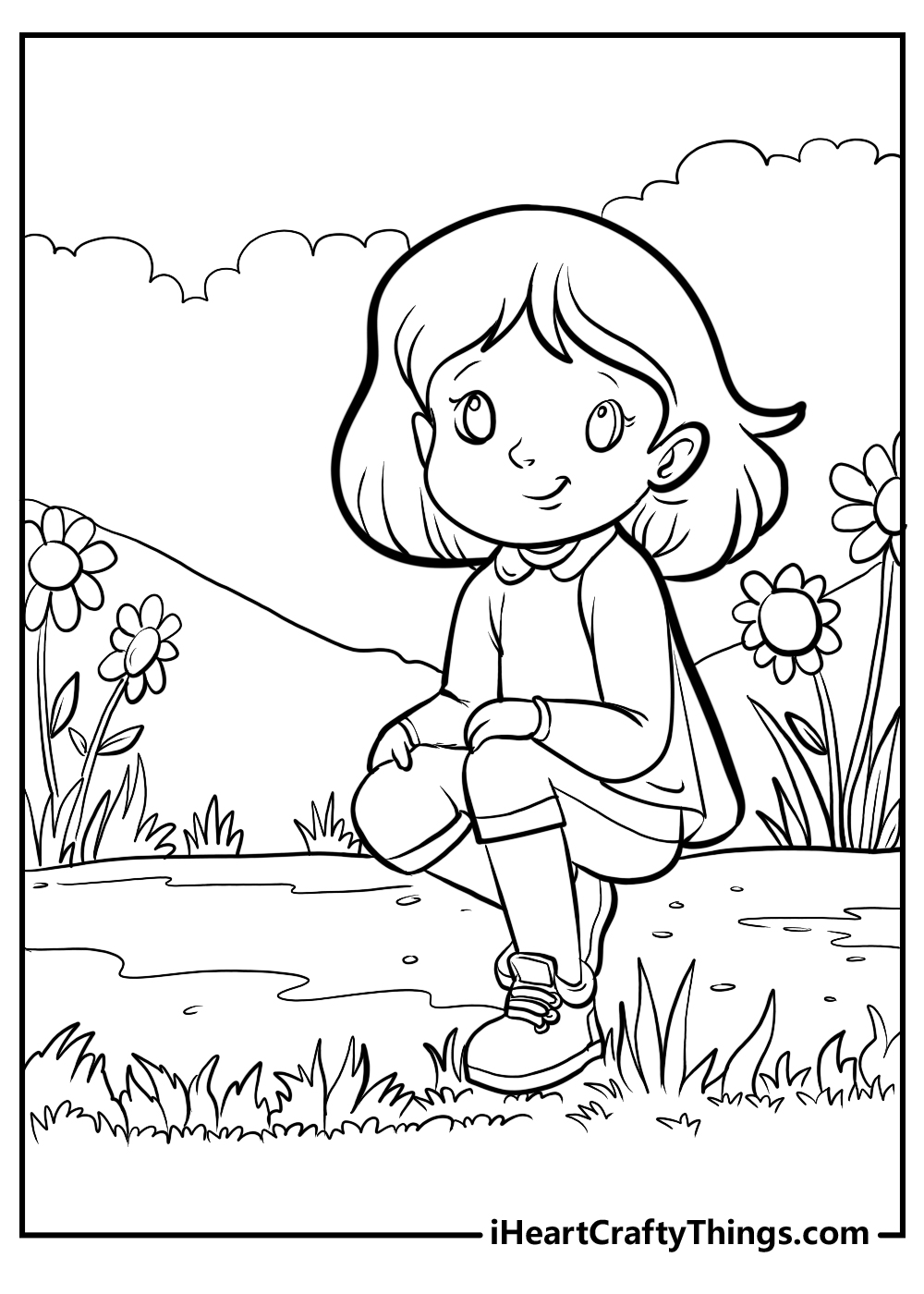 Unicorn Day occurs on April 9th, and this page is the perfect way to celebrate! Because unicorns are such wondrous creatures, you could use many colors you can think of to bring color to this one.
Unicorns often sparkle with magic, and you could portray this as well. Using some light glitter or glitter glue would add some magic to the image.
That's one way you could get creative with it, but feel free to use any crafts or art tools you want for this beautiful unicorn!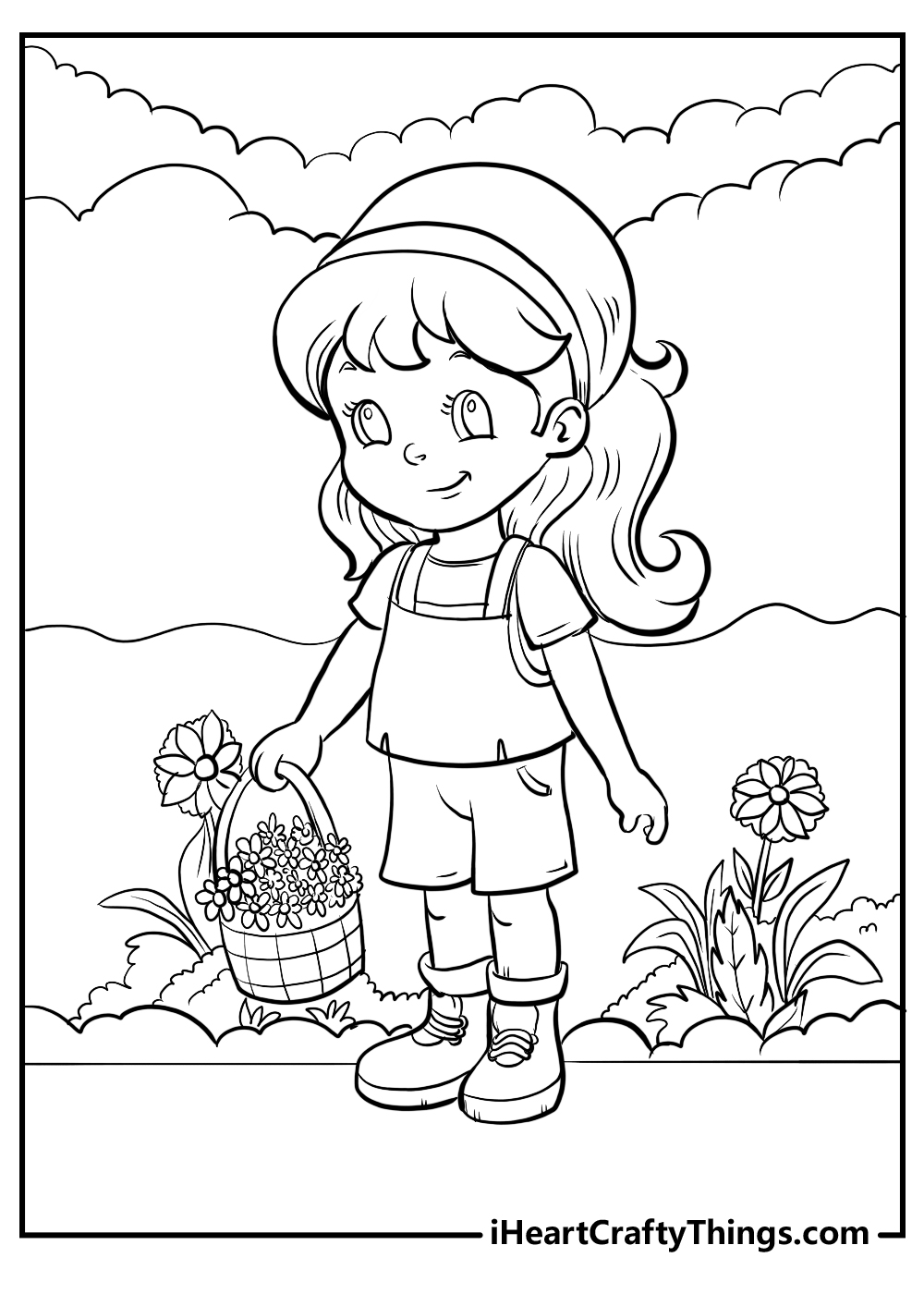 We've had quite a few bright and sunny days in this collection, but now it's time to show off some April showers! This may be a rainy day, but there is still tons of fun to be had.
In fact, this picture gives you the chance to use some darker colors than some of the previous ones you've likely used. I would maybe use some watercolor paints for this one to give it a different look.
Or, you could keep the colors bright for a good contrast, it's entirely up to you to decide what to go for!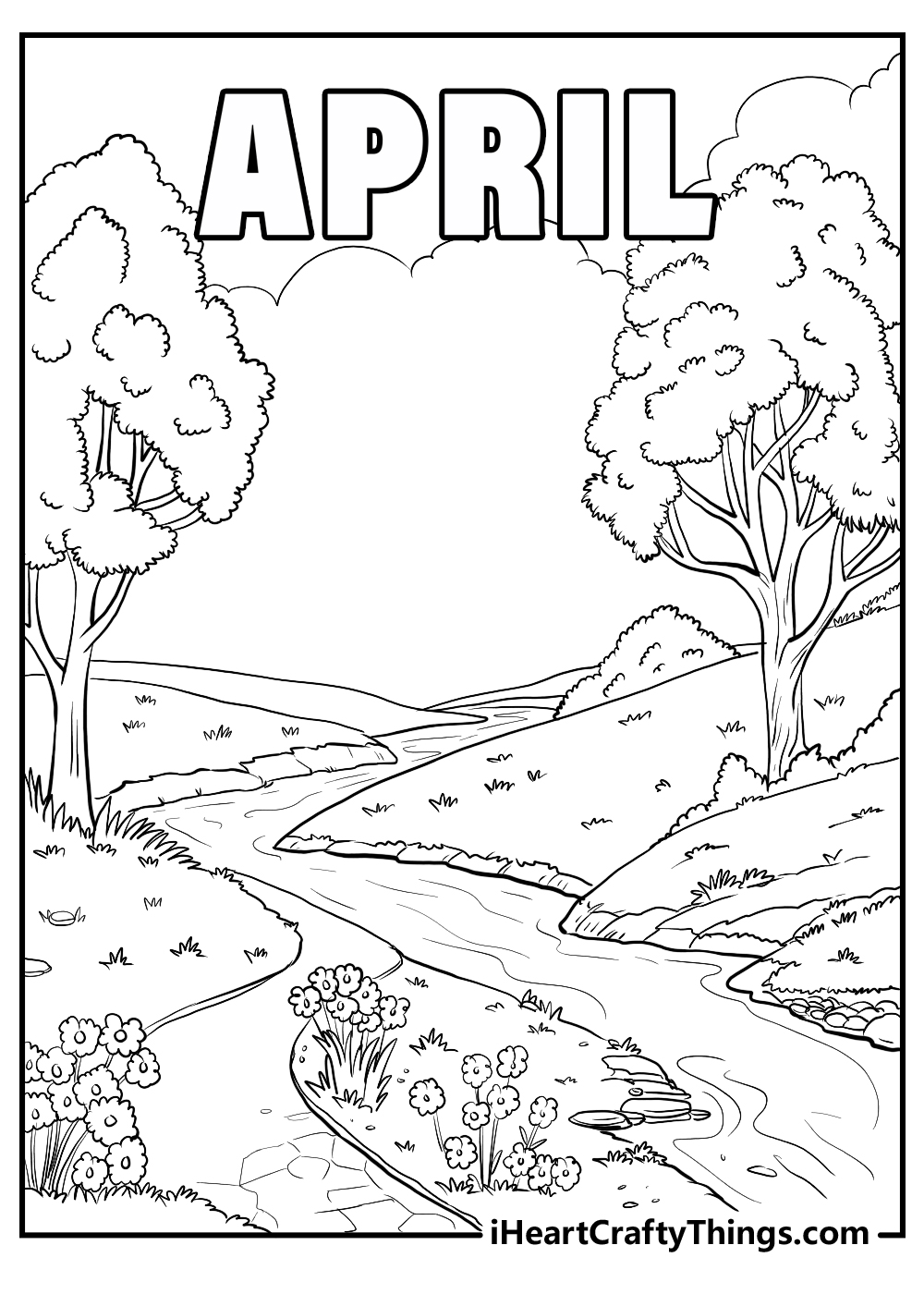 Is there anything more beautiful than a rainbow? Seeing a rainbow in a picture is always a chance for you to break out your brightest, most beautiful colors.
When coloring a rainbow, you could stick to the real colors rainbows have in real life. Or, you could go with your inspiration and use any other colors you can think of.
Coloring in the lines of the rainbow can be tricky, so maybe stick to art mediums that will allow for more precision as you color, such as colored pens.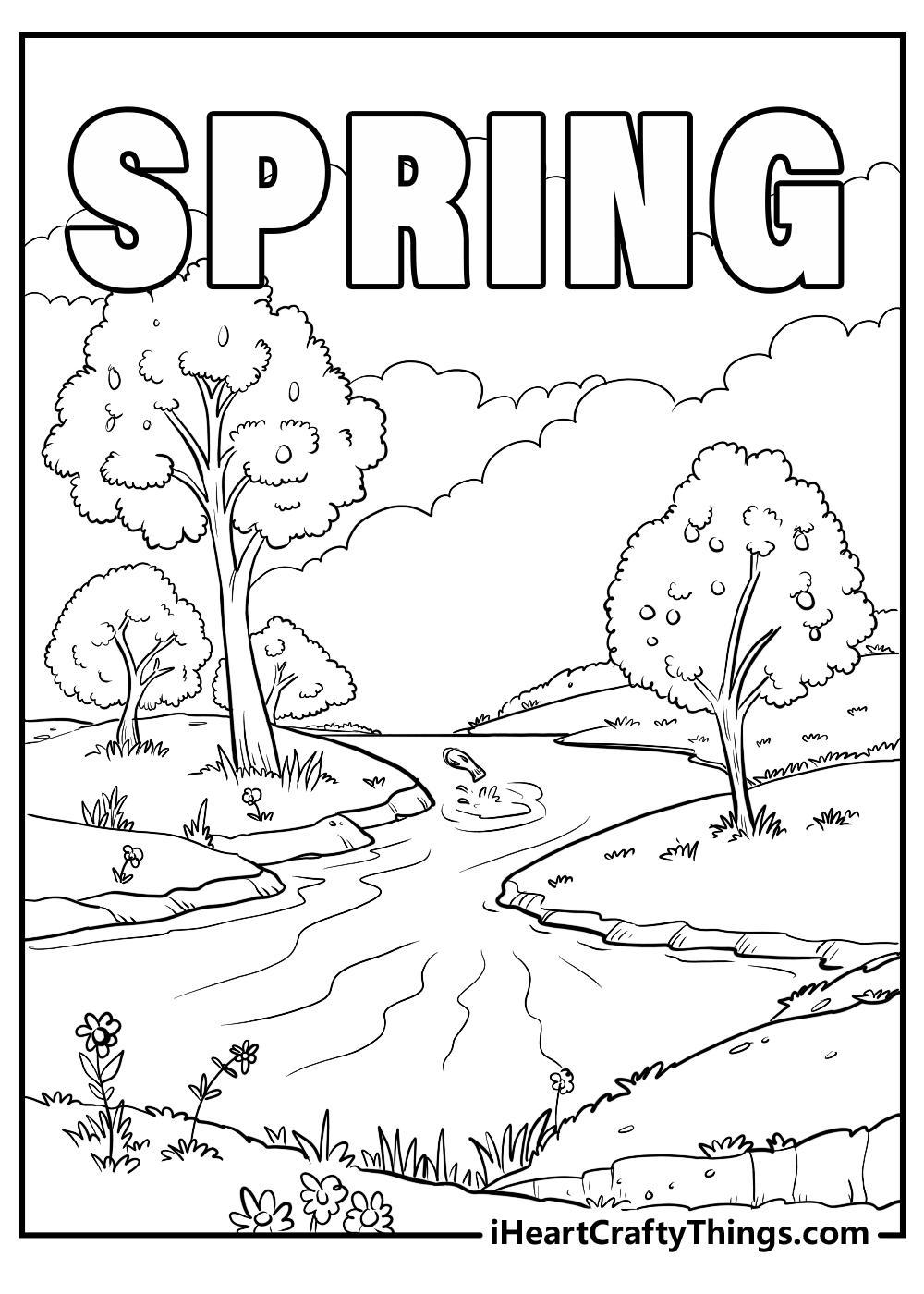 Each of us has fallen victim to an April Fool's prank, and maybe even performed a few of our own! This next page celebrates the tradition of April Fools with an appropriately funny picture.
You have this wacky character to color, and now you can decide what colors would best suit this April fool.
I definitely think of bright and cheery colors for this one, but that's far from the only approach you could take.
Maybe some colors stuck out in your mind when you first saw this funny guy. If so, those are the colors you should go for!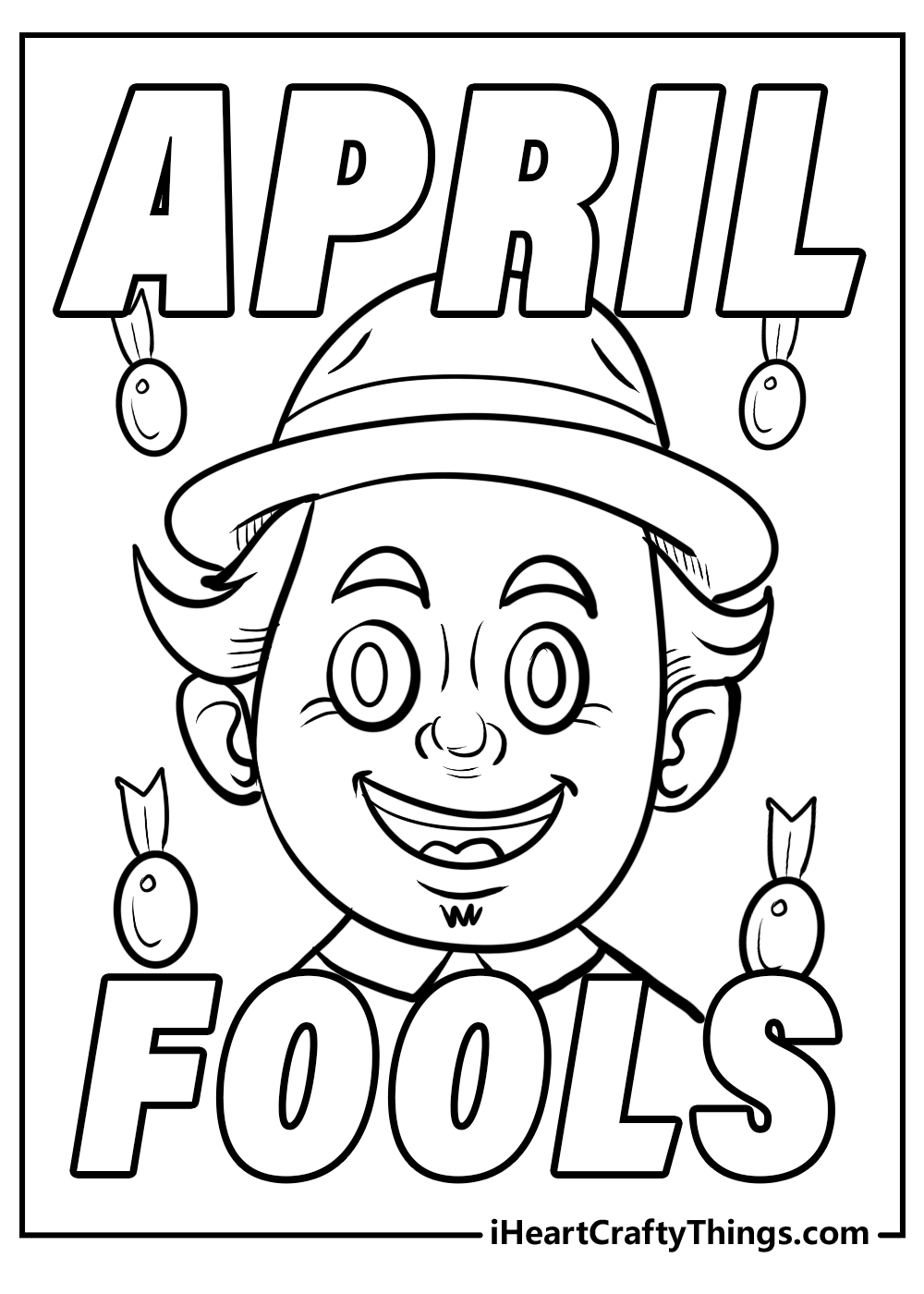 This next April coloring sheet features a tranquil and peaceful setting for you to color. Don't you wish you could enter this picture and go for a swim in that stream?
Once you have decided how you would like to color this picture, you could also draw some additional elements.
By adding some characters to the picture, you could show how you would spend the day here.
Would you go fishing or maybe drift along on an inflatable raft? Show us how you would spend the perfect day in this lovely place!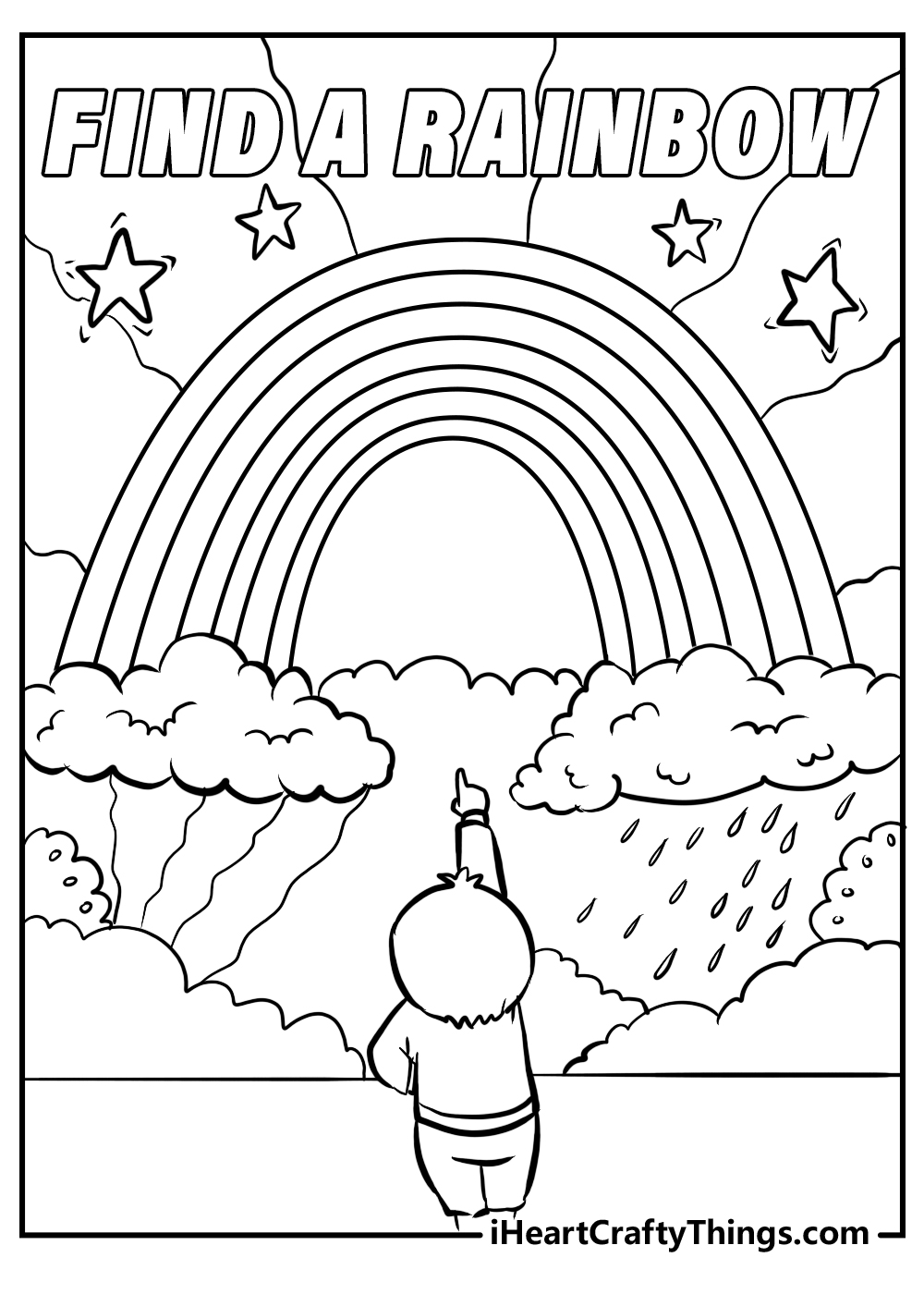 Here's another beautiful, peaceful location for you to have some coloring fun. When choosing the colors for any picture, you should also consider the art tools and mediums you use to apply them.
Brighter mediums like colored pens, markers and acrylic paint can be great for colors that pop off the page and catch the eye.
Meanwhile, watercolor paints and colored pencils can help to create colors that are mild and soft.
Each approach has its benefits, and for this picture it comes down to your preferences to decide what would work the best for you.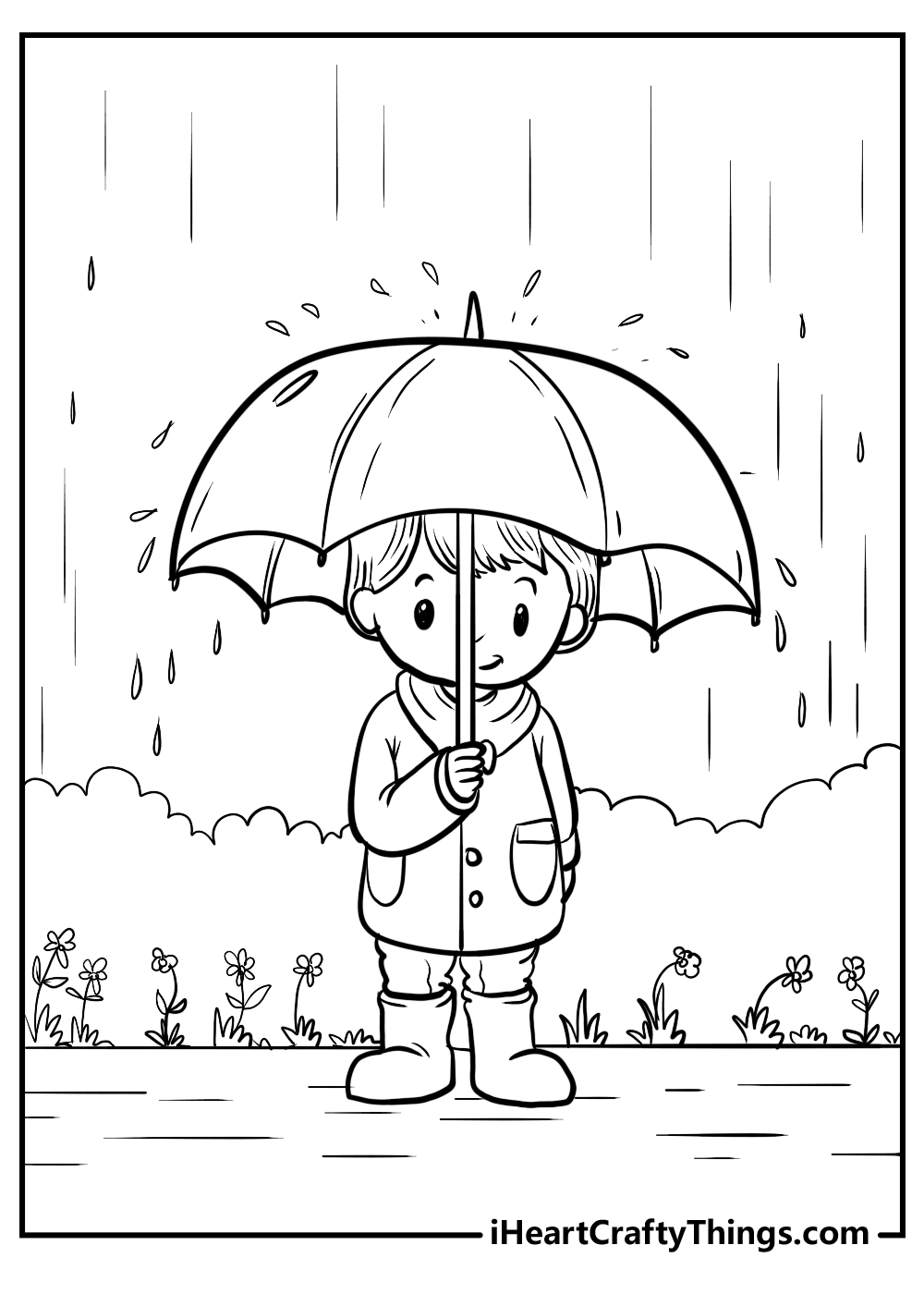 Heading out to pick some lovely flowers is a great way to spend a gorgeous April day, and that is depicted on this next page.
This little girl is having a grand time collecting flowers, and now you can bring it to life.
It's a scene that allows you to use all of your favorite colors and art tools to create an eye-catching image. This page definitely has the potential to be one of the most colorful in this collection!
Which colors will you choose for this one?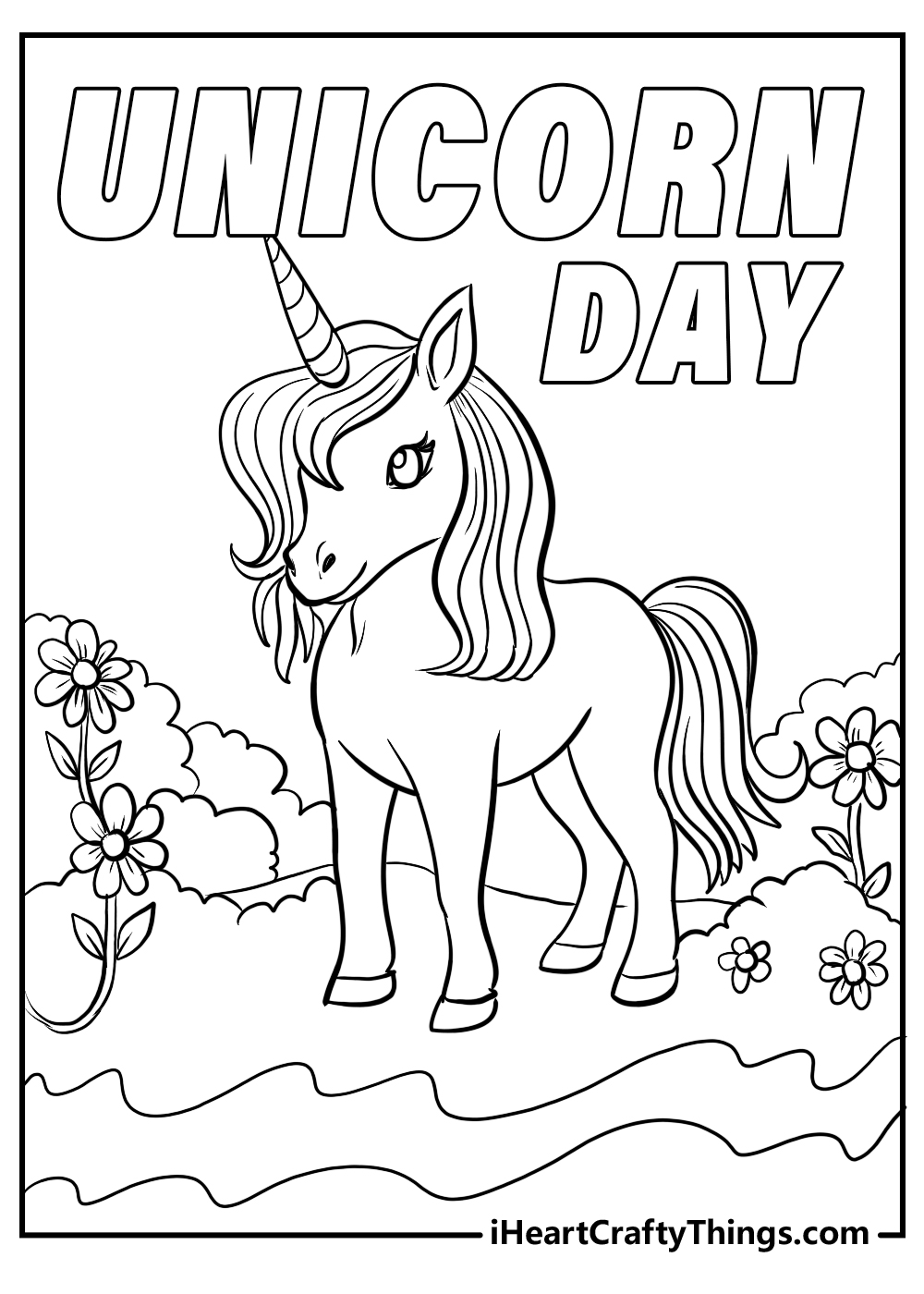 This girl is enjoying the great outdoors in this charming coloring page. There are some great details to behold, but there is room for even more detail!
You could draw some extra details such as bugs, animals or other objects she may have taken out with her. Adding details can be a great way to make a picture totally unique to you!
I gave you some ideas, but what are some other ideas you could use when adding details?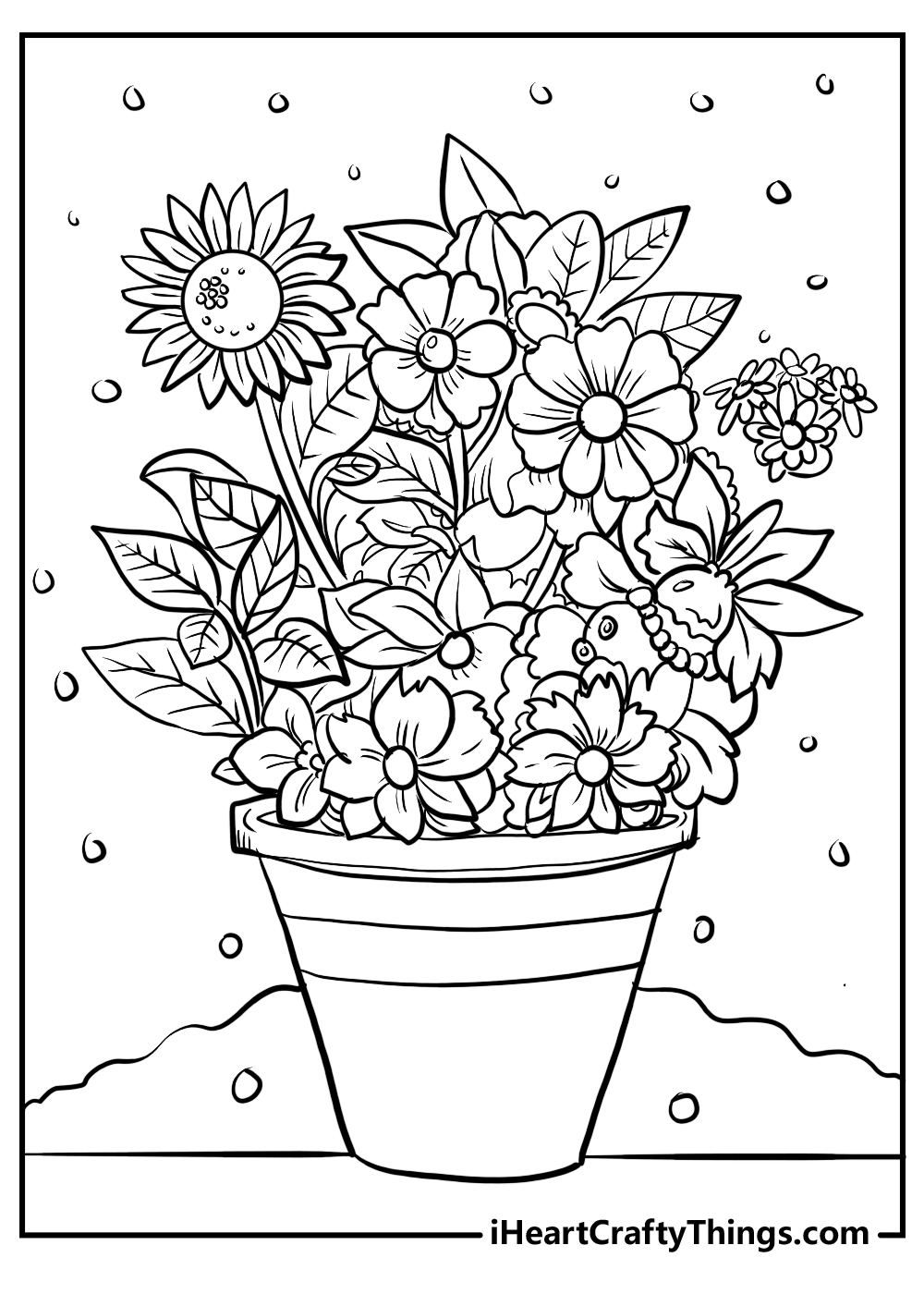 There are so many amazing details to color on this next page! This girl is taking a walk in nature, and we get to see a ton of plants, flowers and other outdoor details.
This gives you the chance to use all of the colors you love the most in order to create a beautiful outdoor scene.
This could also be a good chance for you to use some art tools and mediums you're not as familiar with.
Perhaps you could try some paint or maybe special art pens to make the colors really pop!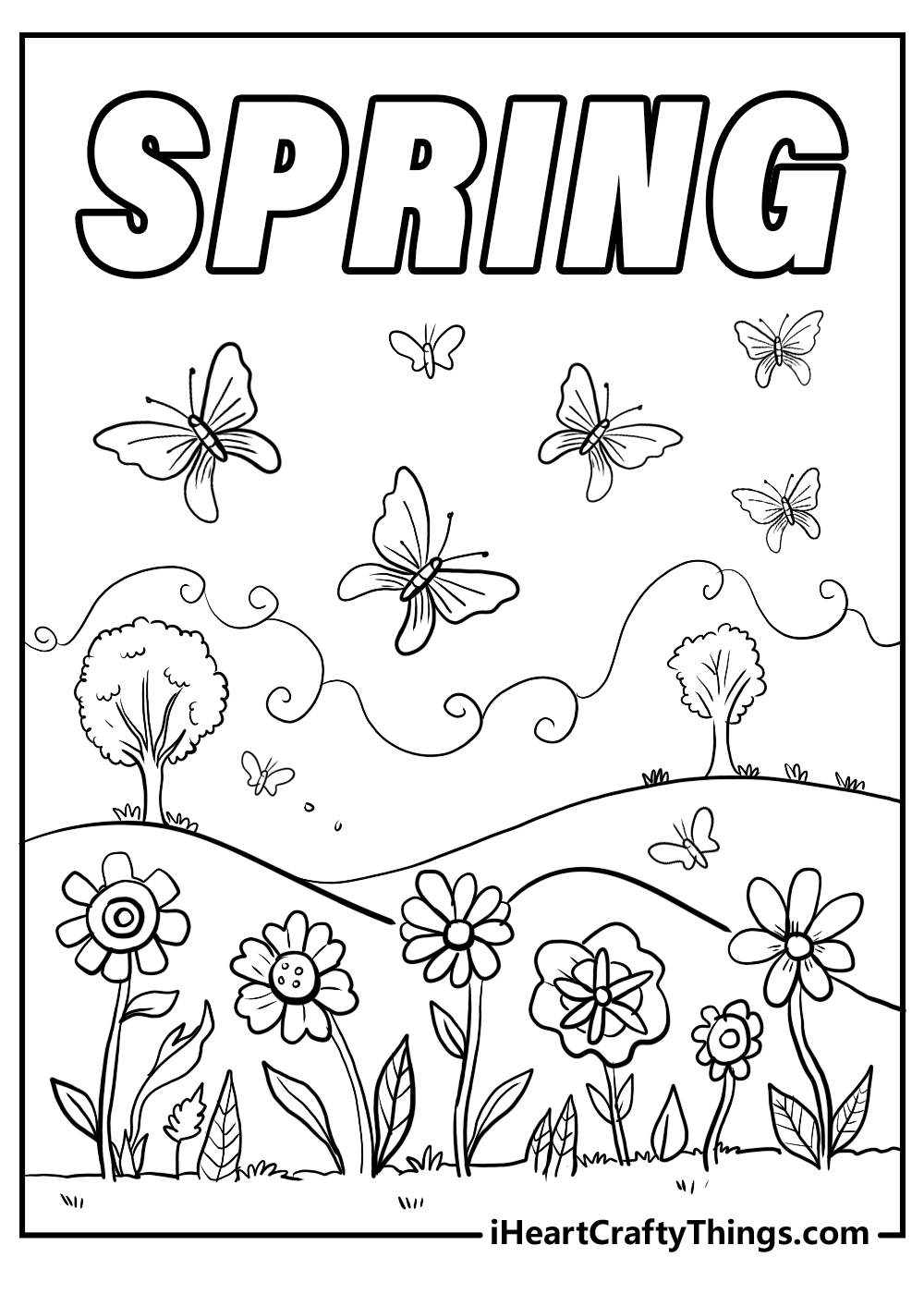 What a beautiful little scene of nature we have for you to color on this next page! Two flowers are crossing one another, and there are plenty of background details to color as well.
With all of the intricate details on this page, coloring this one could take some patience, but I know that you can do it!
Take your time with it and don't be shy about printing another copy to start over if you need to.
There's no harm in having a few attempts until it looks exactly as you want it to.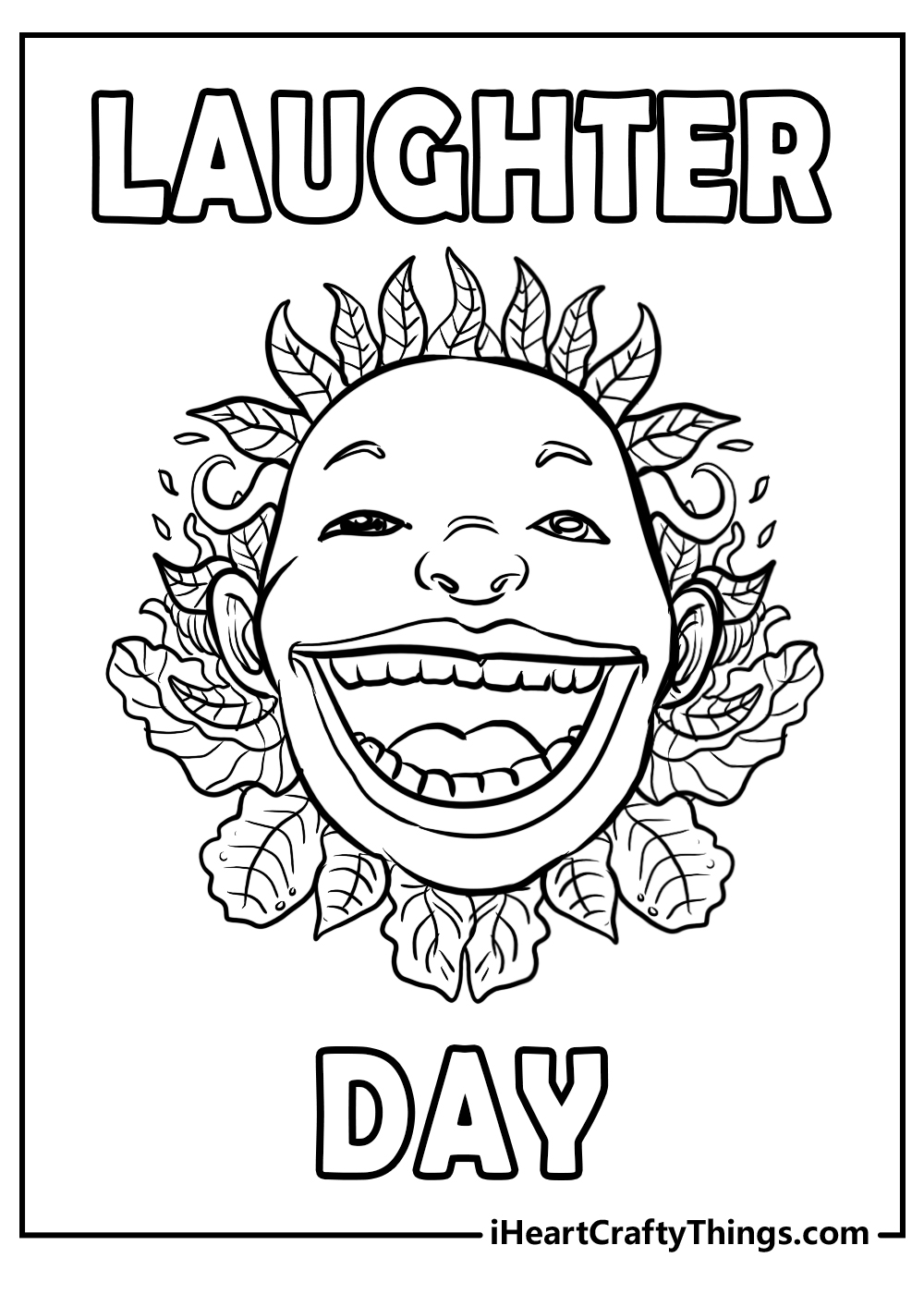 The sun is setting as we approach the end of this collection of April coloring pages. However, we end on a beautiful note as we see the sun setting behind some beautiful clouds.
There are so many ways in which you could color this page, and there are no wrong answers here.
Whether you keep the colors bright or tone them down a bit, any way you choose will look amazing.
Maybe you can think of a way to make this page stand out from the others with the colors you choose!
April Coloring Pages – Which will you choose?
This collection of April coloring pages was a great way to celebrate this amazing time of year!
We aimed to capture the feeling of Spring time in this collection, and hopefully the pictures helped you to relive this time of year.
This is a collection that allows you to use all of your favorite colors and art tools, so hopefully it really got your imagination going.
If you had too many ideas to use, then you can print out as many copies as you life.
This way, you can experiment as much as you like until each image looks exactly the way you want it. Most of all, make sure you have some Springtime fun as you work on each page!