With the four seasons in a year, everyone is bound to have their favorite. Some people enjoy sitting by the fire when Winter rolls in, and others love spending time outdoors in the Summer sunshine.
Many people also love Spring, as this is where the chills of Winter subside and flowers are in bloom. We will be celebrating this season with this collection of free May coloring pages for kids.
The 10 pages in this collection aim to celebrate all things May, and many features of Spring will be reflected in these charming pages as well.
Just as with Spring, there will be many wonderful colors to behold once you're done with them!
Every one of these pages is free for you to print out and have a great time coloring. Additionally, you can share the collection with others to enjoy as well. This is a great way to spread the coloring fun!
Now, it's time to relive some Springtime magic no matter what time of the year it may be! This will be a great showcase for you to use all of your favorite colors and art mediums on.
We hope that you will share the results of your creativity for us to see as well!
10 Brand New May Coloring Pages – Free to Print and Color
This collection of free May coloring pages for kids is off to a vibrant start! We have the word May written in big, bold letters, and there are some great details to color in.
Then, the word is also surrounded by some flowers and butterflies to further give off that Spring feeling.
All of this is contained within a circle, and you could either color in the background surrounding or leave it blank to keep the focus on the inner details of the circles.
Which approach do you think you will go for?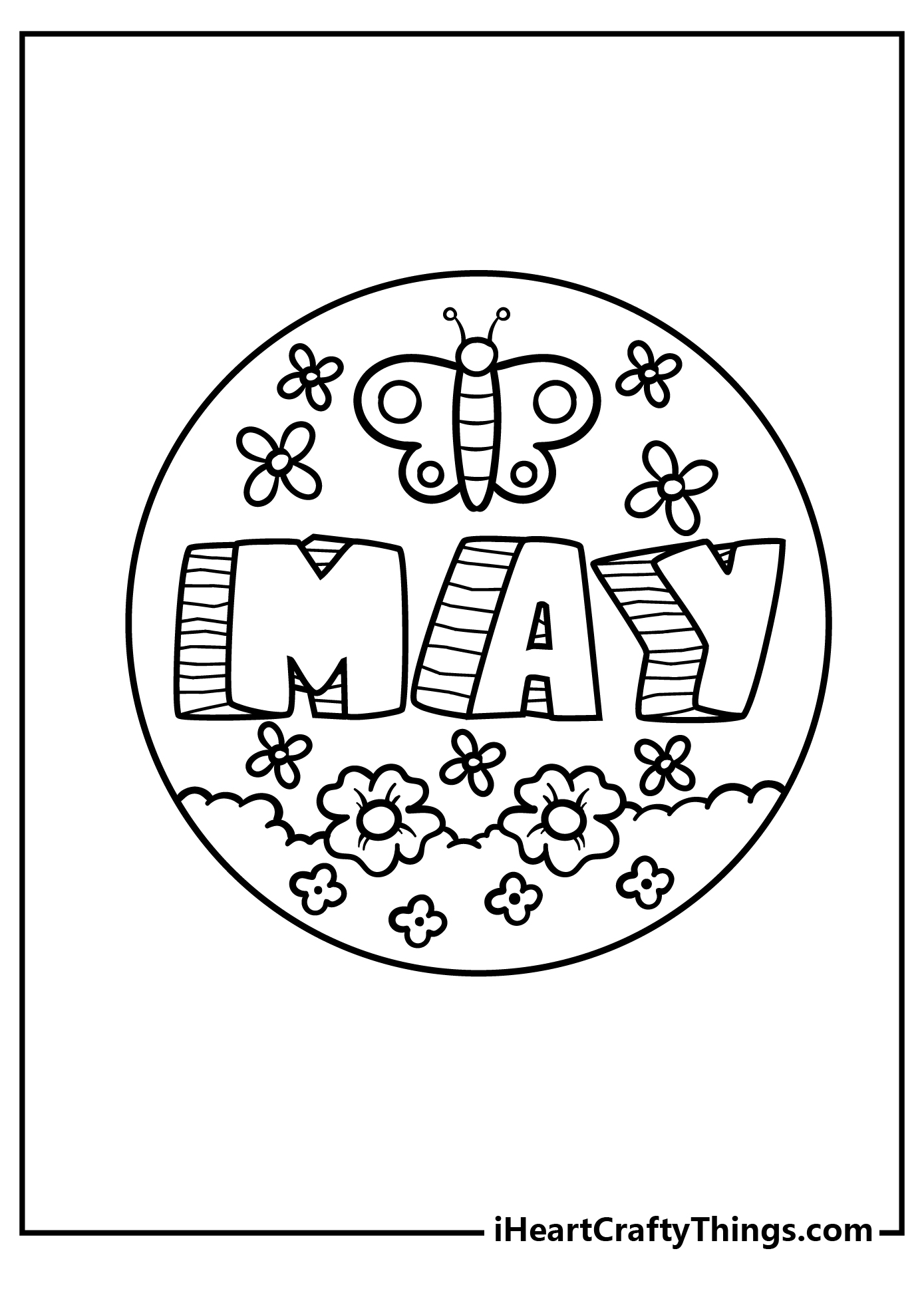 Our second May coloring sheet that we have for you is simple yet effective! Once again, the word is drawn out in a big bold font that really catches the eye.
Then, there are some pretty flowers sprouting from the top of it.
While this simplicity is effective, you could also take it further with your own details and additions!
You could draw some more flowers, or create a background focused on some other aspects of May that you love.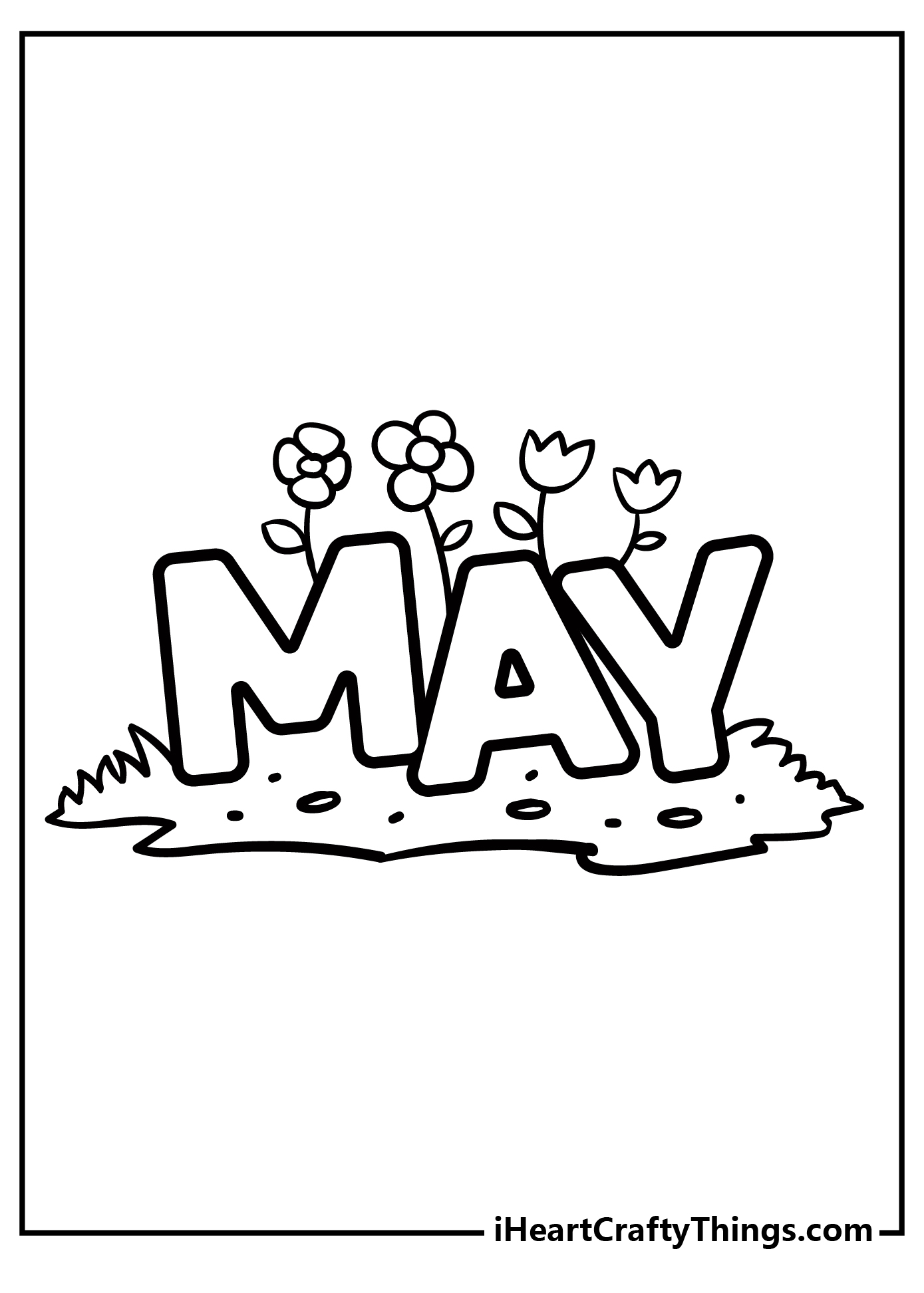 Another simple yet effective image is on display for this third page! May is written out in a fancy font, and it helps to give this image a pretty, classy feeling.
Surrounding it, we added some more flowers, and these give you lots of options for some amazing colors that you can add to these smaller details.
We think that some colored pens and markers would be great to make these flower details pop, but what do you think you will use?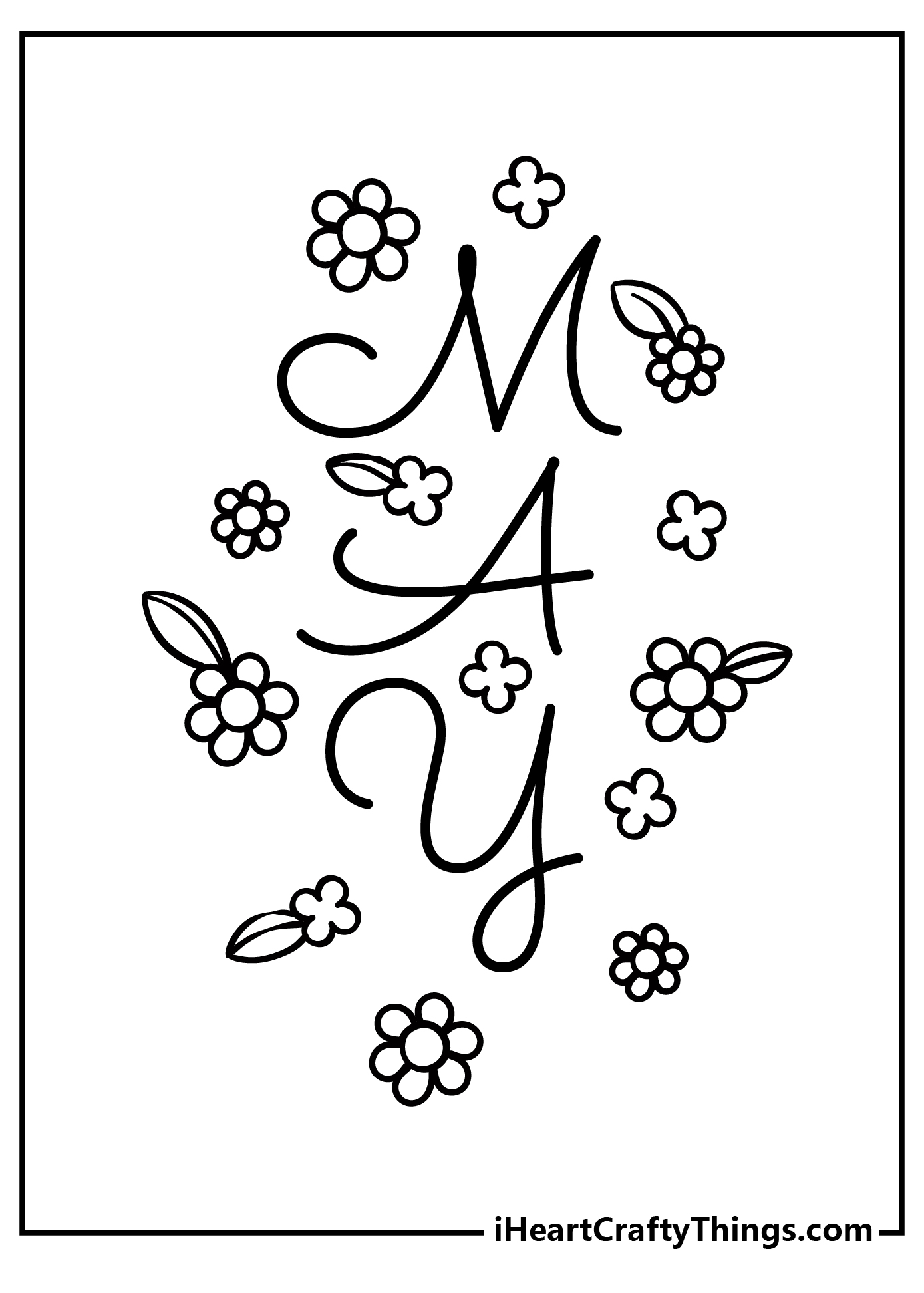 It's another pretty composition for you to color as we move to this fourth page! This time, the flowers are front and center, as they are much bigger than most of the flowers we have seen so far.
The word May is again written in a fancy font, but its positioning draws the eye to the flowers.
It would look amazing if you used some bright colors for the flowers and then maybe used a darker color for the rest of the background.
That is one idea, but there are loads of ways you could color this in!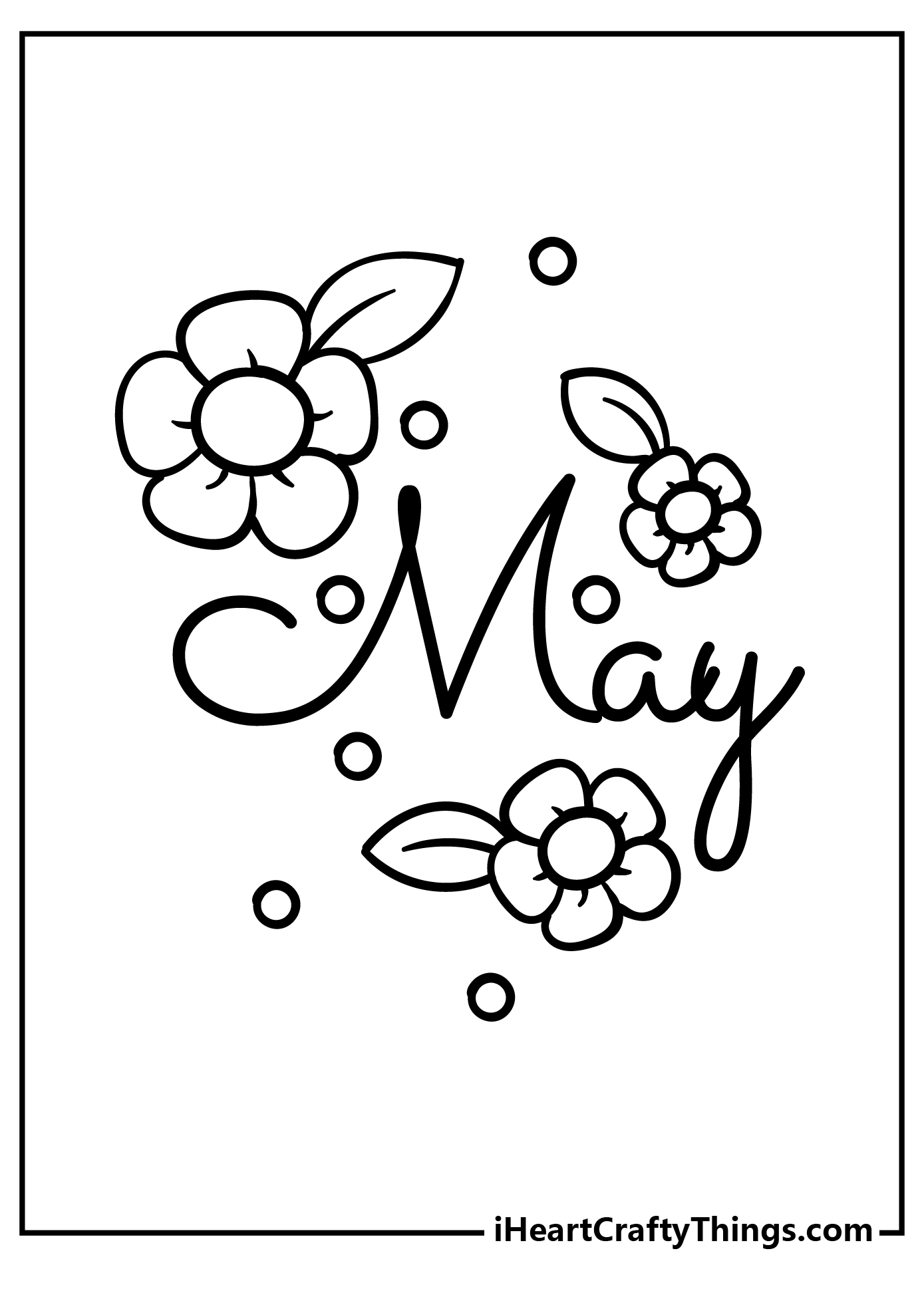 We love the design of this May coloring printable! This time, May is written out in a big, bold font.
The flowers and butterflies surrounding it are just as big and bold, so it makes for a wonderful image.
For this one, we would use some bright, bold colors that would match the vibrant composition of the image.
You can also match this intensity with the art mediums you use, so what will you pick?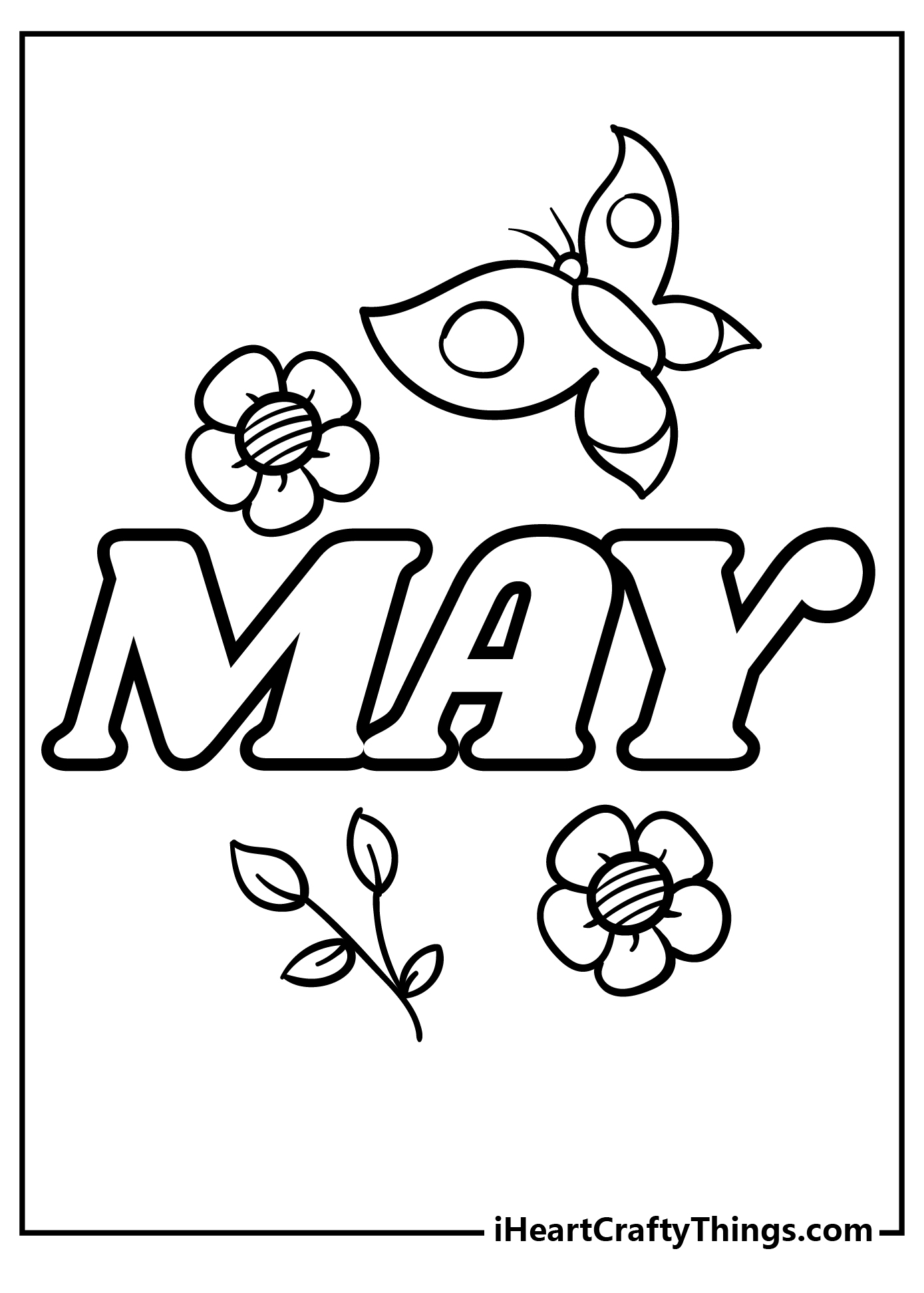 This sixth page features a fun and creative design! May is once again big and vibrant, and serves as the focal point of this composition.
Of course, we had to include some lovely flowers as well, as it helps to provide that feeling of Springtime.
When coloring the letters and the surrounding flowers, you could go for colors that complement each other or ones that contrast!
It's up to you, and any approach you take will bring something new to the image. There are definitely no wrong ways to go about it!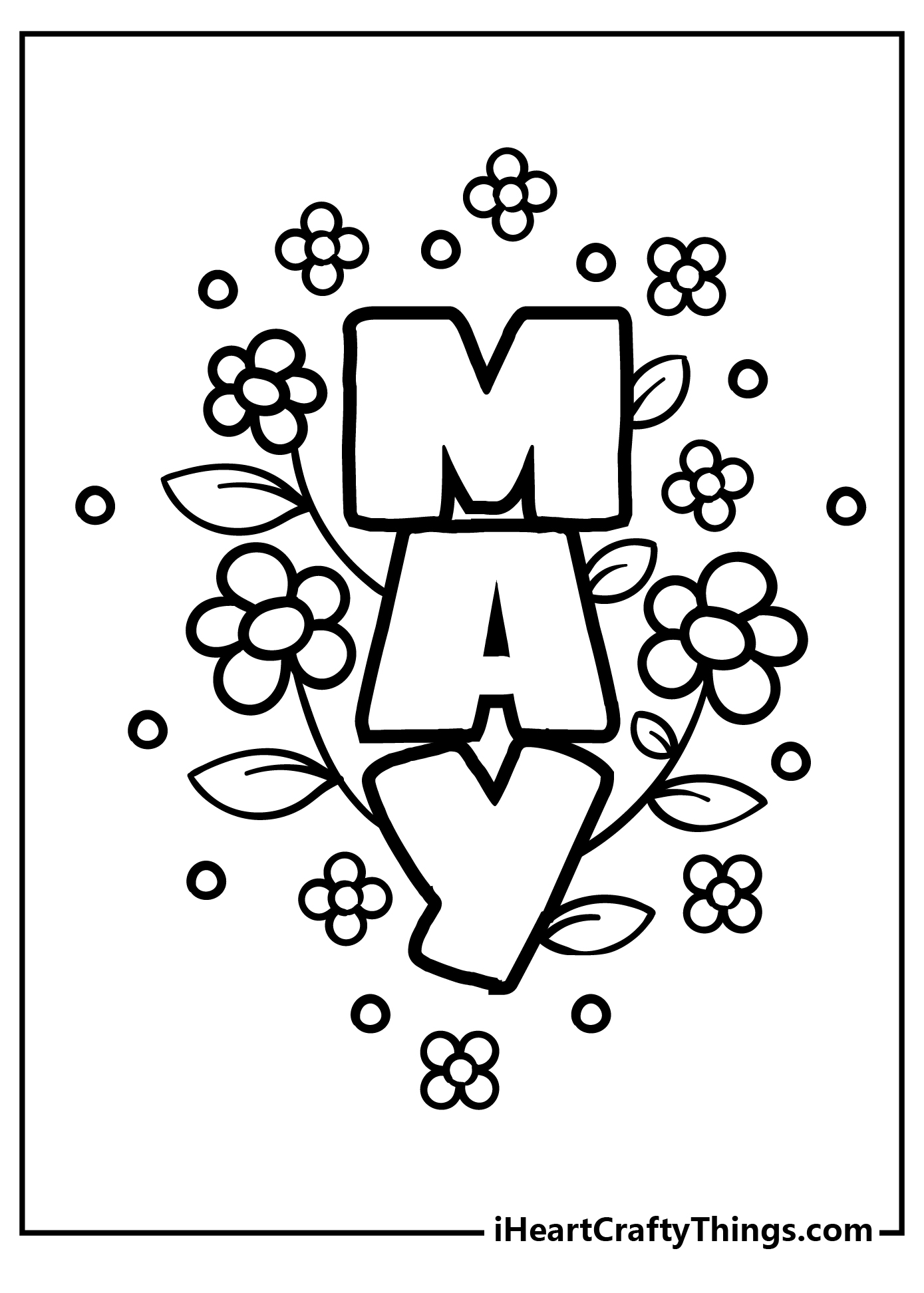 There's a soft, cozy feeling coming from this next page.
The bumpy outlines for the word and the shape surrounding it makes you think of wind blowing through grass and flowers, and it creates a wonderfully peaceful feeling.
If we were to color this one, we would use some soft watercolor paints to match the mood, but any tools you use will look amazing in their own way!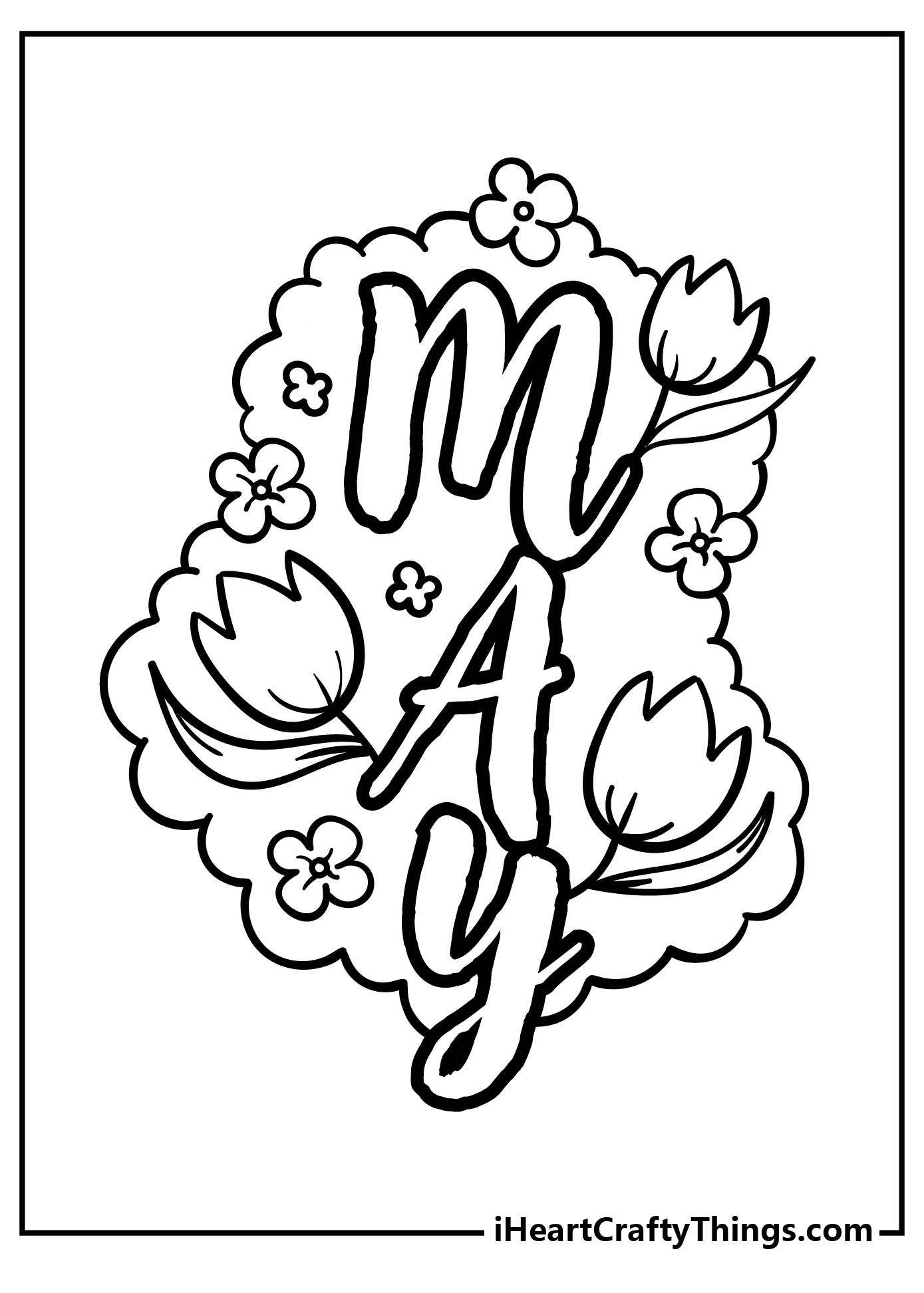 Love and flowers are in the air for this May coloring page! Once again, the word is written in a bold, creative font, and it gives the design a fun, funky feeling.
It is surrounded by some more flowers and hearts, and it captures the joy of Spring beautifully.
This is a picture you can really let your creativity flow into, so be sure to have fun with it and see what happens!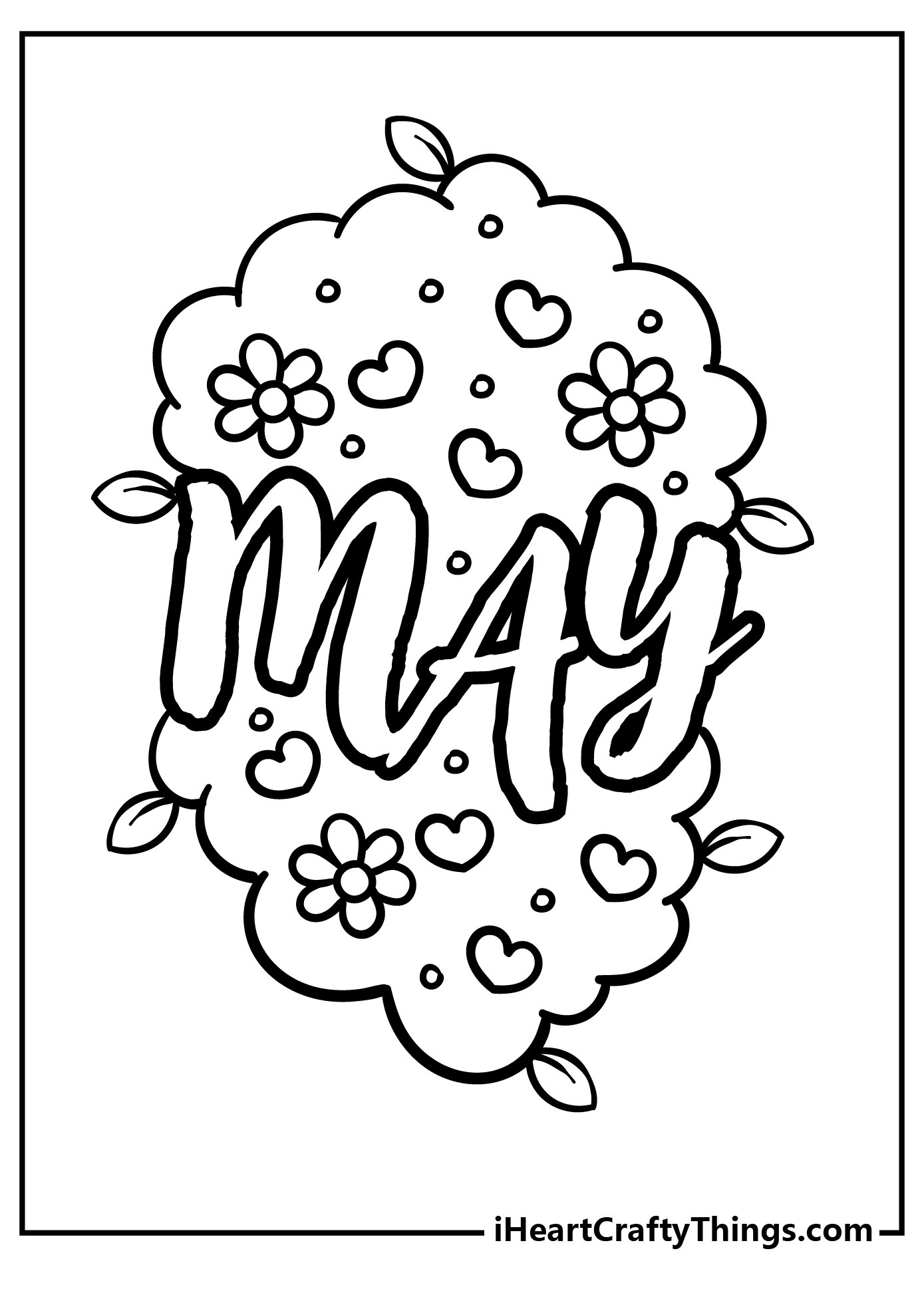 Here's another interesting composition for you. The word is written in a bold font with thick outlines, and while the font design may be simple, it is complemented by some beautiful flowers.
Now it remains to be seen how you choose to color this one!
It is the kind of design that would be well suited to many different color styles and choices, so you really have free reign to express your creativity.
Then, you will be ready for the final page of this collection!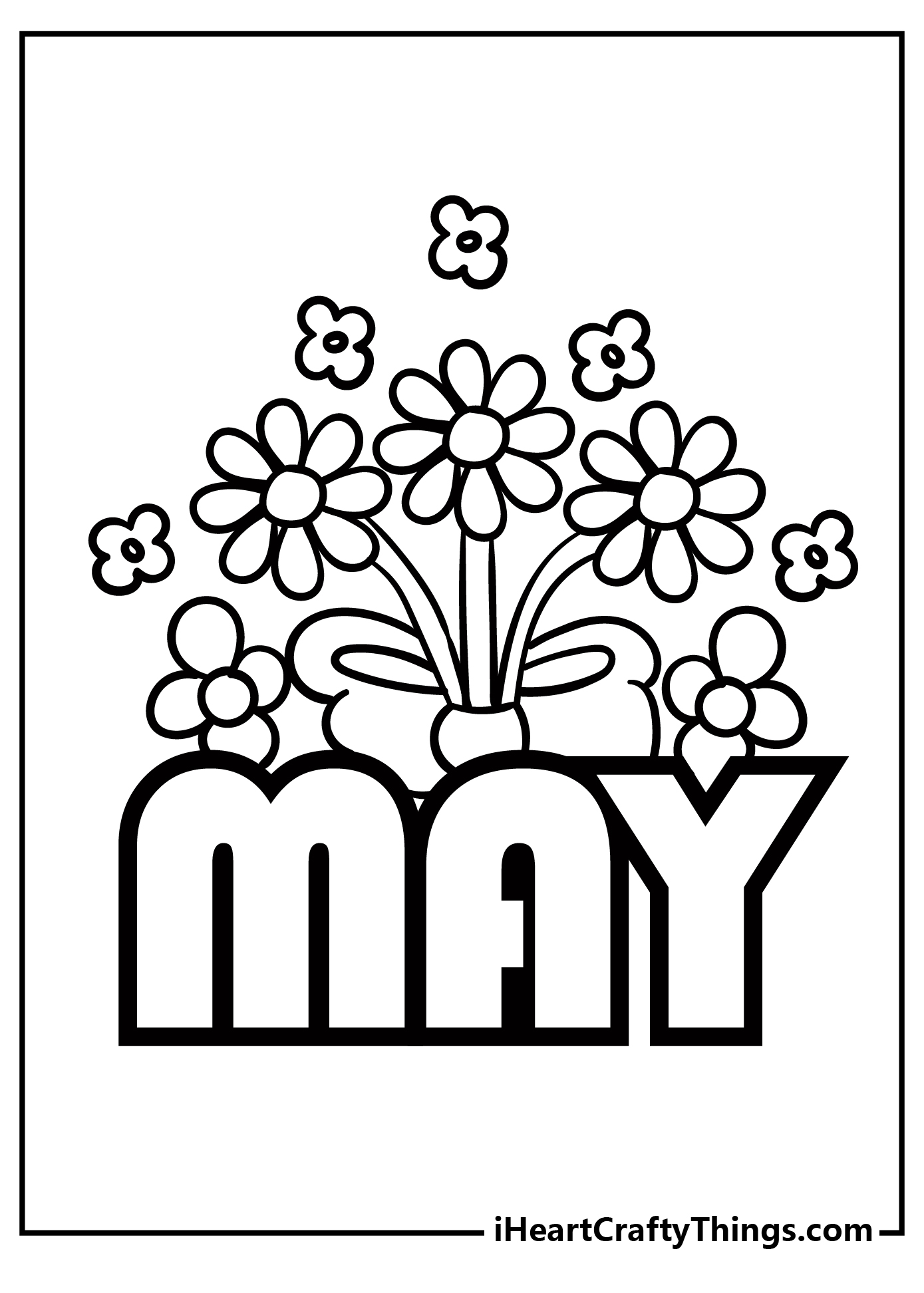 You have reached the final page of this collection. And we have another charming image ready for you to color! This one has the word May written in a font that is bold, yet elegant.
There are also some large flowers around the word, and with all of these elements there should be plenty to keep you busy.
This is a gorgeous picture to close off this collection, so how will you color it?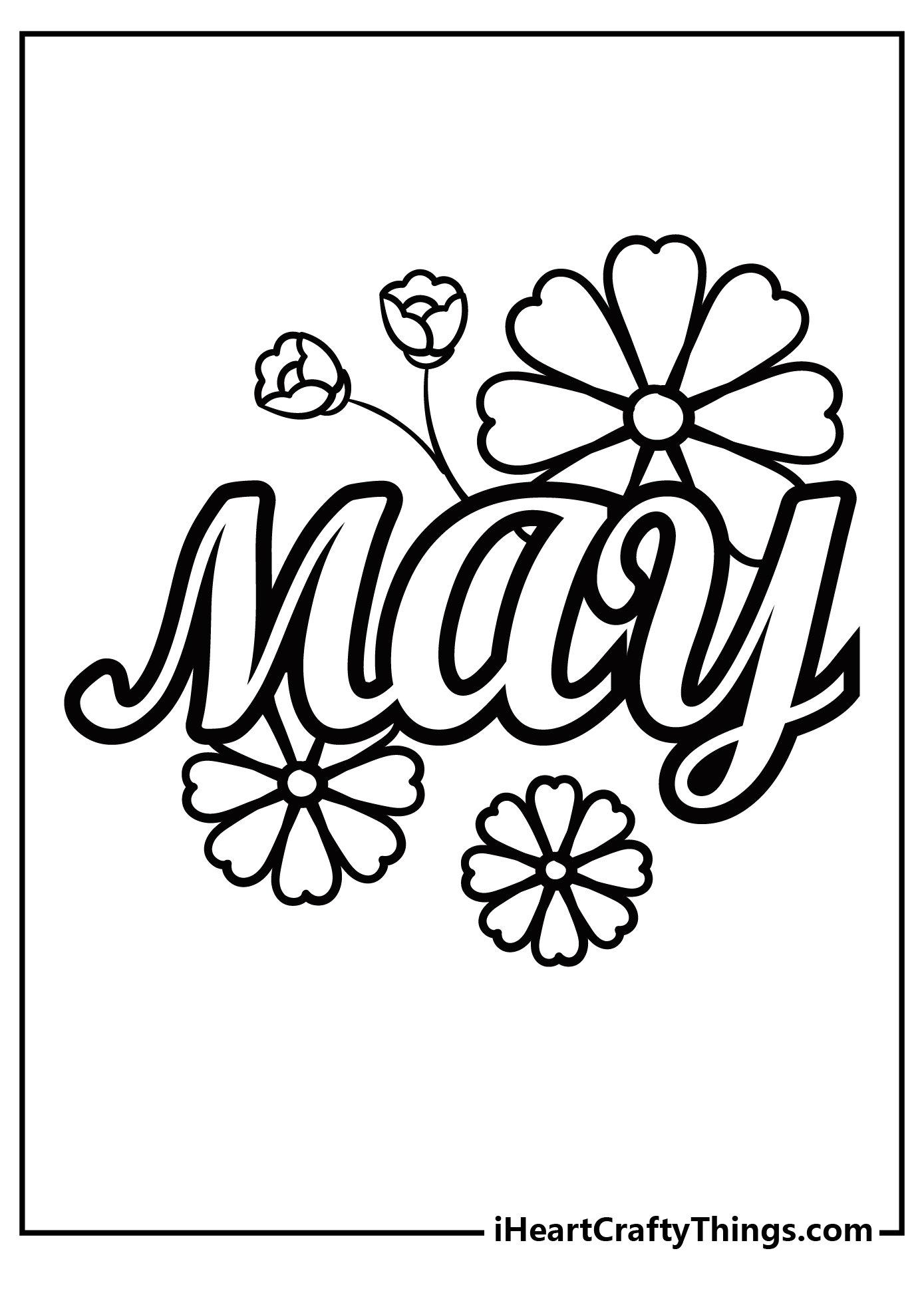 May Coloring Pages – Which will you choose?
This collection of 10 free May coloring pages for kids had such a great amount of variety focused on this wonderful time of the year.
We hope you had some fun creating some Spring themed memories as you worked on your favorite pages!
Remember that there are plenty more coloring pages to enjoy on our website. We plan on bringing out many more soon, so keep checking in for those!
We would love to see how you colored these pages, so please share some of your finished favorites on our Facebook and Pinterest pages for us to see!