These beautiful cross coloring pages are ideal for children, teens, and even adults!
They can be colored or decorated with glitter glue, gems, or torn-up bits of paper. Keep it simple, or turn these cross coloring pages into elaborate crafts.
To feed one's passion for art while keeping them busy, why not share these printables with your children? Let them discover unique combinations of colors for the below crosses.
10 Brand New Cross Coloring Pages – Free to Print and Color
Here's a cross model that you can't jinx even if you try to. This mosaic cross it's perfect for kids' crafts during an Easter Bible story lesson of any kind.
Grab your colors and let your creative juices flow.
From the inception to the final touches, a lot of work goes into creating each individual piece of this mosaic. Its beauty lies in different patterns, such as repeated lines and geometric shapes.
Turn that white into different hues and let them blend for your own delight. Why not teach your little one a few things about creating beautiful works for others with these lovely cross coloring pages?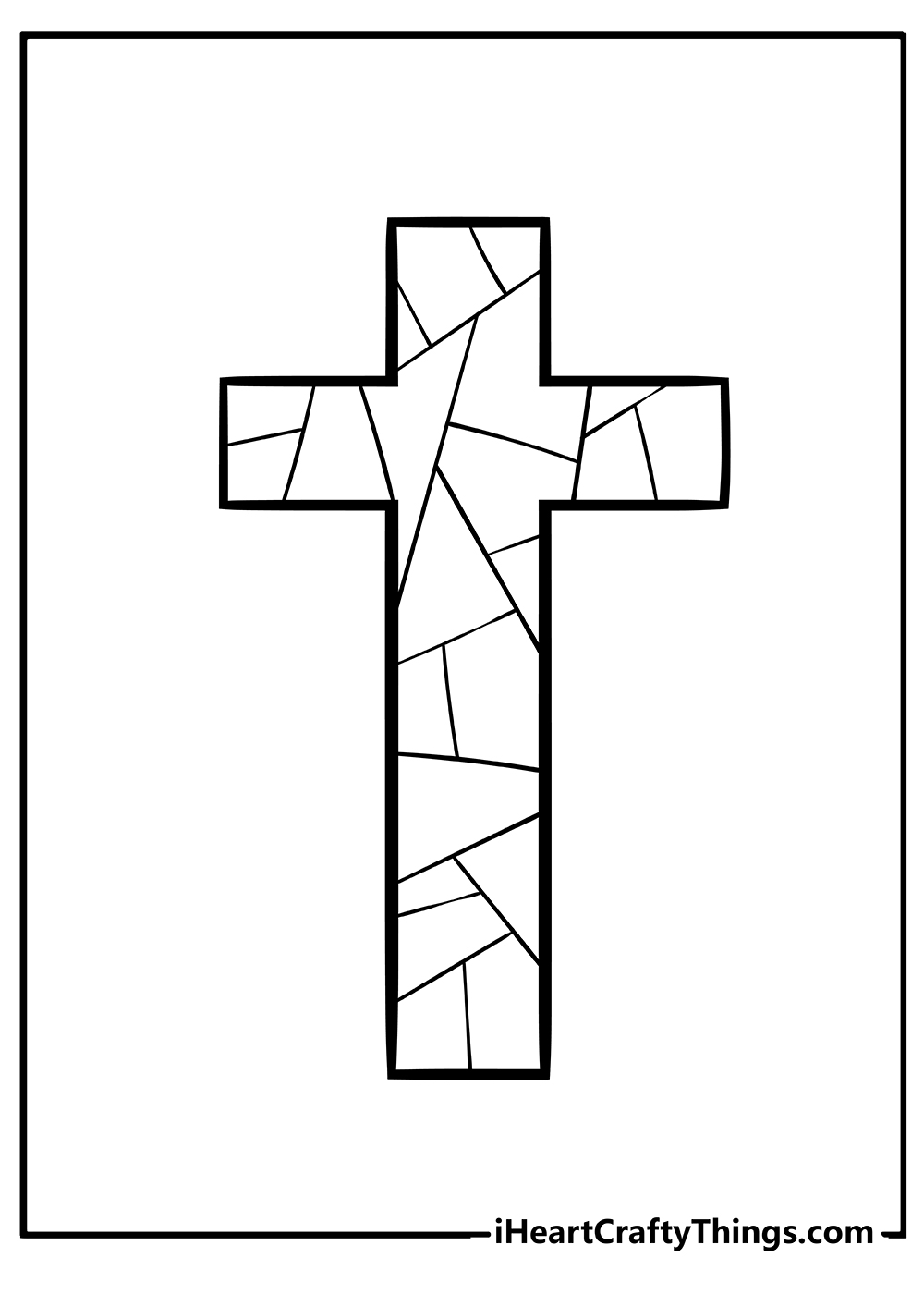 The second cross also teaches us about creating lasting work. Surrounded by segments that can be easily turned into a fine mosaic, the cross symbolizes the centre of this piece.
Make sure it stands out by adding noisy colors like purple or pink. The rest of the piece can be completed with different neutrals like caramel, marine, light blue, khaki, coffee and aurora yellow, and turquoise.
Because your little one is taking the lead on these cross coloring sheets, it's normal to let them explore with whatever colors their mind is taking them to.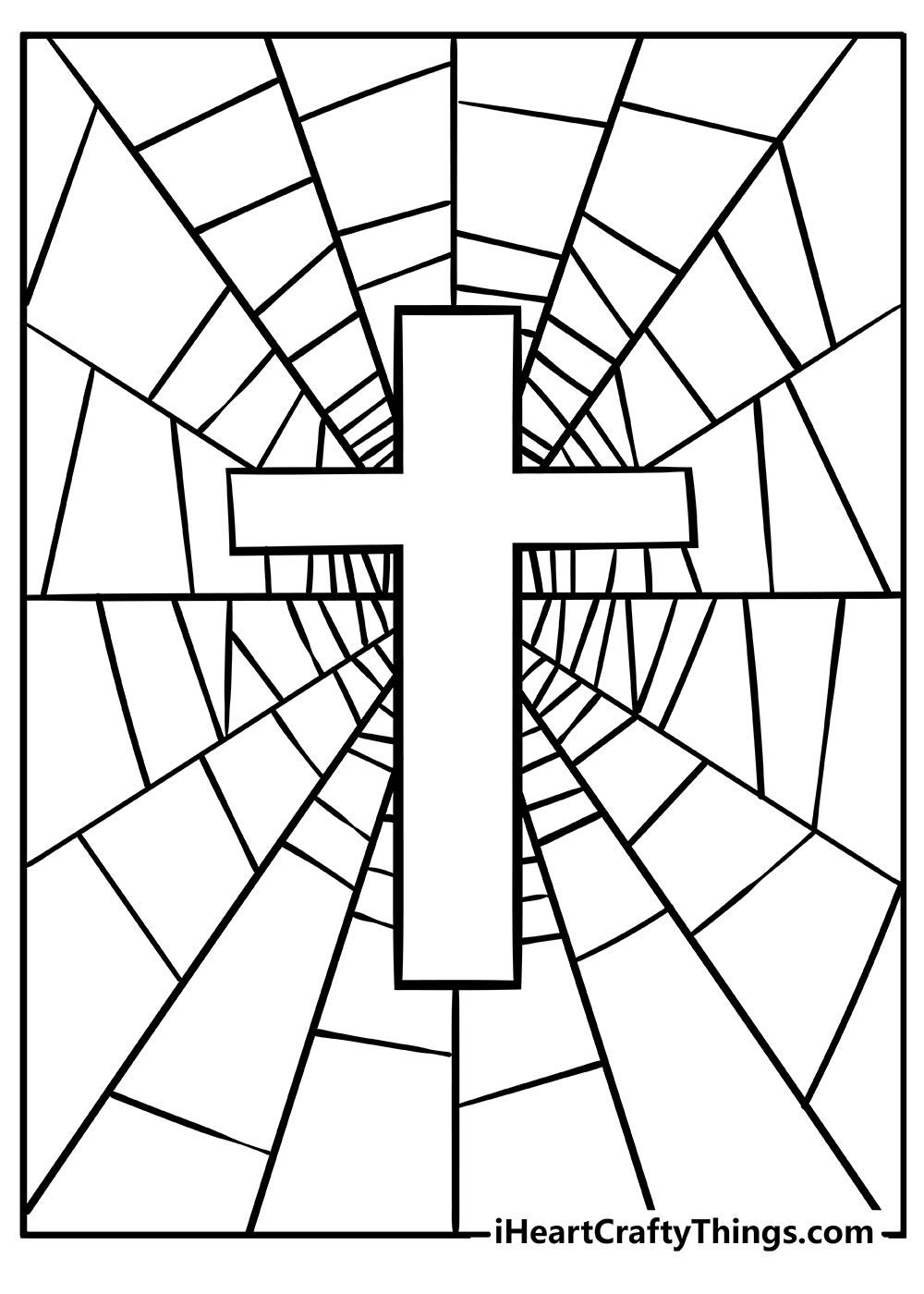 Roses are red, violets are blue, who doesn't love those eye-catching hues? Our third piece depicts a rose growing and climbing on the cross.
Roses are not just flowers – they are a feast for the eyes. It's also believed that roses create a magic illusion for human eyes that connects them to the human heart.
Roses are the masterpiece of all the flowers because they emit beautiful positive feelings. In a world full of different flowers, the rose symbolizes love.
Roses are available in almost all colors, so it doesn't matter which color you choose to apply as long as you get the desired result.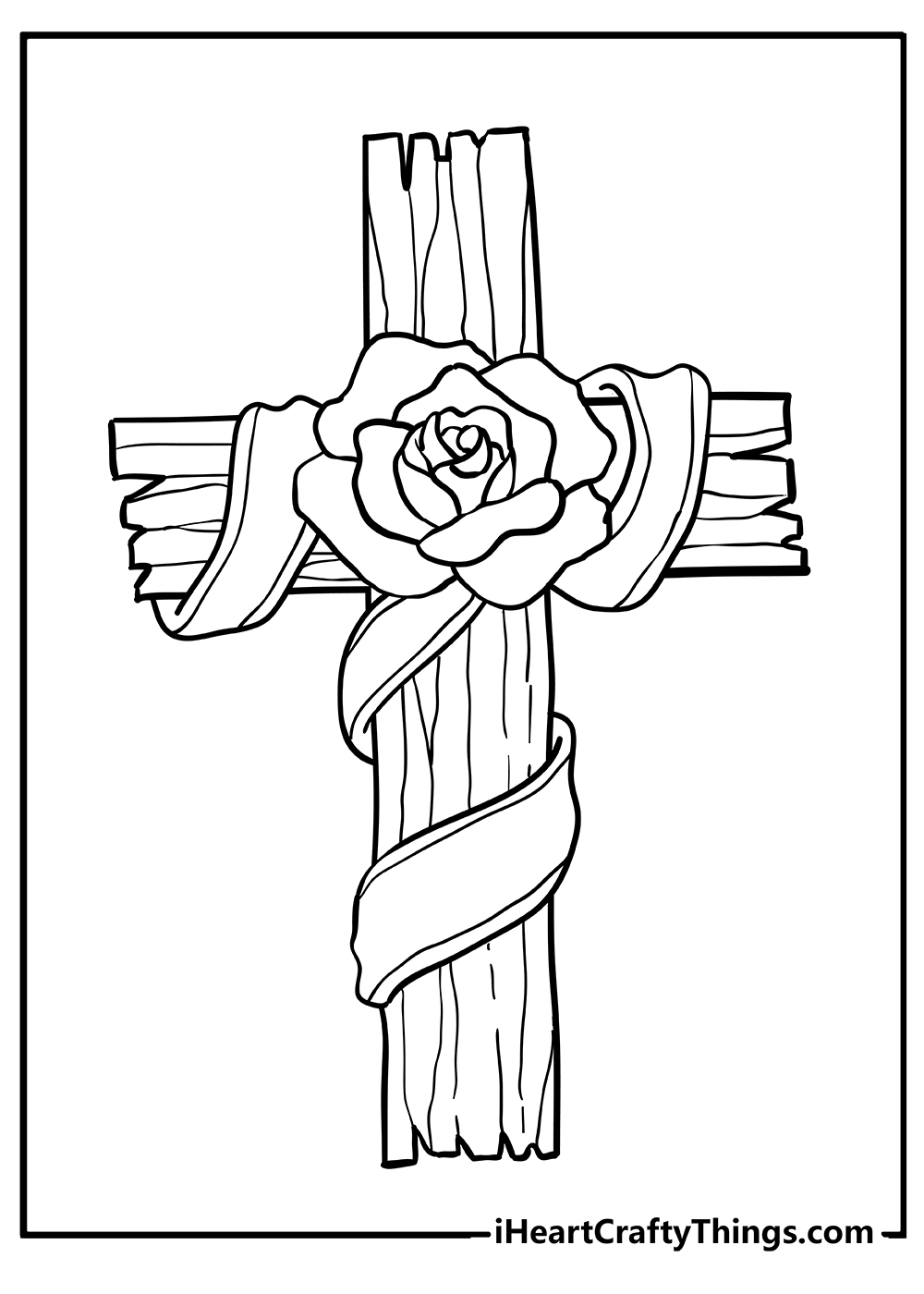 This cross has touched the sky already. It's up there, which means you can apply all the heavenly colors you have in your arsenal.
Did you know that warm colors like yellow and orange evoke emotions like passion and happiness? Well, now you do.
On the other hand, the blue and purple of the sky are linked to calmness, sadness, and sometimes indifference. Colors have a way of triggering states and emotions.
And who can blame them? We're so easy to trigger. As you enjoy these cross coloring sheets, you will also experience emotions linked to the colors you play with.
So make sure you use whatever inspires your light and affection.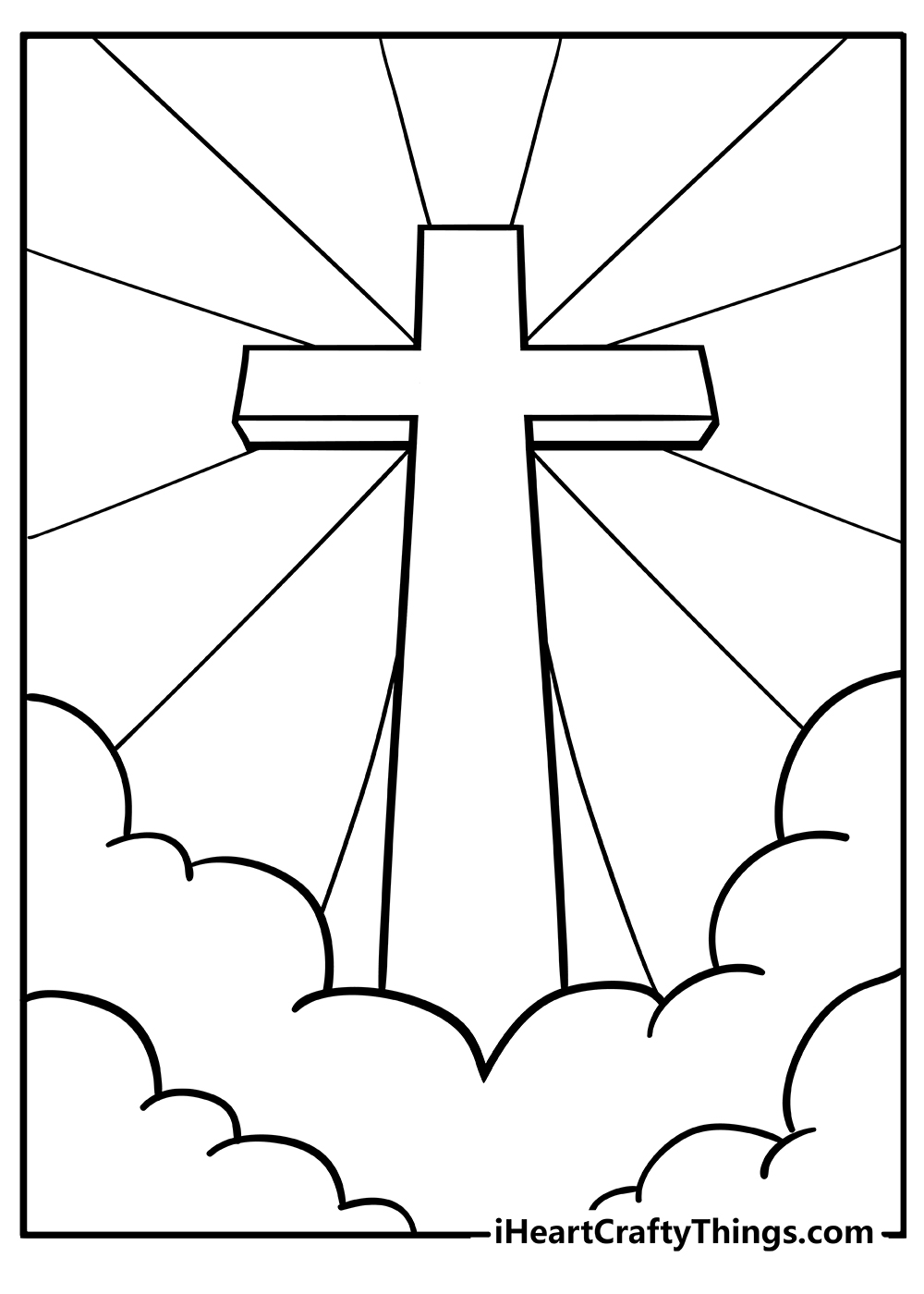 This cross seems to hold the Seamless Robe of Jesus or at least a garment believed to be worn by Jesus.
Numerous depictions of Jesus in life almost always show him dressed in bright red, or vermilion, a color with many complex meanings.
In Christianity, red represents sin or the Devil. However, it can also imply martyrdom or the blood of Christ.  In ancient Greece, red was thought of as a romantic symbol, as well as one of sacrifice.
Regardless of its meaning, nothing can't stop your little one from using red on these cross coloring pages.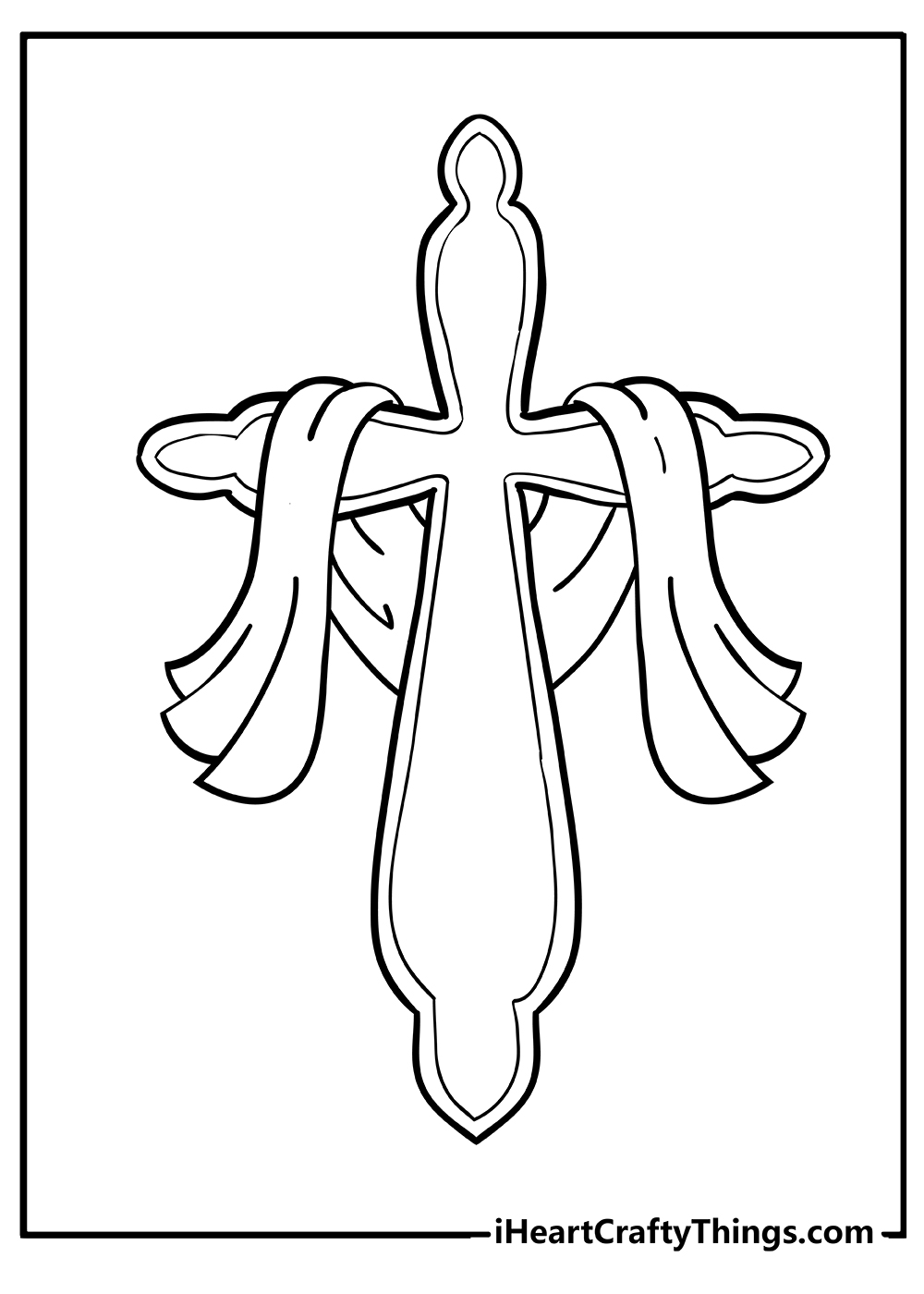 This simple upright post with a transverse bar isn't just a symbol of death. The cross is so much more.
Life and death, hate and love, violence and peace, sin and purity, accusation and forgiveness, brokenness and wholeness, all is lost, yet everything is gained and much more.
The cross means different things to different people. For some, it means love, for others abundance, and it's normal to be depicted in all possible kinds.
The cross it's also something very personal, so why not download these cross coloring sheets and make it your child's personal crafting project?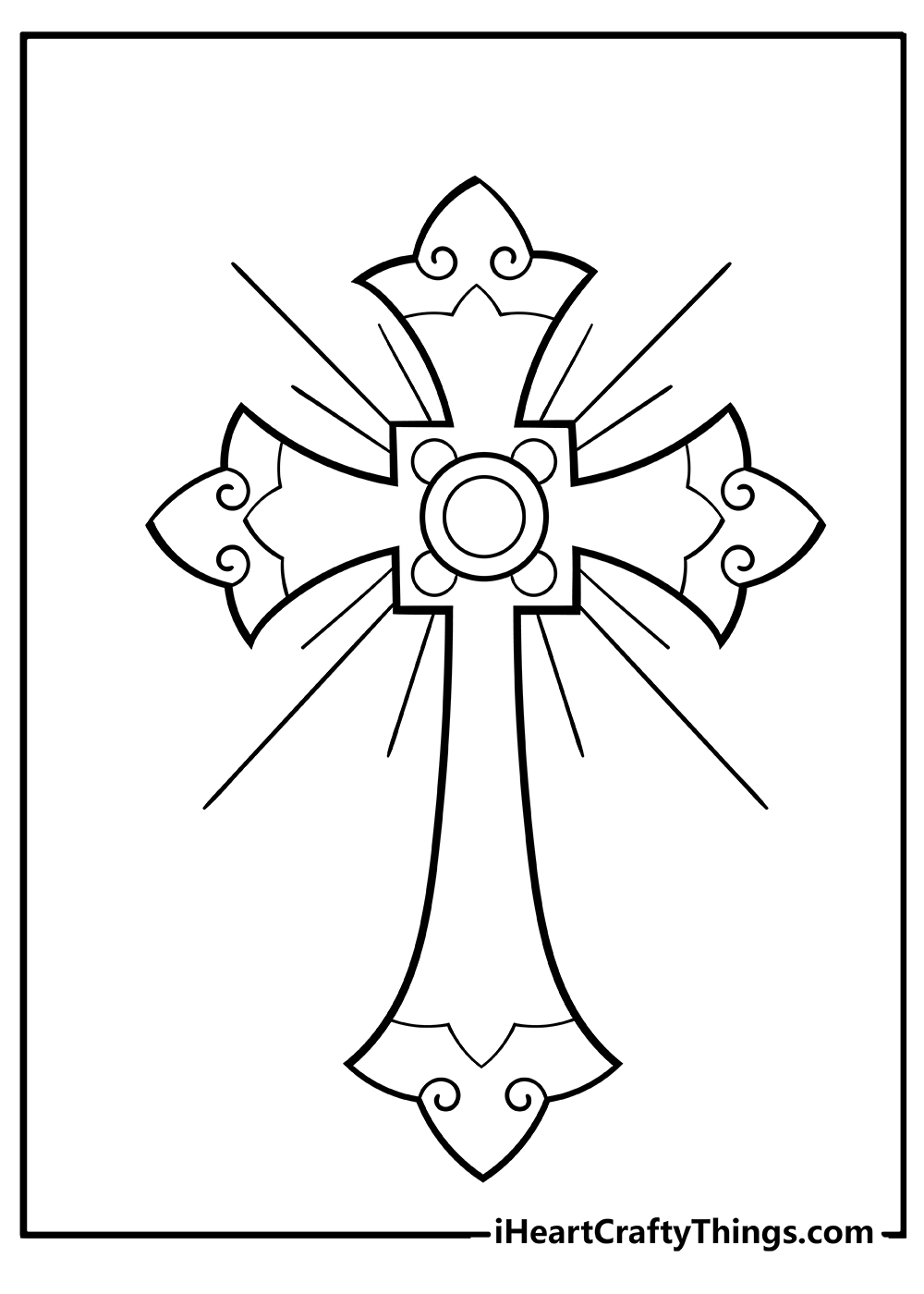 How lovely this cross is, reaching the blue of the sky. It gives you another chance to colour a melody of crimson hues and crepuscular rays or get lost in the clouds. But why those colors?
Well, first things first, light travels in waves. The sunlight is white since it's made up of all seven colours of the spectrum – violet, indigo, blue, green, yellow, orange, and red.
Each of them has a different wavelength, with violet having the shortest and red the longest.
When the sunlight reaches our atmosphere, the air particles interact with it, scattering the wavelengths in different directions.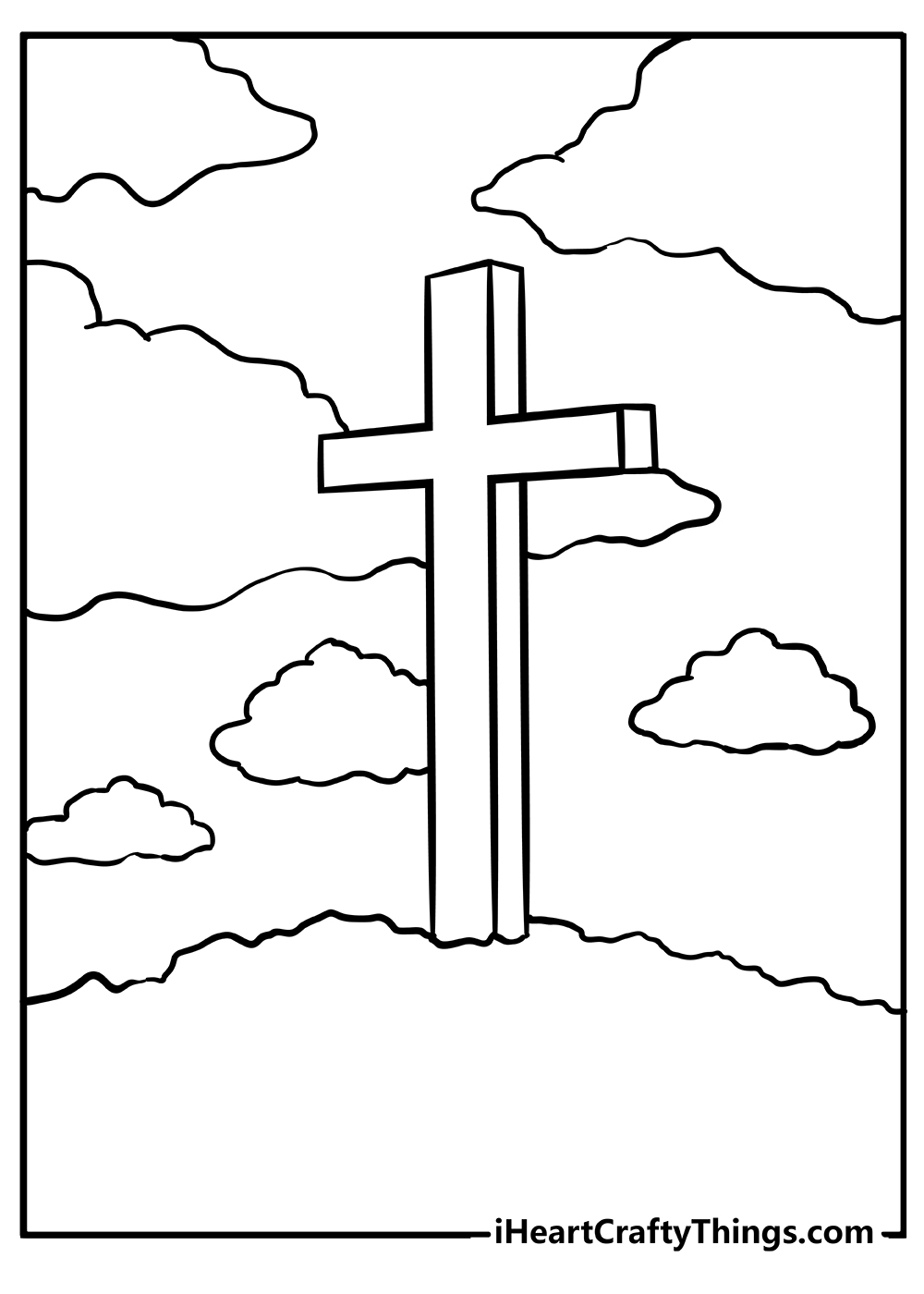 Roses, roses, everywhere! Did you know the rose is well-known as one of the most popular and appreciated  flowers out there?
They have been given as declarations of love and gifts for hundreds of years. Roses are known to make a tremendous impact.
Not only do they express love through their romantic appearance, but they help remind someone of the value of your relationship.
Giving someone yellow roses, for instance, is a great way to celebrate a strong friendship. Pour some yellow on these cross coloring pages and give it to your bestie. He or she will appreciate it.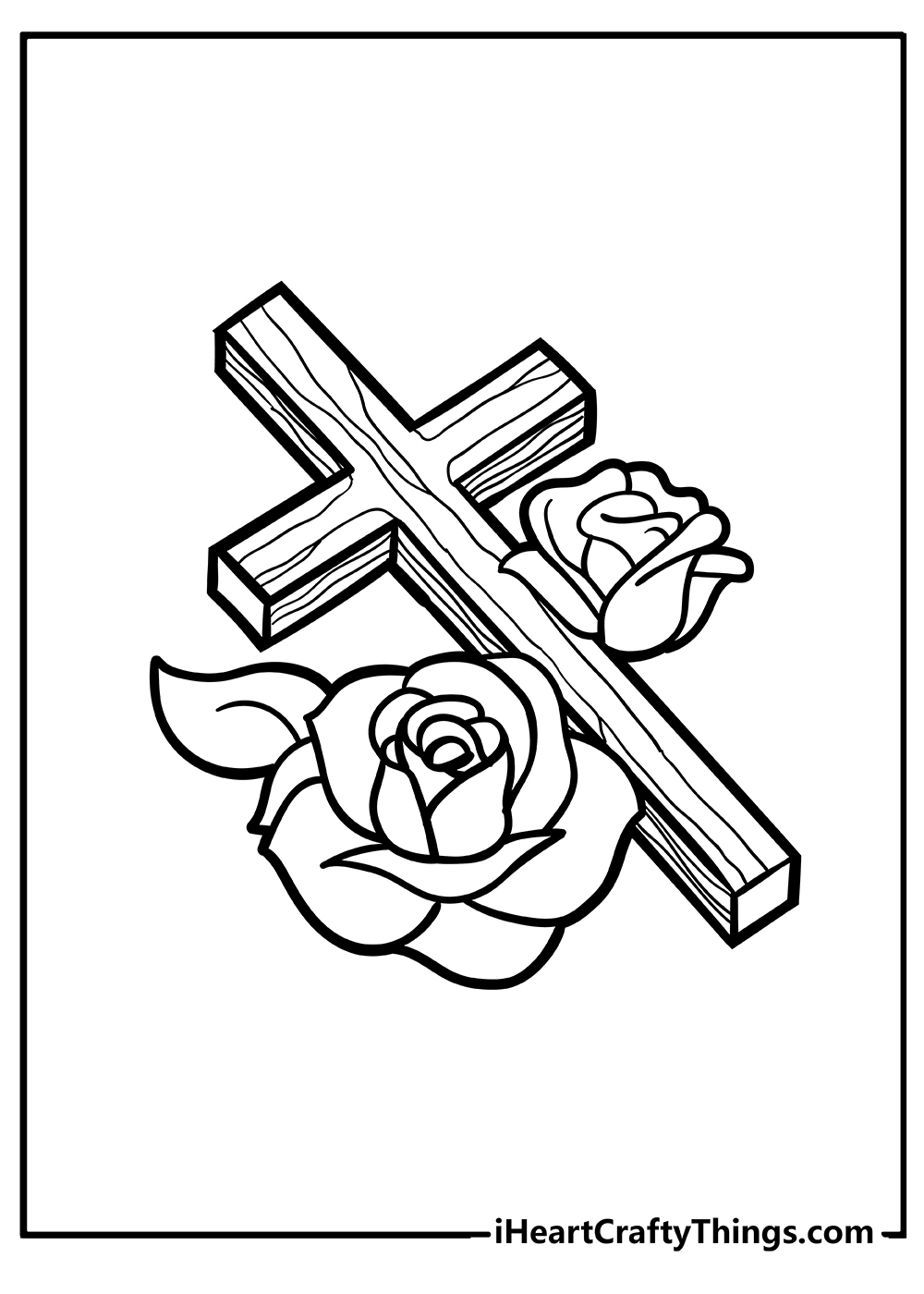 It seems like the above cross has caught some wings! Let your imagination carry you away and delve into the wide world of coloring with this cross model.
There's no need for noisy colors since you depict a cross in heaven. All you need is some sky blue, gold, and yellow mixed with white to form the wing aspect.
However, these colors aren't mandatory – play with whatever color is in your reach and make sure you enjoy the process.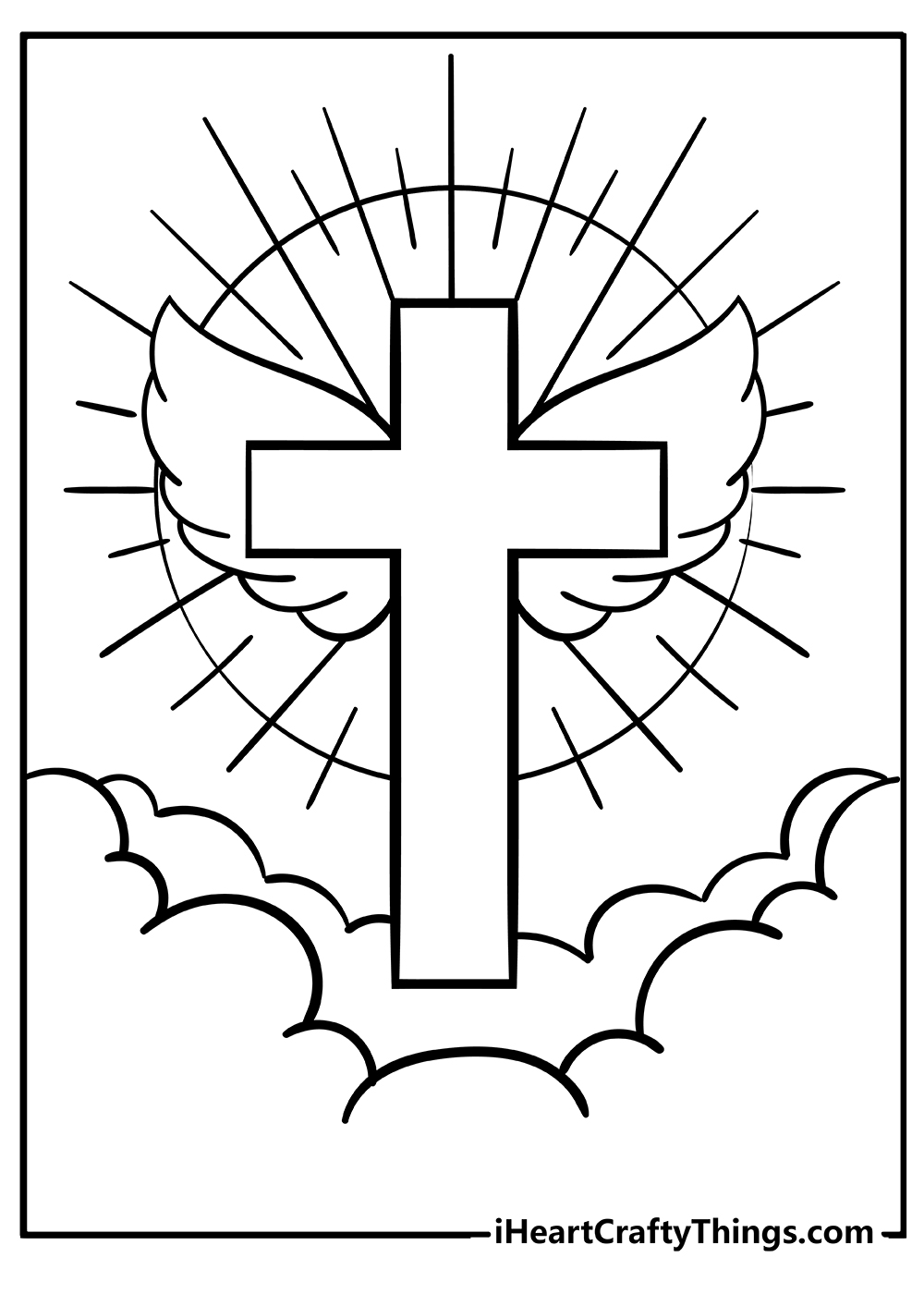 There's no better way to depict Easter than this coloring sheet.
Given the symbolism of new life and rebirth, it was only natural to celebrate the resurrection of Jesus through these beautiful cross coloring sheets.
All three crosses are empty, which means everyone has reached heaven. This printable sheet also gives enough room for flora and fauna that are reborn every spring.