On this page, you will find 30 all new 4th of July coloring pages that are completely free to print and download.
The 4th of July is a day that many Americans look forward to each year! This is a day that is all about celebrating patriotism with family, friends, fireworks and backyard cookouts.
In this collection of 30 free 4th of July coloring pages for kids, you will have plenty of fun pages commemorating this fun day to color!
You can also share all these pages with friends and family once you have colored your favorites. We also hope you will share some of your finished pages on our Facebook and Pinterest pages for us to enjoy!
30 Brand New 4th Of July Coloring Pages – Free to Print and Color
This 4th of July coloring sheet really captures the feeling of the occasion! It is a bright and detailed image with banners, balloons and a man in an Uncle Sam outfit.
We think that this page would look great with as many bright and vibrant colors as possible.
You would certainly probably want to include some shades of red, white and blue to give it that patriotic feeling as well.
That is what we felt for this page, but what are some colors and art mediums that you think would suit this page?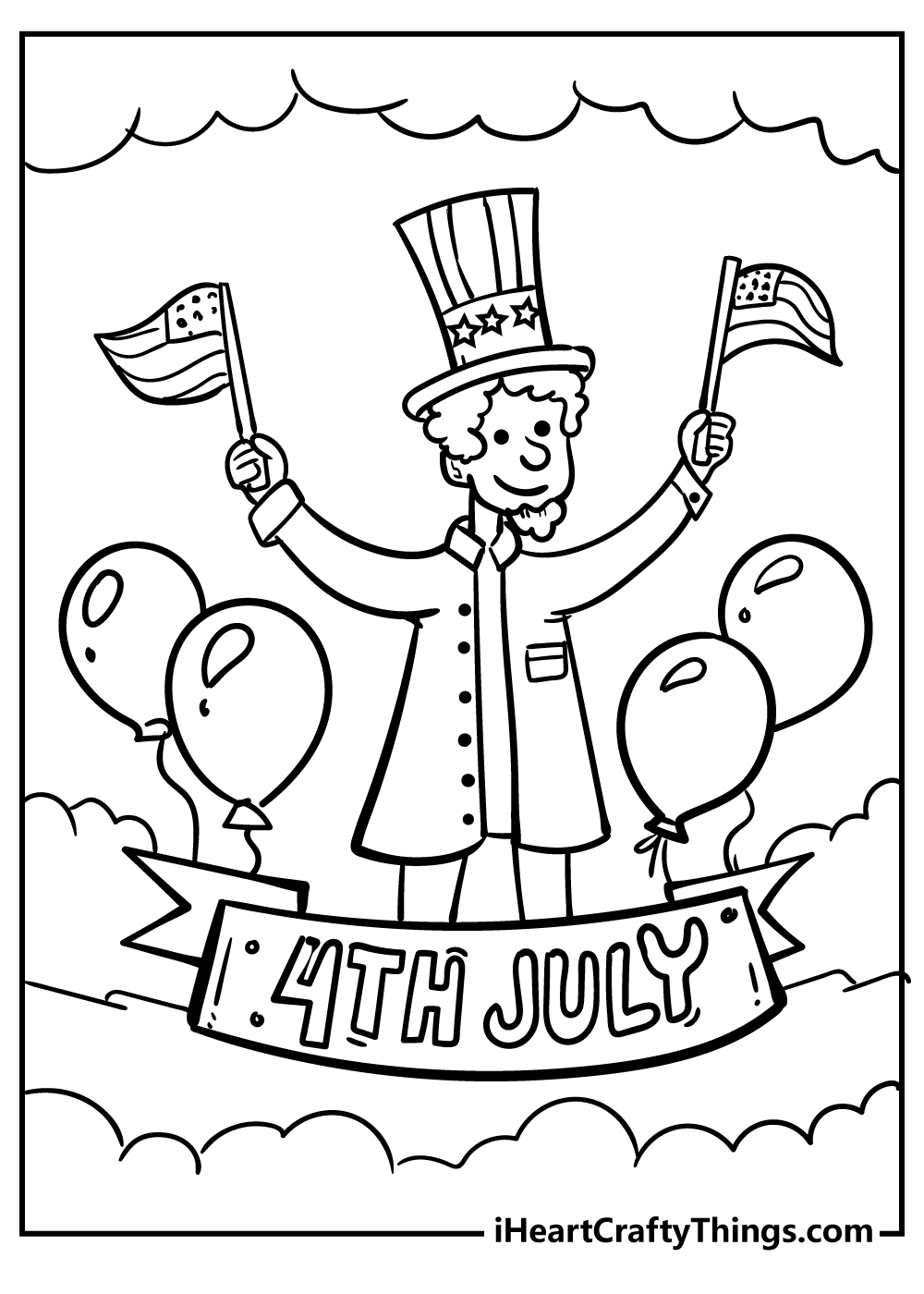 You can't look at this page and not know what it is commemorating, as happy 4th of July is the focus of the entire picture!
The phrase is written out in a really vibrant set of fonts, and this variety makes a really interesting and unique image to behold.
For this one, we would probably use a different color for each word, as that would help to emphasize that every single word is drawn differently.
That is just one way you could color this extravagant banner, but how else can you think of to finish off this design?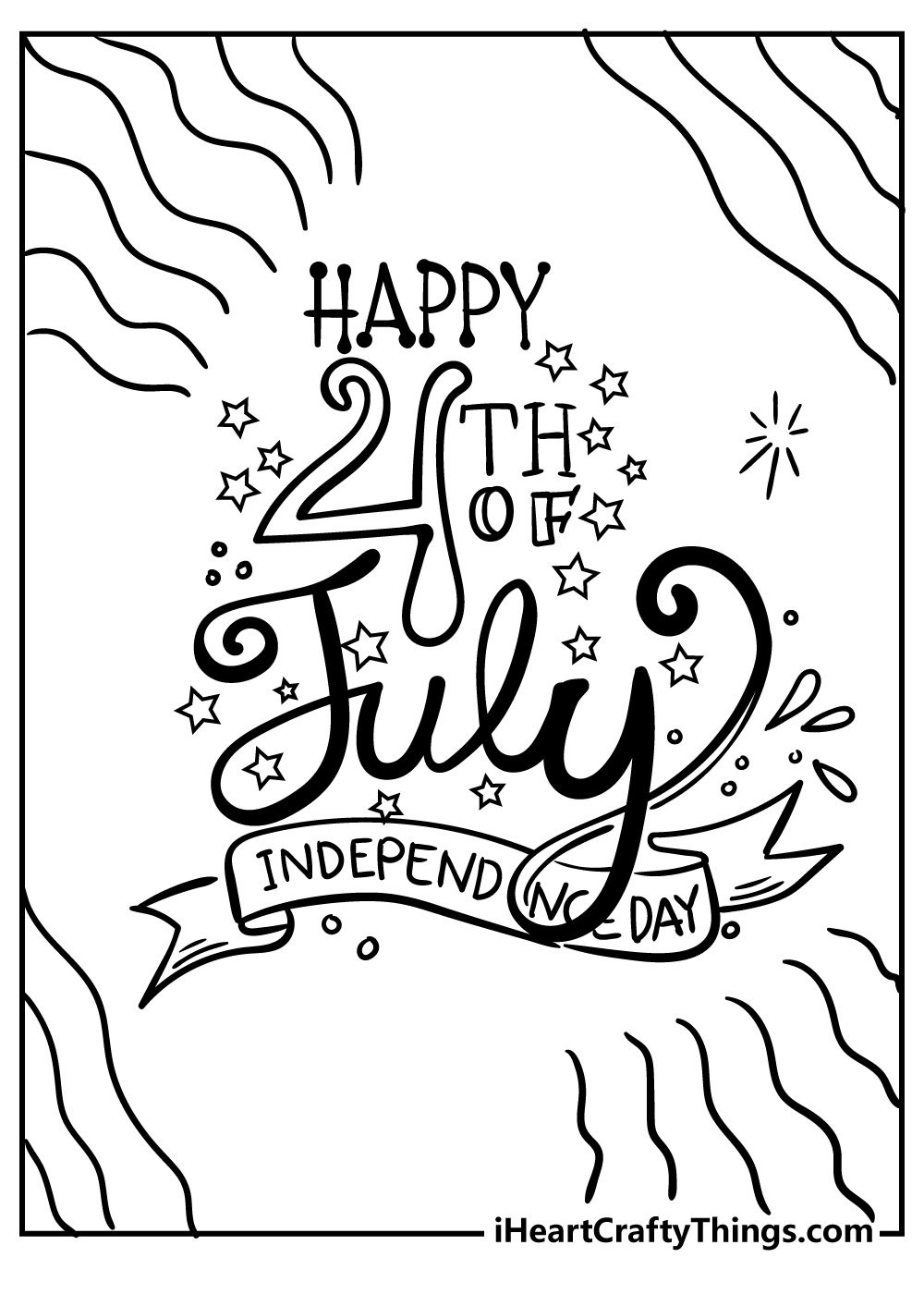 Look at this cheerful boy celebrating the 4th of July with a flag and a hat. He has a big smile on its round face, looking as happy as a clam.
His outfit is a stylish combination of patterns and textures – a striped vest over a plain t-shirt.
You can use red, white and blue for the flag and the hat, and any other colors you like for the boy's clothes.
The background has stars and curves that you can color as well.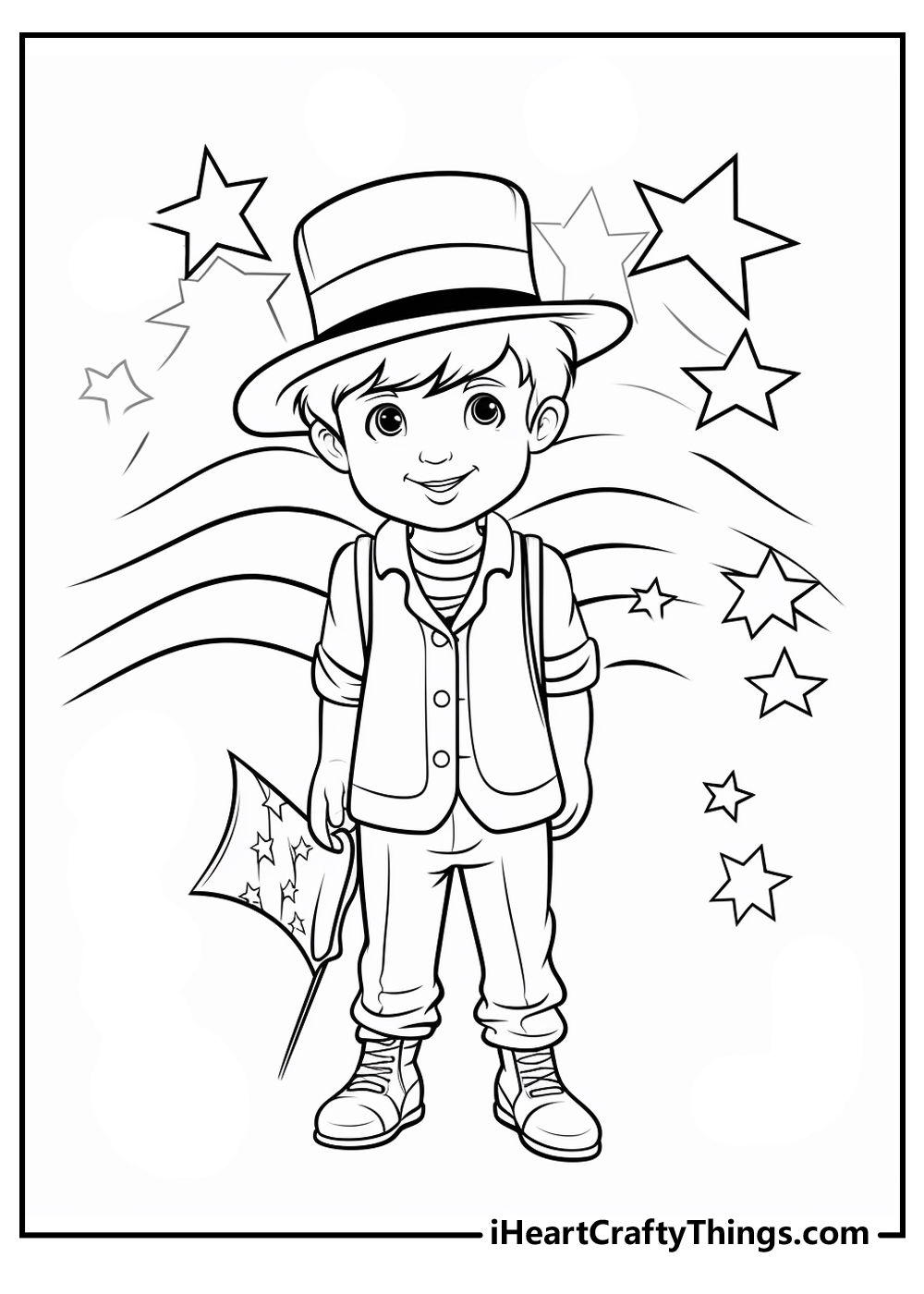 We're kicking things off in a bold way with this first page of our collection of free 4th of July coloring pages for kids!
We have the 4th of July written out in a big, bold font, and the number 4 is wearing a traditional Independence Day hat.
For this and many pages in the collection, we're sure you'll want to use plenty of red, white and blue, but what other colors can you think of to use?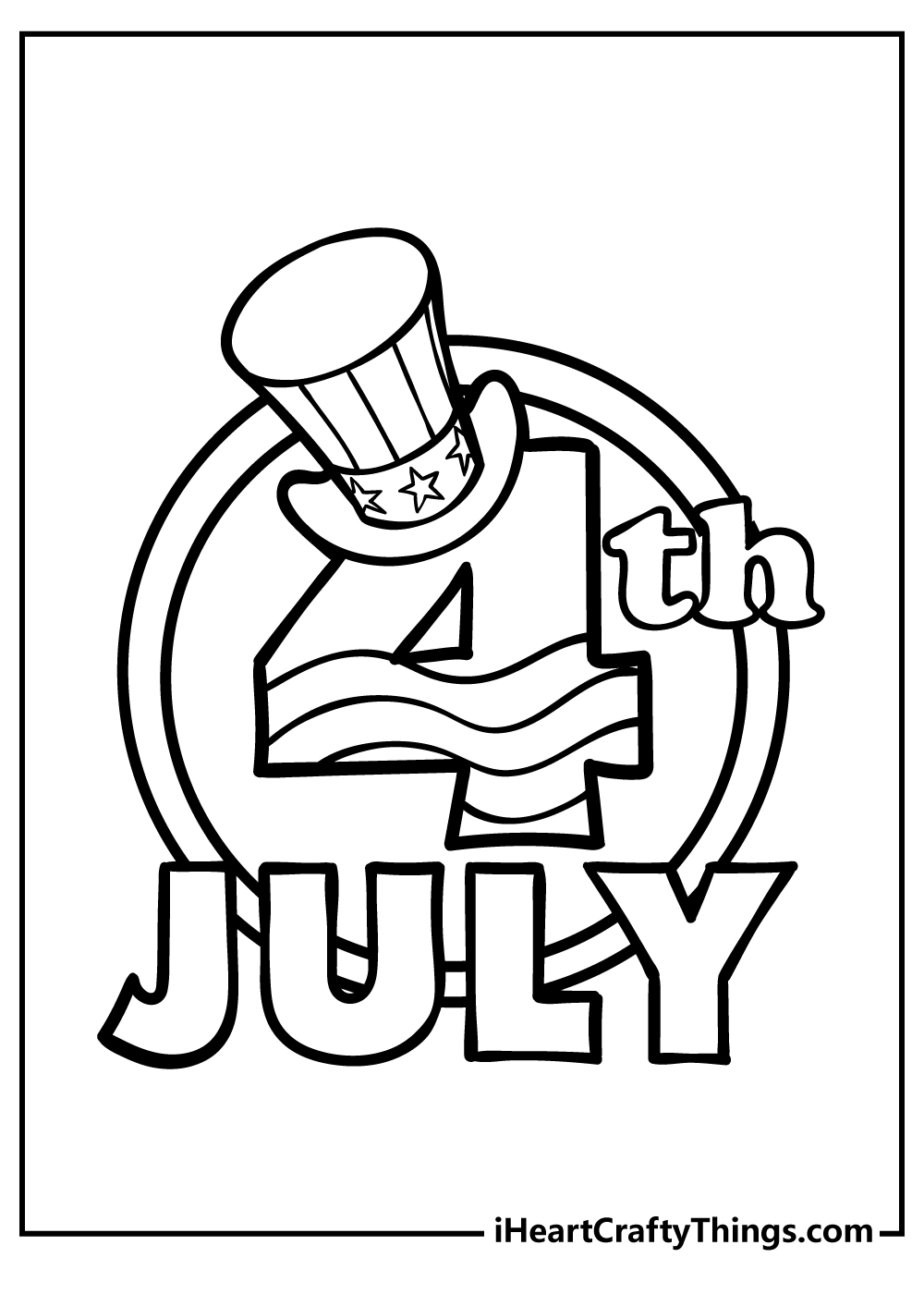 Things are about to get much cuter for this second page of the collection!
Here we have a bear decked out in some patriotic clothing holding a banner that is just waiting for you to add some vibrant color to it.
It will be great to see how you end up coloring in this happy, patriotic bear!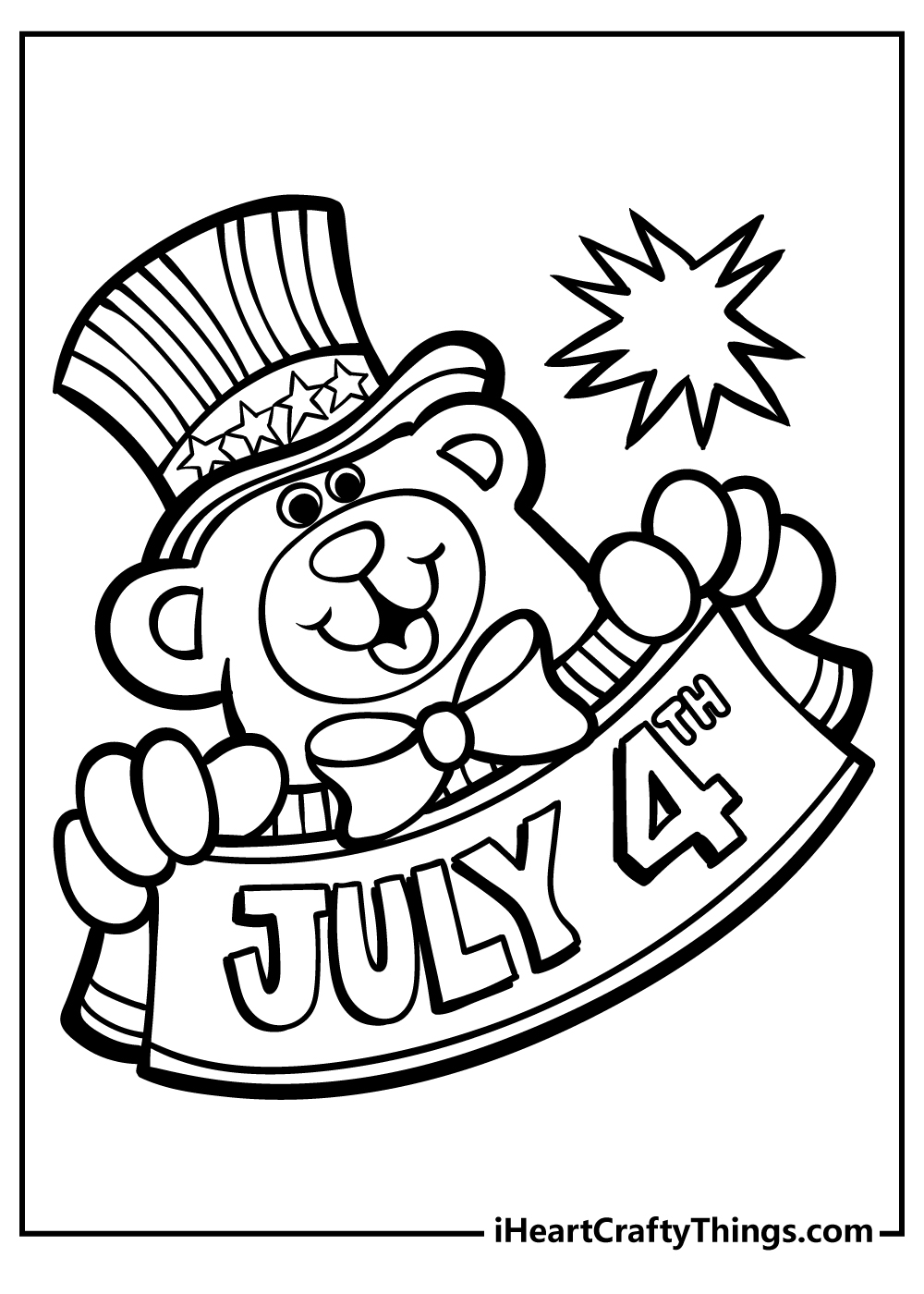 This 4th of July coloring page captures the excitement of a fireworks show lighting up the night above a bustling city.
The centerpiece is the bursting fireworks, each explosion a burst of color against the dark night sky.
Add some colorful details – try using shades of blues and red for a realistic look or go wild with purples, gold and greens.
The background has hills and curves that you can color as well, use colors like blue and green for the smaller buildings.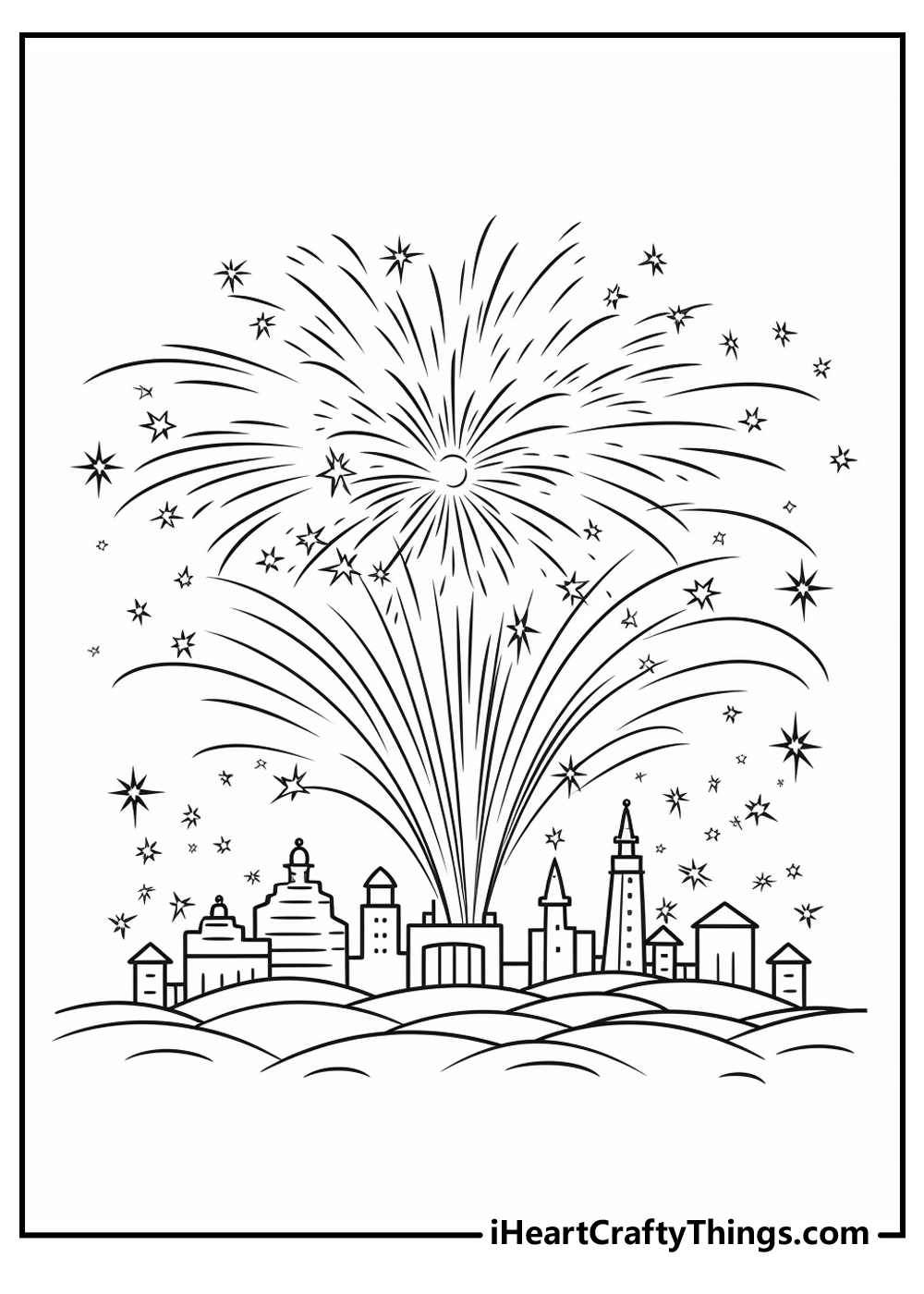 The patriotism is strong with this next design, and there are so many great details that refer to various patriotic symbols.
Some are more obvious like the flags near the center, but there are also wavy lines at the corners that look like the stripes of the flag.
At the center is a torch that looks like the one that the Statue of Liberty wields, and it is all surrounded by some stars as well.
There is so much to admire on this page, and there are many different ways that you could color it in.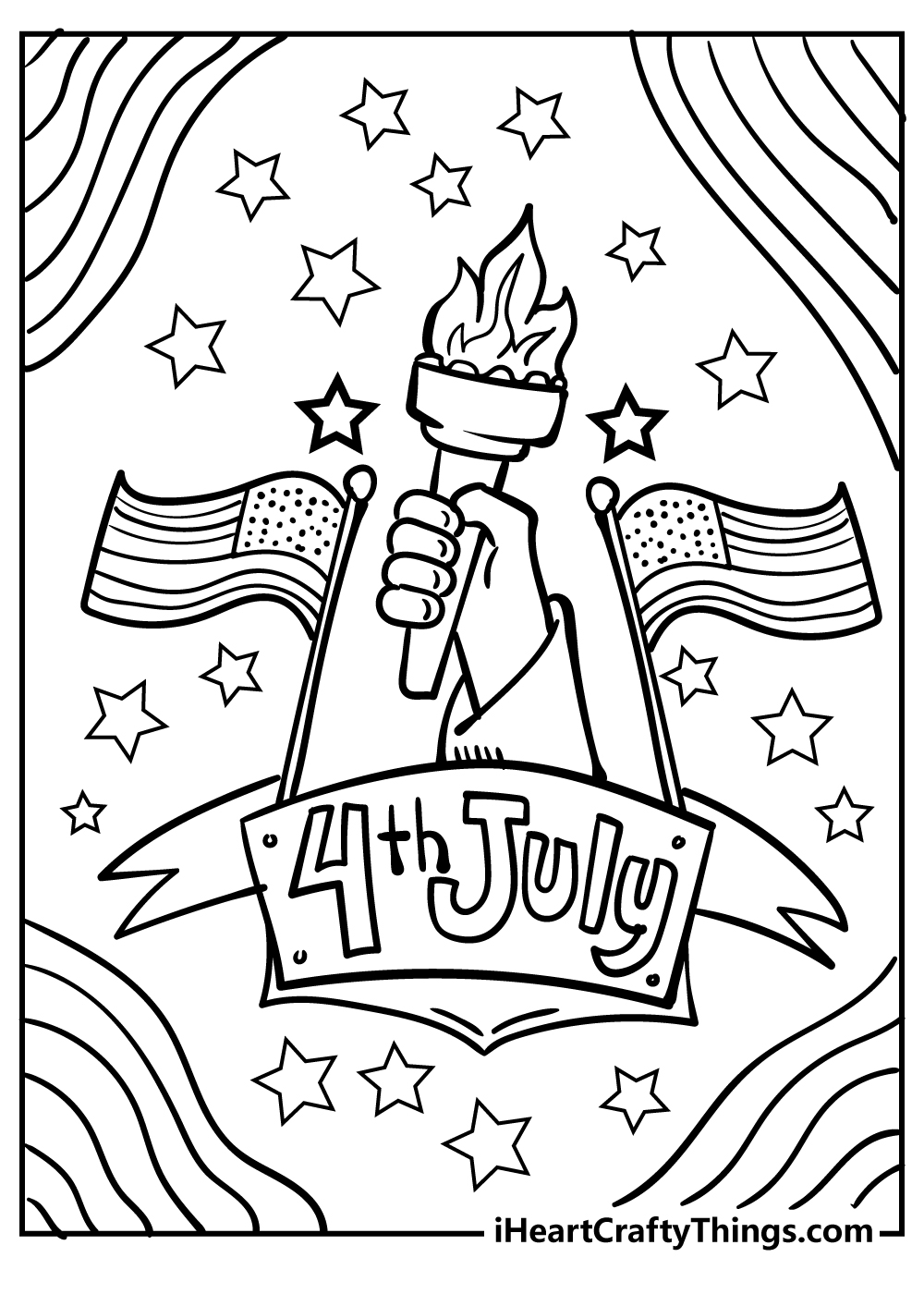 Next up in our collection of free 4th of July coloring pages for kids is a simpler design that is nevertheless very effective at celebrating the holiday.
There is a big star at the center surrounded by some stripes, and it is a great subtle way of referencing the iconic American flag.
For this one, we would again probably stick primarily to some red, white and blue to further reference the flag.
Even if you also use that as your main color scheme, you can still supplement it with other colors you like!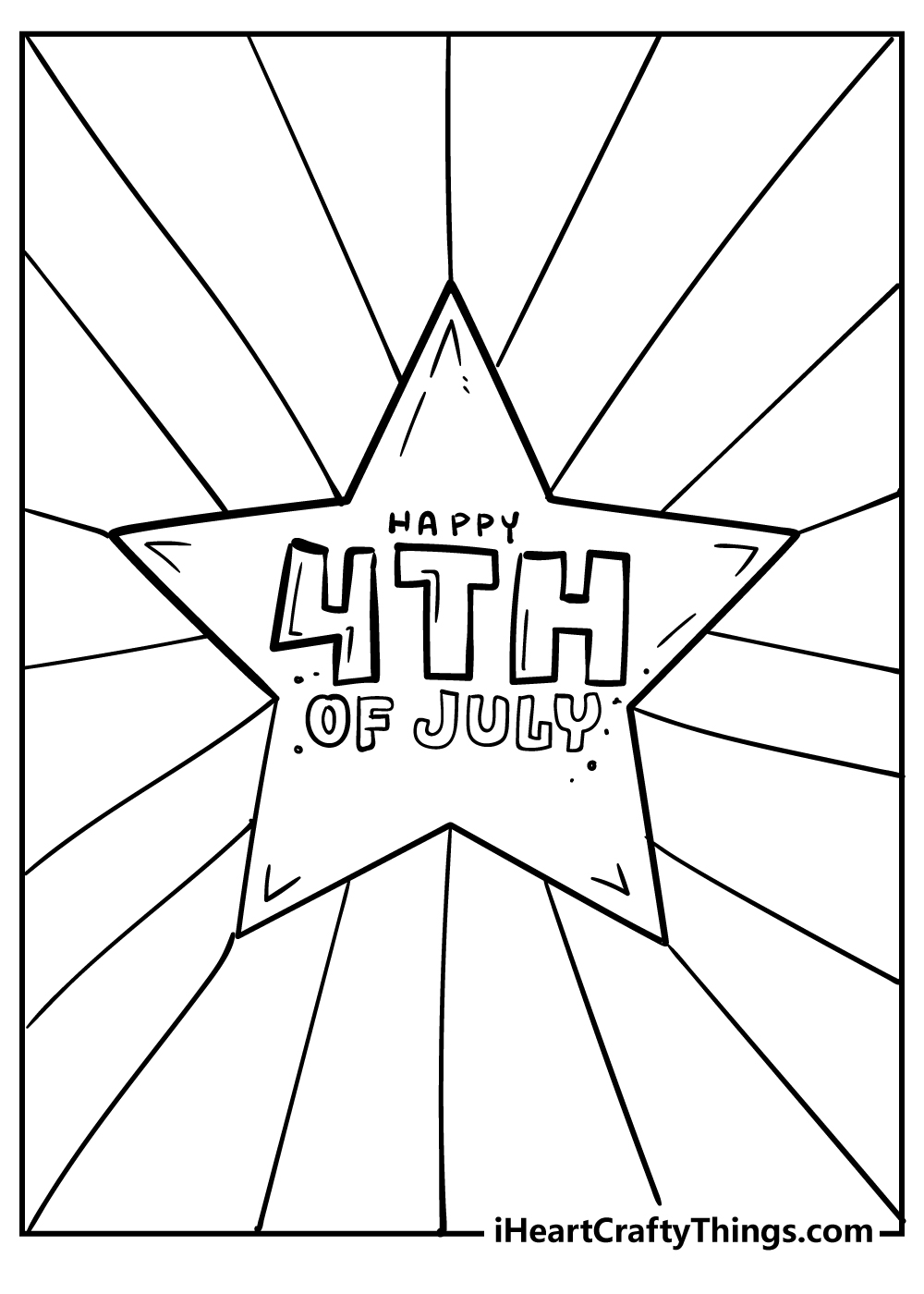 This coloring sheet shows the celebration of 4th of July with a smiling boy lighting up the night.
He is wearing a casual outfit with a t-shirt, shorts and sneakers, standing in front of a mountain range with trees and twinkling stars.
You can color the torch he holds with bright oranges and yellows so it glows like real fire. The mountains in the background can be made dramatic with grays, purples and browns.
Use red, white and blue for the bursting firework above him, making it pop against the night sky.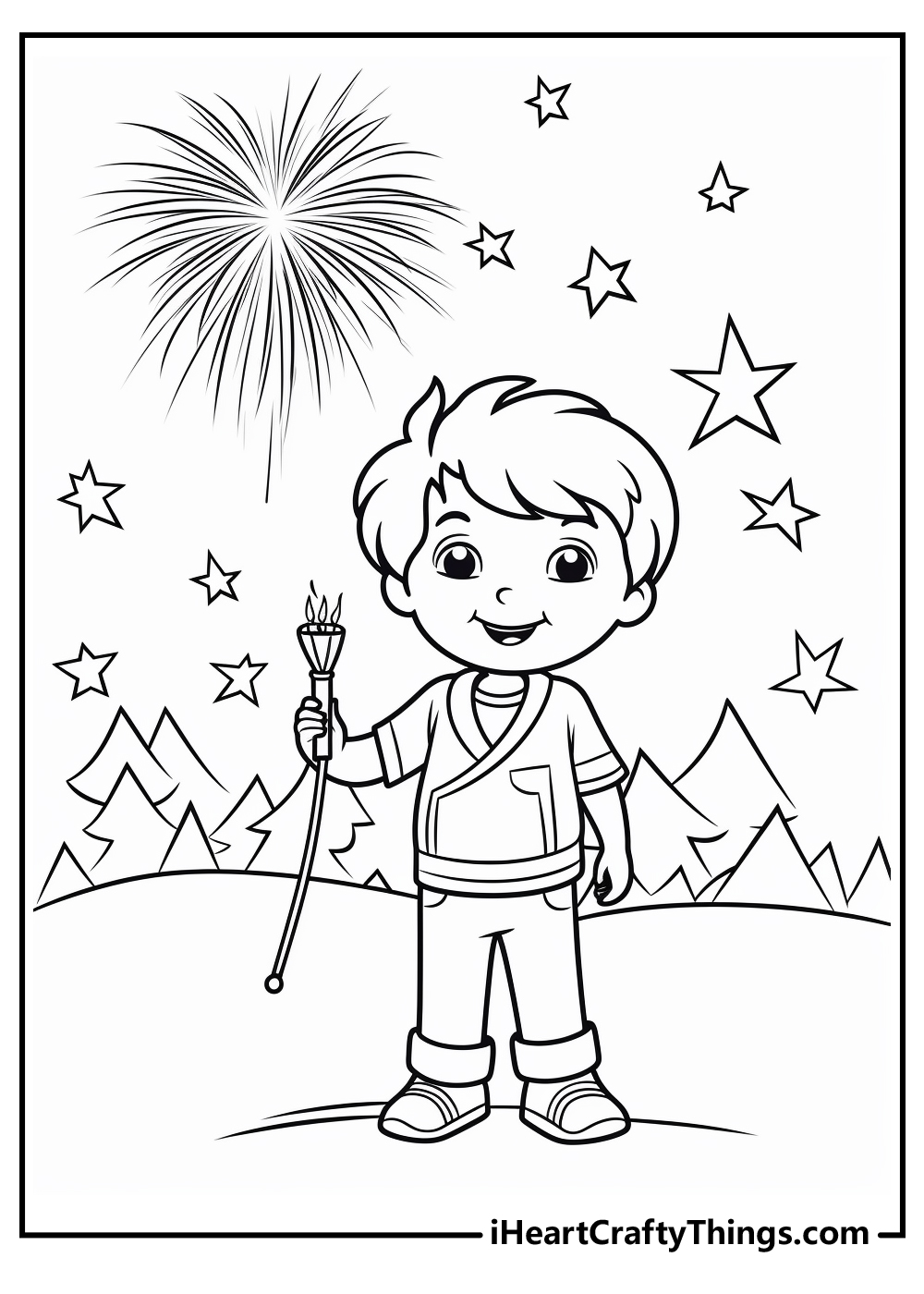 There's a really great design to the image featured on this page. The American flag is well known for its 50 stars, and this design shakes things up by putting the flag design inside one large star.
There are so many great details to color in for this page, so you have tons of options for incorporating your favorite colors!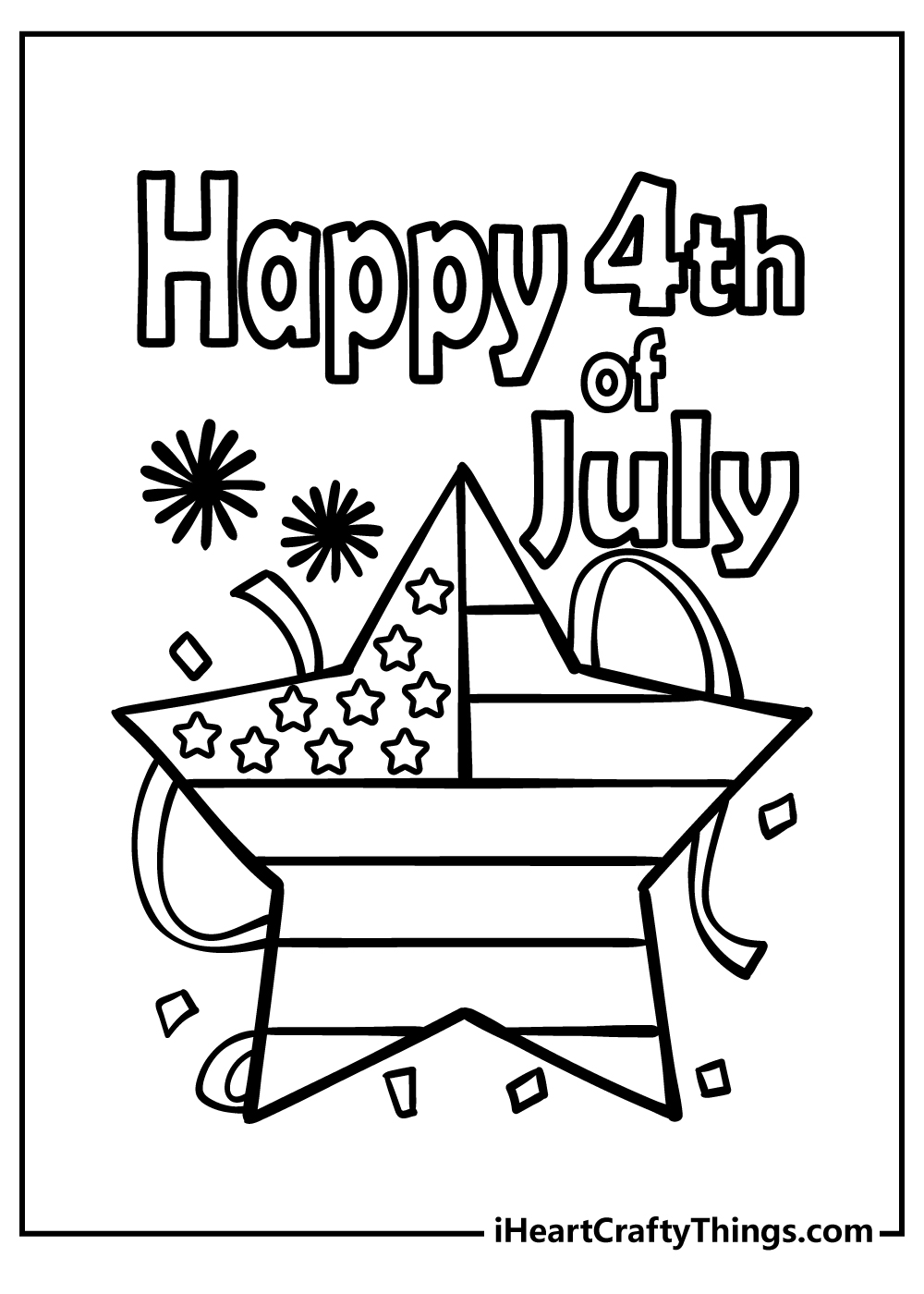 It wouldn't be the 4th of July without some fireworks, and this image features a really fun take on that aspect of the holiday.
This living firework is zooming through the air in order to wish all a happy 4th of July, and we think this one would look amazing with some bright, vibrant colors.
We would use some vibrant yellows colored with pens and markers for the trail left by the firework, but what will you use?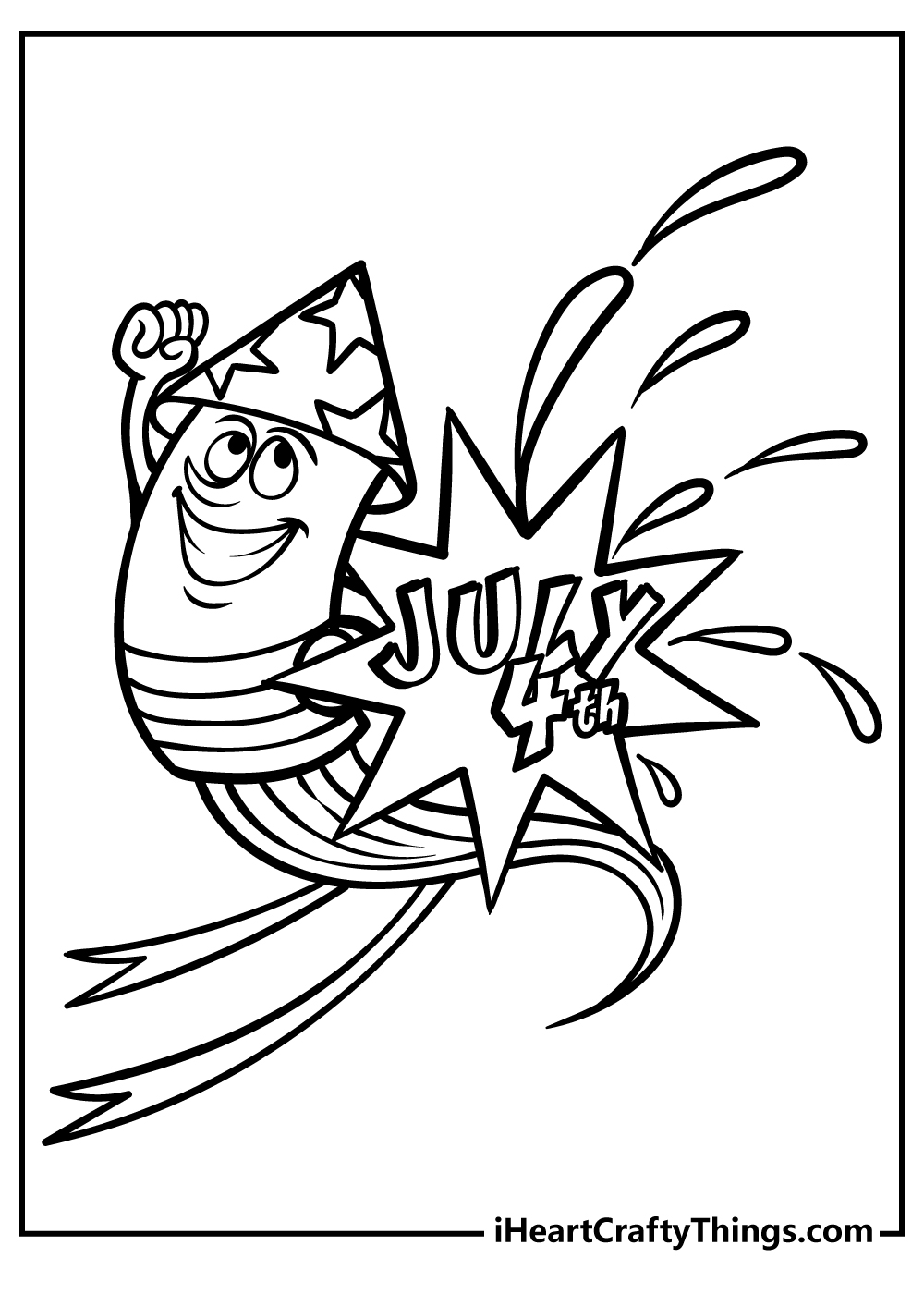 This 4th of July coloring page captures a young boy's delight as he celebrates Independence Day with a shimmering sparkler.
He is holding the sparkler in his right hand and has a big smile on his face
Use bright yellows, oranges and whites to color the sparkler so it glows with light. The boy's outfit can be filled in with any festive combination of reds, blues and whites you choose.
The grassy field can be colored with shades of green and brown to create depth and contrast.
There is a lot going on with this next design. It's another page where the words are written in some very interesting fonts, and there is a lot of variety to them.
While the eye may be drawn to the words initially, there is a lot to appreciate on this page.
Plenty of stars, stripes and other shapes give this page a very busy and exciting look, and it will only look better once you start adding some colors!
What kinds of art tools and mediums are you thinking of using for this page? We think that some colored markers or paints would look good, but it's up to you to decide!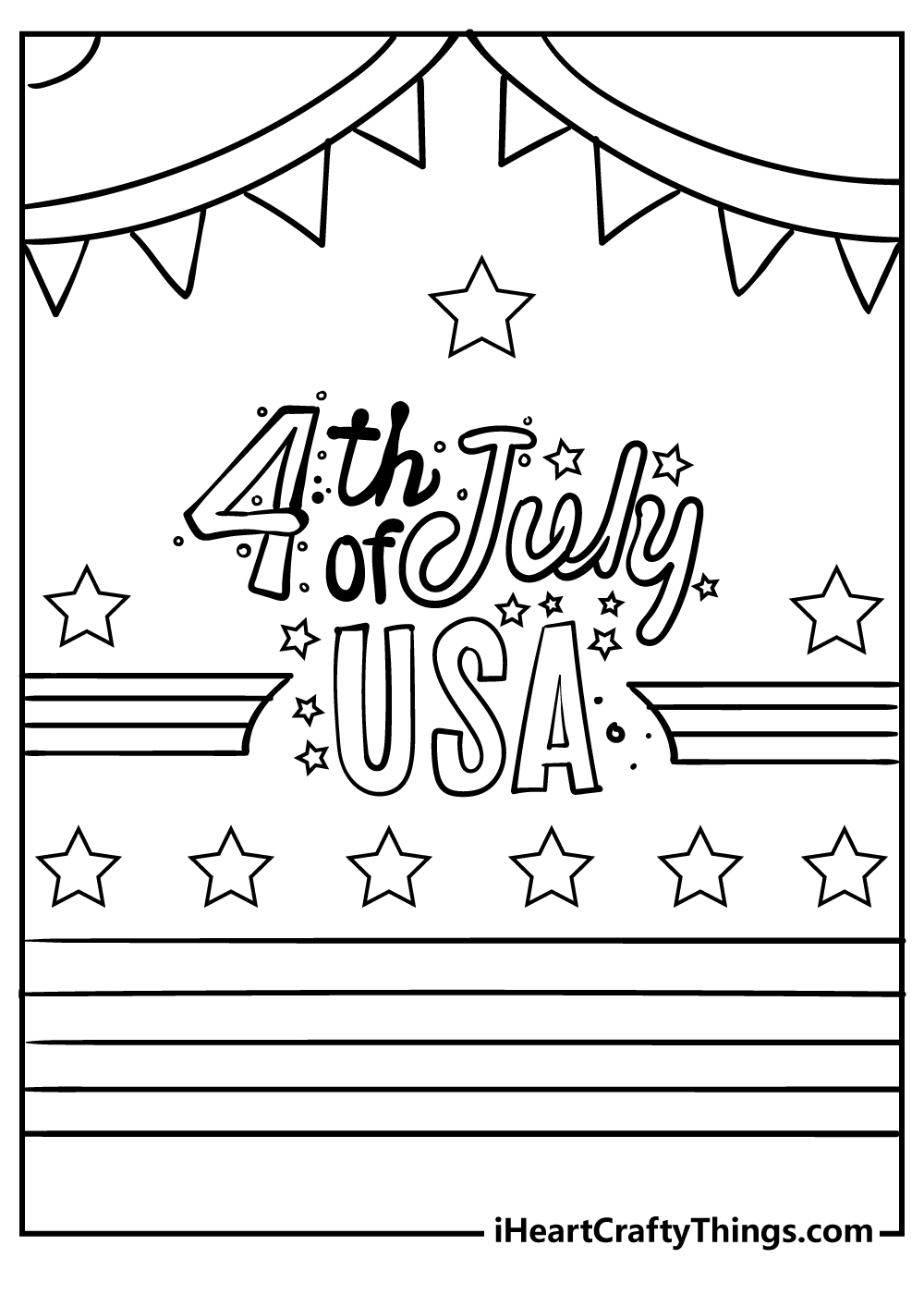 We have another page that has a fairly simple and straightforward design concept, but that doesn't mean that you can't pull some interesting creative tricks!
There are lots of stripes on this page, and if you're feeling extra creative then you could try to color each one a unique color.
Then, each letter on the page is big and bold, and you could use all kinds of amazing colors for these letters as well.
What colors and techniques come to mind for you as you look at this striking design? We can't wait to see what you choose!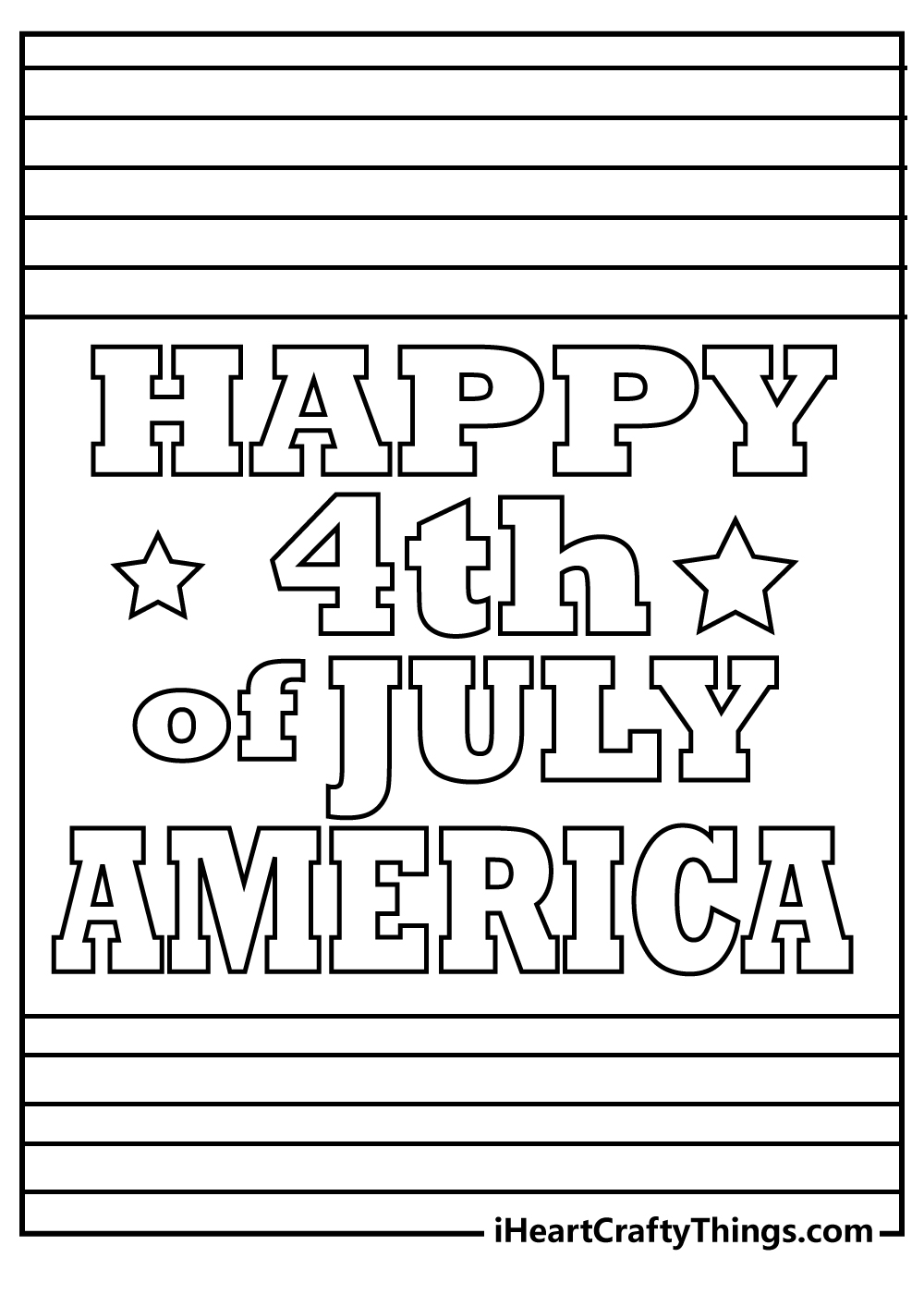 This young boy is showing his appreciation for the 4th of July as he holds a bouquet of flowers.
The flowers are in different shapes, and you can clor them with various colors, such as reds, yellows, pinks and purples.
The boy's outfit can be colored with any colors you like, but you can also use red or blue to match the festive theme.
However, you can experiment with different colors to make this 4th of July look cuter.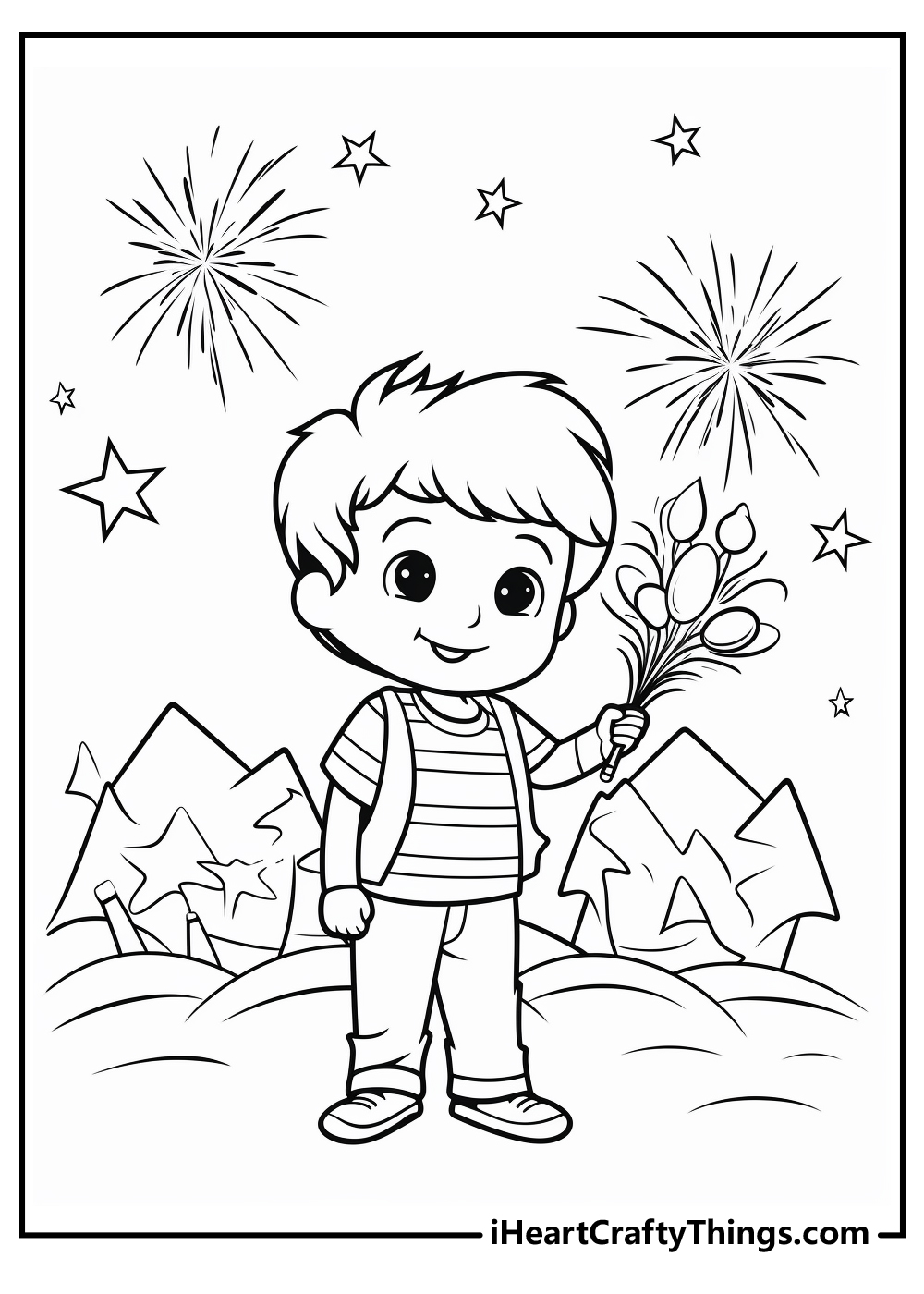 This holiday is all about showing love for your country, and this next 4th of July coloring sheet focuses on that aspect!
A big heart is the focal point of the image, and for that reason we would probably go for some warm reds and pinks for this one to finish off the loving feeling it gives off.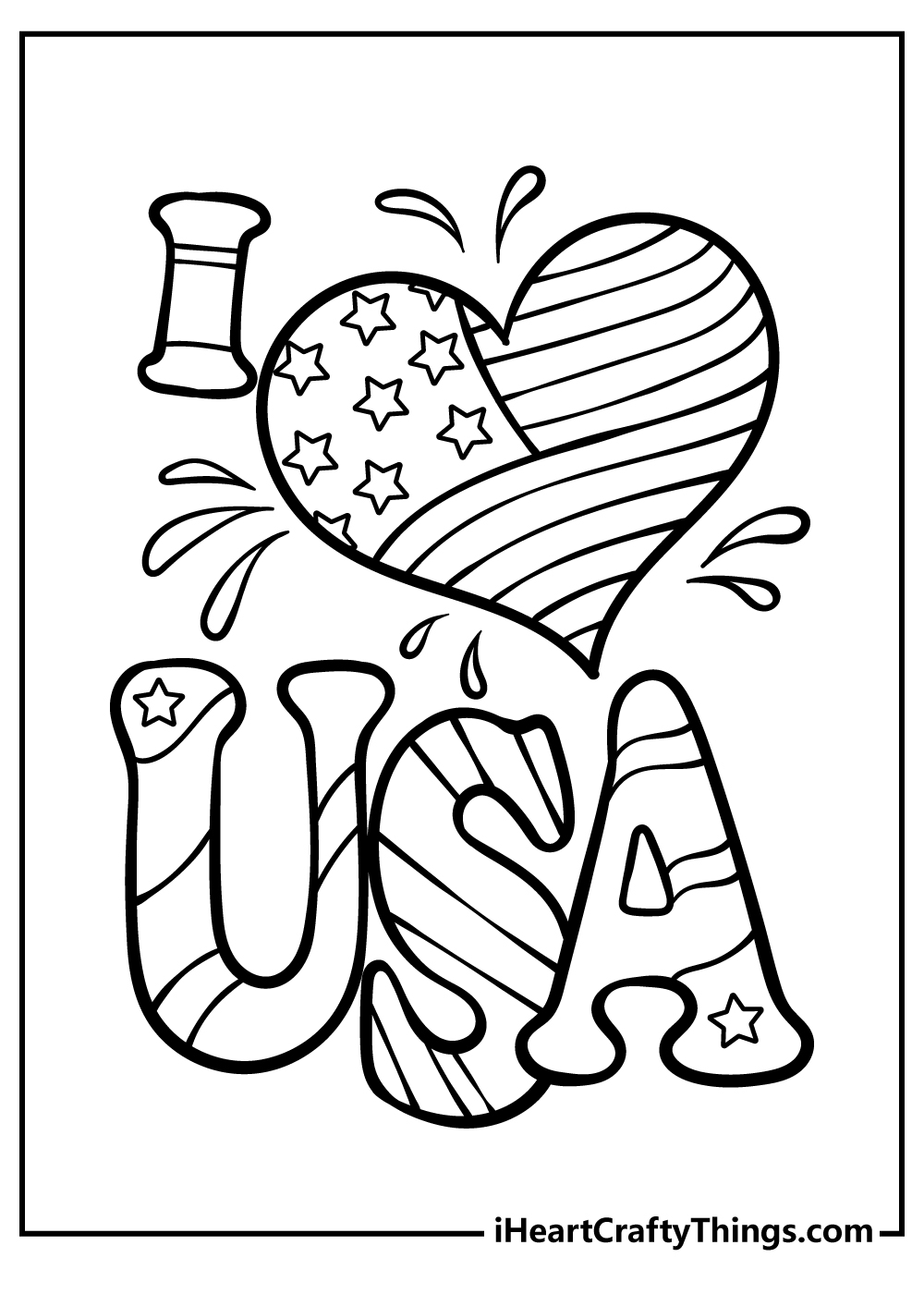 The Capitol Building is an important landmark in Washington DC, as it is where congress meets to make important decisions.
It's an iconic feature of the city as well as for America in general, and it is incorporated in this next image.
The building is surrounded by a flowing flag and plenty of stars, and it should look nice and vibrant no matter how you end up coloring it in!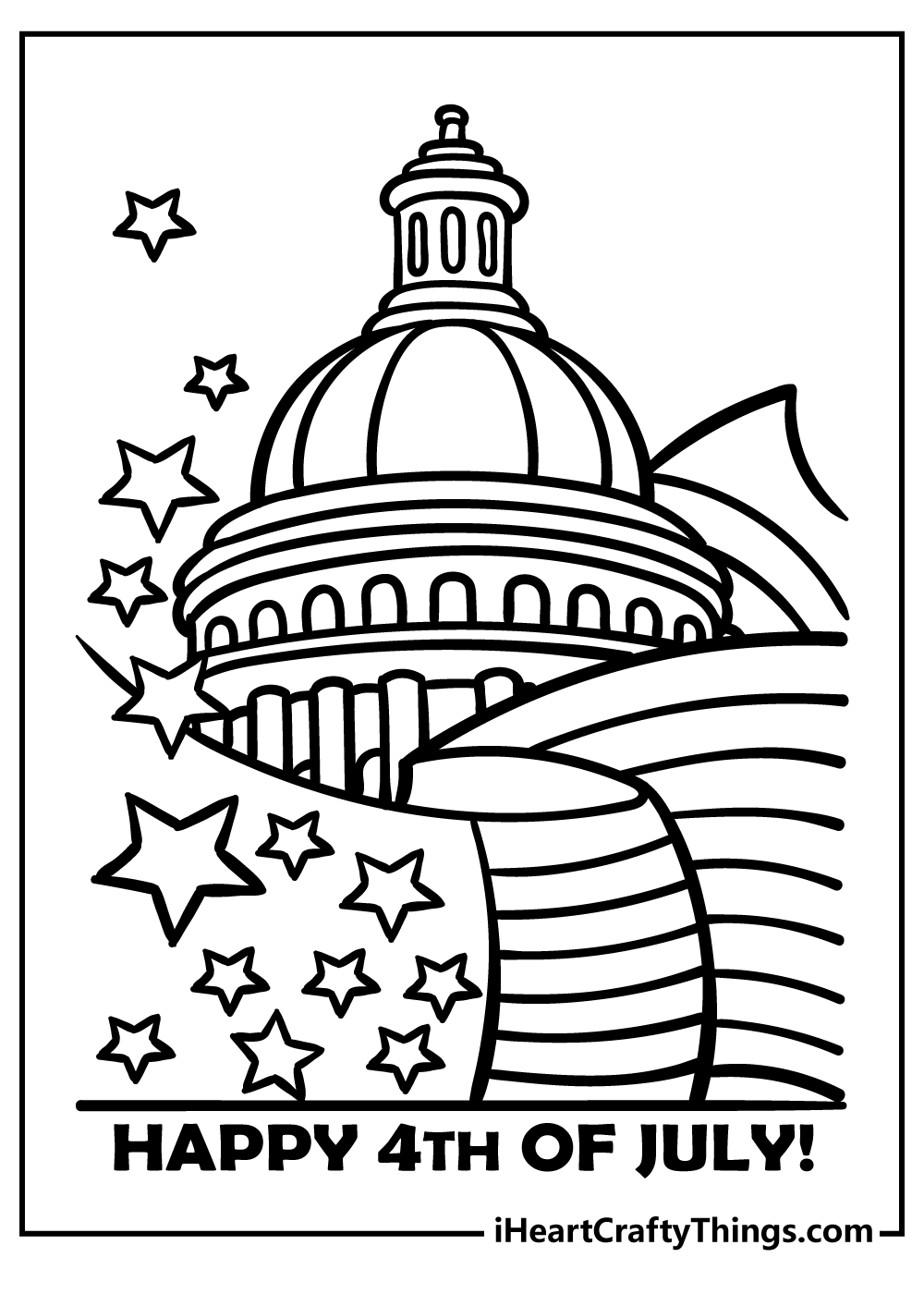 Next, there is a 4th of July coloring printable that has a really imaginative and creative design to it.
There is a great hand-drawn style to the letters and other elements, and it all culminates in the iconic flag near the center of the page.
It is a picture with loads of impressive details for you to color, so you could cram a wide array of different shades and colors!
You can really get creative with a picture like this, so you should allow your creativity to run wild as you bring it to life!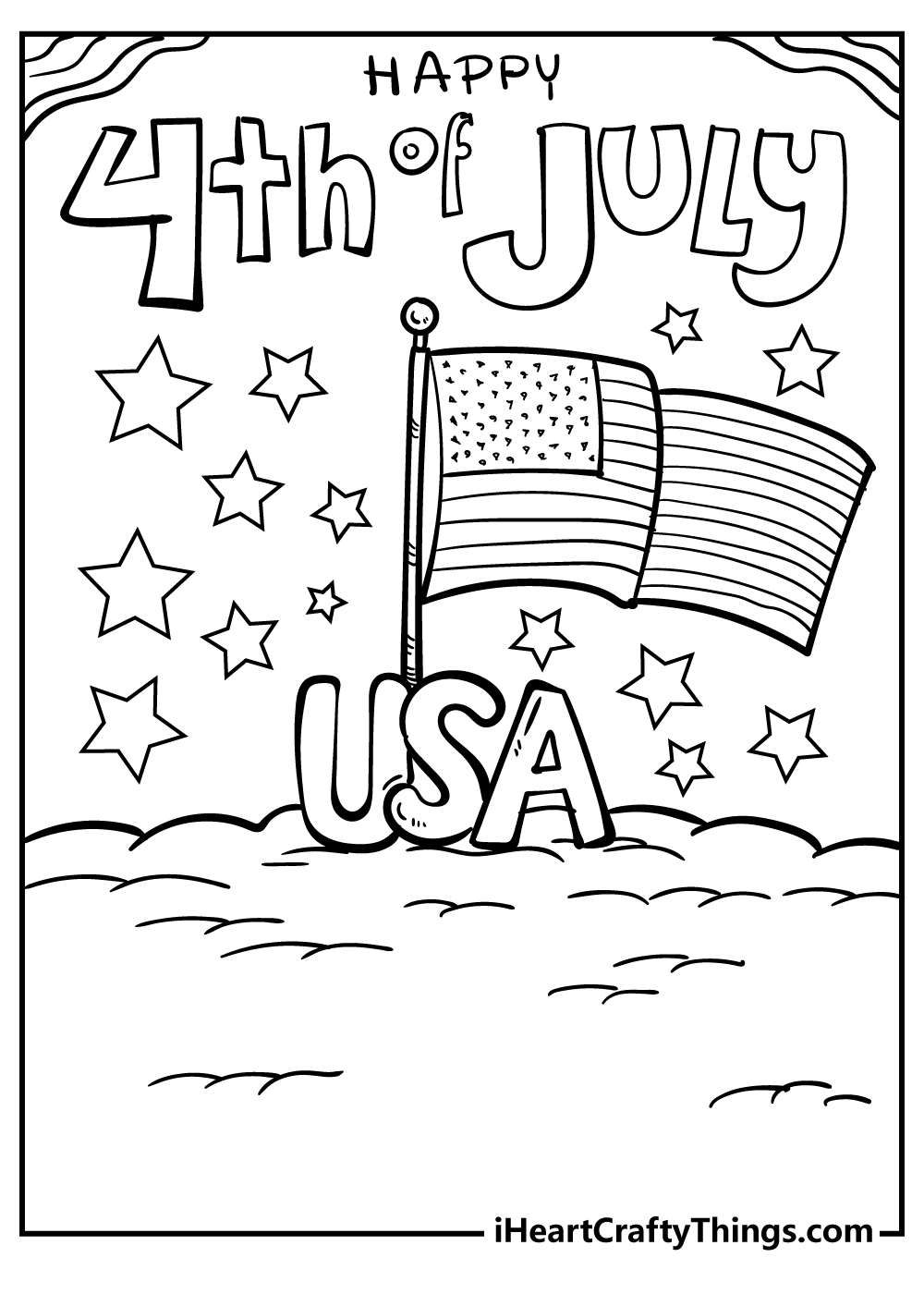 The next page we have captures the party atmosphere of this holiday while still maintaining a patriotic theme.
The flag is flying proudly over a crowd of people that seem to be enjoying the festivities, and this flag is drawn with a lot of incredible details.
Once you have colored this awesome flag, you could also add some facial details and other elements to the crowd if you're feeling a bit creative!
What colors do you think you will use for the sky in the background in order to really finish off this scene?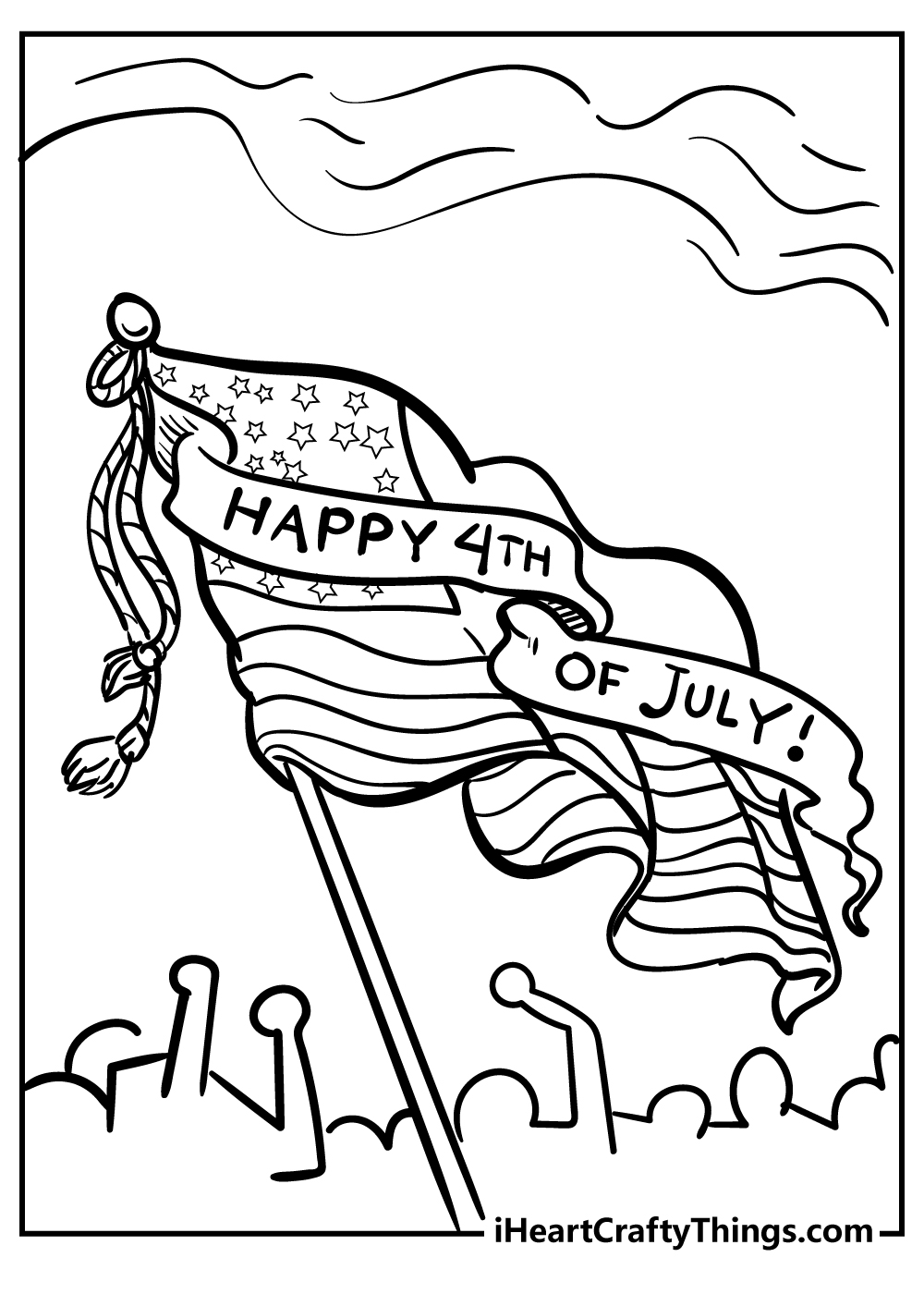 Another patriotic bear is here to meet you, and this time it takes the form of a cute teddy bear! It is holding a flag while dressed in an outfit designed to look like the flag.
For the smaller details on this one, you could use a colored pen or thin-tipped paintbrush to make coloring them much easier.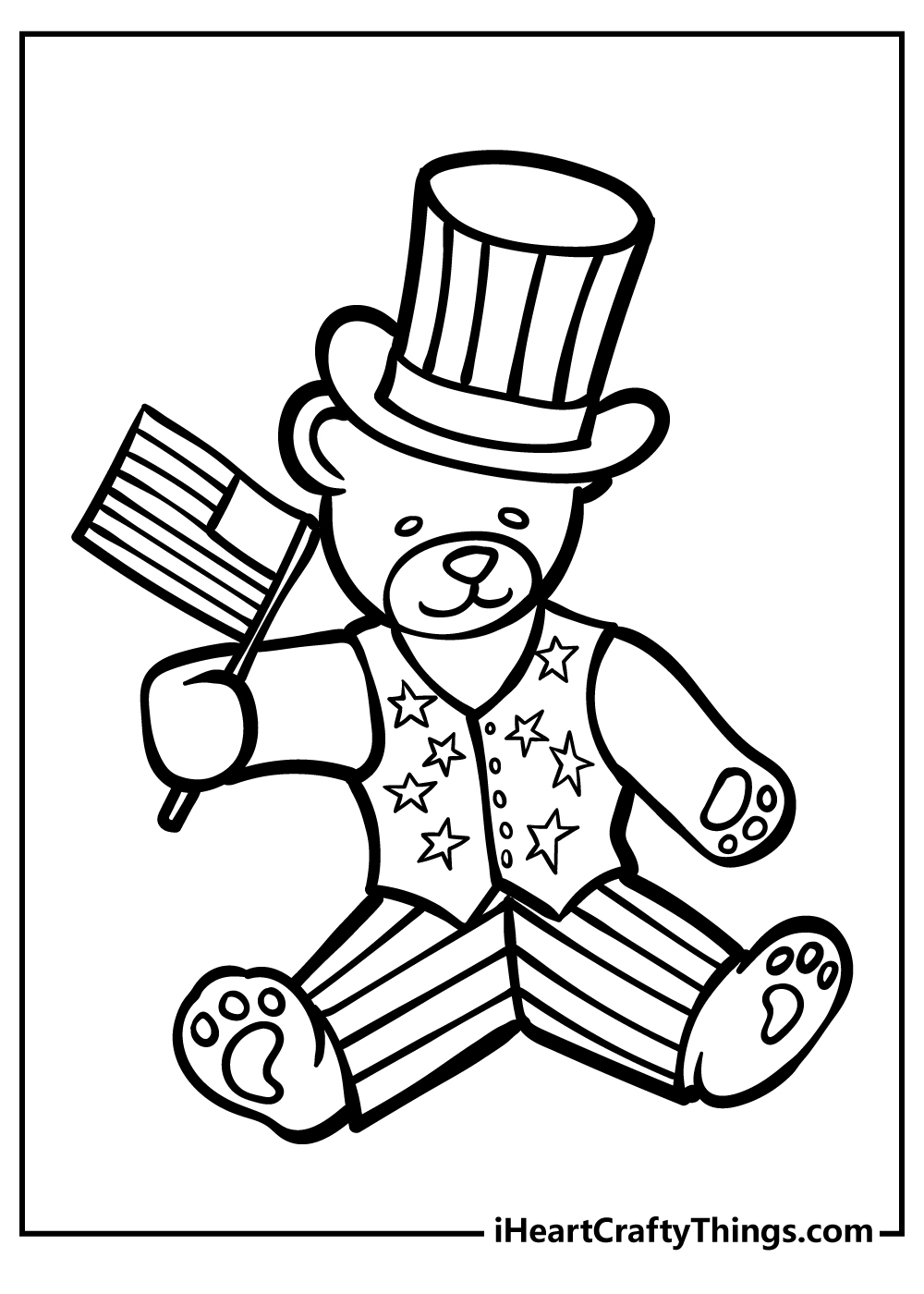 Parades are common to see on the 4th of July, and this next page is featuring one for you to color!
This happy character is definitely having a great time marching, and there are many smaller details to admire and color with this one.
Do you think you will color the background of this image?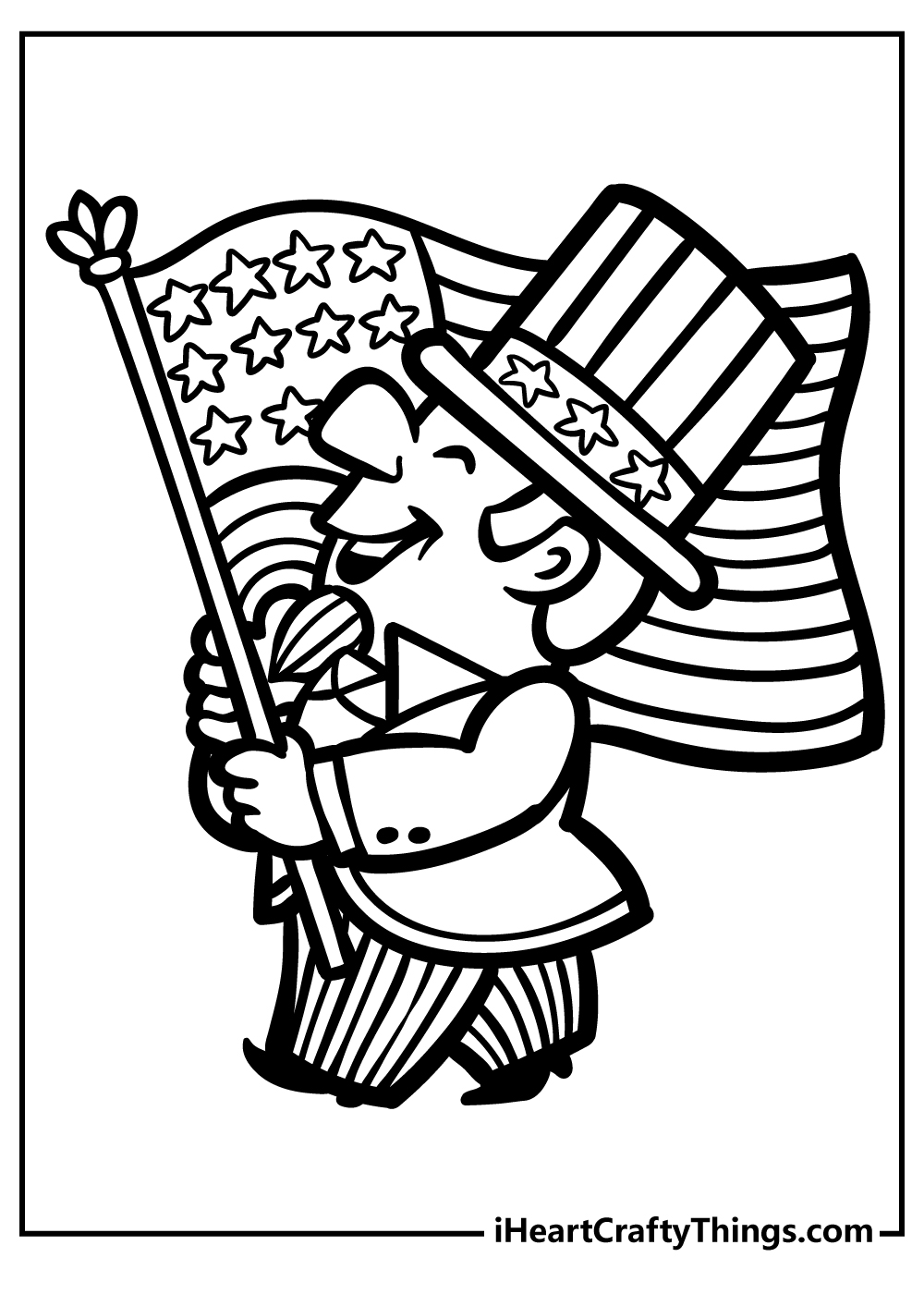 Our next 4th of July coloring printable looks loud and vibrant even without any color, and we can only imagine how great it will look when it's colored in!
We think this one would benefit from mediums such as colored pens or markers for bright colors that pop like fireworks going off!
Which favorite art mediums do you think would suit this one?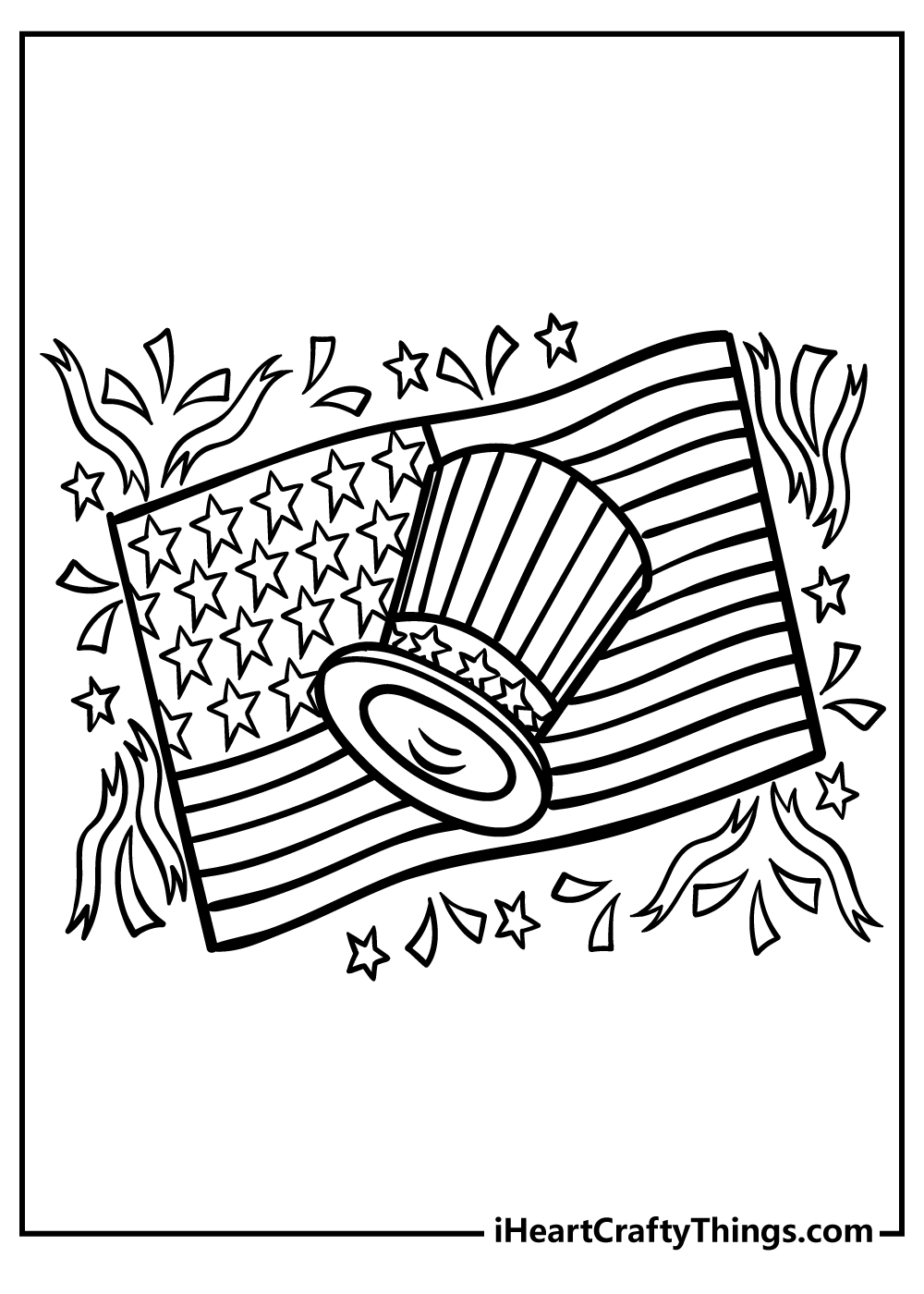 There is a really fun and creative design that is entirely dedicated to patriotism in this next image.
We have the iconic Uncle Sam hat, and it has some wavy flags attached to it. The whole design is floating in the sky, and it makes for a really inspiring sight.
We would keep the colors bright and sharp for this page if we were coloring it, and it's another one we would use some colored pens or markers on.
That's what came to mind for us, but what colors and mediums do you think would suit it?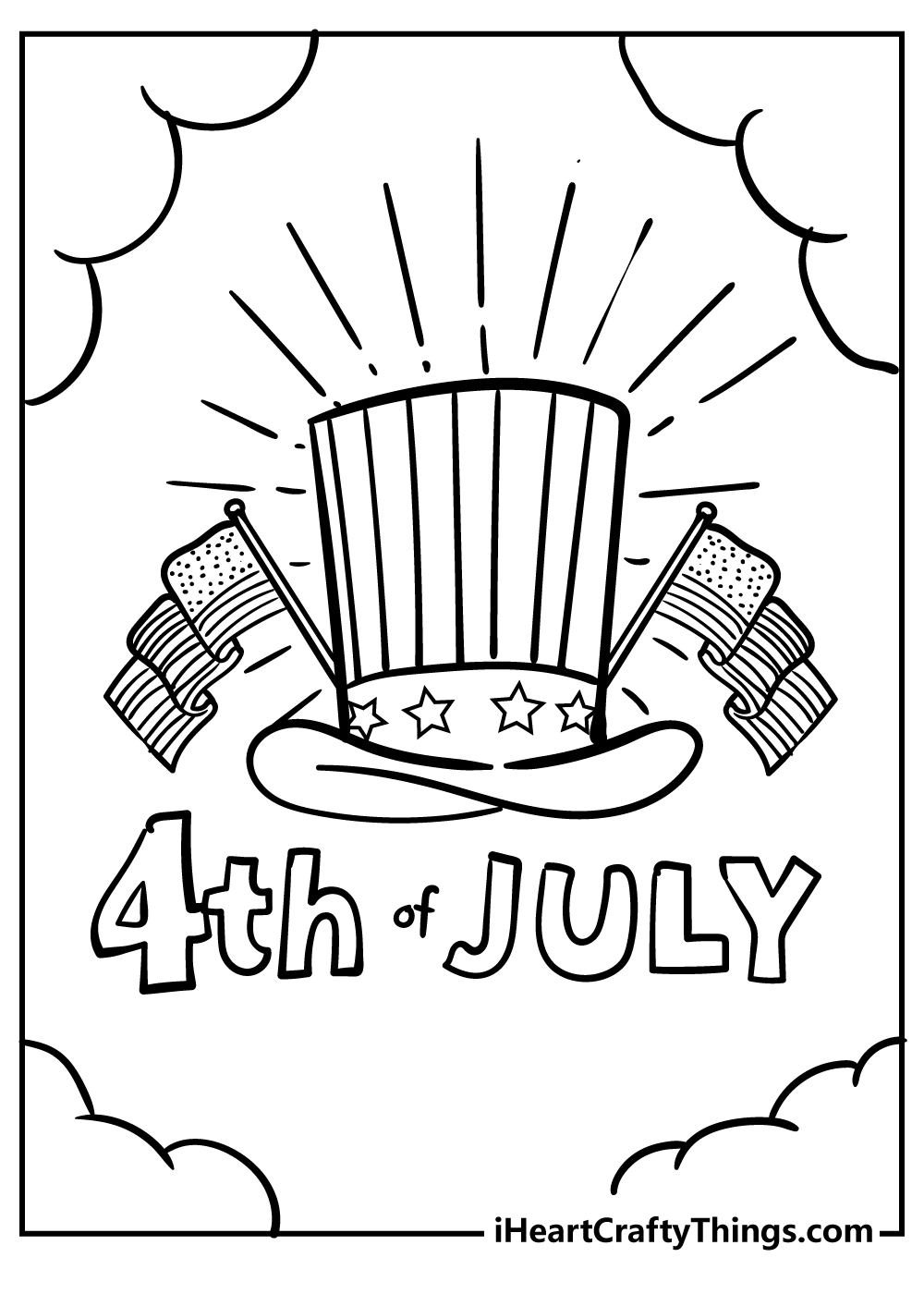 Next up, we have a 4th of July coloring page with some big bubble letters for you to color. The design of the letters here is so big and bold, and it makes for a design that really catches the eye.
They are also surrounded by plenty of wavy lines that you can have fun coloring as well. You can pack tons of colors in here, and there are no wrong colors or mediums that you could choose.
We would love to see how you go about coloring this vibrant 4th of July design!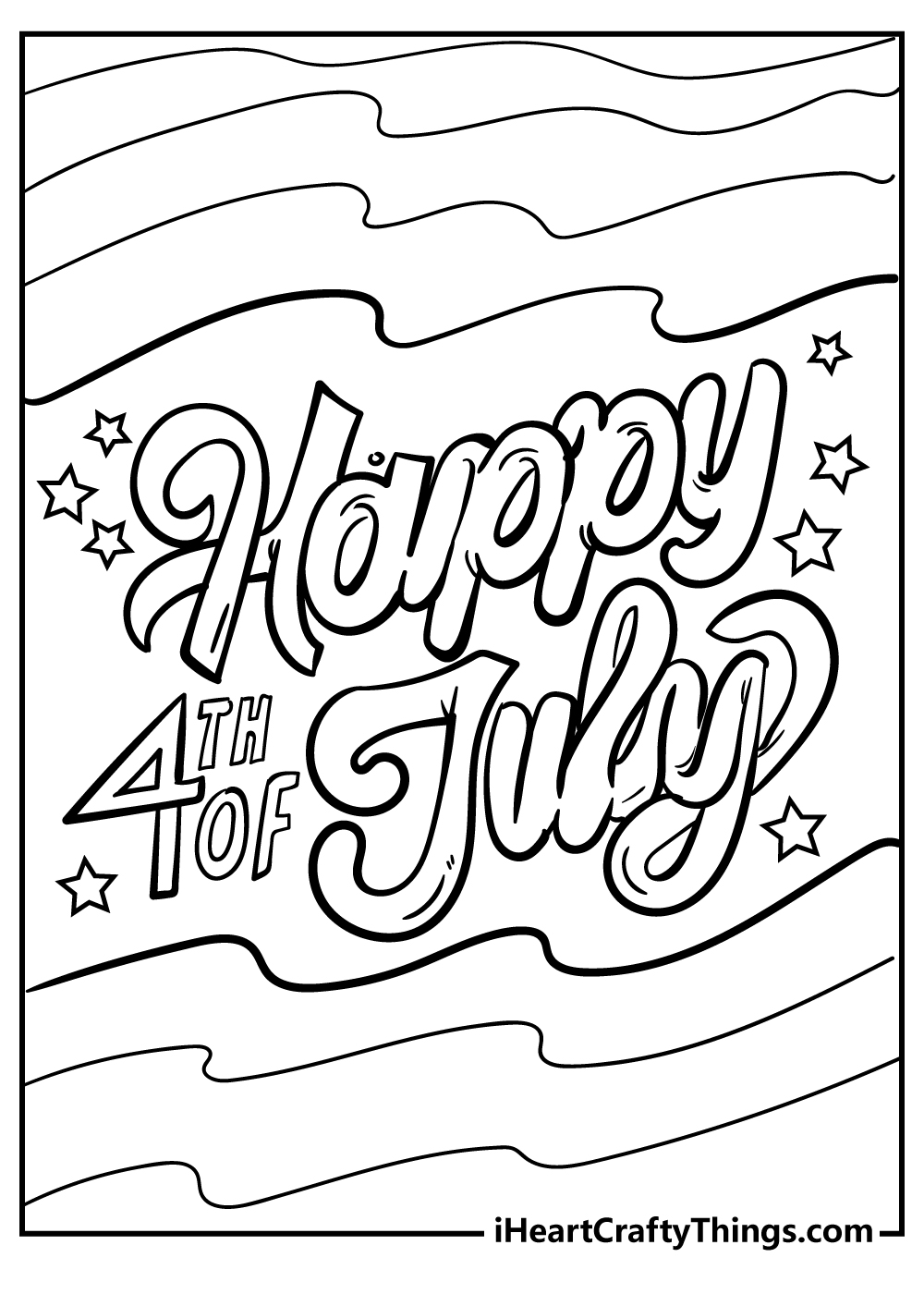 Next, we have an image inspired by the famous Uncle Sam character that is closely associated with American patriotism.
Once again, he is not only wielding a flag but is also wearing a patriotic outfit.
We're sure we will be plenty of red, white and blue colors on this one when you're done with it! Will you go with those colors or maybe some others?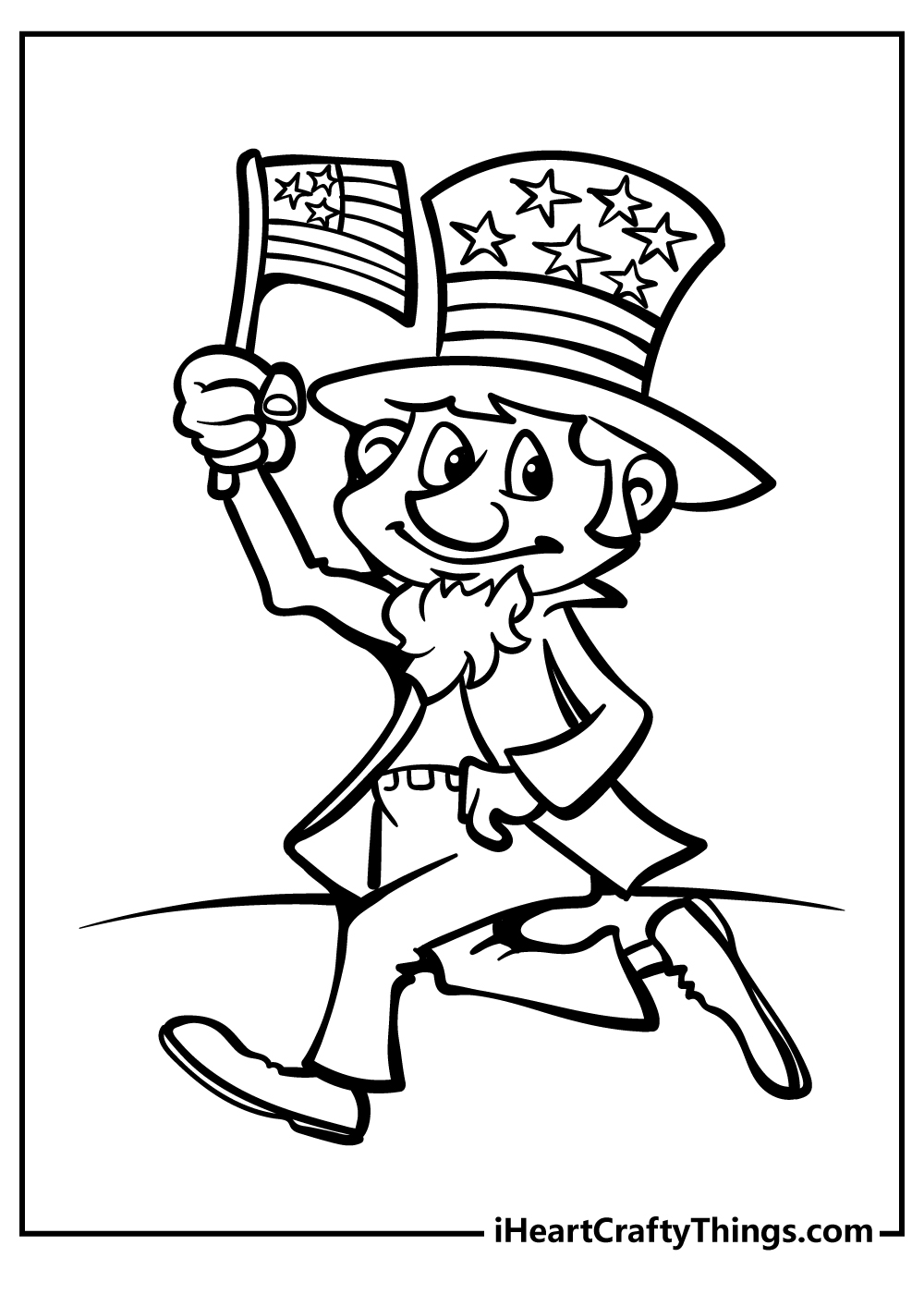 We love the creative image featured on this page! This time a patriotic character is driving a flag-themed plane, and it opens up many possibilities.
You could print this out small on a large page and draw a banner flying from the back of the plane to feature a fun 4th of July message!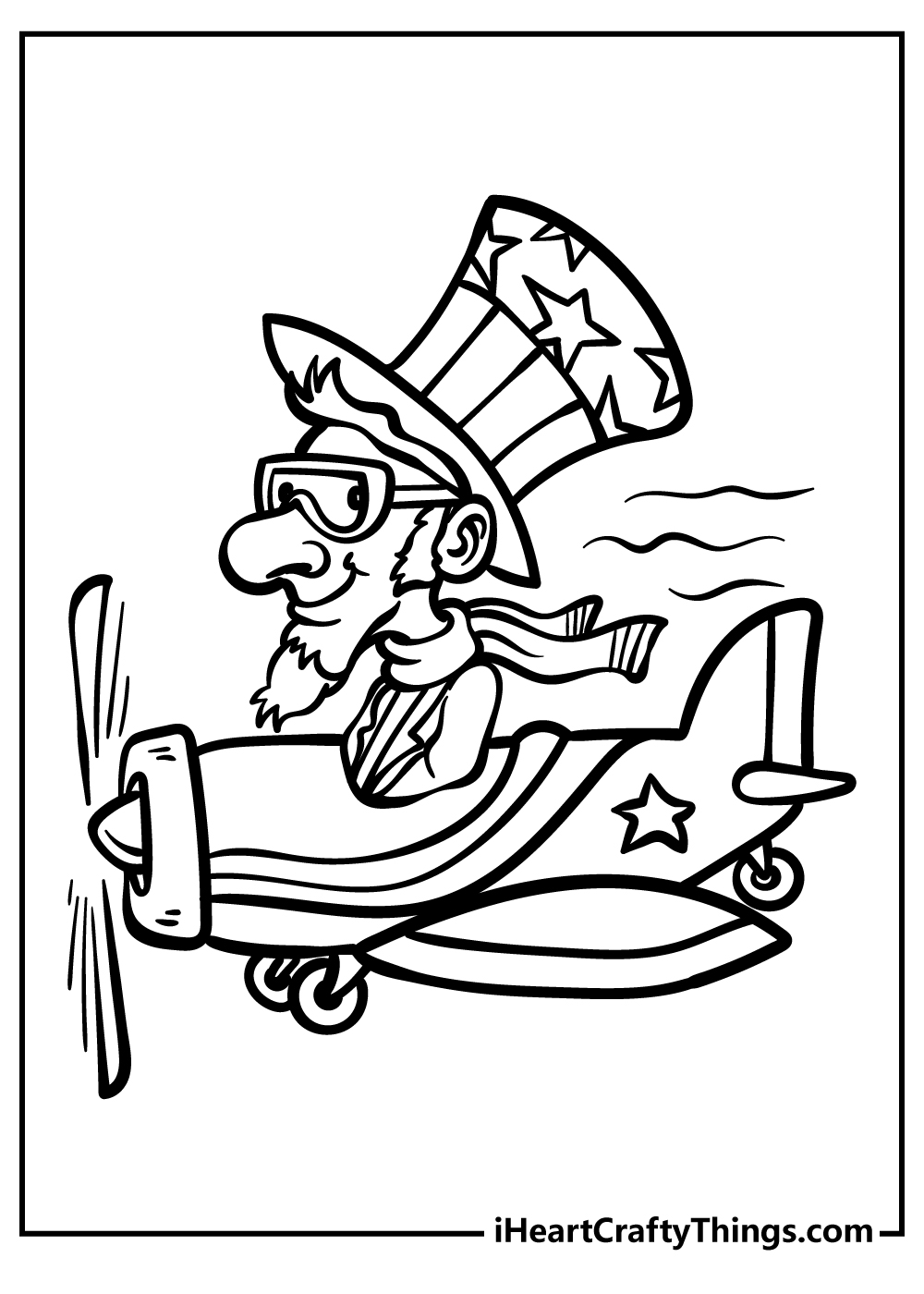 The character featured on this next page is certainly not shy about showing his patriotism! He is wielding not one but two flags while also wearing a flamboyant flag-themed outfit.
Such a fun picture needs some equally fun colors! There are no wrong ways to color such a picture, so what do you think you will use?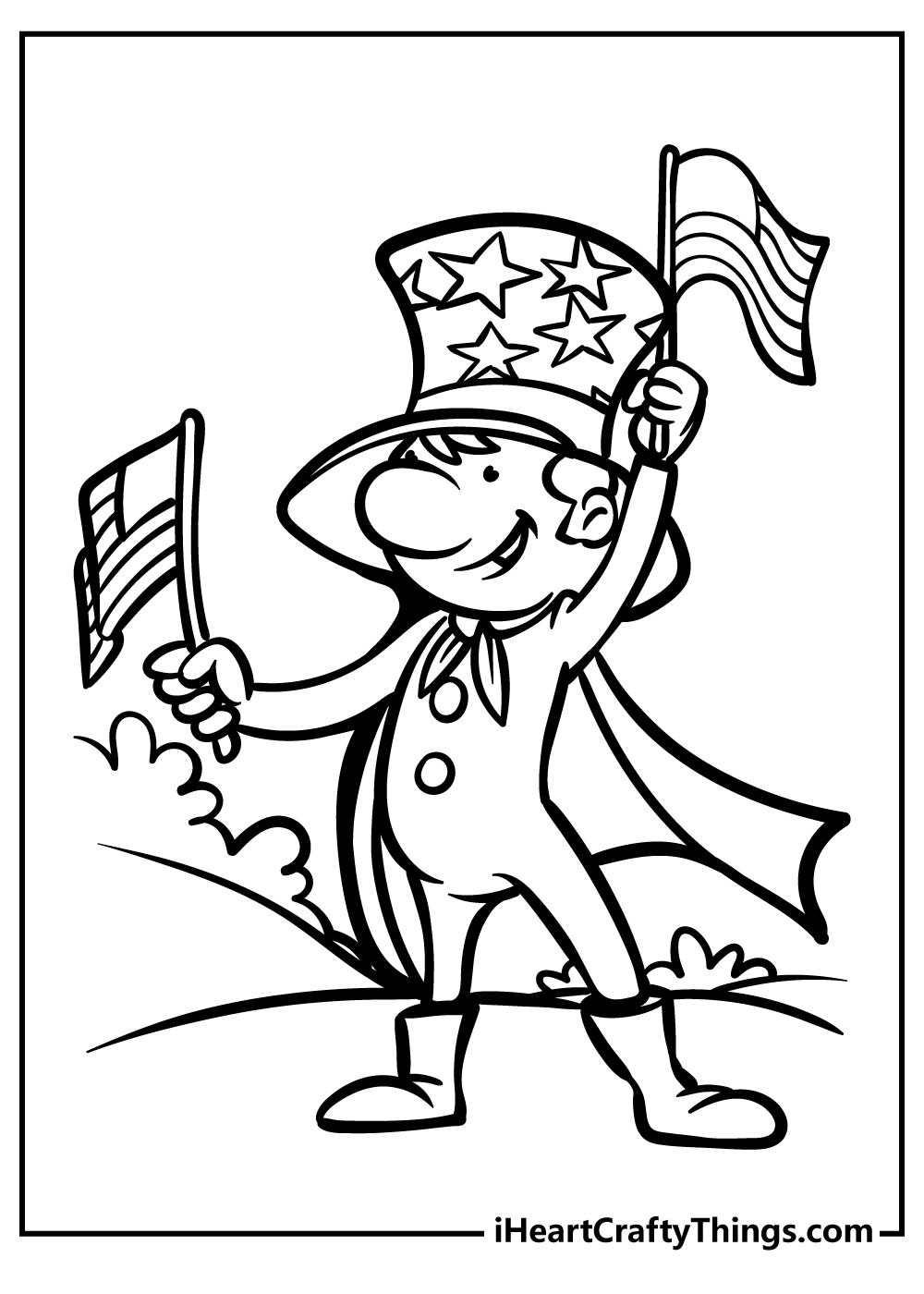 We mentioned how fireworks are a big part of this day, and this next page seems to be inspired by an exploding firework.
We would use a combination of bright acrylic paints and colored markers for this one, but there are so many great colors and mediums you could use instead!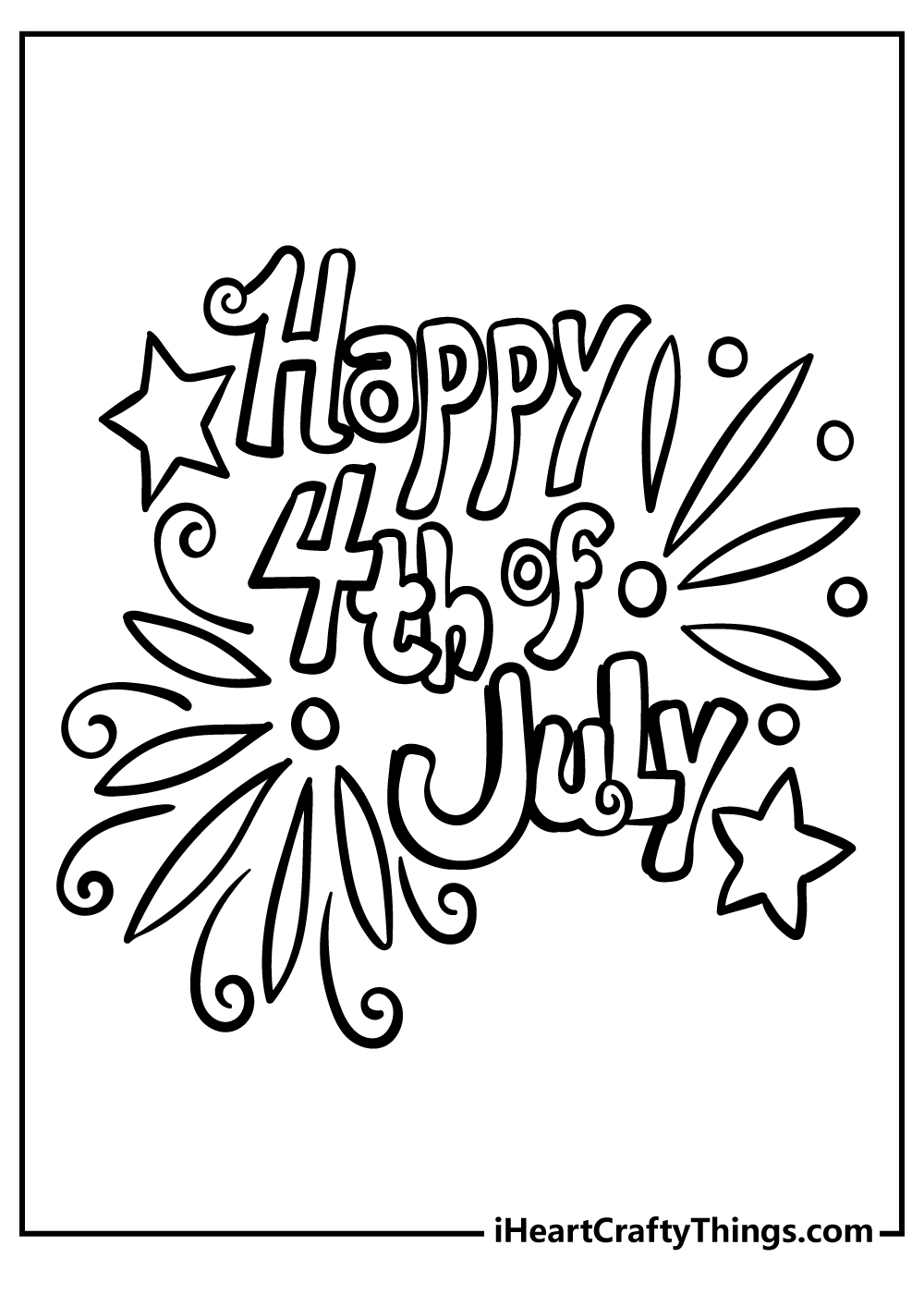 Some more fireworks are ready to be used in celebration, and this hat is the perfect way to store them!
The hat and fireworks are filled with details, and these details will look incredible once filled with colors. This one will be a fun one to look at when you've worked your creative magic on it!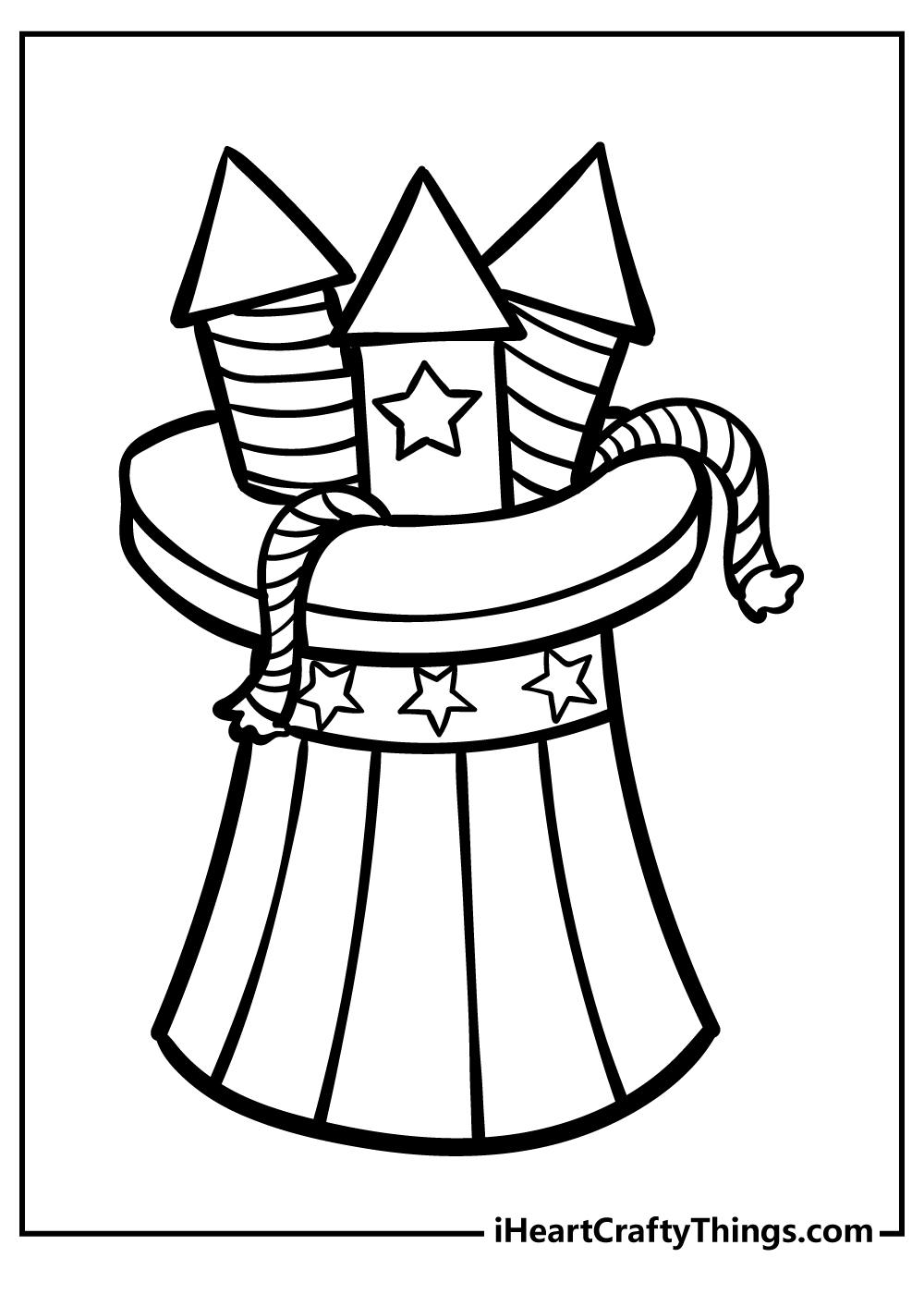 We're closing off this collection of 4th of July coloring sheets with a really fun little character.
This one has some balloons floating above him, and these balloons have of course got some lovely flag details on them.
We would again recommend some colored pens or pencils for these smaller details, but there are other options you could go for instead!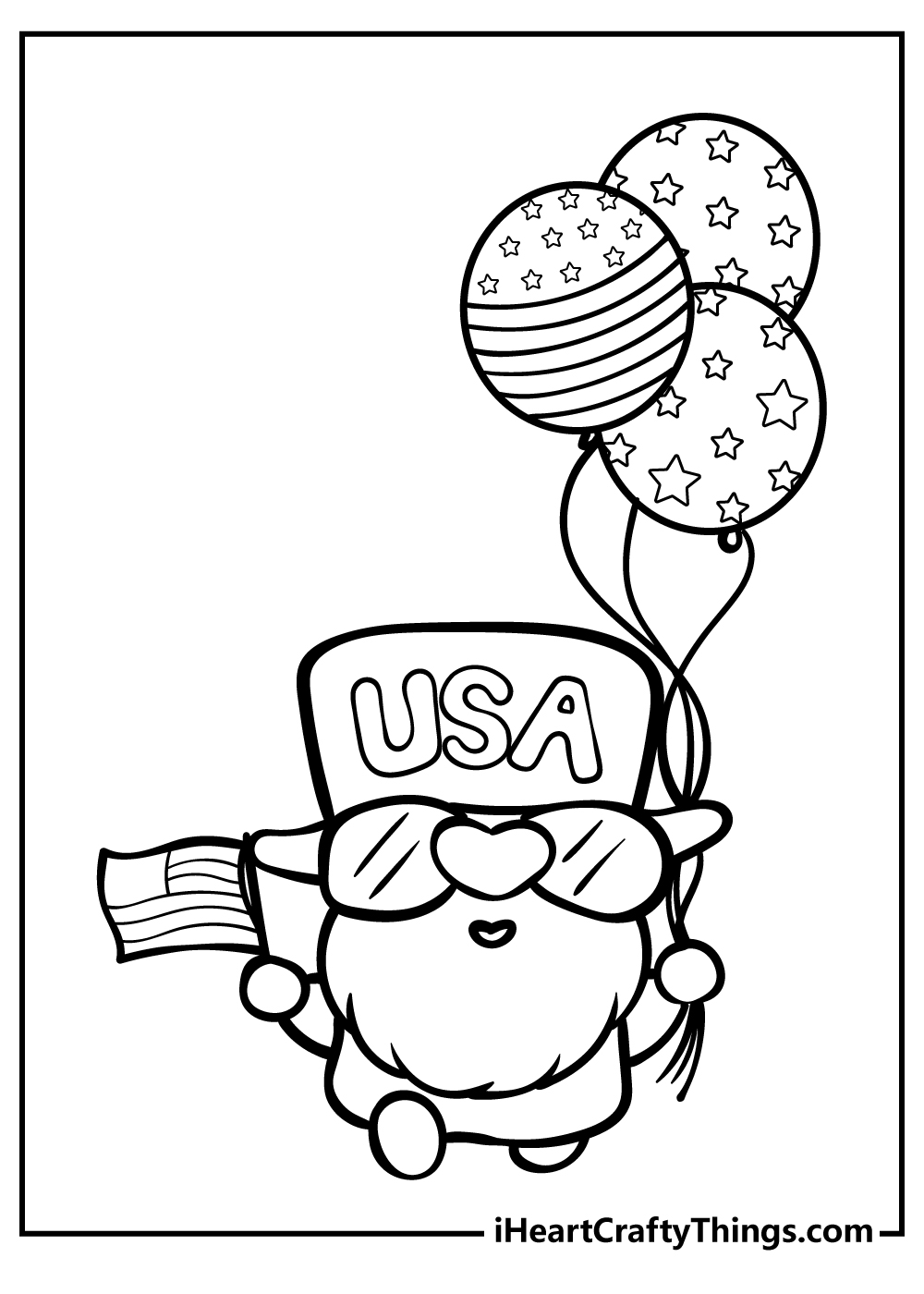 4th Of July Coloring Pages – Which will you choose?
This holiday is definitely the most patriotic day of the year, and we hope you had a great time commemorating it with this collection of free 4th of July coloring pages for kids!
There was some incredible variety to these images, and there is tons of fun to be had whether you went for a few favorites or the whole collection.
Don't forget to share the collection with others, and then be sure to share some of your finished pages on our Facebook and Pinterest pages!