On this page, you will find 20 all new American Flag coloring pages that are completely free to print and download.
Every country has a flag, but some can be more obscure than others. Then, there are those flags that everyone recognizes, and the American flag would certainly be one of them.
This flag has come to represent American patriotism, and this collection of free American flag coloring pages for kids aims to celebrate it.
Here we have 20 pages that you can have all sorts of fun coloring and adding details to. You'll want to share these 20 pages with friends and family too!
When you have completed your favorite pages, please share some on our social media pages for us to see!
20 Brand New American Flag Coloring Pages – Free to Print and Color
We're keeping things simple for the first American flag coloring sheet we have for you. This first image has the flag in a simple rectangle, and you can have fun coloring all the details.
The flag typically has a blue square with white stars on the upper left, and then red and white stripes on the rest.
Will you use these classic colors for this first flag, or will you try out a unique color scheme?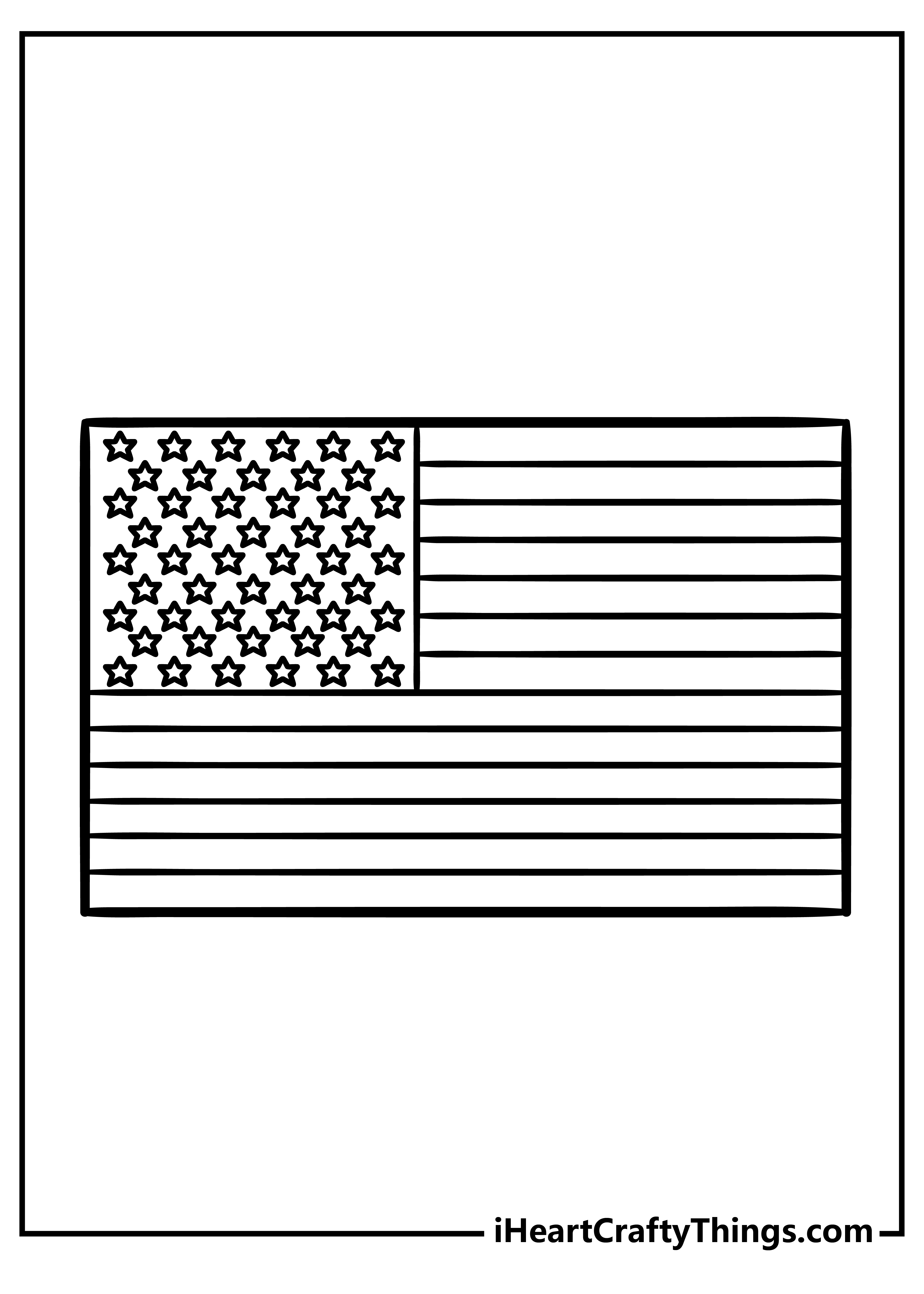 This coloring sheet features an artistic split view of the American flag. On the left side, bold vertical stripes in black and white represent the 13 original colonies.
By dividing the flag in two, this coloring page provides a close-up perspective on the symbolism and history represented in the stripes and stars.
For the flag's stripes, use classic red, white and blue, or Orange. Also, For the background, consider Shades of blue like sky blue, pale blue or robin's egg blue.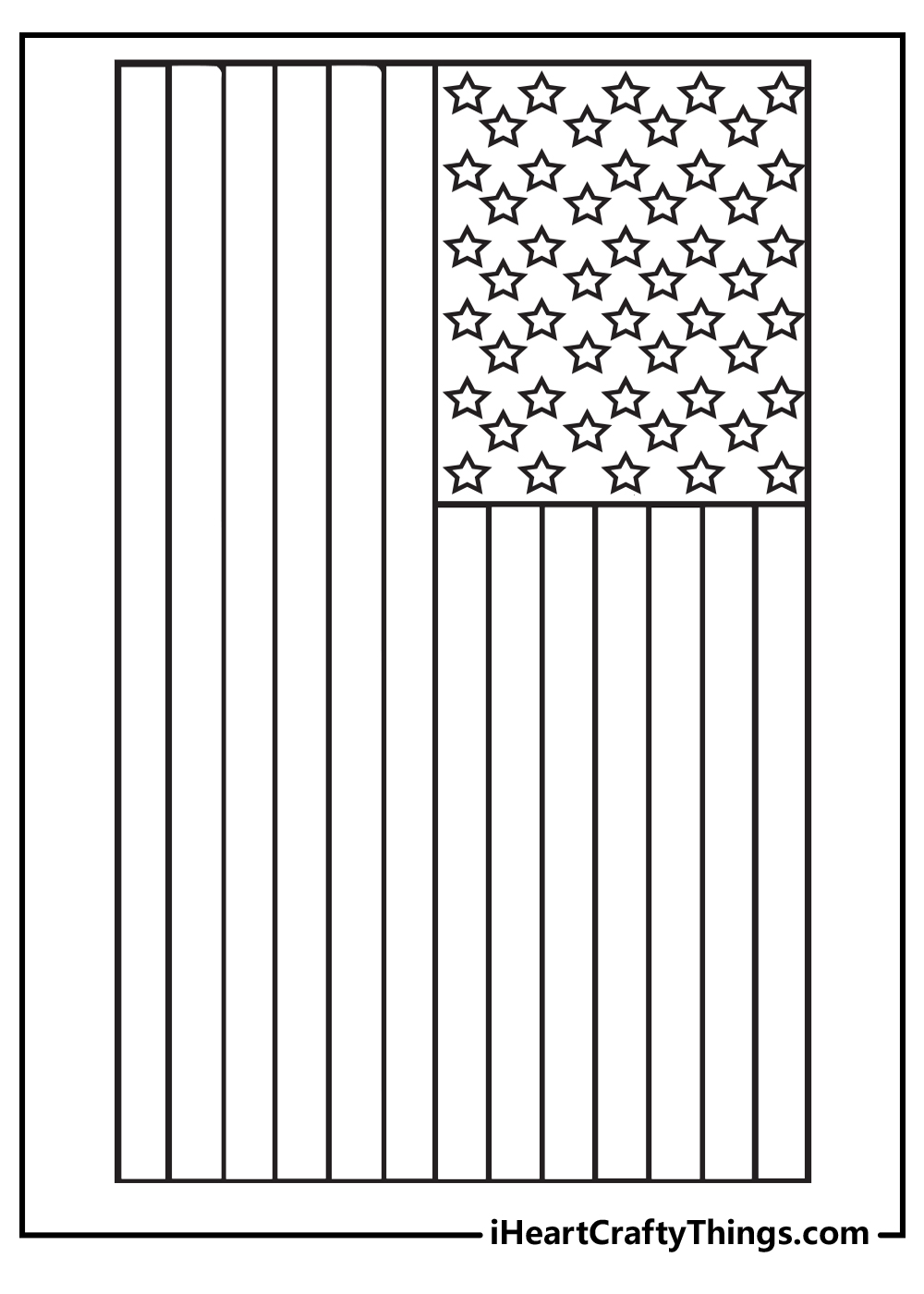 This second flag is wavier to make it look like it is flowing in the wind a bit. The first page was really easy to color in, but this one could prove to be a bit more difficult.
When coloring any of these pages, remember that it's not a race, and taking your time with coloring each detail is a part of the fun!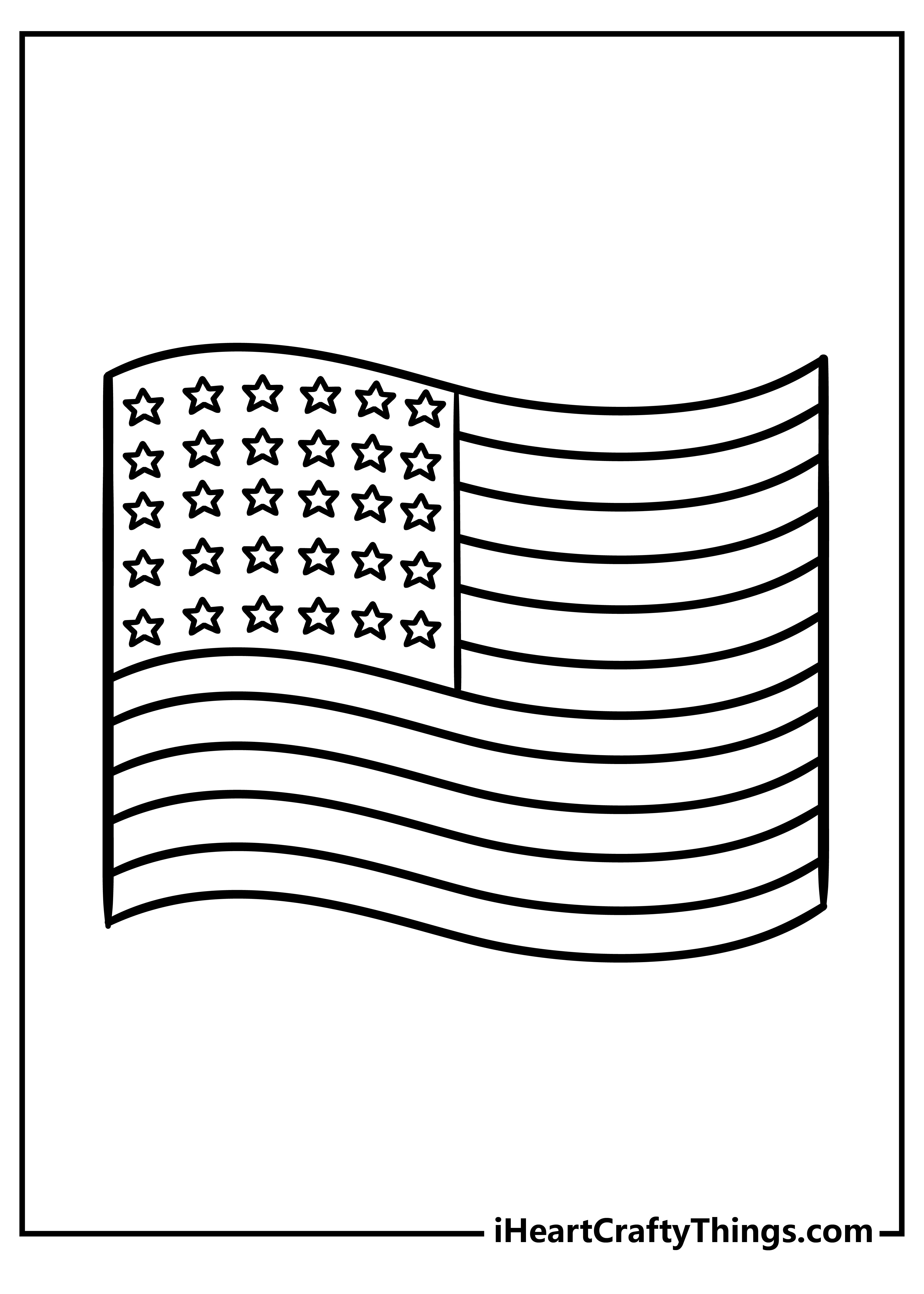 The previous two pages represented the flag as a concept, but this third page shows it in a setting as it hangs on an actual flag pole.
This one is also flowing even more than the last page, and there are some tiny curved details to color in here.
For this one, we would recommend using some art mediums such as colored pens or pencils in order to color these smaller touches.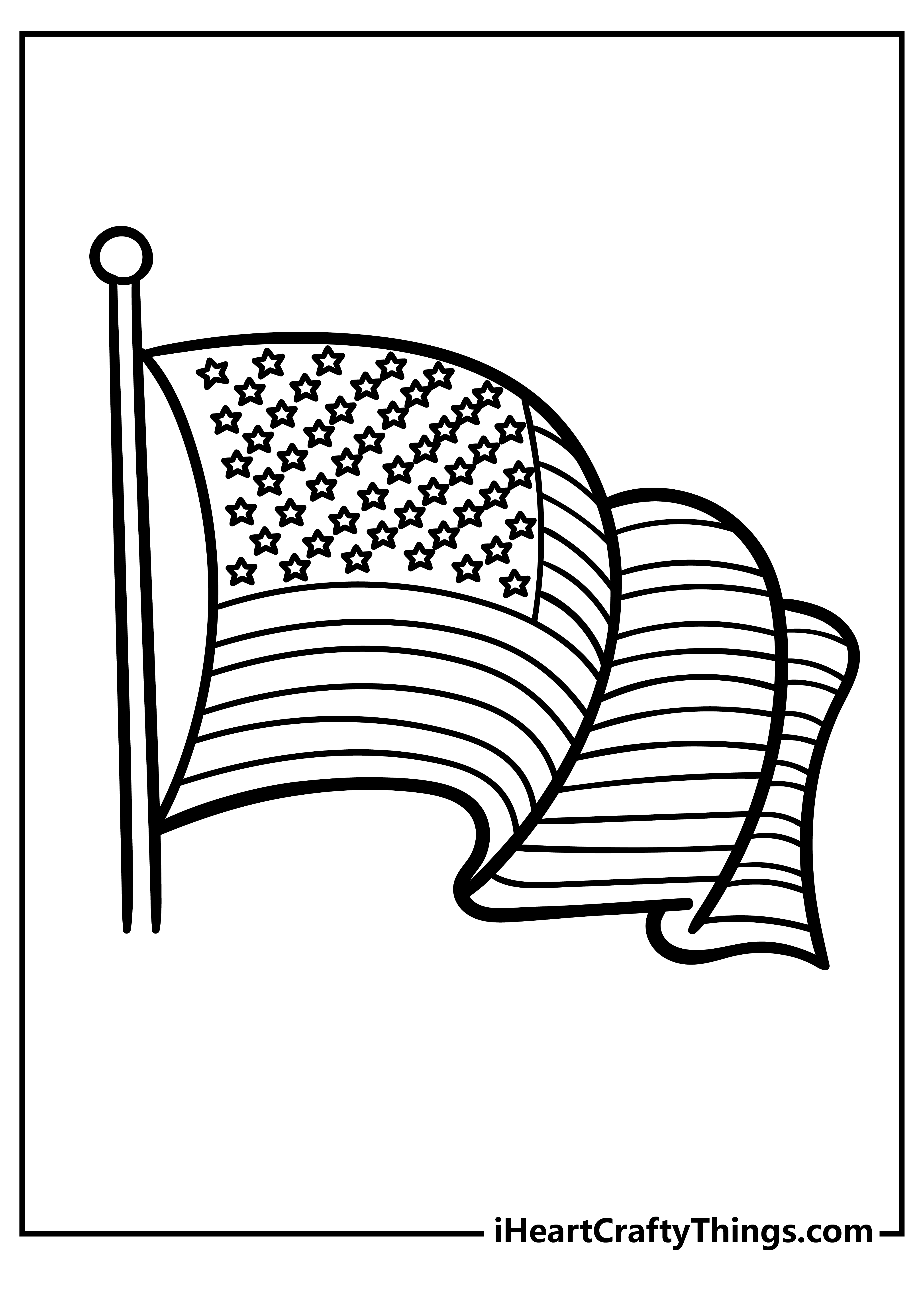 Look at this stunning realistic American flag waving in the breeze. The flag is prominently displayed on a wooden flagpole with elaborate rope detail.
The undulating movement creates dramatic folds and shadows in the fabric.
Use deep shades of navy blue to fill the backdrop behind the flag's flowing form. Apply bold crimson and bright red to color the flag's iconic horizontal stripes.
The realistic depiction of the waving flag shining in the sun will inspire patriotic coloring fun.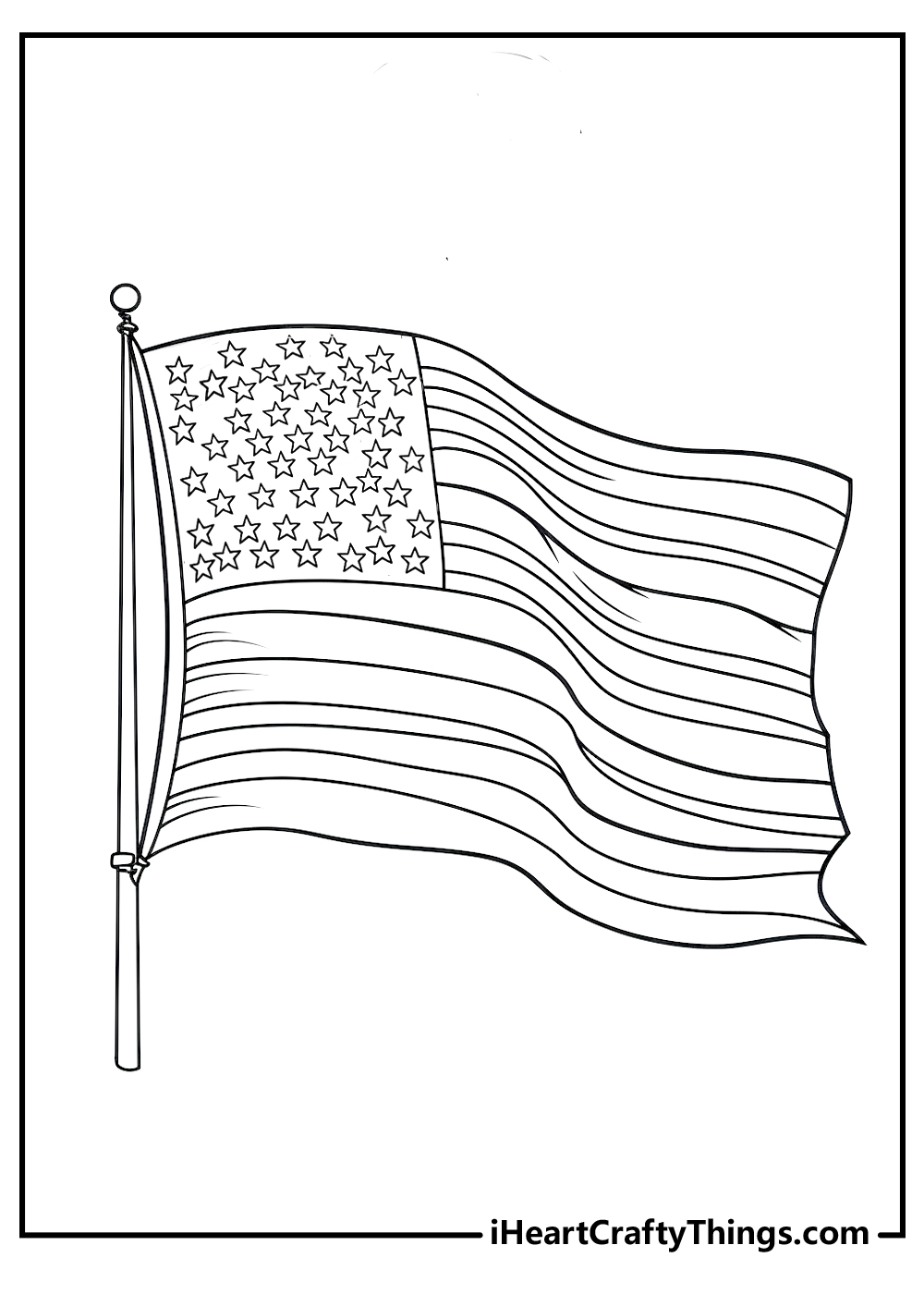 We have another flag flowing in an interesting way on a flag pole for this fourth image. Each of these flags certainly presents many challenges!
With this one, keeping the colors of the stripes consistent as it flows could be tricky, but we know you will find a way to do a great job!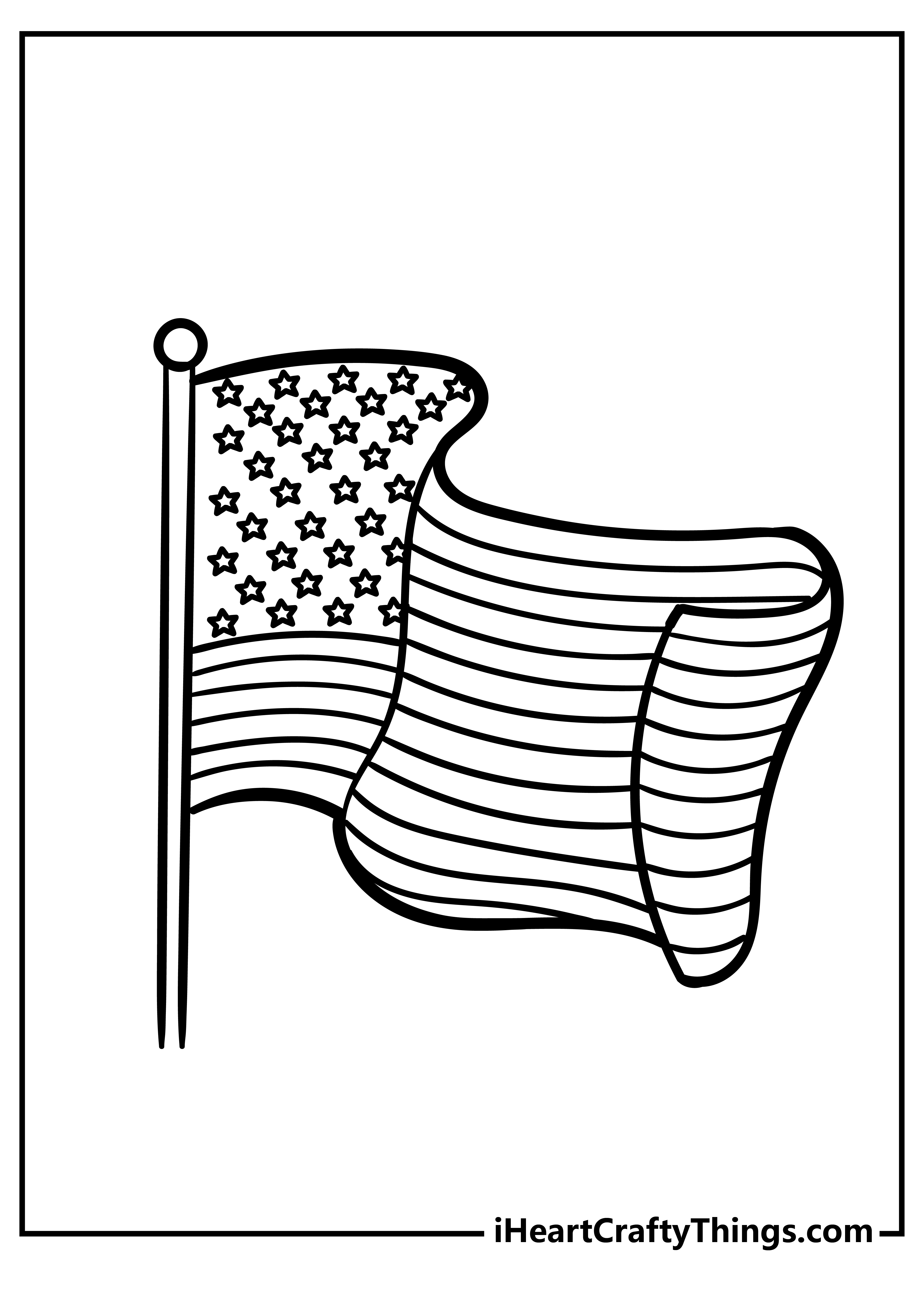 The fifth page in this collection of free American flag coloring pages for kids features another flag flowing, but this one looks a bit simpler.
When coloring this or any of the other pages in this collection, remember that you can also add any background details or extra elements you want to make the pictures even better!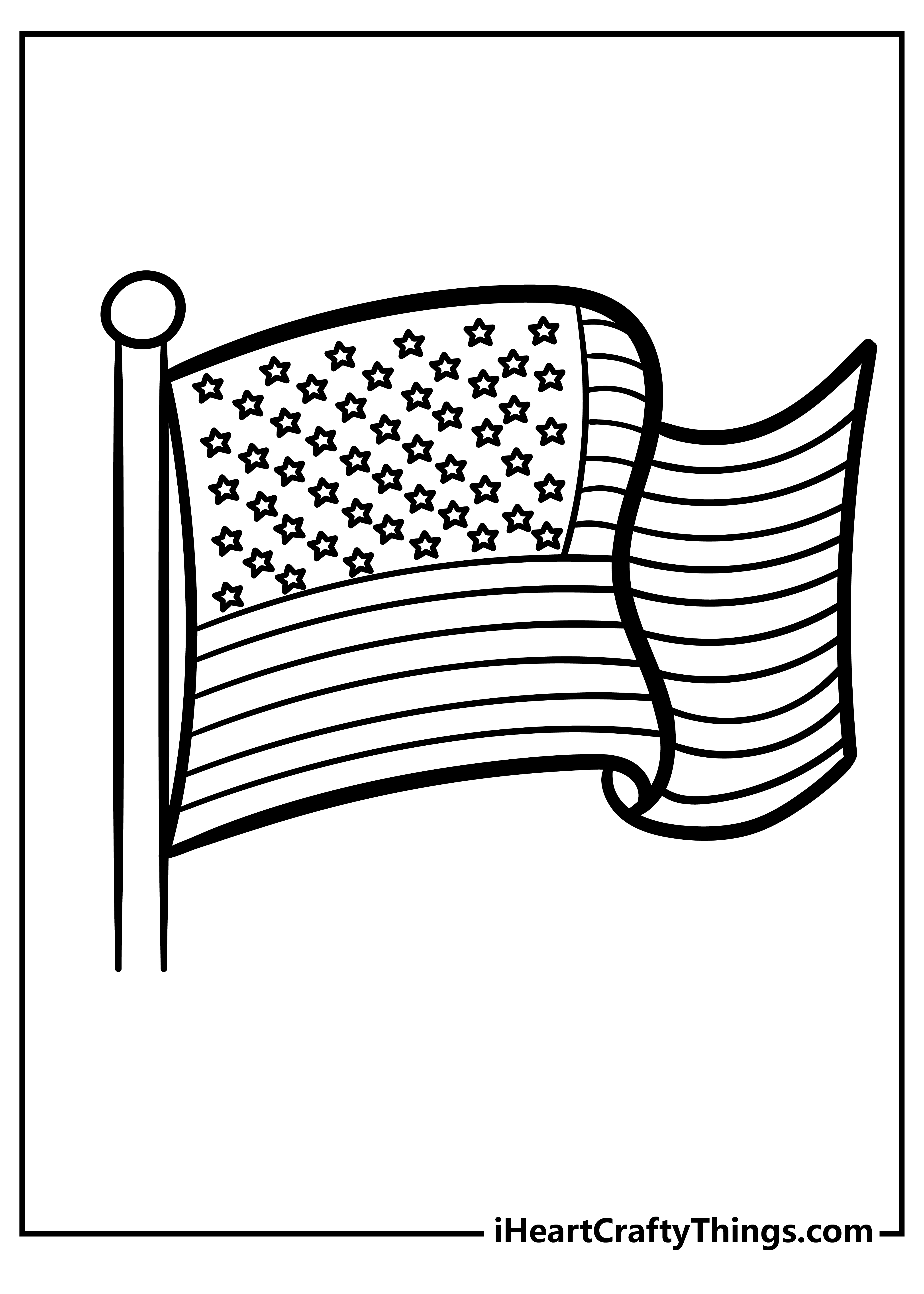 This American flag coloring page features the American flag in a dynamic circular design. The circle creates a feeling of movement and energy, like the flag is waving powerfully.
The bold stripes and prominent stars stand out in stark contrast against the white background.
This style provides an eye-catching perspective on Old Glory. The spinning design captures the pride, resilience and spirit embodied in the American flag.
Your creativity will bring new life to this beloved national symbol.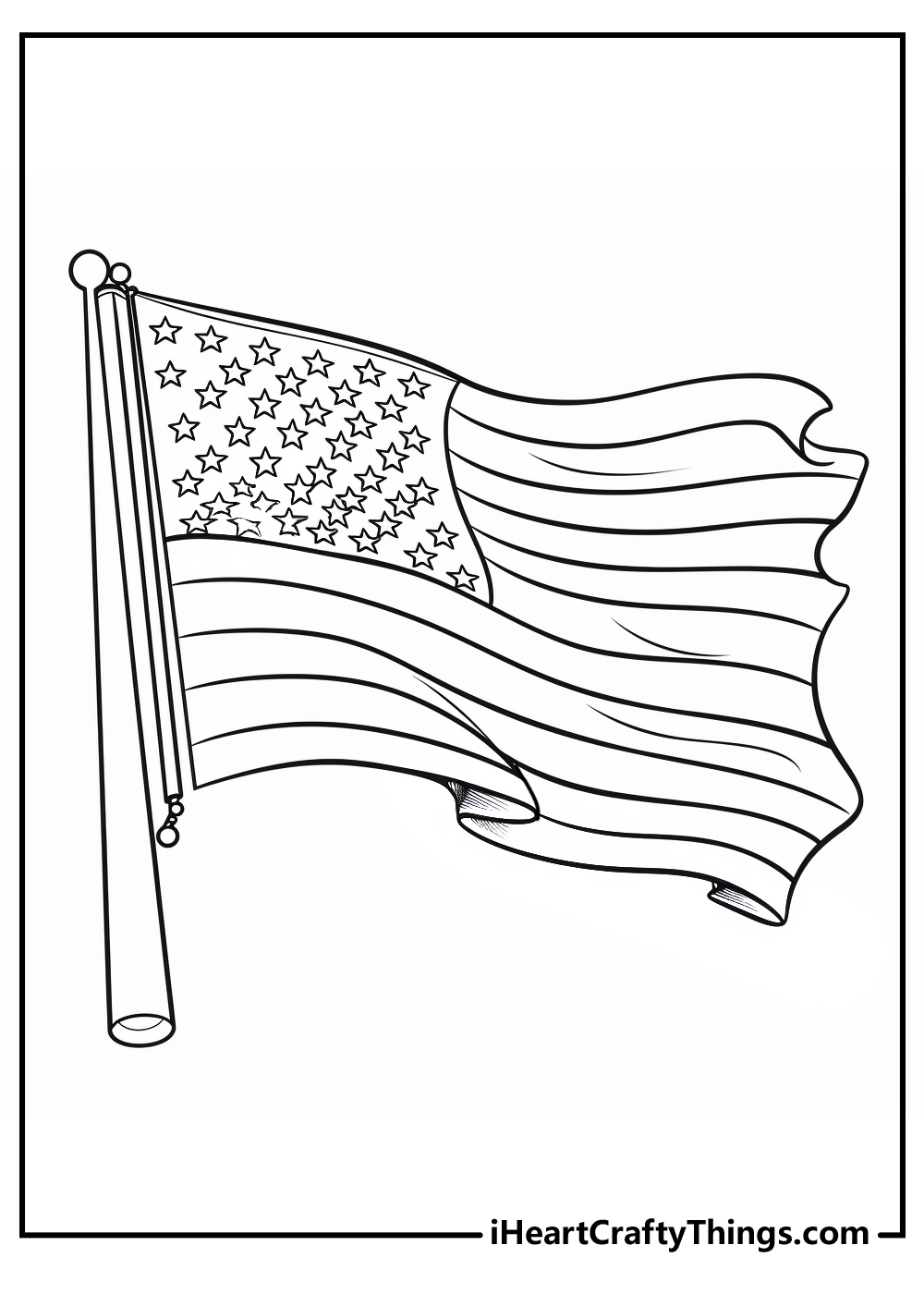 There are many more small and intricate details to color in here! The stars on this flag are nicely visible, and coloring around them will be something that will require quite a bit of patience.
Once it's done, your patience will be rewarded as it will look incredible!
Will you color the stars themselves or keep them white?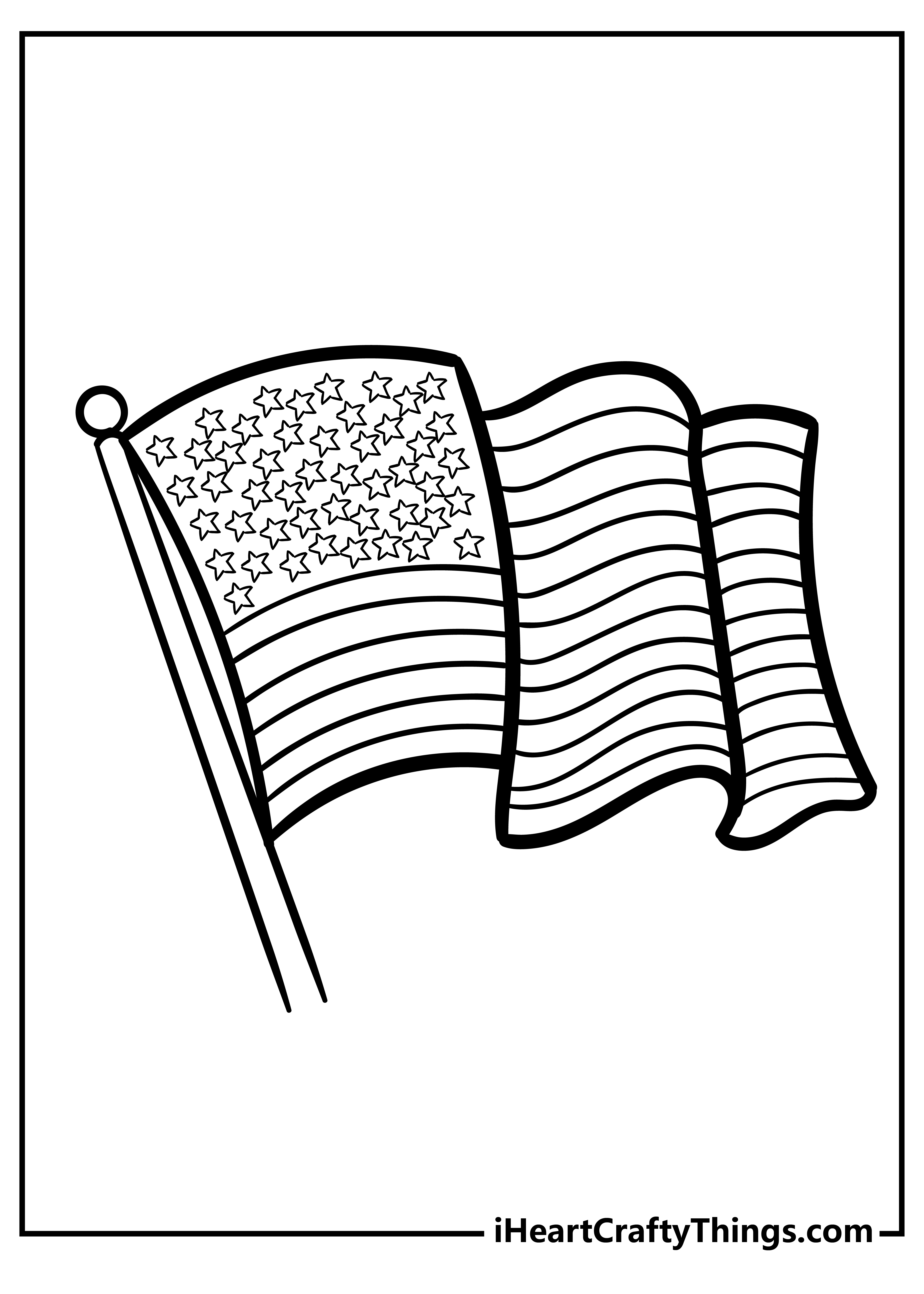 Let freedom shine bright with this American flag coloring page. The iconic American flag is presented in a bold, patriotic star outline.
Its design fills the star, with the canton and stripes following the angular lines.
The star shape encapsulates the flag elegantly, the patriotic colors and symbols flowing together into a cohesive design.
Color the heart of the flag with care and admiration for the values it represents – courage, justice and opportunity shining brightly for all.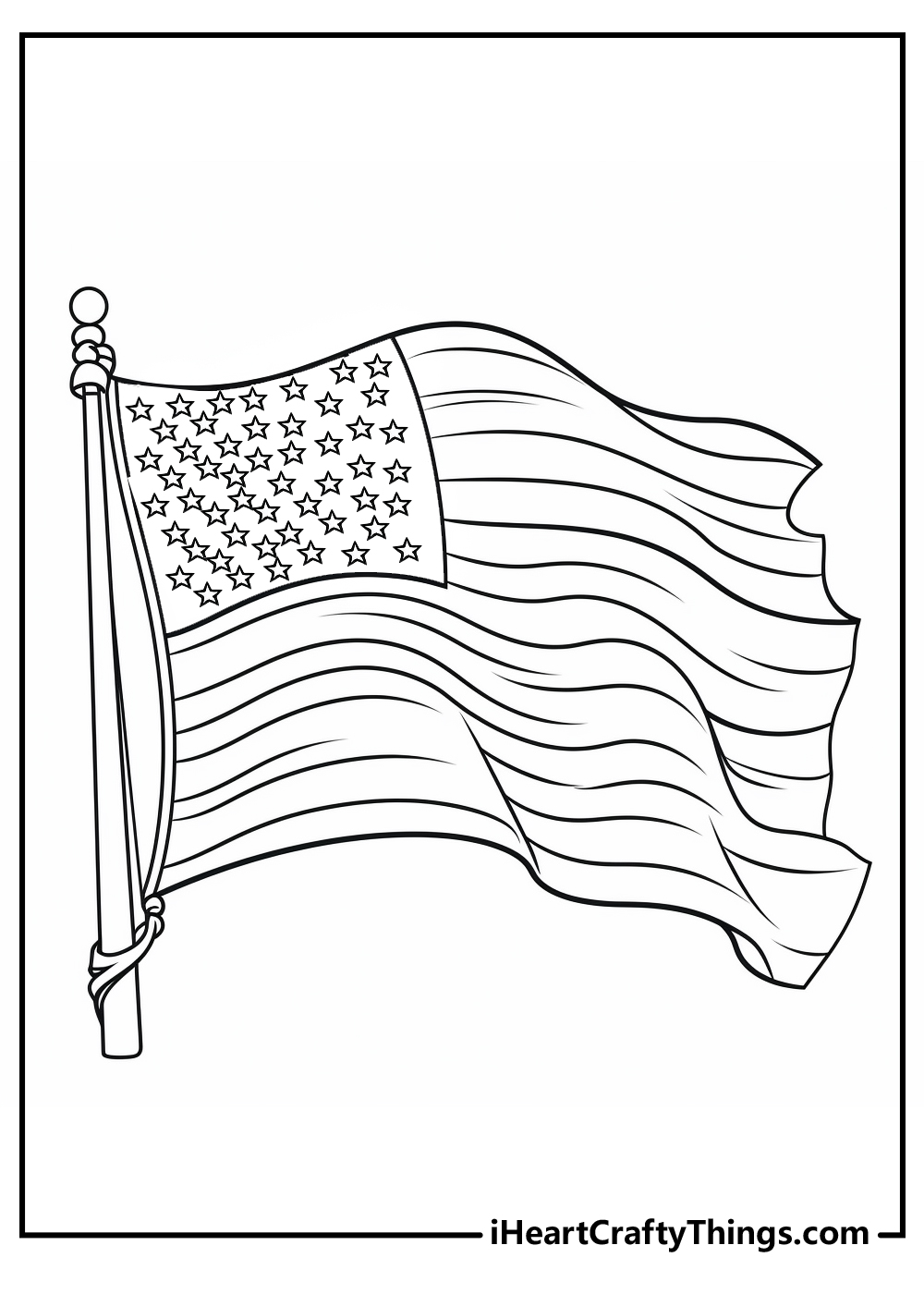 The only thing more patriotic than an American flag would have to be two American flags, and that is what we have here!
These two flags create a wonderful look for this image, and if we were coloring it we would draw and color some fireworks into the background.
This is just one idea, but what else would you do to finish off this image?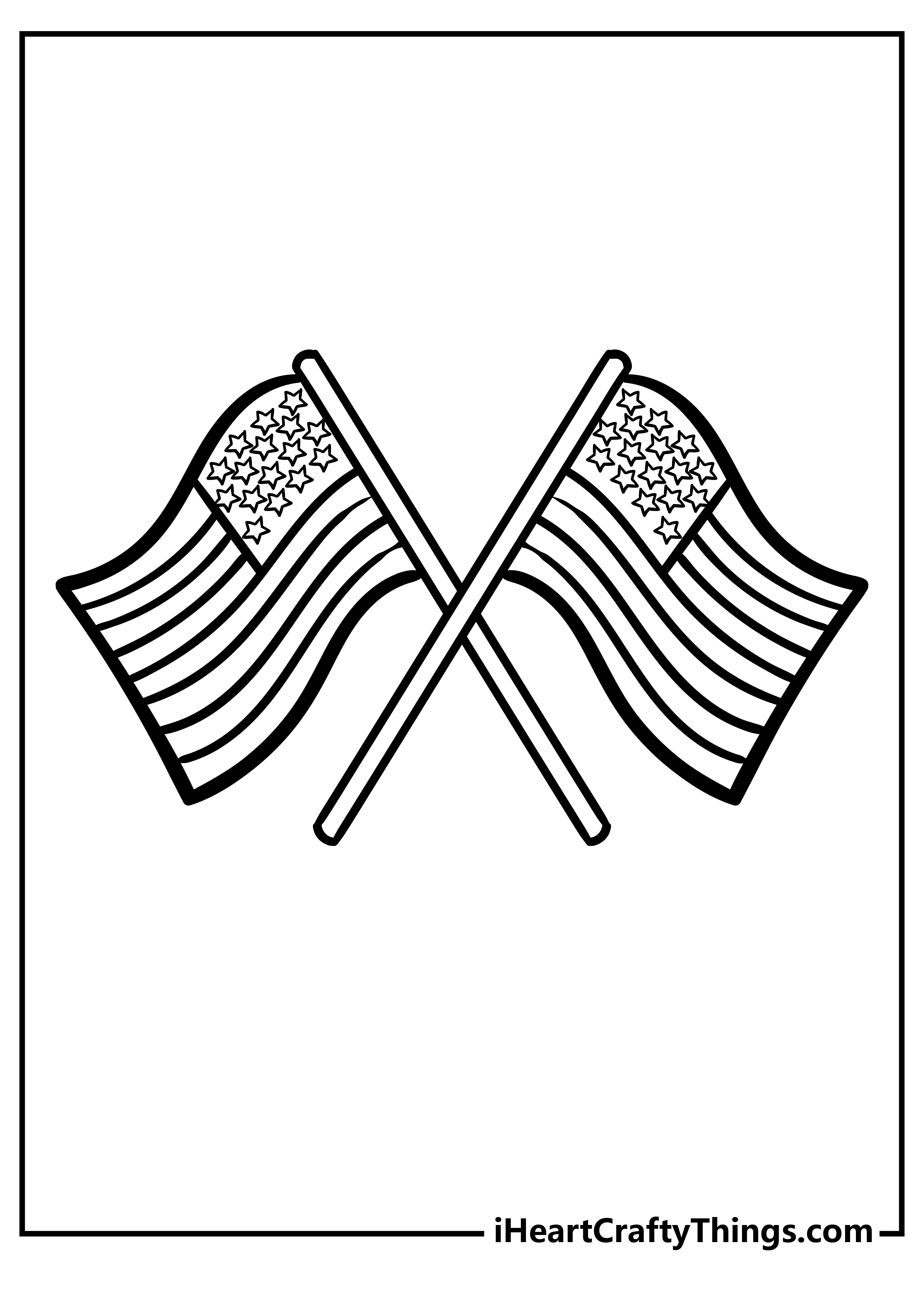 Another duo of American flags is here for you to color in this eighth image! The background is even more emphasized here, as we have a lot of empty space there for this one.
You would have even more options for some background details here, so you can really get creative with it.
What kinds of background ideas come to mind?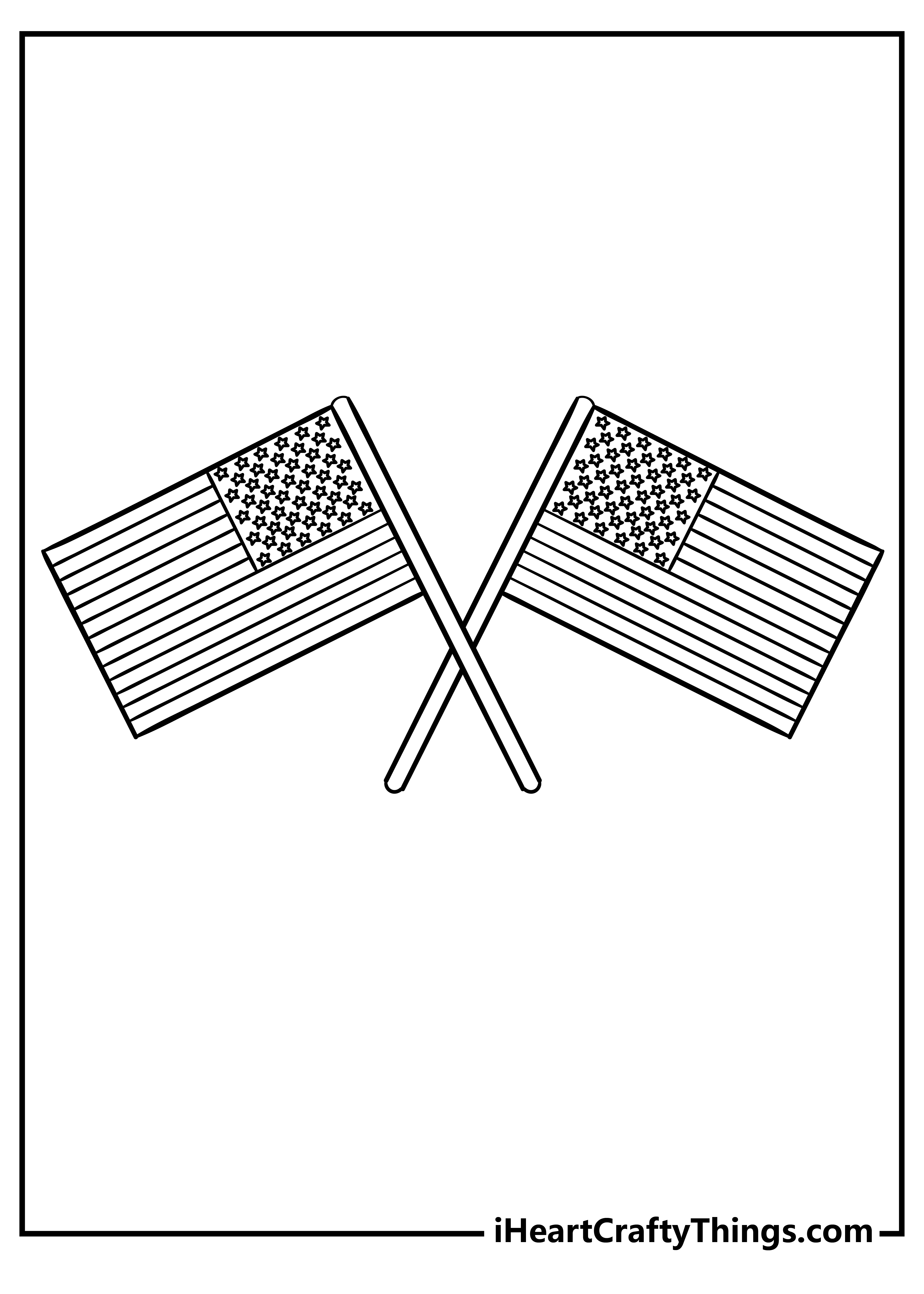 Another flag with some intricate detailing is here for you to color in this ninth American flag coloring sheet.
The lines of the stripes are very wavy and narrow, and while it makes the flag look really good it also makes things a bit more challenging.
This is definitely another one where we would recommend using some mediums that allow for more precision to make things easier on you!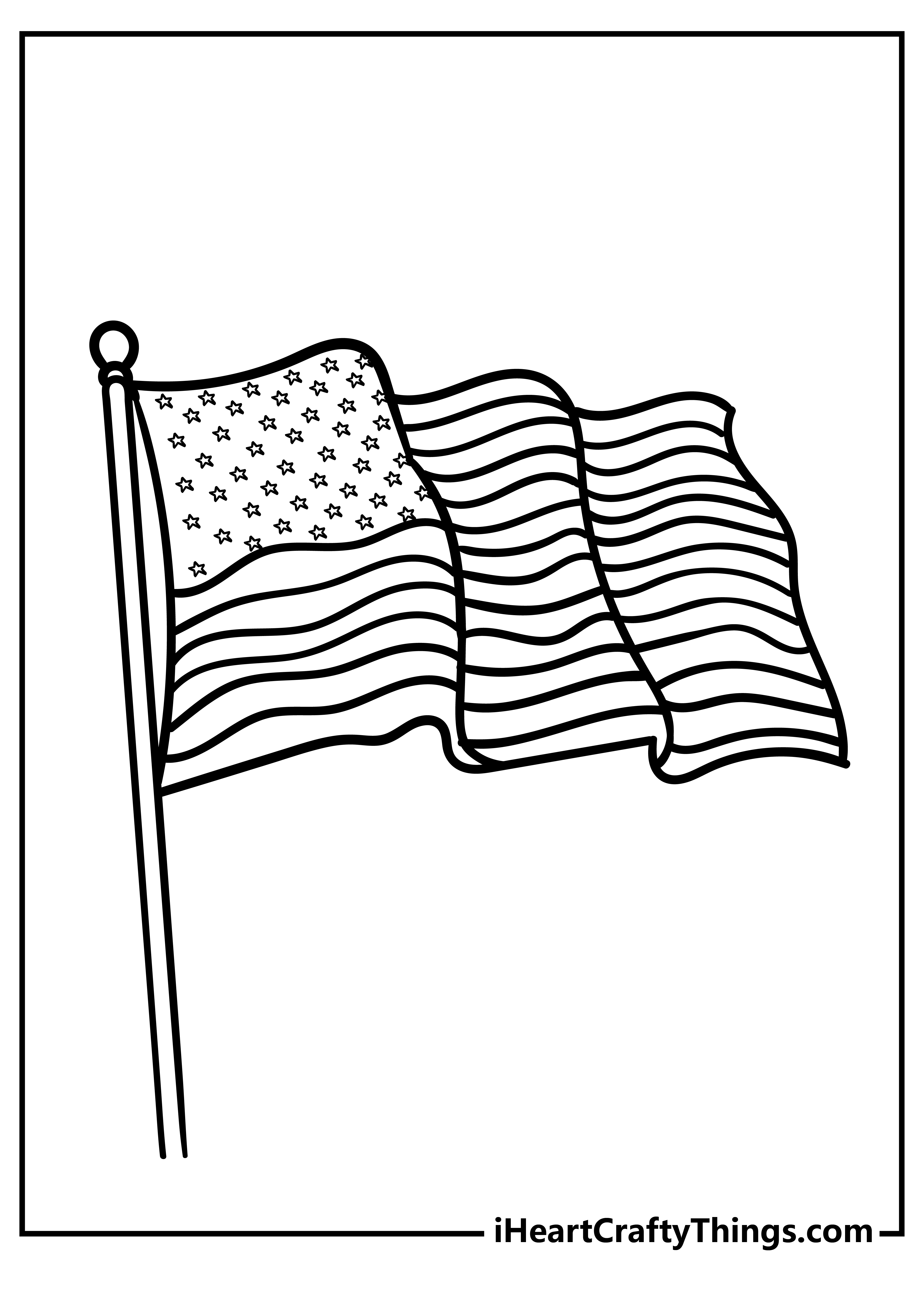 This next flag is at a rather dramatic angle, and it gives this image a great atmosphere!
For this one, we would draw a blue sky with some clouds or maybe a setting sun to give the image even more atmosphere.
Will you also go for a background like that?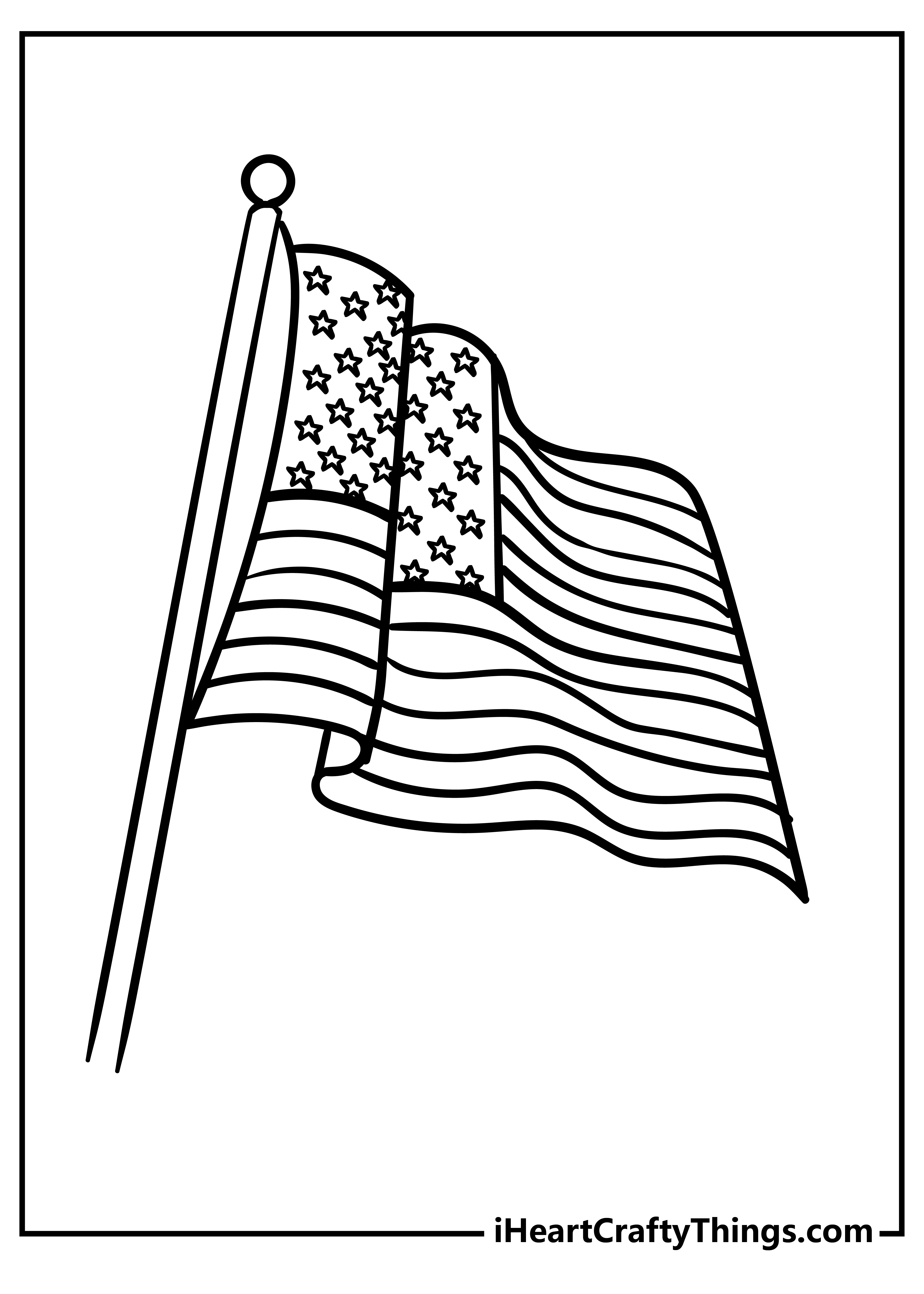 This cool coloring page shows the American flag transformed into a jigsaw puzzle. The flag's familiar shapes have been cut into funky interlocking pieces.
The flag's canton and the stripes have been divided into irregular shaped chunks. When assembled correctly, the rows of stars and original thirteen stripes fit snugly together.
This entertaining page offers a hands-on way to learn about and customize Old Glory. Let your imagination guide you as you piece together and color this playful American flag puzzle.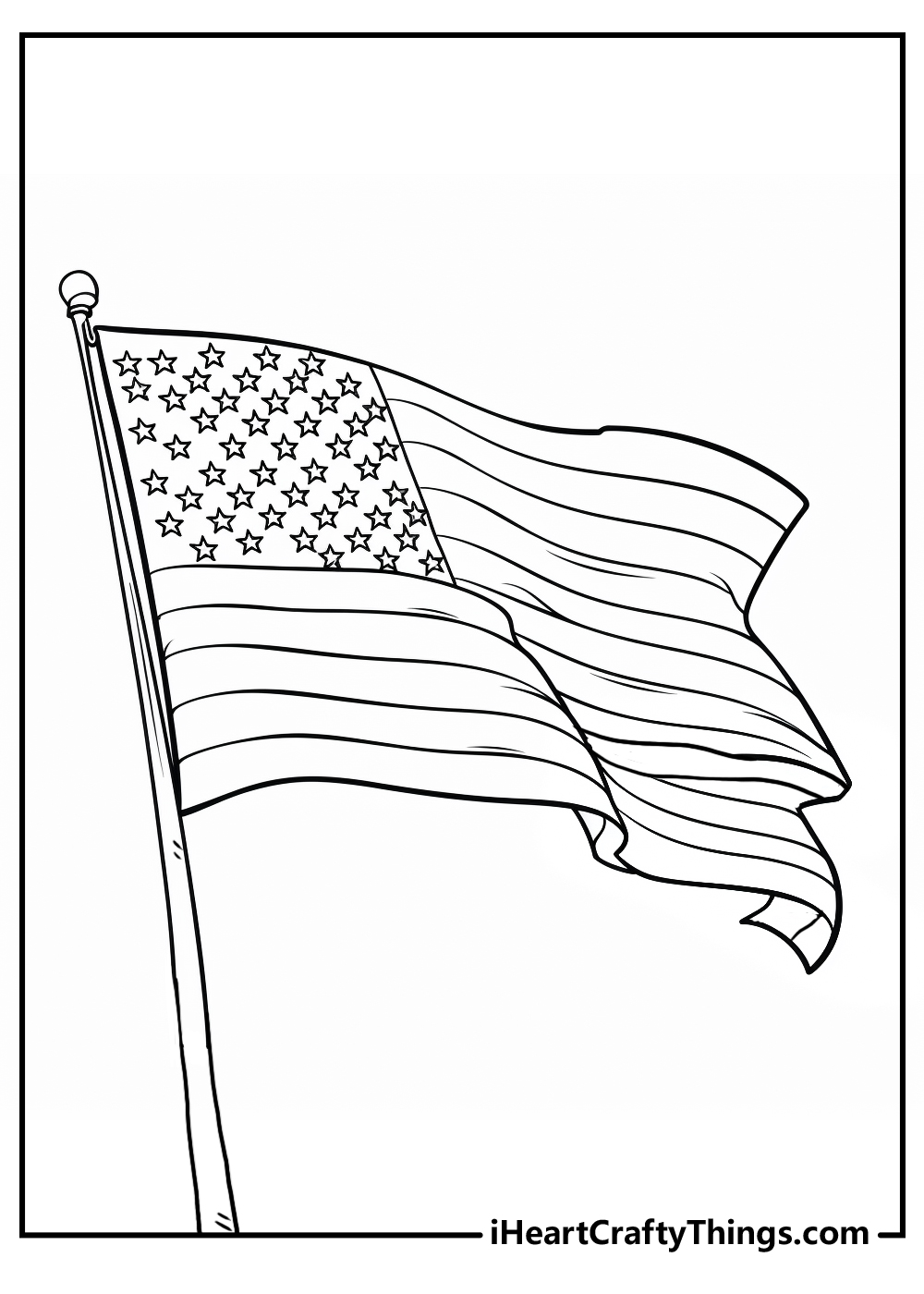 The eleventh flag that we have for you is at a bit of a different angle to any of the others. This helps it to stand out, but it also presents some brand new coloring challenges.
With what a great job you've been doing so far, we know you will overcome any challenges to create a great picture, though!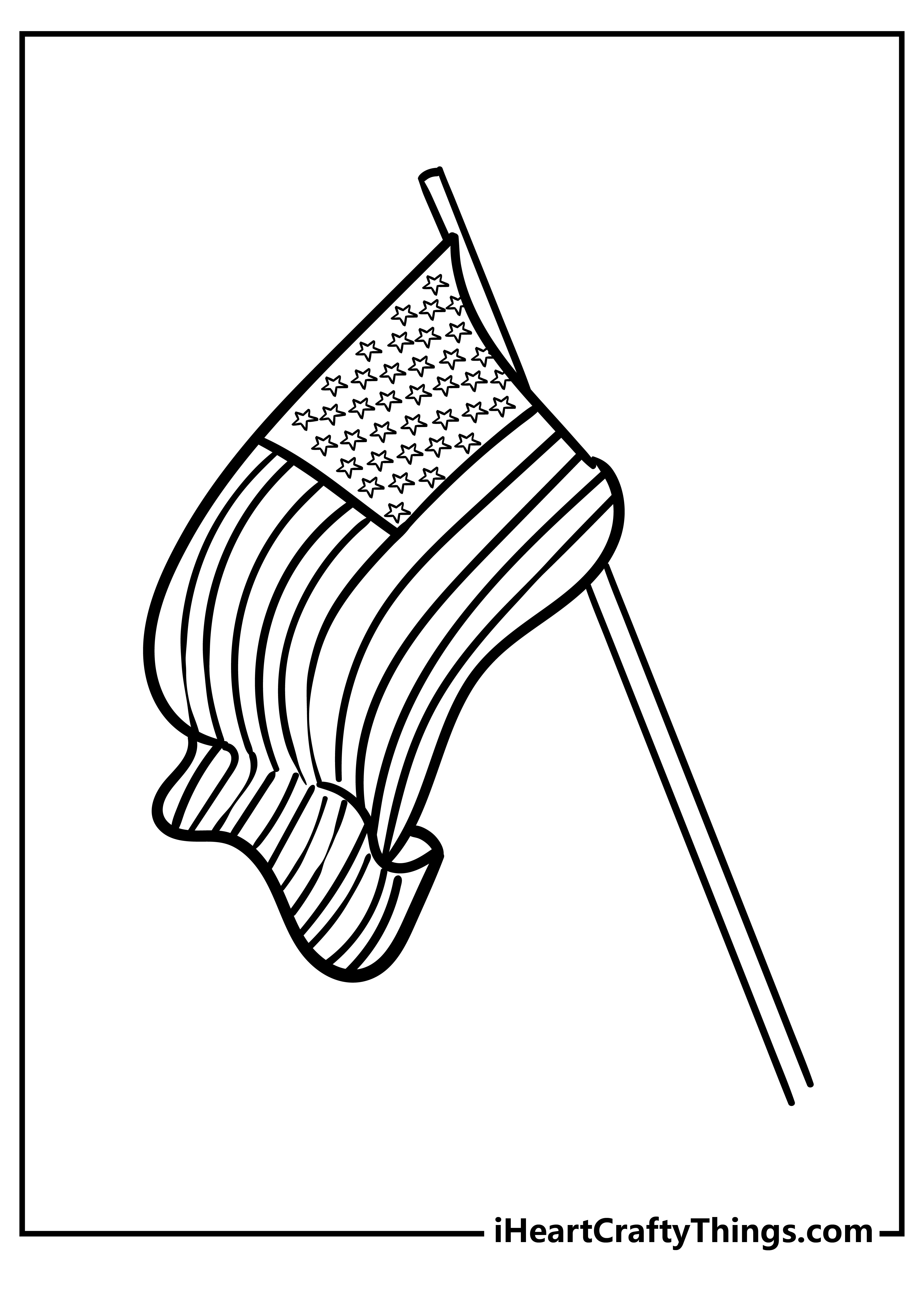 We have two more flags for you to color in this next one, and it again makes for a wonderfully patriotic scene!
There are so many creative ways that you could color both the flags and the background, and you should really let your creativity flow as you finish this page.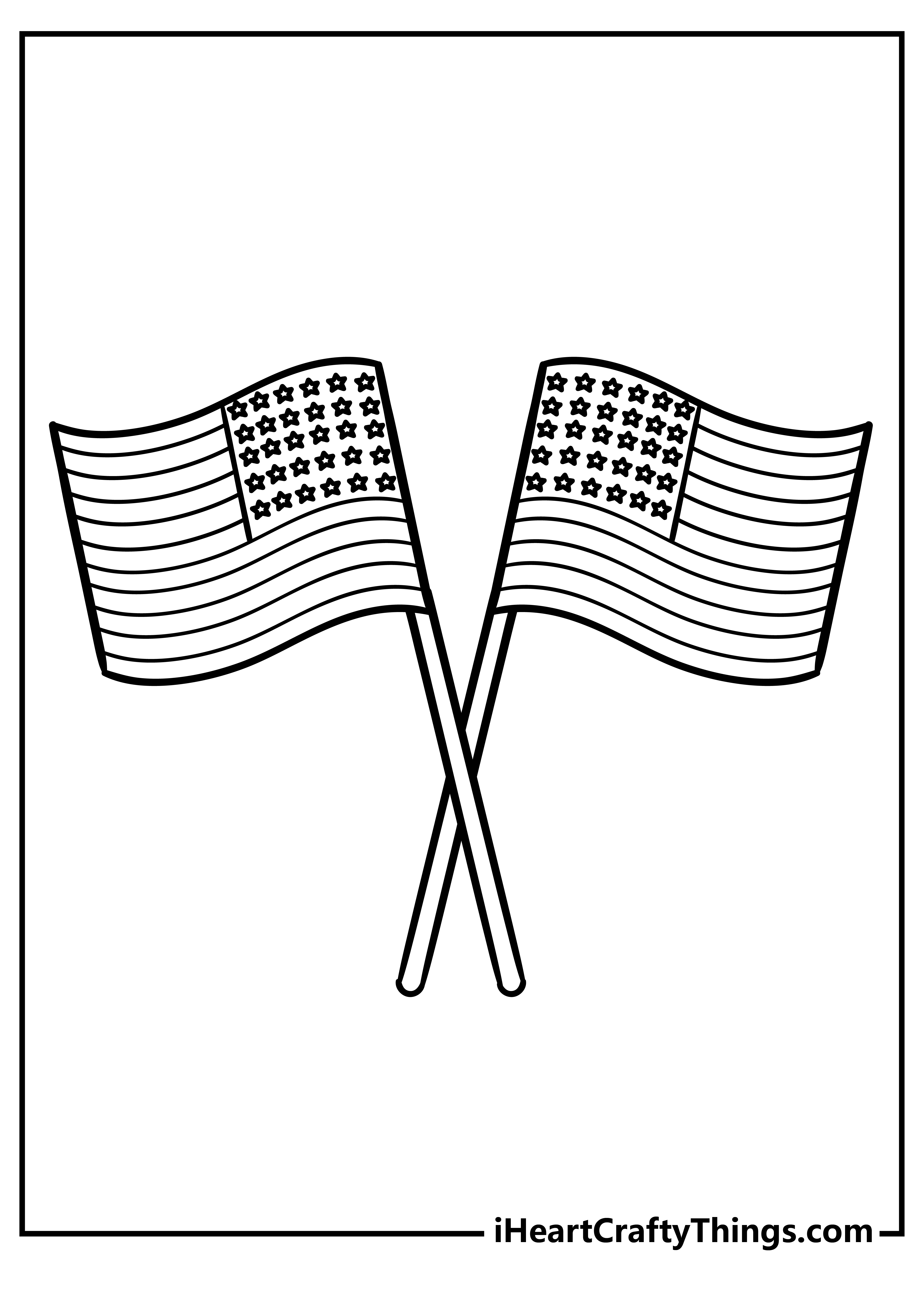 There is a really cool design to this next flag, as it is flowing quite drastically.
For this one, it could be fun to create a background that follows a similar flow, and you could use a paintbrush to create a similar waviness.
That's one idea, but what else can you think of to make this image look even better?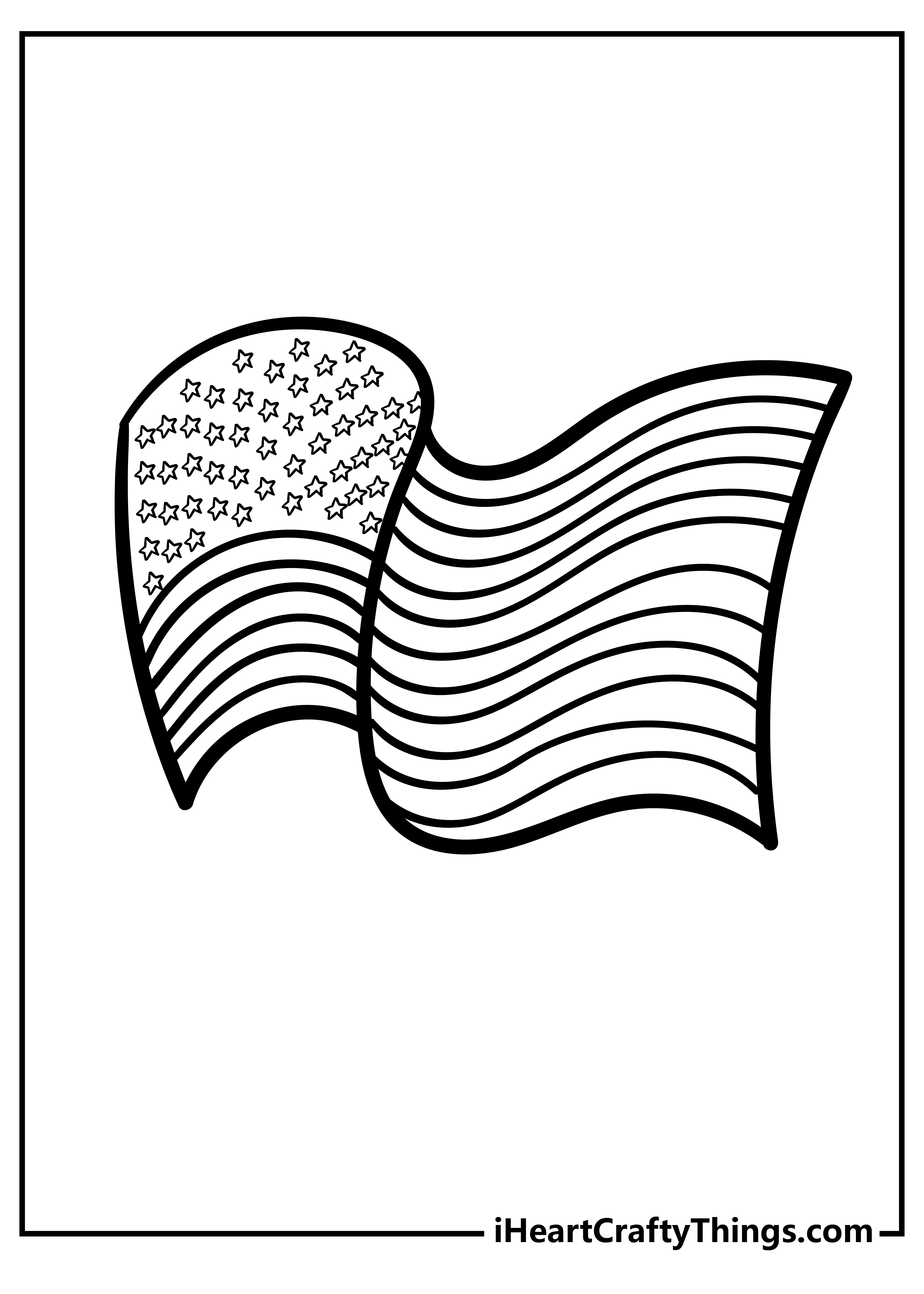 This flag may be one of the trickiest to color yet, as there are so many little sections and small spaces that can be a bit challenging to color.
We know you can do it if you have a little patience and use the right mediums, so we will look forward to seeing how this one turns out!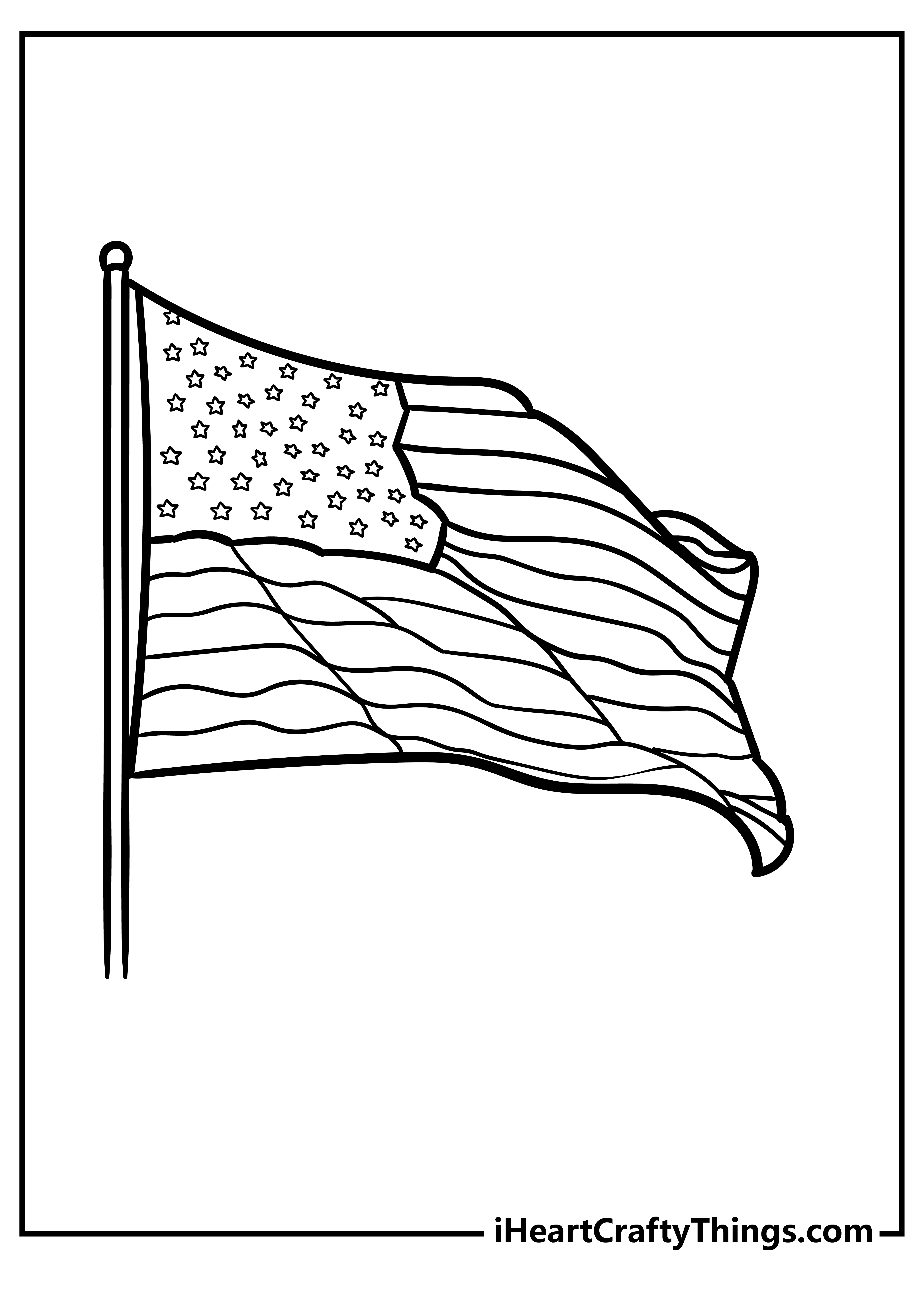 We will finish this collection with one more American flag coloring printable, and it's a lovely classic interpretation of the flag.
This one is also wavy, but it's a bit simpler in design so you can have a nice relaxing time as you finish off the colors.
How will you conclude this patriotic collection with your colors and art tools? We can't wait to see it!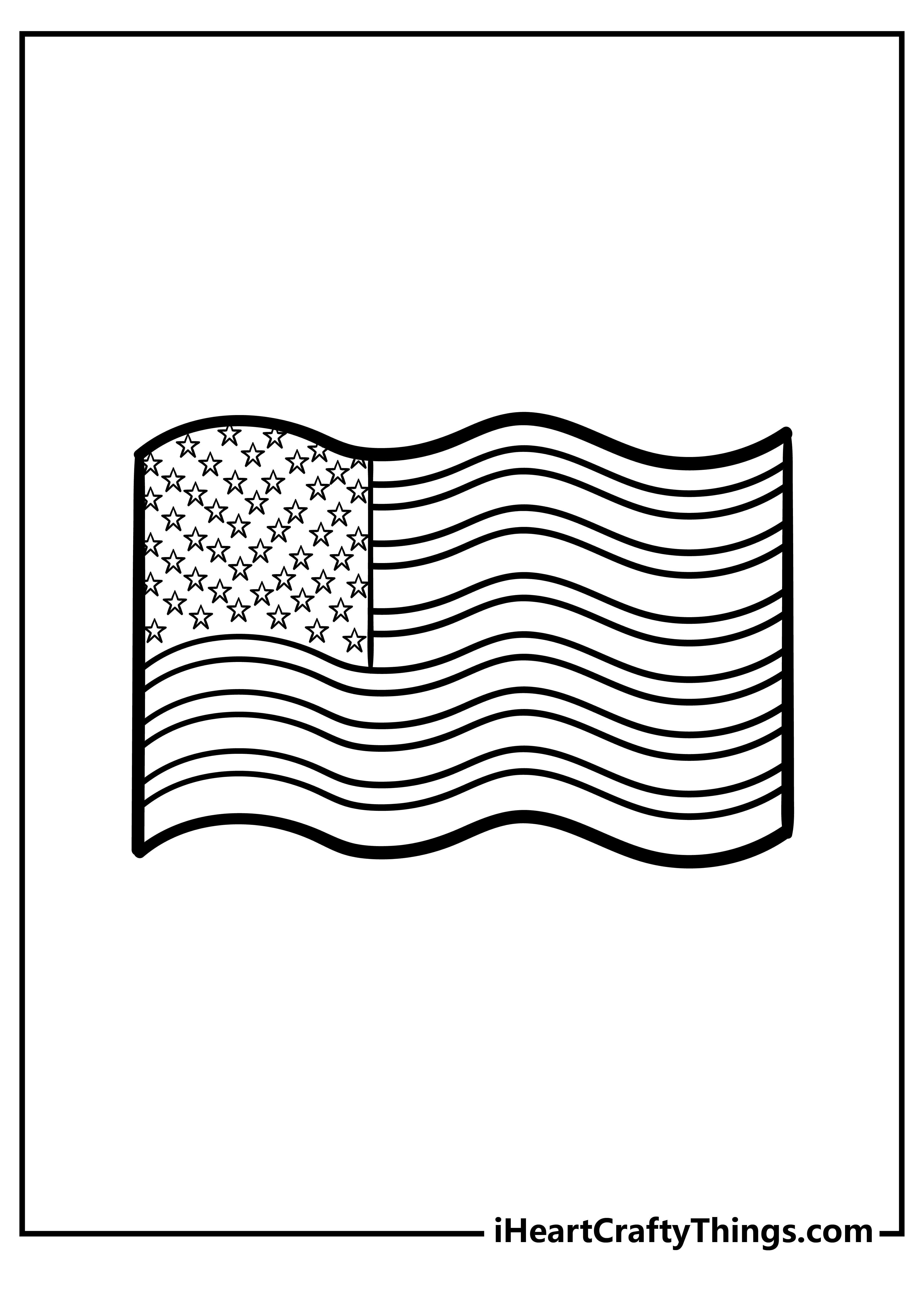 American Flag Coloring Pages – Which will you choose?
We hope you had a great time representing the red, white and blue as you completed this collection of free American flag coloring pages for kids!
We featured the flag in many different variants throughout this collection, and you can have fun playing with different shades, techniques and mediums.
We hope you will share this collection with others to enjoy, and we especially hope you will share some of your finished pages on our Facebook and Pinterest pages for us to see!