Growing up, and even now as an adult, whenever I need advice about friends, decisions, or life, I always go to my dad. He's like a wise old owl in my life always blessing me with his wisdom.
That's why this Guess Whooo Loves You Father's Day Kids Craft is a perfect gift for Dad. Father's will treasure this hand made card,  especially with the cute photo hidden inside.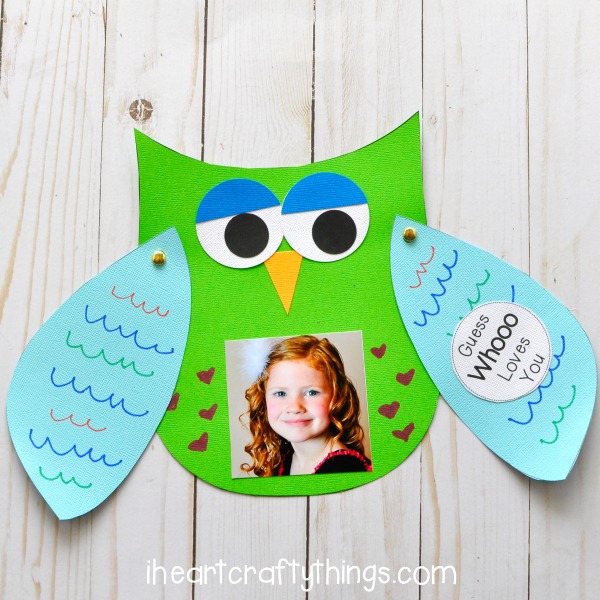 How to Make a Father's Day Kids Craft Owl Card
This post contains affiliate links to the products mentioned. Read our disclosure policy for information.
Supplies Needed to Make this Father's Day Kids Craft Owl Card
hole punch
photo of child
scissors
glue
Instructions for this Owl Father's Day Card
1. Begin by printing out the Father's Day kids craft owl template on cardstock paper. We printed the owl body and wings on colored cardstock paper the card label on white cardstock. Cut out all of the template pieces.
Feel like something different? Learn how to draw a car!
2. Line up the wings on the owl body, punch a hole with the hole punch and insert and close a metal paper fastener into the hole on both sides.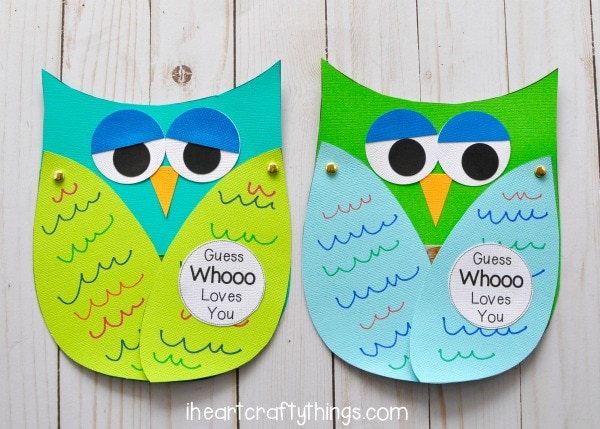 3. Use markers to draw feathers on the wings and inside the owl body. You could also draw hearts on the inside of the owl body. Now glue the "Guess Whooo Loves You" tag on one of the owl wings.
4. Cut out two white circle eyes, two black circle pupils, an orange owl beak and two half-circle eyelids for your owl. Glue them onto your owl body.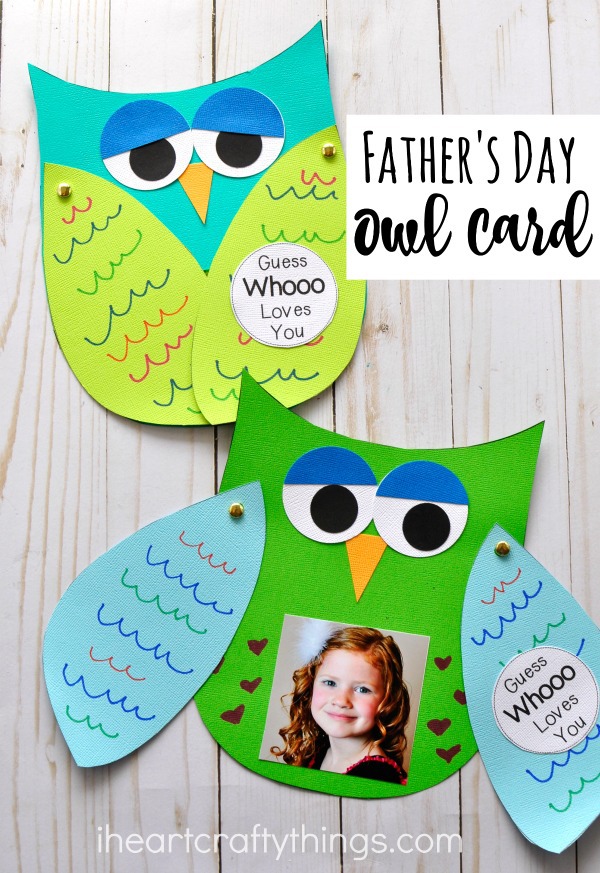 5. Cut down a child's photo to fit and glue it down at the bottom of the owl body. Your Father's Day craft is all finished. Hand it to Dad and he can open it up to see whooo loves him!
TIP: Use the back of the owl card for a place to write a personal message to Dad for Father's Day.

Looking for another gift to make Dad feel special this year? Take photos of your kids in Daddy's boots and add them to a frame with a special message. Or check out this awesome list of 25 Must Make Handprint Crafts for Dad over at my friend's website.