I don't even know how to tell you how excited I have been to create this pretty handprint parrot craft with my boys! I saw it over at Tippytoe Crafts and knew it was a MUST to go along with our preschool bird theme.
Isn't the parrot craft darling??!!! You can read Tippytoe's Tutorial HERE or I'm going to give the steps to how we created ours.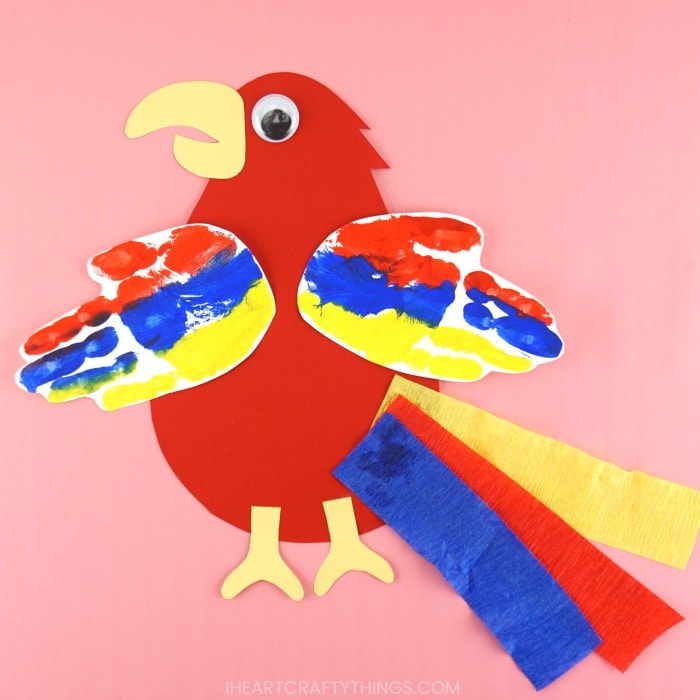 The colorful handprint feathers add an extra special touch to this easy bird craft. Preschoolers and kids will love getting to personalize their parrot in the colors of their choosing too.
[This parrot craft was originally published on September 30, 2011. It has been updated with a new video tutorial, additional instructional text and photos.]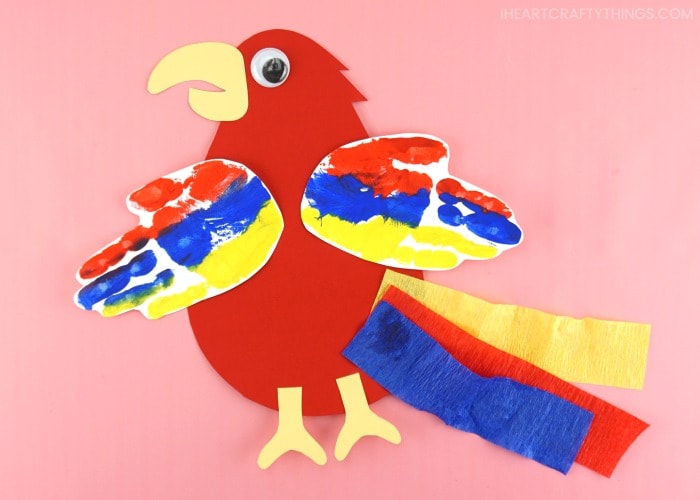 How to Make a Handprint Parrot Craft
Whether you're looking for a fun preschool craft to add to your bird or rain forest theme or you're looking for some fun, new summer activities for kids, this handprint parrot craft is perfect!
Read our easy step-by-step instructions below for how to make your own colorful parrots. We also have a video tutorial video inside this post you might find useful.
Supplies needed to make this colorful parrot:
Parrot craft template (optional) <—– Purchase the template in our shop!
Colored Cardstock Paper (colors of your choice)
White cardstock
Paint (colors of your choice)
Paintbrush or sponge brush
1-inch googly eyes
Crepe or tissue paper (colors of your choice)
Scissors
Glue

NOTE: If you are in the EU, please visit our TpT Store to purchase any of our templates.
Instructions for making this easy Handprint Craft
1. Start by letting your child choose three colors for their parrot wings. Paint the three colors in stripes on each of their palms. Press each painted palm down onto a white piece of cardstock paper to make handprints. Set aside the handprints to dry completely.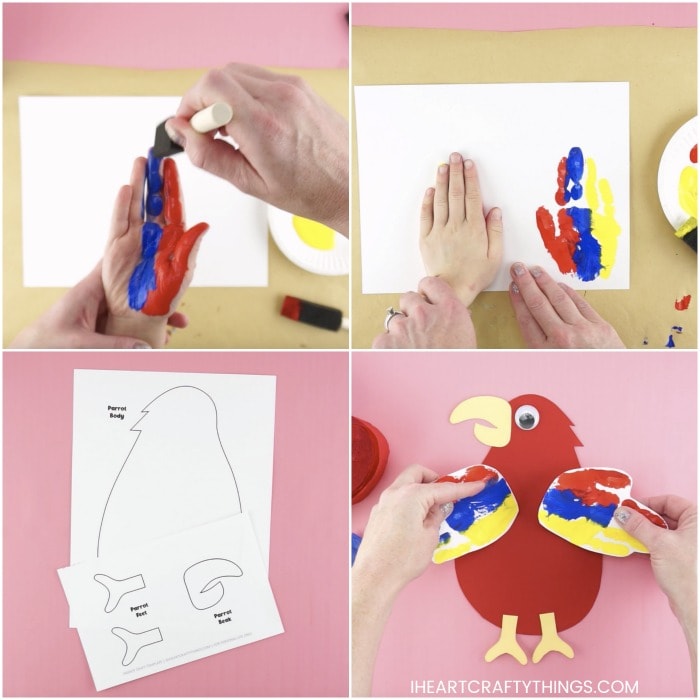 2. Next you will need to create your parrot body, feet and beak. Just in case the task of creating your own pieces seems daunting, I went ahead and created a pattern in my shop you can purchase to make it easier.
Print the template on the cardstock colors of your choice. Cut out each of the pieces from the template.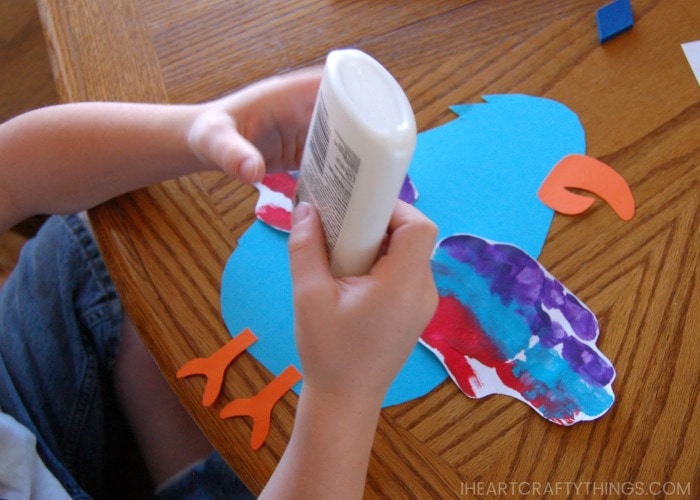 3. Glue the parrot beak and legs onto the parrot body. Then glue a large googly eye on your parrot.
4. Cut out each of the handprints once the paint has dried completely. Then glue them onto the parrot body for colorful wings.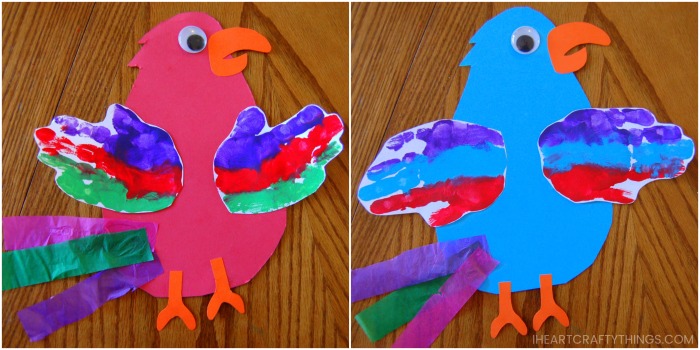 5. Cut out three strips of crepe paper  or tissue paper about 5 to 6 inches in length and glue them onto the parrot body for tail feathers. After you are done gluing on the tissue paper feathers, your pretty parrot is complete!
Now just stand back in amazement at the beautiful colors and then laugh at your children's parrot voices when they pretend they are talking.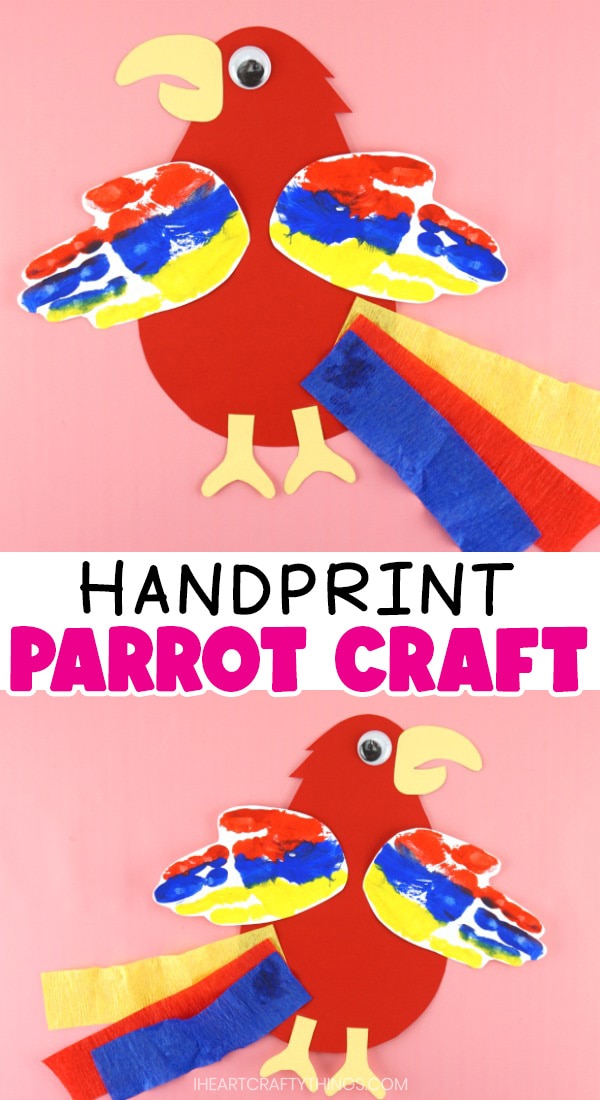 More Fun Bird Crafts for Kids
This fun paper plate owl craft is easy for preschoolers and goes along perfectly with the book The Little White Owl by Tracey Corderoy.
Kids will love making and playing with these colorful paper birds. After making them kids can swirl and twirl them around to make them fly in the air.
Have some extra cupcake liners laying around the house? Use them to make some fun cupcake liner birds.
Looking for more fun and easy preschool bird crafts? Check out our complete list of over 75 bird crafts for kids.