We've had a big thing for yarn wrapping fine motor crafts this year and wanted to make sure to fit a few more in before the end of the year that you and your kids can enjoy during the winter months.
Red cardinals are one of my favorite birds and seeing them set against bright white snow in winter is a stunning sight.
This yarn wrapped cardinal craft is bright and beautiful and perfect for a winter kids craft and for strengthening fine motor muscles.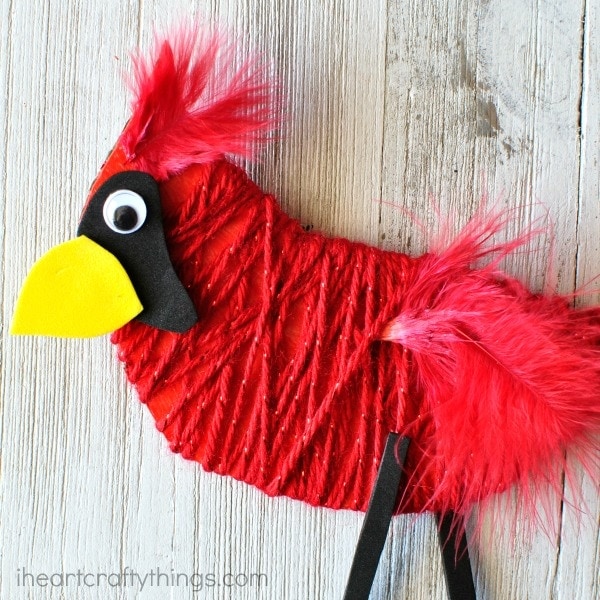 This post contains affiliate links to the products mentioned. Read our disclosure policy for more information.
How to Make a Yarn Wrapped Cardinal Craft

Supplies Needed to Make this Cardinal Craft
– cardinal pattern (printed out)
– cardboard
– pencil for tracing
– red paint
– paintbrush
– red yarn (we used one with metallic shimmer in it)
– red feathers
– black and yellow craft foam
– googly eyes
– tacky glue (you can also use a hot glue gun or glue dots)
– tape
– scissors
Directions for Making this Yarn Wrapped Cardinal
1. Start by printing out the cardinal pattern. Trace the body onto a piece of cardboard and cut it out. Trace the black face and yellow beak onto craft foam sheets. Then cut them out.
2. Paint your cardboard cardinal with red paint. Let it dry completely.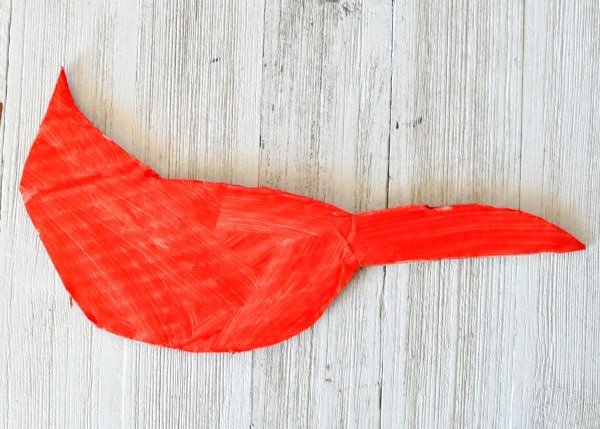 3. Cut off a long piece of your red yarn to wrap around your cardinal. Tape one end of the yarn onto the back of your cardinal, then have fun wrapping the yarn around and around and up and down the cardboard cardinal. When you reach the end of the yarn, tape it onto the back of the bird.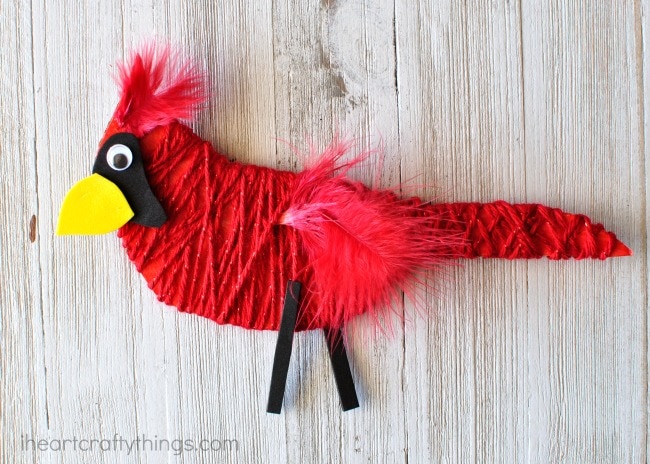 4. Glue your black face piece and yellow beak onto your bird with glue dots, a glue gun or tacky glue. Then glue your googly eyes onto your bird. Cut out black legs from your craft foam sheet and glue them onto your bird.
5. Finish your yarn wrapped cardinal craft by gluing a small red feather at the top of the cardinal's head and a bigger feather on the side of your bird.