Watercolor painted newspaper crafts have been a favorite at my house this year. With Thanksgiving coming up next month we couldn't let the time pass by without getting our newspaper and liquid watercolors out and making this gorgeous painted newspaper turkey craft.
Newsprint always gives crafts such an awesome texture and this fun turkey is no exception. Your kids are going to have a blast creating this cute turkey craft.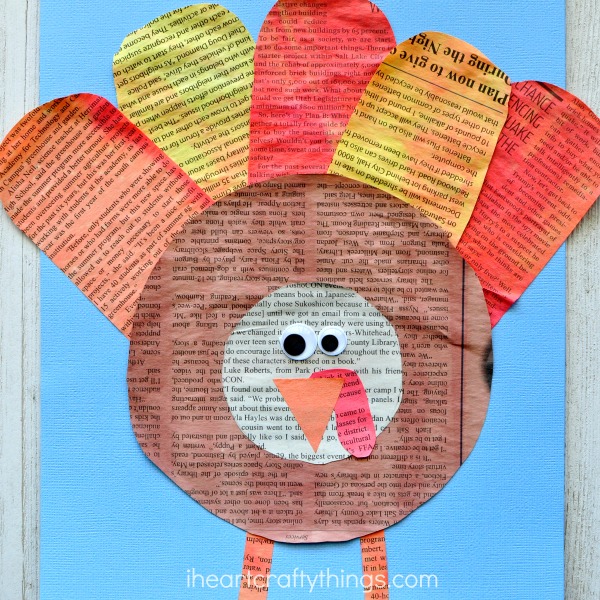 This post contains affiliate links to the products mentioned. Read our disclosure policy for more information.
How to Make a Painted Newspaper Turkey Craft
Supplies Needed to Make a Painted Newspaper Turkey Craft
– newspaper
– light blue cardstock (or whatever color you choose for your background)
– liquid watercolors
– paintbrush
– googly gyes
– scissors
– glue
Directions for Making a Painted Newspaper Turkey
1. Start by painting your newspaper with your liquid watercolors. We knew right away what colors we would be using for our turkey so we painted one big section with brown liquid watercolors and then several other with red, yellow and orange. The newspaper will be saturated after painting it but after it sits and dries for several hours (or overnight) it will crisp back up.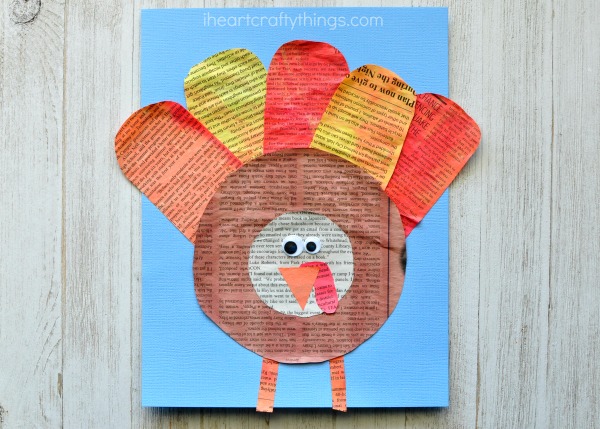 2. When your newspaper is dry, out the pieces you'll need for your turkey. A large brown circle turkey body, a newspaper, an unpainted newspaper circle for the turkey face, an orange beak and legs, red waddle and several other red, orange and yellow newspaper pieces for the turkey feathers.
3. Now simply glue all of newspaper pieces together on your light blue cardstock to make your turkey. Glue the legs onto the bottom of the cardstock, then the turkey body. You'll want to only glue down the bottom half of the turkey body at first so you can glue the feathers behind the body. After gluing on the feathers glue down the rest of the turkey body.
4. Finish your painted newspaper turkey craft by gluing on the turkey face, nose, waddle and googly eyes.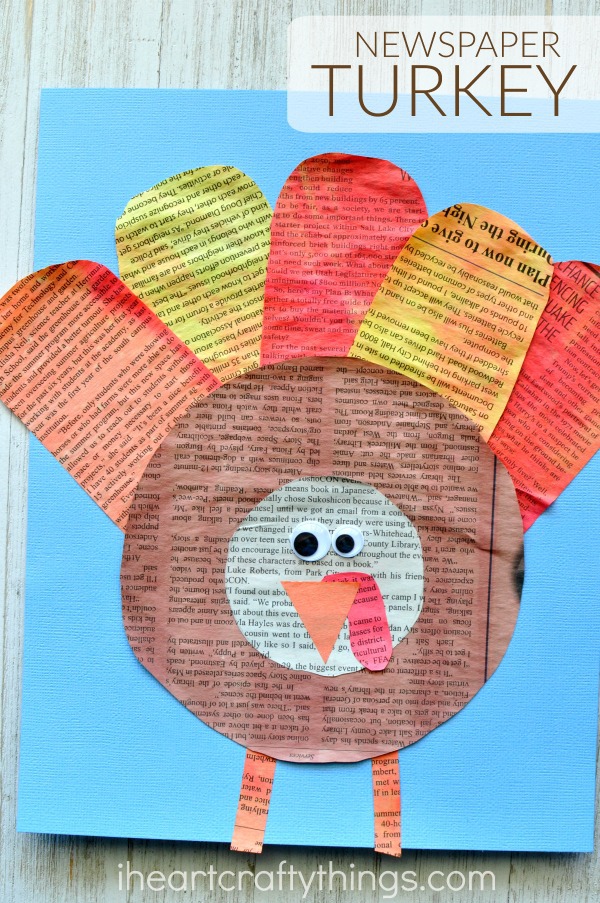 Couple this craft with a fun turkey children's book: