Start saving up newsprint because your kids will love every detail of creating this colorful painted newspaper butterfly craft!
This past weekend we shared an easy tip on Instagram of how we love using an empty ice tray to hold our liquid watercolors when we are using them for painting. After my daughter painted two full sheets of newspaper we had so much fun all week making colorful newspaper crafts that are perfect for spring time.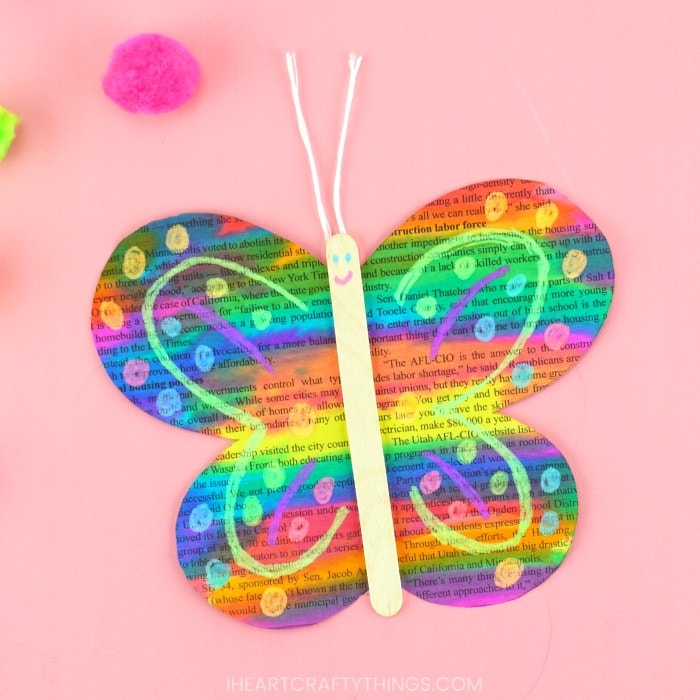 Our latest is this cute newspaper butterfly craft we are sharing with you today. It's so simple and fun to create. Your kids are going to love it!
[This craft post was originally published on April 18, 2016. It has been updated to include a new butterfly craft template, updated tutorial, photos and a video.]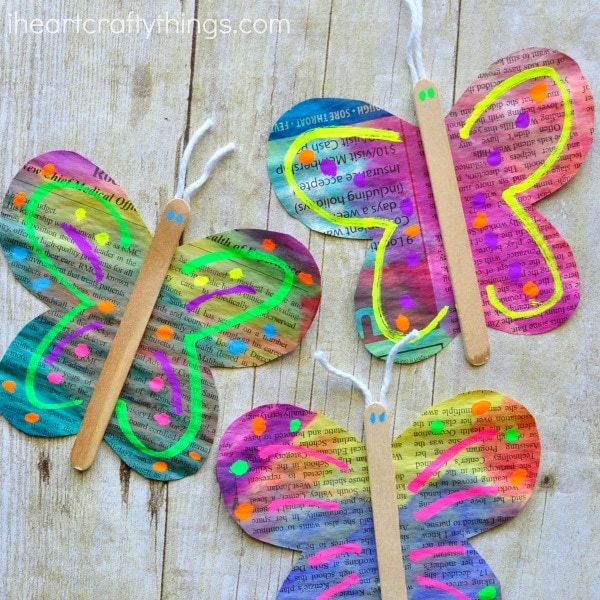 How to Make a Painted Newspaper Butterfly Craft
Whether you're looking for a fun preschool craft to add to your insect theme or you're looking for some fun, new sprint or summer activities for kids, this butterfly craft is perfect!
Read our easy step-by-step instructions below for how to make your own colorful butterflies.
Supplies needed to make your colorful butterflies:
This post contains affiliate links to the products mentioned. Read our disclosure policy for more information.
NEW  butterfly craft template <—– Get the template HERE
newspaper
paintbrush
craft sticks (We received our craft sticks from our friends at Craftprojectideas.com. Any opinions expressed are 100% my own.)
tacky glue or extra strength glue stick
pencil for tracing
Instructions for making a painted newspaper butterfly craft
1. Start by painting your newspaper with your liquid watercolors. The newspaper will be saturated but don't worry. Let it sit to dry overnight and it will crisp back up.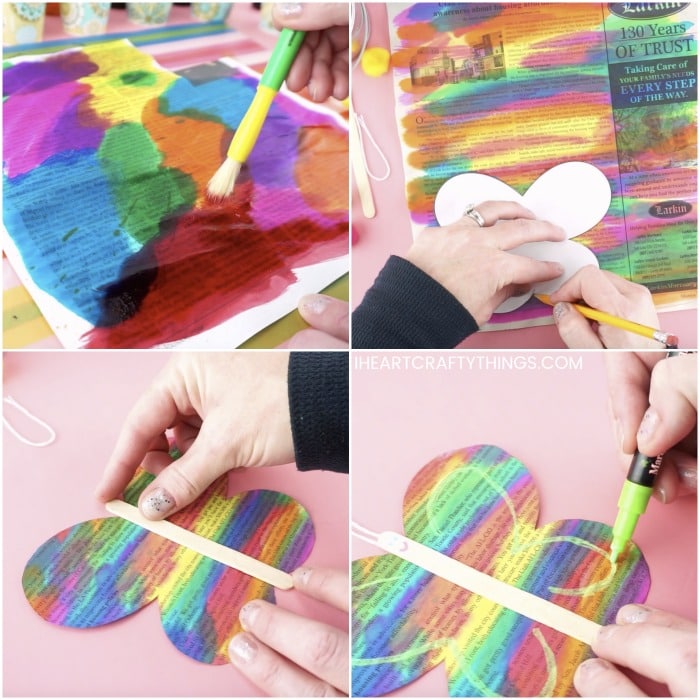 2. Fold a section of newspaper in half and cut out the shape of a butterfly wing. When you unfold it you'll have two butterfly wings.
Or download and print out our new butterfly wings template for this craft. After cutting out the template, use a pencil to trace the wings onto your painted newspaper. Then cut out the butterfly wings.

3. Glue a craft stick in the center of your butterfly wings. Use your Fun Chalk markers to decorate your butterfly wings and add eyes on the craft stick butterfly body.
4. Finish your painted newspaper butterfly craft by folding a piece of white string in half and gluing it onto the back of your craft stick to make butterfly antennae.

Want to make this fun butterfly craft as a book extension activity?
We love combining crafts every week with books at home. Here are a few of our favorite butterfly themed books that would go along great with this craft:
The Very Hungry Caterpillar by Eric Carle
Velma Gratch and the Way Cool Butterfly by Alan Madison
Becoming Butterflies by Anne Rockwell

You might also enjoy these fun and easy kids crafts:
Check out our complete list of amazing newspaper craft ideas for kids!