Paper bags are the equivalent of paper plates when it comes to crafting in my house. I love keeping them on hand because you can pretty much create anything imaginable with them, just like paper plates. These colorful paper bag halloween crafts we are sharing with you today are simple for kids to create and make such adorable decorations for Halloween.
Watch our full tutorial video near the bottom of this post to see how to make each of these cute Halloween craft for kids.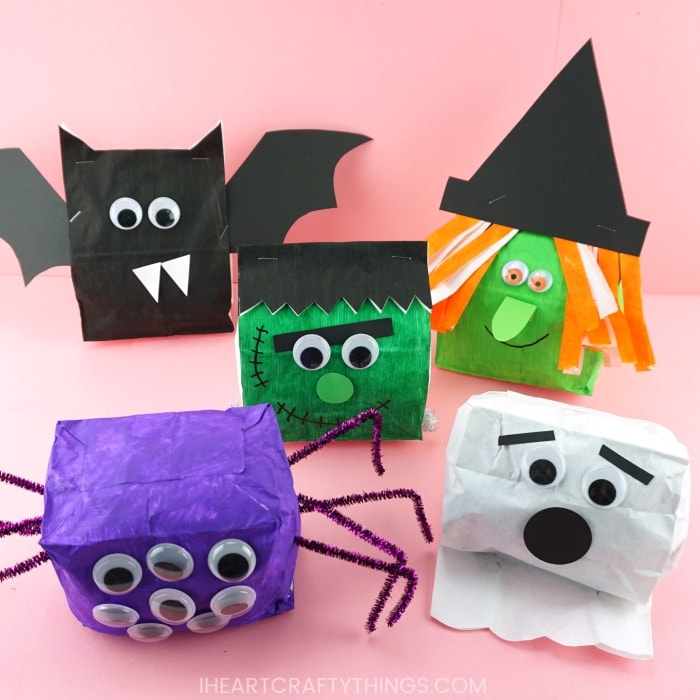 Easy Paper Bag Halloween Crafts for Kids
Spiders and witches and bats, oh my! Whether you have a favorite Halloween character you want to make from a paper bag, or if you want to make a collection of all five spooky characters, these cool paper bag crafts are sure to keeps kids busy and happy.
The best part, you probably already have most, if not all, of the materials you need to make these crafts already on hand. Each Halloween craft uses simple craft supplies like paint, construction paper, and googly eyes. They are also all stuffed with newspaper strips making them a great recycle craft.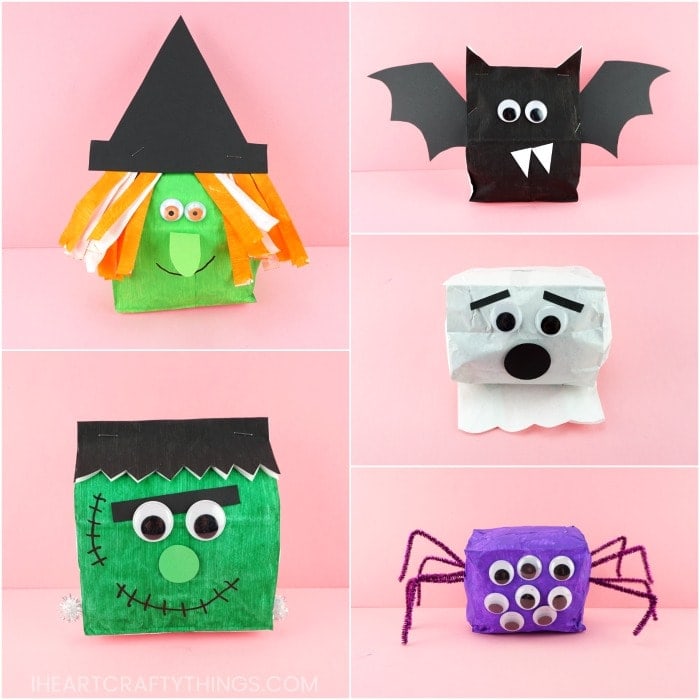 Paper Bag Spider Craft
The 3D effect achieved in these stuffed paper bag spiders makes them an awesome spooky decoration to place on a shelf for Halloween. You can also attach a white string to the top of the spiders and hang them down from the ceiling for extra spookiness.
We used sparkly pipe cleaners for legs to give the spiders bright colors. Try mixing different sized googly eyes together on your spider craft for added fun!
This fun paper bag technique could also be used to make a Jack o Lantern craft. Glue a brown paper stem at the top and glue on shapes for a Jack o Lantern face.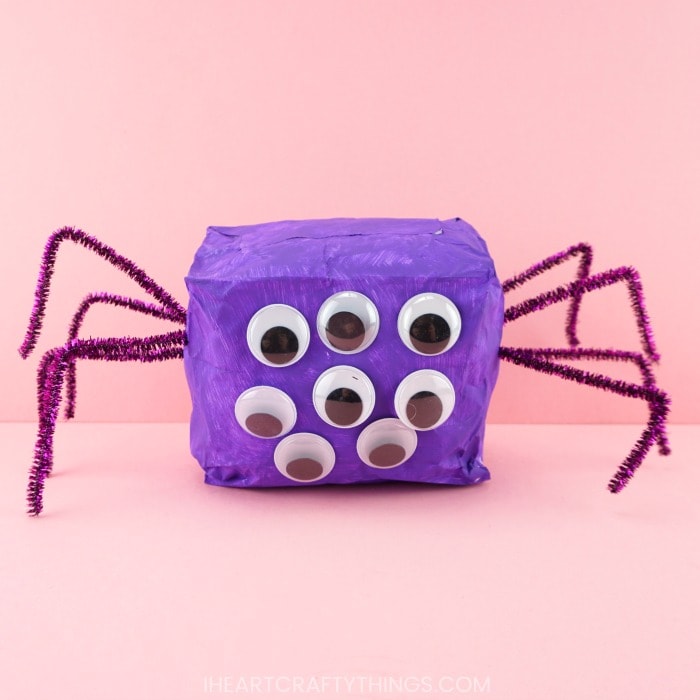 Paper Bag Witch Craft
This silly paper bag witch might be my favorite of all of our Halloween characters. Her not so spooky looks makes her a great Halloween preschool craft. Our free witch hat template makes prep time for the craft extra simple too!
Waiting for the paint on the lunch bag to dry completely might take a bit of time, but the end result is absolutely darling and worth the wait.
Make sure to combine this cute witch craft with a favorite Halloween book for little ones. Some of our favorites are Room on the Broom by Julia Donaldson and Big Pumpkin by Erica Silverman.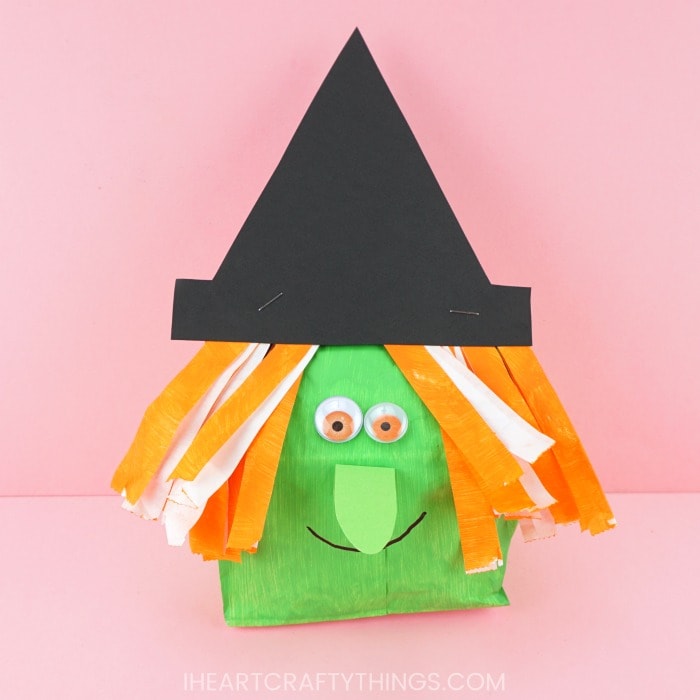 Paper Bag Bat Craft
Kids will love creating this simple paper bag bat craft! This cute Halloween craft is super simple for kids of all ages to make. Especially with our free bat wings template!
Try making these bats in a classroom and hang them from the ceiling for some spooky Halloween decor.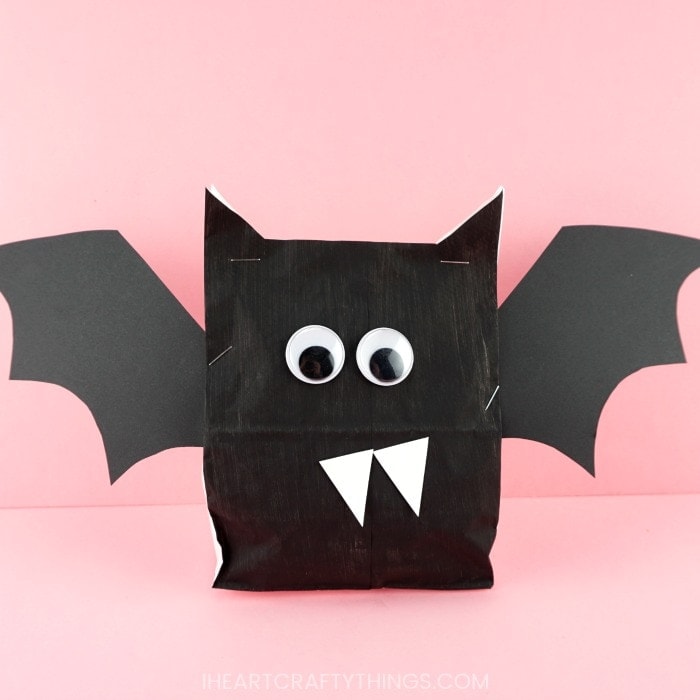 Paper Bag Frankenstein Craft
Frankenstein is an iconic Halloween character and he is surprisingly simple to create out of a paper bag. Kids will have a blast decorating the face of their Frankenstein, making each child's character truly unique.
Tip: Use Glue Dots to adhere the sparkly silver pom-poms to the side of the paper bag so you don't have to wait for drying time.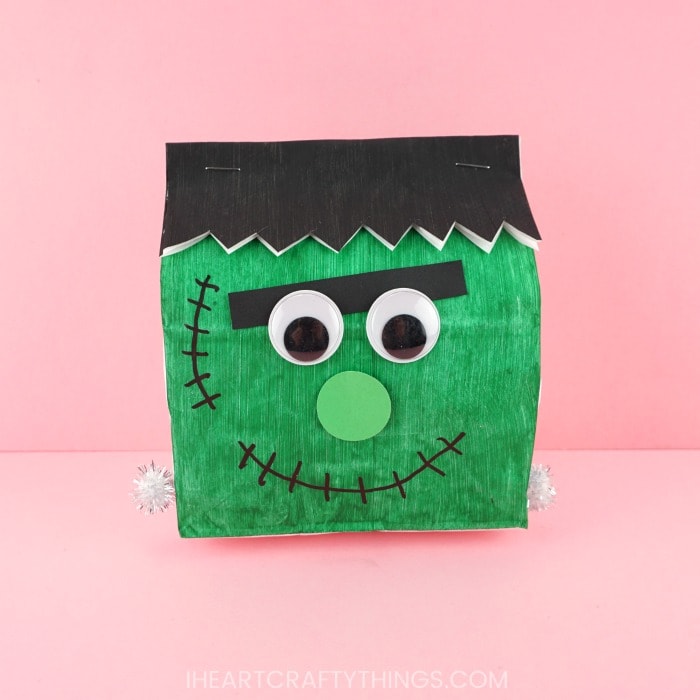 Paper Bag Ghost Craft
These paper bag ghosts are the easiest of the bunch to create since there is no painting involved in the craft at all. Simply stuff the bag with newspaper and staple it closed. Then cut wavy lines along the bottom of the paper bag. Cut out shapes to give your ghost some silly facial expressions and your craft is complete.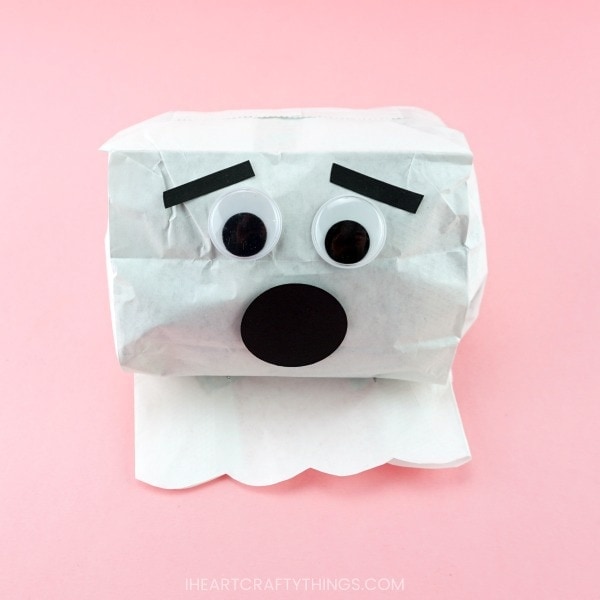 Video Tutorial: How to Make Halloween Character Paper Bag Crafts
Watch the video below for a step by step guide on how to make each of these Halloween paper bag crafts.
Find more fun and easy fall arts and crafts ideas by browsing the categories at the top menu bar of our website.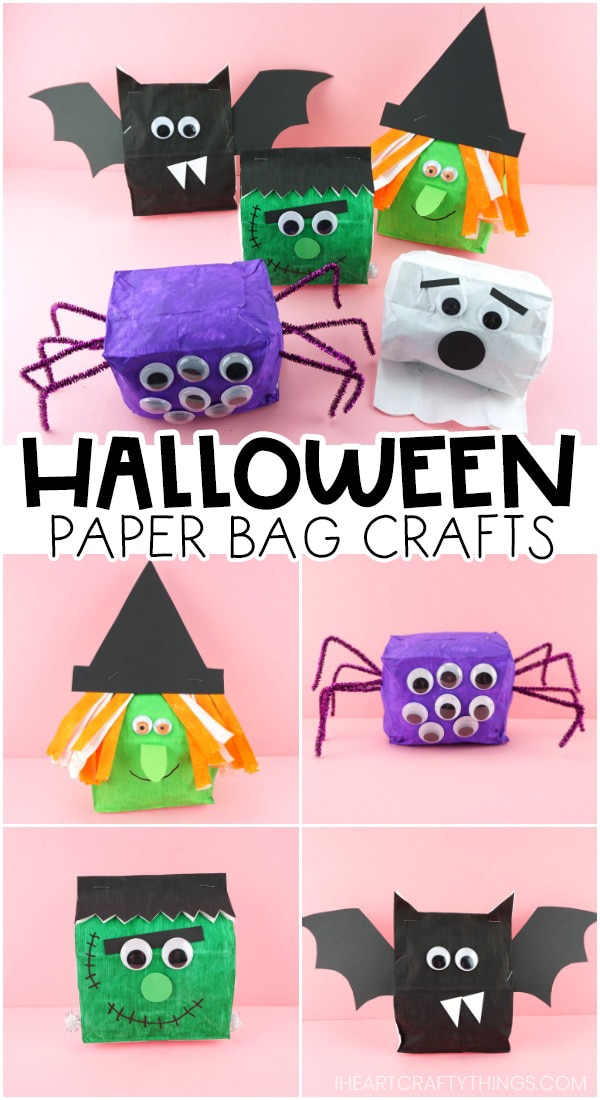 More Halloween Kid Crafts
Want even more paper bag fun? These paper bag monster puppets are another fun Halloween craft for kids.
Get some fine motor work in by creating this yarn wrapped mummy craft. Our free mummy template makes the craft super simple to prep for.
These Jack O' Lantern treat bags from Crafts by Amanda are another fun paper bag craft for Halloween. They would be a great craft to make at a Halloween party.
Looking for more amazing fall arts and crafts ideas? You'll love our resource of over 125 amazing fall crafts for kids. Find pumpkins, fall trees, paper crafts, woodland animals, Halloween and Thanksgiving crafts and more.