Sometimes you just need a quick and simple craft to do with your kids that doesn't require a whole lot of prep. If you are looking for that type of craft for Halloween, this paper bag ghost craft is perfect. It's seriously the simplest Halloween craft ever!
The craft doesn't require any painting either so clean up is a breeze. You can have it sit up on a shelf for some good ol' spooky Halloween fun or tape a string to the top of it and hang it from the ceiling so it looks like it's floating in the air.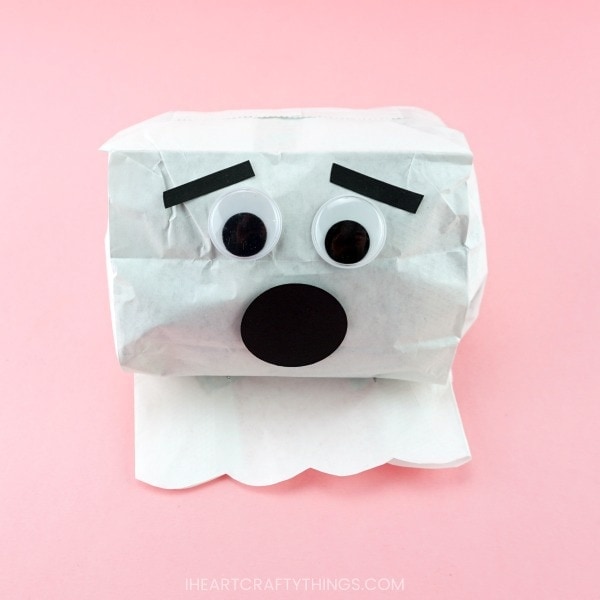 [This craft was originally published on September 21, 2016 and has since been updated to include updated photos, instructions and a video tutorial. ]
If you love paper bag crafts, make sure to check out our growing collection of Halloween paper bag crafts. We have a collection of characters like a witch, Frankenstein, a bat and spiders.
How to Make a Simple Paper Bag Ghost Craft
This post contains affiliate links to the products mentioned. Read our disclosure policy for more information.
Supplies needed for Paper Bag Ghost
black cardstock or construction paper
googly eyes
newspaper
glue stick
stapler
scissors
Instructions for making Halloween Ghost Craft
Step 1: Open up your white paper lunch bag. Cut out strips of newspaper, crinkle them up and stuff them into the bottom of your white bag. Stuff your bag about one-third full. Then use your stapler to put a few staples onto your bag so the newspaper doesn't fall out. We put a staple on both sides.
Step 2: Use your scissors to cut a scalloped line across the bottom of the paper bag to create the ghost body. Make a cut on both sides of your paper bag along the body of the ghost. Then separate the front and back of the bag, opening them up to help your ghost sit up on a flat surface.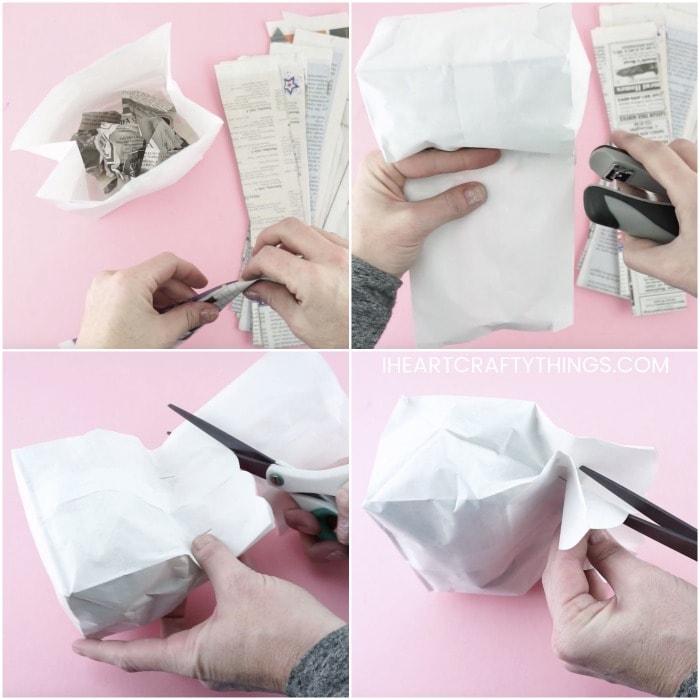 Step 3: Cut out a ghost mouth and eyebrows from your black cardstock or construction paper.
Step 4: Glue your googly eyes, mouth and eyebrows onto your bag with your glue stick. You could also use glue dots for a quick adhesion.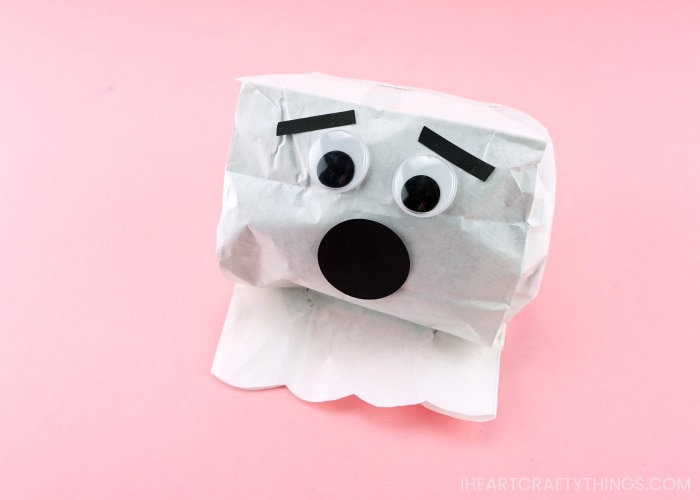 Your paper bag ghost craft is complete
Easy, peasy right?! Preschoolers will benefit from this simple craft by the scissor practice with cutting up strips of newspaper and along the body of the ghost. The crinkling of the newspaper is also great for strengthening fine motor muscles in the hands.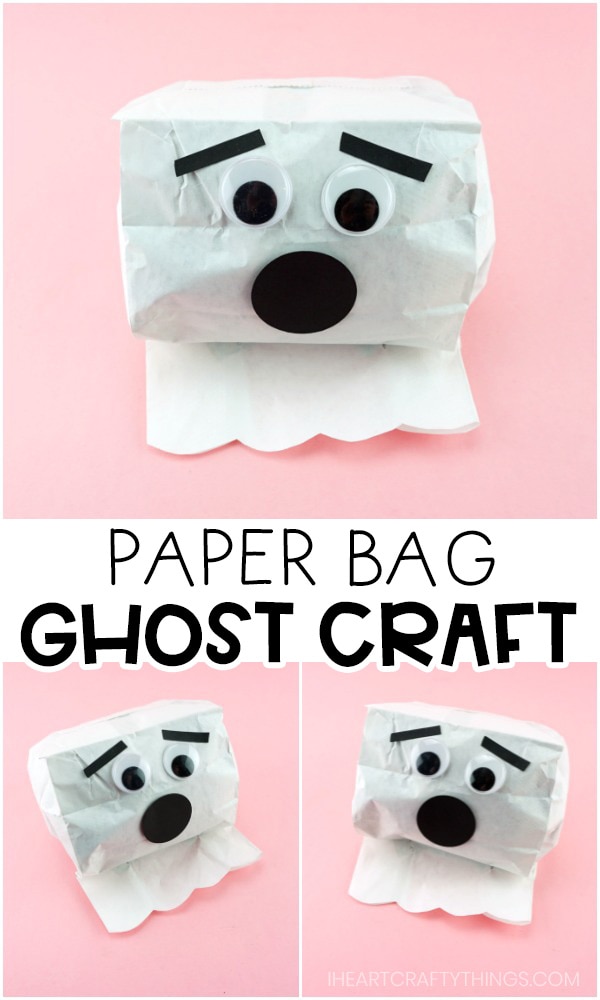 VIDEO TUTORIAL: HOW TO MAKE HALLOWEEN CHARACTER PAPER BAG CRAFTS
Watch the video below for a step by step guide on how to make each of these Halloween paper bag crafts.
Find more fun and easy fall arts and crafts ideas by browsing the categories at the top menu bar of our website.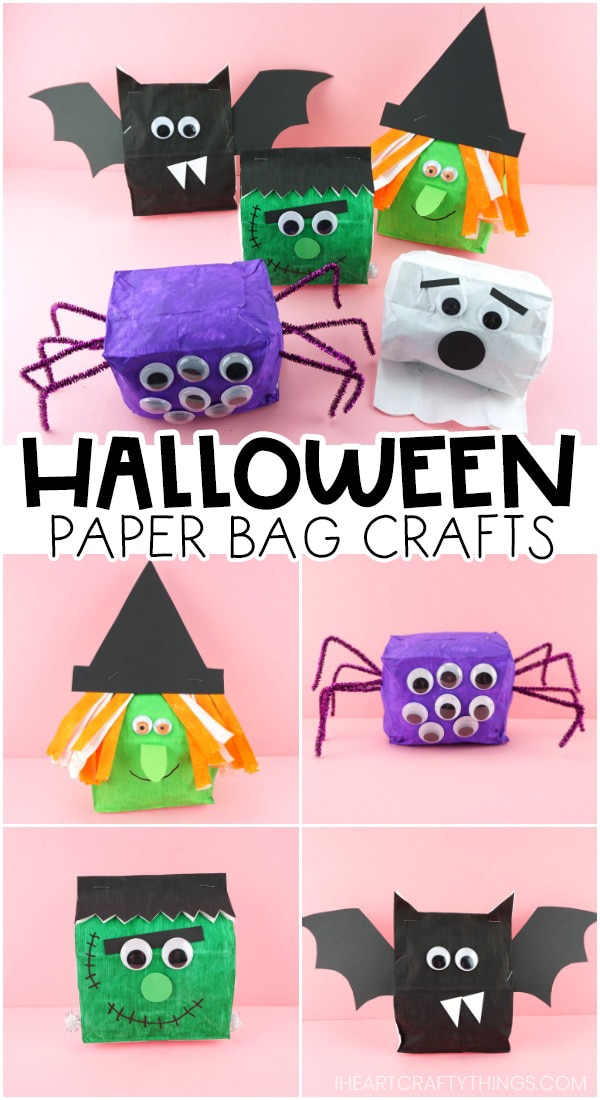 Looking for more amazing fall arts and crafts ideas? You'll love our resource of over 125 amazing fall crafts for kids. Find pumpkins, fall trees, paper crafts, woodland animals, Halloween and Thanksgiving crafts and more.