We are gearing up for our annual trip to the Pumpkin Patch and I thought what better way to get excited than with a fun craft! We used our knuckle prints to make pumpkins and created this adorable Pumpkin Patch Art Project. My kids' artwork turned out so cute! If you are like us and enjoy a trip to the pumpkin patch every October, your kids are going to love making this gorgeous pumpkin patch art project.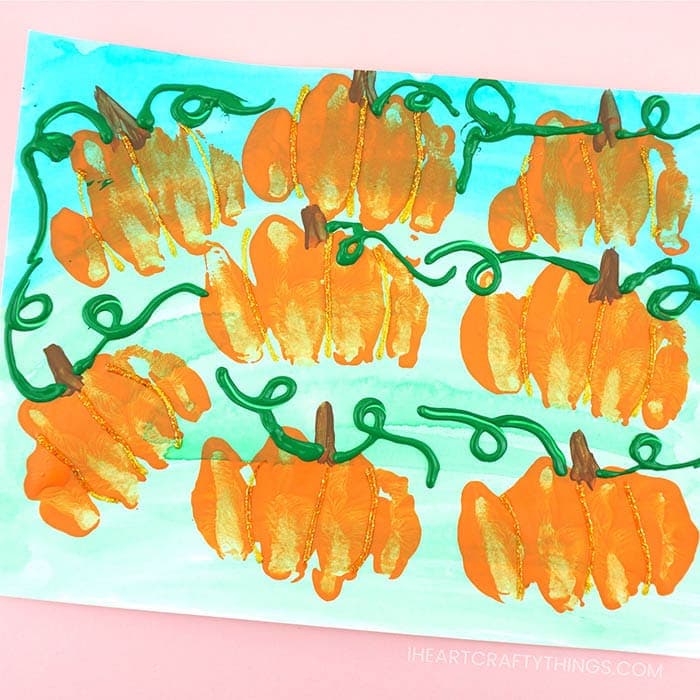 [This craft was originally published on September 21, 2012 and has since been updated to include a few more instructions and some additional photos.]
How to Make a Pumpkin Patch Art Project
This post contains affiliate links to the products mentioned. I Heart Crafty Things is a participant in the Amazon Services LLC Associates Program, an affiliate advertising program designed to provide a means for sites to earn advertising fees by advertising and linking to amazon.com.
Supplies needed for this Fall Art Project:
Instructions for making this Pumpkin Art Project:
1. To make our pumpkin patch craft we started by using liquid watercolors (watered down a bit) to paint a large hill with sky on top. To help my children, I used a light pencil marking to draw the hill before the kids painted. Set the paper aside for the watercolors to dry completely.
2. After the watercolors are dry, place some orange paint onto a paper plate. Have the children make a fist with their hand. Dip the fist into the orange paint and then press it down onto the hill to make pumpkins. I helped my children press down their fists at first to help them get the hang of it.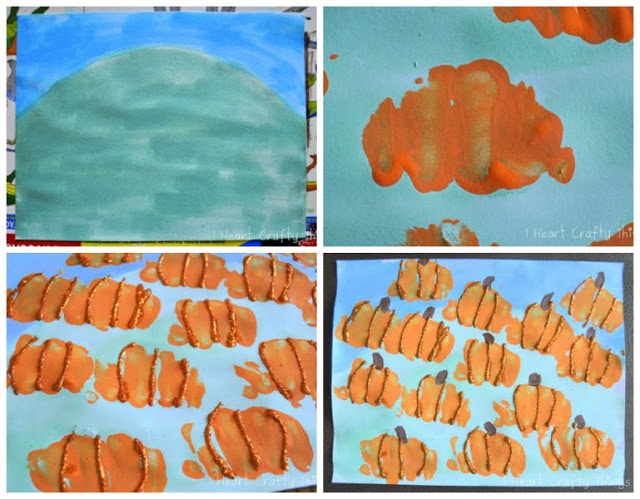 Children continue dipping their fist into the orange paint and then onto their hill to fill it with pumpkins. Set your paper aside for the paint to dry again.
3. After the pumpkins are dry, use glitter glue to draw lines in each pumpkin along the finger lines of the fist to give the pumpkins dimension. As an alternative to glitter glue, you can use school glue and orange glitter. Glitter glue is much less messy though.
4. Once the orange glitter is dry, pour a small amount of brown paint onto a paper plate. Use a paintbrush to paint pumpkin stems at the top of each of the pumpkins.
5. Now use green paint to add some curly vines to each of the pumpkins in your pumpkin patch art project. The trick to making the vines is using one of these plastic squeeze bottles. Simply fill the plastic bottle partially with green paint. The small tip helps kids be able to squeeze out the paint carefully to make some curly vines on their pumpkins.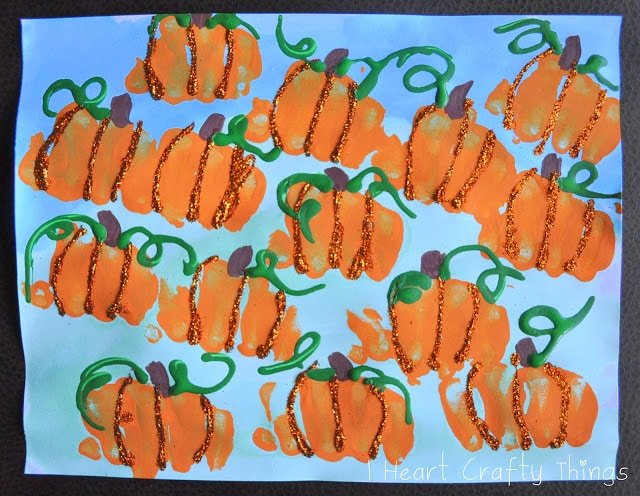 I had my kids practice on a separate sheet of paper to get used to squeezing the bottle and making some swirls before they painted on their pumpkin patch art project. Note: Any leftover paint can be squeezed right back into your green paint bottle.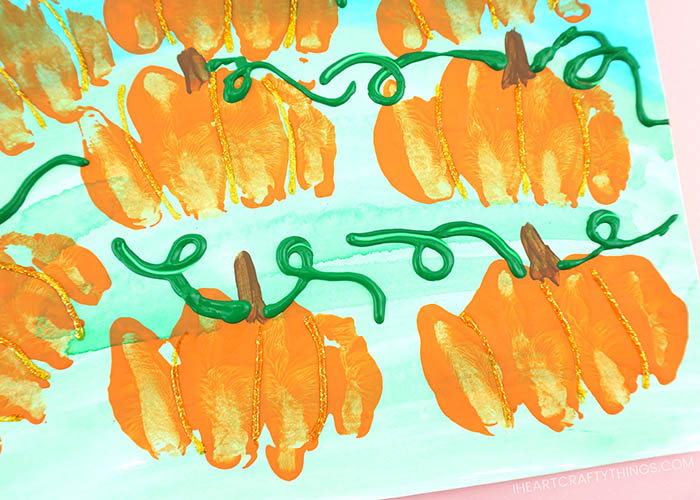 Your pumpkin patch art project is complete!
The finished project is bright and cheery and is sure to bring excitement for the fall season into your home!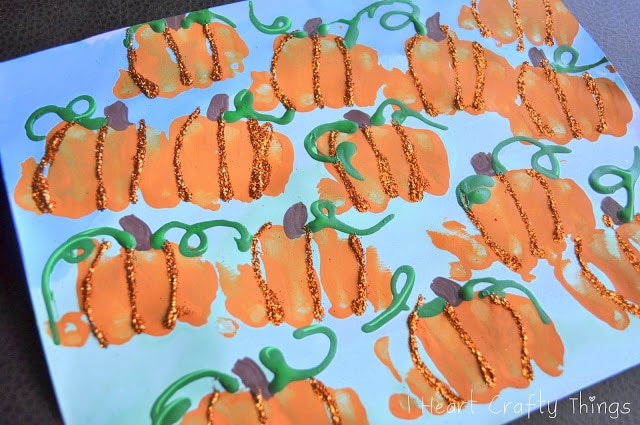 To go along with this craft we read the book Pumpkin Hill by Elizabeth Spurr. It is a story about how one lonely pumpkin grew plumper and plumper and over time seeds from that pumpkin grew into a huge army of roly-poly pumpkins. A mighty wind sets those pumpkins plummeting downhill and they wake up a sleepy valley town with a delightful rumbling, tumbling surprise.
Video Tutorial: How to Make a Knuckle Printed Pumpkin Patch
Watch the video below for a step by step guide on how to make this fun dinosaur craft with our handy templates we shared above.
Find more fun and easy fall craft ideas for kids by browsing the categories at the top menu bar of our website.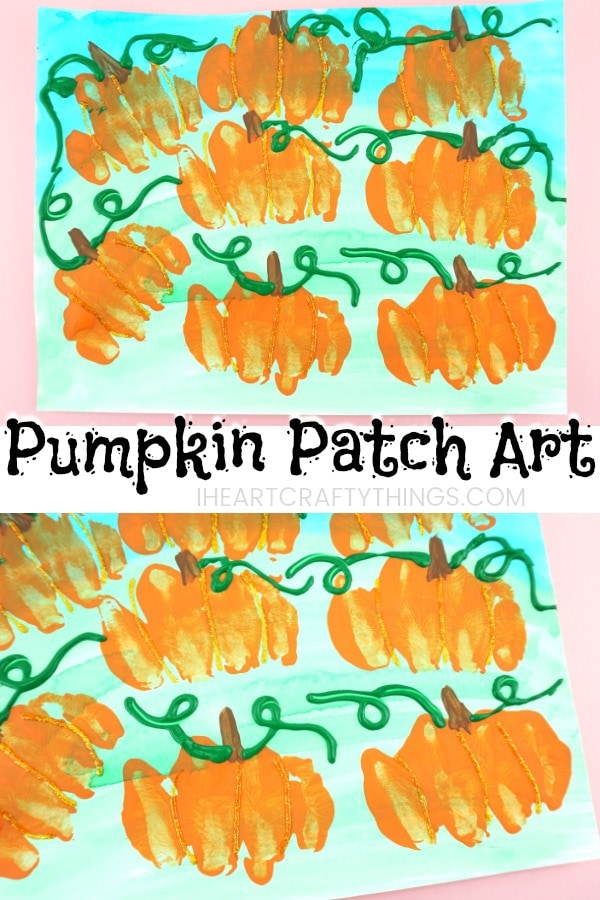 Looking for more fun Fall Arts and Crafts Ideas:
Celebrate the changing colors of the fall season by making this beautiful fall tree paper craft. The leaves popping off the page give this craft an awesome 3D effect.
Practice beginning sewing skills my making this plastid lid pumpkin sewing craft. It is another great project to make after visiting the pumpkin patch this fall with your family.
Have you ever tried the art technique of combining black glue with watercolors? Here are 7 gorgeous Black Glue Art Projects perfect for the fall season.