This yarn wrapped mummy craft is perfect for little ones to work on strengthening those fine motor muscles in their fingers and hands and it is also makes an awesome Halloween craft for kids of all ages. Try hanging several of them up together on a string to make a spooky border for Halloween decor too. One thing is certain, kids will love making this yarn wrapped mummy craft!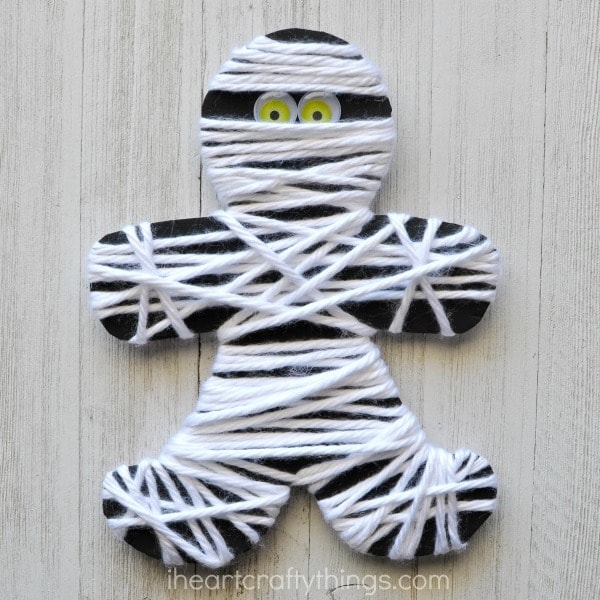 [This craft was originally posted on September 19, 2016 and has been updated.]
How to Make a Yarn Wrapped Mummy Craft
This post contains affiliate links to the products mentioned. I Heart Crafty Things is a participant in the Amazon Services LLC Associates Program, an affiliate advertising program designed to provide a means for sites to earn advertising fees by advertising and linking to amazon.com.
Supplies:
Mummy template <—– Get the template HERE
cardboard
paintbrush
googly eyes (We got these fun Halloween eyes at Michael's.)
scissors
tape
Directions:
1. Start by downloading and printing out our mummy template. We have included a full paper size mummy and a half paper size mummy for you to choose from. Trace the template on a piece of cardboard and cut it out.
Love arts and drawing? Learn how to draw a hand!
2. Paint the front of your cardboard with your black paint. Let it dry completely.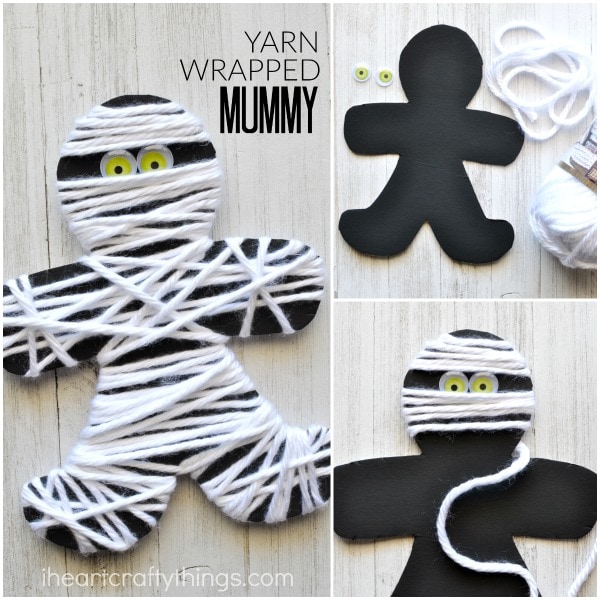 3. Use Glue Dots or tacky glue to glue on your googly eyes. I recommend Glue Dots if you have them because you don't have to wait for drying time and they make such a good hold on the cardboard for when you wrap your mummy. As an alternative you can glue the googly eyes on your mummy after you are finishing wrapping it with yarn.
4. When your cardboard person is dry, cut small slits all along the shape to help with the wrapping. Tape the end of your white yarn to the back of the cardboard (at the top) and begin wrapping the yarn around the face of the mummy, leaving a space open for the eyes. Continue wrapping the mummy all the way down and wrap each of the legs. When you are finished wrapping your mummy craft, tape the end of the yarn onto the back of the mummy.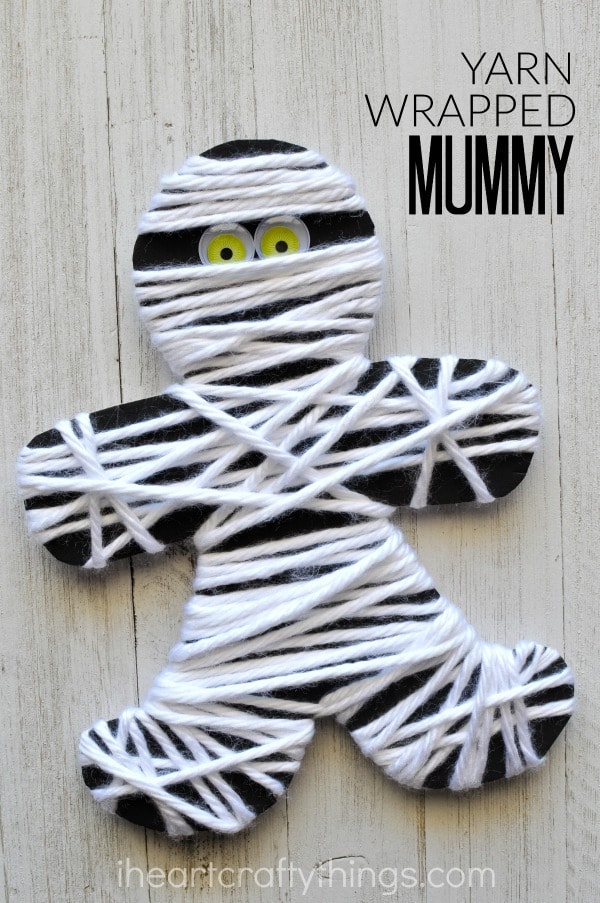 When my daughter wrapped her mummy, I just had her use the whole roll of yarn and then she cut it off when she was finished. If you are doing this with a classroom, I definitely recommend cutting off a large section of yarn.
More Halloween Activities for Kids:
This plastic lid pumpkin sewing craft is a fun way to recycle plastic lids and is a great beginning sewing craft.
Create some stamps out of potatoes and use them to making this Spooky Potato Stamped Craft.
Here are more fun yarn wrapping Halloween crafts from our friend at The Pinterested Parent.