This yarn wrapped mummy craft is perfect for little ones to work on strengthening those fine motor muscles in their fingers and hands and it is also makes an awesome Halloween craft for kids of all ages. Try hanging several of them up together on a string to make a spooky border for Halloween decor too. One thing is certain, kids will love making this yarn wrapped mummy craft!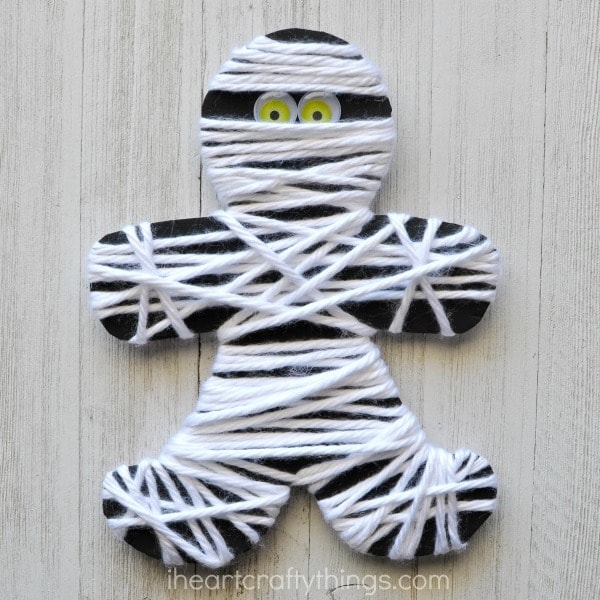 This post contains affiliate links to the products mentioned. Read our disclosure policy for more information.
How to Make a Yarn Wrapped Mummy Craft

Supplies:
– cardboard
– black paint
– paintbrush
– white yarn
– googly eyes (We got these fun Halloween eyes at Michael's.)
– scissors
– Glue Dots or Tacky Glue
– tape
Directions:
1. Start by cutting out the shape of gingerbread man from your cardboard. It doesn't have to exactly be a gingerbread man shape but I thought the plainness of the shape would be perfect for a mummy.
2. Paint your cardboard person with your black paint. Let it dry completely.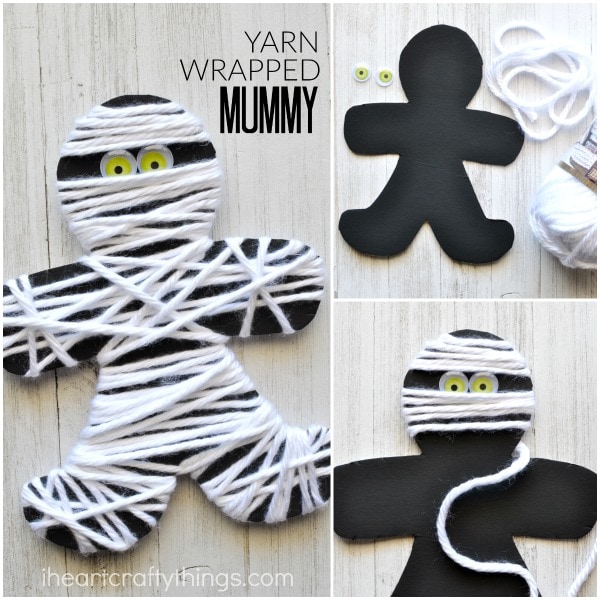 3. Use Glue Dots or tacky glue to glue on your googly eyes. I recommend Glue Dots if you have them because you don't have to wait for drying time and they make such a good hold on the cardboard for when you wrap your mummy.
4. When your cardboard person is dry, cut small slits all along the shape to help with the wrapping. Tape the end of your white yarn to the back of the cardboard (at the top) and begin wrapping the yarn around the face of the mummy, leaving a space open for the eyes. Continue wrapping the mummy all the way down and wrap each of the legs. When you are finished wrapping your mummy craft, tape the end of the yarn onto the back of the mummy.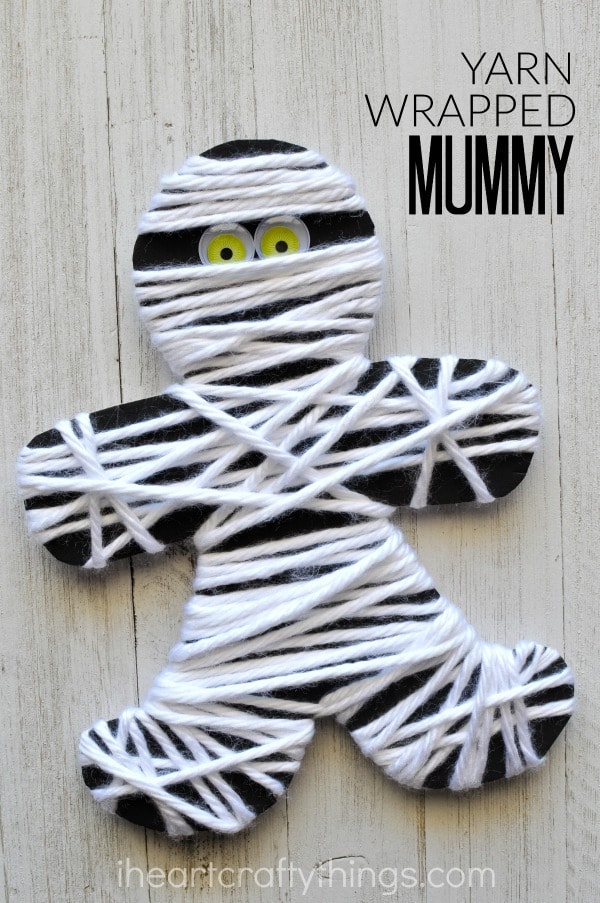 When my daughter wrapped her mummy, I just had her use the whole roll of yarn and then she cut it off when she was finished. If you are doing this with a classroom, I definitely recommend cutting off a large section of yarn.
Try coupling this craft with our favorite Halloween book, Big Pumpkin by Erica Silverman.
More Halloween Yarn Wrapping Activities:
Halloween Yarn Wrap Activity | The Pinterested Parent