We recently got up close and personal with a peacock at our local Aviary. It was such a fun experience for my kids and prompted us that it was time to make another fun peacock craft.
We've made so many pretty peacocks over the years with lots of different materials… CD's, paper bags, paper plates and more. Today we are using a new material, a pinecone, and I adore how our pretty peacocks turned out.
This pinecone peacock craft is great for any time of the year, especially after learning about birds or visiting your local zoo or aviary.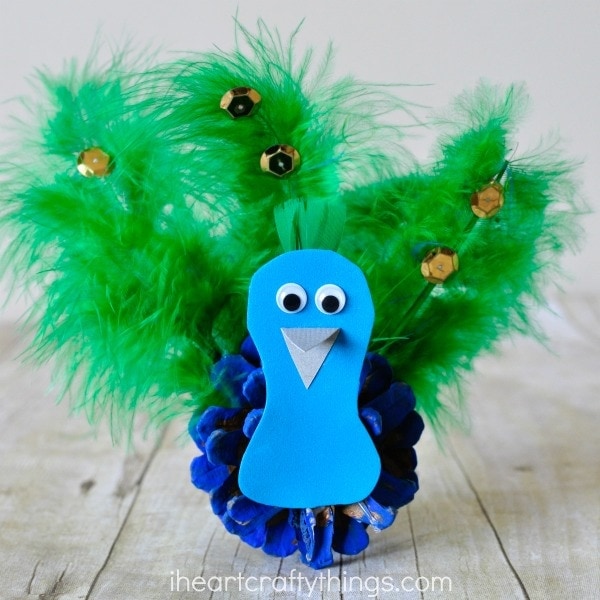 This post contains affiliate links to the products mentioned. Read our disclosure policy for more information.
How to Make a Pinecone Peacock Craft

Supplies Needed to Make this Peacock Pinecone Craft
– pinecone
– blue paint
– blue craft foam sheet
– green feathers
– gold sequins
– googly eyes
– gray cardstock paper
– paintbrush
– hot glue gun
– scissors
Directions for this Peacock Craft
1. Start by painting your pinecone with your blue paint. Set it aside to dry completely.
2. While your paint is drying, cut out a peacock neck and head from your blue craft felt sheet. Glue two small googly eyes onto it and a beak cut out of your gray cardstock paper. We also glued a small piece of green feather to the back of the head.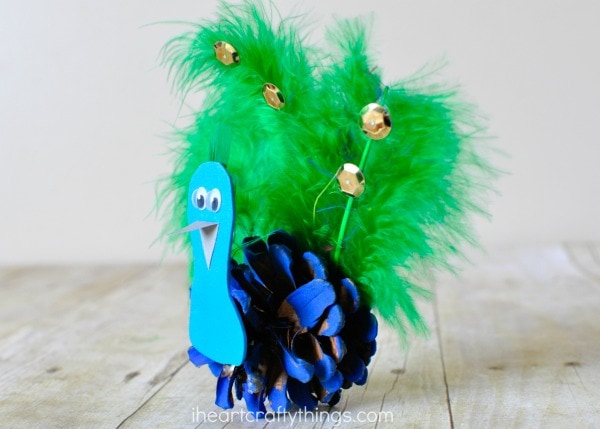 3. Also glue gold sequins onto your green feathers. Plan on using 3-5 feathers for your peacock depending on the suze of them.
4. When your pinecone is dry, use your hot glue gun to glue your head onto the top of your pinecone. Then add hot glue down into the crack of your pinecone towards the back and place a green feather into it. Do the same with the rest of your feathers, gluing them in a line along the pinecone.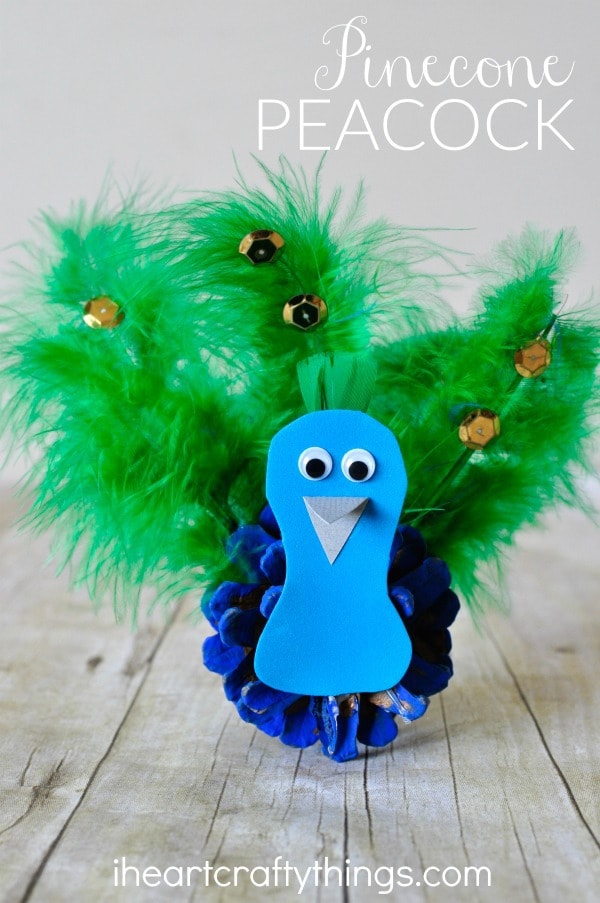 Looking for a fun book to go along with this craft? You must try out Three Hens and a Peacock by Lester Laminack. It is one of our favorites!