Are you sick of paper plates yet?? I can't seem to create something without using them lately. The inspiration for this fun toucan craft came from Chalk Talk. I saw how they used a paper plate for a beak and it was an instant winner for me!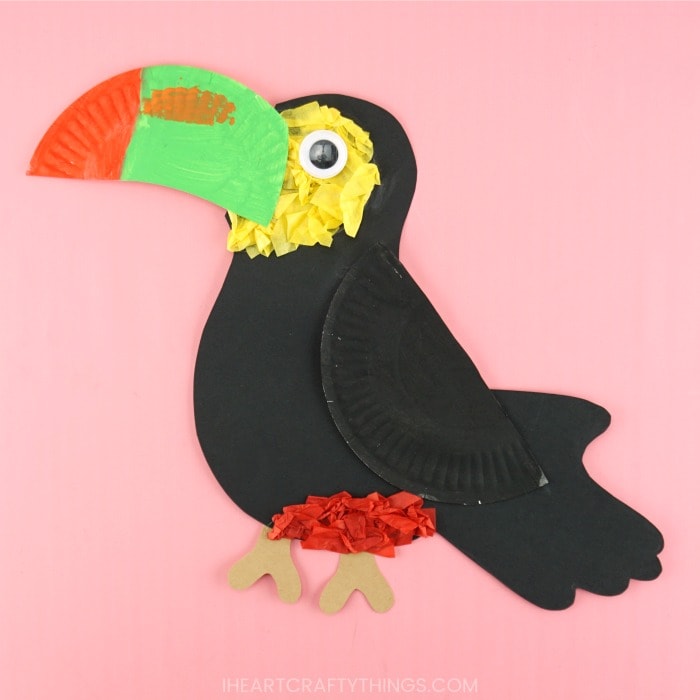 My family recently took a trip to our local bird aviary. My son was delighted to see a Toucan and told me it was his most favorite bird he saw while at the aviary. That definitely warrants a craft don't you think?
[This craft project was originally posted on May 4, 2012. It has been updated with a digitized craft template, video tutorial and updated photos.]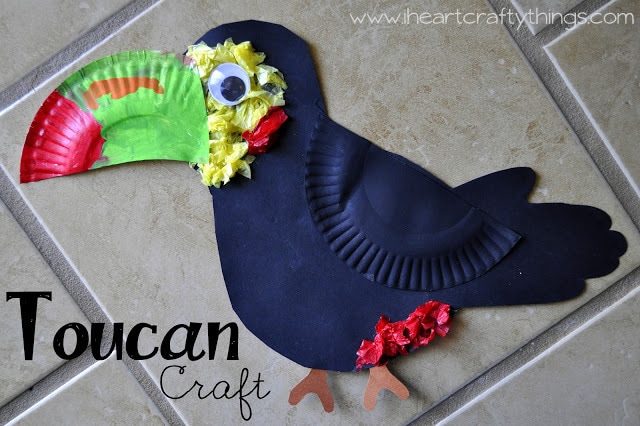 How to Make a Toucan Craft
Whether you're looking for a fun preschool craft to add to your bird or rain forest theme or you're looking for some fun, new summer activities for kids, this toucan craft is perfect!
Read our easy how-to instructions below for how to make your own toucan. Make sure to watch our craft tutorial video inside this post before you get started too.
Materials you need to make this bird craft
Toucan Pattern Template <—– Get the Template Here
2 sheets Black Cardstock Paper
quarter sheet of brown cardstock paper
small paper plate
red and yellow tissue paper
red, green, orange paint (or whatever colors you want to paint the beak)
black paint
paintbrushes
large googly eye
school glue or glue stick
white crayon or pencil
scissors
Instructions for making your own Toucan
1. Cut your small paper plate in half. Cut the end of one of the half's off and give it a little bit of a curved shape at the bottom to form the beak. Here's a close-up of the beak pictured below so you see what I mean.
2. Paint the full half section of the paper plate black. This section will be used for the wings of the Toucan. Paint the beak section with the colors of your choice. We modeled our beak after the Toucan we saw at the Aviary, so my son used red, light green and orange in his beak. Let the pieces dry completely.
3. Next cut out your Toucan body and feet. I have made my template available for you on Google Drive: Toucan Template. I traced the body template onto a black piece of cardstock paper for my son to cut out and I cut out the two feet on brown cardstock paper.
4. For the tail feathers, trace your child's closed hand on a piece of black cardstock paper and cut it out, then have your child glue it onto his Toucan body.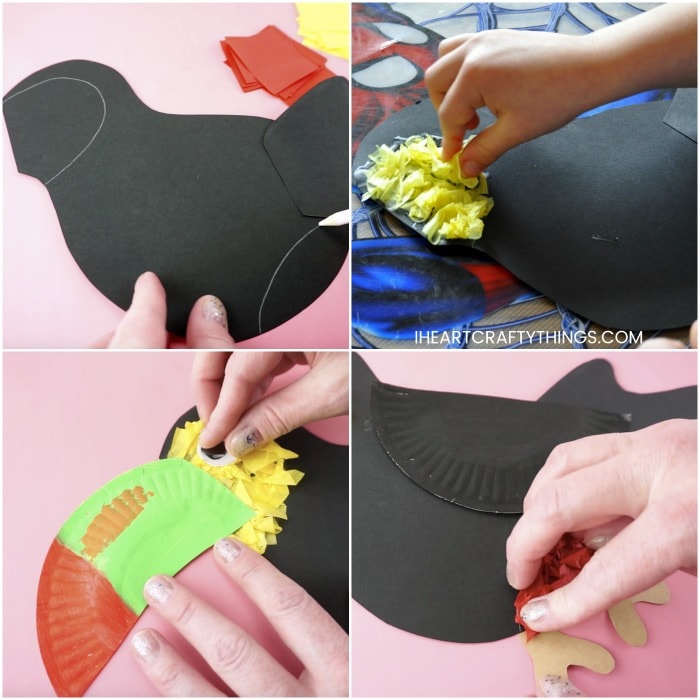 5. To replicate the yellow and red feathers on the Toucan face and underbelly, I outlined the areas with white crayon, then my son glued yellow and red crumpled tissue paper in those areas.
6. To finish the Toucan, glue on the feet, a large wiggly eye, the black wing and the colorful beak.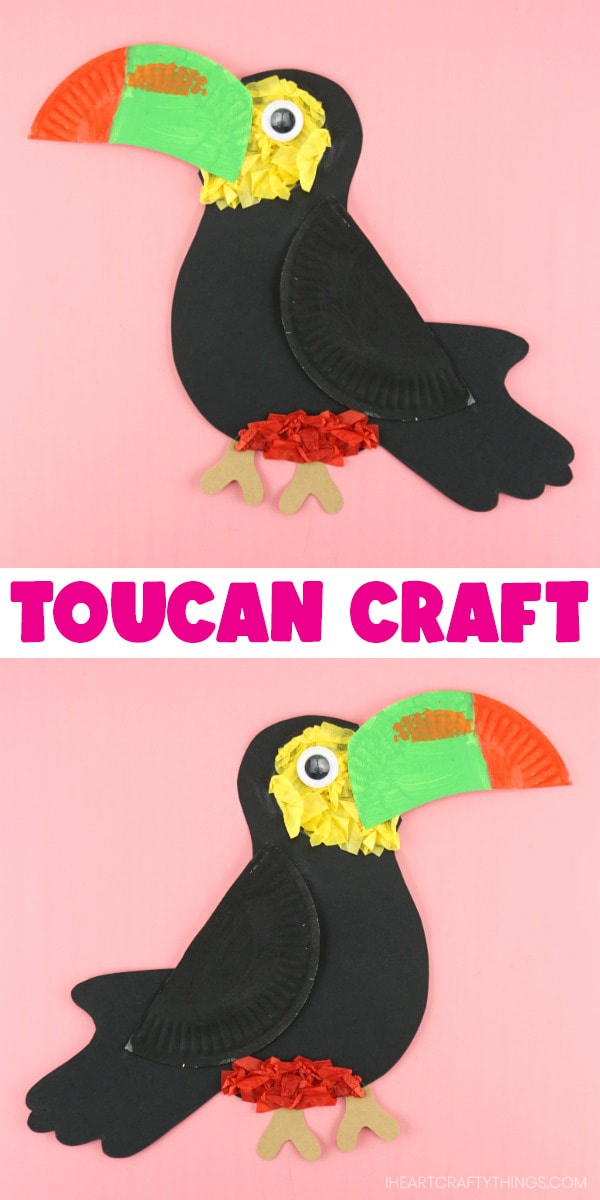 More Fun Preschool Bird Crafts
Spring is a great time of year for teaching kids all about birds. This pop up bird craft is a fun interactive craft for kids to explore how a bird hatches from an egg.
This darling fluffy owl babies craft is so much fun for kids to create and it goes with a popular children's book too!
Birds sitting on a wire against a sunset sky is the inspiration behind this gorgeous bird art project. It's stunning and so easy for kids to create.
Want to see our full collection of preschool birds? Check out our post with over 75 awesome bird crafts for preschoolers.