We have an entire category dedicated to birds on our website so it's obvious I love them! Owls are my absolute favorite but peacocks are a very close second.
This paper plate peacock craft was inspired by a fun turkey craft we made last fall and it might be one my most absolute favorite paper plate crafts we've ever made.
The pictures don't do justice to it's vibrant and gorgeous colors.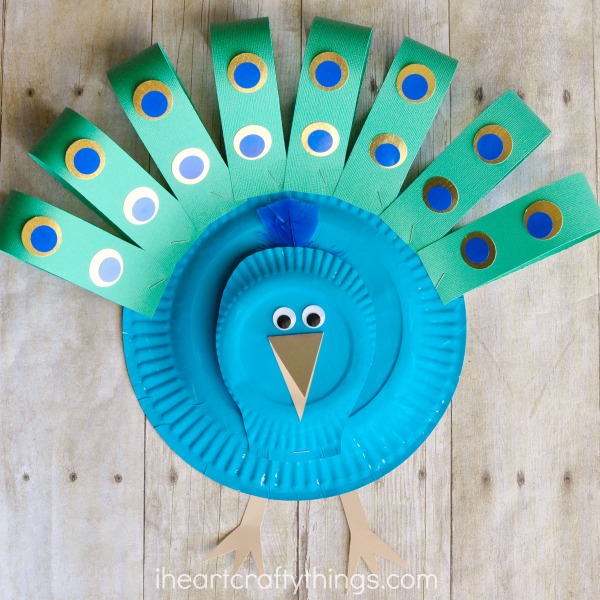 This post contains affiliate links to the products mentioned. Read our disclosure policy for more information.
How to Make a Paper Plate Peacock Craft

Supplies Needed to Make this Paper Plate Peacock
– regular size paper plate (9-inch)
– small size paper plate (6-inch)
– turquoise paint
– paintbrush
– green cardstock or construction paper
– gold and tan cardstock paper
– 1-inch circle punch (optional)
– blue ¾-inch circle stickers
– googly eyes
– blue feather
– scissors
– stapler
– glue
Try coupling this pretty peacock craft with the book Three Hens and Peacock!

Directions for this Paper Plate Peacock Craft
1. Start by trimming around your small paper plate to make your peacock head. See picture below.
2. Paint the bottom of both of your paper plates with your turquoise paint. Set them aside to dry completely.
3. While your paper plates are drying you'll need to cut out several things. First, cut out long strips of your green cardstock paper about 1-1/2 inches wide. To give you an idea, we used 8 strips. You will also need to cut out a triangle beak and feet from your tan cardstock paper. Lastly, cut out a handful of gold circles to decorate your peacock feathers. We used a 1-inch circle punch to make this simple.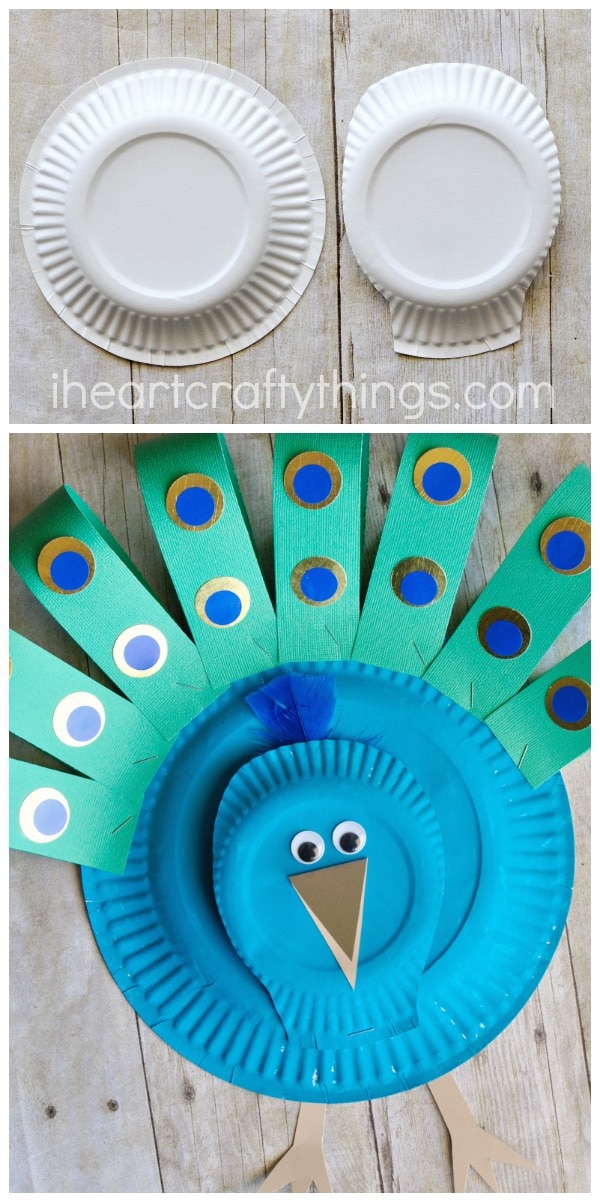 4. When your paper plates are dry, staple your smaller paper plate (peacock face) onto the larger paper plate (peacock body). Then fold your green strips end to end around the rim of your larger paper plate and staple them down to make your long peacock feathers.
5. Glue your beak, googly eyes and feet onto your peacock. Also, glue your blue feather onto the top and back of your peacock head.
6. Finish your paper plate peacock craft by decorating your green peacock feathers with your gold circles and blue stickers.