Ever since I discovered how fun it is to make crafts with cupcake liners they have been a staple in my craft closet.
We've made some darling birds in the past and today I am adding to those with this cupcake liner toucan craft. It is definitely a new favorite! It's simple to make and the brightly colored beak gives the craft such a fun pop of color.
Go grab some black and white cupcake liners and get ready for an afternoon of fun making this cute toucan craft.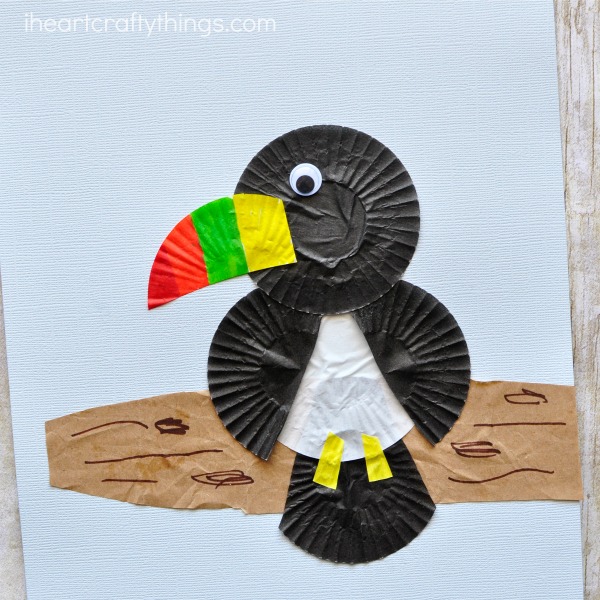 This post contains affiliate links to the products mentioned. Read our disclosure policy for more information.
How to Make a Cupcake Liner Toucan Craft

Supplies Needed for this Toucan Craft
– light blue cardstock paper
– brown paper lunch bag (or light brown paper)
– black and white cupcake liners (we used mini size because it's what we had on hand, but regular size will work too.)
– yellow cupcake liner (optional: Could easily use construction paper instead)
– googly eyes
– markers
– scissors
– glue
Directions for this Cupcake Liner Toucan Craft
1. To make your toucan craft you will need three black cupcake liners and two white cupcake liners. Flatten out all of the cupcake liners. Cut one of the black cupcake liners in half. Then cut the sides off of one of the liners for the tail feathers. (See picture below).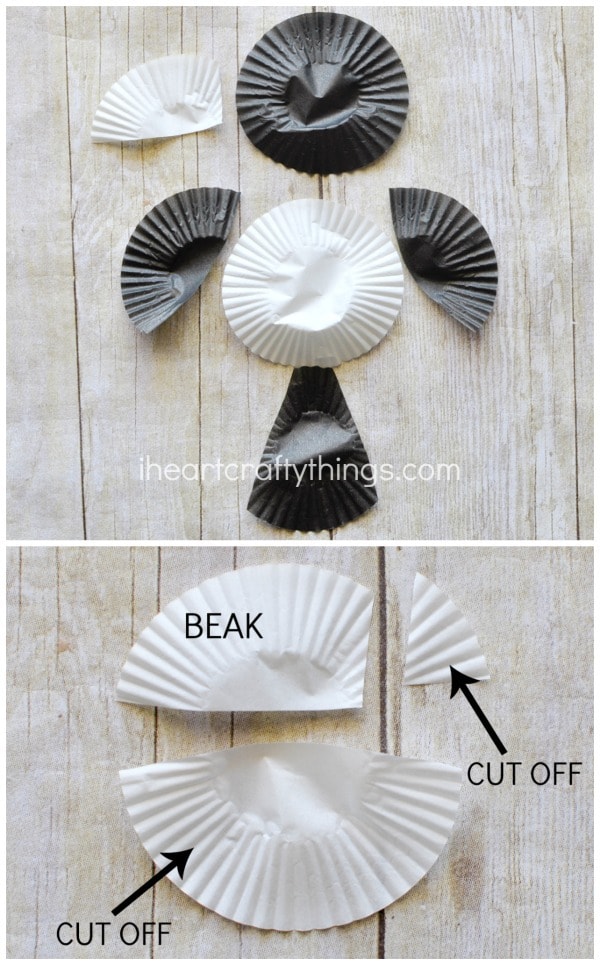 2. To make the beak, cut about 1/3 off of one of your white cupcake liners. Then cut the end off of that section to make one side flat. See picture above for reference. Use your markers to color your toucan beak.
3. Cut out a tree branch from your brown paper lunch bag and glue it onto your light blue cardstock paper. Draw wood markings onto the branch if you'd like.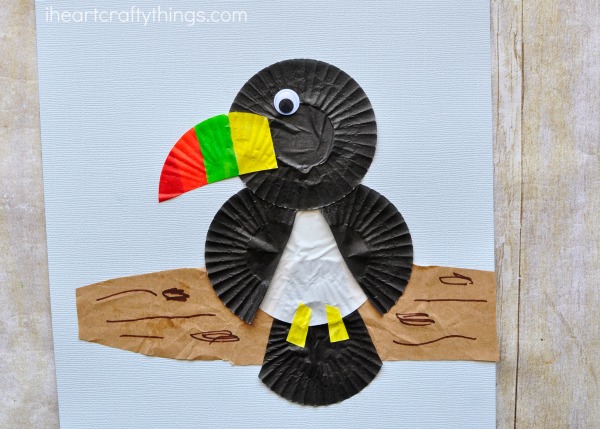 4. Now assemble your toucan. Start by gluing on the tail feathers then the white body. Next glue your two wings on and then your toucan face and beak. Cut feet out of a yellow cupcake liner (or construction paper) and glue them at the bottom of the toucan body. Finish your cupcake liner toucan craft by gluing a googly eye onto the face.