While the raven and crow are not the same animal, I think their similarities makes it so that this handprint raven craft can work well for making either type of bird. Or, maybe you can have fun making both a raven and crow craft!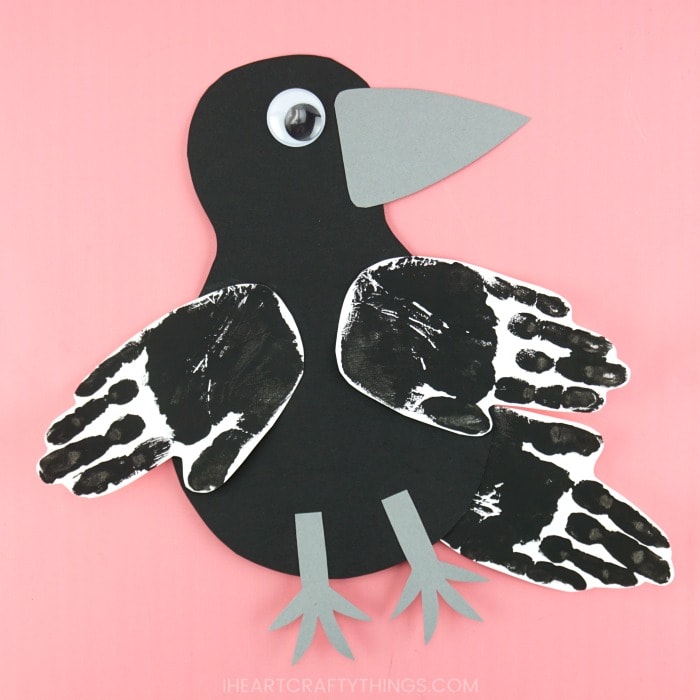 Ravens and crows are classic fall animals because they go along perfectly with a scarecrow theme and their dark black color also makes them great for a Halloween craft.
[This raven craft was originally published on August 23, 2016. It has been updated with a new video tutorial, digital template and additional instructional text and photos.]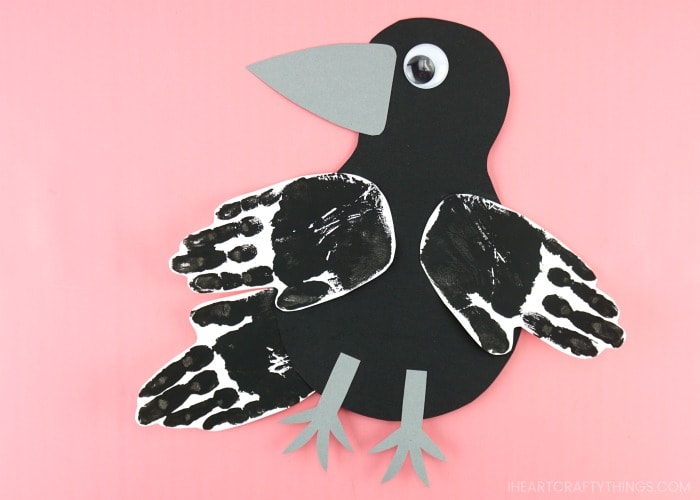 How to Make a Handprint Raven Craft
The black handprint feathers add an extra special touch to this easy bird craft. The personalized touch makes it another reason these birds would look stunning hung on display on a classroom bulletin board or art wall at home. Find a list of book recommendations at the bottom of this post to go along with this craft.
Read our easy tutorial below to learn how to make your own ravens or crows. We also have a video tutorial video inside this post you might find useful.
Supplies Needed to Make this Handprint Raven Craft
This post contains affiliate links to the products mentioned. Read our disclosure policy for more information.
Raven Craft Template <—– Get the craft pattern in our shop!
Black and gray (or yellow) cardstock paper
White cardstock paper
black paint
sponge paintbrush
googly eyes
scissors
glue

NOTE: If you are in the EU, please visit our TpT Store to purchase any of our templates.
Instructions for this Raven Handprint Art Project
1. Use your sponge paintbrush to paint your child's hands with the black paint. Press each painted palm down onto a white piece of cardstock paper to make handprints. You will need three handprints in total. Let the handprints dry completely.
Handprints can get a bit messy so be sure to keep baby wipes close by or do this by a sink.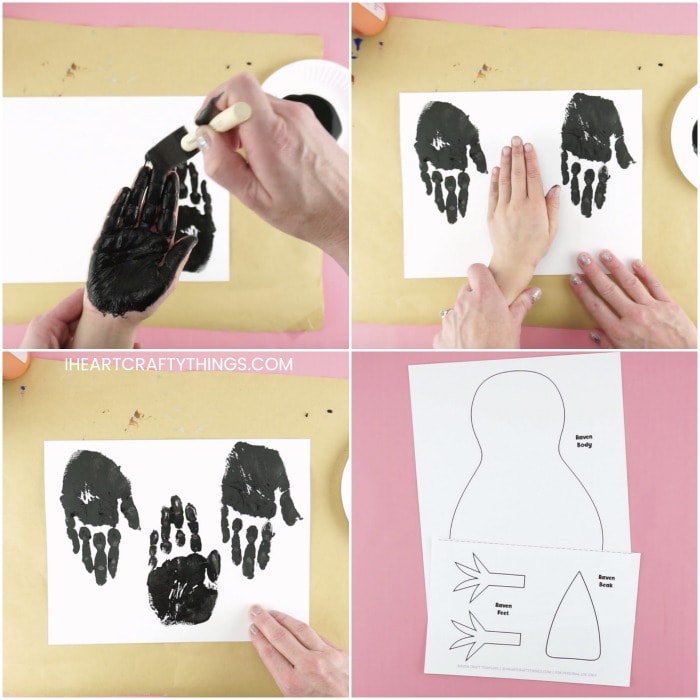 2. Next you will need to create your raven body, feet and beak. Just in case the task of creating your own pieces seems daunting, I went ahead and created a pattern in my shop you can purchase to make life easier.
Print the template on black and gray cardstock and then cut out each of the pieces from the template. (NOTE: If you printer ink will not show on black cardstock, you may need to print out the template on white paper, cut it out and trace it onto black cardstock with a pencil.)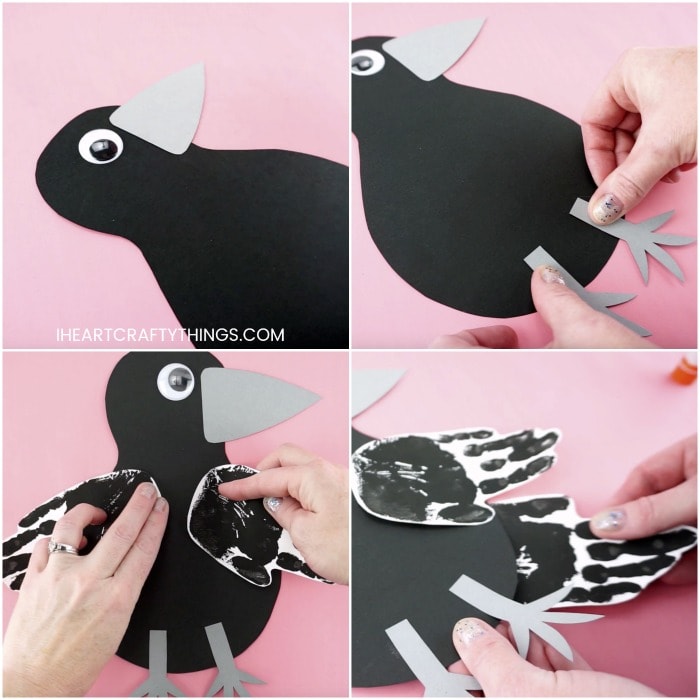 3. Glue the raven beak and legs onto the raven body. Then glue a googly eye on your raven.
4. Cut out each of the handprints once the paint has dried completely. Glue two of them on the body for wings and one at the bottom and back of the raven for tail feathers.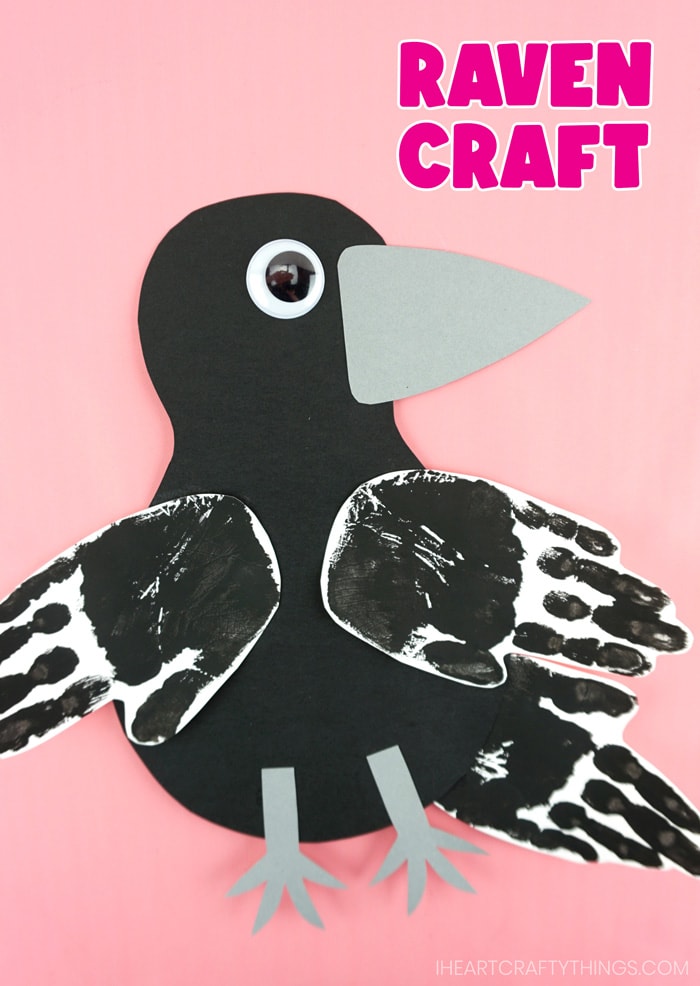 Looking for some books to go along with this craft?
We love combining crafts with books at our house. Here are few book recommendations that would go along perfectly with this craft: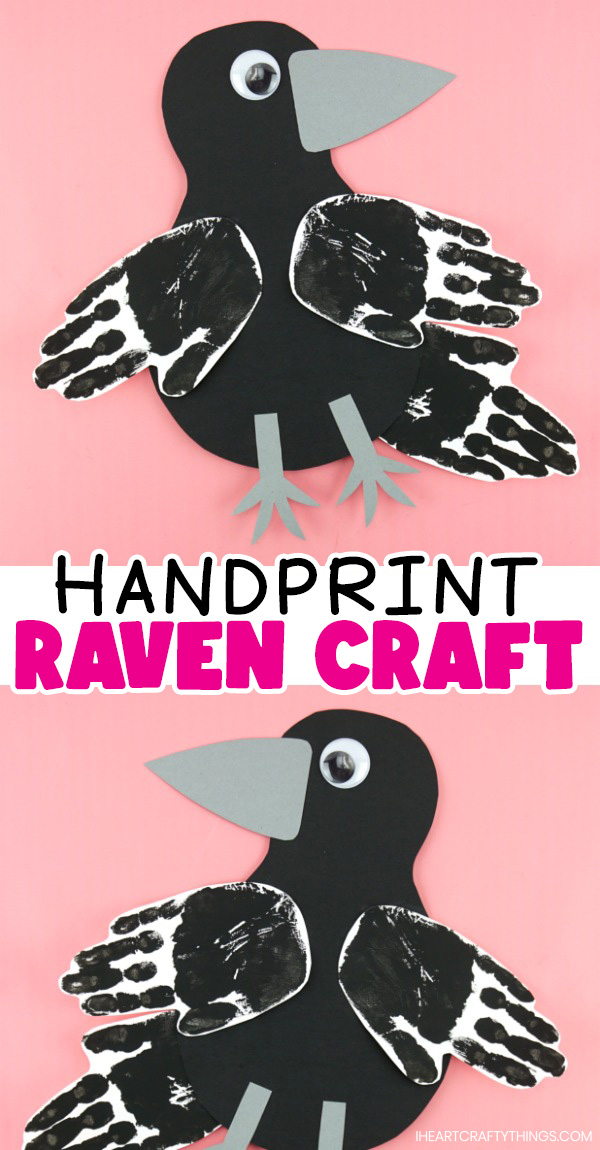 More Fun Halloween and Bird Crafts for Kids
Want more handprint bird fun? These colorful handprint parrots are sure to be a hit! They go along great with a rain forest or pirate theme too.
Looking to make more fun Halloween characters this fall? Check out our collection of fun Halloween windsock crafts!
All you need is a paper bowl and some creativity to make this darling paper bowl scarecrow craft. A perfect fall themed preschool craft for kids.
Check out or full collection of over 125 fun and easy fall crafts for kids of all ages!