On this page, you will find 14 all new Peace coloring pages that are completely free to print and download.
Peace seems to be a rather elusive concept, especially in the modern age. With so much conflict around the world, it may seem unattainable, but many believe that it can be possible!
There have been many movements dedicated to fighting for peace, and many artworks, songs and other works have been created focusing on it.
These symbols will be common in this collection of free peace coloring pages!
By working on the pages in this set of free peace printables, you can help to make the world a slightly more peace-filled place!
You can also print out as many as you like so that you can share the peace with your friends and family.
There are some amazing images in this collection for you to choose from, or you could color every single one of them!
You could print out multiple copies of the same images to try out different approaches to colors and art mediums.
Then, you can show off your creativity by sharing your finished peace coloring sheets on our Facebook and Pinterest pages!
With that said, let us begin this wonderful peaceful collection of free printables!
14 Brand New Peace Coloring Pages – Free to Print and Color
When it comes to portraying peace as a concept, there are many different symbols and objects associated with it.
We will be using a lot of these during this set of free peace coloring pages for kids! In this first sheet, we have a large peace symbol.
This symbol will be used a lot in this series, as it is recognized around the world and is closely associated with the desire for peace.
It is also surrounded by some beautiful flowers, as flowers are also closely associated with peace movements. How will you color this first picture?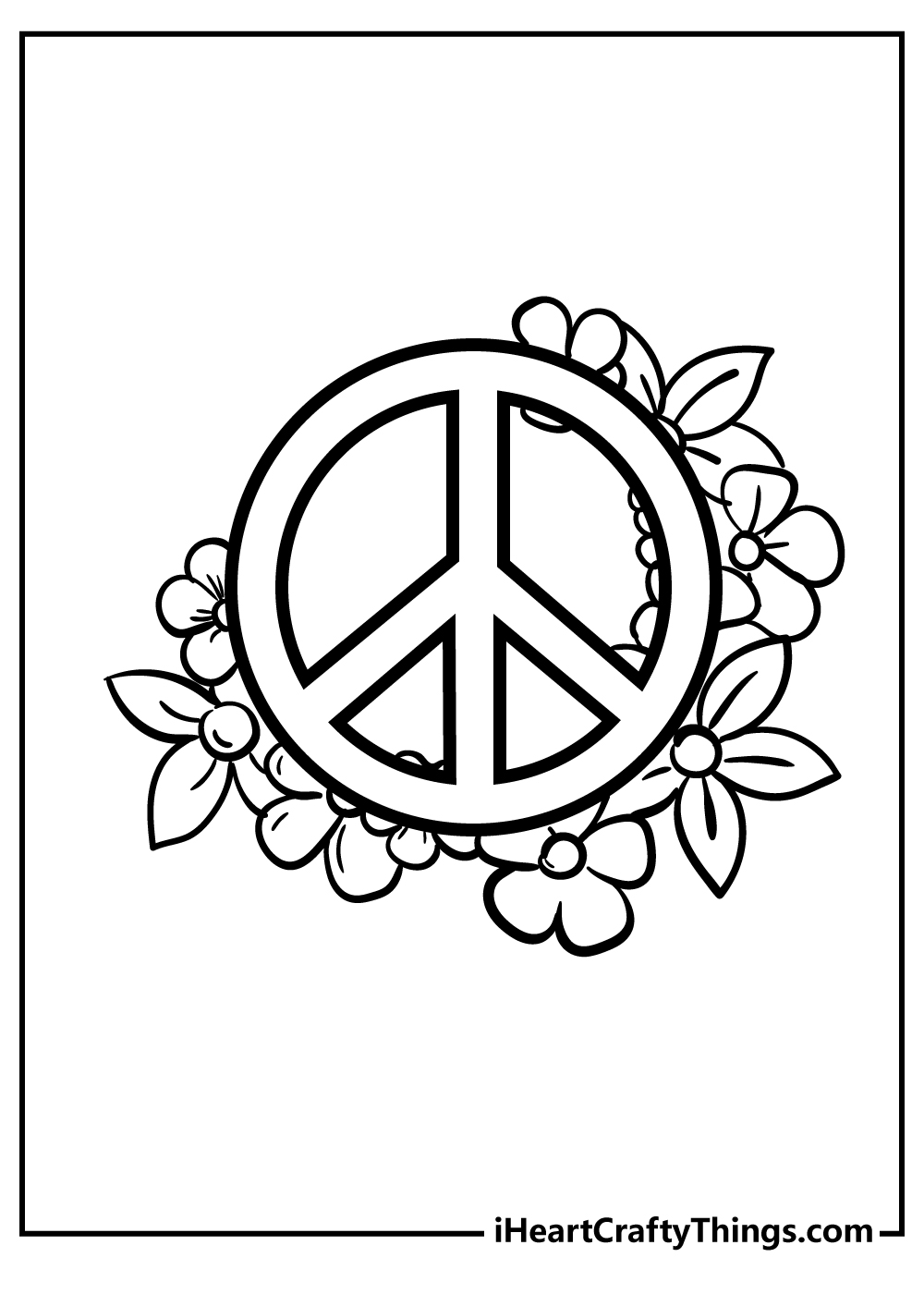 It's time to give peace a chance in this second peace coloring sheet! For this second page, we have a peace symbol with some depth details drawn onto it.
Then, we have the word peace written in bold bubble letters beneath it.
We think that this image would look amazing with some bright colors, but what do you think you will use to finish off this great peace printable?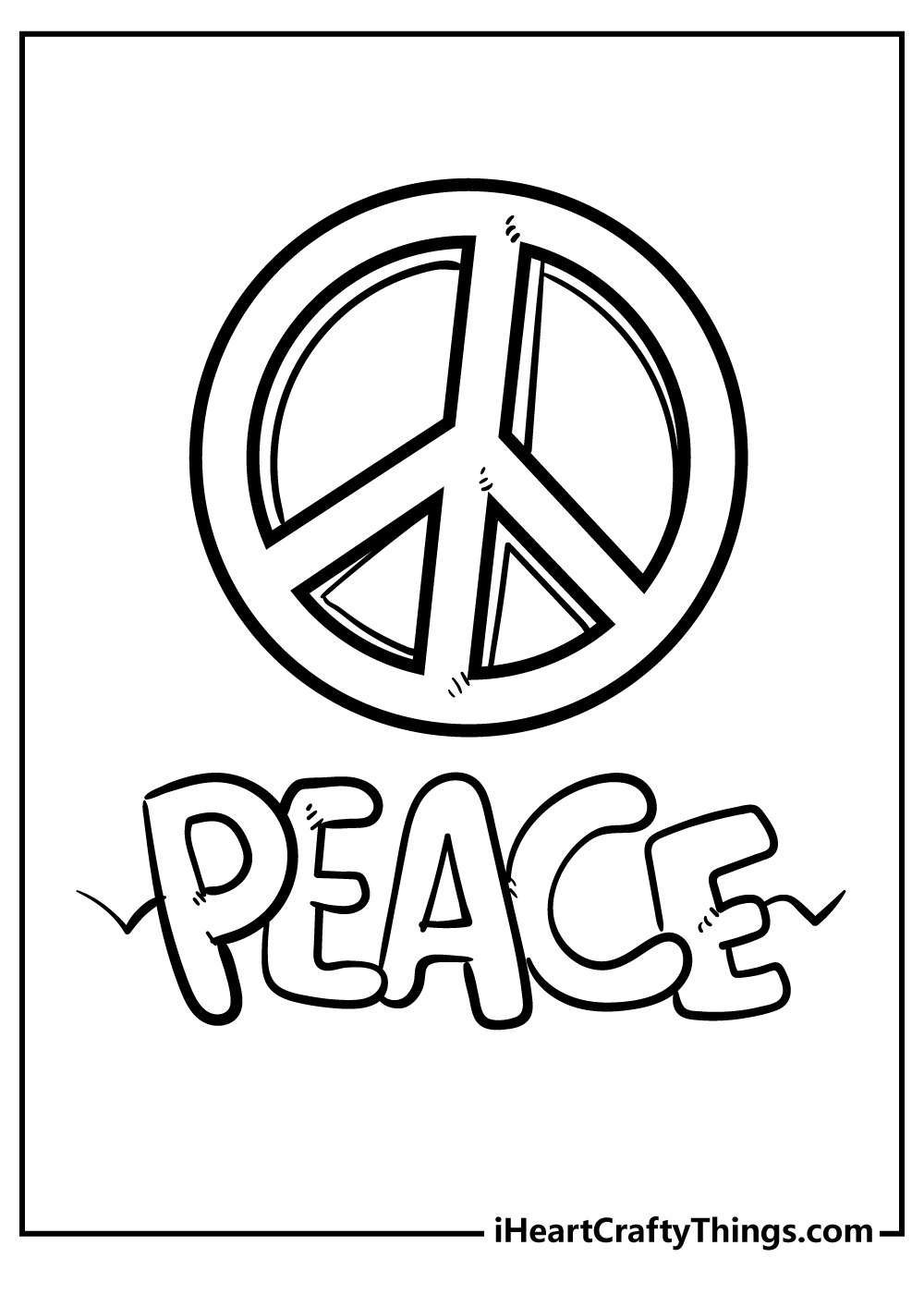 This coloring page features a symbol with the word "PEACE" written in block letters in the center. This image emphasizes the importance and simplicity of peace, as well as the power of words.
The peace symbol is made up of two concentric circles with lines radiating outwards from the center, creating a striking contrast with the white background.
You can color this page with pink, green, yellow, and orange.
In the background, draw other enchanting details like stars, rainbows or objects.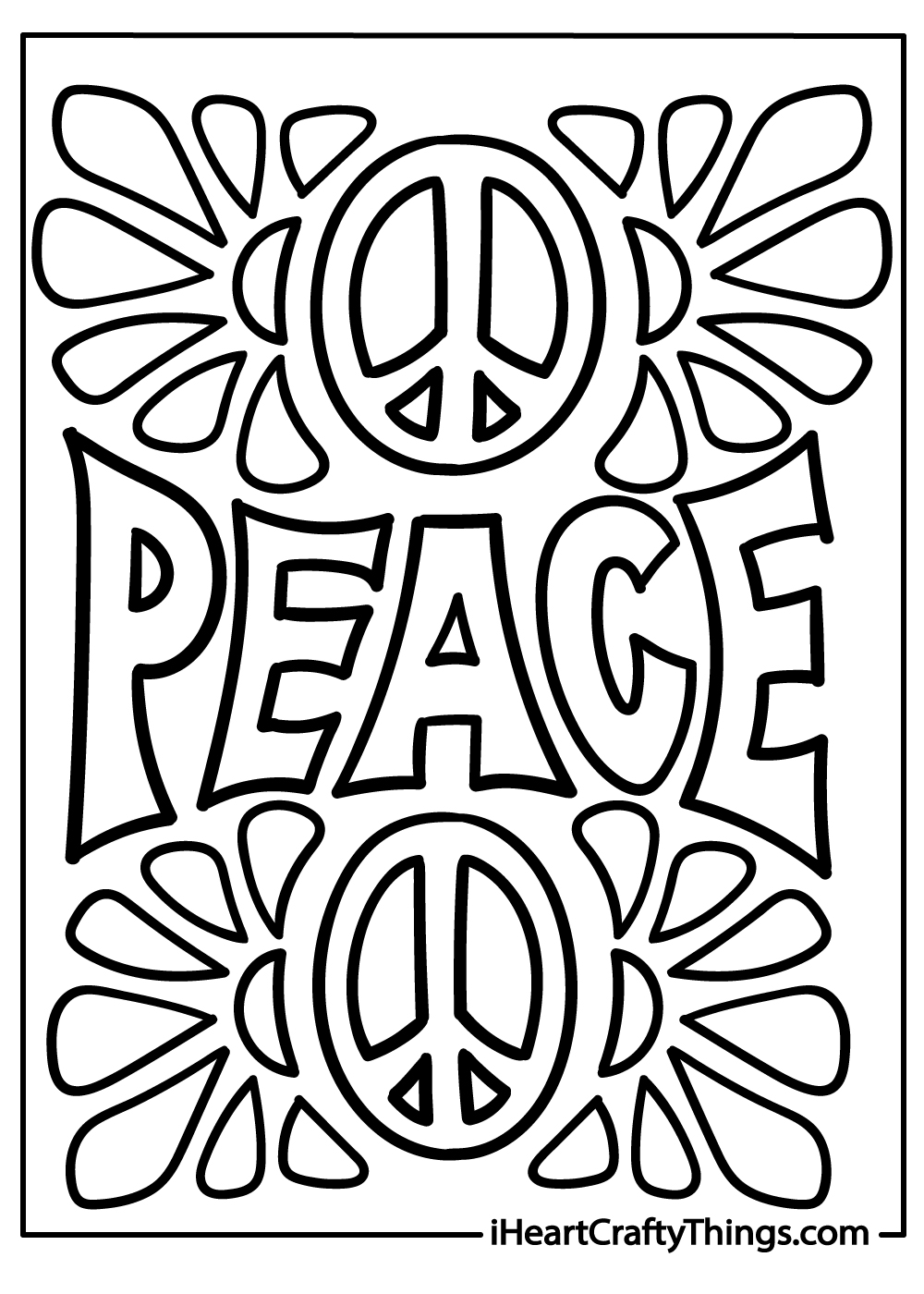 There's some more peace and love to enjoy in this third free peace printable. Once again, we have incorporated some pretty flowers with a butterfly perched on the symbol as well!
Advocating for peace was a popular movement in the 60s and 70s, and this movement frequently incorporated nature into their designs.
That is why we went for this approach in this coloring sheet! We would recommend some bright, cheerful colors that would be similar to the colors seen in the peace movements of the past.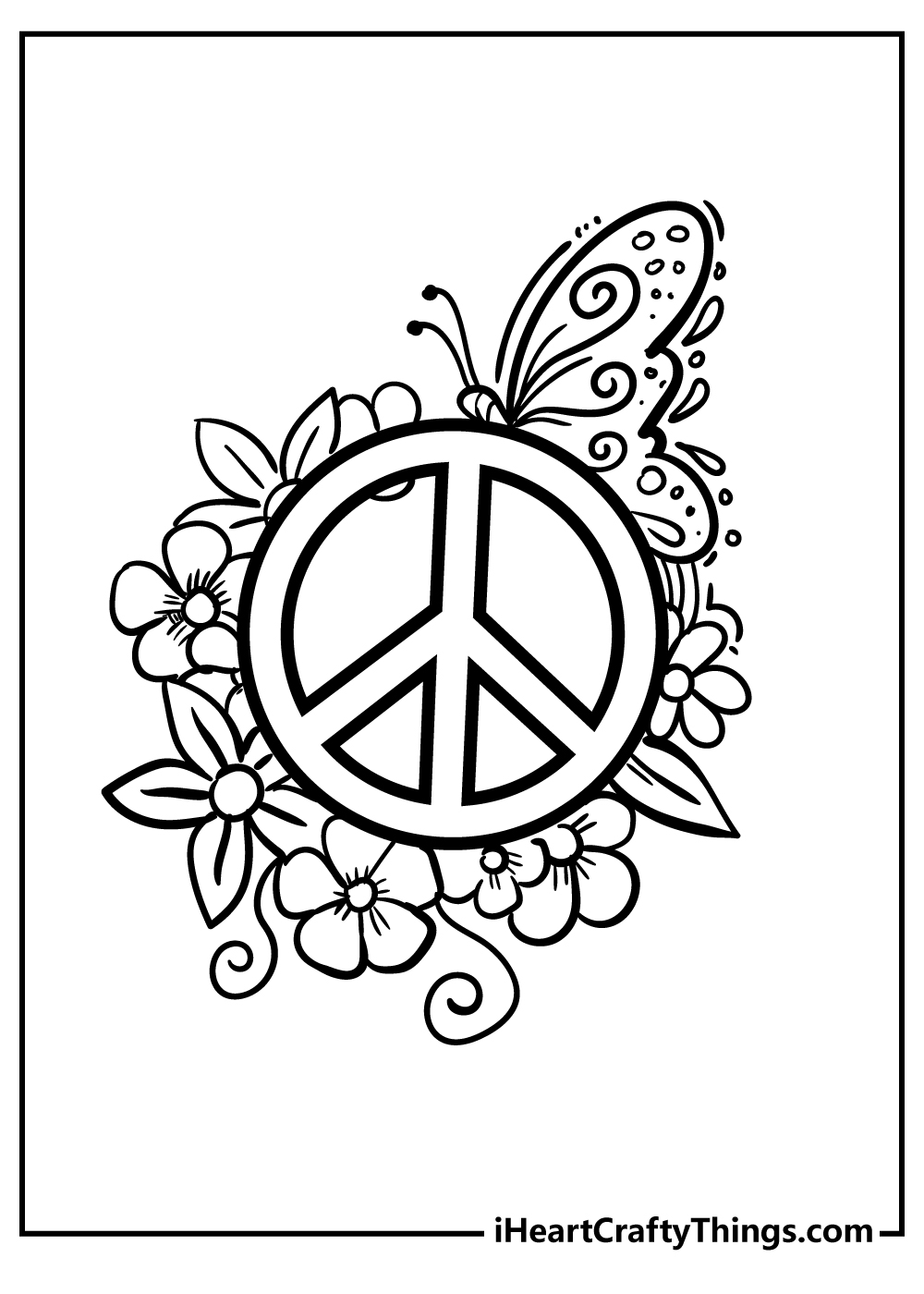 Spread peace and positivity with this uplifting coloring page. At the center is a large peace sign, the universal symbol of hope and tranquility.
Inside the peace sign, you're encouraged to color in your own patterns of serenity.
Surrounding the peace sign is a border of interlocked hearts reminding us to fill the world with love. This coloring page provides a creative outlet to cultivate feelings of harmony and joy.
Consider using calming colors like light blue, pastel purple, or mint green to set a peaceful tone.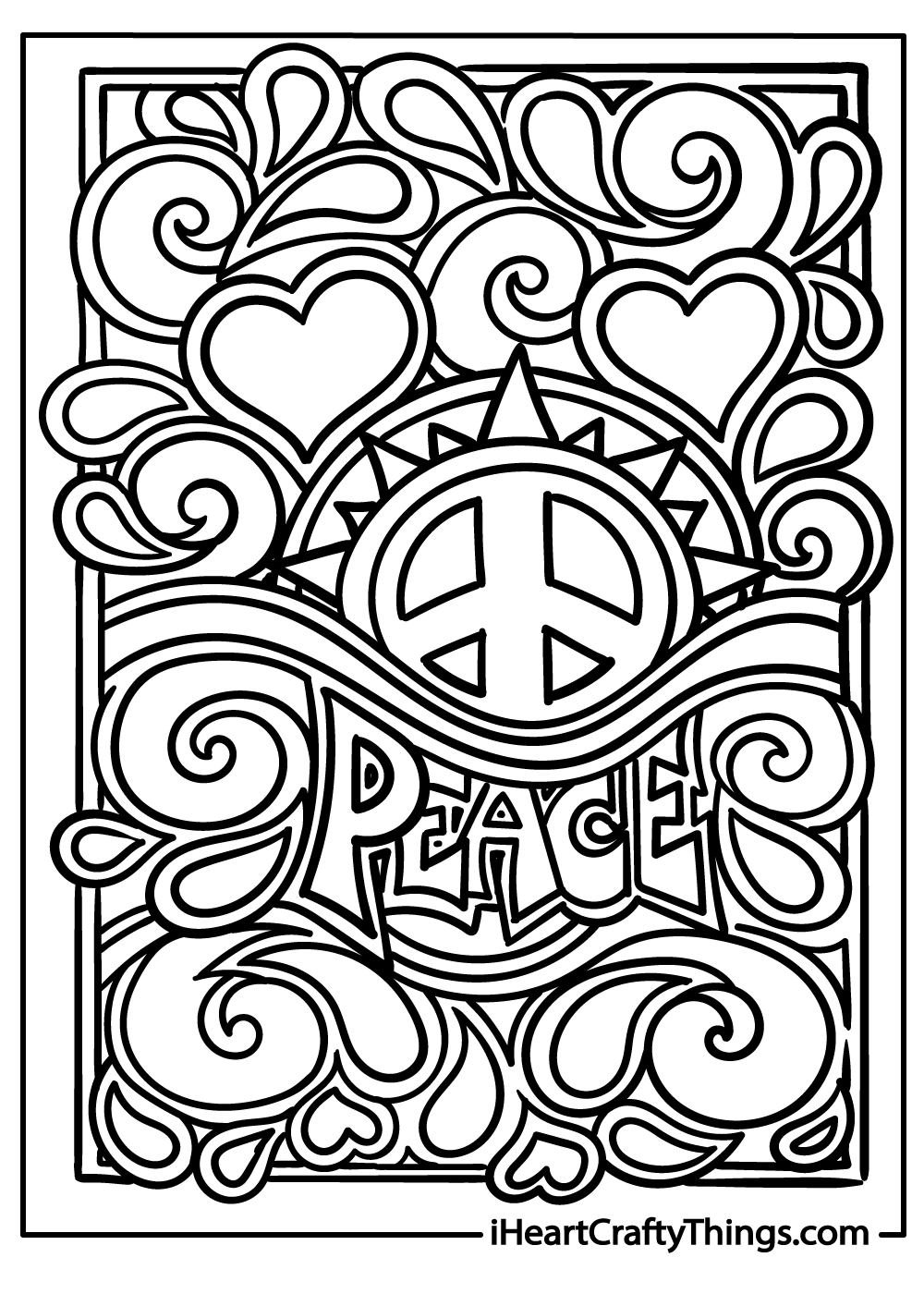 Here's another great peace coloring page for you to enjoy. There's another peace symbol with plenty of beautiful flowers surrounding it for you to color.
For this image, maybe you could try out some new art mediums that you're less familiar with!
We think that some watercolor paints would look great for this printable, but what colors and art mediums do you think would suit the composition?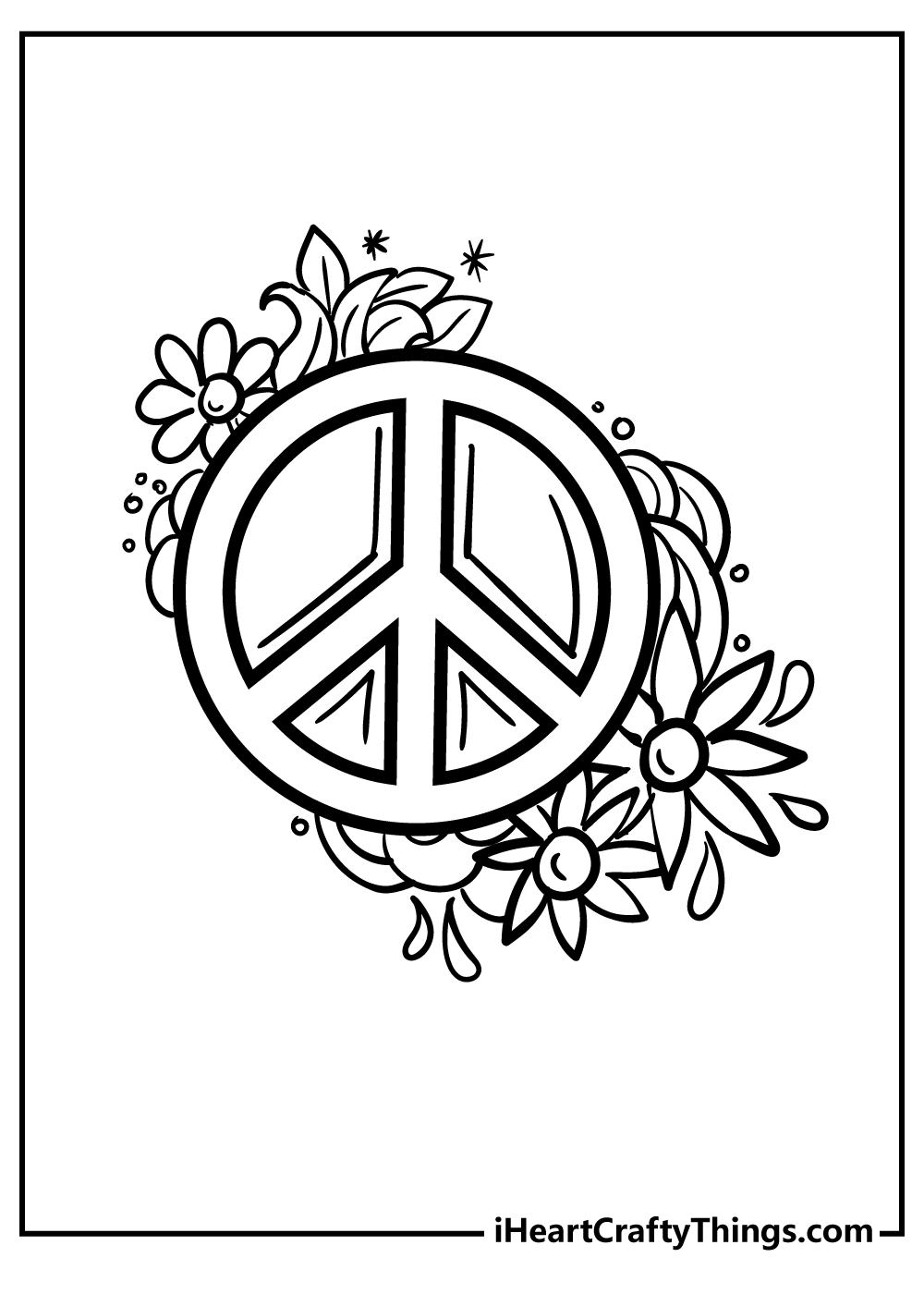 This lovely peace coloring page features the word "PEACE" Below it lies the iconic circular peace symbol, encircled by a wreath of daisies.
Each delicate daisy has petite petals that seem to dance around the peace sign with beauty and elegance.
This coloring page provides a canvas to fill with your own colors of calm and joy. Consider using cool tones of blue, purple and pink to color the daisies for a soothed sense of peace.
Trace the letters of the word "PEACE" in glitter gel pen to make them shine.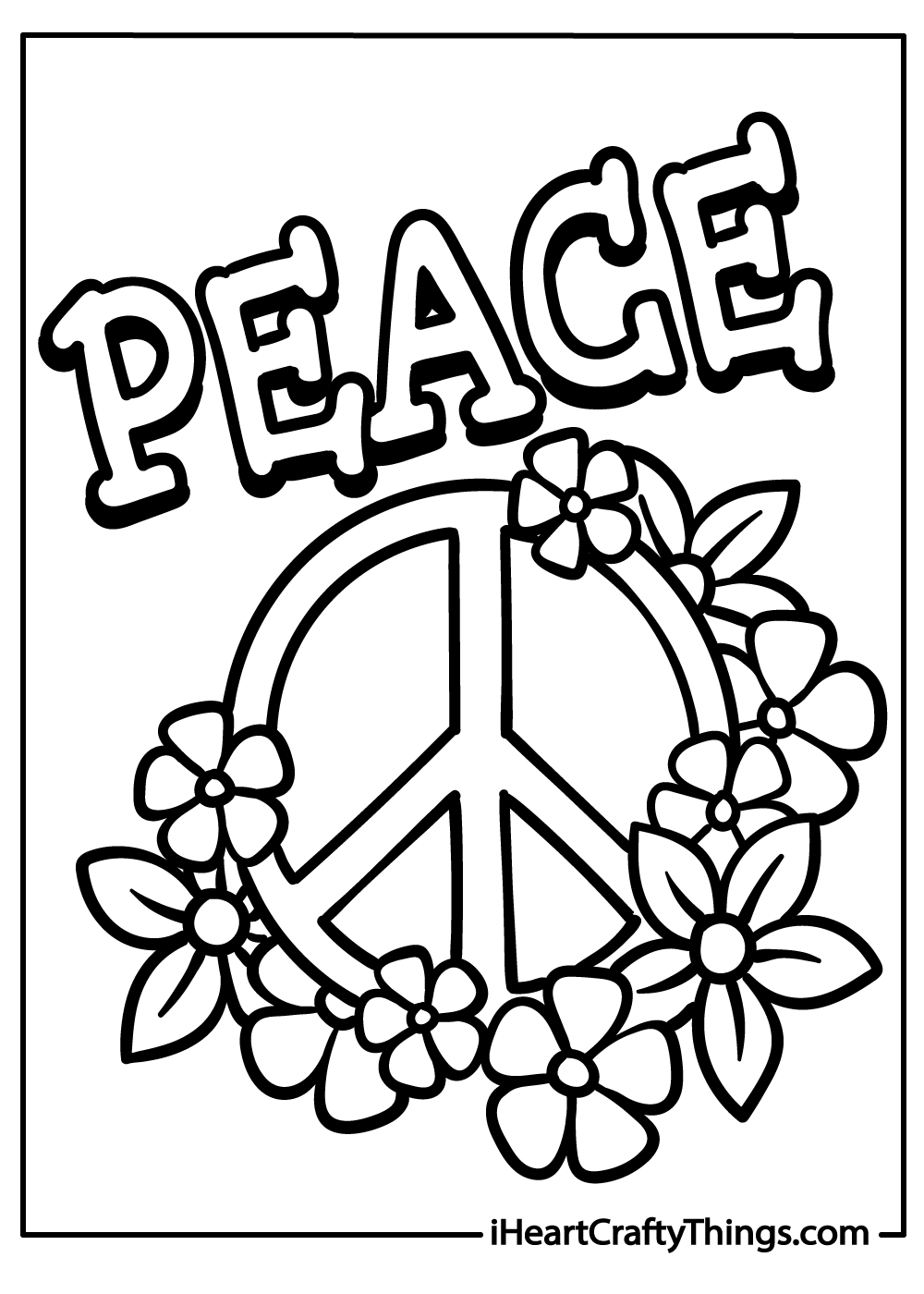 This fifth peace coloring sheet is a really funky design for you to enjoy!
The peace symbol is surrounded by some bold, cheerful shapes, and we think this calls for some bright and vibrant colors.
If we were coloring this picture, we would use colored markers or bright acrylic paints to create some vibrant shades, but what do you think you will use to finish off this printable?
It can be lots of fun to experiment with all the art tools and mediums available to you, so have fun getting creative with it!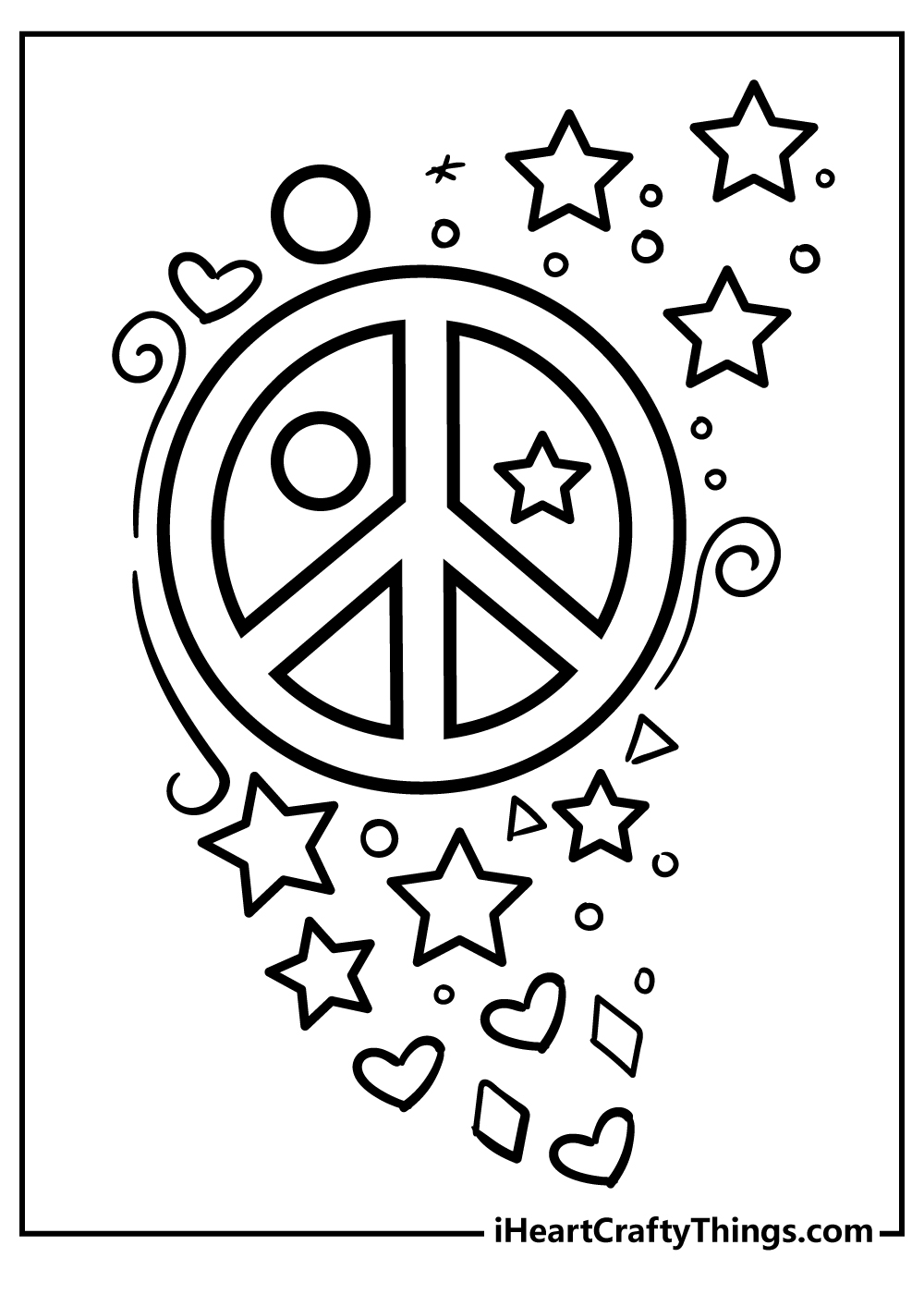 This coloring page depicts a classic peace symbol, decked out in psychedelic patterns like flowers, hearts and flame designs.
Above it the word "PEACE" stretches across in bubbly, retro letters with tiny flowers radiating from it.
Below, LOVE is written in the same trippy style, reminding us to spread kindness. The blank peace symbol, words and background are the perfect canvas to channel your inner free spirit
Color this page with inspiration from the 1960s. the peace symbol with tie-dye swirls, paisley prints, or colors of the rainbow.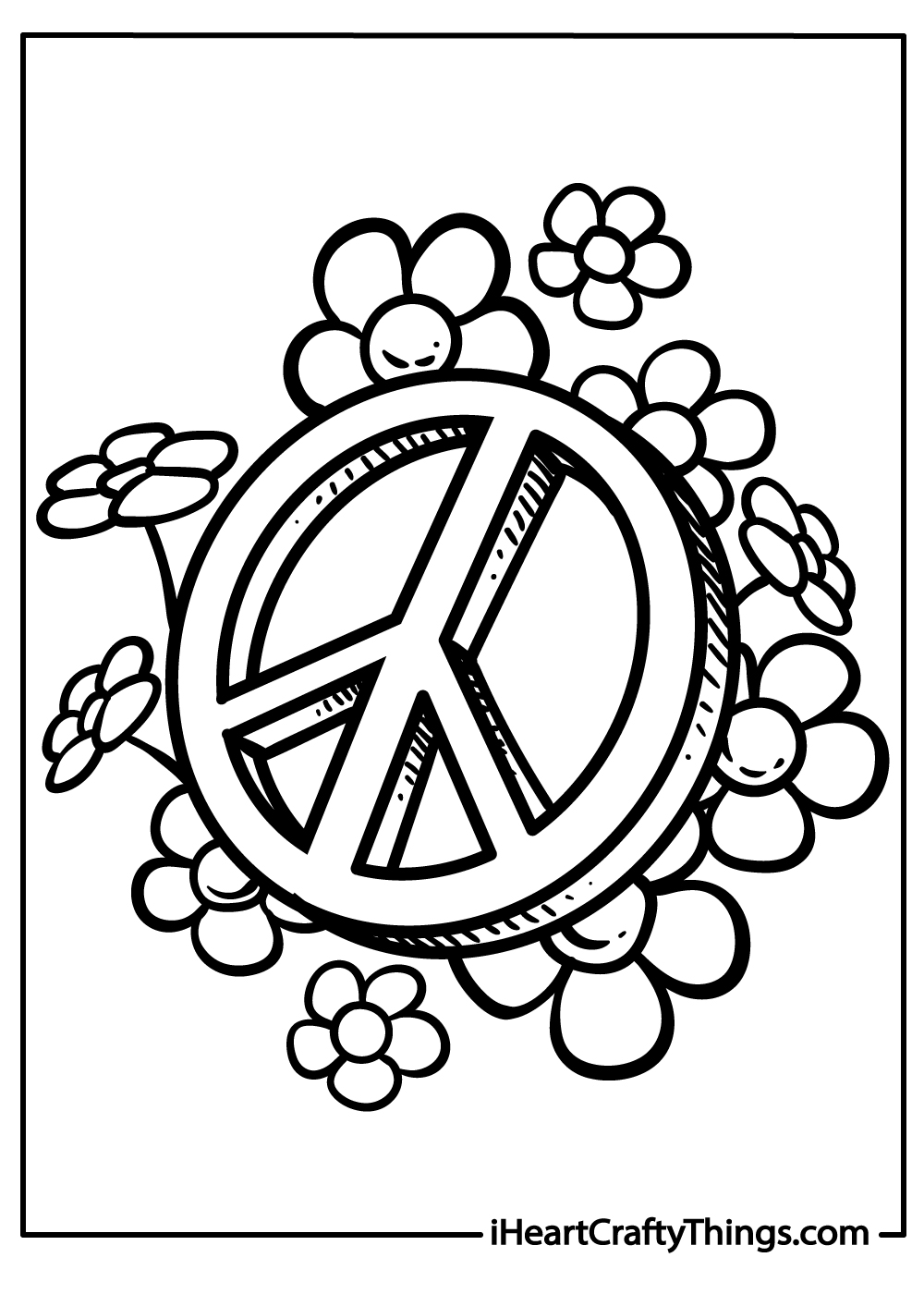 We have prepared a really cool peace printable for you to enjoy in this 6th page!
Instead of surrounding a peace symbol with other signs of peace, we filled the details inside of the symbol itself.
With this cool design, you can incorporate some great colors to form a wonderfully bold and colorful symbol.
This image would be well suited to art mediums such as colored pens and acrylic paints that will bring some vibrant color into the mix
Do you think you will draw some kind of background to finish this one off nicely!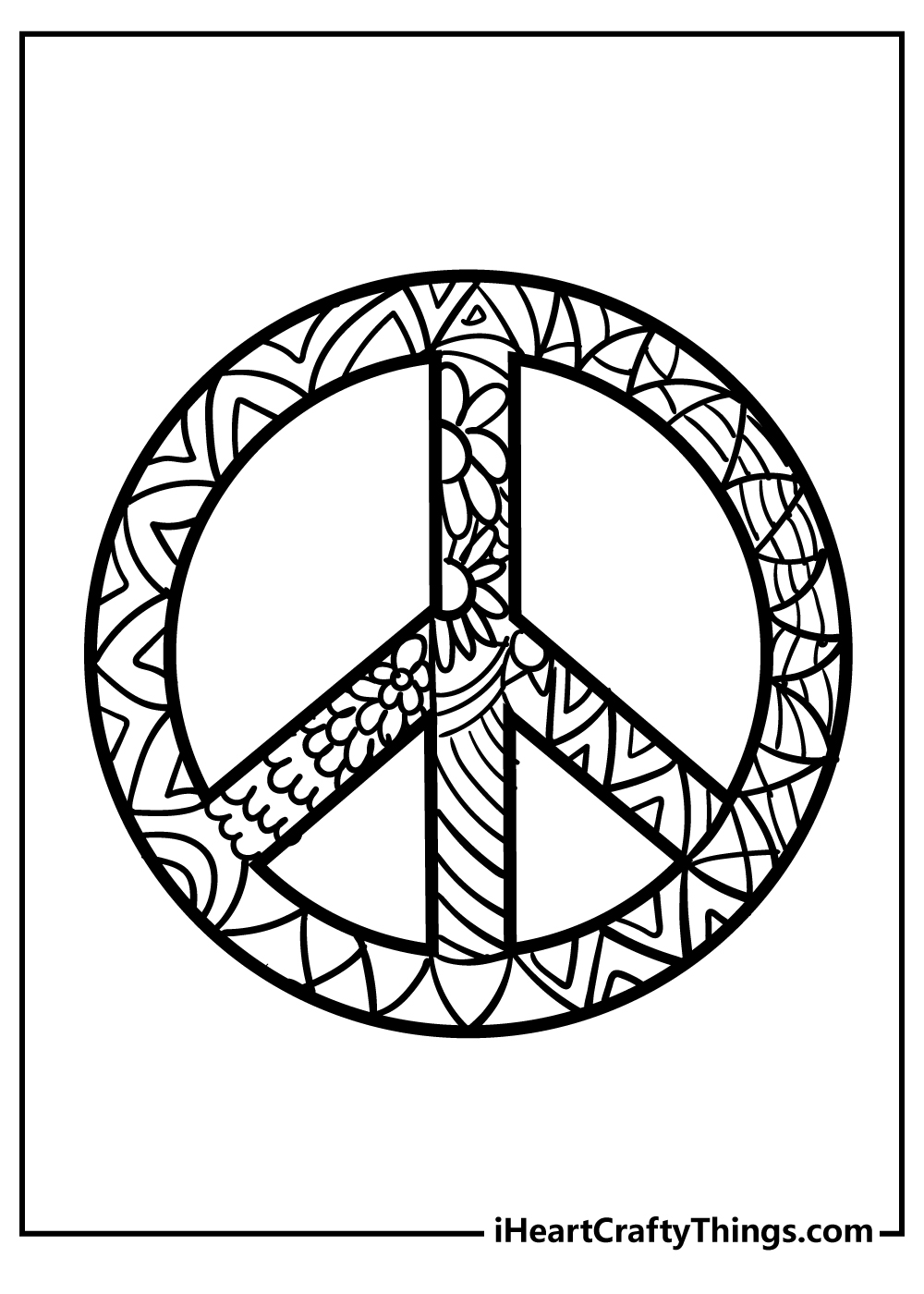 There's something a bit different for you in this next free peace coloring page for kids! The peace symbol can be represented with a hand gesture, and this gesture features two fingers extended.
We went for this hand gesture in this page, and we also surrounded it with more symbols and shapes associated with peace.
Even though there are tons of details, you shouldn't feel shy to add some more details of your own as well!
There are tons of great details in this printable, so you can really experiment with all of your favorite colors to create a vibrant, striking image to enjoy.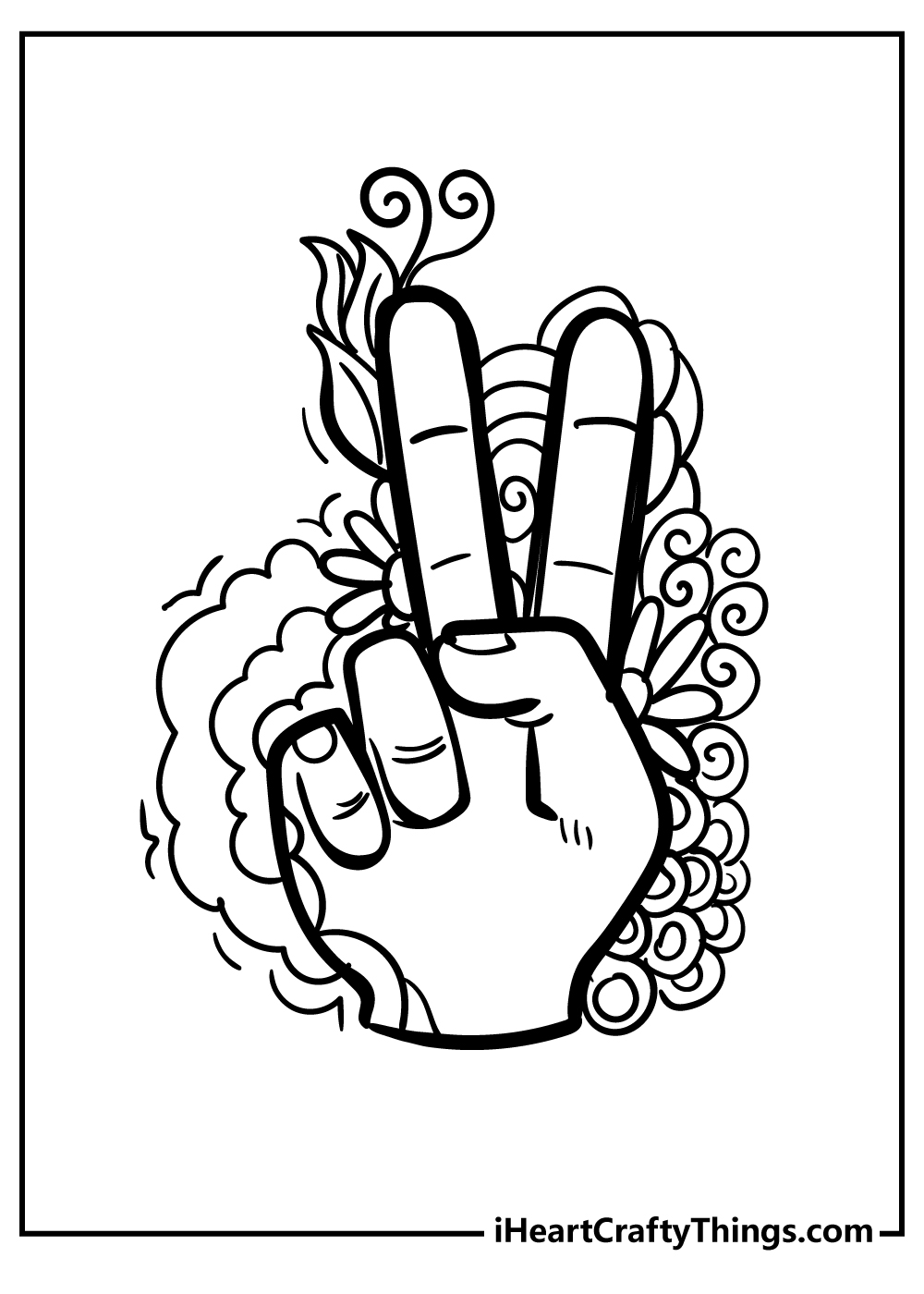 When it comes to peace symbols, few are as prevalent and recognizable as that of the white dove. This dove serves as the focal point of this ninth peace coloring printable!
It is surrounded by a detailed circular design, and there are some lovely patterns and shapes incorporated within to add even more details to color.
While the design for this one is rather centralized, there is space in the background for you to add your own flair and touches!
Can you think of a background that would look good for this composition?
We look forward to seeing how you tackle this one!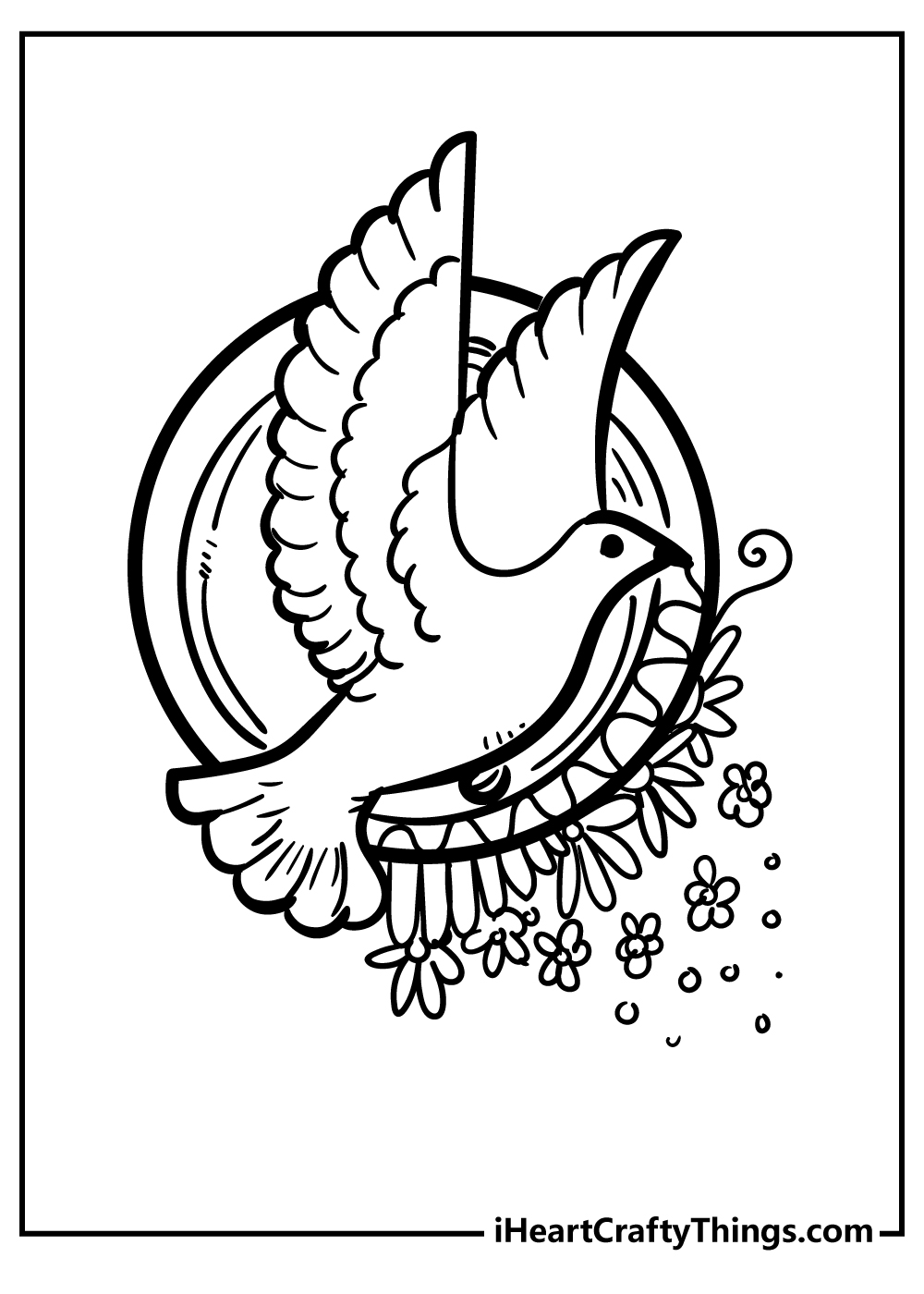 Visualize global unity and harmony with this inspiring world peace coloring page. At the heart of this page is the classic peace sign shape containing the outline of Planet Earth.
The continents and oceans of our awe-inspiring planet are left blank and ready for you to color in. Surrounding the Earth is the iconic circular peace sign, signaling hope for all humanity.
Color the continents and seas in vivid blues, greens and browns to capture the Earth's natural beauty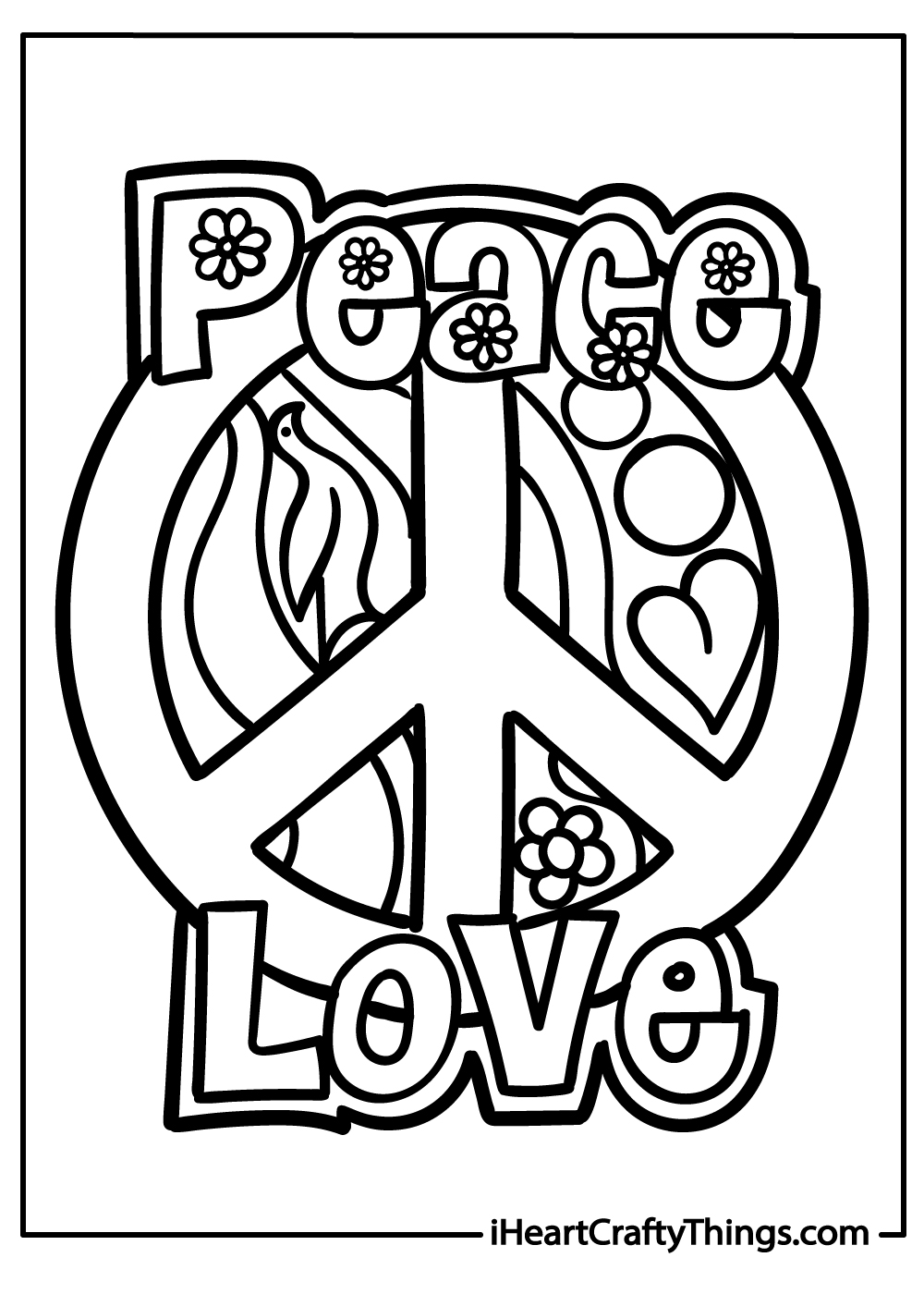 It's a peace sign extravaganza in this final peace coloring sheet! In this final page, we included a selection of five peace symbols for you to color.
This simpler composition gives you a lot of freedom with adding your own details and fun elements.
You could draw a background, add some shapes or smaller details or draw your favorite peace objects to go with this design.
When finishing it off, you could even incorporate crafts like stickers, glitter and beads for some extra texture details!
How will you finish up this final peace printable?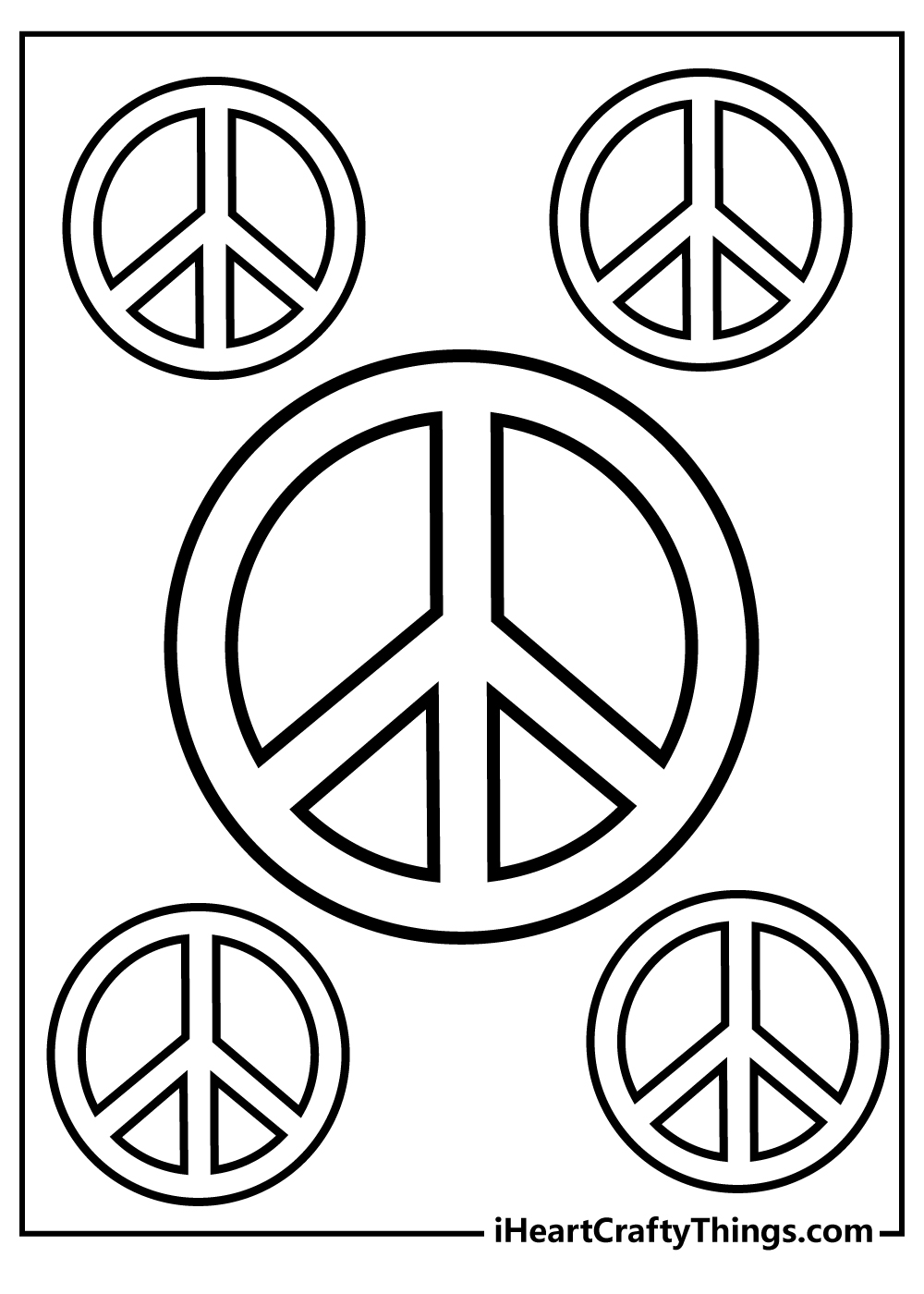 Peace Coloring Pages – Which will you choose?
Hopefully you had a fun and peaceful time working on this selection of free peace coloring pages for kids!
There was a great deal of variety to enjoy, and you can also print out multiple copies that you can share with friends and family. There's a lot to enjoy here as you show off your creative art skills!
If you had fun with this set of peace coloring sheets, then you will want to check out our website.
There you can find some amazing free coloring pages to print out and enjoy. We have more coming out soon, so keep checking in to never miss out!
We also hope that you will share your favorite finished peace coloring pages on our Facebook and Pinterest pages for us to enjoy!
We can't wait to see how these wonderful peace printables came out once you worked your creative magic on them.