Horses are an important part of the world's history. Legend has it that horses were man's most reliable ally during the times of war.
Folklore tells the tale of horses' existence as mythical creatures and spiritual beings.
The horse is a magnificent animal that symbolizes courage, freedom, independence, power, endurance, nobleness, triumph, competition, and heroism.
An ideal representation of human nature and we just can't get enough of these magnificent creatures.
This striking similarity to human virtues has generated high demand from our esteemed readers for Horse Coloring Pages that you can print for free.
So, here it is, the 45 latest and original, Horse Coloring Pages that you can download and print for free. Enjoy!
Horse Coloring Pages – 45 All-New Printables
Every horse lovers know that horses are not called majestic creatures, for the sake of it. Every step a horse takes exudes elegance and majesty. This coloring page shows a horse walking majestically on a ranch.
There are only a handful of pictures and videos that show a horse feeding. So, you probably didn't know that all horses eat grasses.
This printable shows a mature horse feeding on grass and a younger horse in a lying posture on the pasture.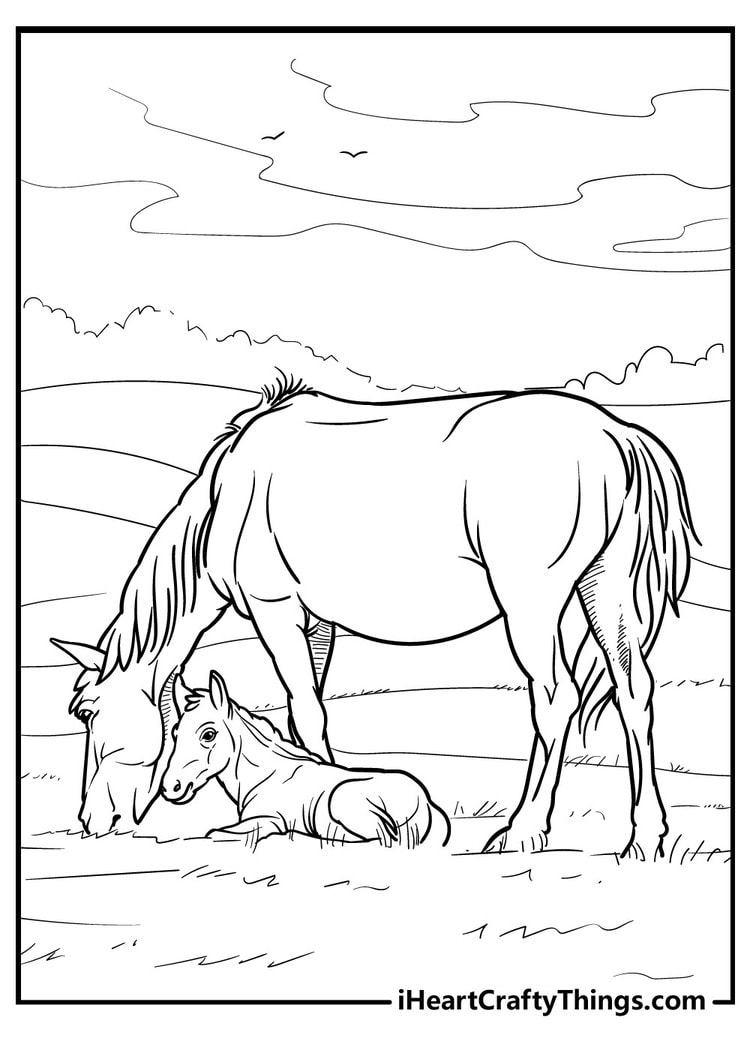 Are you ready for another adorable horse coloring page? This one features a cute horse with a long coily mane. Look at his powerful broad chest.
Grab your favorite crayons, markers or paints and give this handsome steed a unique coat using your best browns, blacks, grays, or palominos.
Design a fun patterned saddle blanket and don't forget to name him. In the background, draw rolling hills, a cute barn or whatever scene you imagine for you and your new horsey pal.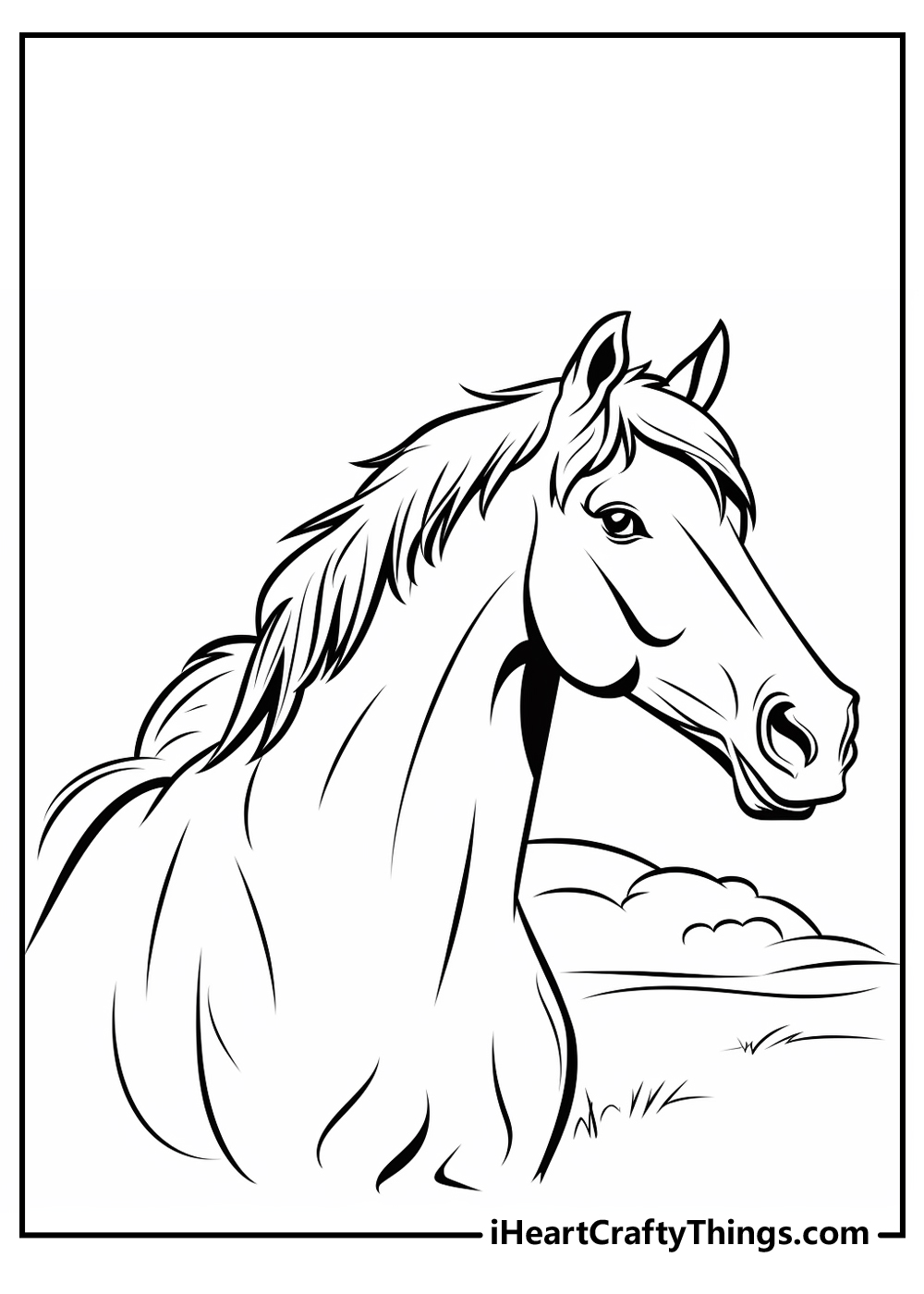 Horses mostly love running once they have the freedom and enough space around them. This printable captures a running horse with the background company of a few birds in the sky.
The horse visibly enjoys being free and looks focused on going as far as possible.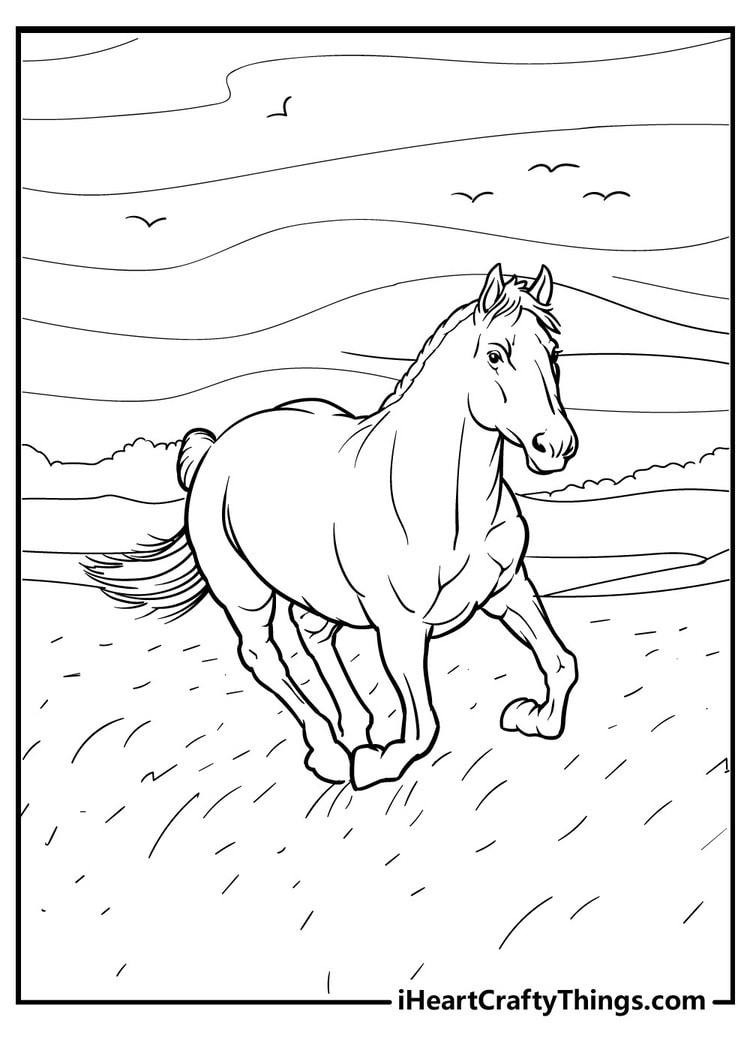 Horses are free-spirited animals that enjoy wandering about in search of the next adventure.
For this reason, humans place a bridle around the horses so they can ride them and control the direction of their movement.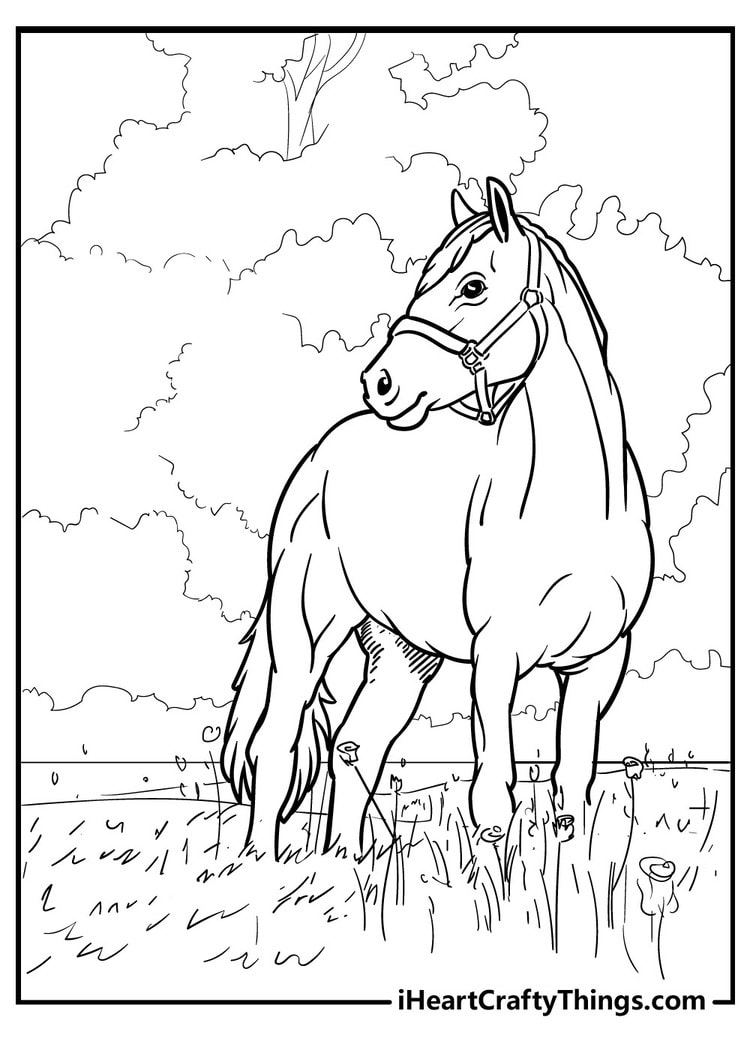 It is a beauty to see a free horse running at top speed — especially those with a flowing mane. The mane is the long hair that grows around the neck of the horse.
This print paints perfectly the elegant moment of a running horse with a long mane. Such beauty!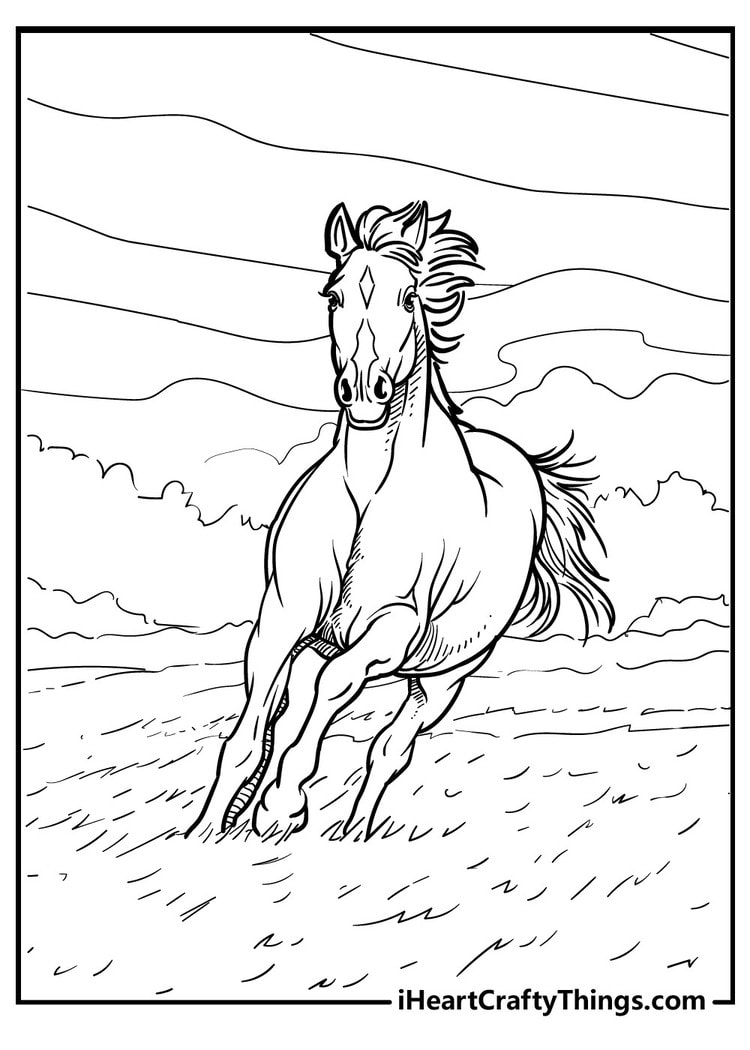 Meet this majestic horse standing on an open field. Look at her beautiful mane and tail flowing in the wind as she gazes across the grassy meadow.
Green would be the perfect color for this horse drawing coloring page. You can give this lovely mare a coat as radiant as her surroundings. Try golden brown, silvery gray, or deep midnight black.
After coloring this horse, don't forget to share it with your friends and on our Facebook page as well.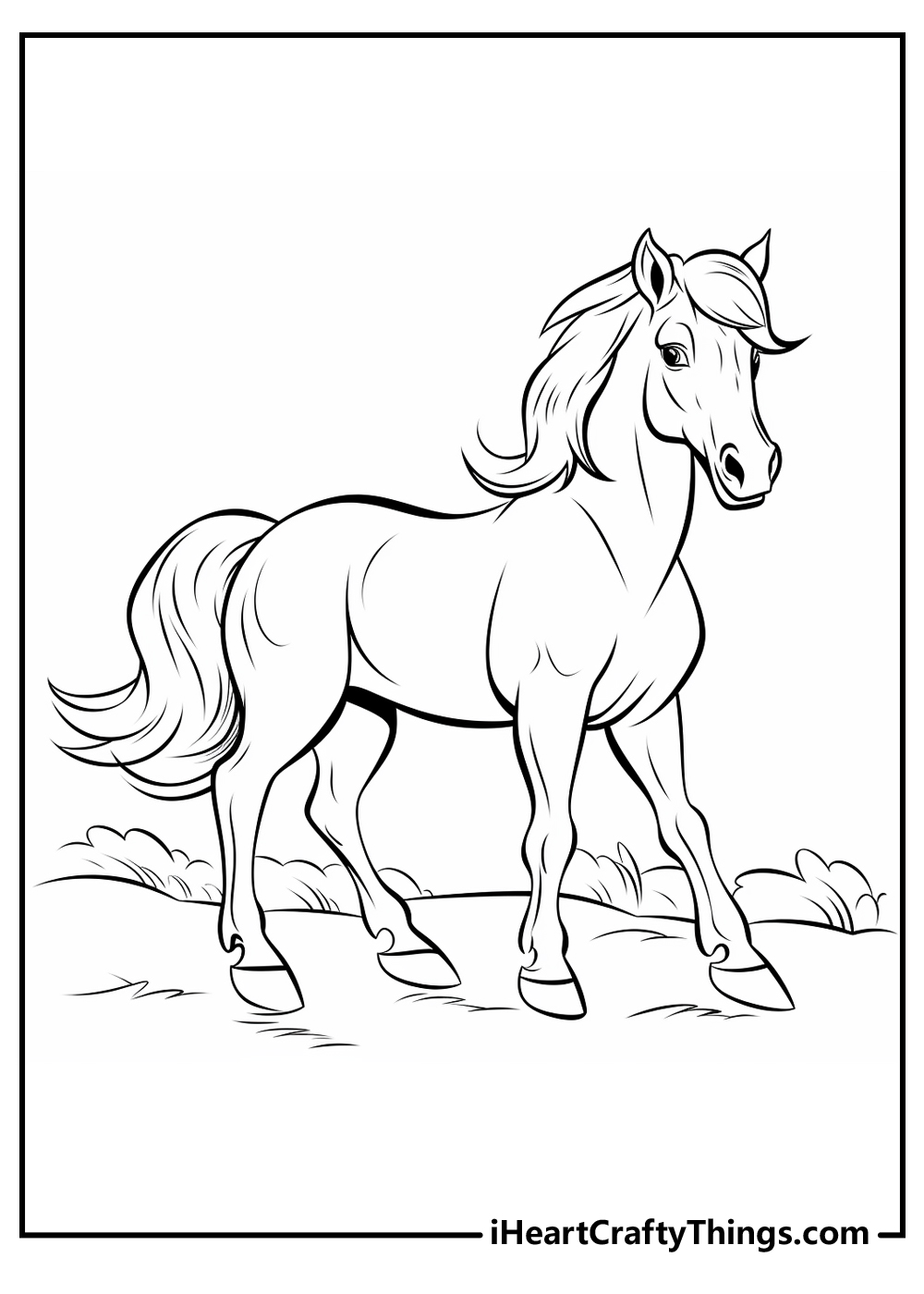 A trotting horse moves at a slightly fast pace. The horse on this coloring page can be easily seen trotting majestically with excitement writing over its face.
A happy horse enjoys taking a trot when in the company of other horses.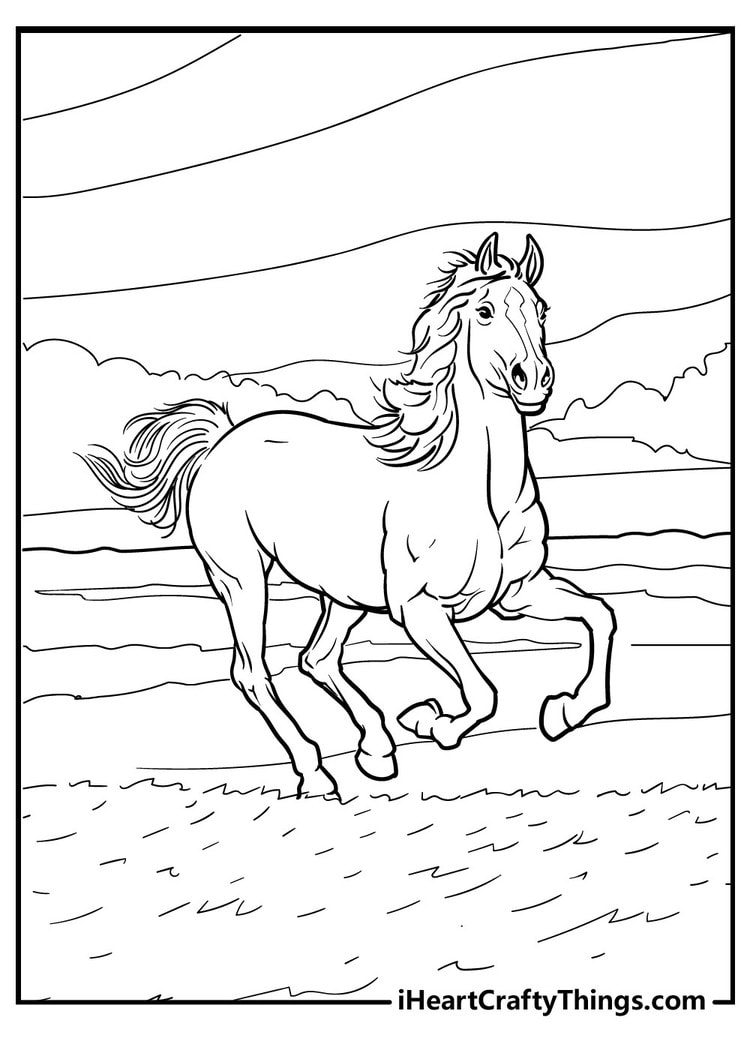 Horses are sensitive to their environment. This makes it easier for them to sense danger and avoid it.
The horse in this printable knows there's danger ahead and is turning back to safety. It might even be screaming, "Danger ahead, steer clear."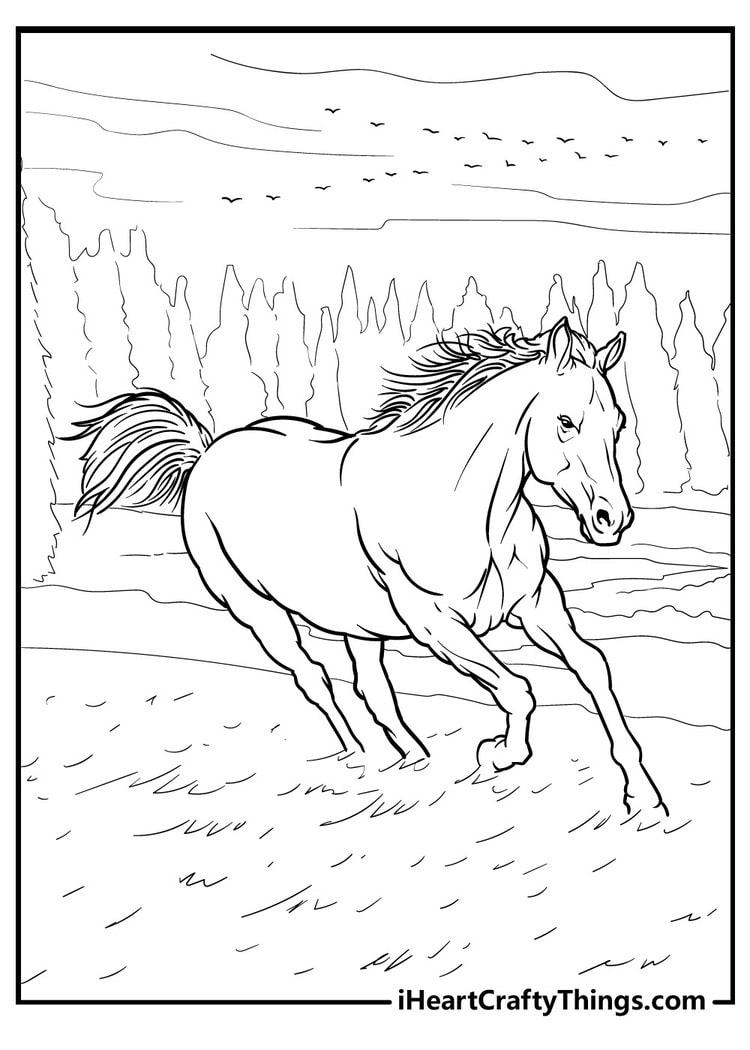 We have a beautiful charming horse coloring sheet for you to enjoy on this page! This horse is striking a great pose from a small mound of dirt, and it looks as if it is performing a trick.
The background also shows off a beautiful day outside, and it makes for a really wonderful scene.
Horses can come in many different colors and fur patterns, so you have so many ways that you could color this particular one. What colors will you choose for this lovely page?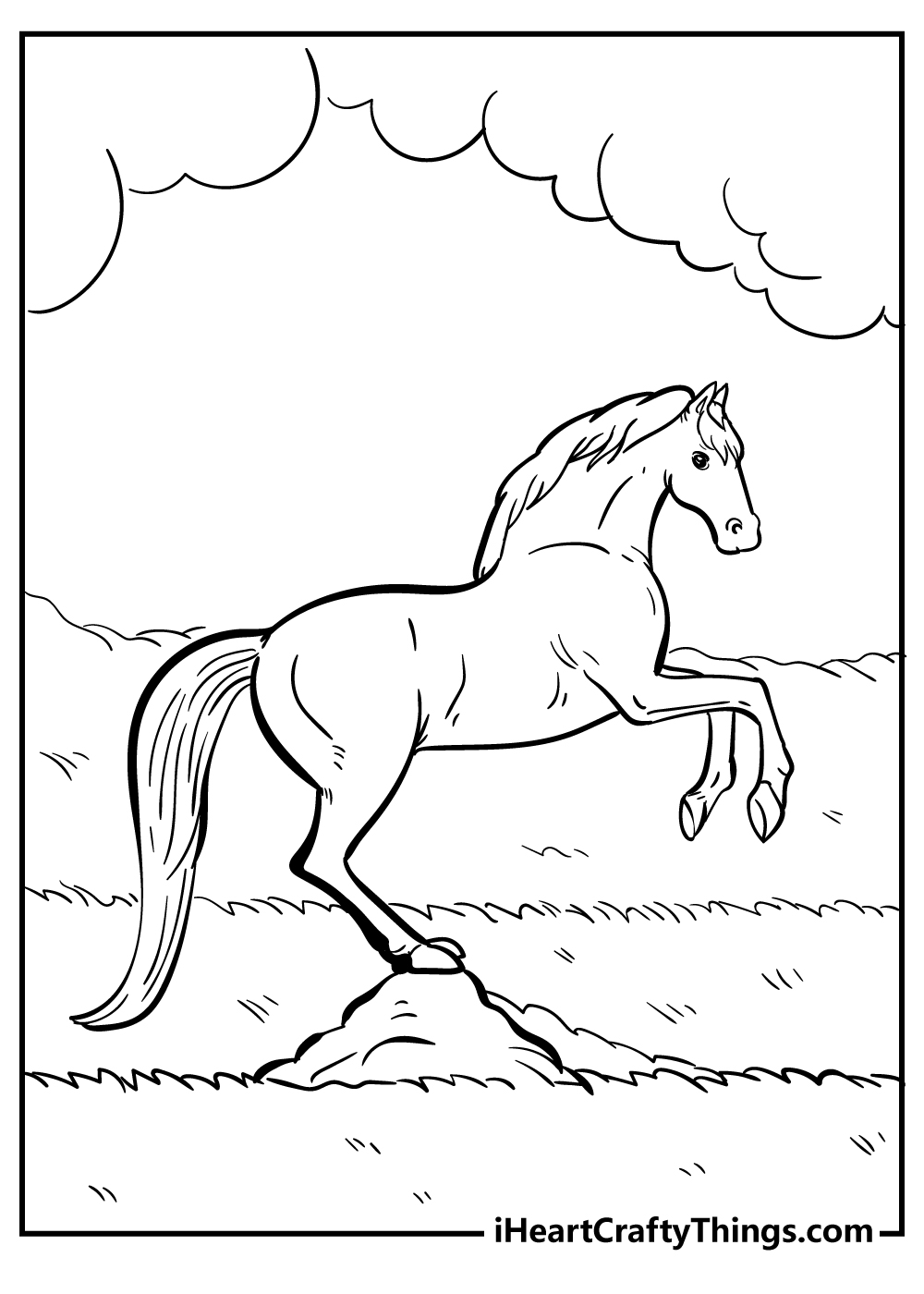 Come meet the most gentle horse around in this coloring page. See how she faces you with a sweet, patient expression as if waiting to be your friend.
Get your brown, black, or gray crayons to color her soft coat and flowing mane and tail. Make sure to give her a pretty name tag or ribbon to show how special she is.
In the background, draw colorful flowers or anything else you think this lovely horse would like to see.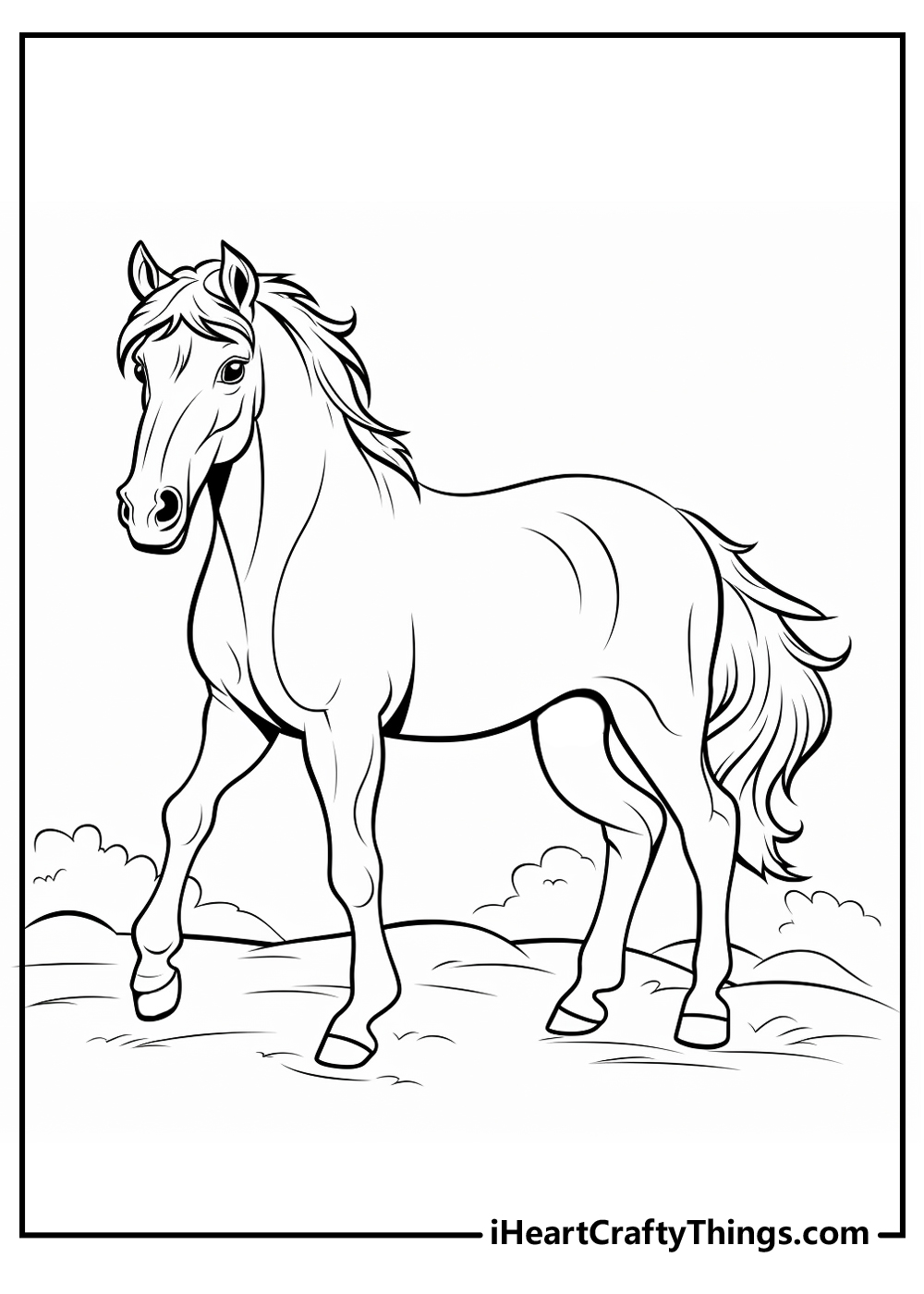 This printable shows the elegance and athleticism of a horse all rolled in one from a beautiful angle.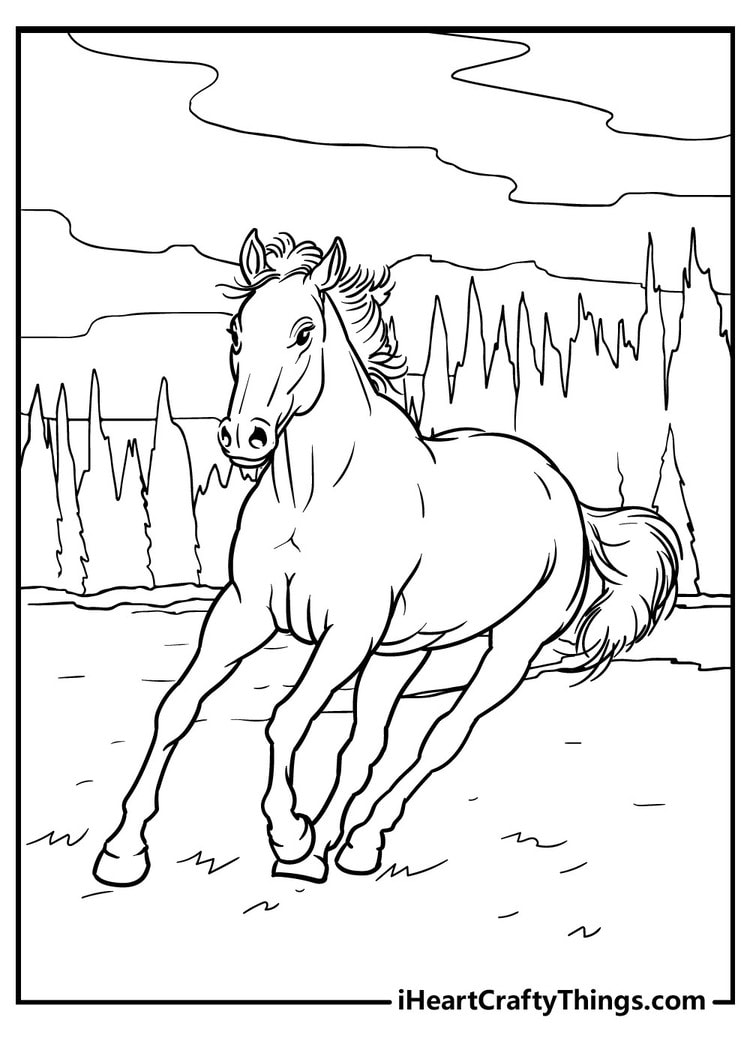 The spotted horses are popularly known as the Appaloosa — and they are rare to find.
This coloring page features one of these rare spotty horses. Amazing!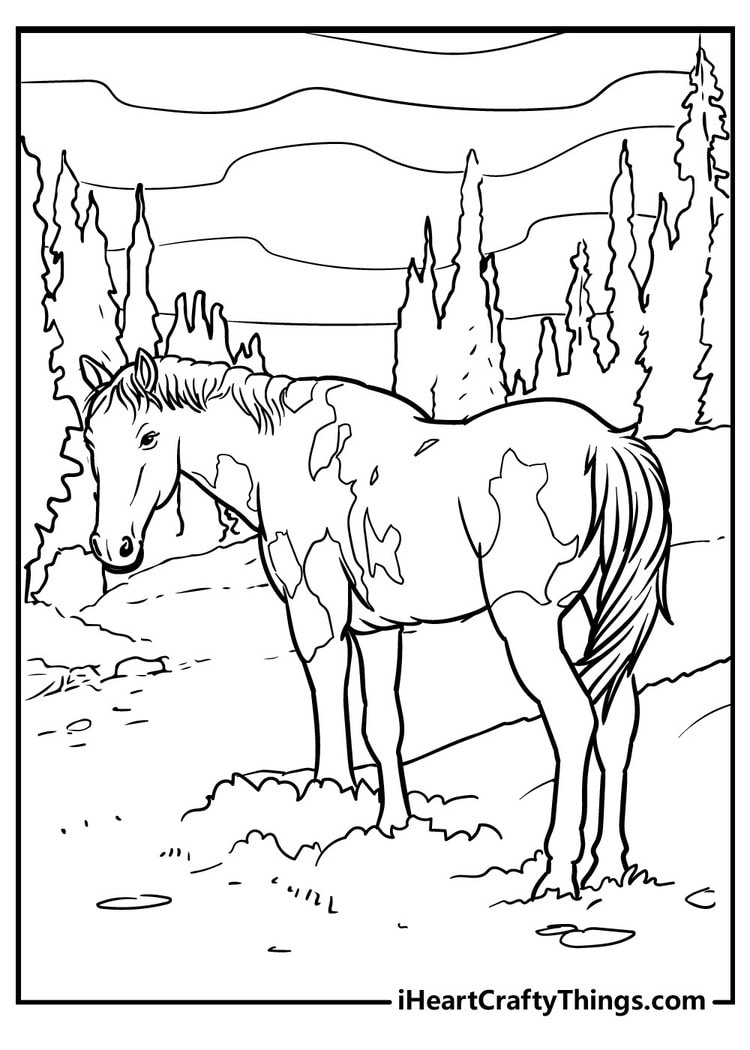 Every fan of horses enjoys those cute moments shared between the parent and baby horse. Indeed, it is a wonderful sight to behold.
This printable shows a parent and child horse walking side by side. Did you know that a baby horse is called a foal?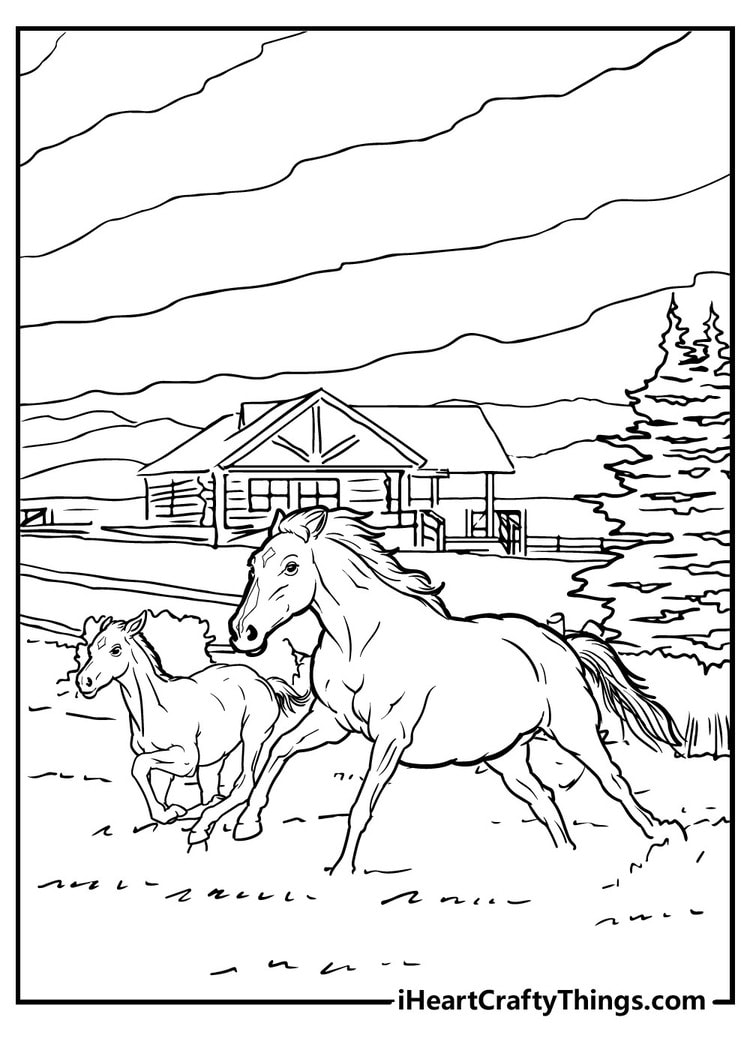 Horses are capable of navigating some pretty tough terrain, and this one that we have for you to color is doing just that.
The environment it is in is quite bare and tough, and it would be quite a challenge to hike up a hill like this.
The horse featured here seems to be having no problem, and it shows why humans have relied on horses to help us get around for thousands of years.
We would use some milder, more washed-out colors for this one, as it would make the environment look even more barren and tough to navigate. Will you go for that look or make the colors brighter?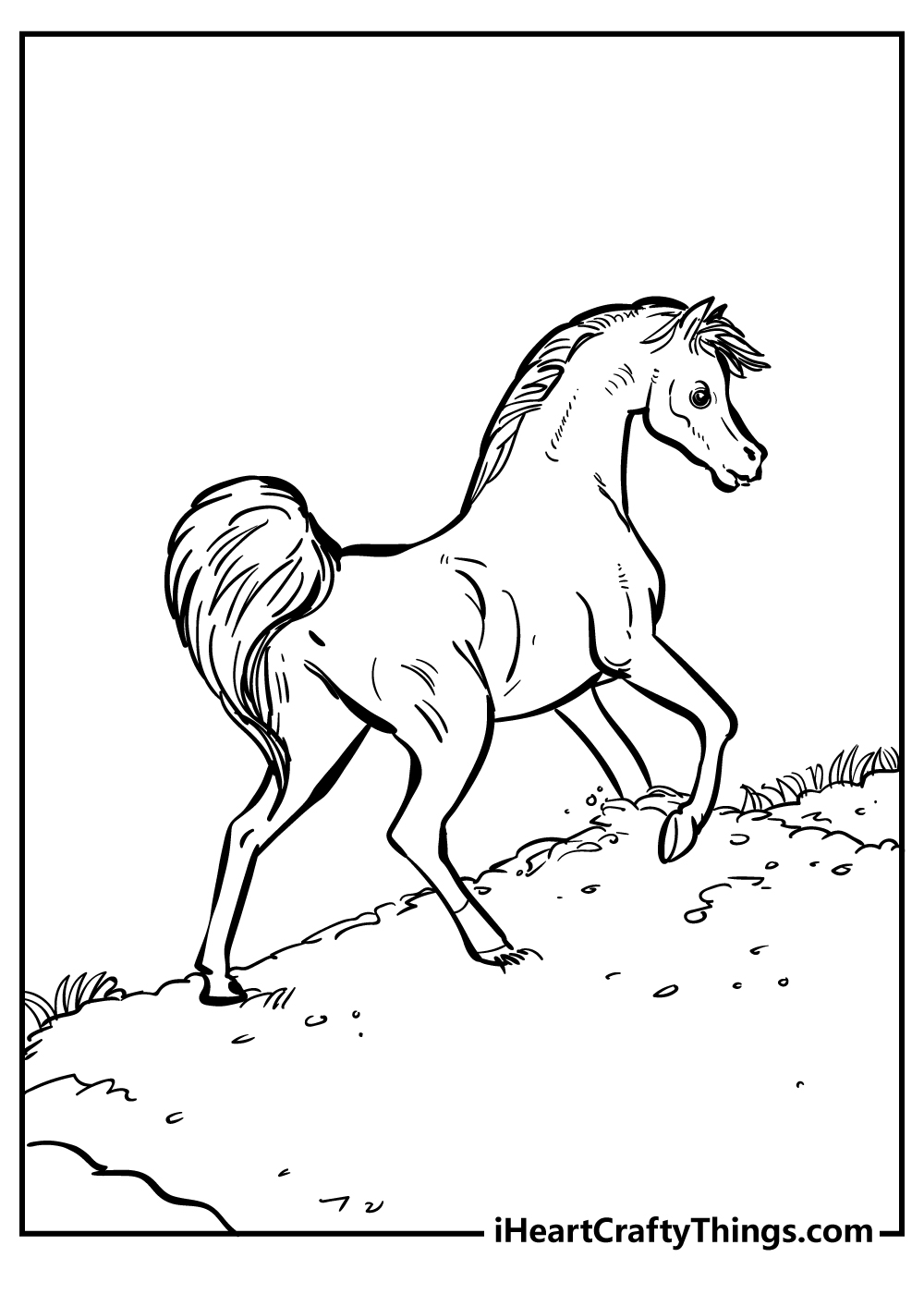 The trees and bushes in the background give this horse a true feel of nature.
It's clear this is a relaxed atmosphere for this horse.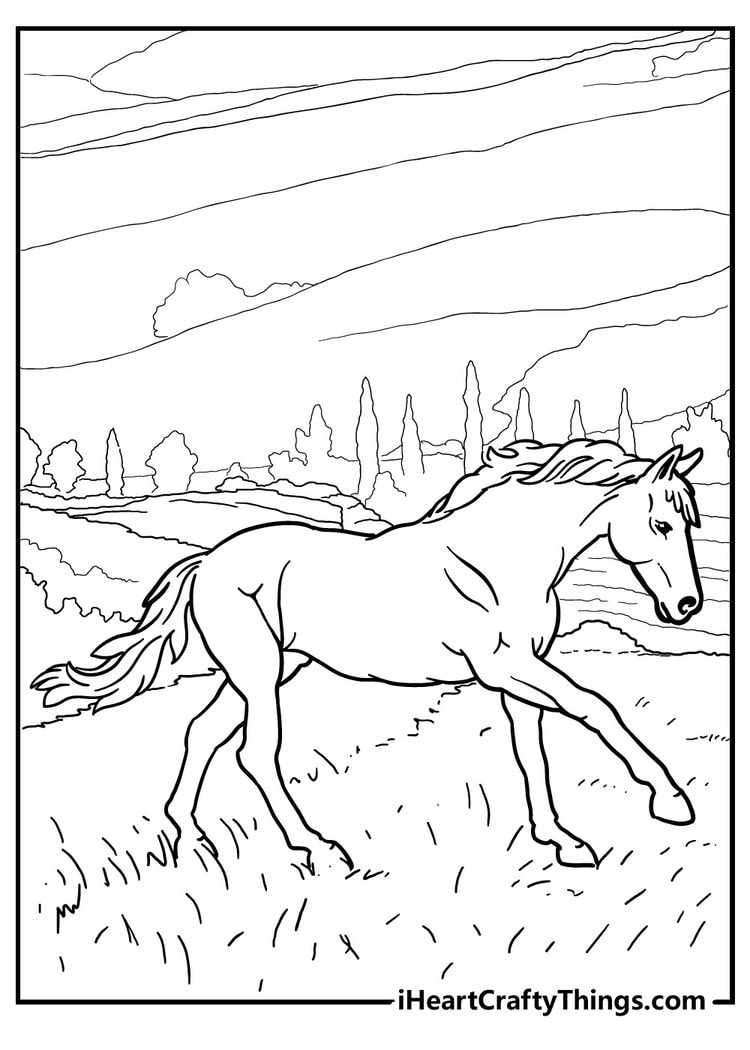 Here's another elegant horse in this horse coloring page. Look how she lifts one hoof with poise and turns to greet you with a friendly smile. She looks excited to meet you.
You can make this horse even more elegant with your colors. Use purple, pink or blue crayons to color her majestic mane and tail waving in the breeze.
Don't forget fanciful details like a glittery horn or fairy wings to transform her into a magical pony.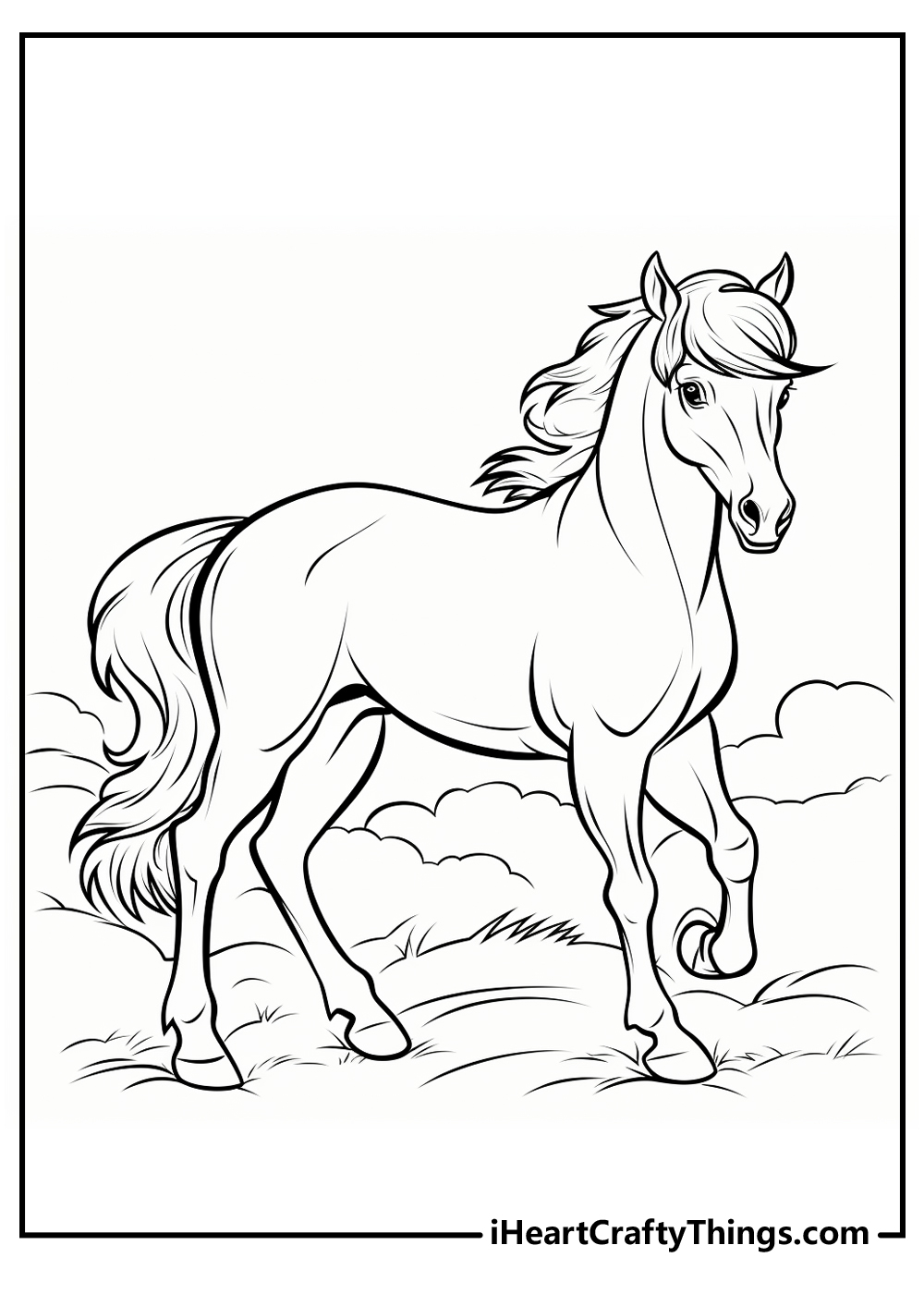 This coloring page shows a galloping horse with its mane blowing in the wind.
The sun is out and the sky is clear — an ideal time for a gallop.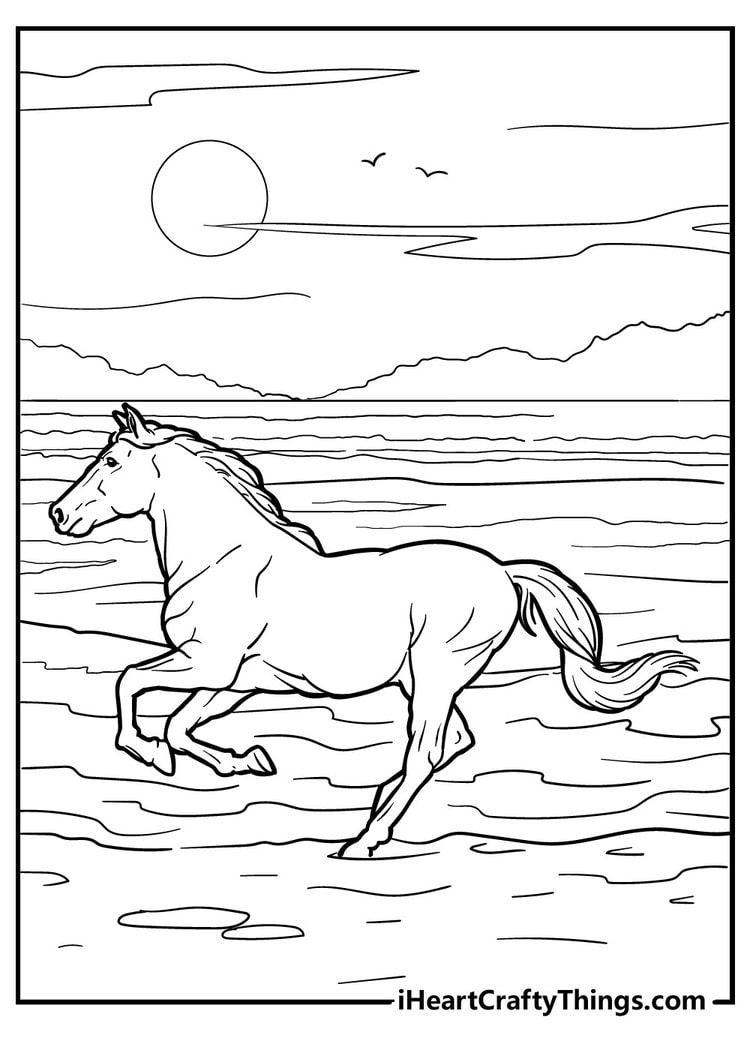 This next scene could easily be described as majestic! This horse is rearing, and the background details make this scene look larger than life.
There is grass, some bushes and puffy clouds above, and you can really have fun with how you color these background details.
If we were to color this page, we would use some watercolors for the background while using something like acrylic paints for the horse.
That would help the horse to really stand out, but there are so many ways you could finish this page!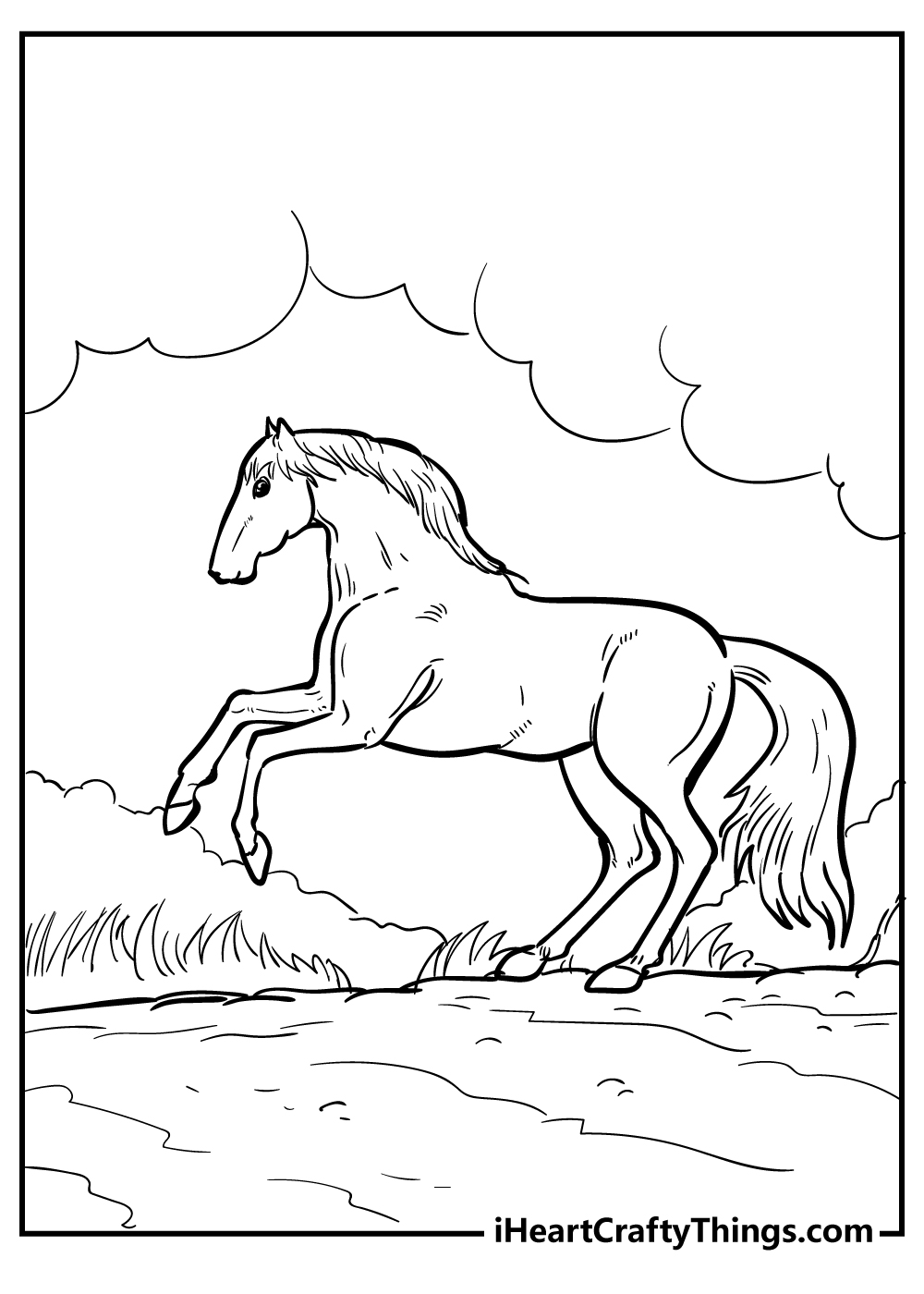 We love this coloring page of a fast and furious horse. It's beautiful.
Don't forget these coloring pages are free. So, you can print as many as you wish to.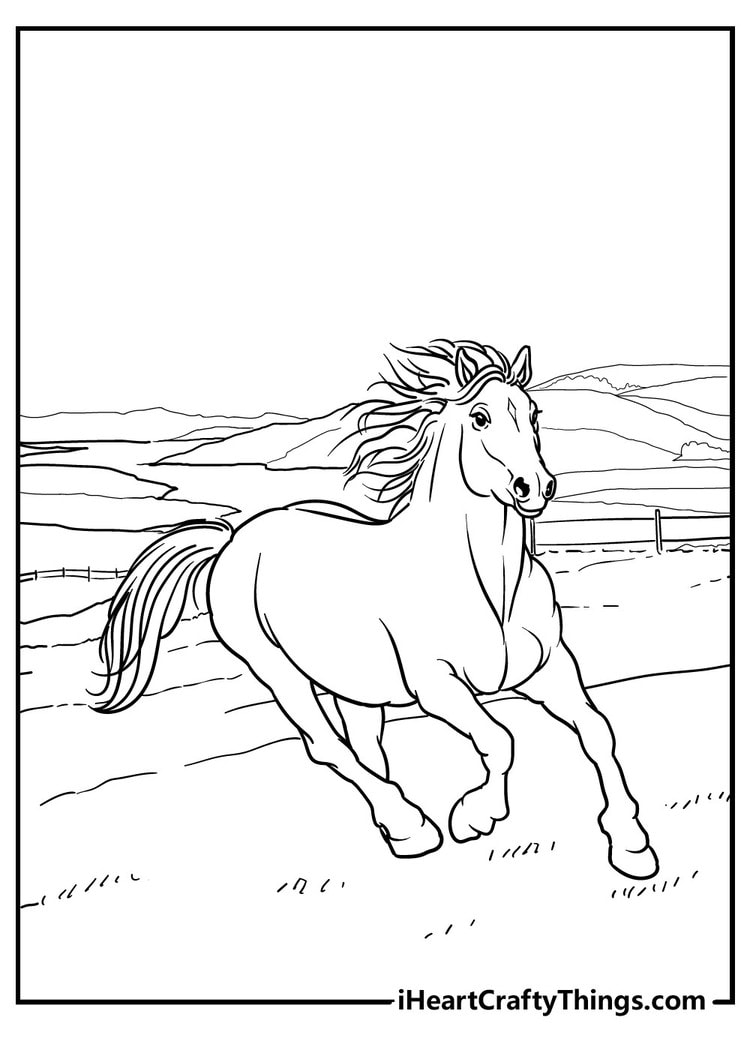 We love this printable of this adorable horse with a stunning mane and rears up on his hind leg prepared to leap.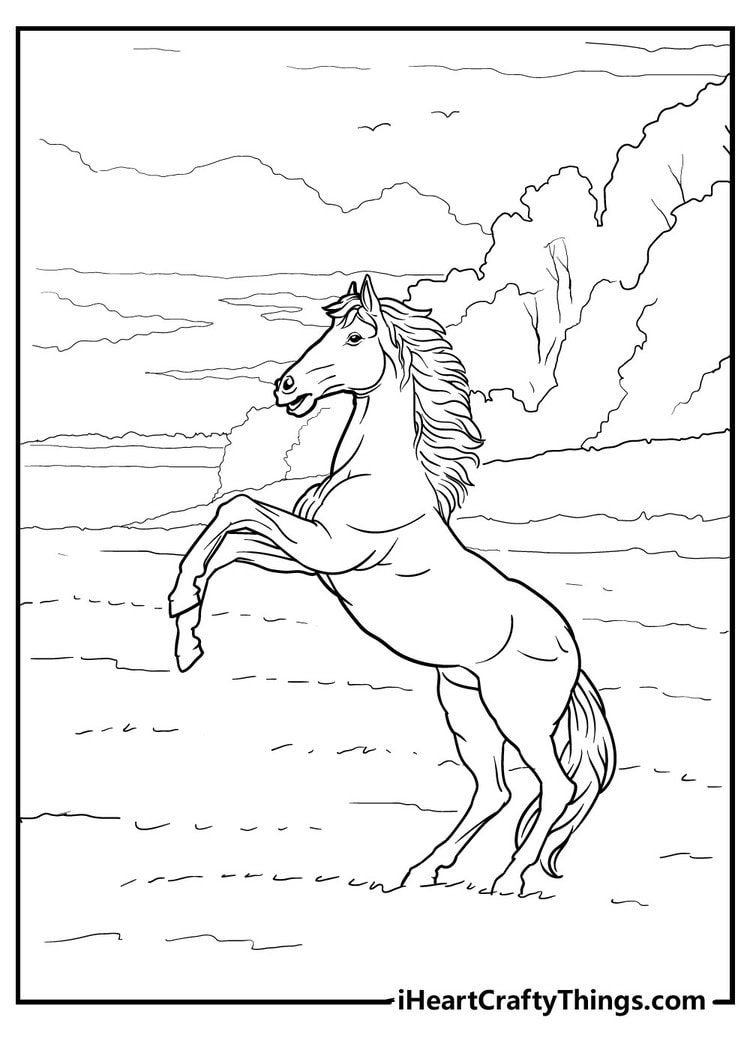 It's an undisputed fact that horses are adorable, but you don't want to mess around with them. Or things could get ugly.
This coloring page shows an angry horse ready to attack.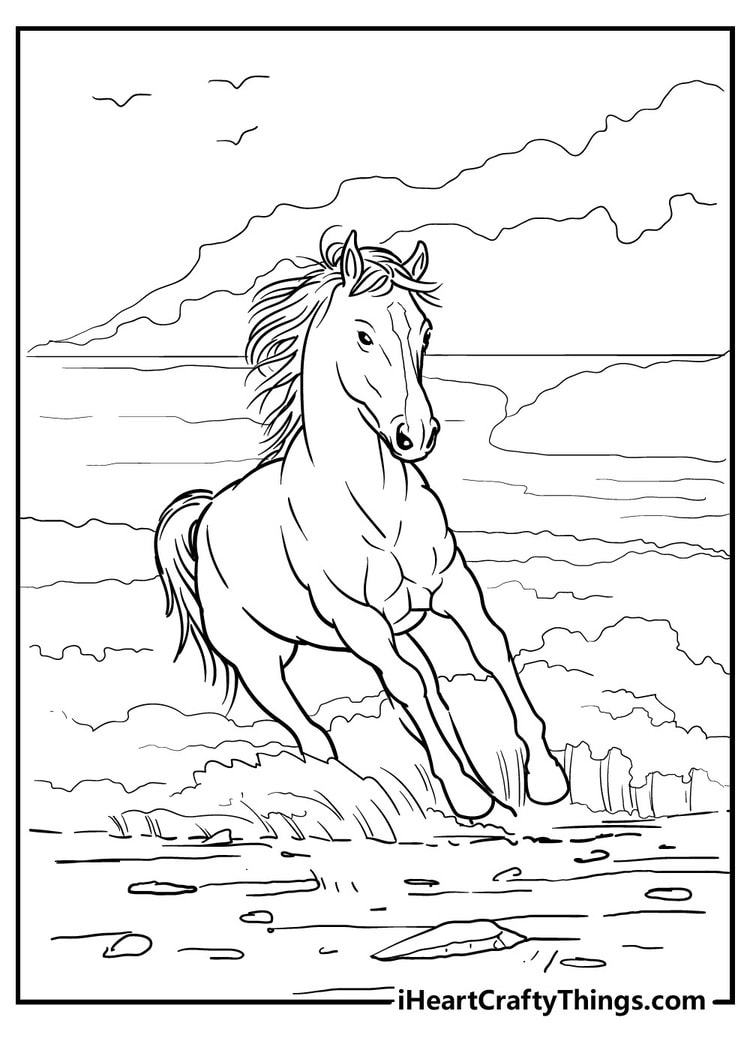 For the next page in this collection of free charming horse coloring pages for kids, we have a wonderful close-up on this beautiful animal.
This closer look gives us a good view of the finer details of not just the horse itself but also the reigns attached to it.
Some of these smaller details could prove tricky to color in, so we would recommend using some mediums like colored pens or pencils to give you more control.
This one will look amazing when it's done, and we can't wait to see how you color it!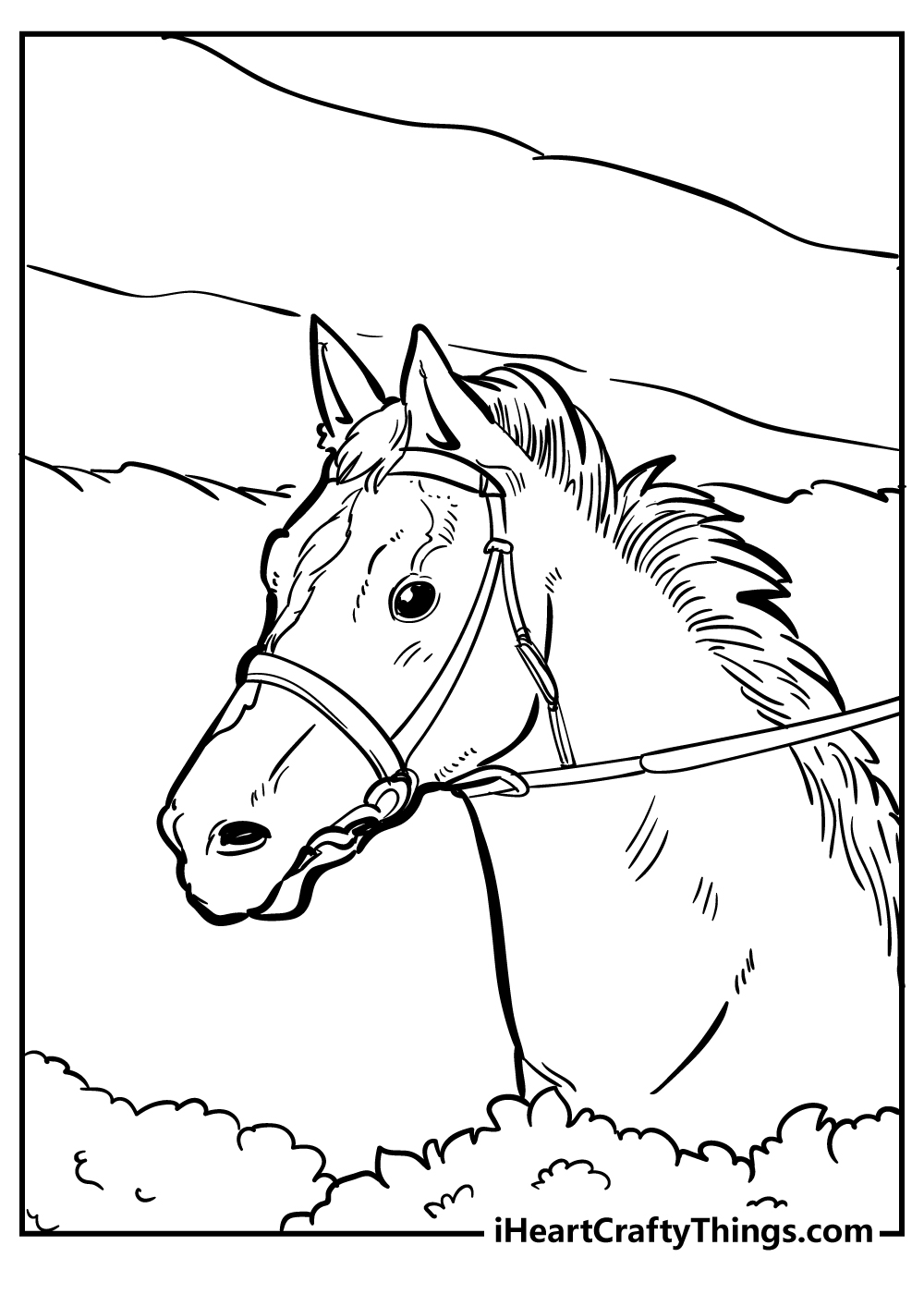 Giddy up and meet this playful pony on this horse coloring page.
Look how he rears up on his hind legs, ready to play and imagination. Grab your crayons and give him a wild painted coat – polka dots, zig zags, rainbow colors.
Feel free to accessorize her with a saddle, bridle or whatever else you think a horse of her grace deserves. In the background, draw a castle, rainbows, or anything else you think would fit this regal equine.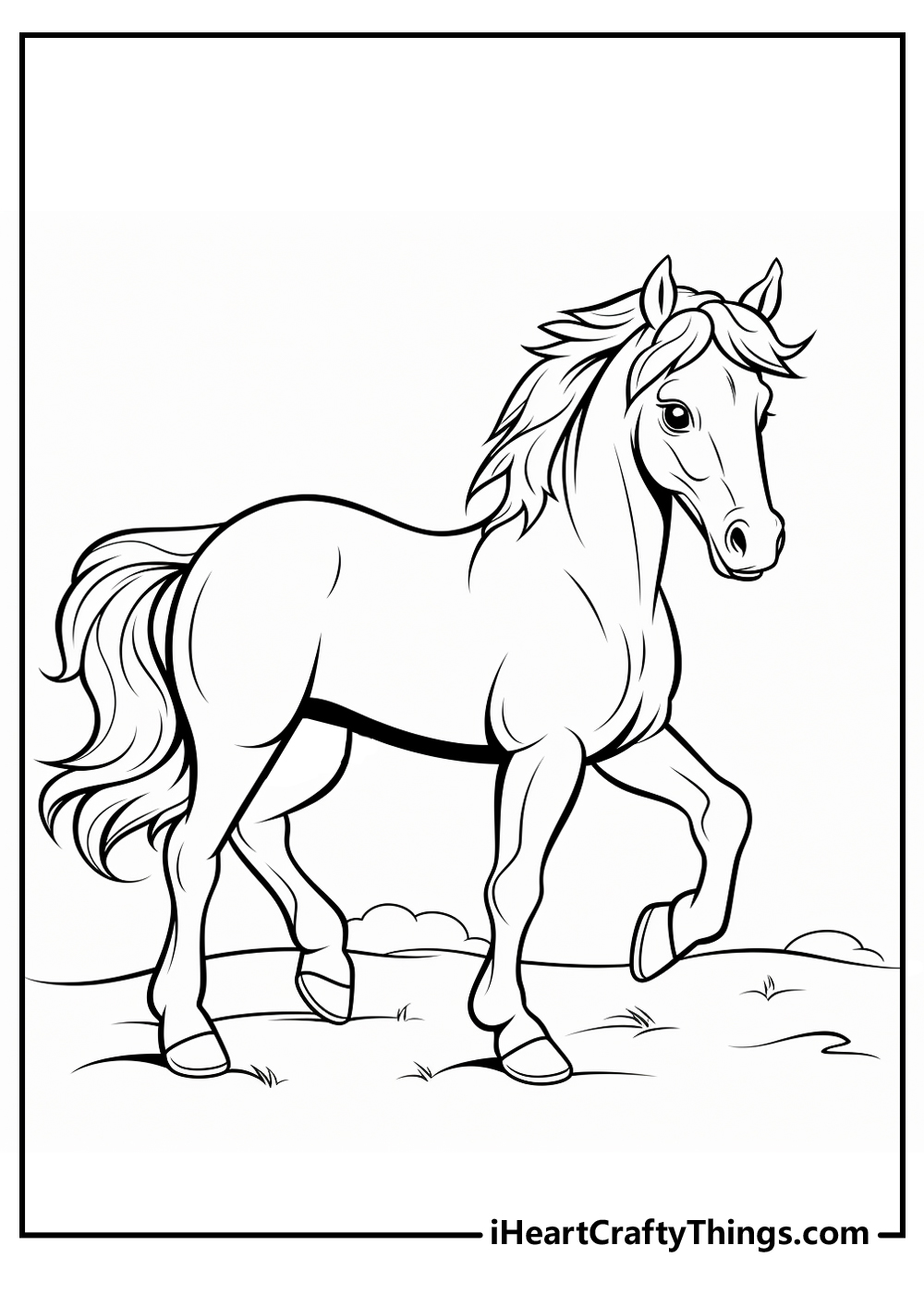 We all love to where there are greater opportunities for us. The horse is no different.
The grass is greener on the other side and this is where the horse in this printable runs to.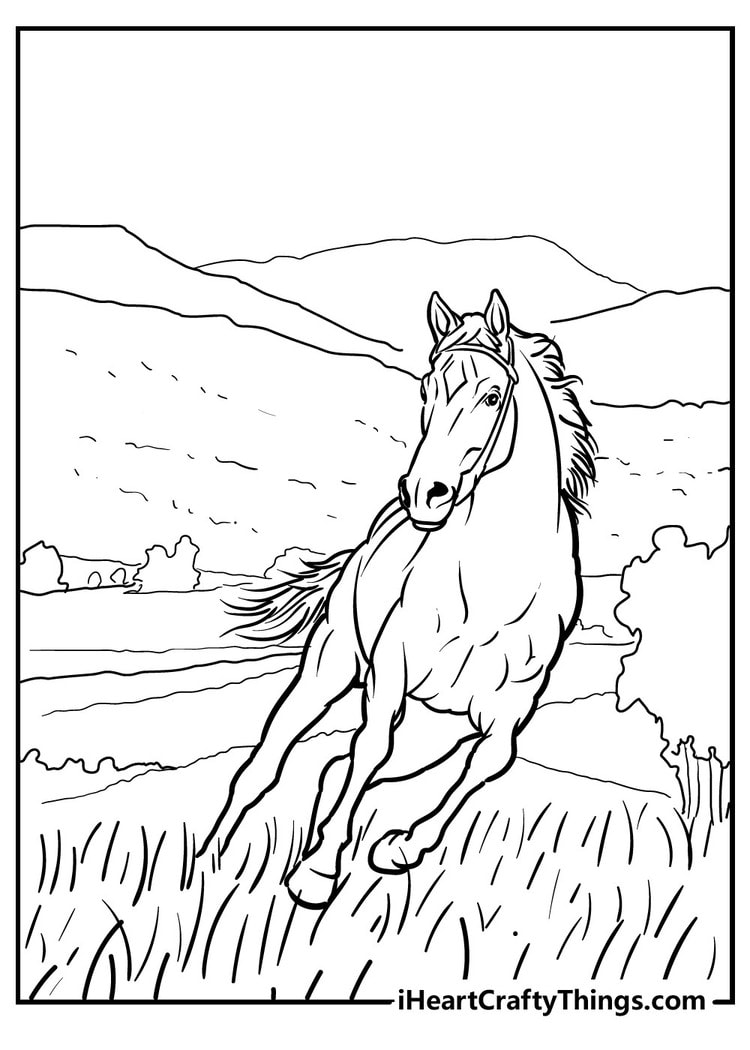 You will agree that we all feel a sense of satisfaction when a get a better alternative.
For the horse in this coloring paper, finding land with more than enough grass to feed on is satisfying.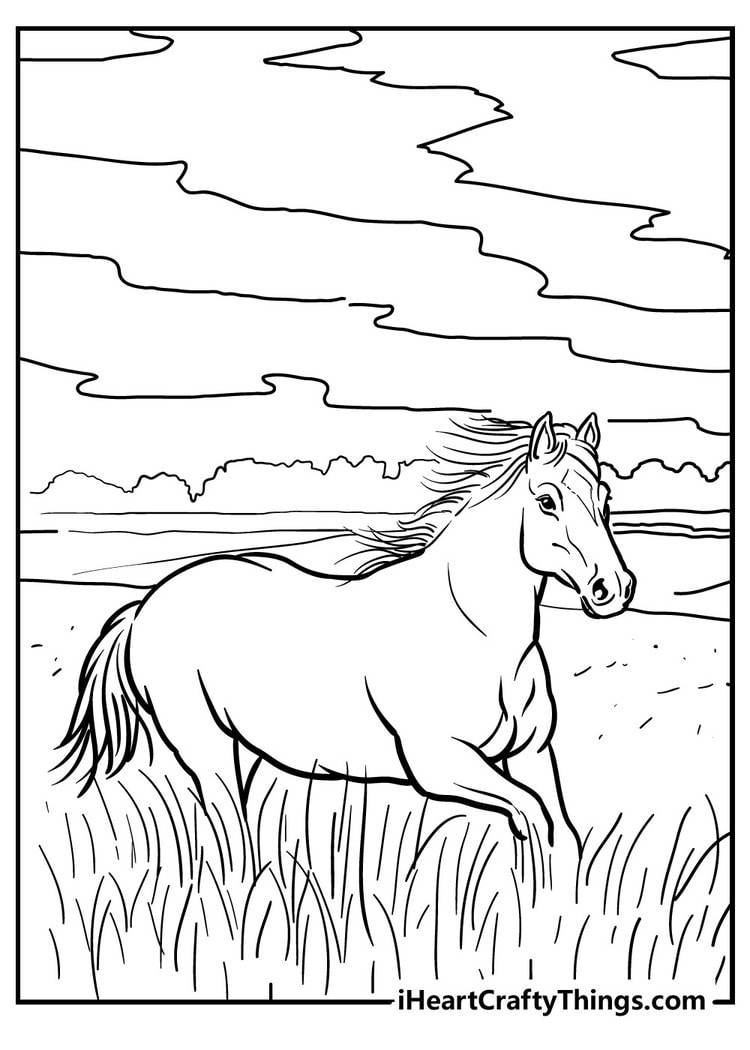 Another truly majestic horse scene is up next for you to color! Once again, we get a great look at the details of this horse, and it gives you a lot to color in.
The environment surrounding the horse is quite lush and grassy, so we would use some bright, fresh greens for most of these background elements.
Behind the horse, we have a few lines that form some layers that could be either some mountains or the sky.
How will you color in the background of this one?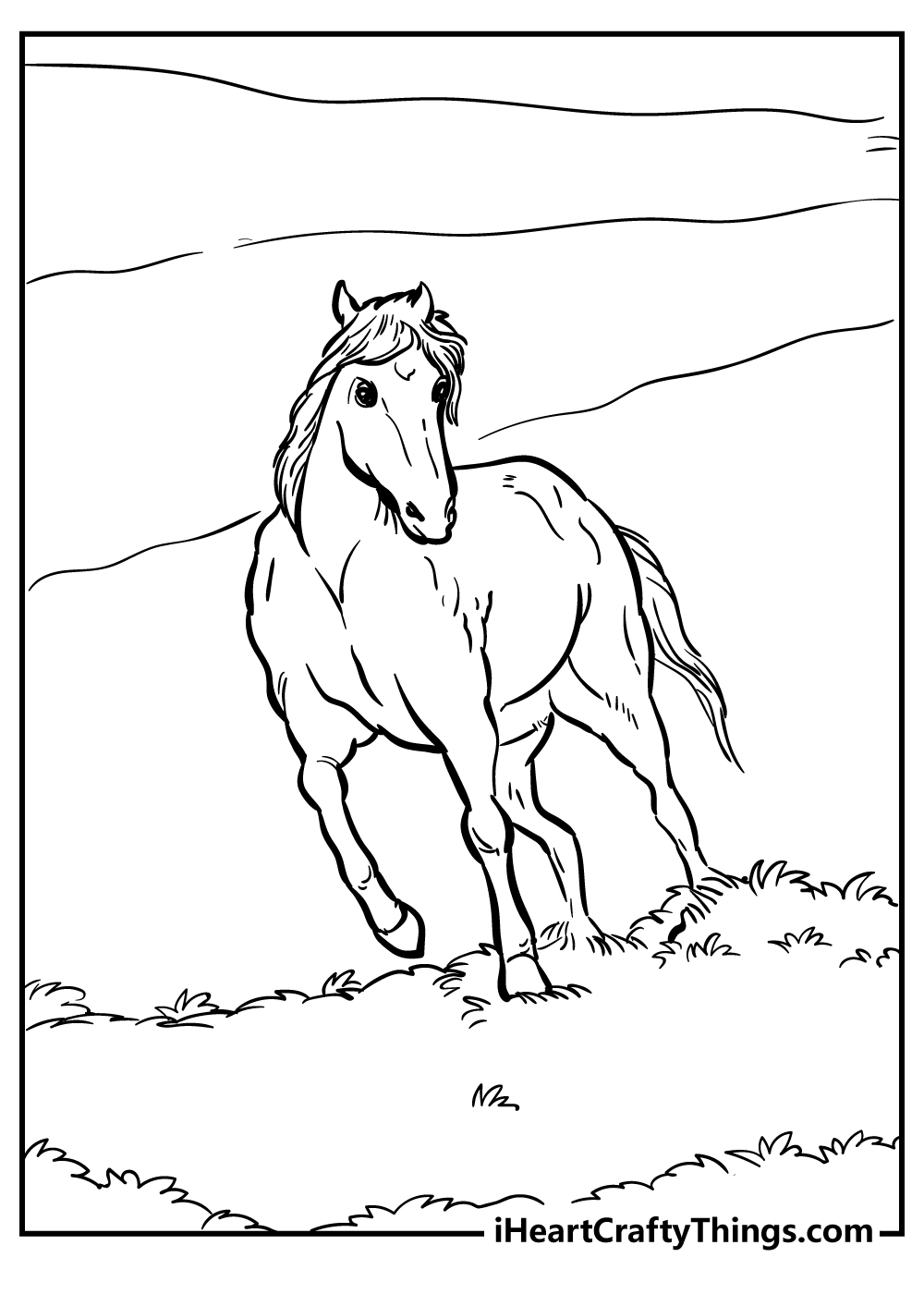 This coloring page shows a horse readied for riding, tied to a tree or something strong enough to hold it — anticipating the arrival of the rider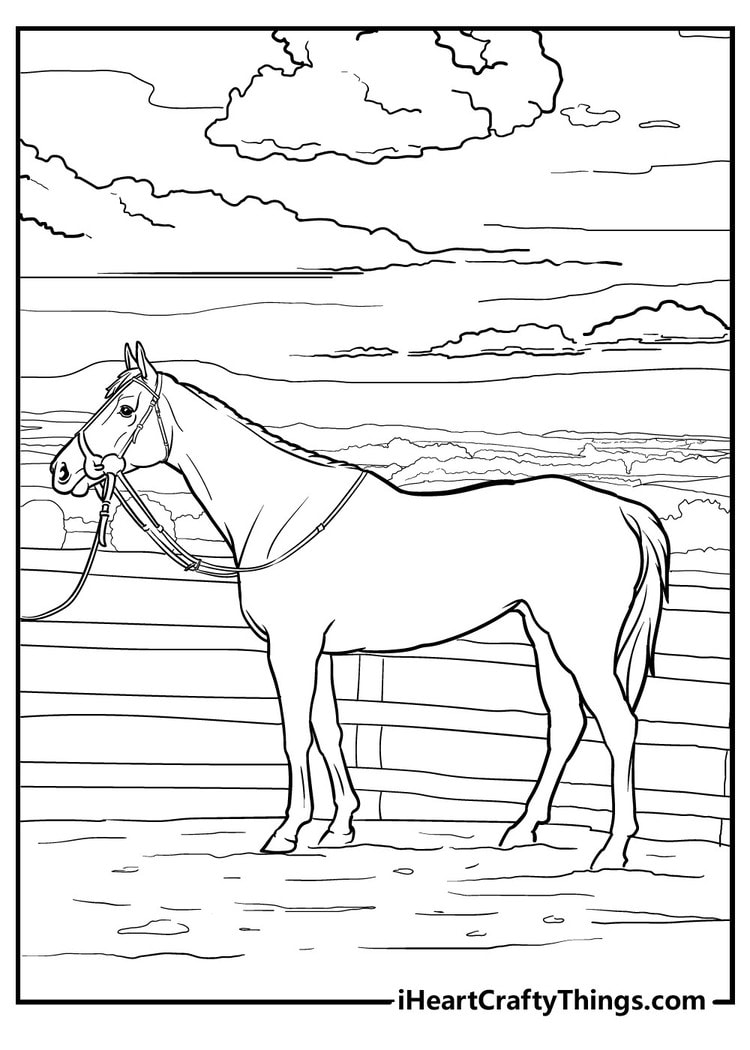 Just like humans, horses are also emotional.
This coloring page shows a horse feeling lonely and sad. It's different from the norm, and that's why we love it.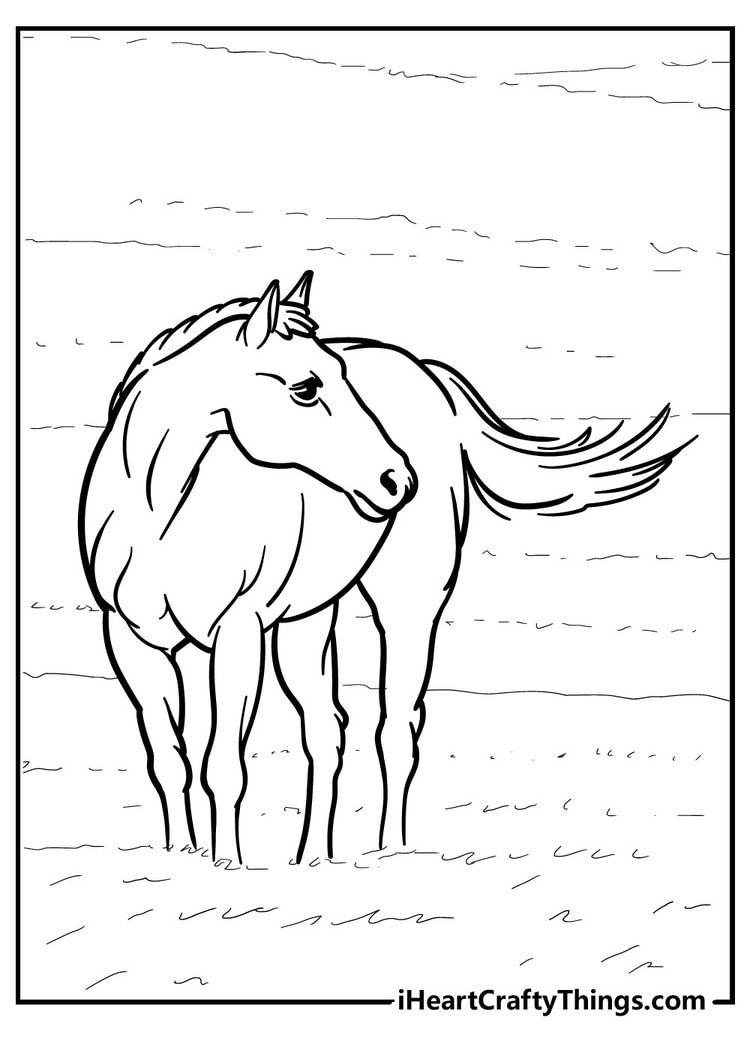 Sometimes, it's nice to get away from civilization to ride a horse in the great outdoors, and this page captures that feeling brilliantly.
While the background has got some nice details to it, there is still plenty of empty space. That means that you could draw in some additional background details to create a wonderful setting.
If you have ever ridden a horse in a beautiful environment then perhaps you could replicate it for this page.
If not, you could imagine any kind of place you would love to ride this beautiful horse! What kind of settings can you think of?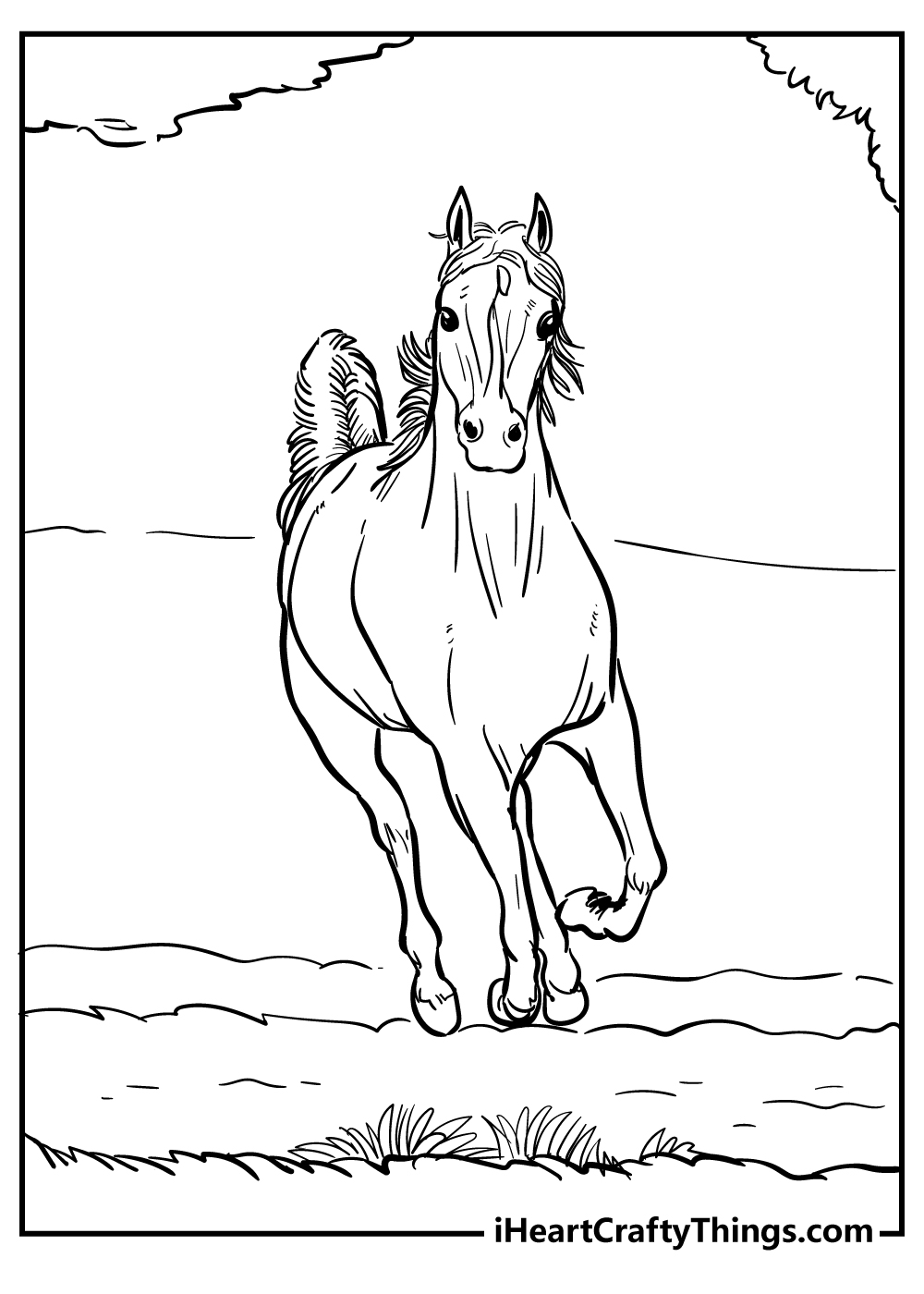 Sometimes, as humans, when we feel sad, a walk around the park or down the street, does a lot of good. This horse in this printable is taking a walk.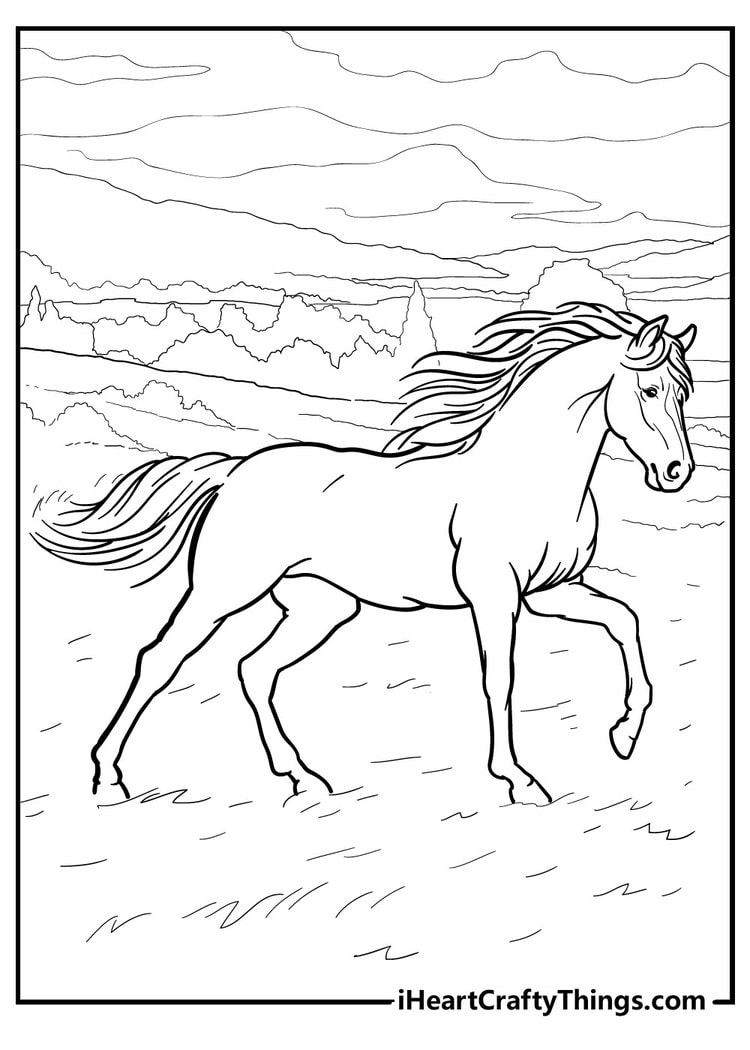 This coloring page shows a horse paw the ground and stomps his hoof.
Horses stomp their hoof when they are impatient or need attention.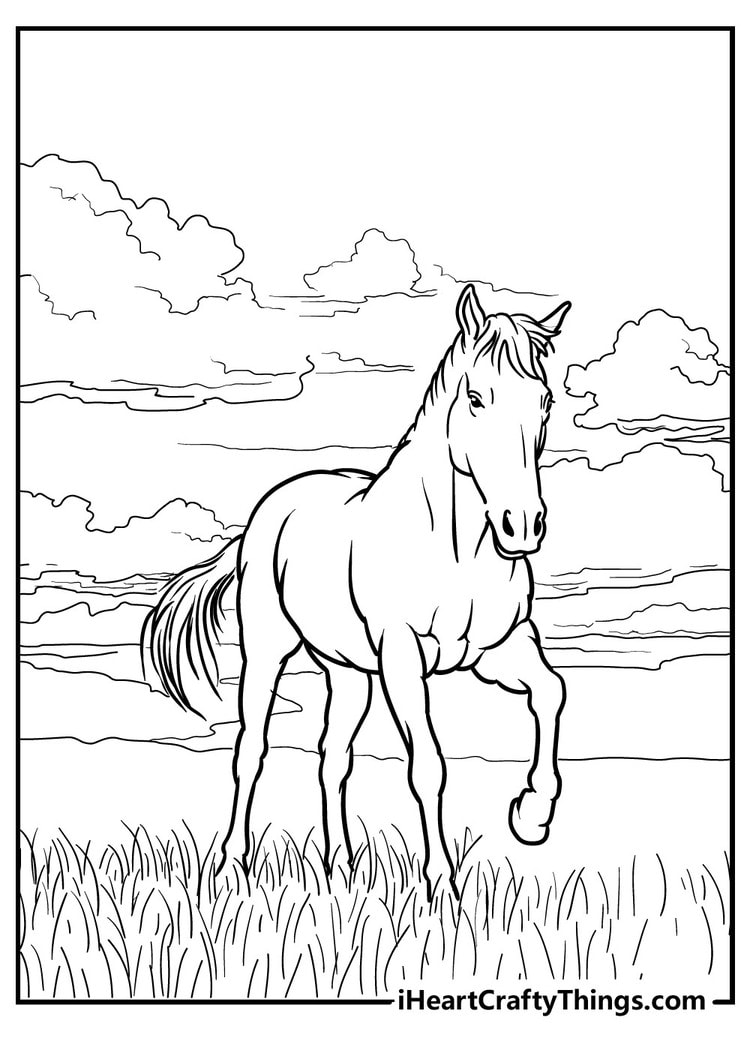 This charming horse coloring printable is another one that captures the adventurous feeling of venturing out into the wilderness with a loyal steed.
Once again, the background is fairly detailed but there is plenty of room for you to add some additional details as well.
You could create a snowy mountain setting, but you could also go for a desert environment right out of a classic Western movie!
These are just two types of environments you could choose from, but there are many more you could go for instead. What other kinds of places would you like to show off here?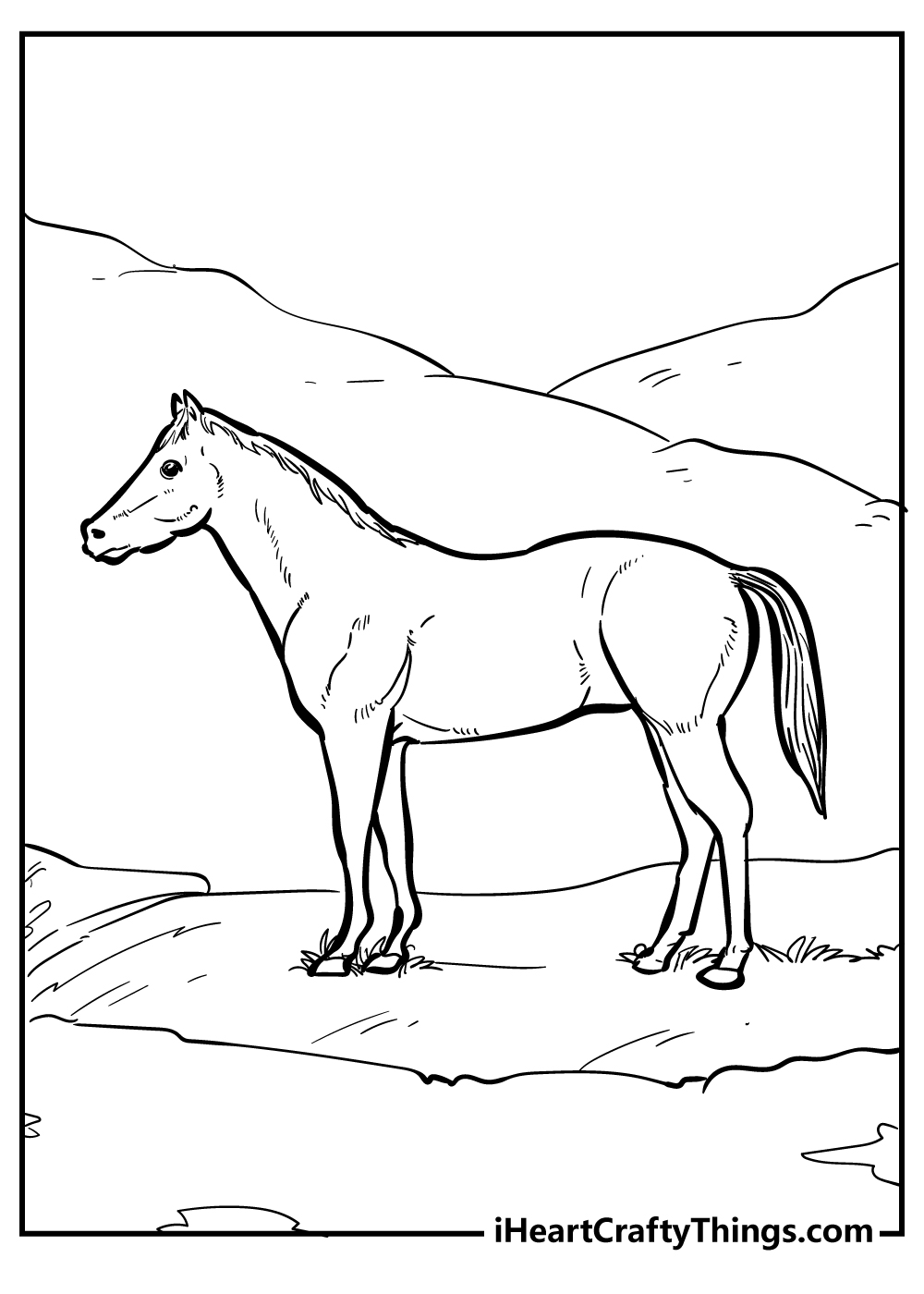 We hope the stunning poise of this beautiful horse on this coloring page is pleasing to your eye.
It's all shades of classy.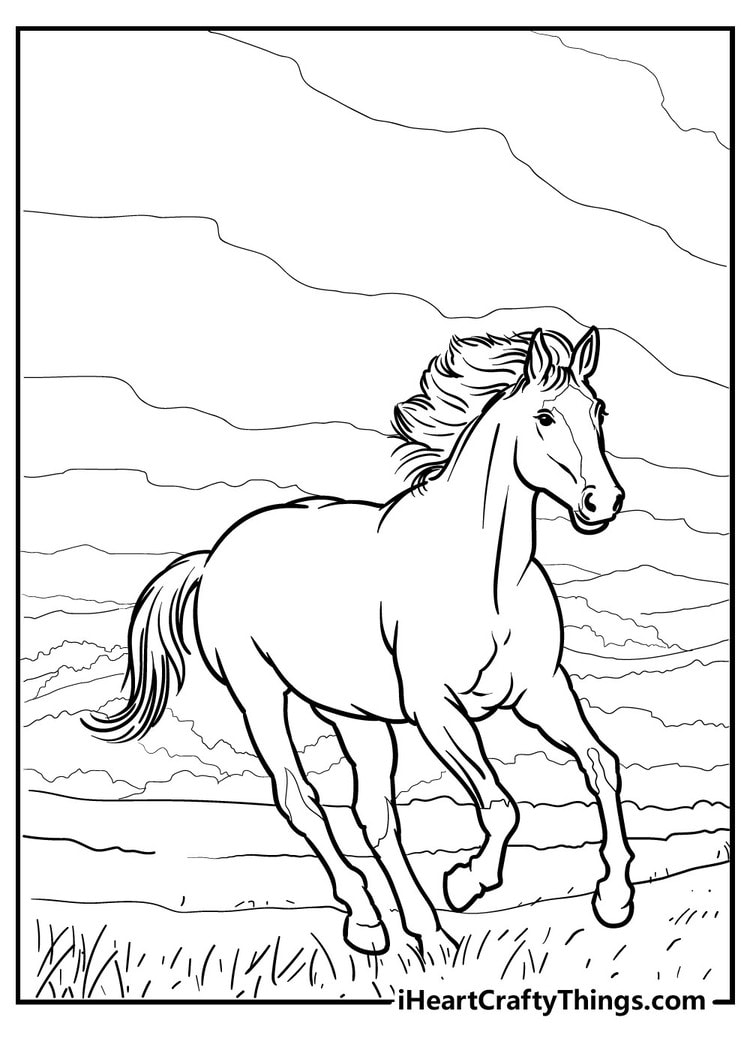 We love this coloring page that shows a horse with his hoofs in motion. It almost seems as though those hoofs are dancing to a specific groove.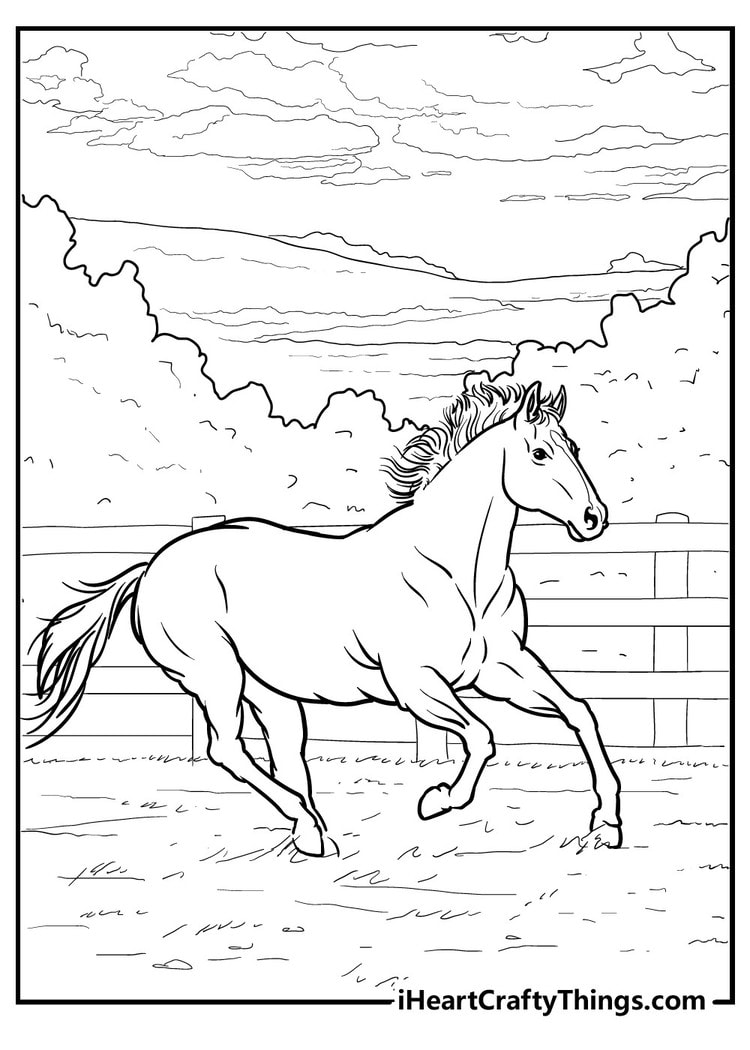 Next, we have an action-packed scene that really captures the speed and thrills of riding a horse.
This horse seems to be moving at great speeds, and you could show this with how you choose to color it in.
One way of showing fast speeds in a static image is to use lots of smaller strokes of color in the background to make it look like the scenery is whizzing by.
That's one way of doing it, but it would also look good if you captured a more detailed environment! The decision is up to you, so how will you color this page?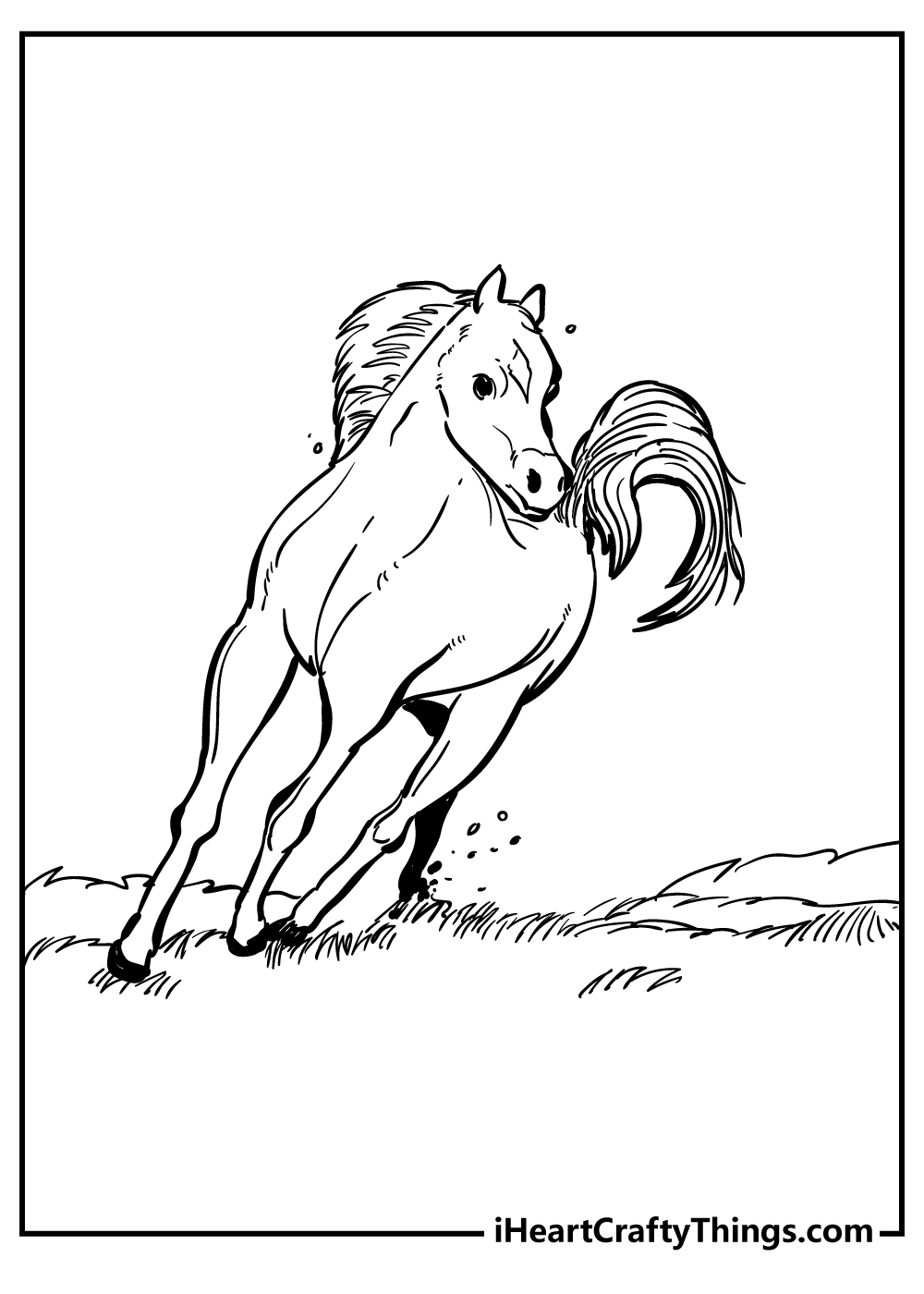 Horses are charming. Those with a full mane, little mane, or no mane.
This printable shows a horse with little mane staying in isolation. It's a wonderful sight.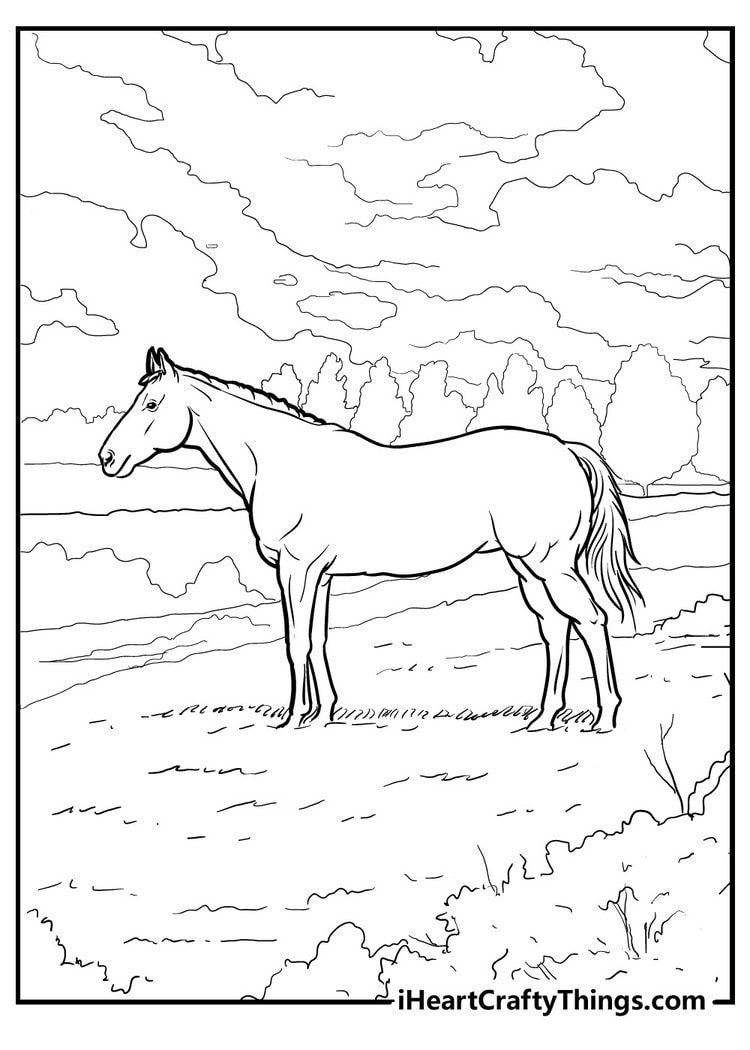 In similarity to humans, horses know they are beautiful creatures.
This is why they move around majestically and adorably.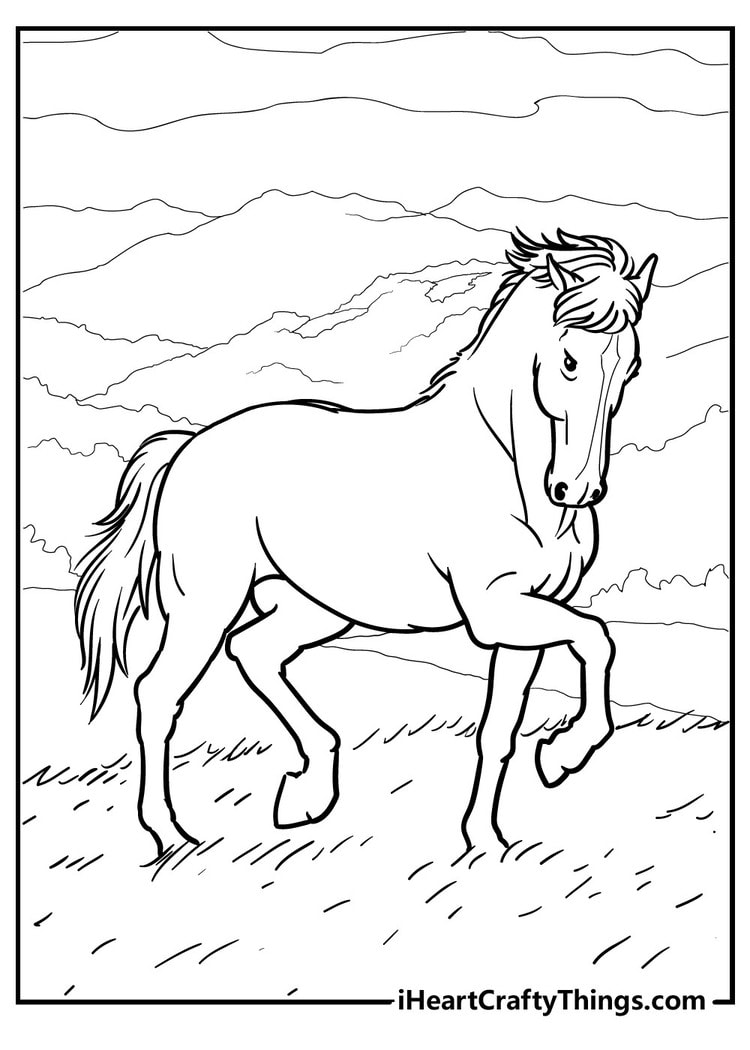 This next horse seems to be having a wonderful day! It is running along a beach and splashing through the water, and it creates such a freeing feeling.
The water aspects of this image also allow you to use some lovely shades of blues for the picture to give it a milder look.
If you use a lot of blues for the water, you could use oranges and red for a dawn or dusk painted sky that will contrast the cooler colors.
What sort of color scheme do you think would best suit this picture?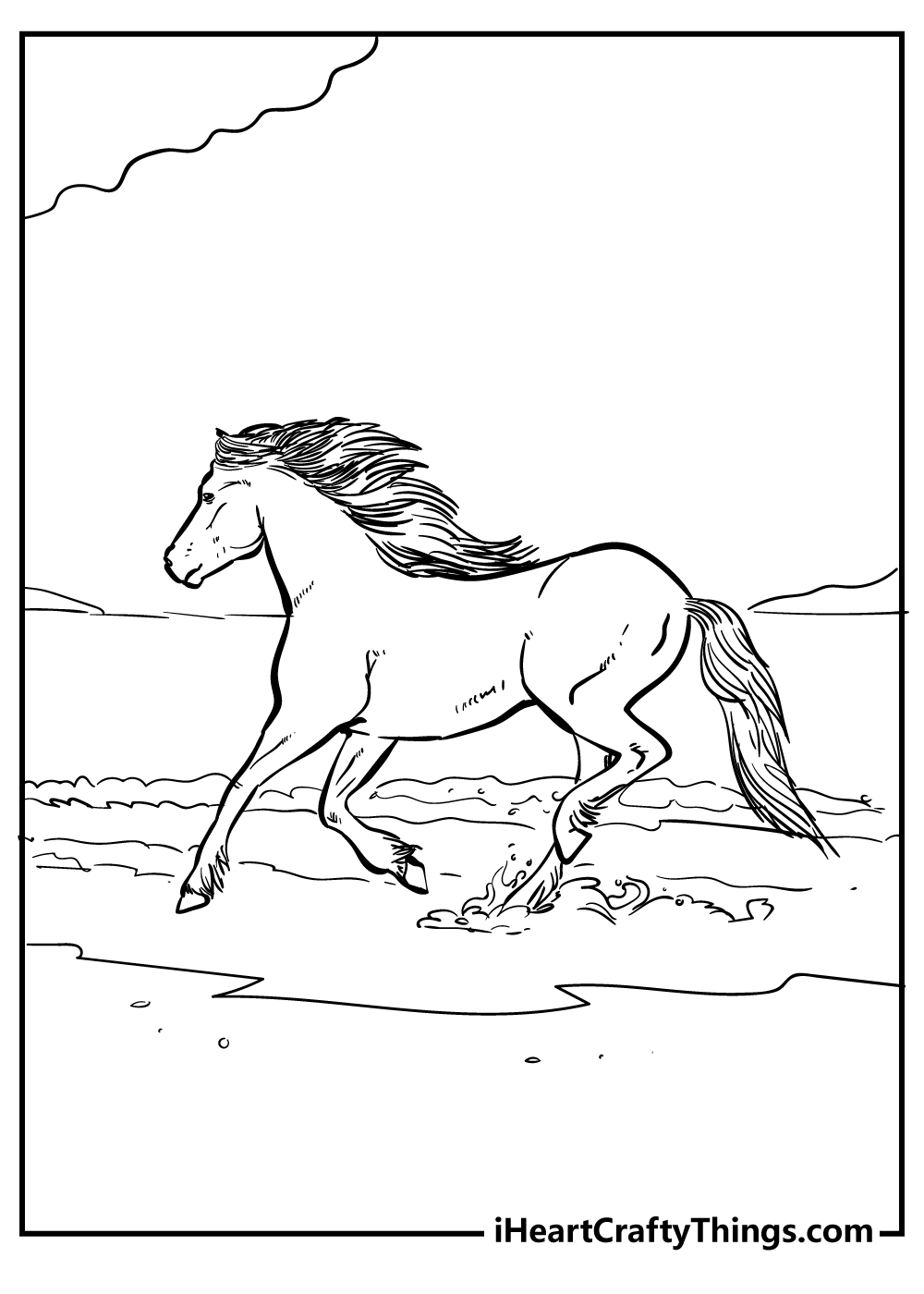 This printable shows a horse landing with his legs still off the ground after taking a great leap. Powerful strides!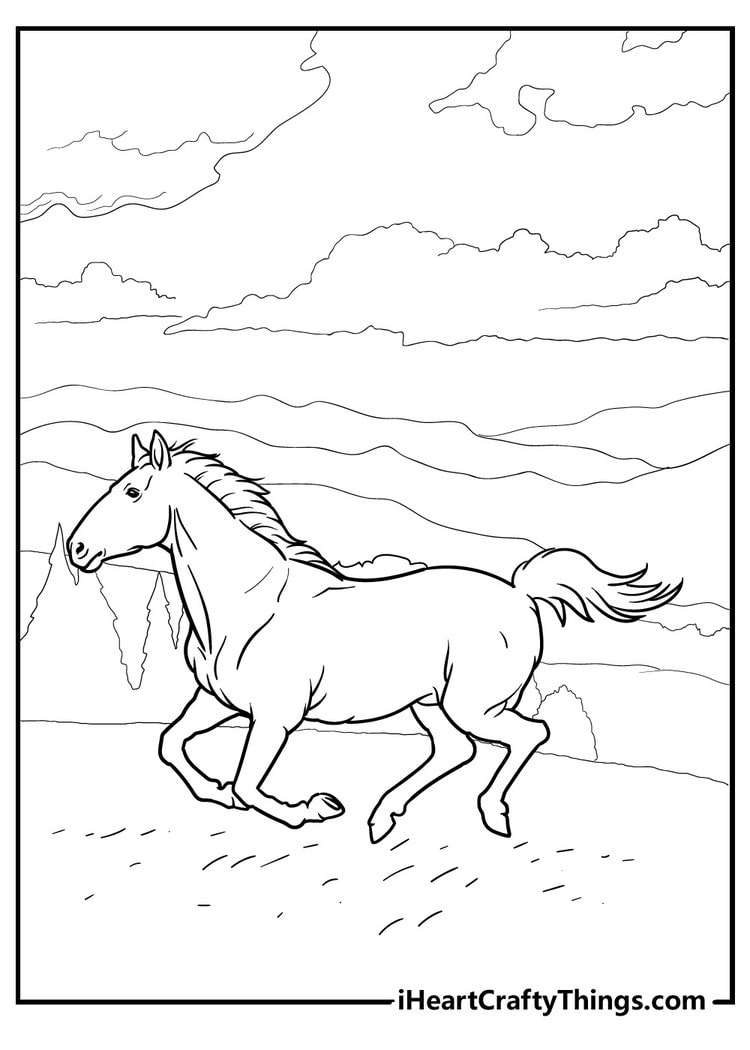 Horses are competitive. We hope you will love this coloring page of a horse stamping his authority on a territory.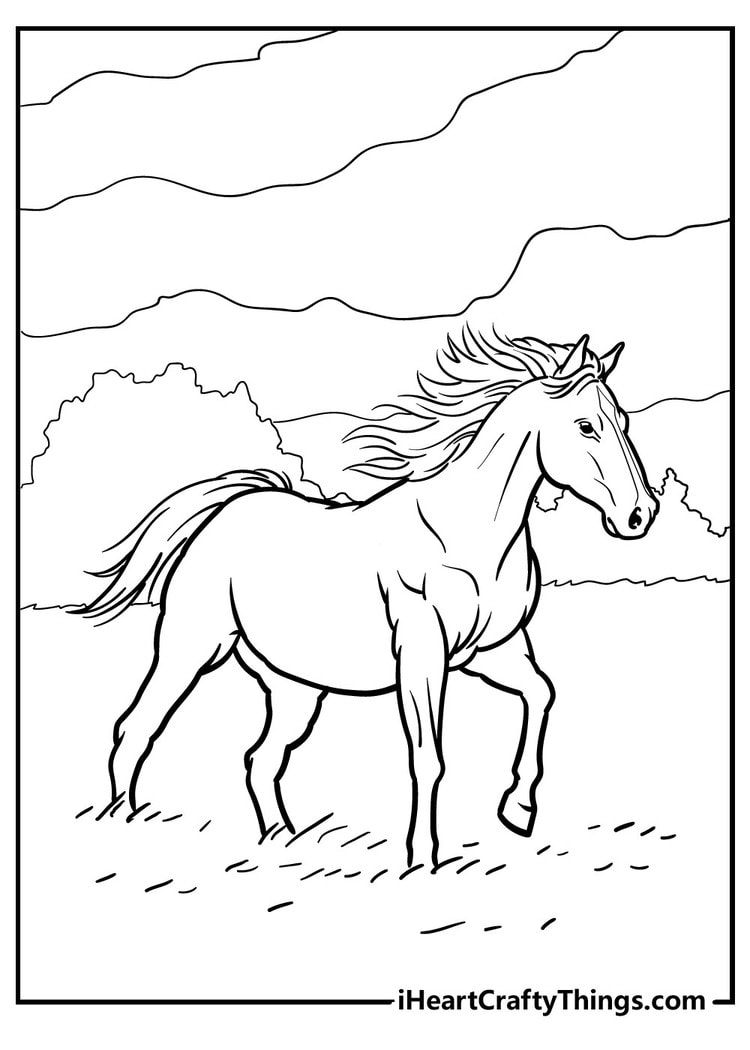 Many of these charming horse coloring pages have shown horses in the middle of running or performing tricks, but this one shows off a more subdued scene.
This horse is taking a break to eat some food, and it makes for a nice relaxed picture. If we were coloring this one, we would use some softer colors done with some colored pencils or watercolors.
These lighter mediums and colors would help to emphasize the calm mood of this image, but it's far from the only way you could tackle this image.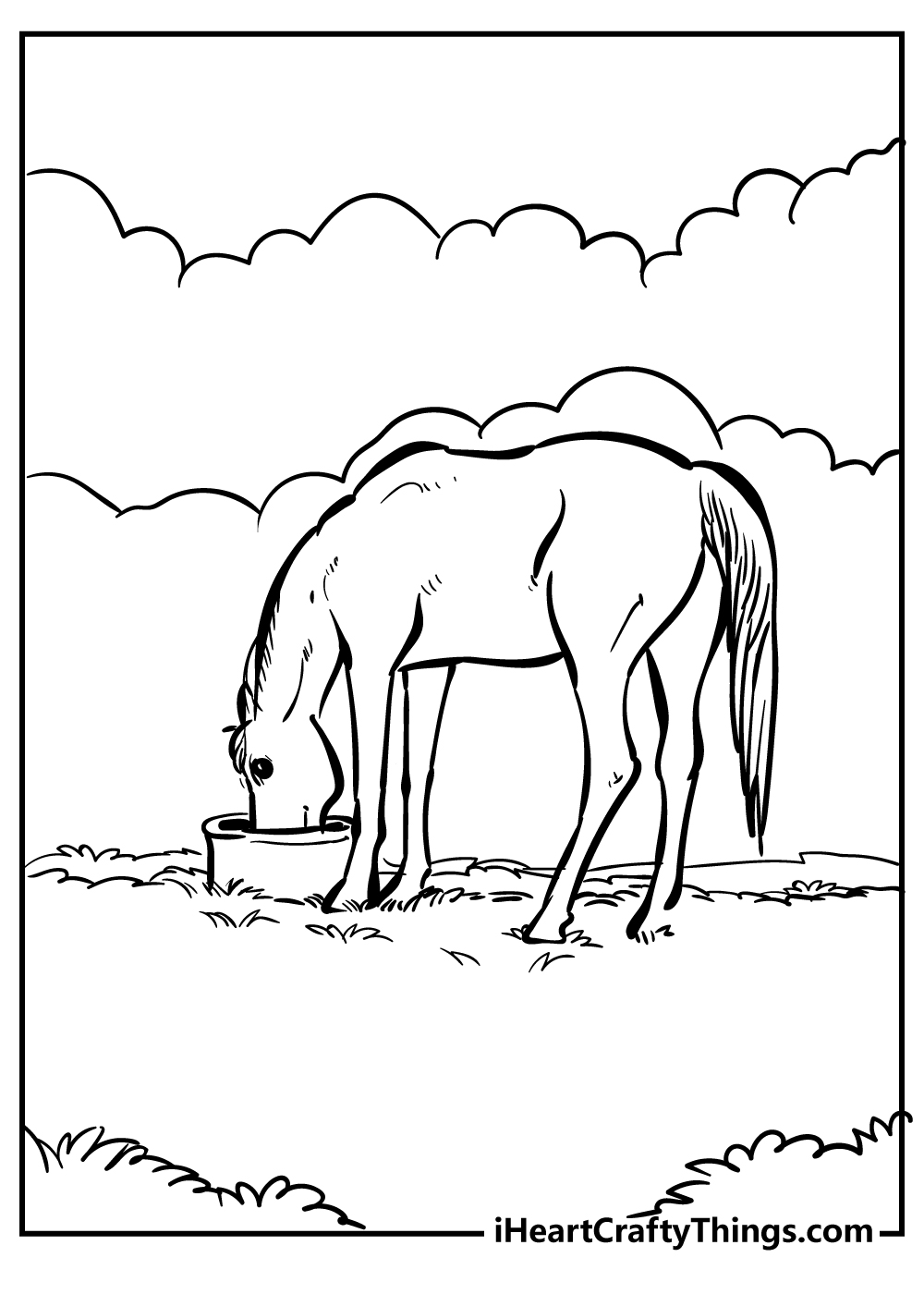 Horses are courageous and always ready to go on an adventure. This coloring page shows a horse pumped up to run.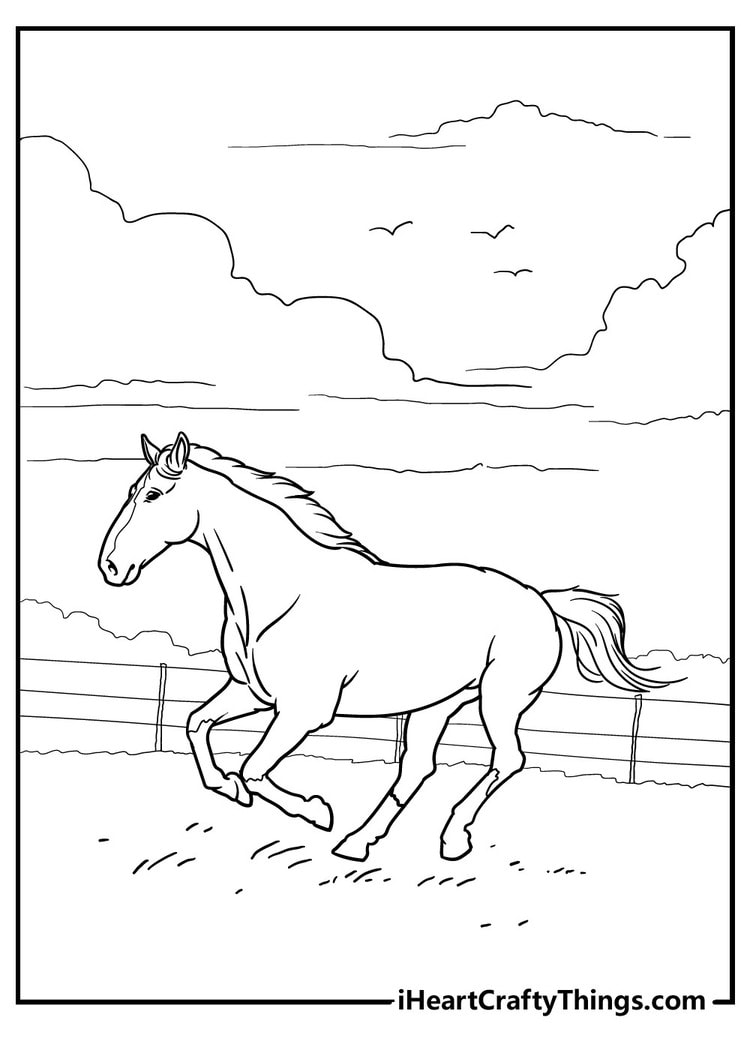 We love this printable of a happy horse. Horses are most excited when in the company of family. We all are.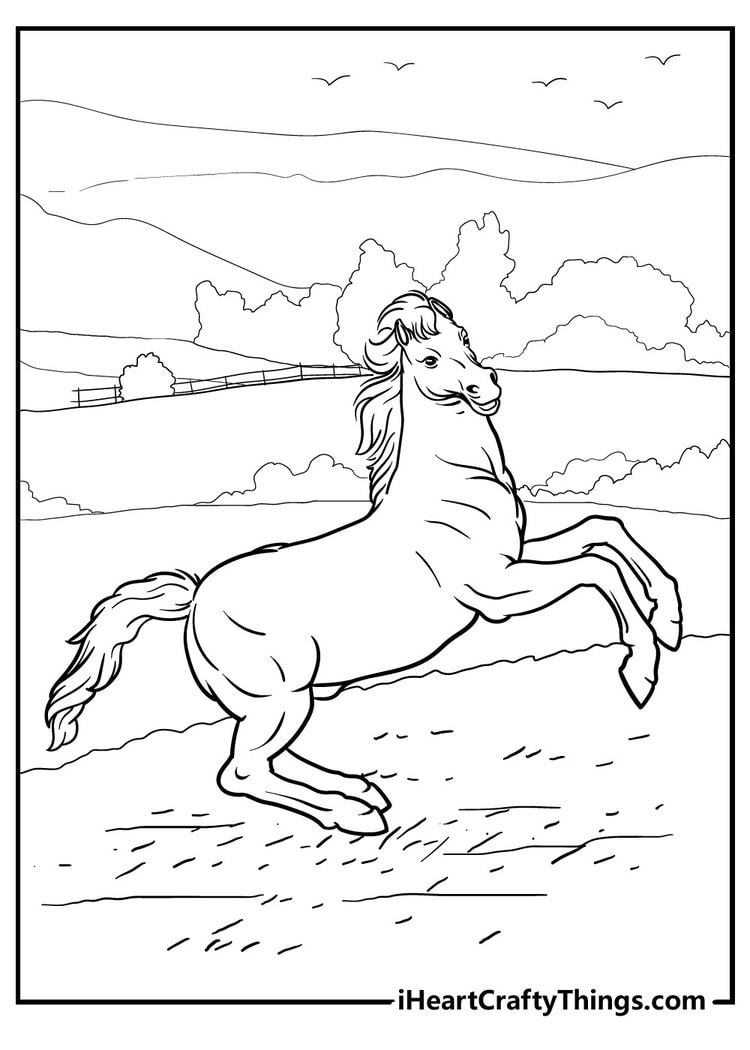 Our final horse coloring paper shows a horse trotting home eagerly as if anticipating a surprise. We hope you love this one.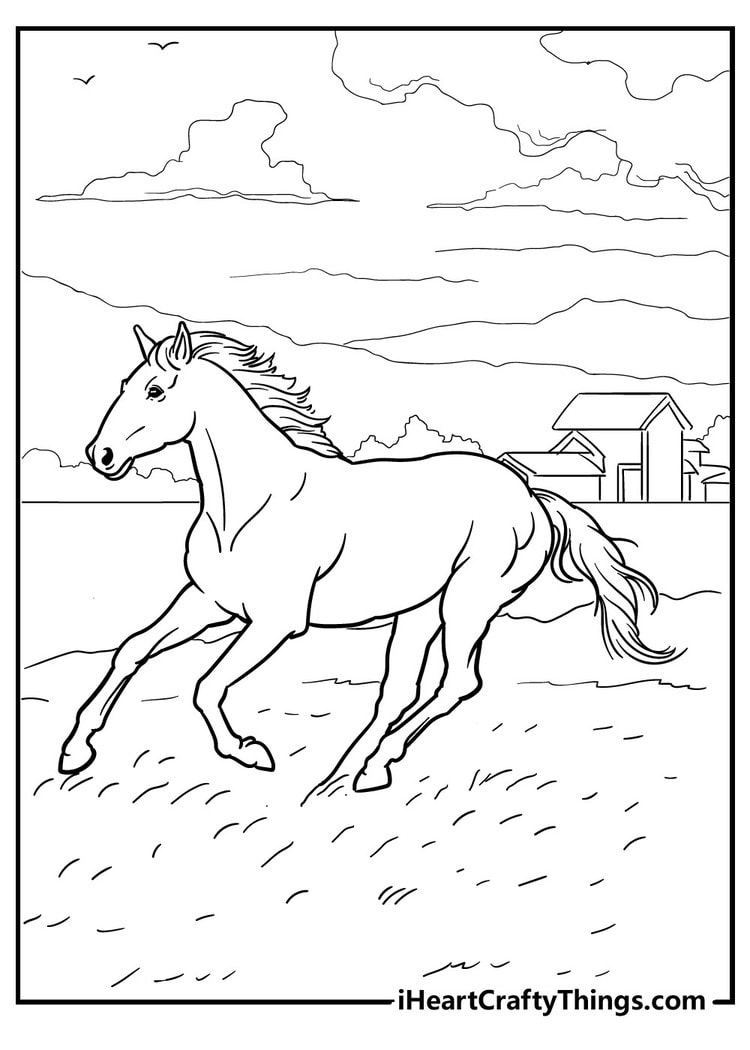 Remember, we consistently update our spectacular coloring pages and printable sheets. So, anticipate more of this goodness, in the nearest future.
Horses are popular worldwide for a unique reason. You can have a feel of this uniqueness when you print and color with these exciting horse characters. Don't miss out on the fun.