It's hard to deny that cowboys are really cool!
They used to roam the Wild West in the olden days, and they have since been represented in countless Western films and other media such as books and even video games.
Their legend lives on to this day, and real-life cowboys still perform some of the classic tricks and moves that classic cowboys would practice.
If you love the allure of the Wild West and have an admiration for brave cowboys, then this is just the coloring adventure for you!
We have a great set of images in store for you that covers a wide selection of various cowboy moves and activities.
These awesome pages are free to print and have fun with as many times as you wish!
You can also spread the Wild West fun by sharing your favorite pages with the other cowboys and cowgirls in your life. Then you can compare all of your interpretations of the various pages!
With that said, it's time to strap up your saddles and get ready for this collection of free cowboy coloring pages for kids!
When you have colored your favorite pages, be sure to share them on our Facebook and Pinterest pages!
10 Brand New Cowboy Coloring Pages – Free to Print and Color
One of the most common tools you'll see a cowboy with is a lasso rope, and that is what is being wielded in this first image in our collection of free cowboy coloring pages!
Cowboys can perform some incredible tricks with lassos, and this one is in the middle of one now. What do you think he could be about to lasso?
You could draw your best guess to finish off this image!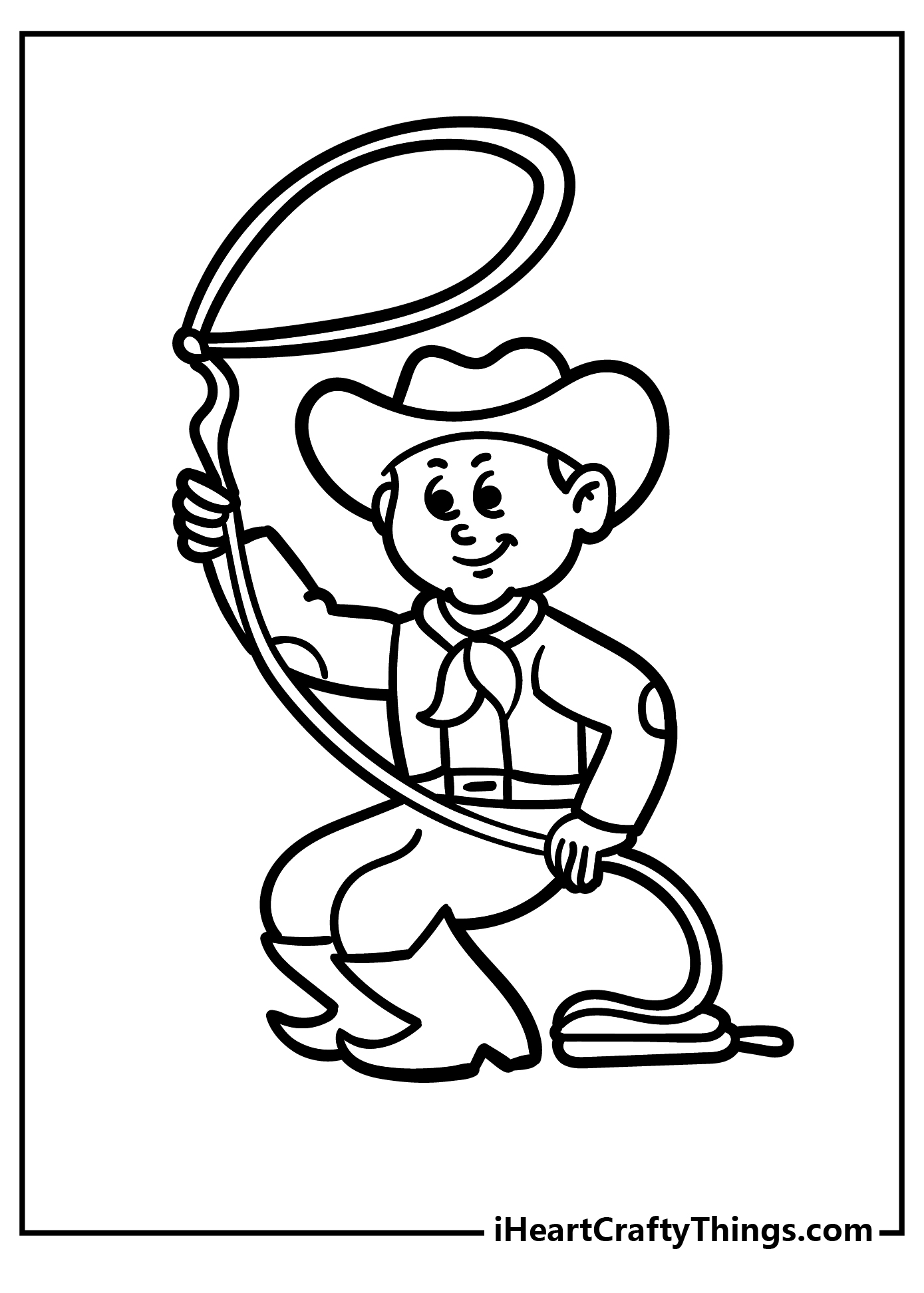 We have a close-up of a fun cowboy in this next page! This one is drawn in an amusing cartoon style, and we think that some bright, vibrant colors would look great for this picture.
For extra fun, you could draw some cowboy-themed shapes or maybe even some phrases into the space around him!
What can you think of to add for this image?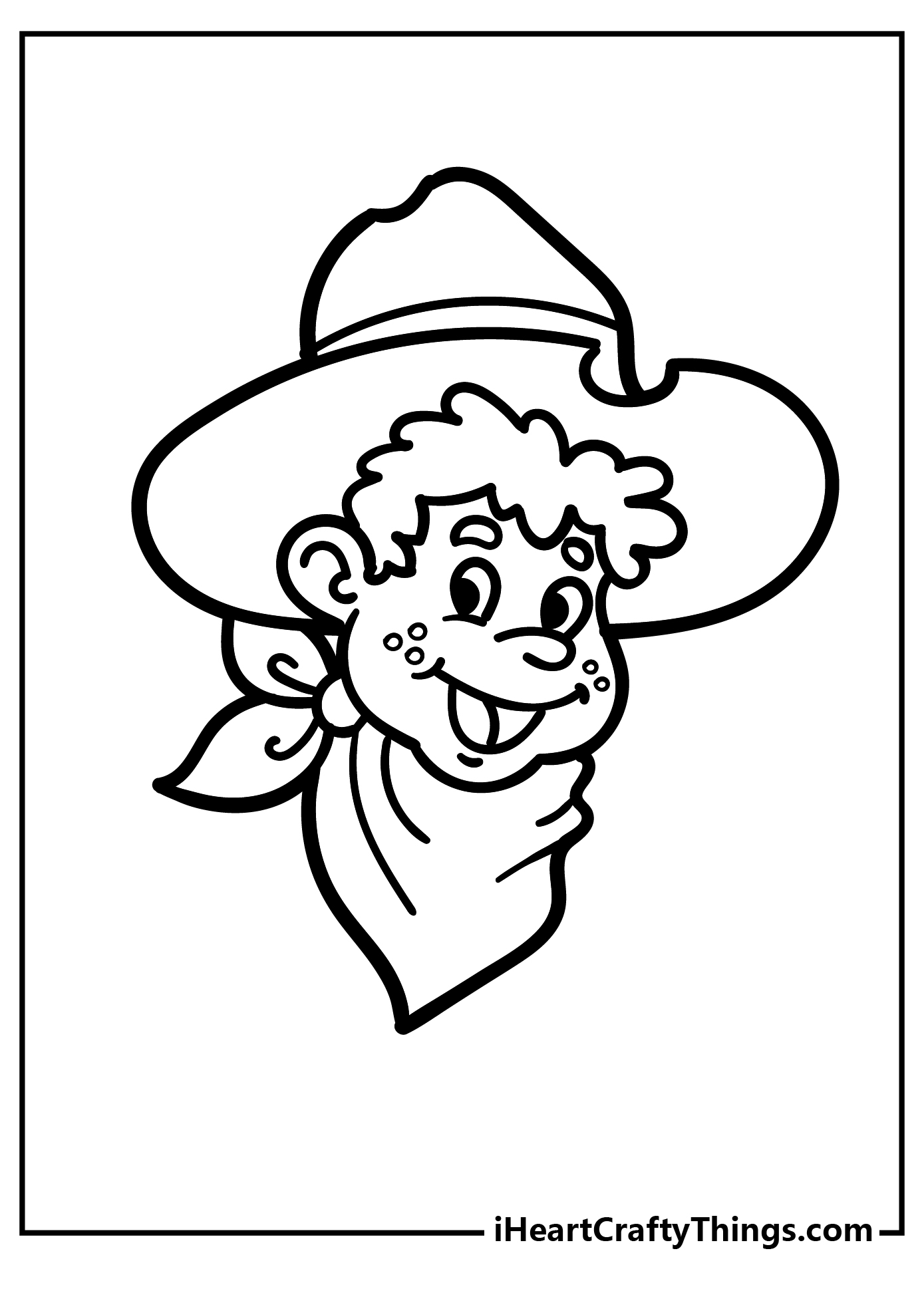 This third cowboy coloring sheet features another fun picture to color! This one is drawn in a fun, simplified cartoon style.
He is reaching for his pistol, but he still has a happy, friendly look on his face.
With all the empty space behind him, you could draw a really cool background behind him to show what kind of Western setting he could be in.
With the simple style of this cowboy, you could draw an equally simple background and still have him fit in!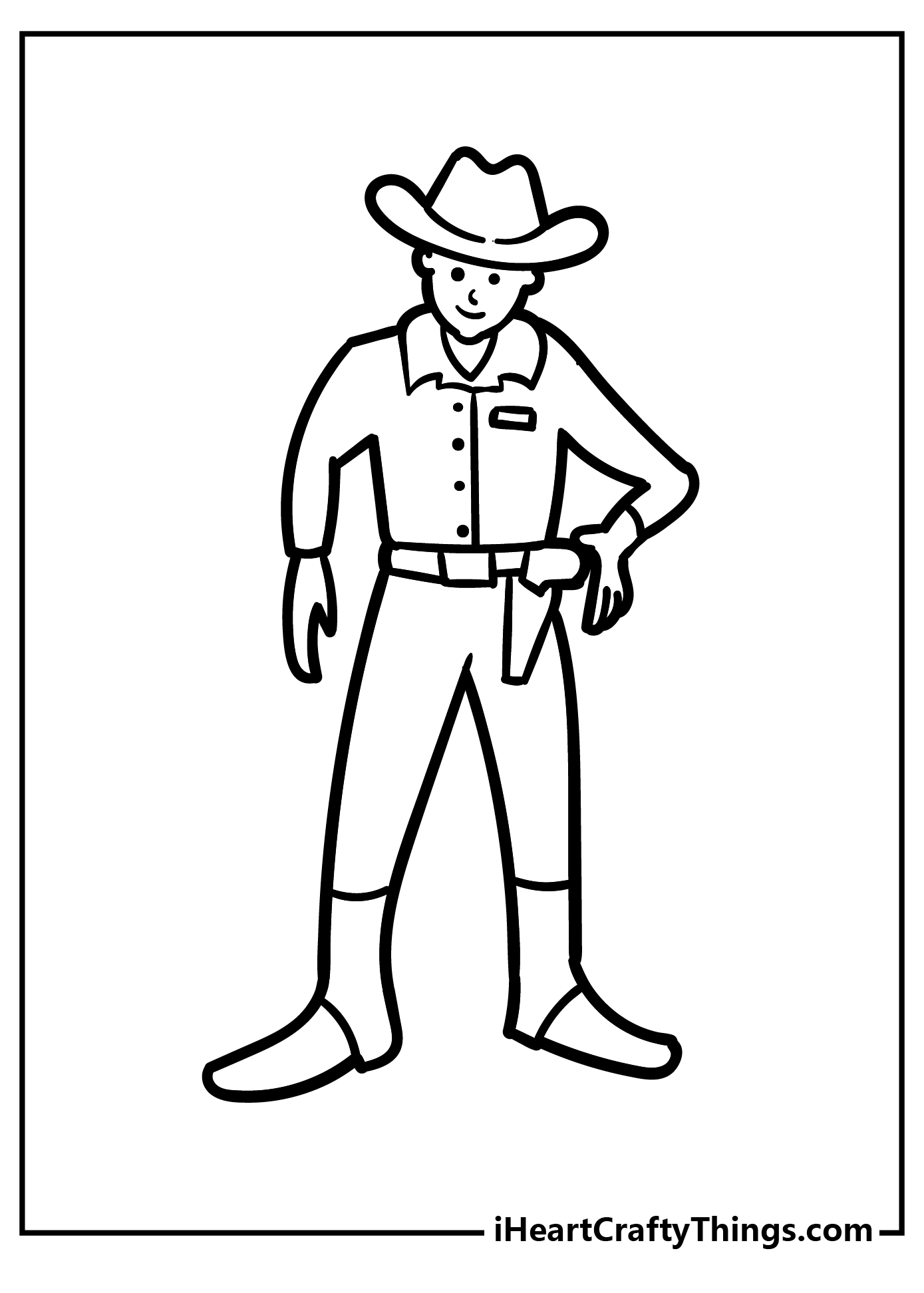 We have an adorable little cowboy for you to color in this next one! This guy is drawn in a simple style that gives off a happy, friendly feeling.
For this one, we would recommend some milder colors and art mediums. We think watercolor paints would look great for this one, but what colors and mediums came to mind for you?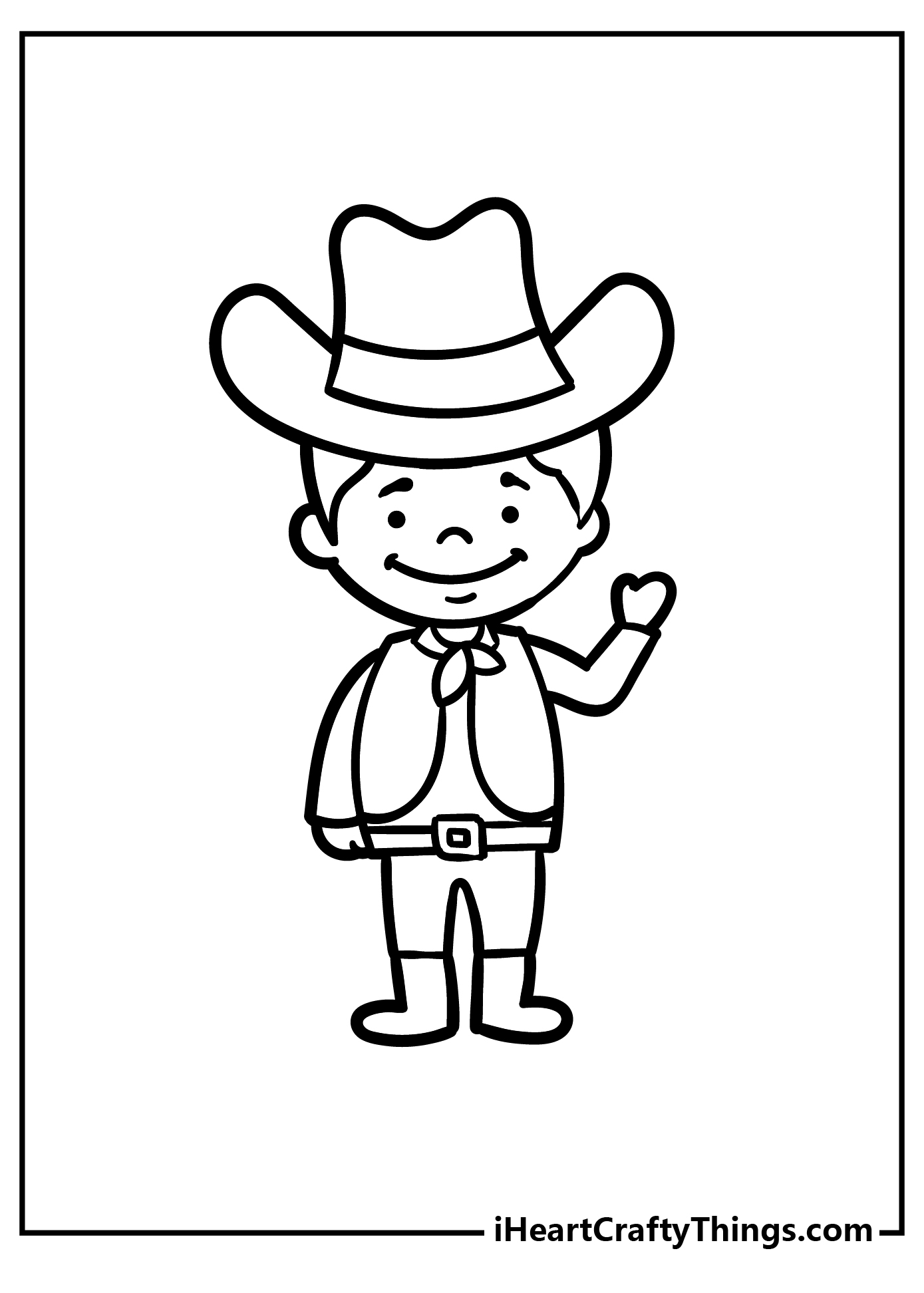 At the halfway point of this cowboy coloring printable collection, we have another one that is ready for action!
This fifth cowboy is drawn in a similar cartoon style to the previous one, but this time he's ready with his lasso rope.
There are some great little details to color here, and we also think it would be fun to add more details to color in the background.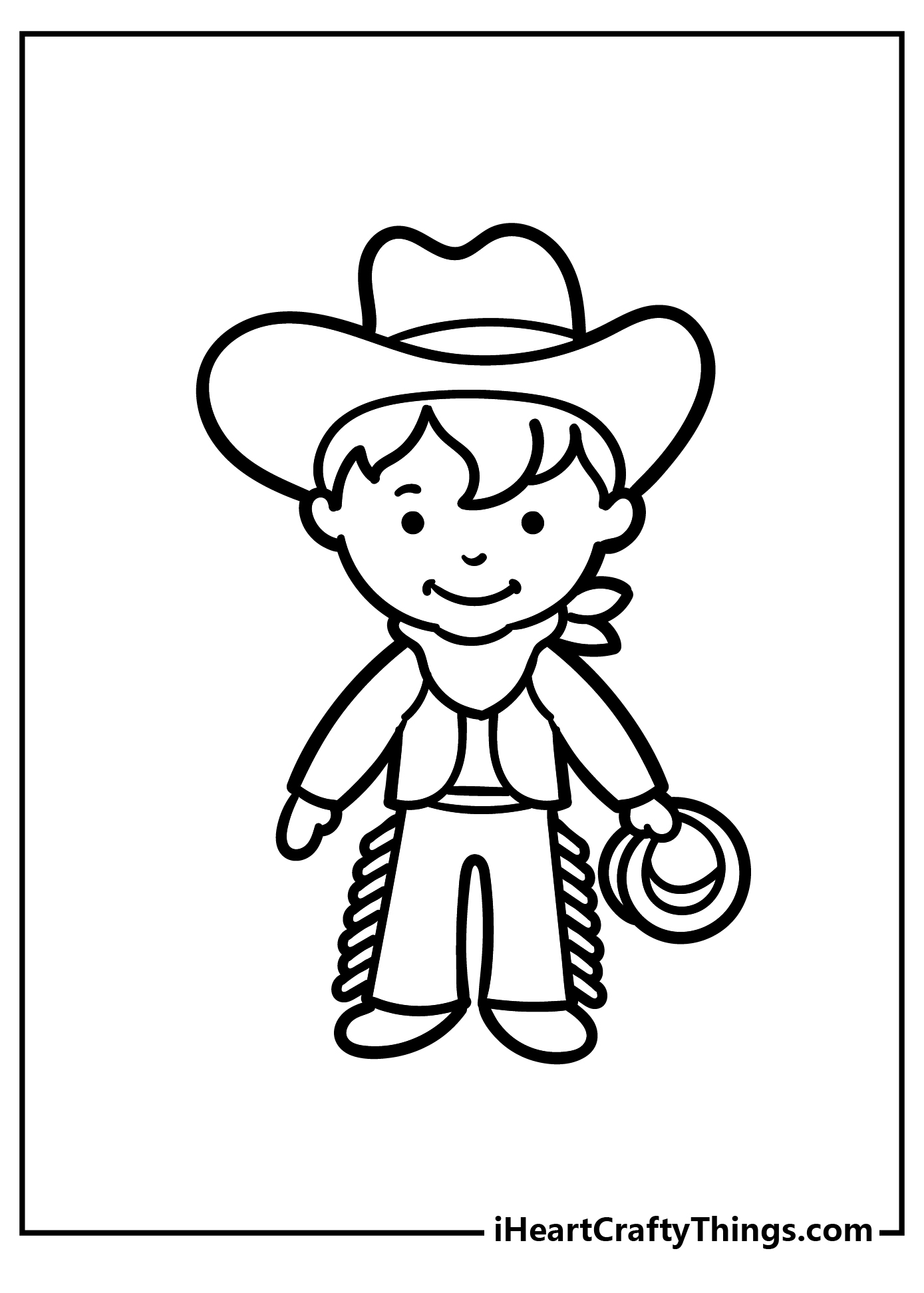 This next cowboy looks like he really means business! He is drawn in a different style to the previous few and he features a few more details.
Cowboys were often renowned for their gun skills, and this one looks like he could be quite the sharpshooter!
Seeing as this one has a few more details to his design, we would use more muted, realistic colors to finish him off.
Do you think you will go for that approach, or are you thinking of using some more stylistic colors?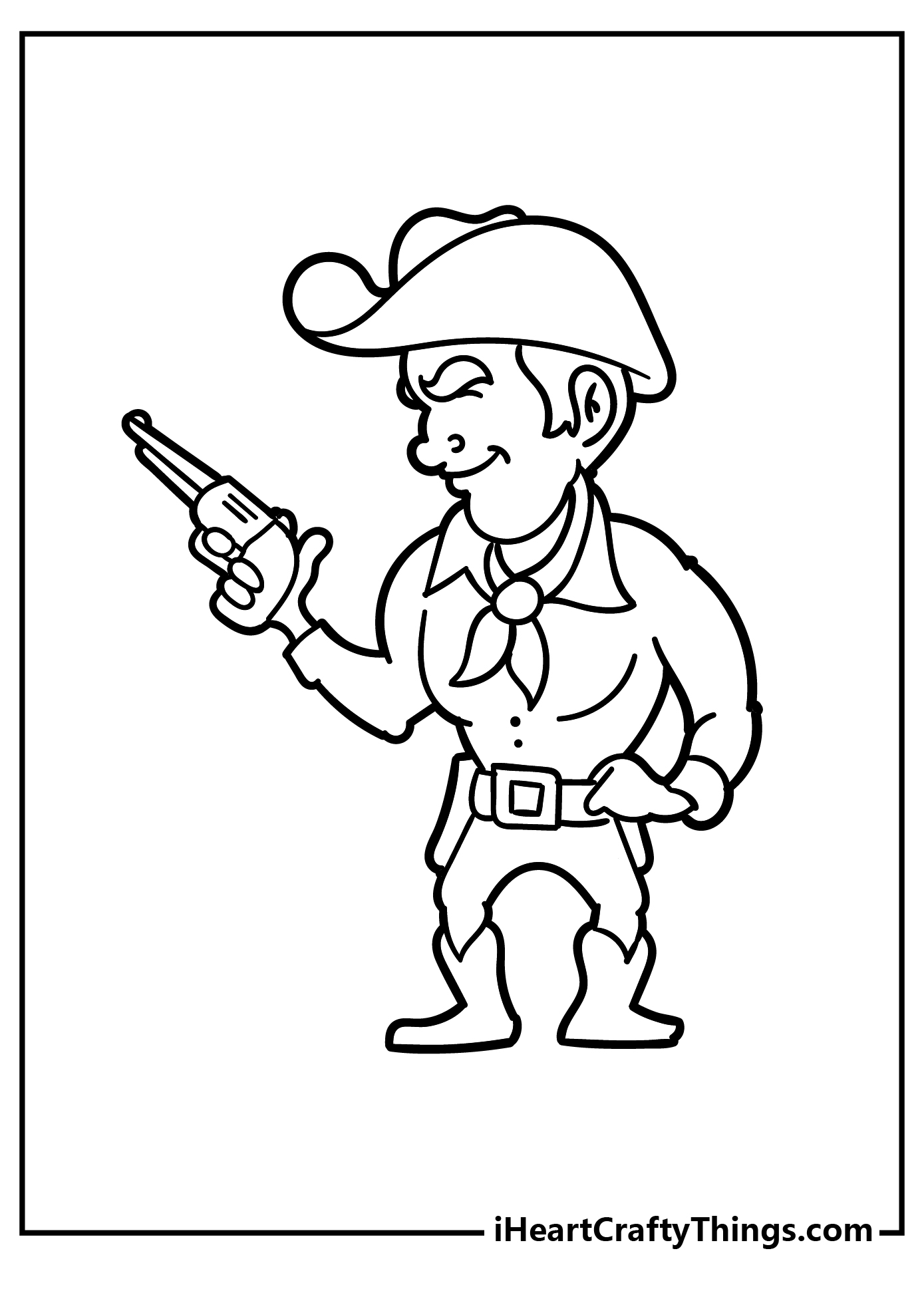 We love the fun design of this next cowboy coloring sheet! He is drawn in an imaginative cartoon style, and he is twirling a lasso above his head.
This is another one where we think that using some bright, fun colors would look great! Incorporating an interesting background would also be a great way to make the scene look even more complete.
What colors and extra details will you add for this funny cowboy?
When taking part in a duel, cowboys would often exclaim "draw!" as an invitation to take out the other person's weapons, and this one could easily be saying that as well.
His guns are at the ready, and he also looks like he means business.
As a fun extra detail, you could draw a speech bubble above his head with Draw! Written in it. This is one idea, but what else would you have this cowboy saying?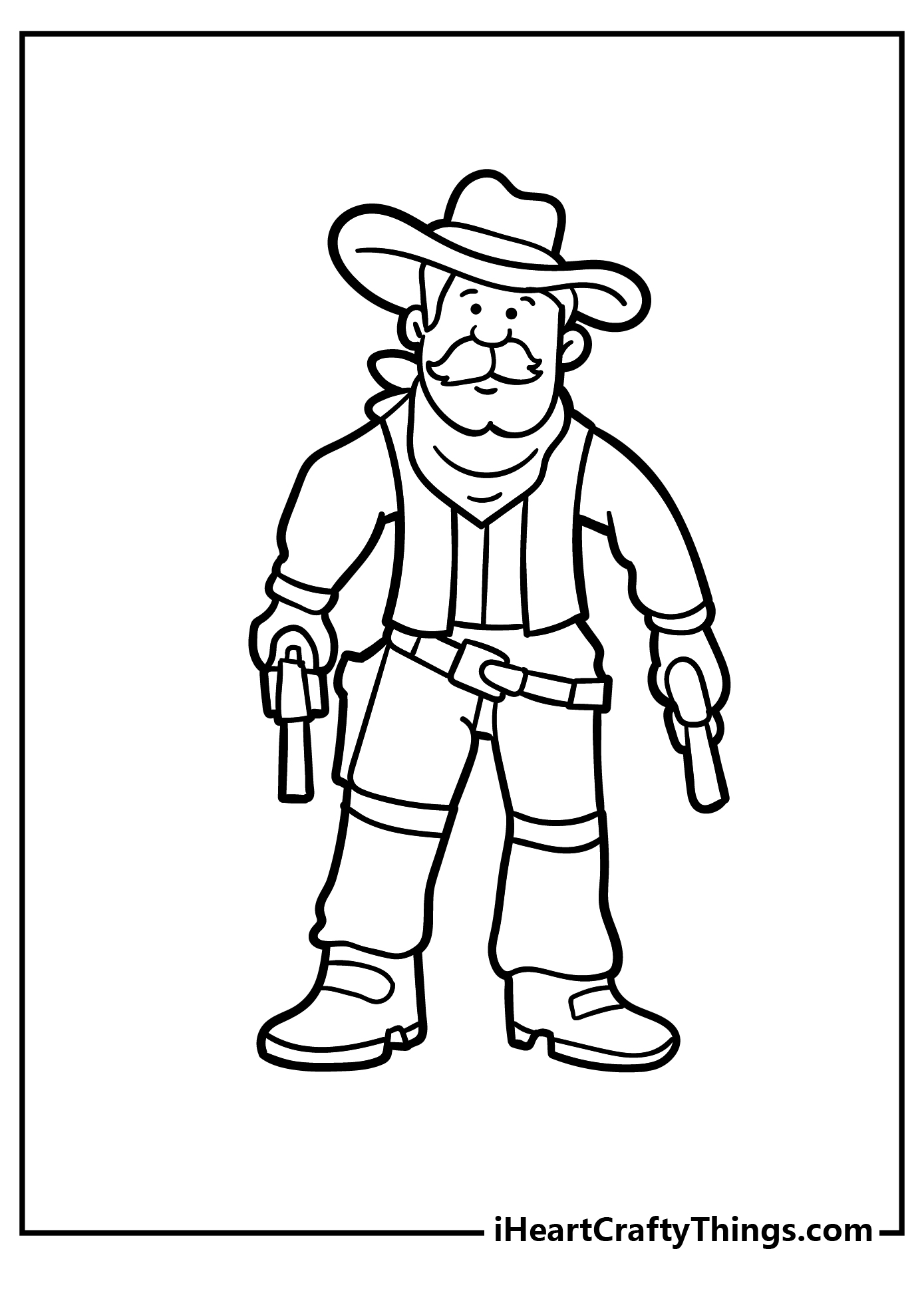 We're on the move in this next image! This fun picture shows another cowboy running along with his gun at the ready.
The situation he's in doesn't seem to be too dangerous, as he seems rather calm and happy.
When filling in the background of a drawing, you can also incorporate shapes and small pictures instead of drawing a scene.
Some examples of these would be drawing patterns of objects like cactuses, cowboy hats, horseshoes and other objects associated with cowboys.
What kind of background do you think would suit this one?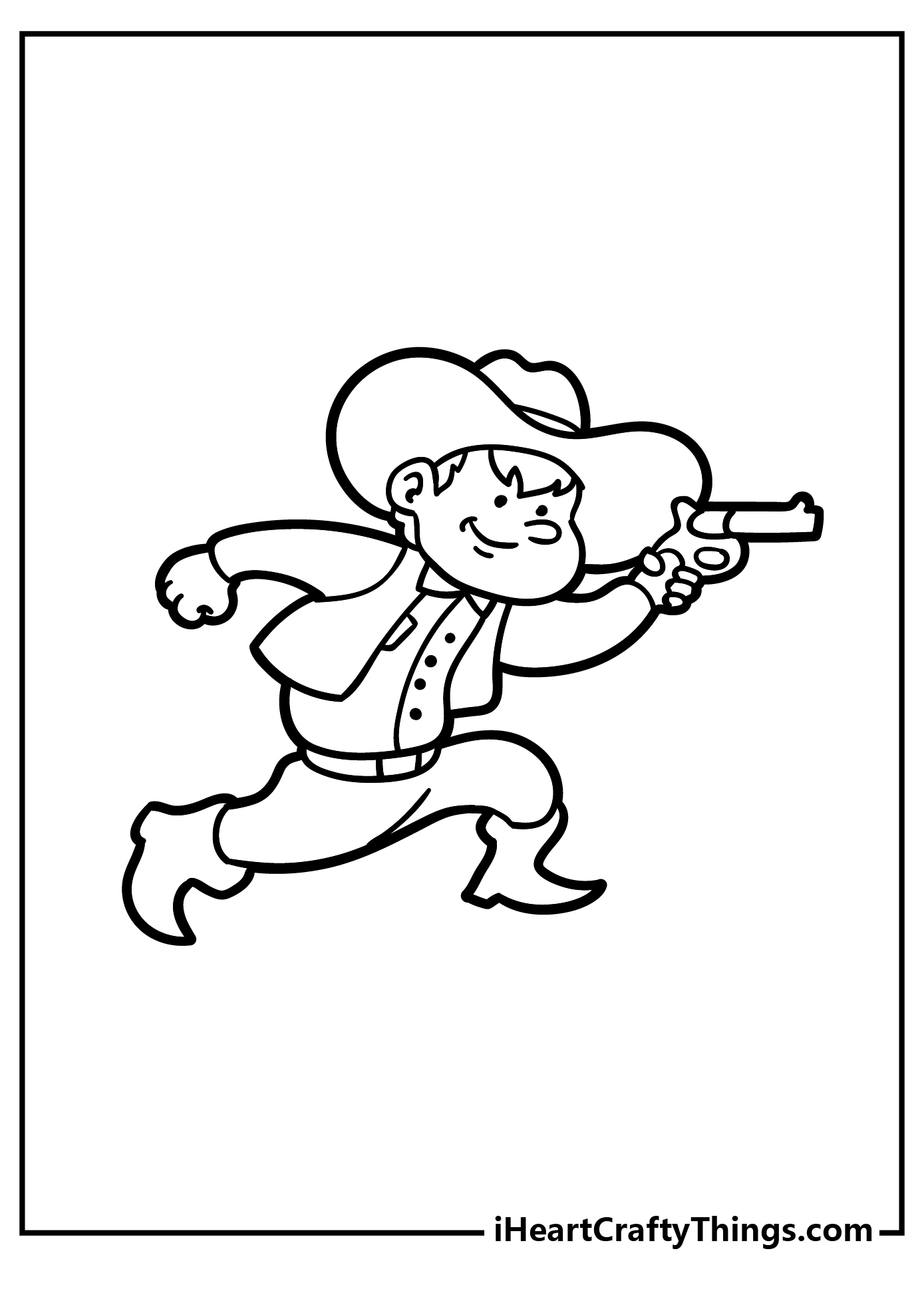 We have a nice, relaxed image as our final cowboy printable!
This friendly cowboy is taking it easy after a long day on the job. He's leaning on an object, and it could be fun to add some lines to make it look like he's at the counter of a saloon!
The table is blank in front of him, so you could draw what you think he could be eating or drinking in front of him.
What would you have this cowboy enjoying after a long day? We hope you will show us by sharing the finished picture!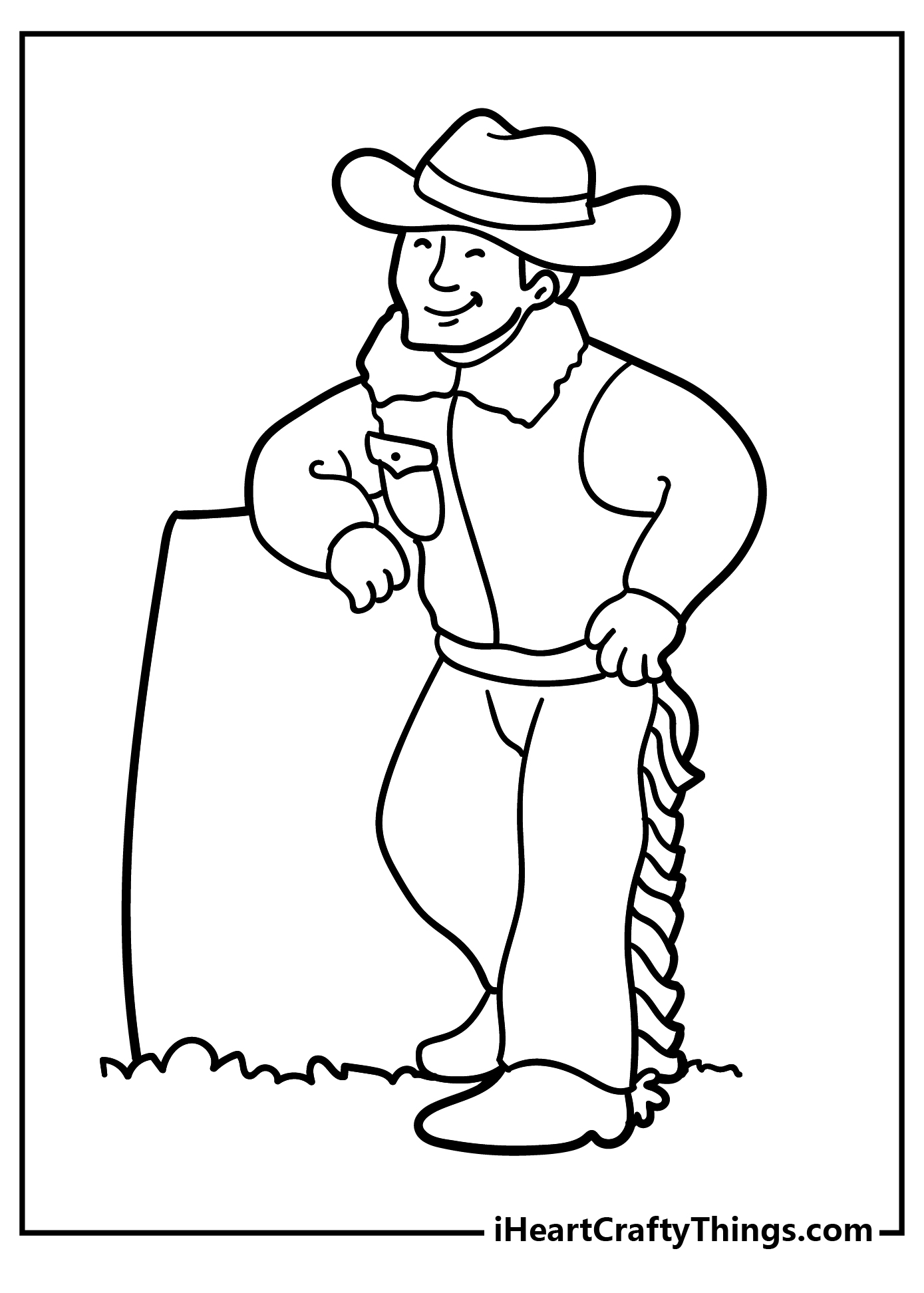 Cowboy Coloring Pages – Which will you choose?
This was a truly action-packed set of free cowboy coloring pages, and we hope you had a great time coloring them in!
There were so many cool scenes to color and enjoy, and we're sure you did an amazing job picking the right colors and art mediums.
If you had a great time working on this collection, we would love to see you on our website to enjoy some more awesome coloring page collections!
We have a huge selection that we add to often, so be sure to check in often to never miss out.
It would be great to see how you colored in these awesome cowboys, so be sure to share your finished pages on our Facebook and Pinterest pages!
It's always great to see how creative you can be, and we can't wait to see how these turned out.