Maintaining law and order is one of the most important parts of modern society. Every day, police officers work tirelessly to serve and protect their communities and uphold the rule of law.
Many people look up to the police, and you can show your appreciation for them by tackling these free police coloring pages for kids!
These printables will be a great way to show your aprreciation for the men and women in blue.
In this set of free coloring sheets, we have a wide range of different poses and scenarios featuring police officers for you to color. You will really get to express your color creativity with this collection!
You can print out as many copies of your favorites as you like, and you'll also want to share these pages with your friends and family.
Then you can compare how they colored certain pages against your own pages!
These free police coloring printables are here for you to print, color and enjoy!
We would love to see the end results, so please share some of your favorites on our Facebook and Pinterest pages for us to admire.
15 Brand New Police Coloring Pages – Free to Print and Color
There's a cool-looking officer for you to color in this very first free police coloring page for kids! This officer has his arms crossed and is looking pretty pleased.
Maybe it's been a quiet, safe day on the beat!
Police uniforms can come in a few different colors, but the most common are blue or black. Will you go for these typical police uniform colors or will you create your own police uniform variation?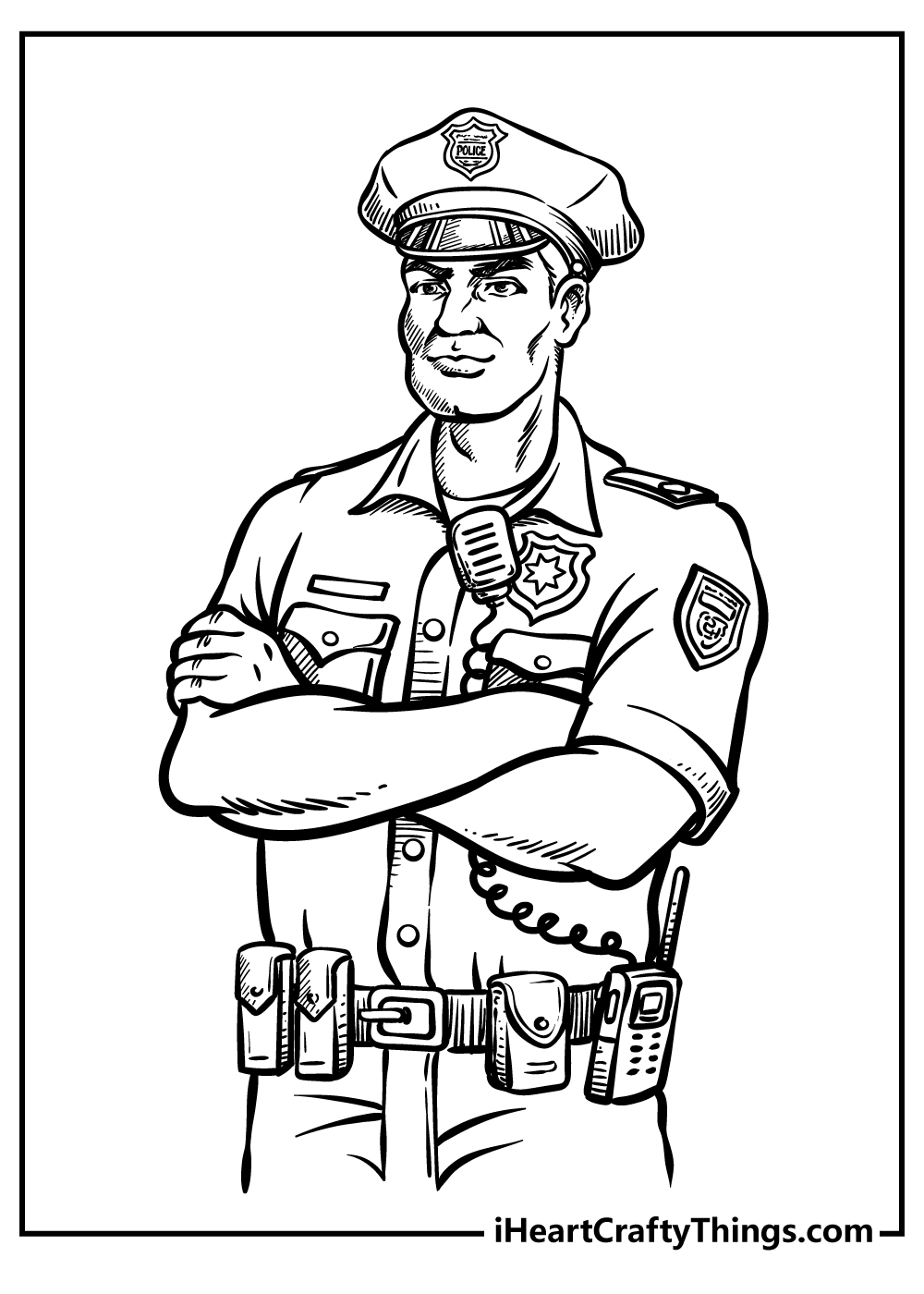 Meet the jolliest officer in town with this coloring page featuring a cheerful policeman. Dressed in his pressed uniform and shiny badges, he grins ear to ear.
His neatly trimmed black hair peeks out from his cap as he spreads his arms wide in a friendly gesture of inclusion.
Behind him stretches the local park, with verdant grass, tall trees and majestic mountains.
Color this page with crisp blues, blacks and grays for his professional yet approachable look.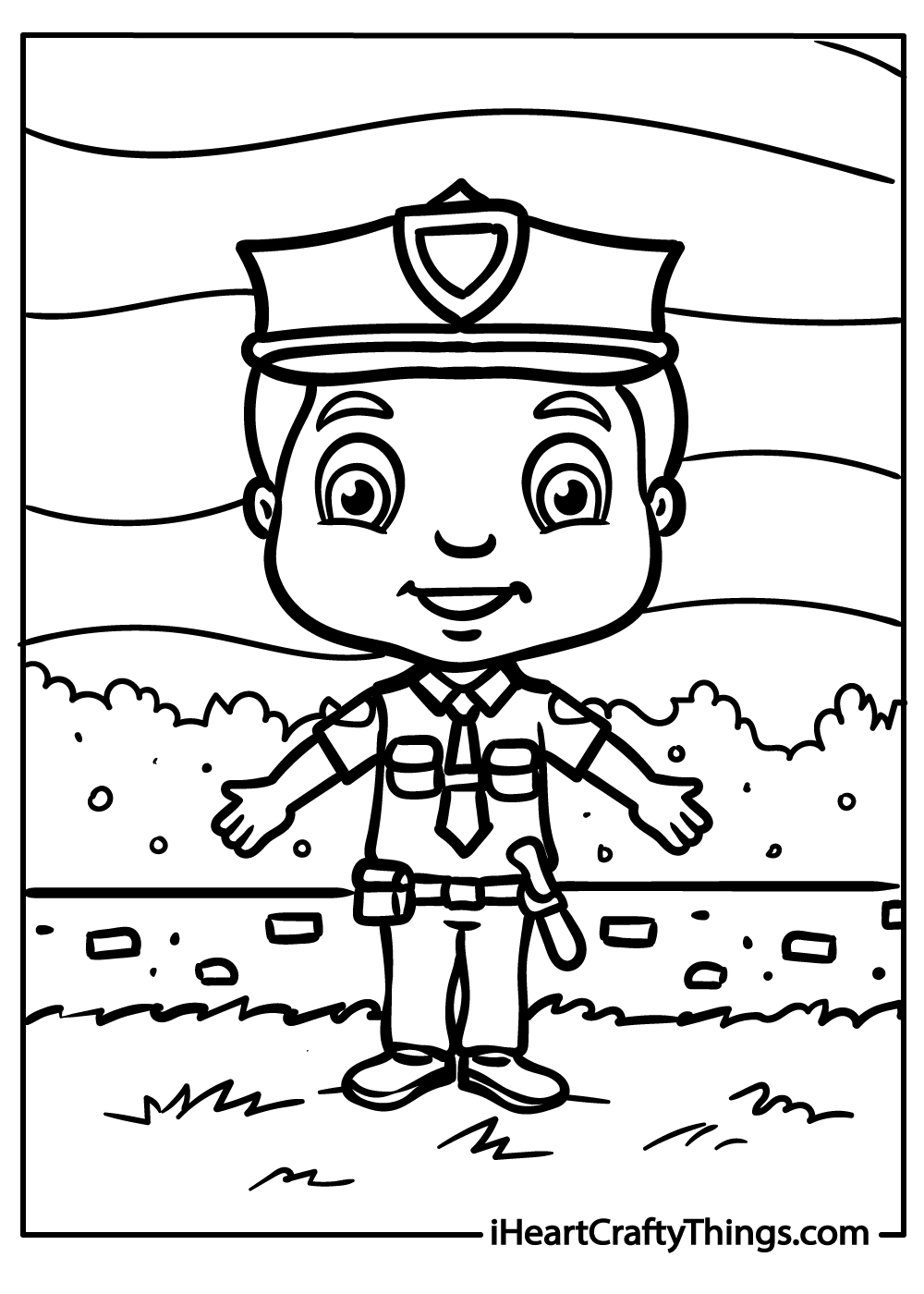 We have another cool officer in this second police coloring sheet. This one is wearing some cool sunglasses, so that may mean that it's a hot, bright day where he is patrolling.
If you wanted to represent this possibility, you could use some bright, vibrant colors for the background.
One idea would be to use some bright yellow for the background that would contrast against a darker color for his uniform.
This is just one suggestion, but what else can you think of to color this awesome printable?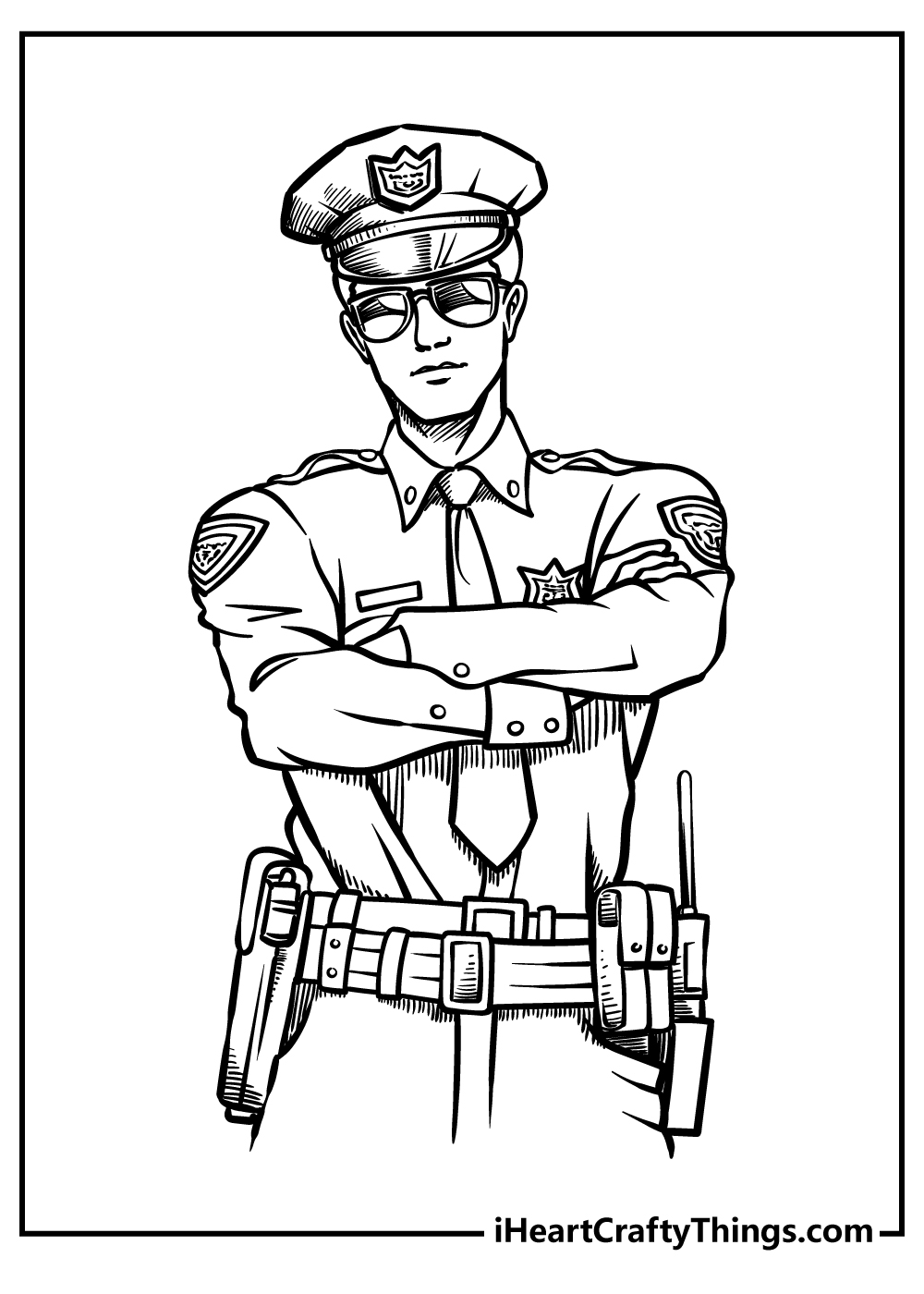 It looks like the officer in this third police coloring printable means business! He is extending a hand out while his other one is at his sidearm, so it's safe to assume that he's in a dangerous situation.
Police officers find themselves in dangerous situations frequently, and they will try to make sure that no one gets hurt unnecessarily!
You can heighten the drama of this image by drawing a background to show what kind of setting he is in.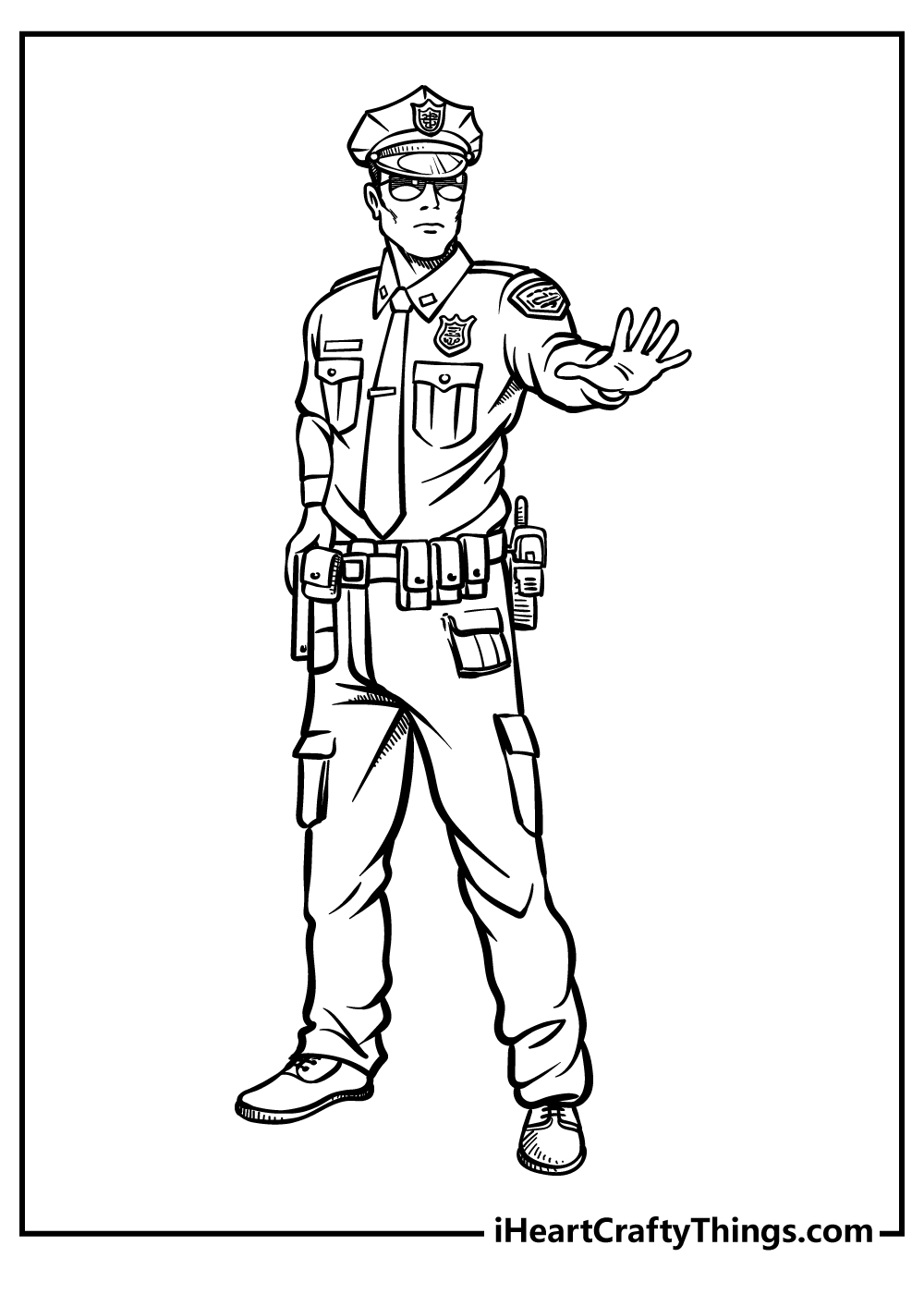 This next coloring page shows a proud and courageous police boy who is patrolling the park.
The police boy is wearing a black and white uniform with two badges, one on the hat and one on the shirt. He has curly black hair and a big smile on his face.
He is standing in front of a park with trees, bushes, and a mountain in the distance. This coloring page is fun and heroic for anyone who loves police boys and their work.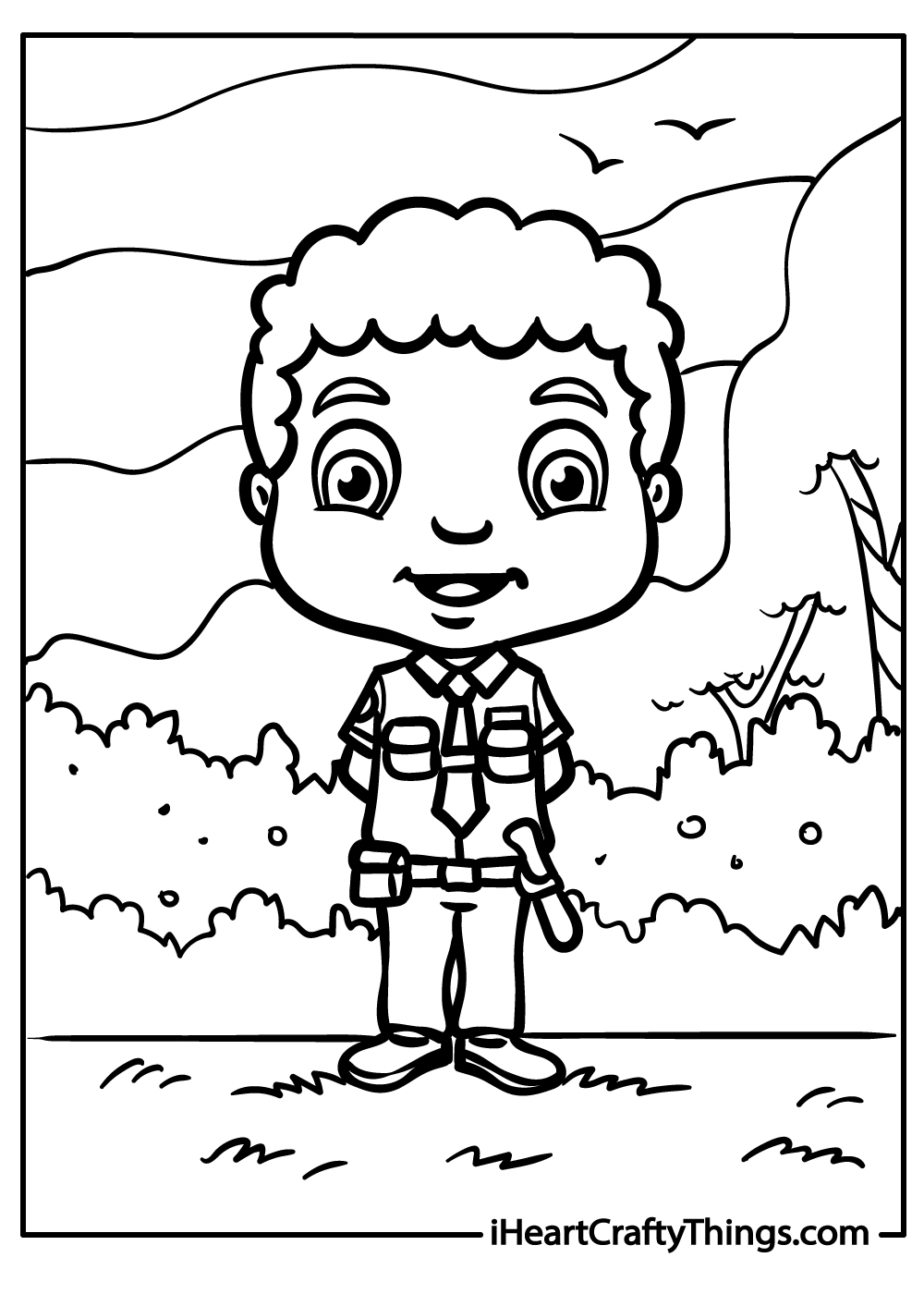 We have a more light-hearted scene for this next police coloring page! This officer is looking quite relaxed and pleased with himself.
It makes you wonder what kind of relaxed setting he could be in that's making him feel this way.
This would be another page where it would be interesting to see what kind of background you would choose for this officer.
What setting do you think you would go for?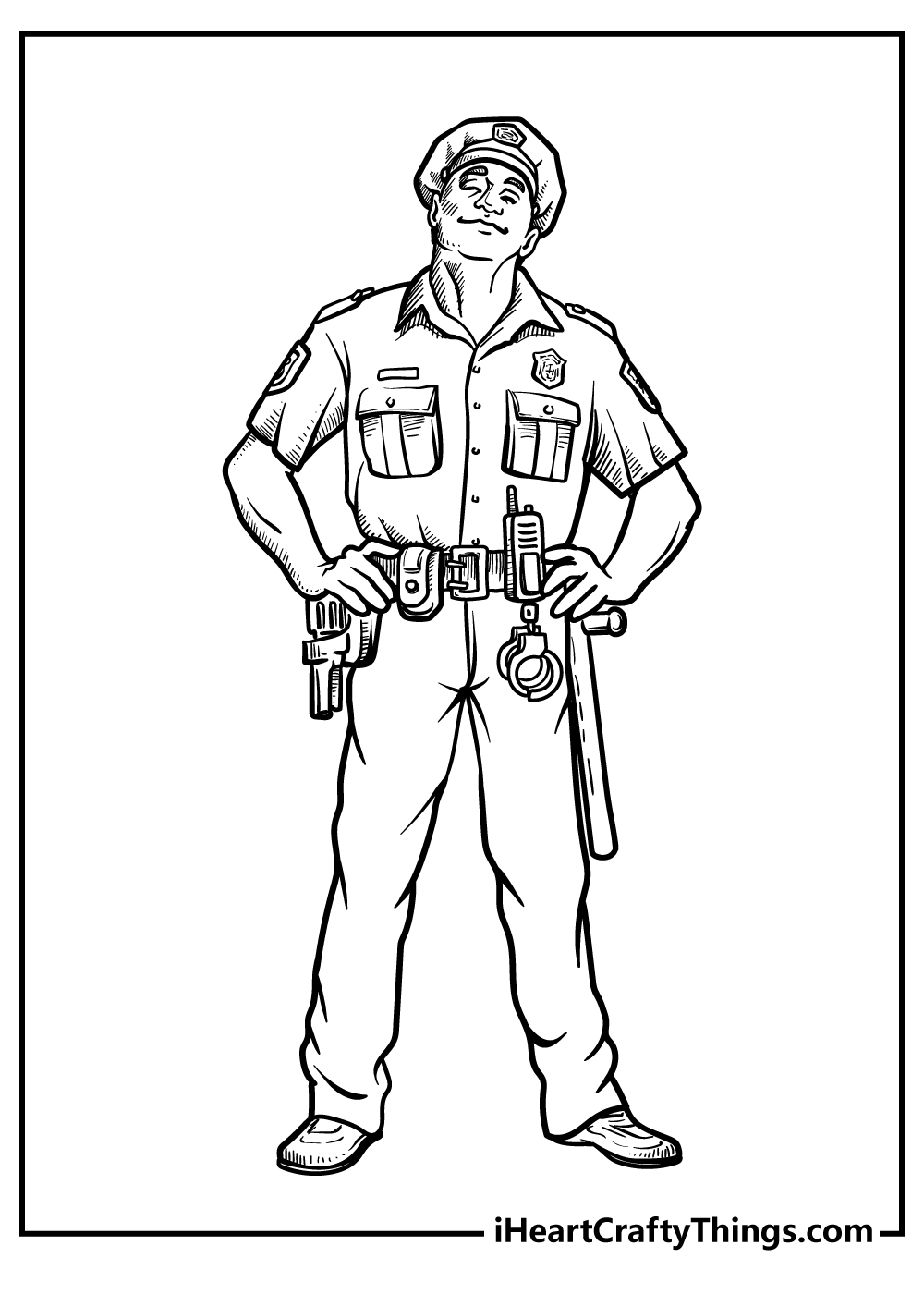 No one likes getting a ticket, but they are necessary to try and ensure that people will avoid driving or parking in ways that are dangerous or illegal.
This particular officer is clearly in the middle of writing a ticket for some unfortunate person!
If you wanted to draw a background for this police coloring page, you could draw the back of a car to show a glimpse of the situation.
For a funny touch, you could draw yourself standing with the officer to make it look like you're the one getting a ticket!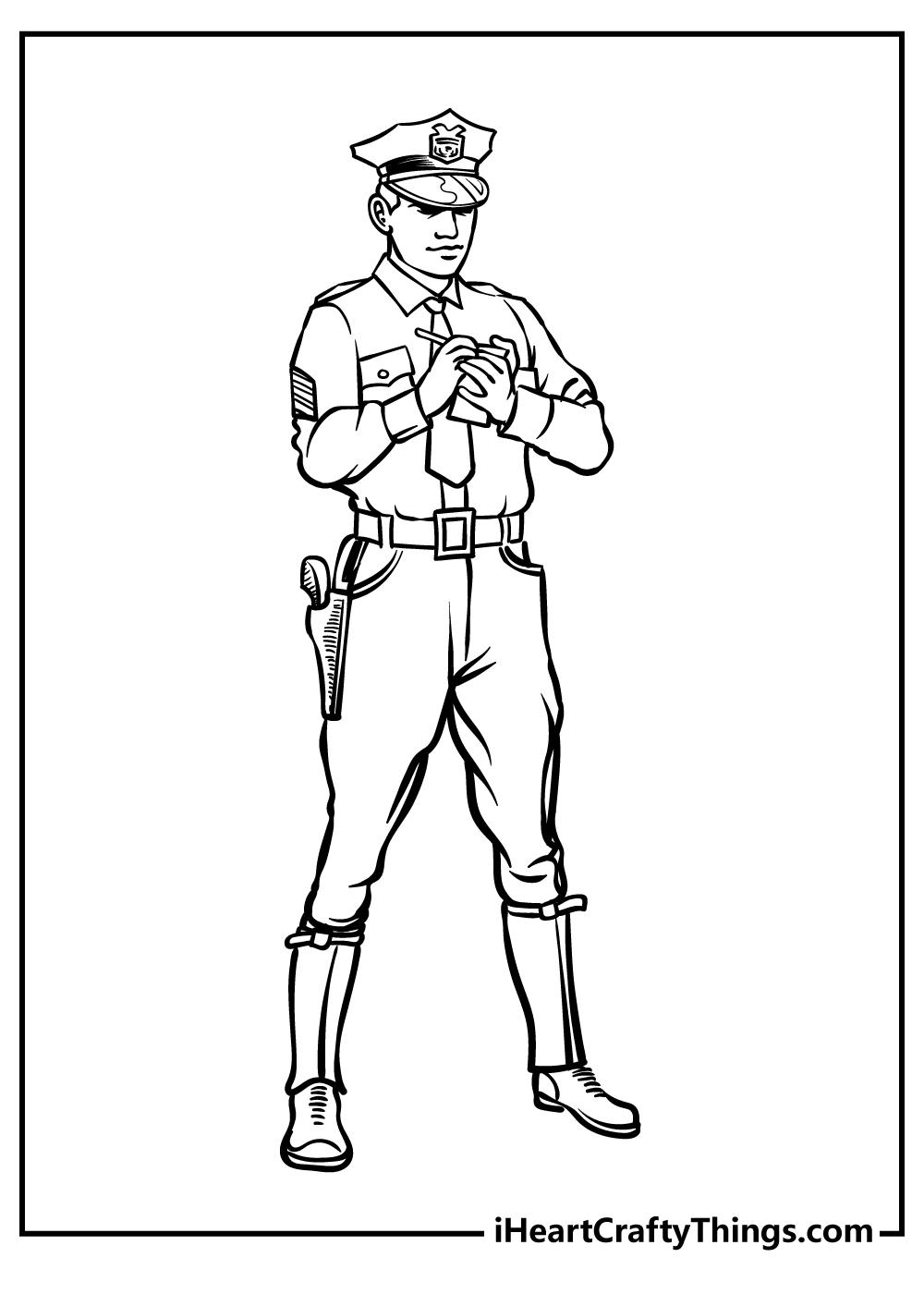 Adventure awaits with this coloring page featuring a spirited young girl embarking on an epic journey as a police officer.
Her long hair trails behind her as she consults the map and compass in her hands, plotting her course.
Dressed sharply in her official police uniform, badges gleaming, she sets out to discover new places and help people along the way.
Fill in her uniform with navy blues, blacks, silvers and golds as she represents justice and protection.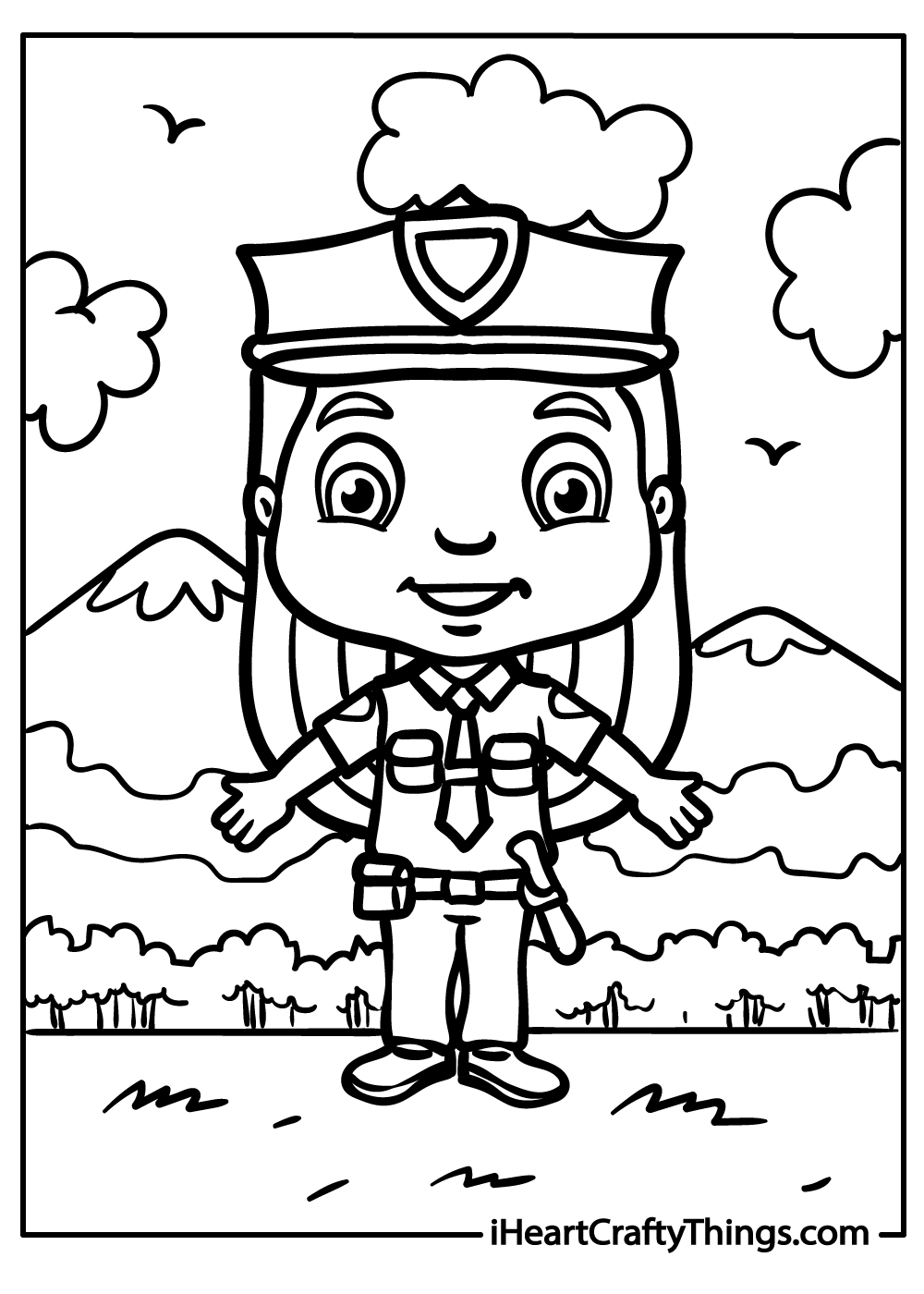 There's another officer that looks like he means business in this sixth free police coloring sheet. What kind of color scheme came to mind when you saw this picture?
We would go with a dark blue solid background for this one, as that would fit the serious tone of the image.
That is just one suggestion to try, but what else can you think of to finish off this intense coloring page?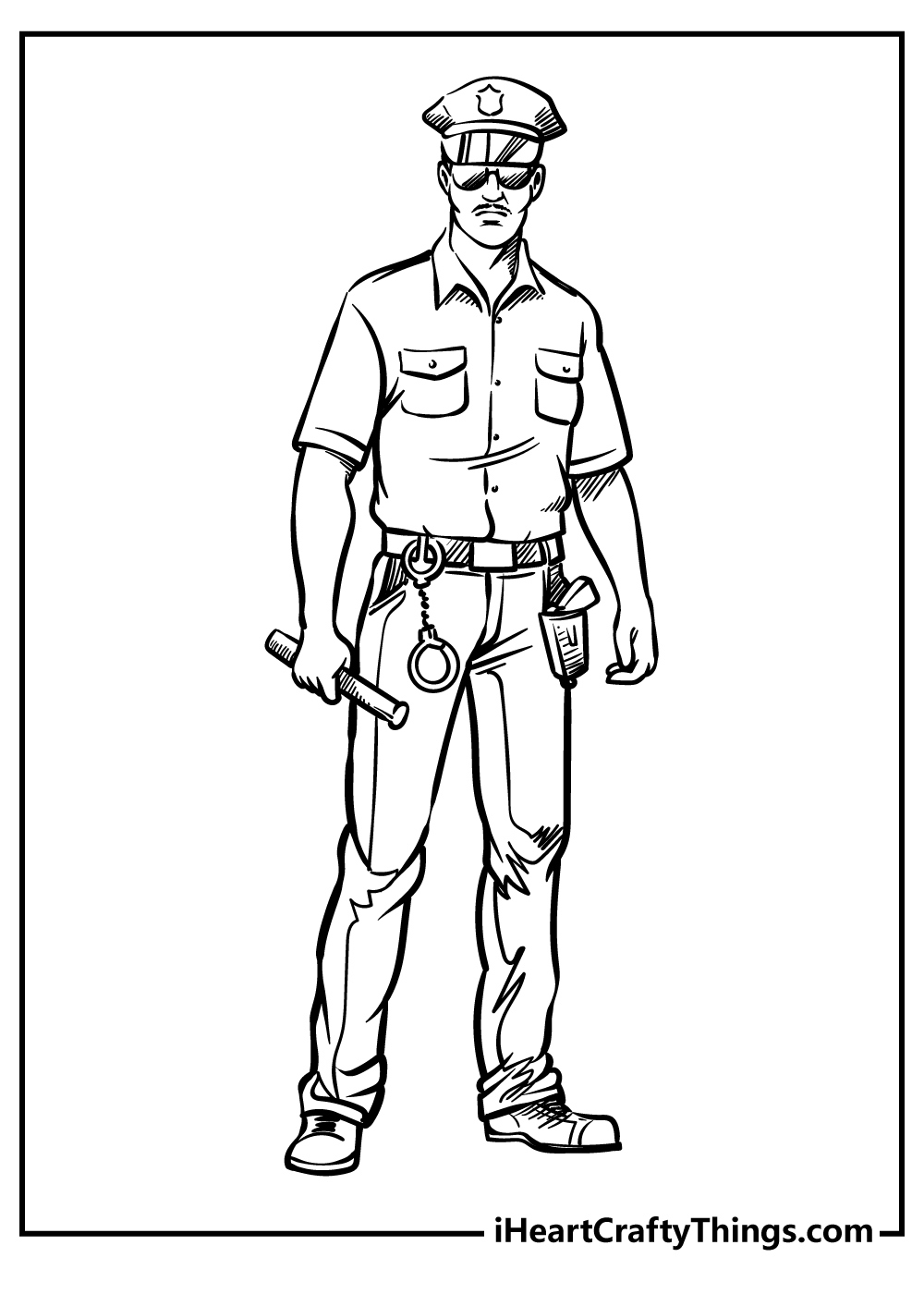 We have another really cool picture for you to color in this next free police coloring printable. This policewoman is in a cool pose as she is ready for action!
For one idea that you could use, you could draw an explosion in the background behind her to make this look like a scene from a high-octane action movie.
If you went with that approach, that would allow you to use some great bright colors for some contrast. Will you go with this suggestion or do you have other ideas in mind?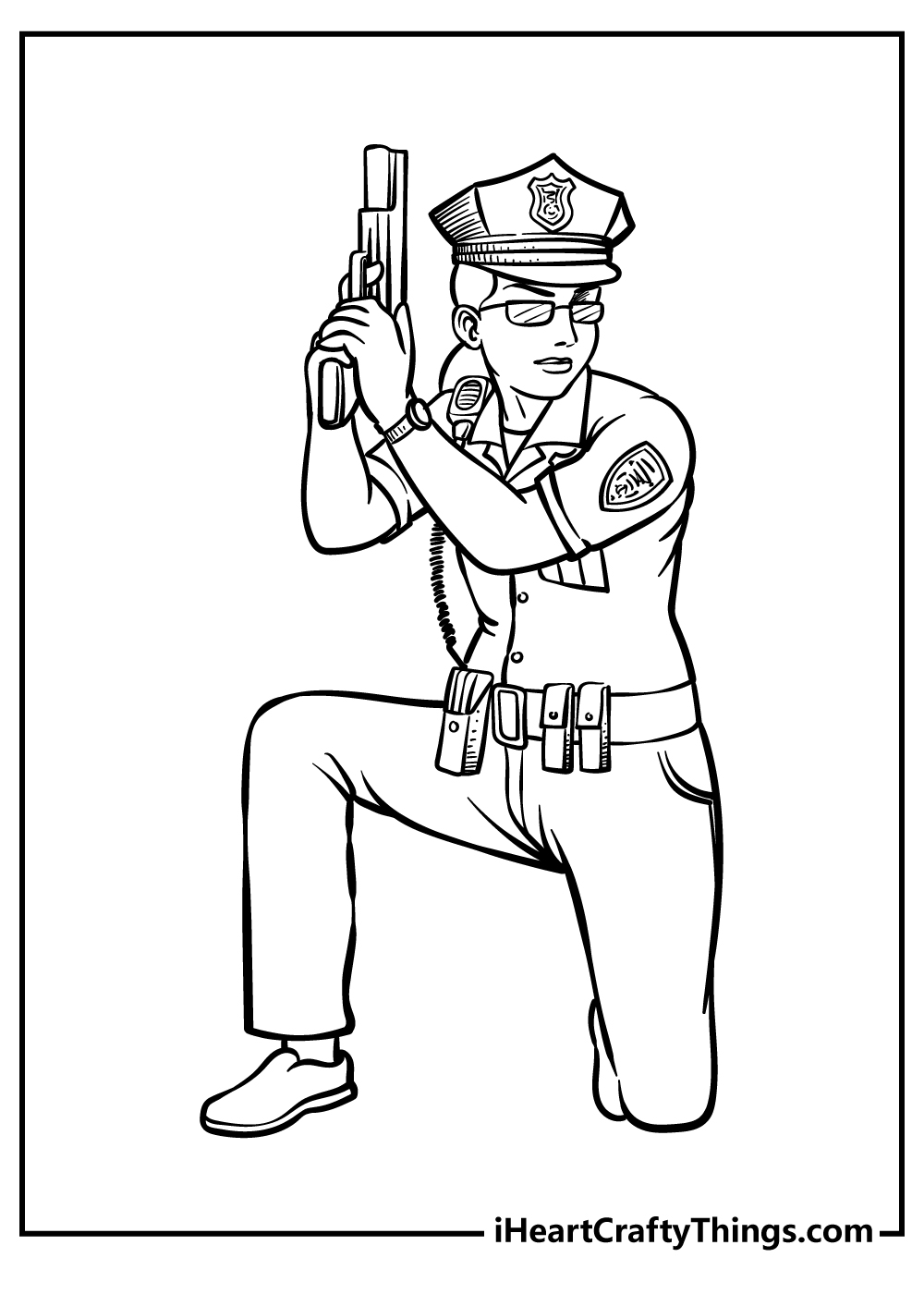 Meet the bravest and toughest officer in town with this coloring page of a strong female police officer.
With her blonde hair pulled back under her police cap, this courageous woman surveys the scene with sharp eyes.
Her uniform with badges on her hat and shirt let criminals know she means business. She stands tall and ready for action in front of a brick wall backdrop.
You can use dark navy, black, silver and gold to shade her tough uniform and gear.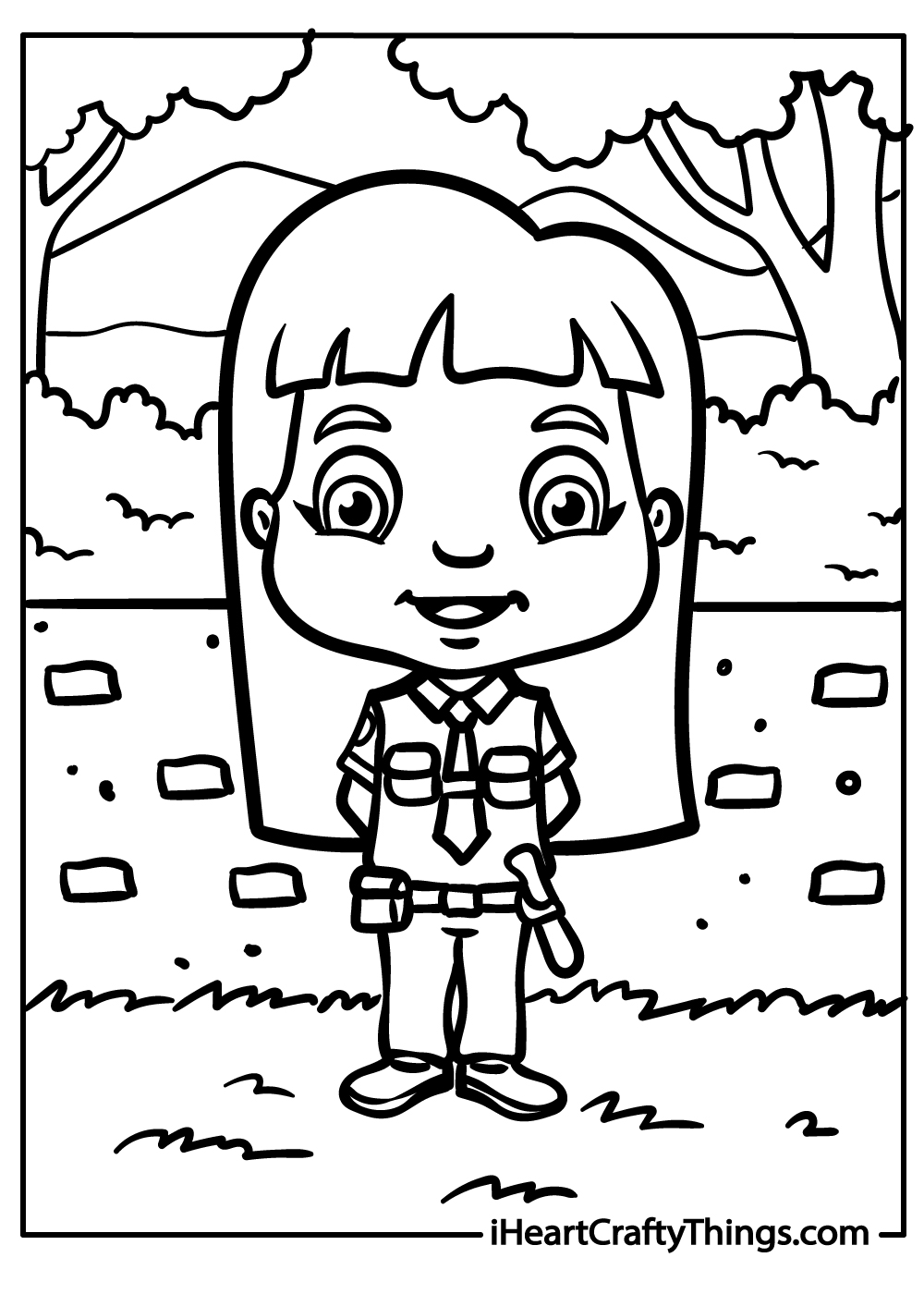 This is another cool-looking officer that we have for you to color in this free police coloring page. He's looking very cool in this image, and he is also looking rather calm.
For that reason, we would use some more cool colors like light blues or greens for the background of this one.
Colors can do a lot to create a mood for an image, and these are some you could use to fit the feeling this image gives off.
There are many other colors and backgrounds you could go for as well, however!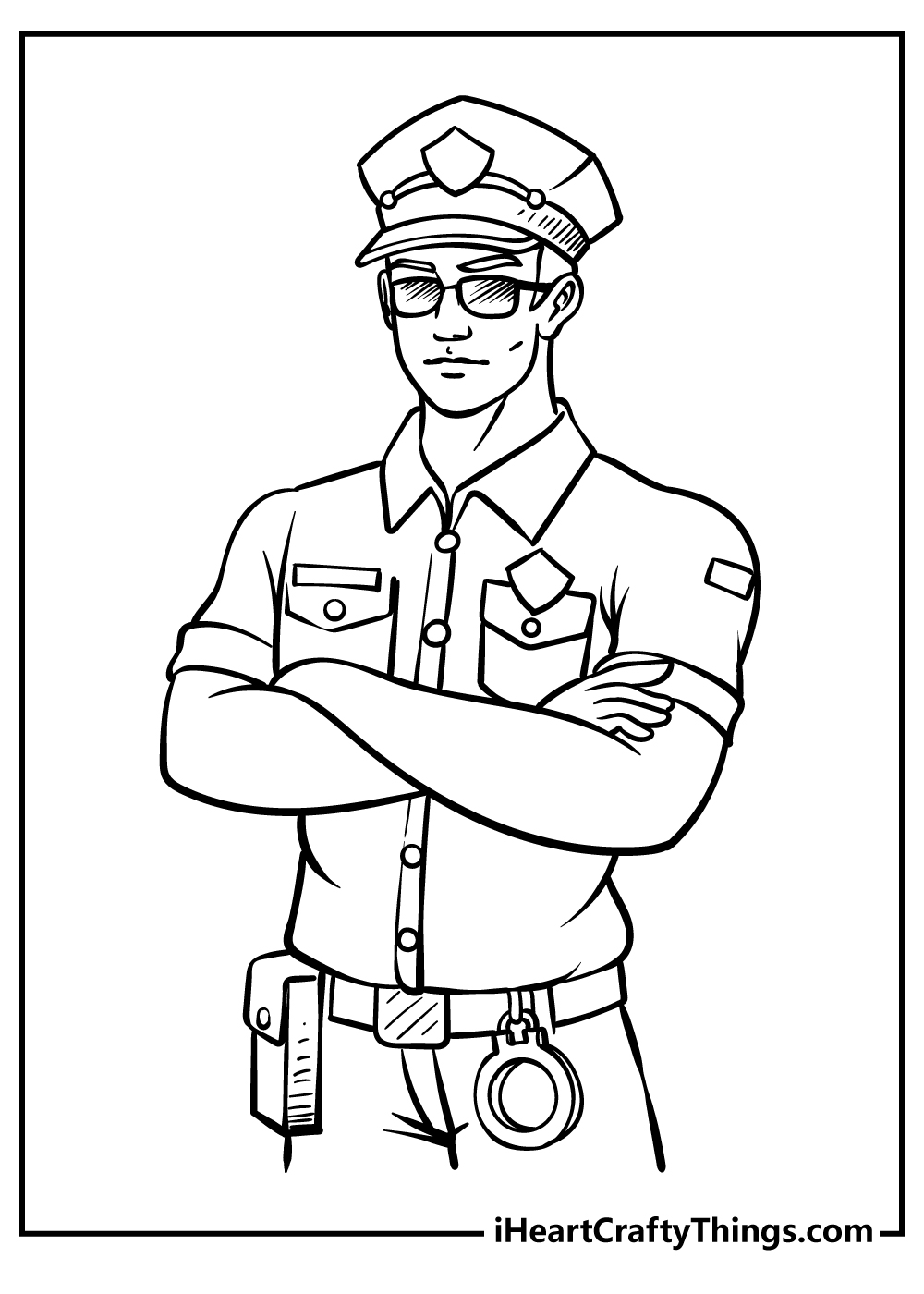 Using a gun is always a last resort for officers, so there must be a rather serious situation afoot in this second to last police coloring sheet.
This would be another picture that could be cool to add a background to!
If you were to do so, what kind of situation would you put this officer into? It would be interesting to see what kinds of scenarios you can think up.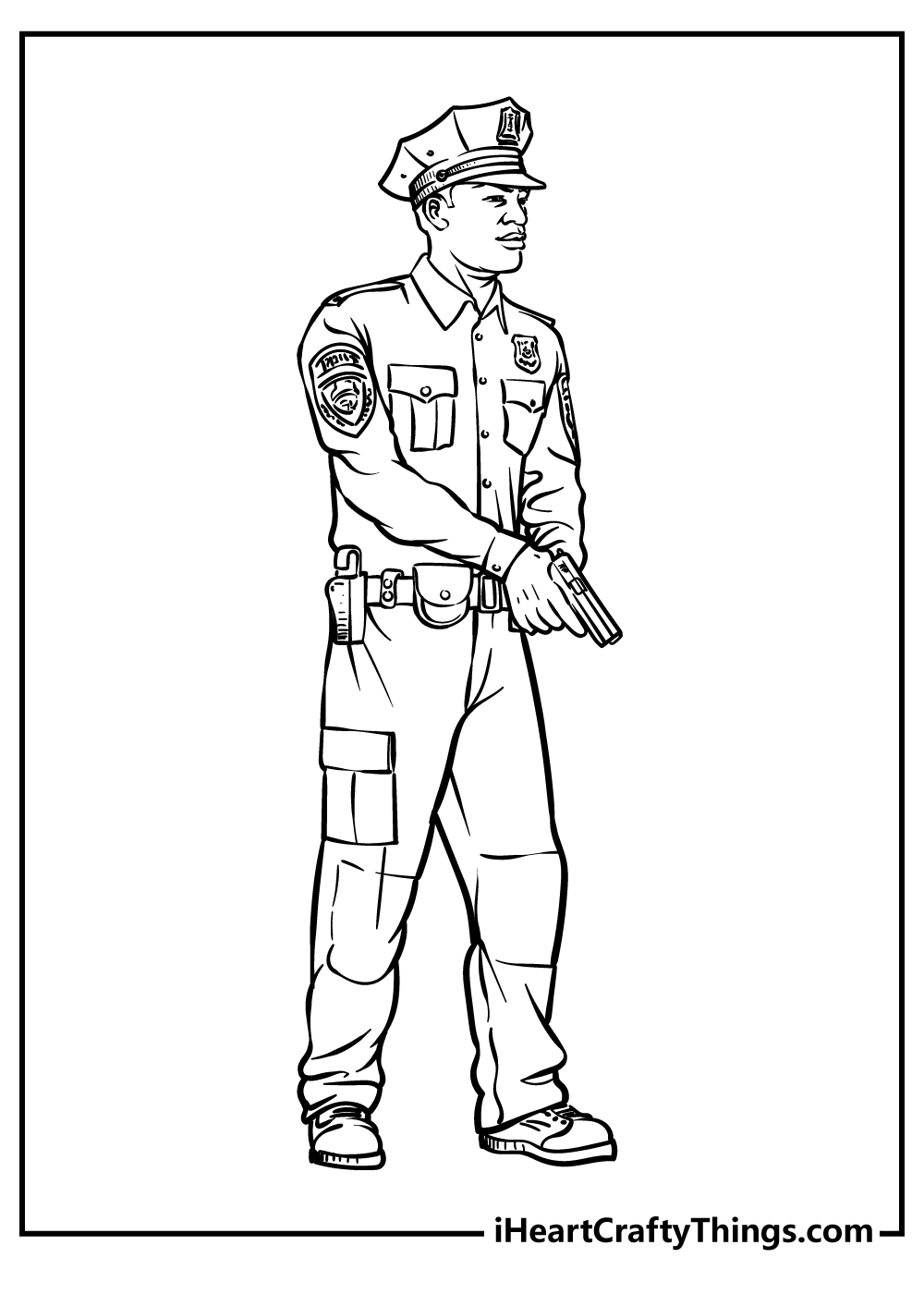 This young policewoman is holding her arms out, showing how friendly and welcoming she is. Police are always ready to help whenever we're in danger.
Also, standing in front of a beautiful and calm background of a green grassy field with a wooden fence and some trees.
This coloring page is lovely and inspiring for anyone who loves boys and police aspirations.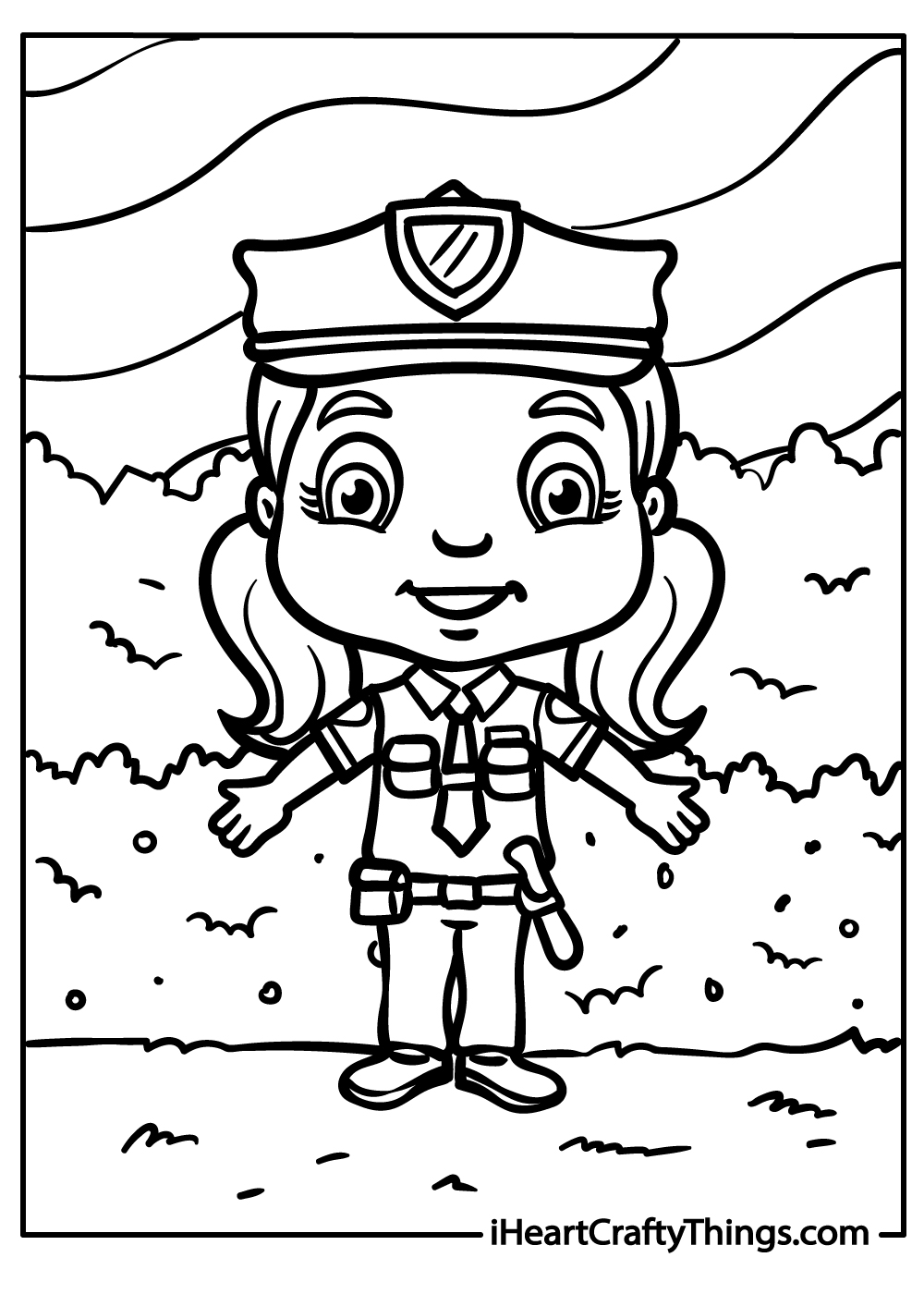 This is the final page in this collection of free police coloring printables, and we have another interesting scene of an officer apparently writing a ticket or some kind of note.
When coloring this image, you could maybe try out some new art mediums or techniques that you haven't used so far in this series!
What would you use to color in this officer to close off this collection of pages?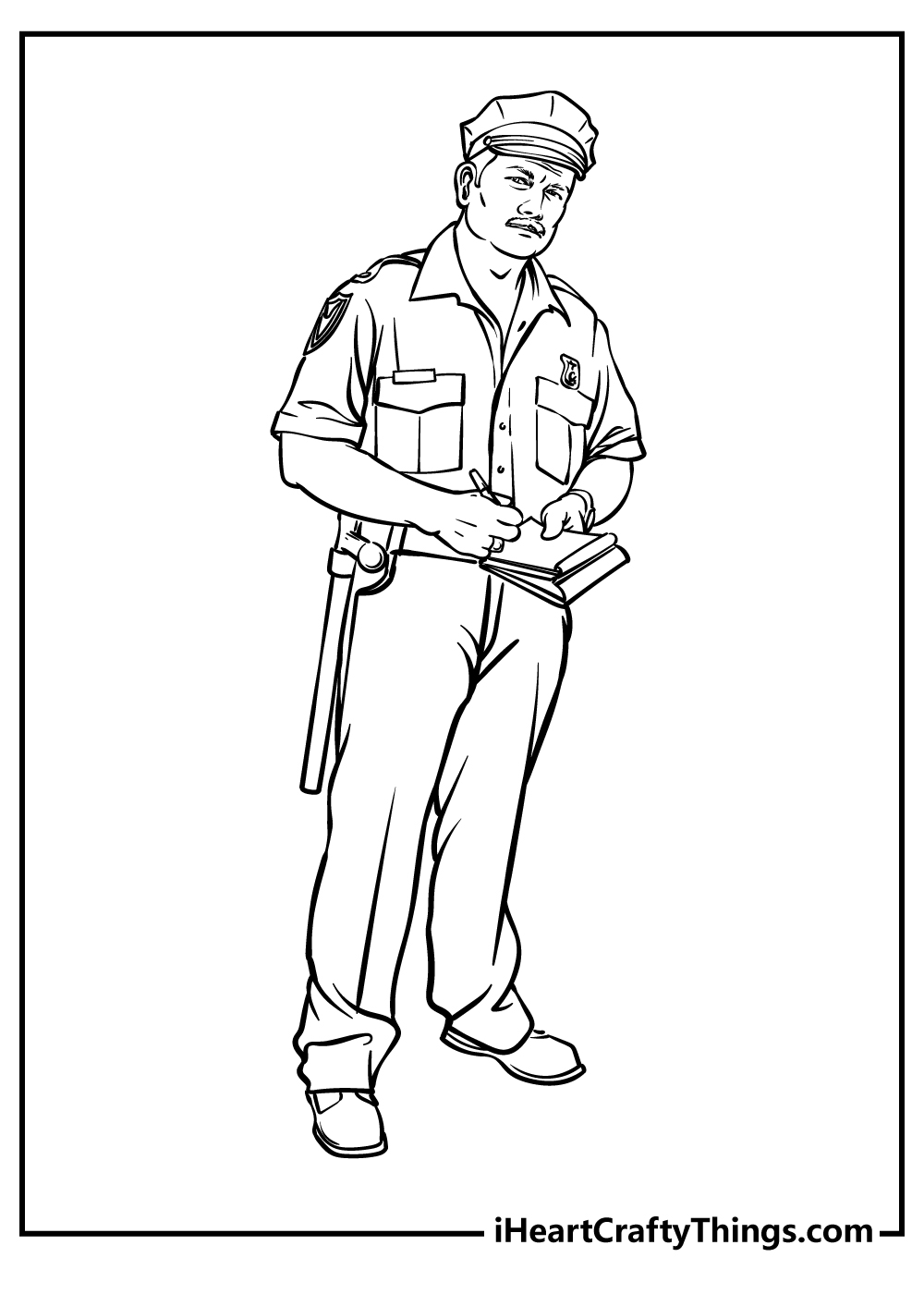 Police Coloring Pages – Which will you choose?
That will conclude this awesome collection of free police coloring pages for kids! We hope that you enjoyed all of the printables featuring brave officers that we prepared for you in this set.
Remember that you can print these pictures out and share them with loved ones as much as you like!
Then, you can head on over to our website for even more coloring fun. There are plenty of coloring sheets to keep you busy, and we have many more coming out soon, so be sure to keep checking in.
We would also really appreciate it if you would share your favorite finished police coloring printables on our Facebook and Pinterest pages.
We always love to see the creative ways that you go about finishing up these printables.