On this page, you will find 35 all new Rose coloring pages that are completely free to print and download.
Roses are one of the most popular flowers around. They come in many different colors and people often give roses as a symbol of love and affection.
Roses can actually have many different meanings depending on the color of the flower and the number of roses given.
Some people like to pick roses and keep them in their homes or to buy a bouquet of roses to remind them of summer during cold winters. Roses are beautiful flowers and sure to brighten anyone's day with their colorful blooms.
The beauty and complexities of roses have made them one of our readers' favorite things to color. This has created a demand for free rose coloring pages.
So without further ado, here are all new rose coloring pages that you can download and print for free. Enjoy the intricacies of these coloring sheets and have fun making your masterpiece.
REMEMBER: You can get the COMPLETE set of these coloring pages >> HERE
Rose Coloring Pages –  All New Printable Coloring Sheets
Some people might think that all roses are the same, but these interesting flowers can be divided into several different subcategories.
Roses come in many different colors, shapes, and sizes. What color will you make this rose?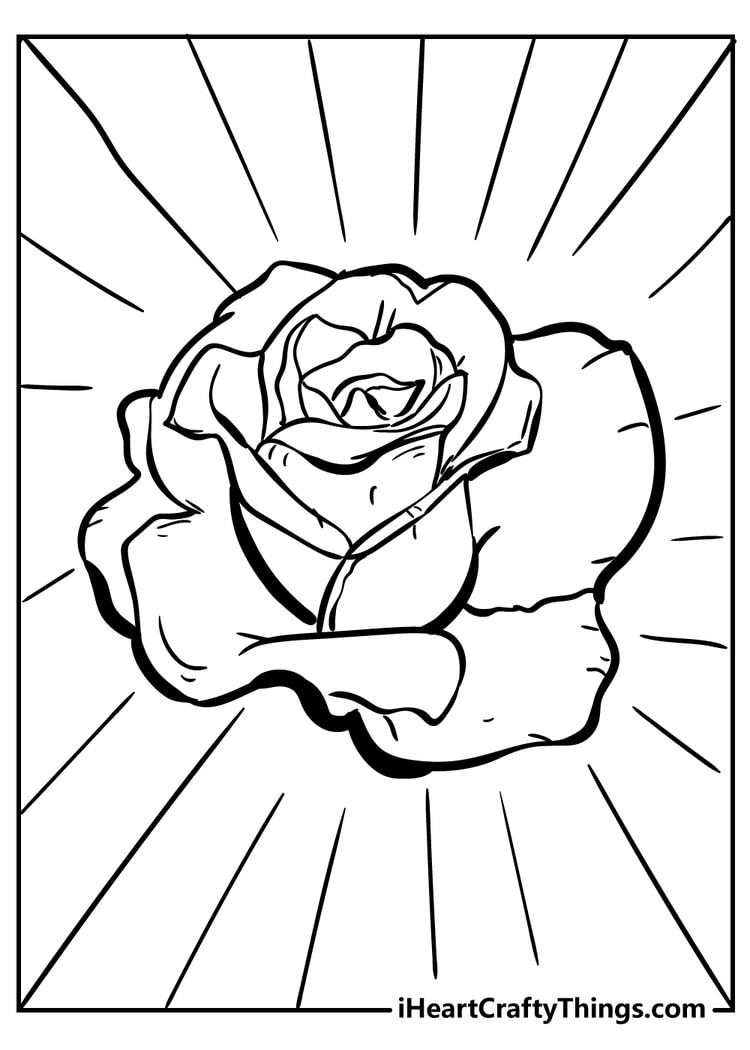 This rose is in full bloom with a spiral center and multiple layers of petals. It looks like a very fluffy and soft rose.
Did you know that roses with more petals are usually more fragrant than roses with fewer petals? That's because they have more oil glands that produce the scent.
This rose also has three leaves and a thorn on the stem. The thorn is there to protect the rose from animals that might want to eat it. But you don't have to worry about getting pricked by the thorn when you color this rose.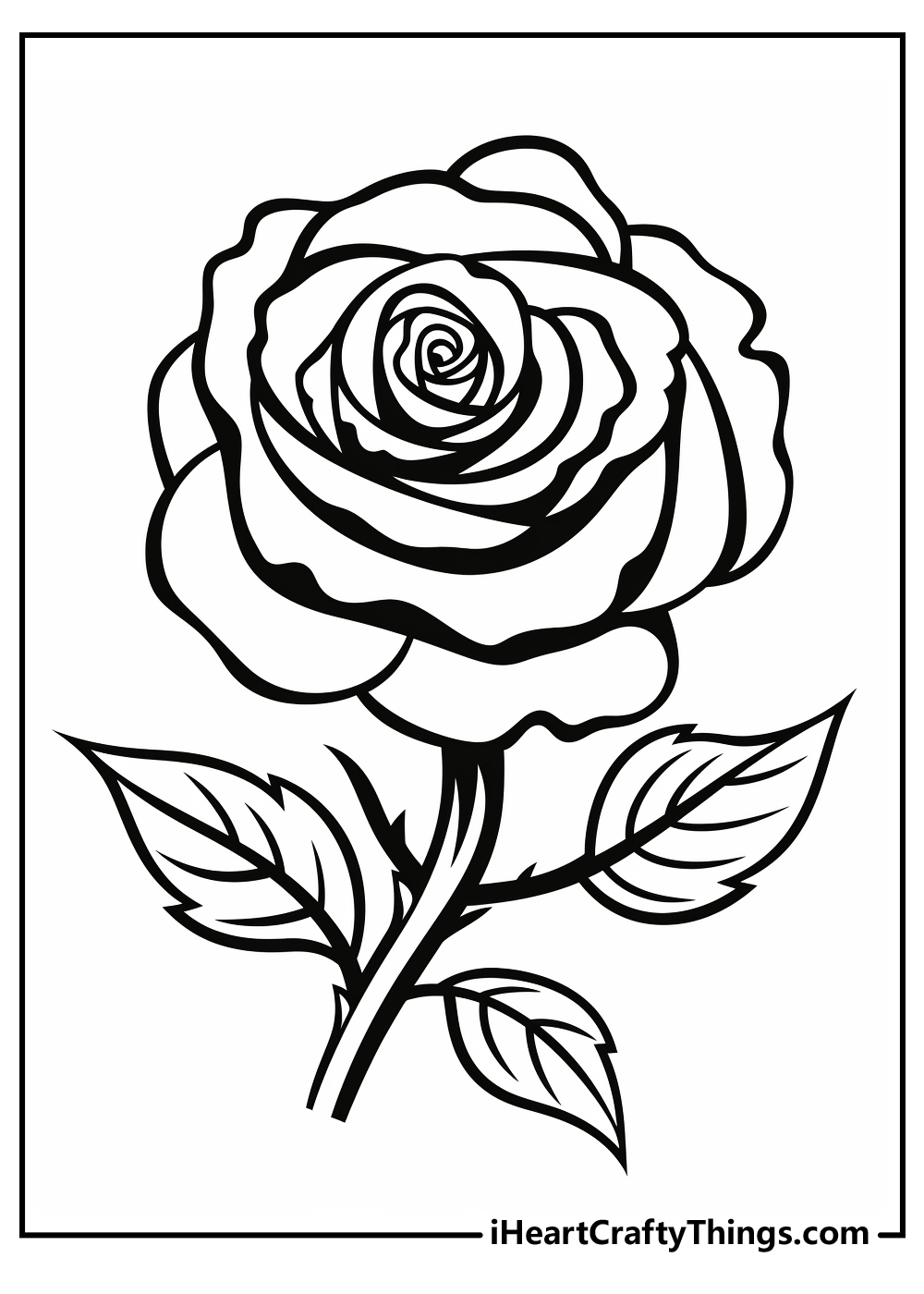 Roses can have different meanings depending on what color they are. Red roses symbolize love and romance.
That is why they are so popular on Valentine's Day. Perhaps this rose coloring page shows a Valentine's Day gift.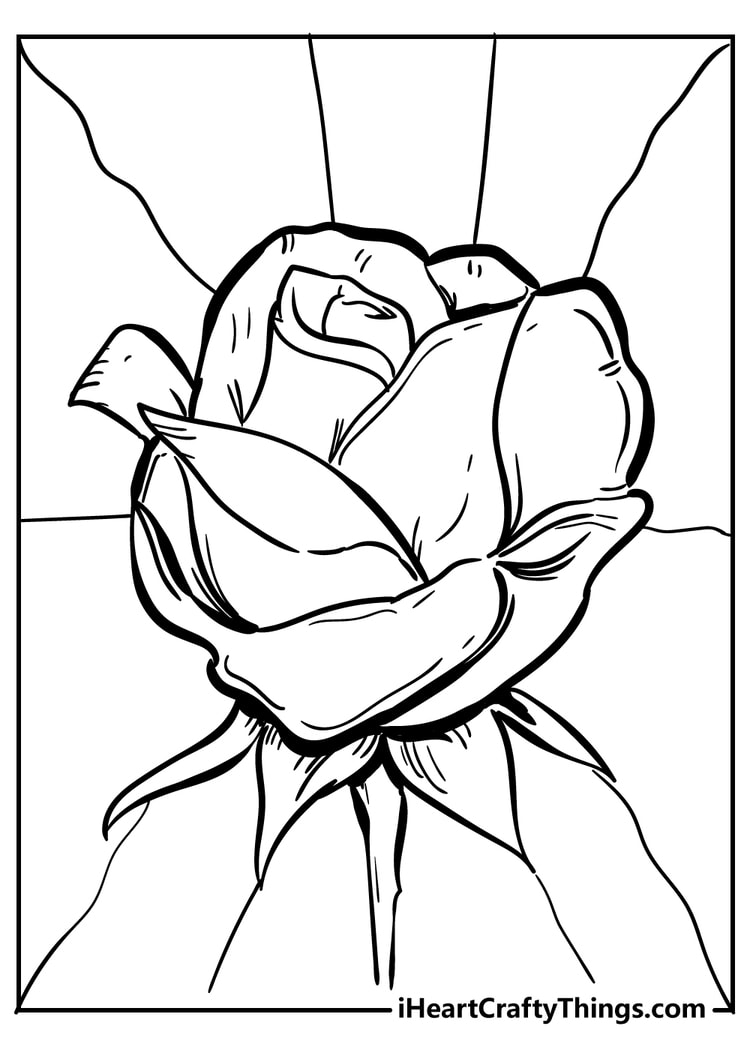 This type of rose seems to have fewer petals than other varieties and its flowers are more open than some types of roses.
Several of the roses in this coloring page have not yet bloomed, but we're sure they will be beautiful when they do.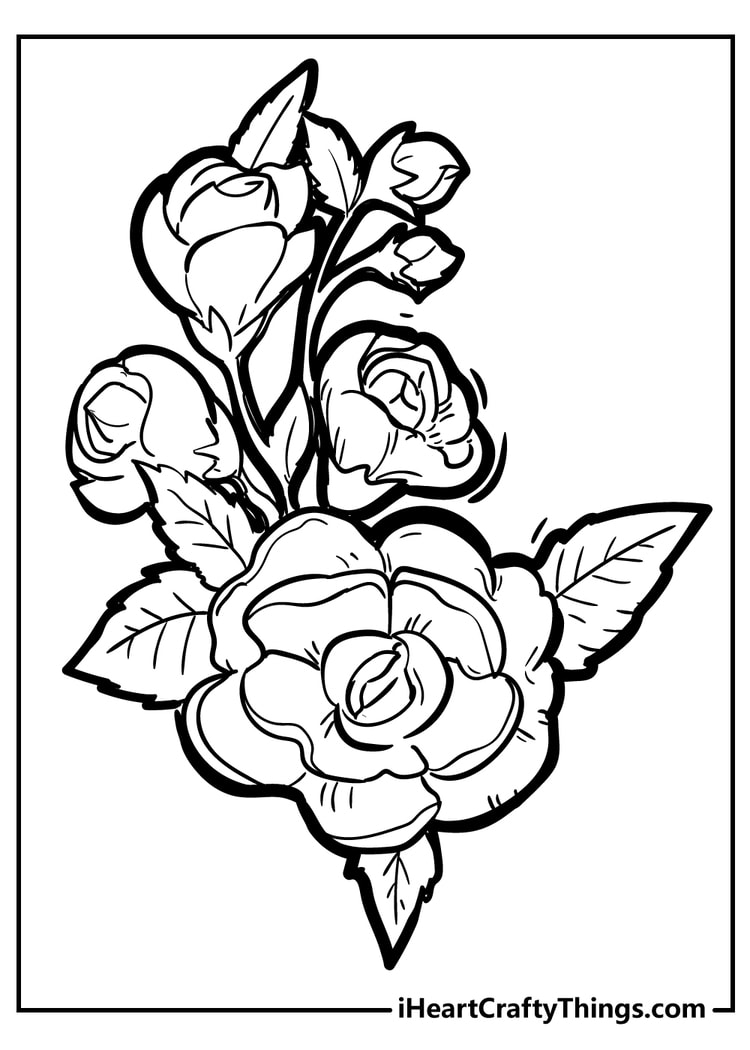 This elegant rose is just waiting to bloom with your artistry. Let's trace the long, winding stem that connects to two leaves. Notice the delicate veins in each leaf – gently color them in with care.
Move up to the two pointy leaves sprouting from the stem. Trace their veins with your pencil. Fill them in green to match the stem. Now color the big beautiful rose on top.
Start at the center and carefully color each petal. How many petals can you count?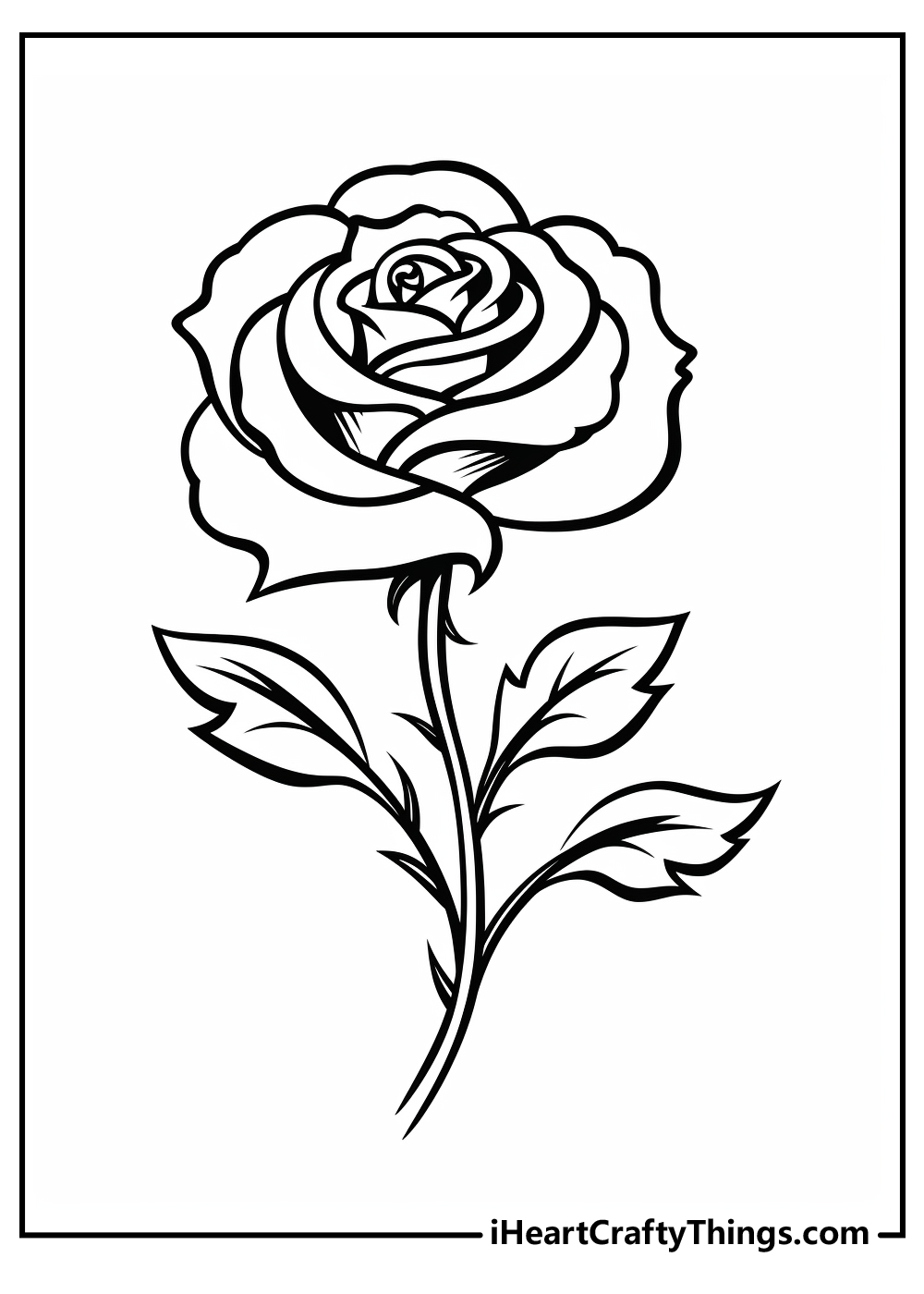 Some types of roses grow a lot of petals that enclose the center of the flower and almost seem to form a round ball shape.
The rose coloring page below has this shape. The petals conceal the middle part of the flower, called the stamen.
REMEMBER: You can get the COMPLETE set of these coloring pages >> HERE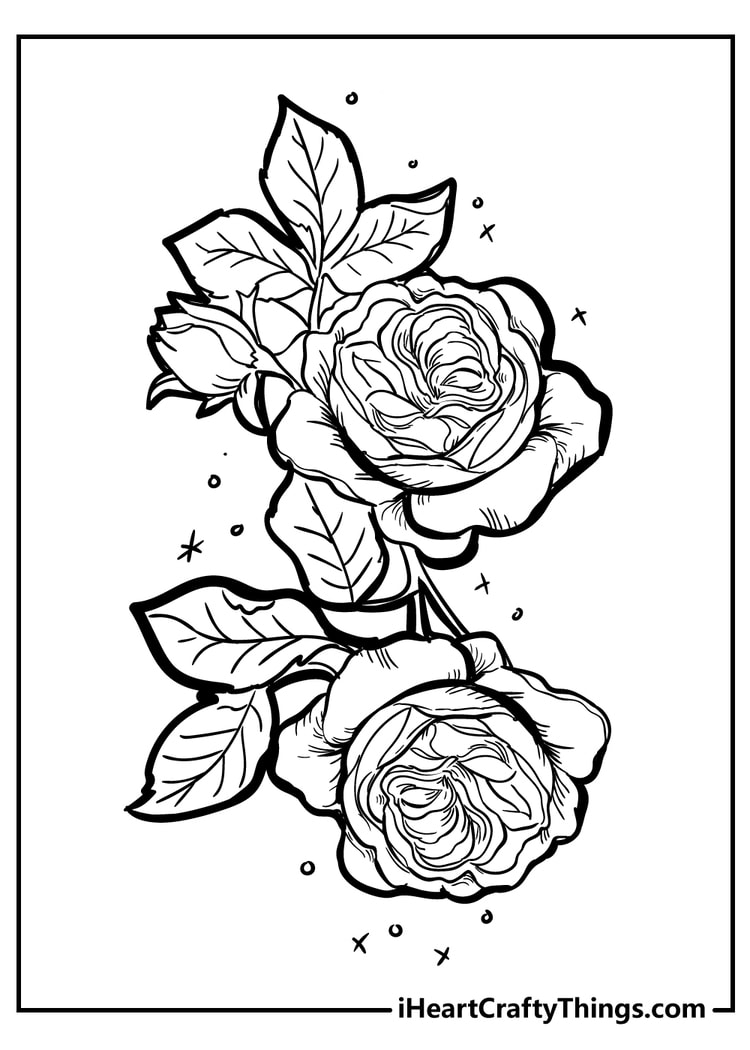 Sometimes roses are not supposed to mean romantic love. Yellow roses are actually a symbol of friendship and caring.
They are the perfect flower to give to a friend. Perhaps someone sent these roses to a friend to show that they were thinking of them.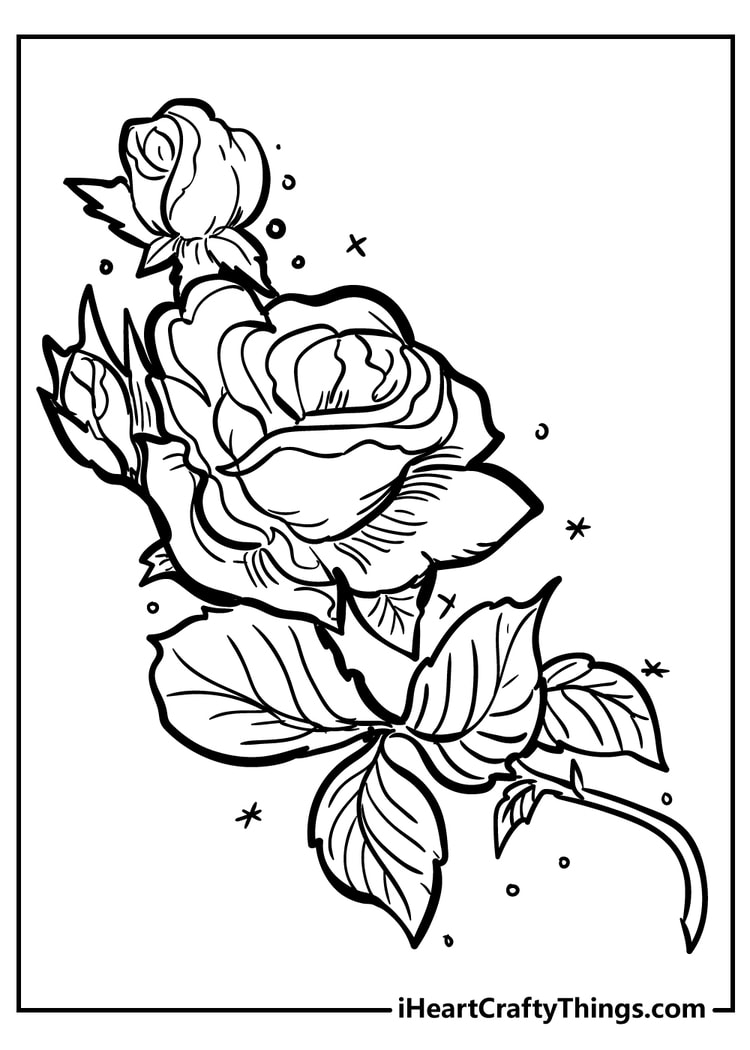 This rose printable has very big and beautiful petals stretching up to catch the sun.
Two other flower buds have not fully bloomed yet, but hopefully one day they will be just as big. Roses need plenty of sunlight and water to grow.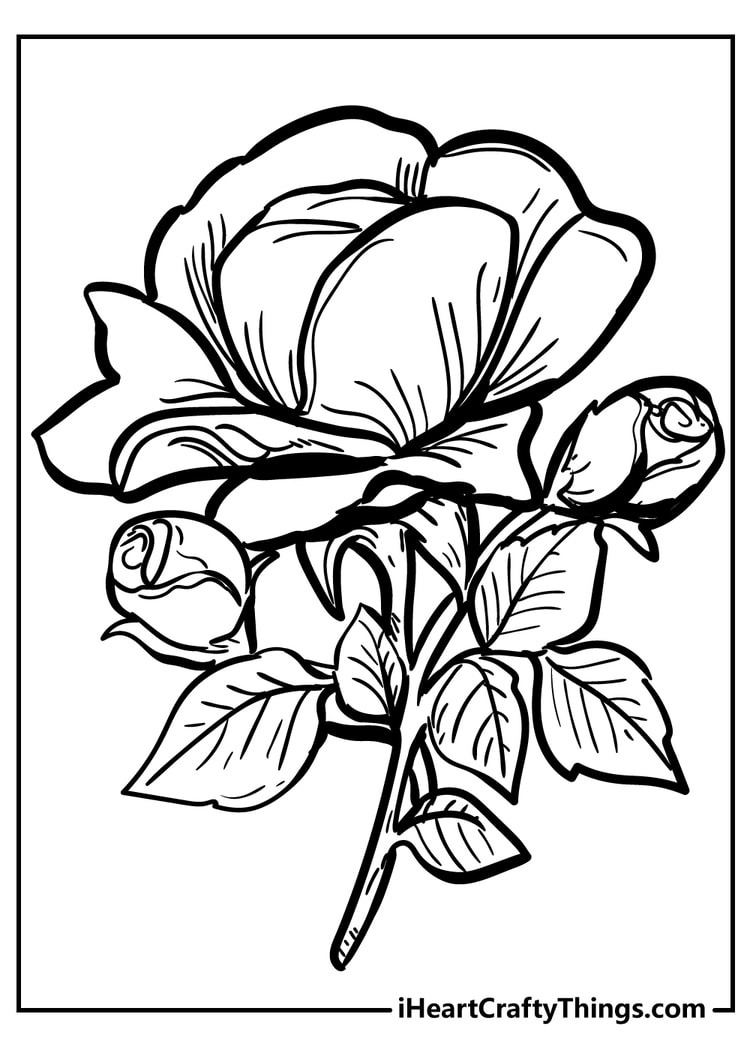 There are so many beautiful roses to enjoy. Remember that all these rose coloring pages are completely free to print, so feel free to print as many as you want.
They are such a relaxing and beautiful flower to color.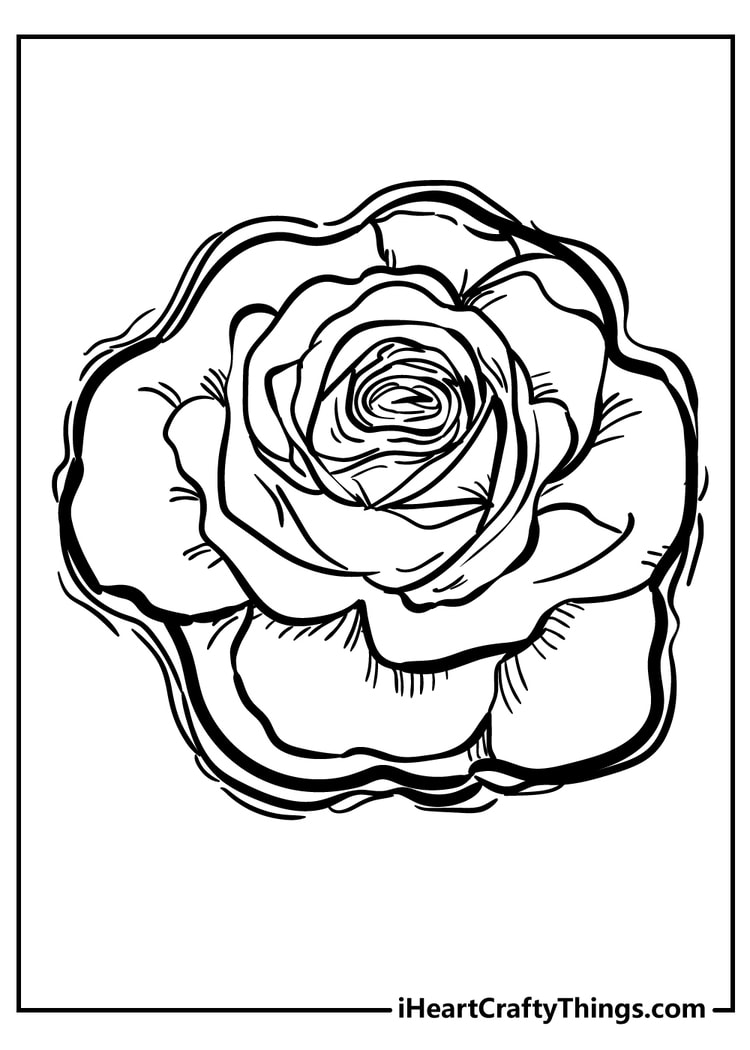 This rose coloring page features a friendly flower with soft petals perfect for coloring. The fun outlines of the petals curl and loop, giving you lots of open space to practice your coloring skills.
You can color each petal a different color or make a pattern! The leaves and stems have curvy lines too, so you can make them green or try other creative colors.
There are no small details to worry about – the simple, bold lines are ideal for crayons, markers or colored pencils.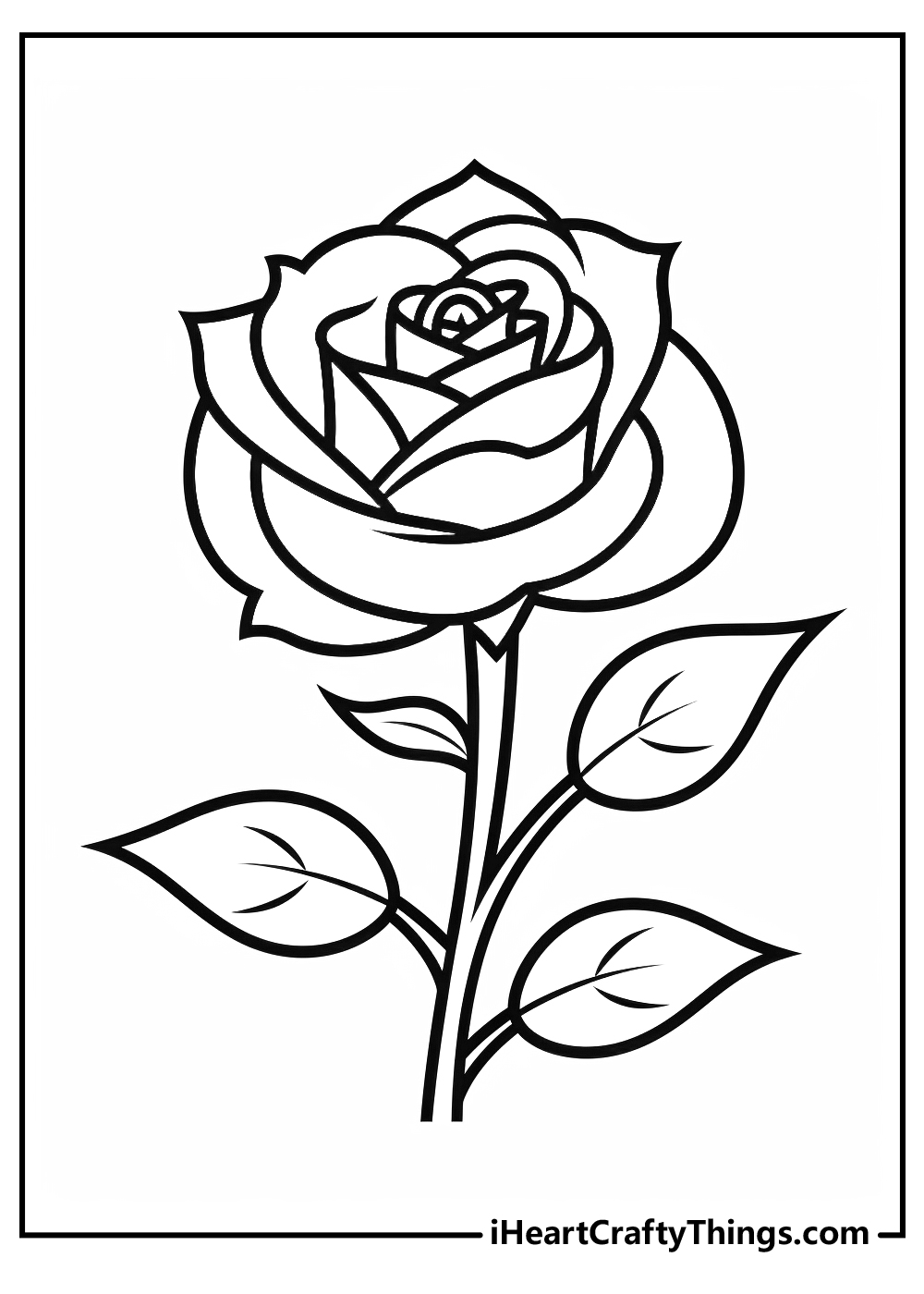 Roses are also very prevalent in pop culture. The sparkling flower in this coloring page looks like it could be the Enchanted Rose from Beauty and the Beast.
When the Beast was cursed by an enchantress, the only way to break the spell was for him to find love before the last petal fell.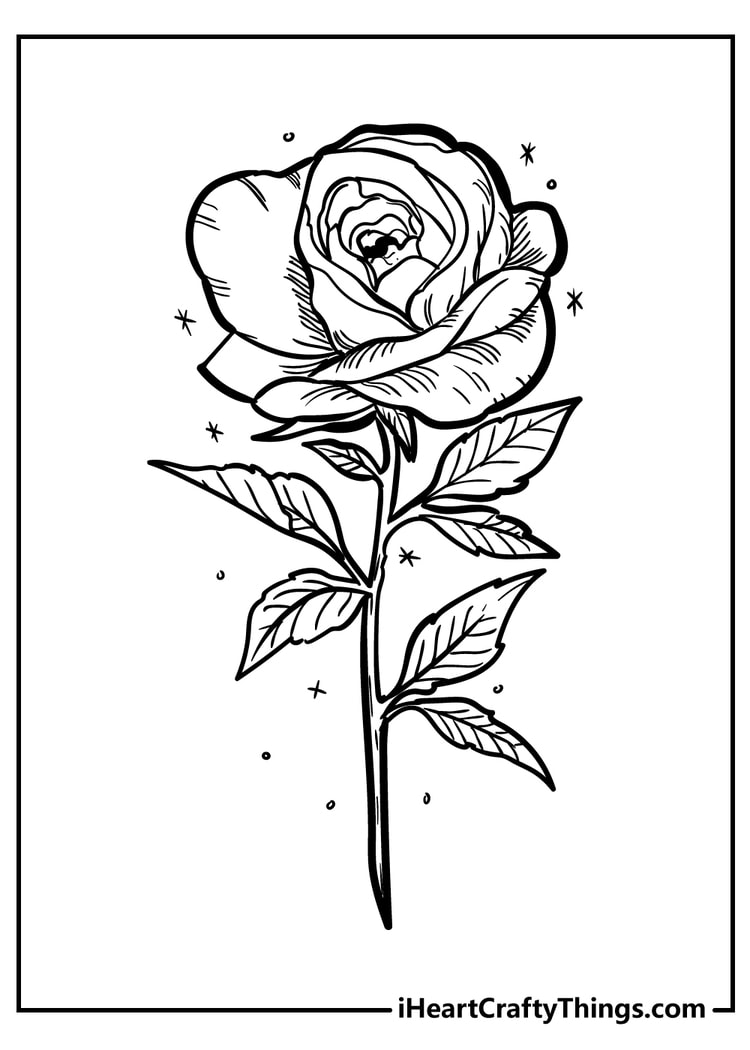 Next, we have a rose that has a heart in the center of the petals. The rose is in full bloom and has three large leaves on the stem. It looks like a very romantic and sweet rose.
You can use this rose to express love and affection to your friends. That's because it symbolizes the connection between two hearts. Some roses with a heart are also called sweetheart roses or lover's roses.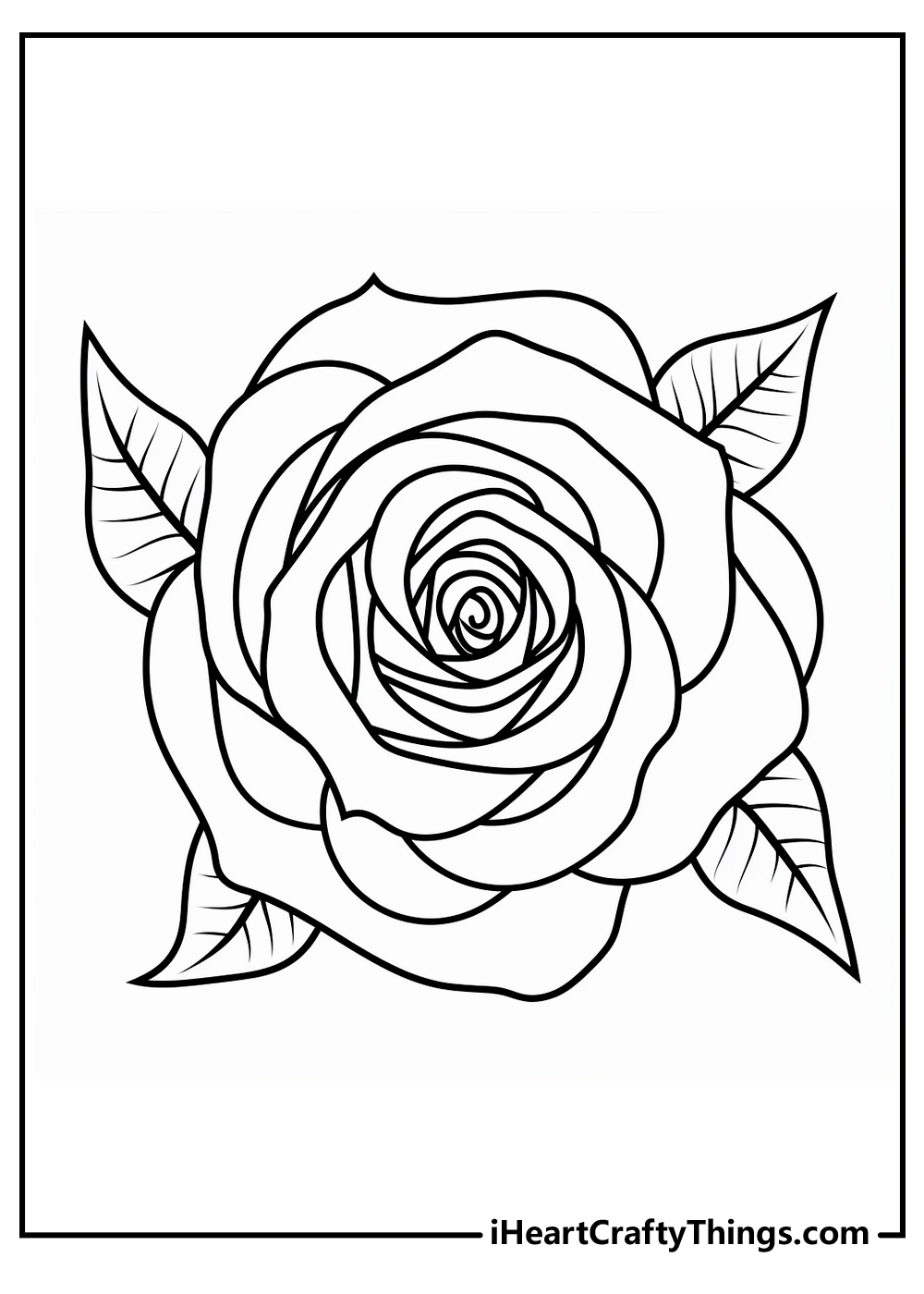 Did you know that the number of roses given also has its own unique meaning? One single rose, like the one in this rose coloring page, might mean love at first sight.
Or between a long-term couple, a single rose might be used to show that the pair are still meant to be.
REMEMBER: You can get the COMPLETE set of these coloring pages >> HERE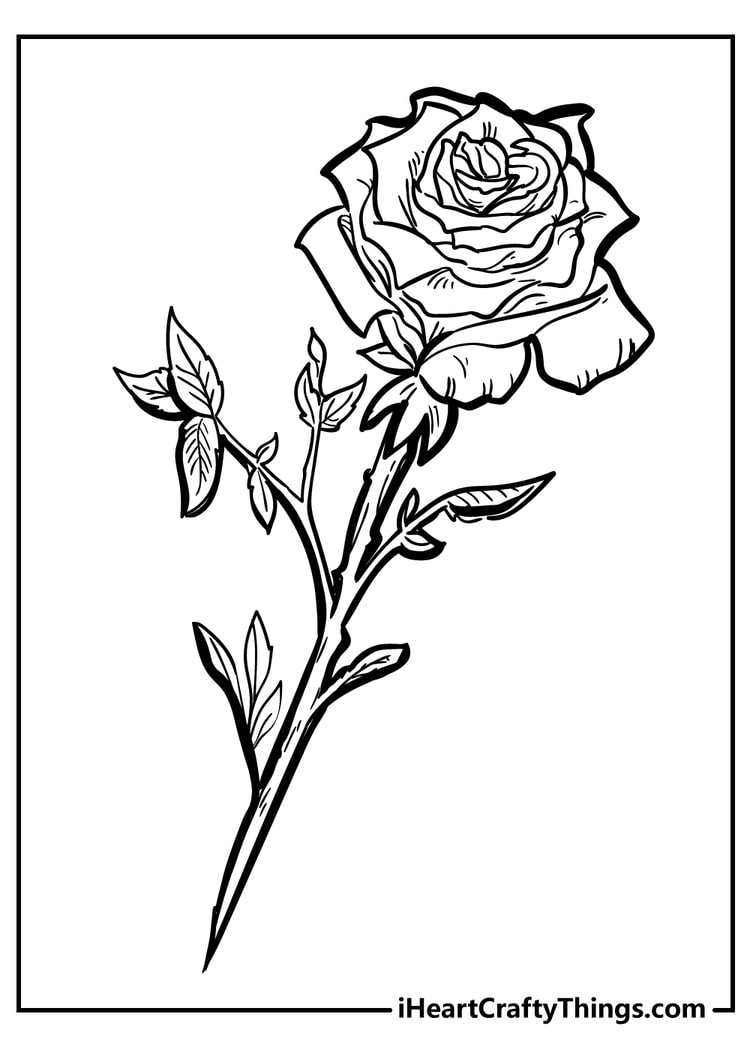 Everyone thinks of bees when they think of creatures that pollinate flowers, but butterflies actually pollinate too. In this rose coloring page, three beautiful butterflies gather around a rose.
They flutter excitedly as they pollinate, and a few petals fall off the flower. Watch out for the thorns!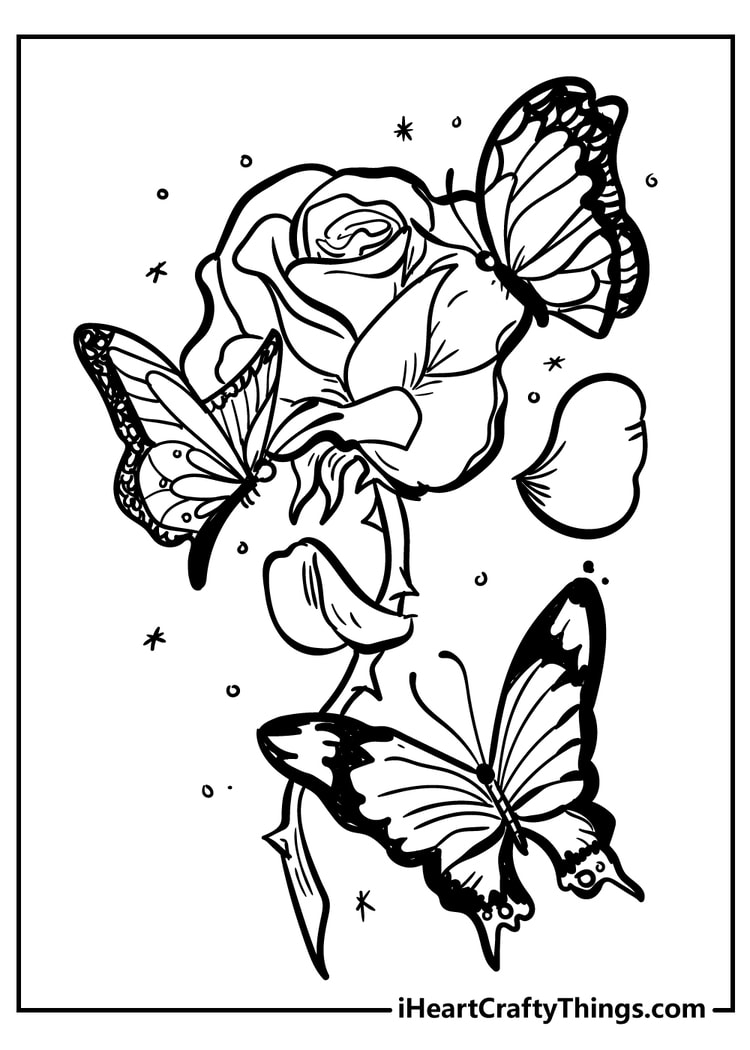 This role has very large, open unfurled petals that you can bring to life with your colors. It looks like a very classic and beautiful rose. It's so simple and elegant.
It's also the type of role that is often used for tattoos and logos? That's because it has a clear and recognizable shape that can be easily drawn and modified.
This simple and minimalist design has plenty of open space to color while still capturing the essence of a rose in full flower.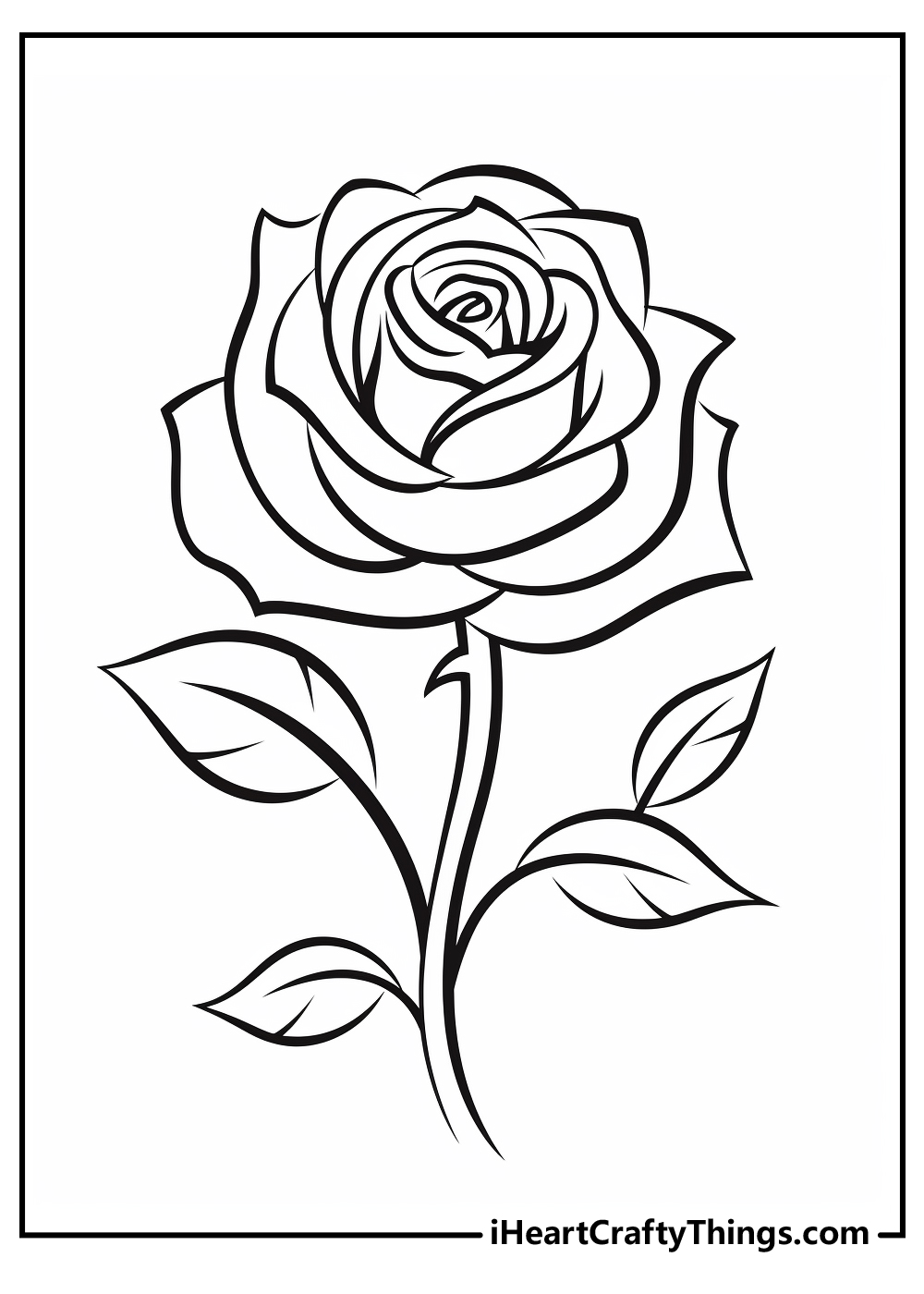 Roses have many different uses than just looking pretty in a garden.
The rose in this coloring sheet has big vibrant leaves, and rose leaves can sometimes be used to make a tea somewhat similar to a black tea.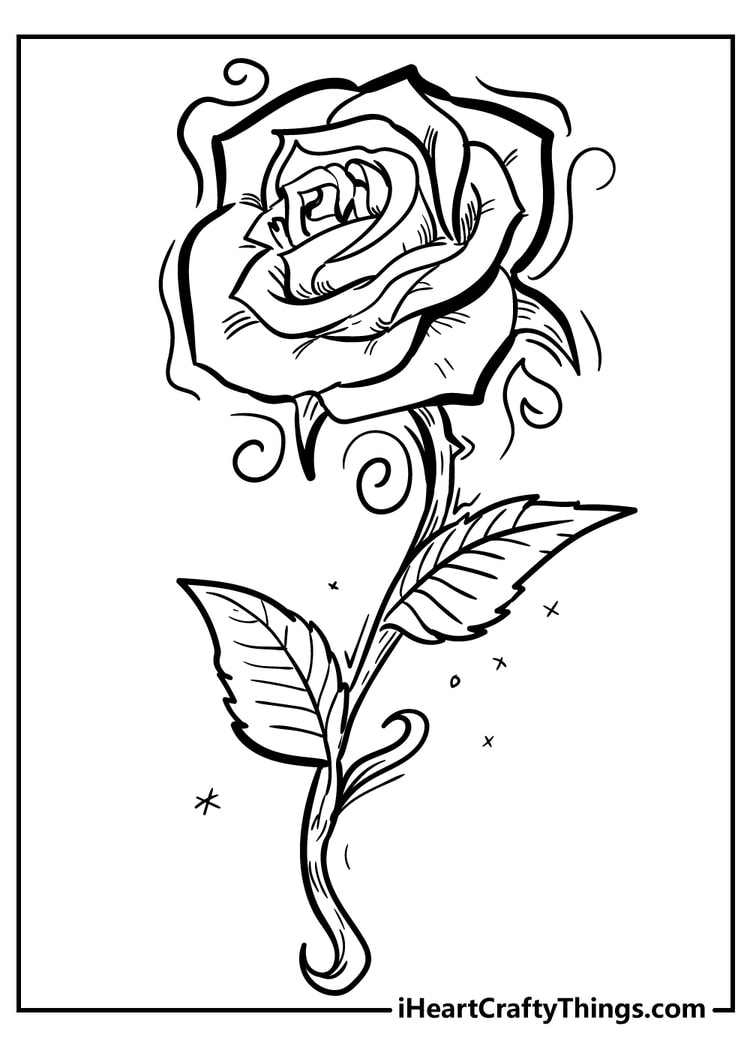 This rose coloring page has fully bloomed, but several rosebuds are still closed. Rosebuds can also be used to make tea. Their flavor will be much more pleasant and sweet than tea made from rose leaves.
REMEMBER: You can get the COMPLETE set of these coloring pages >> HERE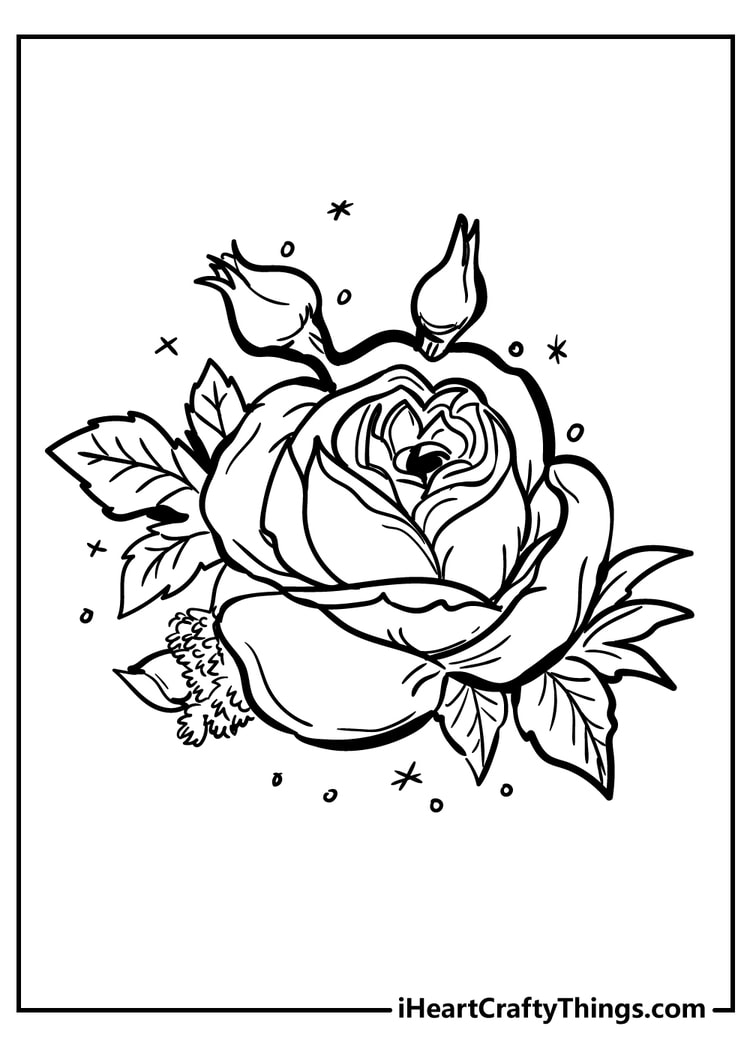 In this rose printable, five roses have been placed in a nice bouquet. We wonder if they will be given to someone special.
Five roses can show a romantic partner or even just a friend how much they mean to you.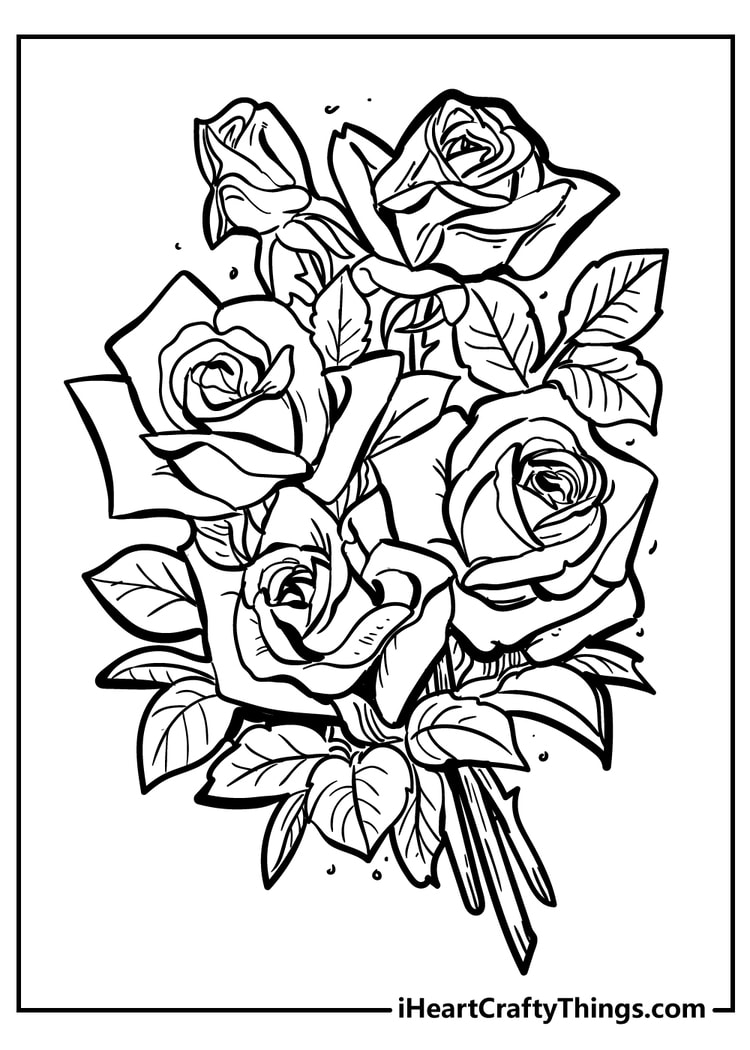 Roses open up as they bloom, and eventually, some petals begin to fall off. It looks like the rose in this coloring page might be close to losing a couple of petals soon.
Luckily rose petals can be used for all kinds of these, from skincare to potpourri. Who knew roses had so many uses?
REMEMBER: You can get the COMPLETE set of these coloring pages >> HERE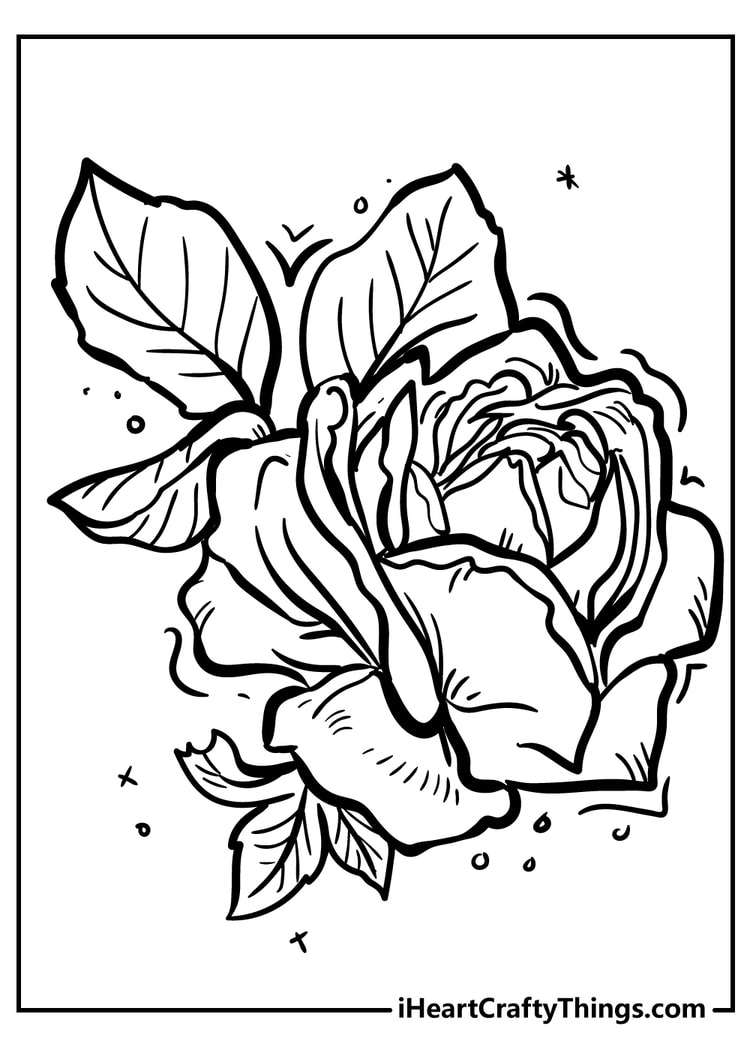 Roses are so intricate in the way they grow. Their swirling petals make them one of the most unique and eye-catching flowers you could find.
This rose has especially beautiful flowers and it looks like the bud next to it is just starting to bloom.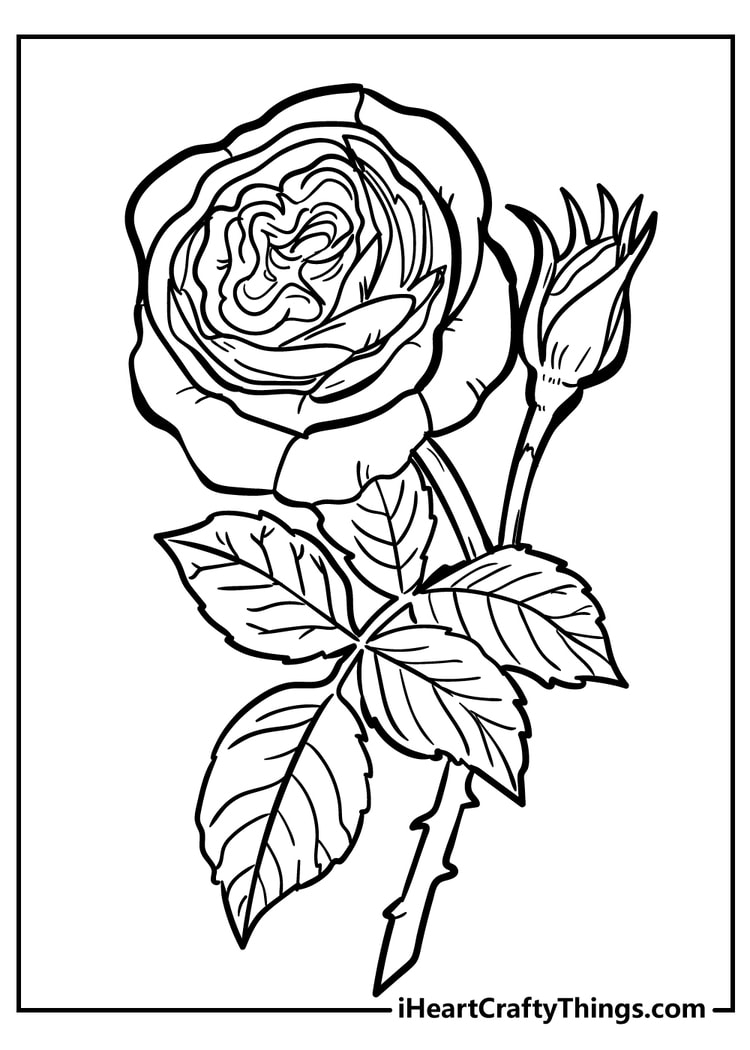 Did you know that roses are one of the oldest flowers around? Archaeologists have found rose fossils that could be millions of years old.
Roses are also mentioned in William Shakespeare's writings and even in the Bible.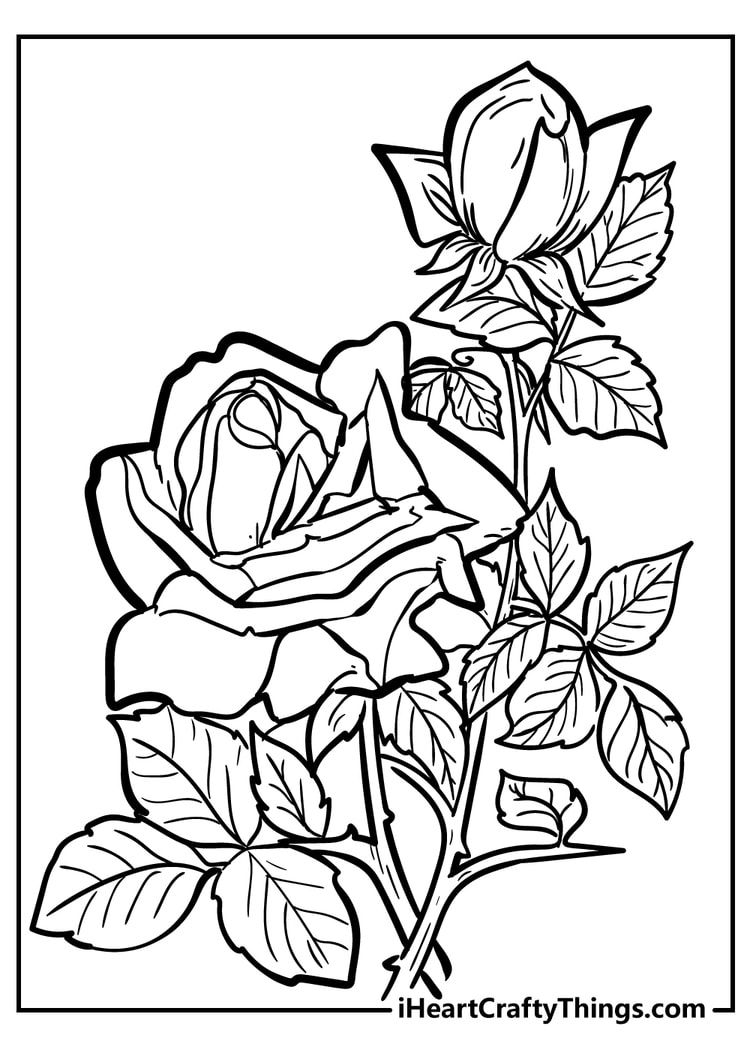 Sometimes spiders like to weave their webs between the stems of flowers, like in this rose coloring sheet.
Believe it or not, spiders can actually be helpful in a rose garden. They get rid of insects that would otherwise eat the beautiful blooms.
REMEMBER: You can get the COMPLETE set of these coloring pages >> HERE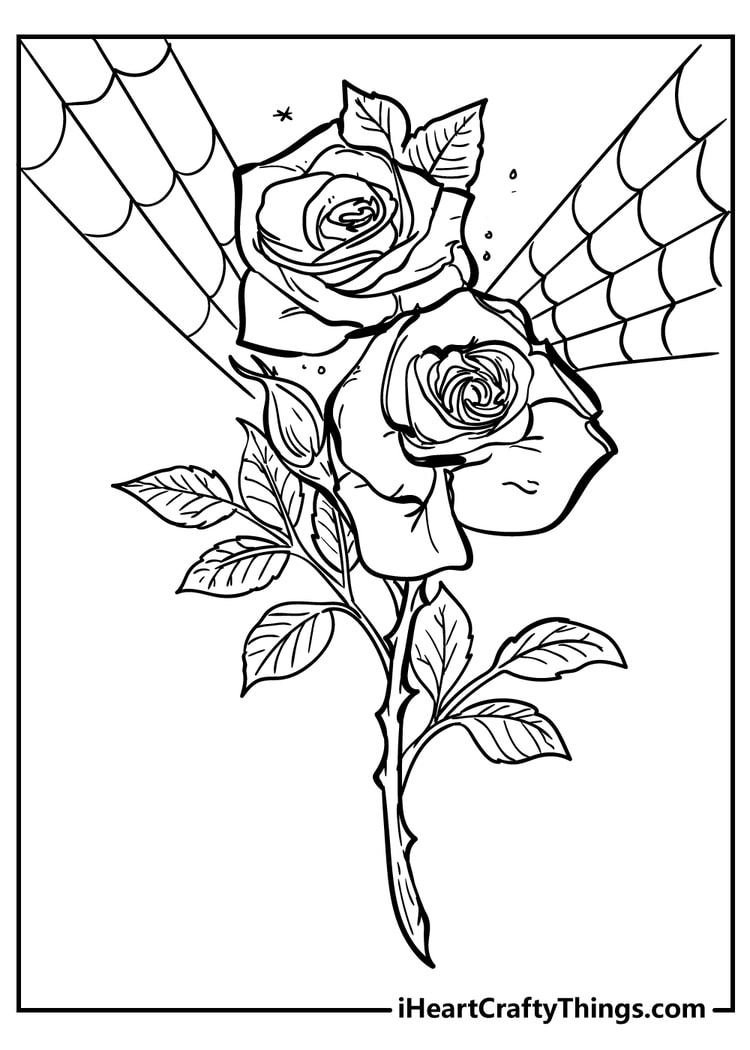 Everyone knows that roses, like the one in this printable, have thorns. But did you know that a rose's thorns are technically prickles?
These little spikes help keep predators away from the delicate flowers.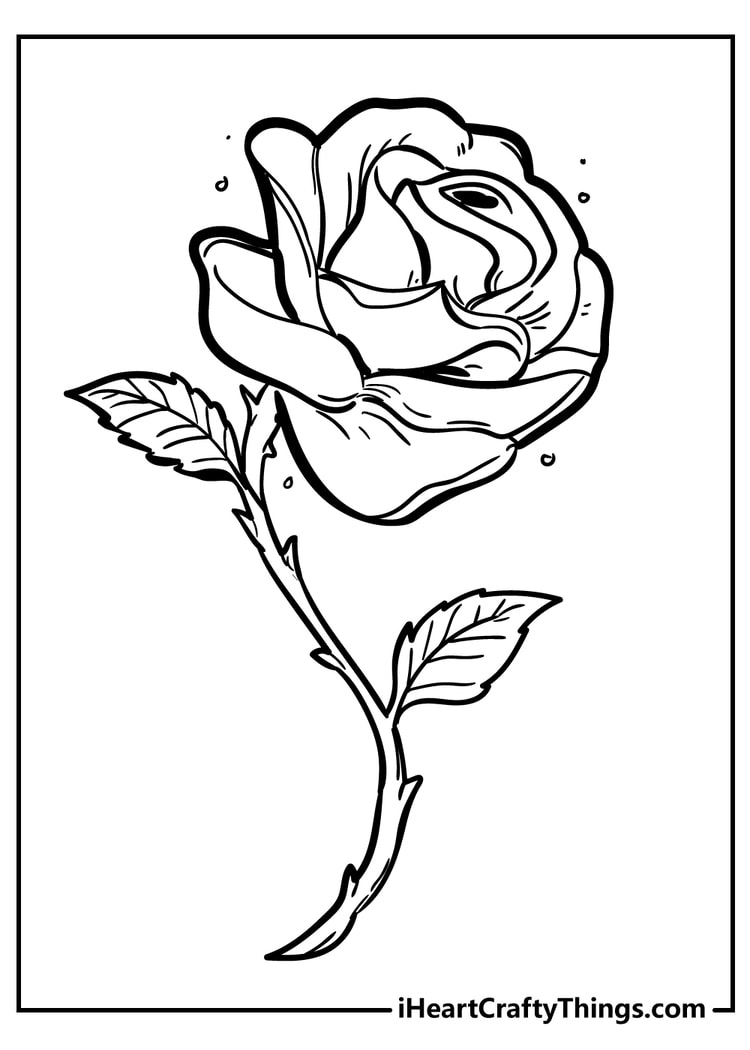 We love the design of this rose coloring page. It almost seems like there are flames dancing around the petals of this rose. The interesting shape of the flames matches the shape of the petals of the flower.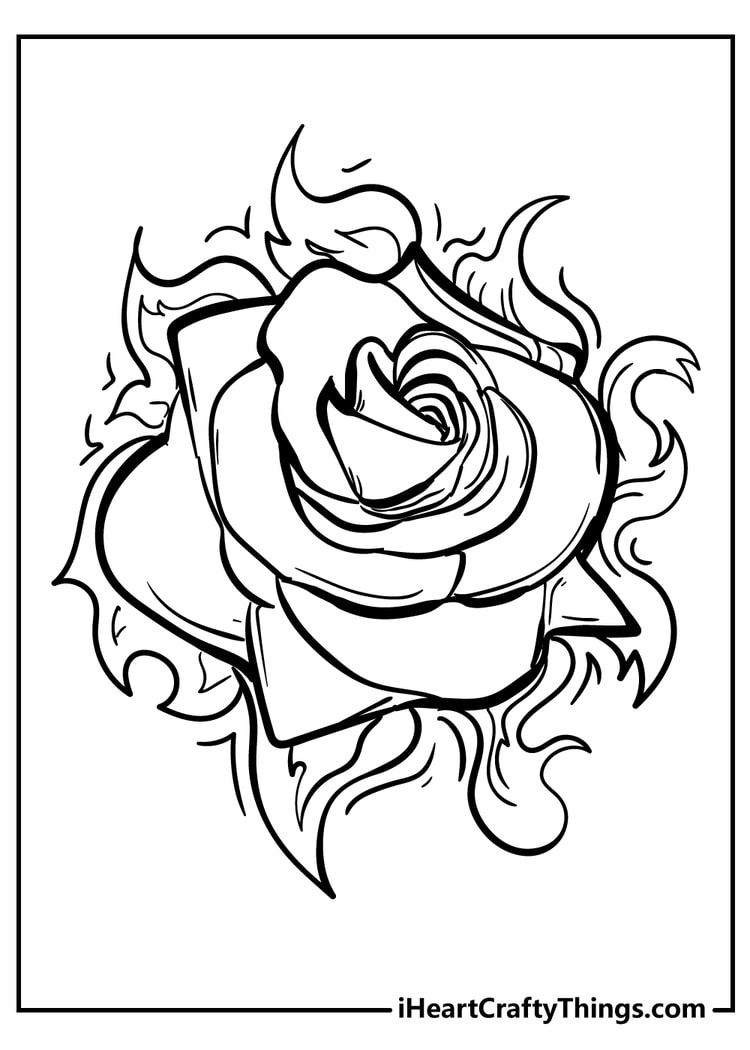 Flower arranging can be a relaxing hobby just like coloring!
The rose in this coloring page has leaves and little swirling shapes coming out of the flower to create a beautiful and intricate design. We can't wait to see how you'll color it.
REMEMBER: You can get the COMPLETE set of these coloring pages >> HERE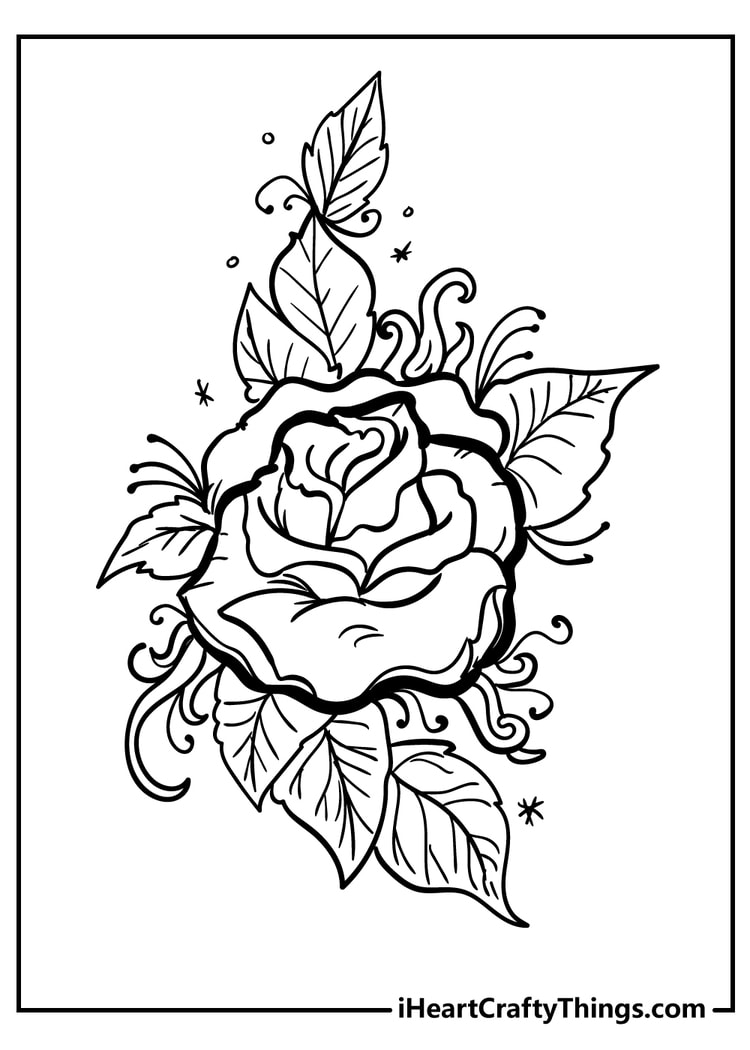 It's almost spring, the best time of the year to plant roses! Roses need lots of sunlight to grow beautiful and fully bloomed flowers, like the one in this printable sheet.
Just make sure it isn't too hot and the flowers don't get scorched.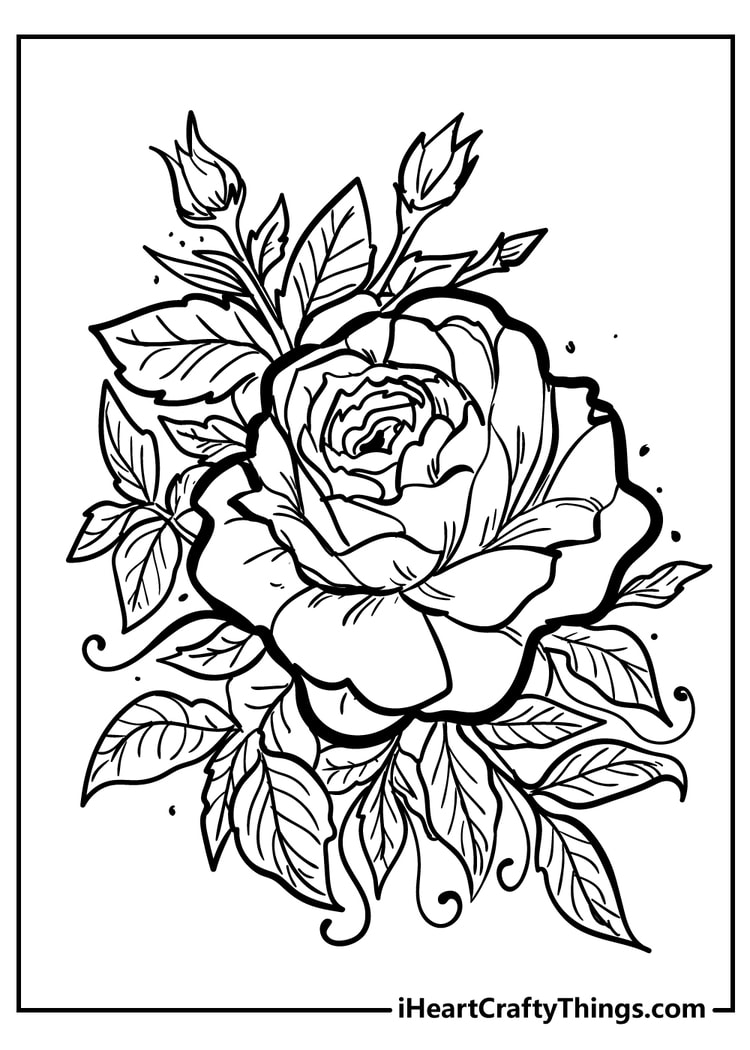 Remember – when you finish coloring your rose coloring pages, post your finished pictures onto our Facebook page.
Every month we pick the best uploads and the winner gets a special surprise. What is your favorite color of roses?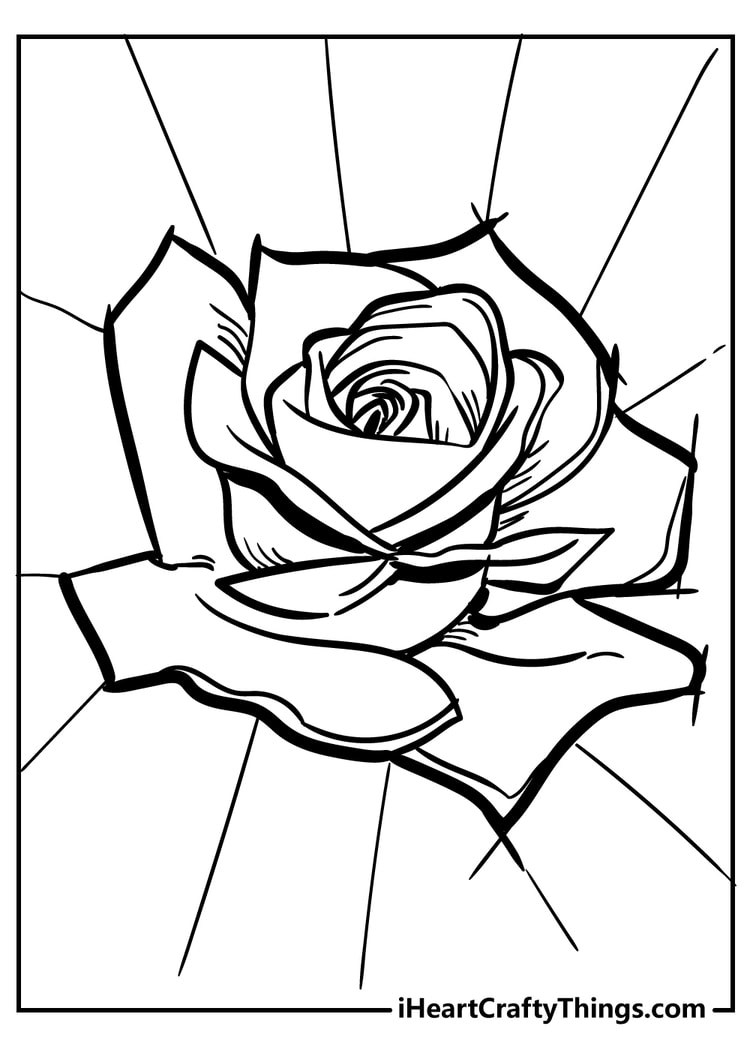 It's no secret that a rose is often used to symbolize love. We love this coloring page of a rose with a big heart in the middle. The rose's curling tendrils make this coloring page extra beautiful and lovely.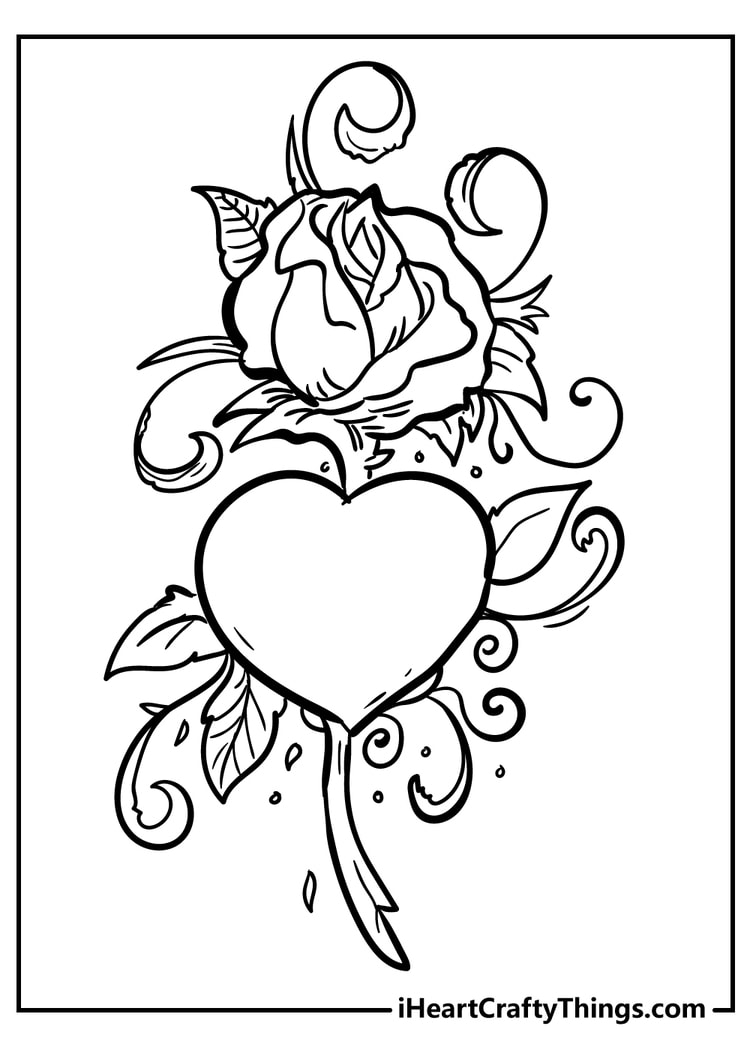 A pair of roses bloom in this coloring sheet. Two roses can sometimes symbolize mutual love and affection. Perhaps the two roses stand for the two unique people who are both in love. What an interesting symbolism.
REMEMBER: You can get the COMPLETE set of these coloring pages >> HERE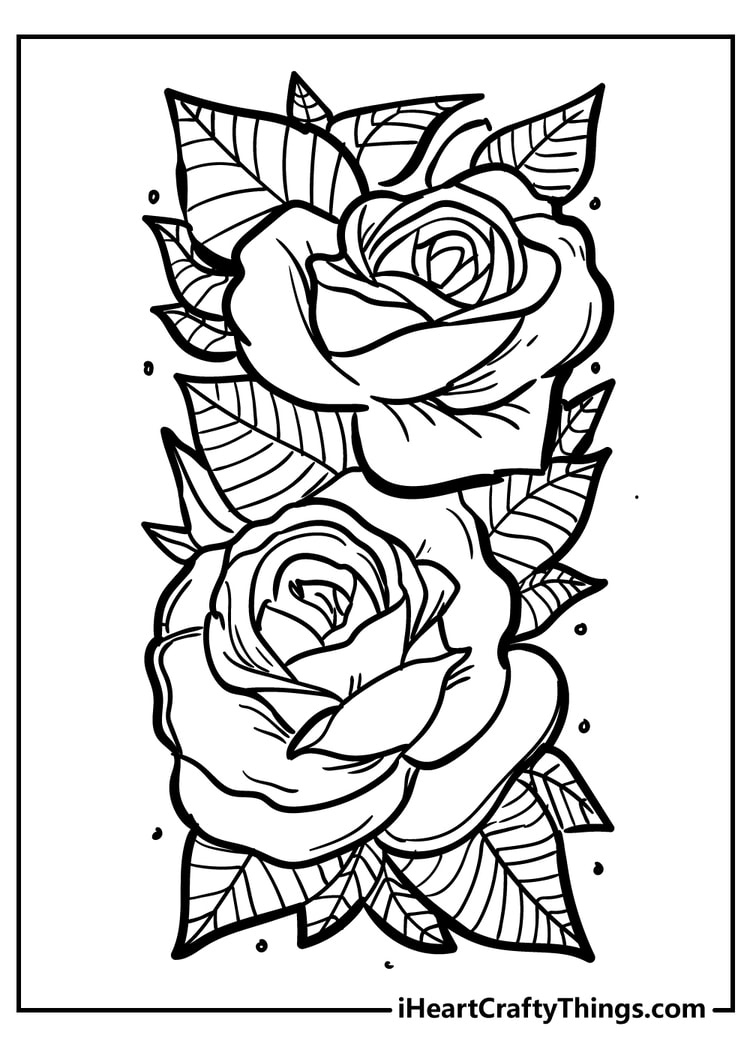 There is even a symbolic meaning for three red roses. Some people give three red roses as a traditional one-month anniversary gift. We wonder how that tradition got started.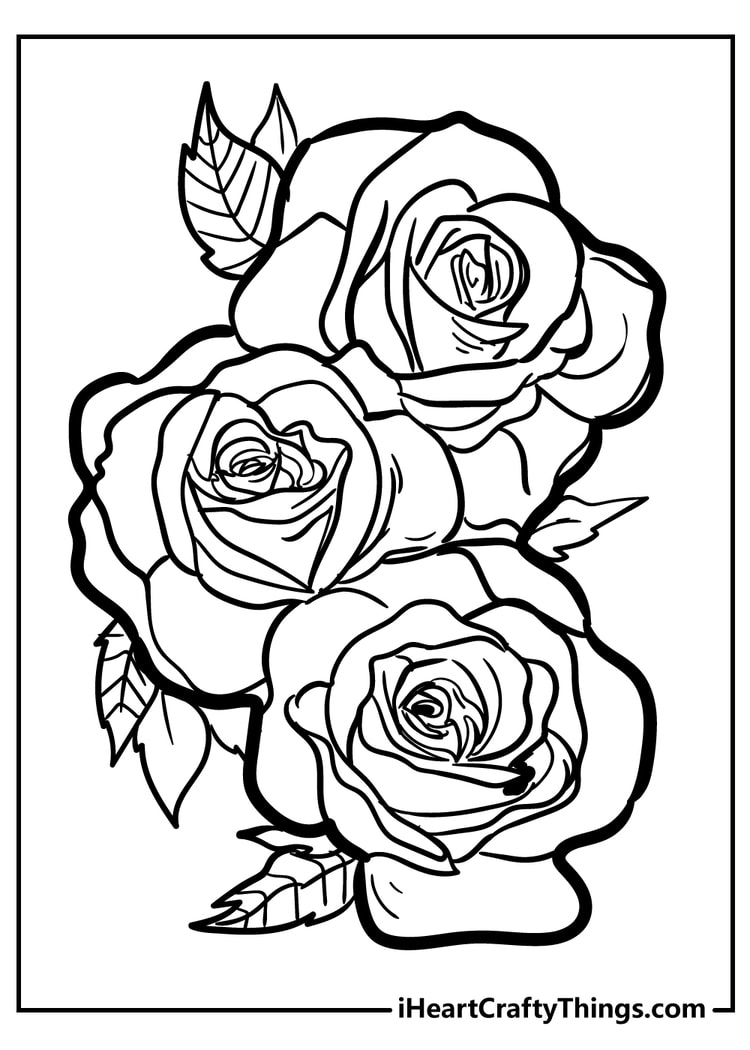 This rose looks like it is beginning to wilt as its petals fall. Sometimes a rose wilts because it is growing in temperatures that are too hot.
On the other hand, roses can also wilt if they are watered too much, so you have to be very careful with these delicate flowers.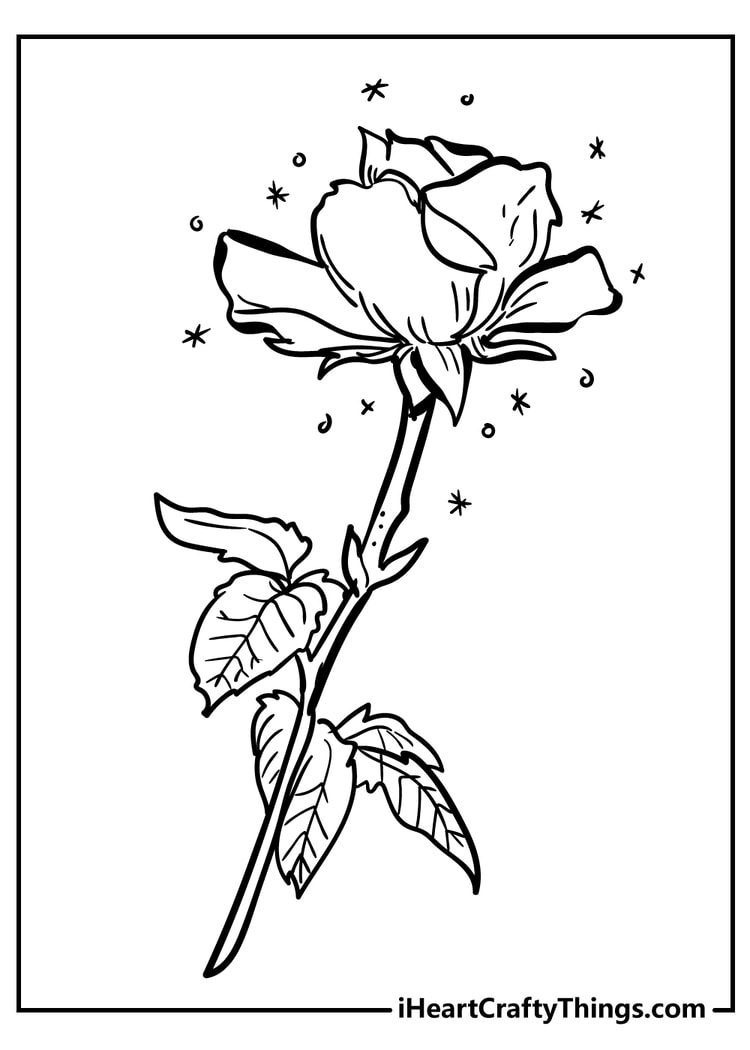 We love this rose coloring page in the shape of a heart. Roses are the perfect surprise for someone you love or care about deeply.
We truly can't get enough of these roses and everything that they stand for.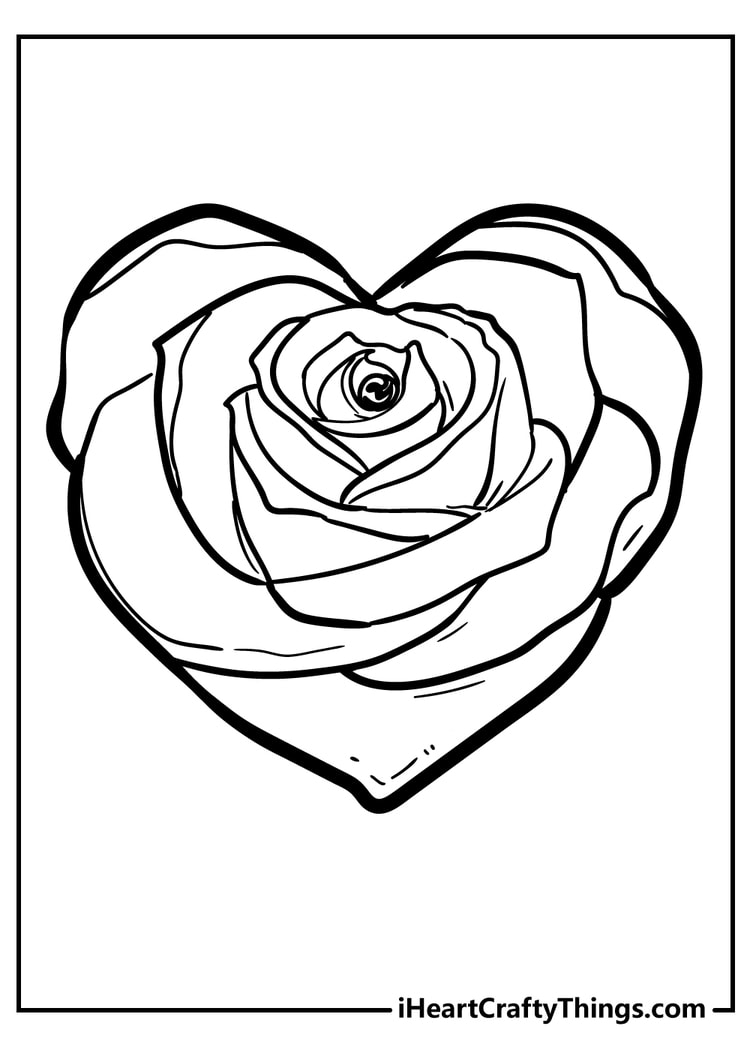 These roses are also known for their lovely fragrant smell. Roses smell so nice that they are sometimes used to make perfume.
Oil can be extracted from a rose petal to get the best and most fragrant scent.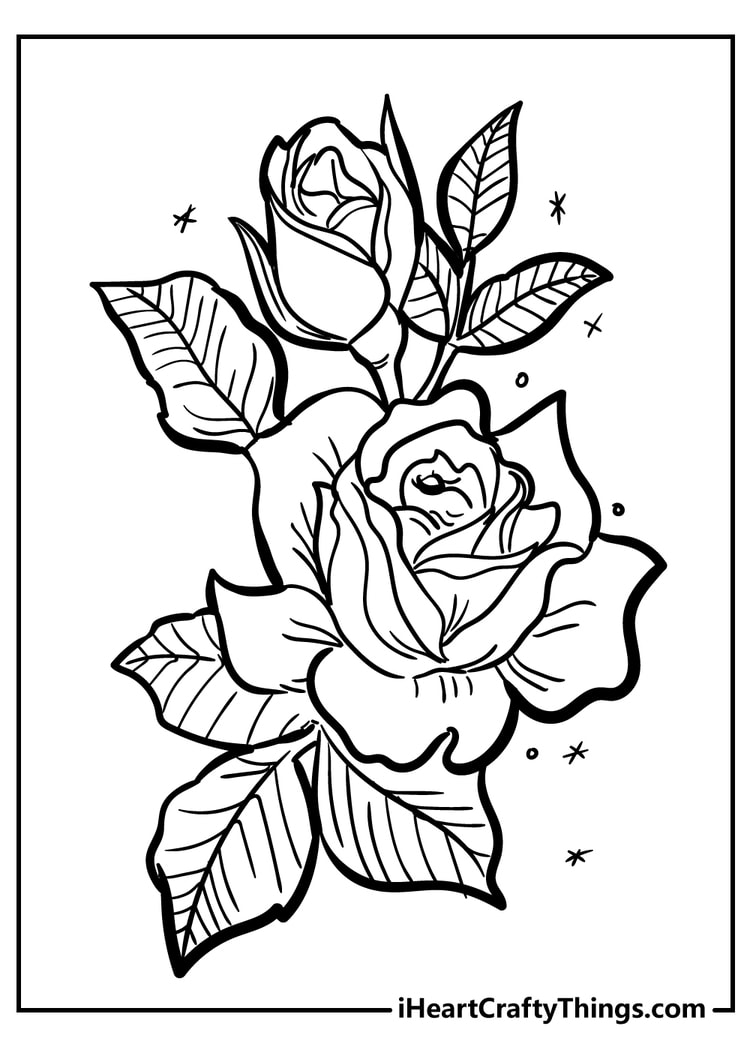 A peach-colored rose has its own unique meaning.
They symbolize sincerity and gratitude, so a peach-colored rose would be the perfect gift to say a genuine thank you to someone who has helped you or even after closing a business deal.
REMEMBER: You can get the COMPLETE set of these coloring pages >> HERE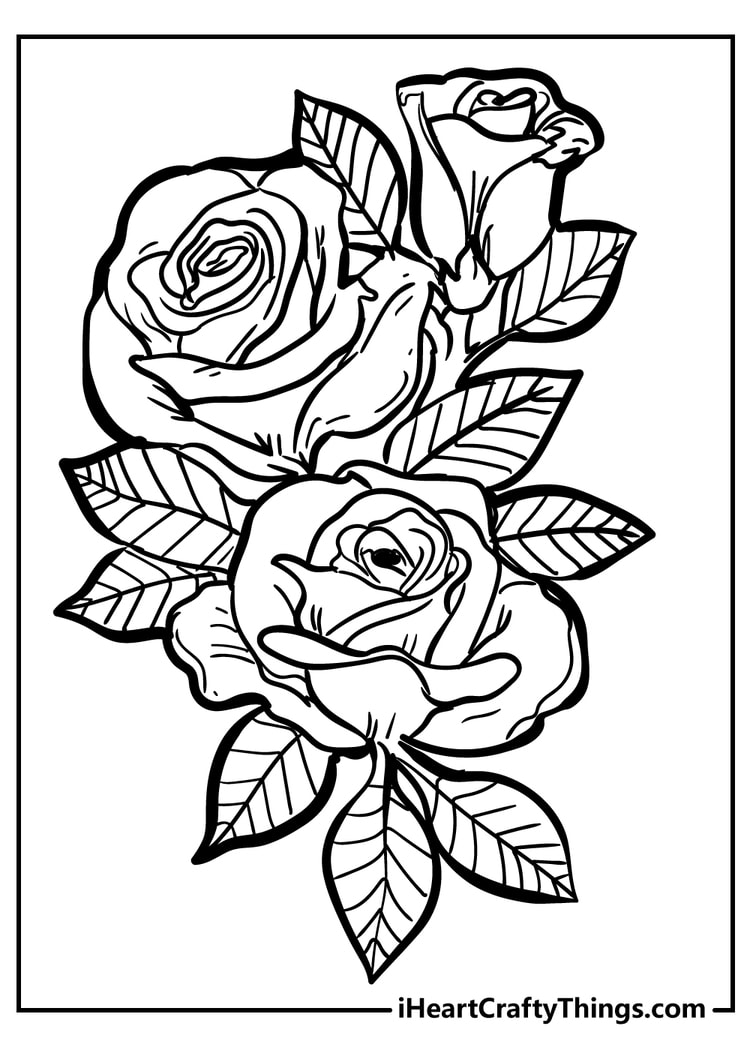 Lavender roses can symbolize enchantment or even love at first sight.
A single rose can also mean love at first sight, so one single lavender rose might be the perfect gift to give to a new crush or at the start of a relationship.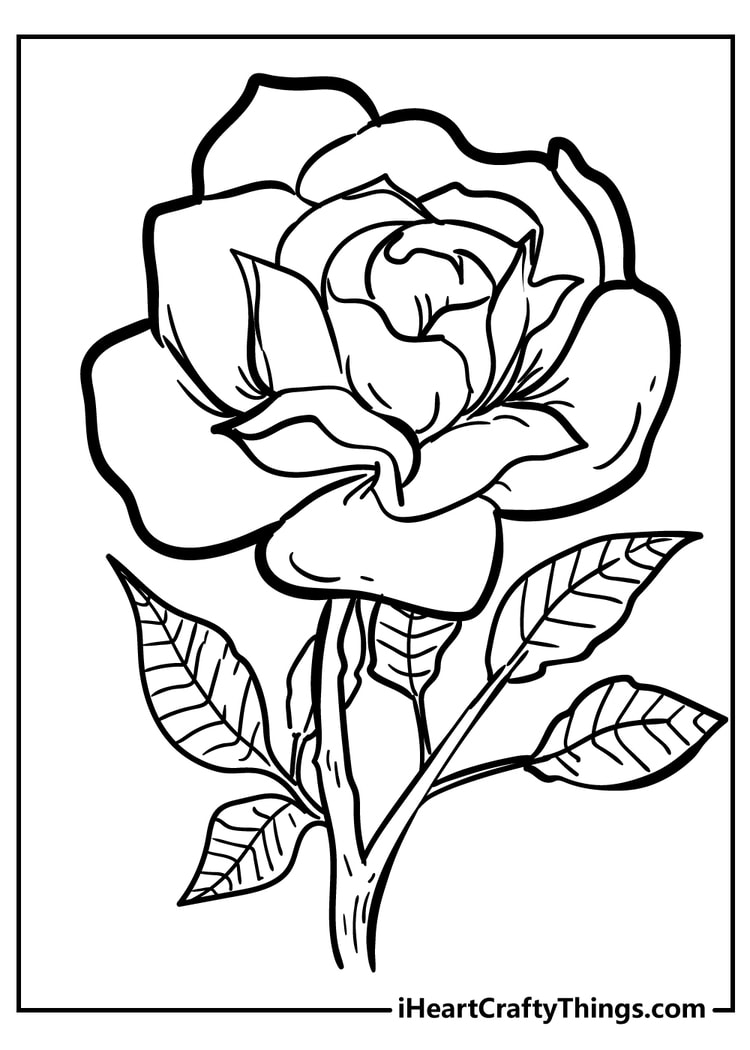 Remember to check back for more fun characters and animals that you can print and color. We are constantly updating our catalogue of coloring pages and printable sheets for you to enjoy. There are so many free pages coming.
We hope you have enjoyed these beautiful rose coloring pages and that these intricate flowers have brightened up your day.
Don't forget to post a photo of your finished masterpiece on Facebook. We can't wait to see what you'll come up with next.